Warm drinks, hearty food, and elegant outfits. Honestly, who doesn't love the winter feeling?
Thinking of that, I put together a list of the 43 best winter destinations in Europe to inspire your trip in the next season.
How you will experience winter in Europe can be very different depending on the place you're going – Norway offers a really snowy winter; on the other hand, Tenerife has one of the best winter suns you can find. Curious now?
Yes, this article has winter destinations for all tastes. So, no excuses not to spend next Christmas in Europe and check one of these cities off your bucket list.
Read on and let yourself get inspired!
43 Magical Winter Destinations In Europe
1. Rovaniemi, Finland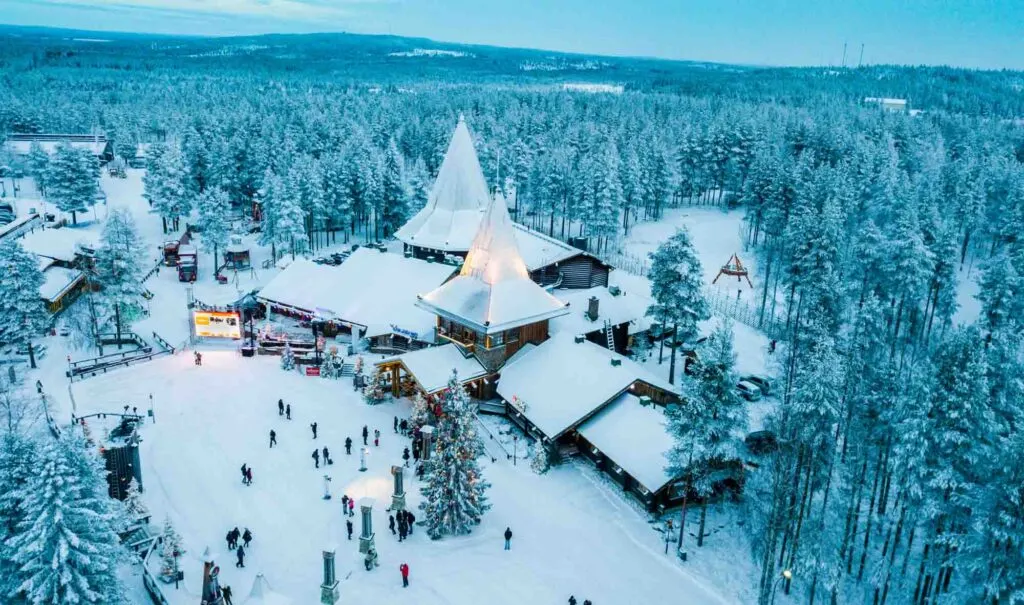 Rovaniemi starts off my list as one of the top winter destinations in Europe; after all, it offers a winter wonderland with the distinction of being Santa's hometown.
Enjoy time in the Santa Claus Village, and revel in the activities in Santa Park.
Enjoy Finnish nature by visiting the Rauna Wildlife Park reindeer parks, or head to a husky farm and play with huskies. The Ounasvaara ski resort provides excellent skiing for those looking for exercise.
Rovaniemi adds to its status as a European winter destination with spectacular sights of the Northern Lights, which can be viewed while enjoying the winter scape of the Artic Garden.
And to top it off, you can even stay in a hotel made of ice blocks at the Artic Snowhotel.
2. Dublin, Ireland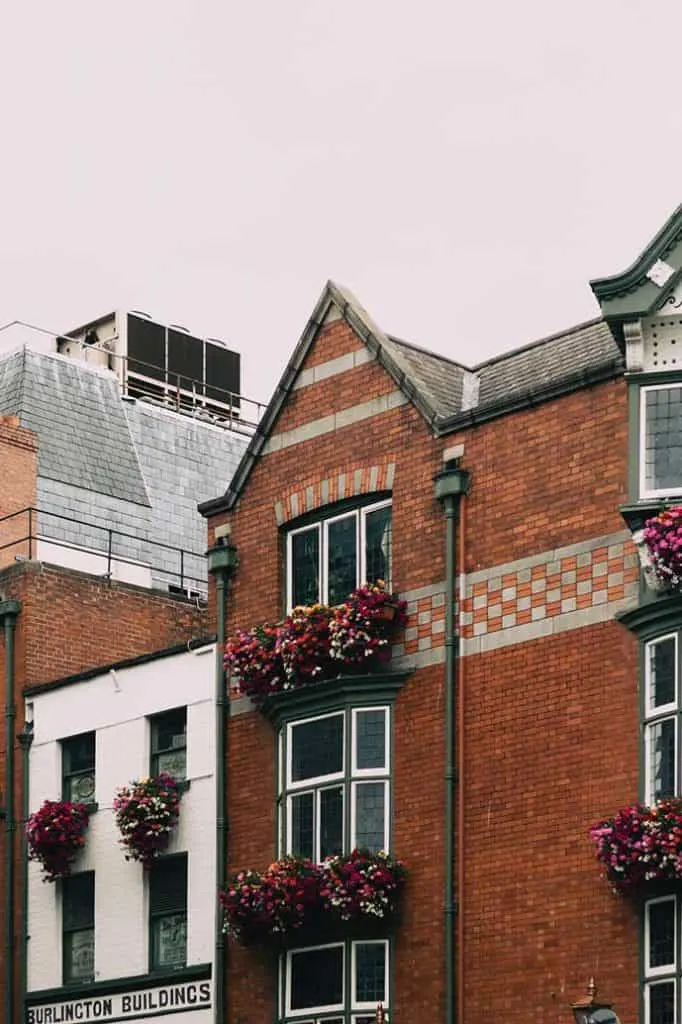 If you've been following my blog for a while, you know it's not a secret I'm completely crazy about Ireland.
That's because they have excellent beer, tasty food, green-hued landscapes, and lots of mystical places to be discovered.
So visiting Dublin in winter is perfect for those who want to escape the crowded, narrow streets of Amsterdam or Paris.
Granted, it rains a lot in Ireland, but with the right gear and packing list, you're good to go.
I recommend spending a couple of days in the city and then venturing on one or two day tours from Dublin.
Oh, and if you want to feel like a member of the royal family, spend a night in one of their fabulous (and some pretty affordable) Irish castle hotels.
3. Copenhagen, Sweden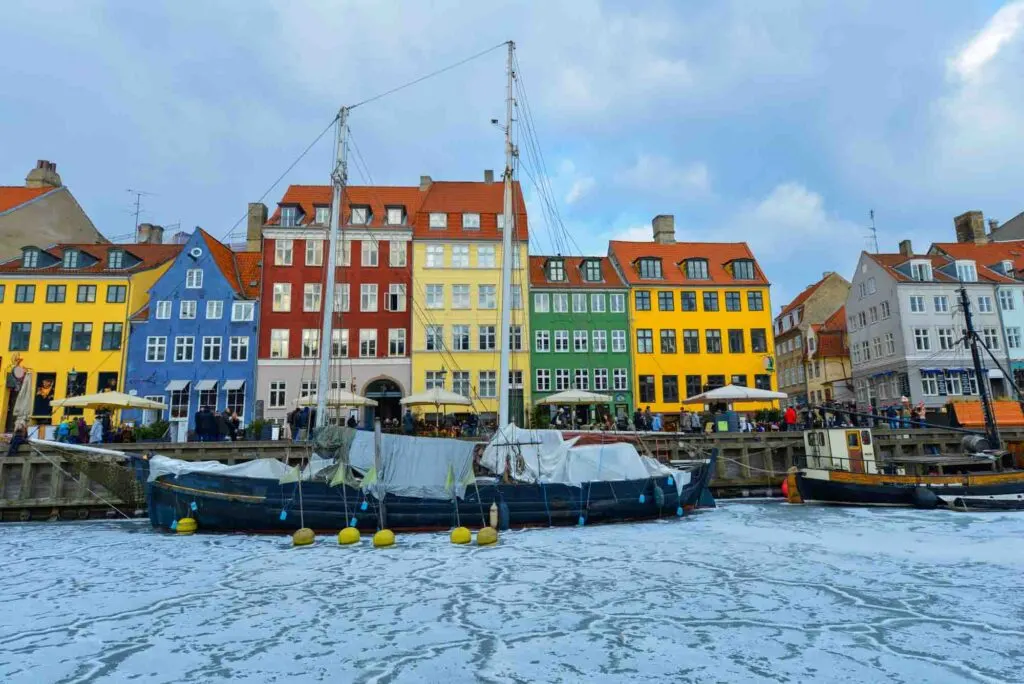 Copenhagen is the Danish capital city and one of the favorite winter destinations in Europe.
While Copenhagen is generally a charming city filled with cobbled streets and canals, in winter, it is no different, just a bit colder, and as the Danes like to say, there is no bad weather, just bad clothing.
Winter is Copenhagen's hygge season, so be prepared for pure Nordic fun. If you're feeling brave for your winter city break, ice swimming is highly refreshing, and you can warm up with a spa day on the canal with CopenHot.
Even in winter, the city is best enjoyed both in and out of doors; from wandering the city's museums to savoring magnificent Danish cuisine and pastries, one can head out and skate at the Broens Ice Rink.
In February, this beautiful city also becomes a glittering vision during the Copenhagen Light Festival.
4. Lisbon, Portugal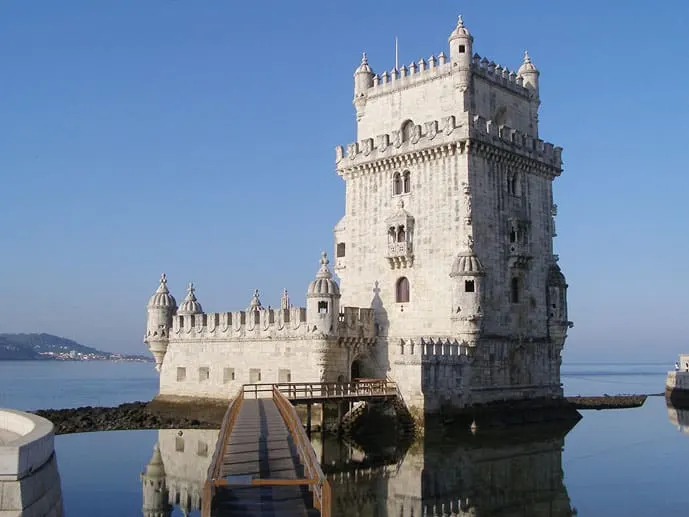 Why go to a cold place when you enjoy a winter sun destination in Europe?
Lisbon is high on my list of recommendations because of the local atmosphere – it's so laid-back!
Naturally, it'll be too cold to jump into the water in one of the paradisiac beaches near Lisbon (aka also in Cascais), but don't you love to go on a stroll on the beach when it's a bit chilly?
It rinses the soul. You should try it.
Besides, if the weather won't warm you up, the city's hill will. So here goes my best Lisbon travel tip: wear good walking shoes regardless of the season.
5. Hallstatt, Austria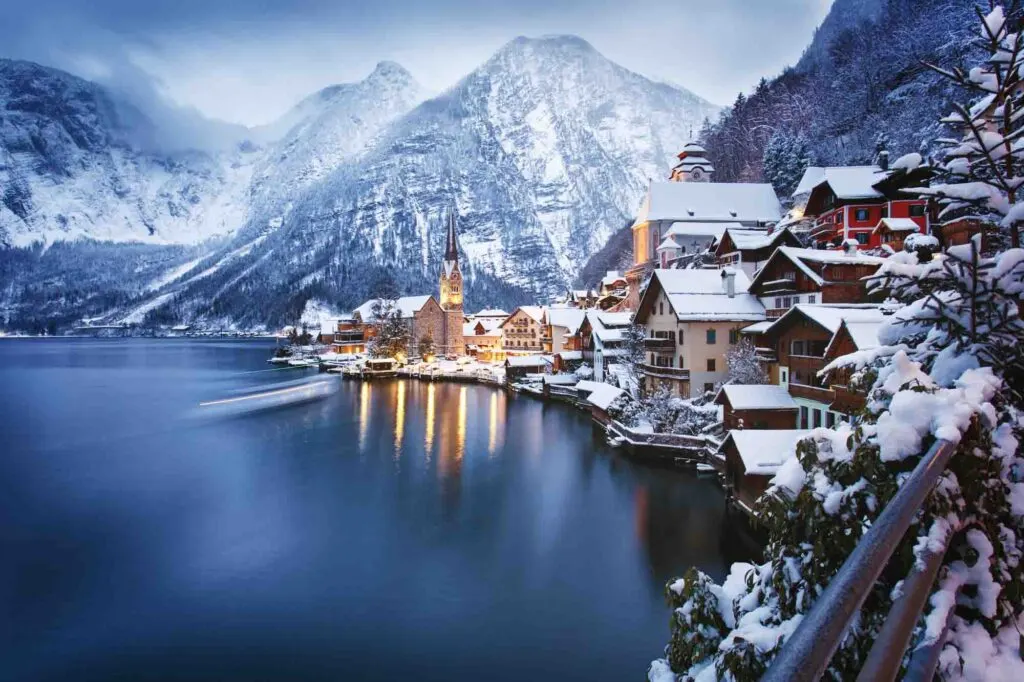 Hallstatt is a small village with the most spectacular outlook, surrounded by mountains and sitting on a lake; it is breathtaking.
In winter, Hallstatt becomes the ultimate European winter destination; enjoy the beauty of snowy mountains and the frozen lake while snug and warm in front of roaring fires.
The area offers beautiful winter hikes through the snow, and the adventurous can dive under the lake's ice.
The village becomes a Christmas fairy-tale during winter, and a massive Christmas tree can be found in the Marktplatz.
The views are phenomenal, so a walk up to the Hallstatt Skywalk is a must-do activity, and you can heat up at the cozy restaurants and cafes on the town's main street.
6. Bucharest, Romania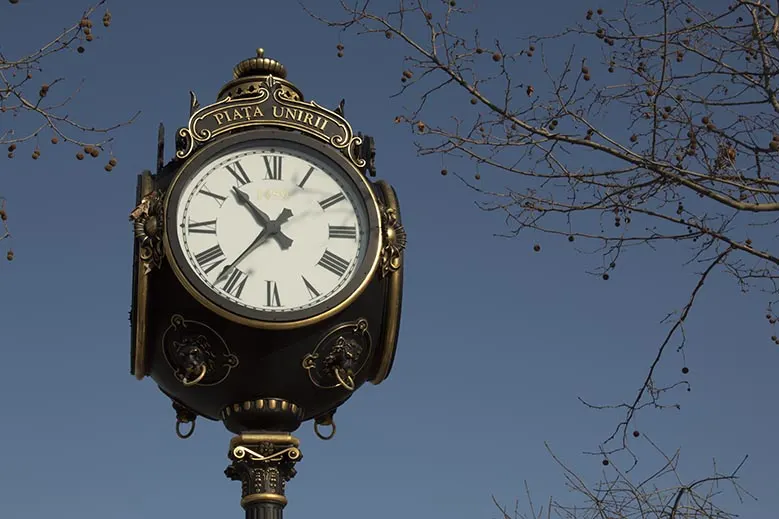 Bucharest is an underrated gem in Europe.
The Romanian capital has countless reasons to be a perfect winter destination and to be an ideal Christmas in Europe spot.
Starting with the hearty food, warm locals who will enthusiastically tell you more about their country's history, and affordable activities.
Moreover, I went on a day trip to, among others, the Bran Castle and Brasov, and I completely loved it.
But her favorite Romanian castle is surely Peles. Once you see it, you'll understand why.
I went there in January, and the castle was surrounded by fluffy, white snow. It was magical.
7. Strasbourg, France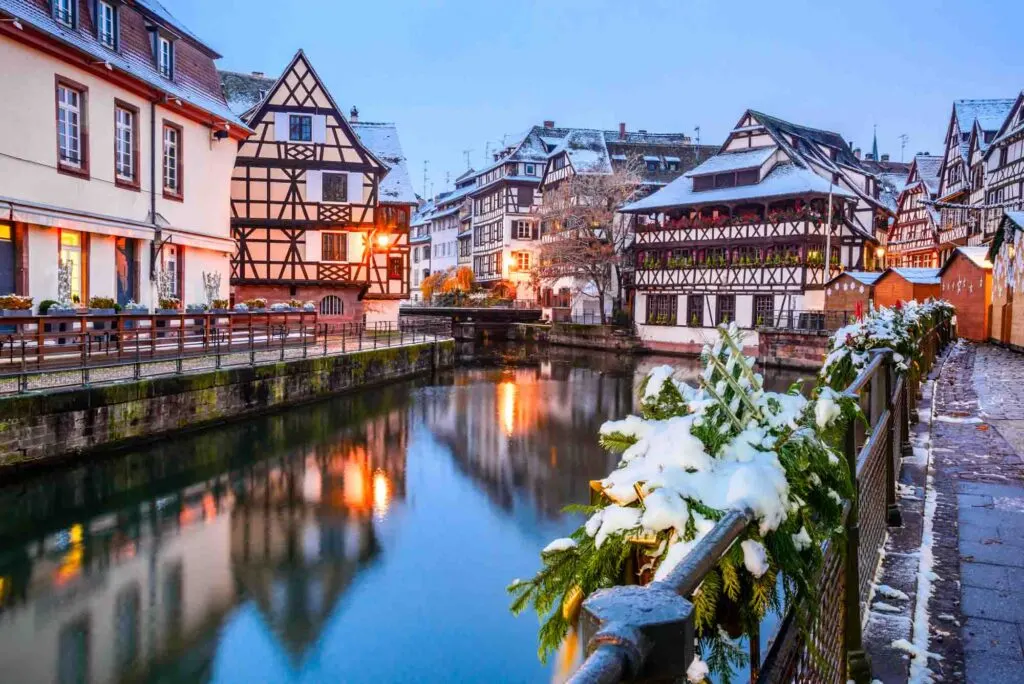 Strasbourg is a top European winter destination; the city comes alive with Christmas markets offering beautiful handmade traditional toys, gifts, tasty food, and mulled wine.
Be prepared for crowds and higher prices, but the winter cheer is well worth the expense.
The Petit France district seems even more magical in winter, and the local taverns offer warm, comfy breaks from your meandering about the town. Bright lights and quaint streets make for a fantastic evening outing.
Visit the Strasbourg Cathedral and wander in awe around the giant Christmas tree on the Place Kleber.
And for food lovers, a gourmet walking tour takes you through the Christmas markets on a gastronomic adventure.
8. Berlin, Germany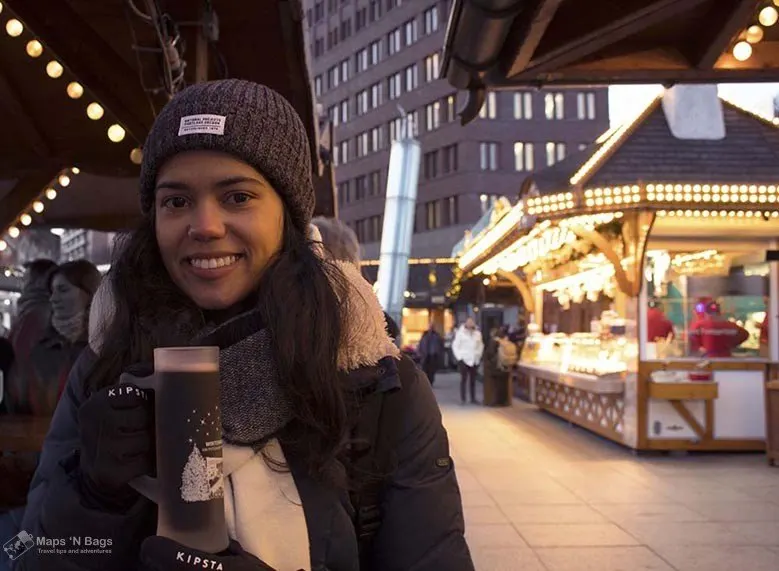 Berlin is a hipster, lively, cool, and affordable place to visit in the winter.
I was surprised to see many cafes and venues had unique underground styles, hip crowds, and fair prices.
German beer is worldwide famous, so that's how I managed to stay warm in the city. 😉
Also, while in Berlin, I decided to go to Sachsenhausen, a nearby concentration camp museum, and I highly recommend a visit there.
The stories you hear there, together with all the landmarks and historical war spots you see throughout the city and country, are seriously moving.
Read next: 8 Magical Places to Visit in Switzerland in Winter
9. Bruges, Belgium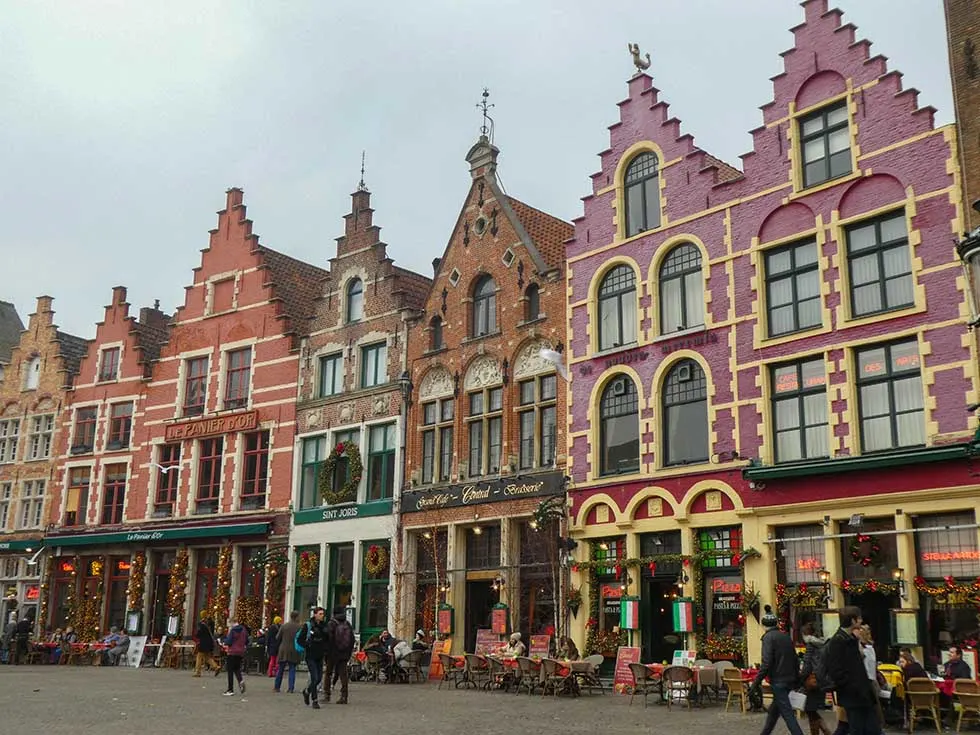 Bruges is a top European winter destination thanks to its many activities and beautiful architecture.
Experience the Winter Glow of Bruges as the city lights up, wander the town enjoying light installations, and warm up at the Christmas markets.
The Markt's most significant market has twinkling lights, good food, and a festive and friendly atmosphere.
Spend an afternoon at the ice rink at the Lake of Love and enjoy safe, car-free shopping during the festive season as roads are closed off for pedestrians to wander to the cobbled streets and get some retail therapy in.
Thanks to its brilliant Christmas decorations, Bruges has become a great place for a winter vacation in Europe.
10. Aachen, Germany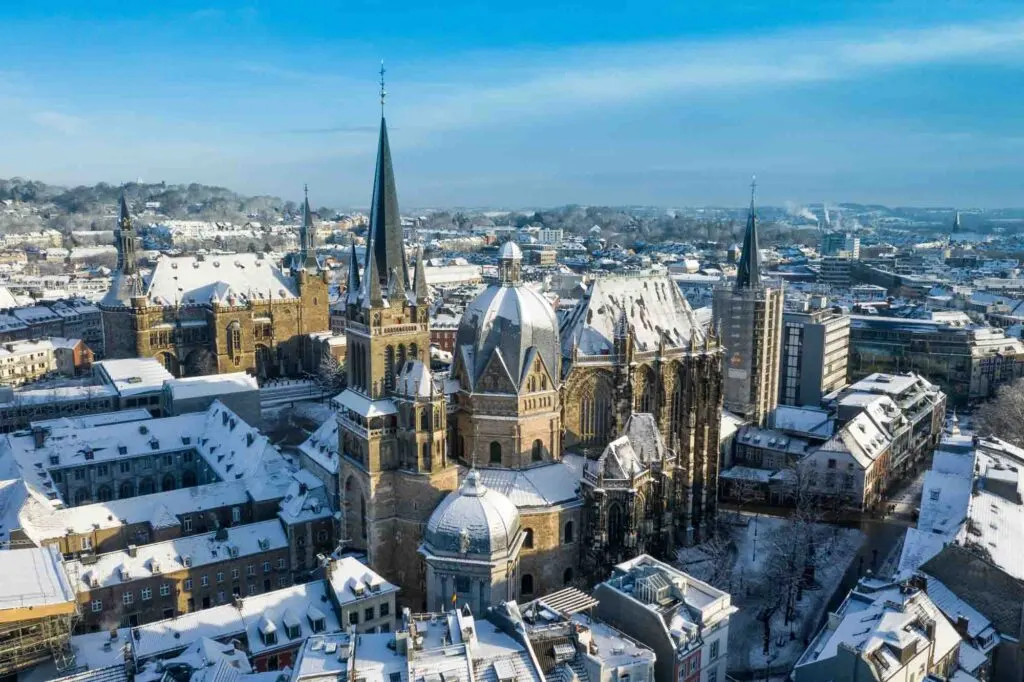 Regarding the best places to visit in Europe in winter, you can choose to visit Aachen.
This German town is home to some fantastic historical architecture with a magical element when covered with snow.
Wander snow-sprinkled cobbled streets between historic buildings and enjoy the atmospheric winter markets that offer traditional German Christmas wares.
Stay warm, sipping mulled wine and nibbling on Printen, a spiced gingerbread delicacy from Aachen.
Those who want to try authentic German beer can do tastings at Hopfen and Malz with over 300 beers.
You can also spend a day at the Carolus Theatre enjoying the thermal spas, a great way to warm up and rejuvenate after shopping at the markets.
11. Ghent, Belgium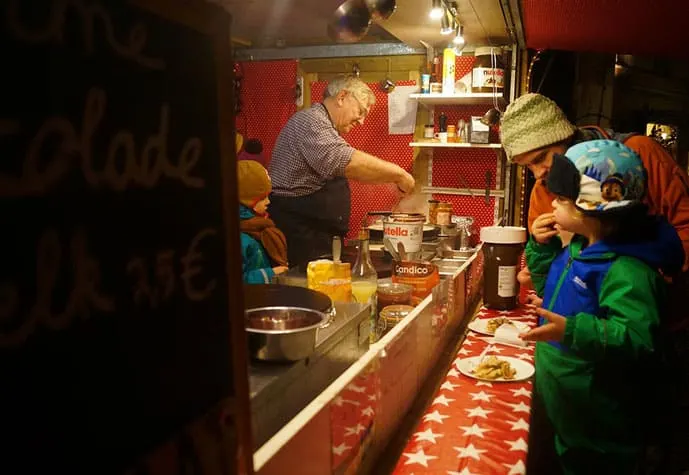 The compact medieval town of Ghent, with its cobbled streets and fairy-tale charm, is often overlooked by travelers who make a beeline for Bruges.
But increasingly, more travelers are discovering its quaint canal-side architecture, edgy art scene, and quirky bars.
Time your visit between the winter months of November and January for the Gentse Winterfeesten, a Winter Festival embracing all things Christmassy and cold:
sparkling light displays
traditional festive markets selling both local and international foods as well as craft treats
an ice rink under the City Pavillion
an ice grotto to meet Santa
thrilling fairground rides
a giant Ferris wheel affording panoramic views of the city and beyond
Take a visit to Gravesteen during the festival, and you will see rooms of the medieval castle, which showcases weaponry and torture devices, transformed into a Winter Wonderland with balloons on the ceiling, piles of presents, and snow scenes.
I was visiting Ghent with kids (aged 1 and 3), and I particularly loved the medieval dungeon transformed into a tranquil Christmas setting complete with carols and Christmas trees.
As you walk around the city center, pick up a hot chocolate or waffle from a street stall to warm you up. You will smell the waffles before you see them!
Jenny at TraveLynn Family
12. London, England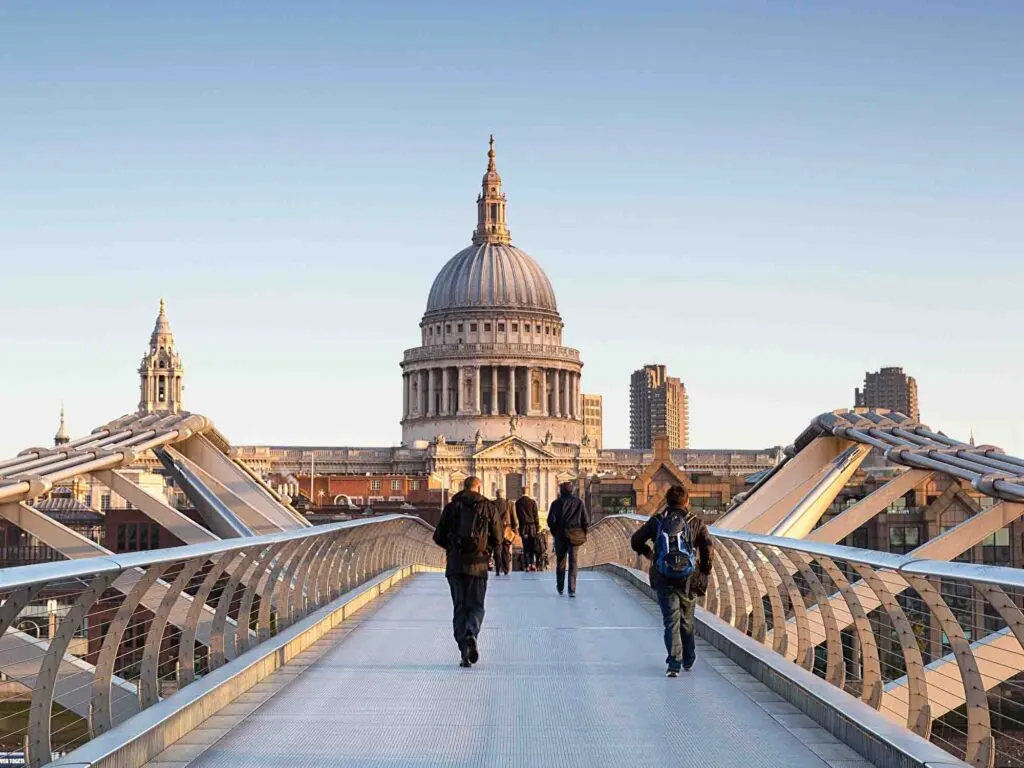 London is one of the top winter destinations in Europe. The English capital is a hive of activity that continues throughout the winter season with several seasonal activities added.
Enjoy outdoor ice skating at top landmarks like the Tower of London and Kew Gardens, and take in a pantomime as the season ramps up during the winter months.
Wander the shopping districts of Oxford and Regent Streets and Piccadilly, enjoying the vibrant and brightly lit window displays.
They head to markets along the South Bank and Hyde Park, munch on roast chestnuts, and buy traditional wooden toys.
London is great for bringing in the New Year with spectacular fireworks and a New Year's Day Parade along the River Thames.
Winter vacation in Europe could only be complete with visiting a London pub and enjoying a pint and the convivial taproom atmosphere.
13. Tromso, Norway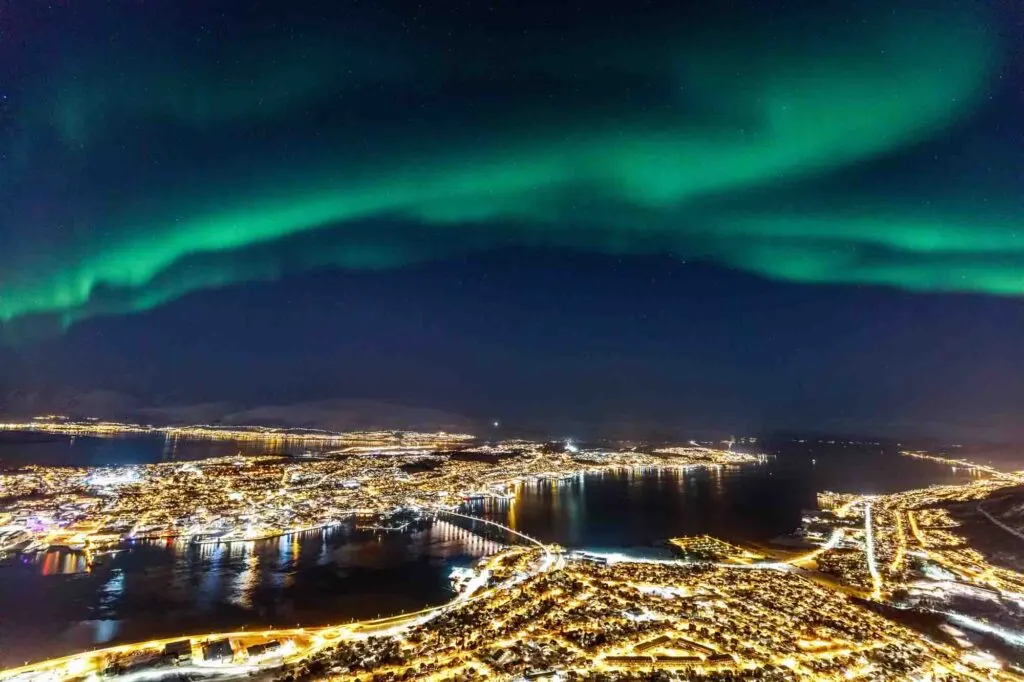 Tromsø is a beautiful Norwegian city that becomes a spectacular Arctic wonderland during the winter months, and it's one of the most magnificent winter destinations in Europe.
Tucked inside the Arctic Circle in Northern Norway, Tromso is not the most obvious choice of place to visit during the Winter.
In Tromsø, they have what is called the Polar night season that starts at the end of November, when there is only one daylight hour; in the months, building up to the darkness, the skies offer a beautiful array of spellbinding colors.
The northern lights are a highlight of visiting Tromsø, and visitors can also head out on amazing dog sledding and snowshoe hiking experiences in the surrounding forests.
The urban center has many activities, including Christmas markets, lights, restaurants, and museums.
Other highlights include saunas that help to keep the cold at bay, as well as short boating tours around the harbor.
The local tourist office offers many options of tours around the area, like visiting Sami tribes, seeing reindeer, skiing, and tours to chase the Northern Lights and go around driving your own snowmobile, which is a fantastic experience, crossing frozen rivers and waterfalls.
Needless to mention, if you're lucky to see the Northern Lights when you're there, those magic, dark green stripes that dance through the night sky will be a once-in-a-lifetime experience!
Like the rest of Norway, a trip to Tromso can get expensive, so previous financial planning is advised. The Polar Museum is also worth a visit, and the city is pretty safe for female solo travelers. It can be reached by flights from Oslo.
Leticia at Happee Travelers
14. Vienna, Austria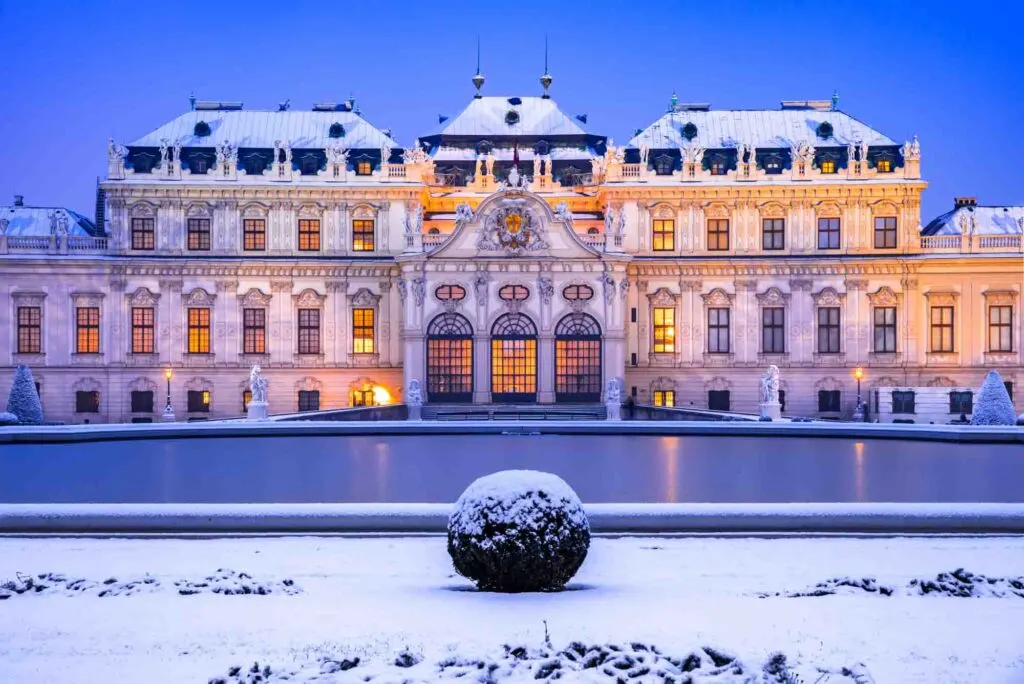 If you're looking for a winter destination in Europe, look no further than Vienna, a quintessential European city that offers a full itinerary throughout the winter period.
Although Vienna is on the expensive side, the city is worth the investment as it is jam-packed with beautiful buildings and good venues.
Enjoy the sparkling winter markets of traditional goods and food.
Also, Vienna's Christmas Markets are one of the best in Europe. My favorite one is the market in front of the city hall. The whole setting looks like a fairytale movie.
Bask in the golden glow of the City Hall as its bright lights shine out over the markets.
Buy sheepskin wear, handcrafted chocolate, and boiled sweets, and sip on mulled wine as you are able between stalls.
A fantastic element of winter in Vienna is ball season, which makes it one of Europe's best winter destinations.
Waltz away the night at one of 300 balls throughout the city. And wake up and enjoy a delicious coffee and cake at one of the city's many coffee houses.
15. Belfast, Northern Ireland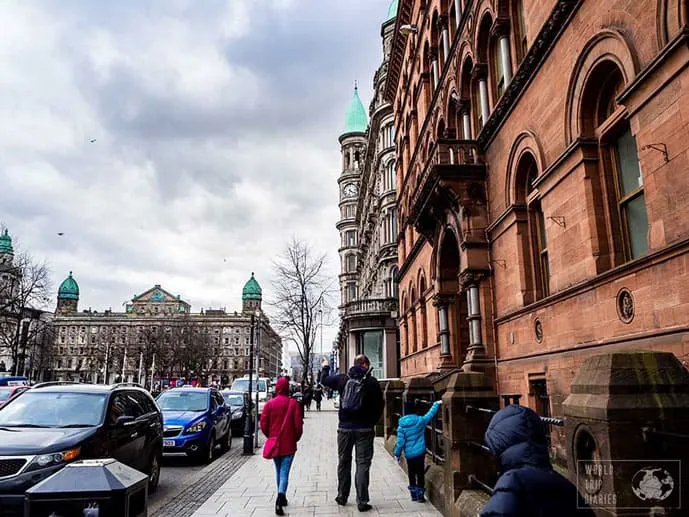 Belfast, in Northern Ireland, is amazing! During winter, it's magic.
First of all, there are many festivities, from Christmas, New Year's, and Valentine's to St. Patrick's Day (17th of March). Belfast is a great place to see it all!
It's best enjoyed during the winter due to the low season. This means fewer crowds everywhere and some pretty sweet deals all around! It is cold, though.
Belfast is right around the middle of this European country, making it a great base while in Northern Ireland.
It's easy to go all the way up North (Giant's Causeway, anyone?) or South as a day trip to Dublin, for example – rent a car for a weekend and do it all then!
And if you like Game of Thrones, there are many filming locations within an hour's drive.
During the weekends, there's St. George's Market with lovely food and live music. It was a great break from the cold outside.
And, of course, there's the Titanic Museum because. Why not? For people with kids, there's The Gruffalo Walk and the many, many museums. The Transport Museum was very highly rated.
Thais at World Trip Diaries
16. Tenerife, Spain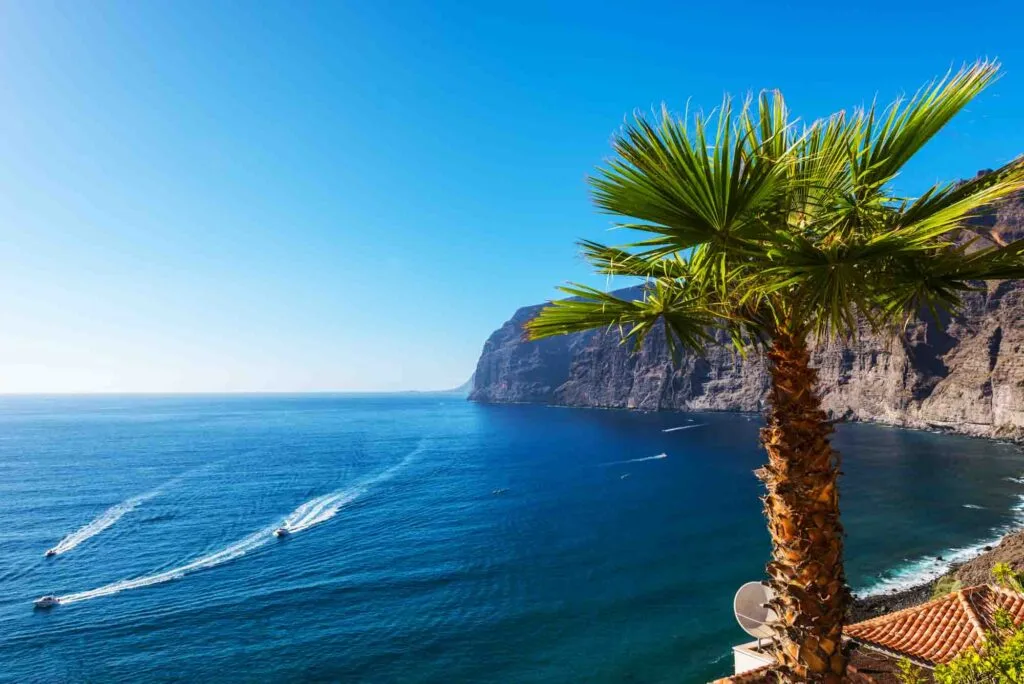 Tenerife offers one of the warmer European winter destinations, so if you are keen on the Perfect Island and beach getaway in Europe, this Spanish Island town is for you.
Although the rest of Europe is cold in winter, Tenerife maintains a balmy climate with lots of sunshine.
Enjoy beach time at one of the many resorts, visit a winery, or go whale watching.
For the braver individuals, you can brave the cold Atlantic waters, which can be a cool respite after days of sun. Enjoy the unique blend of Spanish and Moroccan culture, enjoying local food.
Because the weather is so mild, outdoor activities include hiking and trekking through a lava tube, the largest one in Europe, known as Cuevo Del Viento.
Tenerife offers the perfect way to enjoy one of the best places to visit in Europe in winter while escaping the cold of the mainland.
In addition to all these facts, Tenerife is surprisingly affordable, and you can easily enjoy a quality restaurant meal within your budget!
Avoid the miserable weather in Europe during winter and check yourself into the Hotel Botanico and The Oriental Spa Garden.
This spa retreat has stunning views of Tenerife and amazing facilities for adults and children, and the rooms are beyond your ordinary hotel rooms. Great value for money.
It is the perfect location to forget about all the stress. All in all, you can enjoy a relaxing winter vacation on the warm island of Tenerife. Once you start going on beachy winter holidays, you'll never want to spend winter at home again!
Michelle at Greedy Gourmet
17. Amsterdam, the Netherlands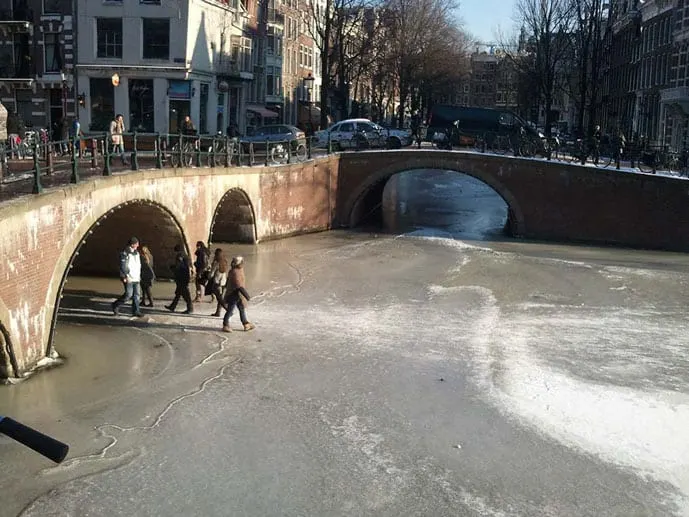 Possibly one of the most unstable weathers on this list, Amsterdam has a quite interesting winter. Some years, it gets icy, and the canals freeze. In others, it can reach 15ºc around Christmas.
There is no way to predict what the temperatures will be like, but one thing is for sure: there are a bunch of things to do in Amsterdam!
The museums in the city are amongst the best ones I've ever visited: Rijksmuseum, Van Gogh, and Moco Museum. The latter showcases the artwork of Banksy and Andy Warhol, among other big names.
Food-wise, the traditional Dutch Apple Pie or olliebollen will certainly cure your winter blues. Dutch food isn't very famous worldwide, but I can assure you, they have some delicious seasonal dishes in Amsterdam that are perfect in cold weather.
Like many others in Europe, the city in winter houses a magical festival of light (aka Amsterdam Light Festival) as magnificent installations cover bridges, canals, and streets.
But don't worry; you can easily go on a day trip to another Dutch city and taste their regional treats. Either way, I'm sure you'll love it.
Read next: Romantic Things To Do in Amsterdam
18. Zagreb, Croatia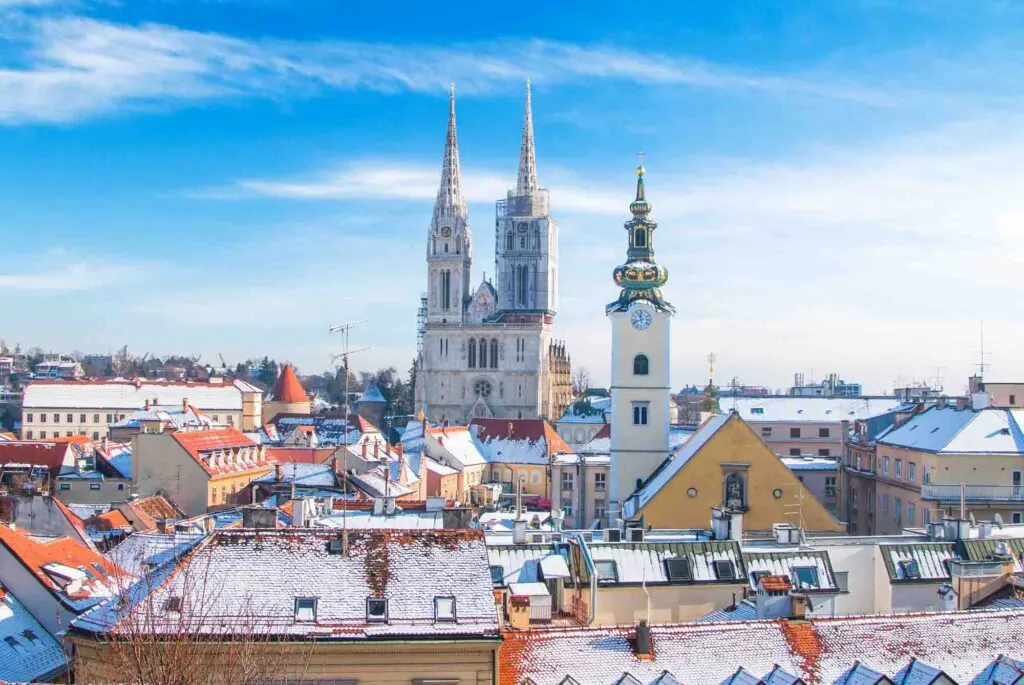 Zagreb is well worth visiting any time of year, but it has added charm during the colder months, making it one of Europe's best winter destinations.
The advent festivities are considerable, and parks light up with twinkling lights, Christmas trees, and ice rinks.
Snow-laden trees offer a beautiful backdrop to outdoor thermal baths, and in the evening, enjoy a night at the Opera.
Zagreb offers an array of Croatian cuisine. Tkalčićeva Street is a great way to spend a winter's evening, wandering from bar to pub, to bar, and back again, enjoying a friendly and welcoming atmosphere.
And experience a curated offer of the city's rave scene at Medika, which centers on Zagreb's local musicians and artists.
19. Valetta, Malta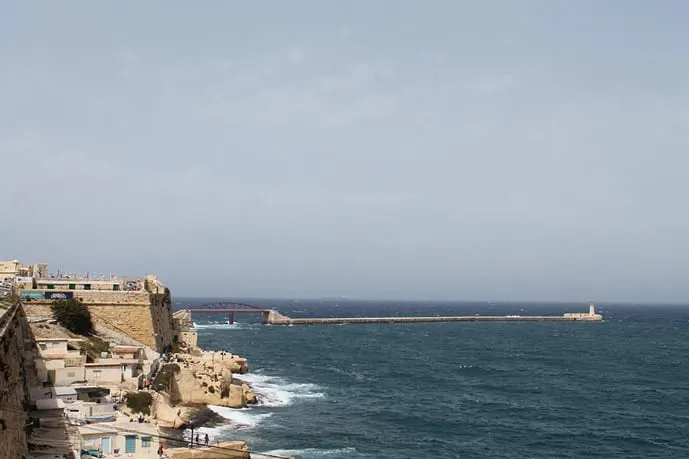 When winter arrives and you crave the sunshine, consider taking a trip to Valletta, Malta. This small city is the most southerly capital in Europe and enjoys sunny days year-round.
As a country, Malta sees very little rainfall, and temperatures in January are the lowest, yet still, on average, around 16 degrees during the daytime.
This winter sun destination is small, with just one international airport, Luqa. It is serviced by low-cost carriers, and so another great reason to visit is the low cost of flights.
Valletta itself was declared the European Capital of Culture 2018 and offers visitors many things to see and do.
The streets are narrow and cobbled, with interesting architecture that transports you into the past. With a strong Italian influence, food is a big part of Maltese life, with amazing pizza and gelato to be found all over the capital.
For a quick snack, pick up some pastries from one of the many local "pizzeria." You can take boat rides around the harbor and surrounding areas easily and for reasonable prices.
For those wishing to relax, take a stroll through the beautiful Upper Barrakka gardens and be rewarded with great views. Or perhaps you wish to find a secluded spot next to the ocean and soak up some precious winter rays!
Demi at Around The World With Her
20. Bergen, Norway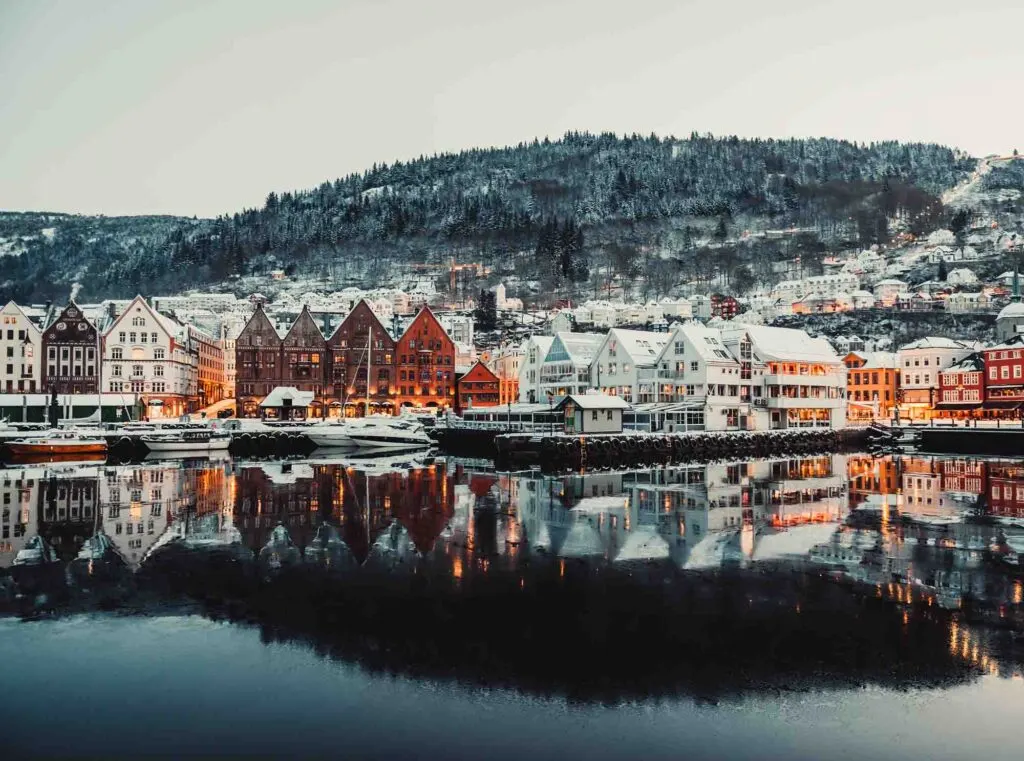 Bergen is a top Norwegian town and a fantastic place to visit in Europe in winter. The city is a winter wonderland with many activities both in and out of doors.
Visit one of the most unspoiled fjords in Norway with tours leaving the Fish Market.
Head up the mountain on Carble Car Ulriken 643 to see magnificent city vistas over 2109 feet below. You can warm up in a restaurant near the platform and enjoy the local fish delicacies.
During the day, you can enjoy some winter swimming, then warm up with some shopping, with Bergen being famed for its knitwear and cutlery.
The city hosts many cultural concerts over the winter months, offering an excellent way to spend an evening and get into some local culture.
21. Cairngorms, Scotland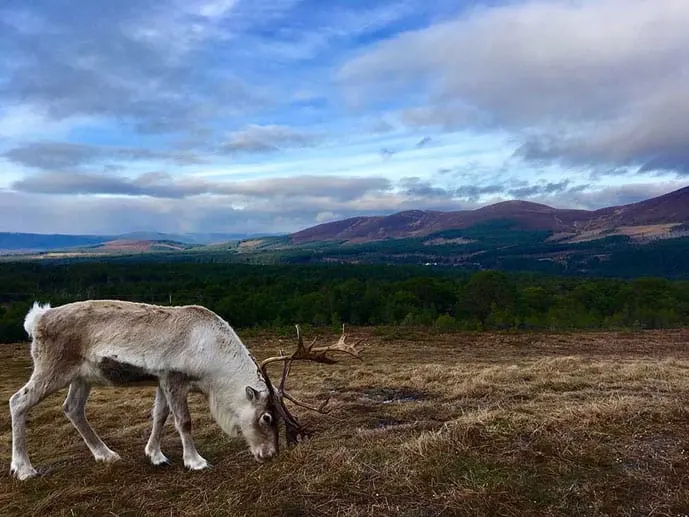 Winter in Scotland is a magical experience, as the crowds have all but gone, and the air that moves over the heather-hewn hills and moors is cold but quiet.
The cozy town of Aviemore, sitting just on the western edge of Cairngorms National Park, is the perfect place for a winter getaway.
The Cairngorms, Scotland's largest natural park, is known for its natural beauty and adventurous activities, and wintertime provides no exception. From Aviemore, the Cairngorm Reindeer Centre is an easy drive into the mountains and is a must-visit.
The Centre hosts the only free-roaming reindeer herd in the country, and there are opportunities for the Centre's guides to take you up on the hills to see these beautiful creatures in person.
Times of operation do vary in the wintertime, so be sure to check their website for more information.
Just a bit further up the road, Cairngorm Mountain sits high among the hills, where you can ski and snowshoe numerous trails. Keep an eye out for ptarmigans in their snow-white winter plumage blending into the snowy hills, a rare and thrilling sight.
Aviemore hosts dog sledding activities in wintertime, and after a day full of adventure, you can pop over to the Cairngorm Hotel for a warm beverage by the fire whilst listening to live Scottish music.
Don't miss the fresh fish and game dishes at The Old Bridge Inn or the Winking Owl, and have a taste of Asher's Bakery's meat pies or sausage rolls.
To experience feeling truly royal, visit Blair Atholl Castle for the holidays, as they offer Christmas fairs, banquets, and even Santa's grotto. You'll love spending winter in Scotland's stunning Highlands!
Christa at Expedition Wildlife
22. Tallinn, Estonia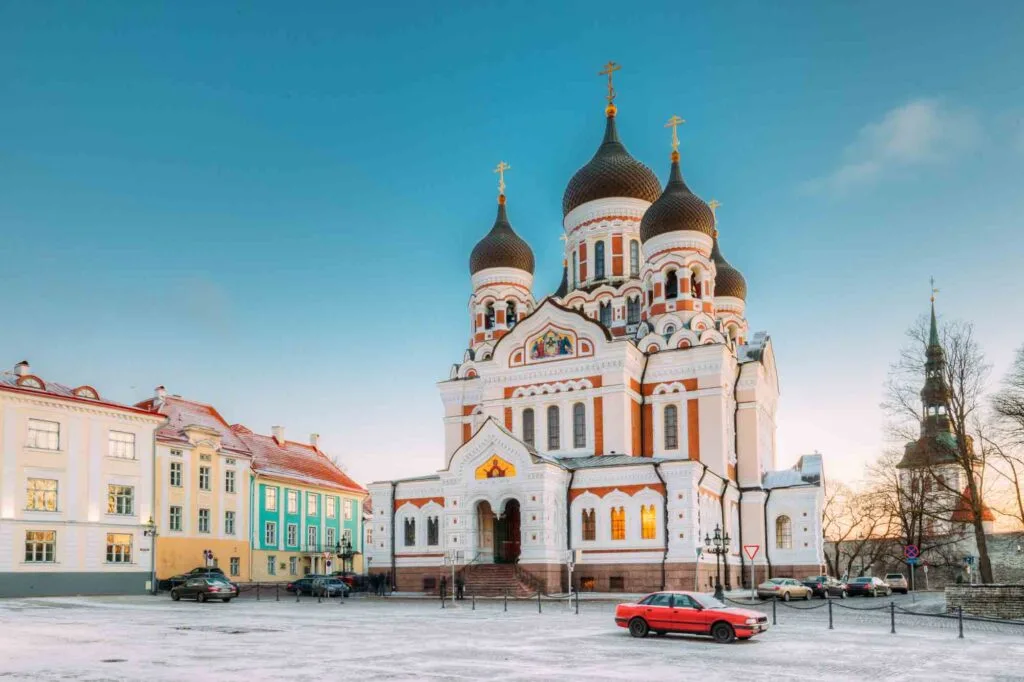 The capital of Estonia is one of the best winter destinations in Europe. From beautiful snow-capped old buildings to the Christmas Market outside the town hall, it's a winter wonderland well worth a visit.
The market offers magnificent knitwear as well as traditional Estonian foods and goods. When the cold gets too hot, retreat to one of the many restaurants and cafes for a pastry and mulled wine.
The medieval architecture gives the town a genuinely enchanting feel, and on the first Advent, you can watch the Christmas tree of Tallinn have its candles lit.
Join a walking tour through the town to get well-guided information and a way to visit the many different markets in the various districts.
23. Montpellier, France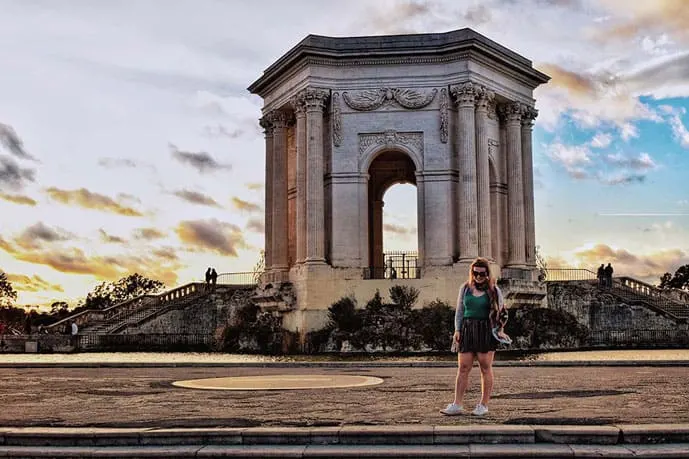 Montpellier, a city in the south of France, may seem more like a summer destination than a winter one, but don't let that discourage you. Montpellier is the PERFECT winter destination in Europe. "Why?" you ask.
Firstly, because there is so much to see and do! Whether it's the winter markets (Les Hivernales), the incredible light shows, or watching the Open Sud de France (Tennis), there is always an event on.
When you're not watching an event? Wandering around the spectacular city, exploring the scenery, and trying out local cuisine is the best way to spend your time.
Being a south coast city, Montpellier has a fusion of France meets the Mediterranean, not only in the mild and pleasant Winter climate but in their delicious meals too.
But, If you're searching for a local bite, Montpellier has no single specialty dish. Instead, Montpellier possesses a culinary culture filled with fresh fish, goat cheeses, and fresh seasonal vegetables.
During Winter, Montpellier becomes a lot less touristy, meaning you can roam freely away from crowds and large groups.
With over 50% of the population under the age of 35 and being one of the highest-rated student cities in France, you can guarantee the Winter nightlife will be just as appealing as the summer.
Breanne at Brie-Anne
24. Krakow, Poland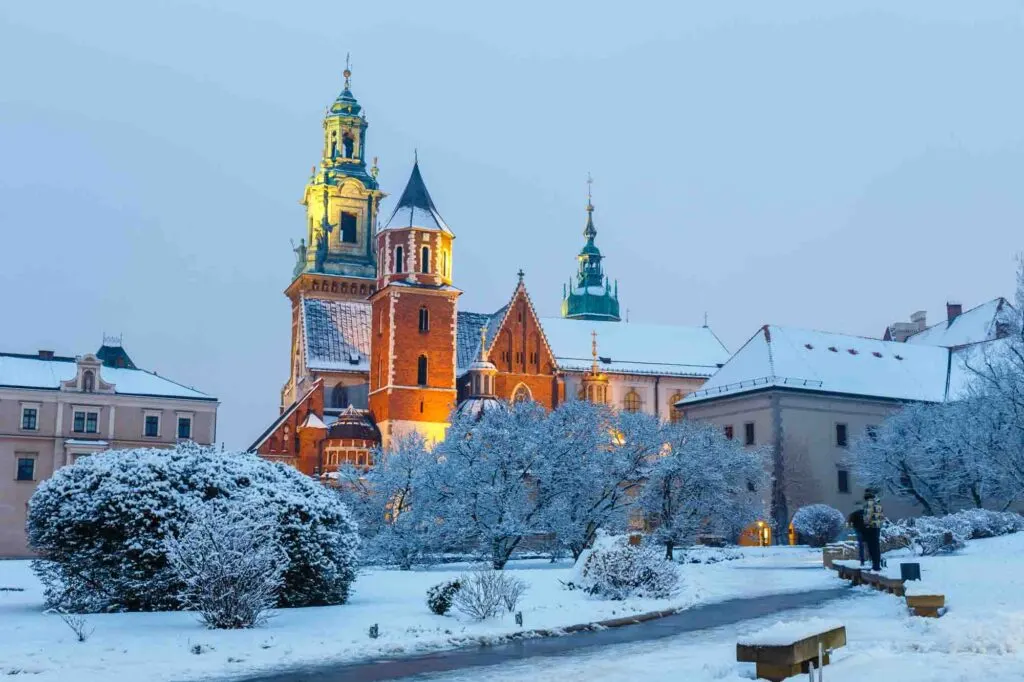 Krakow is one of the more popular winter destinations in Europe. Although it can be bitterly cold, the city offers many activities to keep you busy (and warm).
Visit the Ice Park and work up a sweat skating. Get in some arts by visiting the Krzysztofory Palace to view the 'szopki' exhibition, known as Christmas Cribs in English, which are breathtaking handmade creations that resemble something between nativity scenes, gingerbread, and doll houses.
Take a restful sleigh ride through the market square and warm up by drinking mulled wine or beer; they offer warmed-up beer in Krakow to help with the cold.
Another great way to escape the cold and experience history is to visit the Wieliczka Salt Mine.
25. Edinburgh, Scotland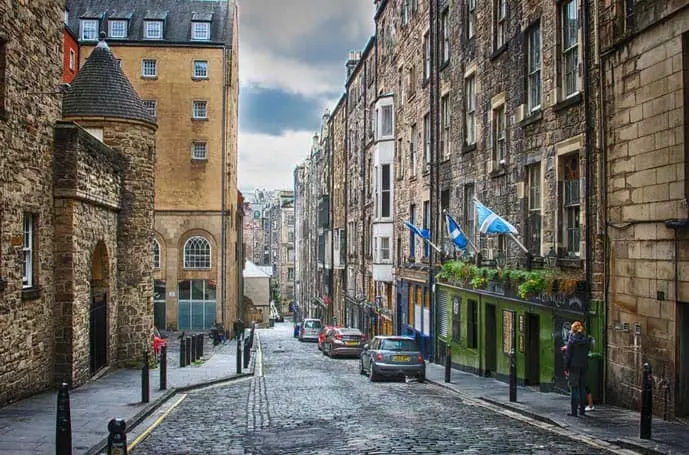 One of my favorite winter destinations has to be Edinburgh. The cold, wintery days provide the perfect mood for exploring the ancient buildings and streets that weave their way through the city.
There is something about walking the cobbled streets, wrapped up in your winter clothes, that really adds to the atmosphere. My recommendations include a visit to the Scotch Whisky Experience.
For starters, a few drams of whiskey is a really good way to keep those winter chills at bay. The Edinburgh Castle is also a must-see, especially for first-time visitors.
One of the best things to do, however, is to book yourself onto a ghost tour. I was on a tour that took me through Greyfriars Kirkyard, which is apparently one of the most haunted places in the city.
Wrapped up in my winter best, I trudged through the graveyard with only a torch to light the way. The frosty winter air adds to the chilling atmosphere of the tour.
For food during your Edinburgh stay, I recommend trying a deep-fried Mars Bar. This artery-clogging delicacy invented in Scotland might just beat haggis on the weirdness scale.
And, of course, all those extra calories will help with the cold weather. Mind you, I certainly don't recommend having more than one!
Lizzie at Wanderlust and Life
26. Zermatt, Switzerland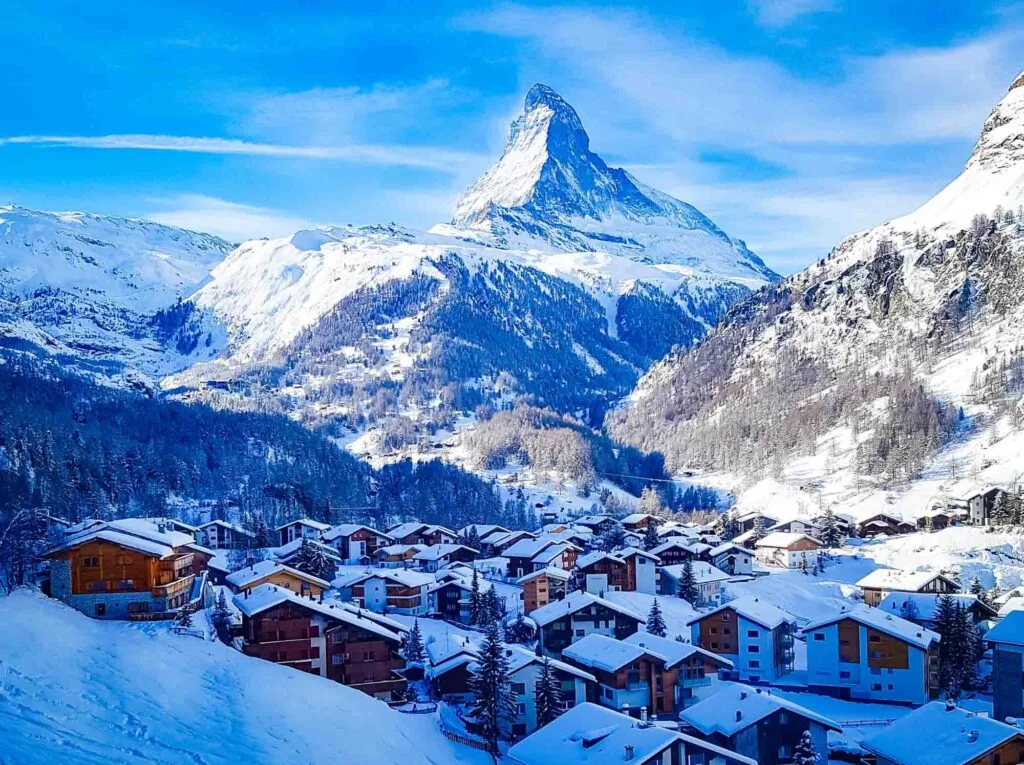 Zermatt is a spectacular alpine town that the majestic Matterhorn overlooks. It is the perfect European winter vacation with mountains and snow and a quaint village that exudes charm and beauty.
With so much snow and mountains, skiing is a significant activity in Zermatt.
When winding down after a day on the slopes, visitors can visit one of the many spas in the town, and in the evening, head to one of the many apres-ski joints for a party.
A great way to spend a day is to take the cog railway up to Gornergrat, where you will get phenomenal views of the Matterhorn and enjoy a good meal.
It all comes together to make it one of the most enjoyable winter destinations in Europe.
27. Paris, France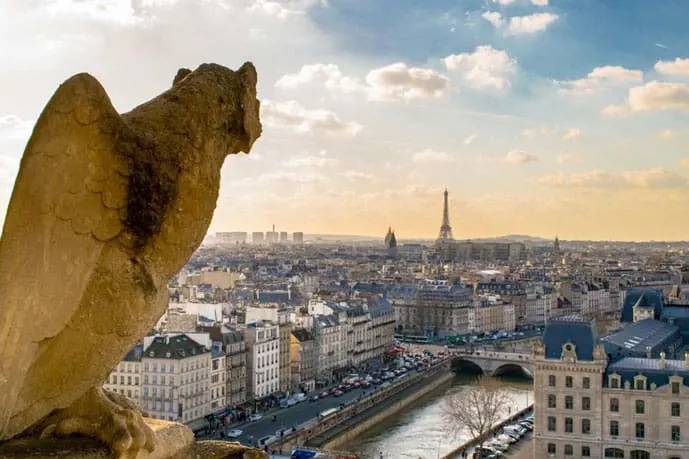 Paris in the winter is an absolute delight: crisp air, smaller crowds, and tranquil beauty that hangs over the city all give winter in Paris an extra special atmosphere.
While the gardens won't be blooming and you're likely to see more clouds than the sun (though, such is life in Paris!), winter in Paris also means:
ice skating in front of the Eiffel Tower (because Paris is always a good idea!)
sipping hot chocolate at cafes
admiring Christmas decor in the beautiful cathedrals (remember, Paris is the city of love)
warming your hands with delicious crepes bought right on the street
the opportunity to get lost in Paris' many museums without feeling guilty about staying inside
Besides, accommodation in Paris is much cheaper this time of the year.
Winter in Paris is also the perfect time to see a show–whether that's checking out the opera, hitting a club like the famous Moulin Rouge, or simply checking out one of Paris' several landmarks, Paris has options for every taste.
While winter weather in Paris is typically cold and often wet, temperatures remain fairly mild, and snow is rare–so bring a warm coat and some cozy boots!
Wandering the streets of Paris in winter is just as magical as in the summer, if not more so, and it is an experience well worth having at least once.
Kate at Our Escape Clause
Read next: What to do in Paris in 4 days
28. Glasgow, Scotland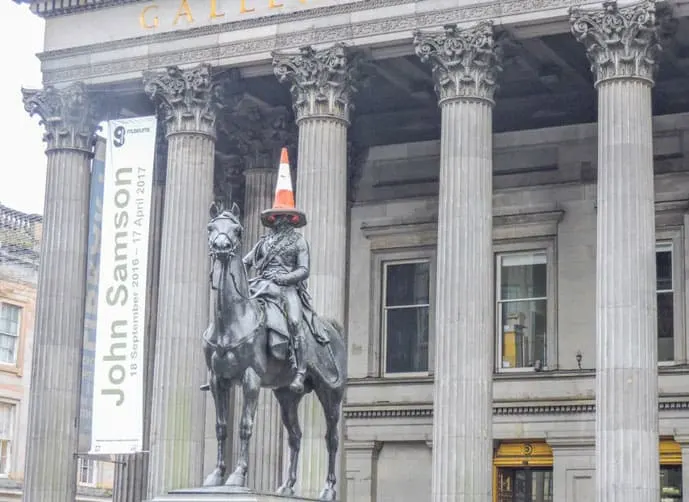 (To the tune of 12 days of Christmas…)
On your second trip to Scotland, add Glasgow to your itinerary…
Sure, everyone sings about Scotland's capital, Edinburgh, with its Old Town and Harry Potter locations, but Scotland's biggest city is where the action is at.
With street art murals, hipster bars, and an excellent music scene, Glasgow is great all year round but really shines come December, so consider it for your next European Christmas break.
George Square, close to the main shopping drag, Buchanan Street, turns into a Winter Wonderland with rides, stalls, and decorations.
A second Christmas market can be found at St Enoch's Square because one is never enough! Gifts from independent makers can be purchased at Sloan's Market, Merchant Square Craft Market, and BAAD Glasgow.
Glasgow's vibe is that the 'people make Glasgow, ' so supporting locals is recommended.
The official lights switch-on takes place November 18th; then the festive month is filled with pantomimes (oh no, it isn't), music, and a mad Santa dash (five thousand Santas running for charity!)
Gemma at Two Scots Abroad
29. Luxembourg City, Luxembourg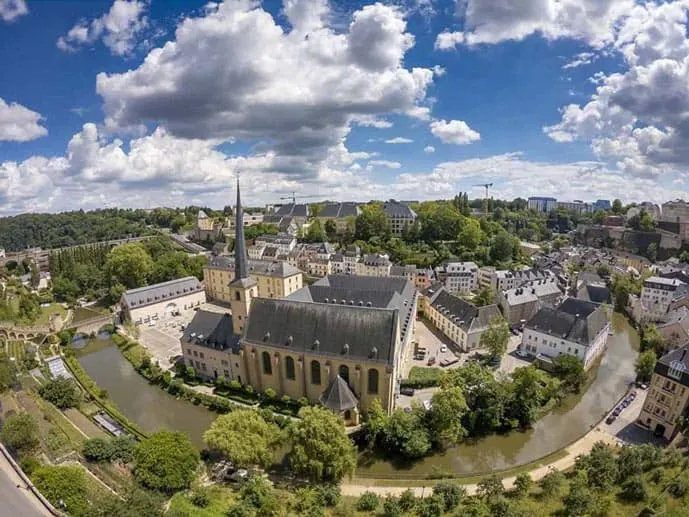 Luxembourg City is definitely one of my favorite destinations in Europe, and I think in winter, it's a great place to be. Even though it is a capital city, it's so small you can easily go around on foot, and there's a lot to see and do.
The city center is UNESCO-listed, and just a short walk away, you'll find the Chemin de la Corniche, a scenic walk over the former city walls with great views of the lower city and river valley, and the Bock Casemates, a series of tunnels and fortifications dug into the rock atop which the city was built.
A cold wintry day is also ideal for checking out Luxembourg City's best museums, like the National Museum of History and Art, with various kinds of exhibits ranging from archaeology to paintings, and the Museum of Modern Art (MUDAM), completely decorated by artists.
Winter is also perfect for enjoying some tasty Luxembourgish food, which is usually hearty and meat-heavy, or having a sweet break at the Chocolate House, right opposite the Grand-Ducal Palace, with lots of cakes and hot chocolates.
There's also a lovely winter festival called Winterlights, with ice rinks, lights, and Christmas Markets all over the city – a wonderful way to enjoy the holiday season in Luxembourg!
Margherita at The Crowded Planet
30. Nuremberg, Germany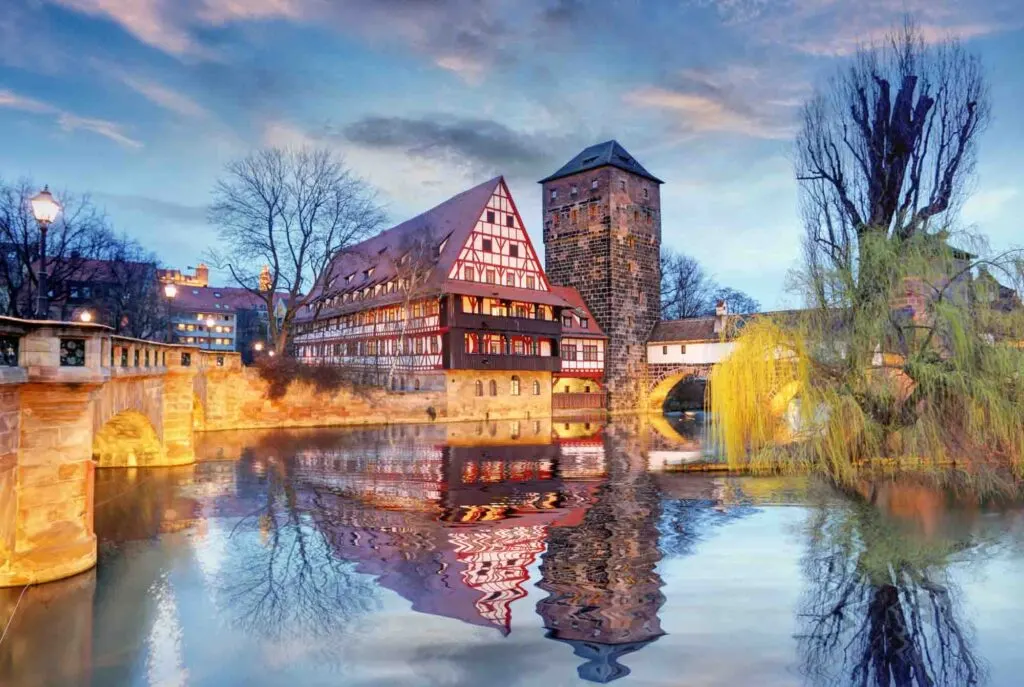 Nuremberg is a Bavarian masterpiece that has become one of the top winter destinations in Europe during the colder months.
With the spectacular architectural backdrop, Christmas markets are set up in many of the city's squares, where a variety of beautiful goods and traditional gifts are sold.
Thousands of fairy lights adorn the stalls and buildings, making an evening market visit a magical experience. Snow is not common but can occur otherwise.
Be prepared for drizzle and rain, but this doesn't deter anyone, and you can expect large crowds as Nuremberg is one of Europe's most popular winter cities.
Ice skating is a popular activity, and you can grab some Lebkuchen and caramelized almonds to munch on while exploring the city's streets.
A trendy drink is Glühwein, a heated spiced red wine that does much to lift the spirits and warm one up.
Click here for more winter activities in Nuremberg
31. Rome, Italy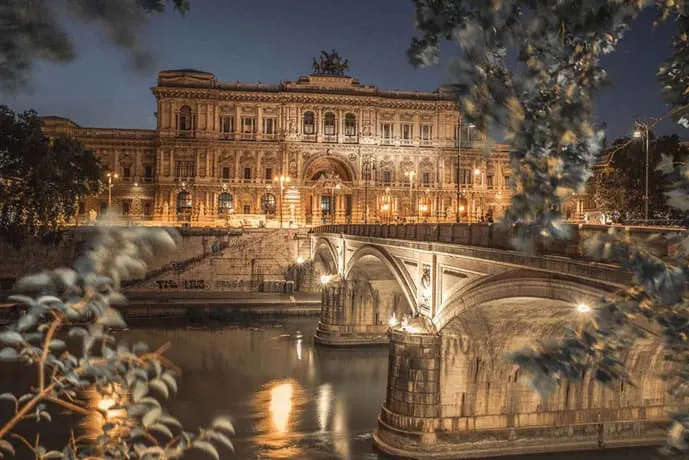 Walking around the cobblestoned streets of Rome is truly a magical experience.
It's like taking a step back in time, and every turn you make, you'll discover another beautiful moment, charming neighborhood, or gorgeous church.
The entire city is like a free museum, and I think the best time to visit is during the colder winter months! "Why?" You might ask.
Well, because it is so much less crowded, and makes for a much more pleasant sightseeing experience.
Rome is undoubtedly one of the most popular cities in the world for tourism, which makes summer a rather hectic time to visit.
So, take it from me — plan a winter weekend in Rome and check out the Pantheon, Spanish Steps, and iconic Colosseum with very few other tourists around! You can thank me later.
Dave at Jones Around The World
Read next: Romantic Things To Do in Tuscany
32. Venice, Italy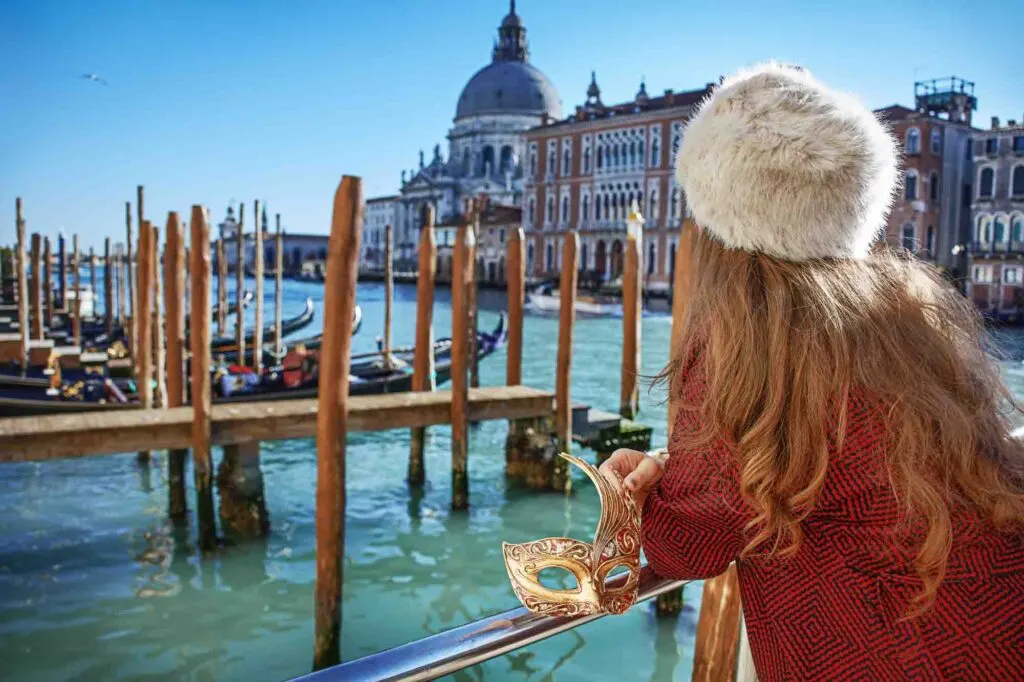 Venice is one of the best winter destinations in Europe since the city's biggest problem is overcrowding, but not during winter. It's the quietest time of year, so you get to miss the crowds (or not).
You can often have the prime spots in Venice, like St Mark's Square, all to yourself. Especially if you visit those spots first thing in the morning or late in the evening.
Without the crowds, Venice is so much more magical. In winter, you can wander the labyrinth of lanes and alleyways without seeing a soul or sit in the front of a vaporetto down the Grand Canal and savor the experience for yourself, rather than having to jostle in crowds to get on and off.
Although more commonly associated with summer, Venice in winter has several benefits; most significantly, foul smells from the canals are minimal, and the crowds have lessened, meaning more straightforward and faster access to the museums.
Other than that, the city is a vacation dream, with gondola rides through the canals and the surrounding beautiful bridges and buildings.
Like most of Europe, Venice also hosts numerous brightly lit Christmas markets that offer unique Venetian masks and stunning Murano glassware.
With winter comes a light morning mist, which offers magical morning walks around the city.
New Year is always a big celebration in Venice, with St Mark's Square lighting up with fireworks. In February, the town hosts its eight-day annual Carnevale di Venezia, a Baroque fancy dress opulence, masks, and face paint festival.
Faye at Delve Into Europe
33. Faro, Portugal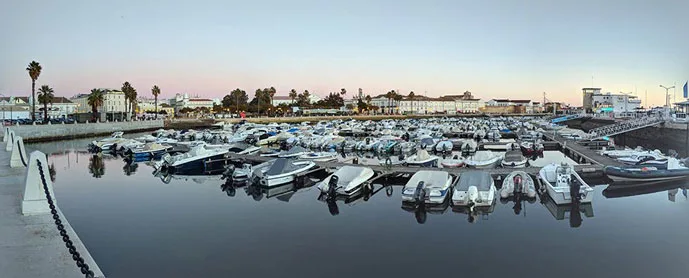 With over 300 days of sunshine every year, Faro is a fantastic place to whittle away a few days, weeks, or months in winter. The city is hands down the best winter sun destination in Europe!
Faro is the largest city in the Algarve, a region that's known for its beautiful beaches, warm weather, and laid-back lifestyle.
Although Faro is quite far on the Eastern side of the Algarve, it's still possible to get anywhere on the Algarve fairly easily: even Aljezur on the Western Algarve is just over an hour by car.
You also have the benefit of being close to the Spanish border, perfect for visiting places like Seville, Jerez, and Cadiz, and you're close to the Algarve's only airport as well (Faro Airport).
While it's too cold for swimming, it's still worth paying a visit to some of the Algarve's many beautiful beaches. Praia de Faro is the nearest beach to Faro City Centre, but many locals prefer to visit less crowded beaches like those on Ilha da Deserta.
In the evenings, it's worth checking out some of Faro's restaurants to try local Algarvian and traditional Portuguese cuisine.
Local dishes include frango Piri – Piri, oysters from the nearby Ria Formosa, and javoli, and there are also plenty of other national dishes like bacalhau, leitão, and cataplanas that deserve a place on your foodie bucket list.
James at Portugalist
34. Ljubljana, Slovenia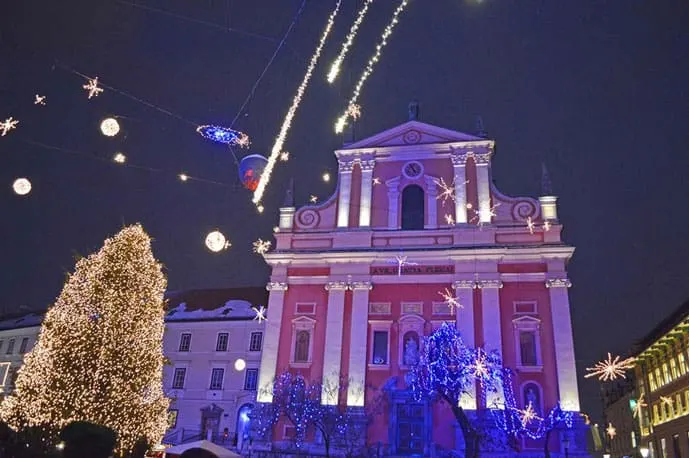 You must have already heard about the magical city of Ljubljana, Slovenia, about its colorful Disneyland-like houses, small-town charm, and laid-back atmosphere.
Maybe you have already visited the city and were totally amazed by it, because, who wouldn't… Whether you have been to Ljubljana or not, wintertime has one great reason for you to come back – the Christmas lights and markets.
If Ljubljana looks magical during the year, in winter, it changes into a surreal fairytale-like city. Every year, the first weekend of December has a special happening – turning on the Christmas lights.
They were designed years ago by various artists, and the city recycles them every year, changing the composition and placement a bit, so it's actually always different.
I remember the feeling of entering Preseren Square from Copova Street and getting the first glance at the Christmas lights, always wondering what they had changed this time.
Stroll through the old town and enjoy the Christmas lights decoration. Search for angels, geometrical shapes, planets, and falling stars.
Stop by the many cute wooden stands to buy mulled wine or small gifts – the city center is full of them, and they will amaze you with the originality and variety of handmade articles.
And most importantly, don't forget to take pictures; they will warm your heart for many winters to come.
Tereza at Czick On The Road
35. Istria, Croatia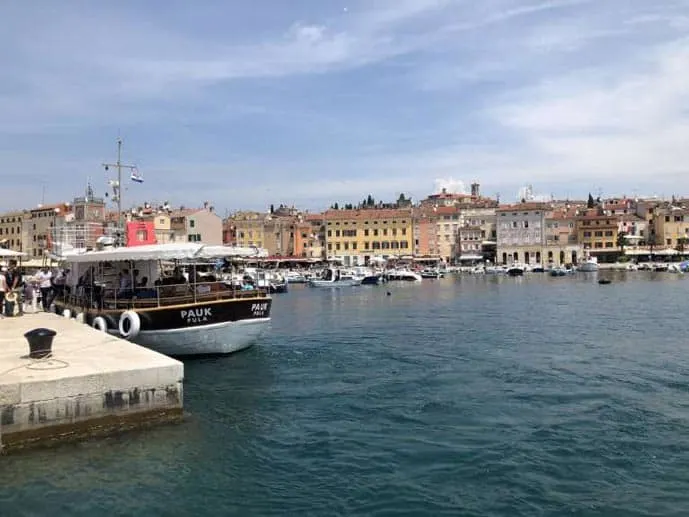 The fresh truffles here are divine. The winter yields seasonal mushrooms such as fresh white truffles, winter black truffles, and noble black truffles.
Can you imagine treating yourself to such expensive and wonderful truffles? It is truly a once-in-a-lifetime experience.
After you get done dining in style and luxury, consider booking yourself a wellness day at one of the spas all around Northwestern Istria. You can relax and melt your stress away in the sauna or try an Ayurvedic massage.
You can experience a real Turkish Bath, too! You can also consider getting a bike and cycling your way around Istria for good exercise and the opportunity to see some great scenery. You might consider cycling around Novigrad, where cycling paths are well-maintained and easy to follow.
You can start at the Novigrad Peninsula, for example, and follow the path all the way down to the town of Dajla. This goes right along the coastline, and you can see the sea in all its beauty.
For a nice indoor activity, consider Groznjan, which has 20 art galleries and studios for your viewing pleasure!
There are also plenty of gorgeous hills around the surrounding area, and they look lovely in any season. Make sure to spend some time visiting Istria in the wintertime!
Kaila at Nylon Pink
36. Andorra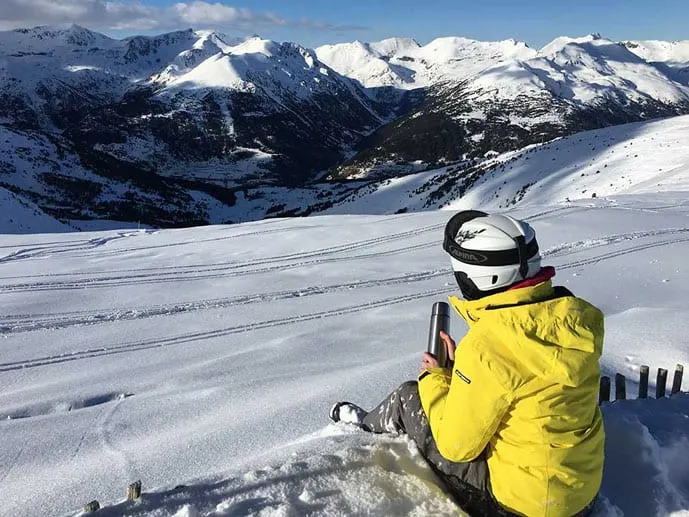 Andorra is a great destination in the winter for ski lovers. It is very affordable and not very well known, which is great as you will never have to wait in long queues at the lifts.
You can also combine your holiday with a short city break as there aren't any flights to Andorra. You can fly to Barcelona and then take a transfer bus, which takes about 3,5 hours.
Grandvalira is the largest resort in the country, with 210 km of slopes. These many ski slopes will keep you busy during your time in the country. Everyone will find a slope for their ability.
The resort has many equipment hires and lockers, so it is very easy and convenient to organize your holiday. If you are a beginner you can book skiing lessons, they have many English-speaking staff.
If you are not really into skiing, there are several hiking trails you can explore, or you can try snowshoeing. If an active holiday is not really your thing, then you can visit a beautiful spa and just relax.
Don't forget to try some delicious Andorran specialties. Sausages, cured ham, and cheese are very popular!
Eniko at Travel Hacker Girl
37. Budapest, Hungary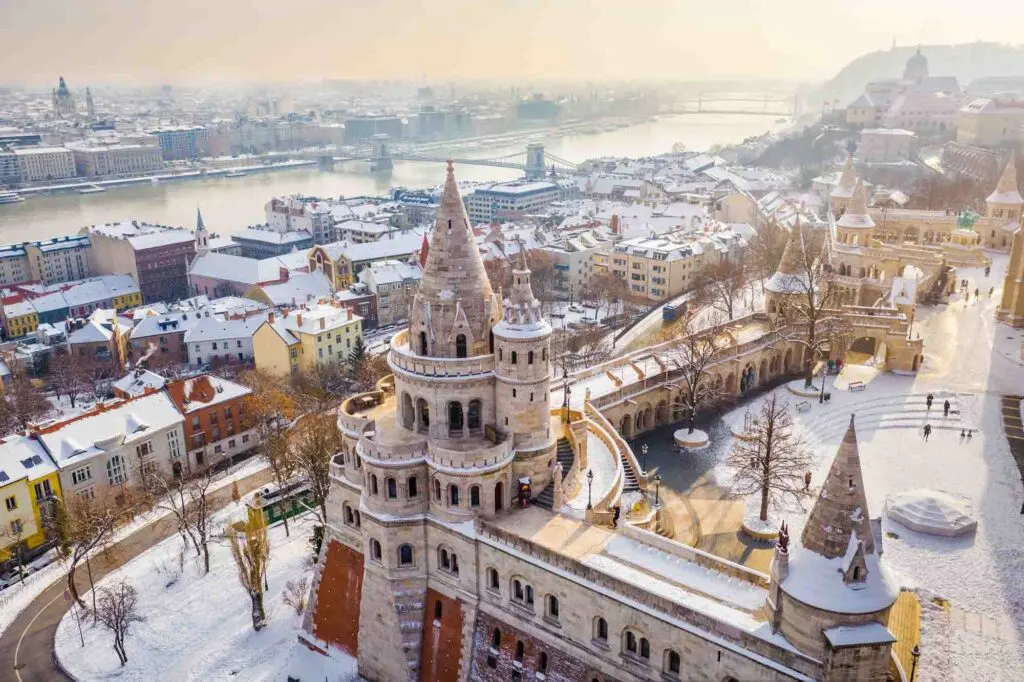 Budapest, home to fairytale architecture, exciting nightlife, thermal baths, and mouthwatering cuisine, shines year-round. Visiting Budapest in winter, however, is nothing short of spectacular.
The cooler months reveal Budapest's panoramic views, all dusted with snow. Matthias Church, St Stephen's Basilica, and Parliament Building look magical when sparkling with frost.
Plus, the colder months give you a reason to step inside these famous buildings and view their stunning interiors.
Ice-skate at City Park, where the lake transforms into Europe's largest outdoor ice rink, or escape the chill by languishing in Széchenyi Bath, one of Budapest's hot thermal spas.
Rejoice in the cooler weather as an excuse to experience hearty Hungarian cuisine. Sample the national dish of gulyás (goulash soup), pörkölt (stew) or töltött káposzta (stuffed cabbage).
Wander Central Market Hall and drink like a local with a shot of Unicum, an herbal liqueur. Warm up at a historic Budapest café with coffee and traditional cake, such as Dobos torta or Esterhazy.
Stroll the many Christmas markets, sip mulled wine, or taste a hot Chimney Cake (kürtőskalács) straight off the coals. At the end of the day, head to one of Budapest's ruin bars to keep those winter temperatures at bay.
Marie at A Life Without Borders
38. Fuerteventura, Spain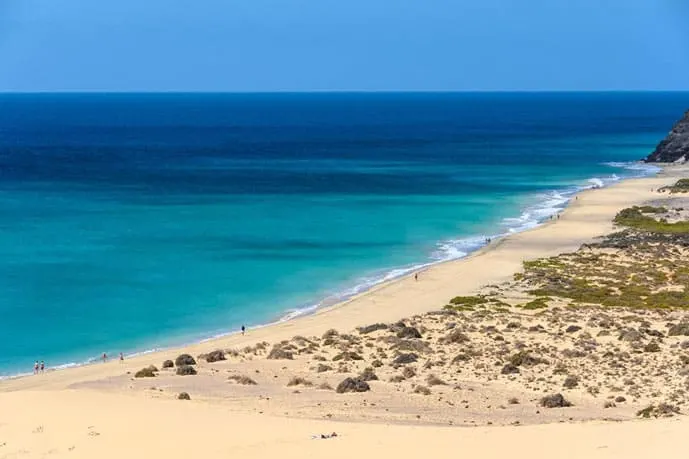 When you think about great winter destinations in Europe, beaches probably won't come to your mind. Nevertheless, there are certain areas that belong to Europe where the climate allows people to spend time on the beach, even at Christmas.
The beaches in Fuerteventura, one of the main Canary Islands in Spain, are, for instance, a perfect place to enjoy a non-typical European vacation in winter.
Amongst the Canary archipelago, Fuerteventura has the largest extension of picture-perfect sandy beaches that will instantly take you to paradise.
The golden sand beaches situated near the large sand dunes of the Corralejo Natural Park or the white sand beaches around El Cotillo in the Northwest will make you feel in the Caribbean.
You can also explore the Jandia Natural Park, situated on a small peninsula in the South.
In spite of great winter temperatures and many hours of sunshine, there can be quite windy days (as the name of the island actually indicates), which is a great option for practicing water sports.
There are facilities to teach you the basics of kite surfing or paddle surfing, and you can easily rent all kinds of equipment.
Fuerteventura has great flight connections from Continental Spain, Germany, and the UK, and you can also get there easily by ferry from Lanzarote Island.
Gabor at Surfing The Planet
39. Munich, Germany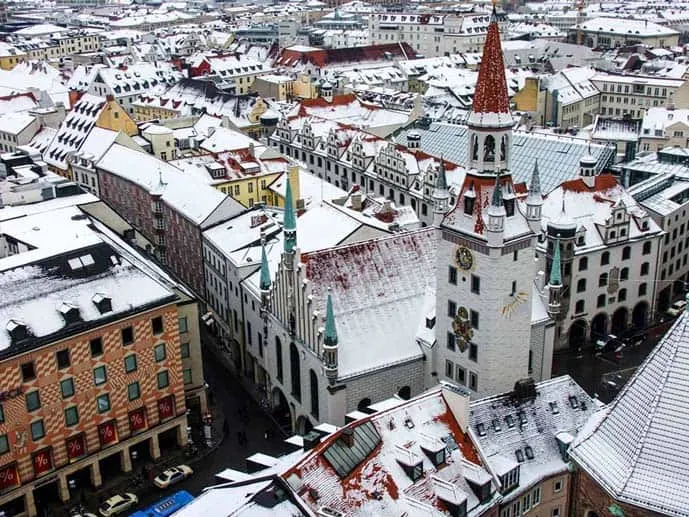 The capital of Bavaria, Munich seamlessly combines old European charm with modernity. It's a city full of history and arts. Ornate palaces, baroque churches, and world-class museums keep visitors busy.
Highlights include the old-world Marienplatz (main square), the jaw-dropping Residenz, and the Neue Pinakothek with its Impressionist paintings. Not to mention enjoying celebrations at the famous beer hall, Hofbrauhaus.
With convenient mass transit and a city center that's easy to explore on foot, winter is a wonderful time to visit. Crowds are few. The temperature rarely dips below freezing.
So, you can still take a stroll around town. But, if the snow is falling and the temperature dipping, there's plenty to do indoors. It also hosts several festive Christmas markets in December.
Besides being a cultural center, Munich acts as the gateway to Bavaria. This charming region in southern Germany is a fantasy landscape bursting with mountains and castles.
Bavaria is said to be the most beautiful area of Germany. And I agree. Plus, seeing the region covered in snow adds an extra touch of magic, making it an unforgettable place to explore. It truly is a winter wonderland.
April at The Unending Journey
Read next: 20 Magical Christmas Markets in Europe
40. Riga, Latvia
Riga is the capital of Latvia, and many historians believe that this is the place where the first Christmas tree was erected back in 1510. The Baltic states have gained more and more popularity as a holiday destination in the past years.
During winter, there are many things to do in Riga, such as visiting castles and historical museums.
However, the best thing to do is to enjoy the Christmas market, where you can find great winter food that is popular as winter food such as hot Laima Chocolate and Riga Black Balsam, and of course to give ice skating a twirl.
Latvians are also a fan of hockey; if you are as well, watch a game and cheer with the locals. While you can also pamper yourself and check out the Latvian saunas in the city.
If you are worried about accommodations and prices, there are plenty of affordable hostels in Riga; most of them are located in the Old Town, which is perfect.
Mary at A Mary Road
41. Warsaw, Poland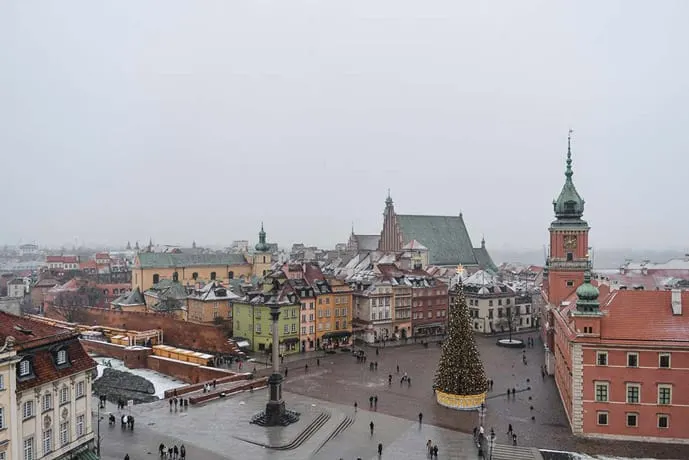 In my opinion, Warsaw, the capital of Poland, is one of the most underrated cities in Europe. It has everything you expect from a European capital: loads of history, staggering beautiful architecture, activities to last you for months, delicious food, and much, much more!
While it is true that summer in Warsaw is sunny and charming, there is something even more alluring to visiting during the winter. The Old Town is emptier and, if you are lucky, covered in cinematic snow.
There are plenty of museums to explore when it is too cold outside and countless cute cafes to visit as you make your way along the city.
Polish food is also made for winter, with warm and comforting dishes – my favorite is Pierogi, but there are many others to try!
Some of the must-visit attractions include the reconstructed Old Town (the view from the St. Anne's Church Tower is magical!), the Lazienki Palace and Royal Park, the Wilanow Palace and Gardens, and the Warsaw Uprising Museum – but there's much more to see and do in Warsaw!
Learn more about how we fell in love with the city during our Erasmus in Warsaw.
Maria and Rui at Two Find A Way
42. St Petersburg, Russia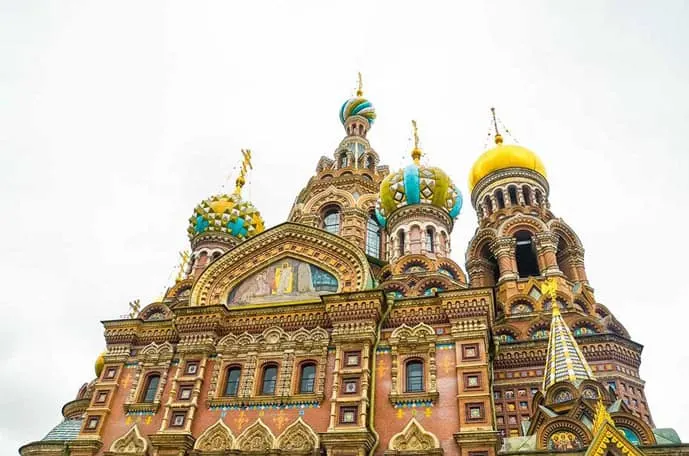 St Petersburg is called the "Venice of the North" for one reason: its canals and small alleys are very similar to the ones in that city.
As it's very up north, these water canals freeze out every winter, and snow falls over the streets, parks, and buildings. This gives St Petersburg a dreamy look, like it was just taken out of a fairy tale.
Although the days are cold and short, traveling to Saint Petersburg in winter is a must-do during your life.
They are really used to low temperatures, so you will not be cold on the inside, and with a good coat and thermic clothes you will be fine to enjoy the city, its museums like the famous Hermitage in the Winter Palace, and skating on ice in the canals and lake.
Don't hope to get on a boat tour, as they do not work in this season. But you can still visit the parks, which will be covered with snow but still so beautiful.
Don't forget to try Russian food. In winter, they eat mostly soups like Borscht, a soup usually made with beef broth, beetroot, and some vegetables, all garnished with some sour cream.
Alejandra at Universo Viajero
43. Prague, Czech Republic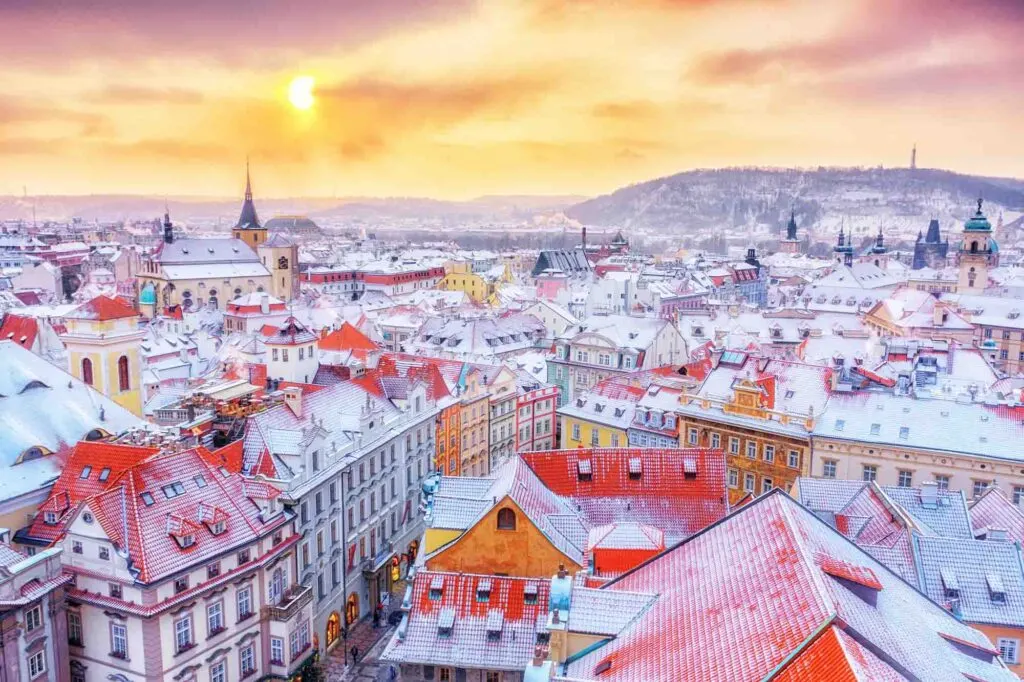 Prague is a wonderful city to visit at any time of year, but it becomes simply magical in winter.
Although the temperatures often drop below freezing, any snowfall makes Prague even more beautiful, and in winter, the crowds are much less, so you can enjoy wandering around the streets of the old town in peace – as long as you wrap up warm!
Prices are often lower during the winter months, too, so bargain hunters can get great deals on tours and accommodation. Besides, the top sights of Prague won't be so crowded.
In December, Christmas Markets fill Old Town Square, Wenceslas Square, and Peace Square, and stalls appear around the castle as well. Keep warm with some tasty winter food and drinks like Medovina (honey wine) or hot chocolate.
While you're in Prague, don't miss the view from the Old Town Hall clock tower, and a walk up to Prague Castle will keep you moving!
Charles Bridge is best visited first thing in the morning for photographs, especially after a snowfall, so it is worth an early morning wake-up call.
If the weather takes a turn for the worst, there are plenty of museums to visit in Prague, such as the National Film Museum, The National Gallery, and even the Apple Museum, which has over 450 Apple products from 1976 to the present day.
Claire Sturzaker at Tales of a Backpacker
So, which one of these winter destinations is your favorite? Is there any other you would add to this list? If so, which one?
Drop your answers in the comments. I'd love to hear from you!
Did you like this post? Then share it on your social media!
Our best travel tips & resources:
Here're our all-time favorite travel tips & resources so that you can save money and plan your travel logistics hassle-free! For more travel resources, check out our
travel tips.
Saving money: Fly on offseason, winter (not Xmas or NYE), Tuesday, or Wednesday! According to experts, these are the cheapest days to fly.
Travel insurance: Before you leave for your trip, make sure you have a valid travel insurance policy because accidents happen on the road. We have been paying for Safety Wing travel insurance for a little over a year now, and we happily recommend them to our family and friends.
Accommodation: We usually stay in mid-range comfy hotels or private rooms in hostels. These are the sites we use to book accommodation: Booking.com for hotels (excellent flexible cancellation policy) and Hostelworld for hostels (low deposit and easy cancellation).
Tours:We absolutely love booking guided tours with locals to get a history lesson while sight-seeing, especially food tours and walking tours! We book all of our tours using Viator and GetYourGuide.
Transportation: We use Google Maps to figure out how to get around a place using public transport. When we book a rental car, we always use Discover Cars to find the best deal.