Wondering what to do in Amsterdam? Look no further! Here's a helpful list of the best things to do in Amsterdam by a local!
Although the Dutch capital is not considered a massive city, there are still many fun things to do in Amsterdam.
This beautiful, open-minded, and vibrant city has something for everyone. With the vast array of things to do in Amsterdam, making choices can be challenging, especially if you only have a few days in the city.
That's why I've selected the best things to do in Amsterdam that will cater to varied tastes and ensure that your time is spent in the most enlightening and enjoyable way.
I'll definitely show you the most popular things to do in Amsterdam, but as a local, I'll also show you a few hidden gems worth checking out.
You'll literally find all sorts of Amsterdam attractions, from art and film to historic houses and trendy new repurposed industrial sites. And that's just the beginning. Ready? Let's go!
Looking for accommodation in Amsterdam? I wrote a handy guide on where to stay in Amsterdam, which I divided by the main areas in the city. Be sure to bookmark it!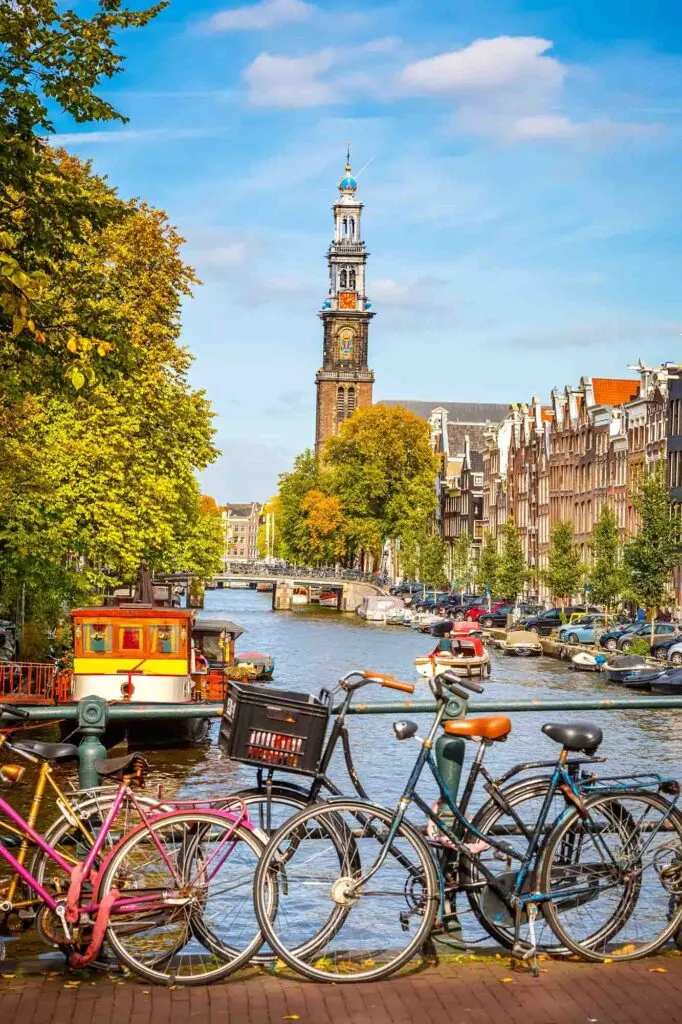 Have More Days in The Netherlands? Here are some day trips from Amsterdam:
Zaanse Schans – a cute area with historical windmills, locally-sourced dairy shops, and a museum. Many people take this tour, which includes transportation from Amsterdam plus a visit to Zaanse Schans, Edam, and Volendam.
Volendam – an adorable fishing village with traditional shops and delightful cafes along the water. Visiting these places is an excellent opportunity to see the Dutch countryside.
Edam – a quaint small town with charming Dutch houses and a traditional cheese market.
Click here to book your day trip with transportation!
Local tip: with the Amsterdam City Card, you get access to more than 70 museums, public transport, bike rental, and canal cruise. It is an excellent investment! Click here to buy your card.
My Favorite Things To Do In Amsterdam
Before we talk in detail about Amsterdam, here are my all-time favorite things to do in the city.
32 Best Things To Do In Amsterdam By A Local
Here are my top 32 things to do in Amsterdam in no particular order. Enjoy!
1. Feast Your Eyes On The World's Greatest Art at The Rijksmuseum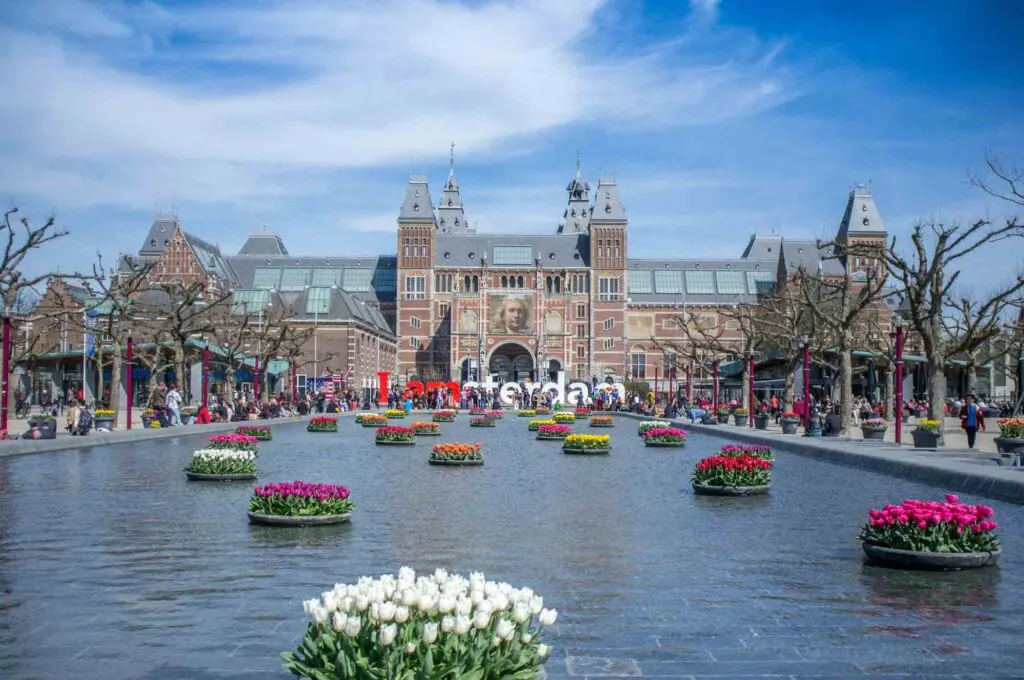 Visiting the great art museums in this city are among the best things to do in Amsterdam, and the Rijksmuseum is hands down one of the best!
That's because the national museum of the Netherlands has the largest collection and is dedicated to Dutch art and history.
It houses masterpieces from the 17th-century Dutch Golden Age (Rembrandt, Vermeer, Frans Hals, and others).
Rijksmuseum's highlights include Rembrandt's Night Watch, Vermeer's Milkmaid, and Van Gogh's self-portrait.
Their library is also magnificent, so if you visit the museum, stop by the library. It's worth checking out! Oh, and since the museum is huge, reserve 4 hours to see *almost* everything.
You could enhance your visit by getting the museum app with its audiovisual guide. You can also feast (literally) at a Michelin-starred restaurant and café on site.
You can book your ticket online before your visit to skip any queues at the counter and save precious time.
Click here to book your ticket
2. Have A Delicious Breakfast at De Drie Graefjes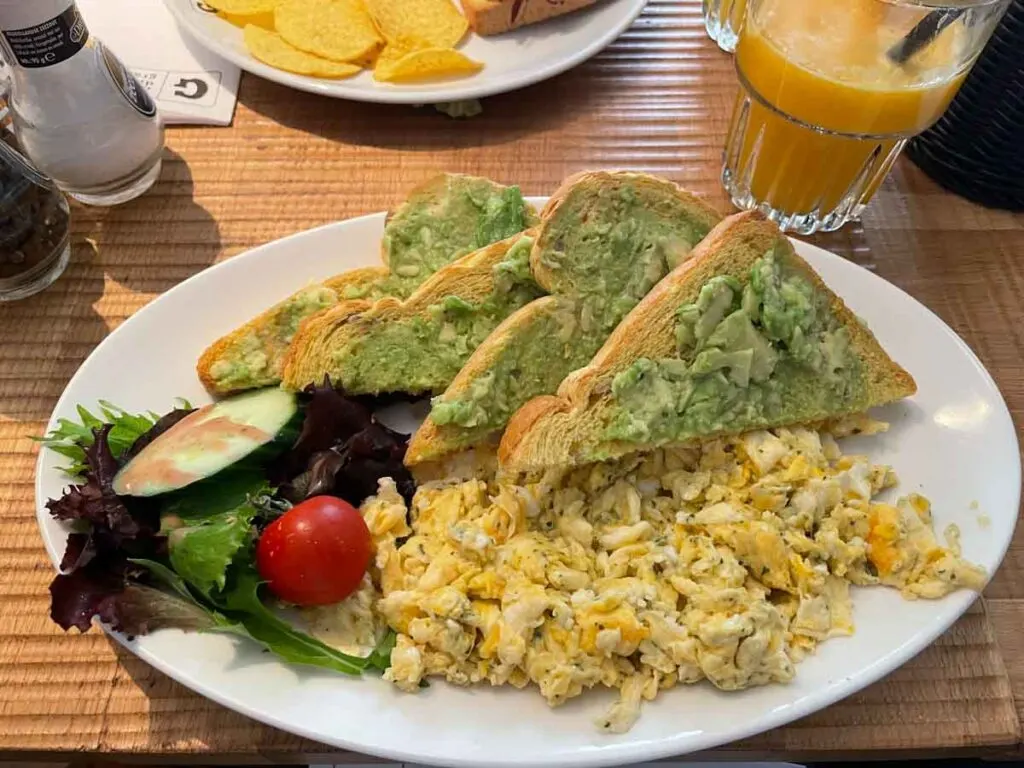 I hit this venue not only for breakfast in the city center but also for mouthwatering pies and hot cocoa (winters in Amsterdam can be chilly) or just for a cup of coffee.
This delicious cafe is near Dam Square, so it's easy to include it in your Amsterdam itinerary, whether it's a one-day, 2-day, or 3-day itinerary.
Local tip: if possible, plan ahead and buy skip-the-line tickets for the attractions you visit. Queues are monstrously long everywhere, especially during summer.
3. Check Out The Van Gogh Museum – One Of The Best Things To Do In Amsterdam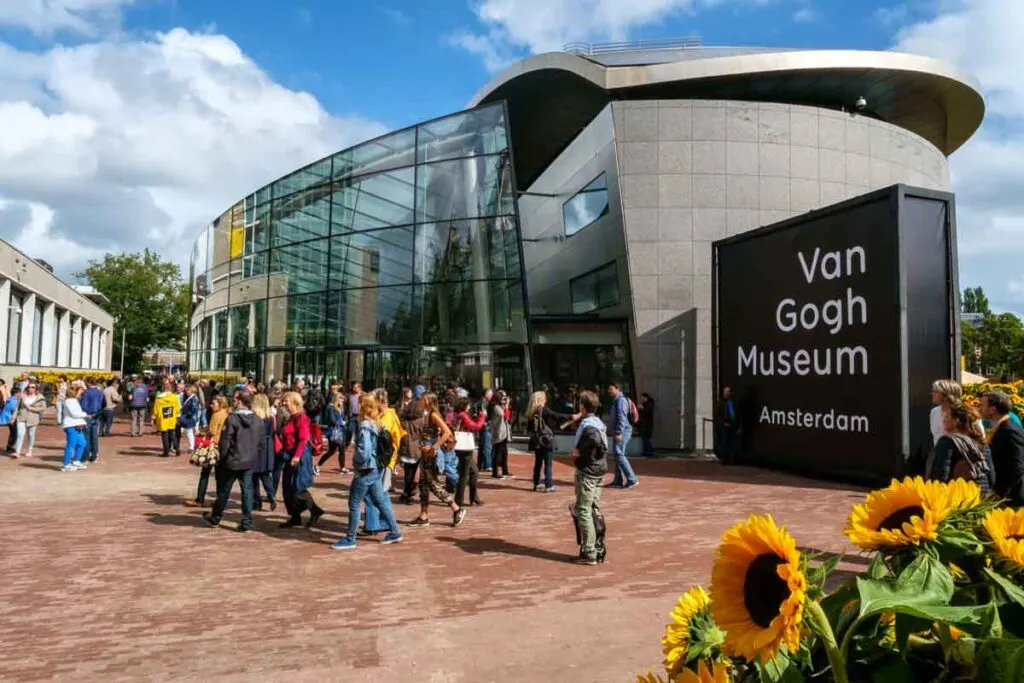 Visiting the Van Gogh Museum is definitely one of the best things to do in Amsterdam. I love it!
Of all museums in the city, this is my favorite one, and trust me when I say I've been to many! His highly-detailed paintings are worth your time.
This museum, as you might have guessed, is dedicated to the works of Vincent van Gogh and houses the largest collection of the artist's paintings and drawings. In fact, it is the most-visited museum in the Netherlands.
It also features notable artworks by Van Gogh's contemporaries in the Impressionist and post-Impressionist movements (for example, Paul Gauguin, Édouard Manet, Claude Monet, Georges Seurat, Paul Signac, and Henri de Toulouse-Lautrec).
And you'll see sculptures by Auguste Rodin and Jules Dalou, among others.
Even though Amsterdam isn't a big city, thousands of tourists arrive every day, which makes lines to get into attractions kind of unbearable (that's so true that for now, you can only buy the ticket to Anne Frank House online).
The queues are usually very long, so save your precious time and purchase this skip-the-line ticket to the Van Gogh Museum. Thank me later!
Click here to book your ticket
4. Spot The Houses Of The Seven Countries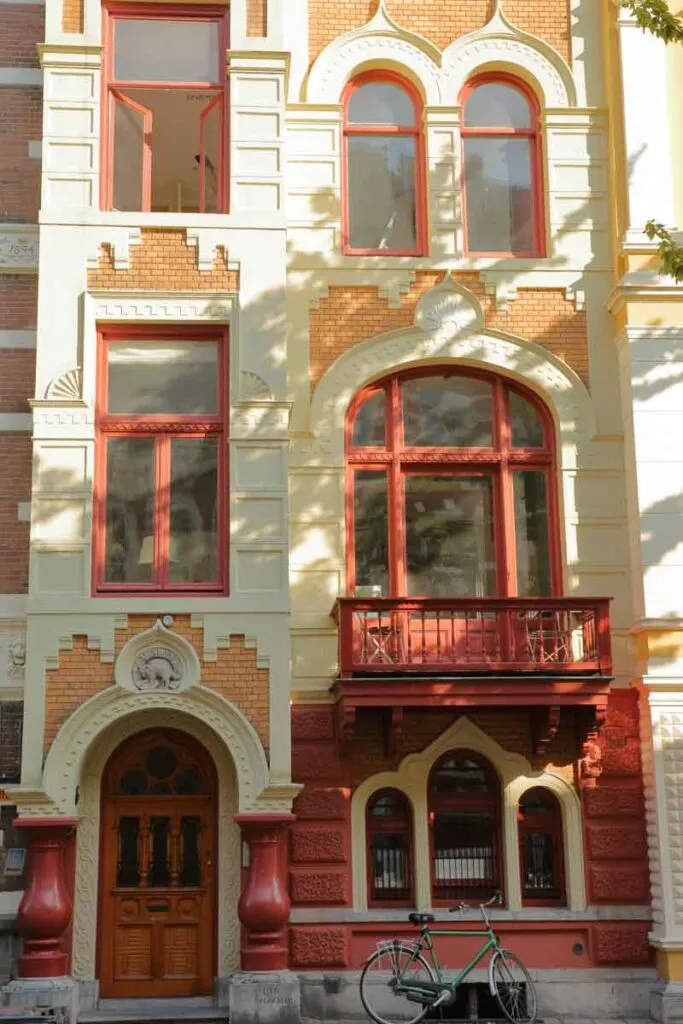 Amsterdam is full of hidden gems, and these houses are one of them.
The Houses of the Seven Countries (Zevenlandenhuizen) is, as the name says, seven houses, one next to the other representing seven different countries' architecture.
These houses resulted from a movement at the end of the 19th century where international architecture influenced Dutch design.
Check out these houses if you're looking for the best photo spots in Amsterdam:
No. 20 Germany house has the romantic style prevalent at the end of the 18th century.
No. 22 France house has the Renaissance style typical of the Loire Valley's castles.
No. 24 Spain house has the Moorish architecture of the Southern part of Spain.
No. 26 Italy house has neoclassical architecture in pastel colors.
No. 28 Russia house has similarities with the Kremlin: an onion-shaped dome at the tower.
No. 30 Netherlands house is a typical Dutch construction you can spot throughout the city, a Dutch Renaissance style.
No. 30A England house has the same style as an English cottage with wooden details.
Address: Roemer Visscherstraat 32II, 1054 EZ Amsterdam
Read next: 15 Best Castle Hotels in the Netherlands
5. Have Freshly Made Stroopwafels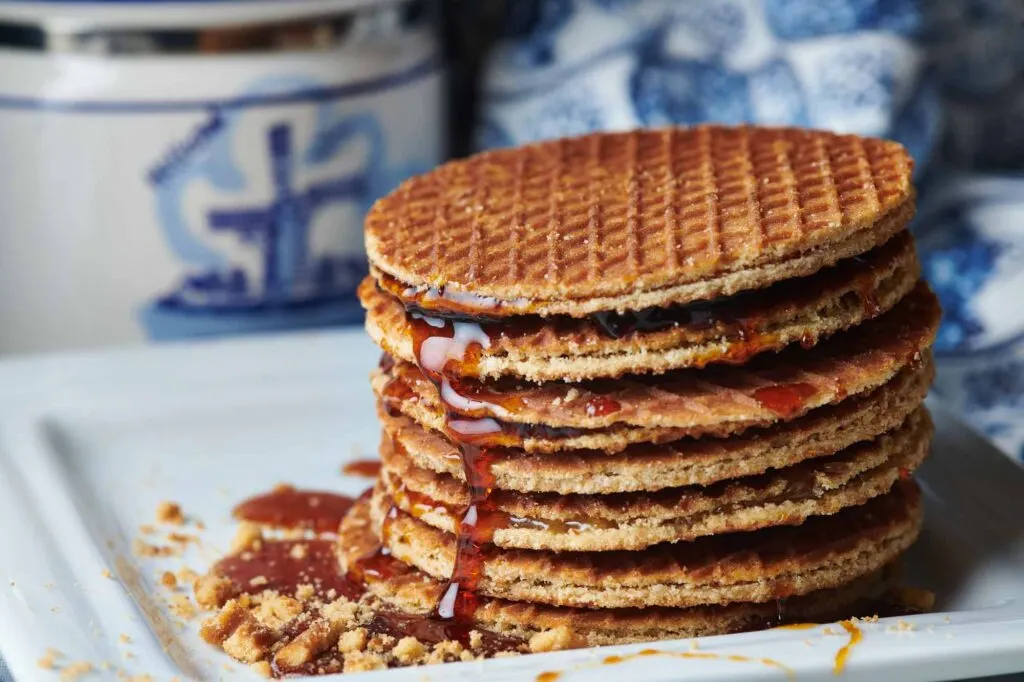 Stroopwafels are perhaps my favorite Dutch food, or sweet if you will, and you should definitely have a freshly made one.
Head over to the Albert Cuyp Market and look up for vendors making this delicious treat. Albert Cuyp is one of the most famous street markets in Amsterdam, and it happens Monday-Saturday.
Further out, you can find much more than stroopwafels in this market. Clothing, souvenirs, meat, cheese, fruits, veggies, shoes, anything!
6. Shop Some Flowers
The Netherlands is famous for its colorful tulip fields and bloomy streets. After all, this little land is not the biggest exporter of flowers, but it also has one of the world's largest flower gardens, the Keukenhof Gardens.
With so much floral influence in its economy and culture, it doesn't come as a surprise you can visit a flower market in Amsterdam.
Stroll through the world's only floating market (the stalls stand on houseboats) right in the heart of the city.
At the Bloemenmarkt, you can buy a bulb, a single flower, or a whole bouquet for your significant other. Don't worry. The bulbs are ready to export, so you can easily take them home with you.
Besides, the vendors sell a number of souvenirs that you can take back home.
If you don't feel like buying a bulb, or your country's laws don't allow it for whatever reason, check out their other souvenirs. They also sell wooden tulips, clogs, and other Dutch symbols.
Pssst: During winter, you will only see Christmas Trees instead of tulips.
Read next: Romantic Things To Do In Amsterdam
7. Blow Your Mind At The Moco Museum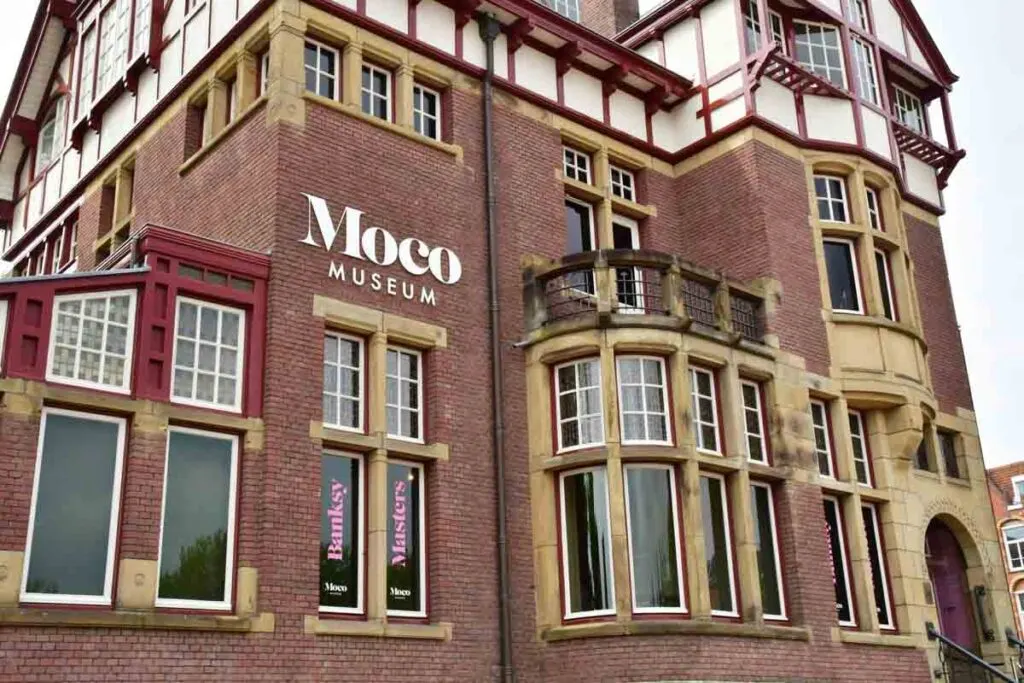 Moco Museum is a museum of modern and contemporary art that aims to attract a more diverse and younger audience and to make art "approachable" for the public.
On the ground floor, there's the Banksy "Laugh Now" exhibition which contains around 50 original works by Street Art-legend Banksy. (For the first time, there's a Banksy exhibition in a museum.)
I highly recommend this museum if you want to see the best and most famous modern artists of our time.
Click here to buy the skip-the-line tickets
8. Meander Through Jordaan – One Of The Best Things To Do In Amsterdam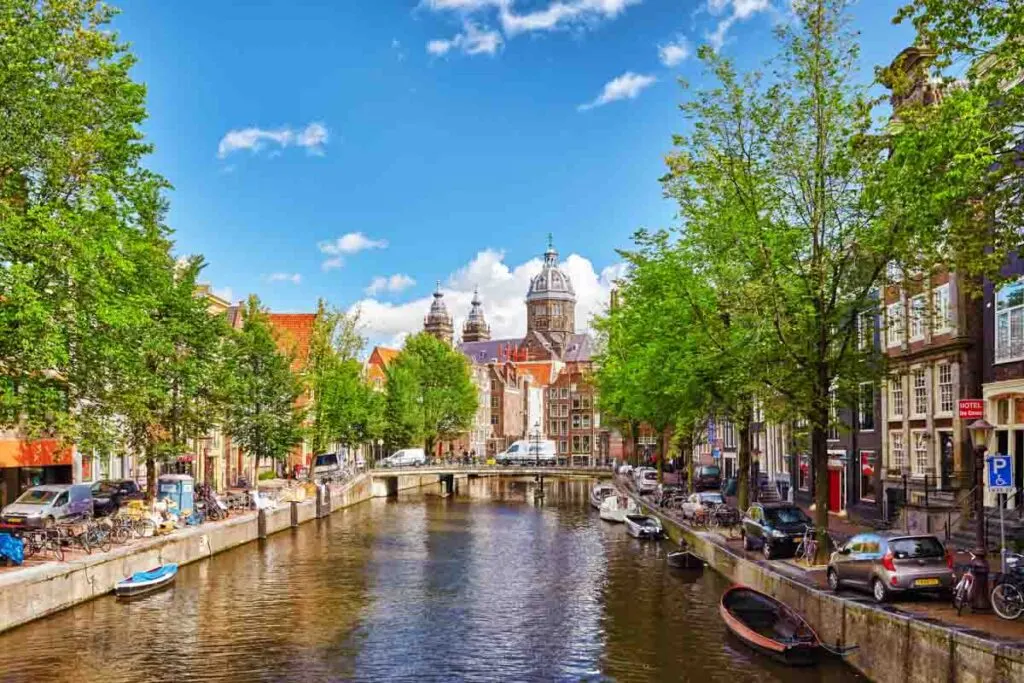 Wandering through this neighborhood in the city center will be a highlight of your visit and is definitely one of the best things to do in Amsterdam.
This part of the city center, tucked away behind the Royal Palace on Dam Square, the former Town Hall, is popular among shoppers hunting for specialty products and unique gifts.
This fashionable district's narrow canals and beautiful streets give it a small village feel. This pedestrian paradise offers unspoiled views of the city's Golden Age architecture and Canal Belt, a UNESCO World Heritage Site.
The number of cafes and brunch restaurants is staggering, and their menus are a treat. Choose an outdoor seat while savoring your drink or meal, and watch the world (pedestrians and bikers) pass by.
In the middle of the Canal Belt, you can stroll along "De Negan Straatjes," the "Nine Little Streets," lined with independent boutiques, vintage clothing stores, gift, and specialty shops, art galleries, and cozy pubs. This is personal exploration at its best.
New and secondhand bookstores abound, like the Boekie Woekie, which specializes in self-published and small-press books.
In the Netherlands, and especially in Amsterdam, there is a tradition of living on the water on houseboats or "woonboten." To find out more about these intriguing homes, visit the only houseboat museum in the world, the Woonbootmuseum.
9. Relax On A Canal Boat And See The Sights From The Water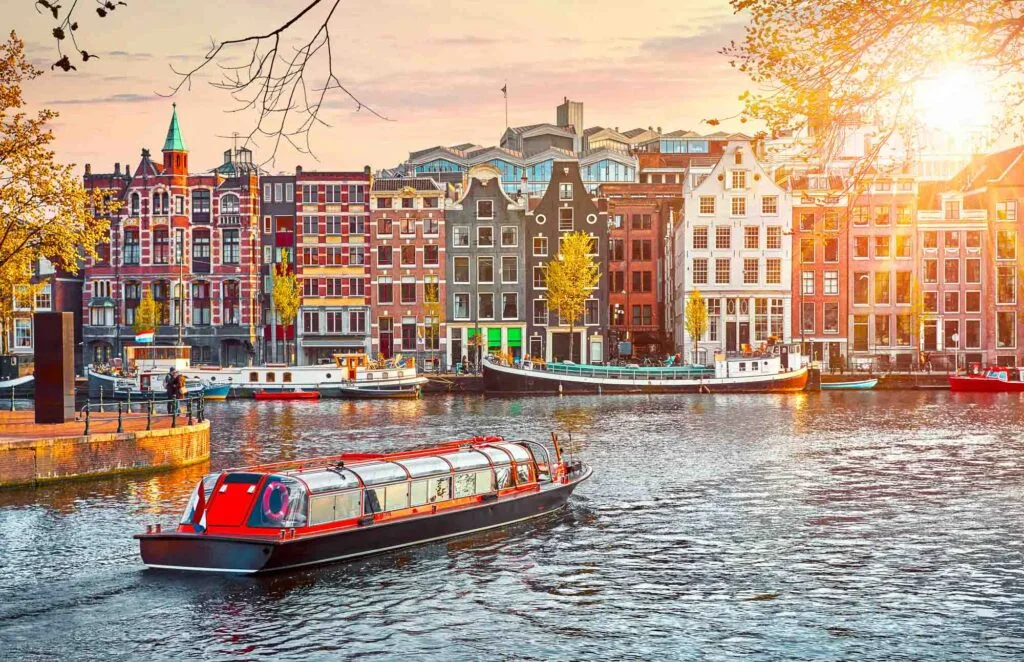 Amsterdam is sometimes called "Venice of the North," with over 62 miles of canals.
A canal cruise is a wonderfully relaxing way to get to know the city and one of the best things to do in Amsterdam. Canal cruises are often combined with other sightseeing. A reservation ensures you avoid sold-out cruises.
The most beautiful canals are in the 17th-century Canal Belt Area, a UNESCO World Heritage site. The Canal Belt Area includes the Prinsengracht, Keizersgracht, Herengracht, and Singel canals.
You can go on a boat cruise during the day; this is especially pleasant if it's sunny; or in the evening, summer or winter. It is magical to see Amsterdam lighting up in the evening. The canal houses are so gorgeous! Besides, it is a lovely experience.
Click here to book your canal cruise!
10. Take a Break Of The Buzzing City At The Begijnhof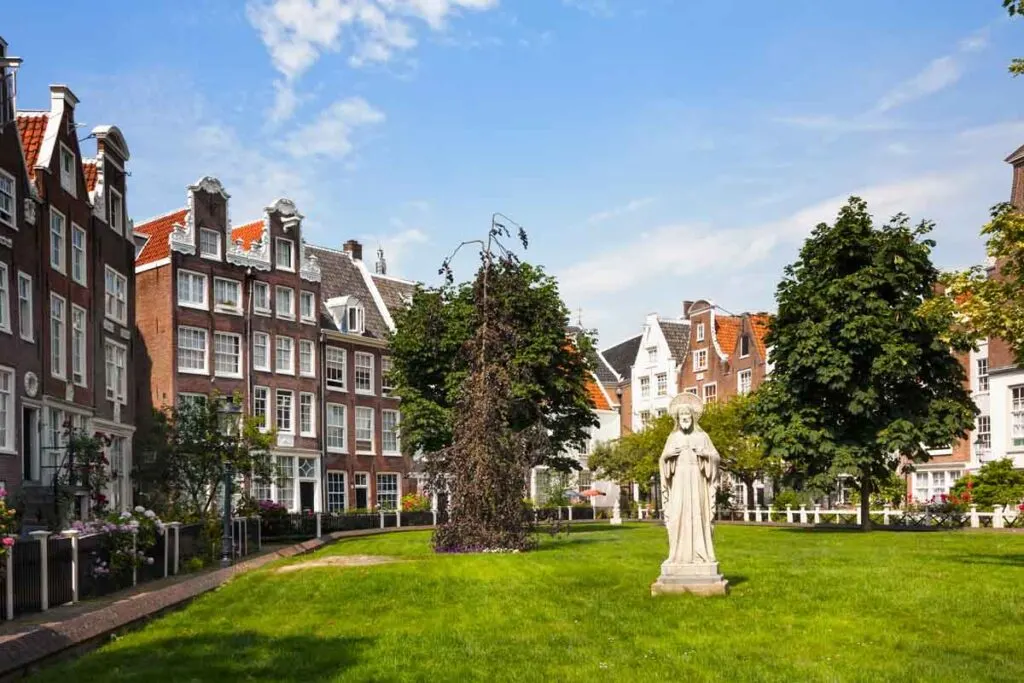 If you're walking down Spuiplein, you might not notice a large door that leads to the Begijnhof. If the activity in the city is tiring you, step inside this oasis of calm and tranquility.
This beautiful medieval inner courtyard (among the oldest "hofjes" in Amsterdam) was surrounded by a "beguinage" established in the 14th century.
Beguinages were housing complexes built for "beguines," religious women living in a community. Single women still live in the houses. So please, be quiet and respect their privacy.
There are also two churches inside the courtyard (hidden from street view): The English Reformed Church and the Catholic Houten Huys, a restored wooden house from the 16th century.
Relax on the benches in the garden, visit the churches, or buy a religious souvenir in the gift shop where you can chat with a resident. You are only allowed in for 15 minutes.
11. Learn About One Of The World's Most Famous Beer At The Heineken Experience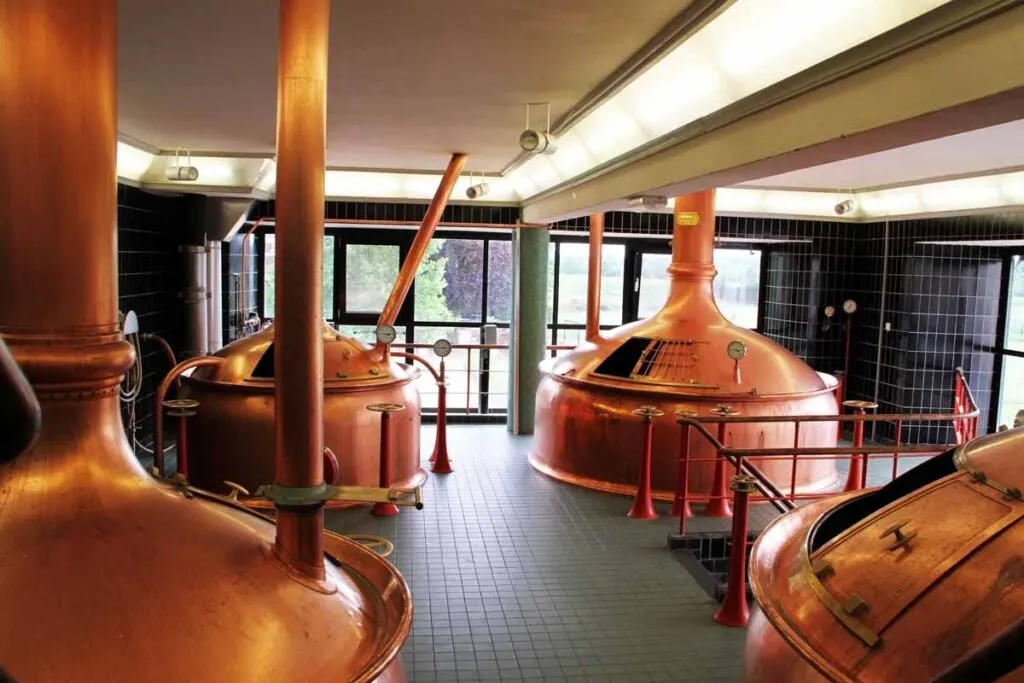 When Heineken's oldest brewery in the heart of Amsterdam closed down, it was converted into a venue where you can find out how beer is brewed and learn about the history of Heineken.
On top of that, you will also learn how to pour the perfect draft Heineken and enjoy a couple of beers yourself at the Heineken bar.
Click here to book your experience
12. Take In The Oude Kerk (Old Church)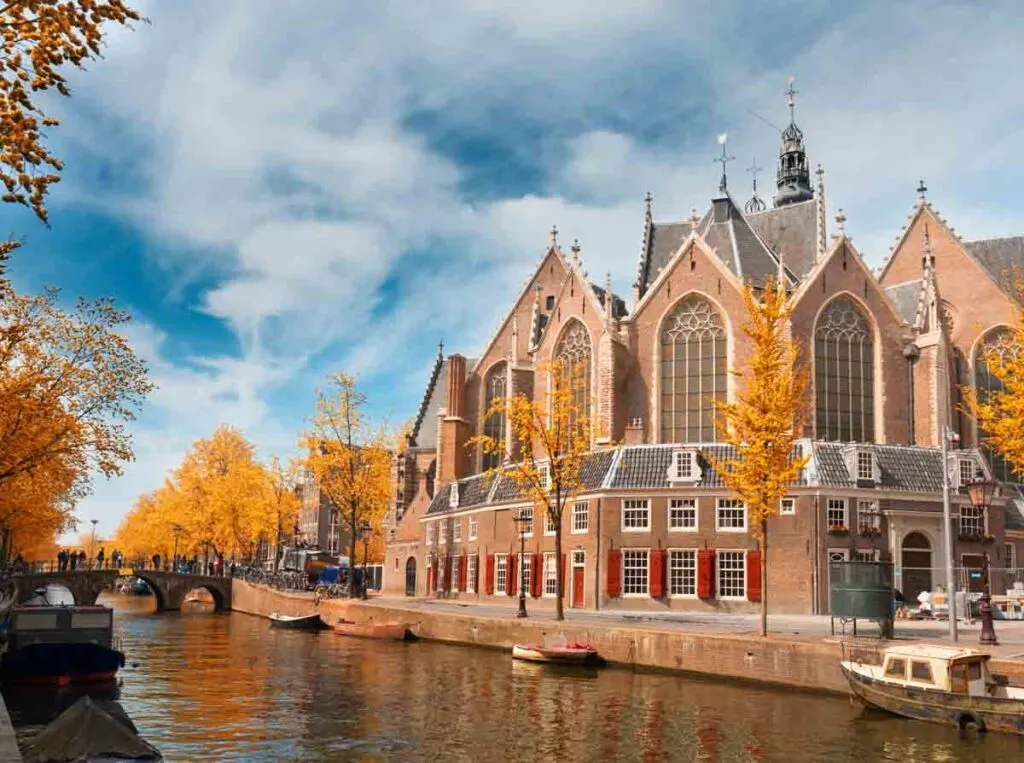 Amsterdam's oldest church was founded in 1213 and is now a center for contemporary art and heritage.
International curators are invited to devise installations and art exhibitions within the church.
The permanent exhibit depicts the church's tumultuous history and that of the city of Amsterdam. You can book an official guided tour or download the museum's audio tour to make the most of your visit.
The church is located in the Red Light District by the Ouderzijds Voorburgwal.
13. Keep Fit On A Bike While Exploring The City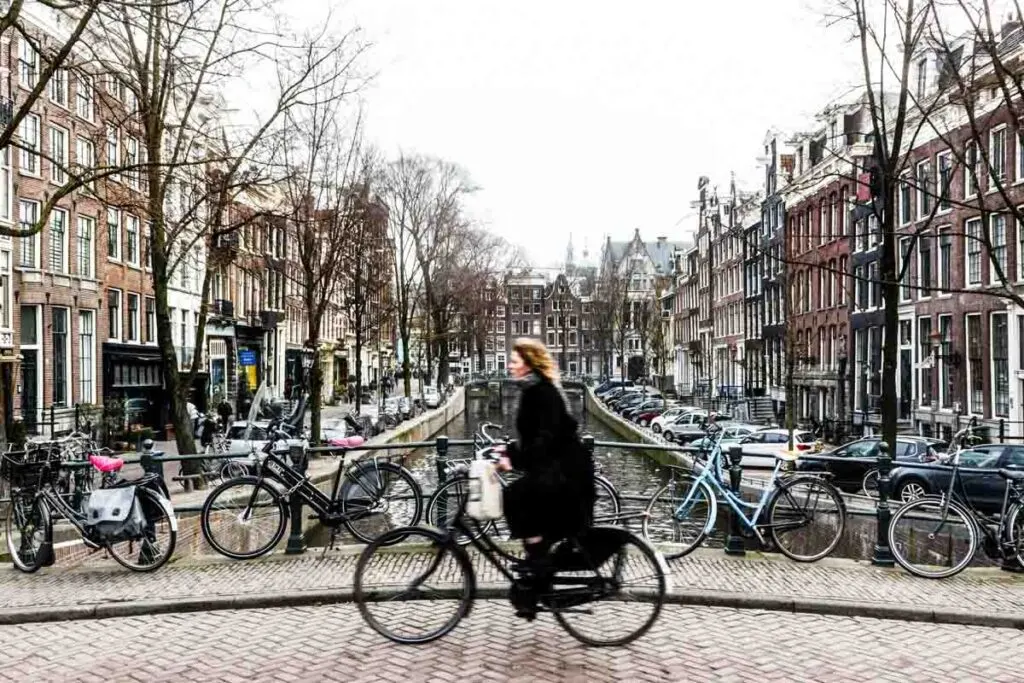 This is the city of cyclists, not motorists, and the Dutch are proud of their biking culture.
How wonderful is it to use this healthy and environmentally friendly way of getting around the city? You can rent a bike and discover the city on your own.
Amsterdam is obviously bike-friendly, but pay attention to the traffic, especially if this is your first time in Amsterdam.
If you don't feel like cycling on your own, you can join a bike tour with a local guide.
14. Check Out The Innovative Stedelijk Museum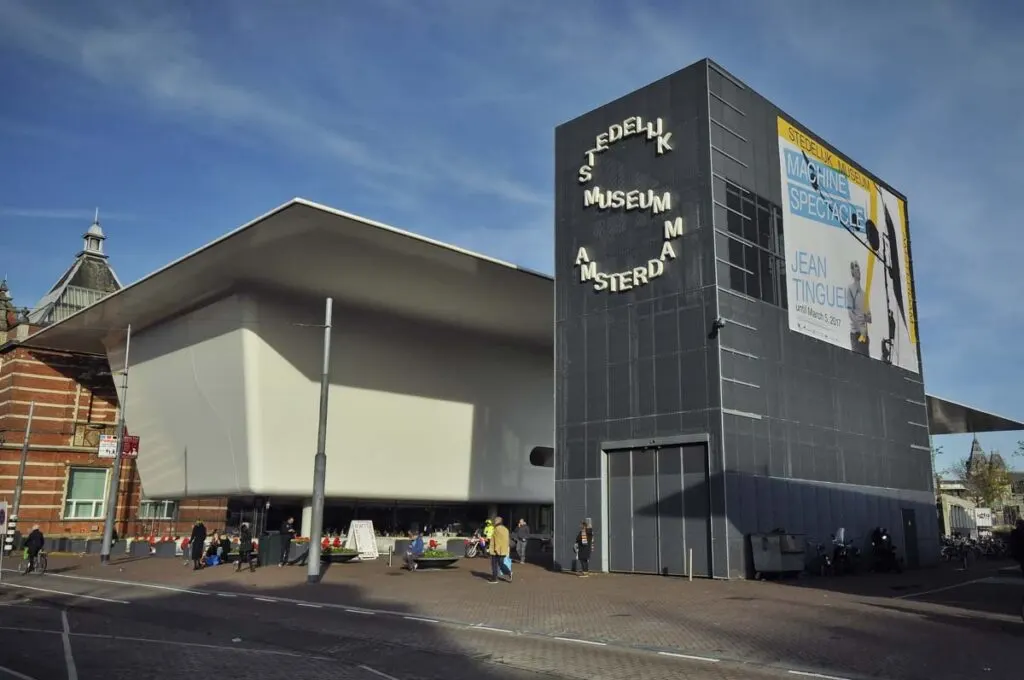 At the Stedelijk Museum, you'll see modern and contemporary visual art and design, with an impressive collection representing every significant movement in art and design of the 20th and 21st centuries.
It features artists such as Wassily Kandinsky, Marc Chagall, Henri Matisse, Jackson Pollock, Andy Warhol, and Willem de Kooning.
An innovative feature of this museum is the Blikopeners (can openers) program. The Blikopeners are a group of young residents who aim to awaken young people's enthusiasm for art and culture.
They can guide you through the museum every Saturday between 1 and 4 pm and can be identified by their bright red jackets. They are open to a spontaneous discussion about art, the museum, their favorite artists – and even about you.
Click here to buy the skip-the-line tickets
15. Don't Miss De Kattenkabinet (The Cat Cabinet)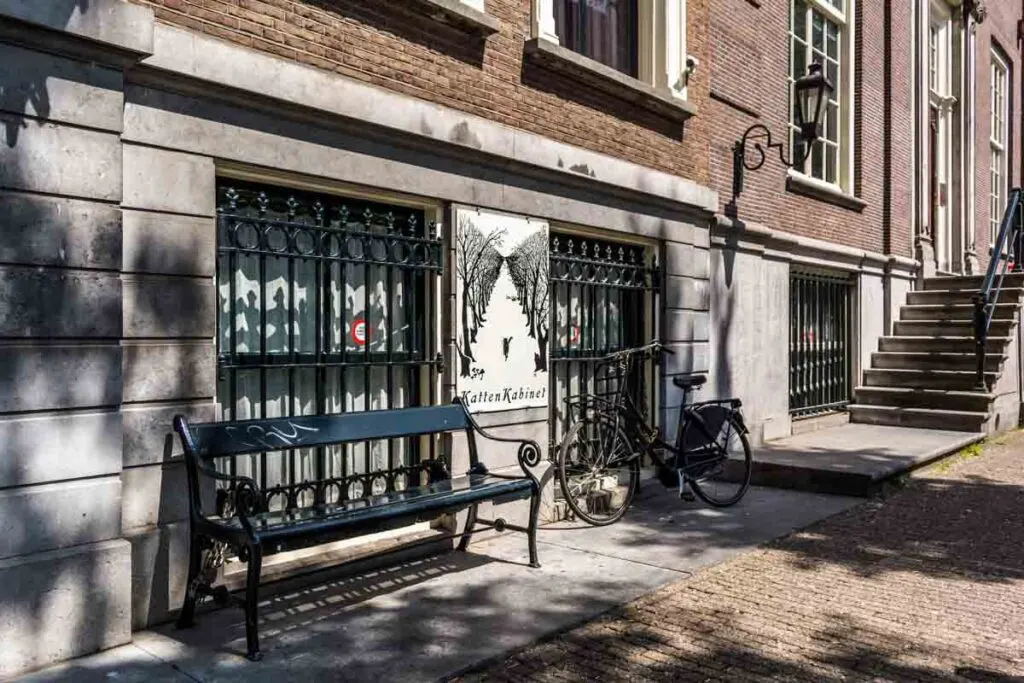 If you're a little weary of serious exhibits on art and history, De Kattenkabinet may bring you some light relief. Its theme may seem like a joke, but the choice of presented artworks is remarkable.
The paintings, drawings, and sculptures by Picasso, Rembrandt, and Toulouse-Lautrec, among others, all depict the role of cats historically and culturally.
De Kattenkabinet is housed in a canal-side building at Herengracht 497 in the grand Gouden Bocht ("Golden Bend").
The owner lives on the second floor with his family, and some cats reside in the museum. This beautiful house was one of the locations for the movie "Oceans Twelve."
16. Sip Local Craft Beer At The Brouwerij 't IJ (The IJ Brewery)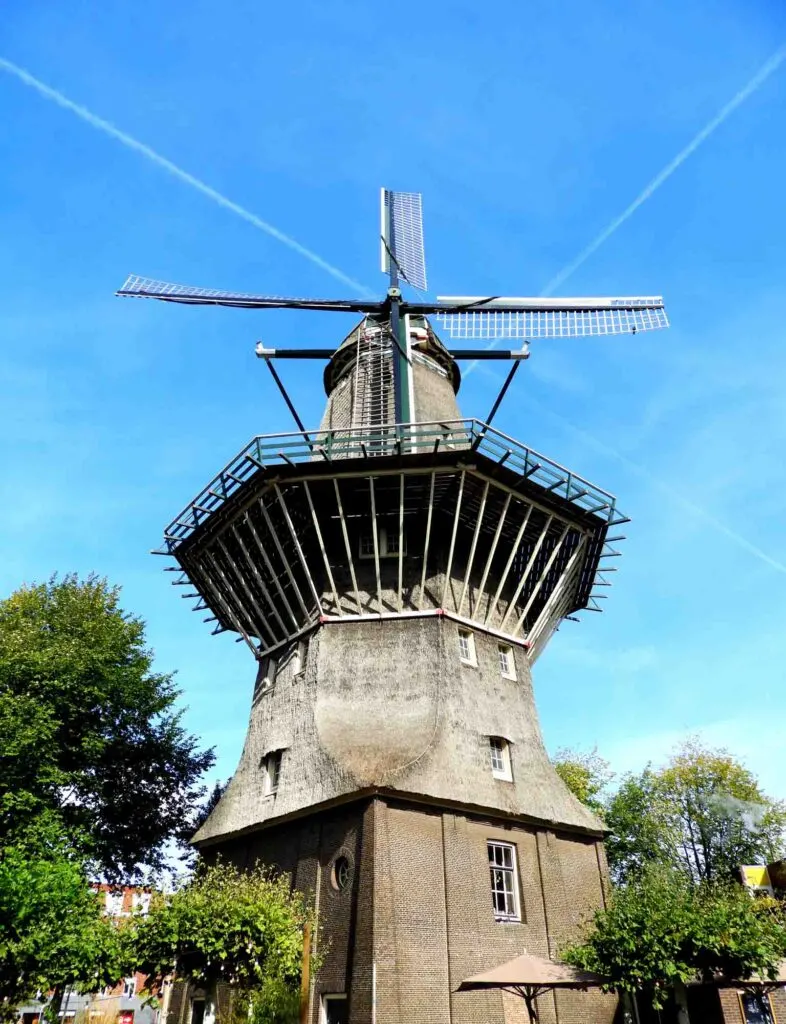 The Netherlands is known for its cheese, bikes, and flowers, but windmills are also one of the biggest Dutch symbols. And it turns out you can find a brewery next to one of them right in Amsterdam.
Amsterdam's original microbrewery, located next to the de Gooyer windmill (a Dutch landmark), is still among the city's favorites.
Brouwerij 't IJ was one of several small breweries that opened in Dutch towns in response to consumers' dissatisfaction with beer brewed by larger companies.
On sunny days, seating outside gets quickly crowded, so arrive early.
The brewery presents tours and tastings and has a pub with an outdoor terrace. It's open from 2 pm until 8 pm and closed on Sundays.
My recommendations are IPA and IJwit.
17. Savor A Delicious Meal At The Foodhallen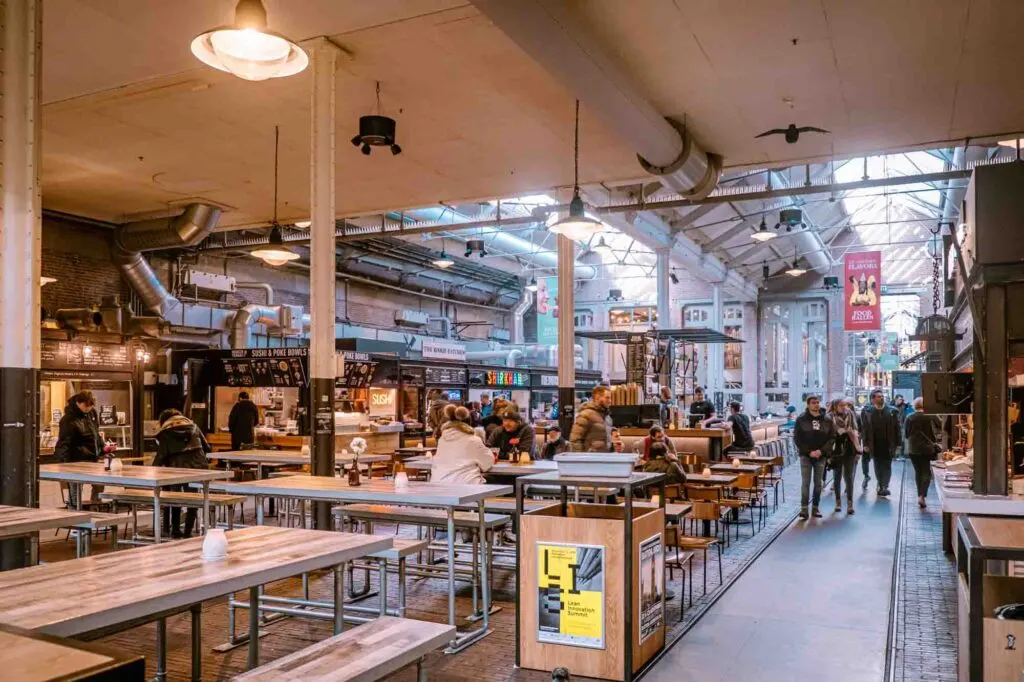 Located in the magnificent De Hallen cultural complex in Amsterdam's hip Oud-West neighborhood, Foodhallen is a classy indoor food market.
The ideal spot for a relaxed meal, a snack, or simply a drink with friends, this food hall is lined with around 20 street food vendors serving everything from wood-fired pizzas to Vietnamese summer rolls and Greek meze to artisanal burgers from some of Amsterdam's best-loved kitchens.
Once a tram depot, De Hallen now houses an arthouse cinema complex, a boutique hotel, independent creative outlets, and a weekly indoor craft market. It's one of Amsterdam's most popular cultural attractions.
18. Go To The Cinema – One Of The Best Things To Do In Amsterdam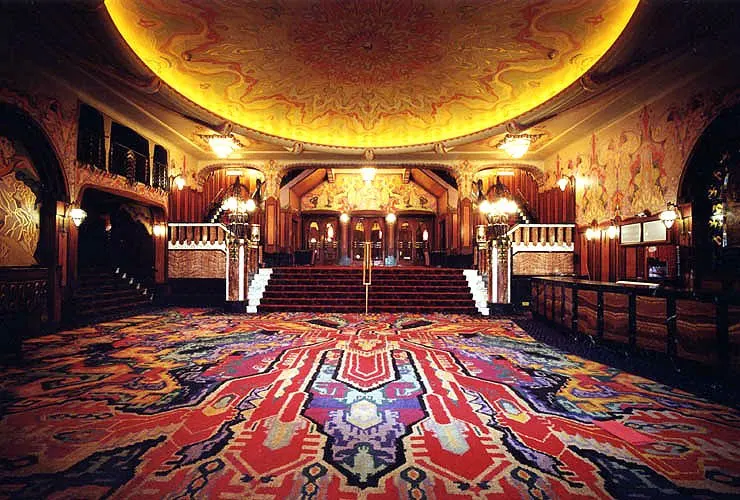 But not any cinema: the most beautiful cinema in the Netherlands.
The Royal Pathe Tuschinski was founded in 1921 by a Dutch Jewish man, and today you can watch movies at this vintage movie theater.
If possible, choose the big room (Grote Zaal). This room is a spectacle by itself.
Besides the chairs at the lower level, there are two other balcony floors. Truly gorgeous!
19. Have Fun At The EYE Film Institute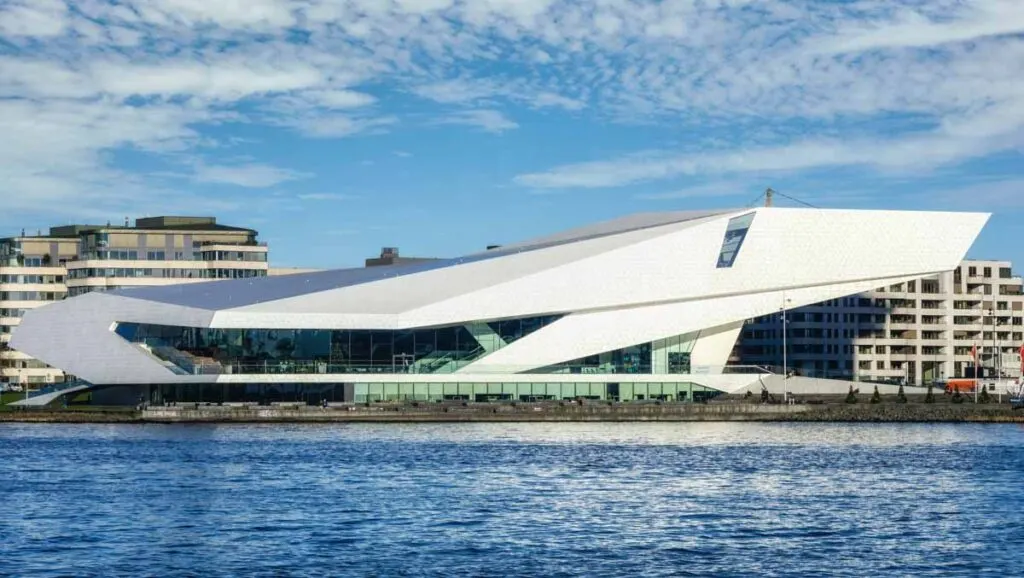 If you're a film buff/movie lover and interested in cinematography, spending time at the EYE Film institute is one of the best things to do in Amsterdam.
Firstly, four cinemas are constantly projecting classic and internationally acclaimed films.
Then, there's a permanent "history of cinema" exhibit in the building's basement. Interesting temporary shows and several multimedia art installations will also entertain you.
The "Eye walk" is a wonderful feature, a video tour for children aged 7 – 12 that brings exciting films to life and playfully explains how the special effects work in movies like Star Wars.
The walk ends by having the children shoot a film scene for the Green Screen installation. The scene will later be sent to you by email to share with friends and family.
20. Get Your Adrenaline Rush At The A'DAM Tower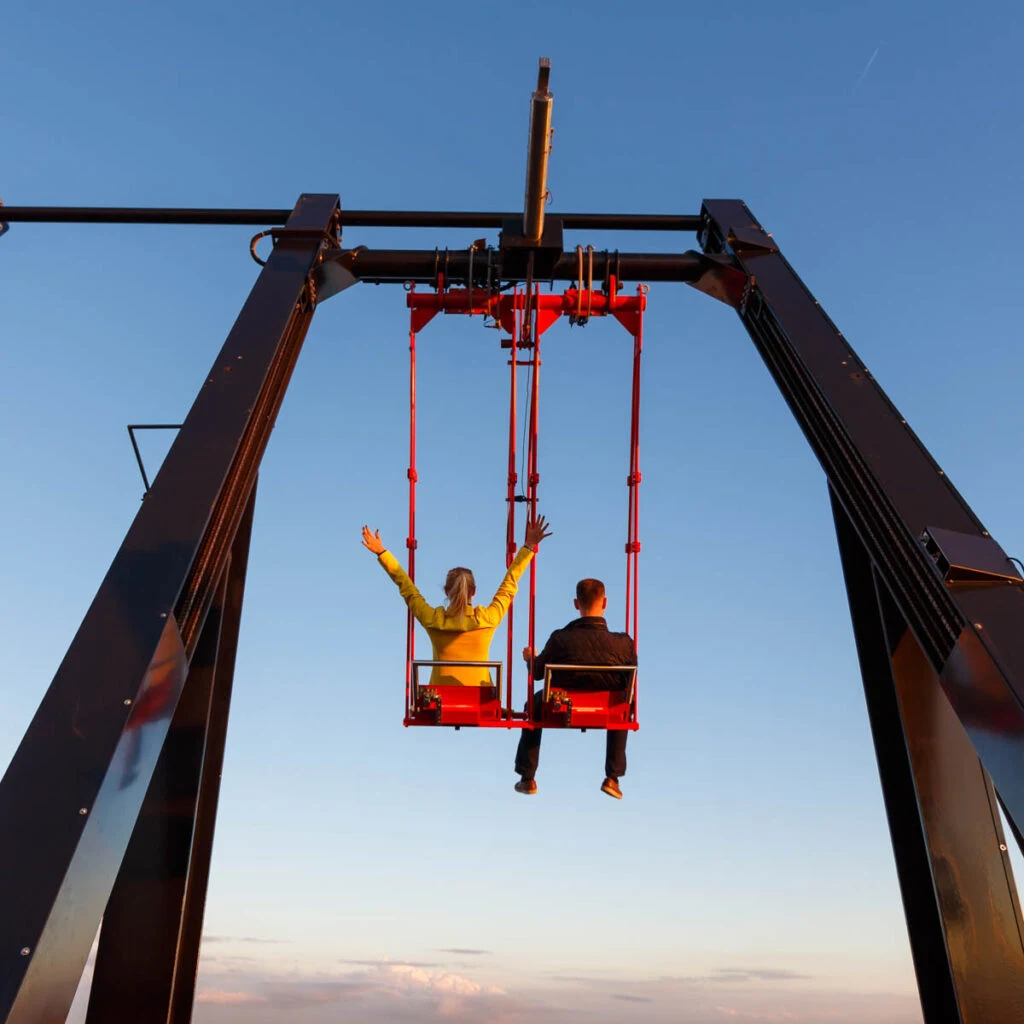 This landmark 22-floor tower describes itself as "a spectacular observation deck, a hotel, a daring nightclub, a co-working space, and several top-notch restaurants and bars."
It's one of Amsterdam's most exciting and creative hubs for the Dutch music industry, specifically the thriving dance music scene.
This is clear when you take the elevator in "experience mode" to the observation deck. The journey is accompanied by pounding dance music that rises to a crescendo as the glass elevator accelerates toward the 20th floor.
There's also a stunning visual display that uses LED lighting in the lift shaft to give you the impression that you're speeding through a futuristic tunnel into outer space.
The revolving restaurant on the 19th floor offers great views of the city, as does the rooftop observation, with the bonus of an interactive exhibition providing background information on what you're seeing.
Thrill-seekers should head up to the sky deck to sit in "Over the Edge," the highest swing in Europe.
Strapped into a safety harness, you can swing back and forth over the edge of the tower at the dizzying height of 328 feet, with Amsterdam sprawled out below and beyond.
21. Stroll Around The NDSM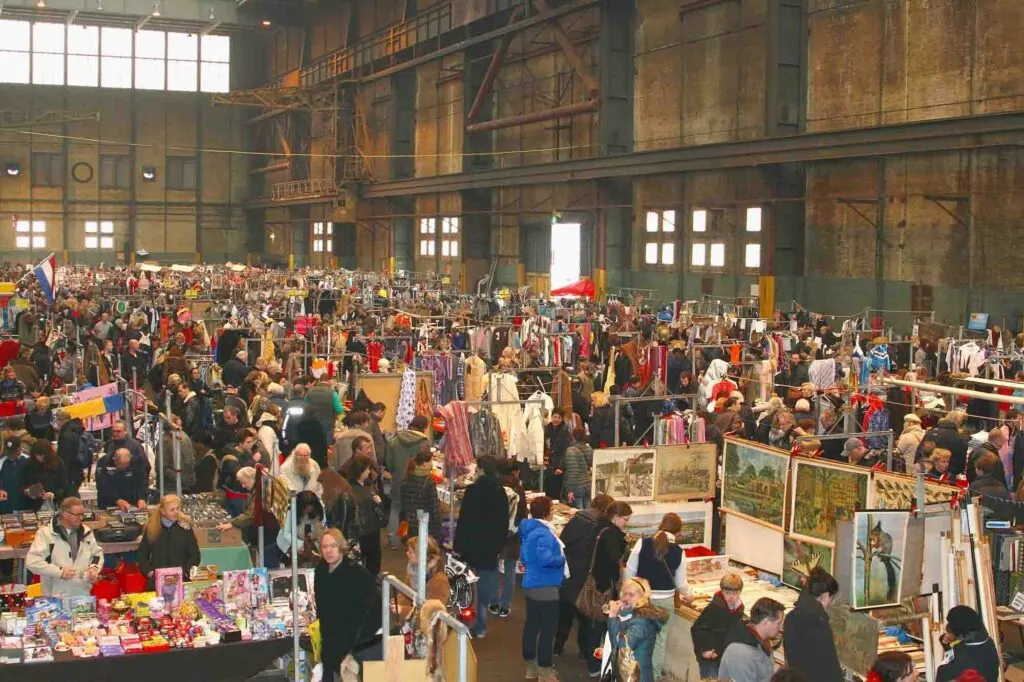 Formerly the largest shipyard in Amsterdam, NDSM (Netherland's Dock and Shipbuilding Company) is now a center for culture and "Art City."
Just 20 minutes from Central Station via a free ferry, it's home to several restaurants, bars, art studios, and performance spaces. The IJ-Hallen flea market – the biggest and most unique in Europe – is held here once a month.
This vibrant 'hood bursts with creativity and is a major attraction in Amsterdam. Residents also create their own pop-up yard gardens at the NDSM wharf: they can enjoy the space while growing their flowers and vegetables.
22. Rummage Through The Waterlooplein Flea Market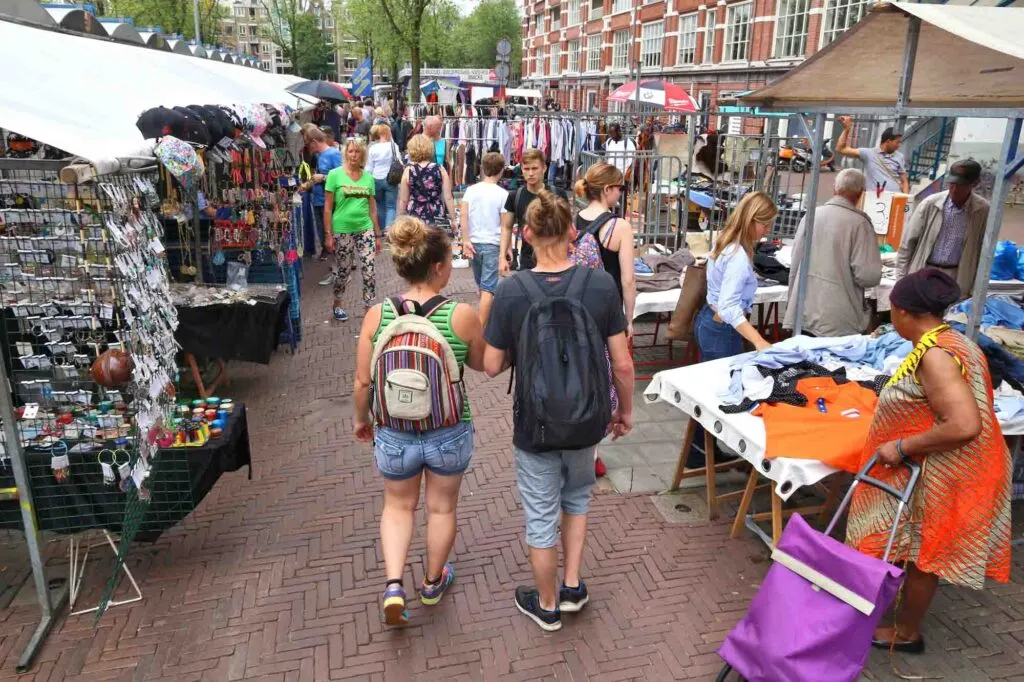 You'll find a flea market closer to the center of Amsterdam, at Waterlooplein, just a 2-minute walk from the Rembrandt House Museum.
There are 300 stalls, and the market is open six days a week. On sale are secondhand clothing, leather coats, antique objects, smoking paraphernalia, and much more.
There are no fixed prices, so you can bargain over the cost of most items.
23. Enjoy A Break In The Park: Vondelpark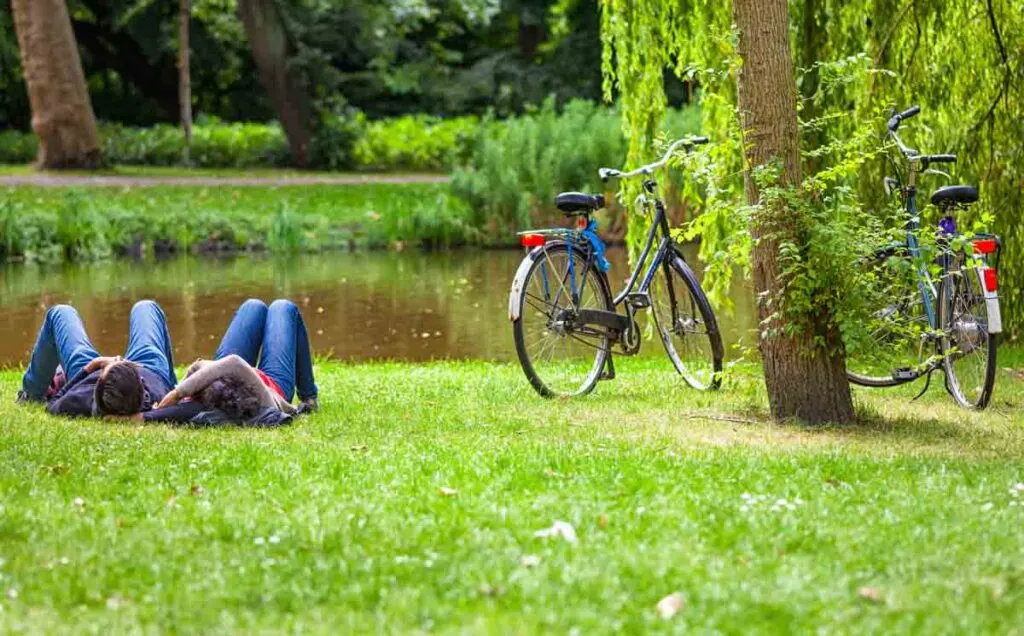 This is Amsterdam's largest and most famous municipal park, and entry is free.
The lush site includes several children's playgrounds, a paddling pool, cafes, and restaurants. Or bring your own food for a relaxing picnic or a barbeque.
The open-air theatre in the park offers a free program of live music, comedy, cabaret, and theatre.
If you'd like to do some roller skating, you can meet in the park for the Friday Night Skate and head out to the city with the group.
24. Take A Road No Less Traveled To Westerpark And The Westergasfabriek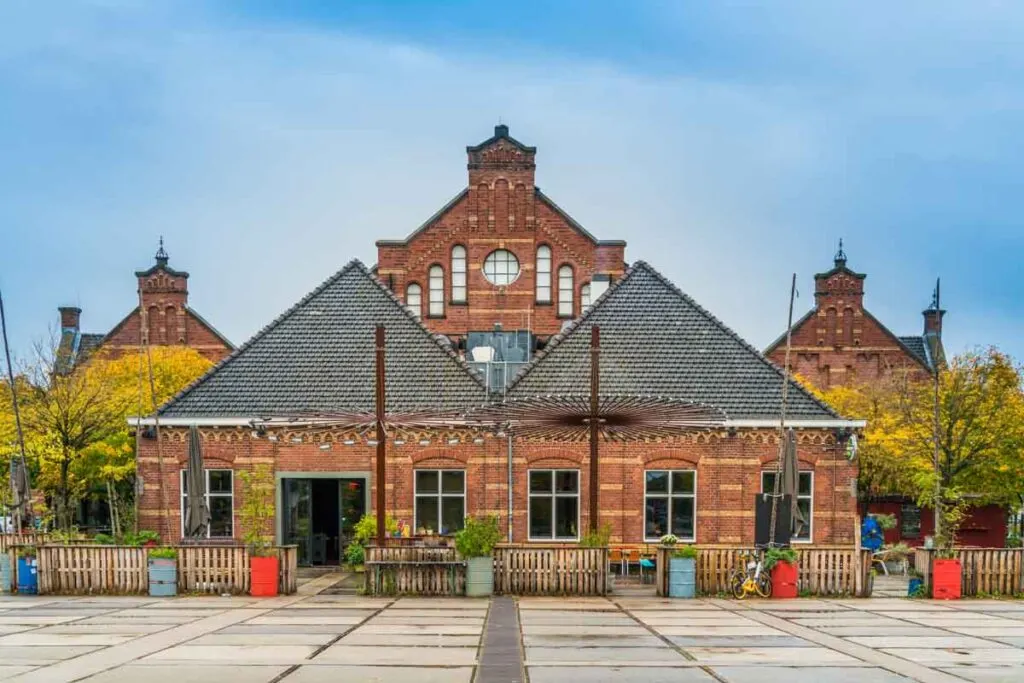 The Westergasfabriek is a cultural hotspot in Amsterdam and one of the best things to do in Amsterdam. In combination with Westerpark, it's a magnet with a massive appeal on a local and national level.
Westerpark, one of the three main parks in Amsterdam, is a large, beautiful space for relaxing or walking or a three-mile jog: along the water, along paved and unpaved paths, or through wooded areas.
It's also home to the Westergas cultural complex, which forms the heart of regular festivals throughout the year.
Be sure to check the schedule to see what's on at Westerpark: you'll find music festivals like Milkshake during Amsterdam Pride, plus a host of others. There's always something exciting underway.
Westergasfabriek was a complex of late 19th-century industrial buildings that housed Amsterdam's gasworks but was redeveloped in 2003 into a cultural complex.
Now it's the site of galleries, interesting venues, exhibitions, food markets, and cultural events. And there are popular restaurants and intriguing shops.
25. Observe Trees And Beautiful Plants Up Close In Hortus Botanicus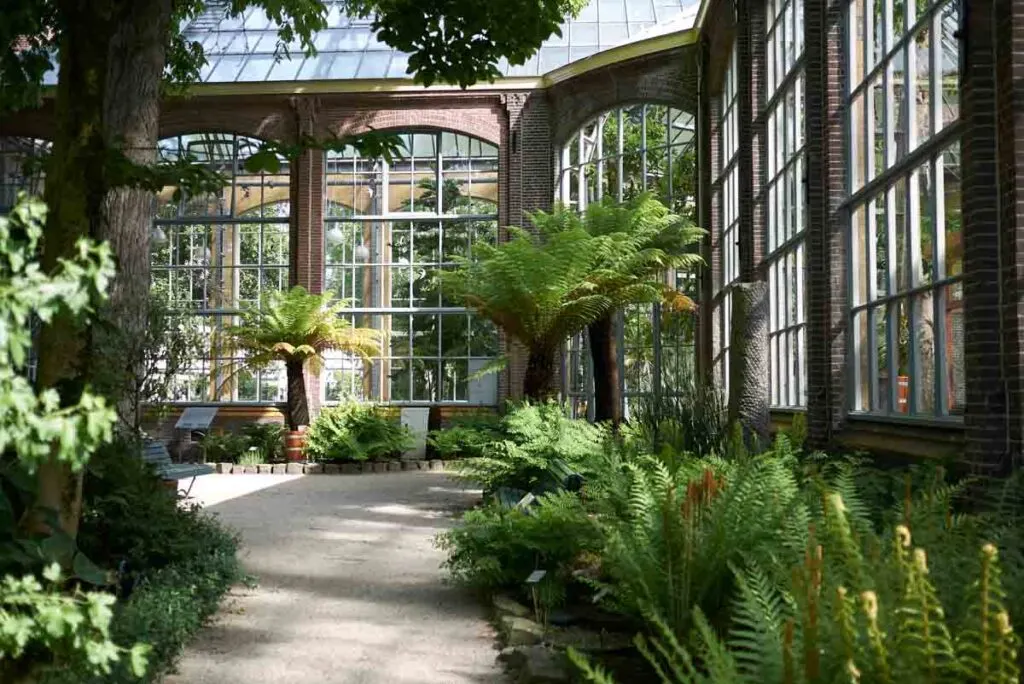 Founded in the 17th century, the botanical garden in Amsterdam, Hortus Botanicus, has an incredible collection of plants and trees, some of which are endangered.
These magnificent botanical gardens offer a rare opportunity to see and learn more about an enormous range of plants.
For example, the canopy walk in the Three Climate Greenhouse takes you from tropical to subtropical to desert climates, and the canopy position enables close views of the trees in each climate zone.
You'll see Cape Fynbos in the South African collection, carnivorous plants in the tropical section, a 350-year-old giant cycad in the cycad collection, medicinal plants, and much, much more.
For plant lovers, this is one of the best things to do in Amsterdam.
You can relax in the outdoor café, the Orangery, surrounded by rare and exotic plants.
Or, if the summer heat is taking its toll, take an evening stroll through the gardens. You can unwind with yoga sessions on Thursdays or enjoy classical concerts on Sundays.
26. Visiting in the Winter? Check Out a Christmas Market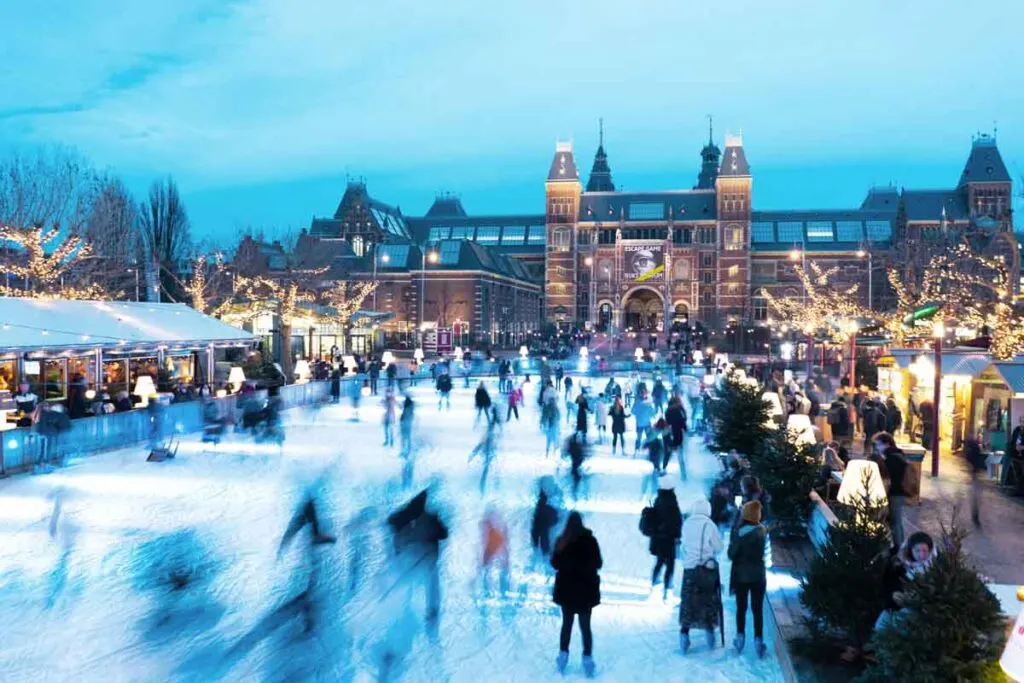 I love visiting Christmas Markets, having some tasty bites and one (or two) glasses of mulled wine to warm up.
Well, that's what wintertime is all about in the Netherlands, let alone in Europe, so let's make good use of the season.
Among so many travel tips, visiting a Christmas Market is one of the best things to do in Amsterdam in December. It's a wonderful experience!
Where? Museum Square!
27. Check Out Sex In The City: On Display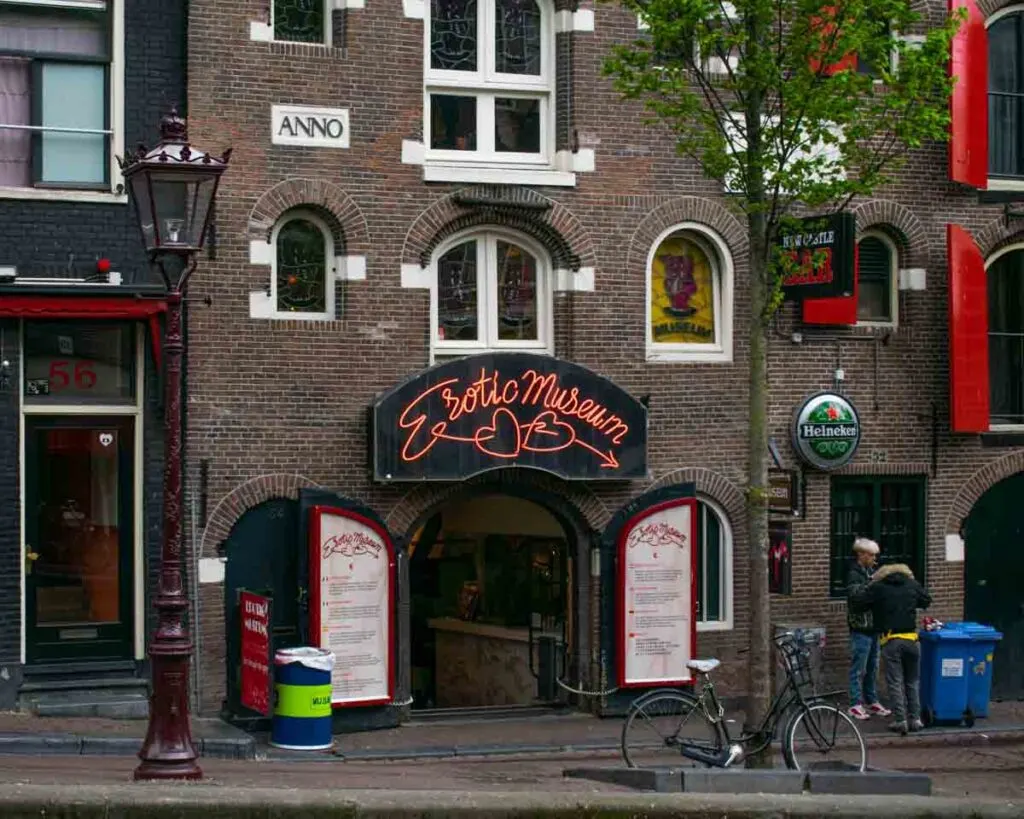 In the Netherlands, prostitution has been legal for over a century.
Like most Dutch cities, there are numerous brothels in Amsterdam, but unlike other cities, prostitutes here can advertise their wares in their windows.
Strolling through this Red Light District is a popular attraction in Amsterdam but note that taking photos is forbidden. (DO NOT take pictures of the girls!)
It is safe overall. Just keep your bag in front of your body. Pickpockets are professionals in Amsterdam!
In the middle of this district, you'll find the Erotic Museum: if you prefer not to venture through the Red Light District, you can see what it looks like in this air-conditioned museum, and here you are allowed to take pictures.
There's also a collection of erotic photographs and erotic art and a projection of the animated "Snow White and the Seven Dwarfs" movie, but in a version you'll never see in a Disney park.
You'll find the Sex Museum – The Temple of Venus, on Damrak Street, just opposite the Amsterdam Central Train Station.
There's a fascinating collection of items about human sexuality: art, photographs, china, figures, plates, and many other items. And two colossal plastic phalluses standing erect will give you an unusual photo opportunity.
28. Delve Into The History Of Marijuana, Hashish, And Hemp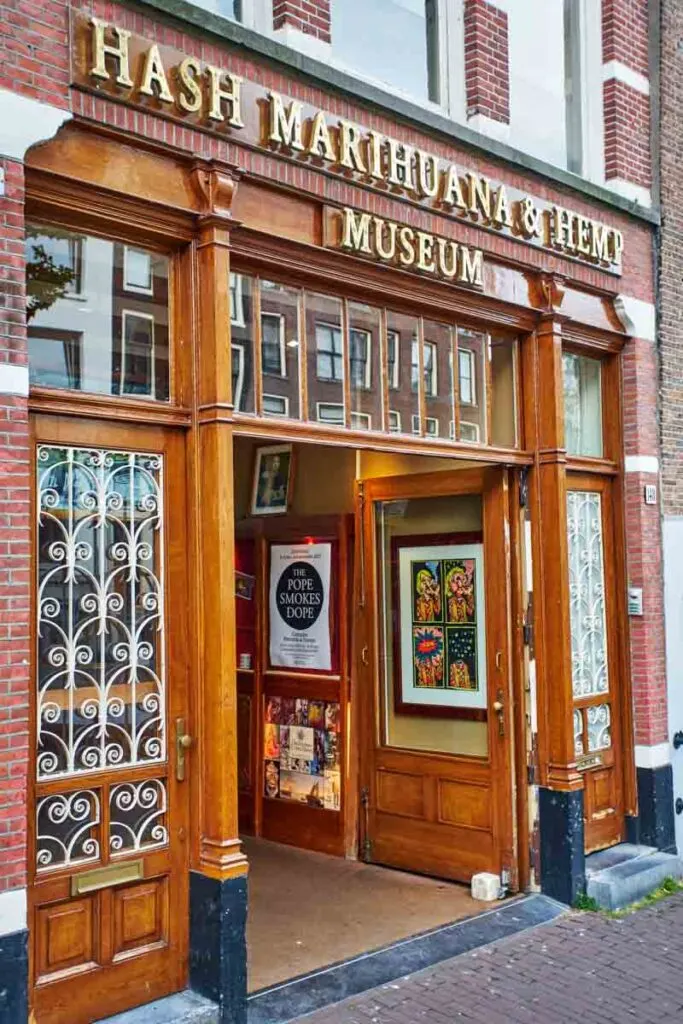 The Hash Marihuana & Hemp Museum claims to be the oldest and most distinguished museum in the world dedicated to cannabis.
The museum manages and presents a unique collection that reveals the exceptional versatility of the cannabis plant. It's located at Oudezijds Achterburgwal, one of the canals of the Red Light District.
From cultivation to consumption, ancient ritual to modern medicine, every aspect of cannabis in global culture is represented. There's also a cannabis garden with live plants and an interactive vaporizer exhibition.
A second venue, The Hemp Gallery, displays the hemp plant's long history and broader uses.
Here you can discover how useful hemp is and its potential to give us a sustainable future. For example, today, the hemp plant is seen as an important alternative to cotton.
29. Light Up In A Coffee Shop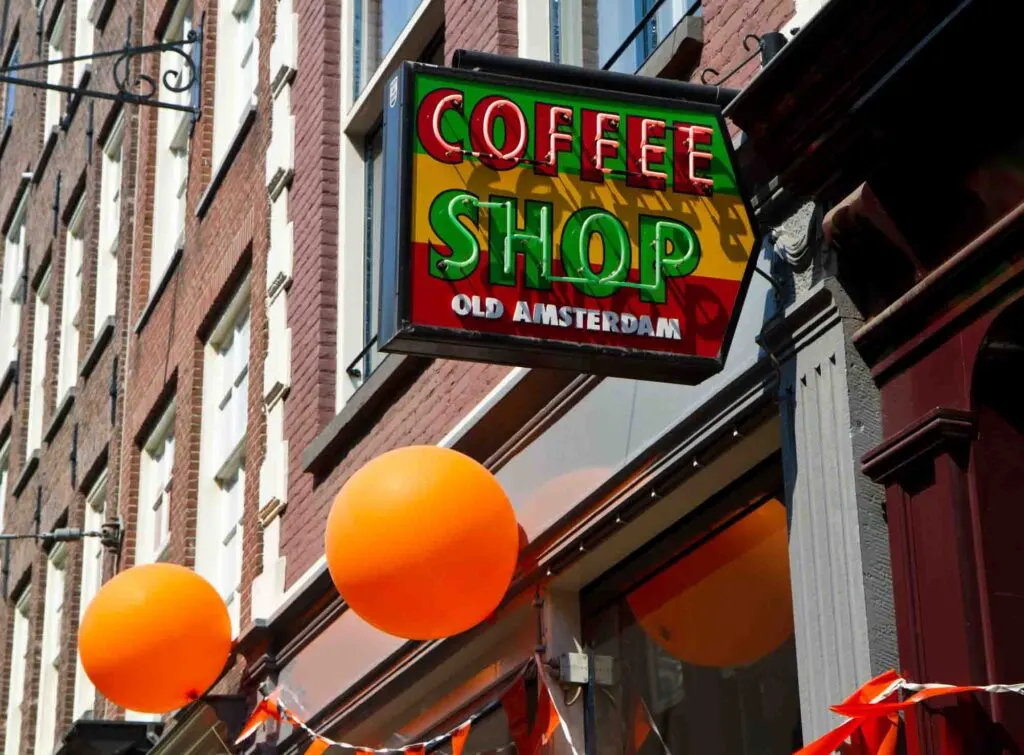 No, not a cigarette: tobacco is forbidden under the Dutch smoking ban. And coffee isn't the main attraction.
Amsterdam's coffee shops are world-famous for cannabis use, which has been tolerated since the 1970s.
The official coffee shops are not only the safest places to buy marijuana products but also great places to relax, socialize, and have fun.
There are more than 100 licensed coffee shops in the city, many of which have menus to browse and trained staff to explain the shop's offerings and recommend different strains of marijuana, hash, pre-rolled joints, and infused baked goods.
The coffee shops aren't allowed to sell alcohol or hard drugs, nor to sell cannabis to anyone under the age of 18. You're allowed a maximum of five grams per person.
Local tips: Consider your safety before doing anything in a foreign city. If you're visiting a coffee shop in the Red Light or across the city, do not drink alcohol before. If you're having a space cake, don't smoke afterward. It takes a while to take effect, but when it does…it is strong. For example, leave expensive things in your hotel's safe because pickpockets are just waiting for the next tourist to get high.
30. Discover a Hidden Church At Our Lord In The Attic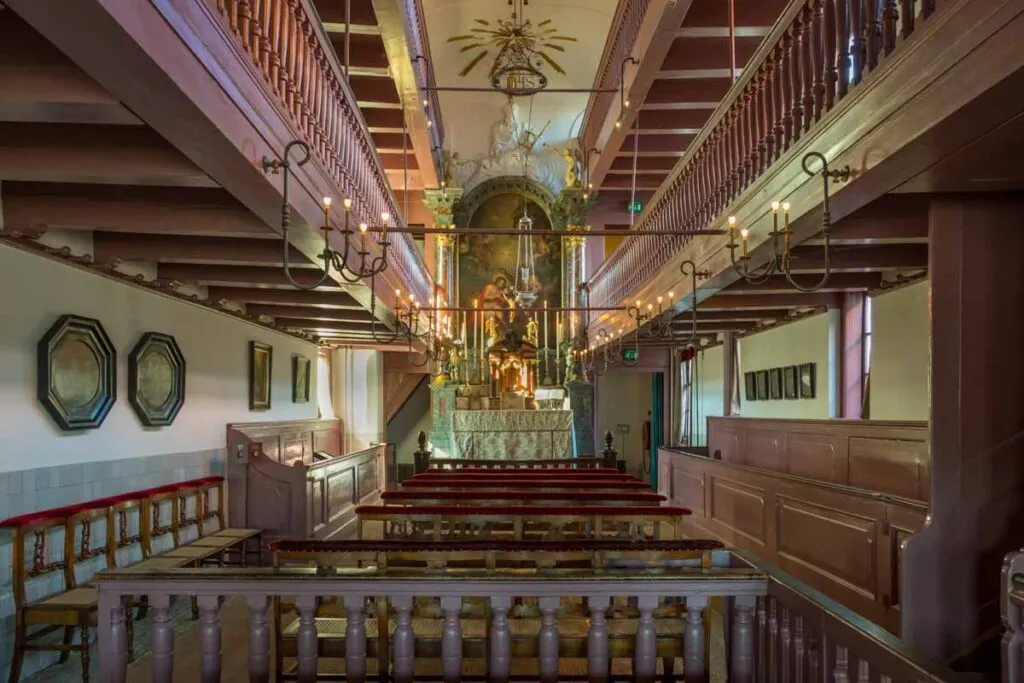 This museum (Dutch name: "Ons' Lieve Heer Op Solder"), hidden in the heart of Amsterdam's city center, is a well-preserved canal house from the 17th century. The star attraction is a church in the attic.
It was built when the Protestant City Council had forbidden Catholics from celebrating mass in public places, but they were allowed to do so behind closed doors.
You can wander through the historically furnished living quarters, kitchens and bedrooms before climbing narrow stairs to the magnificent chapel.
And, by the way, this is one of the most romantic wedding venues in Amsterdam.
31. Visit The Anne Frank House – One Of The Best Things To Do In Amsterdam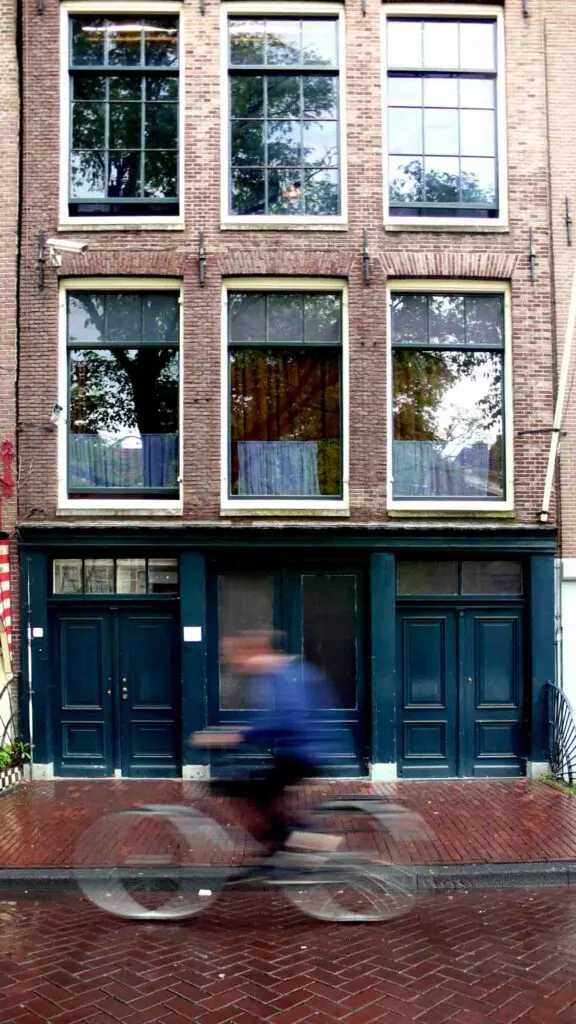 Learn in detail about the young Jewish girl's (her family and friends) hiding place and the story that inspired the world.
Anne Frank House is a haunting place to go as you see the conditions they were forced to live in to hide from the German army. It's a moving experience.
Her famous diary has touched millions of people worldwide, and you can see the 17th-century canal house where she penned this diary and lived before being sent to concentration camps.
The Anne Frank House has a permanent exhibition depicting life under German occupation and the Holocaust and a space describing all forms of discrimination and persecution. That's why a visit to the Anne Frank House is hands-down one of the best things to do in Amsterdam.
One important thing that many people don't know is that you're not allowed to take pictures inside the Anne Frank House. Please, respect this rule.
The Anne Frank House is on the Prinsengracht canal, close to the Westerkerk in central Amsterdam.
Local tip: Over a million people visit the museum every year, so buy your ticket online to avoid missing out. I went there twice, and I can tell you it's a popular Amsterdam attraction. When my mom visited in the summer, we tried buying tickets one month in advance, which were sold out. Learn from my mistakes!
32. Don't Miss The Rembrandt House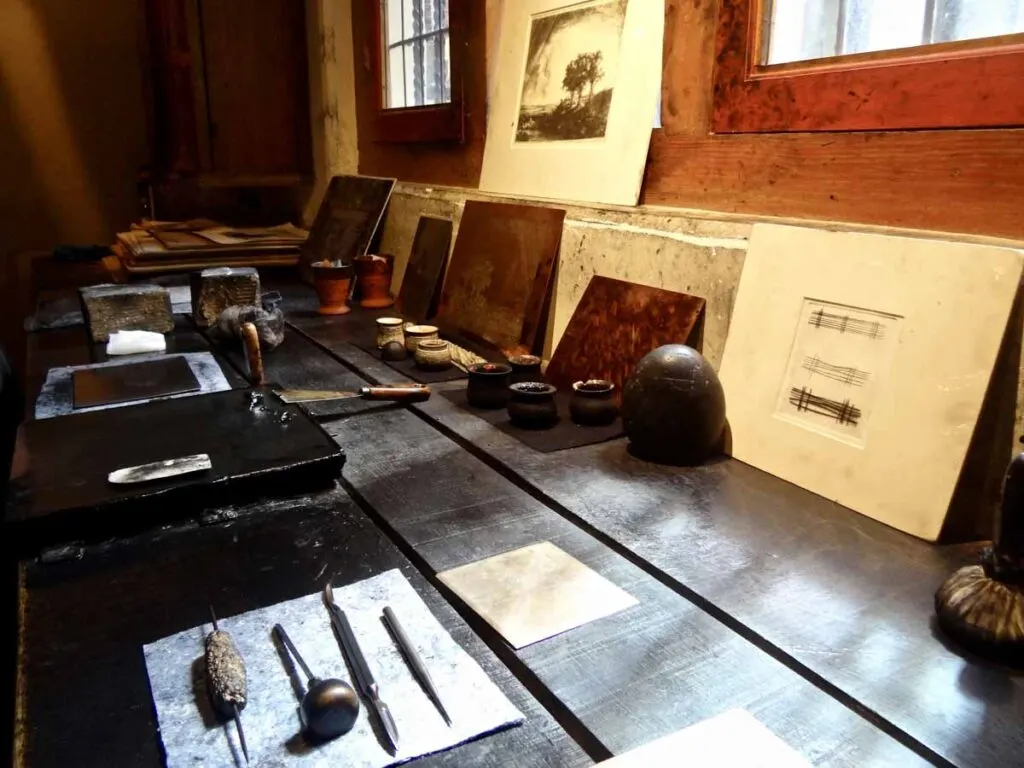 If you're a lover of the work of Rembrandt, be sure to visit this historic house and art museum where the artist lived and worked for 17 years.
When Rembrandt went bankrupt in 1656, all his belongings were auctioned. This auction list enabled the reconstruction of his possessions on display in the house. The interior has been reconstructed based on his house sale catalog.
The museum has a good collection of his etchings, with rotating selections on display. The collection of famous paintings is mostly by other Dutch Golden Age painters, especially from his early career, working in similar styles to Rembrandt's first paintings.
The house is in the Jodenbreestraat, not far from the City Hall.
Final Thoughts On What To Do In Amsterdam
After experiencing many of the best things to do in Amsterdam, we're sure you'll return to this exciting city as often as possible.
Amsterdam is among the most beautiful places in the world, and rightly so because the gingerbread houses, charming canals, and cute bridges are incredibly gorgeous.
Together they create such a unique landscape everyone should visit once. I hope you enjoy your time in Amsterdam!
Did you like this article about the best things to do in Amsterdam? Then share it with your friends and on your social media!
Oh, and if you have any questions about what to do in Amsterdam, drop your comments below, and I'll answer them!
Our best travel tips & resources:
Here're our all-time favorite travel tips & resources so that you can save money and plan your travel logistics hassle-free! For more travel resources, check out our
travel tips.
Saving money: Fly on offseason, winter (not Xmas or NYE), Tuesday, or Wednesday! According to experts, these are the cheapest days to fly.
Travel insurance: Before you leave for your trip, make sure you have a valid travel insurance policy because accidents happen on the road. We have been paying for Safety Wing travel insurance for a little over a year now, and we happily recommend them to our family and friends.
Accommodation: We usually stay in mid-range comfy hotels or private rooms in hostels. These are the sites we use to book accommodation: Booking.com for hotels (excellent flexible cancellation policy) and Hostelworld for hostels (low deposit and easy cancellation).
Tours:We absolutely love booking guided tours with locals to get a history lesson while sight-seeing, especially food tours and walking tours! We book all of our tours using Viator and GetYourGuide.
Transportation: We use Google Maps to figure out how to get around a place using public transport. When we book a rental car, we always use Discover Cars to find the best deal.