*You can hover over any picture in this post to pin it easily! 
When I visit a new place I always make sure I visit some street markets to get a local feeling and sometimes to grab a bite. Yes, I'm a self-declared foodie! And Amsterdam has many good street markets that are definitely worth a visit, not only to find delicious Dutch foods but to see a little more of the local culture.
There are all sorts of markets in the city! Food markets, flea markets, flower markets, farmer's markets and so on! I'm pretty sure you will find one to your taste. Note that this post is only about Amsterdam, but there are several street markets in other cities that are also fantastic. For example, the cheese market in Gouda and the farmer's market in Volendam.
Read further as I'll introduce the best street markets of Amsterdam.
Foodhallen
What they sell: A-ha! Guess! Okay, I started the list of best street markets with an indoor market, I know. But the Foodhallen is special because they sell a range of high-end street food. And it's delicious! The first indoor food market in Amsterdam has an amazing concept with around 20 street food stalls. Big variety, nice vibes, cool music, a must-see!
The Foodhallen is definitely a good place to try Dutch snacks while drinking some beer.
Opening times: Sunday to Thursday from 11 am to 11:30 pm, Friday, and Saturday from 11 am to 1 am.
Address: Bellamyplein 51, 1053 AT (take the tram 7 or 17)
Albert Cuyp Market
What they sell: everything! Haha! Seriously, they sell fish, waffles, fruits, plants, vegetables, flowers, textiles, clothes, jewelry, etc. I did say everything, didn't I? The largest street market in Europe is very close to the Heineken Experience, so you can stop by the market to eat something before going there. You don't want to drink on an empty stomach, do you? Ah, don't forget to eat the freshly baked stroopwafel at the Albert Cuyp. Yummy!!
Opening times: Monday to Saturday from 9 am to 5 pm.
Address: Albert Cuypstraat, 1073 BD
Flower Market
What they sell: guess again! The Netherlands is famous for its tulips and flowers and you have probably heard about the Keukenhof Gardens (Don't miss them! They're more than stunning!), so this is a great place to see all their gorgeous colors and maybe buy some for yourself or just browse around. This is the only floating market in the world, by the way!
Opening times: Monday to Saturday from 9 am to 5:30 pm, and Sunday from 11:30 am to 5:30 pm.
Address: Singel 630 to 600, 1017 AZ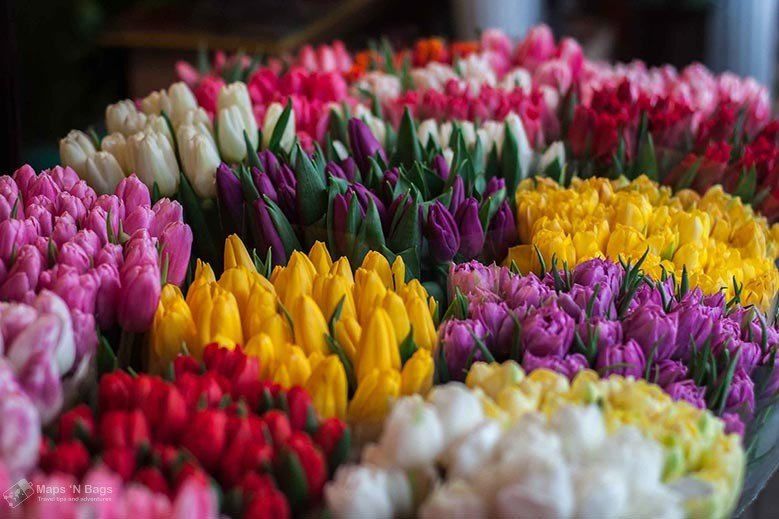 Book Market at Spui
What they sell: well, they sell books, maps, posters and these sorts of things. Stroll around this old-fashioned market which has been functioning for over 20 years. Also, don't worry about the language as they sell books in English, Dutch, French, and German!
Opening times: Friday from 10 am to 6 pm.
Address: Spui, 1012 WZ – it's 5 min walk from the Dam Square and right next to the Begijnhof.
IJ-Hallen Flea Market
What they sell: everything (again!). A second-hand goods market in a big warehouse in Amsterdam North (this is the biggest flea market in Europe!).  In this list, this is the only market for which you pay to get in, €5 for adults and €2 for kids. Tips: for "better" things get there early, for cheaper things, go on Sunday afternoon. 😊
Opening times: In the IJ-Hallen website you can check the agenda.
Address: Neveritaweg 15, 1033 WB – Take the (free) ferry to NDSM-Werf behind the central station, it's a 5 min walk from the ferry stop.
Waterloo Square Flea Market
What they sell: from vintage decoration objects, books, clothes to food, bikes, and art. This cozy market is the oldest flea market of Amsterdam.
Opening times: Monday to Saturday from 9:30 am to 6 pm.
Address: Waterlooplein 2, 1011 NZ – right behind the Rembrandt House.
So, which market are you going to visit in Amsterdam? Would you add another market to this list? Drop your suggestion in the comments below!
*The prices mentioned here might have changed depending on when you read this.
Did you like this post? Do you want to visit Amsterdam, but you're not going yet? Pin this post so you can find it easily later!


This post contains affiliate marketing link(s). Want to know why and what that is? Please, read my disclosure page.