Amsterdam has a special place in my heart: that's where I lived during my au pair year in The Netherlands. I was lucky to live in the heart of the country and even luckier to have a chance to discover in details the best things to do in this awe-inspiring city!
Whenever my friends ask me for advice about cities to visit in Europe, I recommend this amazing capital. Why? Because Amsterdam has a fascinating atmosphere and even though it is a small city, it has a lot of things to do!
I mean it! There are things to do for all tastes, like having a beer in the Red-Light District, or admiring Van Gogh's paintings in the Van Gogh Museum, or being brave in Europe's highest swing. The city offers all sorts of attractions in every corner or even in every canal. Boat tours are certainly a special way to see the luxurious crooked houses along the famous canal ring, which is a UNESCO Heritage Site, by the way.
---
Hey, looking for more tips for your next trip in the Netherlands? Check out some of our other posts below, or click here to find all of our Netherlands posts.
---
The hiding-place of a dreamy and hopeful girl is located next to one of these canals. The Anne Frank House attracts more than a million visitors every year! And rightly so, because this small place tells the story of a Jewish girl, and her family during the Second World War. A girl who gave a face to millions of unknown Holocaust victims.
And last, but certainly not least…Dutch snacks! There are so many delicious Dutch foods to try in Amsterdam…oh, I'm getting hungry (foodie here!). Have for example a freshly made Stroopwafel, or bitterballen with mustard in the traditional Albert Cuyp market. Yummy!
Do you want to know the best part of it? I mentioned many things above, but that's not even close to everything the city has to offer. Go see it all for yourself, I promise Amsterdam won't disappoint you.
In the meantime, I have listed the best 13 things to do in the city. Those are the things that you really shouldn't miss if you want to experience Amsterdam at its best.
[irp posts="1016″ name="Red Light District and Coffee Shops Tips in Amsterdam"]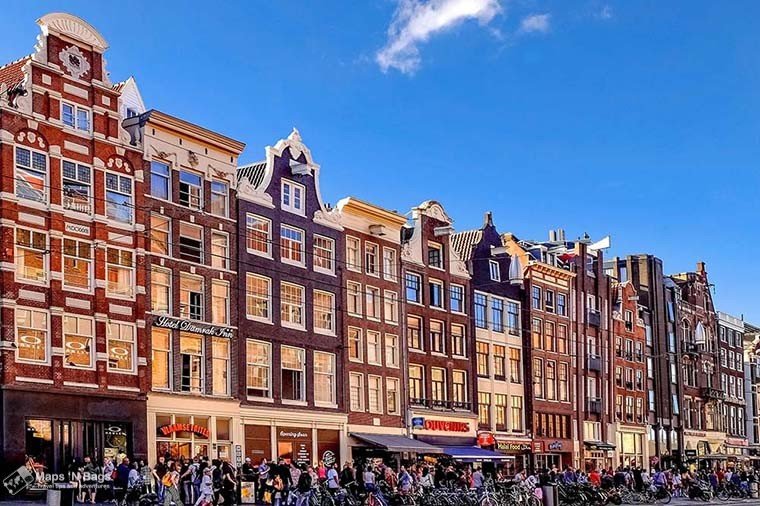 Best Things to Do in Amsterdam
Many people spend 3 days in Amsterdam and that's just enough to see the main attractions. Nothing wrong with that, sometimes that's all the time we have, but if you can, try to spend more days in this wonderful city.
Museum Square
This is the cultural hotspot of Amsterdam and it has 4 excellent museums. I'll talk about three of them here, but I promise to write an Amsterdam's museum guide for you!
The Rijksmuseum has an impressive permanent collection that includes Vermeer, a compact Asian collection, Rembrandt – his famous painting Night Watch is there -, and more! Their library is also very beautiful, you should pay it a visit without question! Since the museum is big you can spend quite some time there, if you want to see everything reserve 4 hours to it.
Ps.: The famous letters "I Amsterdam" are right in front of the Rijksmuseum. Perfect for beautiful shots! However, it's almost impossible to get a nice photo without hundreds of tourists. If you still want to try it, arrive there VERY early or VERY late in the evening.
The Van Gogh Museum is a must in Amsterdam! This is my favorite museum in the city and I've been to many! Besides, how many times will you see his original paintings? Please, go! It's really beautiful! I'm totally crazy about his "Almond Blossom" painting, so I had to visit the little shop in the museum and buy an Almond Blossom's agenda. ♥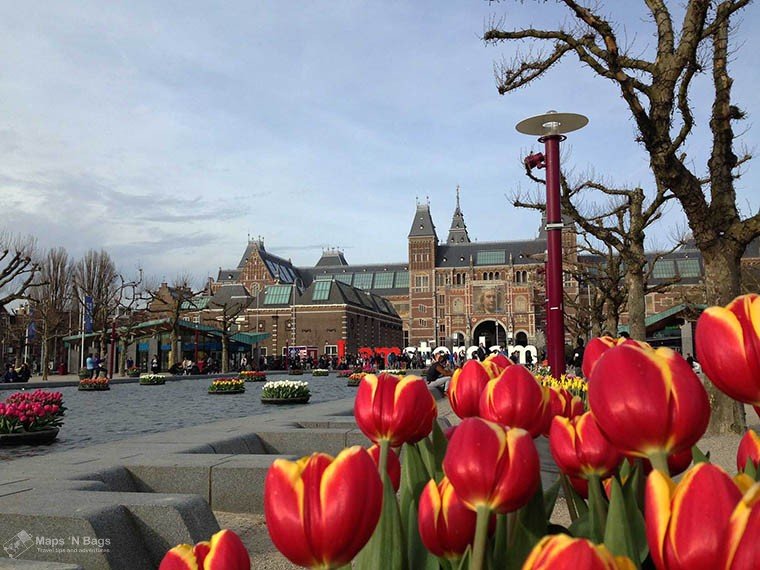 The Stedelijk Museum is an extraordinary museum which showcases pieces of modern and contemporary art, if you're into this kind of exposition, this museum is the best in the city for you!
Even though Amsterdam isn't a big city, thousands of tourists come in every day what makes waiting time to get into attractions kind of unbearable (that's so true that for now, you can only buy the ticket to Anne Frank House online). So be smart, save your precious time in the city and skip the huge lines in these museums (and help Maps 'N Bags too), especially in the Van Gogh Museum, by buying your tickets in the links above.
These are affiliate links, which means I earn a little commission if you buy the tickets, but thankfully you don't pay extra for that! And as a bonus, you help to keep Maps 'N Bags alive! Yaaay!
[irp posts="1854″ name="8 Cool and Inexpensive Things to Do in Rotterdam"]
Anne Frank House
Give a detailed picture to the little girl's house and story. Anne Frank House is a haunting place to go as you see the conditions they were forced to live in to hide from the Nazis. It's really moving.
One important thing that many people don't know, is that you're not allowed to take pictures inside the museum. Please, respect this rule.
Every year more than a million people from all over the world visit the museum, so buy your ticket online to avoid long lines. I went there twice and waited in the cold and rain for over an hour! A big no!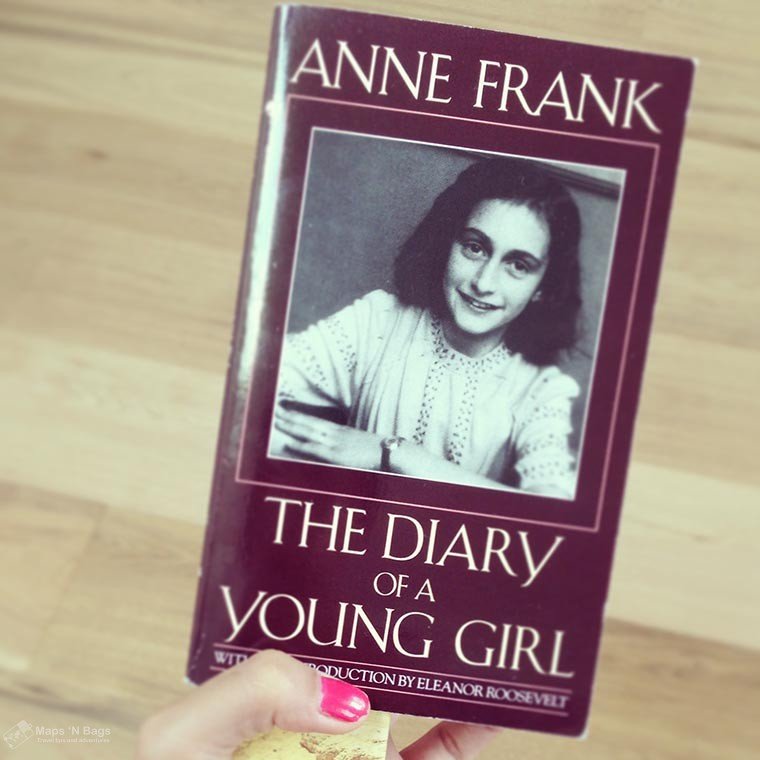 [irp posts="2333″ name="Best Day Trips from Amsterdam"]
Amsterdam North
The hipster spot of Amsterdam is right behind the Central Station. Take the ferry behind it to the other side of the river and enjoy a beer in a shipping container restaurant, or go to a flea market at NDSM. This is a really cool place where people chill on huge cushions and watch the sunset nearby the river.
Ps.: The famous wall art of the Brazilian artist Kobra, Anne Frank "Let me be myself", is located next to NDSM.
The other ferry takes you to the Eye Film Institute, a museum, and cinema about the Dutch film culture, and to the A'Dam Lookout Tower, a 20 floors building with the BEST observation deck of Amsterdam and the highest swing of Europe! So, are you going for it?
[irp posts="1001″ name="6 Best Street Markets of Amsterdam"]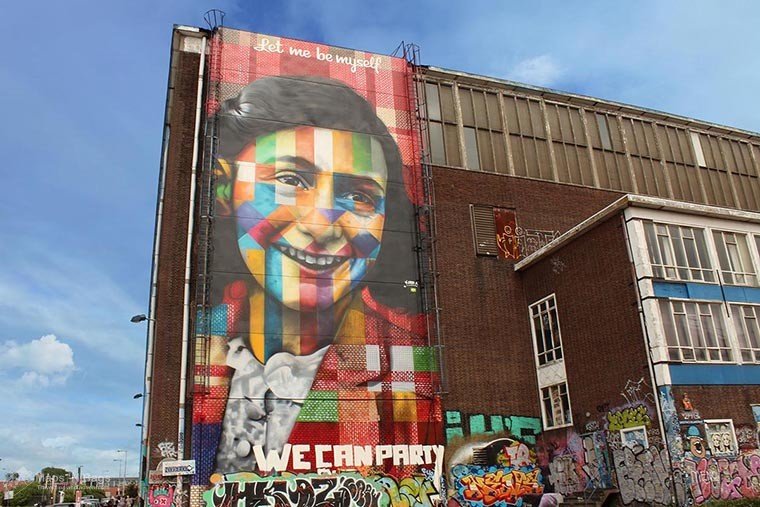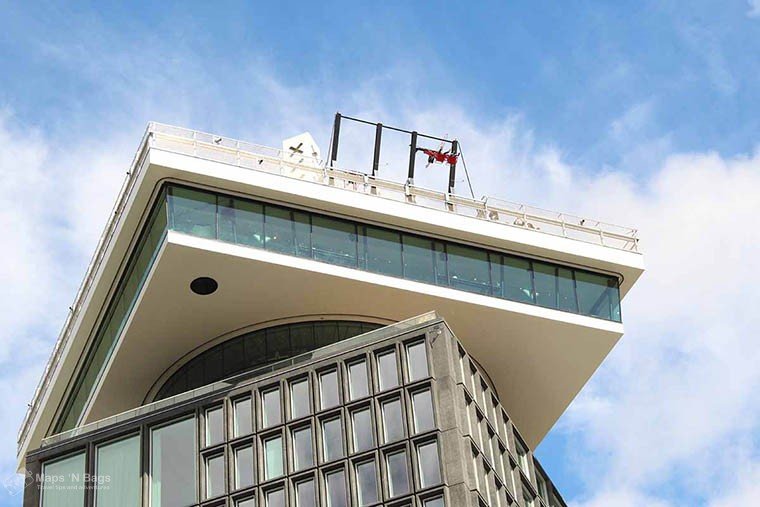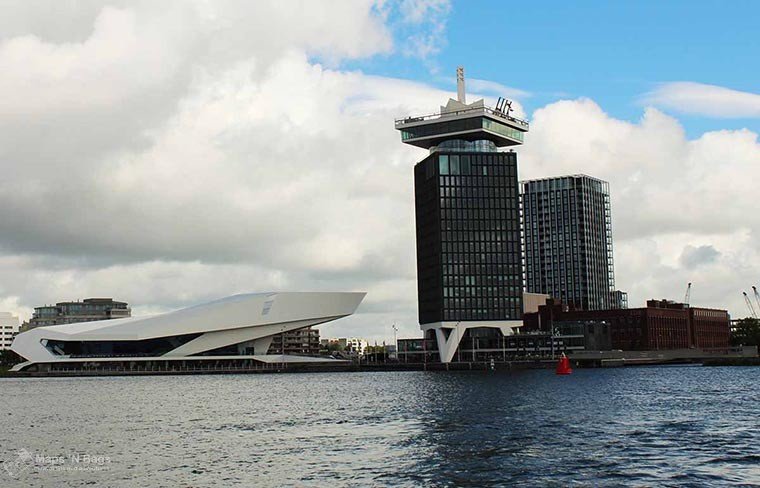 Read more: The Best Hotels in Amsterdam for all Budgets
Red-Light District
Well, if you're in Amsterdam you have to visit one of the most popular places in the city, the Red Light District! This is one of the oldest areas of Amsterdam. It has some nice pubs, gorgeous architecture, many quirky stores, and of course, it has the famous red windows. Those girls are there working and they are definitely not a taboo in the city, so don't be ashamed or afraid to walk in the area. Even though this is THE Red-Light, it's pretty safe. Just watch out for pickpockets as usual.
Also, no matter how impressed you might be, or how much you want to take a shot to show it to your friends, do not take pictures of the girls. They have protection at all times and they're not friendly to those who don't respect their privacy. Don't get yourself into problems.
Tip: The Old Church in the Red Light District is very beautiful and worth a visit.
[irp posts="1048″ name="12 Things You Shouldn't Do in Amsterdam"]
The Begijnhof
The Begijnhof is a hidden gem of Amsterdam which definitely deserves a visit. This is the only inner yard in the city center and it dates to the 14th-century. This beguinage was built for very religious single women, who didn't take the vows, as there are two churches in the yard. Following the tradition, only devoted women live there nowadays and they appreciate the silence. So please, be quiet and respect their privacy.
Now take a look at the houses below. They have the characteristic Amsterdamer architecture, which makes the city one of the top European destinations for many travelers. They usually have two/ three floors, are narrow and a little bit crooked.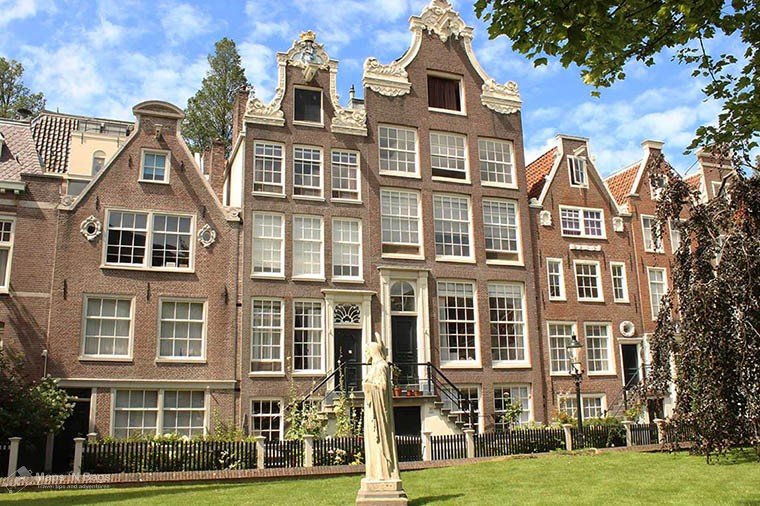 You might be wondering why they are like this. Well, Amsterdam was basically a large swamp, so in order to build houses there, they drilled wooden piles in the soil until they reached a solid surface. Thus the houses wouldn't sink anymore. However, many houses sunk not completely, but just a bit on one side. The reason for this is either rot wood or too much weight.
The narrowness comes because many people wanted to live on the waterfront, but it was very expensive. Thus they would divide the land into narrow houses as it was possible. Don't think they are small, in fact, the Dutch houses are very deep. Most part of the residences throughout the city is built like that, only the houses that belonged to politicians/ rich people would be large. Note that Amsterdam was a port city, so the main transport was the boat.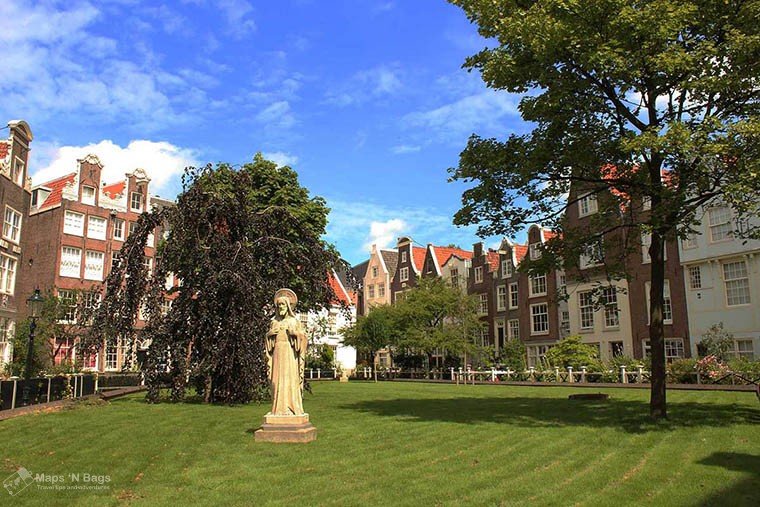 [irp posts="1704″ name="8 Reasons Why You Need to Visit the Beautiful Giethoorn"]
Jordaan
Jordaan (pronounce it as eordaan) is a very sweet neighborhood of Amsterdam! It has many cute vintage streets, indie cafes, restaurants, you name it! Stroll around these interesting streets to get a little more of a local feeling as this neighborhood is not so crowded like the rest of the city.
Some of the things to see & do there: Eat one of the best apple pies at Winkel 43, a few blocks away from Anne Frank House.
You know Dutch people are all about cheese, right? So pay a visit to the Amsterdam Cheese Museum or to a really special and small museum: Houseboat Museum. By now you have noticed a lot of people live in the canals of Amsterdam, so check out this place to see what it is like to live in a boat.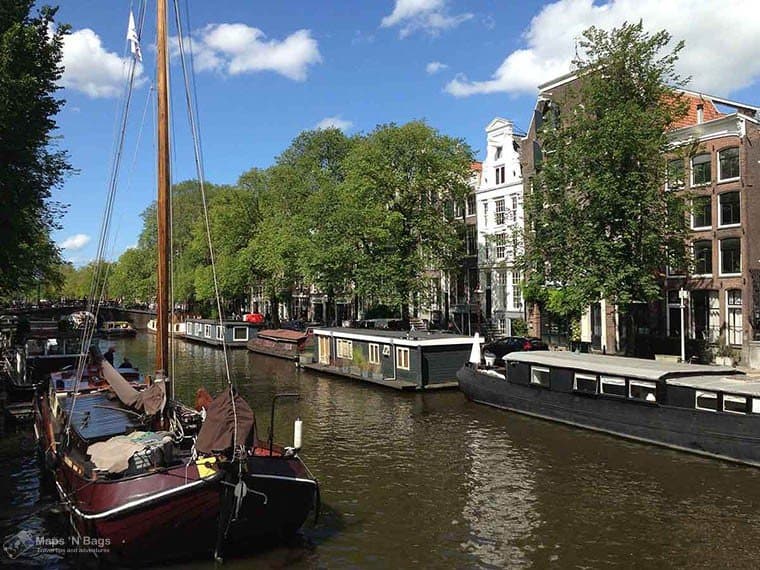 Boat tour
Amsterdam was built to be a port city, that's why it has so many canals. The total length of these canals is 50km which is about 31 miles. Today, they are a pleasant attraction to millions of tourists and, of course, to locals as well.
The most beautiful canals are in the Canal Ring Area, which is a UNESCO Heritage site. The Canal Ring Area includes the Prinsengracht, Keizersgracht, Herengracht, and Singel.
A unique way to see Amsterdam is from below, on a canal level to be more exact. You can make a boat tour during the day or in the evening, in the summer or in the winter. It doesn't matter when they're just gorgeous and a lovely experience.
Ride a bike
I think there is nothing more Dutch than riding a bike. They learn to ride it when they're very small and use it for everything, every day. So the perfect way to get around Amsterdam and to feel like a local is renting a bike. Just watch out for the traffic, pedestrians and the tram rails…you don't want to get your tire stuck in there, trust me!
Ps.: There are almost more bikes in Amsterdam than people! Population: 850.000. Bikes: 847.000.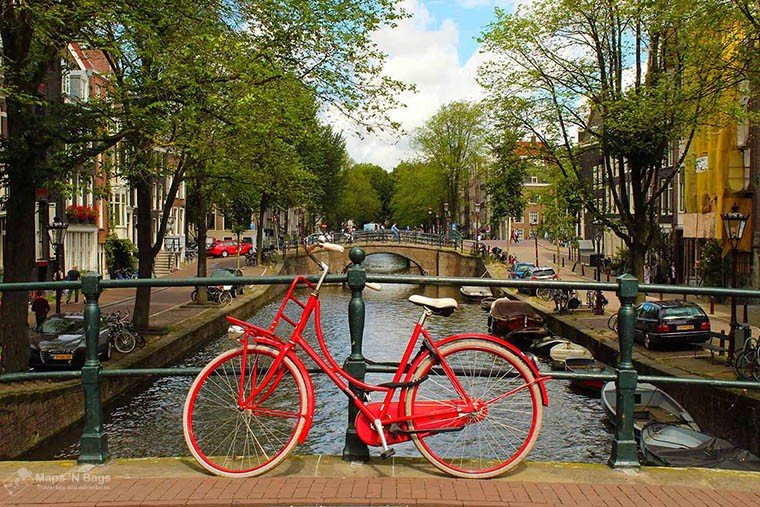 Vondelpark
A gorgeous park with an easygoing atmosphere. Welcome to the Vondelpark! The Central Park of Amsterdam is a great place to ride a bike, jog or do nothing.
It gets crowded on warm days, so if you want to experience the local culture a little bit more, buy something to drink in the supermarket and chill on the grass.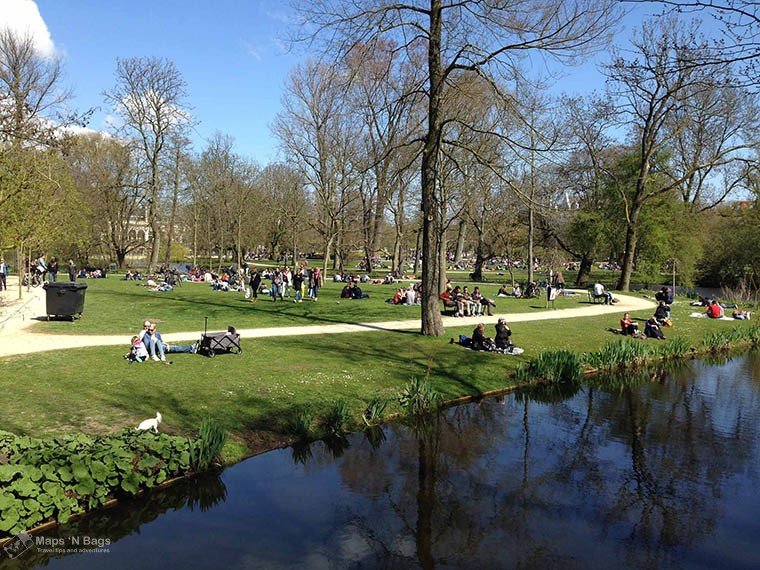 Eat Herring
Foodies, check out the fish stalls in the streets of Amsterdam offering Herring. It's delicious! Raw herring with pickles and onions are a traditional snack in the Netherlands. Yeah, it is raw, but it is tasty, trust me.
[irp posts="1029″ name="12 Typical Dutch Foods You Must Try in Amsterdam"]
Drink some beer in a Windmill
Besides cheese, bikes, and herring, windmills are really a typical Dutch thing. So what could be more interesting than drinking beer in one of them? There is a brewery attached to one, the Brouwerij 't IJ. You can also make a short tour of the brewery.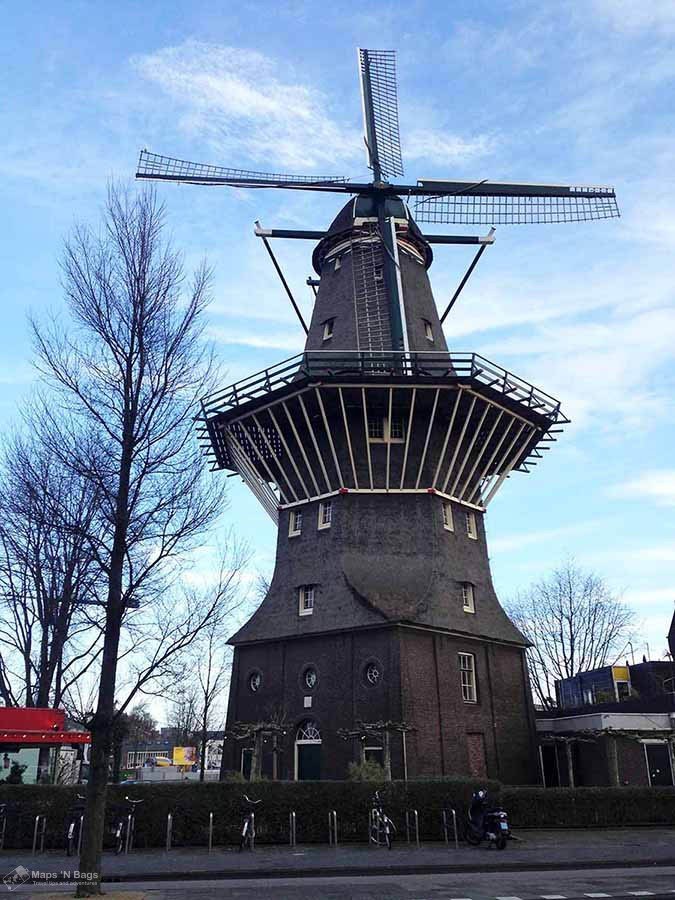 Dam Square
The most important square in the city and probably in the country, the Dam Square. Here lies the New Church, the Royal Palace, Madame Tussauds Museum, the National Monument and the fancy shopping mall Bijenkorf.
The king of the Netherlands got married in the New Church and this place is home to many expositions throughout the year.
Well, it goes without saying that the Royal Palace is a very interesting place to visit. You can get to know the fascinating story of it.
The Madame Tussauds Museum is the famous wax museum with a lot of "celebrities" posing to your photos!
The National Monument marks the end of the German occupation in the Netherlands. Every 4th of May many people gather in the Dam Square to the Remembrance of the Dead ceremony.

Heineken Experience
One of the most famous beers in the world is Dutch. Yep, Heineken is very much Dutch and you can make an interactive tour in their brewery (and have a couple of drinks too, of course). The tour is really nice and even if you're not a beer fan, you will enjoy it for sure! The guys there know what they are talking about! I have to be honest, Heineken is not my number one beer, I personally prefer the Belgians, but all my friends love it and the tour is amazing, that's why I'm recommending it.
Ps.: You can also buy a bottle with your name on it!
When to go to Amsterdam?
The summer is, of course, the best time to visit Amsterdam if you don't care about the thousands of tourists. The city is very pleasant and the terraces are full along the canals. If you go in the high season I really recommend you buy your tickets in the links above as you avoid wasting your precious time there!
Winters in Amsterdam can be wet, windy and foggy as the city lies below sea level, but it's (almost) never freezing. Amsterdam is very charming in the fall and spring, the colors change completely in both seasons and the city is a bit less crowded. I find spring especially beautiful as they put tulips throughout the streets.
Tip: King's day is celebrated on the April 27th and if you want to party, just wear orange clothes and go! But if you just want to do your tourist stuff, avoid this day.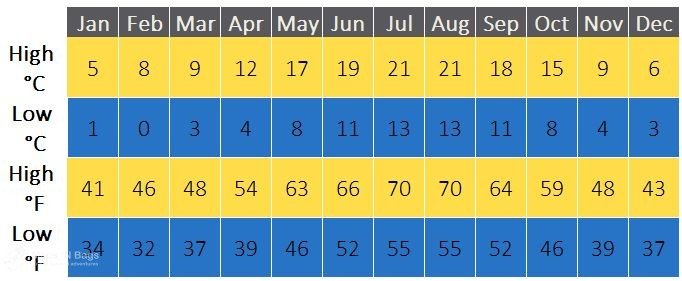 ---
Hey, looking for more tips for your next trip in the Netherlands? Check out some of our other posts below, or click here to find all of our Netherlands posts.
---
So, Amsterdam is lovely, isn't? There are, of course, way more things to see in the city and you can read more in the links I set above along the post. Would you add more places to this list? Drop your tips in the comments and help other backpackers!
Did you like this post? Do you want to visit Amsterdam, but you're not going yet? Pin this post so you can find it easily later!


This post contains affiliate marketing link(s). Want to know why and what that is? Please, read my disclosure page.