We must be honest: We were uncertain whether or not to write this 3 days in Amsterdam article because this is our city and when we start talking about it we never stop.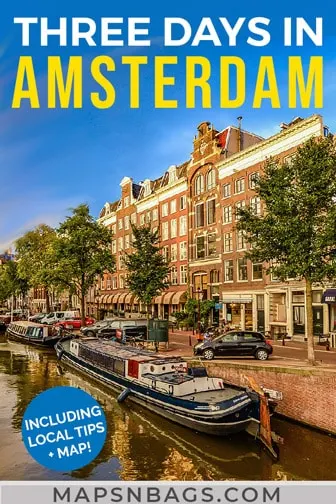 But hey, we're that's also good for you because we wrote what we consider to be a perfect itinerary to see Amsterdam in 3 days.
Netherlands' capital is a sweet place full of gingerbread houses and charming canals. A reasonably small city where you can reach most of the attractions on foot.
Amsterdam is also the city of freedom, the city famous for being tolerant about what most countries spend millions on to forbid. Some people call Amsterdam the city of sin, but we disagree.
Some tourists think Amsterdam is a city of sin, but in truth, it is a city of freedom. And in freedom, most people find sin.

― John Green, The Fault in Our Stars
Amsterdam in 3 Days
We've written below our perfect and detailed 3-day Amsterdam itinerary so you can copy or adapt to your wishes. Feel free to use it as your own Amsterdam trip planner.
Also, we've included a lot of practical information, such as how to get around the city, day trips, places to stay, and a map of Amsterdam with all the locations mentioned in this article.
In today's post we'll talk about:
Are Three Days in Amsterdam Enough?
Short answer: No.
Full answer: Three days in Amsterdam won't be enough to see a bunch of cool places (because the city only has cool places, okay?).
In 3 days you get to see just the tip of the iceberg, but the most important attractions, we promise you!
Also, even if you're going to spend only a day in Amsterdam, or 2 days in Amsterdam for that matter, you can just adjust this itinerary to visit the places you like the most and use it.
Now, in case you're spending 4 days in Amsterdam (or more), we'll also suggest additional things to do in those extra days. No need to worry.
Anyway, wondering what to do in Amsterdam in 3 days? Read on!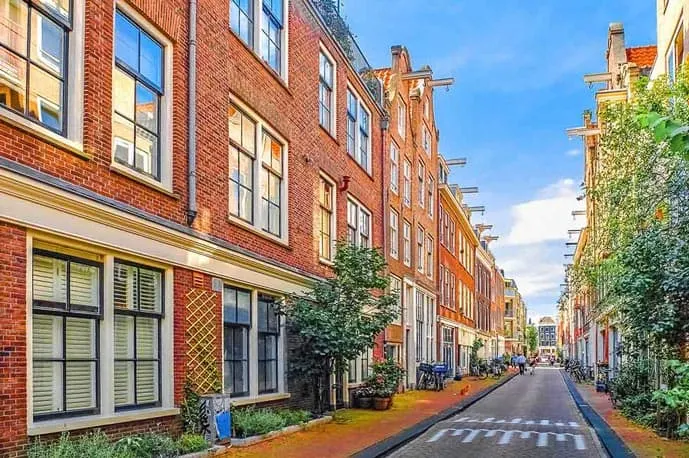 Read next: Romantic things to do in Amsterdam
Where to Stay in Amsterdam
Amsterdam is by no means a cheap city, we know. But if you book your accommodation in advance and look for hotels in the neighborhoods we recommend in this Amsterdam hotel guide, you'll probably snag some good deals!
Here are some other options:
Shelter City Christian Hostel: The location is excellent (right in the center), breakfast included, and free WiFi. This hostel is excellent for those looking to enjoy a calm stay in Amsterdam.
CityHub Amsterdam: Interesting concept where you sleep in a modern and small cabin. It's perfect for those who want a unique experience and to meet some people. Free WiFi available, tea kettle in the rooms, and breakfast included in the price.
Passengership Avanti: This cozy hotel boat is right in the city center, but yet far away from the noises and parties. Honestly, it's an unparalleled experience to sleep in a house style typical of Amsterdam. Breakfast included and free WiFi is available.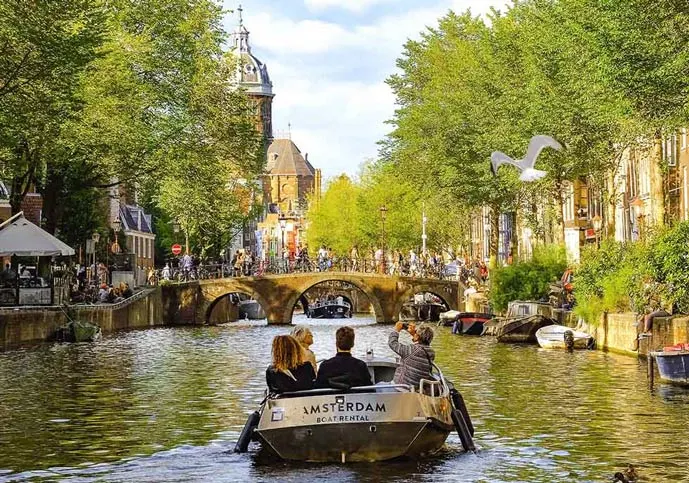 3-Day Amsterdam Itinerary – Weather
The weather in Amsterdam can be unpredictable, so always bring a jacket and a beautiful scarf to make sure you won't be cold.
Unless you're traveling in the middle of a heatwave, of course.
Moreover, know that it can be quite windy in the city. For female travelers wearing skirts or dresses, take care, or you'll show your bum.
Things to Do in Amsterdam on a Rainy Day
Rainy days aren't unusual in Amsterdam. If it rains indeed, then you can spend your day in museums and cafes. For more ideas of places to visit, check out this list of things to do in Amsterdam.
If you want to have a deeper understanding of the city and its surroundings, we recommend taking one of these tours we selected below:
Summary of Amsterdam in 3 Days
Day 1: Anne Frank House, 9 Streets, Museum Square, Dutch Cafe
Day 2: Beguinage, American Bookstore, Blue Amsterdam, Flower Market, Canal Cruise, NDSM, Cafes
Day 3: Sex Museum, Red Light District, "Soft Drugs" Museum, Condomerie, Omelegg, Dutch Coffee Shop or Dutch Brewery
Map of Three Days in Amsterdam
All locations mentioned in this article are pinned in the map below. If you want to access the interactive map of Amsterdam in 3 days, click here.
And click here if you want to learn how to create your own Google maps.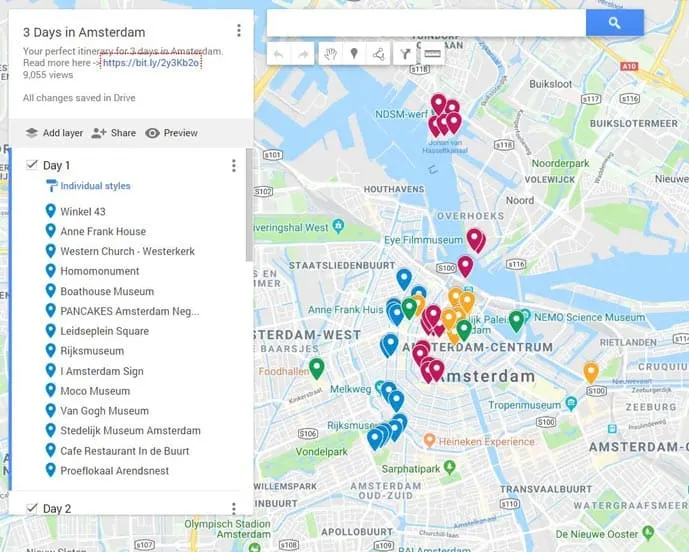 3 Days in Amsterdam – Day 1
Be an early bird and start your day around 8 am. We promise it will pay off.
If there is one thing Dutch people can do very well, it is apple pie. Of course, there are way more things they can do very well, but we just wanted to add some drama.
Anyway, start your day in the hippest neighborhood in Amsterdam, the Jordaan. This alternative area has cozy and quite exciting shops and eateries. Totally worth a second visit.
Head over to this popular cafe, the Winkel 43, located along the same canal as the Anne Frank House. This cafe is famous in the city for having Amsterdam's most delicious apple pie. You won't want to miss it, right?
No, we thought so.
Visit the Anne Frank House
After you have had enough calories, head over to the Secret Annex. Or how it's known in Dutch, Het Achterhuis.
Anne Frank, her family, and four other people hid from the Nazis in this claustrophobic place for two long years.
The original furniture was removed, and now some replicas give you an idea of how they lived.
Nowadays, the Anne Frank House is one of the most visited places in Amsterdam. Around 1.3 million tourists pay a visit to this museum every year to be more exact.
This house is what we call a dark tourism site, so respect the local rules: do not touch anything nor take photos inside the house.
What else is there to see? Other diaries she wrote, family pictures, videos, and their story in the secret annex.
Pro tips: Buy your ticket in advance to avoid missing the day you planned. The Anne Frank House is continuously jam-packed with tourists. Also, they only sell tickets online and up to two months in advance.
Interesting places around the Anne Frank House: There's a homomonument built behind the Western Church (Westerkerk). It's a triangle on the ground that symbolizes the past, present, and future.
The monument remembers the persecuted gays and lesbians around the world, it celebrates their freedom in the country, and it calls for vigilance in the future so that the world becomes a better place.
Quite simple, but it carries a strong and powerful message.
Both of them are worth seeing, by the way. The church and the monument.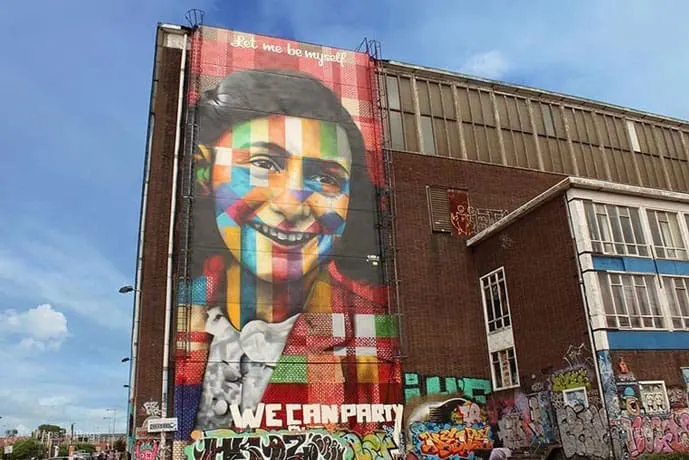 Read next: Best photo spots in Amsterdam
Wander Through the 9 Streets (De 9 Straatjes)
After visiting such a touching place as the Anne Frank House, stroll along the 9 streets to cheer you up (De 9 Straatjes – the area between Hartenstraat and Huidenstraat, and Prinsengracht and Singel).
These 9 streets have a bunch of antique stores and pleasant cafes. Highly touristic area, but still worth taking a look. And who knows, shop a little. At least for a warm cup of coffee.
Did you know that Amsterdam has over 2,000 houseboats? You can even stay in one, as we have mentioned above. But for now, know that you can visit a houseboat which is over 100 years old near the 9 streets.
The Houseboat Museum is quite affordable (€4.5), and this is also a way to learn about Amsterdam's peculiar residence style: a houseboat. Here you can see how it works and everything. Very interesting!
Pro tip: The entrance is free of charge with the I Amsterdam Card.
Craving for some Dutch pancakes? Then stop by Pancakes Amsterdam near the Houseboat Museum, in the Berenstraat.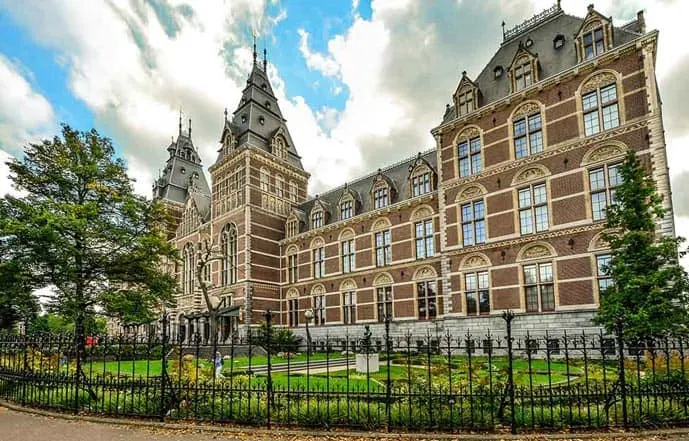 Visit a Museum in the Iconic Museum Square (Museumplein)
Walk towards the Leidseplein, one of the busiest squares in the city, especially at night. It's often crowded and overpriced, so just walk by to see it, but we don't recommend you stop by for a beer or so.
Instead, choose a bar only one or two blocks away from this square, and you'll see the prices getting more reasonable.
Head over to the Museum Square (Museumplein) and prepare to spend the afternoon in one or two of the best museums in the Netherlands.
There are excellent museums here, such as:
The latter is our favorite one. We just adore the Van Gogh Museum, and we certainly recommend you to visit it too. Highlights of the Van Gogh Museum: Almond Blossom and Sunflowers.
We bought a very fine-looking jigsaw puzzle printed with his painting Almond Blossom in the museum's shop.
Pro tip: The entrance for the Stedelijk, Rijksmuseum, and Van Gogh are free of charge with the I Amsterdam Card.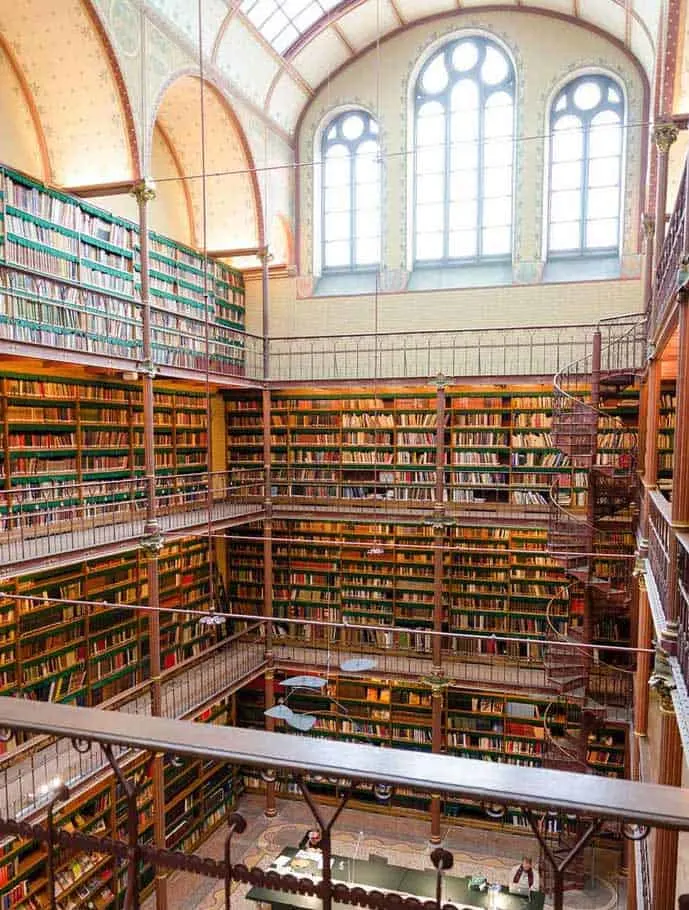 Dinner Time – Where to Eat in Amsterdam
Reload your energy in the Cafe Restaurant In de Buurt. They offer some delicious dishes and great value for money, considering how expensive Amsterdam is.
We think you'll enjoy the restaurant's atmosphere and their selection of beers. But don't drink too fast! You're going to drink some Dutch beers somewhere else. Just so you know.
Go to a Dutch Cafe
Dutch craft beer is as tasty as it can be. And thankfully we know a bar where you can have an incredible experience.
Proeflokaal Arendsnest only serves Dutch craft beers, but that's not all. They offer over 50 beers on draft, cold and refreshing.
The waiters can advise you which beer you should drink based on your preferences, but our personal choices are La Trappe Isid'or and Gerardus Blond.
They also serve Dutch liquor, whiskey, and gin, such as Jenever.
3 Days in Amsterdam – Day 2
Assuming you have a headache from last night, you may start your day 2 a little bit later than yesterday.
Head over to a quiet place to take it easy, and by a quiet place, we mean a beguinage (Begijnhof).
Not that the Begijnhof is empty or without tourists. Oh, no. Not a square meter in Amsterdam is empty. However, since religious women still live there, most tourists do respect their privacy.
And so will you, right? Yay!
Anyway, the Begijnhof is an oasis in the middle of the chaos of Amsterdam. The crooked houses are squeezed next to each other around a tiny square. There are also two churches in this site, a Protestant and a Catholic one.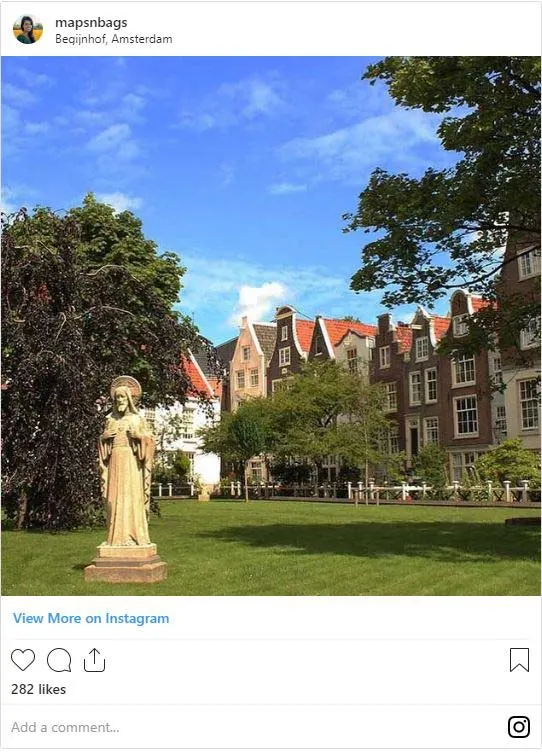 Visit the Coolest Bookstore in Amsterdam
After you've fulfilled your curiosity about this peaceful place, head over to one of the best and most beautiful bookstores in Amsterdam, the American Book Center. (We love bookstores).
They have a great selection of books in English about all subjects you can imagine.
Also, there's an interesting personal touch in this store: a massive tree trunk running down the middle of the store (while the store in The Hague has an event space called Tree House). Why?
Because it reminds where books come from (and the owners loved treehouses as children). How amazing is that?
Pro tip: Try their intriguing blind book date and surprise yourself with a good read (and souvenir).
Brunch Time – A Hidden Gem in Amsterdam
Food for foodies. Looking for a tasty brunch with a panorama view over Amsterdam? No, you weren't, but now we got your attention. Head up to the cozy Blue Amsterdam to find this hidden place.
This cafe is on the third floor of the shopping center Kalverpassage. Slightly overpriced, but the 360 views of Amsterdam make up for it. Of course, the food and service won't disappoint you either.
The place is small, so arrive before lunchtime to find a table. Also, look for a table on the second floor of the cafe for a better view, and enjoy your meal. Or in Dutch, smakelijk eten!
Read next: Delicious Dutch food
Visit the Only Floating Market in Europe – The Flower Market
After you've had your lunch, cross the canal behind this shopping center to find a floating flower market.
Tulips are one of the symbols of the Netherlands, so a flower should be a good Dutch souvenir. They also sell wooden tulips, which is easier to pack in your backpack.
Stroll down the Kalverstraat until the Dam Square. This is the most important square in the country, and it houses the Royal Palace, the New Church (De Nieuwe Kerk), and the National Monument for the remembrance of WW2.
The Royal Palace is one of the three residences of the Dutch Royal family still in use.
The palace is open for visitation most of the year (€10), and you receive a free audio guide to learn more about the architecture and rooms. We enjoyed our visit there.
Pssst: We know you have just had something to eat, but we feel obligated to recommend the De Drie Graefjes, near Dam Square. They have delicious pies! (We love their lemon pie).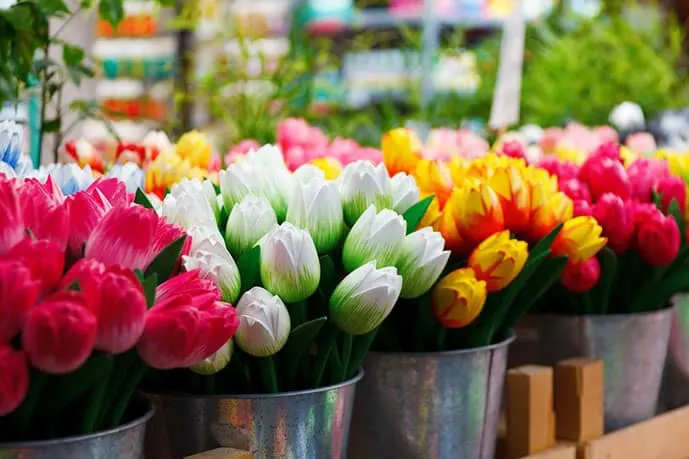 Go on a Canal Cruise
Now it's time to check an item off of your bucket list: go on a canal cruise! (Which is a super romantic thing to do in Amsterdam in the evening.)
If you purchase the I Amsterdam Card, you'll not only have free access to a bunch of museums in the city but also to a free cruise.
Well, it's not free because you're paying for it, but you get what we mean. We can assure you that canal cruises are an enjoyable thing to do in Amsterdam. Mainly because you see the city from another perspective.
Fun fact: Because of its rich history, the 17th-century Canal Ring Area became a UNESCO World Heritage Site in 2010.
This area includes the Singel canal through the Prinsengracht (Prince's Canal), and from the Haarlemmerstraat through a couple of blocks after the Amstel River.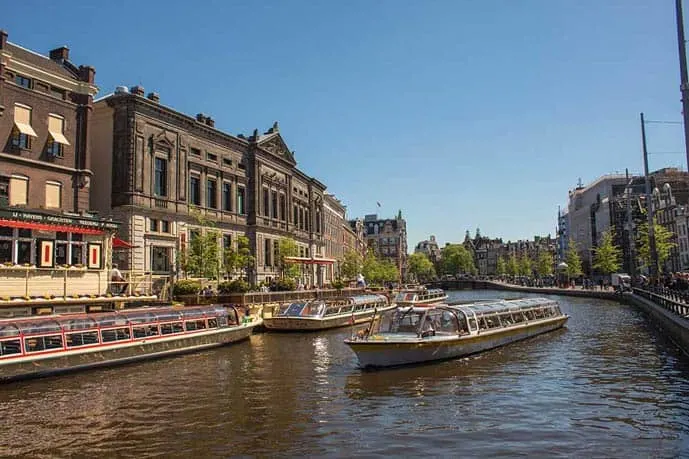 Visit a Hip Area in Amsterdam – NDSM
We're showing you different sides of the city with this Amsterdam guide, so here's another one: after your cruise, take the free ferry behind the Central Station heading to NDSM.
This is a hip area with lots of street art and an enormous flea market called IJ-Hallen (on Sundays).
Explore this underground area a bit, after all, it's free. Also, look for the colorful mural of the artist Kobra. "Let me be myself" is an immense graffiti of Anne Frank painted on the NDSM-Werf building.
Then take a look at the Faralda Crane Hotel. As you might have guessed, it used to be a crane, but it's now one of the most exclusive hotels in Amsterdam.
Even if you don't want to splurge (this is a 5-star hotel), there is also the possibility of bungee jump from a 50-meter platform.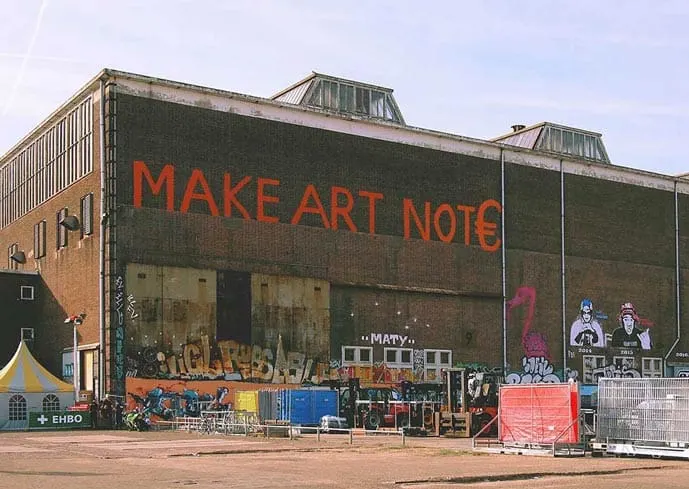 Have Some Drinks (or Just Tea) in Alternative Cafes
For a cup of coffee or tea, head over to Noorderlicht Cafe, a cafe in a former greenhouse.
From the outside, you might not have the best impression of this place. But trust us, the ambiance is welcoming. It's an industrial look and hip vibe.
On a side note, there are waiters, but they were quite slow when we were there. So if it's crowded, go to the counter to order because it might be faster.
For some food, we suggest you go to Pllek, a restaurant inside a shipping container by the water's edge. Their menu is quite healthy, made of organic and environmental-friendly products.
Around 75% of their dishes are vegetarian, of which 25% are vegan. This is an excellent chance to taste different and healthy meals. But if you prefer eating some meat, they also serve chicken, fish, and smoked sausage.
Food and drinks are reasonably priced. This is a cool space to hang out on summer evenings, but they also have a bonfire for when it gets a bit colder.
I love the concept of this place!
Pssst: The other ferry behind Central Station goes to the Eye Film Museum. You'll notice there's a tall building with a platform on top of it. That building is called A'DAM Tower.
The A'DAM Tower has a restaurant, a rooftop bar, an observation deck, and Europe's highest swing. But it's overpriced if you ask us. It costs €13.50 to access the top; then you still need another ticket for the swing, €5.
But if you want to go up in the A'DAM Tower anyway:
Pro tip 1: Prepare your camera to make a video inside the elevator. You're going to have a blast with those lights. (It lasts around 20 seconds!)
Pro tip 2: Don't forget to lace your shoes or you'll lose them in the swing.
Pro tip 3: There are alternative rooftop views, such as the OBA Library and the Blue Amsterdam, already mentioned here.
But you can also enter the A'DAM Tower for free if you have dinner or a few drinks in the Madam panorama restaurant.
They have a few rules for allowing entrance though. You must be over 21 years old and meet the casual chic dress code requirements. The bar opens at 10 pm.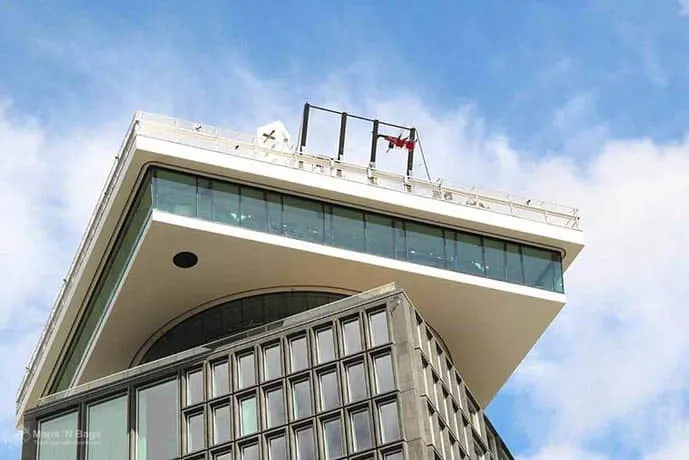 3 Days in Amsterdam – Day 3
Ok, so, day one was History Day – visiting museums and historical places. Day two was Chillout Day – laid-back, eating well, and walking around. Day three is what we call a Sinful Day.
Hmm, it's getting interesting.
Visit the Sex Museum
Let's start with the most crowded attraction of your Sinful Day.
The Sex Museum, also known as Venus Temple, is nearly in front of the Central Station. Quite a quirky place, this museum has some educative displays talking about the history of naturalism and the development of sexuality.
Of course, you'll certainly laugh at a few quirky mannequins and photos. The entrance costs €5, and you should reserve around 45 minutes for a visit.
Now head over to the Red Light District. There, as the name suggests, you'll find the infamous red windows, but also sex-related stores and establishments.
Yes, it's safe to walk around the Red Light District, you just need to respect a few rules, such as don't photograph the sex workers. (This is a precious Amsterdam travel tip.)
The Red Light District
Wander through this area to see the most infamous red-light district. Perfectly safe to walk around, you'll probably spot families with young children there.
The Red-Light is the oldest neighborhood in Amsterdam and the one with the most traditional architecture too. The houses here are quite narrow, and some are very crooked, sinking into the canals.
This area is jam-packed with tourists, which means it is jam-packed with pickpockets. So beware of your belongings (and pockets). And by no means point your camera to one of the girls.
It's not allowed to take pictures of them, and you might get yourself into problems, no…you will get yourself into some serious problems if you try that!
Highlights:
Onze Lieve Heer Op 't Zolder – a museum of a church hidden inside a house
Old Church (De Oude Kerk) – an ancient church right at the heart of the Red Light
Bulldog Coffee Shop – the first in the city
Fun fact: Look for the female iron breast on the pavement next to the church. No one knows who placed it there, but the location is at least ironic.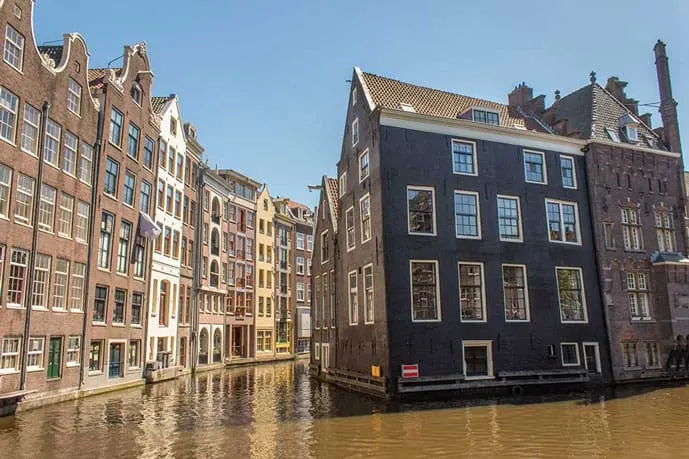 Read next: Best backpacks to travel in Europe
Soft Drugs in Amsterdam
Well, it was about time we talked about it, right? Soft drugs, such as hash, marijuana, and hemp, are tolerated in the Netherlands. But what does that mean to you?
It means they didn't make these drugs legal, but they're going to spend the public money on something else instead of fighting the use of soft drugs, which is a smart take on this matter if you ask us.
That's why you may possess up to 5g and use it in specific places, such as a coffee shop or at home.
Pro tip: If you're going to use any of them, buy the drug in a coffee shop, not from someone on the streets.
Hash, Marihuana & Hemp Museum
The world's first museum dedicated to hemp and marijuana is in the Red Light District, of course.
The museum is highly informative, and you'll learn about the history and culture of cannabis, including its aspects and use, both medicinal and recreational.
The museum is fascinating and you'll learn a lot about these taboo substances, so why not pay a visit? Reserve around 1 hour to see everything.
Pay a Visit to Condomerie
The Condomerie is a store of…condoms. They claim to be the world's first condom store. If that's true, we can't say, but they do have all sorts of crazy condoms and hygiene products. We mean it.
Female and male condoms, finger condoms, sponges, lubes, to name a few. This small funny store is a must-see and who knows, you'll find something you like there. 😉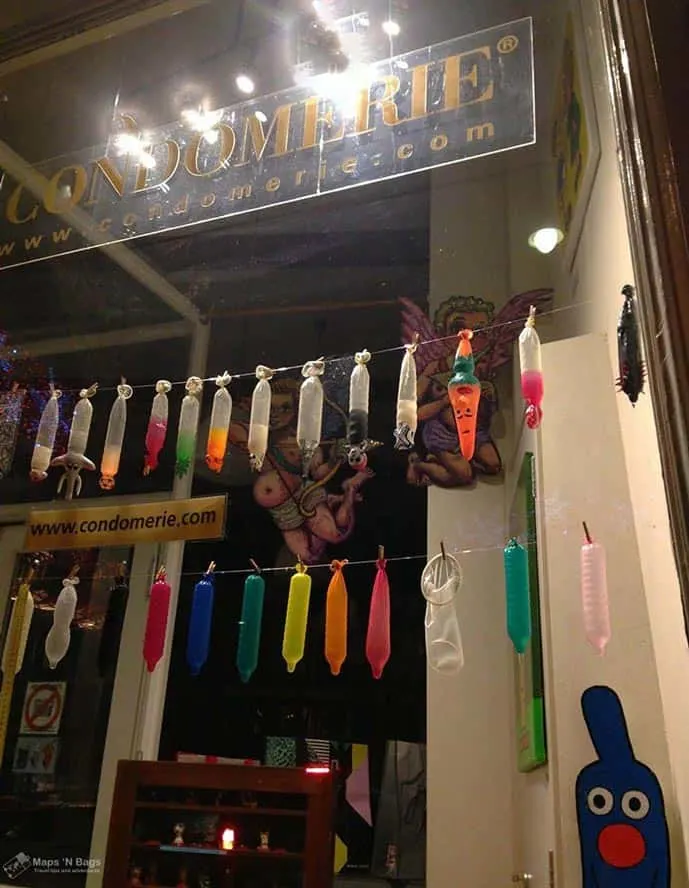 Lunch Time – Where to Eat in Amsterdam
Lunchtime. Again. Yay! Head over to Omelegg at the beginning of the Red Light District, coming from the Central Station.
This cozy place has very friendly staff and mouthwatering omelets. Omelets are served with bread, salad, and additionals, which have of all sorts of options, such as bacon, cheese, spinach, salami…hmmm. Ok, we'll stop here…sorry, guys.
Ok, so now you can either go to a coffee shop or a brewery. And by a coffee shop, we mean the place where you can smoke weed.
No, the police won't arrest you, and if you follow our tips, you'll be just fine.
Note that we're not suggesting you should smoke weed. We were saying that if you're ever going to do that, it should be in Amsterdam where you won't get in trouble for doing it. Get it? So we'll describe both options below.
Visiting a Coffee Shop in Amsterdam
There are a bunch of coffee shops spread throughout Amsterdam. From the most expensive ones (these are in the very heart of the city, aka Red Light District) to the ones with reasonable prices.
We highly recommend (pun intended) the Amnesia Coffee Shop, a chill-out place with incredibly friendly staff. The cheapest joint costs around €4.5 euros.
Things you should know:
Do not drink and smoke. This is not the right combination, and it can be dangerous for you. For that reason, coffee shops don't sell alcohol.
Weed in the Netherlands can be quite a bit stronger than in many countries out there. So, take it easy! If you don't know what to order, ask the staff, and they will help you. Also, don't smoke a whole joint by yourself.
Watch out for the canals, bikes, cars, trams, and your purse. Pickpockets wait for tourists to get high to steal their stuff. So leave your camera in your hotel, wear a travel bra and put all your valuables there.
Do not get so stoned you won't be able to get to your hotel. Seriously, you're in a foreign country, take it easy.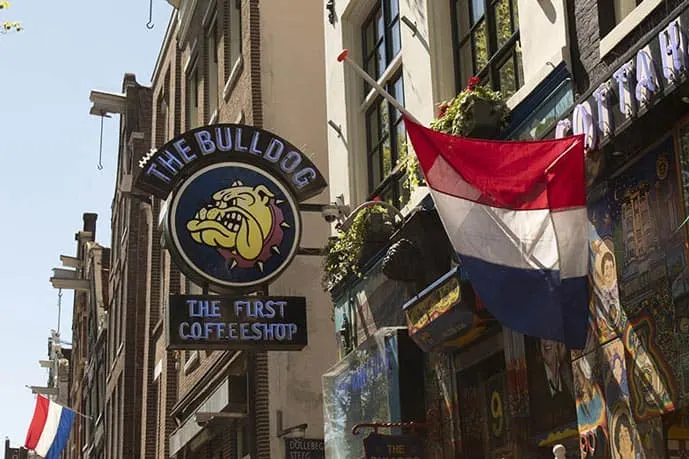 Visiting a Brewery in Amsterdam (Under a Windmill)
If you're going for the alcohol instead of weed, head to the Brouwerij 't IJ. This brewery is under a windmill. Cool, right? Yes, it can't get more Dutch than this!
The place is quite small, and most people stay on the terrace on sunny days. So it might be difficult to find a seat if you don't arrive around the opening hours.
They offer an excellent short tour, and you get a free beer of choice. Unfortunately, there are only 20 places on tour, and you can buy the tour tickets only at the bar on the day itself.
So arrive there around the opening hour (opening hours: from 2 pm-8 pm) and try to reserve your spot.
Also, you can order a sample tray of five beers and some snacks, such as diced cheese and sausages. Overall, the perfect place to finish your three days in Amsterdam.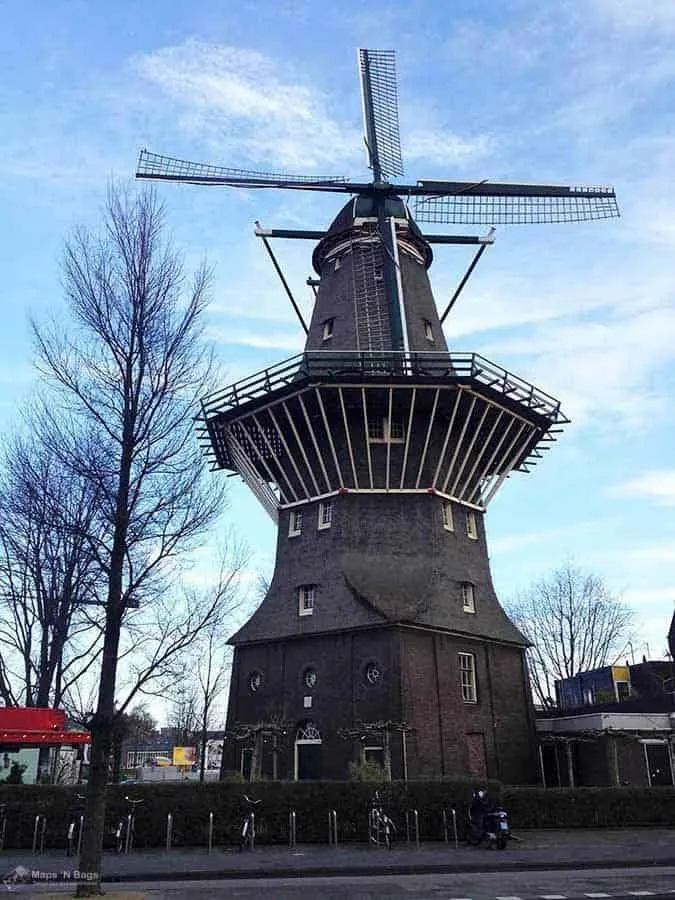 Do you have more time in Amsterdam? Are you spending 4 days in Amsterdam or even 5? Then read up our article about things to do in Amsterdam in all seasons for some inspiration.
Things You Can Skip in Amsterdam
Madame Tussauds – extremely jam-packed with tourists and boring
Heineken Experience – expensive and you can drink better beer with the same money, as explained above
Swinging in the A'DAM Tower – costly and you can visit the tower for free as described above
Public Transport in Amsterdam
How to Get to Amsterdam From Schiphol Airport?
Schiphol Airport is in Amsterdam, and you can easily reach the city center by train. Download the train app here (NS app) to check the timetables.
You have to purchase an ov-card (public transport card) for your trip at one of the yellow NS machines there.
Also, you must check-in and check-out (place your card in front of the card reader and wait for a beep) when getting in or out of the train station ( in the bus and tram too).
How to Get Around Amsterdam?
We divided this Amsterdam itinerary into regions so you can do it on foot because the city is quite small.
However, in case you want to visit some of the other attractions in Amsterdam we mentioned in this post, you'll need to use public transport.
In this case, purchase an ov-card (public transport card) in a supermarket or train station.
Alternatively, you can purchase the I Amsterdam Card for the length of your stay because it gives you free use of bus and trams in that period.
To know which tram or bus you have to take to go to your destination (and where the stops are) download the 9292 app. The app will guide you.
Day Trips from Amsterdam
The Netherlands is a relatively small country, meaning you can easily visit other cities on a day trip.
And yes, most cities in the country aren't big either, so one day will be enough to see the main attractions.
Our recommendations? Giethoorn, Maastricht, and Rotterdam. But we also wrote a complete article with all the information you need to go on a day trip from Amsterdam.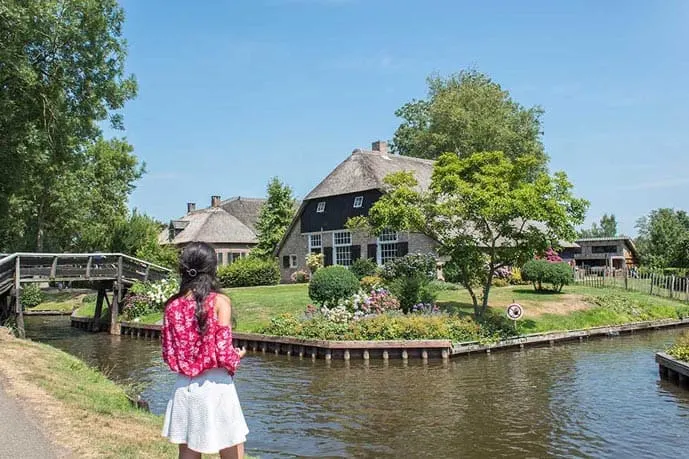 Now tell us, what do you think about Amsterdam after reading this itinerary? Also, when are you planning to go to Amsterdam? We're curious about your answers! Let's talk!
Did you like this Amsterdam Itinerary? Then pin it to your Pinterest travel board!
[mv_create key="1″ type="list" title="Netherlands" thumbnail="https://www.mapsnbags.com/wp-content/uploads/2018/01/Head-Giethoorn-cottage-flowers-garden-canal-things-to-do-in-giethoorn-maps-n-bags1.jpg" layout="grid"]
Our best travel tips & resources:
Here're our all-time favorite travel tips & resources so that you can save money and plan your travel logistics hassle-free! For more travel resources, check out our
travel tips.
Saving money: Fly on offseason, winter (not Xmas or NYE), Tuesday, or Wednesday! According to experts, these are the cheapest days to fly.
Travel insurance: Before you leave for your trip, make sure you have a valid travel insurance policy because accidents happen on the road. We have been paying for Safety Wing travel insurance for a little over a year now, and we happily recommend them to our family and friends.
Accommodation: We usually stay in mid-range comfy hotels or private rooms in hostels. These are the sites we use to book accommodation: Booking.com for hotels (excellent flexible cancellation policy) and Hostelworld for hostels (low deposit and easy cancellation).
Tours:We absolutely love booking guided tours with locals to get a history lesson while sight-seeing, especially food tours and walking tours! We book all of our tours using Viator and GetYourGuide.
Transportation: We use Google Maps to figure out how to get around a place using public transport. When we book a rental car, we always use Discover Cars to find the best deal.