Did you know that the Netherlands has its own Venice? That's right, Giethoorn has a car-free city center perfect to have a good time in the countryside. There are not a lot of things to do in Giethoorn besides enjoying the place and cruising in the canals, but don't worry because you won't get bored!
Imagine a small town with very old and cute thatch-roof cottages along a canal full of sweet bridges and lots of nature. The Dutch architecture is certainly fascinating, whether it is the modern architecture of Rotterdam or the traditional Amsterdam. However, the houses in Giethoorn look like they are straight out of a fairytale book and make this village one of the most beautiful places in the Netherlands.
This is surely a perfect escape from the hustle and bustle of Amsterdam. Just relax and enjoy the town! Since there is not much information on how to get to Giethoorn from Amsterdam, things to do in Giethoorn and other practical information, I decided to write this guide to help you with that based on my experience. Hope you enjoy the read!
But first, coffee and some history.
---
Hey, looking for more tips for your next trip in the Netherlands? Check out some of our other posts below, or click here to find all of our Netherlands posts.
---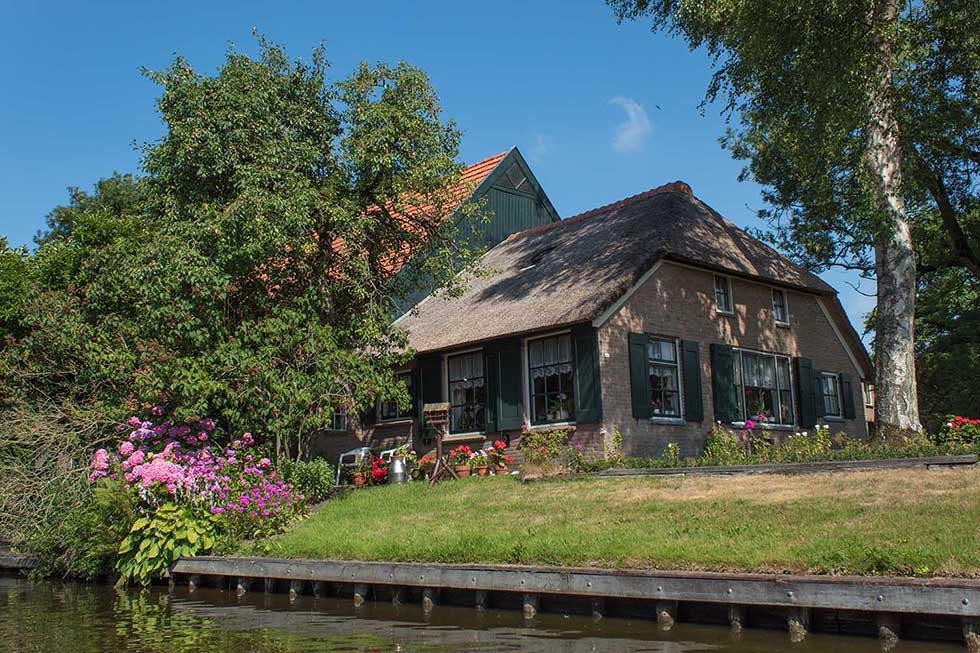 Interesting Facts about Giethoorn
Many people ask, "what does Giethoorn mean?". Well, it literally means "goat's horns". Many goats died in the region, as a result of a flood in the 10th-century, and years later only their horns were to be found. That is a little sad, I know, but these are the facts behind this little town's name. Sorry!
Today the village has 2.620 inhabitants. Just so you can have an idea of how special this place is. Also, most houses are over 200 years old. Nevertheless, the cottages and their gardens look tidily organized.
Venice of the North
Dutch people are very proud of their adorable little town, which they kindly call "the Dutch Venice". The Netherlands have been fighting against the water for a long time now since 26% of the country is below sea level. As a result of years of experience, they found a way to get along with it.
Giethoorn is an example of it. Among other Dutch cities, of course. But unlikely these other cities, Giethoorn has almost no streets, only canals. This small town developed itself around water, and today it is a beautiful attraction in the countryside.
Don't go to Giethoorn expecting a Venice vibe. The ambiance is totally different. They call it the Venice of the North because of the lack of streets around the main canal.
[irp posts="1065″ name="Top 13 Things to Do in Amsterdam"]
Is it true that there are no streets in Giethoorn?
Well, not really. The city center only has canals and a bike path (called Binnenpad) where you can wander around. But the village is a bit bigger than that and in those areas, you can just drive. However, the real charm of Giethoorn is in the center – which is a quite long canal – and believe me when I say it looks straight out a fairytale. It's no exaggeration.
Anyway, you can only explore the romantic area of this Dutch village by boat. Or bike, of course. After all, we are talking about the Netherlands. This small hidden town has a magical appeal, but don't fool yourself. It's a hidden village, but it is so small that it doesn't need many tourists to get crowded.
PS: By the way, this is the only bike path in the Netherlands you can walk on. But only there! This is one of the things you should never do in Amsterdam, for example.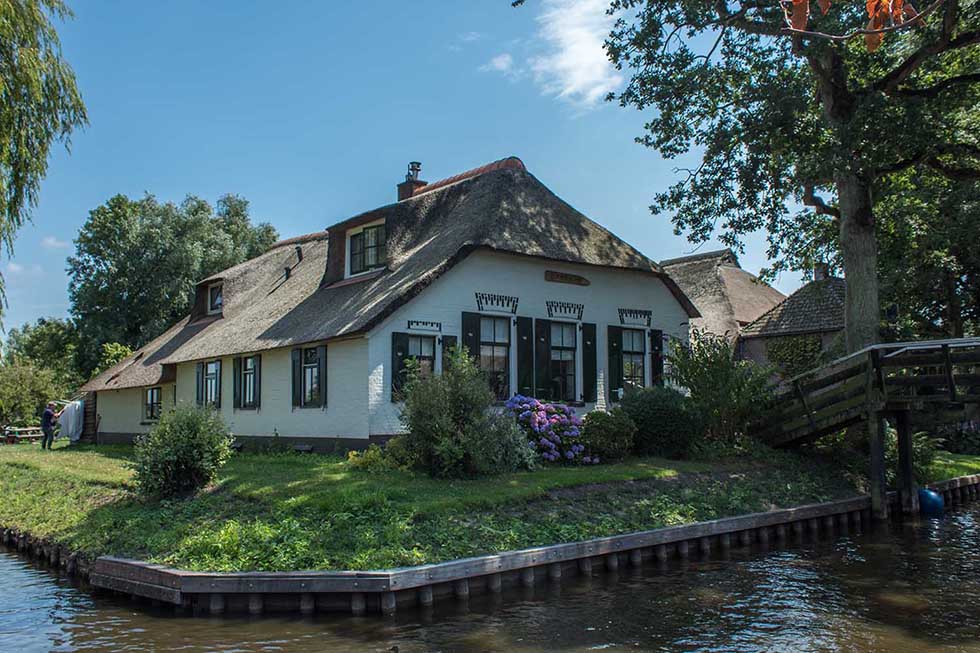 How to get to Giethoorn?
Like I said above, Giethoorn is a perfect day trip from Amsterdam and there are a few ways to reach the village.
Getting to Giethoorn By Car
Considering that you're leaving from Amsterdam, that's a 1h30 drive and Google Maps worked perfectly suggesting the way there. You can easily park your car for free in Giethoorn. If you're taking a tour, I suggest you park at the address they indicate because it's more convenient for you. Otherwise, you could park at the Binnenpad 2, 8355 BP Giethoorn.
My husband and I parked our car at the Cafe-Restaurant Smit since we were renting one of their boats.
PS: if you don't have internet abroad, you might consider renting or buying a Wifi hotspot for your trips.
Getting to Giethoorn By Train
Departing from Amsterdam Central Station take the train to Utrecht Central, then transfer to a train towards Leeuwarden and get off at the Steenwijk station. This is a 2h-train ride, but you aren't there yet. Now take the bus 270 or 70 towards Giethoorn or Zwartsluis, respectively, next to the station (15 min only) and get off at the Dominee Hylkemaweg stop. Finally, walk down the street with the same name and you'll be in Giethoorn city center.
Unfortunately, this isn't the easiest way to get to Giethoorn, but if you follow these instructions you should have no problem.
Fares: The Netherlands has very high-quality and punctual trains, however, it also reflects in its fares. A roundtrip from Amsterdam to Giethoorn by train costs around 44 euros – while the bus between Steenwijk station and Giethoorn costs around 5 euros for a round trip. Ouch!
Hot tips: the bus goes more often in the summer months, but not in the Winter, so I highly suggest you download the 9292 app to know the bus' timetables. This is the official Dutch app for public transport. To know the train's timetables I suggest you download the NS app. You can set up both apps in English and they show ticket prices, disruptions, everything you need to know to go to other Dutch cities by train.
Getting to Giethoorn By a Shuttle Bus
Alternatively, you can take a shuttle bus and guided tour in Giethoorn. This is the most popular option to get to Giethoorn from Amsterdam because it is hassle-free and the bus/ shuttle departs from the city center. Once you're in Giethoorn, you'll have a 1-hour boat tour with a guide through the sweet canals. Don't forget to spot the many extremely photogenic cottages from the boat. It's a really nice ride.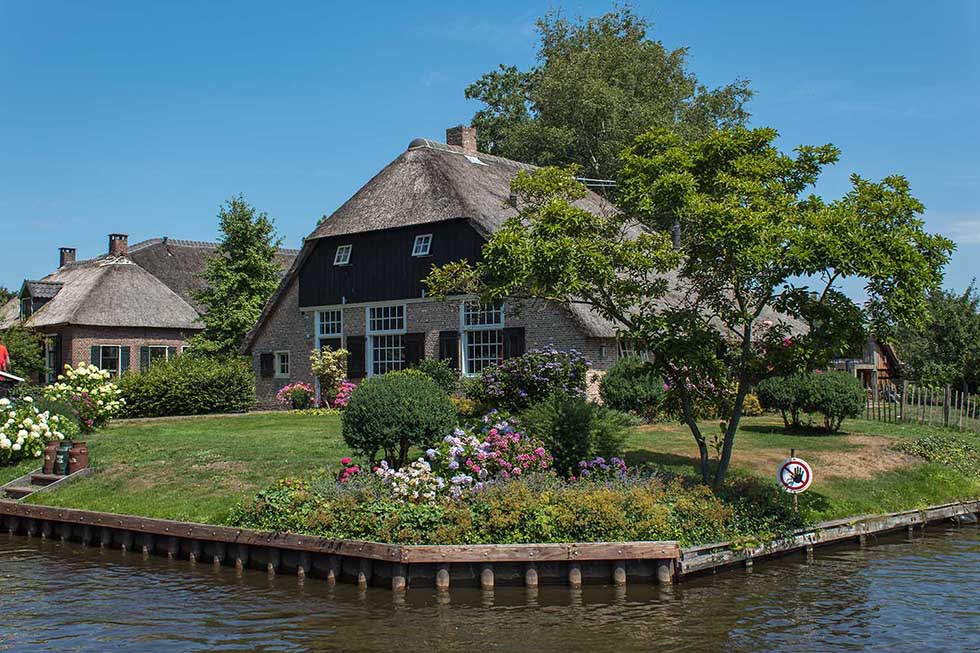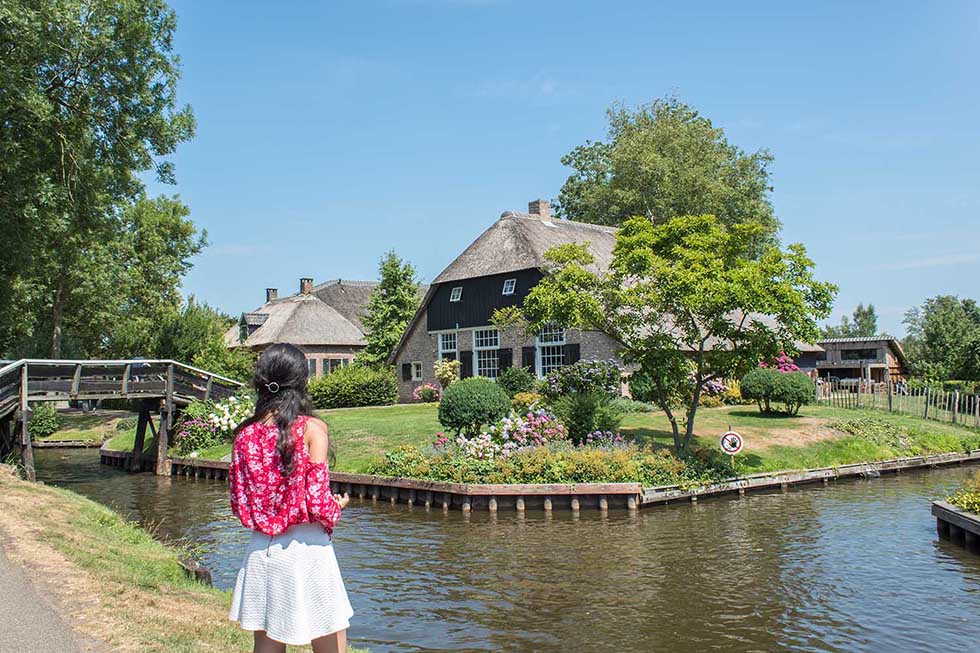 Things to do in Giethoorn
Where can I start? The village has around 2k inhabitants just so you have an idea of how small it is. Therefore, one day in Giethoorn is enough to see and do everything. However, if you want to stay for a night – definitely a bucket list item for couples – and enjoy it a little more I'll give you later some options of places to stay in Giethoorn.
Museum De Oude Aarde
They exhibit fossils, minerals and many interesting artifacts in this small family museum. Also, it's a good place for kids because they have some nice activities for them, like a treasure hunt. The gift shop is very famous among tourists and you can try your luck by cracking a stone to try to find a crystal inside.
Museum Giethoorn 't Oude Maat Uus
A living museum showcasing a historic village with costumed actors. Yes, the employees are in traditional clothes! I don't know about you, but I find this one of the most interesting things to do in Giethoorn. It's so sweet! Anyway, enjoy your time while you learn about the history of the village in a very organized and documented exhibition.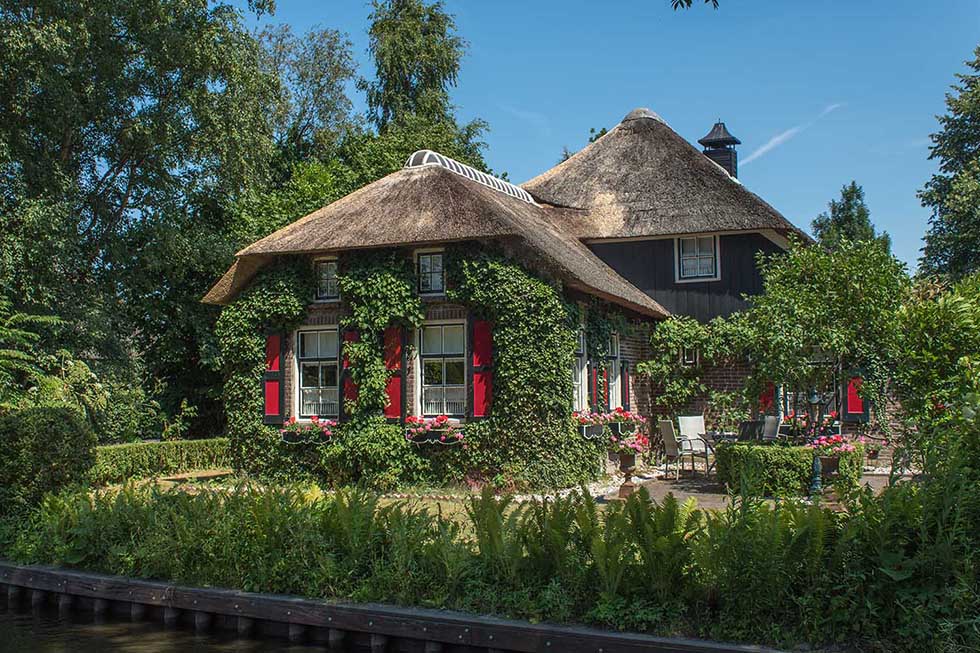 Ride a Bike
It wouldn't be the Netherlands if you wouldn't see bikes everywhere. So, why not go ride one yourself? There is one very long bike path along the main canal where you can bike and enjoy the fairytale and quiet view, but that's also where people walk. Imagine you're in Giethoorn on a Saturday afternoon in the Summer and you want to ride a bike there. Sorry, it's not gonna happen.
So, I highly suggest you get up early to bike there so you avoid the crowds like around 09-10 am, or earlier. Later in the day, it will be literally impossible given the amount of tourists. Pay attention to the bridges you have to cross as they as steep and narrow.
[irp posts="2446″ name="Keukenhof Gardens: Best Time to Visit and More"]
Gloria Maris Shells Gallery
This shop has many collections of shells and handcrafts, like Bijoux and decoration objects. Even if you're not planning to buy anything, but just want to walk around, a stop by in this store can be very interesting.
Romantic Time for Couples
Needless to say, Giethoorn is one of the most romantic villages, not only in the Netherlands but also in Europe. Especially in the springtime, when all the flowers are blooming in the gardens. Couples can have a pleasant time here. Have something to eat in one of the restaurants by the water's edge, stroll together along the canal while you both appreciate the place or take couples photos next to one of the countless stunning bridges.
If you were looking for a romantic destination to spend Valentine's Day, you have just found it. Not a single person I know who has been there wasn't delighted by the beauty of it. Not one!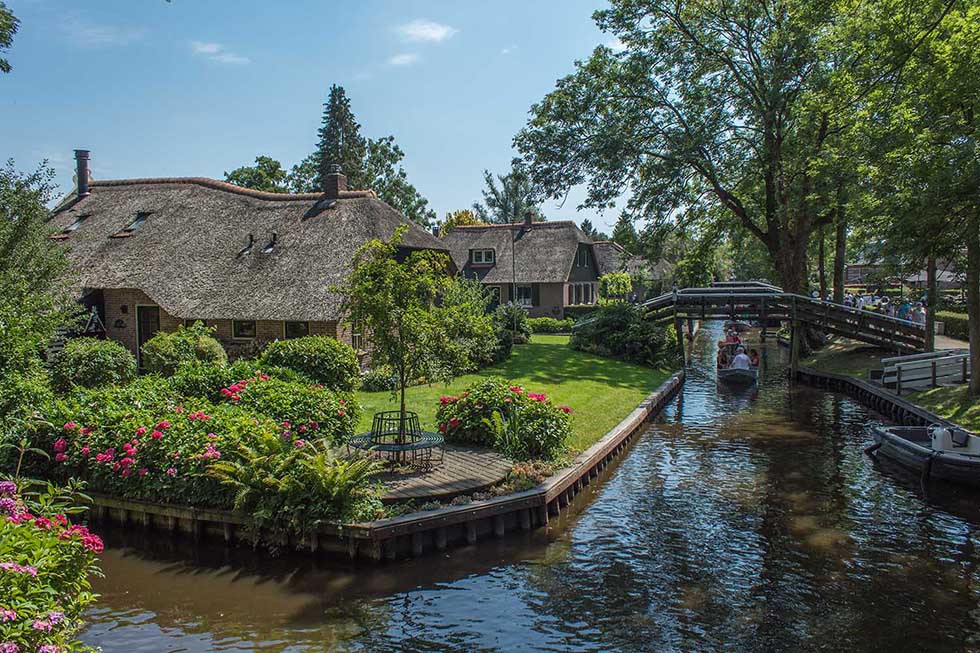 Self Guided Photograph Tour
Well, you have seen my photos throughout this post, so I assume I've convinced you to take many photographs of this place before you started reading this paragraph, right?
Prepare your camera! Giethoorn is a complete photography hotspot because of its sweet thatch-roof cottages. As a matter of fact, the whole "package" makes the village perfect for any kind of photos you might want to take. The bridges, the flowers, the cows in the meadows, you name it. So start walking from Zuiderpad 21 until Binnenpad 25, this is a 2km (1,24 mi) walk.
Trust me when I say you won't regret visiting this breathtaking place. I probably took photos of all those houses along this path. Maybe you can even find some inspiration of angles and places from these pics.
Cruise the Canals by Yourself
I had never been in a whisper boat – or any other boat for that matter. We rented an electric boat in the morning and the canal wasn't crowded. It was actually a very pleasant cruising. We sailed the whole canal from the Cafe-Restaurant Smit to the half windmill, then went right to the big lake. There, we turned off the boat and chilled for a while.
PS: Boats hitting each other are a reality in the main canal because many people get confused when sailing, so watch out when raising your phone or camera to take a photo. If someone hits your boat hard, you might let it drop.
There is a small island in the middle of the lake where people swim around and enjoy the sun. So if you're heading there in the summer, take your swimming clothes with you!
Hot tip: Even if you're not going to swim, take a towel with you so you can put your feet in the water. It's refreshing!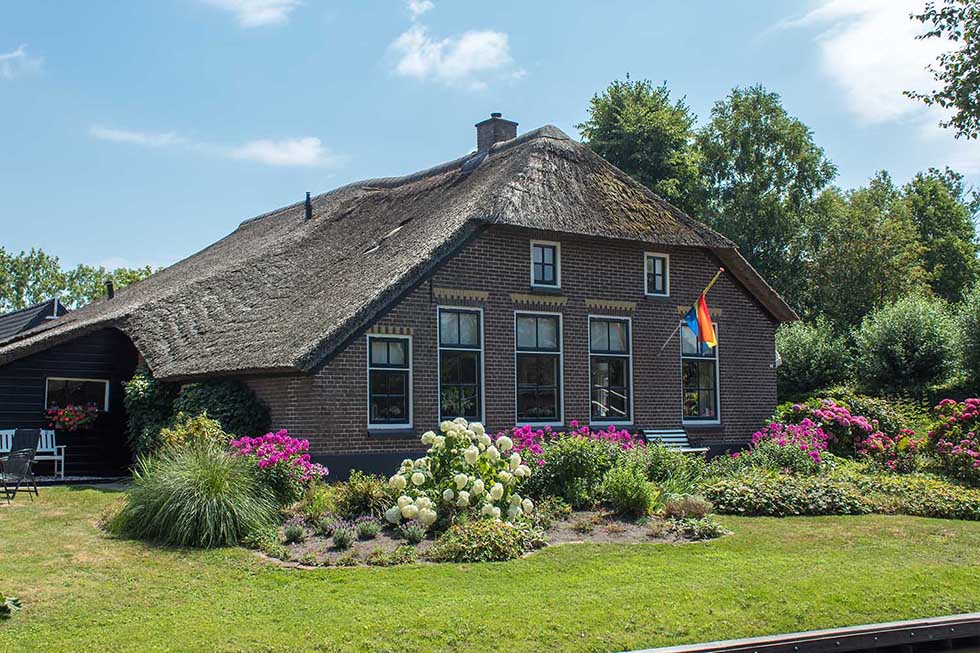 Go for a Picnic
Honestly, if the weather allows, this is the best thing you can do in Giethoorn! Why? Because the cottages and colorful gardens make a perfect scenario to enjoy some snacks and drinks.
There were many people sitting on the grass or on the mini wooden docks spread along the canal. Enjoy the shade the trees offer and your picnic is complete.
Alternatively, you can also picnic on the small island in the middle of the lake I mentioned above as well as on the boat. Just pay attention to the time so you don't have to pay extra.
Guided Boat Tour
If you don't feel comfortable with the idea of cruising a boat yourself, you can hop on a guided boat tour across the main canal. Then the boat is a bit larger, covered, has proper chairs and you go in a group, of course.
I've seen many families and middle-aged tourists on those tours around the village, so if you're looking for something hassle-free this is the best option for you.
Best Time to Visit Giethoorn
Giethoorn is cute and pleasant during Spring and Summer. That is true. The flowers are blooming, the grass is greener, and the sun is probably shinning. Yes, probably (that's the Netherlands, guys).
However, even in the Winter months, the village has this magical appeal and everything looks enchanting! So, yeah, Giethoorn in December is still a good day trip from Amsterdam. Besides the fact that you can ice skate on the frozen canals if the weather gets icy. Just wear a good coat (gloves and hat) and drink some hot chocolate to warm you up.
Hot tips: Heading to Giethoorn in the Spring or in the Summer? Then you should go there during the week as it gets easily crowded on the weekends. This is a very popular destination among Chinese people and they very often travel in large groups. I went on a boat ride at 10.30 am and we didn't find many boats in the canals, but later, around 1.00 pm, there was a real traffic jam!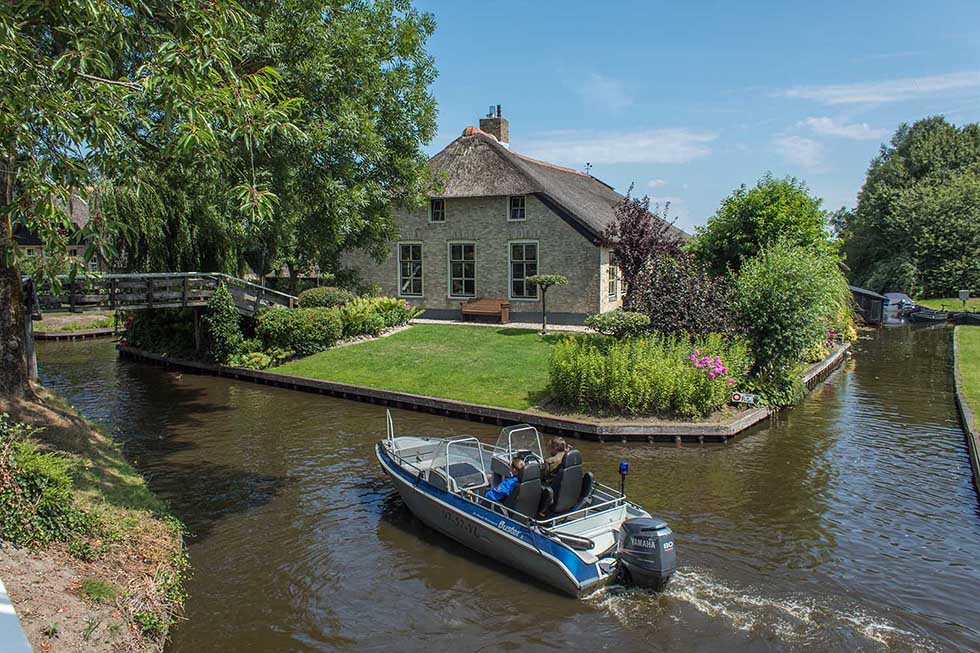 Where to eat in Giethoorn?
As a small and touristic town, there quite some options of restaurants by the water's edge. We had a beer at the cozy Cafe-Restaurant Smit while some people were having lunch and it seemed very tasty. The Fratelli is a good option if you like Italian food.
[irp posts="1029″ name="16 Typical Dutch Foods You Must Try in Amsterdam"]
Where to stay in Giethoorn?
There are plenty of options for accommodation in Giethoorn and I'll list some here. For budget travelers, I recommend the Black Sheep Hostel, right in the heart of the village. It has super good reviews and a simple – yet cool -decoration. For mid-range accommodations, you're better off with a bed and breakfast, like the De Hofstee. The house has an intimate feeling and the rooms are spacious. If you're looking for a charming luxe accommodation in Giethoorn, take a look at De Dames van De Jonge Hotel. The rooms have a traditional Dutch decoration, very sweet.
---
Hey, looking for more tips for your next trip in the Netherlands? Check out some of our other posts below, or click here to find all of our Netherlands posts.
---
When are you headed to Giethoorn? What other villages have you been that were also straight out a fairytale book? Leave your answers in comments! I'm curious about it!
Did you like this post? Then pin it to your Pinterest travel board!


*Prices mentioned above might have changed when you read this.
Disclaimer: Please note that some of the links above are affiliate links. If you make a purchase I'll receive a small commission for it, at no extra cost to you. If you have any questions about the companies or my status as an affiliate, please don't hesitate to contact me via e-mail. Thanks for buying from our links!