*You can hover over any picture in this post to pin it easily! 
Even though Dutch food is not very famous worldwide, I can assure you that you can find good bites in the Netherlands! Many of them are fast food, so perfect to grab between one attraction and another.
When I go somewhere new, I always make sure I google their typical dishes to try there. Honestly, besides travel and food, what could be better than a combination of both? Exactly, not many things! So, grab your bite and read further to know what foods you can expect to find in the Netherlands.
Dutch fries
Dutch fries with mayonnaise and onions! Hmm, what a place to start this list. There are also many other sauces, but this one is my favorite! Just watch out for the seagulls in a few parts of the city. They try to steal French fries from distracted tourists and they can be pretty aggressive sometimes.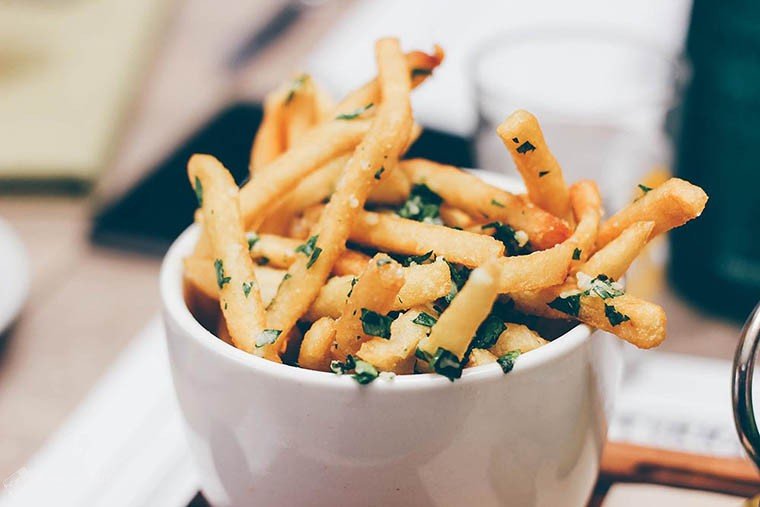 Raw Herring
If you like fish, you should definitely try this one. The traditional herring is served raw with chopped onions and gherkins. This is very "lekker", the Dutch word for tasty. I know raw fish doesn't look that appetizing, but herring is delicious. Trust me!
Where to find it? You'll see many stalls selling it in the city center.
Cheese
The Netherlands is famous for being one of the biggest exporters of cheese in the world. So, don't miss the opportunity to eat their delicious kinds of cheese in the country!
Where to find it? There are big cheese markets in other cities, but the market in Gouda is my favorite one. That's also where the famous Gouda Cheese comes from. Back to Amsterdam, check out the delicious Cheese Museum in the Jordaan neighborhood.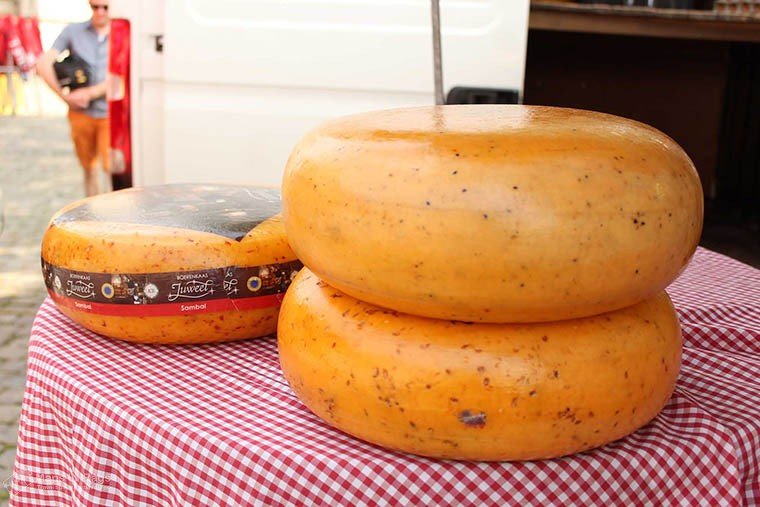 Bitterballen
These are my favorite snacks and the most traditional one in bars throughout the country. These savory meatballs with crunchy crust are usually served with mustard. But be careful when biting them as the inside can be very very hot. Order some bitterballen in a bar and drink Dutch beer…yummy. There is no better way to learn a culture than following its traditions, don't you think? By the way, I'm really getting hungry!
Kroket
The croquette is very similar to the bitterballen, but it's a cylindrical shape. Even though the original is filled with beef, you can find a whole variety of fillings (pork, chicken, vegetarian, etc).
Where to find it? There are many "automatic" snacks bars through the city where you just have to buy put the coins on the wall and grab your snack.
Frikandel
I have to be honest, I'm not a fan of frikandel, but everybody I know is crazy about it and this is a very typical Dutch food, so it needs to be on this list. Frikandel is a fried skinless sausage usually served with mayonnaise, curry, and onions, but then is a frikandel speciaal (this is not the curry you probably know, it's ketchup with spices).
Where to find it? Also in those automatic machines, like mentioned above.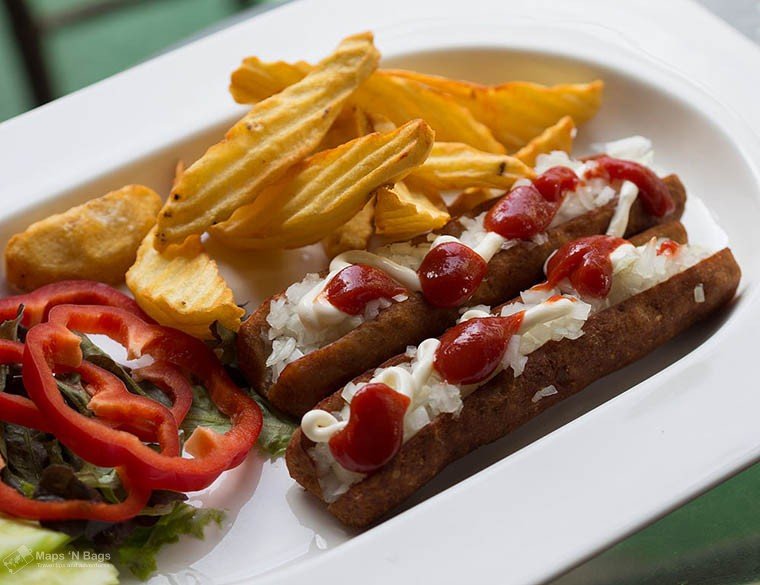 Stamppot
In the Netherlands, cold weather is an invitation to stamppot. This typical Dutch dish is made from mashed potatoes with kale or sauerkraut and sausage. There are of course many variations of it, but this is by far the most traditional one.
Pannenkoeken
This Dutch pancake is larger and thinner than the American pancake. Instead of eating it for breakfast, Dutch people usually eat Pannenkoeken for dinner and it can come savory, with bacon or cheese, or sweet, with powdered sugar or syrup. There are many restaurants throughout Amsterdam (and in other cities too) where you can eat it. You can even find a boat-Pannenkoeken restaurant in some canals.
Oliebollen
These delicious little dough balls are fried in oil and sprinkled with powdered sugar.  As a tradition, Dutch people usually eat oliebollen on New Year's Eve, but you can find stands around the city the whole winter.
Stroopwafel
These stuffed waffles are very appetizing, you won't want to stop eating it! Stroopwafels are filled with caramel syrup…so you can imagine why people are crazy about it, right? This is my favorite sweet of this list!
You can find freshly made stroopwafels in the Albert Cuyp market. The biggest street market of Amsterdam.
Poffertjes
These very traditional Dutch treats are tiny fluffy pancakes served with a little of butter and powdered sugar. You probably have noticed by now that Dutch people love powdered sugar and put it in many dishes. It's delicious anyway so I don't have a problem with that. Do you? 🙂
Either way, find a stand or stall in the city where you can eat poffertjes, I promise you won't regret it!
Drop
You either hate or love licorice, the Dutch people are in the team of those who love it. They love it so much that they have the highest licorice consumption per capita in the world. I'm not a fan at all, I actually hate it. But, if you want to try it or if you like licorice, stop by a supermarket and buy a pack of drop to keep in your backpack.
Dutch food for foodies
The Netherlands is not only very charming and interesting, but it also has many delicious bites for foodies like us. Yaay!
I hope you can taste most of these foods, if not all of them in your trip to the tulip's country! And when you do, please, come back here and let me know what you think about them, especially about drop! Haha!
Would you add something to this list? If so, what then?
Did you like this post? Are you going to visit Amsterdam and want to remember the typical Dutch foods to eat there? Pin this post so you can find it easily later!


Disclaimer: Please note that some of the links above are affiliate links. If you make a purchase I'll receive a small commission for it, at no extra cost to you, and you'll help Maps 'N Bags to keep up and running. If you have any questions about the companies or my status as an affiliate, please don't hesitate to contact me via e-mail.