If you're looking for things to do in Rotterdam, look no further! We have an incredible list of Rotterdam attractions for you!
Rotterdam is an incredible European city. It has it all–history, culture, art, natural beauty…not to mention some of the most finger-licking Dutch cuisines you've ever sampled.
On this list, you'll find superlatives galore, everything from the largest port in Europe and the world's busiest port to the largest city in the Netherlands.
So keep reading to uncover all the key spots to stop while visiting Rotterdam, as well as need-to-know tips on quirky places, unusual spots, and more!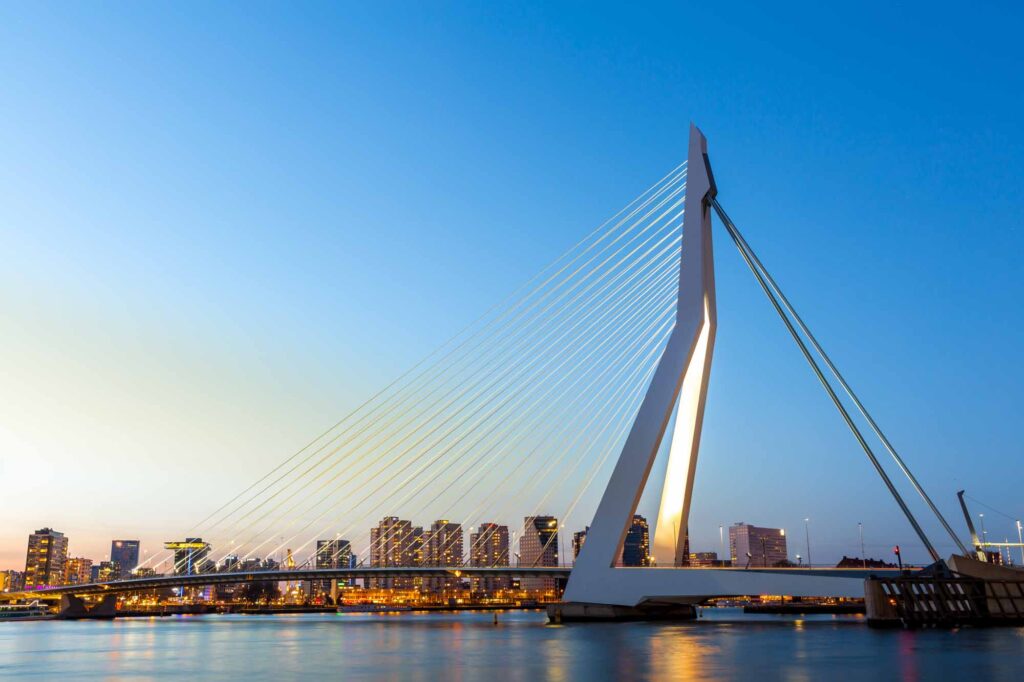 Looking for accommodation in Rotterdam? Here are our top suggestions:
Holiday Inn Express – this highly-reviewed hotel is a tourist's favorite in the city. Its beautifully decored rooms have an LCD tv, free WiFi, air conditioning, and all the amenities a 3-star hotel can offer. But the cherry on the cake is the location: in the heart of Rotterdam! So you'll be within walking distance to the train station and most attractions of this article. Click here to check availability!


Hotel van Walsum – this cute hotel is located in a historic building and you can see traditional details in their decoration, like in the stained-glass windows. Simply but efficient, the rooms have a desk for those who want a place to use their laptop, a LED tv, a coffee machine, free WiFi, and the usual amenities. Beyond that, the hotel is located only a 6-minute walk from the Museumpark and many other attractions. Oh, and guests rave about their breakfast! Click here to check availability!
How to Get to Rotterdam from Amsterdam
It's super easy! Take a train at the Amsterdam Central Station toward Rotterdam Central Station and you'll be in the heart of the city.
The trip takes 1:15 minutes and costs around 17 euros. (Or you can take a fast train which takes about 41 minutes to get there and costs 2.70 euros more.)
27 Best Things to Do in Rotterdam
Here are our all-time favorite things to do in Rotterdam and enjoy this wonderful Dutch city.
1. Stop by the Witte de Withstraat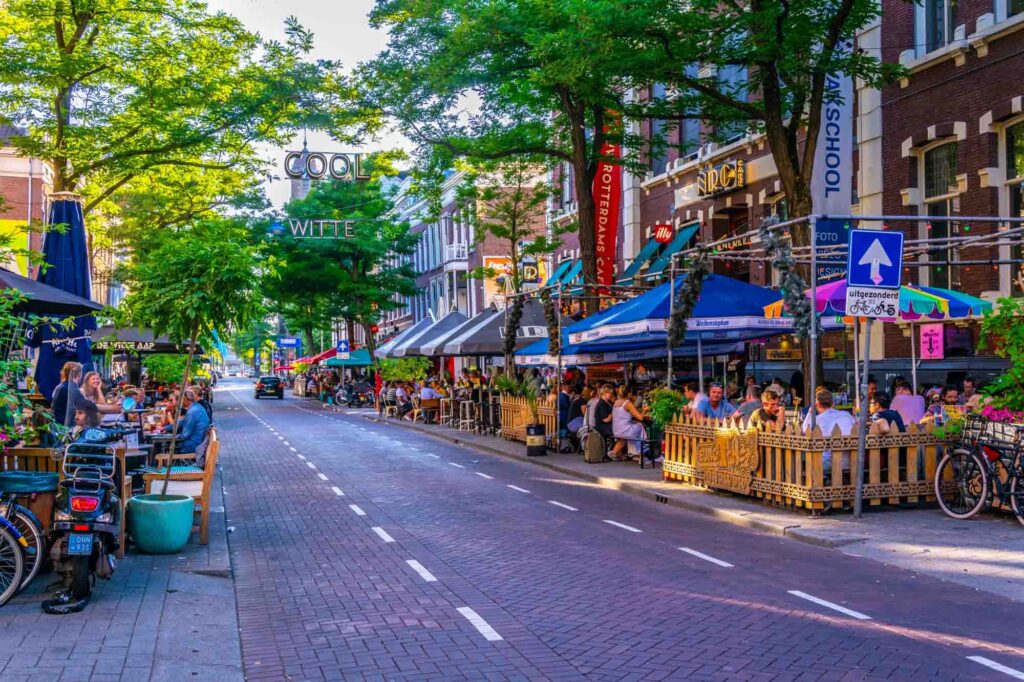 If you ask a local regarding what to see in Rotterdam, chances are Witte de Withstraat tops their list.
The Witte de Withstraat is a famous street in the city center where you can find great bars and eateries, along with boutique shops and galleries focusing on art.
On a nice weather day, there's lots of outside seating where you could eat, drink, admire the colorful street art, and have a lovely evening.
Witte de Withstraat is also famous for its nightlife, both for party animals and art lovers.
2. Take In the Cube Houses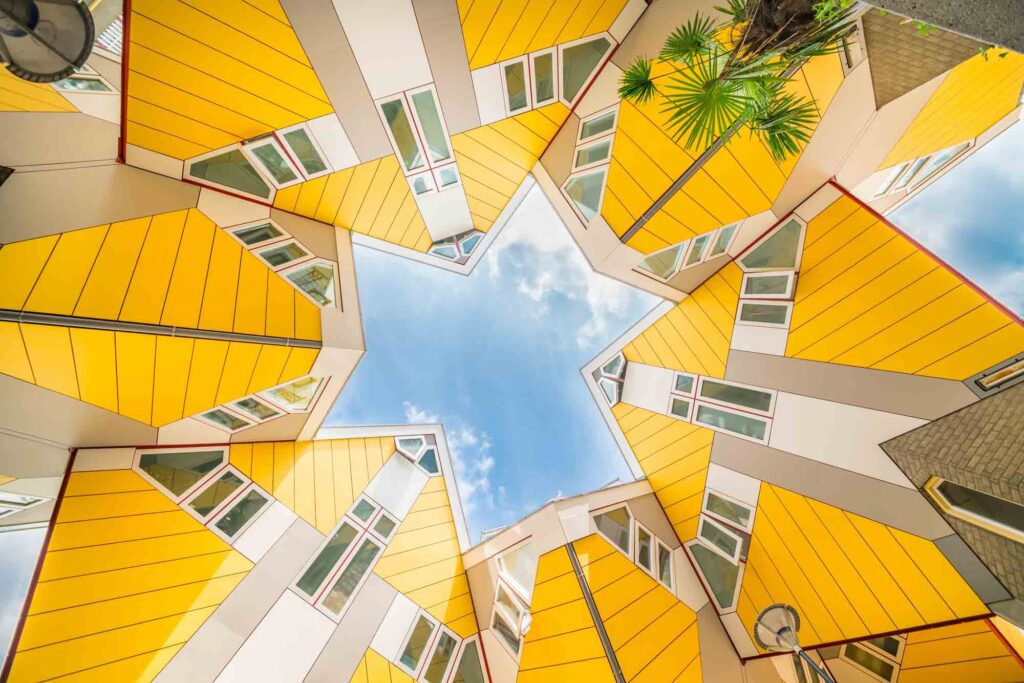 Close to the Markthal, you'll find the quirky and modern Cube Houses. Certainly one of the craziest constructions we have seen!
Designed by Dutch architect Piet Blom, the cube houses are cube-shaped homes painted in bright yellow, tilted over by 45 degrees.
This residential complex, which is pretty iconic, is meant to represent forest and each house represents a tree. How cute is that?!
Obviously, you can't see the interior because there are people living in those houses, but you can take a peek at the Show Cube Museum (Kijk-Kubus), which is a furnished house so you can get an idea of what it is like to live in this complex.
The Netherlands is known for its architecture, and this eccentric Rotterdam attraction definitely lives up to the hype.
3. Wander Around the Grote of Sint-Laurenskerk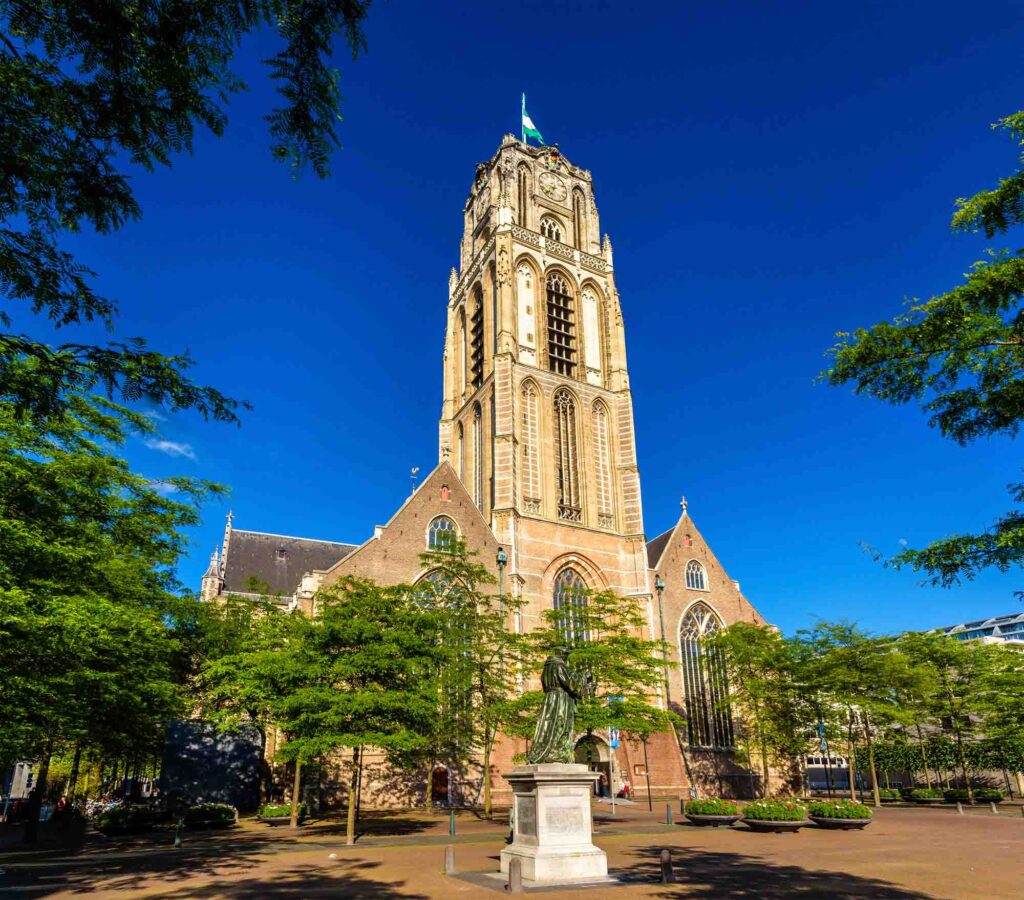 Grote of Sint-Laurenskerk is a protestant church that is the sole survivor of medieval architecture in Rotterdam.
The church is incredible to wander around with high vaulted ceilings, huge plain-glass windows, decorated arches, ancient exhibits, and beautiful tombs.
If you are lucky, you can climb the tower to get a panoramic view of the Rotterdam city center. You can also join a guided tour that takes you inside the church and up the tower.
Visiting the Grote of Sint-Laurenskerk is definitely amongst the best things to do in Rotterdam if you are looking for views across the city.
4. Experience the Boat Tour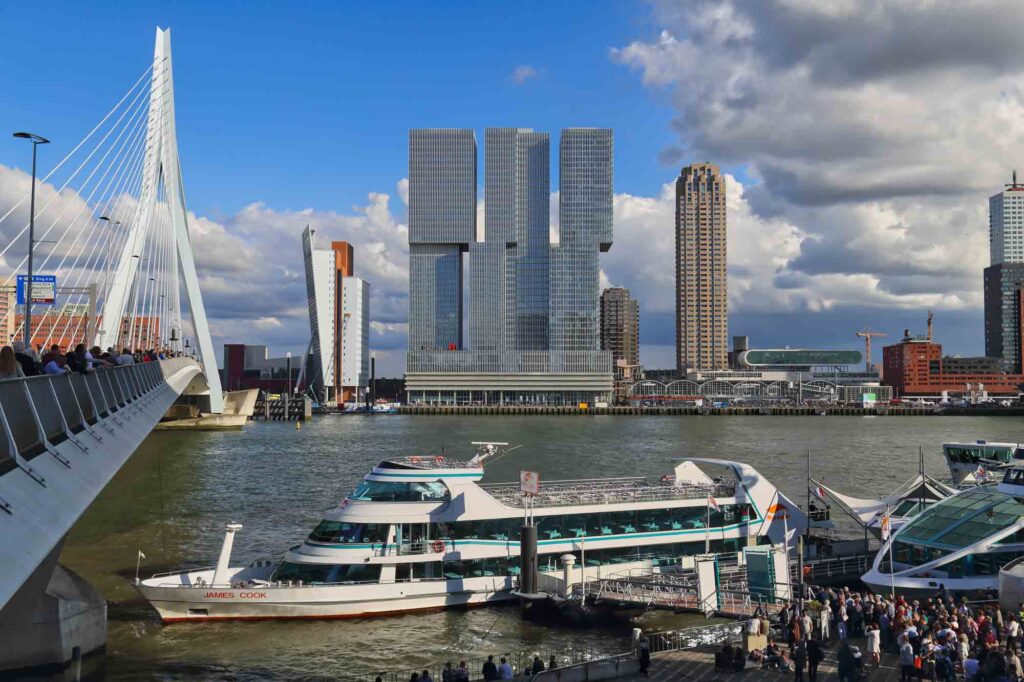 Opting for a boat tour in the Maas River is the best way to see Rotterdam attractions like the impressive skyline, Erasmus bridge area, the famous cruise ship 'SS Rotterdam', and the Hotel New York where the Holland America Line was once housed.
The boat tours come with an audio and video guide where you learn regarding the operations of the docks, shipyards, and the hypermodern transhipping of thousands of containers.
You can also book a tour in the amphibious bus where you will be able to explore the attractions of both land and water.
Click here to book a boat tour
5. Visit the Maritime Museum Rotterdam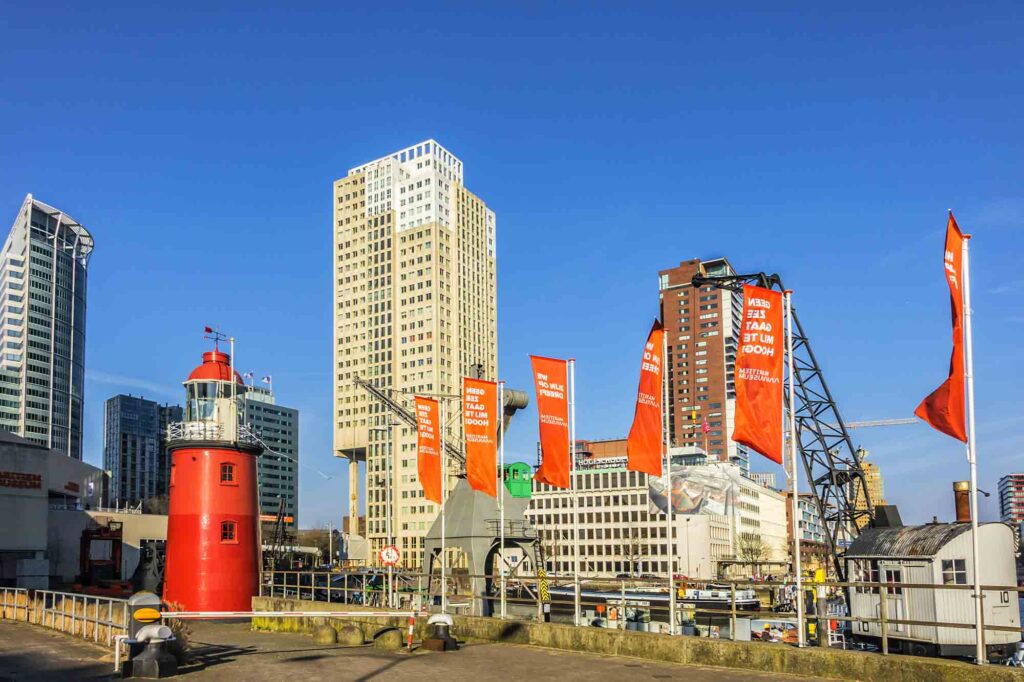 The Maritime Museum Rotterdam is the best thing to see in Rotterdam for those interested in understanding the city's waterways and their connection to the sea.
Located in the Old Harbor (Oude Haven), the museum is one of the oldest and largest museums of its type in the Netherlands.
It displays a vast collection of maritime memorabilia, cartography, navy uniforms, flags from sea battles, historic vessels, cranes, and figureheads of various ships.
The museum has an interactive area for kids to role-play at running a port while managing other operations.
6. Visit Europe's Most Iconic Market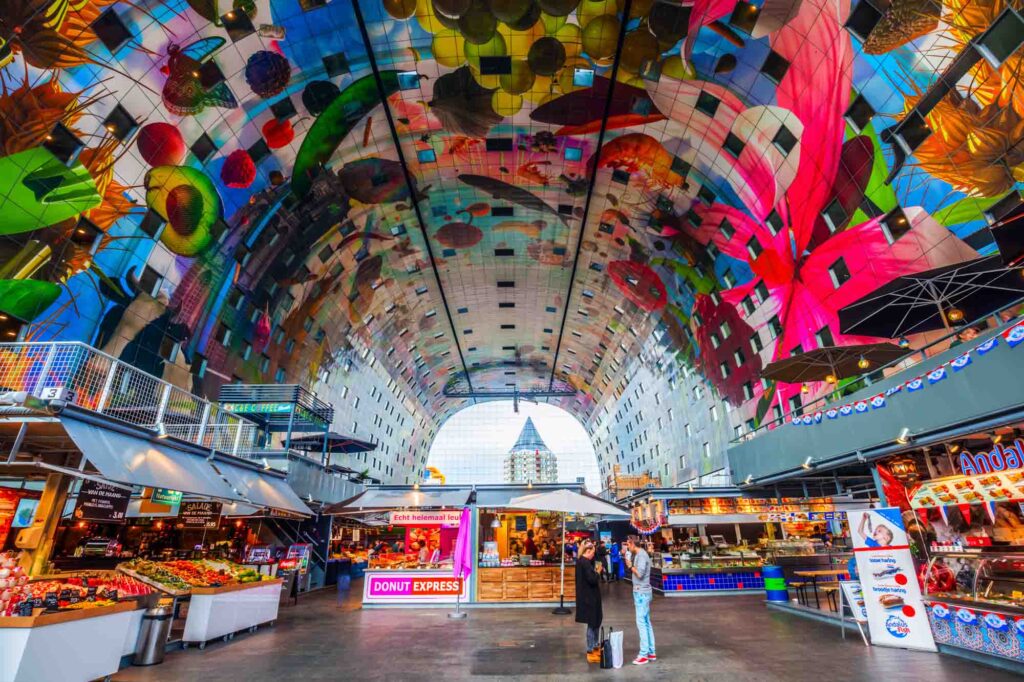 The Market Hall (Markthal) is a picturesque archwise structure like a horseshoe right in the heart of Rotterdam.
This 131-foot high complex houses hundreds of residential apartments, office rooms, and a mouth-watering food market underneath it.
Architecture-wise, while both facades are made of glass, the interior is completely adorned with colorful and gorgeous artwork (Horn of Plenty by Arno Coenen and Iris Roskam) picturing fruits, vegetables, seeds, flowers, and more.
In total, 4,000 aluminum panels color the ceiling of this Dutch landmark, awarding its titles of "the world's largest artwork" or "the Sistine Chapel of Rotterdam."
After you've taken in the ceiling, grab a bite or a few snacks in the food stalls around the food hall.
From coffee and cheese to fish and donuts, you can literally find anything from international cuisines, like Spanish tapas, Indonesian dishes, and Balkan foods, as well as a wide variety of Dutch food at the Market Hall.
7. Get Wild at the Rotterdam Zoo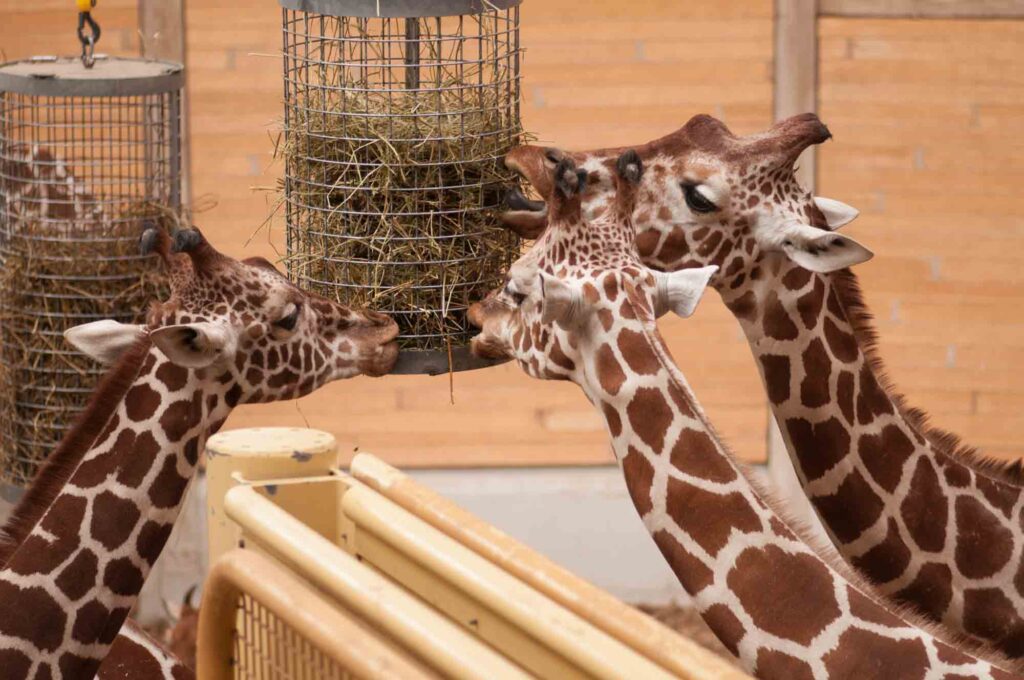 Rotterdam Zoo, also known as Diergaarde Blijdorp, is an incredible place to visit if you want to see wild animals, teach interesting things to the little ones, or support a number of conservation projects in the wild.
Besides, this zoo is a welcome escape from the skyscrapers and modern architecture. Still, if you want to avoid crowds, it's best to visit it during the week.
Further out, Diergaarde Blijdorp actively participates in many breeding programs for endangered species and is one of the international top ten of zoos in this field. Who wouldn't want to support that, right?!
Click here to buy your skip-the-line ticket
8. Wander the Tovertunnel
In 1996, an artist named Willij Vanderlinden set out to convert a dark, depressing tunnel into a colorful one so that the children don't get afraid while crossing it.
The Tovertunnel, which connects two distinct parts of a historic neighborhood in Delfshaven, was brightened with colorful paintings and neon lights.
Tovertunnel is also called a 'Magic Tunnel' and is considered a connection between the past and present, rich and poor.
Tourists and artists visit this attraction in Rotterdam to witness the intrinsic proof of how a city's grey areas turn into an architectural marvel.
9. Visit a Bridge Made by Locals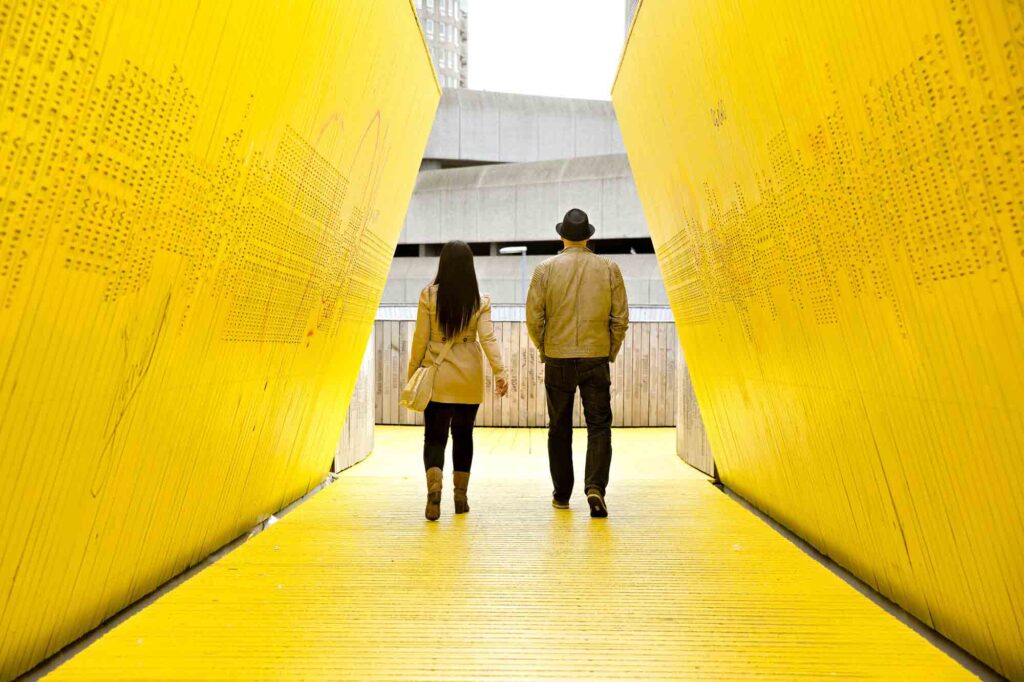 Luchtsingel Bridge, also known as the yellow bridge, connects Rotterdam downtown to the north of the city and brightens up a forgotten area.
This 1,280-foot long bridge was crowdfunded by locals and, since they are the sponsors, they put their names (or a message) on each wooden plank. Cool idea, to say the least.
Besides, Luchtsingel Bridge is an incredible photo spot in Rotterdam. So be sure to check it out. And if you want your name on a wooden plank, well, you can buy a plank yourself and help build along.
10. Gorge at the Fenix Food Factory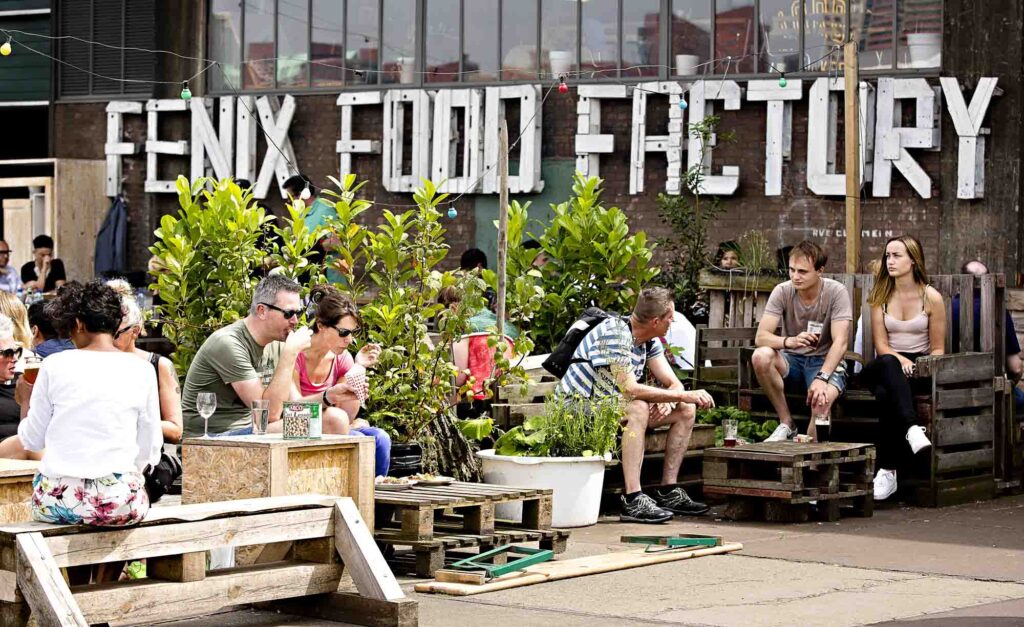 Fenix Food Factory is the perfect hangout spot for locals in Rotterdam, where they drink, eat, and socialize.
It is located right opposite the New York Hotel, immediately adjacent to the dock.
At the Fenix Food Factory, you can try out the fresh local delicacies, including cheese, meats, bread, and cakes. They even produce home-brewed beer and freshly roasted coffee.
You can participate in the various workshops, food tasting, and open market sessions while at the factory.
If you are a foodie, visiting Fenix Food Factory is undoubtedly one of the best things to do in Rotterdam.
11. Go on a Day Trip to Kinderdijk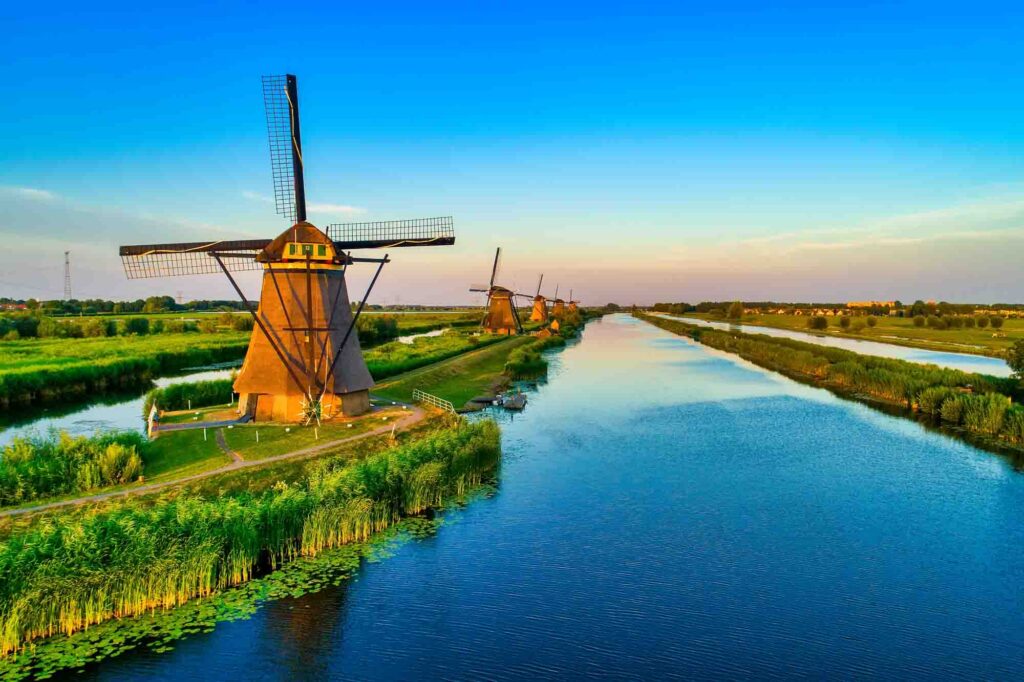 Visiting the Kinderdijk is one of the things you can't miss while in Rotterdam!
As one of the most interesting places to visit in the Netherlands, Kinderdijk is an 18th-century windmill complex with pumping stations used to keep the soil dry for centuries.
The name Kinderdijk (literally, children's dyke) comes from a famous legend that describes a baby's cradle being stranded here during the St. Elizabeth's Day flood of 1421.
It's not a secret that the Dutch have been clever in dealing with the water that surrounds them for a thousand years.
The sustainable blend of nature and technology used to keep Kinderdijk dry is so uniquely valuable that the area and its 19 windmills were granted UNESCO World Heritage status.
You simply can't miss this place while in the Netherlands. It's not only a gorgeous place but it's packed with culture and history too.
12. Grab a Bite at Dudok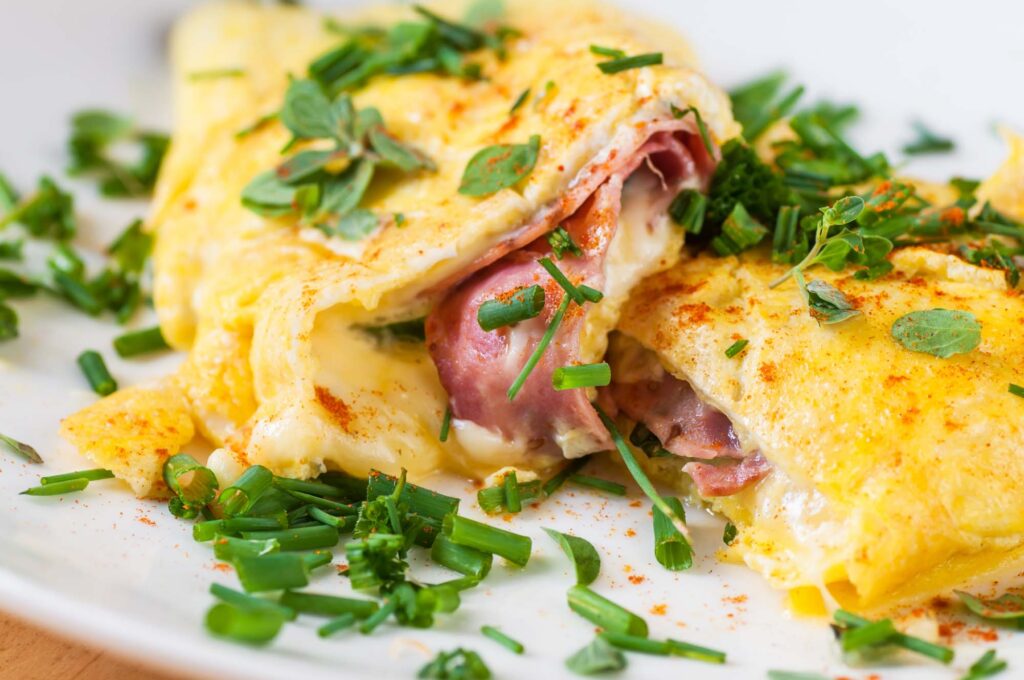 Ask food connoisseurs about what to do in Rotterdam, and without a second thought, they will direct you to Dudok.
Dudok is an ideal city café and brasserie that offers a unique menu with a French twist.
The pastry shop is spread across several locations in Rotterdam; however, the one in Meent is the liveliest of all.
Visit Dudok for its popular apple pie and carrot and nuts cake. On the coffee tables, you will find newspapers and magazines, and you could just sit, read, eat, and have a peaceful time by yourself.
13. Enjoy Art and Culture at Museum and Depot Boijmans Van Beuningen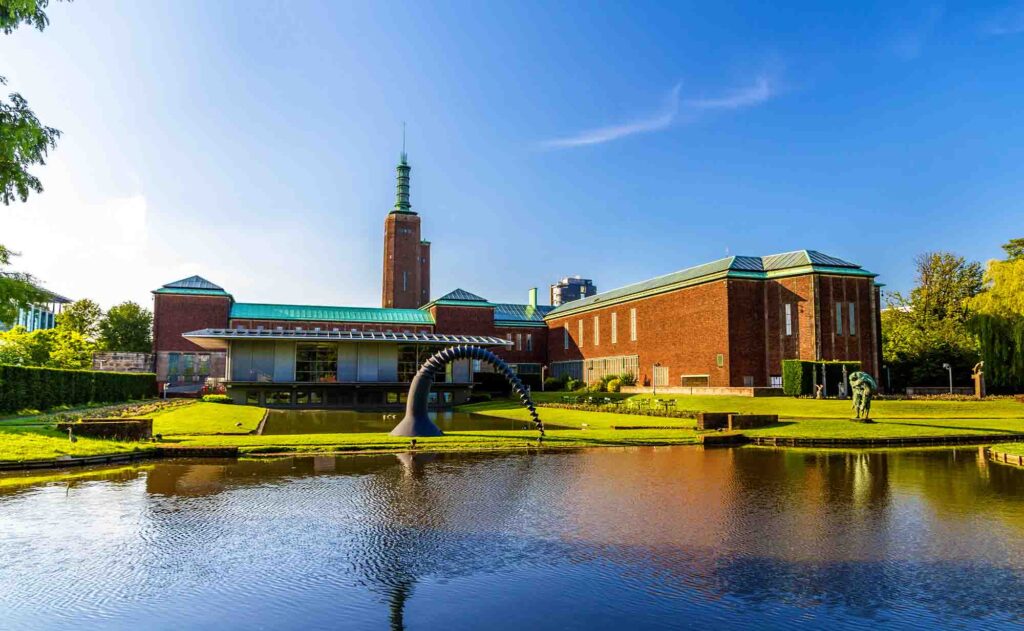 Museum Boijmans Van Beuningen is a unique attraction in Rotterdam, and one of the most important art centers in the Netherlands.
The museum displays works from the 14th to 16th centuries, including Hieronymus Bosch and Jan van Eyck. From the 17th century, showcasing works from Rembrandt.
As for the 19th century, you can see pieces from Van Gogh, Monet, Picasso, and more.
You can find an incredible array of paintings and sculptures displayed in enormous exhibition halls.
As for its Depot, this is a new part of the museum that's covered in mirrors and reflects the stunning skyline of Rotterdam.
Here you'll find a bunch of artworks worth the visit. Depot Boijmans Van Beuningen is the world's first publicly accessible art depot.
Also, do not miss out on getting to the rooftop of the Museum Boijman. It offers breathtaking views of the city of Rotterdam.
14. Get On Board the SS Rotterdam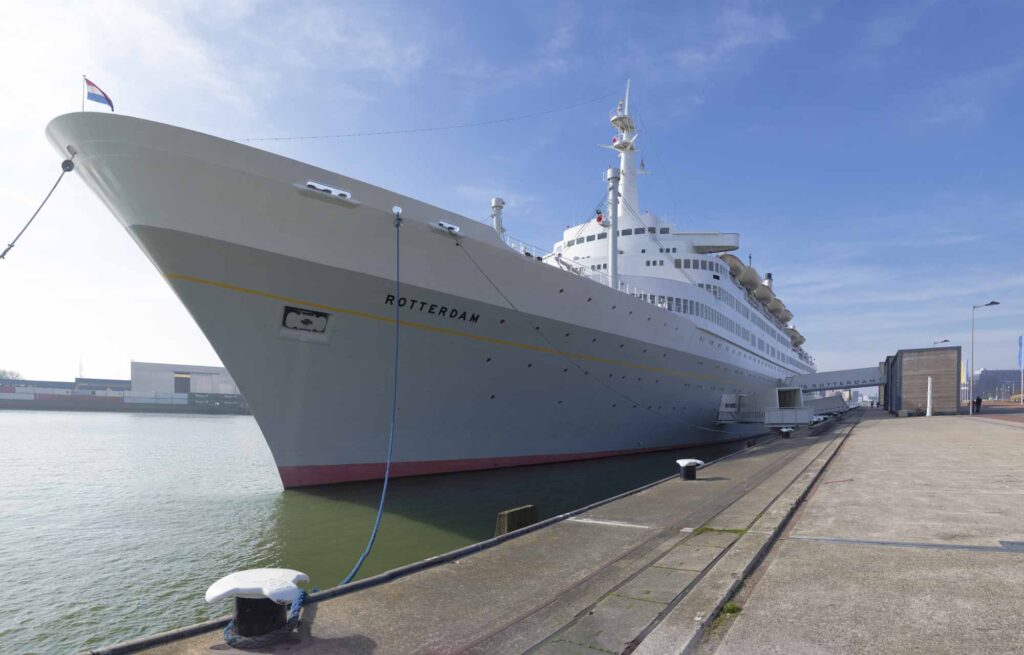 SS Rotterdam is the biggest passenger ship ever and one of the most unique landmarks in the Netherlands. It is a symbol of exemplary Dutch craftsmanship. It is 748 feet long and has 13 decks.
After sailing for about 40 years, the ship finally retired in 2000 and was brought back to Rotterdam.
It has been restored and has been open to the public as a combination museum/ hotel and school for vocational training.
You can book a guided tour of the SS Rotterdam, where you will be allowed access to the ship's bow, bridge, sports deck, captain's cabin, and the engine room.
With a 1950s decoration, the rooms are beautifully decorated, maintaining their traditional vibe.
There is also a hotel on this ship, so if you enjoy the rooms so much and want to have a unique experience in Rotterdam, you might consider staying here.
15. Stroll Through Arboretum Trompenburg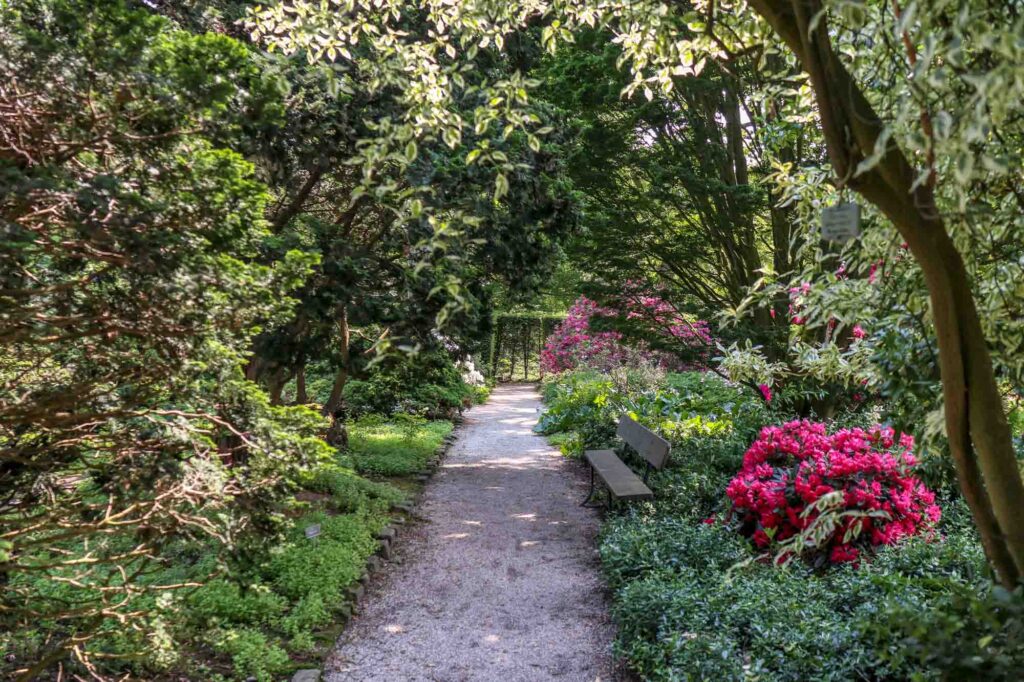 Arboretum Trompenburg is a beautiful botanical garden spread over 17 acres of central Rotterdam. The landscaped garden is a treasure trove for nature lovers, botanists, and walkers.
You will find an incredible collection of shrubs, bulbs, perennials, and tubers in the garden. The botanical garden also houses rare conifers, Fagus, Rhododendrons, and Rodgersia.
The garden lies below sea level, and you can take a guided tour to understand how it is maintained.
Spending time in the botanical garden is one of the best things to do in Rotterdam if you love greenery, peace, and quiet.
16. Admire the Delftse Poort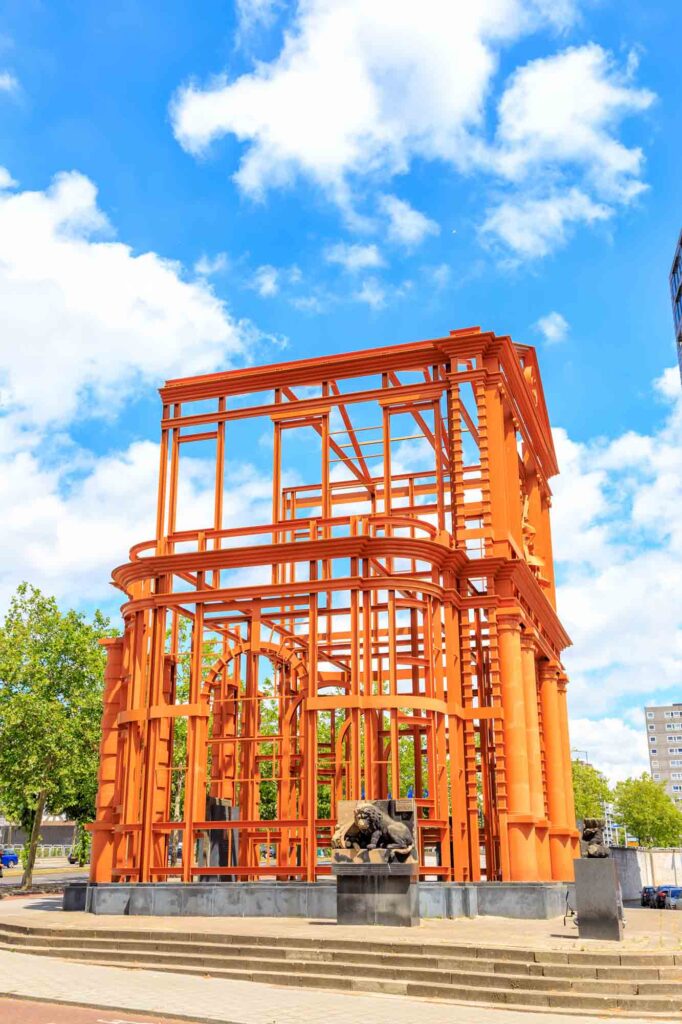 Delftse Poort was Rotterdam's fortification gate built in 1545 to protect the city from invaders. In the 1930s, the gate was demolished to free up space for infrastructure, which caused a public uproar.
Soon, World War II broke out, and the gate was forgotten until 1993 when an artist named Con Kraat decided to resurrect it.
He used orange metal beams to build the replica of the gate where the color symbolizes that Rotterdam is always under construction. The gate is open to the public, and you can visit it at any time of the day.
Address: 7 Haagseveer
17. Check Out the Architecture Walking Tour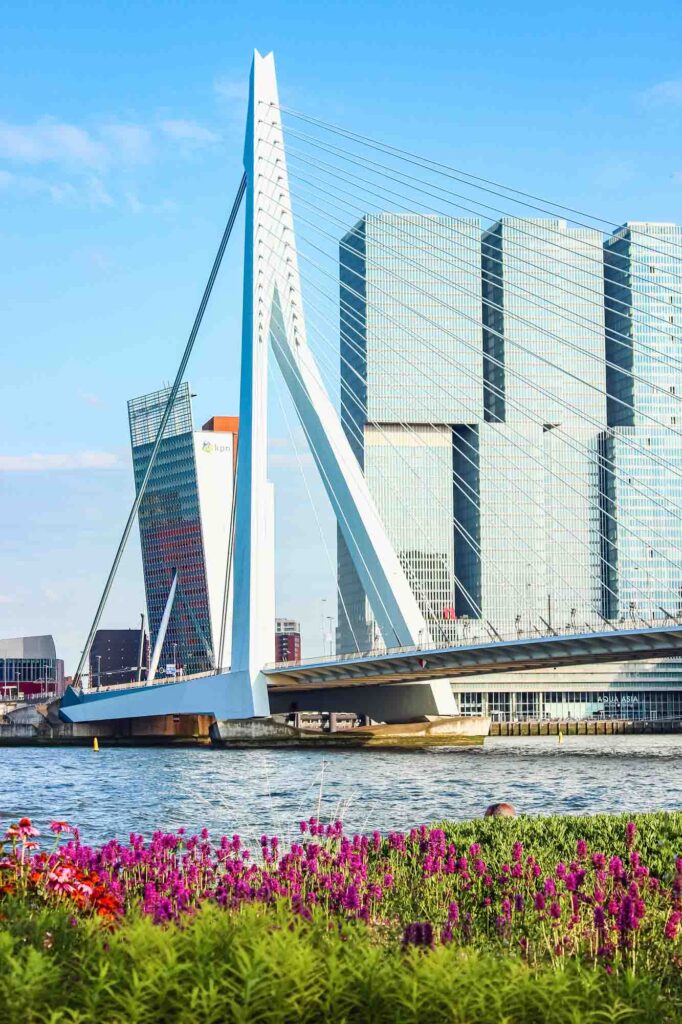 Joining a guided walking tour is the best thing to do in Rotterdam to see the most important architectural features of the city.
That's because the guided tour helps you understand the history and lets you soak in the unique stories that each iconic building holds.
Besides, the tour generally starts from the Rotterdam Train Station (Rotterdam Centraal Station) and takes you to Stadhuis, Timmerhuis, Erasmus, St. Lauren's Church, the iconic cube houses, and ends at the Markthal. The guides are local architects who introduce you to the art and character of the city.
18. Explore the Delfshaven District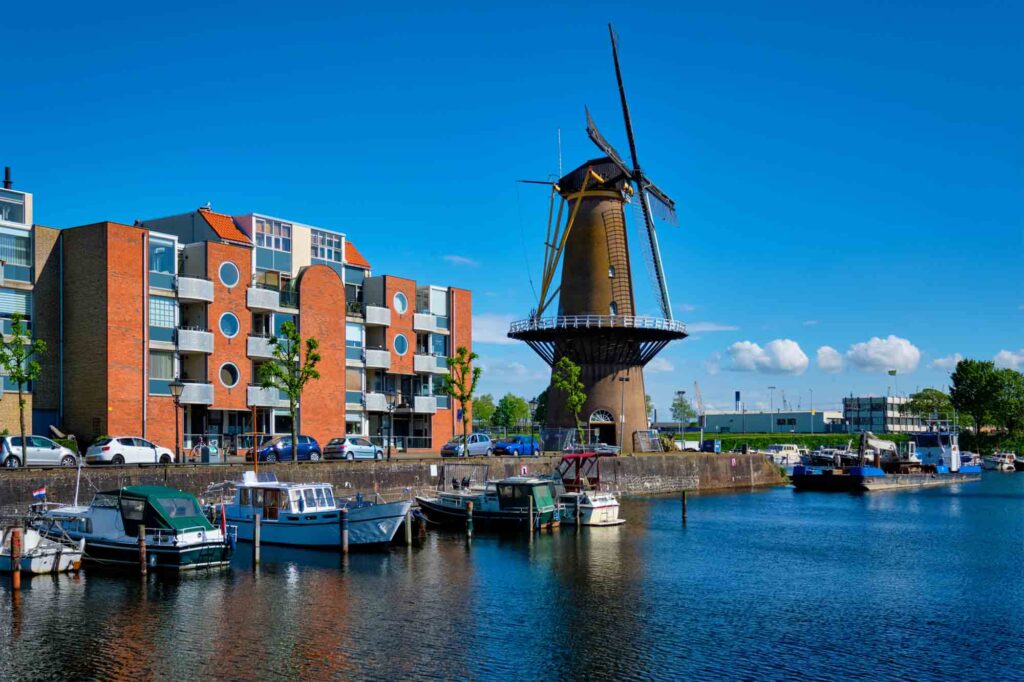 Most of Rotterdam was devastated in World War II; however, the Delfshaven district was surprisingly left undamaged.
Exploring the streets of Delfshaven is easily one of the best things to do in Rotterdam. It takes you back to an ancient era completely different from the other parts of the city.
The Old Church in Delfshaven district is a must-visit as this is where the last service was held by the pilgrims before they set out to discover the New World.
The district's brick houses, old Dutch canals, and historic cafes are worth a stroll.
19. Say Hi to Santa Claus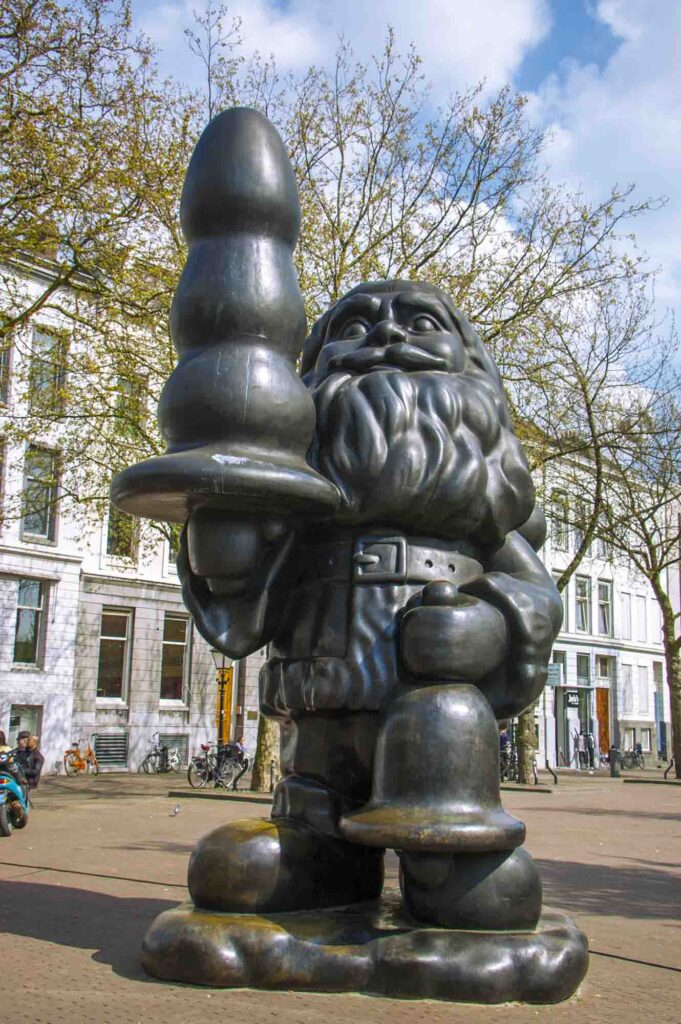 Popularly known as Buttplug Gnome, the Santa Claus Statue is the biggest local scandal and a rather unfamous art piece in Rotterdam.
Created in 2001 by artist Paul McCarthy, the state in Eendrachtsplein was supposed to be and look like Santa Claus holding a Christmas tree. Well, that's the official answer.
The only problem is the artist implied that it could also represent a buttplug. Lol.
We're sure you won't want to miss out on this Rotterdam attraction.
20. Go to the Van Nelle Fabriek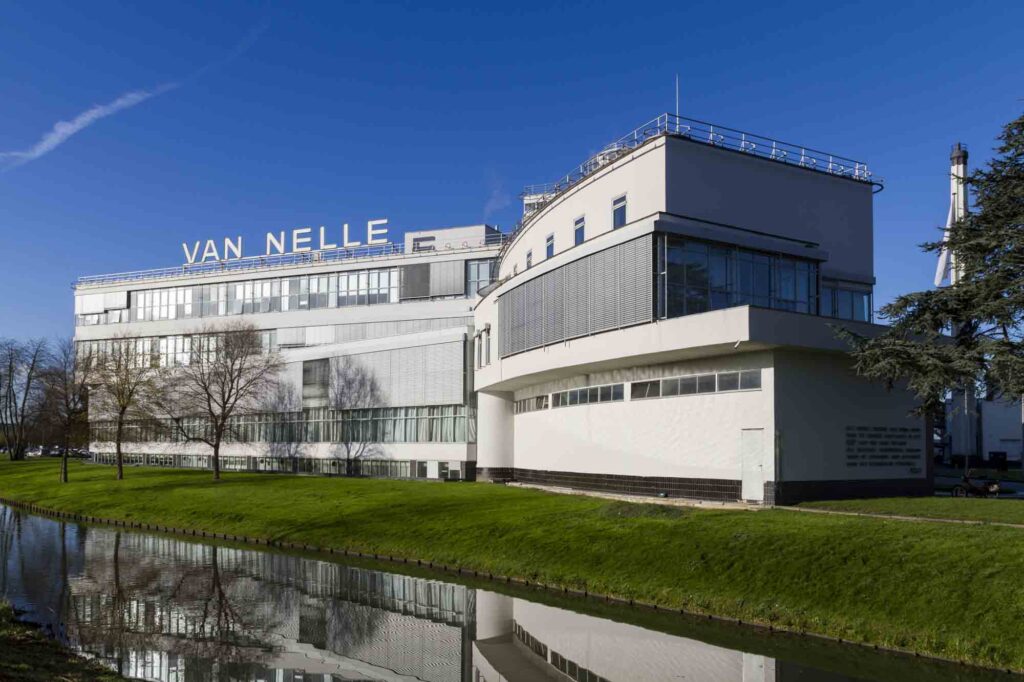 This attraction is one of the best things to do in Rotterdam for all industrial architecture lovers.
Built and designed in 1920, Van Nelle Fabriek Factory was an operational factory producing tea, tobacco, coffee, and rice.
It was designated a UNESCO World Heritage Site in 2014 and is also a Dutch National monument.
The factory has inclined ramps that connect different buildings with large glass windows and a mix of right angles to create a flowing structure.
The factory is a fine example of constructivist architecture and a must-visit in Rotterdam.
21. Relax at the Hotel New York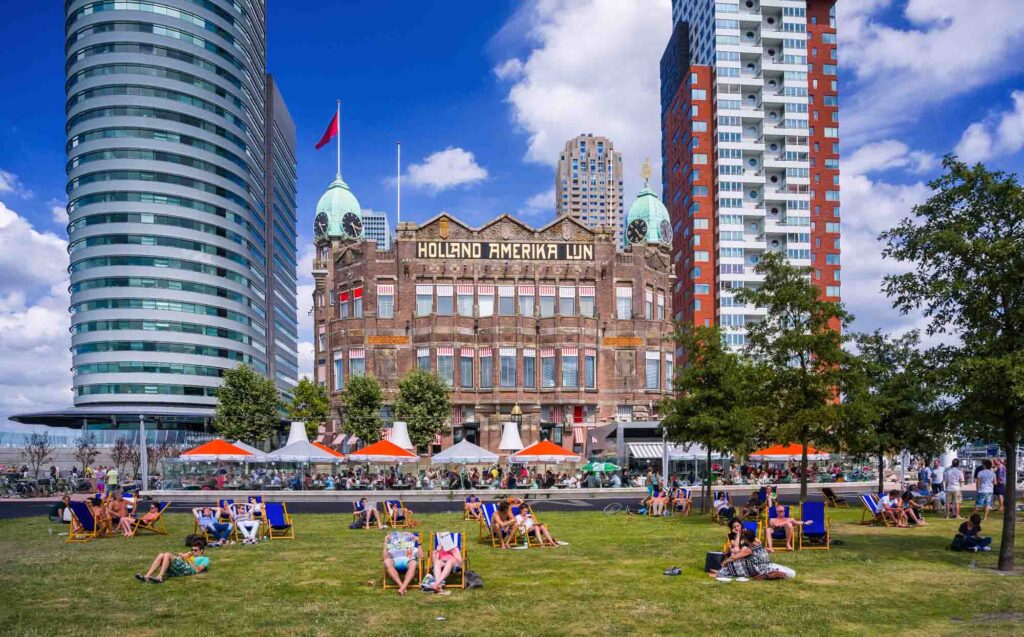 The former headquarters of the Holland America Lines, Hotel New York is a stunning hotel on the banks of the River Maas, just after crossing the Erasmus Bridge (the second largest bridge in the Netherlands is also known as the Swan because of its large upright mast that resembles the neck of a swan).
It is the spot from where thousands of people left for North America searching for a better life.
The hotel is surrounded by skyscrapers and has a beautiful terrace overlooking central Rotterdam.
The historic and beautiful building retains its traditional look with original Dutch architecture and its interiors still intact. You can grab a coffee at the café here or sunbathe in the outdoor gardens.
22. Have a Cup of Coffee at the White House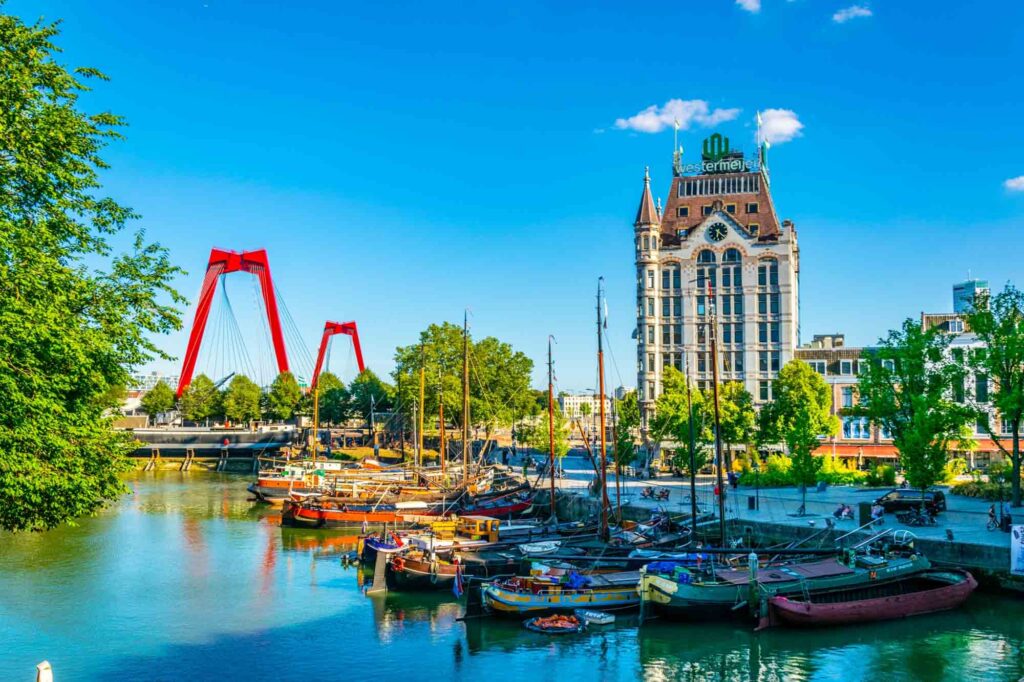 The White House (Het Witte Huis) is a National Heritage site built in 1898. Het Witte Huis is located in the Old Harbor and is one of the few buildings to survive World War II.
Towering 141 feet, the White House was once Europe's tallest building.
This Art Noveau construction was restored in the 1990s and today houses an enjoyable café where you can stop by for a cup of coffee or lunch.
23. Treat Your Taste Buds to a Food Tour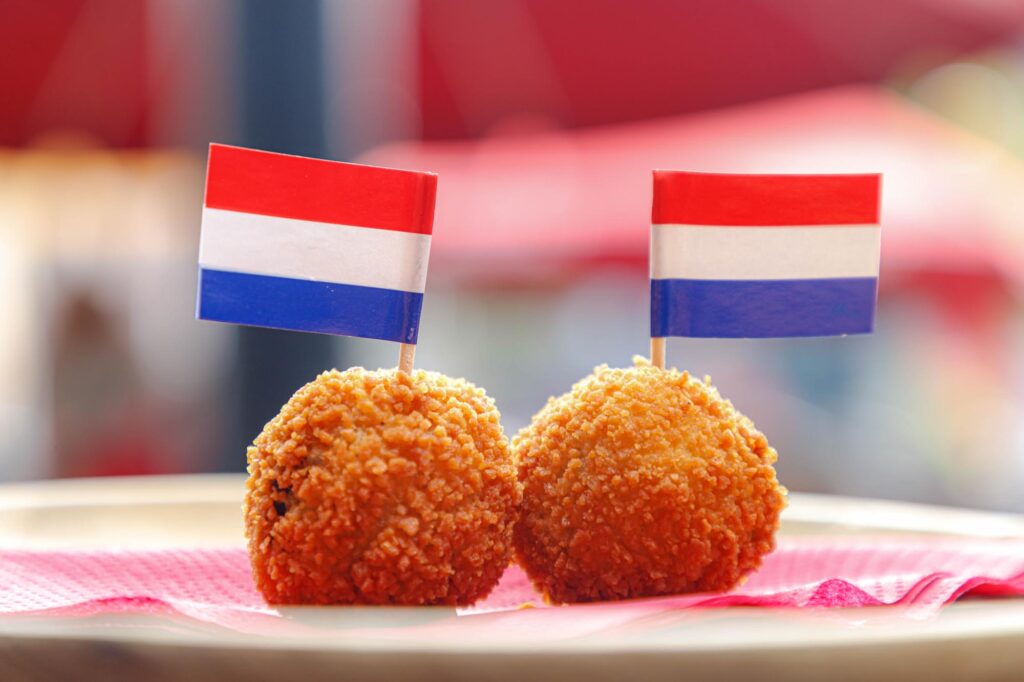 The best way to know a place is by trying out its food and turns out, you can gorge on delicious food in Rotterdam, from poffertjes and cheese to bitterballen and herring; the possibilities are endless.
On the Rotterdam food tour, a local guide accompanies you across the city and makes you taste the popular food and drinks while narrating wonderful stories about the city.
You will drink coffee, have locally brewed beer, try freshly made stroopwafels, eat meatballs, and savor chicken sandwiches and tapas. Such a tour is perfect for you if you want to see the local way of life in Rotterdam.
Click here to check availability
24. Attend the Exhibitions at Kunsthal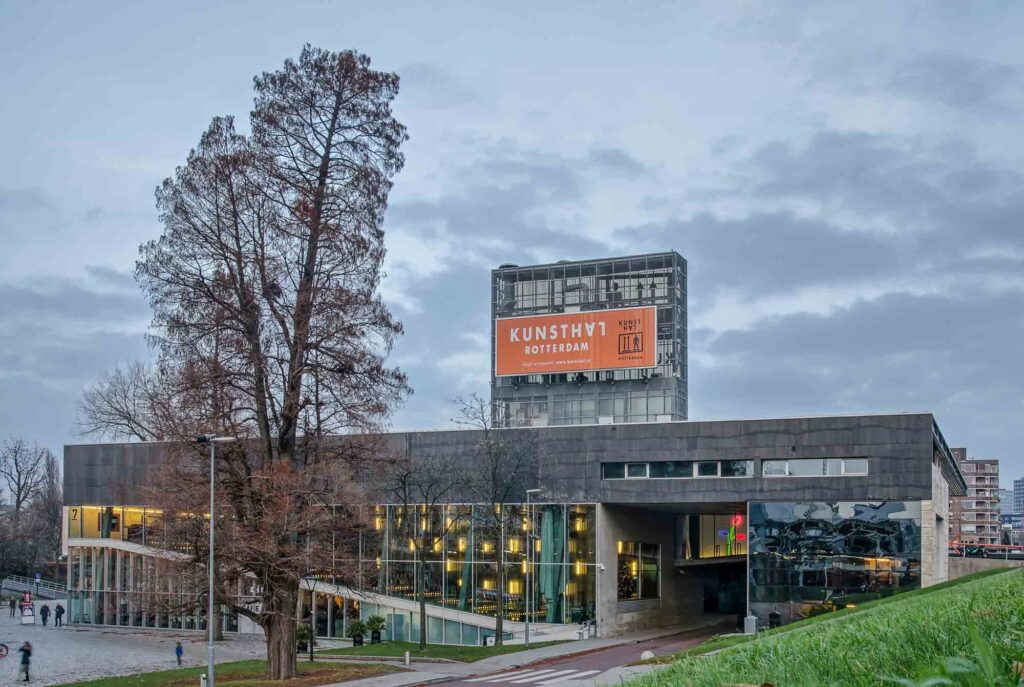 Located in the Museum Park of Rotterdam, Kunsthal is an art museum that has no permanent collections.
Instead, it allows presenting temporary exhibitions parallelly in its seven exhibition spaces.
With its inspiring architectural design, the museum uses unique design features to surprise the visitors at every corner.
It often showcases the creative achievements of Dutch and international artists.
The displays vary in art forms from photography to fashion to film, providing visitors with something of interest.
Without a doubt, Kunsthal will give you the most unique experience and should be amongst your best things to do in Rotterdam.
25. Learn the Queen's Gambit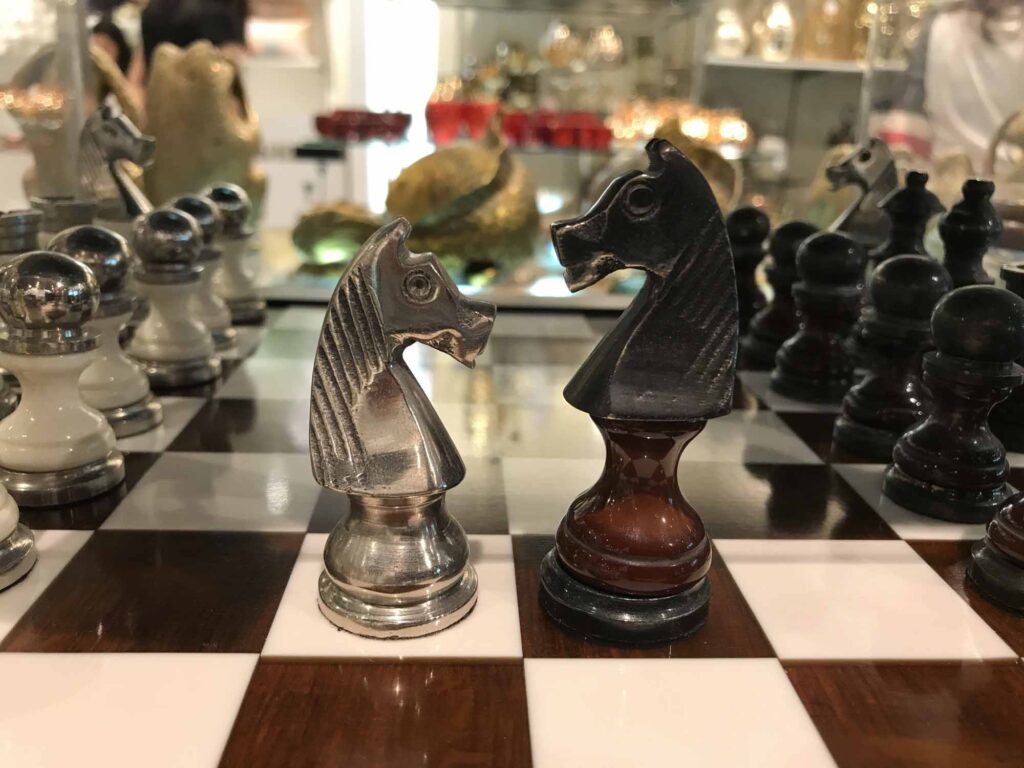 Are you into chess? Even if you're not, try and check out this interesting museum under the Cube Houses.
Opened in 2006, the Chessmen Museum is the private collection of founder Ridder Dijkshoorn, plus a collection owned by Mister M.J. Glotzbach. Temporary exhibitions are held on a regular basis.
The permanent collection on display exhibits many chess pieces of all shapes and themes and has expanded throughout the years.
There is something for everyone: antique chess pieces and popular cartoon characters, as well as true folkloric and abstract works of art.
Visiting the Chessmen Museum is definitely one of the unusual things to do in Rotterdam!
26. Discover Rotterdam in the Miniworld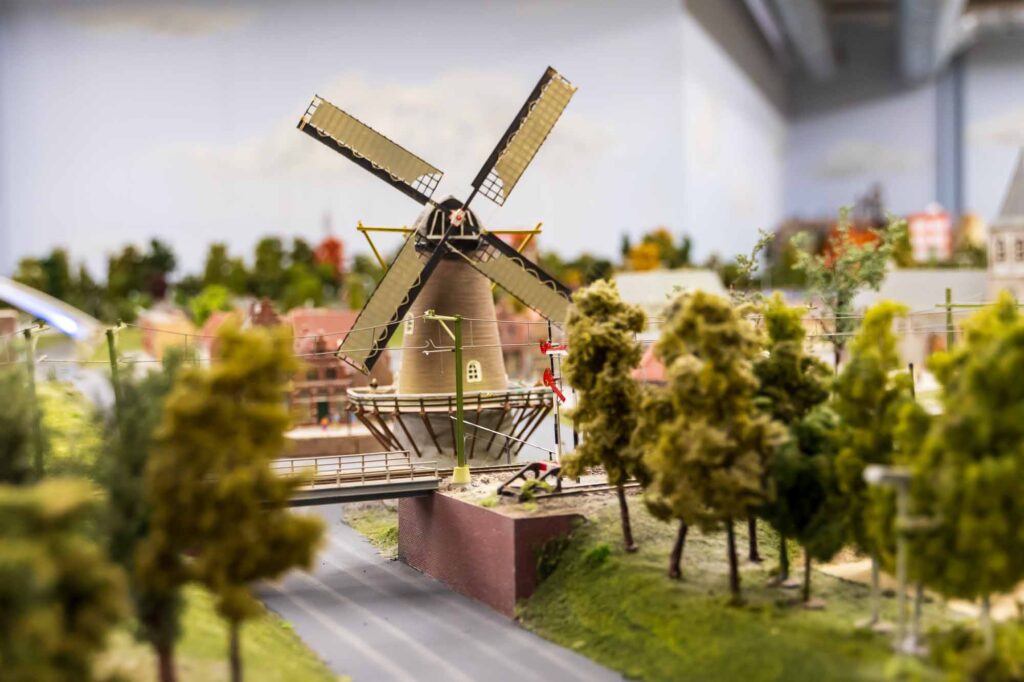 Located within walking distance from the Rotterdam central station, Miniworld is the largest miniature world in the Netherlands.
If you want to experience all that Rotterdam has to offer in hours, you should definitely add Miniworld Rotterdam to your travel list. It is a perfect family-friendly indoor attraction.
Here, a day ends every 24 minutes, the lights sparkle, and the night falls. You can see the residents waking up, the trains running, and the lorries bringing loads to the miniature docks. You will be impressed to see the miniature versions of this Dutch city.
27. Visit the Museum Rotterdam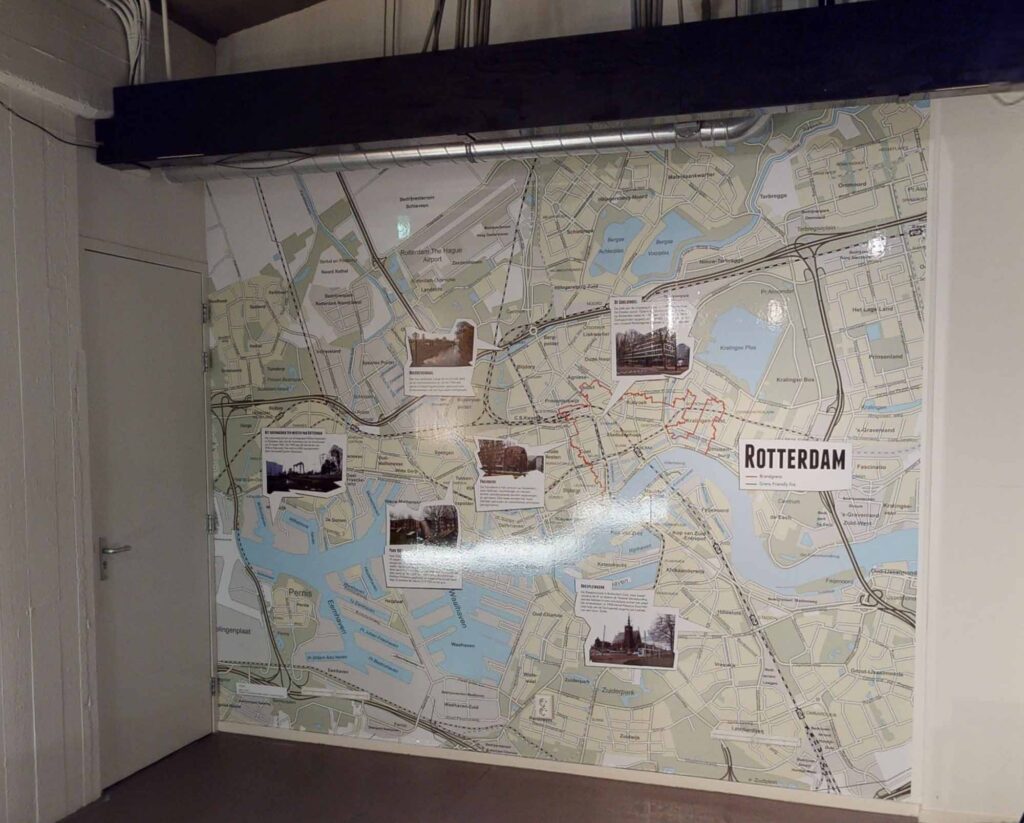 Museum Rotterdam is a small yet informative museum where you can learn about the history and heritage of Rotterdam.
Showcasing over 100,000 artworks from the 17th century and beyond, including the Netherlands during World War II and how Rotterdam was impacted in the war.
The staff in the museum helps in explaining the layout and the chronology. You will find it heart-wrenching to imagine the effects of the world war in Rotterdam and its people.
The museum has military toys, weapons, and uniforms on display, and you can read everything on the touch screen panels.
Did you enjoy learning more about Rotterdam, the Netherlands? Then share it with your friends!
Our best travel tips & resources:
Here're our all-time favorite travel tips & resources so that you can save money and plan your travel logistics hassle-free! For more travel resources, check out our
travel tips.
Saving money: Fly on offseason, winter (not Xmas or NYE), Tuesday, or Wednesday! According to experts, these are the cheapest days to fly.
Travel insurance: Before you leave for your trip, make sure you have a valid travel insurance policy because accidents happen on the road. We have been paying for Safety Wing travel insurance for a little over a year now, and we happily recommend them to our family and friends.
Accommodation: We usually stay in mid-range comfy hotels or private rooms in hostels. These are the sites we use to book accommodation: Booking.com for hotels (excellent flexible cancellation policy) and Hostelworld for hostels (low deposit and easy cancellation).
Tours:We absolutely love booking guided tours with locals to get a history lesson while sight-seeing, especially food tours and walking tours! We book all of our tours using Viator and GetYourGuide.
Transportation: We use Google Maps to figure out how to get around a place using public transport. When we book a rental car, we always use Discover Cars to find the best deal.