Hi there! I'm Bruna and this is me in Vienna trying to hold my hair when the wind was literally blowing me away.
I was just in front of the Belvedere Palace (have you ever been there? It's gorgeous!), ready to take some nice shots to add to my bio. You know, fancy clothes, elegant place, etc. But my plans were ruined, as you can see, by the weather.
Well, do you want to know something interesting about me? Photography is one of my biggest passions. And I really think that (sometimes) I can take pretty awesome shots, unlike this photo below. Selfies and I aren't a good combination. We never were, and we never will be!
On the other hand, I'm reasonably good at Photoshop and Lightroom. Skills very much appreciated, which save my life when I want to post a cool photo in my posts (or social media) for you!
So, I know you clicked on this page to read about me…but what I can tell you? Well, I'm totally crazy about animals, food (I can't stress this enough, foodie here!), good coffee & beer, photography (yeah, I promise I'll learn it, okay!) and writing. What about travel? Nope, not my thing. 🙂
Oh, I also adore a John Mayer's song "Walt Grace's Submarine test, January 1967", especially when he sings: "Cause when you're done with this world, you know the next is up to you".
This song was the push I needed a few years ago to do something with my life. See, I'm slowly telling you who I am.
After a 4-years Economics Bachelor, I graduated at 21 and started wondering how my life would be. I was already working for 3 years in big consumer goods companies, but I wasn't happy with my job. After John Mayer's motivation, I bought a ticket to Buenos Aires and went backpacking for the very first time.
Yes, exactly like that. I bought it on a whim, took advantage of a privilege that a lot of people don't have and went there without planning a thing. That is where it all started. I say that I was bitten by a travel bug because from that day on, when I was looking at the calendar, I was planning my next trip. (credits to Forrest Gump)
In 2014, I left my job and started learning about other cultures and people out there. Since then I have been to 15 countries, 50+ cities and have met 1.000+ awesome people!
Today, I study what I really love, digital marketing, and pursue my dream of becoming a digital nomad. I divide my time between studying full-time, blogging and traveling. Phew! It's a lot of work but I do it with pleasure because that's what I love.
If I were to describe myself in one word, which is something very very difficult, I'd say I'm a curious person. Hence, I like to have the most information possible regarding the place I'm traveling to. And when I'm at my destination, I like to discover more things I had no idea about this new culture. That's why Maps 'N Bags is focused on providing you with as many travel tips and tricks as I can write!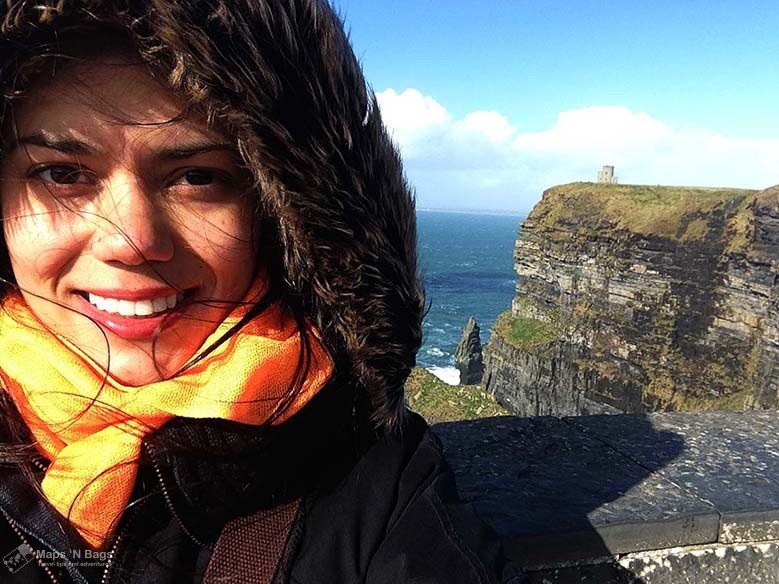 I publish weekly blog posts which can be about a destination where I have been, like itineraries and things to do in the city. Also, I blog about the most diverse categories of travel tips, such as female and male solo travel, budget, how to save, outfits, and so on!
My favorite places so far are Amsterdam and Rio de Janeiro. Yeah, I know. They are totally different from each other, but yet those cities are so stunning and charming in different and complete ways.
Well, I introduced myself to you. I told you about my journey. Let's begin your journey now.
Ps: This is the last photo I tried that day in Vienna.