When looking for the most romantic cities in Europe, you may be overwhelmed by the sheer number of choices. After all, it's an incredibly romantic continent—at least, that's how I experience it.
Fortunately, I have done the hard work for you and compiled a list of the most romantic European getaways for couples.
I look at what makes each city stand out as a top romantic destination, from spectacular views, charming architecture, and quaint walkways to pure romantic ambiance.
Keep reading this article to learn about the most romantic cities in Europe, where your spectacular surroundings will set the mood.
21 Most Romantic Cities In Europe For A Couple Getaway
1. Venice, Italy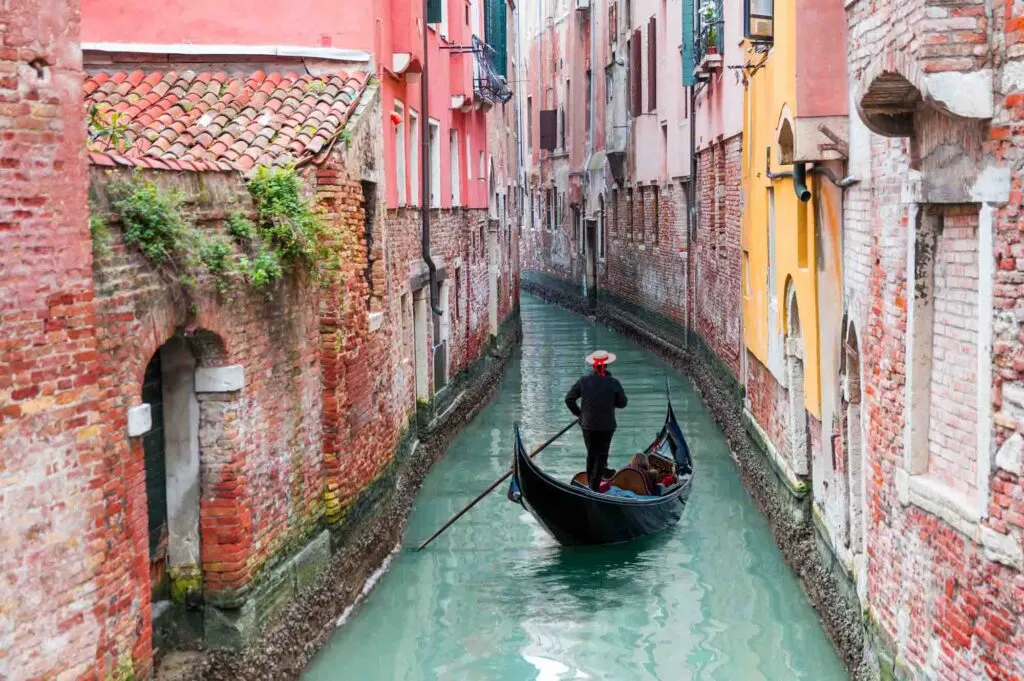 Your romantic city break has just been taken to another level: Venice is hands-down one of the most romantic European cities.
Some argue Italy is the most romantic European country–do you agree?
The name brings up visions of gliding down the canals on a gondola and taking romantic strolls across the myriad small bridges during the day.
As one of Italy's most popular destinations, Venice caters to romance throughout the city.
Venice is a romantic dream destination associated with the renowned and somewhat notorious Casanova.
St Mark's Square offers the perfect romantic sunset spot; the beautiful architecture surrounding the square is spectacular.
After dark, you can walk to the city and enjoy wine at the Cantina Do Spade, and during the day, explore the narrow streets and buy famed Murano glassware mementos.
2. Amsterdam, Netherlands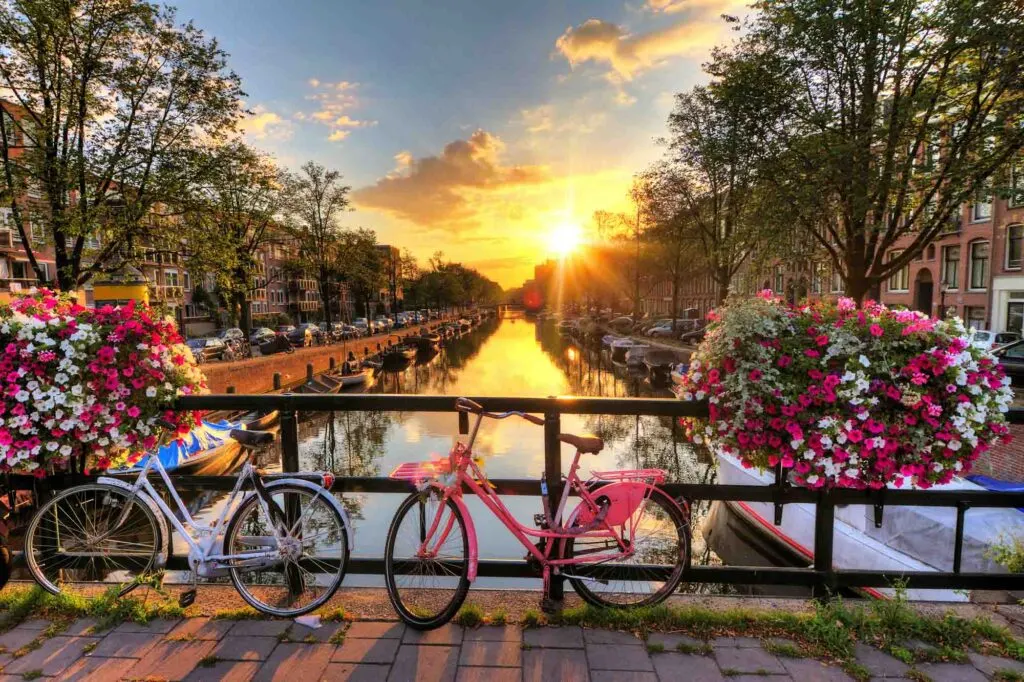 Ah, Amsterdam is such a romantic European destination for couples of all ages.
Dotted with crooked houses, its cute cobblestone streets intertwine with the charming canals, making it an incredibly romantic city.
Whether you're spending one day, two days, or three days in Amsterdam with your significant other, take your time to walk around and discover the most interesting spots, like independent shops in Jordaan, windows and alleys in the Red Light District, cafes in Oost, bars in De Pijp, and museums in the Museum Quarter, which is a nice area to stay in.
While the city has a lot to offer, feel free to discover the Dutch countryside on a day trip to Volendam, Marken, Zaanse Schans, or the Keukenhof if you're traveling in the spring.
3. Basel, Switzerland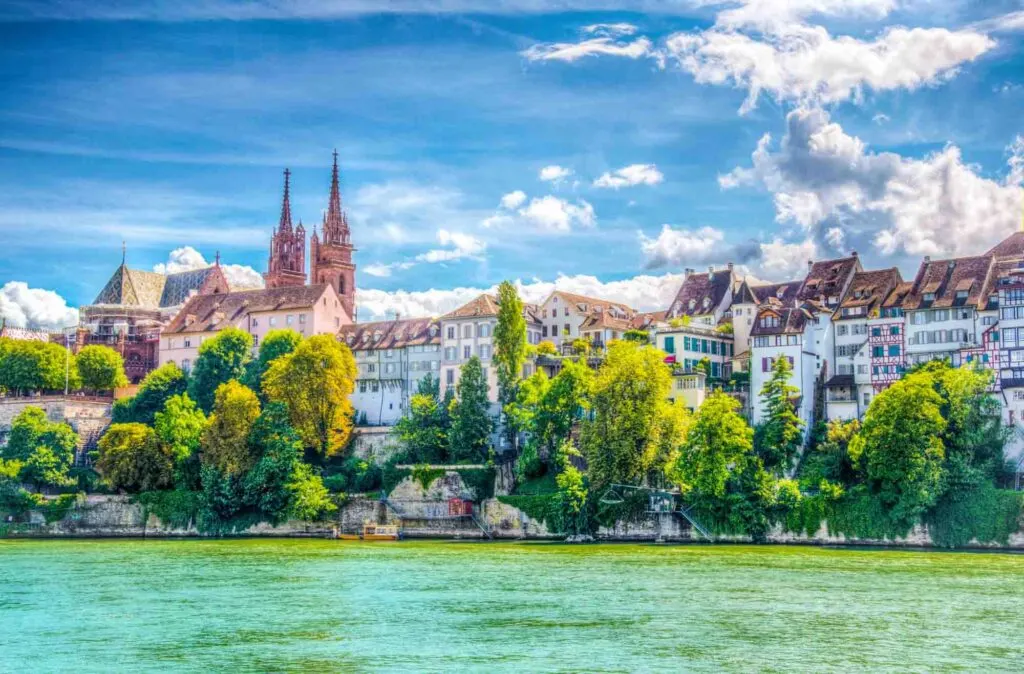 Basel is not only one of the most romantic cities in Europe but also one of the most beautiful places in the whole world.
This Swiss city is a beautiful mix of old-world charm and modernity and offers couples a relaxing romantic getaway as the tourist crowds have yet to cotton on to its beauty.
Basel is the perfect city to enjoy the company of your significant other as there are many bars, cafes, and restaurants along the river's edge, and a day spent chatting and watching the river life is highly underrated.
You can also take a promenade walk, watch swans, and enjoy the picturesque views of the cityscape across the water.
Another fun and romantic activity is crossing the river at one of the Boat Crossing, where you will be ferried across to the other side via a cable; it's a great way to travel across the city.
St Johann's Park is a fantastic place for a relaxed, romantic picnic, an excellent way to end a long summer's day.
4. Porto, Portugal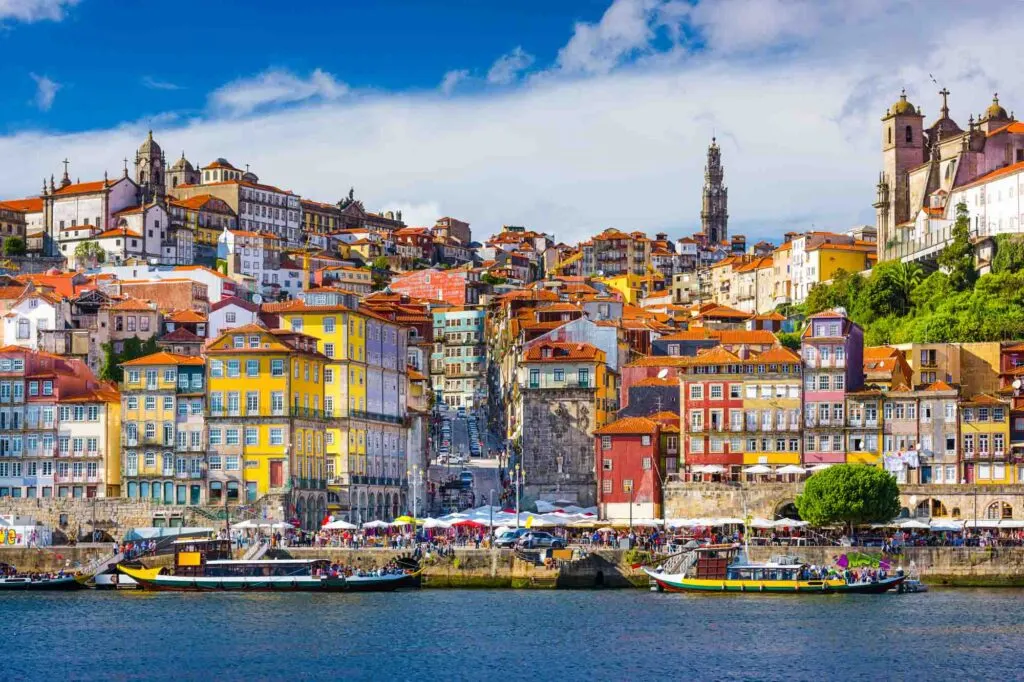 Porto is a magnificent coastal European city in Portugal. This city is one of the most romantic cities in Europe because of its smaller size, history, and beachside aspects.
Couples can easily take a relaxing walk along cobbled streets, in stunning architecture in the Ribeira, and then ride a tram along the coast.
The city offers fantastic Port wine cellars where you can spend a snug afternoon doing a tasting.
A romantic evening could not be complete without attending a Fado show where you will be entranced by the skill and beauty of Portuguese guitar while sipping on Port wine.
One of the most memorable and romantic experiences is watching the sunset at the Serra do Pilar; it's a great way to watch the city as it lights up for the evening before heading to one of the many rooftop bars for a romantic evening.
Read next: Porto vs Lisbon: Which Iconic City is Right for You?
5. Budapest, Hungary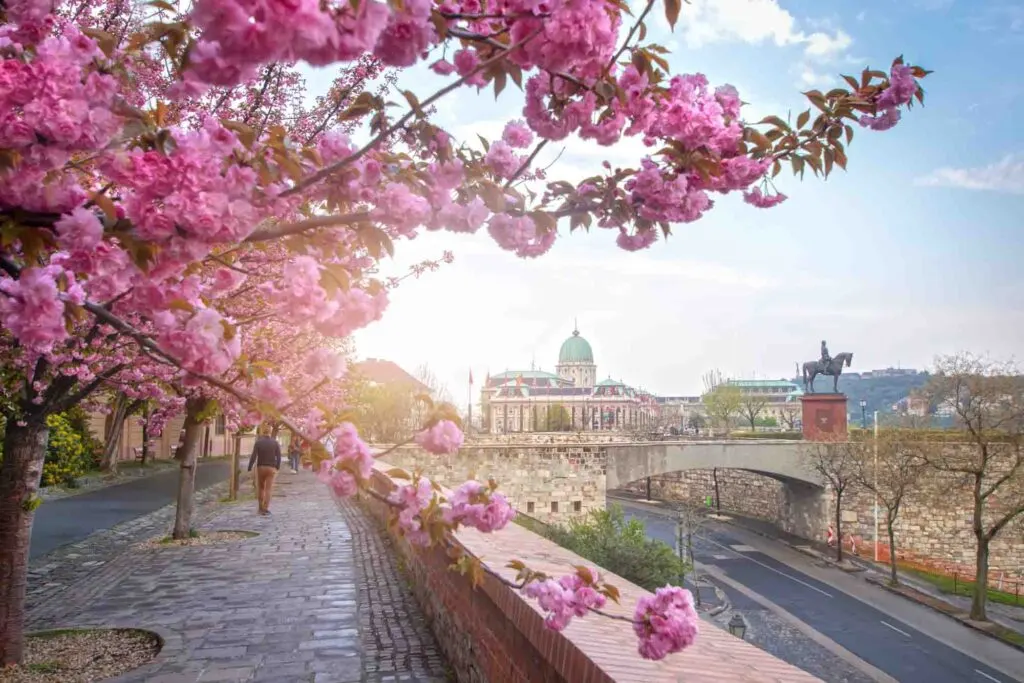 Budapest is one of the most romantic places in Europe; it exudes charm and beauty through every facet.
The city straddles the Danube River and is home to Hungary's State Opera. Horror fans can visit the Buda Castle Labyrinth and discover the dark history of Vlad the Impaler.
For those less enamored by scary experiences, the caste surroundings include romantic cafes and restaurants.
Budapest is home to thermal baths, which offer a unique date experience; the Gellert Baths, in particular, include spectacular mosaics and an overall visually magnificent setting.
The Danube River offers the option of river cruises, and the Szechenyi Chain Bridge makes for a lovely romantic walk across the river.
Budapest has several fantastic rooftop bars and a busy nightlife, offering a great way to enjoy evenings and watch sunsets.
6. Strasbourg, France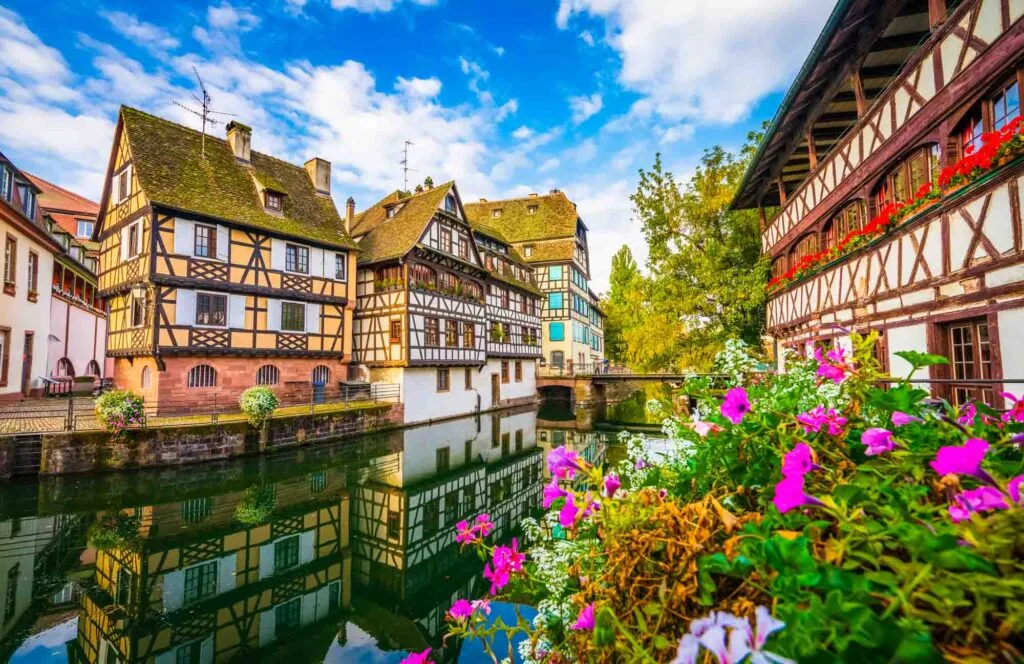 Strasbourg is one of Europe's most picturesque romantic cities; almost every part of the city looks like it belongs on a postcard.
Strasbourg boasts many romantic areas, starting with Petite France, a magnificent 16th-century area of colombage houses lining waterways.
Visit one of the traditional restaurants and enjoy the stunning reflection of historic buildings in the water.
Parc de L'Orangerie is another top romantic place to visit, wander the avenues, or go boating on the lake.
Strasbourg is a uniquely French and German town that offers a laid-back and historic setting for a romantic getaway.
The Passerelle de l'Abreuvoir is one of the top walking bridge photo spots and makes the perfect backdrop for a romantic holiday photo session.
Cathedral Notre Dame de Strasbourg, a French landmark, offers spectacular Gothic architecture and awe-inspiring views, which will make unforgettable memories.
7. Bruges, Belgium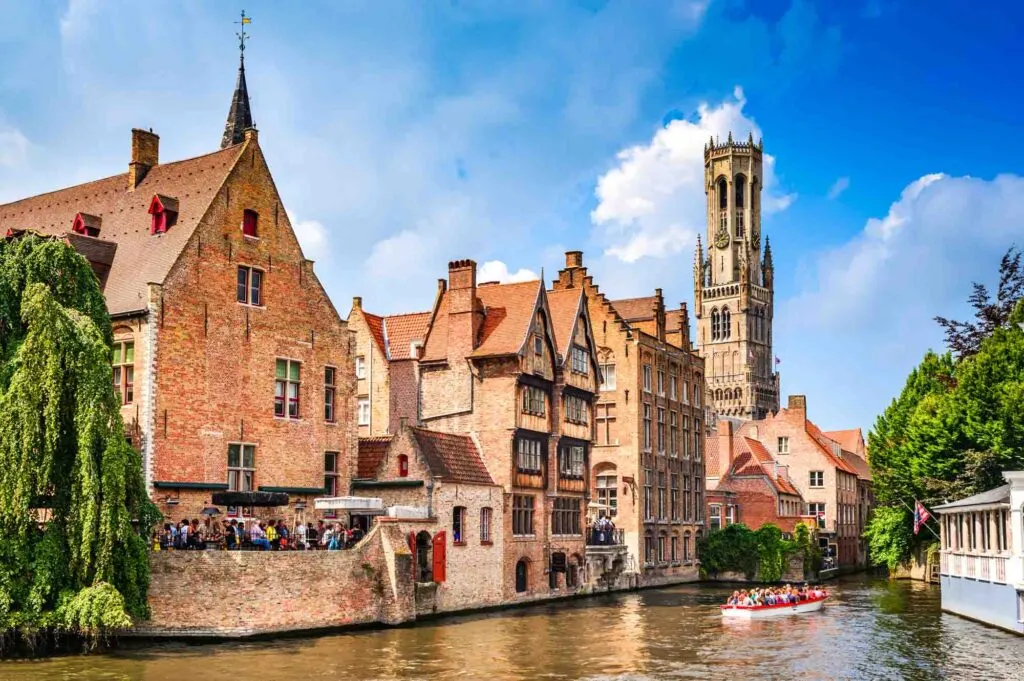 The stunning canal networks, historic buildings, and fairytale-like cobbled streets make Bruges one of the most romantic cities in the whole world. Known as Belgium's city of love, Bruges is a classic European city with old-world charm.
The city is made for walking hand in hand down narrow streets alongside canals and across bridges. Boat travel is a lovely relaxing way to see the city, as is horse-drawn carriage.
The Bruges is perfect if you're looking for the ideal European romantic getaway that is relaxed and involves historic squares.
Bruges has many beautiful parks, with the Minnewaterpark being a favorite for couples as the pathways lead to a liver lake with a picturesque lover's bridge at its one end.
8. York, England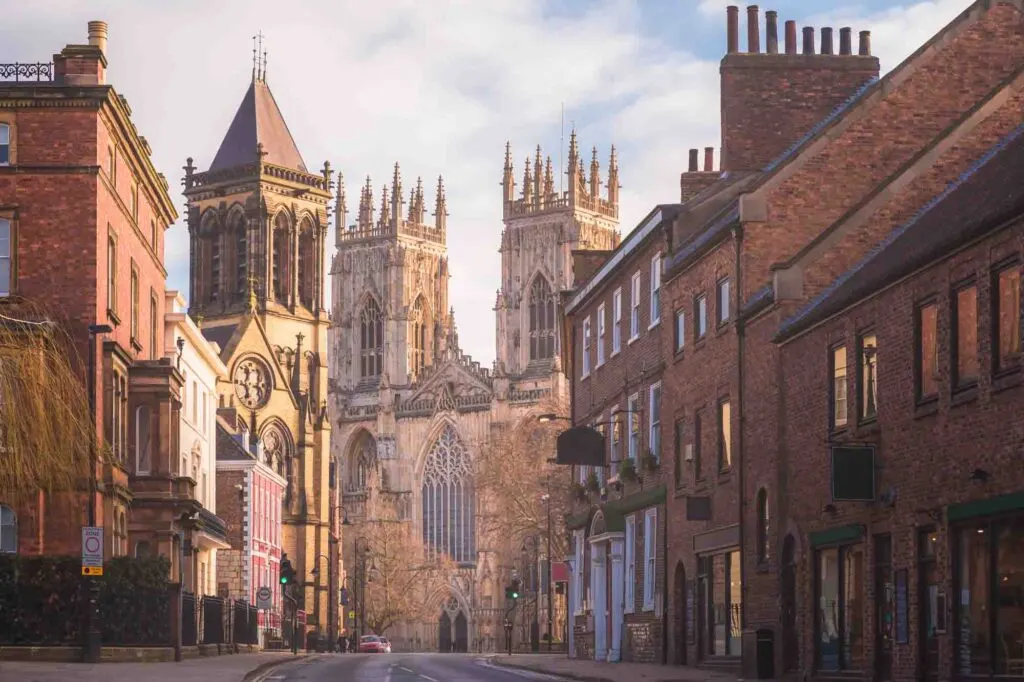 York is a beautiful, whimsical English city, one of Europe's most romantic cities.
Cobblestone streets, historic buildings, and a fantastic Gothic cathedral (which is a British landmark) make it a must-visit place filled with romantic nooks, crannies, and splendid vistas.
The Shambles is a beautifully restored medieval shopping street, and you can spend a fantastic day shopping for souvenirs before heading to the food court at the Shambles Market for a bite to eat.
A walk up to Clifford Tower is well worth the exertion as it offers spectacular views of the city, and of course, a visit to York Minster Cathedral is a must.
9. Prague, Czech Republic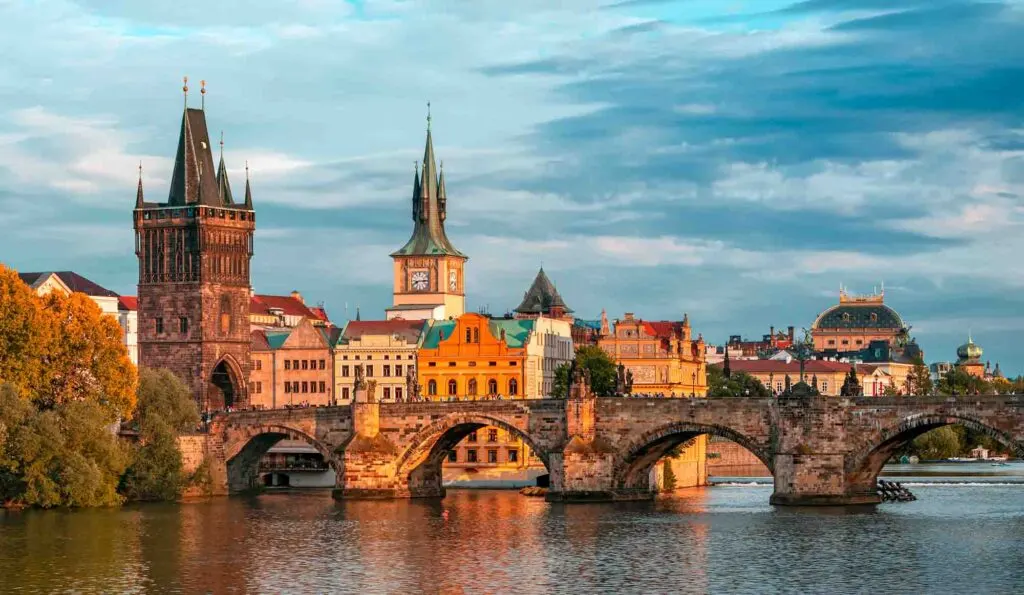 Prague is one of Europe's iconic romantic getaways; after all, the Czech capital offers some of Europe's most visually striking architecture and history.
A must-visit is the Old Town, which includes most of the historical parts of Prague; other than beautiful historic buildings, the narrow lanes, and quaint cafés and restaurants are a delight to stroll past and worth a visit for a tasty pastry snack or a refreshing glass of something cold.
Horse-drawn carriage tours through the Old Town offer the perfect romantic outing.
Cruising is synonymous with romance, and Prague offers beautiful cruise experiences along the Vltava River.
There are many options, from short trips to full dinner cruises at night, which are also romantic by the city lights sparkling in reflection on the water.
Every European city is complete with a Castle tour, and visiting Prague Castle is a top romantic activity; the castle is situated on a hill, providing fantastic city views.
Prague is a river city dotted with bridges, none as grand as the Charles Bridge, which makes a spectacular sunset location and adds to its appeal as one of the most romantic European cities.
Read next: 26 Most Beautiful Castles in the Czech Republic
10. Tallinn, Estonia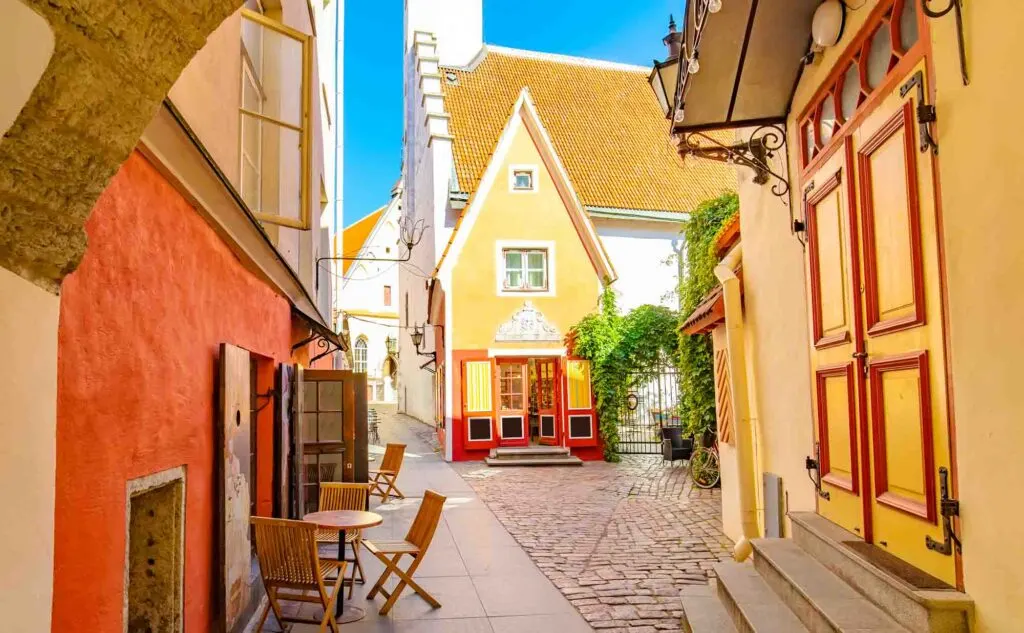 Tallinn is one of the more magical, romantic European cities; the capital of Estonia is filled with old-world charm thanks to a phenomenal array of old churches and medieval streets and buildings.
The city is alluring and can even offset the crowds from cruise ships.
We recommend visiting the Town Hall and ascending the tower for amazing views over the city.
The Town Hall square is the perfect setting for a café experience and is a magical place for romantic Christmas adventures. The entire area is unbelievably picturesque.
Tallinn is a photographer's dream; your romantic holiday will undoubtedly have some of the most beautiful images to remember.
A must-see are the Bastion passages in the Old Town and the Kadriorg Palace, which are breathtaking.
11. Rome, Italy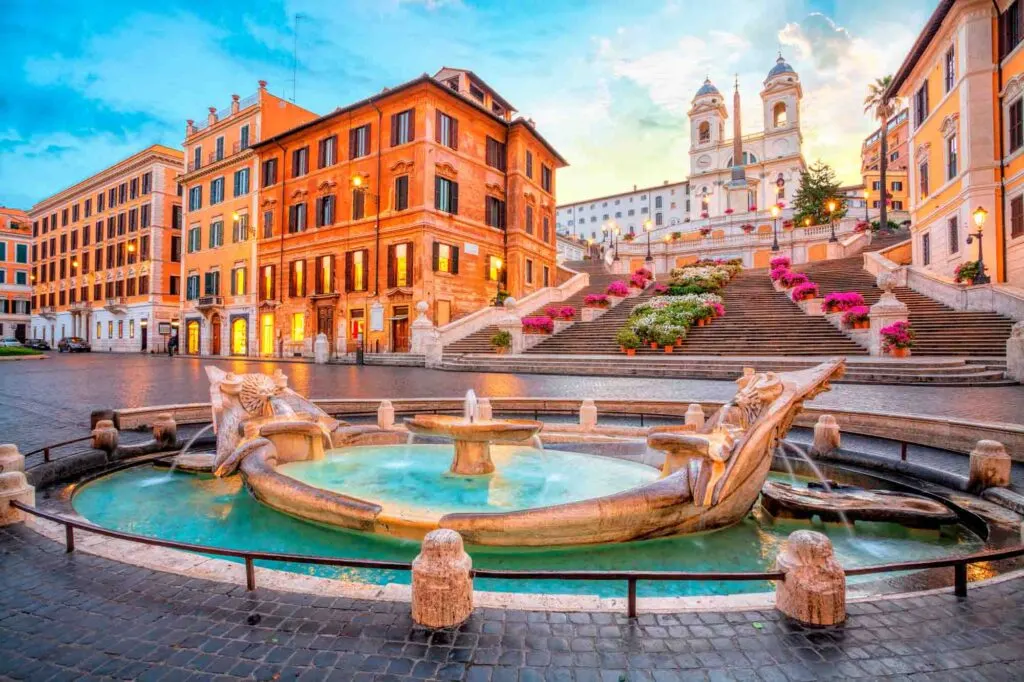 Rome is a historical and architectural masterpiece and one of the most romantic cities in Europe.
From spectacular historic buildings and ruins to cobblestone streets, sidewalk cafes, and beautiful museums, Rome has everything you need for romance.
At the top of romantic things to do is the Trevi Fountain; tradition dictates tossing coins together over your shoulder to ensure you will get to return.
Many historic landmarks, from the Forum to the Colosseum, offer magnificent backgrounds and the awe of history.
Enjoy the Ponte Sisto, a spectacular Roman bridge that crosses the Tiber and offers excellent views of the Vatican skyline.
For art lovers, the Vatican Museums are spellbinding treasure troves of Renaissance art. Rome also has innumerable small fountains, alleys, and cafes throughout the city, making it perfect for Romantic strolls.
12. Vilnius, Lithuania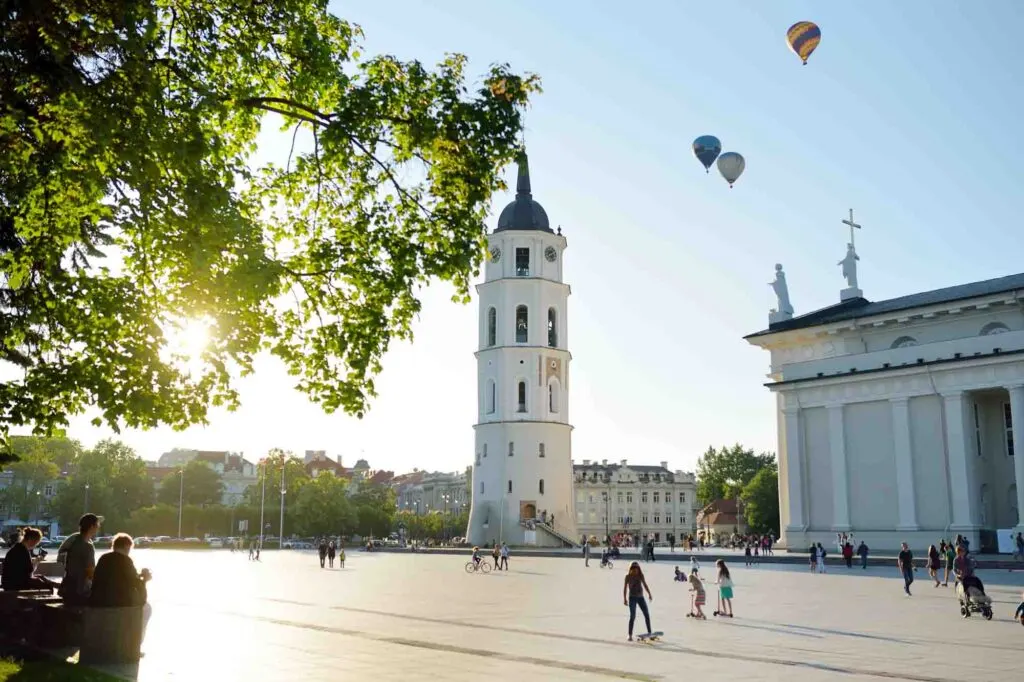 Vilnius is a stunning Lithuanian city. Like most top romantic European getaways, Vilnius has an Old Town full of historic cobblestoned charm.
A top attraction to this picturesque city is the hot air balloon rides out over the Old Town, where you will get to enjoy spectacular views; the rides include a lovely glass of sparkling wine on landing, setting you up for a romantic dinner at one of the many restaurants in the town.
For the most active, cycling along the banks of the Neris River is a beautiful couple's activity, and you get to enjoy a more intimate experience of the town and catch performances by the city's street artists.
Vingis Park also provides a dreamy, romantic walking space that can be enjoyed along with a hot coffee and a pastry.
13. Wroclaw, Poland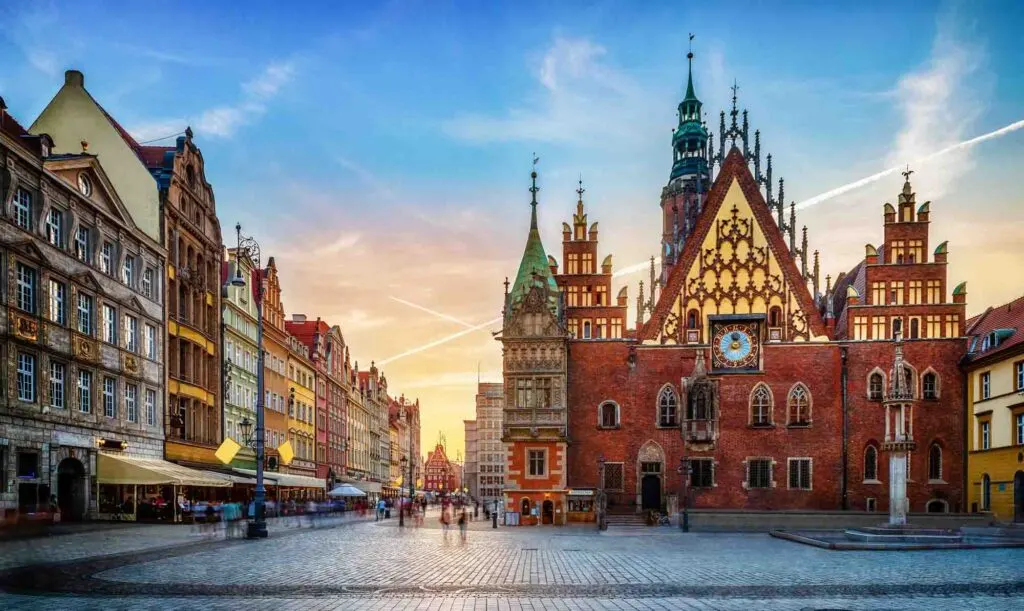 Wroclaw is a wonderland of bridges, churches, and beautiful old buildings, making it one of the most romantic places in Europe.
Probably one of the most entertaining activities is dwarf hunting, as the city is scattered with more than 300 bronze statues that you can find as you meander through the streets.
Ostrow Tumski is one of the most romantic places in Wroclaw; it's a beautiful area of old architecture and many churches.
Suppose you feel like a river experience during the warmer months. In that case, a city boat is a lovely way to experience the city from the river, and of course, many beautiful parks within the town make a stunning background for a romantic wander.
Nothing is more romantic than piano performances, and you can enjoy Chopin at various venues and in Lazienki Krolewskie Park on Sundays.
Click here to check the romantic activities in the city
14. Ljubljana, Slovenia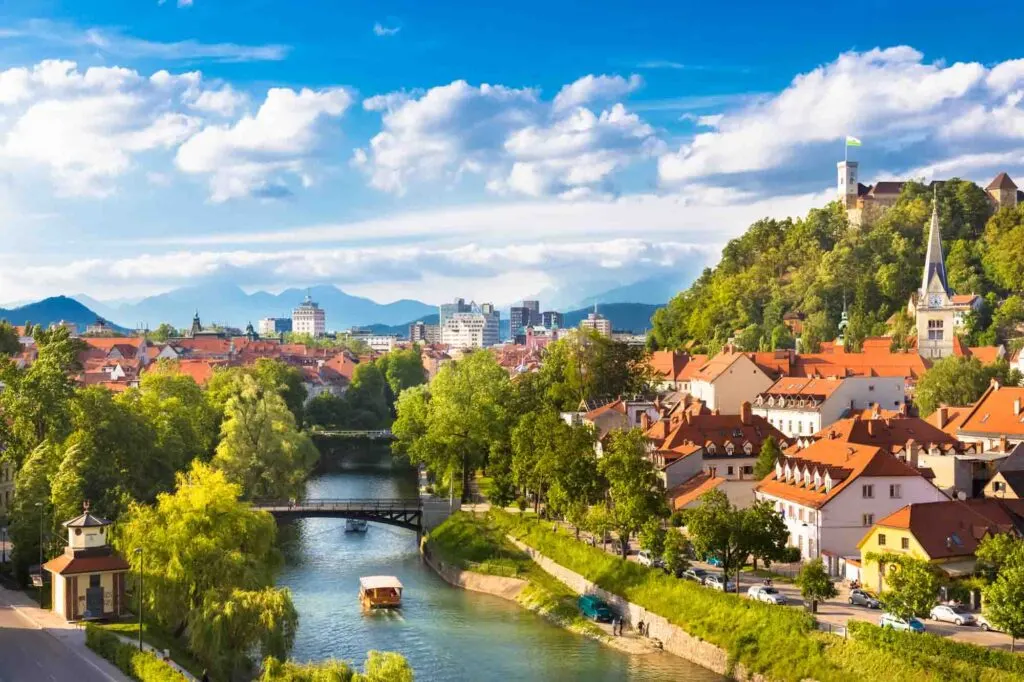 Like many other romantic European getaways, Ljubljana is a city straddling a river, giving it an immediate romantic appeal thanks to the many bridges and boats.
A top landmark is the Butcher's Bridge, also known as the Love Bridge, where lovers leave padlocks symbolizing their love.
The city has a lot of historical buildings and beautiful landscapes. Ljubljana has a relaxed atmosphere that is perfect for a romantic holiday, with many lovely open-air cafes to enjoy during summer.
Jutting out over the city is a spectacular castle, which feels like it comes out of a Slovenian fairy tale.
15. Seville, Spain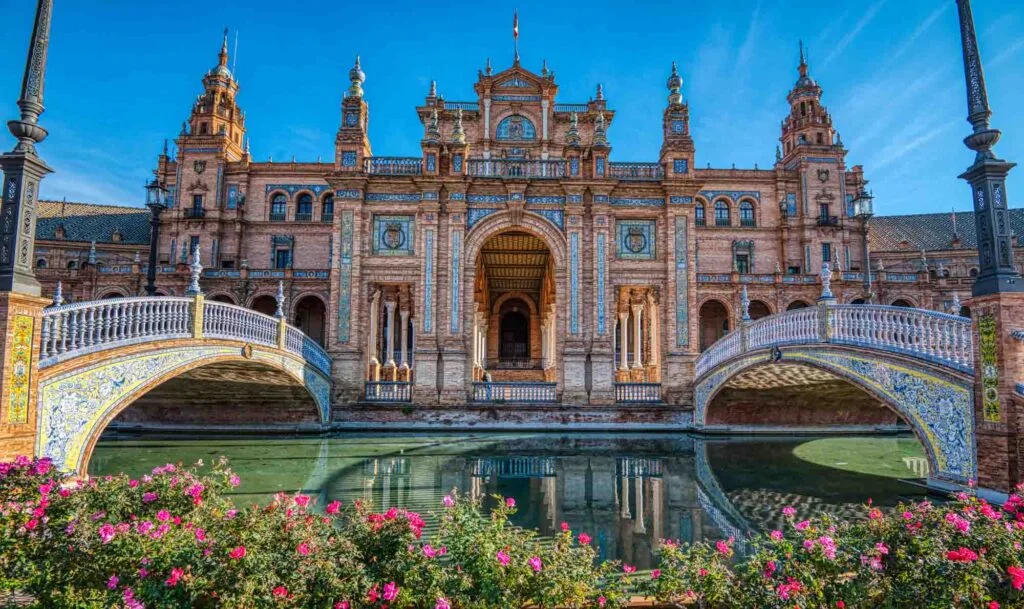 For Spanish romance, you can go right with Seville, which is easily one of the most romantic cities in Europe. Beautiful parks, views, and top dining experiences augment the historic city.
Seville is well-known for its fiery flamenco dancers, and you can enjoy a show and tapas at many restaurants in the city.
The neighborhood of Santa Cruz offers intimate squares found by wandering through narrow streets that are beautifully lit at night.
Rooftop bars offer fantastic sundowner options. Seville has a strong Moorish influence in its architecture, and this can be experienced in the Arab baths that can be found throughout the city. Enjoy a romantic spa day with your significant other—you won't regret it.
16. Galway, Ireland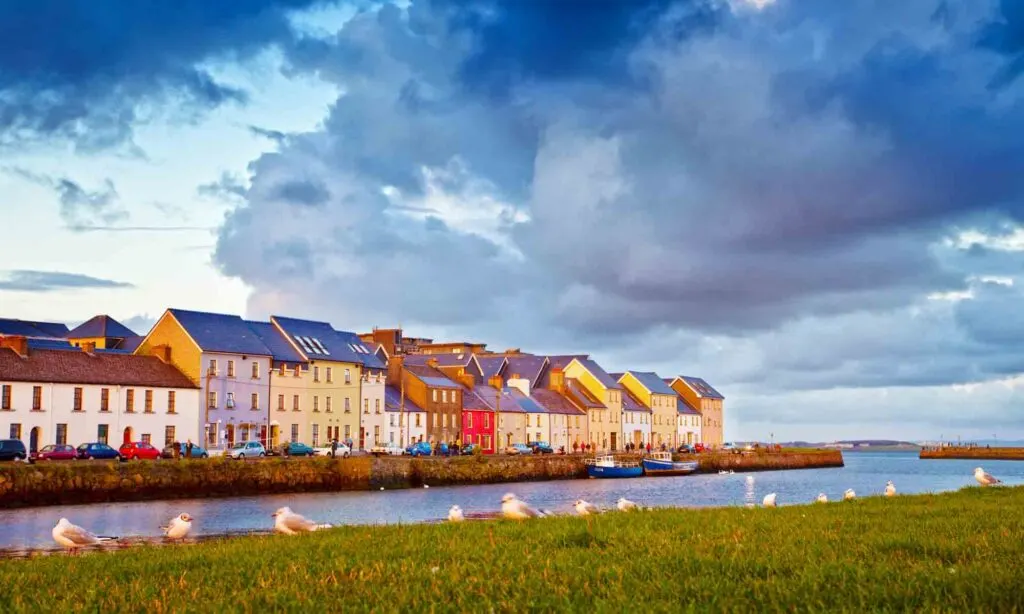 Galway is a gem of an Irish town that makes our list of one of the most romantic cities in Europe. Galway is a beautiful mix of modern Galway City and more quaint and historic areas.
Emerald green landscapes and crystal clear waters will entice you to enjoy walks outdoors, while rich art and culture can be found within the city.
Enjoy a proper Irish pub experience and visit the Spanish Arch while watching people kayak on the river.
Galway Cathedral offers breathtaking stained glass and mosaics, and for a good day out, visit the Latin Quarter and its charming shop fronts and cobbled streets. For the bibliophiles, you can enjoy romantic browsing around Charlie Byrnes's shop.
Nothing says romance quite like an oyster, and Galway is renowned for its Oyster Festival in September.
17. Aarhus, Denmark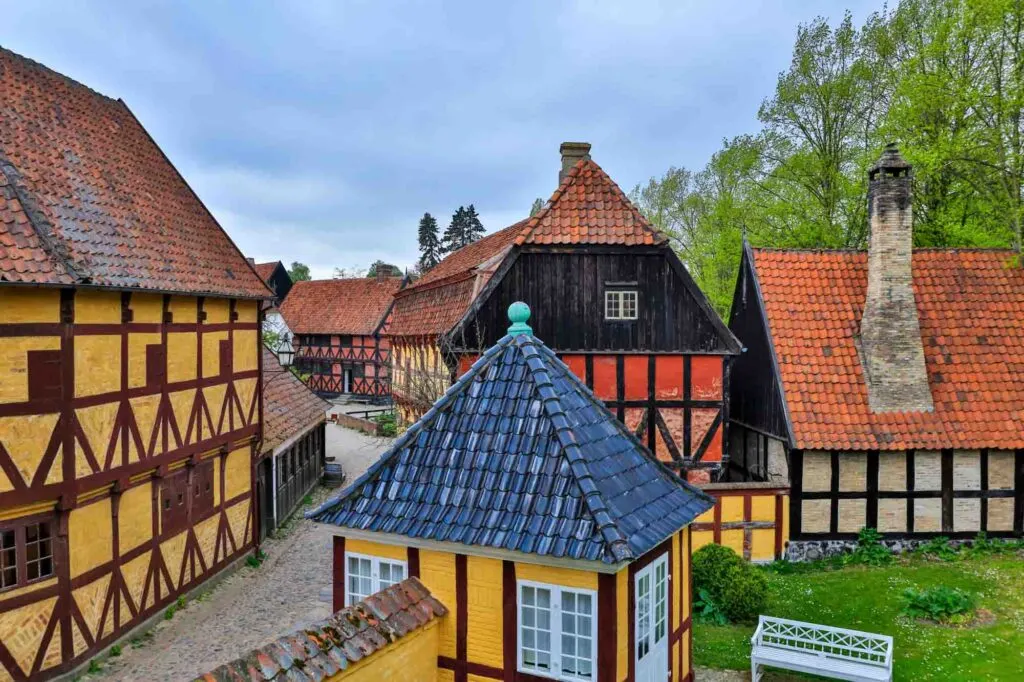 Denmark may not usually be at the top of the list regarding romantic destinations. However, Aarhus will change your mind.
This city is stylish yet quaint and oozes local culture and Danish flair. A seaside town with a bay, forests, a lake, a riverfront, and even a nearby beach, Aarhus has it all.
The city is also photogenic, and the Latin Quarter provides that romantic cobblestone ambiance; for activity and nightlife, the Vadestedet offers a lovely riverside promenade packed with restaurants, cafes, and bars.
Delicious Danish cuisine can be found at most restaurants, and we thoroughly recommend the salmon. The simple charm and beauty make Aarhus one of the most romantic cities in Europe.
18. Athens, Greece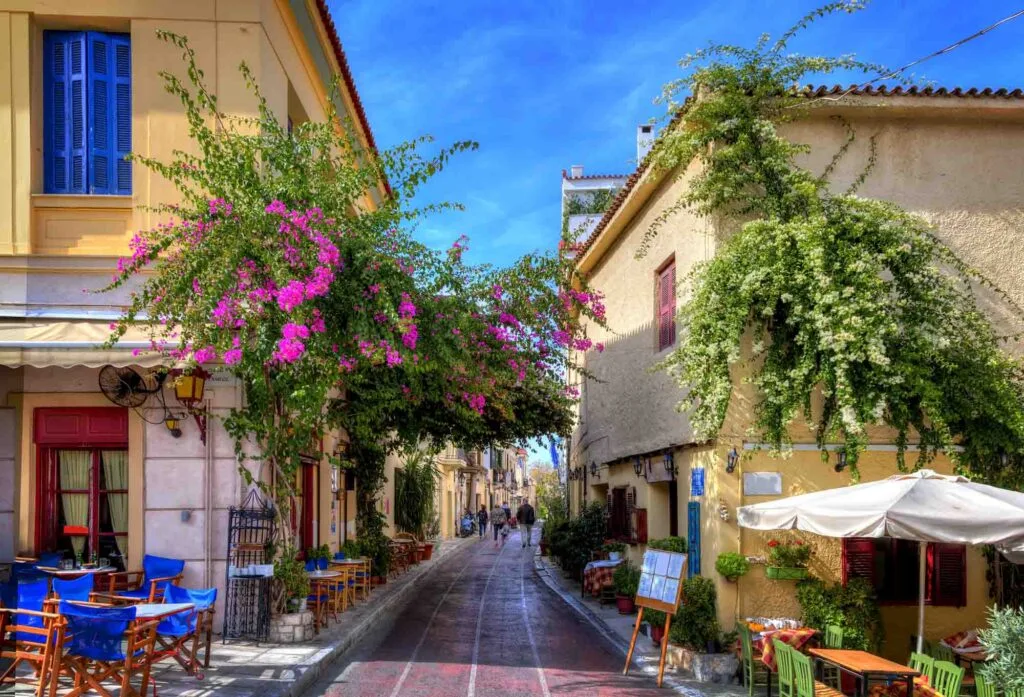 Although rich in history, Athens is one of the most historic romantic cities in Europe. The city has a bustling side, but the older parts are incredibly awe-inspiring.
Wander down the narrow streets of the Plaka, visit small shops, and enjoy the rooftop bars with magnificent views of the Parthenon.
The walk up to the Parthenon is fantastic, and you will be blown away by the sheer size and beauty of the ancient ruins; even the crowds can't dampen the experience.
A truly memorable experience is watching a performance in the Herodion, which lies at the foot of the Acropolis.
Visit the Athenian Riviera and swim in Lake Vouliagmeni, a little-known but extraordinary natural beauty.
And, of course, try the fantastic Greek cuisine, from simple salads to more intricate dishes; you can taste the freshness in the ingredients.
19. Zagreb, Croatia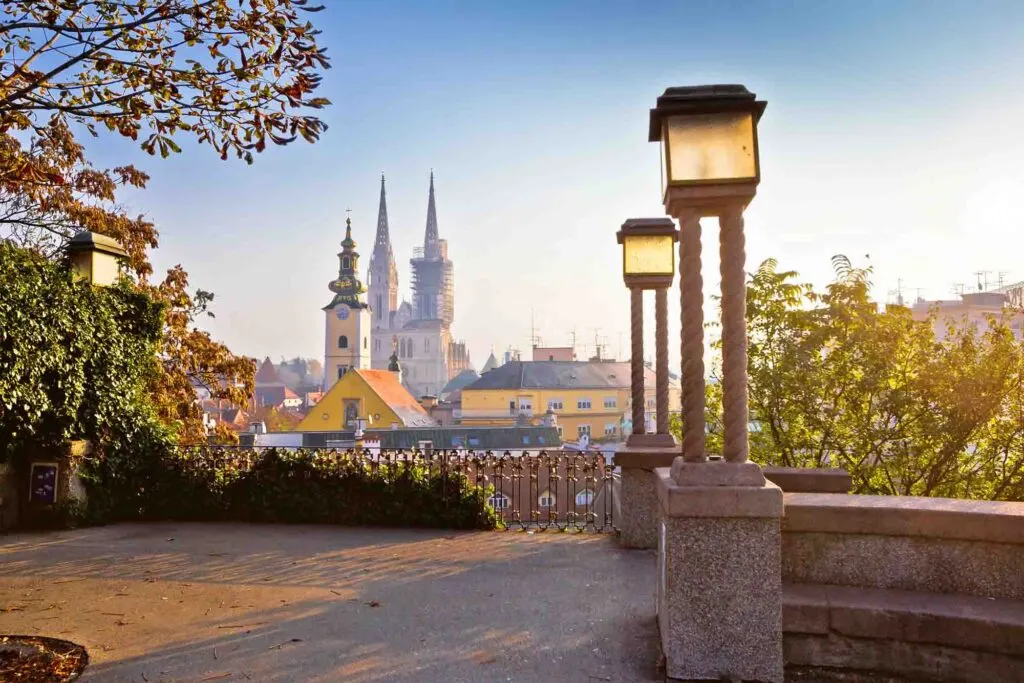 Zagreb is a true city of romance, and this city is easily one of the most romantic cities in Europe thanks to its mapped kissing spots – yes, there is a map of the best places to kiss in Zagreb.
The city has beautiful parks and fantastic historical areas offering lovely walking.
A funicular still runs through the town, and many cafes include terraces for that additional romantic feel.
A wonderful evening tradition is watching the historic gas lamps being lit by hand every night in the upper town.
Click here to check the romantic activities in the city
20. Hallstatt, Austria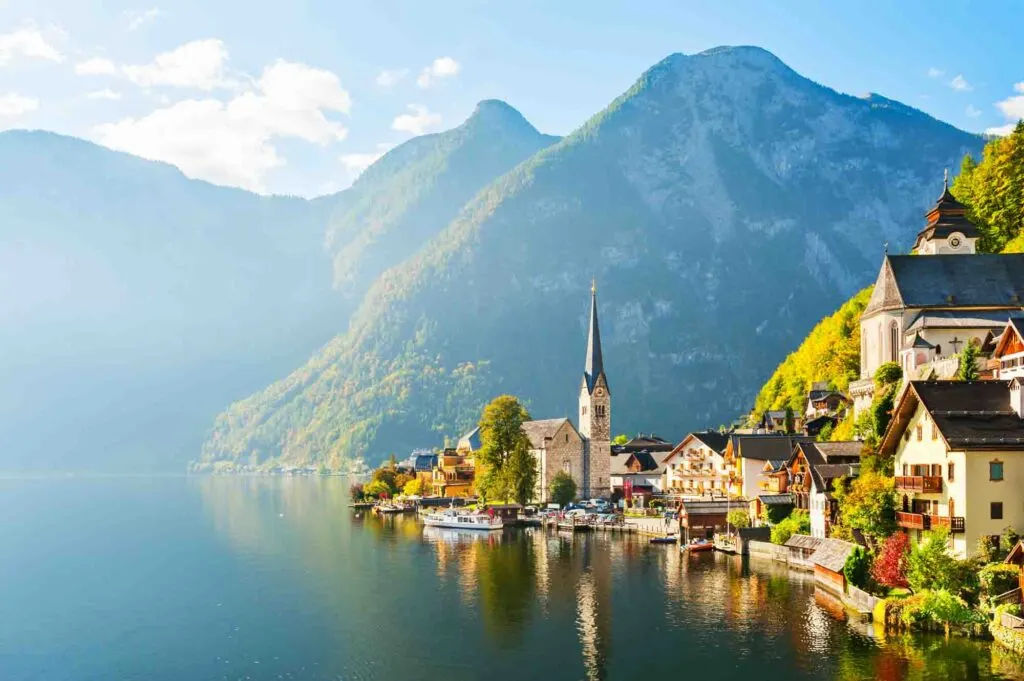 Hallstatt is a spectacular Austrian city that makes our list of Europe's most romantic cities thanks to its beauty.
Surrounded by towering mountains and opening out onto a lake, the town is the epitome of picturesque.
Beautiful old Austrian village buildings with flower pots huddle around the Hallstatt Market Square.
Restaurants, cafes, and souvenir shops line the square, but of all the cities of romance, Hallstatt offers the most magnificent views, which can be seen from the World Heritage Skywalk, which is found above the village.
Hallstatt may have fewer attractions than the other beautiful cities on this list, but it more than makes up for it with its natural splendor.
Click here to check the romantic activities in the city
21. Istanbul, Turkey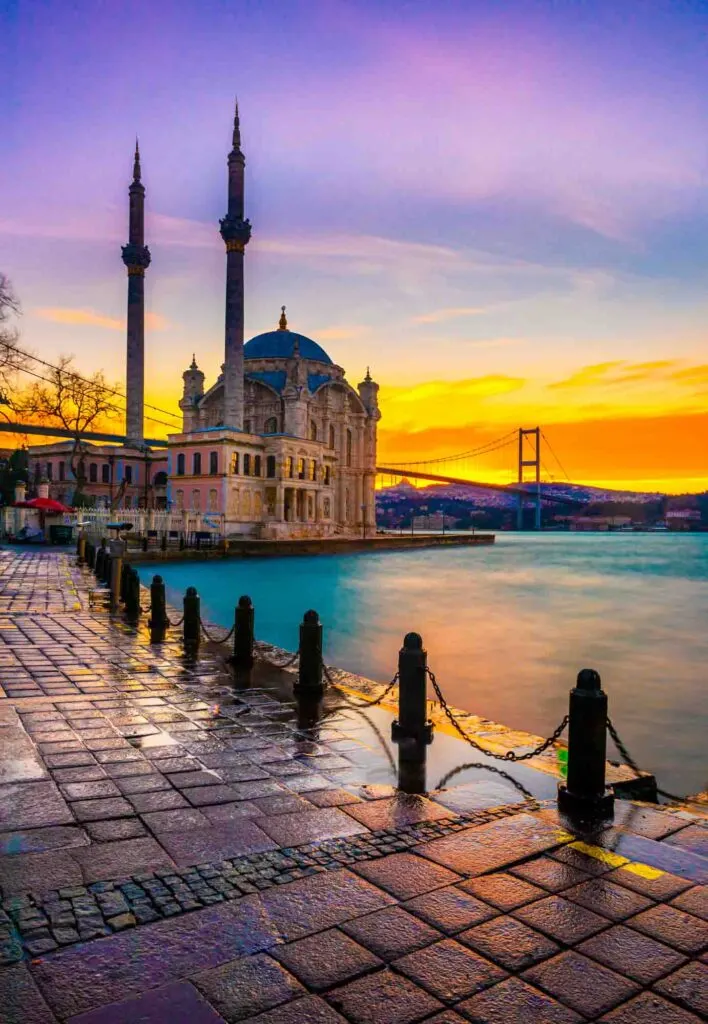 Istanbul is a city of much history and culture; it is a vibrant city that is one of the most romantic cities in Europe.
Couples can wander the markets and streets and be awed by the magnificent Hagia Sophia, which is as remarkable within as it is without.
Enjoy a Turkish spa day at one of the many Turkish baths and marvel at the underground Basilica Cistern.
Any romantic trip to Turkey, particularly Istanbul, means sitting down to keyif or Turkish tea. Istanbul is a lively city, and if you are looking for a bustling romantic getaway, then this city is for you.
What other are the most swoon-worthy cities in Europe, in your opinion? Or what would be your top 3? Let me know in the comments. I'm curious about your opinion!
Oh, don't forget to share this article!
Our best travel tips & resources:
Here're our all-time favorite travel tips & resources so that you can save money and plan your travel logistics hassle-free! For more travel resources, check out our
travel tips.
Saving money: Fly on offseason, winter (not Xmas or NYE), Tuesday, or Wednesday! According to experts, these are the cheapest days to fly.
Travel insurance: Before you leave for your trip, make sure you have a valid travel insurance policy because accidents happen on the road. We have been paying for Safety Wing travel insurance for a little over a year now, and we happily recommend them to our family and friends.
Accommodation: We usually stay in mid-range comfy hotels or private rooms in hostels. These are the sites we use to book accommodation: Booking.com for hotels (excellent flexible cancellation policy) and Hostelworld for hostels (low deposit and easy cancellation).
Tours:We absolutely love booking guided tours with locals to get a history lesson while sight-seeing, especially food tours and walking tours! We book all of our tours using Viator and GetYourGuide.
Transportation: We use Google Maps to figure out how to get around a place using public transport. When we book a rental car, we always use Discover Cars to find the best deal.