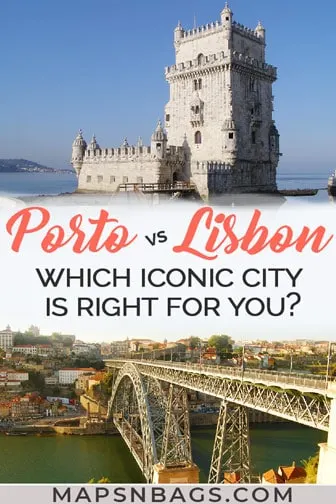 Porto vs Lisbon: Which city should you visit?
Portugal is an incredible country with great options for food, attractions, and ridiculously pretty landscapes.
However, we do understand that sometimes you just don't have enough time to visit both cities, which is why you're wondering "Porto vs Lisbon: which is the best place to visit in Portugal?"
Well, it's a fact that either Porto and Lisbon are excellent places to visit and spend a few days. We don't like when people say "this city is better than that one," but in what aspect is one better than the other?
Lisbon or Porto for your next trip?
In our opinion, some places aren't better than others is all aspects, it depends on what your needs are, what you value the most, who you're traveling with.
That's why we decided to analyze some characteristics of these cities to help you decide whether you should choose Lisbon over Porto, or Porto over Lisbon.
Lisbon vs Porto: Where should I go?
In today's post we'll talk about:
Porto vs Lisbon: Where to go?
Choose Porto over Lisbon to…
…experience a small-town vibe.
Although Porto is one of the biggest cities in Portugal, Porto is still half the size of Lisbon and has half of the population as well.
The city feels much more authentic and traditional than Lisbon too.
…escape hordes of tourists.
As mentioned above, Porto isn't on the list of places to visit in Portugal for lots of tourists who visit the country.
As a result, Porto is much less touristy and quieter than Lisbon. Probably not for long as people are traveling more and more to this quaint city.
…eat lots and lots of Portuguese food.
Well, you can also do that Lisbon of course, but it turns out the food in Porto is slightly better seasoned, and in our opinion, a tad tastier too.
Granted, food in Porto is delicious, but we also had truly mouthwatering dishes in small family restaurants in Lisbon.
…sip delicious Port wine.
Port wine, which for centuries is claimed to be the best wine, has this name for a very good reason – Douro Valley, a region where top-notch wine has been produced for centuries, is close to Porto.
In fact, it's effortless to go on a day trip to Douro Valley by boat or train, and we highly recommend you do so when in Porto. Moreover, this area is listed as a World Heritage Site by UNESCO.
…day trip to historic small cities.
Besides Douro Valley, other pleasant small cities and towns are great options to explore the Portuguese countryside a bit more:
Braga and Guimarães have both an extremely rich history worth learning about.
Aveiro is known as the Portuguese Venice.
Coimbra houses one of the world's oldest universities and lots of convents/monasteries.
…save some money.
Being a smaller city has its advantages too. Prices of accommodation, meals, and attractions are considerably lower in Porto in comparison with Lisbon.
In fact, overall prices in Porto are 12% cheaper than in Lisbon. So if you're on a budget trip, you might choose Porto to cut back some costs. But know that Portugal, in general, is the cheapest country in Western Europe.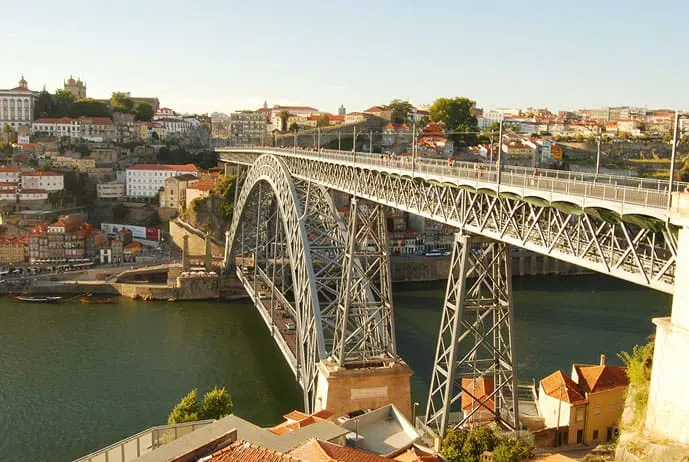 Where to stay in Porto
Baixa/Sé is a unique neighborhood above the Ribeira neighborhood by the riverside. This area is ideal to visit some monuments, such as the Lello bookshop and Mercado do Bolhão.
Perfect for friends, outgoing couples, and solo travelers, we suggest The Gate Hotel because of its ideal location (close to São Bento Station and other landmarks) and great breakfast. Lots of restaurants and bars nearby too.

Click here to book your stay at The Gate Hotel in Porto
On the other hand, for families, romantic getaways, and reserved travelers, we suggest the Casa do Conto & Tipografia in Cedofeita neighborhood.
This renovated 19th-century building is near many attractions, but still in a quiet neighborhood. Rooms are spacious and the ceilings have printed texts on them. Very interesting!

Click here to book your stay at Casa do Conto & Tipografia Hotel in Porto
Choose Lisbon over Porto to…
…walk between many sights.
Lisbon is home to lots of iconic attractions and landmarks, most of which visually represent Portugal, such as Belem Tower, Rua Augusta Arch, the Pantheon, the April 25th Bridge, and so on.
Not only that, but the city is lively and energy pulsates at all times, so prepare for this trendy and hipster European capital. We would even dare to say that Lisbon is Europe's hippest city.
…spot colorful tiles throughout the narrow streets.
Look, you'll find pretty colorful tiles everywhere in Portugal. That's true. But because Lisbon is more touristy and the 1755 earthquake destroyed most parts of the city, buildings and houses are in better condition.
Therefore, that also reflects in the overall aesthetic of Lisbon, of course. For us, Lisbon is prettier than Porto and the colorful (often blue) tiles and pastel-colored buildings certainly help with that feeling.
…have a shot of ginjinha.
Lisbon's most typical drink is ginjinha, a Portuguese liqueur made of infused sour berries in rum with sugar.
For those visiting Lisbon, having a shot of ginjinha is a must! This sweet beverage is very tasty and inexpensive.
To have a complete experience, stop by A Ginjinha Bar. A historic, tiny hole in the wall bar where a shot costs less than €2.
This little gem isn't somewhere for a big session. It's for a few minutes' calm in the day's bustle and in our humble opinion offers this rather nicely.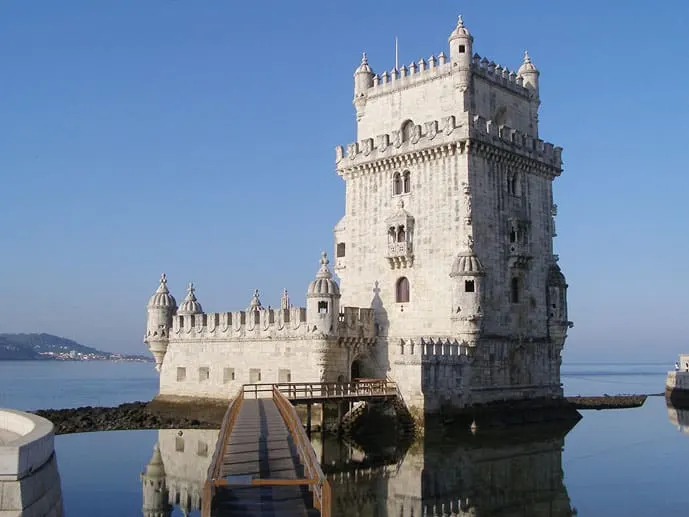 …day trip to pristine beaches.
Some of the best beaches we visited in Europe so far within 1 hour from Lisbon city center.
From Praia da Ursa in Sintra to Praia de Galapinhos em Setúbal, there are lots of excellent options for those looking for a city trip (Lisbon), but also a lazy day on a ridiculously pretty beach.
We wrote an article about the best Lisbon's beaches as well as some nearby with complete information on how to get there.
…tone your legs.
Yes, to tone your legs. No joke. Lisbon is nestled among seven hills and stairs here is serious business.
Some see this is an issue, but we see it as an opportunity to burn some calories of all the cheese we ate there.
Anyways, our best Lisbon travel tip is to pack comfortable walking shoes. You'll need them.
…easily find good accommodation.
Because Lisbon is bigger and more touristy than Porto, finding good accommodation is much easier there.
And thanks to the offer and demand of the market, good hotels and hostels don't necessarily need to be expensive.
Granted, Lisbon is generally more expensive than Porto, but it also means it has a better infrastructure to receive tourists.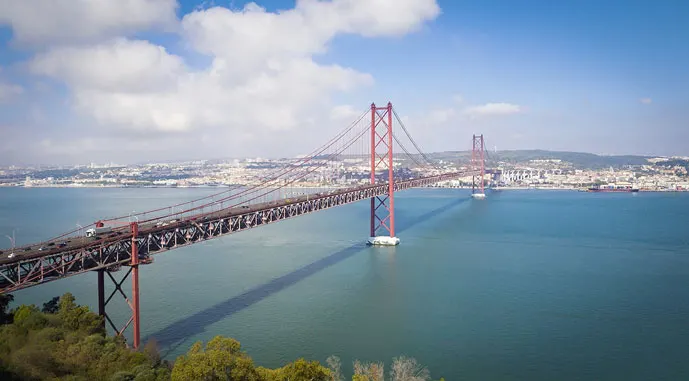 Where to stay in Lisbon
Chiado is an excellent neighborhood in Lisbon close to many attractions and most restaurants we visited.
Perfect for all kinds of travelers, the Solar dos Poetas offers high comfortable rooms, great location (near Bairro Alto, 15-minute walk from Praça do Comércio, etc), and delicious breakfast.
Besides the excellent restaurants and bars in the area, of course. However, this is not the quietest neighborhood.

Click here to check the latest prices and book your stay at Solar dos Poetas Hotel in Lisbon
On the other hand, for those looking for a quieter area and a cheaper hotel, the easyHotel is a great option.
Rooms were recently renovated and the hotel is pretty close to a metro station connecting to the city center. Because it's cheaper, the rooms are also smaller, but still clean and beautifully designed.

Click here to book your stay at easyHotel in Lisbon
Still having trouble deciding between Porto vs Lisbon?
If you're still having trouble deciding your Porto vs Lisbon debate, consider the kind of trip you're looking for.
For couples: Lisbon and Porto
Okay, we know we aren't really helping you here, but let us explain first. If you're the kind of couple looking for a romantic getaway and struggling to decide between Porto vs Lisbon, the answer is Porto.
However, if you're a more outgoing kind of couple, who are more interested in partying together, choose Lisbon.
For families: Porto
Both Lisbon and Porto can be very kid-friendly destinations. They aren't the museum/gallery heavy kind of cities, and both have lots of outdoor attractions.
However, Lisbon is nestled in seven hills, and if you have a small child, it might be challenging to go up and downhill all the time.
Also, the waiting time at some attractions isn't ideal when you have kids, especially when it's sunny.
Hence why we recommend families struggling between Porto vs Lisbon choose the first city.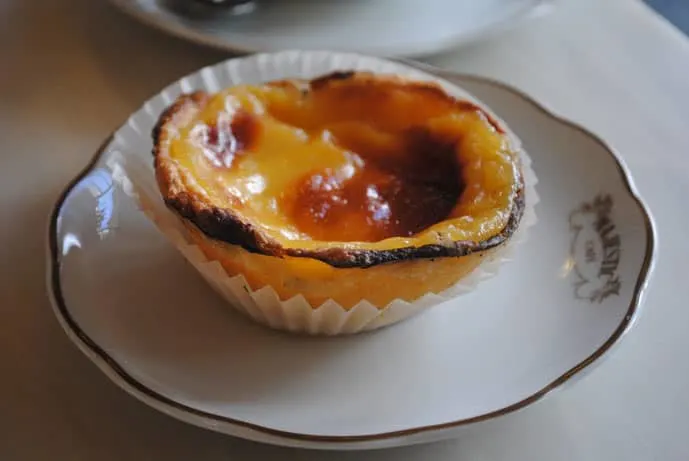 For solo travelers: Lisbon and Porto
Again – don't think we aren't really helping you. Just like for couples, which city you, solo traveler, should choose on your Porto vs Lisbon debate will depend on your travel style.
Lisbon is better for outgoing people who want to enjoy the local nightlife and experience a lively city.
On the other hand, Porto is ideal for reserved travelers who rather have a day exploring historical sites and drinking and eating well.
For best friends: Lisbon
Groups of friends or girls getaways, Lisbon is the place you want to go to. Sunbath on amazing nearby beaches. Hit up the nightlife in Bairro Alto or Cais do Sodré.
There're so many things to do in Lisbon in groups, you can't possibly go wrong by booking the trip.
Our verdict: Porto vs Lisbon
It's a tough choice, but we would choose Lisbon to either live and travel around.
Maybe because Bruna grew up in a big city, and Frank loves bigger cities, but for us, Lisbon has more to offer together with an incredibly friendly atmosphere.
Porto is certainly a place that's worth visiting too, but if we really have to choose, this is our answer.
What about you? Based on this information, would you choose Porto or Lisbon for your next trip to Portugal? Tell us in the comments below. We'd love to hear from you!
Honestly, if you can, choose both!
Did you like this article about Porto vs Lisbon? Then pin it to your Pinterest board!

Our best travel tips & resources:
Here're our all-time favorite travel tips & resources so that you can save money and plan your travel logistics hassle-free! For more travel resources, check out our
travel tips.
Saving money: Fly on offseason, winter (not Xmas or NYE), Tuesday, or Wednesday! According to experts, these are the cheapest days to fly.
Travel insurance: Before you leave for your trip, make sure you have a valid travel insurance policy because accidents happen on the road. We have been paying for Safety Wing travel insurance for a little over a year now, and we happily recommend them to our family and friends.
Accommodation: We usually stay in mid-range comfy hotels or private rooms in hostels. These are the sites we use to book accommodation: Booking.com for hotels (excellent flexible cancellation policy) and Hostelworld for hostels (low deposit and easy cancellation).
Tours:We absolutely love booking guided tours with locals to get a history lesson while sight-seeing, especially food tours and walking tours! We book all of our tours using Viator and GetYourGuide.
Transportation: We use Google Maps to figure out how to get around a place using public transport. When we book a rental car, we always use Discover Cars to find the best deal.