Orange roofs, colorful tiles, and (most likely) a sunny day, Lisbon is a hipster city that will steal your heart.
We spend 3 days in Lisbon last summer (for my birthday and our wedding!), and it felt like we needed a whole month to enjoy this city full of stairs completely.
Yes, that's right. Lisbon is a city that is settled on seven hills, so stairs and uphill strolls are a reality here.
Seven hills, seven points of view of the same city, and thousands of stories along the way.
Lisbon got to my heart right when I arrived. Maybe because of its colors, maybe because of its language.
If you low-key stalk us, you know I was born and raised in Brazil, which is a former Portuguese colony. Carnival, soccer, yaaay!
Or maybe because of its history, which crosses with Brazil's history in so many paths.
Anyway, even if you don't have this bond with the local culture, I'm sure the artistry feeling of Lisbon will enchant you. But to help you with that, I've written the most complete travel guide you will find online.
Seriously. My fingers are hurting and so is my brain.
Jokes apart, here you will find a 3-day itinerary with the best things to do in Lisbon, as well as recommendations of the best tours to take, where to eat and stay, practical Lisbon travel tips about public transport, currency, WiFi, weather, things to watch out, day trips, and a map with all locations I will mention below. You're welcome.
Wondering what to see in Lisbon? Here's all you need!
In today's post we'll talk about:
How many days in Lisbon?
My friends often ask me "What to do in Lisbon?", "Are 2 days in Lisbon enough? What about 3?".
The short answer is no. The city is gorgeous, and there are a bunch of things to do there, but I know we all have limited vacation days, so that's why I've created this guide with the main attractions for three days in Lisbon.
It will give you a good idea of the main sights, and if you're spending only two days, just tweak it a bit with the things that interest you the most.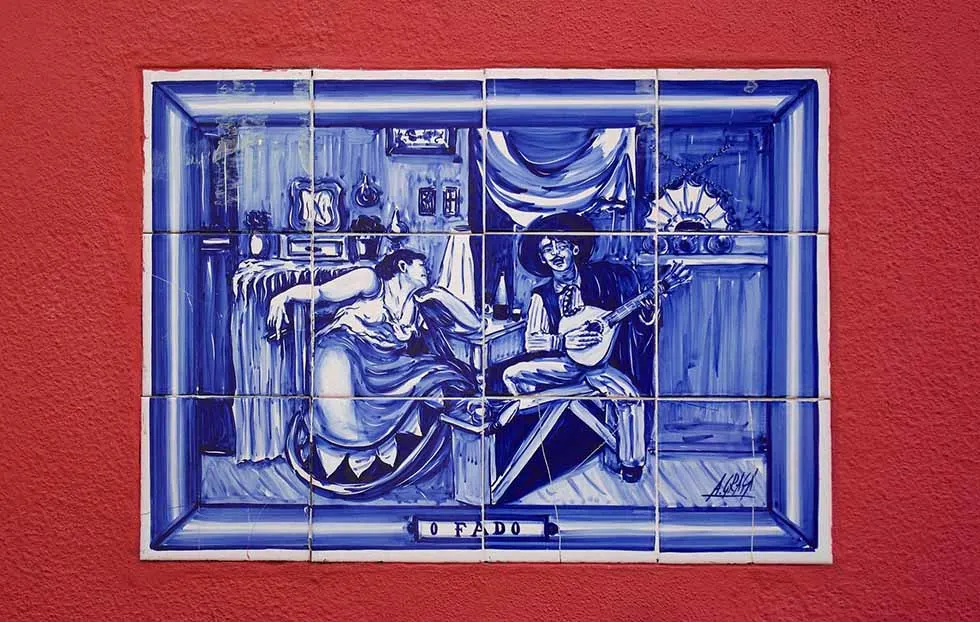 Lisbon Travel Tips
Wear comfortable walking shoes or sandals;
If you're changing something in this itinerary, note that Lisbon has stairs and hills everywhere. So, kick-off your days at the top of a hill and walk down as you visit the places you want. This is one of the best Lisbon travel tips I have;
Have a bottle of water with you at all moments, especially in the summer because the air is quite dry;
Wear sunscreen and a cap or hat;
Consider purchasing a travel card to spare some energy (you also get free access to many attractions);
Don't forget the most essential item: your travel insurance. Imagine hurting your ankle in those stairs...
Summary 3 days in Lisbon Itinerary
Day 1: Sao Jorge Castle, Portas do Sol Observation Deck, Saint Vicent Church, National Pantheon, Lisbon Cathedral, Comercio Square and Rua Augusta, Rossio Square.
Day 2: Sao Pedro de Alcantara Observation Deck, Sao Roque Church, Carmo Convent, Our Lady of Incarnation Church, Chiado Caffe, Ascensor da Bica, Pink Street, Cristo Rei Statue, Estrela da Bica.
Day 3: Pasteis de Belem, Jeronimos Monastery, Monument to the Discoveries, Belem Tower, LX Factory.
Where to stay in Lisbon
When it comes to where to stay in Lisbon, you want to be sure you won't have to walk uphill after a tiring day wandering through the city. So rest assured: the hotels I'll mention are in a good location.
If you're a bit short on money, easyHotel is the best option for you. First, because the rooms are equipped with essential amenities, such as air conditioning/heating, towels, hairdryer, and ensuite bathroom. easyHotel is a new hotel chain in Lisbon, meaning the rooms are brand new and clean.
But they are also simple, don't expect to find luxe here. The downside is that you have to pay for WiFi and TV, and there is no wardrobe to keep your clothes. Only a hanger for some jackets or so.
Location-wise, this hotel is just outside the city center, which is good because Portuguese people (and tourists too, of course) can be loud while partying.
And despite the many bars and shops in the area, you won't be bothered by it because the rooms are soundproofed.
There is a metro station (Marques de Pombal station) just 0.3 miles/ 500 m away from the hotel, and in 4 stations you're in the city center. Easy peasy.
In a nutshell: This hotel is perfect for those spending 3 days in Lisbon and who don't want to spend much time (and money) in the hotel itself. For tourists who just want a comfortable place to shower, sleep, and rest.
Click here to read more reviews and check the latest prices.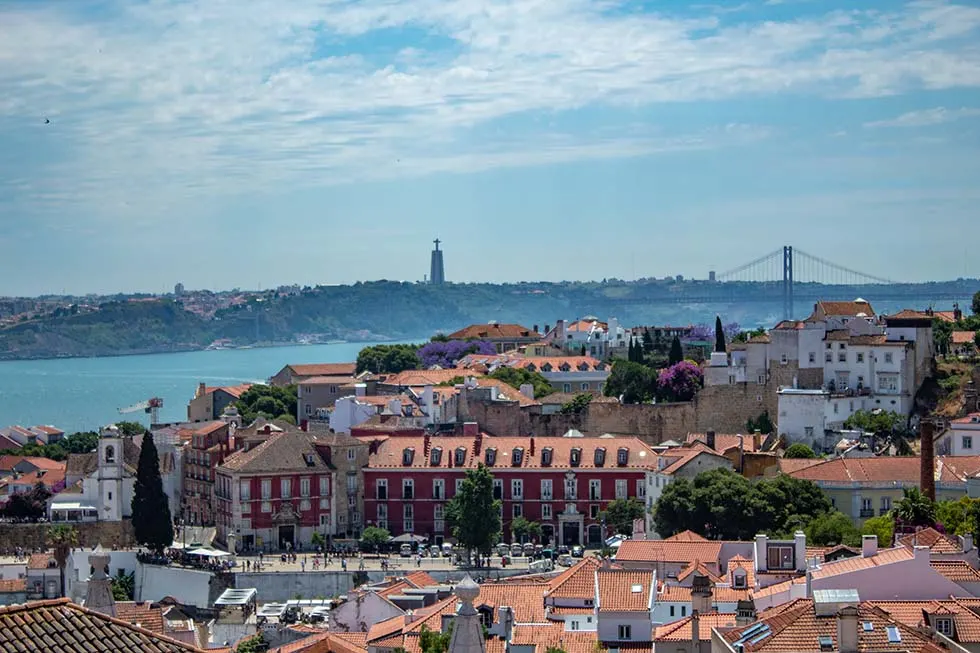 If you're willing to pay a little more to have more amenities, the HF Fenix Lisboa is an excellent option.
The rooms here are modern, comfortable, and quite spacious too. Expect to find the basic amenities, such as hairdryer, towels, air conditioning, but also a coffee maker, safety deposit box, and a minibar.
Unlikely the last hotel, here you have flat-screen with cable channels, free WiFi, and a wardrobe/closet. Oh, and breakfast is included!
This hotel is in front of the metro station Marques de Pombal I just mentioned above, so it's effortless to reach downtown. But in case you want to have dinner in this area, there are plenty of options too.
In a nutshell: This hotel is ideal for those who don't want to rush and value more comfort, space, and organization.
Click here to read more reviews and check the latest prices.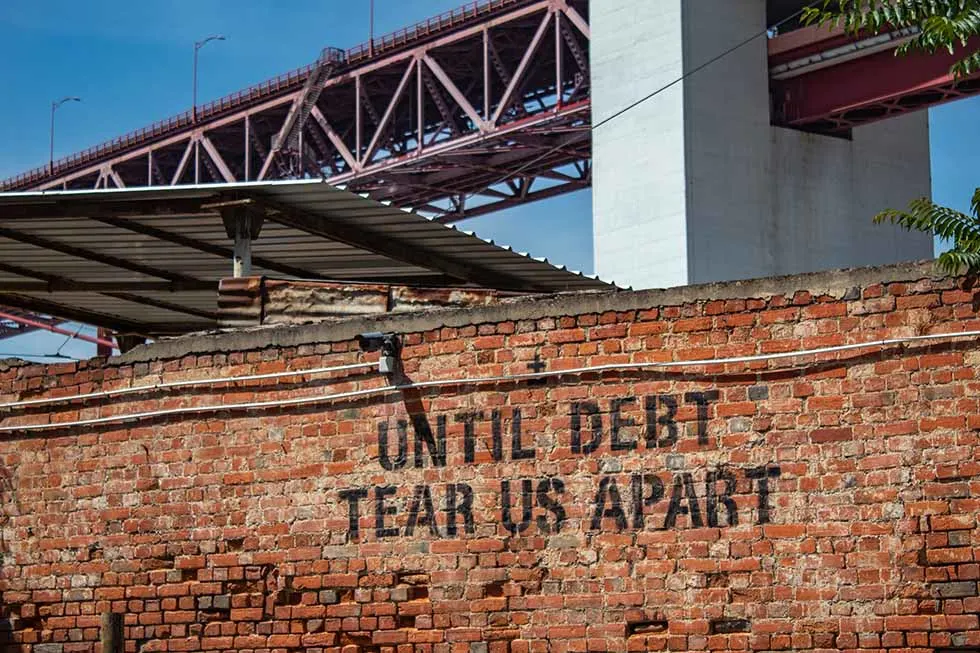 3 Days in Lisbon Itinerary: Day 1
Alfama neighborhood
I'll start this itinerary by the highest area of this hill. This way you have lots of energy to do it and the remaining areas will be a piece of cake for the other days.
So, let's start this 3 days in Lisbon guide in the Alfama District, the oldest one in the city.
Pay the São Jorge Castle a visit
I must admit the castle itself isn't as spectacular as the Neuschwanstein. It does have a medieval charm, but the view you get from there…phew!
It's a panoramic view of the orange rooftops of Lisbon. And not only that, but you can also see the lonely red Lady (aka 25th Abril Bridge) connecting the Portuguese Christ King statue to the heart of the country.
You have to feel the wind on your face and see it all by yourself to understand the awe.
After the first square, where the lookout is, you will find the permanent exhibition telling how the Arabs dominated the city and its influence on their culture and architecture, such as the famous tiles of Lisbon. The whole exposition has around 5 rooms.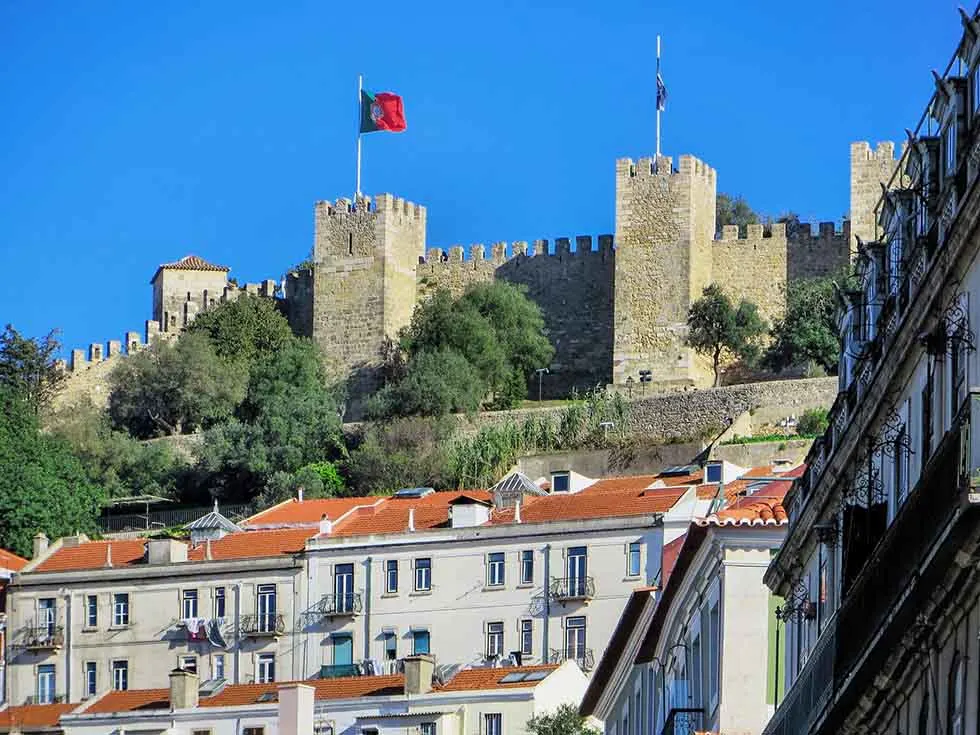 When you finish your self-guided tour, turn right and look for stairs to reach the top of this construction. Upstairs, I spotted some majestic and colorful peacocks on the tree's branches. Remember not to come too close and respect their space.
Anyway, head to the other side of the gardens to reach the castle. Go up in the walls and have a 360° view of the city including the Tagus River flowing to the Atlantic Ocean.
Note: there are plenty of loose cobblestones here and there, so watch out for them.
Wear comfortable walking shoes while discovering Lisbon, this is essential.
Admission: 10 euros for adults. 5 euros under 25yo.
Opening hours: November to February from 9 am-6 pm. March to October from 9 am-9 pm.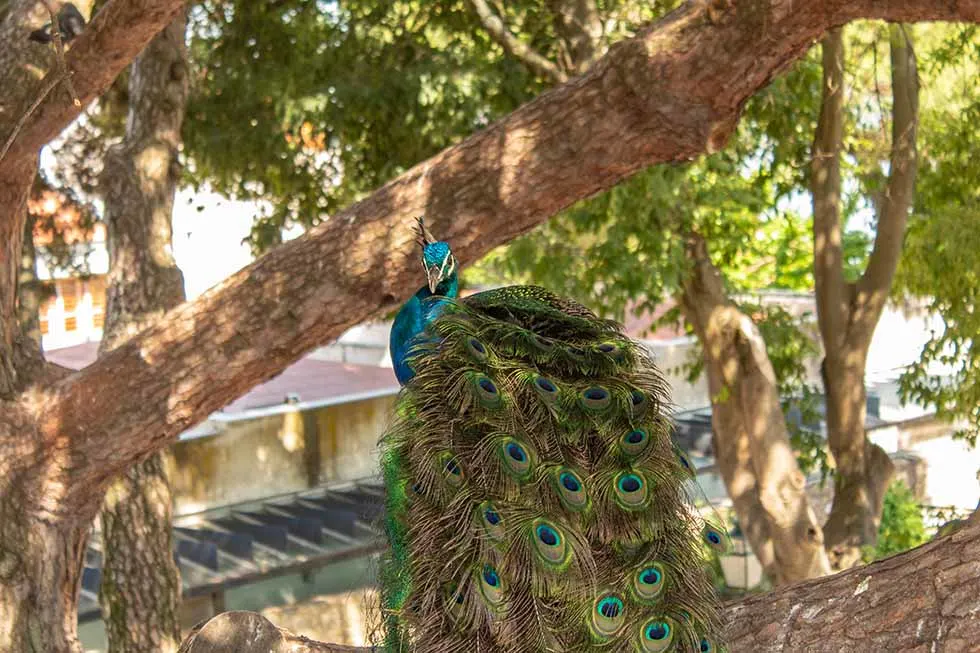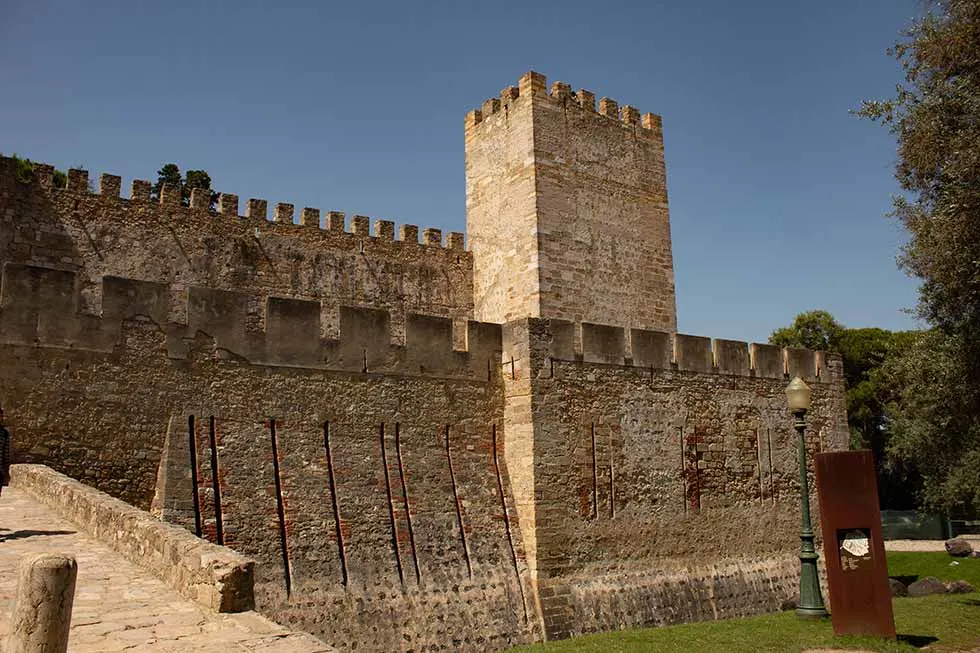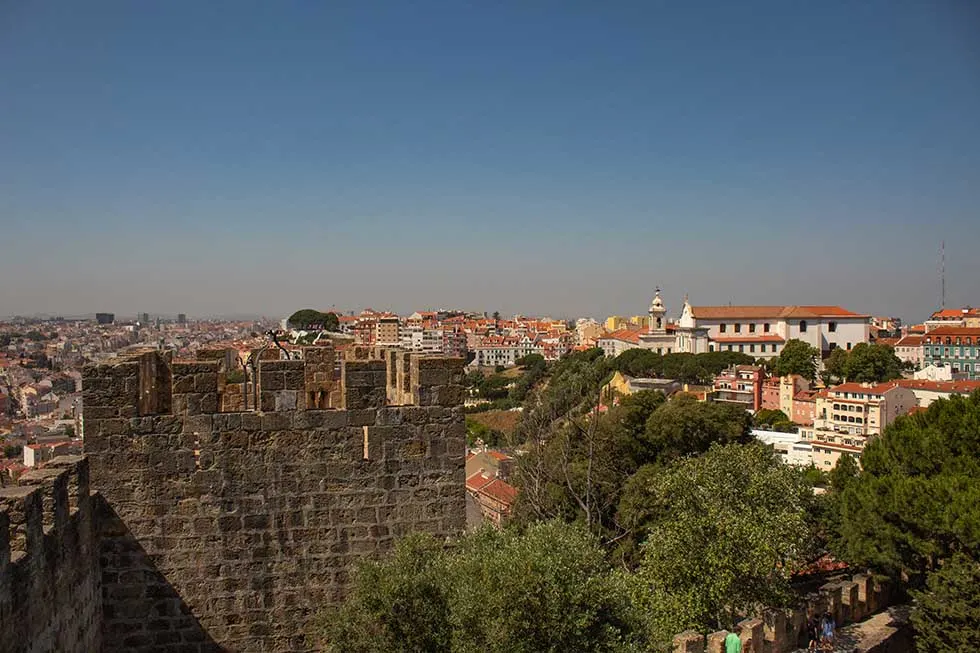 Portas do Sol Observation Deck
Walk down to the Portas do Sol observation deck. This area is totally free, and you get to see one of the most beautiful views of the orange rooftops and colorful houses. When you look over the apartments, you will spot the Sao Vicente de Fora Church and the National Pantheon. It's a breathtaking scene.
We had a coffee at the kiosk near the statue Sao Vicente Statue, and we were pleased with that view. Maybe a good idea to try it yourself?
Anyway, don't forget to walk down the stairs right next to the observation deck to photograph the Arch of Norberto de Araujo. It's a photo hotspot for sure!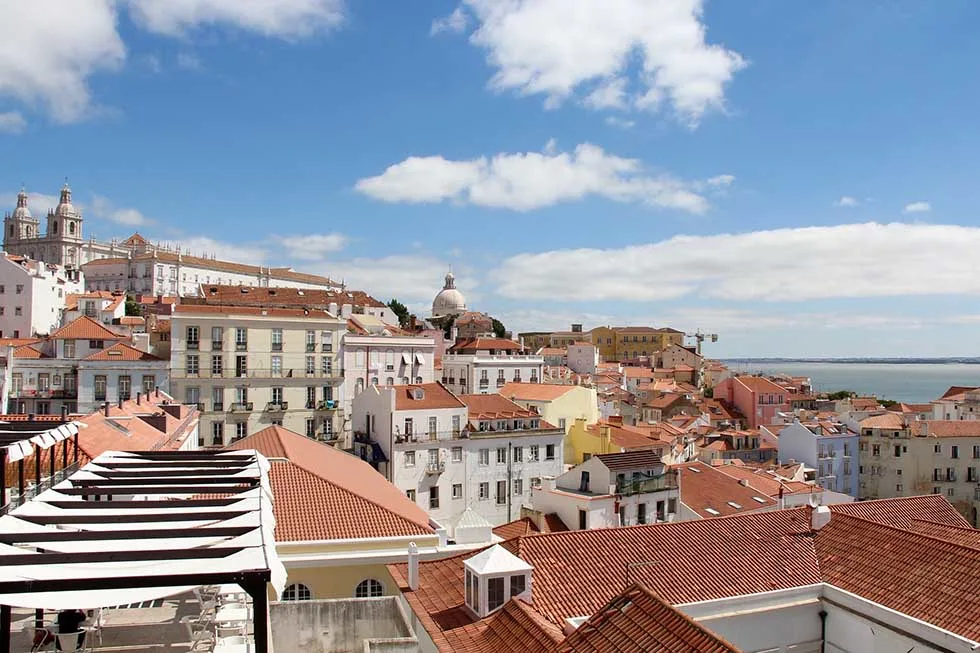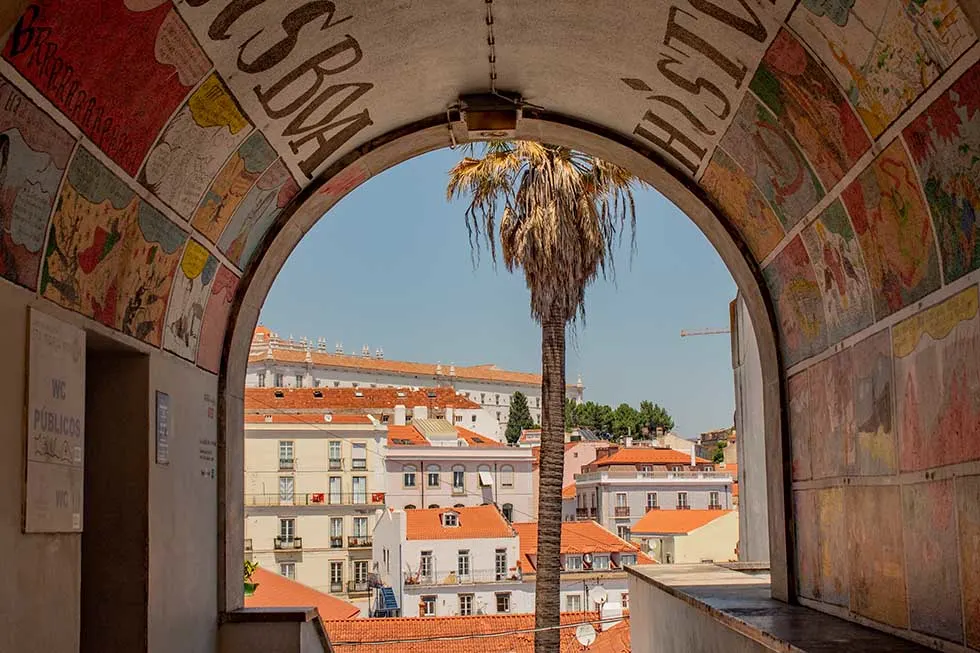 Visit the Saint Vincent Church
An imposing construction and definitely worth the walk. The entrance to the church is free of charge, so go inside and explore its details a bit. It's quite a vast and impressive construction.
Now go outside and when facing the church walk through the gate on your right side to visit the monastery. Under a small fee, you can visit the local museum and learn a lot about the city's history.
One of the permanent exhibitions is the Gallery of Fables, which are the fables of La Fontaine shown on the typical Portuguese tiles. Very interesting!
Also in the monastery are the Pantheon of the Braganca Dynasty and much simpler one of the Patriarchs of Lisbon (local cardinals).
After you have seen all the expositions, go to the rooftop where you can have another fantastic view of the city and the National Pantheon.
The 17th-century monastery of Sao Vicente de Fora is today a national monument.
Admission: 5 euros. Students with ID pay 2.50.
Opening hours: Tuesday-Sunday from 10 am-5 pm.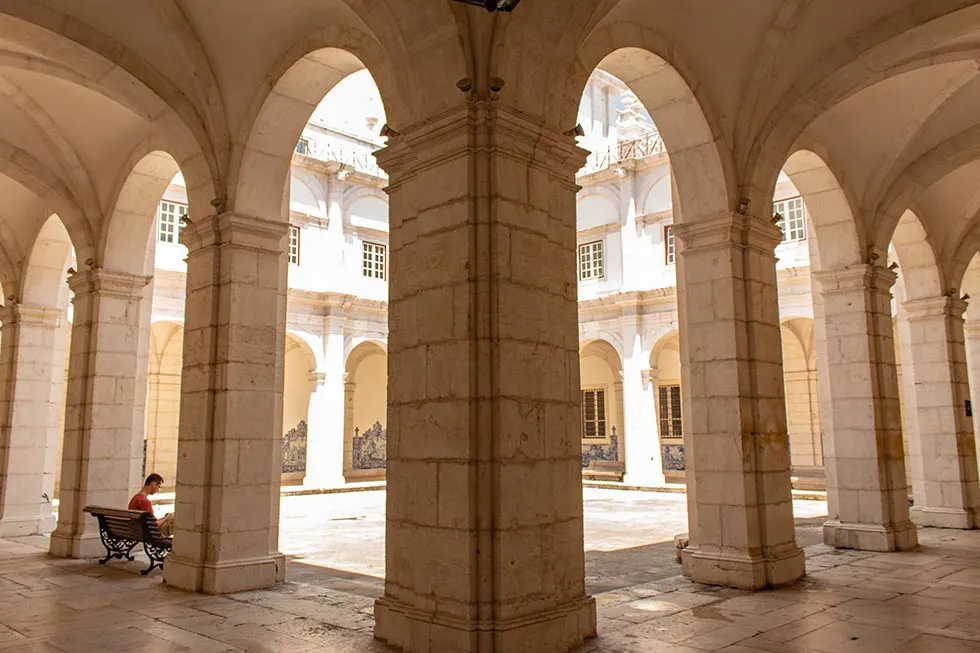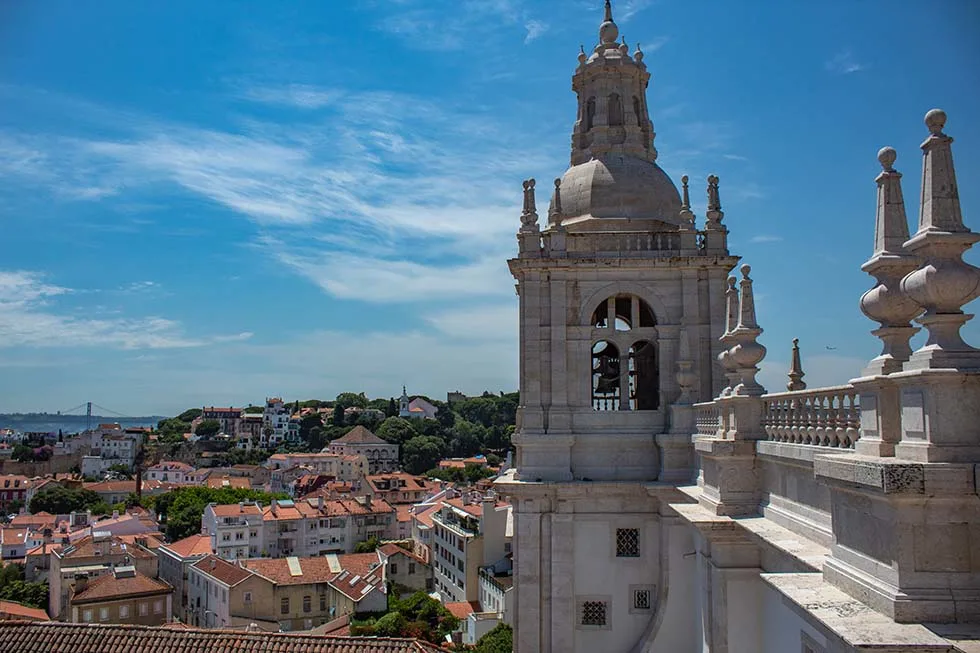 National Pantheon
Originally a 17th-century church, this building was converted into a pantheon in the 20th-century.
Many presidents are entombed here, and many cenotaphs are erected for important Portuguese names, such as Vasco da Gama (Portuguese explorer who first reached India by sea), Luís de Camões (poet), and Pedro Álvares Cabral (commander who first arrived in Brazil).
The leaflets available contain a lot of information in English to guide you there.
Admission: 4 euros.
Opening hours: April to September from 10 am-6 pm. October to March from 10 am-5 pm.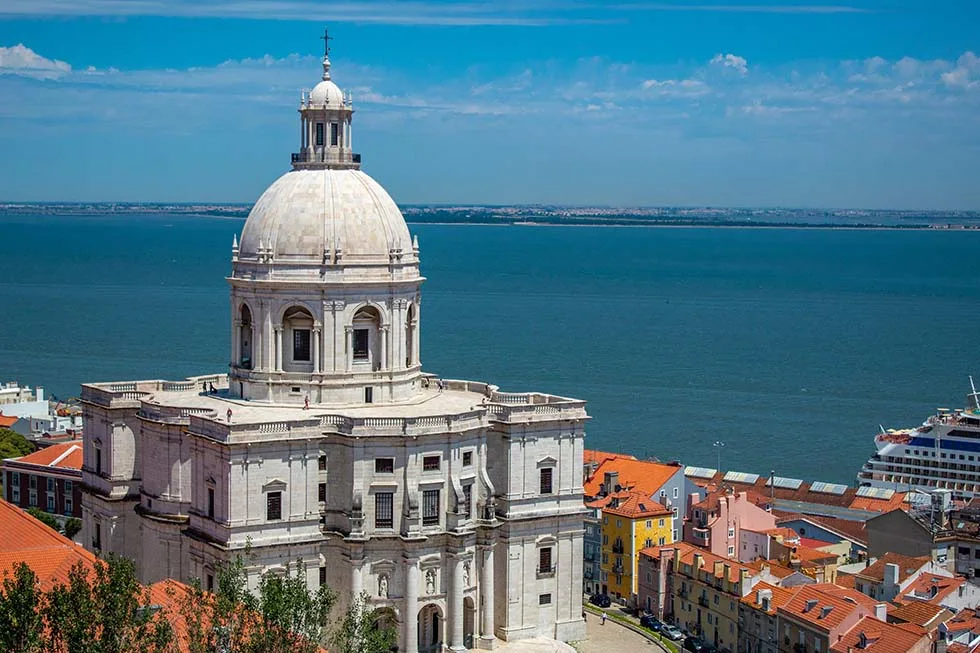 Lisbon Cathedral – Se
Another national monument, the 12th-century Lisbon Cathedral has a barely illuminated, mysterious interior.
Because of the church's age, the building had to be restored a few times, and in each one of those restorations, one architectural style was used (Gothic, Baroque, etc.). The facade is from the original church though.
Admission: Entrance is free of charge.
Opening hours: Every day from 9 am-7 pm.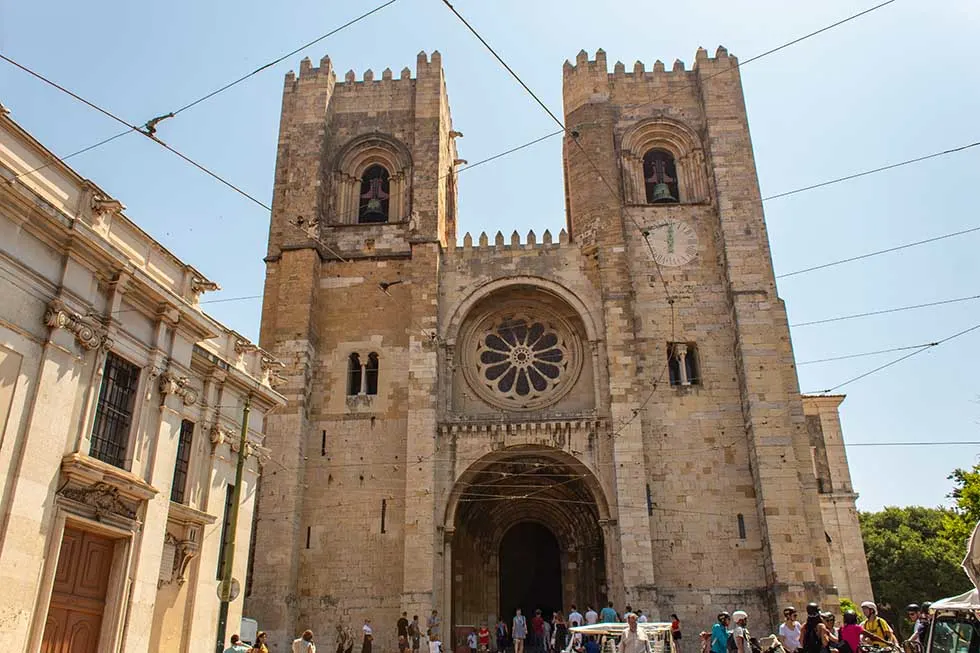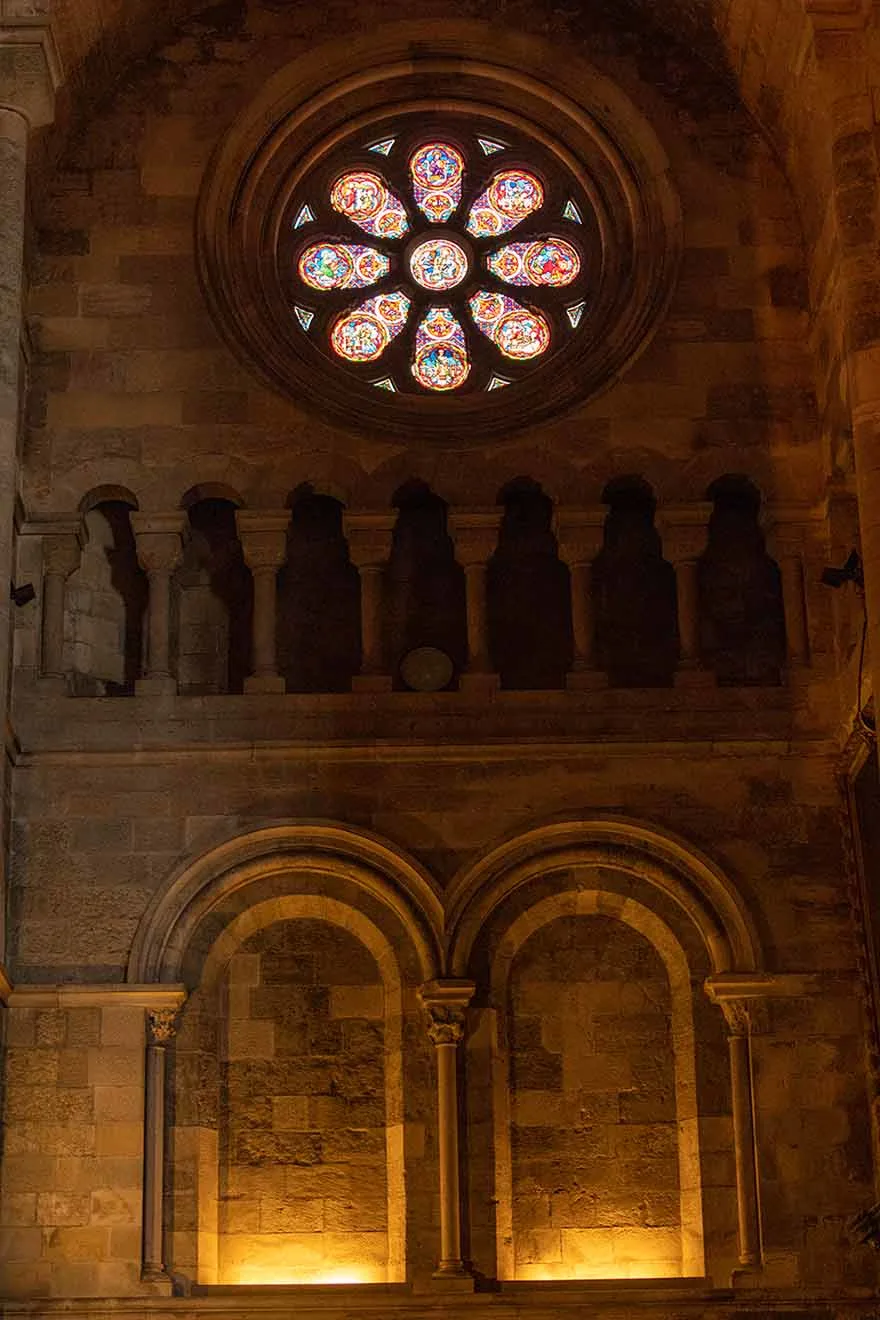 Baixa neighborhood
Baixa is the heart of Lisbon. Here you'll mostly find touristic attractions, such as busy restaurants (costly with questionable quality, imo), boutiques, and boulevards.
The 1755 earthquake nearly vanished the Baixa neighborhood, followed by a tsunami.
Comercio Square and Rua Augusta Arch
Generally speaking, locals and tourists hang out at Comercio Square during the day and evening.
A square filled with cafes and restaurants on the Tagus River's edge. Indeed the area is lively, and the sea's breeze feels revigorating, especially if it's swelling outside. We went there on my birthday = summer, but I'm not complaining.
Anyway, the Rua Augusta Arch is a 19th-century construction on the Comercio Square, and it commemorates the city's reconstruction after the 1755 earthquake, fire, and tsunami.
Lisbon was almost wholly destroyed after this natural disaster, so they decided to celebrate the city's rebirth.
It is possible to go upstairs and have a 360 degrees view of the area.
Admission: 2,50 euros.
Opening hours: May to August from 9 am-9 pm. September to October from 9 am-8 pm. November to April from 9 am-7 pm.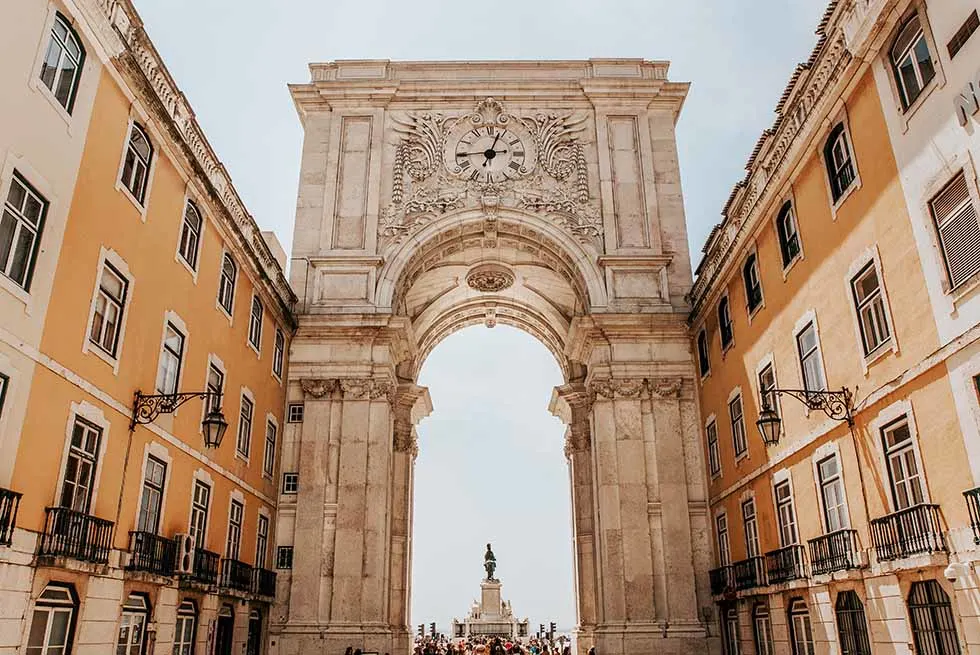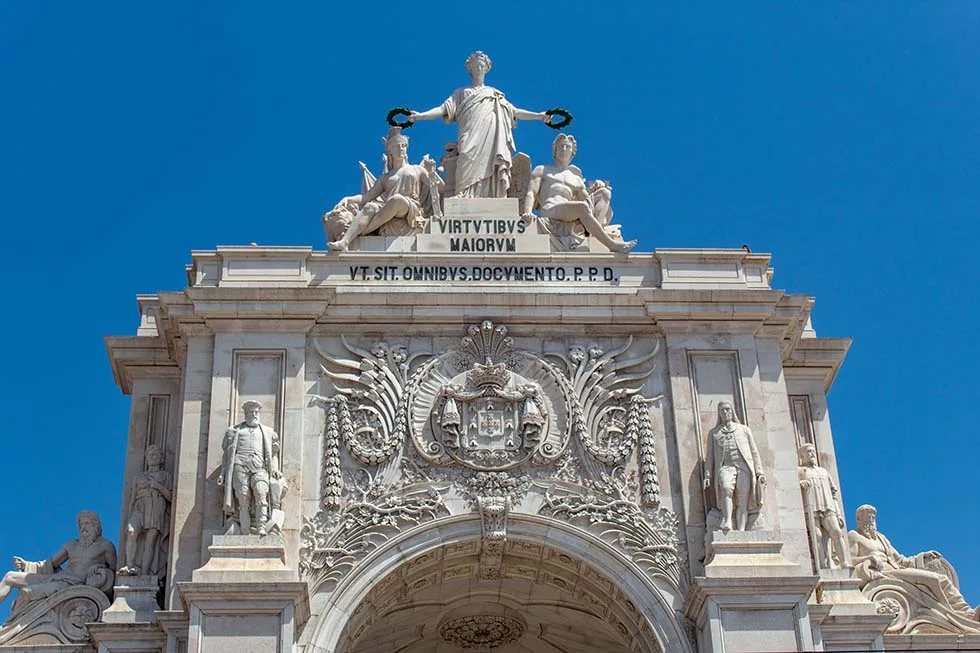 The area behind the arch is jam-packed with shops and restaurants on both sides of the main boulevard, and tourists all over it, of course.
In my opinion, this area is too touristy, so if you're looking for an authentic place to eat, one that feels more like Lisbon and not like a tourist attraction, walk a few streets away from it.
Santa Justa Lift
On the way to Rossio Square, you will find Santa Justa Lift connecting the Baixa neighborhood to the Carmo Square. Honestly, I don't think the fee and wait are worth it.
Unless you have physical impairments, just walk uphill. But not today. In tomorrow's itinerary, you will explore more the area above as well as the view.
Fun fact: Raoul Mesnier du Ponsard was an admirer of Gustav Eiffel, the architect of the Eiffel Tower. The tower and lift similarities are not coincidental.
Admission: 5.15 return ticket. 1.45 with the travel card Viva Viagem. Or free usage with the Lisbon Card I mentioned above.
Opening hours: Every day from 7.30am-11pm (winter time 7.30am-9pm).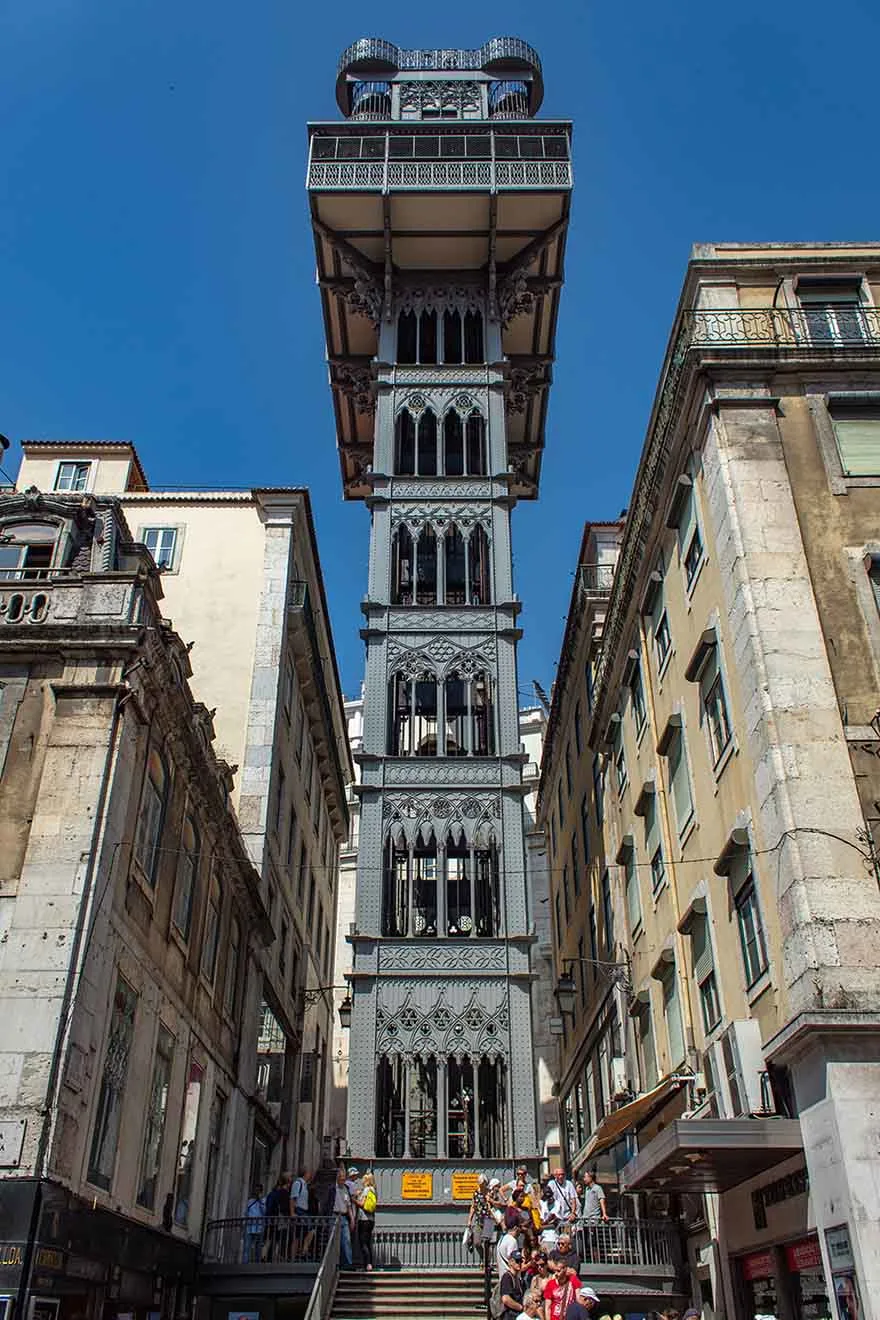 Rossio Square
One of Lisbon's main squares since the Middle Ages, Rossio Square is a lively place to hang out and enjoy some drinks. Or food!
So, are you hungry yet? This area is packed with excellent restaurants. If the weather allows, which it will most certainly do, sit outside and do some people watching.
Pro tip: Have a shot (Or a few. Who knows, right?) of the traditional Portuguese liqueur at A Ginjinha, a historic bar. There's often a queue, but it walks fast.
Shots cost less than 2 euros, and you get a sweet cherry drink to finish your first day in Lisbon. Thank me later!
Opening hours: 9am-10pm.
This area and nearby Liberty Avenue (Avenida Liberdade) have many cafes and restaurants, so you can to spend a pleasant evening around this district.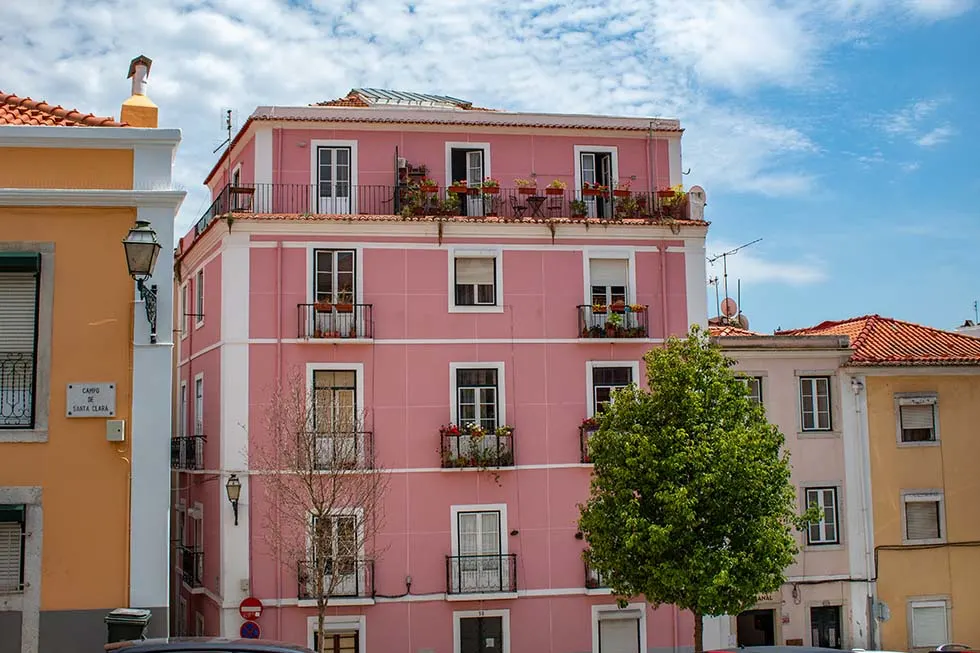 3 Days in Lisbon Itinerary: Day 2
Bairro Alto Neighborhood
Let's kick-off day two at Bairro Alto, and then, descent all the way to the Chiado neighborhood. When you see how many stairs there are throughout Lisbon, you will thank me for this.
Sao Pedro de Alcantara Observation Deck
Our day started at the Sao Padro observation deck & garden, and from this beautiful place, you have a panoramic view over Lisbon, including the St. George's Castle (Sao Jorge).
Here you can also find a fascinating tile map of the main buildings of the city center.
To get to this point of Bairro Alto, you can either take the funicular (Gloria Elevator) at the Restauradores Square or walk up from the Chiado neighborhood. It depends on where your hotel is.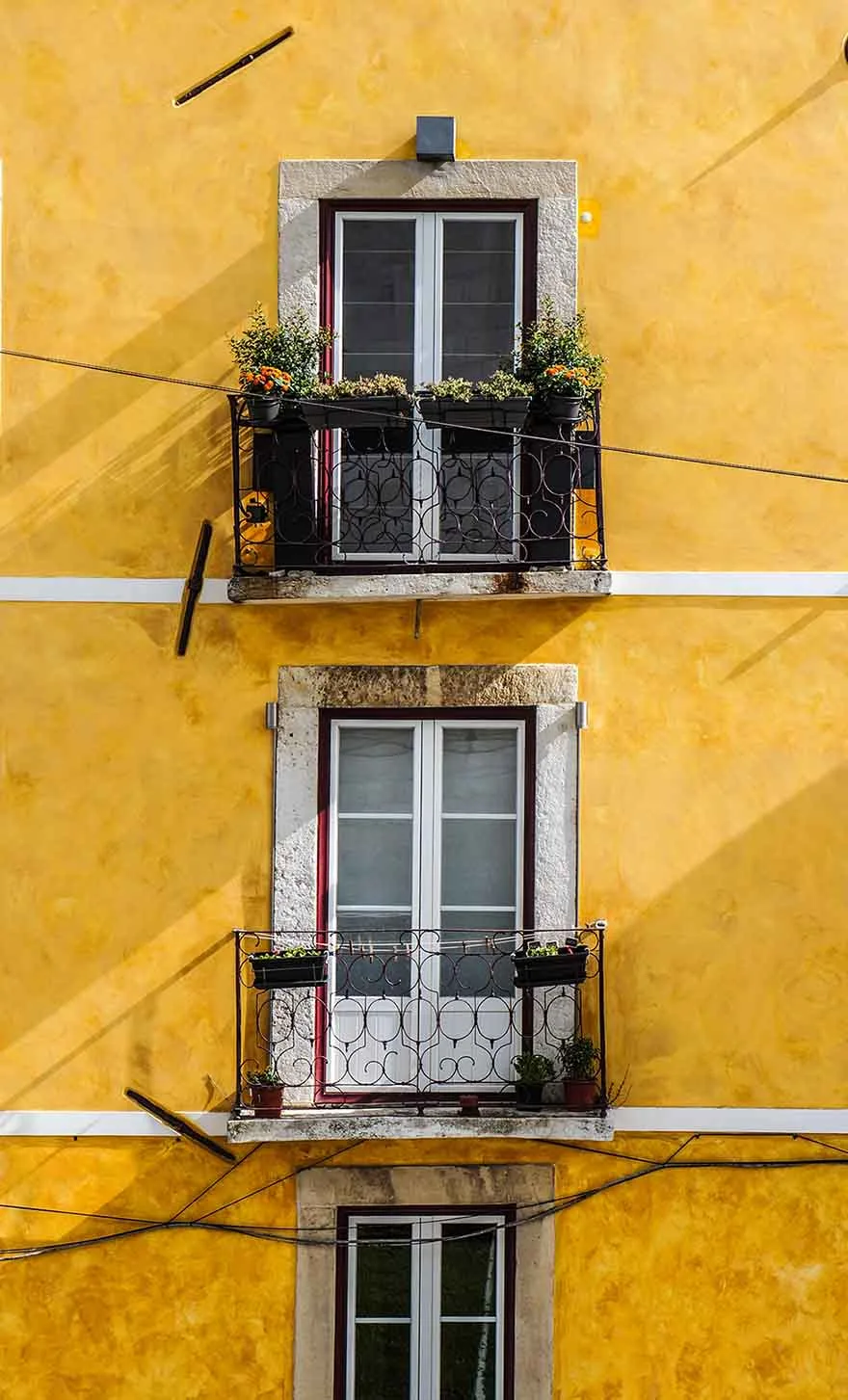 Sao Roque Church
"Don't judge a book by its cover." The plain facade of this church doesn't live up to its inner beauty.
This 17th-century baroque church is highly decorated with majestic paintings, going from the ceiling down to the walls, and with tiles too, obviously.
Lisbon breath tiles and this is no different here. The ceiling is supposed to give you the illusion of a barrel vaulting. So be sure to stand right at the beginning of the nave to see if it's true.
I'll leave it a bit mysterious to give you something more to look forward to. 😉
We are not religious people, Frank and I, but I adore visiting churches, especially the ones throughout Europe.
They are so gorgeous and imposing! So, now you know why you will almost always visit a church, according to my guides. Anyway, let's move on!
Admission: Entrance free of charge.
Opening hours: Every day from 9.30 am-5 pm.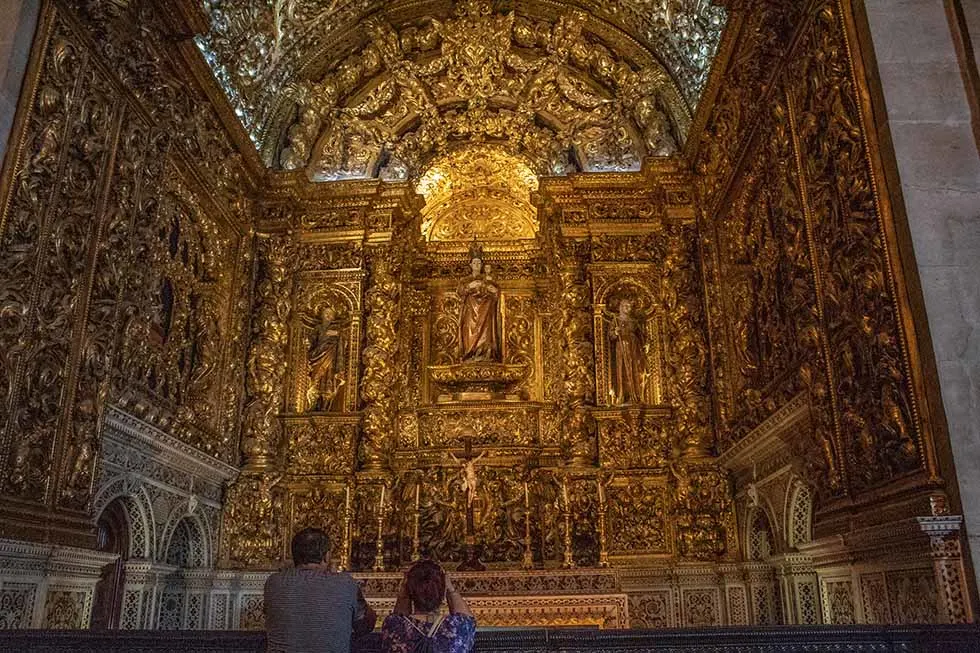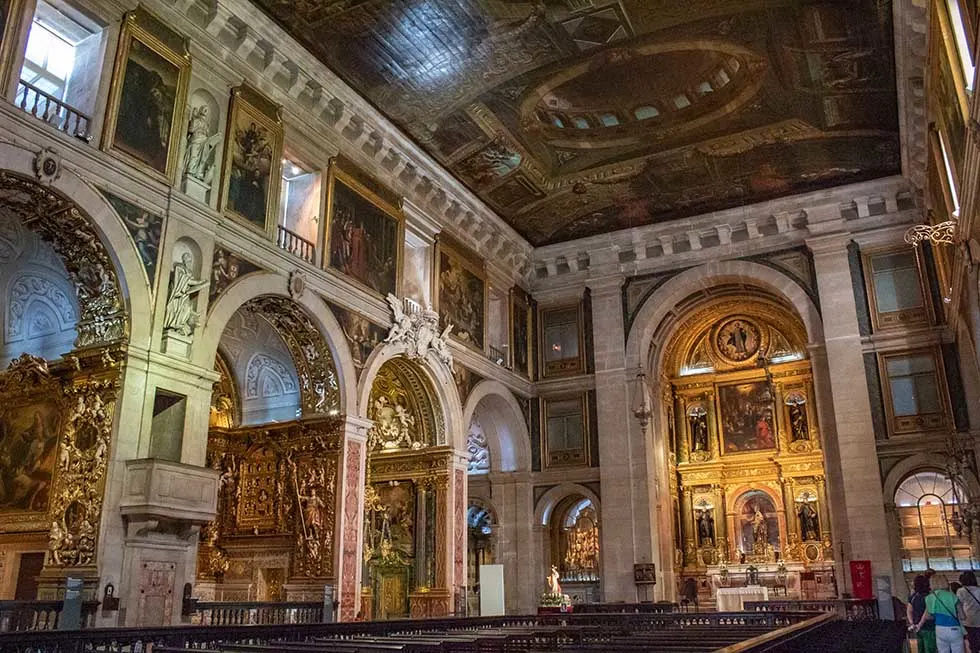 Chiado Neighborhood
Carmo Convent
15th-century ruins of what once was a convent, this archeological museum emerged after the 1755 earthquake that destroyed most parts of Lisbon.
In a nutshell: these ruins are fascinating but are also relatively small. Don't expect to find the ruins of Athens here, but you can still explore the former nave and the artifacts which have explanations in either Portuguese and English.
The real charm is that the former church had a Gothic architecture that was partially destroyed during the earthquake, and what's left indeed has a dramatic feeling.
Admission: 4 euros.
Opening hours: Monday to Saturday. October to May from 10 am-6 pm. June to September from 10 am-7 pm.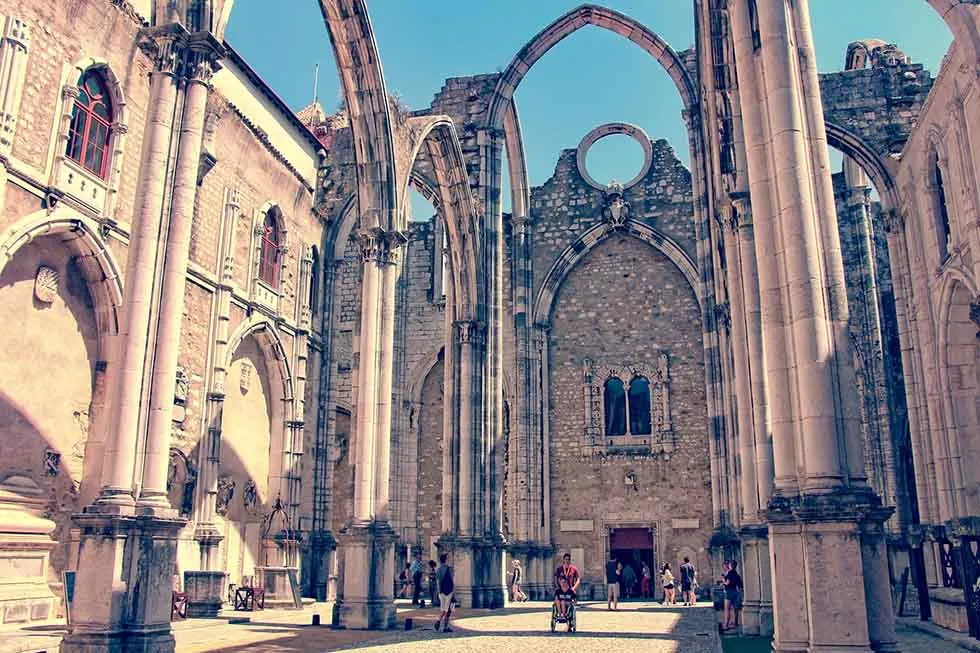 Santa Justa Lift
Right behind the convent is the famous Santa Justa Lift. The one you saw yesterday. I personally think this is something you can skip, the ride up or down.
Stroll around and appreciate the panoramic view from the top of the lift, but don't bother to buy the ticket.
There's an area off-limits for those without a ticket, but that doesn't make much difference, to be honest. The view is still impressive.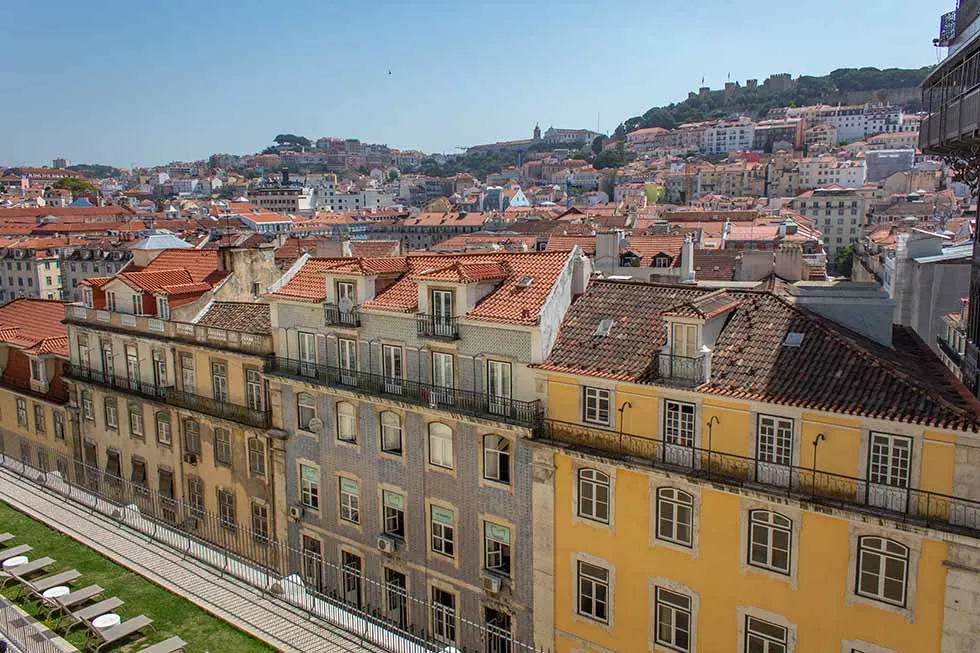 Our Lady of the Incarnation Church
Implying the destruction of the 14th-century city walls and a watchtower, the original Incarnation Church was nearly vanished by the 1755 earthquake.
The complete restoration was only done at the end of the 19th-century, giving place to the new one.
The interior is not so decorated like Sao Roque Church, but it's still gorgeous in all its sobriety.
Paintings, tiles, and statues in neutral colors compose the nave. Beautiful!
Admission: Entrance free of charge.
Opening hours: Monday to Friday from 7.30 am-12.30 pm / 2.30 pm-8 pm. Saturday from 9 am-1.30 pm / 3 pm-8 pm.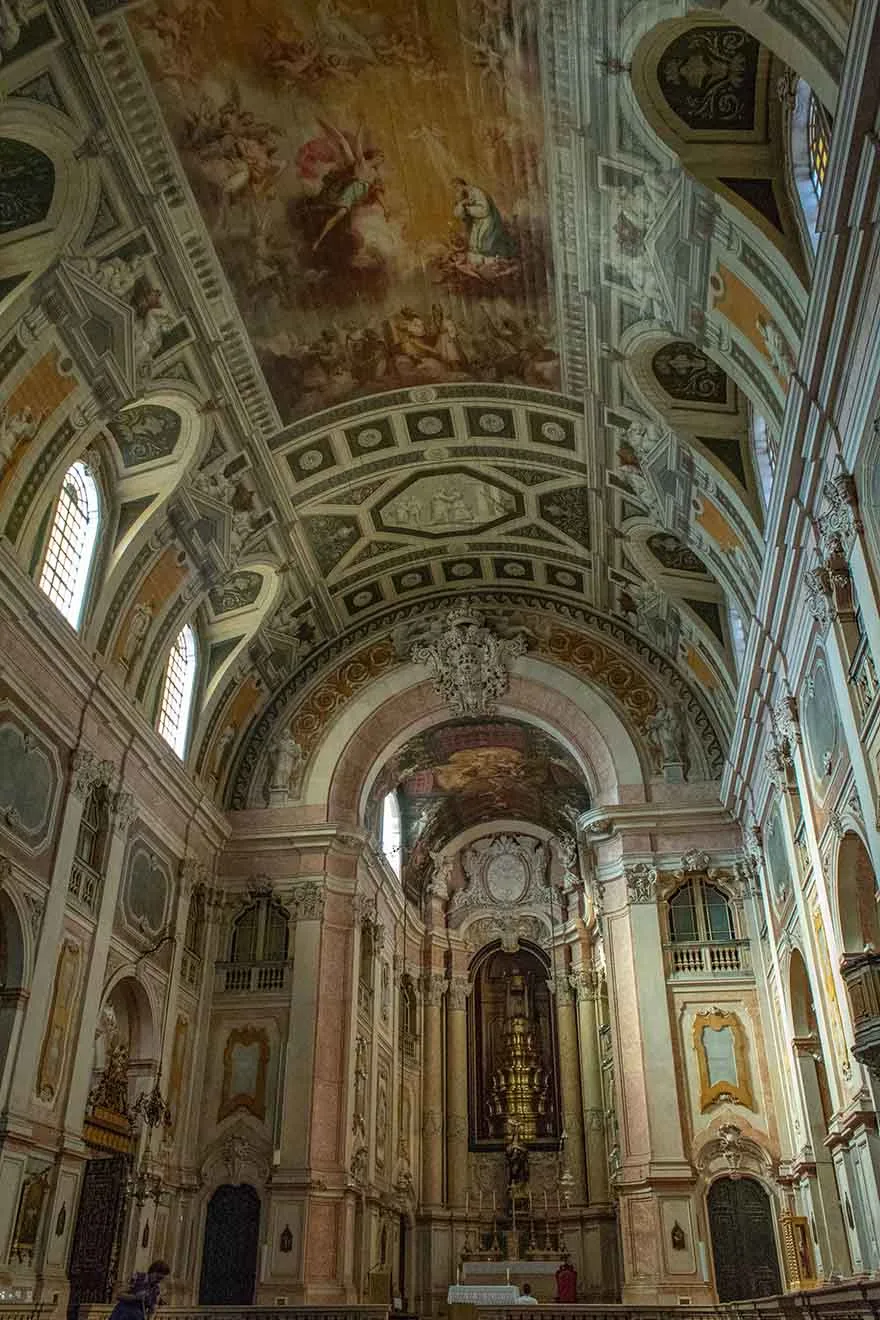 Chiado Caffe
Time for a delicious coffee and (some) traditional Portuguese custard tarts. I must be honest, we found this coffee shop by chance, and I am glad we did.
The Pastel de Nata was really tasty, and so was the lunch Frank ordered. Note that this place is relatively small so you might have to wait for a table. Nevertheless, it's worth it (we didn't have to wait though).
Ascensor da Bica
In the next block, you will find the most famous, and probably most photographed lift, which you can take to continue your itinerary.
I went downhill on foot because I wanted to see the houses in that area, but if you're tired to walk, just take the lift.
Besides, you will be back in these streets to have dinner so you can stroll around later.
Anyway, the elevator is one of those yellow funiculars symbols of Lisbon. Be sure to photograph it.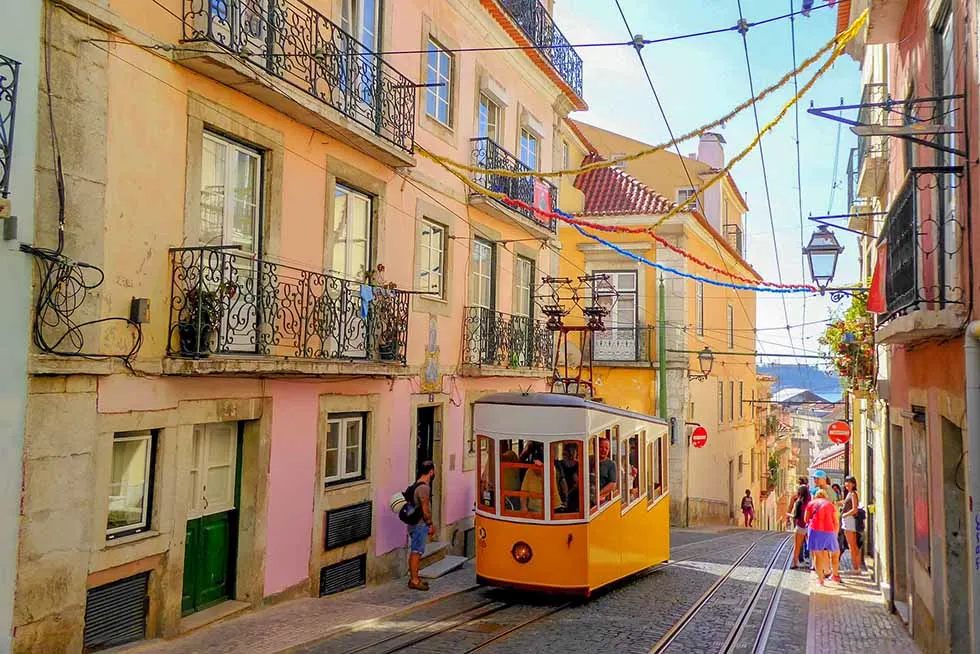 Cais do Sodre Neighborhood
Pink Street
What once was the local Red Light District turned into the Pink Street, a place with hip cafes, restaurants, and even a nightclub (Musicbox).
However, the street isn't so pink like it used to be in its first years of glory. It looks now like a slightly dirty and faded pink, but the bars and restaurants still remain hip. Worth a stop? Totally!
Places you might want to check out: Menina e Moca (hipster bar with mini tables) and Sol e Pesca (great seafood restaurant).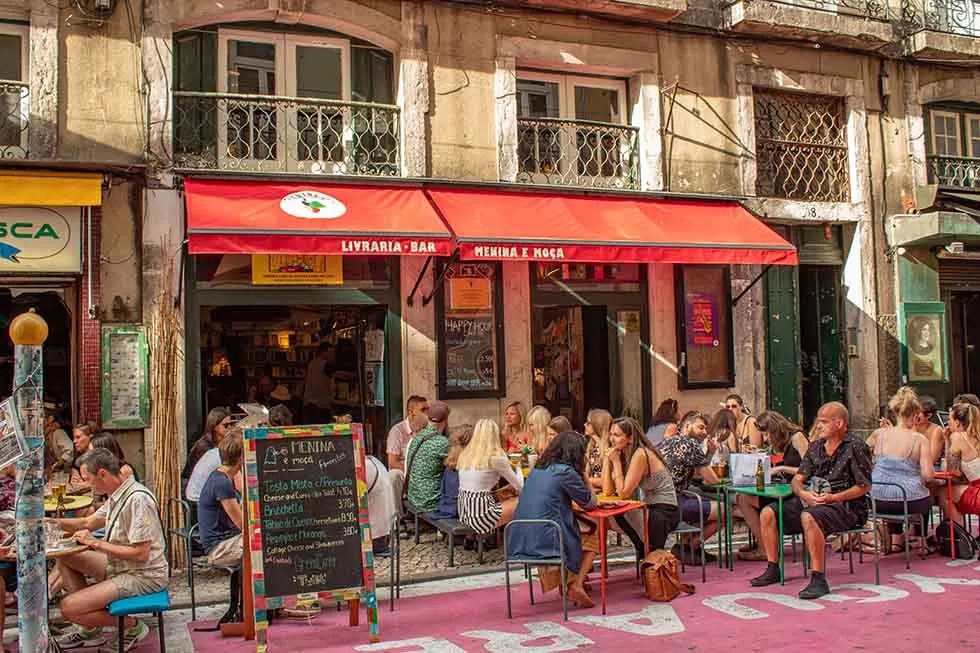 Cristo Rei Statue and 25th April Bridge
Now we're headed to the other side of the Tagus River. From there you can have a fantastic view over the small roofs of Lisbon and of the Golden Gate bridge's sister.
Inspired by Christ the Redeemer in Rio de Janeiro, this statue overlooks the city of Lisbon.
There are two ways to get there. The first one is to take an Uber. It's quite cheap here, but it will cost you more than by public transport, of course.
The second way, as I said, is taking the ferry and then a bus on the other side of the river. It's effortless to go by public transport, and you don't have to walk much.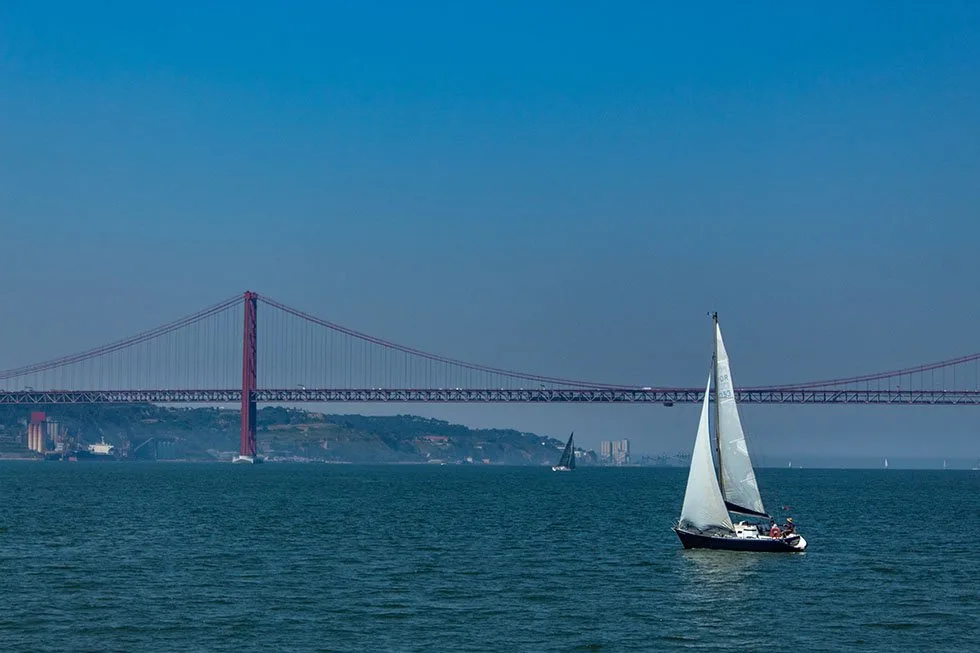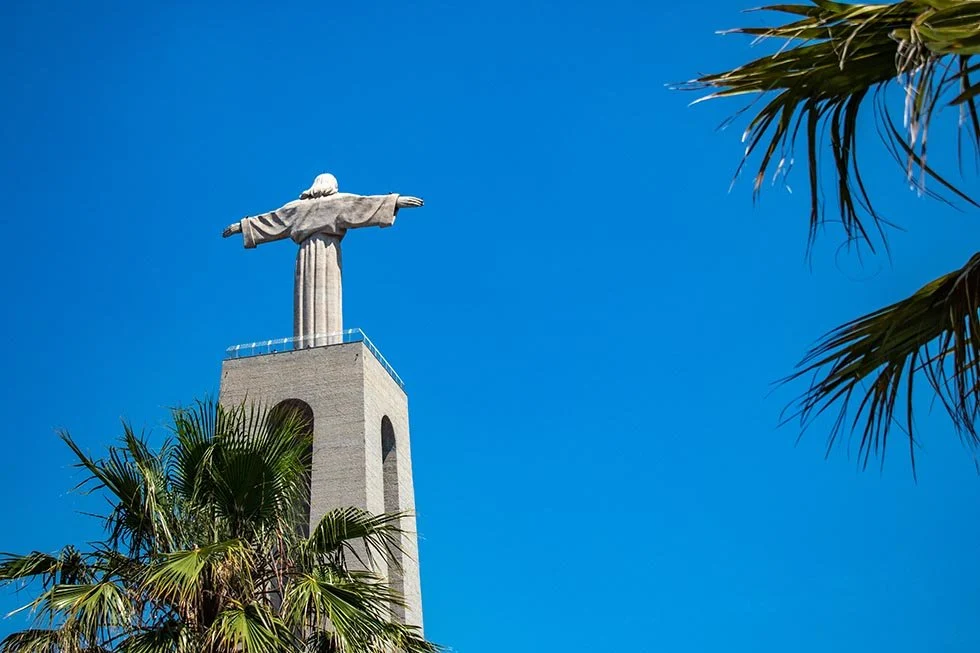 How to get to Cristo Rei by ferry and bus: go to Cais do Sodre station, buy tickets to the ferry going towards Cacilhas station, then when in Cacilhas look for the bus 101 to Cristo Rei in the bus terminal just outside the ferry station.
The entire journey takes around one hour, and the return trip costs approximately 5 euros.
At the Cristo Rei statue, you don't pay an entrance fee. So you can freely wander through the area and edge of the cliffs to take a few Instagram-worthy photos.
Are you following Maps 'N Bags on Instagram yet? No? Then do it now. Click here to follow, and low-key stalk us (but only you…shhh!).
Anyway, the only fee you have to pay (4 euros) is in case you want to ride the elevator to the top of the pedestal where the Cristo statue is (262 ft / 80m).
As I said before, the 25 April bridge looks a lot like the Golden Gate Bridge in San Francisco, California. This 7,470 ft / 2.277 m suspension bridge connects Lisbon to Almada, where the Cristo Rei Statue is.
Fun fact: 25th April Bridge was constructed by an American company based in NYC who build the San Francisco-Oakland Bay Bridge.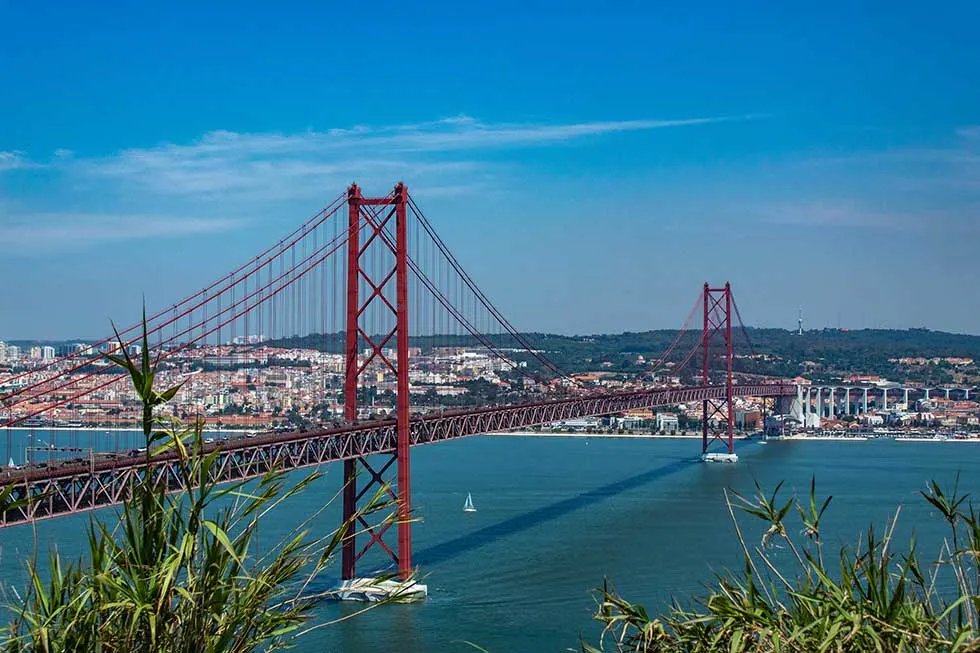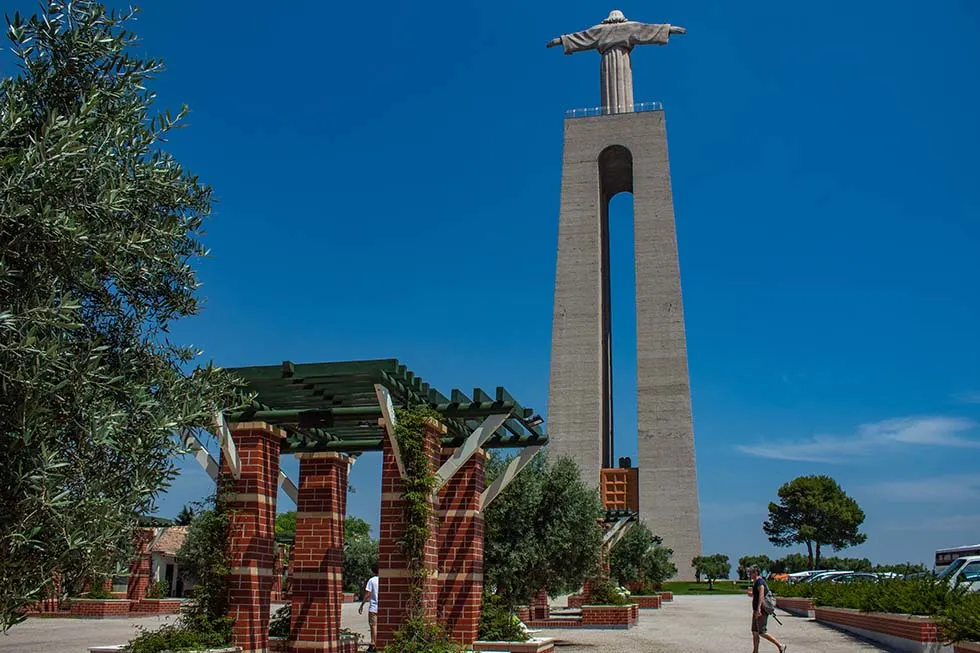 Now it's time to get back, freshen up and go for some delicious Portuguese dishes.
Dinner
We had dinner at Estrela da Bica at Chiado, and we can't recommend this place enough.
The atmosphere is excellent, the decoration is quite impressive, and the food is hearty. It isn't the cheapest restaurant in Lisbon, but honestly, it's well worth it. Trust me.
Oh, and arrive early or you might have to wait for a table.
Pro tip: take cash with you as they don't accept cards.
Opening hours: Tuesday-Thursday from 7 pm-12 am. Friday-Saturday from 7pm-12.30am, and Sunday from 6.30pm-11pm.
You will notice this whole area is full of authentic restaurants and bars, so take your time to walk around and see it by yourself.
You might want to walk down the stairway at the Calcada da Bica Grande, right next to Estrela da Bica.
There are often street parties here, especially in June, and many people who live there just sell beer at their doorstep or play songs during the day (and night).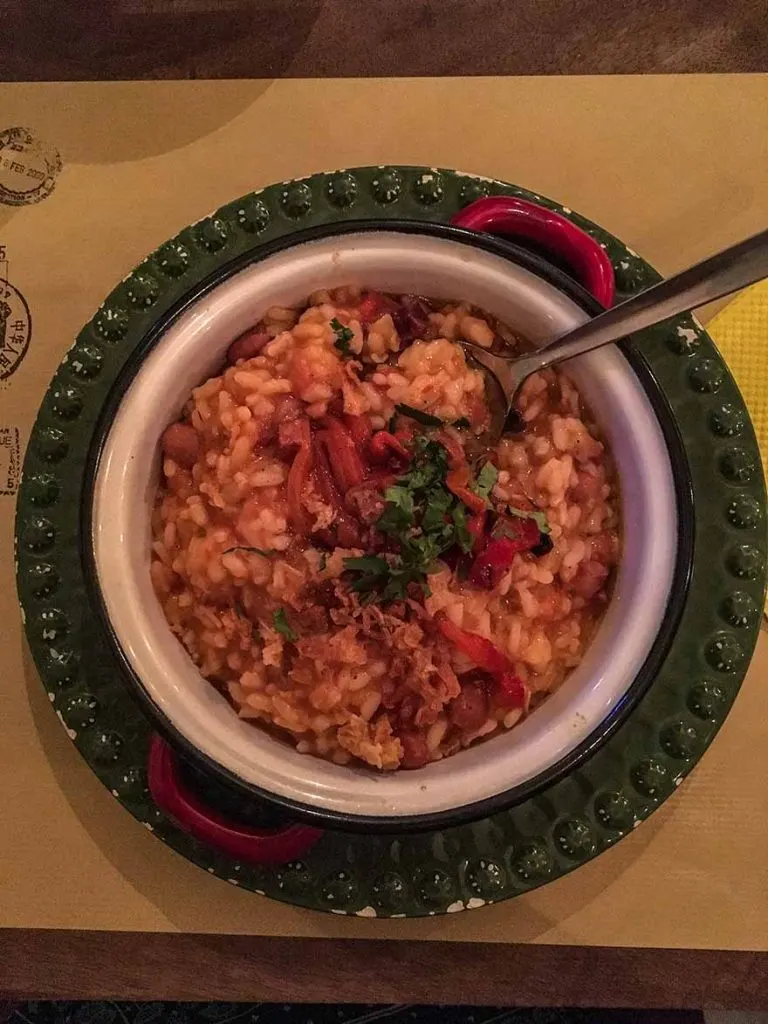 3 days in Lisbon Itinerary: Day 3
Belem neighborhood
Belem is a peaceful neighborhood in Lisbon where you can go back in time or better saying, visit some outstanding national landmarks.
Pasteis de Belem
The very first Portuguese custard tart was baked here in this store. After the 1820 revolution, all clergy and workforce were forced to leave the monasteries and convents.
Trying to making a living, some of them started selling here custard tarts, which were then named Belem pastries, because of the region.
There you have a pastry that survived over 200 years and still attracts many people around the world. So, don't hesitate to stop here and try the "original" tart while visiting Lisbon.
Opening hours: Every day from 8 am-11 pm (and from 8 am-12 am summertime).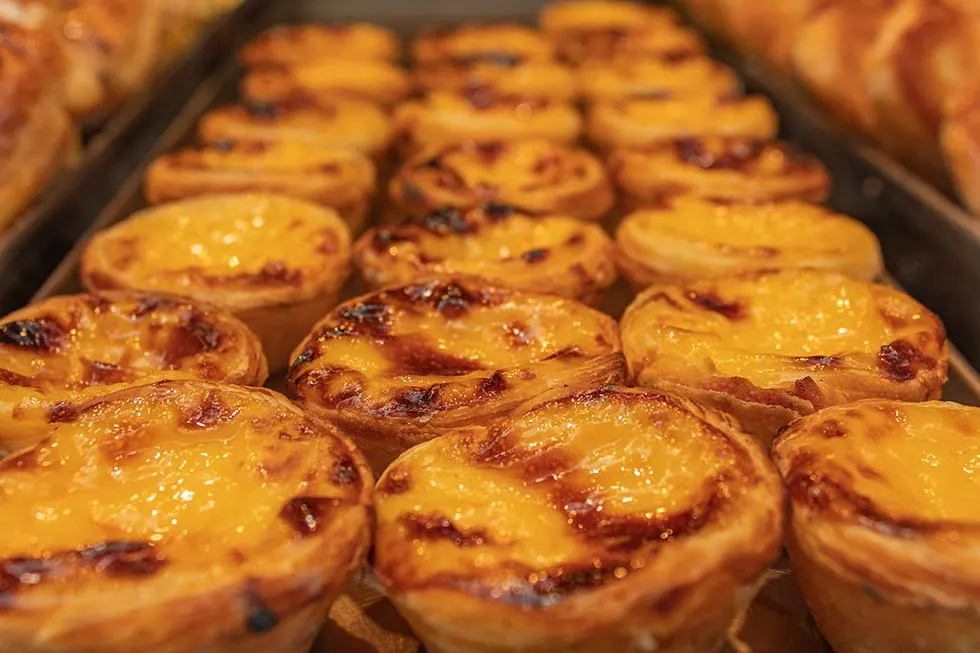 Jeronimos Monastery
A richly ornate architectural style complex, this 16th-century monastery is a UNESCO World Heritage Site together with the Tower of Belem. The 1755 earthquake had almost no effect on this complex, leaving it almost intact.
The exterior is already quite impressive, in my opinion. Full of details and imposing.
The interior is jaw-dropping for sure, but the monastery is a victim of its success: arrive early in the morning, or you will wait for a long time in line. And if it's summer, that's the last thing you will want. Trust me.
Admission: 10 euros.
Opening hours: October to April from 10 am-5 pm. May to September from 10 am-6 pm.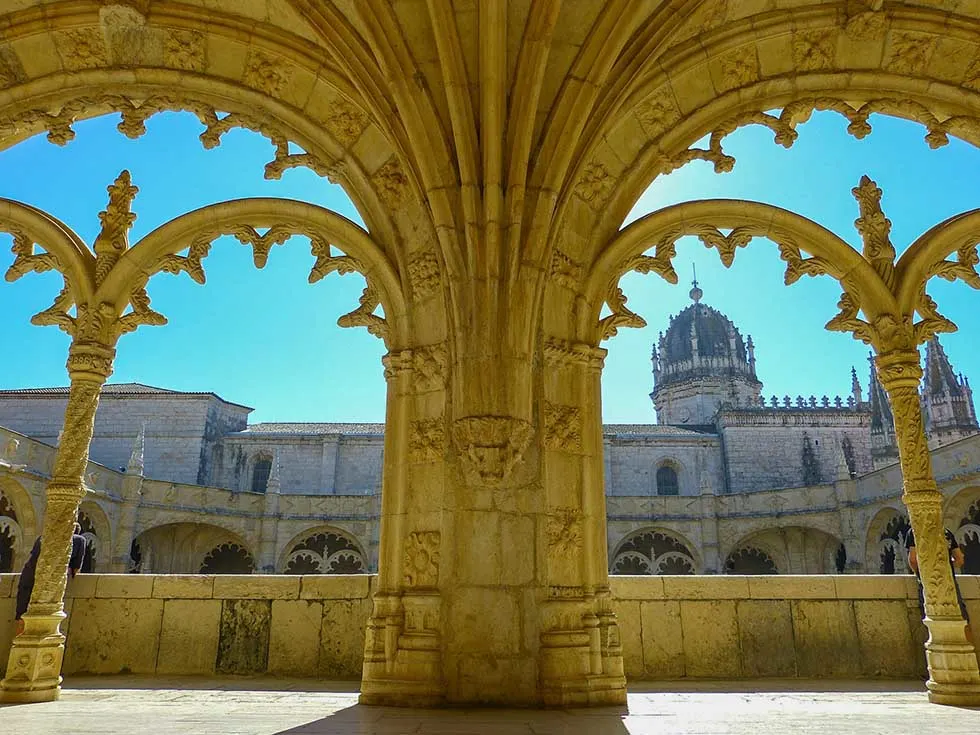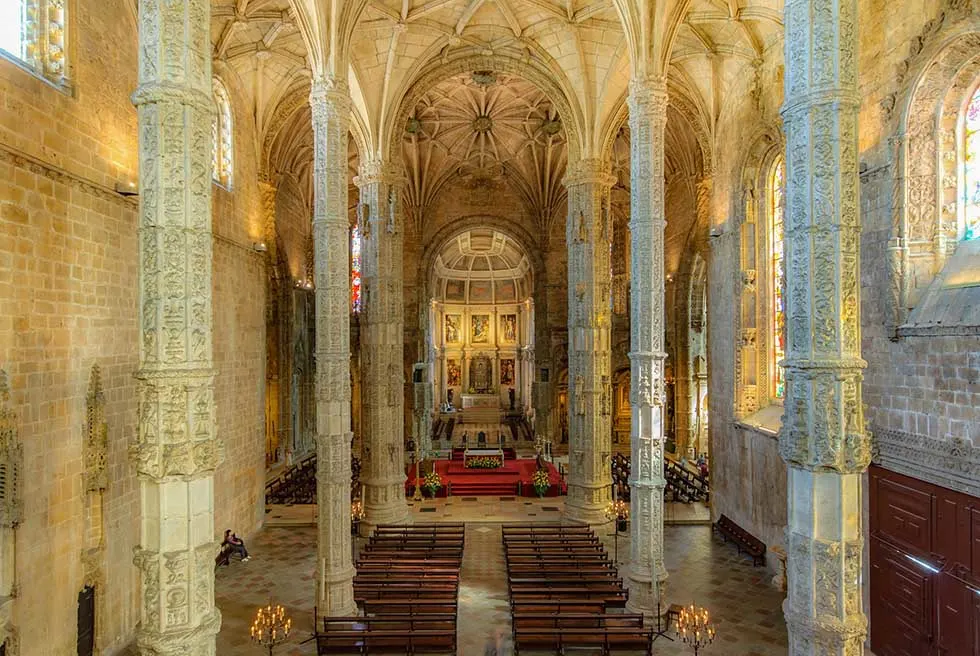 Monument to the Discoveries (Padrão dos Descobrimentos)
A ship's prow shaped monument built to commemorate the 500th anniversary of the death of Henry the Navigator. Henry was a Portuguese explorer who is also portraited in the first sculpture in the prow.
For a small fee, you can go up in the monument to have a privileged view from its observation deck.
On the square next to the memorial, is a compass rose on the ground with a map of the main routes of the Portuguese expansion in the 15th and 16th centuries.
Admission: 6 euros.
Opening times: March to September from 10 am-6.30 pm. October to February from 10 am-5.30 pm.
Stroll along the Tagus bank until the Tower of Belem. This is a especially pleasant stroll if it's warm and breezy. Remember to wear a cap or take an umbrella with you if it's a hot day.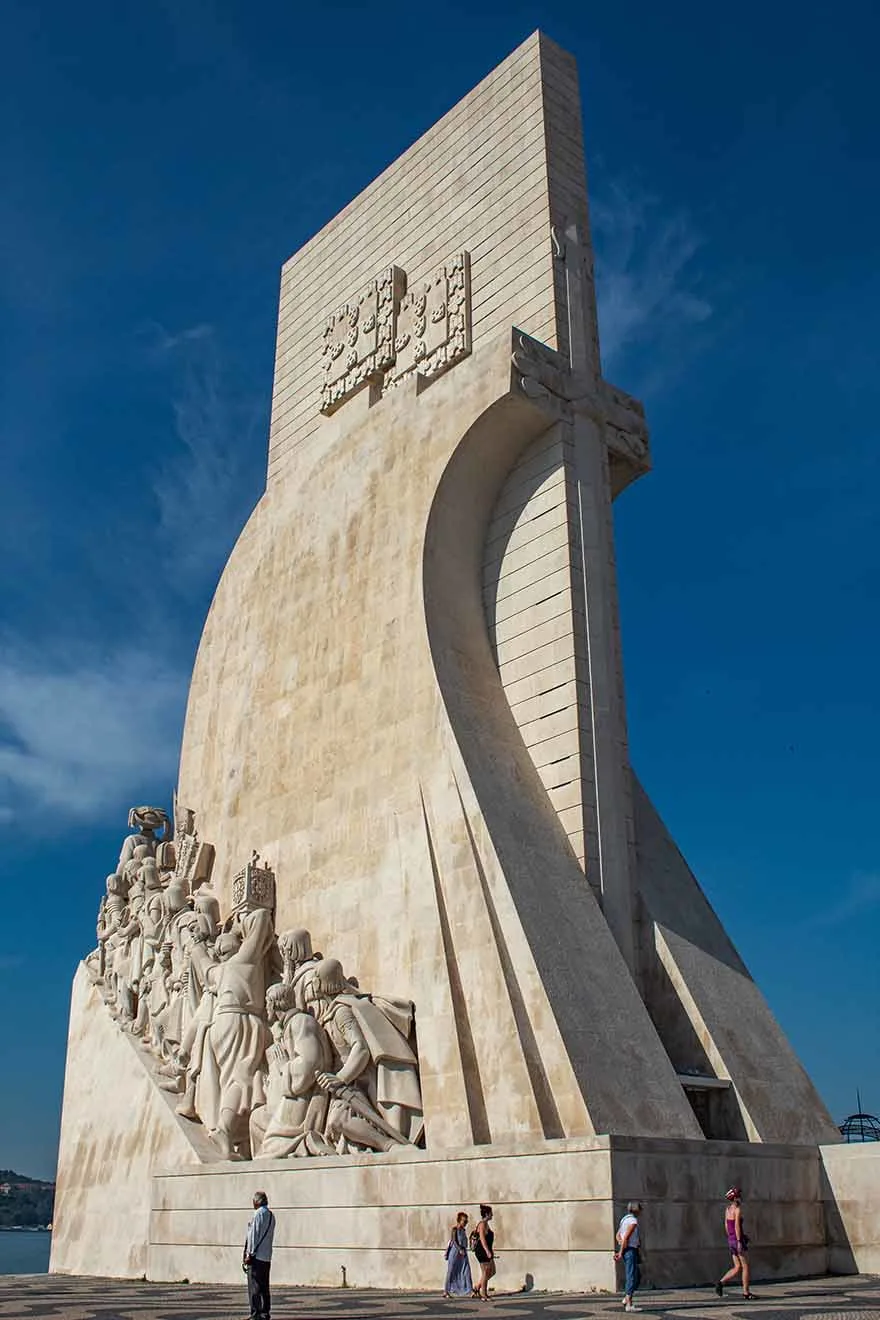 Belem Tower
The worldwide famous, Lisbon's symbol is a former military outpost built to protect Belem. Now it is a beautiful 16th-century tower open for visitation.
I must be honest, we didn't go inside, but we did take a bunch of photos of the outside. It's a gorgeous view!
The queue was starting to get long when we were about to leave the area, so keep that in mind. And to be honest, from what I learned about the interior you're better just photographing the outside.
Admission: 6 euros.
Opening hours: October to May from 10 am-5 pm. May to September from 10 am-6 pm.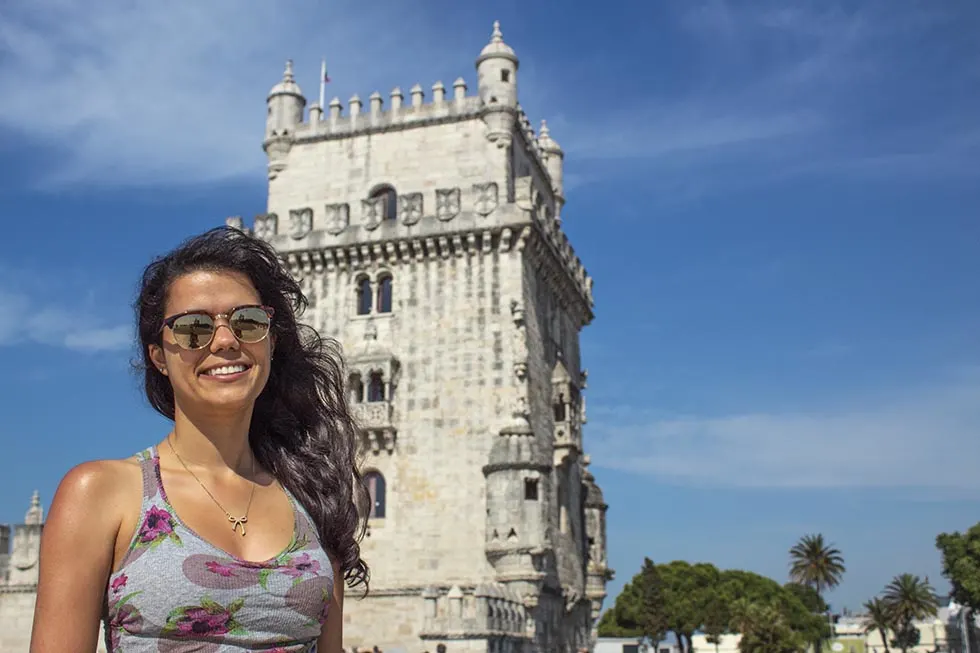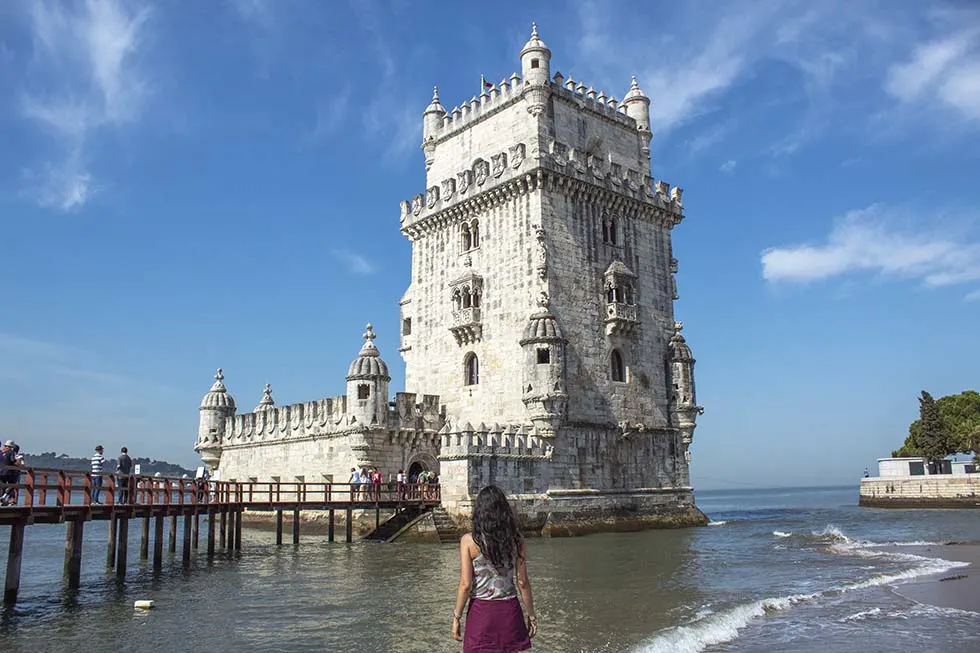 Time to head back to the city center, or at least closer to it. Our next stop is at the LX Factory, where you will spend the rest of your afternoon.
LX Factory
Well, you walked a lot today, so nothing fairer than a chilled out afternoon. This complex is an industrial site where creativity takes all forms: bookstores, clothing, bars, cafes, restaurants, to name a few!
Since we are all foodies here. I know you are too. Know that at LX Factory you will find lots of hipster, tasty eateries. From healthy and vegan dishes to not-so-healthy-but-still-delicious treats.
Some places that are worth a stop: Cafe na Fabrica (outside tables, great atmosphere, cold beer), Tapas & Wine Bar (well, excellent tapas and wine, duh!), Rio Maravilha (rooftop bar with the perfect backdrop: the 25th April Bridge), and Ler Devagar (Interesting bookstore, not like this amazing bookstore in Porto).
Be sure to grab a map at the entrance, so you know exactly where to go.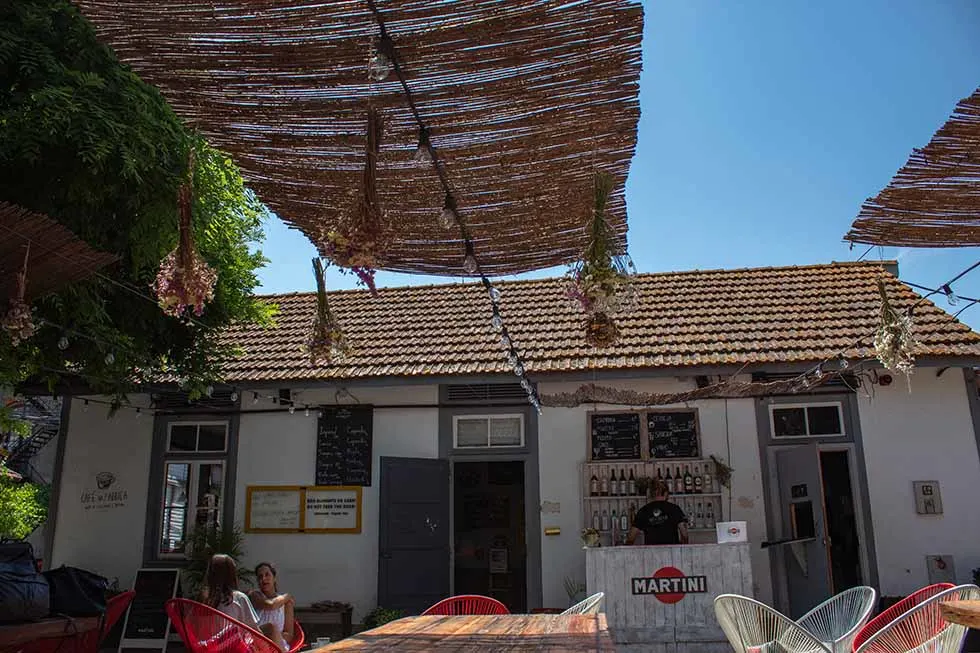 Lisbon Tours
If you want to have a deeper understanding of the local history, culture, food & drinks, or even the best photo spots, you might want to hire a local guide to show you around.
This is especially convenient if you're traveling with someone so you can share the costs, instead of paying the whole amount per person.
However, if you're looking for some inspiration, I've also selected a few tours from Viator and GetYourGuide that I personally like.
Lisbon Art Tour – this is a tour with small groups where you walk between temporary and permanent graffitis. Some arts here only last a day, others managed to stay intact over the years.
As you know, street art is an ever-evolving and changing technique, so what a friend saw on this tour one year ago, isn't the same you're going to see now.
Here you will see murals, entire buildings, and small alleys covered in high-quality street art in the time span of 3 hours. Meaning: you will learn a lot and the time will fly!
Lisbon has a lot of street art as you will notice when you arrive, that's why I'm recommending this tour.
This is an intrinsic part of the local culture and if you're looking for the offbeat side of Lisbon, this tour is for you. Why? Because you'll visit hidden gems with a well-prepared and enthusiastic local.
Note that there is no pick-up at your hotel.
Click here to check more reviews.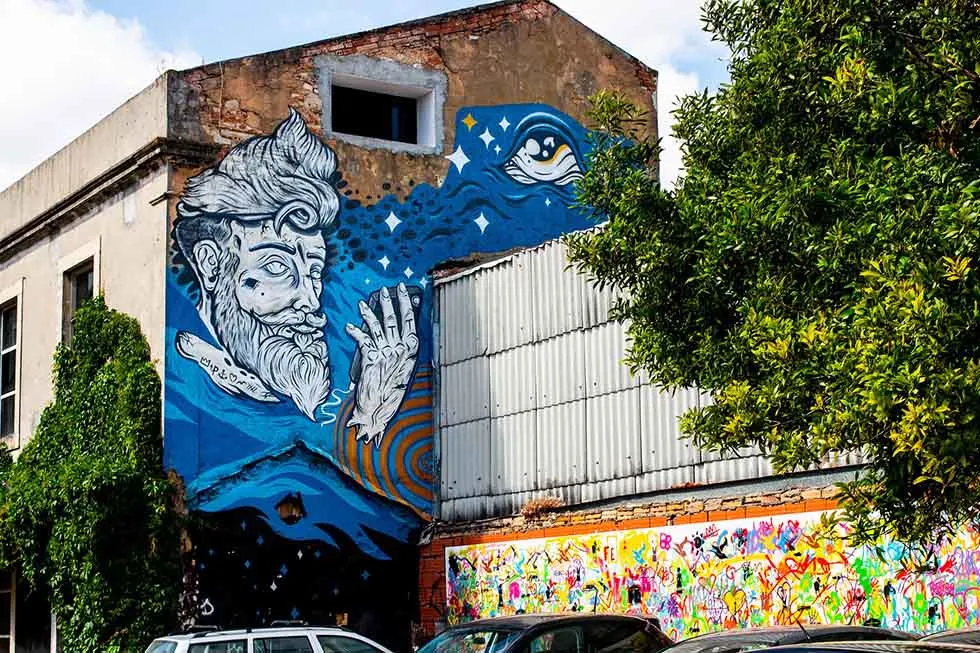 Lisbon Food & Wine Tasting – Needless to say, Portuguese wine and food are delicious, right? That's why this is one of the most wanted tours in Lisbon.
In 3 hours, your culinary guide will take you to excellent cafes and restaurants (around 5 places) to try some traditional Portuguese dishes while you learn about its history and flavors, of course. Then, enjoy some wine as well as ginjinha, a delicious local liqueur.
What do you get? Mouthwatering food (tapas, codfish cake, bread, chorizo, marmalade, cheese) and drinks (green, red, white, and port wine, and ginjinha), and a knowledgeable culinary guide to explain the influences of different cuisines and flavors to you as well as to give some valuable tips. Note that there is no pick-up at your hotel.
If you, like Frank and me, are an assumed foodie, do yourself a favor and book a food and wine tour in Lisbon. You will love it!
Click here to check more reviews.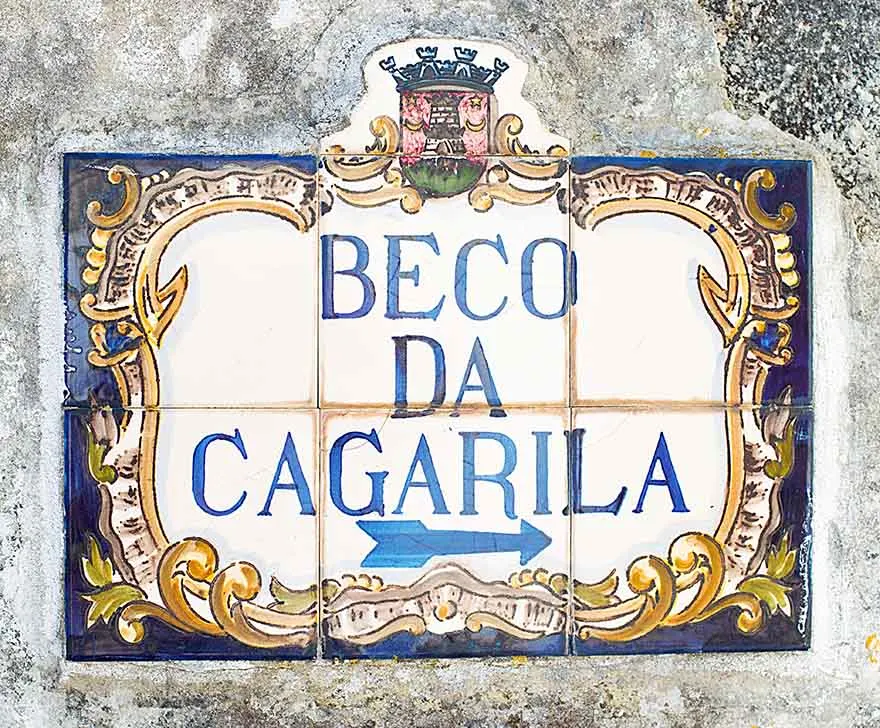 Sunset Sailing Tour – We talked many times about the Tagus River, and it would be an incomplete guide if you didn't have a chance to sail it. Better yet if it is during sunset.
This 2-hour tour sails along Lisbon while you enjoy a glass of sparkling wine. Romantic to say the least, is an excellent way to relax for a couple of hours and appreciate the view.
A drink and transfer to the boat location are included in the ticket price. Also, be sure to wear a thin waterproof jacket and closed shoes as there might be some water splashes. If you get cold, there is a blanket on board.
Click here to check more reviews.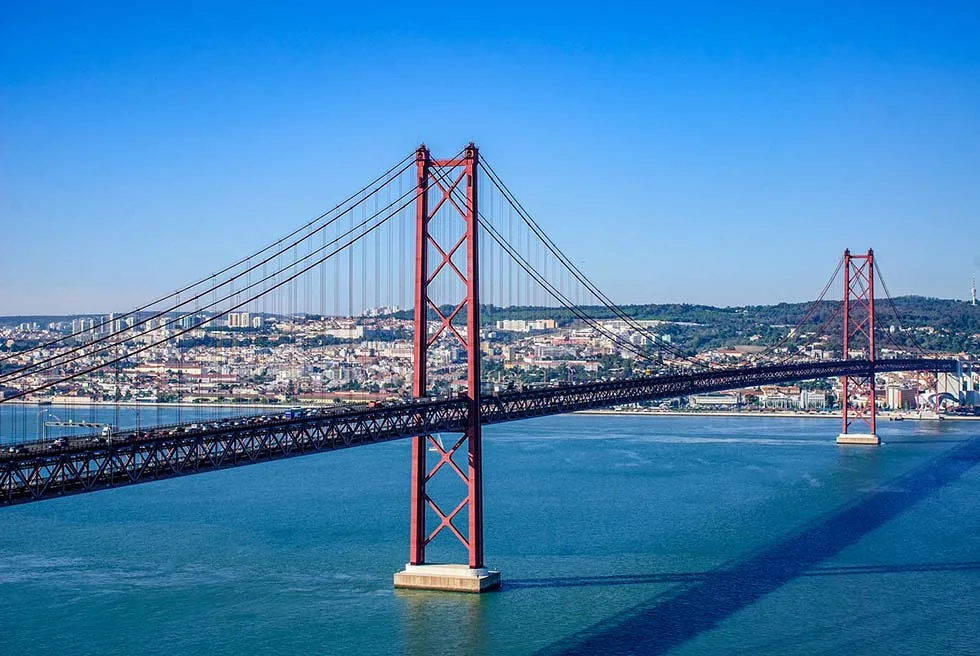 Day trips from Lisbon
There are quite some possibilities of day trips from Lisbon, all of them are jaw-dropping.
Most people go on a day tour to Cascais to enjoy one day at the beautiful beaches around the Portuguese coast, others spend a full day in Sintra to visit the gorgeous castles, gardens, and beaches too.
These are the two most popular destinations near Lisbon, but there are many options for a weekend getaway for example, such as Porto. Click here to read the best things to do in Porto.
But if you don't know which of these iconic cities you should choose, Porto vs Lisbon, check this guide with their main differences!
Lisbon Public Transport
The public transport in Lisbon is reasonably good, and this is how we got around the city. To get access to the public transportation you need the Viva Viagem card.
This card can only store one type of fare when you purchase a single ticket. So if you buy one ticket to go to Belem by train, you need a new one to load other types of transport, such as tram, bus, or metro. It's not a handy feature, I know, but it is what it is.
You can also purchase a day ticket, which has variable fares that depend on the option you choose, or pre-paid loads, called zapping.
Note that you can buy a ticket directly with the driver on the bus, tram, and funicular, but this is slightly more expensive. The card itself costs 0.50 cents.
Alternatively, you can buy the Lisbon Card that gives you free access (or discount) to many attractions and free use of public transport.
Personally, I prefer this option because it's hassle-free, but be sure to make the math in advance to know if it's profitable for you or not. Click here to check more reviews and prices of the card.
To do this math, use my travel planner template and write down the places you want to go and how much they cost.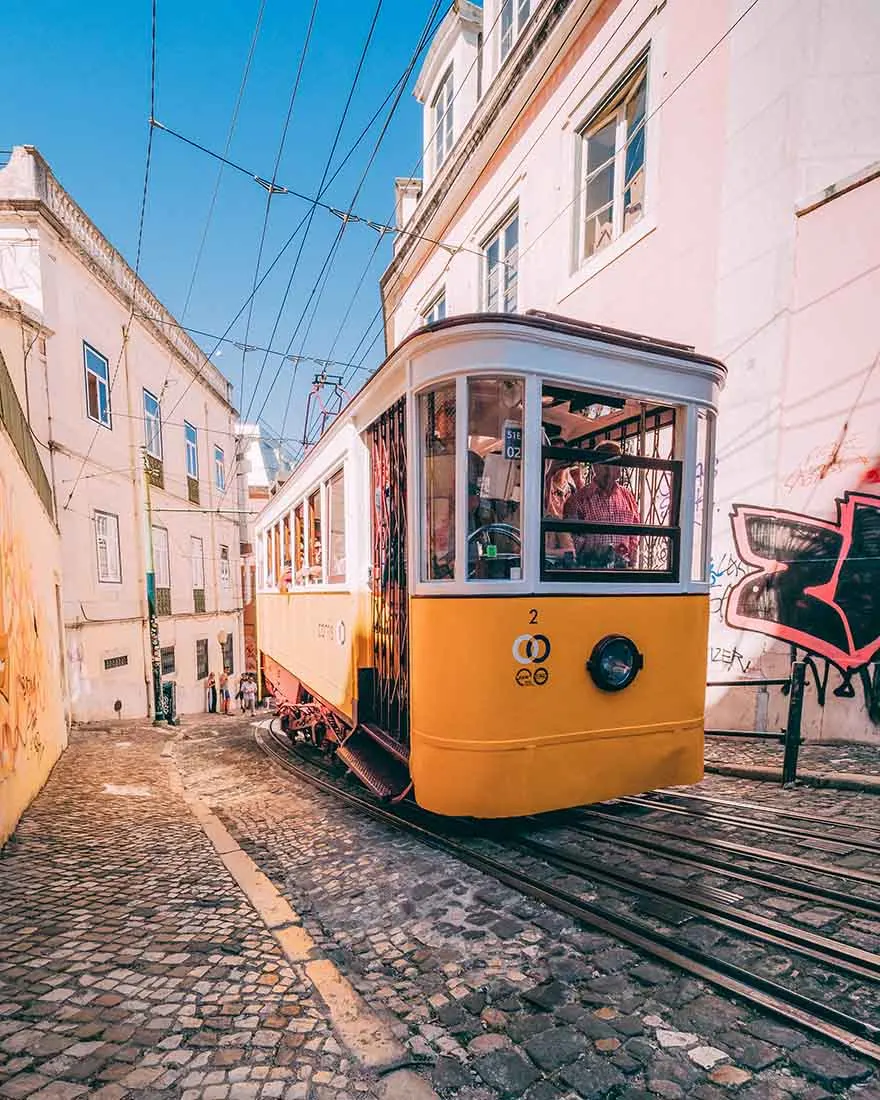 How to get from the airport to the city center?
The easiest and costless way to get from the airport to the city center, or your hotel, is with the Airport Shuttle.
There are two busses, lines 1 and 2. Line 1 goes to the historic center, while line 2 goes until the area of the hotels I mentioned above, and returns to the airport.
If you're staying in any of those hotels (or others in the area), take either line and get off at Marques de Pombal station.
You can find maps with the route at the bus stop, just outside the airport.
Click here to read other reviews and check the price.
Lisbon Weather – Best time to visit
The weather in Lisbon is one of the best in Europe! I mean it. Winter is the rainy season, which has around 10 rainy days a month. That's not a lot. Yes, I'm jealous.
Temperature-wise, winters aren't that cold either. Well, at least for Frank and me. We live in the Netherlands, so Portugal is almost a paradise for us!
Anyway, winter is mild, and the temperature averages are 59 / 46 F – 15 / 8 C. The peak-season, Summer, is hot, sunny, and dry and the temperature averages are 82 / 64 F – 28 / 18 C. Mid-seasons are also warm.
So what's the best time to visit Lisbon? The whole year. But in October you can avoid the "summer crowds".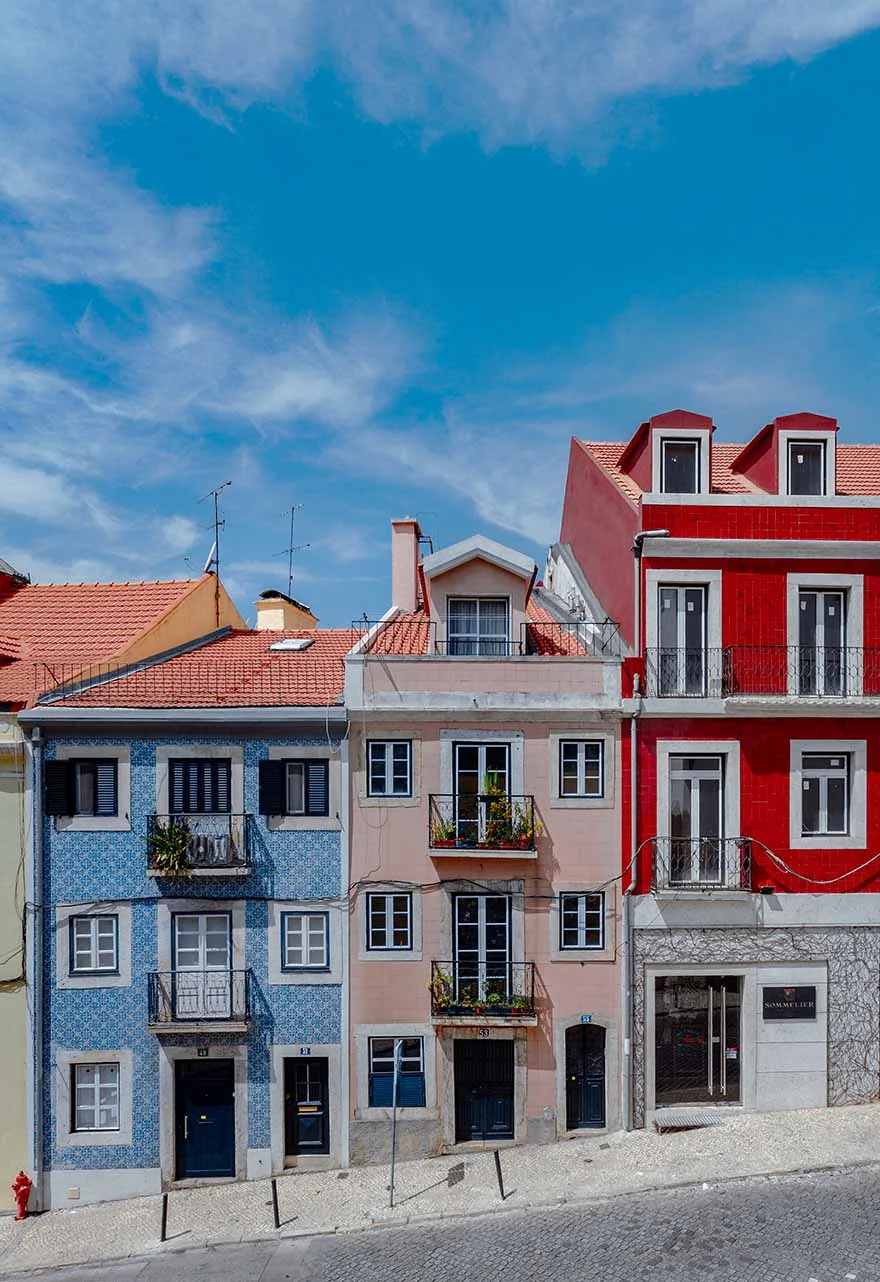 Travel Essentials for Lisbon
Currency in Portugal
Portugal's currency is the Euro just as most parts of the European Union members.
Click here to check the conversion in real-time.
WiFi in Lisbon
Besides the obvious places with WiFi, such as Starbucks, Hop-on Hop-off bus, and the airport, you can find an internet connection at some metro stations (not at Baixa-Chiado).
However, the instructions are in Portuguese (so I'll give you a little help), click on "Conectar" and you connect your phone to it. Yay, you made it!
This same company has a plan of expanding the WiFi hotspot to the whole city, but it isn't working yet.
So, if you need an internet connection and can't rely on finding the next Starbucks, consider purchasing or renting Solis, a portable WiFi hotspot that you can also share with friends (and share the costs too!).
Pssst: Be sure to use your special code MAPSNBAGS.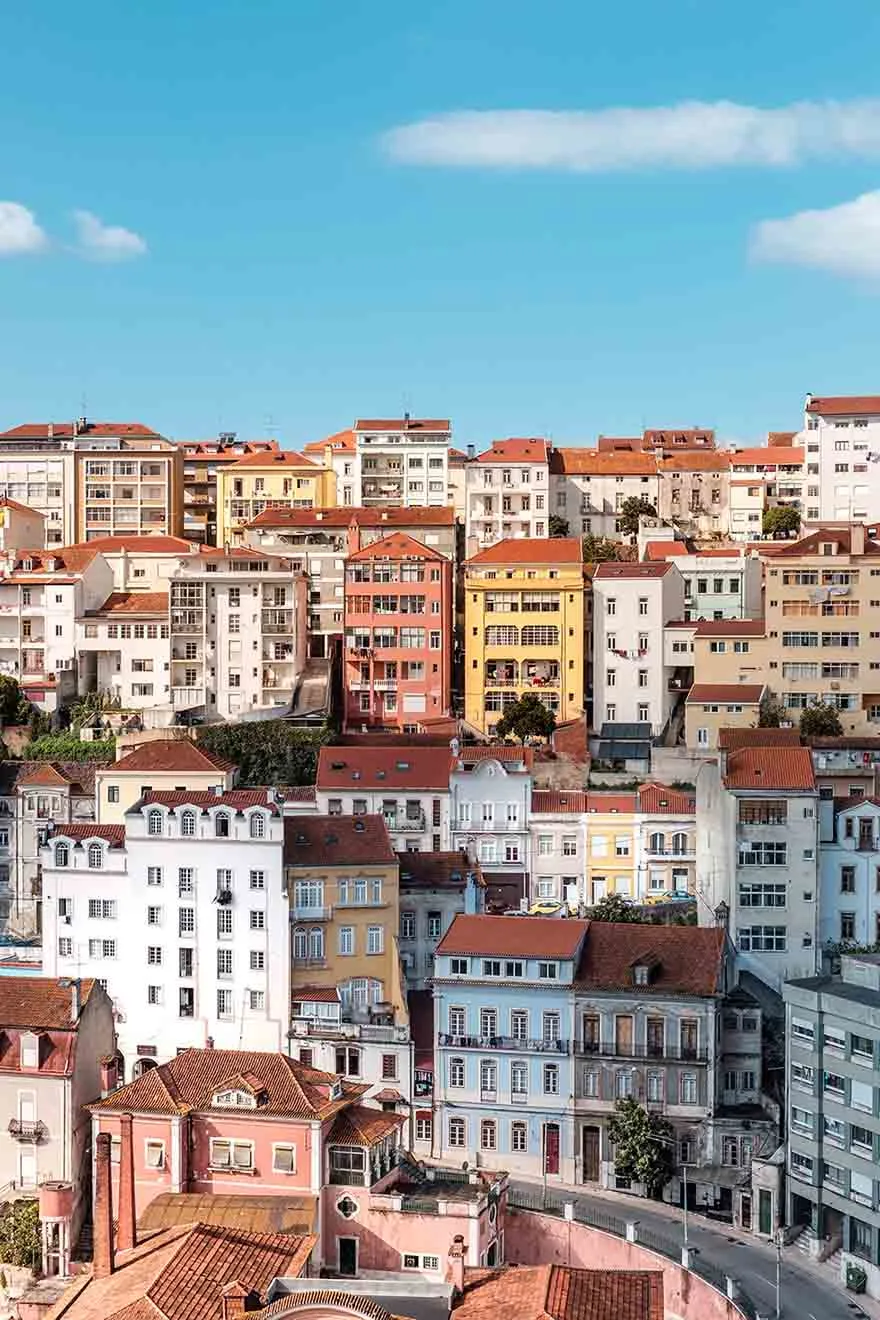 Things to watch out in Lisbon
Lisbon is a fantastic and hipster city, but not everything is a bed of roses. There a few things that you need to watch out for while in Lisbon.
Pickpockets are at the main attractions as well as in public transport just waiting for distracted tourists. So, put your bag in front of your body and beware of your surroundings.
Also, over 10 guys approached us in our 3 days in Lisbon to offer drugs. First of all, drugs are forbidden in Portugal.
Second, it's probably fake, but this is just one of the things no one tells you about Lisbon. And finally, just ignore them. They are pretty annoying though.
Read next: 15 Most Common Travel Scams and How to Avoid Them
Lisbon Map
3 days in Lisbon wrapping up
With so many things to do, it can be quite overwhelming to make a perfect itinerary for Lisbon, but our 3-day in Lisbon itinerary should help you narrow down the choices and see many of the best things Portugal's capital has to offer.
Let us know in the comments if you have any questions or want to discuss your own trip to Lisbon. We love to hear from you!
Did you like this post? Then pin it to your Pinterest travel board!

Our best travel tips & resources:
Here're our all-time favorite travel tips & resources so that you can save money and plan your travel logistics hassle-free! For more travel resources, check out our
travel tips.
Saving money: Fly on offseason, winter (not Xmas or NYE), Tuesday, or Wednesday! According to experts, these are the cheapest days to fly.
Travel insurance: Before you leave for your trip, make sure you have a valid travel insurance policy because accidents happen on the road. We have been paying for Safety Wing travel insurance for a little over a year now, and we happily recommend them to our family and friends.
Accommodation: We usually stay in mid-range comfy hotels or private rooms in hostels. These are the sites we use to book accommodation: Booking.com for hotels (excellent flexible cancellation policy) and Hostelworld for hostels (low deposit and easy cancellation).
Tours:We absolutely love booking guided tours with locals to get a history lesson while sight-seeing, especially food tours and walking tours! We book all of our tours using Viator and GetYourGuide.
Transportation: We use Google Maps to figure out how to get around a place using public transport. When we book a rental car, we always use Discover Cars to find the best deal.