Going on a day trip to Cascais? Read up these practical tips on how to get from Lisbon to Cascais and what to see, do and eat there.

Cascais is a picturesque town in Lisbon District, which was quite popular among the royal family and Portuguese aristocracy.
They had summer residences here. Not bad, huh? Hence Cascais is one of the most expensive real estate markets and also, one of the wealthiest municipalities in Portugal.
Anyway, it's a stunning town with lots of absurdly pretty landscapes and cute houses. You might even forget the way back from Cascais to Lisbon. Joking. But seriously, if you can spend a day and night there, please do!
To help you with that, we will recommend a few places to stay in Cascais, things to do (with a map!), and how to get from Lisbon to Cascais. Curious already? Read on!

Where to stay in Cascais
Our top pick in Cascais is the Pergola B&B for numerous reasons.
First, because the house design and garden are ridiculously pretty.
Second, because the rooms are simple and yet charming.
And finally, because its location is incredible – walk distance from Cascais train station, Rainha beach, Conceição beach, and lots of restaurants and shops.
Click here to check the latest prices and read more reviews.
However, if you're really short on money and don't really care much about privacy, the Nice Way Cascais hostel is a great option.
They are just a 10-minute walk from the train station and 15 from the beach, and the area is residential, so pretty quiet. Breakfast included and WiFi available in all rooms.
And, last but not least, this is a surf camp, so if you're feeling a bit adventurous, book some surf lessons!
Click here to check the latest prices and read more reviews.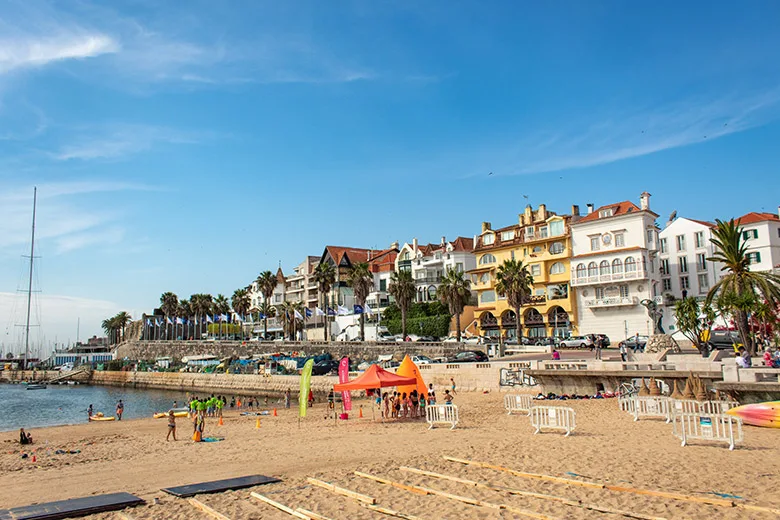 Things to do in Cascais – What to see, do and eat in Cascais
Most travelers venture on a day trip to Cascais, or even in a couple of days, to enjoy local restaurants, bars, beaches, and landscapes!
The town isn't that large, but tourists can find lots of pleasant things to do in Cascais. So embrace this trendy village, and you won't regret it!
Sunbath in one of Cascais beaches
As I said, Cascais is the go-to place in the summer for many locals as well as for tourists. That means the closest beaches to the train station will be probably packed from July to September, especially on the weekends.
Frank and I went to Praia da Rainha in June, possibly one of the smallest Cascais beaches, and it was reasonably busy on a Friday afternoon.
Lots of couples and families were sunbathing, while their kids were playing in the water, which was freezing by the way.
For us, it was just fine because we wanted to sit there, drink some beers, and do nothing. But I can imagine one may not find a spot in the high season. So try one of these beaches in Cascais:
Praia da Rainha (Queen's beach): It was Queen Amelia's private beach in the 1880s, and it has a great location: close to many restaurants in the center.
Praia da Conceição and Praia da Duquesa (Conceição beach and Dutchess beach): The main beaches in Cascais form a vast sand stretch with calm waters. Suitable for families, friends, and couples. It can get packed due to its proximity to the capital, but it was just fine for sunbathing. Be warned: topless is normal AND we saw many families there. No one seemed to care though.
Praia de Tamariz (Tamariz beach): Larger sand stretch with a rock swimming pool. Around 20 minutes walk on the promenade from Cascais center (it's near Estoril train station). It's one of the best beaches in Lisbon District and the best beach in Cascais for sunbathing.
Praia do Guincho (Guincho Beach): Windy beach ideal for water sports, such as surf, windsurf and kitesurf. Currents can be strong so I don't advise to let children swim here, and since it's windy, not sure if it's ideal for sunbathing either. You can reach it either by bus (line 405 or 415) or bike, but I'll explain that later.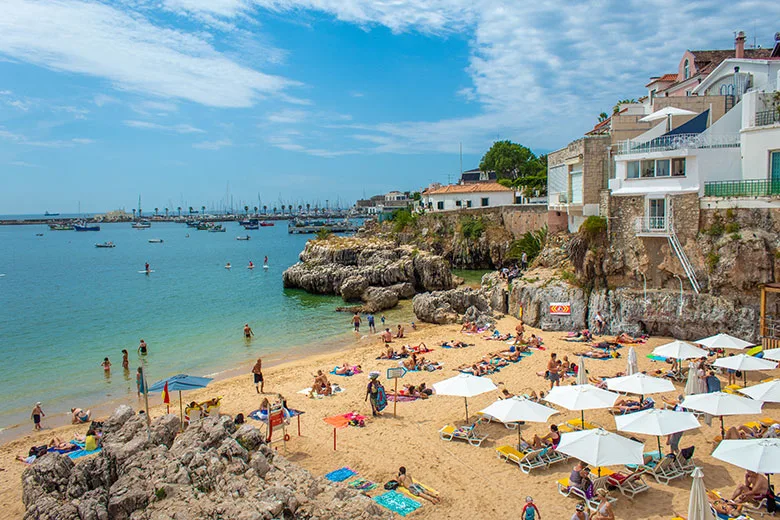 Check out the Lighthouse Museum of Santa Marta and Casa de Santa Maria
Lighthouse Museum of Santa Marta is a 17th-century tower covered with tiles. It was built to light up the marina, but today it's also a museum about…Portuguese lighthouses. Cool, isn't it?
The Casa de Santa Maria was built by an Irish millionaire in the 19th-century but later sold it. Today you can visit it and learn more about the story of this beautiful house.
The entrance is inexpensive: € 4 for both the house and the Santa Marta Lighthouse Museum, so no reason not to go. Both inside and outside of this place are impressive.
Pro tip: Cross the bridge and walk down to the rocks to take a nice shot of both!
House opening hours: Tuesday to Sundays from 10 am to 1 pm and 2 pm to 5 pm.
Santa Marta Museum opening hours: Tuesdays to Fridays from 10 am to 5 pm. Weekends from 10 am to 1 pm and 2 pm to 5 pm.
Tower visitation: Wednesdays to Fridays from 11 am to 12 pm. 4th Saturday of the month from 11 am to 1 pm.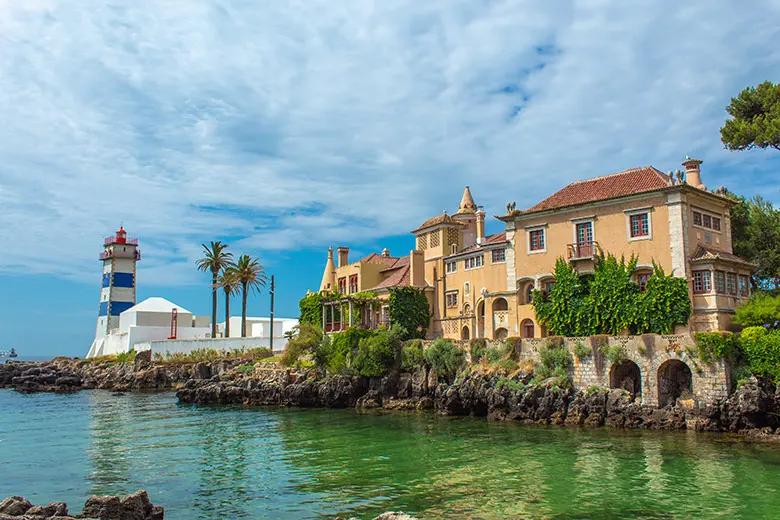 Visit the impressive Boca do Inferno
Boca do Inferno is a rock formation at Cascais seaside, which means Hell's Mouth. This place has this sweet name because the waves crash into the "open mouth" of the cave-shaped rocks and sprinkle furiously back.
Photography lovers will have a blast here because the view is breathtaking.
As the sound of the waves crashing on the rocks welcomes you, the blue Atlantic Ocean, hopefully together with a blue sky, will keep you hypnotized.
Break the trance and walk back to the bike path so you can see inside the mouth. It must be a dazzling place during sunset!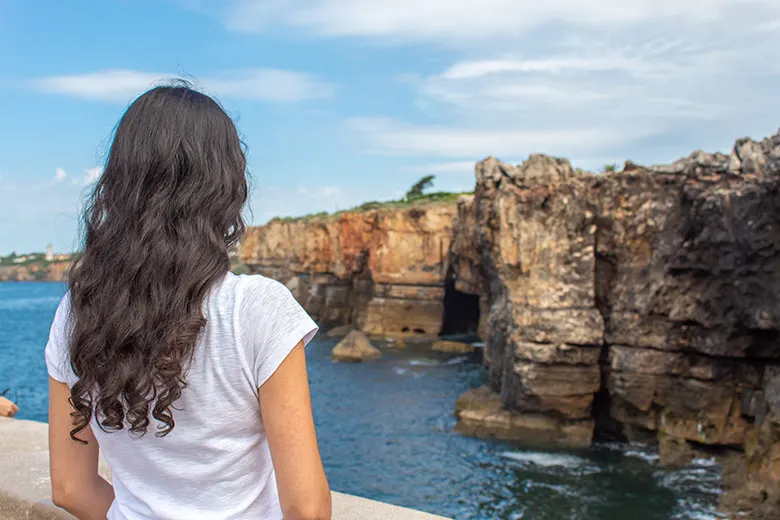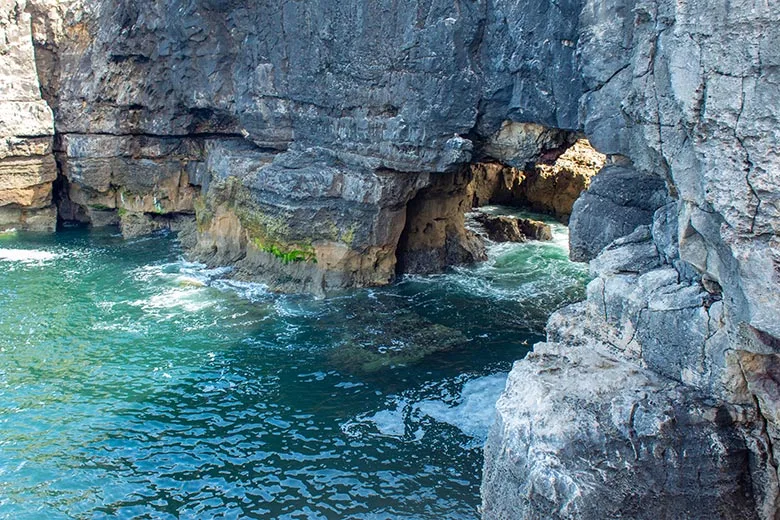 Grab a coffee with a view at Casa da Guia
A shopping mall with the perfect view – the ocean! Have lunch or grab a coffee and do some people watching. Or better yet, let the sea take your thoughts away. It's a sweet spot!
They have some clothing, gardening and craft stores too, of course. So if you're planning to do shopping in Portugal, you might want to walk around a bit.
Oh, and you might want to check out the lighthouse. Tourists aren't allowed inside though.
Read next: 3 perfect days in Lisbon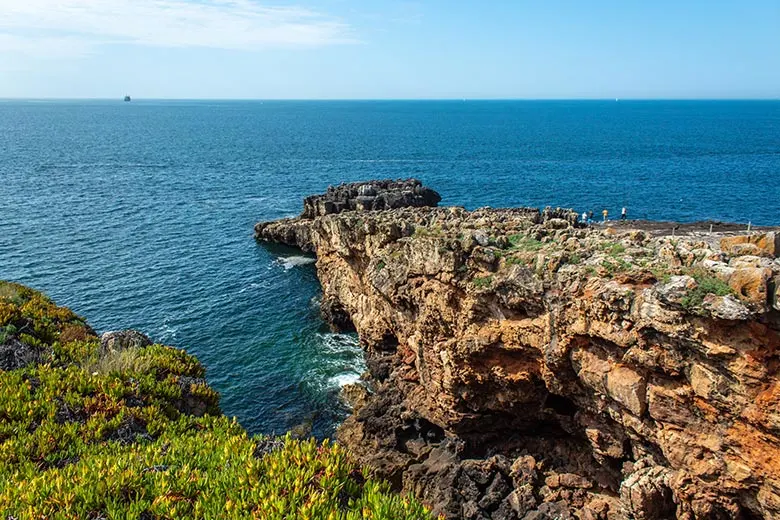 Ride a bike
Yes, ride a bike in Cascais! The landscape is gorgeous, and you can reach some interesting places with it, such as Praia do Guincho, mentioned above, or Boca do Inferno, an impressive rock formation.
There are a few possibilities to find a bike in Cascais:
Free bikes called bicas are available for a day just outside Cascais train station on the left side.
You have to download the app MobiCascais, create an account, confirm your email, and then you can use the bike.
If the app doesn't work properly, try signing up through their website. It worked for me.
But be warned: because they are free, the bikes are gone pretty fast in summer months, and they aren't very sophisticated. No helmed whatsoever is available, of course.
In the app, you can see the three docks and how many bikes are available in each.
Alternatively, you can rent a bike near the marina. It costs around € 10 for a day, and all you need is a valid ID.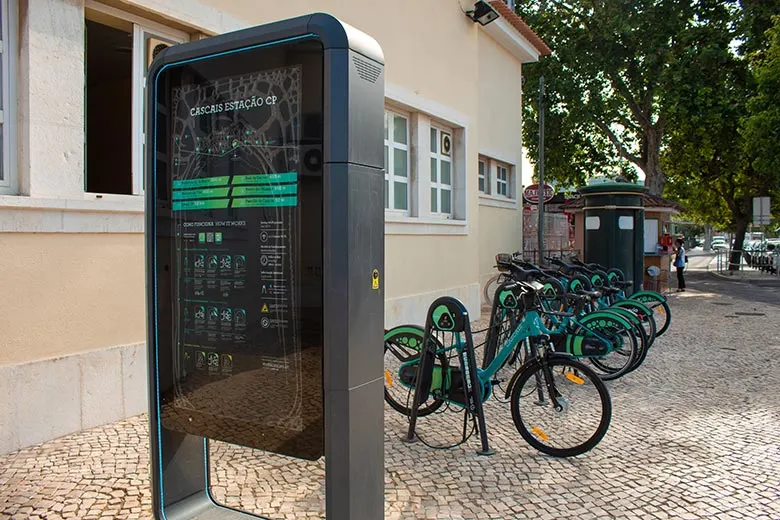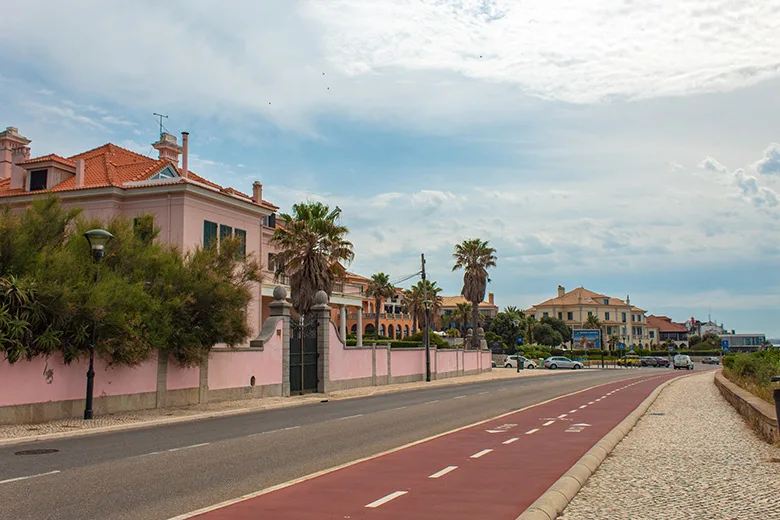 Popular bike ride to Boca do Inferno, Casa da Guia, and Guincho Beach
The bike path starts in front of the Castro Guimarães Museum, near the marina, and goes passes the Boca do Inferno, and after a few minutes cycling with this scenic view, the path ends at a roundabout, where another dock is available and continues on the other side of the road.
On the left side, you'll see a yellow mansion, that's Casa da Guia, the shopping mall I described above.
Continue your bike tour, and after ten minutes you will see the São Jorge de Oitavos Fort, a small 17th-century fort with a few canons.
After this point, cycle for more 20-25 minutes and you'll be at Guincho Beach (it's right after Crismina beach).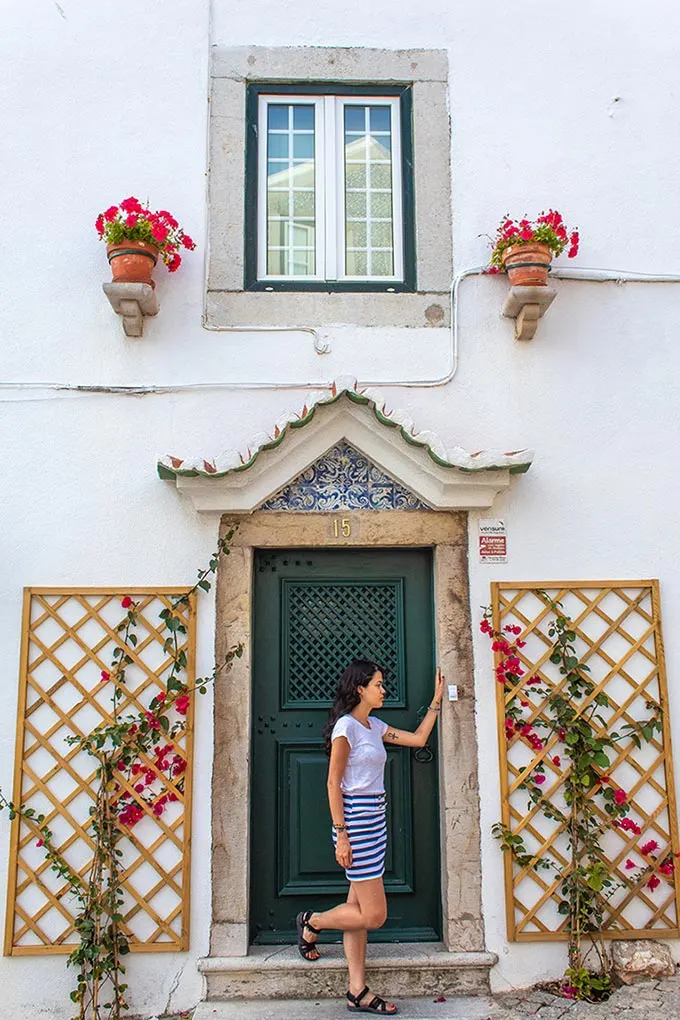 Have some Portuguese food
Cascais has some excellent restaurants, and you won't regret ordering a typical Portuguese dish in one (or a few) of them.
The Portuguese cuisine is highly influenced by Mediterranean cuisine, and as a result, it uses a lot of seafood, cheese, olives, olive oil, as well as garlic and parsley.
5 Sentidos is an excellent restaurant with fresh seafood, good portions, and great ambiance (if you aren't traveling alone, look for the portions to share, it serves 3~). Also, be sure to make a reservation.

How to get from Lisbon to Cascais by train
Cascais is 15 miles/ 24 km to the west of Lisbon city, so this is the easiest way to go from one city to another.
The train from Lisbon to Cascais takes around 40 minutes, and it leaves from Cais do Sodre station every 20 minutes. A one-way ticket cost € 2.50 + € 0.50 for the reusable Viva Viagem Card (non-refundable).
However, if you load it with the "zapping" option, instead of a one-way ticket, it's slightly cheaper, € 1.90.
Pro tip: Hold your card in front of the reader to use the train and metro as well as when you want to leave the station. On buses and trams, only hold your card in front of the reader when you get in.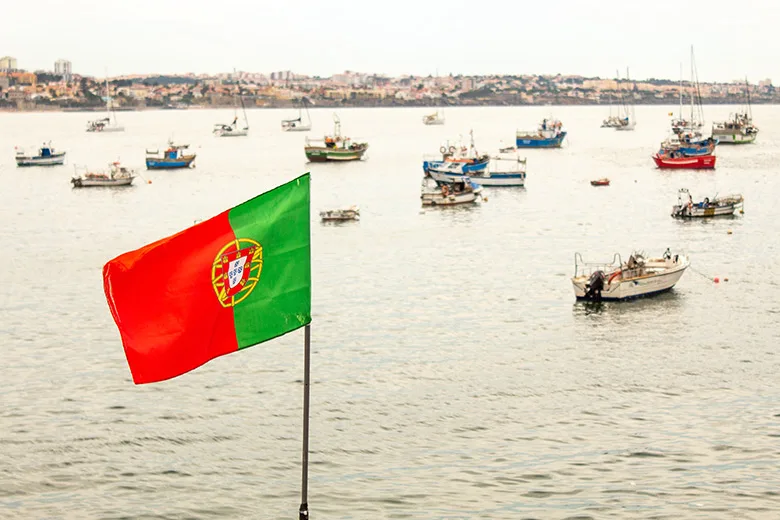 How to get from the airport to Cascais
If you're looking for a train from Lisbon airport to Cascais follow this step-by-step: From the airport, take Aerobus line 1 to Cais do Sodre station, from there take the train CP (comboio) towards Cascais and get off at Cascais station.
The whole trip takes around 1h40, and a one-way ticket costs about € 5.80 (€ 3.60 for the Aerobus and € 2.25 for the train).
Note that this is the easiest route with the least transfers to Cascais from Lisbon Airport.
How to get from Lisbon to Cascais by car
Look, Cascais is really close to Lisbon city, so I highly recommend you go by train. It's cheaper and easier.
Many people who want to avoid the hassle of public transport, take a taxi from Lisbon to Cascais, but that's costly, in our opinion, instead take an Uber.
But let's say you're going there by car because you're going on a road trip through Portugal. Then from Lisbon take the A5 towards Cascais.
Follow the signs and take the exit to Cascais, which is right after the exit to Sintra. Easy peasy!
Map Cascais Lisbon District
Wrapping up on a trip from Lisbon to Cascais
Cascais is a lovely village where you enjoy a chilled out weekend or a day only.
Planning what you're going to do is essential to guarantee your spot wherever you wanna go: restaurant, beach, ride a bike, etc. Have you been there?
Share below your recommendations and what to do in Cascais – that isn't on this list! We would love to hear from you!
Did you find this post about how to get from Lisbon to Cascais useful? Help us spread the word and pin it to your Pinterest board!

Our best travel tips & resources:
Here're our all-time favorite travel tips & resources so that you can save money and plan your travel logistics hassle-free! For more travel resources, check out our
travel tips.
Saving money: Fly on offseason, winter (not Xmas or NYE), Tuesday, or Wednesday! According to experts, these are the cheapest days to fly.
Travel insurance: Before you leave for your trip, make sure you have a valid travel insurance policy because accidents happen on the road. We have been paying for Safety Wing travel insurance for a little over a year now, and we happily recommend them to our family and friends.
Accommodation: We usually stay in mid-range comfy hotels or private rooms in hostels. These are the sites we use to book accommodation: Booking.com for hotels (excellent flexible cancellation policy) and Hostelworld for hostels (low deposit and easy cancellation).
Tours:We absolutely love booking guided tours with locals to get a history lesson while sight-seeing, especially food tours and walking tours! We book all of our tours using Viator and GetYourGuide.
Transportation: We use Google Maps to figure out how to get around a place using public transport. When we book a rental car, we always use Discover Cars to find the best deal.