Ready to ignite your wanderlust? Here are 45 of the most beautiful places in the world!
From the frozen wastelands of Antarctica to the steamy jungles of Brazil, from the depths of our oceans to the highest mountain peaks, and from the most desolate deserts to the ultra-modern cities, our planet has been so blessed by nature, cramming it with thousands of geological wonders that make up the most beautiful places in the world.
Below we list just a minuscule number of the world's most beautiful places. Some are tucked in faraway lands that perhaps many of us will never see, while others may be just around the corner.
45 Of The Most Beautiful Places In The World
Here are 45 of the world's most beautiful places you simply can't afford to miss.
1. Rio de Janeiro, Brazil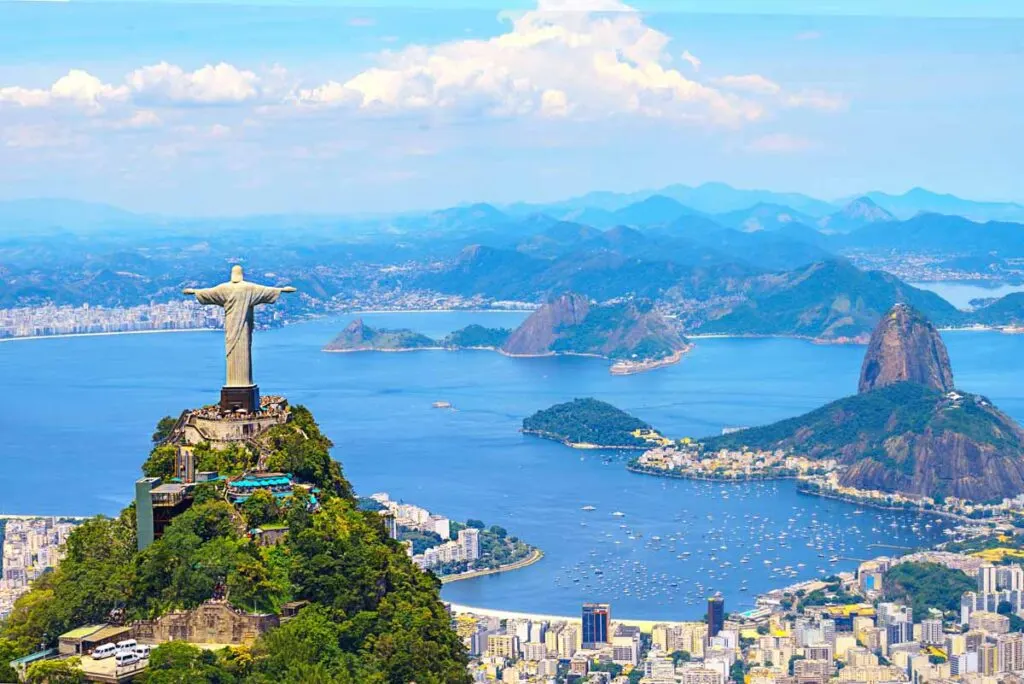 Compressed between dramatic mountains and the ocean and inhabited by the most laid-back people you'll ever meet, Rio de Janeiro is, without a doubt, South America's most beautiful city and certainly one of the most beautiful places in the world!
Well, it certainly is one of the prettiest places in Brazil!
Its most famous attractions are its stunning beaches, with the legendary Copacabana and the posh Ipanema taking center stage, while landmarks like the Sugarloaf Mountain and the iconic Corcovado, with the enormous statue of Christ the Redeemer, are two of the world's most memorable sights.
Panoramic views from these beautiful spots of the city sprawled around them are truly unforgettable.
A city with scenic hiking trails through the rainforest, waterfalls, botanical gardens, lagoons, a vibrant nightlife, and more beachfront than any city in the world makes this one of the world's most beautiful places.
2. Amsterdam, Netherlands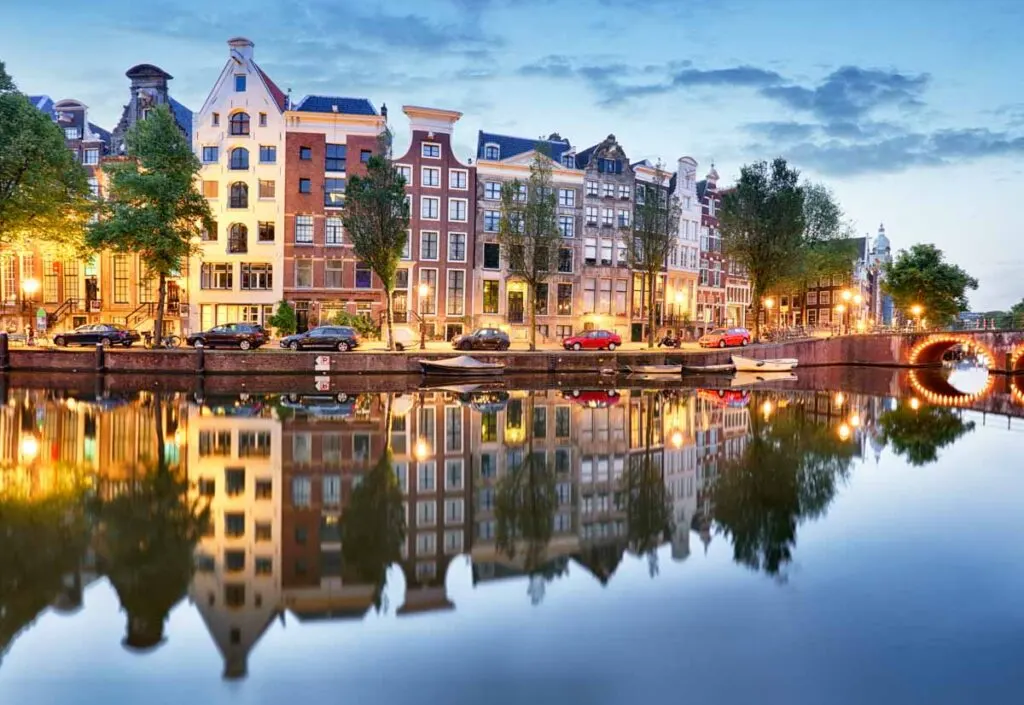 Amsterdam is a chocolate box-pretty city that feels like some children's fairy tale setting.
The largest city in the Netherlands is filled with iconic canals and flower-decorated bridges, windmills, 17th-century buildings, museums, and palaces, while the cobblestone streets are lined with quaint sidewalk cafes, pastry shops, and restaurants bustling with people.
Throw in a few thousand brightly-colored bicycles, tulip stands, and leafy public parks into the mix, and you have one of the world's most beautiful places…just like that!
For history buffs, culture vultures, and art lovers, the Dutch capital has so much more to offer than just pretty scenery.
Art museums are packed with priceless works by Van Gogh, Rembrandt, and the like, and thousands of other historical and modern artworks.
3. Paris, France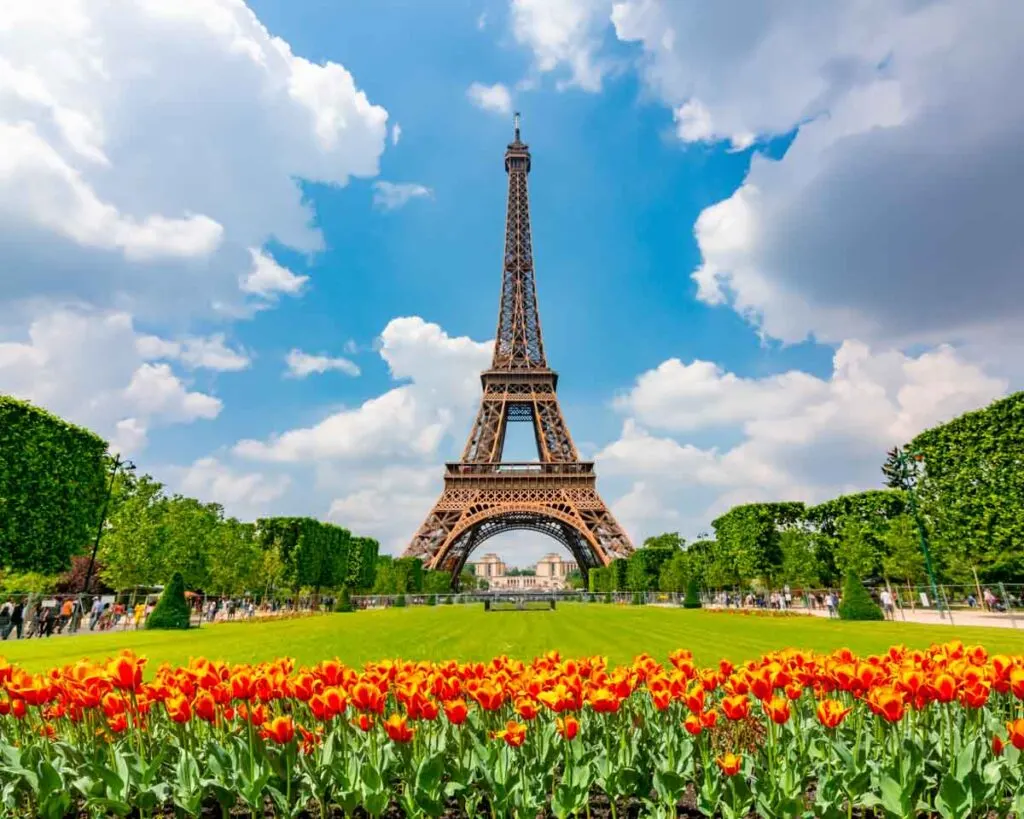 My goodness! What more can we possibly say that hasn't been said before? Paris has just got to be one of, if not the most beautiful places in the world. No doubt!
A capital city jam-packed with historical buildings, lavish palaces, extravagant monuments, breathtaking medieval cathedrals and churches, and museums of every kind, with the scenic Seine River meandering through all this splendor.
And we haven't even mentioned the iconic Louvre or Eiffel Tower, famous French landmarks. From its top, the grandeur of Paris is revealed in one sweeping panoramic spectacle.
And when the sun sets, the city of love becomes the city of lights, with the tower being the focal point amongst the millions of dazzling lights flickering below.
From the bustle of the Arc de Triomphe and the Champs-Élysées lined with pavement cafes and classy shops to the artistic and bohemian Montmartre with the world-renown Moulin Rouge and the stunning Basilica du Sacré-Coeur, the standout stars, this city is truly beautiful.
4. Cliffs of Moher, Ireland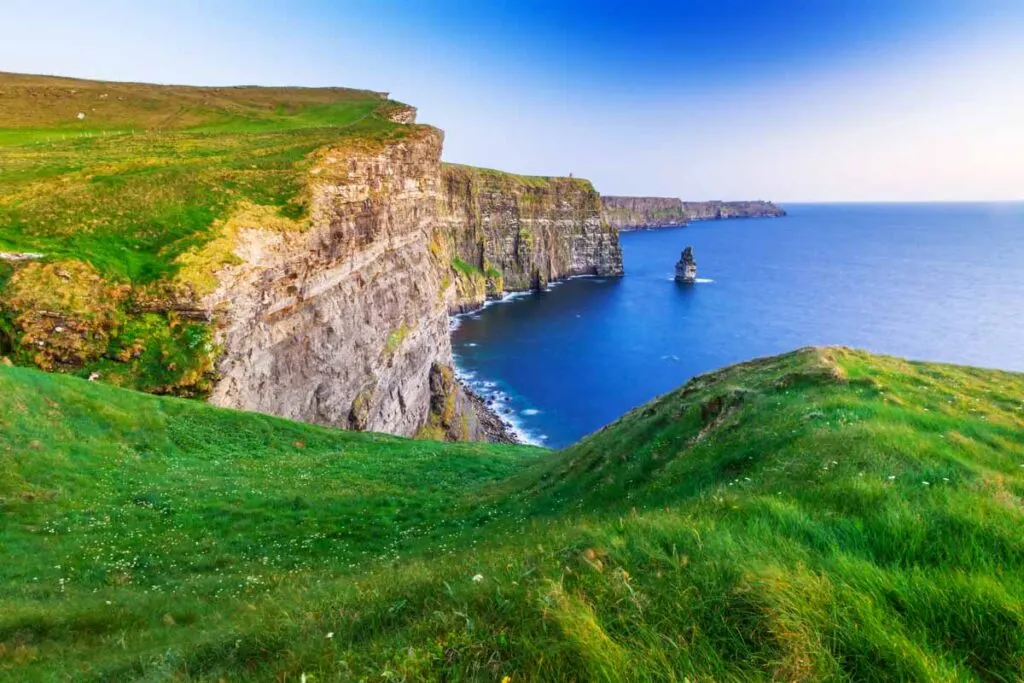 Situated on the west coast of Ireland and sculptured by nature over millions of years, these 700-foot cliffs dropping vertically into the ocean are not only one of Ireland's best places to visit but also one of the most beautiful places in the world.
Several trails along the cliff edge lead to viewpoints, from where huge rolling waves can be seen and heard crashing into the rugged shoreline, with the Aran Islands and the Atlantic Ocean as a backdrop.
A spectacular sight indeed! During the summer in Europe, the countryside is filled with wildflowers and thousands of bright, comical-faced puffins and other seabirds fluttering around their nests in the cliff face.
When the setting sun starts to sink into the blue horizon, this stunning land and seascape are transformed into one magical golden spectacle.
5. London, England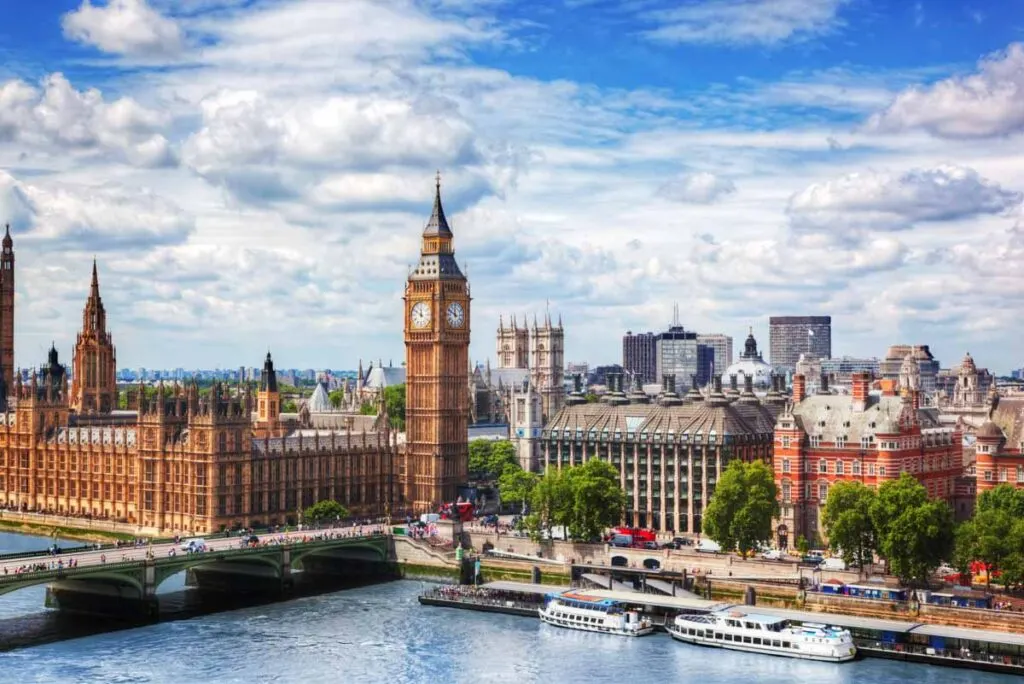 A city bursting with rich culture and history, reflected in its medieval castles and cathedrals, ornate palaces, museums and theatres, and thousands of beautiful buildings, each with their own story to tell.
And then you have the iconic landmarks in London: Houses of Parliament and Big Ben, the most recognizable and photographed buildings in the world, and the mighty River Thames, meandering its way beneath countless historic bridges through the heart of the city.
Nowhere better to take all of London's beauty and charm than from the London Eye, situated alongside the river.
Apart from the absolutely breathtaking St Paul's Cathedral, Westminster Abbey, Buckingham, and Windsor Castle, there are thousands of secretive gems tucked in between the modern malls and trendy side streets throughout the entire city.
The characteristic red double-decker buses and black old-fashioned taxis give this beautiful city an added charm. As Dr. Samuel Johnson said over 200 years ago, "when a man is tired of London, he's tired of life."
6. Big Sur, United States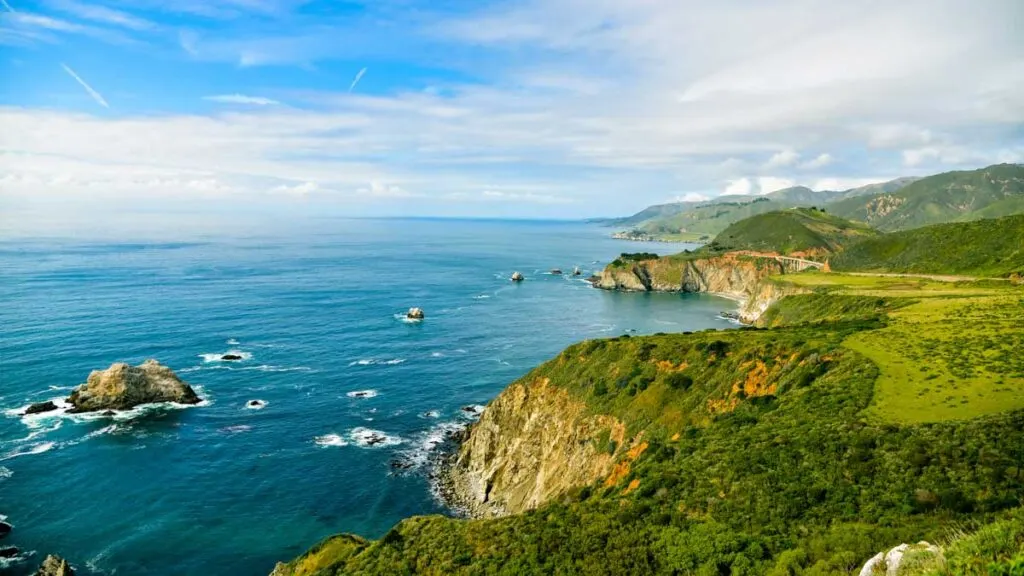 With 90 miles of spectacular scenery around each bend, the stretch between Carmel and San Simeon on California's coastline has got to be one of the most beautiful places in the world, with lush forests, mountains, rugged cliffs, and vast ocean views.
While visiting Big Sur, you'll pass numerous state parks with scenic picnic spots and hiking trails through meadows, giant redwood forests, rivers, waterfalls, and stunning beaches, with many places to stay overnight in the small towns, from luxury resorts to basic camping.
Along the ragged coastline, you'll find historic lighthouses, dramatic bridges, pristine beaches, secluded coves, and rolling Pacific waves crashing onto the rocky shoreline. The purple sands of Pfeiffer Beach are a must-see.
There are numerous lookout points along the route to stop and admire this remarkable coastline, always keeping an eye out for migrating whales and other marine creatures.
7. Banff National Park, Canada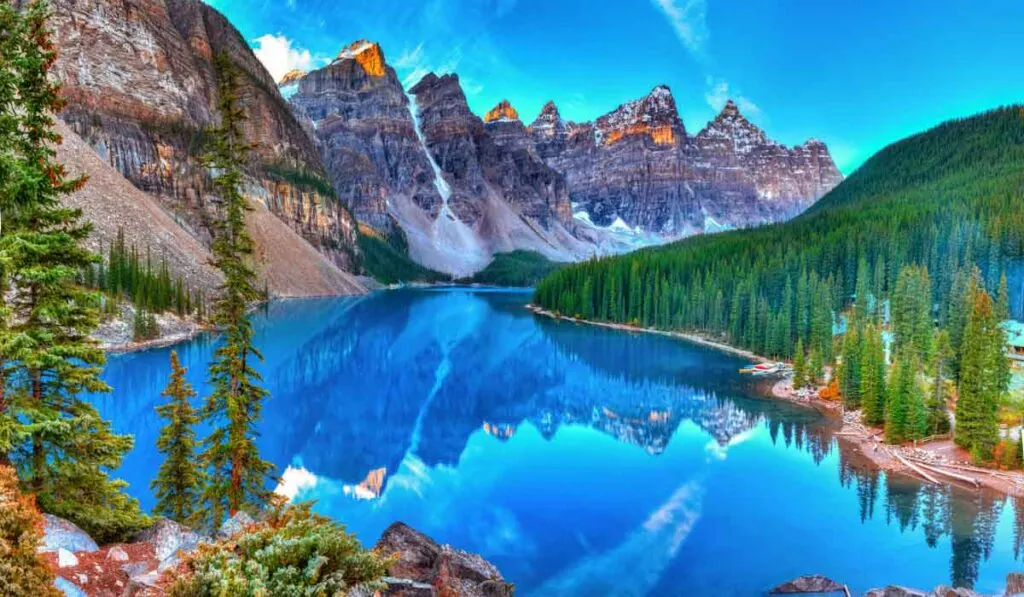 With over 2,500 square miles of pristine landscape, this Canadian park is hands-down one of the most beautiful places in North America, let alone in the world.
This unique travel destination is packed with majestic snow-capped mountains, crystal blue lakes, ancient glaciers, fast-flowing rivers, natural hot springs, dense alpine forests, and flower-covered meadows teeming with wildlife, including bears, cougars, wolves, and elk, has just gotta be one of the most beautiful places in the world!
Outdoor enthusiasts enjoy an endless range of activities during summer and winter, while the changing scenery remains absolutely gorgeous all year round, providing breathtaking views from virtually everywhere – a haven for hikers and nature photographers.
Lake Louise is a must-see, but you can also find nice hikes around Moraine Lake.
Lodging, from luxury resorts to basic camping, is available throughout the park, with the charming town of Banff brimming with quaint shops and restaurants.
Whether you're into heart-pounding or gentler activities or just want to experience the pristine wilderness of the Canadian Rockies, Banff National Park has it all.
8. Azores, Portugal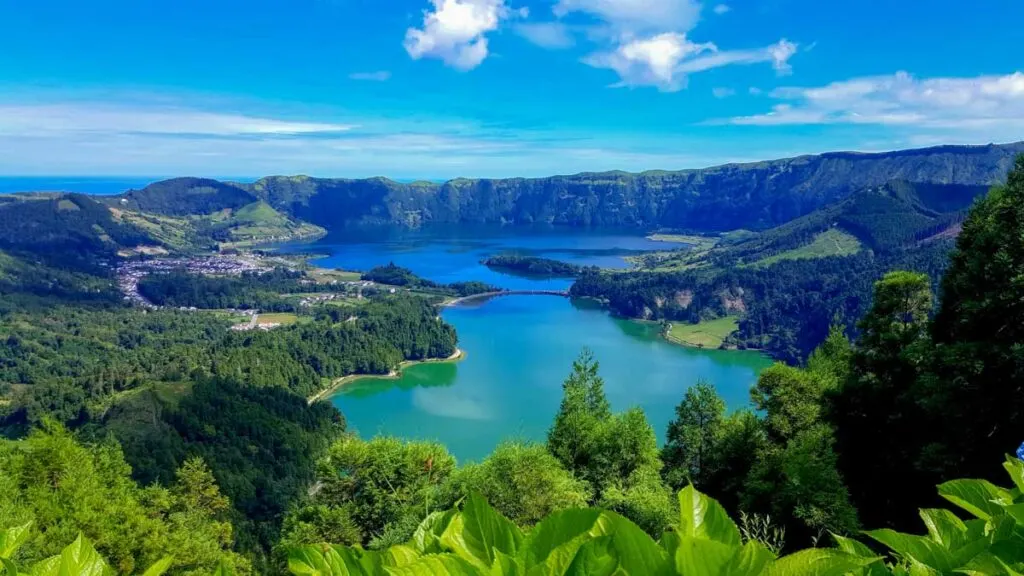 Tucked away in the middle of the Atlantic Ocean, the Azores are possibly the planet's best-kept secret, as they are certainly amongst the most beautiful places in the world, yet so few people know much about them.
They consist of nine small volcanic islands with a diverse landscape of deserted beaches, placid lagoons, humungous volcanic craters, snow-capped mountains, and green pastures and forests with dramatic cliffs, spectacular waterfalls, and warm geo-springs.
If that's not enough, quaint fishing villages dotted along the coastline, decorated with fascinating architecture and brightly colored churches, warm, hospitable people, and perfect weather all year, what's there not to like?
This diverse landscape is most certainly one of the prettiest places in the world and the perfect destination to escape the noise of city life.
9. Blue Moon Valley, China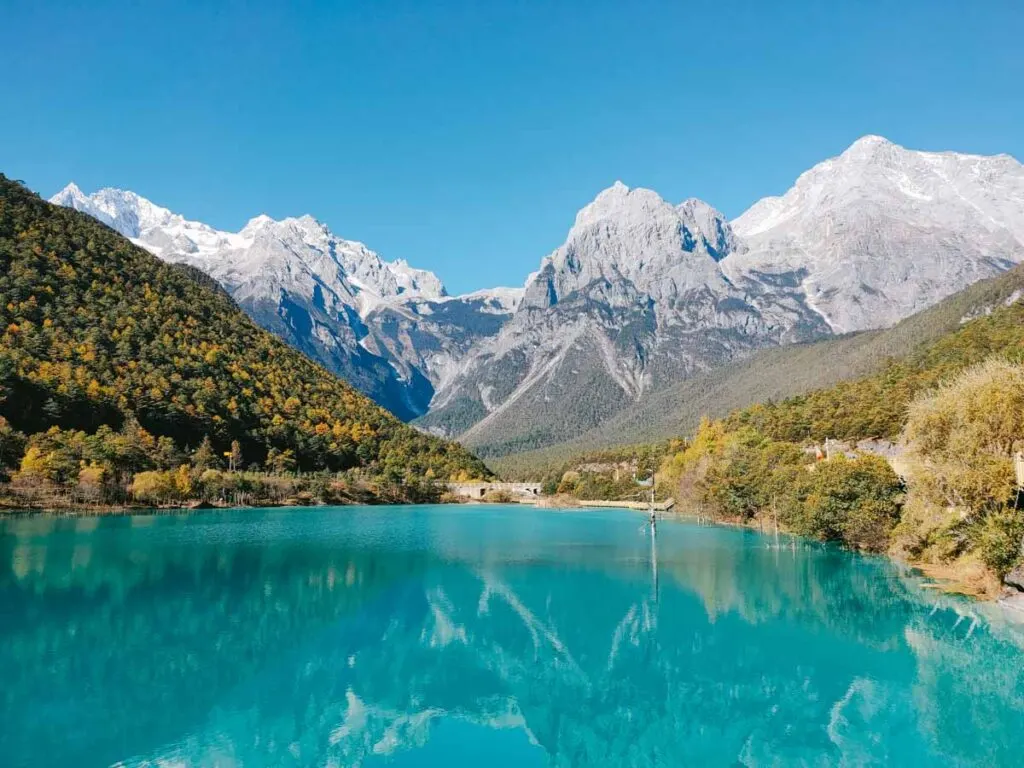 Situated at the foot of the towering 18,000-foot Jade Dragon Mountains in the Yunnan province in western China, the stars of Blue Moon Valley are four insanely blue lakes fed by a river carrying melted glacier water, making it one of the prettiest places in the world.
Beautiful pictures can be taken anywhere along the edge of the lakes, with the tall mountains and green valleys reflecting on the placid blue surface.
Beneath the clear water, submerged trees standing upright in the depths create an almost surreal effect.
To capture the magnificence of this place, take the cable car up to Jade Dragon Mountain, from where panoramic views of the lush green valley and the blue river snake their way through the ice-blue lakes and beyond.
A truly unforgettable sight!
10. Blyde River Canyon, South Africa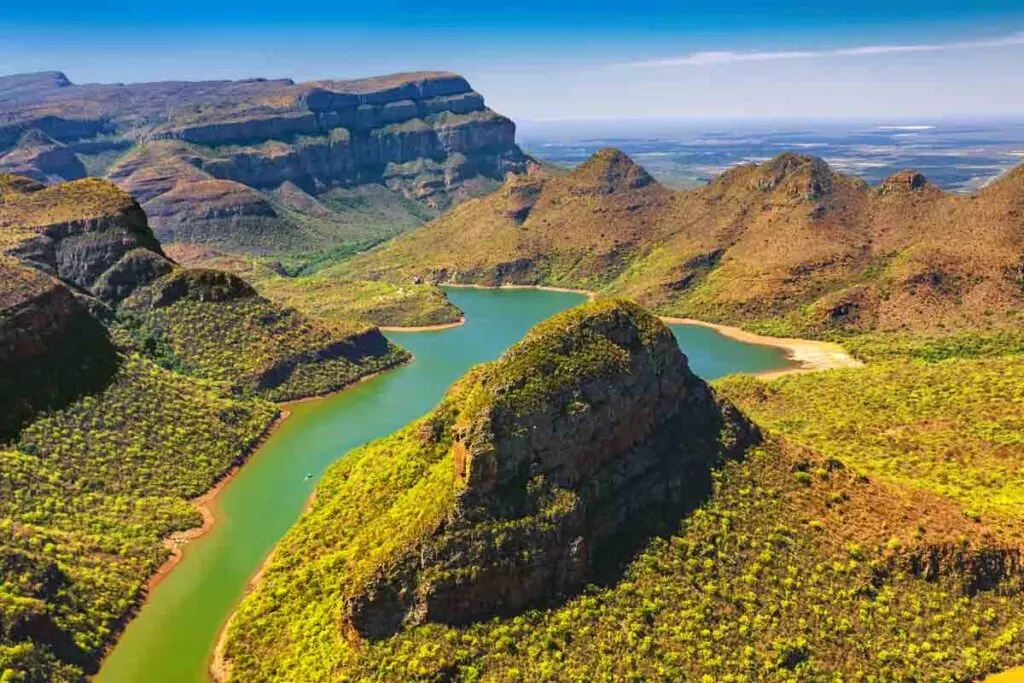 Situated in the northeastern part of South Africa next to the world-famous Kruger National Park, Blyde River Canyon is the third-largest canyon in the world and a national treasure no visitor to this country should miss.
Taking the Panorama Route will lead you to miles of spectacular scenery alongside numerous waterfalls, game reserves, and national parks. Viewpoints along the road provide spectacles in every direction.
Stars of the show are Bourke's Luck Potholes, huge cylindrical rock sculptures carved into tall cliffs by rushing water over millennia, the Three Rondavels, three conical mountain peaks rising vertically thousands of feet above the canyon floor, and the absolutely magnificent God's Window, which is just out of this world!
In case you're wondering how this landscape was formed, these are nature's scars made when Antarctica and Madagascar broke free from Africa 200 million years ago.
11. Blue Lagoon, Iceland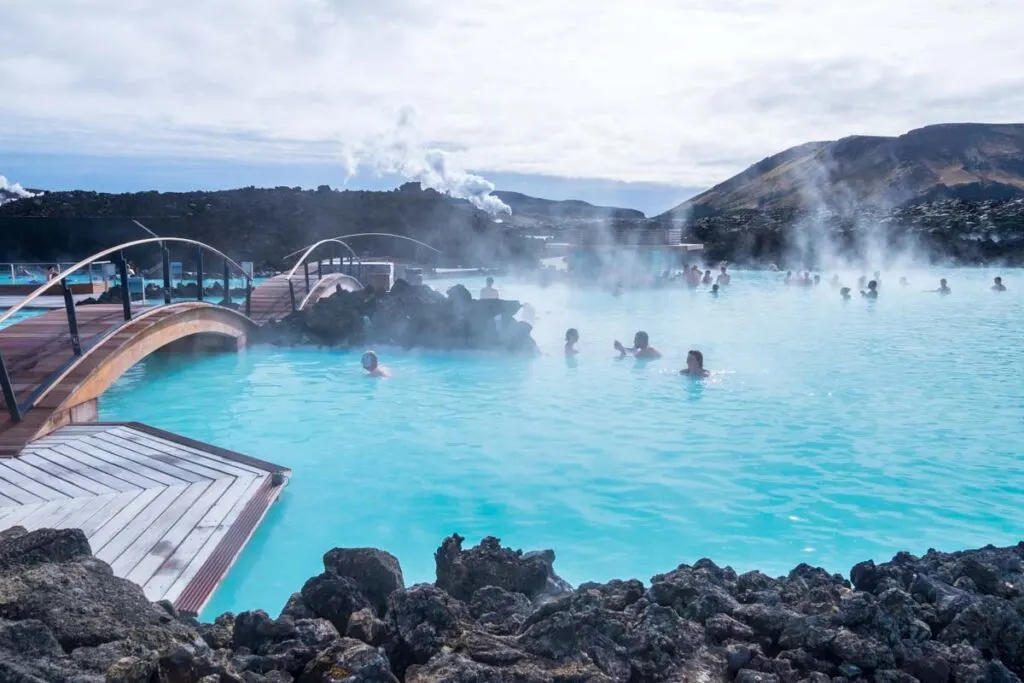 Although not on everyone's bucket list, Iceland has recently become a favorite destination for many people seeking something different…and something different they surely find.
Situated on the south-western section of this icy island, 45 minutes from the capital, is the massive outdoor geothermal pool, aptly named Blue Lagoon, due to its fluorescent, milky blue waters, which are rich in silica and other minerals that originated 6,500 feet beneath the sea.
Consisting mainly of salt water, it first passes through the nearby power station before being released into the lagoon at a comfortable 104°F.
The pitch-black lava and green moss surrounding the luminous and, at times, the spooky turquoise lagoon is a spectacle drawing thousands of visitors seeking relief from various skin conditions and nature photographers from around the world.
A most unique natural phenomenon not found anywhere else, earning its spot on our list of the most beautiful places in the world.
12. Grand Canyon, United States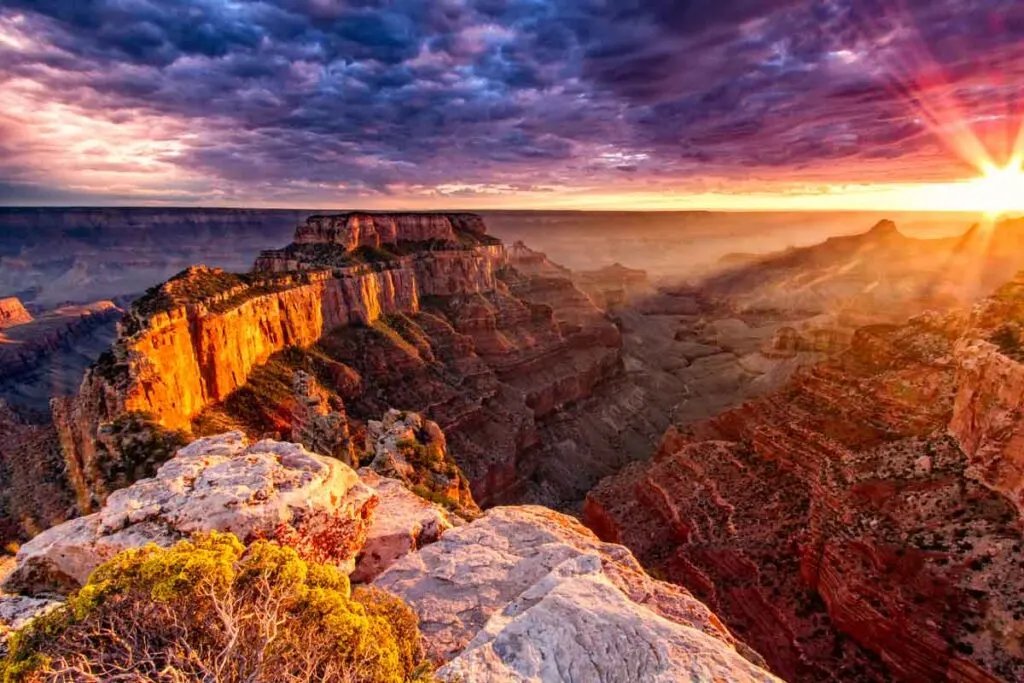 First seen by western eyes in 1540, this geological wonder has been inhabited by Indigenous Americans for thousands of years.
It's impossible to comprehend its dimensions if you haven't witnessed it in person. It's 277 miles long, 18 miles wide, and over a mile deep! Let that sink in for a while.
This rugged and colorful landscape has been carved by the roaring Colorado River over millions of years, creating dramatic cliffs, deep canyons, and incredible rock formations and exposing thousands of fossils.
It's accessible from the north and south, with many miles of walkways and viewing overhangs along its rim, offering spectacular scenery.
For an awesome perspective, consider taking a rafting trip down the Colorado River to truly appreciate the grandeur of one of the best places to visit in the USA.
13. Ella, Sri Lanka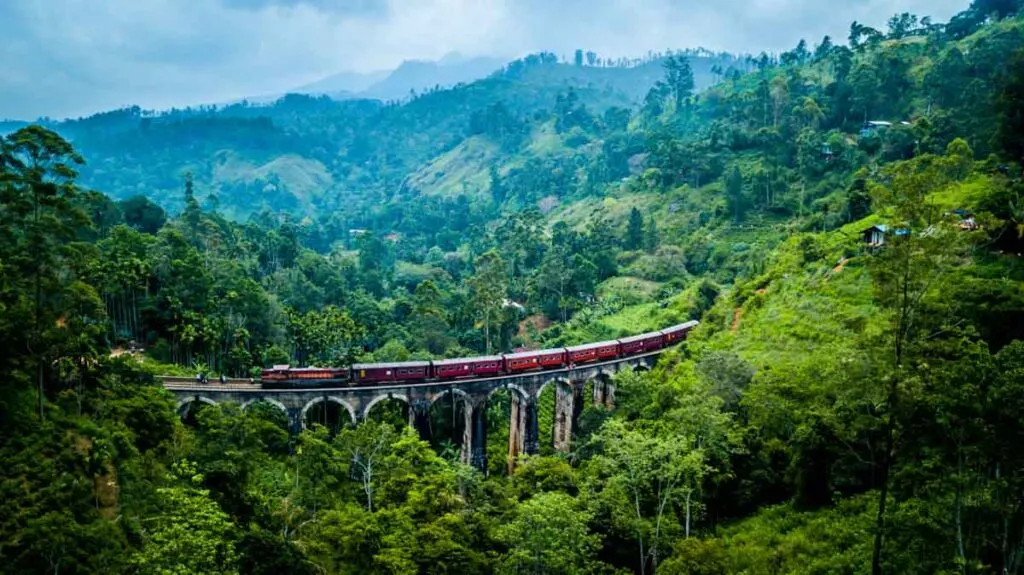 If hiking or wandering around jungles surrounded by rolling hills and valleys, intriguing caves and historic temples, hidden waterfalls and dramatic bridges, tea plantations, and spectacular mountain scenery is what turns you on, the village of Ella in Sri Lanka is the place for you.
Situated 120 miles east of Colombo at an altitude of 3,400 feet, this mountainous region is littered with winding and twisting trails leading to numerous viewing sites offering spectacular scenery.
Not to be missed are the Ella Gap, the Nine Arch Railway Bridge, and the mythical Ravana's Cave, from where a zip line across the gorge will be an unforgettable experience over one of the prettiest places in the world.
14. Antelope Canyon, United States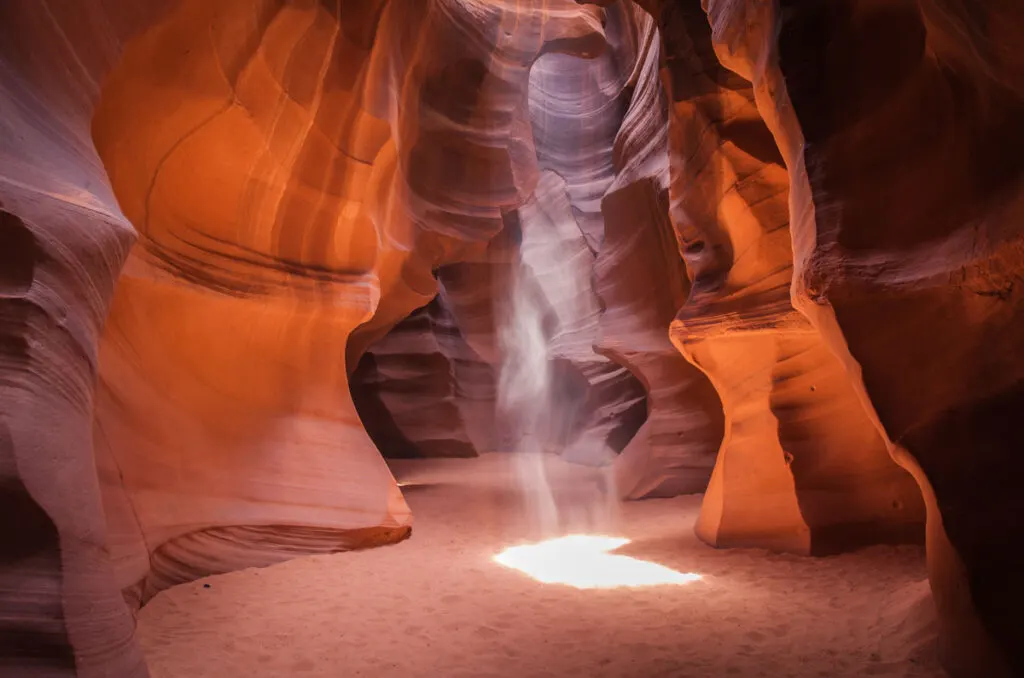 Accessible only through guided tours and situated in the Navajo Reservation in northern Arizona, Antelope Canyon is a geological wonder and one of the world's most beautiful places.
Rushing water and wind over millions of years have carved huge canyons into this arid landscape, with two main scenic slots becoming major tourist attractions.
Dropping 120 feet, the rushing water has cut deep passages with weird swirling, spiraling, and corkscrewing patterns into the reddish bedrock, creating high rock arches and bizarre and colorful rock formations.
Its splendor is revealed when you descend into the bedrock.
Around midday, rays of sunlight pour through the opening at the top, reflecting reds, gold, yellows, pink, and maroon on its curved walls, resembling an underground cathedral that is decorated by an artist. Nature at her very best!
15. Whitehaven Beach, Australia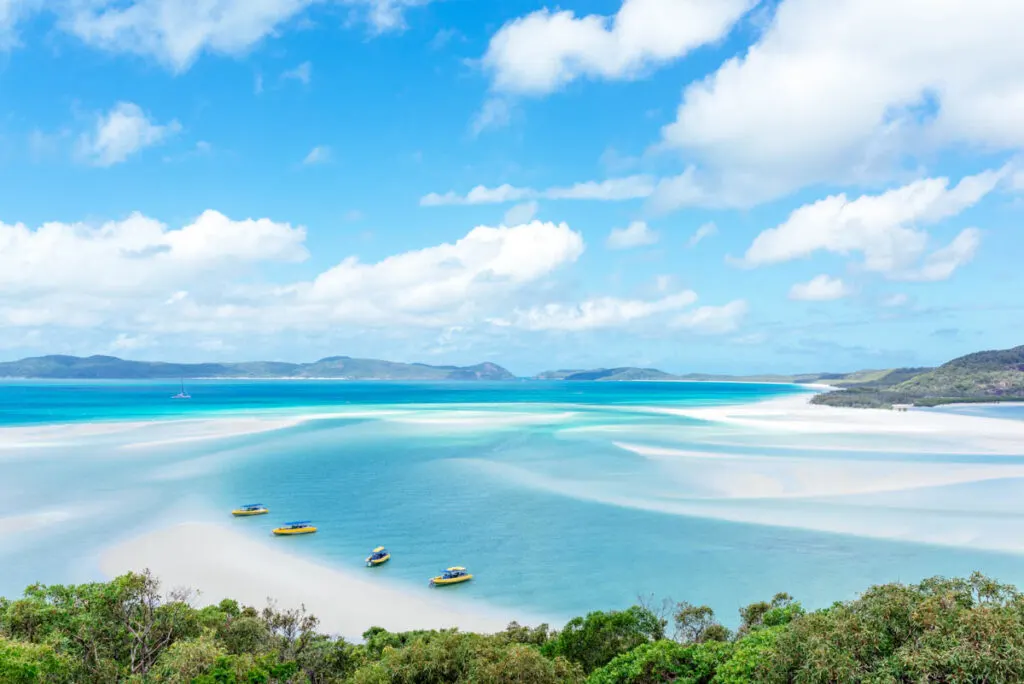 Turquoise waters and fine white sand define Whitehaven Beach on Hamilton Island.
This protected place in the heart of the Great Barrier Reef has been voted the world's top eco-friendly beach and can easily be one of the world's most beautiful beaches, too.
The sand is formed mostly by pure silica, which gives off a shining white color, is almost luminescent, and contrasts beautifully with the blue-green ocean.
16. Kauai, United States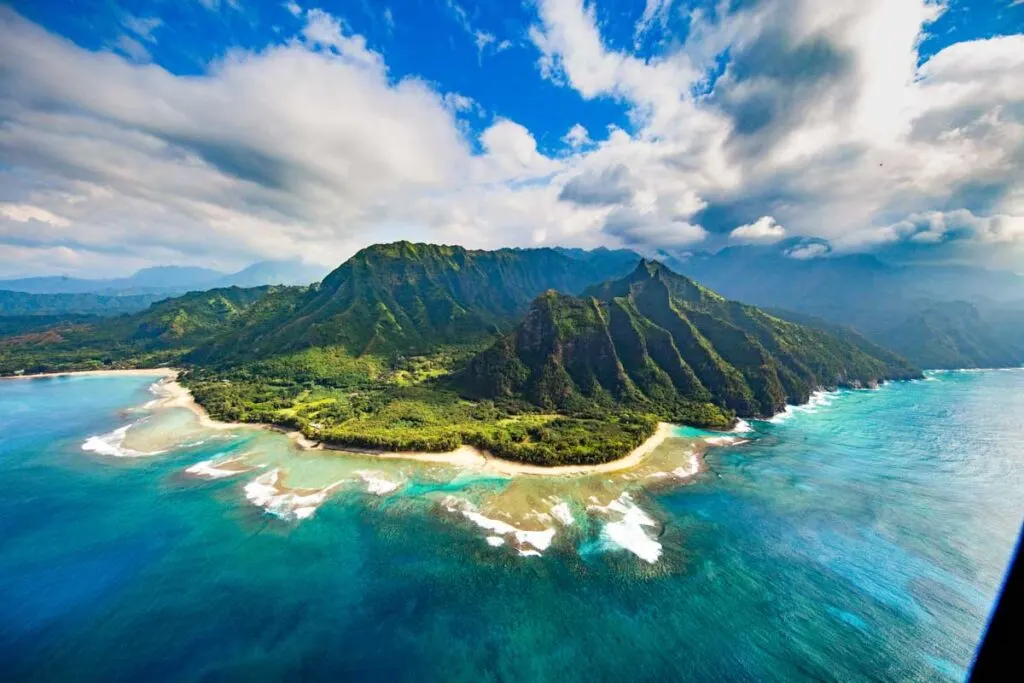 Not as commercialized as the other Hawaiian Islands, Kauai remains a nature lover's paradise and one of the world's prettiest places. It's not referred to as The Garden Island for nothing.
Despite its small size, it has a diverse landscape with a sublime coastline of stunning sandy beaches and secluded coves, ideal for swimming, snorkeling, and surfing or just lazing in the sun, and spectacular rugged cliffs plunging vertically into the ocean.
Its interior is a hiker's dream, consisting of lush rainforest, deep valleys, steep canyons, and towering mountains dotted with beautiful waterfalls with pools to swim in and teeming with birdlife.
Stunning scenery from virtually everywhere can be enjoyed, with the blue ocean always as a backdrop.
Encompassing Kauai, the crystal clear waters of the Pacific offer insane diving, fishing, sailing, and dolphin watching. Paradise cannot be much different from this.
17. Fernando de Noronha, Brazil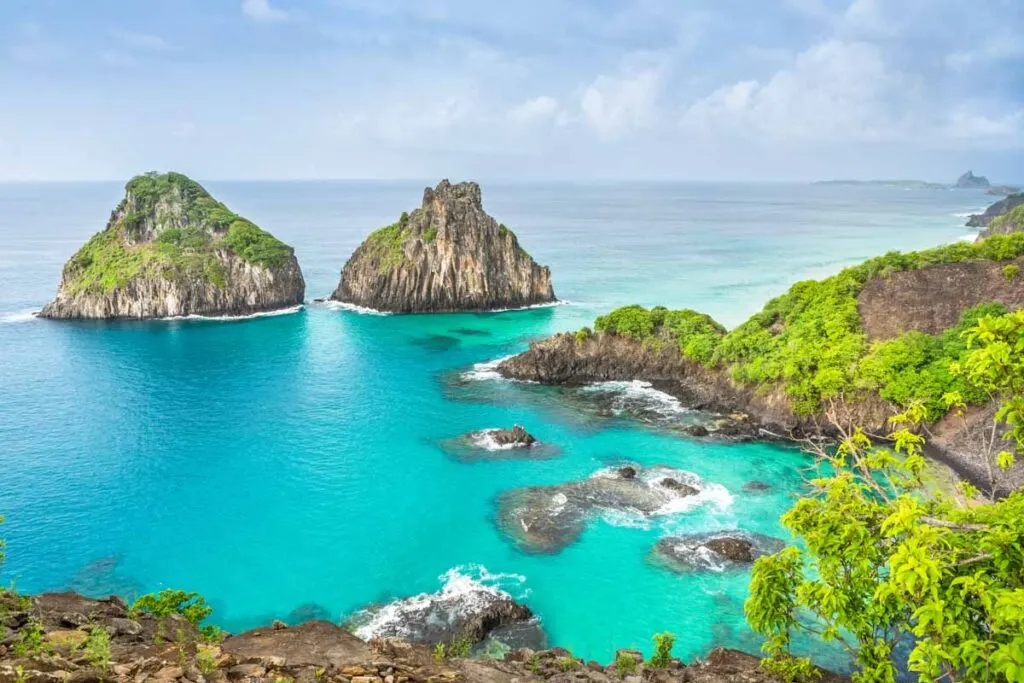 If you're into snorkeling, scuba diving, kayaking, or surfing in a warm crystal-clear ocean rich in marine life on a secluded tropical island far from the madding crowds, Fernando de Noronha, 220 miles off the Brazilian coast is waiting for you.
An island paradise, not even six miles long and two miles wide, covered in natural vegetation and dramatic cliff formations, fringed by dozens of white-sand beaches and coves lapped with turquoise water.
Not the easiest to get to or the cheapest, but certainly one of the most beautiful places in the world.
The population is just a few thousand, and the number of visitors is limited, helping to retain its unspoiled beauty.
18. Antarctica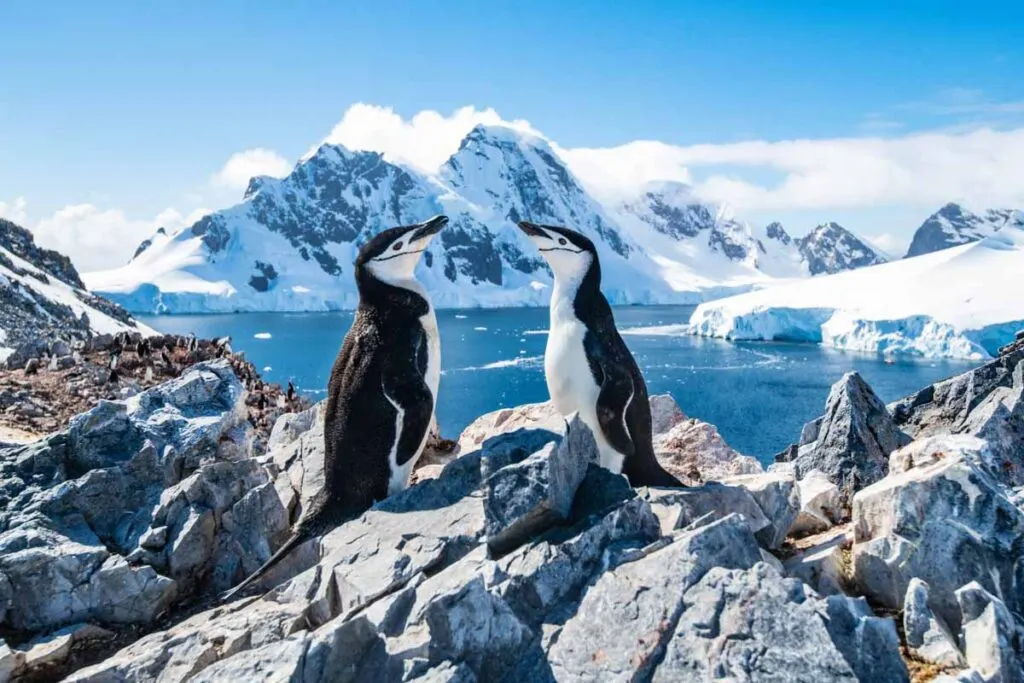 The land of the midnight sun! Not quite everyone's cup of tea, the southernmost landmass on the planet is arguably the most hostile, harshest, inaccessible, and challenging place for any human being.
But it's also one of the most beautiful places in the world!
Five million square miles of the remote polar wilderness of monstrous mountain peaks, ancient glaciers, and sandy beaches, with gigantic turquoise and snow-white icebergs of unimaginable shapes floating around the icy-blue waters.
This unforgiving landscape at the bottom of the world is, however, teeming with life! Images of thousands of penguins huddling together in a blizzard, or four-ton elephant seals floating on a sheet of ice, add drama and beauty to this magnificent corner of our planet. Beautiful scenery here is virtually endless.
19. Negril, Jamaica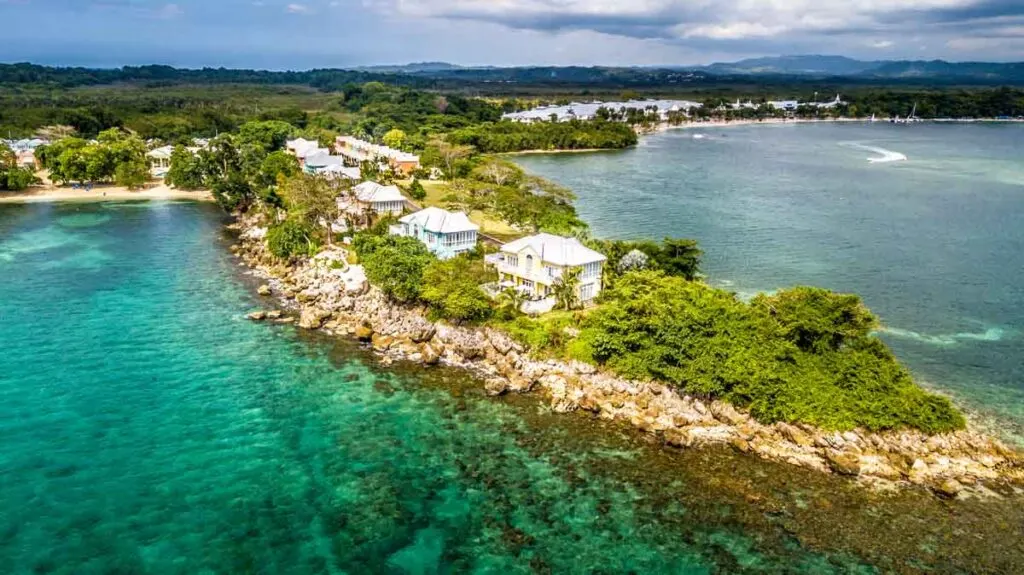 Situated on the western tip of Jamaica, Negril is a paradise within paradise. Seven Mile Beach, with soft white sand, lapped by calm turquoise water on one side and dramatic cliffs dropping into the crystal blue Caribbean on the other.
Bars, hotels, shops, restaurants, local markets, and leafy parks dotted along the entire coastline create a vibe and an idyllic island atmosphere.
Picture-perfect views no matter where you look. In the evenings, when you tire of the breathtaking beach and ocean scenery, jump onto a glass-bottom boat and cruise up the Negril River, taking in the more stunning scenery of thousands of wild birds nesting in the thick mangroves lining the banks.
Being a west-facing Caribbean island, there is no better place to watch the sun go down, as sunset hour becomes a most mesmerizing show from virtually anywhere.
20. Havasu Falls, United States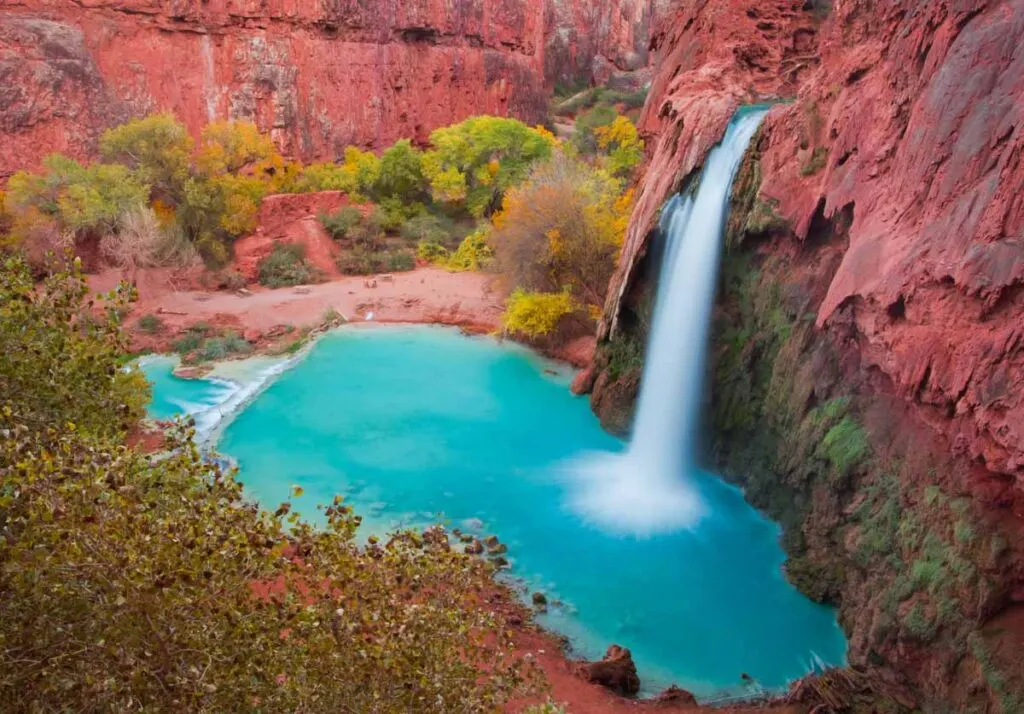 Accessible only with an overnight stay reservation, Havasu Creak flows through a series of picturesque waterfalls, with the Havasu Falls being the most spectacular.
Crystal icy-blue water plunging 100 feet down a deep rust-colored ravine into an inviting turquoise pool. All this in the middle of a desert in the Grand Canyon.
Getting there, however, requires a pretty strenuous hike, but the scenery along the way will make you forget your aches and pains.
You'll pass through two other similar waterfalls as the scenery keeps getting better until you reach the Havasu Waterfalls.
With lush greenery growing around the gorgeous pools in the middle of this rugged and arid landscape, it's like a tropical island setting in the middle of a desert. Absolutely breathtaking.
21. Patagonia; Argentina and Chile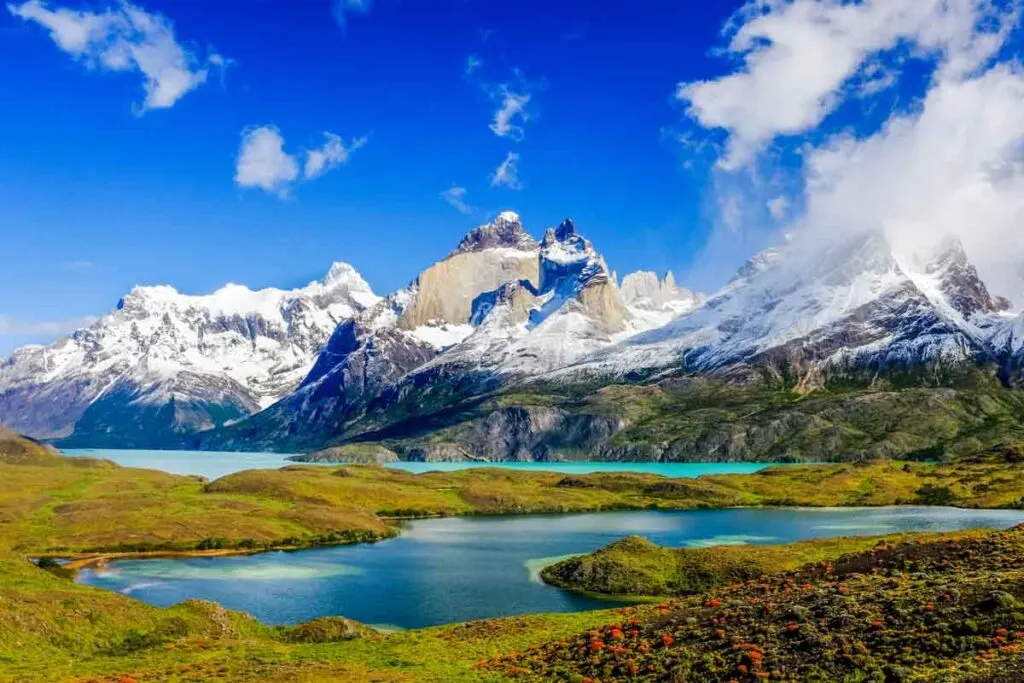 How can we describe the rugged beauty of 300,000 square miles of soaring mountains, glacial fjords, frozen waterfalls, rivers, lakes, rainforests, deserts, vast grasslands, and a coastline of high jagged cliffs, rocky coves, and islands, all teeming with incredible wildlife, be it on land, in the air or under the water?
Wrapping around the southern tip of South America, this vast and diverse landscape of exceptional and untamed beauty is shared by Argentina and Chile and is one of the least populated areas in the world.
It is a land for the adventurous and those that truly appreciate the works of nature.
To single out any particular place would be an insult to the thousands of other equally magnificent spots, but for a little taster, check out the majestic Mount Fitz Roy and the icy blue Laguana Des Los Tres.
Torres Del Paine National Park is also a fantastic place to experience. There's nothing on earth quite like this. Rugged and wild but also one of the most beautiful places in the world!
22. Amazon Rainforest; Brazil, Peru, Colombia, and Other South American Countries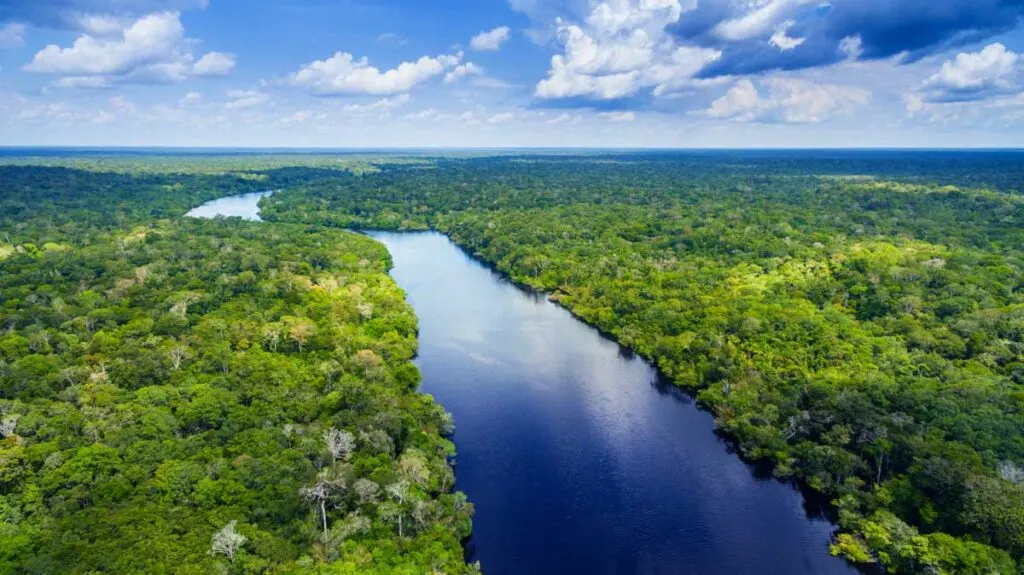 Covering 40% of South America across nine countries, spanning nearly three million square miles, and holding nearly 400 billion trees and millions of wildlife species, the Amazon Forest is not only one of the most beautiful places in the world but also plays a crucial role in stabilizing global weather and affecting the health of our planet. But we're here to talk about its beauty…right?
Where do we start? From its source at the peaks of the mighty Andes Mountains, through its dense and lush forest canopy, to the mouth of the Atlantic Ocean, its diverse landscape of jungle and river, home to some of the most exotic plants, animals, birds, insects, and fish, is of unparalleled beauty.
Canopy tours and river cruises allow us to witness one of nature's greatest artworks, whether it's her giant trees, elusive jaguars, exquisitely-colored birds, or playful pink dolphins. Spectacular scenery is everywhere you look.
23. Bariloche, Argentina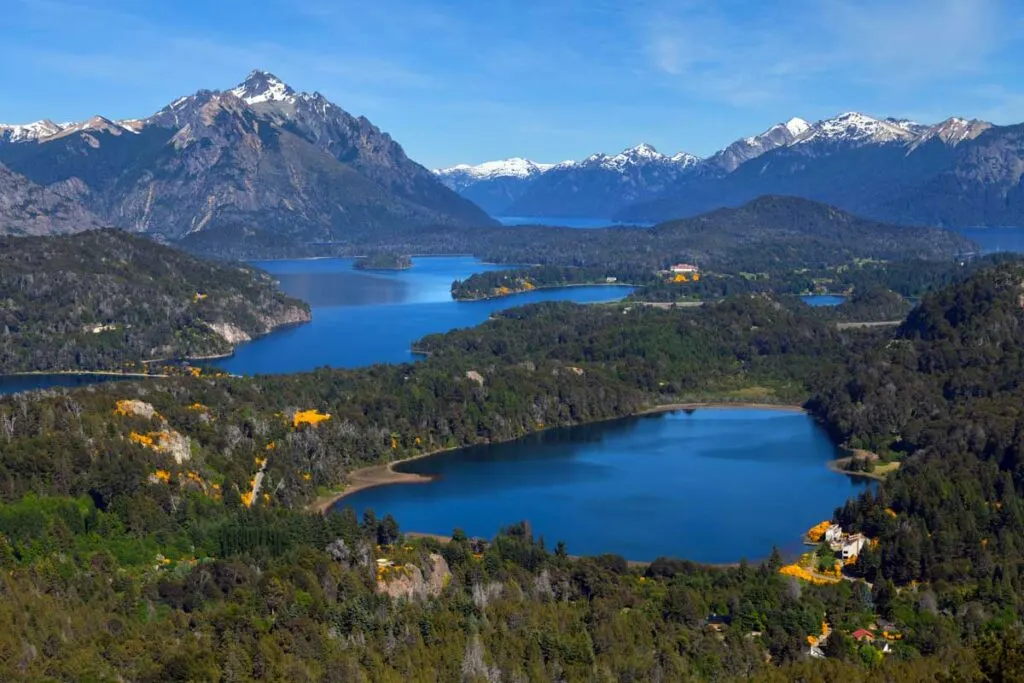 Located in western Argentina alongside the spectacular Andes, the city of Bariloche is of remarkable beauty all year round, surrounded by snow-covered mountains, ancient forests, crystal blue glacial lakes, and scenic rivers.
Chocolate box pictures in every direction. Talking of chocolate, do not miss their chocolate desserts! Voted as the Chocolate Capital of Argentina!
This ever-changing landscape is a hotspot for winter visitors seeking snow-related activities while fall slips on her golden cloak over the forests until the flowers of spring and summer carpet the countryside in a blaze of color. Drop dead gorgeous!
For an ultimate experience, soar in the sky on the cable car to the snowy peak of Cerro Otto, and witness the splendor of the beautiful Andes Mountains, the lakes, forests, and the charming city sprawled below.
24. Petra, Jordan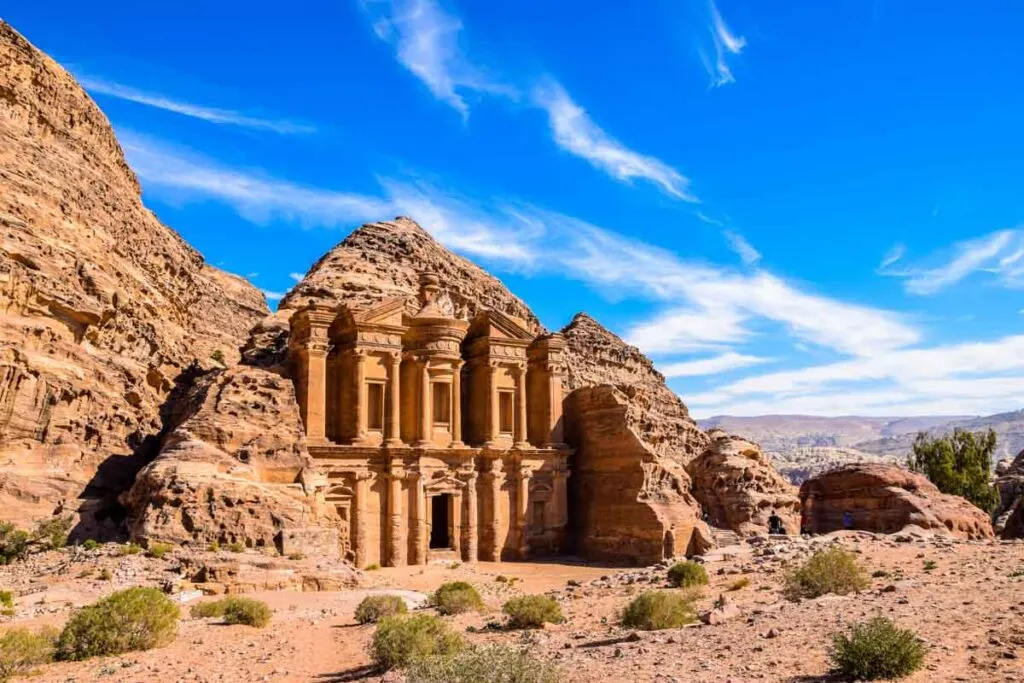 Said to have been built over 2000 years ago by the Nabateans (an ancient Arab tribe), Petra is a maze of impressive temples, caves, and tombs carved into pink towering sandstone cliffs and mountains stretching a mile long in the desert in south-western Jordan.
The most iconic section is The Treasury, a façade with elements of eastern and ancient Greek architecture carved into a towering 130-foot cliff face. A masonry and engineering masterpiece!
Much of this archaeological site still remains unknown, but we do know that Petra is one of the most beautiful places in the world and is regarded as one of the New Seven Wonders of the World.
25. Iguazu Falls; Argentina, Brazil, and Paraguay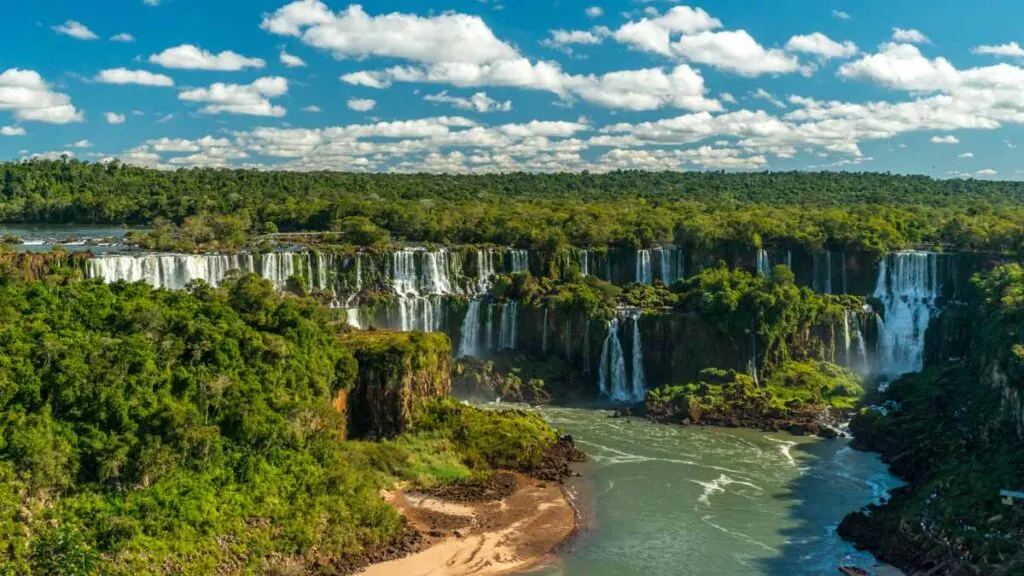 Situated on the borders of Brazil, Argentina, and Paraguay, Iguazu may not be the tallest but are certainly the largest and most dramatic waterfall in Brazil, let alone on the planet.
It is located on a half a mile-wide hairpin bend on the Iguazu River in the middle of a rainforest.
A trail along the Brazilian side at the base of the falls will take you past a spectacle you will never forget.
Two miles with 275 falls cascading vertically like curtains of water from a height of up to 270 feet, creating a thick haze of mist and throwing hundreds of rainbows right in front of your eyes.
The rushing waters continue until they reach one of nature's greatest works. Squeezing and falling into a deep and narrow ravine, the roaring eaters of the Devil's Throat can be heard for miles making a truly unforgettable sight.
Unsurprisingly, Iguazu Falls is a UNESCO World Heritage Site. No words can describe the beauty of what is one of the most beautiful places in the world.
26. Cape Town, South Africa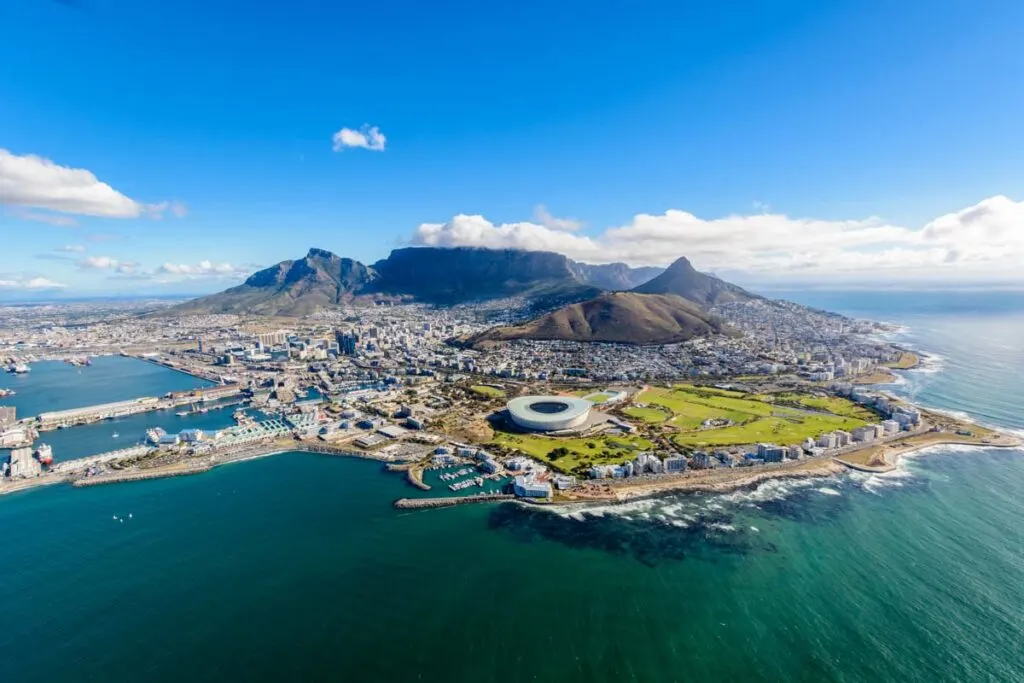 Basking in a sunny Mediterranean climate and surrounded by imposing mountains and a magnificent coastline of long sandy beaches, charming coves, and small fishing harbors, Cape Town is a vibrant city that easily ranks among the most beautiful places in the world. It is South Africa's No1 tourist destination
Sprawled beneath the iconic Table Mountain, flanked by Devil's Peak and Signal Hill, the city center is bustling with unique buildings, shops, bars, and restaurants, while the historic Castle and picturesque V&A Waterfront are magnets to its residents and visitors.
Take a revolving cable car to the top of Table Mountain to marvel at the splendor of this beautiful city with the historic Robben Island and Atlantic Ocean in the background. Sunsets are out of this world!
Surrounding this city are hundreds of picture-postcard vineyards and wine estates, with restaurants serving delicious food and their own selection of superb wines.
No tourist visits South Africa without visiting Cape Town.
27. Kyoto, Japan
Known as the cultural capital of Japan, Kyoto is a city of beauty, culture, and etiquette, where even the simple act of drinking a cup of tea is turned into a ceremony.
A city full of intricate Buddhist temples, exquisite gardens, harmonious shrines, lavish palaces and shogun castle, traditional wooden houses, and of course, the enigmatic geishas.
With hot summers and chilly winters, the best time to visit would be during spring, when the pink and white cherry blossoms take over, and during the fall, when reds and golds cover the city, forests, and surrounding mountains.
During these times, Kyoto becomes one of the world's most beautiful places.
Sights not to be missed are the Kinkaku-Ji Buddhist Temple (Golden Pavilion), covered in gold leaf on the edge of a pond amid landscaped gardens, and the Fushimi Inari shrine with thousands of orange arch gates leading all the way up to the sacred Mount Inari.
Oh, and at the edge of the city, you will find Sagano Bamboo Forest—a mind-blowing and tranquil spot worth seeing.
28. Bali, Indonesia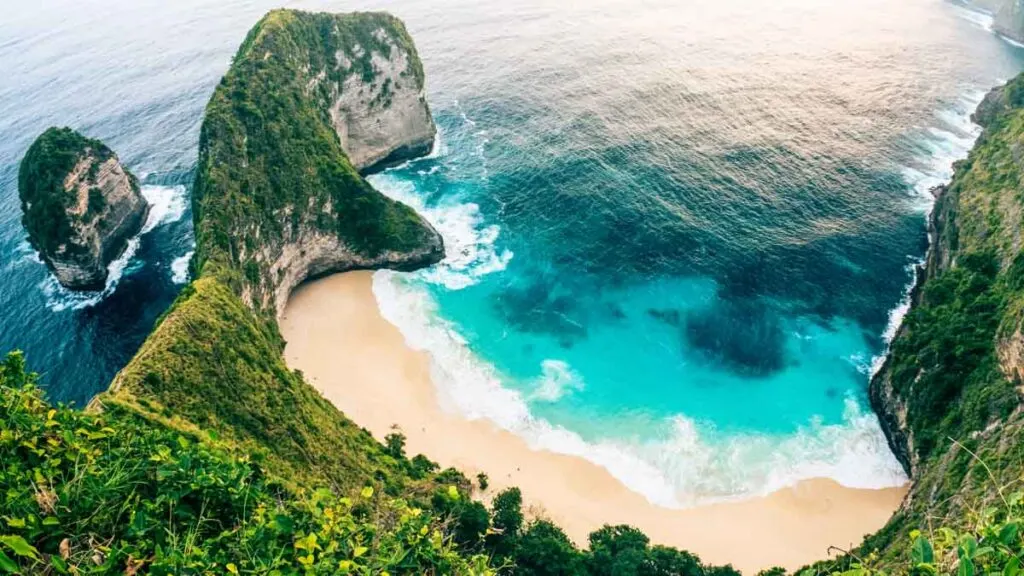 An island paradise filled with stunning beaches and charming coves, towering cliffs and tall mountains, lush forests, hidden waterfalls, terraced rice fields and volcanos, lavish temples and shrines, with a blue ocean surrounding the entire island, and warm and hospitable people everywhere you go.
No wonder Bali is referred to as the Land of the Gods!
Whilst the coastline consists of numerous luxurious resorts providing all the creature comforts, Bali has thousands of hidden gems along its coast and in the hilly and lush interior.
Whether you seek to soak in the sun lazing on a beach or trek into the jungle in search of serenity, this magical island has it all. Spectacular scenery comes standard.
Bali certainly earns its spot on our list of the most beautiful places in the world.
29. Mount Cook National Park, New Zealand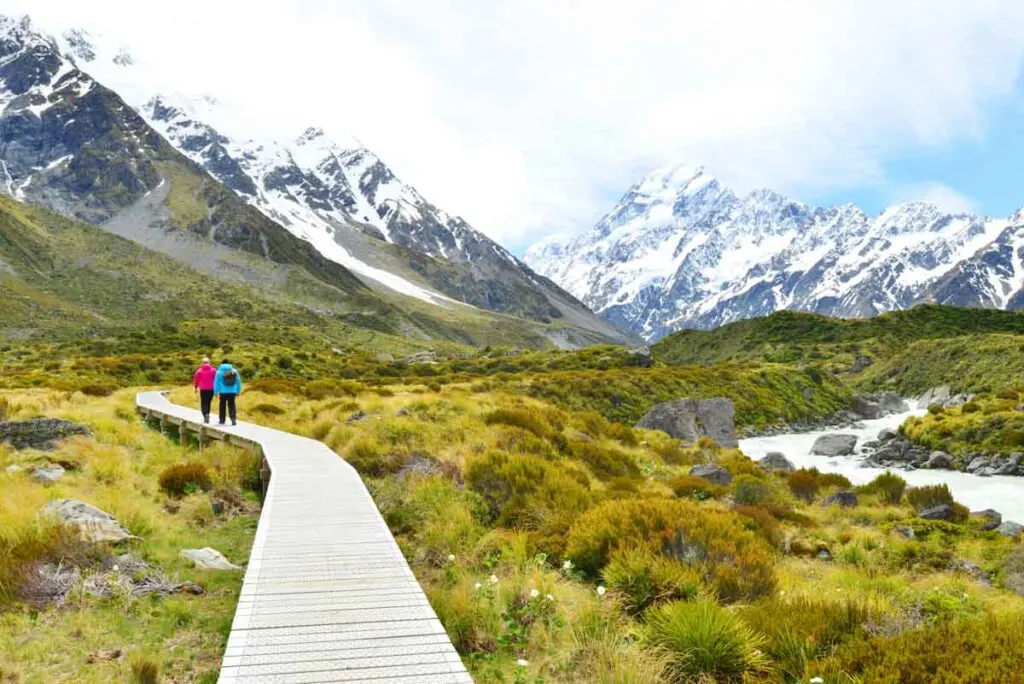 Situated on the western section of New Zealand's South Island, Mount Cook National Park encompasses 280 square miles of breathtaking scenery.
With 23 peaks nearly 10,000 feet tall, including Mount Cook reaching over 12,000 feet, being the highest peak in New Zealand, this place is amongst the most beautiful places in the world.
This mountainous landscape is filled with scenic trails amongst massive glaciers, pristine lakes, lush forests, crystal blue rivers, and streams, with hundreds of viewing points to take in one of nature's greatest spectacles.
Quaint villages and small towns dotted around this stunning landscape offer lodging, dining, and shopping and provide intimate information about this area's numerous attractive landmarks.
30. Queenstown, New Zealand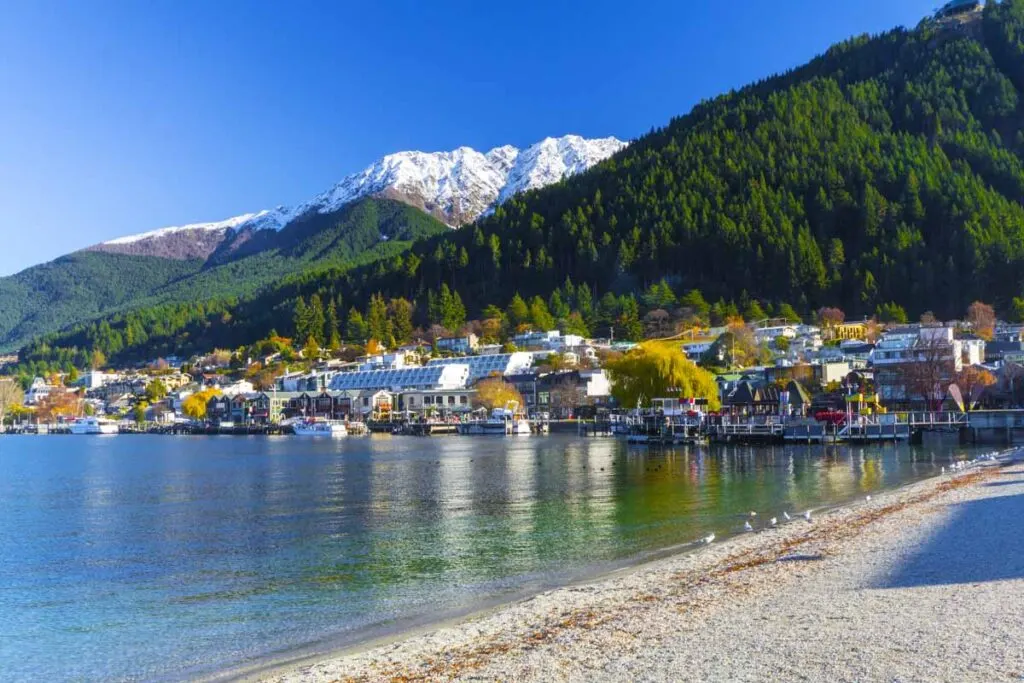 Staying on New Zealand's South Island but moving further south, Queenstown sits on the shores of the picturesque Lake Wakatipu, with the Southern Alps as a backdrop.
Numerous peaks, including the spectacular Coronet and Double Cone, provide challenging and exciting mountain climbing, while their inviting slopes offer excellent skiing and other snow activities, not to mention the wonderful hiking and panoramic views.
This area is renowned for outdoor and adrenaline junkies with bungee jumping, jet-boating, and kayaking, while for those seeking a more sedate lifestyle, the iconic Skyline cable car will carry you 1,600 feet above the town and lake for panoramic views of this awesome landscape. A photographer's dream!
31. Fiordland National Park, New Zealand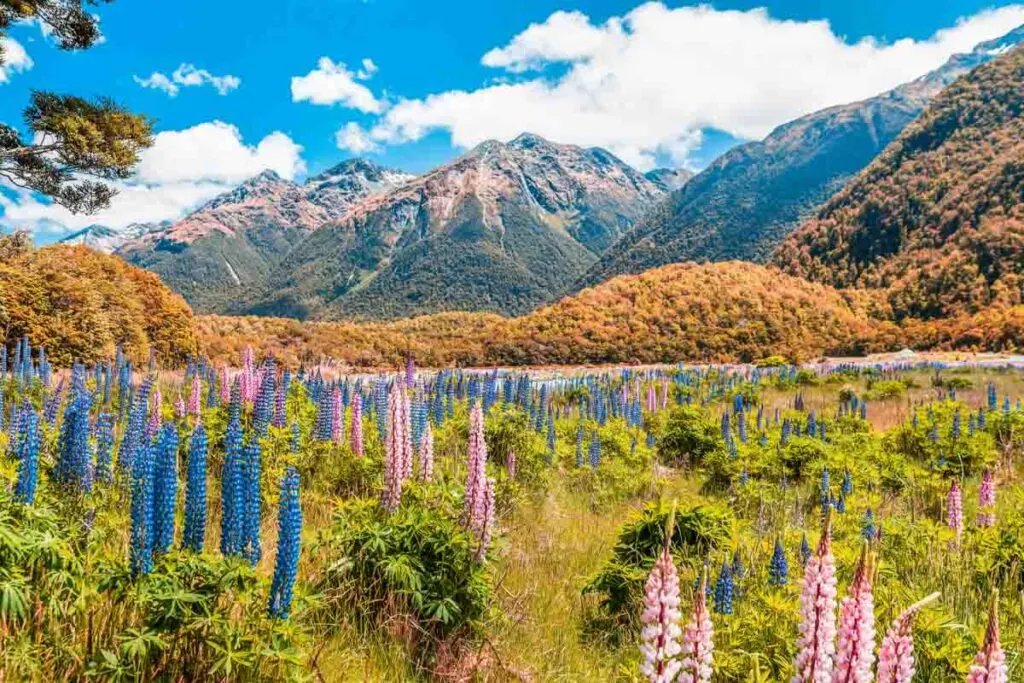 Tucked away a little southwest of Queenstown lies another of nature's gems.
The Fiordland National Park is a vast, wild and untamed terrain of sheer mountains, enormous glaciers, dense forests, lakes, rivers, deep gorges, waterfalls, and an enormous collection of dramatic fiords, which are, however, reserved only for the rough and tough.
The weather does not make it any easier, as this is the wettest section of New Zealand. Two days without rain is considered a drought.
If you don't mind putting up with some of the harshest conditions on the planet, you'll be rewarded with some of the most ruggedly beautiful scenery of your life.
How lucky are the Kiwis to have all this beauty on their doorstep?
32. Goa, India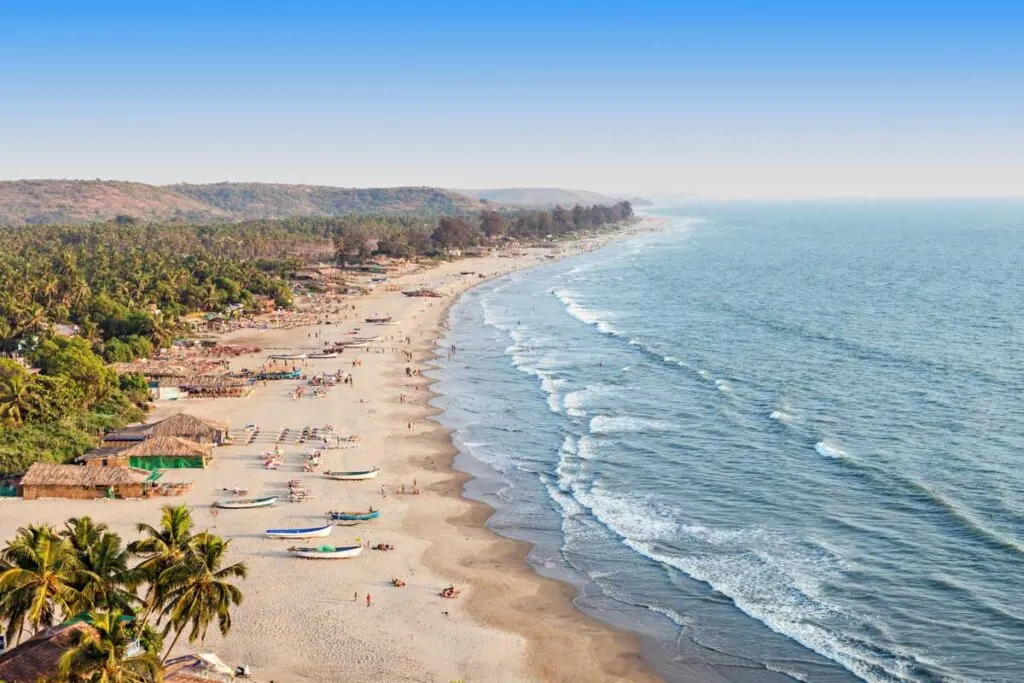 Situated on the west coast of India, Goa may be the smallest state but delivers big on natural beauty, relaxation, history, culture, and architecture.
The northern coastline is a hub of luxury resorts, buzzing nightlife, and beautiful beaches, while the south is suited for serene getaways with unspoiled beaches, laid-back fishing villages, and intricate temples.
The coastline is filled with historic fortresses and numerous Christian churches and cathedrals, reminders of 500 years of Portuguese occupation, including the magnificent Baroque-style 16th-century Our Lady of the Immaculate Conception Church, the 19th century San Sebastian Chapel, and the 17th-century Aquada Fortress and Lighthouse.
The interiors hold wildlife sanctuaries, spice plantations, and national parks. Mollem National Park is a wonderful place to hike and enjoy the wildlife and the magnificent Dudhsagar Waterfalls.
Resembling a sea of milk, the white waters of India's 5th tallest waterfall cascade over 1,000 feet down the face of a steep cliff face into a beautiful pool perfect for a refreshing dip.
33. Sossusvlei, Namibia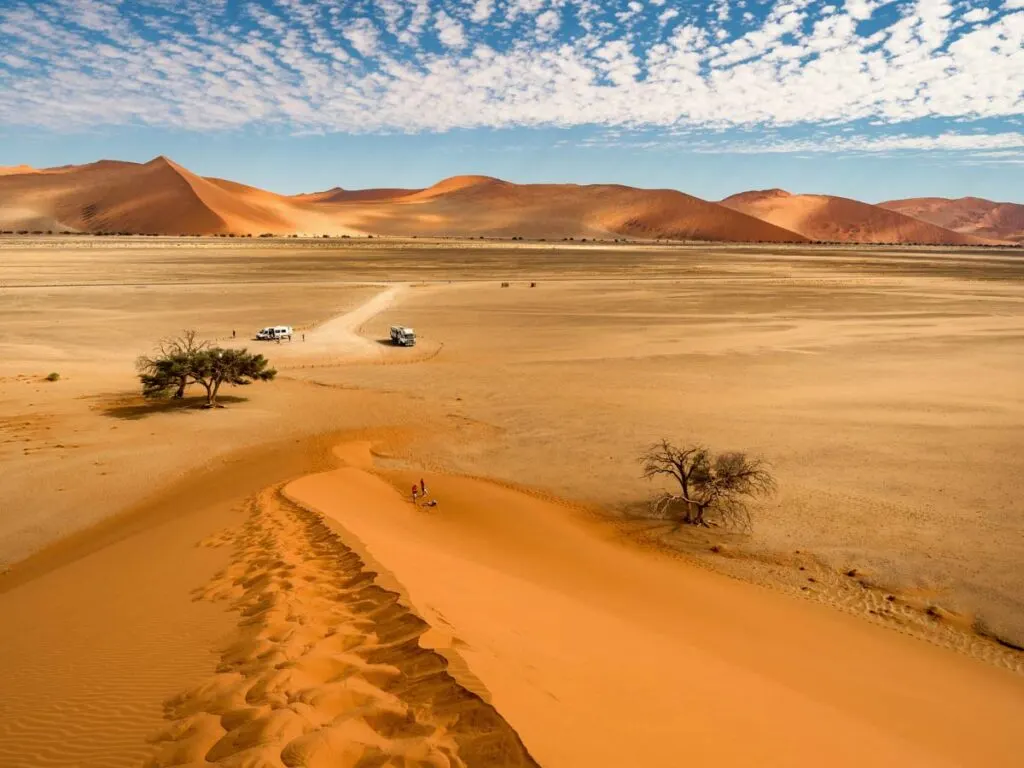 There has to be something really special to make people drive for hundreds of miles through one of the most remote parts of the world to see. And something special, there certainly is!
Stuck in the middle of nowhere in the Namib-Nakluft National Park in Namibia is the Martian-like landscape of Sossusvlei.
A large, flat white, salt, dry-lake pan with the skeletal remains of ancient trees still upright and surrounded by a sea of sand and towering red sand dunes.
What is more fascinating is that this red-orange sand originates from deposits brought down by the Orange River, 270 miles away, and blown here.
Some of these gigantic dunes have been petrified and are over a billion years old. Be sure to climb up the 560-foot tall Dune 45, Big Momma Dune, and the 1,000-foot Big Daddy Dune for the most stunning view of this spectacular extra-terrestrial landscape! Sunrises and sunsets are out of this world!
34. El Nido, Philippines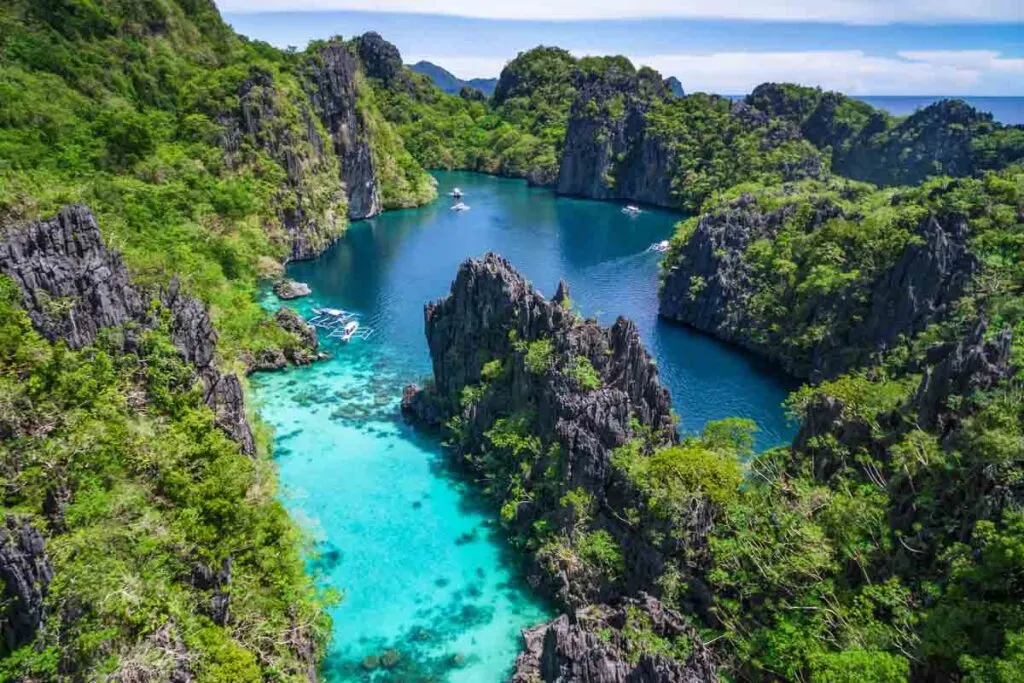 If I could design paradise, it would be a straight copy-and-paste job of El Nido. I would change nothing.
Situated on the northernmost peninsula of Palawan Island in the Philippines, this outpost is a rich tapestry of long white-sandy beaches and mesmerizing crystal clear bays and lagoons fringed with coconut palms and lush vegetation, dramatic cliffs, and jagged rock formations rising straight up from the blue ocean depths.
Surrounded by coral reefs teeming with marine life and numerous small islands rising up to 2,000 feet from the Bacuit Archipelago, providing some of the most spectacular scenery and diving sites in the world.
Many hiking trails can be taken in the interior through rainforests with beautiful waterfalls and mangroves, but it will be difficult to tear yourself away from this coastline which makes El Nido one of our most beautiful places in the world.
35. Wadi Rum, Jordan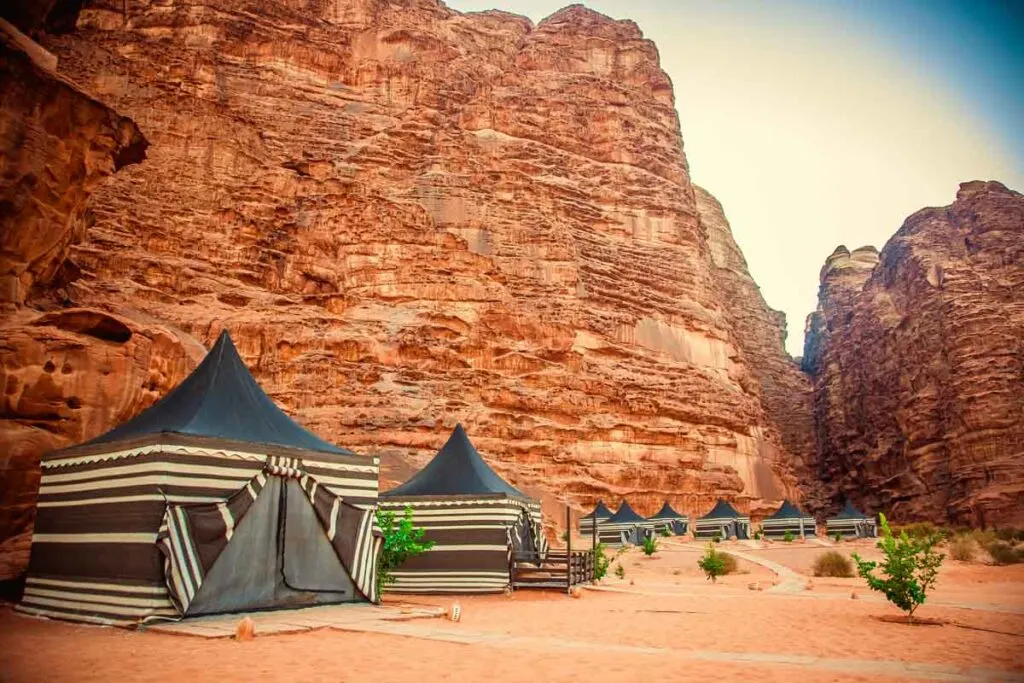 It's hard to comprehend that a landscape consisting only of rock, sand, and sky could possibly be regarded as one of the most beautiful places in the world…but you'd better believe it!
Just mention the words "spectacular sunsets" to any serious photographer, and Wadi Rum will be their immediate response.
Situated in the southwest section of Jordan, Wadi Rum is a ruggedly beautiful wilderness consisting of a vast desert, towering mountains, hidden canyons, and incredible rock formations.
What makes this place extra special is the blood-red sand that gives it an almost Martian landscape look.
Numerous sci-fi movies have been filmed here, including The Martian and The Rise of Skywalker of the Star Wars series and, of course, the 1962 historical blockbuster Lawrence of Arabia.
Authentic Bedouin camps scattered around the Reserve make it possible for visitors to enjoy this otherwise forgotten corner of Jordan. What a loss that would be!
36. Salar de Uyuni, Bolivia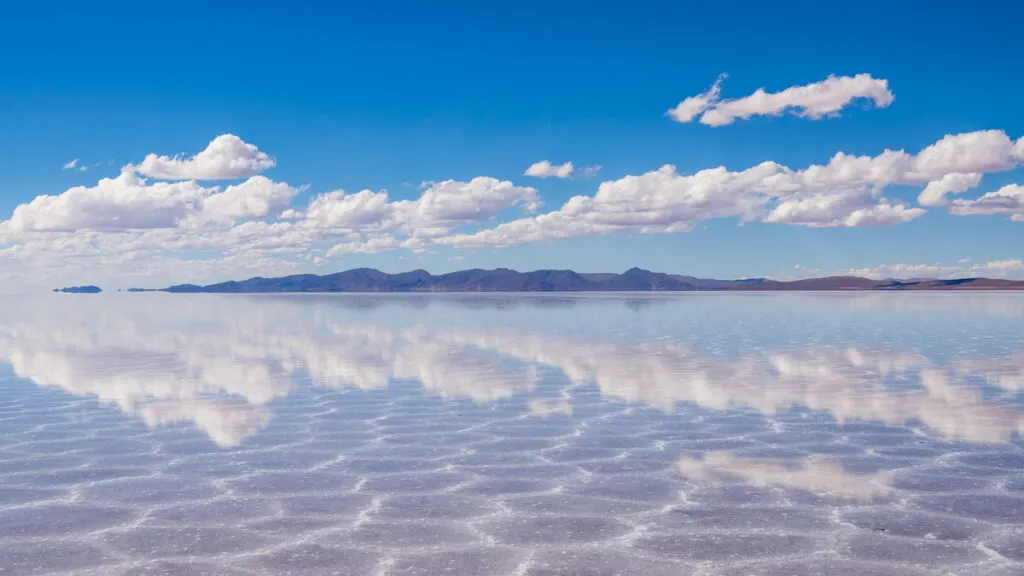 This is another remote wilderness that boasts the best sunsets in the world. Situated amongst the mighty Andes in southwestern Bolivia, the 4,000 square mile Salar de Uyuni is the largest and most impressive salt flat in the world.
A vast expanse of white salt crust left behind by lakes that have evaporated millions of years ago, surrounded by brightly-colored mountains, weird rock formations, and cactus-covered hills.
Adding drama to this desolate landscape, conical mounds of salt await to be collected, while the towering Tunupa Volcano offers spectacular views of the flats and the Andes Mountains and a cave-like museum with ancient mummies. To the southeast is the eerie Locomotive Graveyard.
There are two different sides to this desert terrain. During the rainy season, the flats fill with water creating beautiful reflecting images of the mountains and the sky.
37. Samoa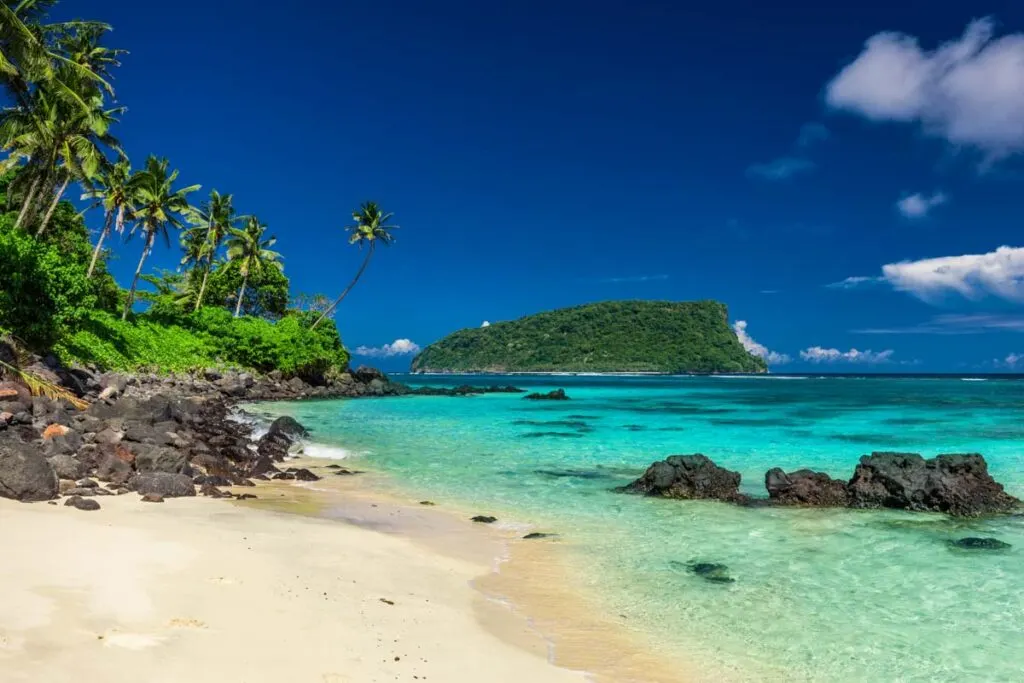 Whether you're looking for a romantic getaway, a family break, or an adventure-filled vacation in one of the most beautiful places in the world, these Polynesian Islands have it all.
Surrounded by picture-postcard beaches, secluded coves, and lagoons fringed by lush greenery and coral reefs bursting with marine life, Samoa is a haven for scuba divers, snorkelers, fishermen, surfers, and all lovers of nature.
High volcano rims and mountains in the interior offer spectacular views of the beautiful islands, while dense jungle vegetation, dotted with breathtaking waterfalls cascading into pools, rivers, or directly into the ocean below, provide a haven for hikers.
Several uninhabited islets nearby are accessible by water taxis or kayaks, offering an idyllic way to spend the day surrounded by nature without a soul in sight.
38. Yellowstone National Park, United States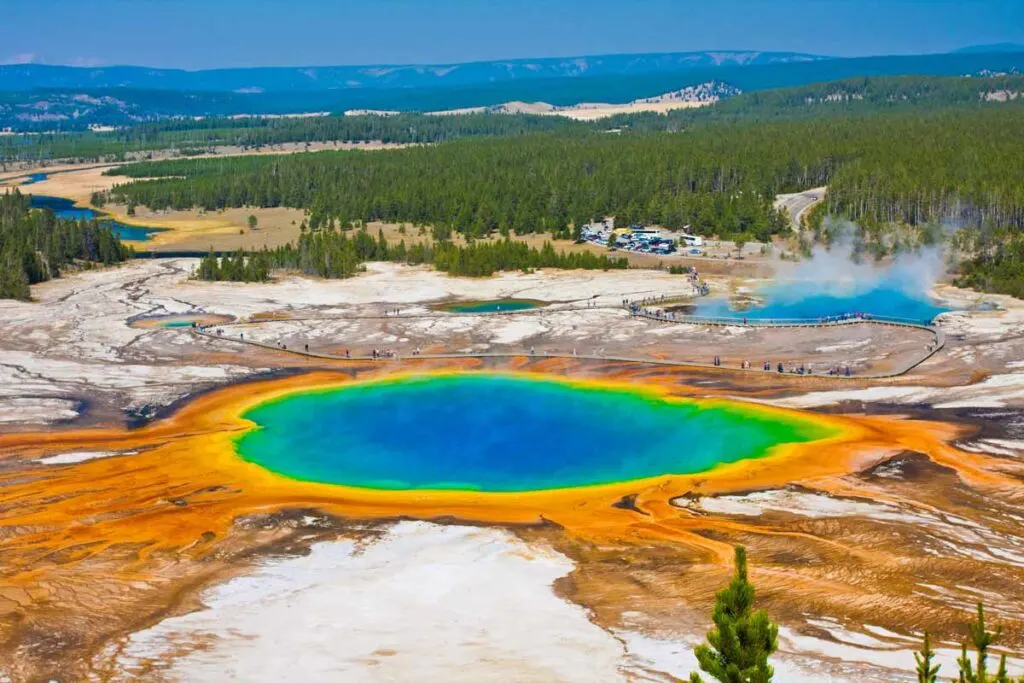 Over two million acres of magnificent wilderness, made of gigantic mountains and canyons, lush and petrified forests, flower-covered meadows and grasslands, vast placid lakes, roaring rivers, and spectacular waterfalls, with hot springs and geysers gushing high into the air virtually everywhere, makes Yellowstone the Holy Grail of all national parks. It even has its own Grand Canyon!
To that, add diverse wildlife, including bison, bears, wolves, elk, coyotes, and cougars, and you have one of the most beautiful places in the world.
In winter, this dramatic landscape is transformed into a winter wonderland perfect for all winter sports activities, from sledding to ice-fishing.
39. Victoria Falls; Zambia and Zimbabwe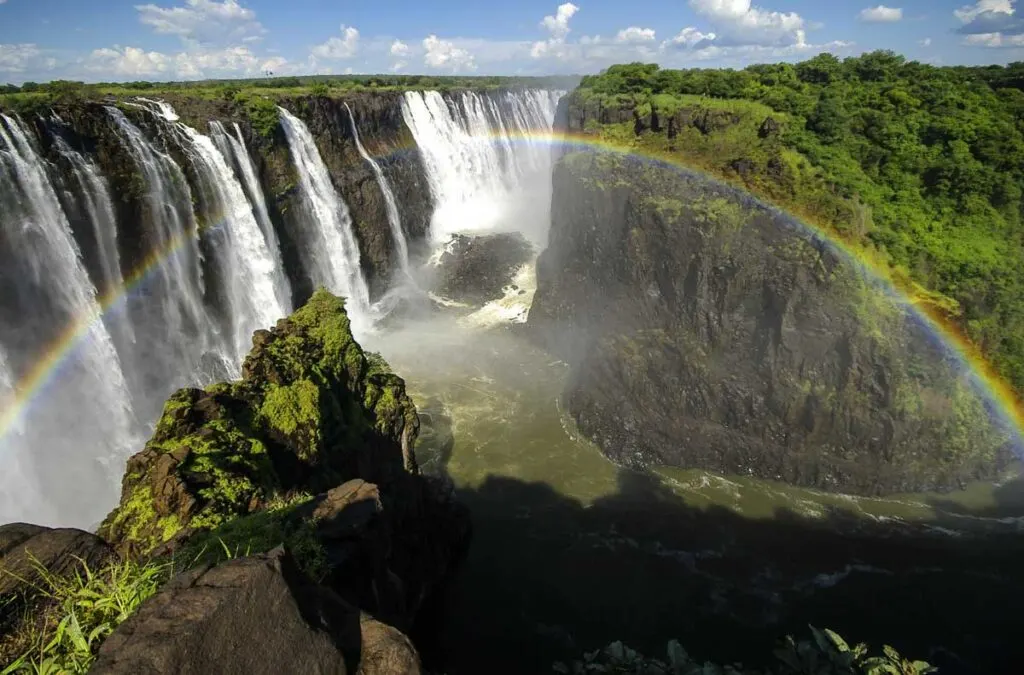 Situated on the Zimbabwe-Zambia border, Victoria Falls is one of the 7 Natural Wonders of the World and most certainly one of the most beautiful places in the world.
Spanning a mile across and dropping 354 feet, the placid Zambezi River is abruptly transformed into a thunderous roaring white-foaming torrent as it powers its way through the narrow gorges, spraying clouds of mist and colorful rainbows in the air, creating an awe-inspiring spectacle.
Various trails along the gorge lead to numerous viewpoints to witness this natural wonder, the best of which being the Knife-Edge Bridge, offering fantastic views of the main falls, Devil's Pool, and the Boling Pot, the narrowest point of the river.
The surrounding parks are teeming with wildlife, and numerous lodges provide excellent accommodation options to spend a few days and really get a sense of the African bush.
40. Tromsø, Norway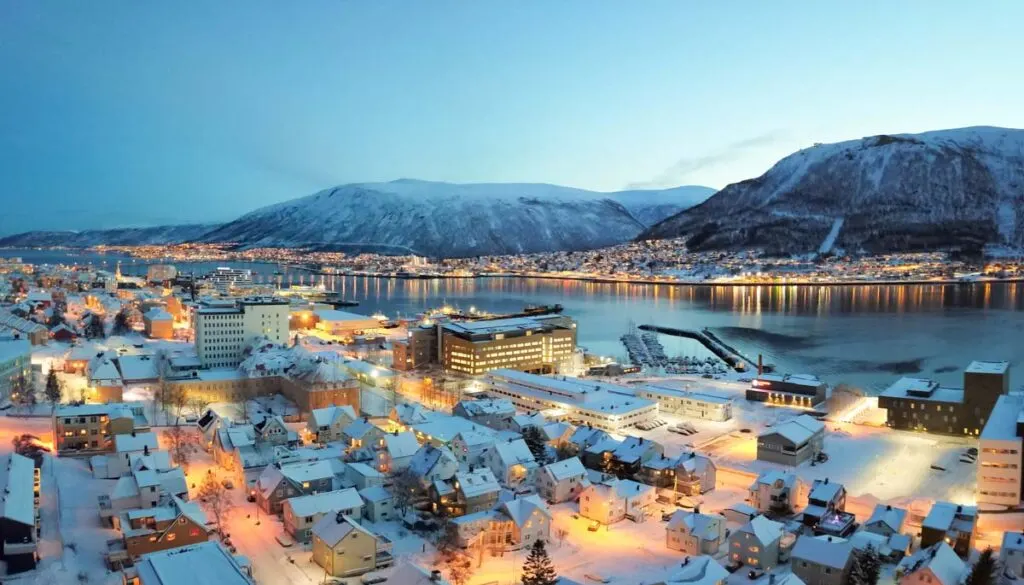 Situated 190 miles into the Arctic Circle on the island of Tromsøya in northern Norway, Tromsø is the ideal place to experience a truly magical winter wonderland.
Surrounded by gorgeous fjords, tall snow-covered mountains, glaciers, and other islands, this land of the midnight sun and polar nights offer many exciting and unusual sights and experiences, including witnessing the Northern Lights.
This historic town has many fascinating buildings dating back to the 1700s, and the town center and quayside buzzing with cafes, shops, and restaurants and is often called the Paris of the North.
Hiking trails offer a range of winter activities like skiing, snowshoeing, and dogsledding, amongst magnificent arctic scenery.
41. Machu Picchu, Peru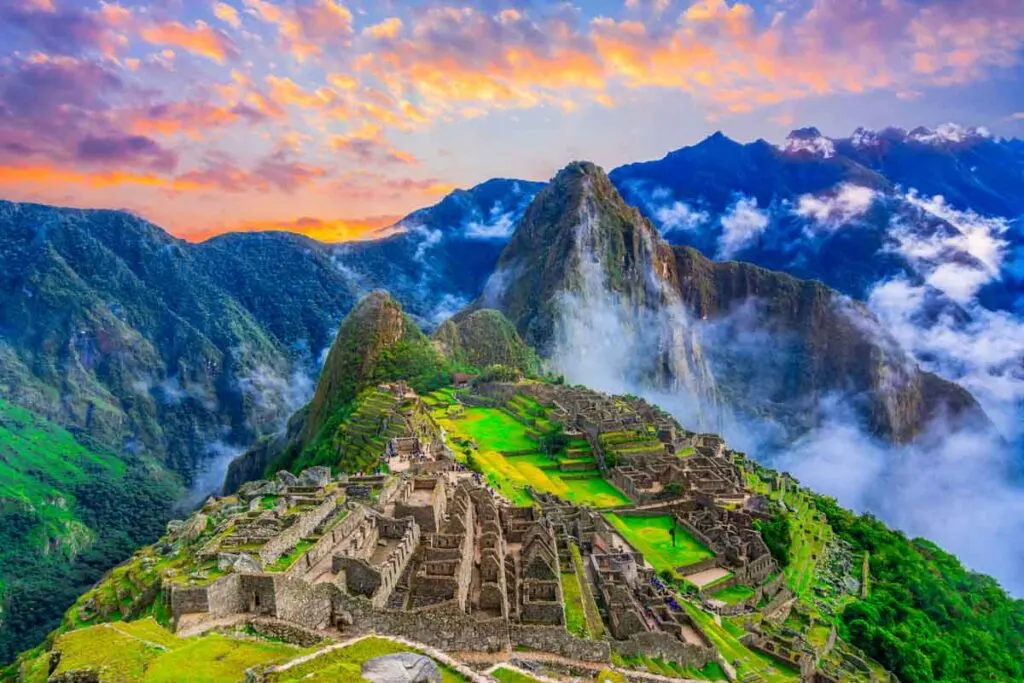 Machu Picchu is hands-down one of the most famous landmarks in the world. This 15th-century Inca citadel built on an almost 8,000 feet mountain ridge is simply breathtaking.
From atop this ancient city, the incredible views of mountains surrounded by clouds are a sight to remember.
The site is one of the New Seven Wonders of the World and is also a UNESCO World Heritage Site. No surprises here.
Machu Picchu is a popular destination in Peru, and if you're a history buff, this beautiful place should be on your travel bucket list!
42. Plitvice Lakes National Park, Croatia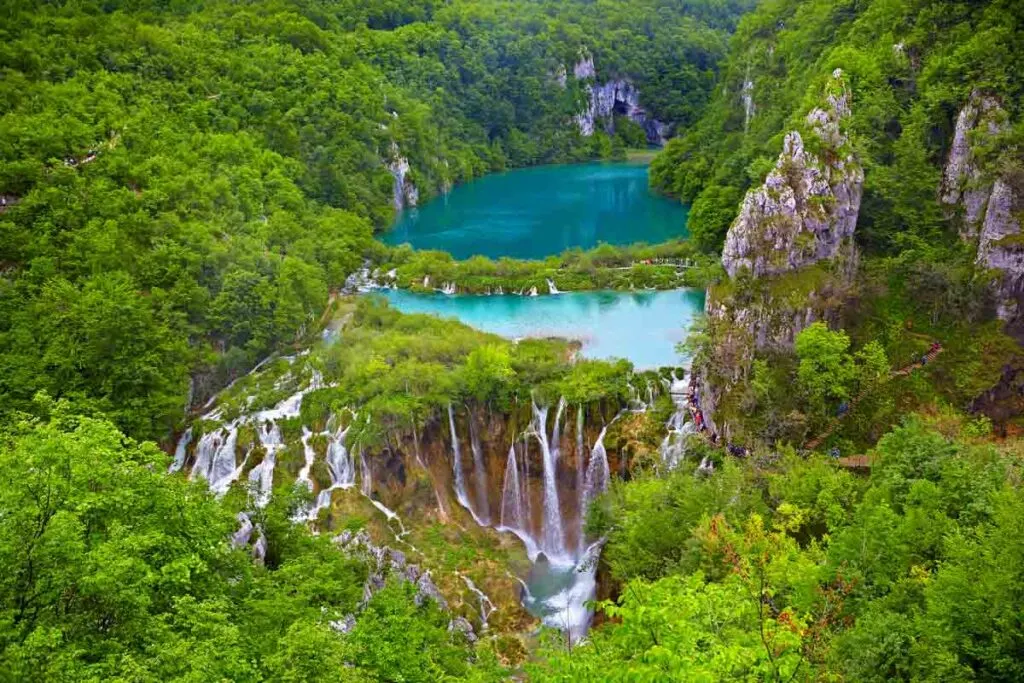 Located in a mountainous area in central Croatia, this 73,000-acre park is mostly covered in dense forest vegetation but is revered for its 16 sapphire-blue and emerald-green lakes terraced below each other, connected by dozens of spectacular waterfalls running past hidden caves carved into deep terraced gorge.
Hiking boardwalks and bridges along the shores and over the water lead to many viewpoints where this stunning and unique landscape can be appreciated from all angles, capturing aerial views from the high cliff tops.
Whether from a boat on the waters, on the lush shoreline, or high up on the cliffs, the scenery is absolutely mesmerizing.
43. Sydney, Australia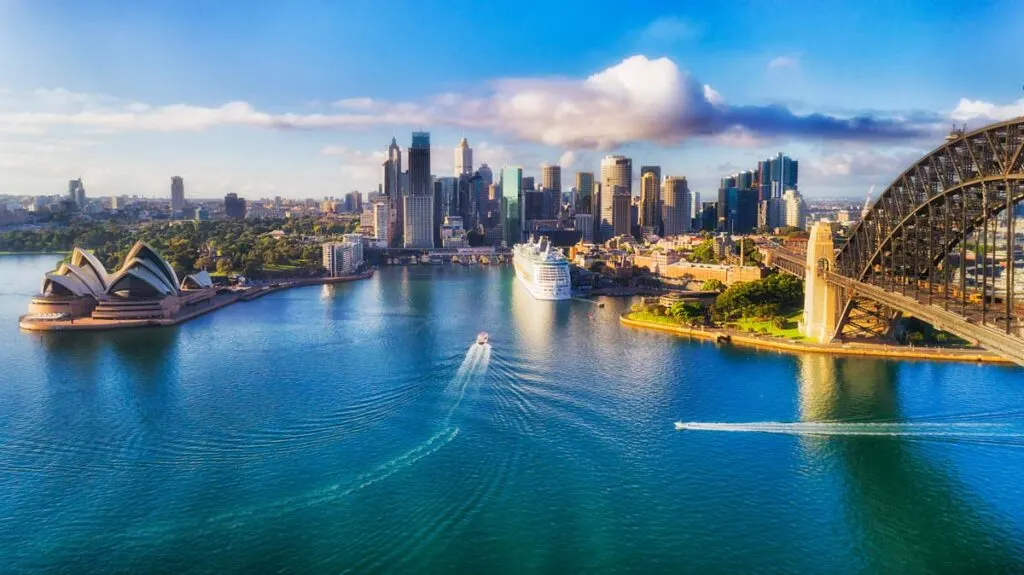 It's not often that you find a city where man's interventions and technological accomplishments have not spoilt but actually improved nature's works. Australia's Sydney is such a city.
A city bursting with natural beauty with a stunning coastline of endless beaches, coves, and rocky cliffs plunging into the sea and picturesque yacht-studded bays, all decorated with the iconic Sydney Harbour Bridge and Opera House.
The city is surrounded by a crystal blue ocean on one side and the dramatic Blue Mountains on the other.
Sydney has a beautiful blend of old and modern.
From the nostalgic cobblestone alleyways of The Rocks, where 18th-century convicts and sailors walked around the old harbor, to the most outrageous and architecturally ultra-modern buildings in the CBD and everything in between, Sydney easily ranks as one of the most beautiful places in the world.
44. Great Ocean Road, Australia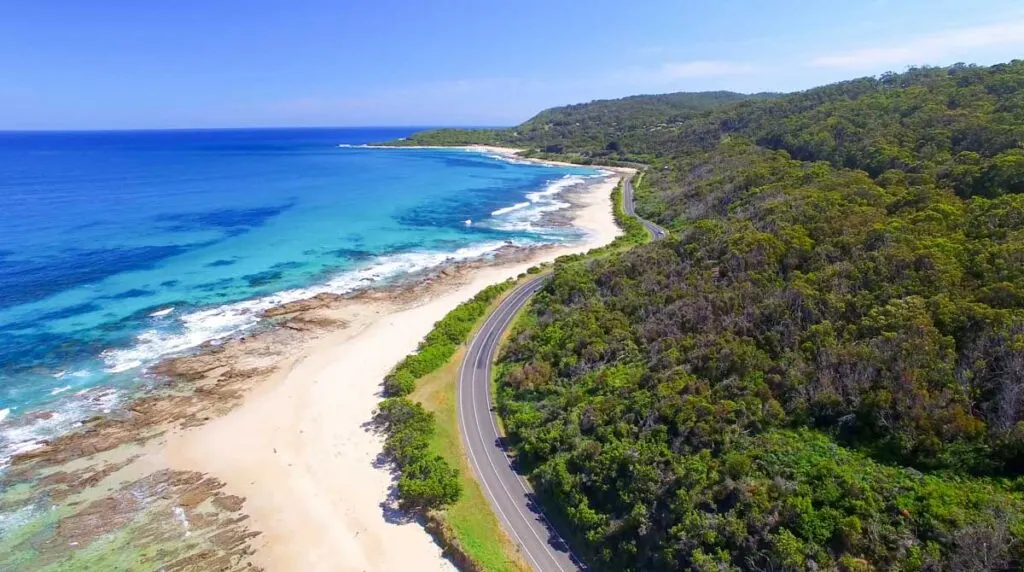 This 150-mile stretch of road between Torquay and Allansford on the south-eastern coast of Australia was built after 1919 by returning soldiers of The Great War to honor their fallen comrades.
It is the world's largest war memorial stretching over some of the most beautiful places in the world.
A most incredible journey of unique beauty takes you past tall, rugged cliffs, picturesque beaches, historic lighthouses, rainforests, small towns, and tiny hamlets filled with quaint shops, cafes, restaurants, and lodges perfect for a quick snack or an overnight stopover.
Iconic sights you cannot miss are the 12 Apostles, which are 12 massive stone pillars rising vertically from the ocean beneath towering cliffs.
Also, Bells Beach is one of Australia's most famous surfing beaches. The Great Otway National Park is a heavily forested park dotted with gorgeous waterfalls, and we are sure you will love it.
Finally, you shouldn't miss London Arch, a natural rock formation, once called the London Bridge, until the top section broke off.
In a nutshell, breathtaking scenery from start to finish.
45. Niagara Falls; Canada and United States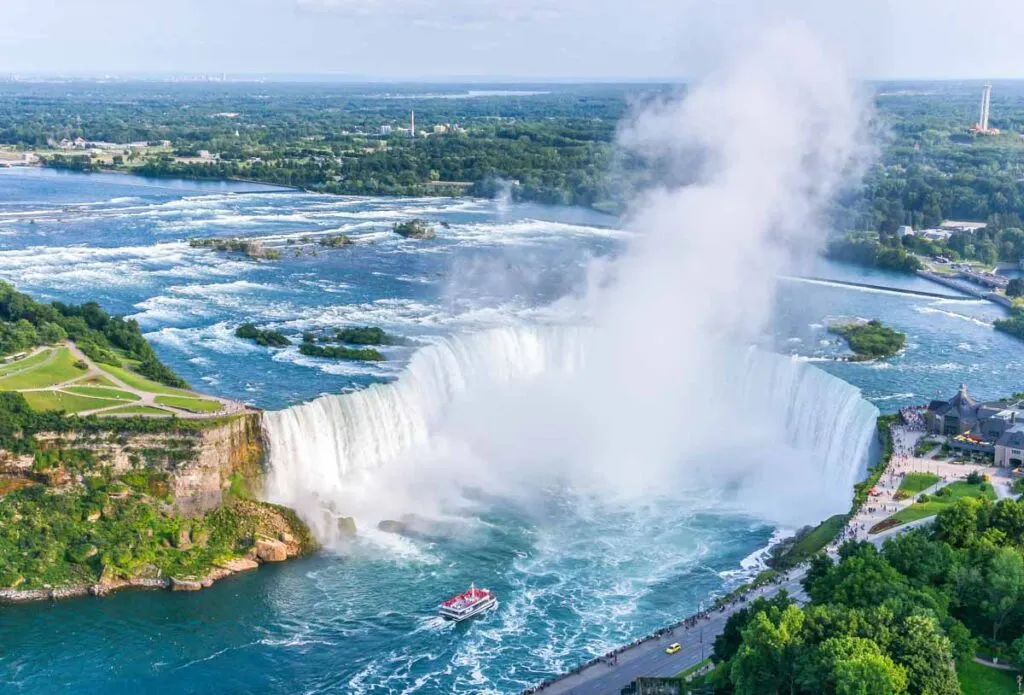 Located at the US and Canada border, Niagara Falls is 160 feet tall, and although it isn't the tallest waterfall in the world, it is certainly one of the most beautiful ones.
Niagara is formed by three waterfalls, with the largest one being Horseshoe Falls. You can experience this wonder of nature from Niagara Falls State Park, where you can find hiking trails and countless viewpoints of the falls.
The observation tower takes you onto the falls, so you have unobstructed views of the wild cascades below. You won't forget the beautiful views!
Did you have your dose of inspiration for the day? So share this article with your friends!
Our best travel tips & resources:
Here're our all-time favorite travel tips & resources so that you can save money and plan your travel logistics hassle-free! For more travel resources, check out our
travel tips.
Saving money: Fly on offseason, winter (not Xmas or NYE), Tuesday, or Wednesday! According to experts, these are the cheapest days to fly.
Travel insurance: Before you leave for your trip, make sure you have a valid travel insurance policy because accidents happen on the road. We have been paying for Safety Wing travel insurance for a little over a year now, and we happily recommend them to our family and friends.
Accommodation: We usually stay in mid-range comfy hotels or private rooms in hostels. These are the sites we use to book accommodation: Booking.com for hotels (excellent flexible cancellation policy) and Hostelworld for hostels (low deposit and easy cancellation).
Tours:We absolutely love booking guided tours with locals to get a history lesson while sight-seeing, especially food tours and walking tours! We book all of our tours using Viator and GetYourGuide.
Transportation: We use Google Maps to figure out how to get around a place using public transport. When we book a rental car, we always use Discover Cars to find the best deal.