Here are 17 of the most impressive Gothic castles in the world!
Gothic castles have an overall mysterious aura that, under certain weather conditions, may give you the creeps. Still, this architectural style was incredibly popular after the release of Gothic literature (Dracula and Frankenstein).
In today's article, we will talk about some of the most impressive Gothic castles and why they are worth the hype. But first…
…What Makes a Gothic Castle?
Before discussing Gothic castles, it may be necessary to ascertain precisely what makes a Gothic castle.
Originating in France, Gothic architecture became popular in Europe and Britain during the 12th-16th centuries before being overtaken by Renaissance-style.
It became trendy again in the 18th and 19th centuries and spread to the "New World" of America, Australia, and New Zealand.
The main elements of the Gothic architectural style include pointed arches, ribbed ceilings, and flying buttresses.
In layperson's terms, these features spread the weight of the roof structures outwards and downwards onto a series of pillars, allowing for the construction of higher walls and enormous halls with bigger windows to let more light in.
These elements applied to aesthetics, too, resulting in multi-colored stain-glass windows, ornate carvings, decorations, and tall spires we see in many castles, churches, and cathedrals today.
Lookout for these features when you visit the most remarkable Gothic castles we list below.
17 Remarkable Gothic Castles
Let's start with the biggest of all Gothic castles!
1. Malbork Castle, Poland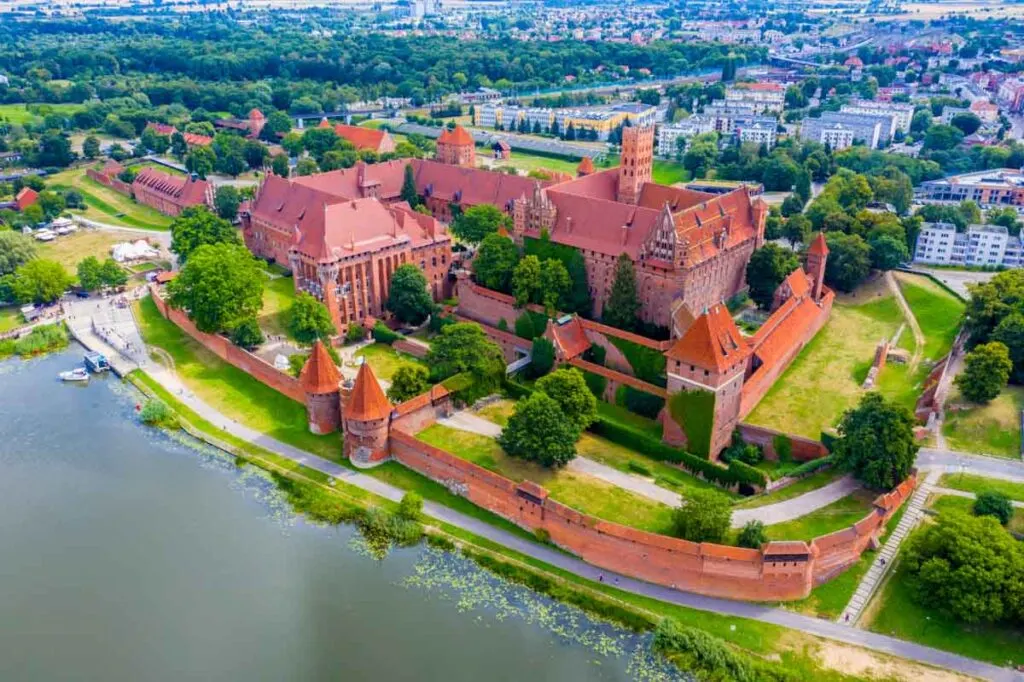 Strategically situated on the banks of the Nogat River in northern Poland, it was built during the 13th century by a military group of German monks, known as Teutonic Knights, to protect Christians on their pilgrimages to the Holy Land.
Occupying 52 acres of ground, it's regarded as the largest castle in the world, and unlike most fortresses built in stone, Malbork was built using five million red bricks, giving it its unique looks.
On completion around 1406, it was regarded as the largest brick building in the world.
Having changed ownership several times, falling into disrepair, and being damaged from the Crusades to WW2, it's been restored to its original state.
Today it's a significant tourist attraction, housing three separate but interconnected castles and a vast courtyard decorated with statues of the Grand Masters.
Apart from the many rooms and towers, the Grand Master's Palace and Great Refectory are the main attractions of this vast fortress.
Ornately decorated with rich displays of artworks, furnishings, sculptures, and medieval weaponry, it makes the unique destination for a day trip from Gdansk.
2. Hohenschwangau Castle, Germany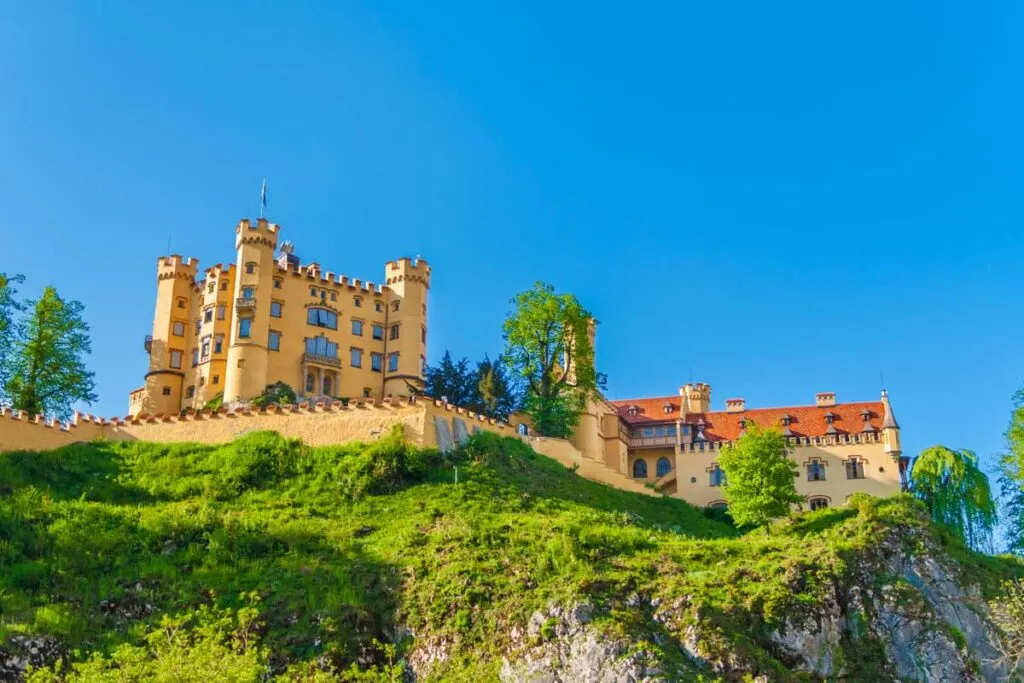 Situated in southwest Bavaria, this is another of those Gothic-revival castles, set in a breathtaking setting of lush green alpine forests, blue lakes, and towering mountains.
There are several viewpoints close by from where this magnificent Gothic castle can be appreciated.
Built by King Maximilian II in 1832 on the ruins of a 12th-century castle, it became the hunting residence of Bavarian Royalty, with Maximillian's son, the enigmatic King Ludwig II, spending his summers here.
Ludwig was to later build the magnificent Neuschwanstein about a mile away—one of the most beautiful medieval castles in the world.
Dominating the scenery with its formidable walls and high towers, there is much to see inside this imposing castle. It's such a pity they don't allow photography inside, as each room is a masterpiece all on its own.
The elegant furniture, priceless wall paintings, and decorations will leave you in envy of how Bavarian Royalty lived while so much conflict, turmoil, and misery existed all around them—an absolute jewel set in a majestic landscape.
3. Corvin Castle, Romania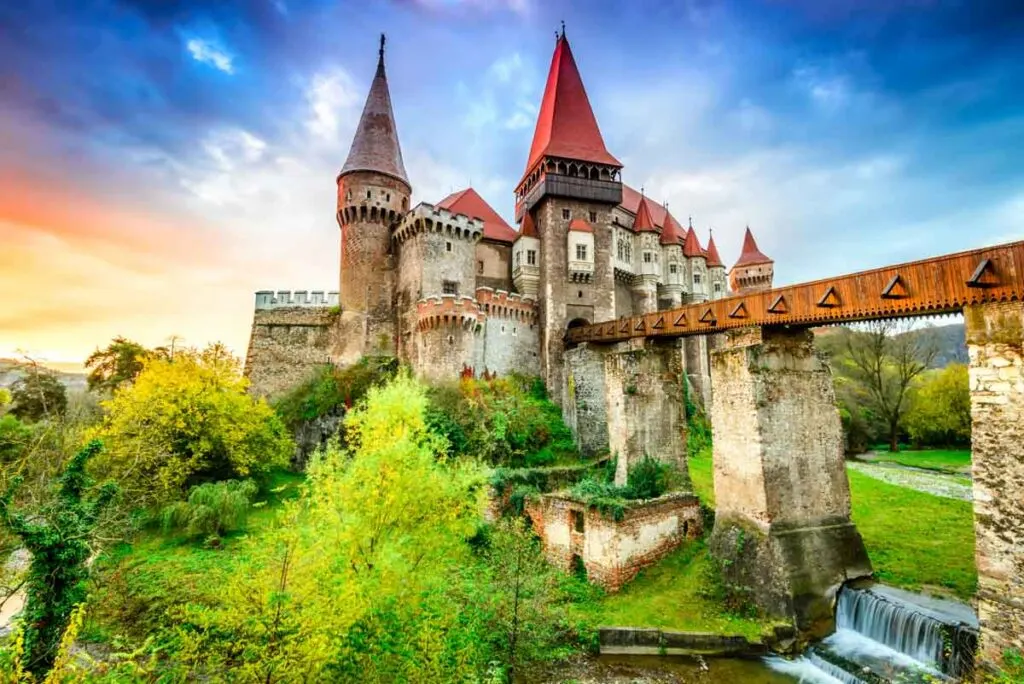 Located on a high rock alongside the small Zlasti River, Hunyadi Castle (also known as Hunyadi Castle) is regarded as one of the seven wonders of Romania, and for good reason.
With its highly fortified towers and tall wooden bridge, you'll be gobsmacked when you first see it.
Impressive in size and architecture, it's one of those Gothic-style castles riddled with legends, and intriguing conspiracies read only in fairy tales. It was once the largest castle in eastern Europe.
Built as a defense fortress against the Ottomans in the mid-15th century by John Hunyadi and his son, Matthias Corvinus, King of Hungary, who were instrumental in preventing the Ottomans from advancing further into Europe.
The interior may be lacking in lavish furnishings and decorations, but the vast halls, chambers, stairways, and torture room, capture castle life during medieval times.
Visit the bear pit in which prisoners were thrown to be eaten by wild animals, while views of the castle and the countryside are absolutely stunning from the towers. It's by far one of the most impressive Romanian castles.
4. Burghausen Castle, Germany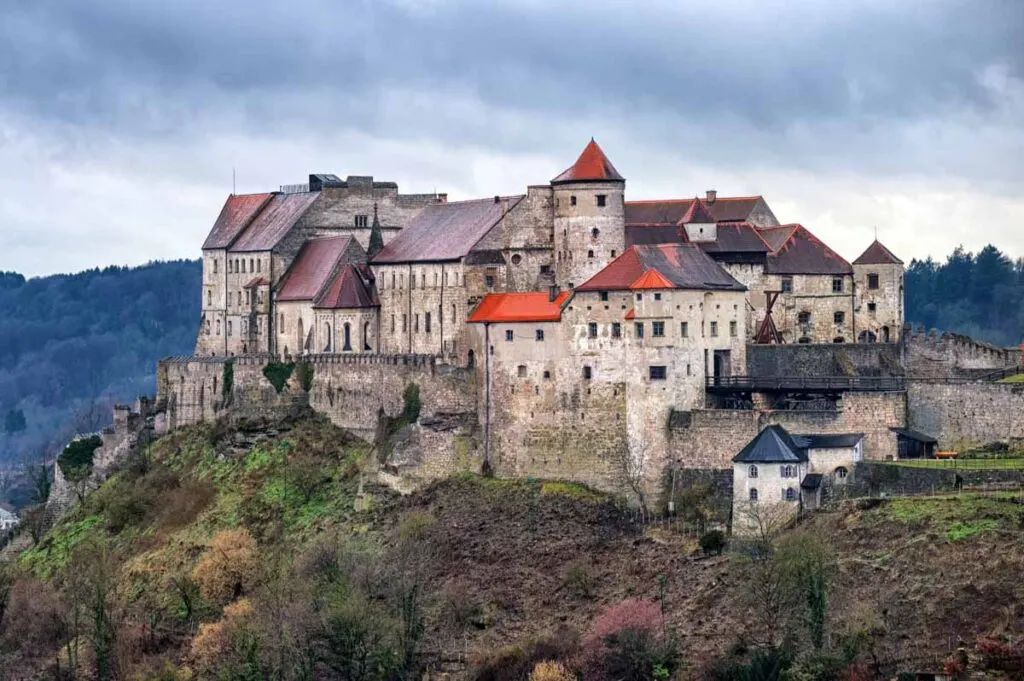 Running along a long narrow mount overlooking the picturesque town of Burghausen, with the scenic Lake Wöhrsee and Salzach River on either side and the magnificent Alps as a backdrop, Burghausen Castle has all the features and looks of what you'd expect a real castle to have.
With high towers, courtyards, bridges, and tall fortified walls stretching nearly a mile long, it's also the longest castle world.
Dating to the 11th century, extensions over the following centuries have resulted in one of the most impressive Gothic-style castles in Europe.
Served as a fortress and home of several Bavarian Dukes, it has seen its fair share of conflict during the Ottoman, the Thirty Year, and Napoleonic Wars.
Today, this castle complex comprises the main castle, six massive courtyards, chapels, and two museums displaying remarkable Gothic artworks and historical artifacts related to the castle's history.
5. Glamis Castle, Scotland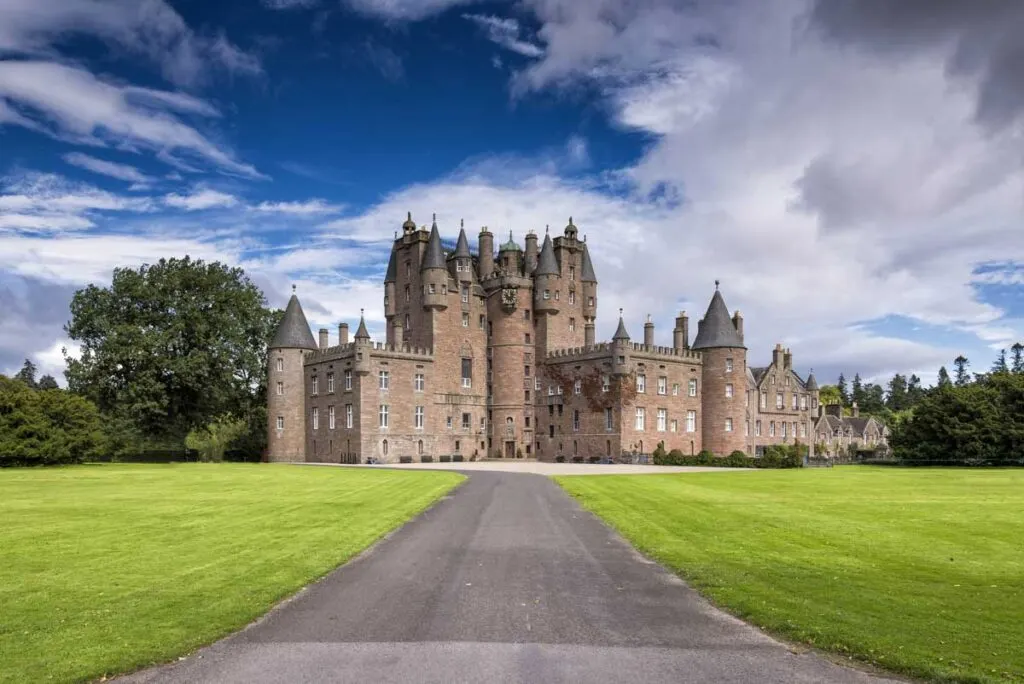 Situated next to Glamis Village 12 miles north of Dundee, Scotland, this castle's history dates back to the 11th century. However, much of it was built during the 15th-17th centuries, making it one of many Gothic-revival castles.
The site has a violent history of war and uprisings dating back to the times of King Macbeth, the inspiration behind that Shakespeare character we all hated at school, through to the tragic life and execution of Mary Queen of Scots and the Jacobite Rebellion.
It was the birthplace of the Queen Mother and Princess Margaret and where Queen Elizabeth II spent her childhood.
You could spend a day exploring this Gothic-style castle's lavish interior and immaculate gardens, with each room having its own story to tell.
It would be wise to read up on some of the secrets hidden inside these castle walls before going there…including the legendary Monster of Glamis!
6. Kaunas Castle, Lithuania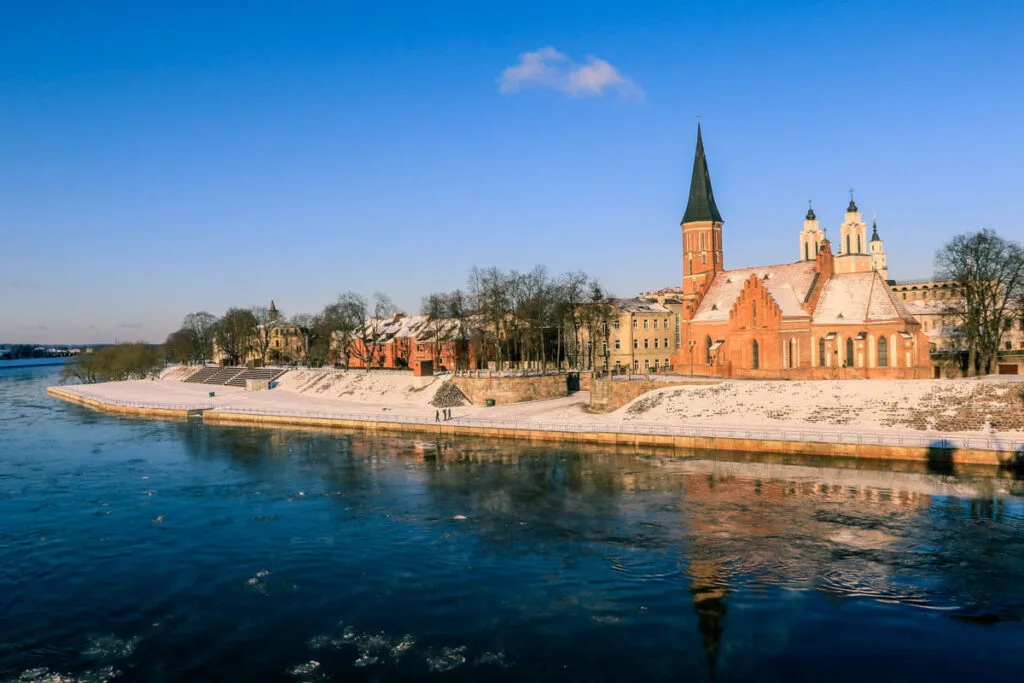 Situated on the meeting point of the Nemunas and Neris Rivers, 65 miles northeast of Vilnius, Lithuania, Kaunas Castle may not be the biggest or the grandest, but certainly worth a visit if you're in Lithuania.
Steeped in military conflict throughout its existence from the 14th century, it was besieged and taken by the Teutonic Knights several times before being regained by the Lithuanian forces.
Today, a monstrous statue of a mounted knight in armor (Vytis), holding a sword and shield, stands proud in the gardens, bearing testimony to the castle's violent past. Vytis is also Lithuania's coat of arms.
Two floods further damaged Kaunas Castle during the 17th century. Abandoned for many years, it has been restored, and today, the old round tower is an art gallery and a major tourist attraction.
7. Mir Castle, Belarus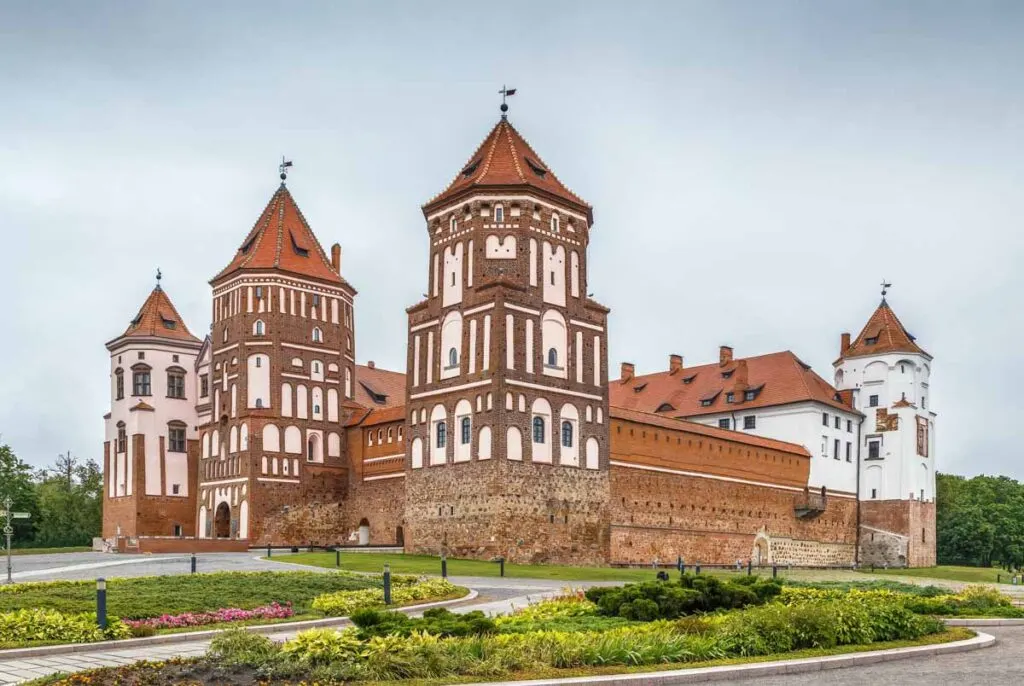 Situated 60 miles southwest of Minsk, the capital of Belarus, Mir Castle has Gothic, Renaissance, and Baroque architectural elements, making it a truly fascinating place to visit.
Originally built as a defensive structure towards the end of the 15th century, it has witnessed many conflicts over the centuries, having been besieged four times. It has also served as a palace and is now a historical landmark of Belarus.
Exploring the interior involves climbing flights of stairs to the towers for magnificent views of the lake and countryside, and all rooms are meticulously restored to reflect the lifestyle of the times.
The complex houses a museum displaying hundreds of artifacts and, of huge significance to the Jewish community, telling of the daring escape of hundreds of Jewish prisoners and the tragic slaughter during the German occupation.
There is even a hotel inside the castle, where you can spend an unforgettable night surrounded by history.
8. Wray Castle, England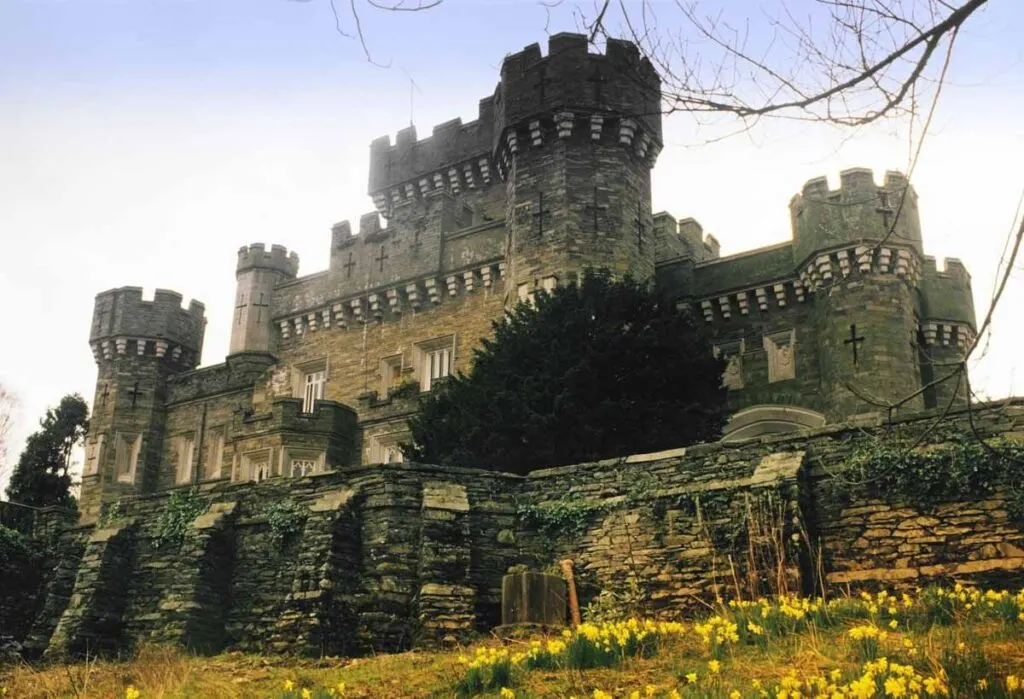 Despite its thick stone walls with high, fortified, turreted towers and portcullis gate, this formidable-looking castle was actually meant to be the retirement home for just two people!
It was built in the 1840s on the northwest shores of Lake Windermere in England's Lake District by a retired Liverpool surgeon, using his wife's inheritance, who, after taking one look, refused to live in it.
Today, this Gothic-revival castle is owned by the National Trust and is a gorgeous spot for a family to spend the day.
You can explore the castle, housing an enormous collection of paintings, ceramics, books, furniture, and various artworks.
You could also follow the many footpaths along the shoreline or have a picnic under the shade provided by the lush shrubbery, enjoying spectacular lake scenery.
9. Chapultepec Castle, Mexico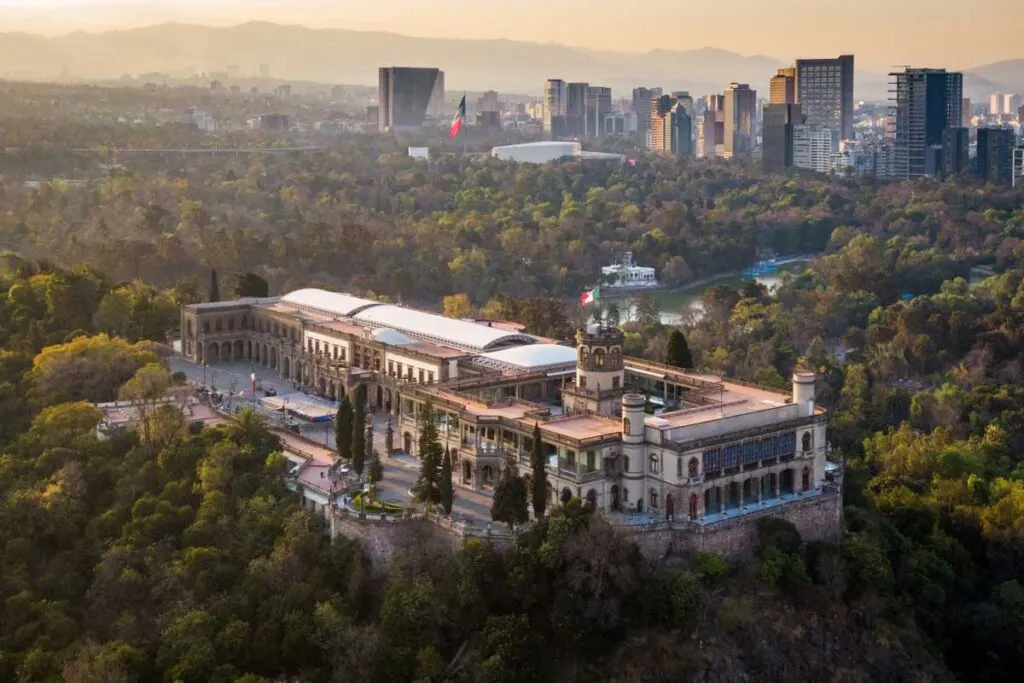 Built on a hilltop in the middle of a massive park in the heart of Mexico City, Chapultepec Castle offers panoramic views of the city sprawled around it.
The site was a sacred place for the Aztecs and is of substantial historical importance to Mexico, having played significant roles in battles, executions, and much political upheaval.
Built in the late 18th century and amidst much controversy, Spain sold it to Mexico City's municipal government in 1806.
It was involved in the Mexican-American War, where six brave young men (Niňos Héroes) were among 1100 that were killed in the siege in 1847 and later became the home of Emperor Maximilian I, until he was executed in 1867.
Today the castle complex is known for its immaculate gardens and monuments, lavishly restored rooms with original furniture and decorations, and museum, housing thousands of artifacts since Pre-Colombian times and the Spanish Conquistadors.
This Gothic Castle is the number one destination for most visitors to Mexico City.
10. Kuressaare Castle, Estonia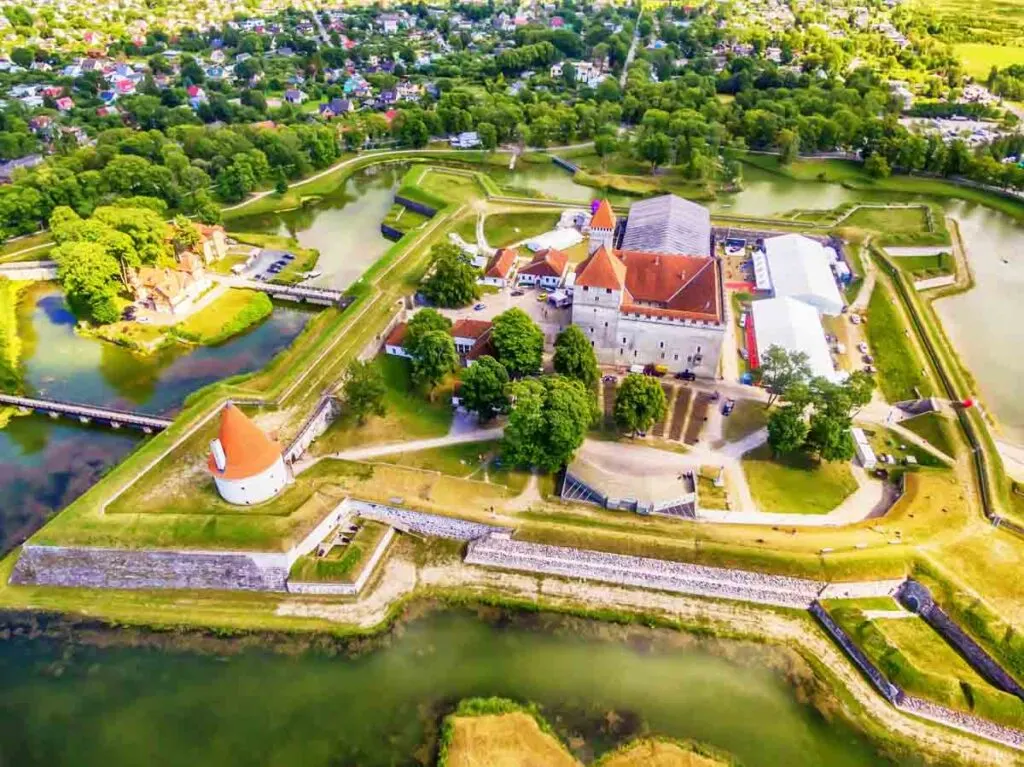 Situated on Saaremaa Island on the Baltic Sea in western Estonia, this is one of those Gothic castles with all the characteristics of a formidable fortress, with high towers, defensive curtain walls, portcullis gates, cannons, and moat surrounding the entire complex.
It also has all the typical Gothic architecture elements and a long and complicated history, ravished in violent wars and conflict.
First built in the 14th century by the Teutonic Order (German Crusaders), it was extended and reconstructed over the centuries, changing hands to Denmark, then Sweden, and Russia, and is now owned by Estonia.
Massive restorations during the 20th century took place to ensure it retained its medieval looks, with more repairs as recently as 2015.
You could easily spend a few hours exploring the castle, grounds, and museum housing numerous artifacts reflecting the castle's history.
This Gothic structure is one of the most picturesque and intriguing places to visit.
11. Stolzenfels Castle, Germany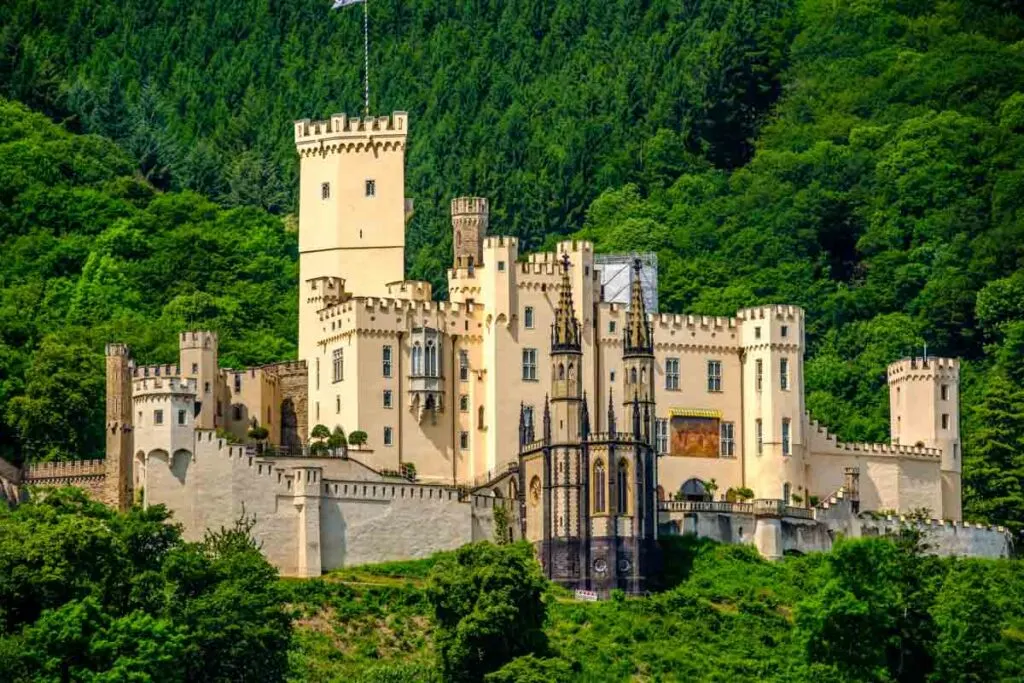 Situated high above the River Rhine, between Frankfurt and Cologne, the original castle had existed since 1269, but centuries of war took its toll until the French destroyed it in 1689.
The ruins were gifted to the Prussian Crown Prince Fredrick William IV, who rebuilt the castle as a Gothic Revival Castle Palace in 1842.
To explore the castle, you'll first need to walk up a steep windy path. The interior is filled with authentic furnishings from original cookware, suits of armor, exquisite wall frescoes and furniture characteristic of that era, and of course, the dreaded torture room.
Stunning views of the Rhine can be enjoyed from the terraces, with the two Knight's Halls and small chapel being some of the highlights. The best views of the castle can be enjoyed from across the river.
12. Castle of Diósgyőr, Hungary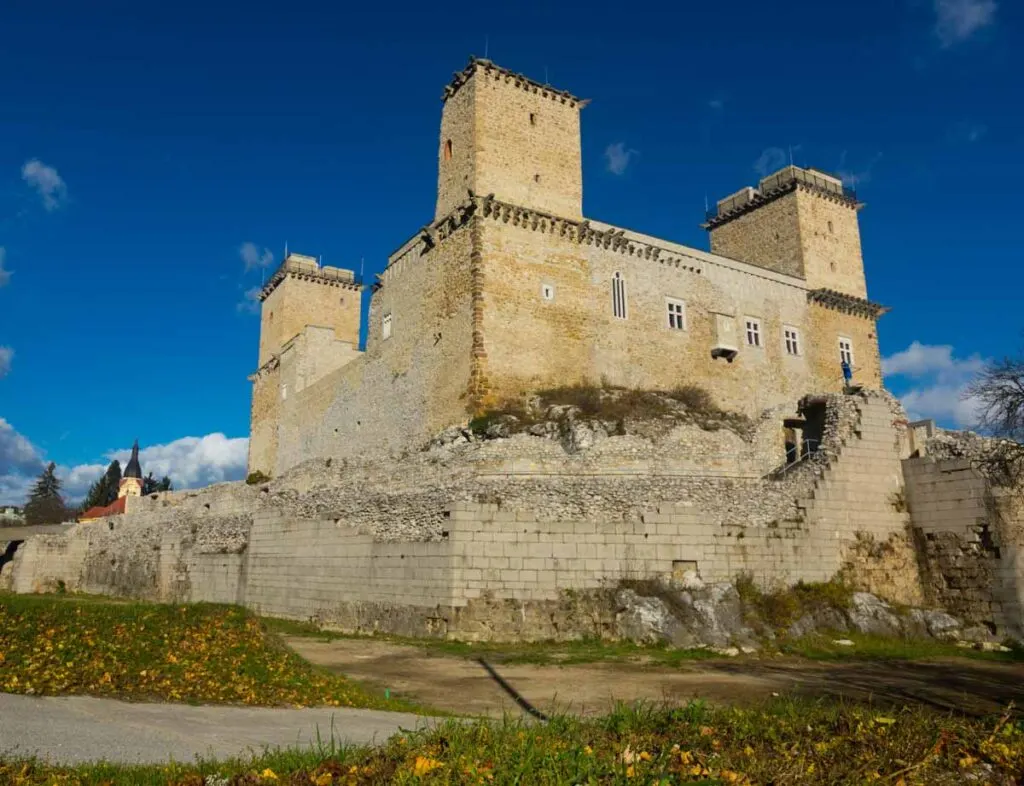 Situated on the outskirts of Miskolc in north-eastern Hungary, the Castle of Diósgyőr may not be the grandest of all Gothic castles, but by taking a guided tour through it, you will get a real sense of the medieval life of this often-forgotten part of the country.
The original castle was destroyed by the Mongols in 1241 until King Louis The Great rebuilt it in 1364, turning it into one of the most beautiful fortresses in the country.
It was later given as a wedding present to Queen Beatrice but fell into disrepair after the Ottoman invasion. It was restored to its former glory from 1962 to 2014.
Today, although most of the architecture and furnishings are not authentic, the interactive displays, re-enactments with guides dressed as knights, medieval events, and jousting tournaments held regularly bring history back to life in a most enjoyable way for visitors of all ages.
13. Arundel Castle, England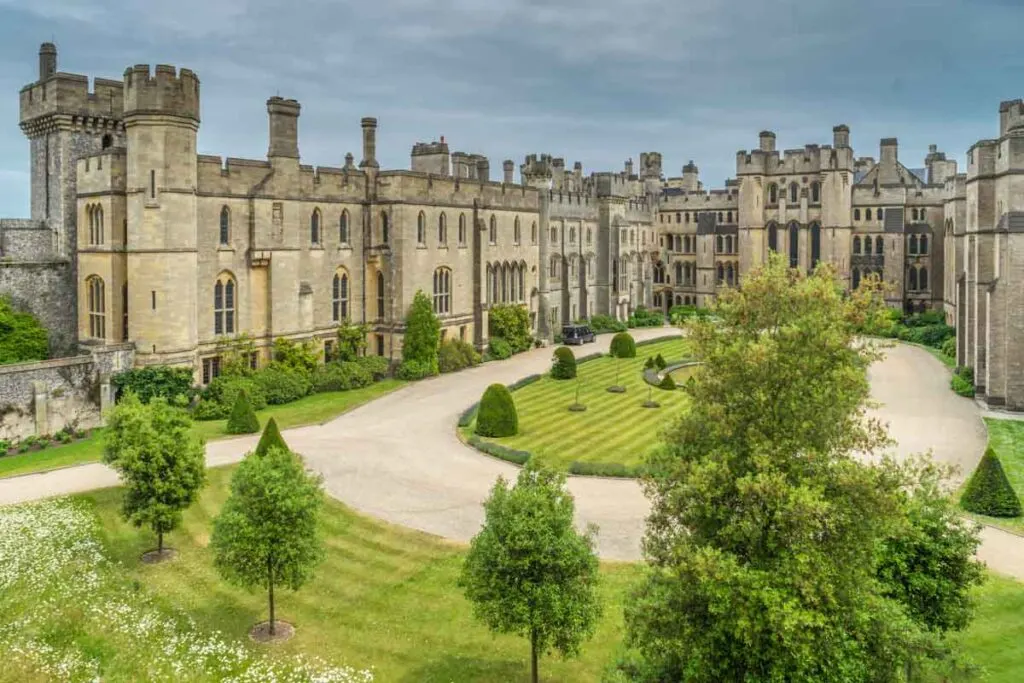 If you're anywhere near the south coast of England, you just gotta see this place!
Steeped in history dating back almost 1,000 years, this magnificent Gothic castle will hold you hostage for a full day exploring its glorious interior, filled with historical artifacts, furnishings, paintings of Van Dyck and the likes, and personal belongings of British Royalty.
Events of every kind are continually held, fascinating and educating visitors about medieval life and English history. Kids will be occupied for hours.
And the gardens? Oh my gosh! In April, they come alive with the biggest tulip display in the country.
Not saying anything more…just go there!
14. Palais des Papes, France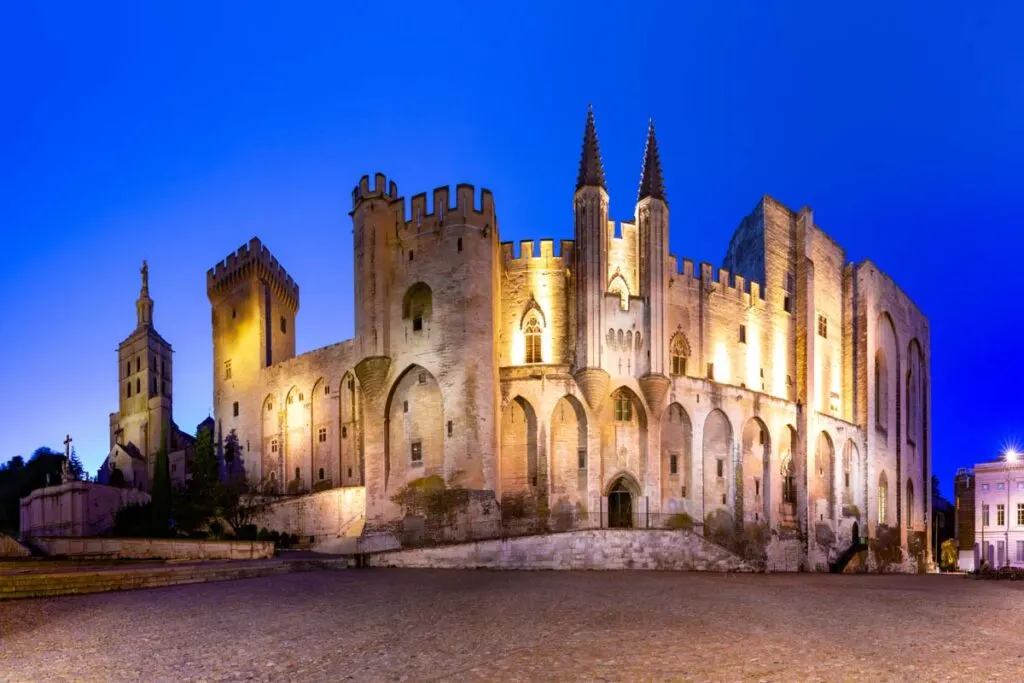 This Gothic castle palace is the most visited monument in France and the biggest Gothic building ever built. It is a colossal French landmark.
Built during the 1300s by two Popes, this extravagant castle complex bears testimony to the wealth and power held by The Church in medieval times.
No less than nine Popes lived and reigned from Avignon, in southern France, during the 14th century.
It remained in the hands of the clergy until ransacked during the French Revolution, then turned into military barracks, and was only opened to the public in the early 1900s.
Today the Palace of the Popes is a network of grand buildings of immense proportions and extreme beauty with statues, carvings, wall and ceiling frescoes, decorations, and stunning architecture in every room, hallway, and chapel, to take your breath away.
More stunning views of the surrounding countryside can be enjoyed from the terraces and high towers.
What a magical place!!
15. Doge's Palace, Italy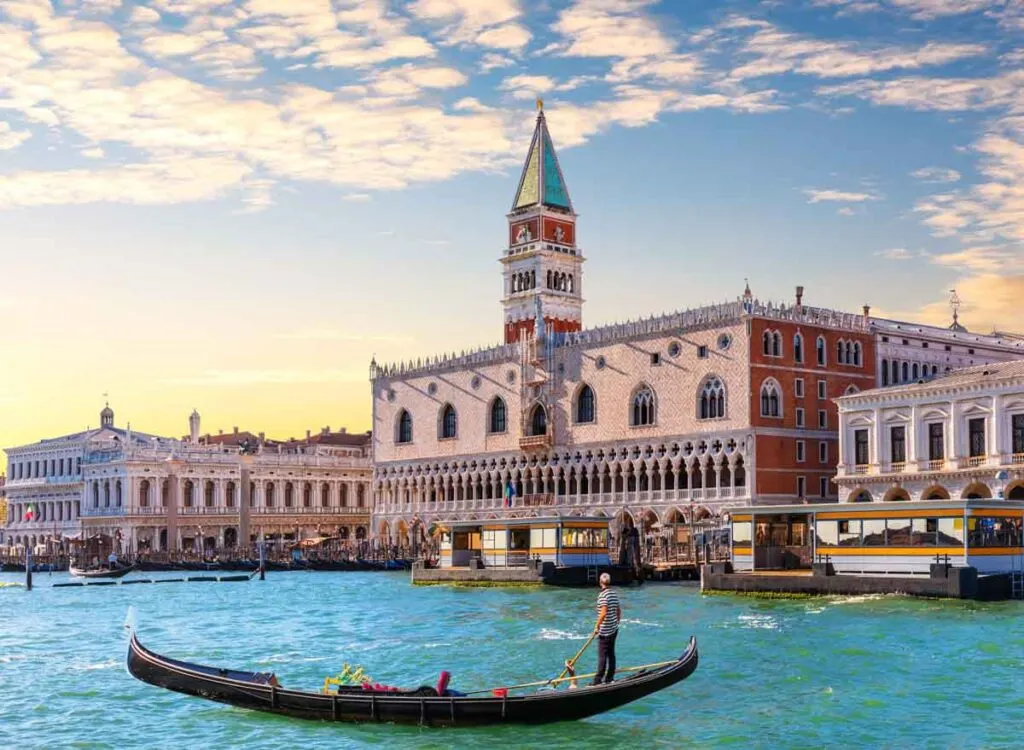 No words can do justice to the finest example of ostentatious Gothic architecture and Venetian wealth, power, and opulence.
Built and renovated continually from the 14th century onwards by the rulers of Venice (Doges), this palace is a massive network of exquisite buildings, with each room filled with masterpiece artworks, delicate sculptures, carvings, and furnishings.
You'll spend more time looking upwards, mesmerized by the hundreds of astonishing gilded ceiling frescoes. Absolutely Gorgeous!
There are various types of tours you can book (preferably in advance), going through the armory with tons of suits of armor and medieval weapons, the prisons tours, or the secret tour.
There are many stairs to climb, bridges to cross, and many marvelous sights to behold. History, culture, and beauty rolled into one.
A truly must-see when in Venice.
16. Durham Castle, England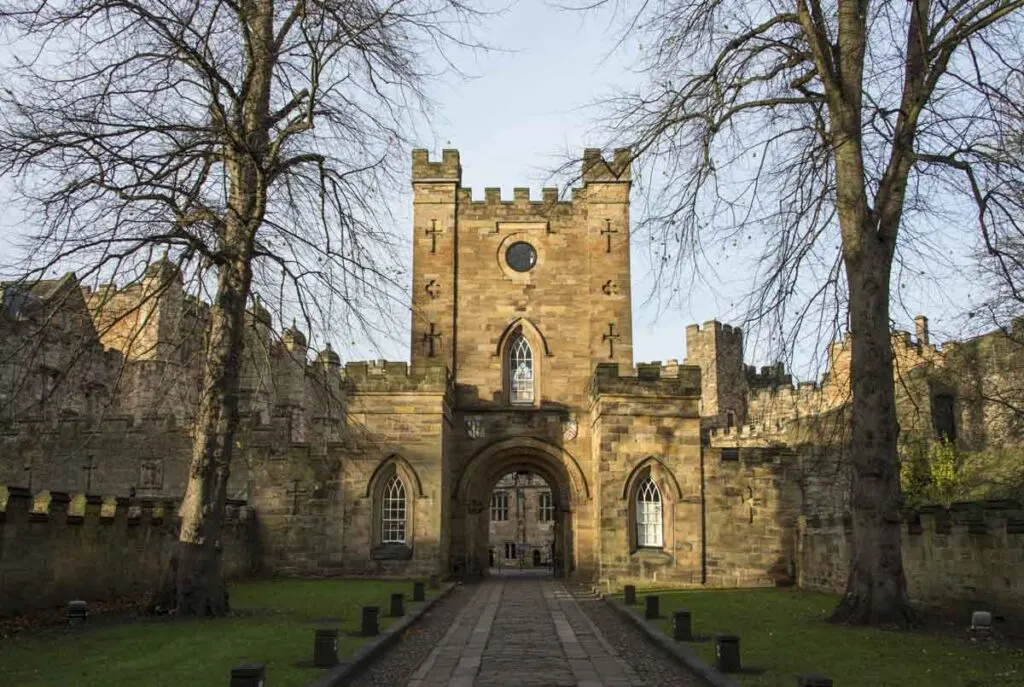 Situated in Durham, England, Durham Castle is today part of Durham University, and being a living student's residence, entrance is by guided tours only.
It was built during the 11th century by William the Conqueror as a defense fortress against the rebellious English and the troublesome Scots.
Although much of the original architecture was Norman, its pointed stone-rib arches supporting the ceiling are the earliest traces of Gothic architecture, earning its place on our list of impressive Gothic Castles.
A tour of the castle and grounds will reveal its fascinating history and a wealth of artifacts dating back almost 1000 years ago.
Most impressive are the 14th-century Great Hall and 16th-century Tunstall Chapel, with ornate furnishings and beautiful stained glass windows.
17. Zvíkov Castle, Czech Republic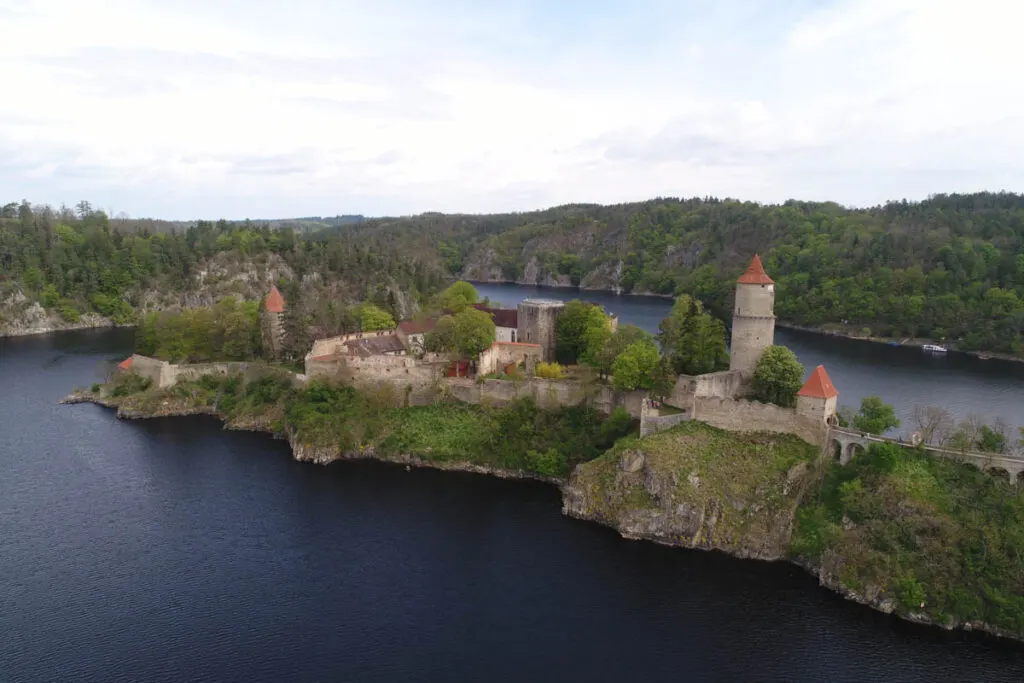 Strategically situated above the joining of the Vitava and Otava Rivers about 60 miles south of Prague, Zvikov Castle is one of the most important Gothic castles in the Czech Republic and is also known as the king of Czech castles.
Built and extended throughout the 13th century by the Kings of Bohemia, it changed hands and was besieged several times, first by the Hussites in 1429 and then by the Habsburgs in 1618, before being ransacked and damaged.
Having suffered two fires, it fell into disrepair before being reconstructed during the 19th century and again in the 1970s.
It's a magical place to wander around and admire the architecture, frescoes, historical statues, and a small museum.
Not spectacular as other castles, but the views from the 105-foot tower of the rivers and the surrounding green countryside are epic. It is best visited by ferry boat.
Final Thoughts On Gothic Castles
I don't know about you, but whenever I visit any of such Gothic castles, I cannot but be amazed at the standards of craftsmanship that existed up to 1,000 years ago.
Today, all we hear is, "it was built by King so and so," without ever mentioning the thousands of architects, painters, designers, stone masons, and general laborers who toiled for years, mostly in atrocious conditions, without ever being recorded in history.
Whenever you visit any such castle, lavish or simple, spare a thought for the thousands upon thousands of such souls for their tenacity, dedication, and skills that are all etched into each stone, wall, carving, or work of art you see in any of these never-to-be-replicated Gothic Castles.
I seriously doubt such skills exist today.
Our best travel tips & resources:
Here're our all-time favorite travel tips & resources so that you can save money and plan your travel logistics hassle-free! For more travel resources, check out our
travel tips.
Saving money: Fly on offseason, winter (not Xmas or NYE), Tuesday, or Wednesday! According to experts, these are the cheapest days to fly.
Travel insurance: Before you leave for your trip, make sure you have a valid travel insurance policy because accidents happen on the road. We have been paying for Safety Wing travel insurance for a little over a year now, and we happily recommend them to our family and friends.
Accommodation: We usually stay in mid-range comfy hotels or private rooms in hostels. These are the sites we use to book accommodation: Booking.com for hotels (excellent flexible cancellation policy) and Hostelworld for hostels (low deposit and easy cancellation).
Tours:We absolutely love booking guided tours with locals to get a history lesson while sight-seeing, especially food tours and walking tours! We book all of our tours using Viator and GetYourGuide.
Transportation: We use Google Maps to figure out how to get around a place using public transport. When we book a rental car, we always use Discover Cars to find the best deal.