Whether you're looking for natural beauty, architectural elegance, priceless artworks, ancient history, or modern wonders, there are thousands of famous French landmarks to cater to all tastes.
During our visits, we discovered so many gems with such intriguing facts about them we thought of sharing them with you.
So if you're planning a trip to France, we hope our short list of some of its most fascinating landmarks in France will inspire you to visit some of them.
23 Most Famous French Landmarks
Here are the most famous French landmarks you'll want to check out on your next European vacation!
1. Eiffel Tower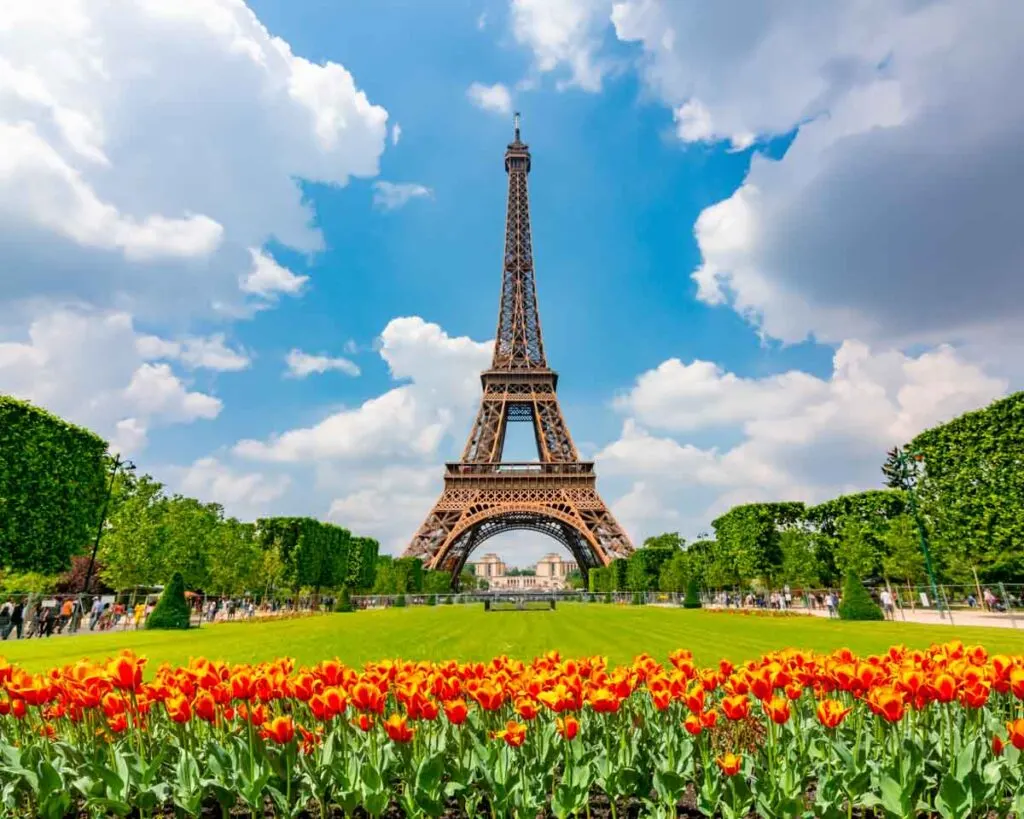 Rejected by Barcelona and scorned by Parisian art critics of the late 19th century who described it as an ugly factory chimney and metal asparagus, Gustave Eiffel's creation, the Eiffel Tower, has become not only one of the most iconic landmarks in France but across the world.
Installing an antenna on top of the Eiffel Tower saved it from being sold for scrap metal, and today it holds over 100 radio and television antennae, beaming signals worldwide.
This major landmark of Paris also played a vital role in both world wars, intercepting messages, the most significant being the German message, identifying the infamous unfamiliar dancer, Mata Hari, as a German spy, during WW1.
She was convicted and executed, but much doubt exists to this day as to whether she really was a spy.
Towering 984 feet above the heart of Paris, the Eiffel Tower offers dramatic 360° views of the City of Love, drawing seven million visitors each year and earning the city a cool fortune—obviously, after all, it is the most popular landmark in France.
Read next: Best Time to Visit Paris
2. Arc de Triomphe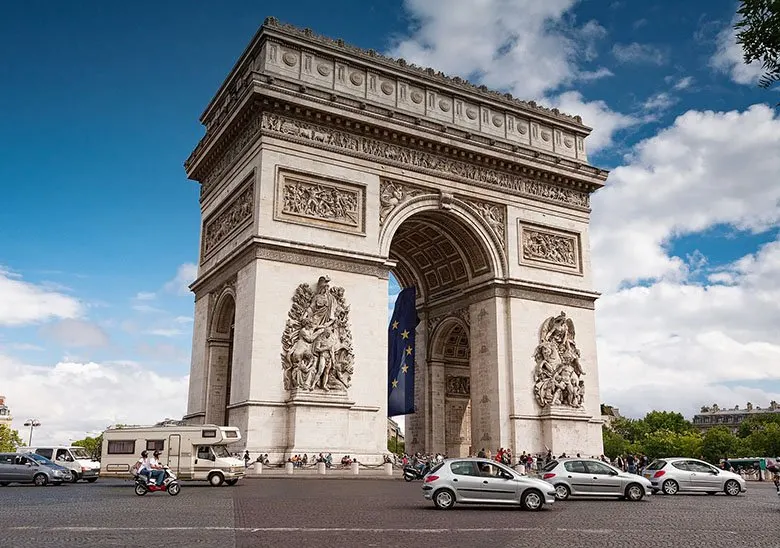 Also situated in the heart of the French capital with 12 avenues, including the majestic Champs-Élysées built in the 17th century, spreading outwards, Napoleon's 164-foot high Arc de Triomphe was commissioned in 1806 to commemorate his triumph at Austerlitz.
This Parisian landmark was, however, only completed in 1836, some 15 years after he passed away.
A 280-step spiral staircase takes you to the top of the Arc de Triomphe to enjoy stunning city views, while its interior includes a fascinating museum housing historical displays.
The exterior is decorated with intricate carvings honoring French historical events, Roman figures, and the names of 158 famous battles fought by French soldiers.
Beneath the arch burns the eternal flame of the Unknown Soldier, stoked by war veterans every evening at 6.30.
Burning continually since 1921, the flame was briefly extinguished by a drunken tourist during the 1998 Soccer World Cup.
In 1919, just 14 years after man learned to fly, Frenchman Charles Godefoy flew his biplane through the arc with less than 10 feet of clearance on either wing.
Soaring 15 feet from the ground, he sent panic-stricken pedestrians fleeing in fear. This crazy feat was repeated in 1981.
3. Basilica of the Sacré-Coeur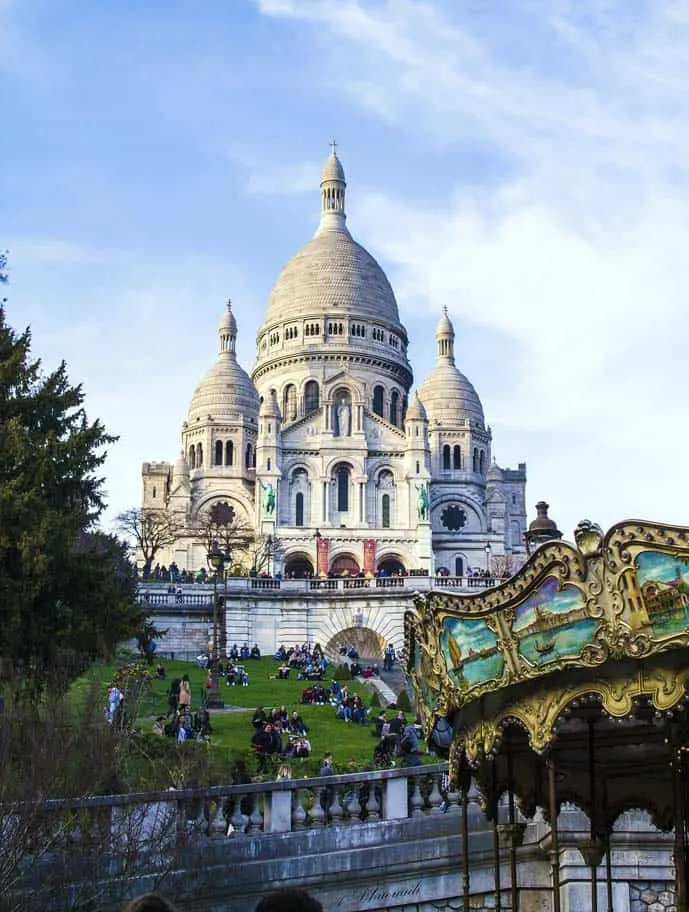 Built in Montmartre between 1875 and 1914 on the highest hill in Paris, its massive dome offers unparalleled views of one of the most beautiful cities in the world.
This Parisian church is built in the unusual Romanesque/Byzantine architectural style.
The brilliant-white exterior is adorned with gargoyles and numerous impressive statues, including the Sacred Heart of Jesus, Saint Louis, and Joan of Arc.
It has five bell towers, including the largest bell in France, which can be heard 6 miles away.
The interior is superb, packed with elaborate mosaics and tapestries, sculptures, a stunning altar and grand organ, intricate stained glass windows, and a series of chapels beautifully decorated in Christian themes.
Its construction was, however, subject to much controversy, being strongly opposed by certain politicians, who even proposed erecting a full-size replica of the Statue of Liberty in front of it to block the view of the church.
As late as 1976, someone set off a bomb inside it. Despite all this hype, the Basilica remains the second most popular tourist attraction in Paris and one of the most famous landmarks in France.
Be prepared to climb long stairs, but the experience is worth every step you take.
4. Loire Valley Castles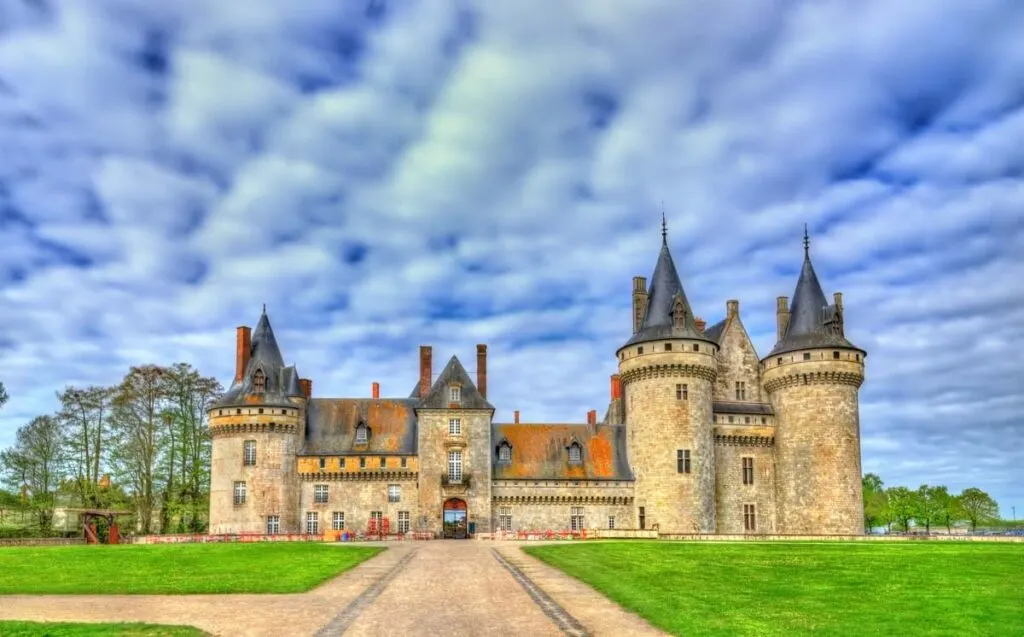 If you're into French castles and famous buildings, drop everything and head to the Loire Valley, just a couple of hour's drive/train ride southwest of the capital city. In other words, an excellent day trip from Paris.
With no less than 300 castles crammed into this already picturesque valley, you'll find some of the best landmarks in France right here. The biggest problem is choosing which ones to leave out.
In my view, here are just a handful you should not miss. For sheer elegance, luxury, and architectural beauty, Chambord Château has no equal.
This former hunting lodge is so beautiful that Francois, I wanted to reroute the Loire River to flow in front of it.
Château du Clos Lucé, famous for being the home of Leonardo Da Vinci for three years, and the Château of Amboise, just up the road, for being his burial site.
Château de Chenonceau, also known as the Women's Castle, is a must-see, being the only castle built, decorated, and inhabited by women and inspired the story of Sleeping Beauty.
Chateau de Villandry has some of the most beautiful gardens in Europe. The castle was built in the 16th century, but it was later renovated in the 18th century.
History, architecture, formidable castles, lavish Renaissance furnishings, and natural beauty can all be found everywhere in this tranquil and beautiful valley.
5. Louvre Museum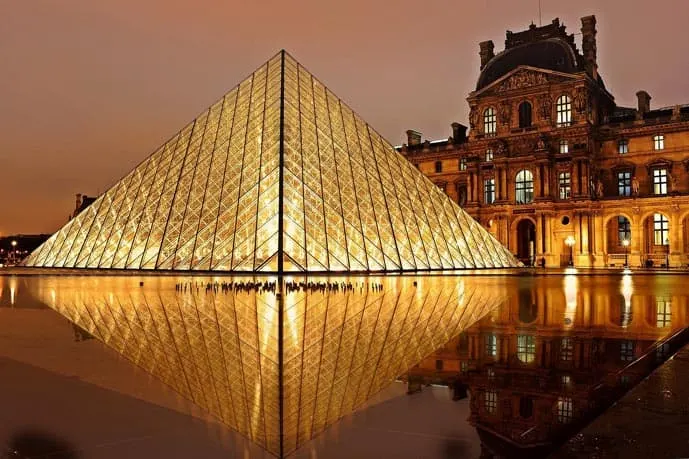 Located along the River Seine in the heart of the capital city, the Louvre is not only one of the most famous French landmarks and the largest museum in the world but also contains some of the most priceless, historical, and highly revered artworks ever created.
Even if you have no interest in the arts, no visit to Paris is complete without visiting this truly awe-inspiring museum.
Its extensive collection includes masterpiece paintings, sculptures, furnishings, and enormous frescoes from virtually every era and continent around the world.
Some of the most famous paintings in the Louvre are the Mona Lisa, the Coronation of Napoleon, and the Raft of the Medusa.
Still, sculptures like the Venus de Milo and thousands of magnificent artworks will also keep one astonished for days on end.
The building itself is a masterpiece in its own right, having once been the palace of Louis XIV, the undisputed king of ostentatiousness.
6. Cite de Carcassonne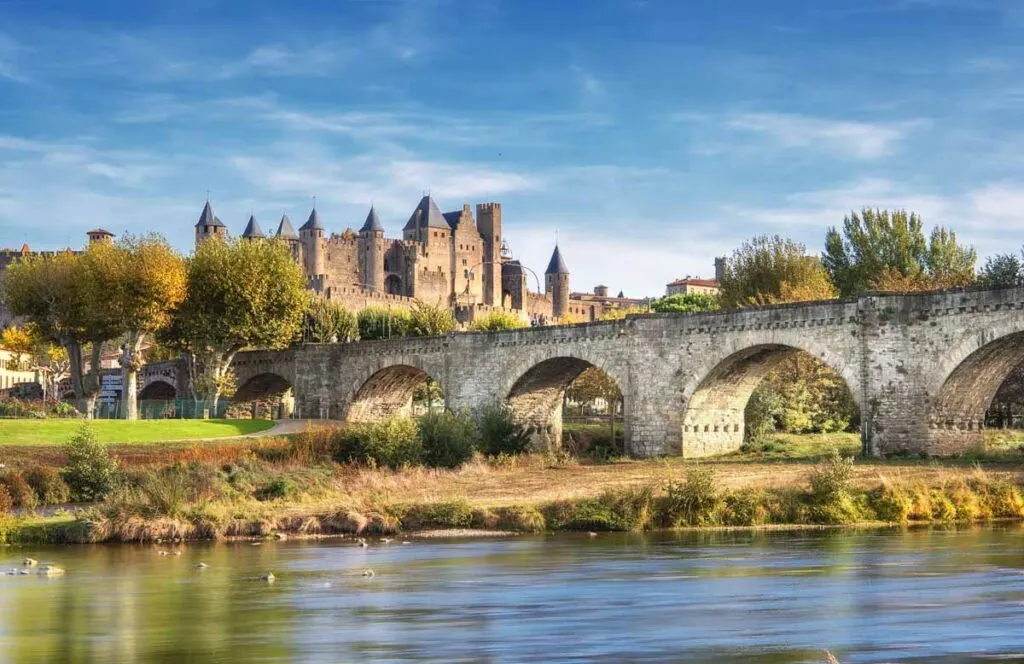 What can only be described as a fortress within a fortress, you can easily spend days here, strolling through the narrow cobblestone streets, surrounded by imposing castle walls and military watchtowers, charming squares and stone-carved fountains and medieval architecture, transporting you to the 12th century.
Needless to say but the Fortified City of Carcassonne is a UNESCO World Heritage Site.
Inside the city walls, you'll find a medieval castle, the Château Comtal, the towering Gothic-style St. Nazaire Basilica with its magnificent stained glass windows, two museums, and hundreds of historical monuments, structures, and graves going back to Roman times.
The castle interior reflects military life during the Middle Ages, while the towers and high curtain walls offer panoramic views of the city and peaceful countryside.
This is one of the best-preserved historical landmarks in France, and no visitor to southern France should miss it.
7. D-Day Landing Beaches
One of the most significant events of WW2 took place in Normandy on 6th June 1944, when over 150,000 Allied troops landed on a 50-mile stretch of coast, thus beginning the liberation of Europe from the German forces.
Code-named Utah, Juno, Omaha (nearby Normandy American Cemetery), Sword, and Gold, about 10,000 Allied soldiers were to lose their lives on these five beaches on that day alone.
Today, the French government honors the soldiers who fought or perished here, with dozens of famous monuments, memorials, museums, cemeteries, and various landmarks scattered on this coast.
Not to be missed is Omaha Beach, where about 2,500 American soldiers lost their lives, many before even reaching the beach, the incredibly emotional cemetery just above the beach, Caen Museum, Pegasus Bridge, and Pointe du Hoc.
At Arromanches, the remnants of the artificial harbor the Allies brought are visible, as are the massive German gun batteries at Longues le Mer.
There are, of course, many other significant sites along this coastline, with many organized day tours highly recommended.
8. Notre-Dame Cathedral Paris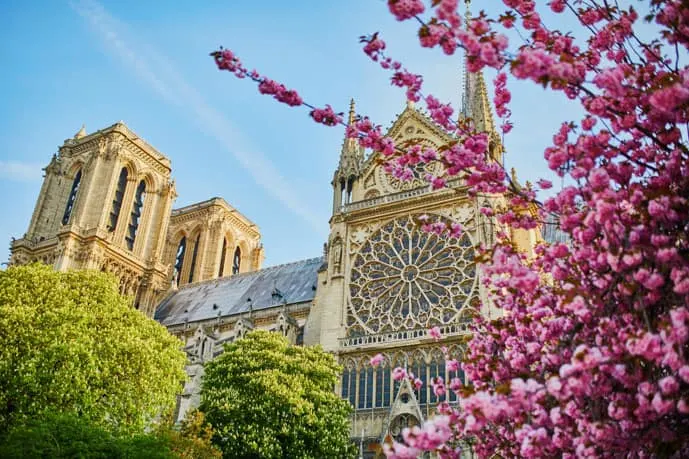 Whether it's because of its rich history, stunning Gothic architecture, or Victor Hugo's story behind it, Notre-Dame de Paris is one of the most famous France landmarks and the most beautiful and spiritually-enriching cathedrals in the world.
Built on the Île de la Cité between 1163 and 1260, although modifications continued for centuries, its exterior is adorned with hundreds of religious sculptures, huge arches, gargoyles, bell towers, and gorgeous stained glass windows.
The interior is, or was, decorated with historical statues, relics and tombs, huge columns and grand arches, priceless paintings, and wood carvings, adding to its already spectacular grandeur.
Unfortunately, its distinctive tall spire collapsed when the Gothic cathedral suffered its worst-ever damage in a devastating fire in 2019. This UNESCO World Heritage Site has been closed for restoration ever since.
It's expected to be reopened to the public in December 2024, and only then will we know which relics were lost and which were saved. I cannot wait.
9. Strasbourg Cathedral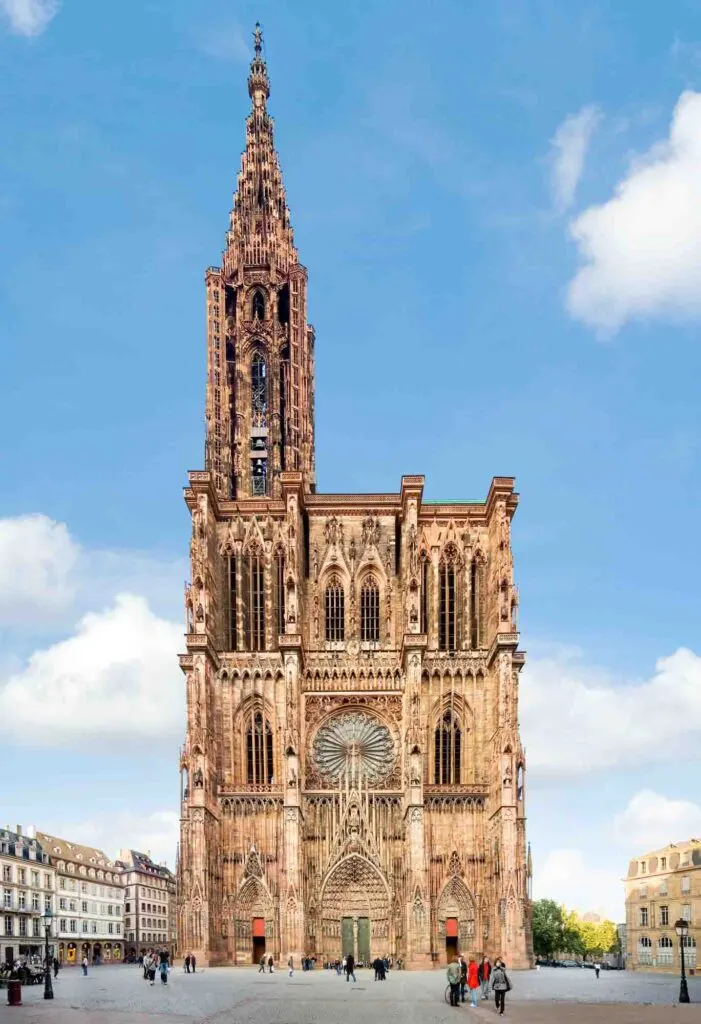 Situated in eastern France, a stone's throw from the German border, Strasbourg Cathedral is a marvel of architectural beauty amongst all French landmarks.
Built between the 12th and 15th centuries in an early Gothic style, its impressive exterior is packed with hundreds of life-like religious sculptures, with a 466-foot spire and magnificent stained glass windows, giving it its unique and elegant appearance.
Strasbourg Cathedral was the world's tallest building from 1647 to 1874 (227 years), when it was surpassed by St. Nikolai's Church in Hamburg.
The interior is equally beautiful, with stunning art, statues, and cryptic messages from medieval artisans.
Of special mention are the spectacular Rose Window, the organ, and the Astronomical Clock, which chimes at 12.30 pm each day, setting off a crowd-drawing parade of the Apostles and other figures.
The views from the tower are also superb for anyone who climbs the 330 steps to the top. The most stunning cathedral is not to be missed if you're anywhere near Strasbourg.
10. Montagne Sainte-Victoire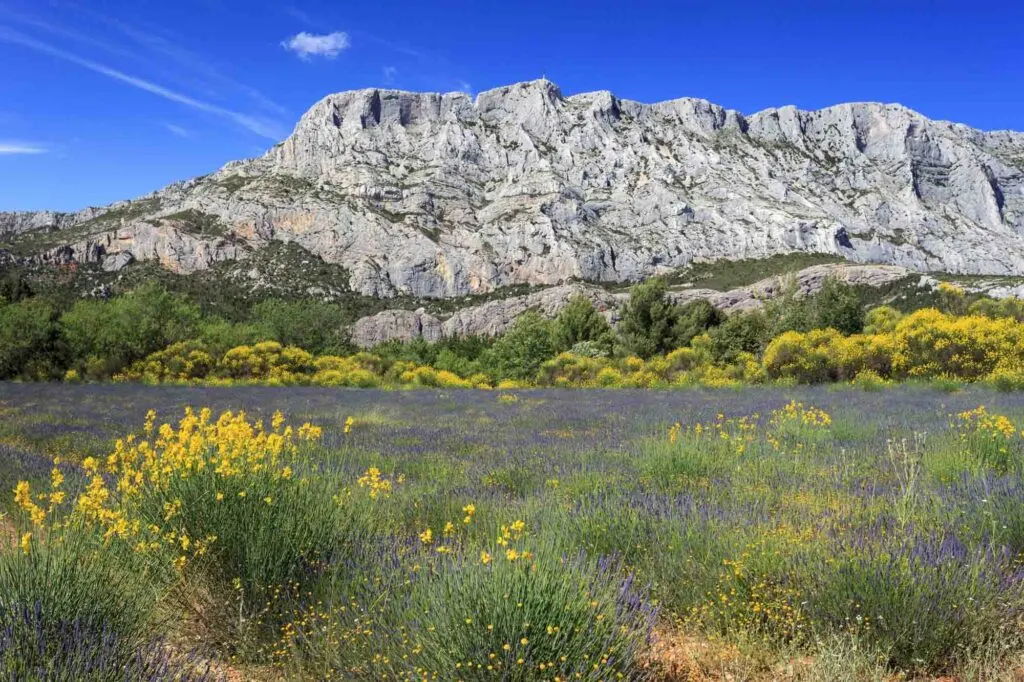 Situated in southeastern France, the Montagne Sainte-Victoire mountain range is just one of nature's splendid landmarks in France to be enjoyed by all free of charge.
A stunning landscape packed with tall mountain peaks reaching over 3700 feet in height, rugged cliffs and picturesque lakes, quaint villages, and flower and vineyard-covered valleys, forests, and plains, bursting with animal and birdlife.
Hotels, guesthouses, and campsites provide various accommodation options to explore, hike, cycle, or drive around this diverse landscape.
Miles of roads and hiking trails lead to many view sites for unforgettable scenery stretching from the Mediterranean to the Alps.
Amongst the top peaks to visit is the Cross of Provence, from where views are truly spectacular.
11. Provence Lavender Fields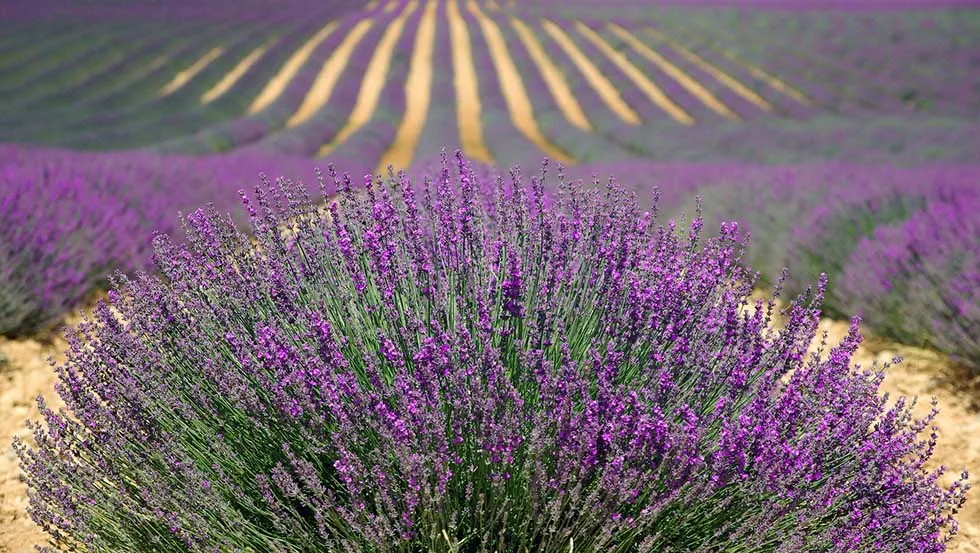 If you're lucky enough to be in Provence in the European summer, you cannot avoid seeing patches of purple scattered across the lush green countryside.
July is the peak time to witness the lavender fields in full bloom in the largest lavender-producing area in Europe.
With miles of rolling hills covered in vineyards, olive groves, and pine forests, amongst quaint villages and rows of purple lavender fields stretching to the horizon, the entire landscape is a sight to behold.
With the scenery changing throughout the day, you cannot take a bad photo here.
Tours can be booked to take you to various routes to witness the best lavender fields. A truly magnificent sight no matter where you go.
12. Palace of Fontainebleau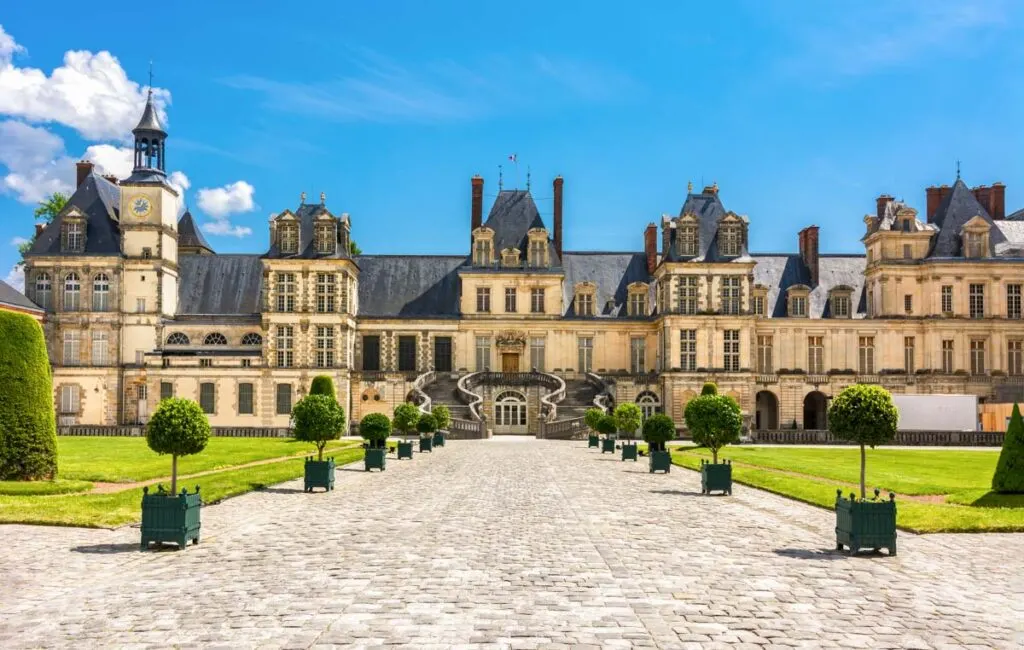 Not many royal palaces can boast of rivaling the Palace of Versailles for elegance, luxury, and beauty, but Fontainebleau does exactly that.
A little smaller than Louis XIV's outrageous palace, but its 1,500 rooms and four museums, housing some of the most exquisite furnishings, decorations, priceless paintings, and historical relics, will take you more than a day to truly appreciate.
And if you have any breath left, the magnificent 320-acre manicured gardens will take that away too.
No wonder every French monarch lived in this palatial complex, each adding their style and contributing to its grandeur.
This 12th-century palace, situated about 40 miles southeast of Paris, is a UNESCO World Heritage Site and a must-see…no doubt about it.
13. Basilica Saint-Michel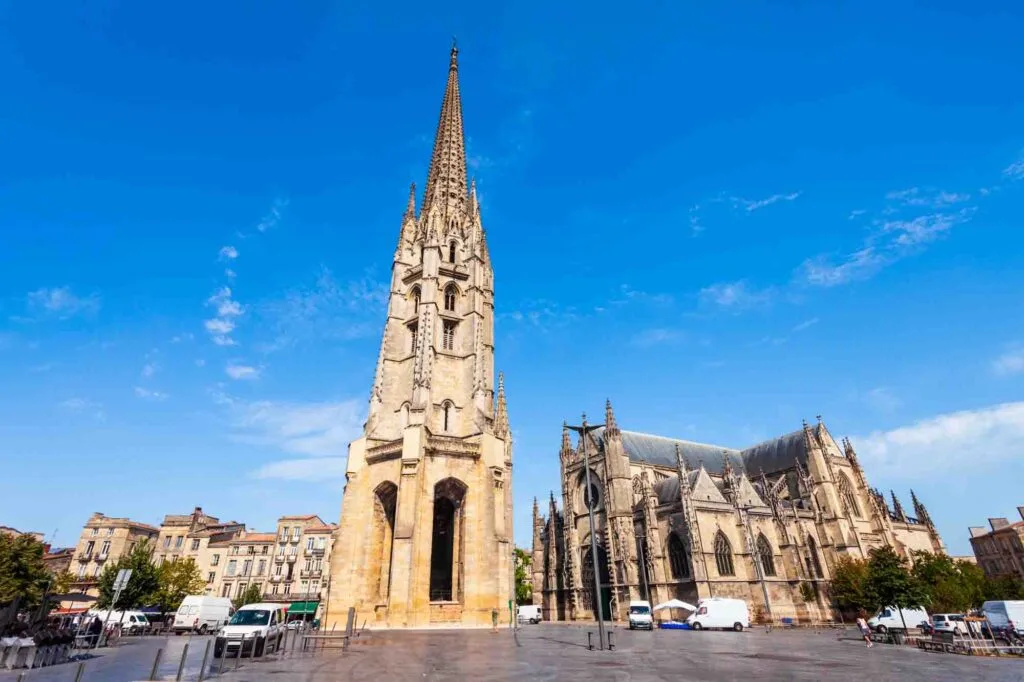 Situated in a historic square next to the River Garonne in the heart of Bordeaux, this basilica takes its rightful place among the most famous France landmarks.
Built between the 14th and 16th centuries and dedicated to the Archangel, it has an unusual design.
The bell tower is separated from the church, tapering into a spire 374 feet high, making it the second tallest church in France. Climbing the tower provides panoramic countryside views of the river meandering through the city.
The interior contains all the Gothic architectural elements of high walls, ribbed ceilings, pointed arches, and huge stained glass windows illuminating the entire church with vivid colors. The windows were made in the 1960s, as the original ones were destroyed during WW2.
A truly majestic cathedral both inside and out, not to be missed whenever you're near Bordeaux.
14. Metz Cathedral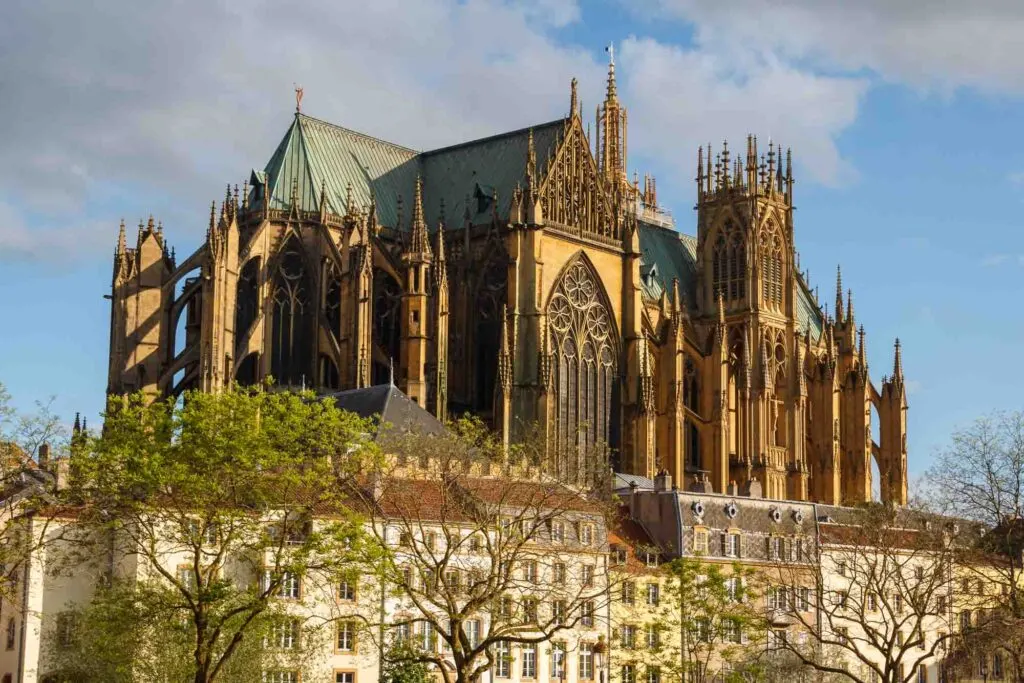 Another Gothic architectural masterpiece and certainly one of the most awe-inspiring landmarks in France, Metz Cathedral is a must-visit.
History, architecture, and beauty are its trademarks, with the largest expanse of stained glass windows in the world stealing the glory and earning it its nickname of God's Lantern.
Situated in the historic town of Metz in northeastern France, this awe-inspiring cathedral, dedicated to Saint Stephen, was constructed from the early 14th century to about 1550 AD.
Its vast exterior is covered in detailed, intricate sculptures and typical flamboyant Gothic architectural decorations, while the interior is richly furnished with Christian relics and decorations.
The soothing light radiating through its magnificent colored windows provides the perfect setting to sit quietly and enjoy a few moments of self-reflection, instilling a sense of calmness and spirituality in all who enter, no matter their faith.
At night, it is truly magical…honestly!
15. Cistercian Abbey of Fontenay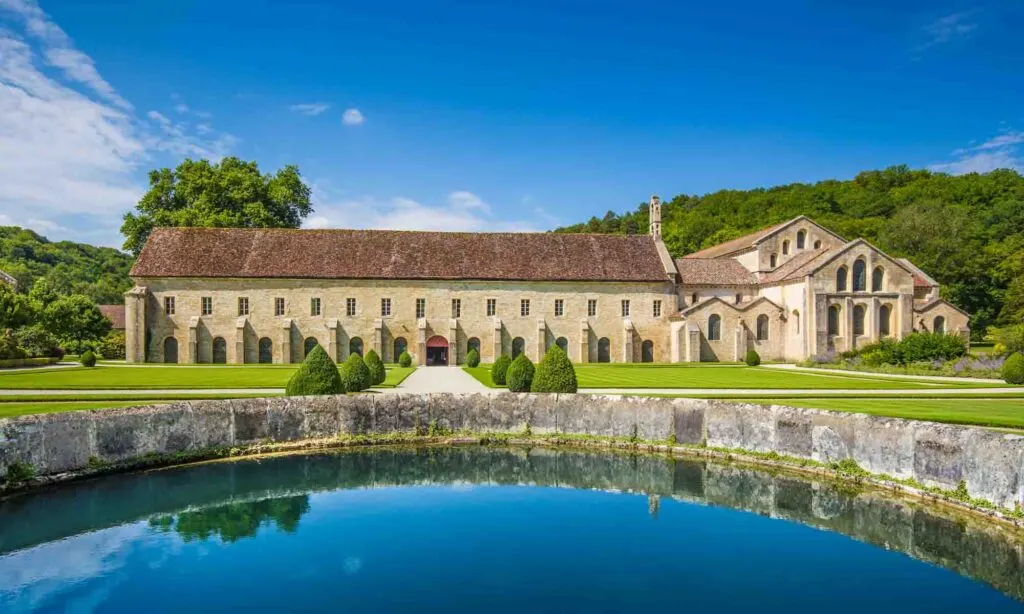 Situated almost halfway between Paris and Lyon to the southeast is another French landmark that provides the perfect setting to pause and spend some peaceful time, surrounded by 900-year-old Cistercian/Romanesque architecture, stunning gardens with centuries-old trees, and enveloped by a sense of spirituality.
Built in 1118 by French Saint Bernard, much of the original buildings remain intact. Of special importance is Smithy, a replica of the world's first hydraulic metal forge.
After the monks were forced to leave during the French Revolution, it was purchased by Elie de Montgolfier, nephew of the inventors of the hot-air balloon, and has remained in the family's hands ever since.
16. Mont Saint Michel Abbey
Also dedicated to the Archangel Michael, the Mont Saint Michel Abey is one of the most visited landmarks in France.
Perched on the summit of the island and town, this UNESCO World Heritage Site was first mentioned in the 9th century but was only completed in 1523.
Having served as the center of learning, pilgrimage, and prison after a tumultuous history (although never captured), a fire, and the ravages of time, it was finally restored to the fantasy castle it is today.
You can access the island at low tide by foot or shuttle, and after a long uphill winding walk through the town, 350 steps will take you to the abbey.
Views of the landscape from here are breathtaking. Photography possibilities are endless in such a stunning fairy tale setting.
An almost identical Saint Michael lies in England on the Cornish coast.
17. Basilica of Notre-Dame of la Garde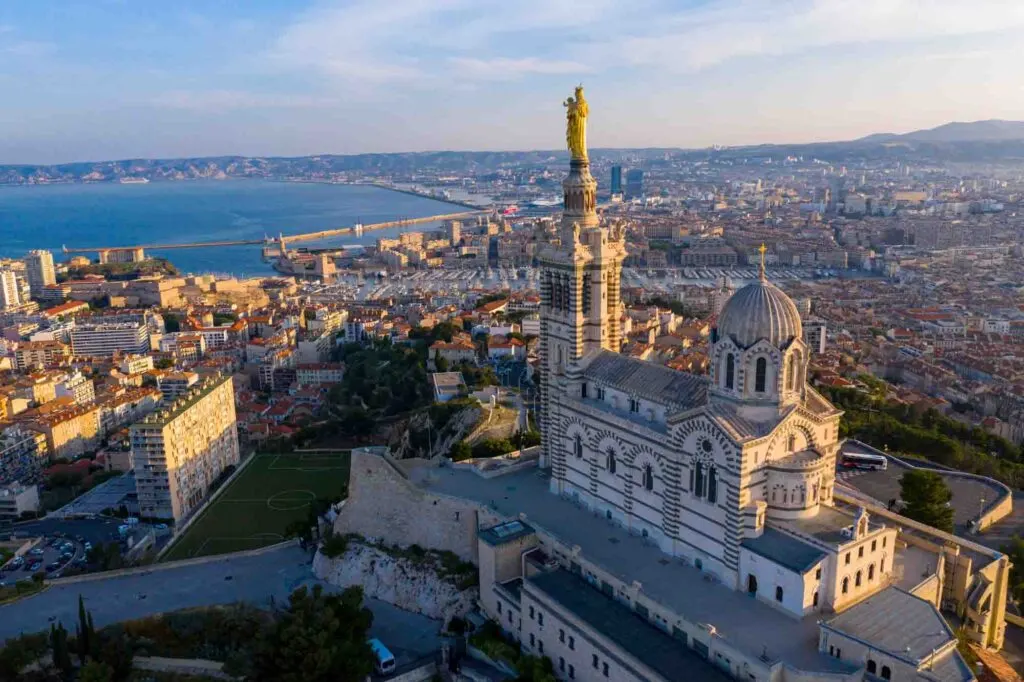 Another magnificent basilica that makes our list of famous France landmarks sits high on a hill known as La Guarded, the highest point of Marseilles overlooking the mountains, the port, and France's oldest city.
Built in 1853 atop the foundations of a 13th-century chapel and 16th-century fort, this instantly recognizable Roman/Byzantine style basilica has a square 135-foot tall bell tower supporting a dazzling 37-foot statue of Madonna and Child, covered in gold leaf.
The interior is decorated with mosaics and religious artifacts and includes a museum covering the church, hill, and city history.
18. Palais des Papes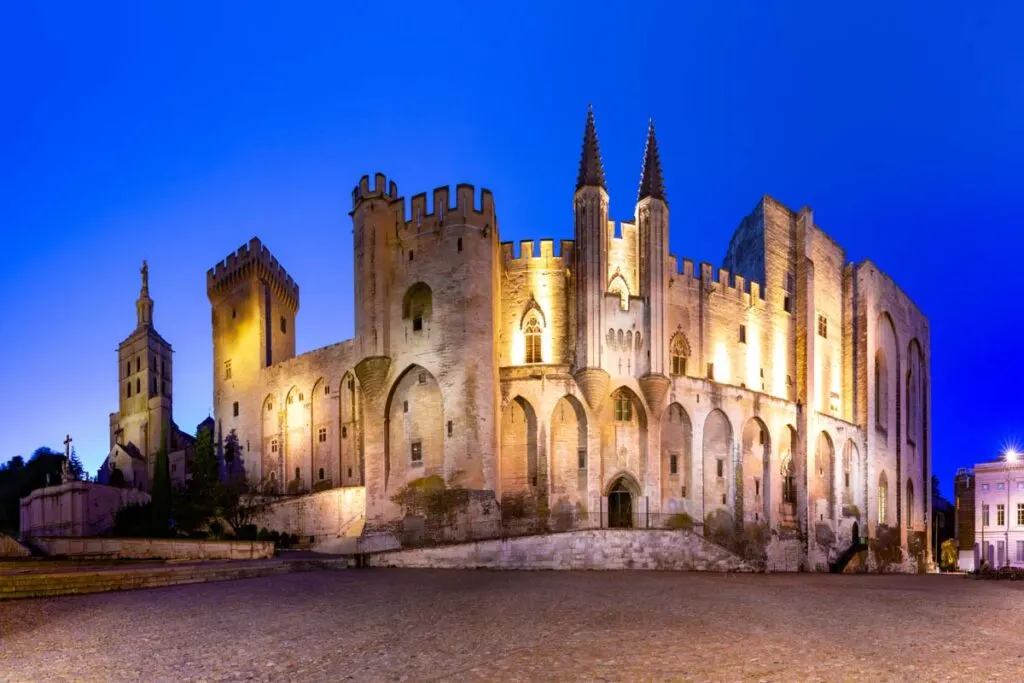 Situated in the city center of Avignon in the region of Provence, this massive Palace of the Popes is testimony to the power and wealth held by the Catholic Church during medieval times.
Built by two popes in the 14th century, this magnificent palace complex remained the seat of power of the church, the home of no less than nine popes.
It remained in the clergy's hands until it was ransacked during the French Revolution and converted into a military fort.
Thankfully, it was restored and opened to the public in the early 1900s.
Today, this complex consists of numerous beautiful buildings packed with elaborate Gothic-style architecture and decorated lavishly with intricate furnishings, massive frescoes, statues, and priceless artworks in every room, chapel, and hall.
The tall towers provide spectacular views of the surrounding countryside.
19. Pont du Gard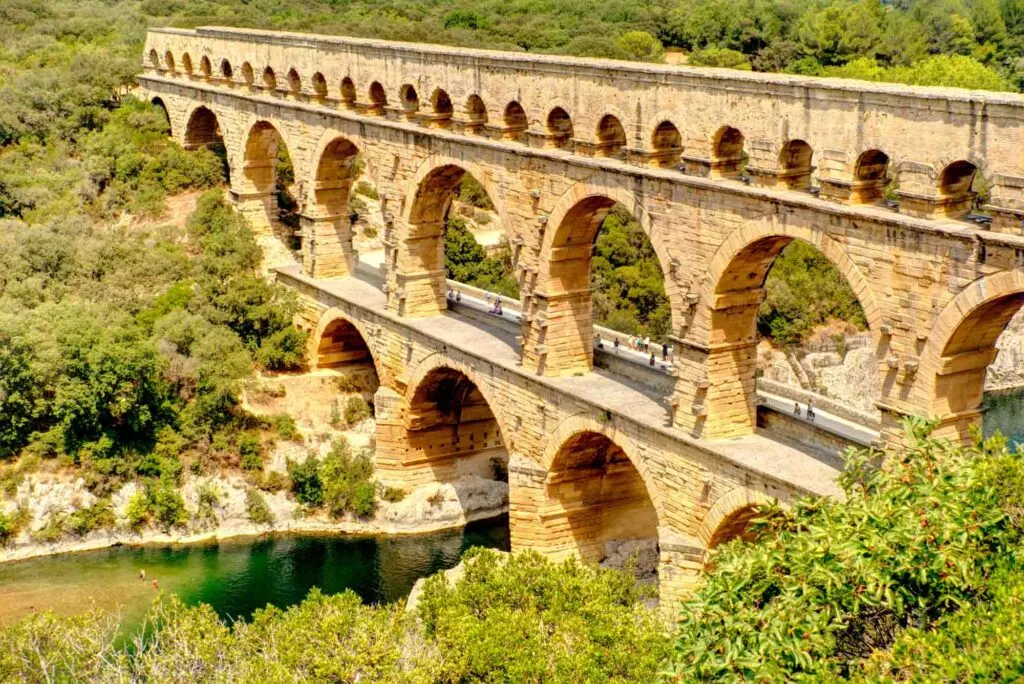 Situated a few miles to the west, near Nimes, Pont du Gard is an aqueduct bridge built by the Romans during the middle of the 1st century.
Spanning 900 feet across the River Gardon, this UNESCO World Heritage Site carried water for 30 miles to the citizens of Nimes.
Its three-tier arches standing 161 feet above the riverbed, were constructed out of limestone rocks, weighing up to six tons, and precisely cut and fitted together without using mortar.
If you consider that the aqueduct had an average elevation of less than half an inch per 600 feet, you cannot but marvel at the surveying and engineering skills of the Romans.
One wonders how long it would have lasted had it been built with today's methods using concrete.
There are various sites on both sides of the river to view this ancient engineering wonder.
20. Millau Viaduct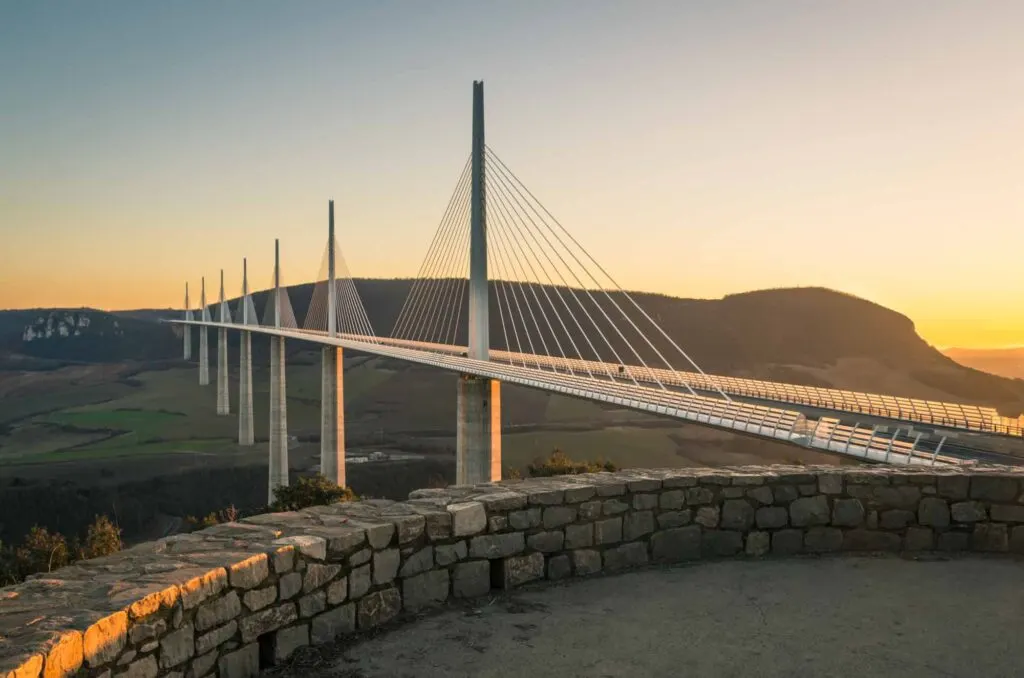 We can't talk about French monuments and not mention the Millau Viaduct.
One of the greatest engineering feats of modern times is also found in southern France, on the A75 La Méridienne motorway.
Spanning four lanes across the gorge valley of the River Tarn, this 8,070-foot-long cable-supported viaduct stands over 1100 feet above the ground, making it the tallest bridge in the world.
Driving across it is a great experience, and there are various spots nearby to stop and appreciate the views.
A museum on site offers fascinating exhibits, statistics, and films on the construction of the viaduct.
Completed in 2004, it cost a cool €394 million and has a lifespan of 120 years. I wonder what the Roman engineers of Pont du Gard say about that.
21. Mont Blanc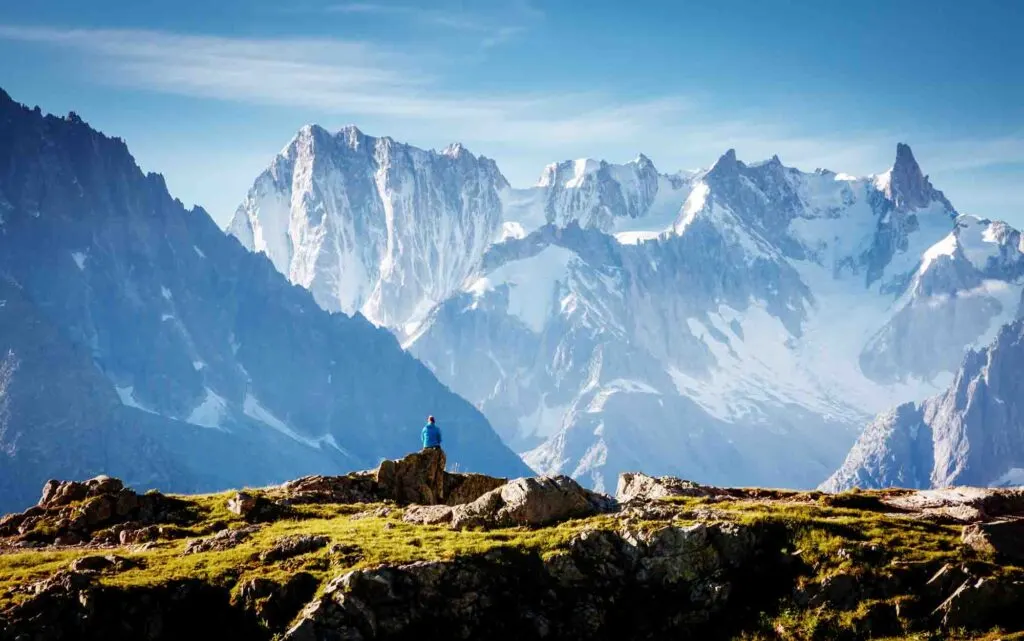 Peaking at 15,770 feet above sea level, France's White Mountain is the tallest in the Alps and Western Europe.
This natural wonder is one of the most visited landmarks in France. It offers fantastic hiking, climbing, and skiing, attracting millions of outdoor enthusiasts and nature photographers from across the world.
Soaring peaks, jagged cliffs, valleys, and ancient glaciers provide spectacular scenery all year round from virtually everywhere.
More than 20,000 climbers summit Mont Blanc each year, while the first ascent was made in 1786. In 1960 another French nutcase landed an airplane on its summit. I kid you not!
But for the less adventurous, a simple 20-minute ride on the cable car will provide panoramic views of the Roof of Europe and the mountainous landscape spread far below.
Mont Blanc is hands-down one of the most beautiful natural landmarks in France.
22. Reims Cathedral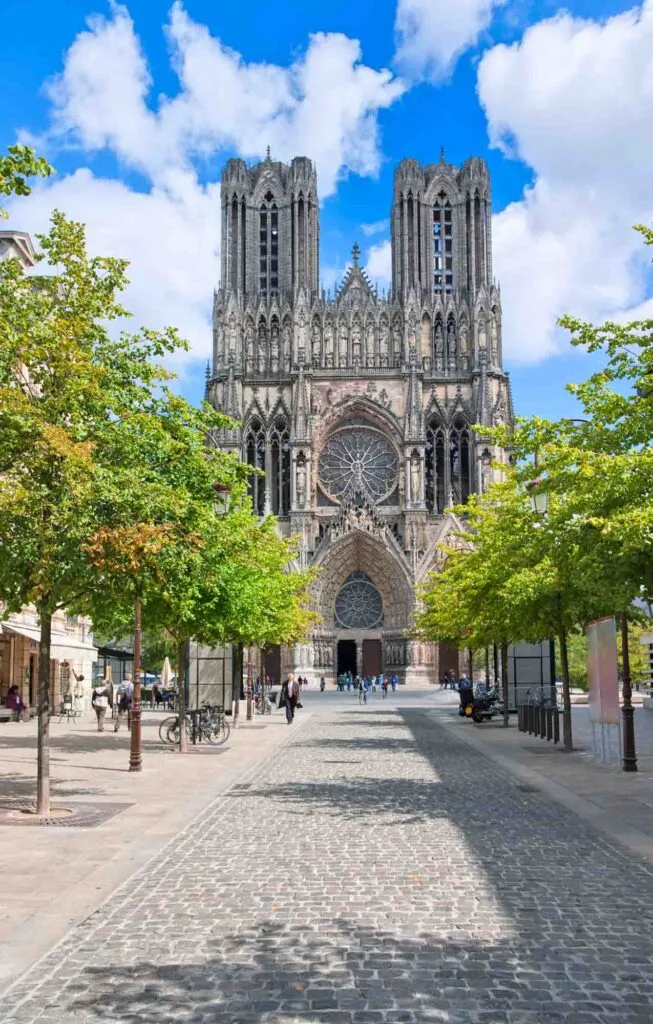 Situated in the center of Reims, it is arguably one of the finest cathedrals in France, and although the current building was constructed in the 14th century, its walls hold over 1500 years of history.
Having all the flamboyant elements of Gothic architecture, Reims Cathedral has stunning colorful stained glass windows that make it a treasure to behold. It's no wonder so many French monarchs have been crowned here.
Severely damaged during WW1, it has undergone a tremendous restoration period. Its exterior consists of tall towers and spires and is densely decorated with lifelike sculptures depicting historical and religious figures and events, each masterpiece.
The interior is equally impressive, with high pillars, pointed arches, and countless religious artifacts, all too beautiful for words.
It is considered by many as the most beautiful cathedral in France.
23. Palais Garnier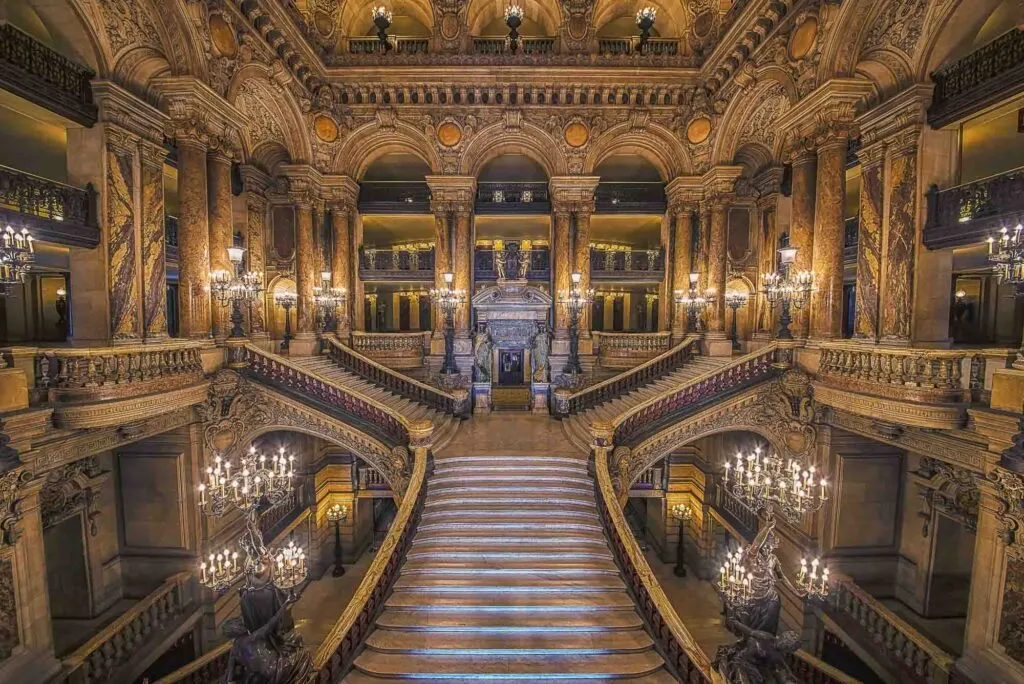 Built between 1861 and 1875 in the heart of Paris, initially known as the Opera House, it was soon known as Palais Garnier through its extraordinary luxury and extravagant baroque and Renaissance architecture.
Today it's one of the symbols of Paris and a must-see for any visitor.
Its magnificence is beyond description, with every room lavishly decorated with incredible ceiling paintings, mosaics, furnishings, and extravagant French architecture all contributing to its grandeur.
During construction, it was famed to be sitting over an underground lake. When the seven-ton chandelier fell through the ceiling into the auditorium, taking the life of a janitor, it inspired the now famous story of the Phantom of the Opera.
Not to be missed inside the network of interwoven velvet and gold leaf-covered corridors is the white, red, and green marble grand staircase, the auditorium with Europe's largest stage, and the grand foyer, amongst many other "rooms."
Beautiful, beautiful, beautiful!
Map of Famous Landmarks in France
Click here to access the free map of French landmarks on your desktop or mobile.
Did you enjoy reading about these French landmarks? Then share it with your friends on social media.
23 Most Famous French Landmarks
Eiffel Tower
Arc de Triomphe
Basilica of the Sacré-Coeur
Loire Valley Castles
Louvre Museum
Cite de Carcassonne
D-Day Landing Beaches
Notre-Dame Cathedral Paris
Strasbourg Cathedral
Montagne Sainte-Victoire
Provence Lavender Fields
Palace of Fontainebleau
Basilica Saint-Michel
Metz Cathedral
Cistercian Abbey of Fontenay
Mont Saint Michel Abbey
Basilica of Notre-Dame of la Garde
Palais des Papes
Pont du Gard
Millau Viaduct
Mont Blanc
Reims Cathedral
Palais Garnier
Our best travel tips & resources:
Here're our all-time favorite travel tips & resources so that you can save money and plan your travel logistics hassle-free! For more travel resources, check out our
travel tips.
Saving money: Fly on offseason, winter (not Xmas or NYE), Tuesday, or Wednesday! According to experts, these are the cheapest days to fly.
Travel insurance: Before you leave for your trip, make sure you have a valid travel insurance policy because accidents happen on the road. We have been paying for Safety Wing travel insurance for a little over a year now, and we happily recommend them to our family and friends.
Accommodation: We usually stay in mid-range comfy hotels or private rooms in hostels. These are the sites we use to book accommodation: Booking.com for hotels (excellent flexible cancellation policy) and Hostelworld for hostels (low deposit and easy cancellation).
Tours:We absolutely love booking guided tours with locals to get a history lesson while sight-seeing, especially food tours and walking tours! We book all of our tours using Viator and GetYourGuide.
Transportation: We use Google Maps to figure out how to get around a place using public transport. When we book a rental car, we always use Discover Cars to find the best deal.