While numerous castles in France remain in ruin, reminding us of the country's turbulent past, many have transformed into palatial residences for monarchs, emperors, and French nobility.
Many such châteaux are opulently built, furnished, and decorated beyond description.
Although originally built as a palace, Louis XIV's Versailles is the perfect example of opulence.
This was the palace to which peasant Parisian women marched in 1789 to protest the cost and scarcity of bread.
This led to the infamous quote of Marie Antoinette, "let them eat cake," which in turn led to the French Revolution, one of the bloodiest periods in European history.
While we now marvel at such opulence and splendor, it helps us to understand the anger of the common people of Paris over 230 years ago.
22 Magical French Castles You Might Want to Visit
Here are just a few such beautiful castles in France to take your breath away. Many of them make a great day trip from Paris, like the ones in the Loire Valley.
1. Château de Chambord (Chambord Castle)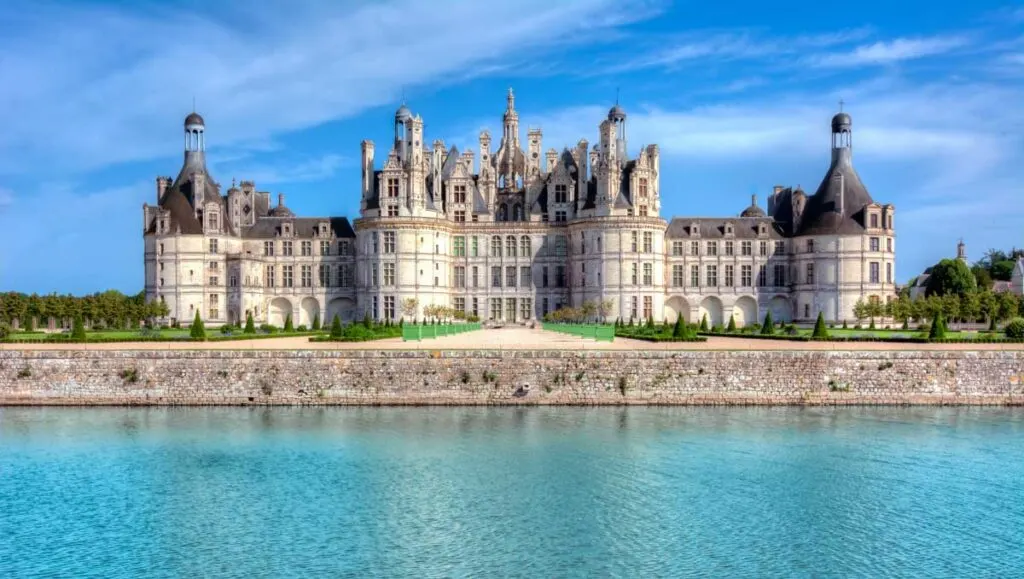 Situated 100 miles southwest of Paris in the tranquil commune of Chambord, part of the Loire Valley, this 16th-century castle oozes elegance and sophistication. Needless to say but this is one of the most famous French landmarks.
Still, it was once the epitome of wealth and power held by the French aristocracy in post-medieval France.
Built in harmonious Renaissance architectural style on a grand scale, consisting of 83 staircases leading to 400 rooms and halls, each more lavishly furnished than the next.
You'll find it difficult to keep track of where you've been since this is one of the largest castles in the world (and the largest in the Loire Valley).
The architect remains unknown, but we do know that much of its design was influenced by Leonardo da Vinci. The main double helix staircase is one example.
Its exterior is equally spectacular, with its walls stretching 500 feet in length and multiple towers rising 183 feet in the air.
Encircled by a moat and beautifully manicured gardens filled with trees, shrubs, and flowers, they add to the splendor making it one of the most magical castles in France.
Click here to book a day tour from Paris to the chateaux in the Loire Valley
2. Château de Versailles (Palace of Versailles)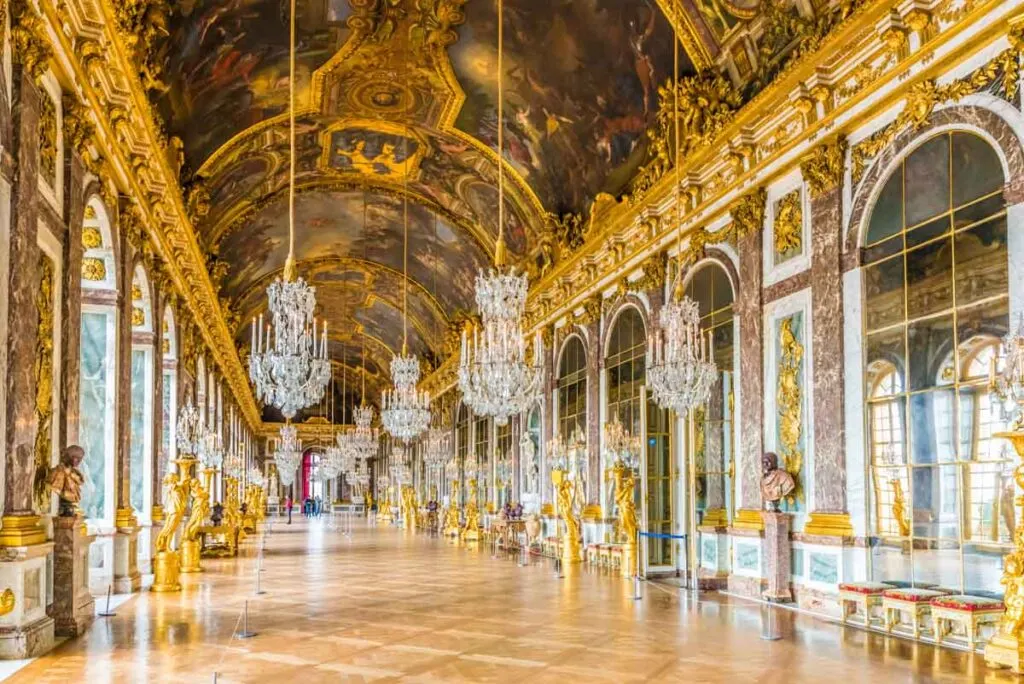 Easily the Holy Grail amongst all castles in France and anywhere else! As far as architectural beauty, elegance, and opulence go, all other palaces in the world pale into insignificance when compared to Château de Versailles.
Not satisfied with living in the Louvre Palace in the middle of bustling Paris, Louis XIV decided to relocate to the country and settle in the hunting lodge built by King Louis XIII during the mid-17th century.
The result was this Baroque-style palace just outside Paris. Spreading over 2,000 acres and consisting of 2,000 apartments and halls, this was a little cozier and better suited to his way-over-the-top extravagant lifestyle.
Each room is so lavishly furnished they're beyond compare. Let's just say that your mouth will remain open the whole time you're there. Do not miss the Hall of Mirrors!
And then there are the formal gardens! Oh, my word! No words can describe their sheer size and magnificence with symmetrically-lined flower beds, ornately-shaped shrubs, trees, statues, and water features everywhere you look.
Don't be surprised if you find yourself staying overnight and returning here again…and again. Just be prepared to walk!
Although not directly connected to the château, Versailles is also famous for the historic treaty, ending WWI and giving cause for WWII.
Click here for the skip-the-line ticket with tour of Versailles
3. Château de Fontainebleau (Fontainebleau Castle)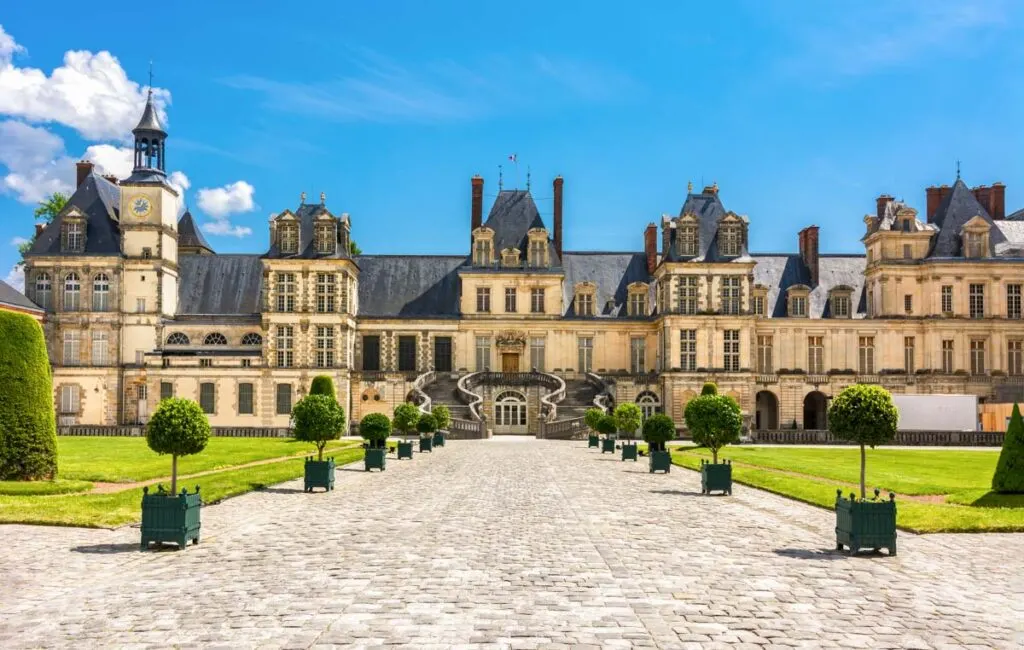 About 40 miles southeast of Paris lies another jewel amongst all French castles. Not as big as Versailles, but with 1,500 rooms and a 320-acre garden to take your breath away, it comes pretty close.
As far as beauty and opulence go, it's pretty impressive, having been the residence of every single monarch in French history.
Originally built in the 12th century, it has been extended and refurbished, with each monarch contributing to its magnificence.
Today it houses four museums crammed with furnishings, decorations, paintings, and historical relics and documents.
Each room tells a story of splendor, giving an insight into how the French monarchy lived.
In the words of Napoleon Bonaparte, whose seven-room apartment is on display, "Fontainebleau remains a true residence of French kings, a house of centuries!" Who are we to argue?
You'll need more than a day to appreciate this Renaissance masterpiece.
Click here to book a day trip from Paris to Fontainebleau & Vaux-le-Vicomte Châteaux
4. Château de Vaux-Le-Vicomte (Vaux-Le-Vicomte Castle)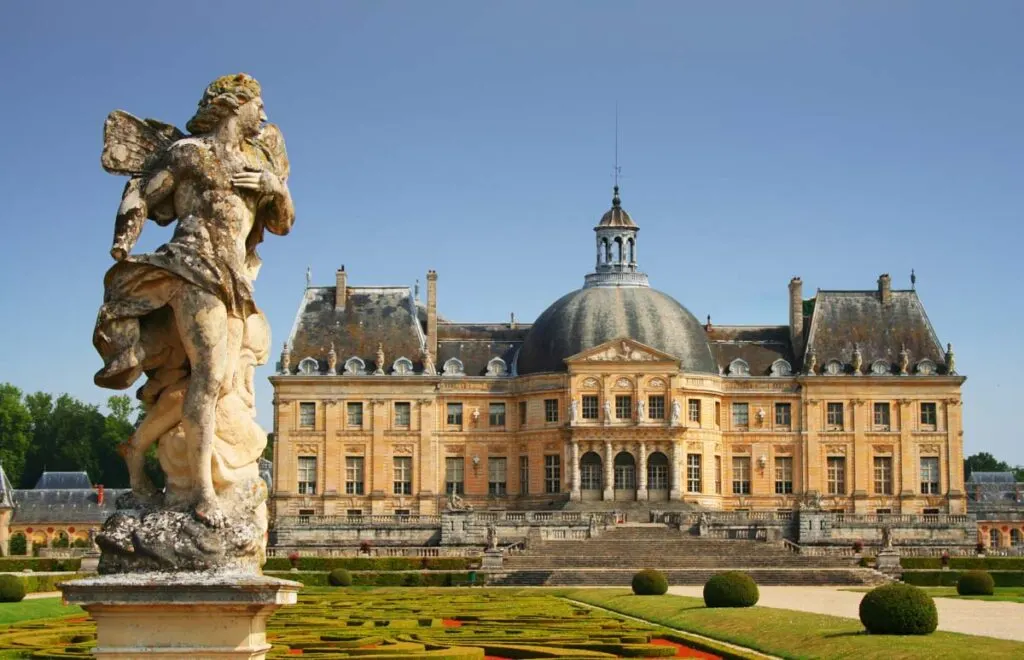 Lying close to the south-eastern outskirts of Paris, many people consider this to be the most beautiful chateau in France, having inspired the construction of the Palace of Versailles.
Built in 1861 by Nicolas Fouquet, the treasurer of Louis XIV, Fouquet was wrongly charged with embezzlement by the king and sentenced to life imprisonment just three weeks after the chateau's inauguration. All furnishings and treasures were seized by the king.
Today this majestic chateau has been fully restored, containing a magnificent collection of furniture, tapestries, paintings, and rare artifacts of that period.
The vast gardens are equally magnificent, packed with flower beds, ornamental ponds, elegant statues, and waterfalls. Among the outbuildings, the Horse and Carriage Museum is a must-see.
An 82-foot dome in the middle of the estate provides breathtaking views of the entire landscape. Romantic tours at night by candlelight are an absolute must.
This castle-chateau has been featured in many films and television programs, including the 1979 James Bond film Moonraker.
5. Château de Chantilly (Chantilly Castle)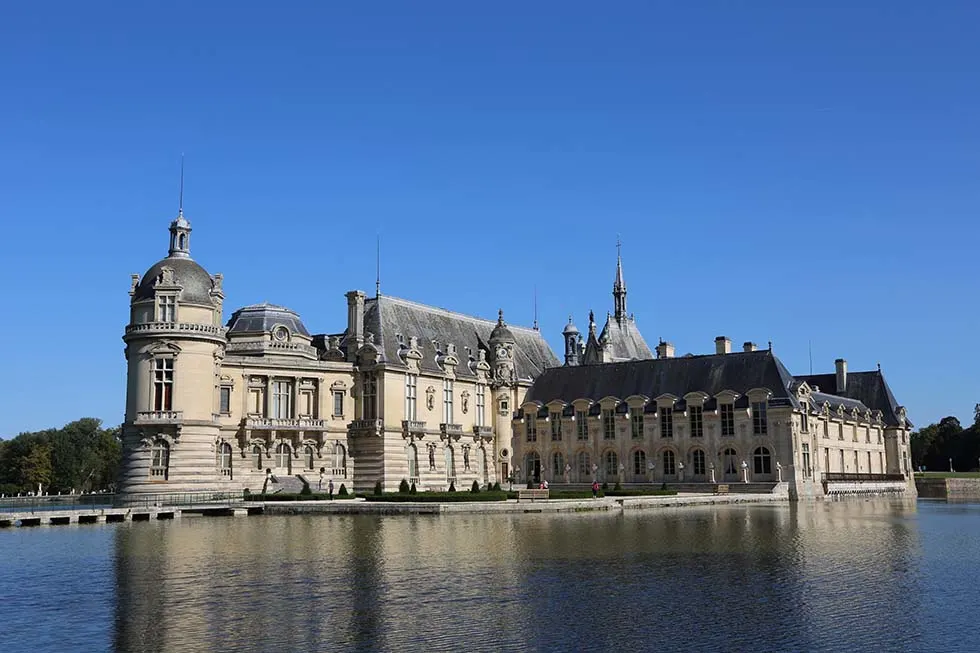 Less than an hour's drive north of Paris stands another magical castle no lover of French castles should miss.
Originally built for French nobility in the 15th century, it was destroyed during the French Revolution, only to be rebuilt in the late 19th century.
As one would expect, it's clearly evident that no expense was spared in constructing this immaculate and breathtaking piece of architecture.
The reception room immediately sets the tone of the splendor that lies within.
Each room is decadently furnished with original items and decorations from the 17th century, with a superb collection of art second only to the Louvre. Painters include the great Italian Renaissance duo of Raphael and Botticelli.
The gardens are another masterpiece of symmetry and geometry, with statues, ponds, water features, and a canal stretching for a mile and a half. Simply superb.
Also read:
6. Château du Haut-Koenigsbourg (Haut-Koenigsbourg Castle)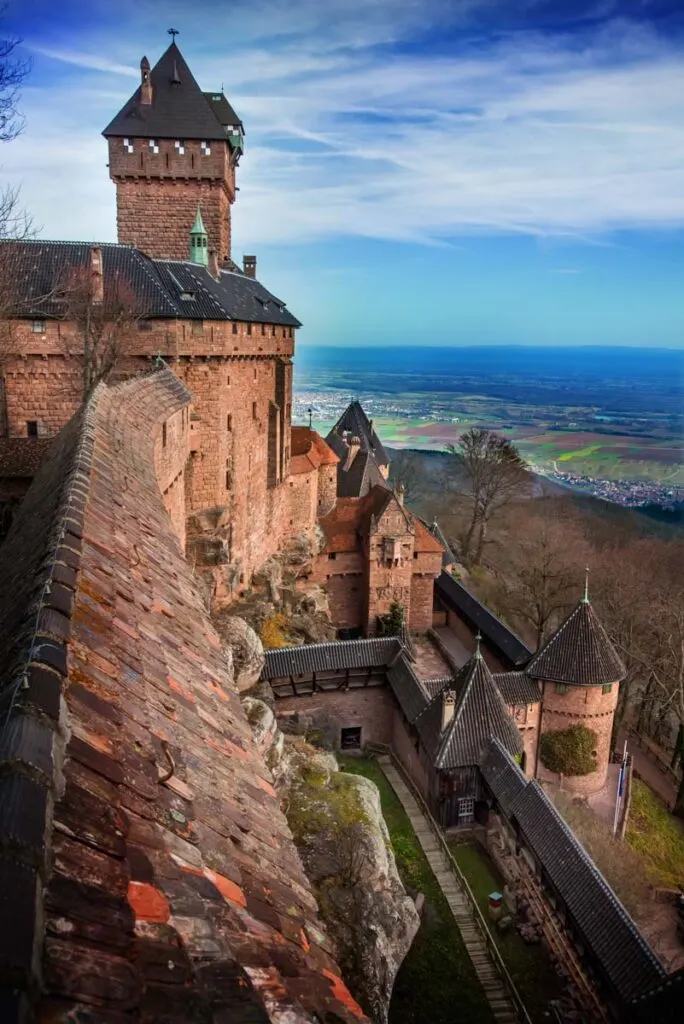 Situated in northeast France, a few miles from the Rhine River and German border, this mighty 12th-century mountain fortress has changed hands between France and Germany throughout its turbulent history.
Since the Treaty of Versailles, it has remained under French ownership.
Strategically built atop a rocky mountain overlooking the Rhine, it has been at the center of several wars, besieged, burned, and looted during the Thirty Year War, fought between Catholics and Protestants around 1633.
It lay abandoned until rebuilt in the 20th century, and today it's a major tourist attraction.
Fascinating architecture and a true feeling of medieval military life are revealed when touring this imposing fortress, with many spots to capture stunning photographs of the complex and countryside way down below. Just be prepared to climb plenty of stairs.
The ruins of the 11th century Château de l'Oedenbourg, lie a few hundred yards away.
7. Château de Pierrefonds (Pierrefonds Castle)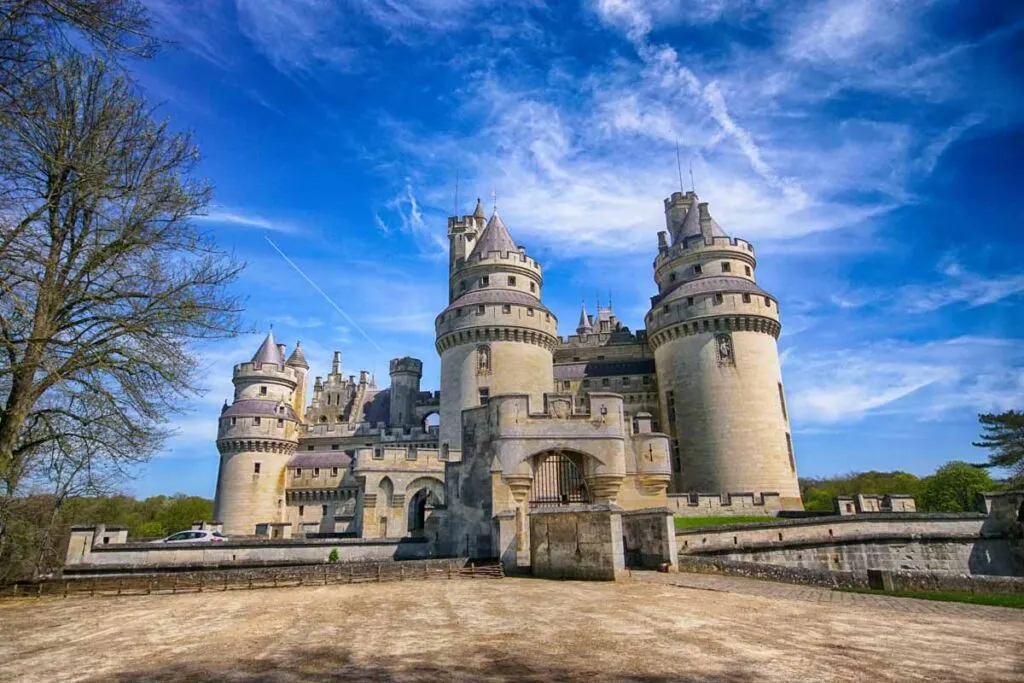 Located about a two-hour drive northeast of Paris, this massive Gothic defensive fortress was built during the 14th century on the site of an earlier 12th-century castle.
During an internal squabble, it was besieged and partially destroyed by troops sent by Cardinal Richelieu.
It remained in ruins until Napoleon Bonaparte bought it in 1810, but only restored by his nephew 40 years later.
The new-look castle was, however, vastly different from the original design but impressive nevertheless.
Although the interior is furnished beautifully, it does not compare to its exterior grandeur.
It has, however, acted as a backdrop to several films and television series, including Merlin, Versailles, Highlander, and the 1998 remake of the Man in the Iron Mask.
8. Château Gaillard (Gaillard Castle)
Situated in northern Normandy, 25 miles from Rouen, this medieval castle was built in 1196 by the Duke of Normandy, Richard the Lionheart, who was also the king of England.
Strategically placed on a vital trade route high above the River Seine, it was besieged by French forces in 1204, resulting in thousands of Norman civilians being killed by French soldiers or perishing from exposure and starvation after being denied the sanctuary of the castle.
Over the next 200 years, this medieval fortress was continually attacked, changing ownership repeatedly between the English and the French until finally taken by the French in 1449. It was partially demolished in 1599 to the state it is today.
A short uphill walk is required to reach the castle ruins, but the panoramic views of the meandering Seine River and the romantic village of Les Andelys spread along its banks below are truly magnificent.
9. Château des Milandes (Milandes Castle)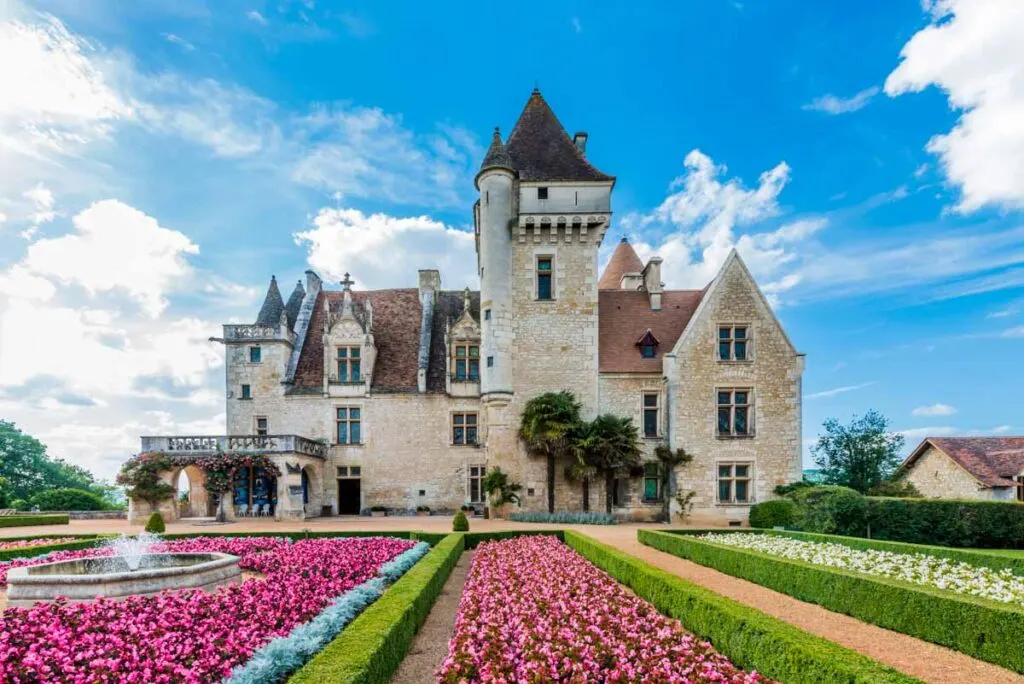 Situated in southern France a few miles from the quaint medieval town of Sarlat-la-Canéda, Chateau des Milandes has all the elements of a beautiful Renaissance castle.
It was built during the 15th century by a French aristocrat, in the flamboyant Gothic architectural style, with a full complement of cone-shaped turrets, romantic balconies, colorful stain-glass windows, winding staircases, and gargoyles, earning its place on our list of beautiful castles in France.
After the French Revolution, the castle was abandoned and remained that way until it was bought and restored just before WWI in 1914.
It was bought by the enigmatic entertainer and wartime heroine Josephine Baker in 1940, who furnished and redecorated it in her own style, which is preserved to this day, along with some of her outrageous costumes and possessions.
The gardens are an absolute joy, with a collection of exotic birds and a falconry display providing further entertainment.
10. Château de Chenonceau (Chenonceau Castle)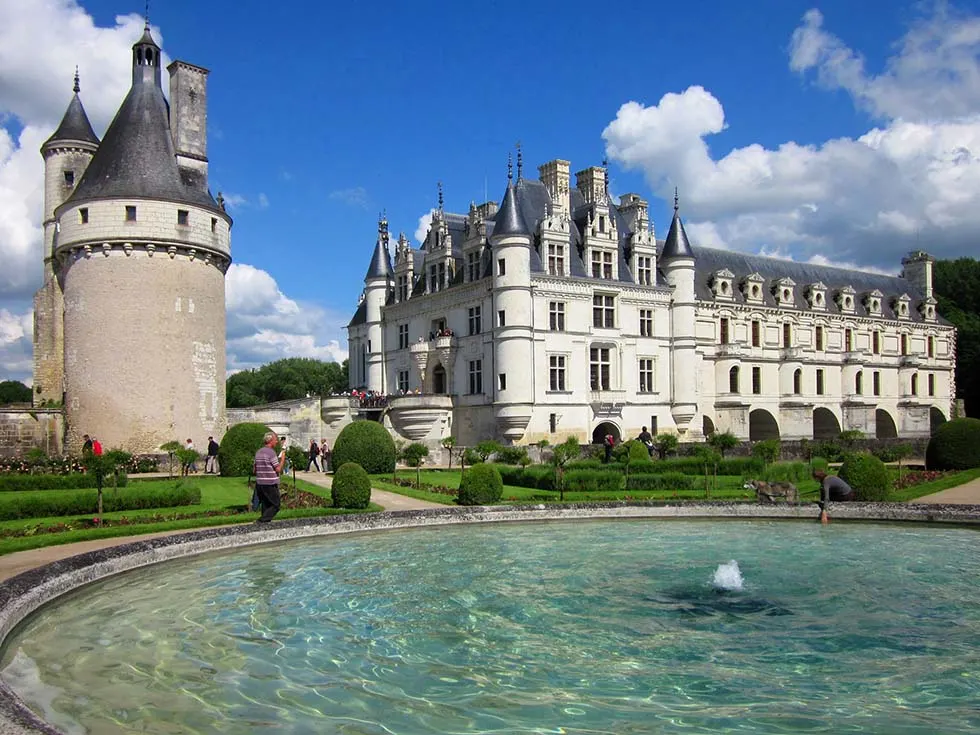 Spanning the River Cher a few miles east of the college town of Tours stands the unusual but truly majestic Chateau de Chenonceau, one of the most famous castles in the Loire Valley, a UNESCO World Heritage Site.
Built during the early 16th century in Gothic and Renaissance styles on the foundations of an old mill, it changed hands continually for hundreds of years among French nobility, mostly women, including Diane de Poitiers, King Henry II's mistress.
It escaped destruction during the French Revolution by being the only bridge on the Cher for miles. Being occupied by German troops in WWII, it was heavily bombed by the Allies during the Normandy landings.
Today, it is one of the most visited French castles, housing a rich collection of medieval furnishings, tapestries, and rare artworks.
The gardens are truly sublime, with a labyrinth to keep the kids occupied for hours and walking trails among the woods surrounding the river and complex.
11. Château de la Roche Courbon (Roche Courbon Castle)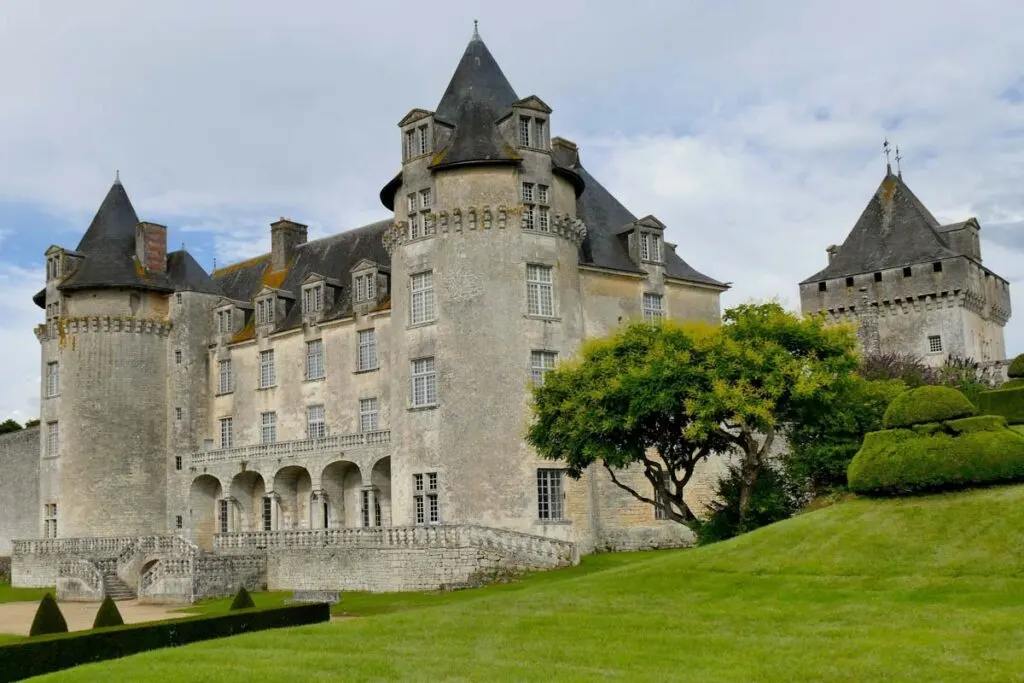 Situated in southwestern France between Saintes and Rochefort, this castle was built around 1475 on a site of an ancient Roman village with underground caves dating to prehistoric times.
Starting off as a defensive castle, like so many beautiful castles in France, it was transformed into a luxurious residential chateau in the 17th century after 300 years of conflict with the English.
It was later abandoned but bought and restored to its former glory in 1920. the owner's descendants still inhabit the chateau.
Its beauty has earned it the nickname of Sleeping Beauty's Castle, but it's the gardens that steal the show.
Incorporating the River Bruant, the gardens are ablaze with colorful flowers, shrubbery, ponds, bridges, and exquisite water features.
The indoor and outdoor castle games offer an enriching experience for the whole family.
A truly stunning place to visit.
12. Castle of Carcassonne (Carcassonne Castle)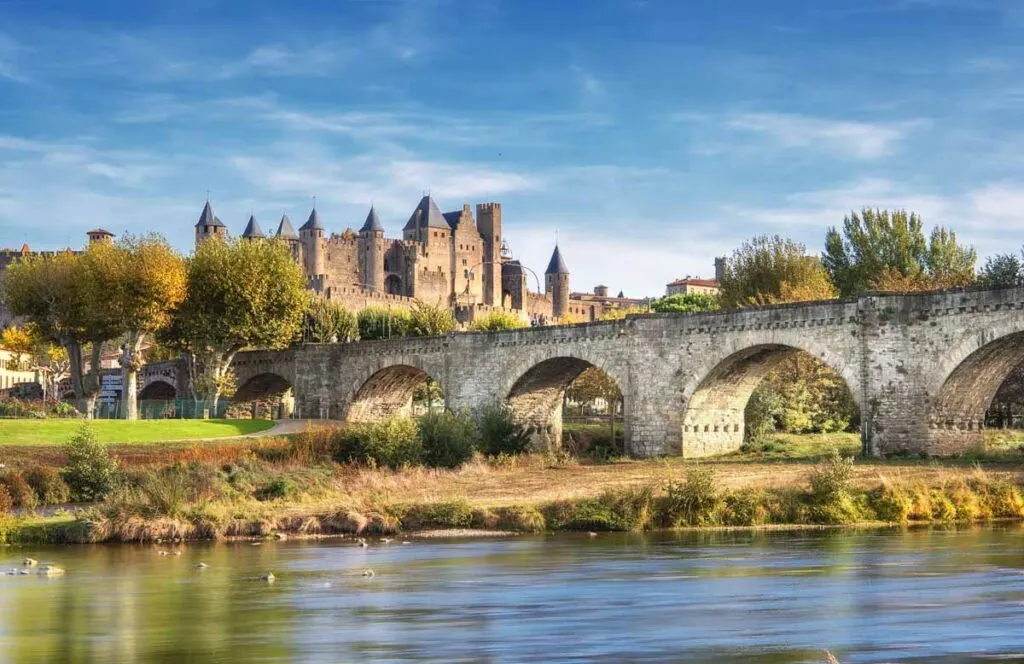 Situated in the south, this humungous 12th-century fortress lies within the medieval Cité de Carcassonne and is one of the most iconic castles in France.
Built high on a gigantic rock, it consists of 52 watchtowers and double stonewalls stretching for two miles, encompassing this castle complex.
That includes the Gothic-style basilica, the Chateau Comtal, museums, and countless historical structures and monuments dating back to Roman times.
Having endured many wars and sieges, it is the perfect example of military architecture—a fortress within a fortress within a city.
A tour through its vast interior gives a true reflection of medieval military life. The towers and fortified walls offer spectacular views of the complex, the city, and the serene countryside that surrounds it.
Be prepared to spend a full day admiring this magical fortress.
Click here for the entry ticket
13. Château de Lastours (Lastours Castle)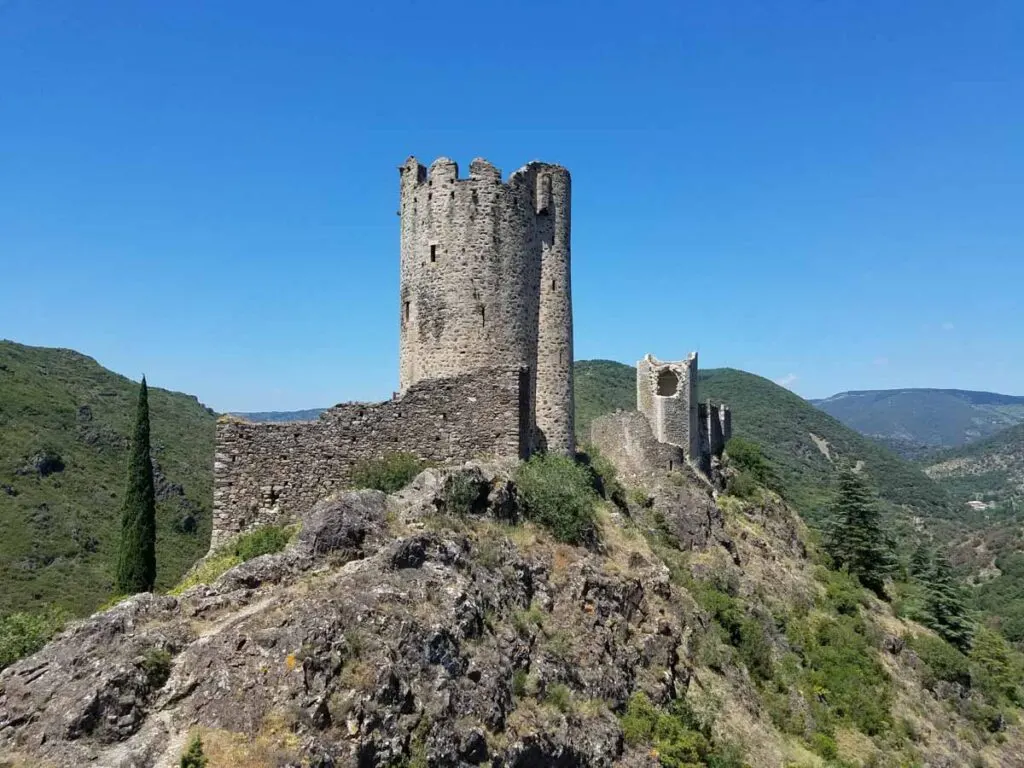 Just 10 miles north of Carcassonne, atop a 1,000-foot rocky ridge overlooking the village of Lastours, stand four castle ruins linked by a rugged but well-maintained path.
Built around the 11th century by the Lords of Cabaret, who were followers of a wealthy ultra-Christian sect known as the Cathars, who had fought in defense of Carcassonne.
Ravaged by centuries of religious wars, the Cathar castles withstood attacks from the forces of Simon de Montfort in what became known as the War of Cabaret.
They eventually surrendered in 1210 after one of the most barbaric acts in history. De Montfort brought prisoners from the nearby village of Bram and had their eyes gouged out and their ears, noses, and lips cut out.
The visitor center provides information on the rich history of the Cathars. A steep hike is required to visit these medieval castle ruins, but the views are incredible.
14. Château des Baux de Provence (Baux de Provence Castle)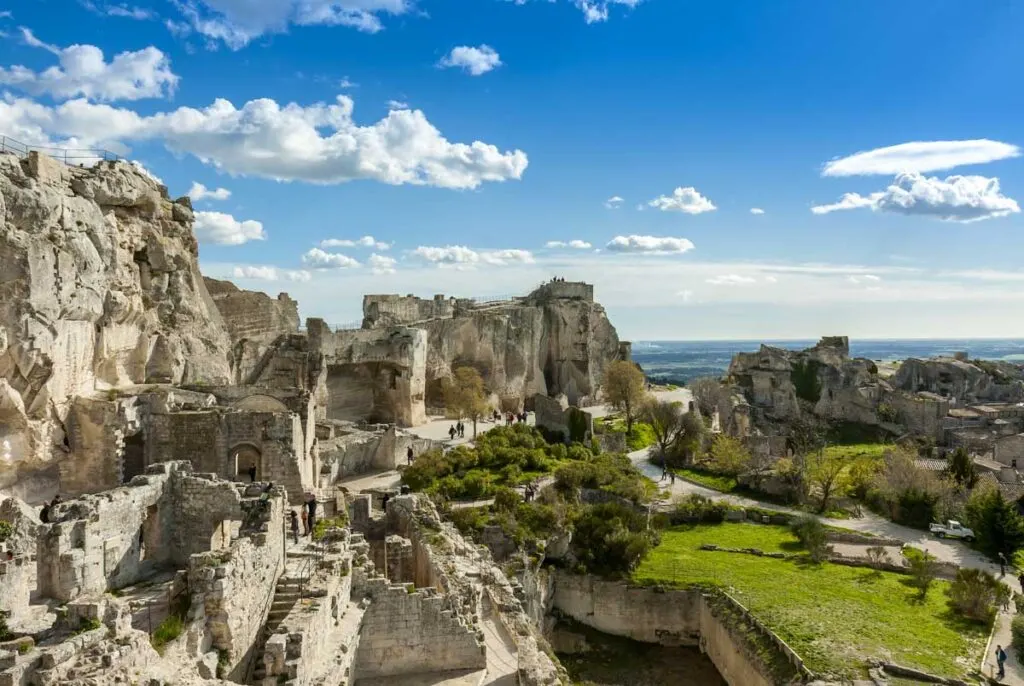 Sitting atop a high rocky outcrop overlooking the historic and picturesque village of Baux in southern France, these castle ruins date back to the 10th century.
A steep walk on a gravel path is required to reach the ruins, with the keep and chapel being pretty impressive. The views of the village and plateau spread below are breathtaking.
Ravaged by rebellions, religious and family feuds over the centuries eventually took their toll, and upon the orders of Louis XIII, this seemingly impregnable fortress was demolished.
Full-scale replicas of various catapults, missile launchers, and other medieval engines of war are on display, with daily demonstrations given during the summer months in Europe.
Witnessing seven-ton machines capable of hurtling 200 lb rocks over 200 yards is pretty impressive.
15. Château de Peyrepertuse (Peyrepertuse Castle)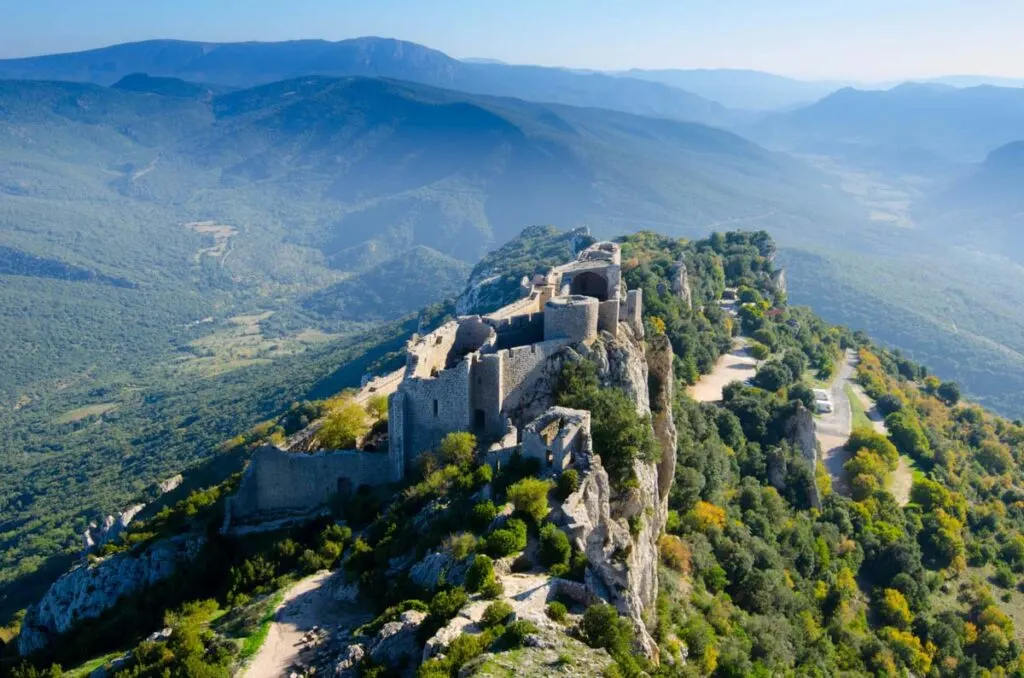 Perched atop a 2,600-foot cliff about 25 miles southeast of Carcassonne stand the ruins of another Cathar castle plagued by centuries of wars amongst Christians and between French and Spanish forces.
The site had been occupied during the Gallo-Roman period, but the castle was built in the 11th century with several additions made up to the 17th century.
After the signing of the Treaty of the Pyrenees, ending the Franco-Spanish wars, it lost its strategic importance and was eventually abandoned after the French Revolution.
Today it offers the opportunity to combine a somewhat strenuous hike with history and amazing views of the stunning landscape below stretching to the coast. An absolute must-do for all lovers of nature and history.
16. Château de Lourmarin (Lourmarin Castle)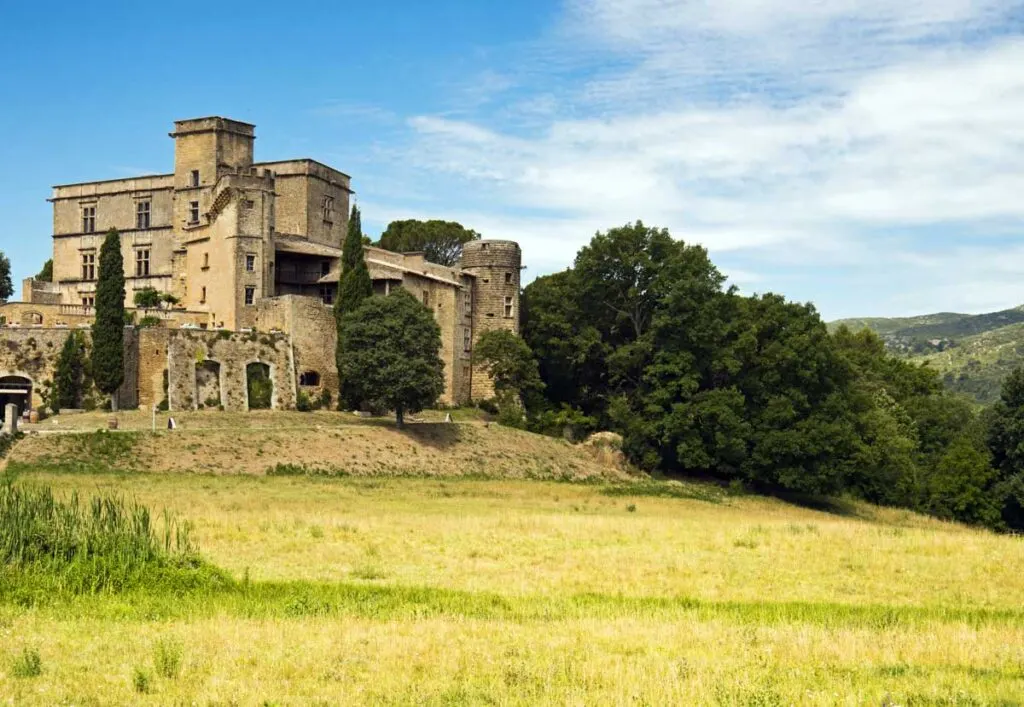 Just 40 miles north of Marseilles, in the small town of Lourmarin, stands one of many of France castles that started off as a fortress in the 12th century but transformed into a residential chateau 300 years later.
Being the first Renaissance chateau in Provence, it passed through several hands, and like so many other beautiful castles in France, although it survived the destruction, it was abandoned after the French Revolution.
After becoming a refuge for wondering gypsies, it was bought and restored in 1923.
Today it holds a rich collection of books, furniture, paintings, and musical instruments, with stunning Renaissance architecture giving a true sense of medieval life.
The terrace offers beautiful views of the surrounding countryside and fish ponds, while the treasure hunt and puzzles offer great entertainment for the whole family.
17. Château Roquetaillade (Roquetaillade Castle)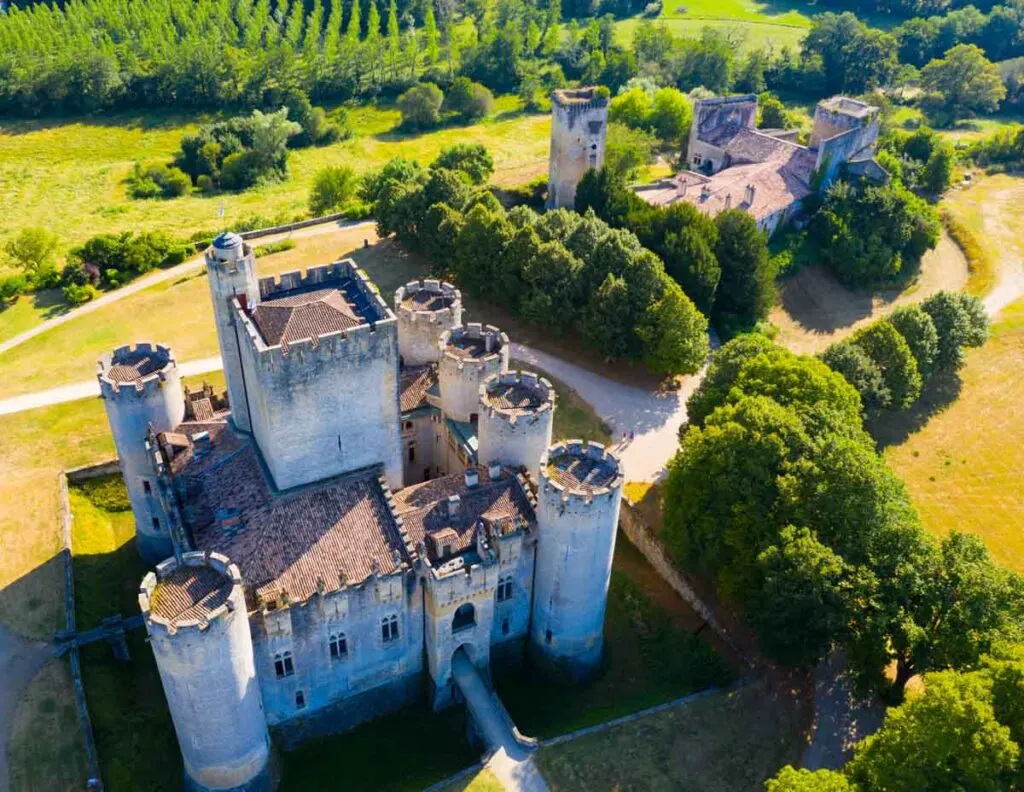 Situated about 30 miles southeast of Bordeaux, Roquetaillade has all the elements of Gothic military architecture of a castle you'd expect to see in a movie.
Consisting of six round crenulated towers and high defensive walls with arrow slits, accessible by a bridge and dry moat encircling the castle, it makes a most impressive sight.
Knights and soldiers dressed in medieval gear add more drama and charm.
Built in 1306 on a site of an earlier wooden castle that had been built by Charlemagne, it has remained in the hands of the same family for 700 years.
Having lost its military use, it was transformed into a residential chateau, now housing a magnificent collection of medieval furnishings, paintings, and decorations, with each room a superb masterpiece of architecture and style. The chapel is simply magnificent.
A must-see whenever visiting the Bordeaux region.
18. Château de Commarque (Commarque Castle)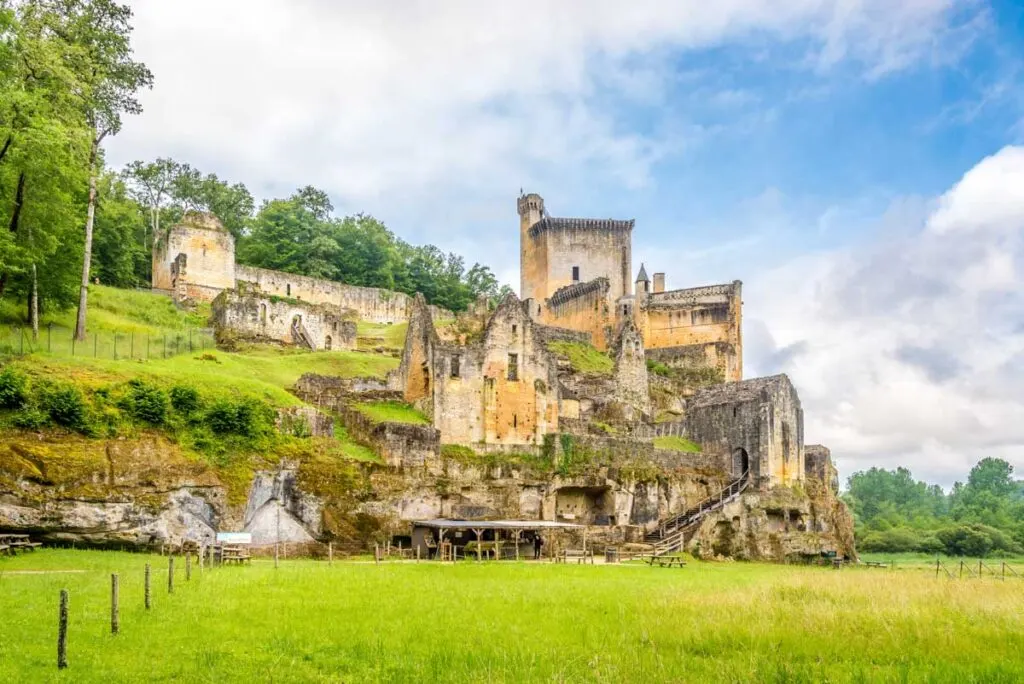 About 80 miles east of Bordeaux stand the ruins of a castle from the 13th century. Strategically built into the cliff face of a rocky outcrop on a site of an earlier wooden castle, it was fortified and expanded over the following centuries.
Having suffered extensive damage during the French religious wars, it lay abandoned and swallowed by the forest surrounding it.
It was re-bought by the Commarque family, who began a long restoration process that continues to this day.
A tour through the ruins gives a real insight into medieval architecture, and the views from the tower of the surrounding valley are magnificent.
Check out the prehistoric caves beneath the castle.
19. Château Castelnaud (Castelnaud Castle)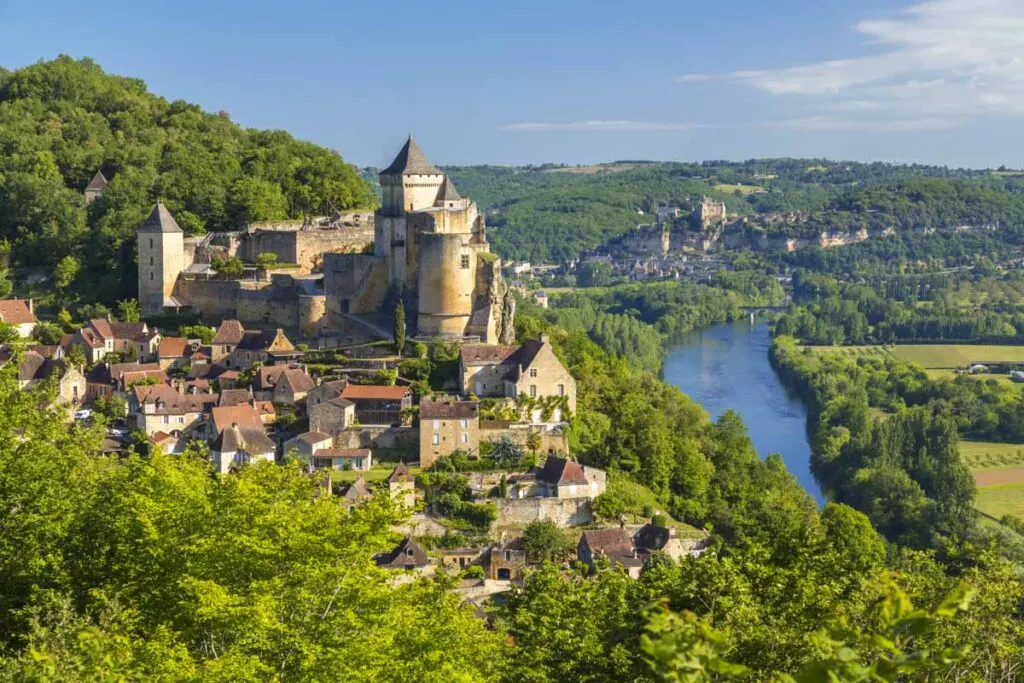 About 10 miles southeast lie the ruins of another 13th-century castle that belonged to the Cathers.
Built atop a cliff overlooking the River Dordogne, Chateau Castelnaud has a history plagued by violence and wars.
It was taken by de Montford, the same French knight and "nobleman" who gouged the eyes of the villagers of Bram, but the Cathers later retook the fort. In reprisals, de Montford hanged everybody.
The castle endured continued attacks during the Hundred Year War with the English, and by the time of the French Revolution in 1789, it was already in ruins.
Today it has been beautifully restored and transformed into a fascinating museum housing armor and weaponry, giving live demonstrations of catapults and medieval war machines.
The stunning gardens offer panoramic views of the village, the river, and the countryside spread below.
20. Château de Tanlay (Tanlay Castle)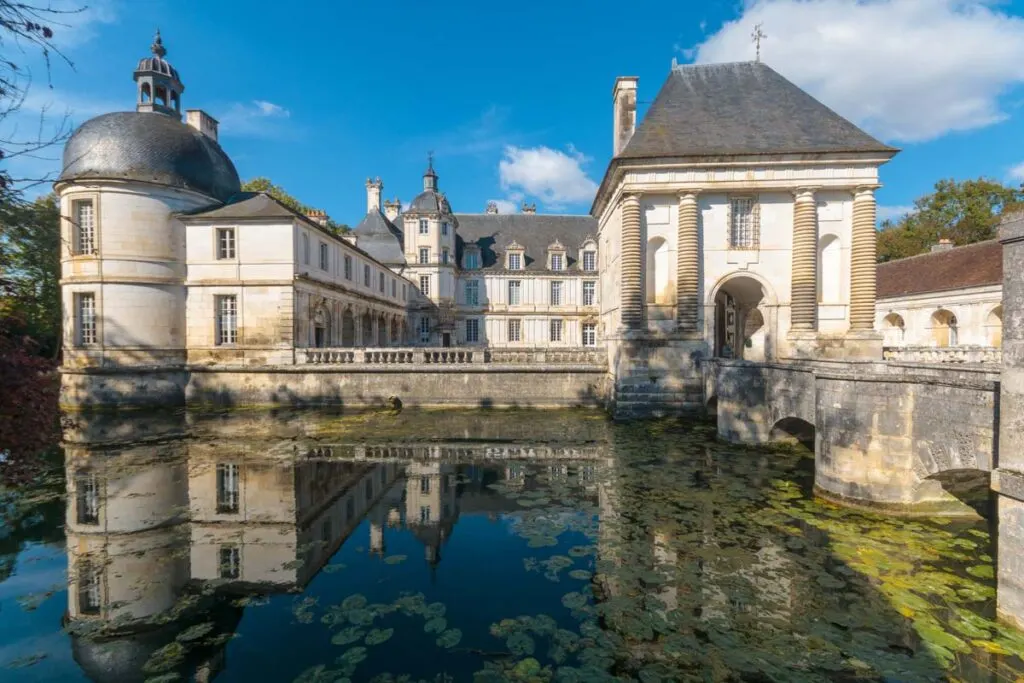 Situated about 100 miles southeast of the French capital, Chateau de Tanlay may not be the biggest, but it is certainly one of the prettiest castles in France.
With its four cylindrical towers on each corner, spacious courtyard, obelisks, picturesque gardens, canal, and moat surrounding the entire chateau, it's the finest example of Renaissance architecture, making it a jewel of Burgundy.
Construction began in 1547 on a site of an earlier fortress but was only completed 100 years later and has remained in the hands of the marquis de Tanlay ever since.
The interior is lavishly furnished with period furniture, frescoes, paintings, and stunning architecture, with every room oozing style and elegance.
Finish your tour with a walk through the park and woods behind the castle.
21. Château de Ratilly (Ratilly Castle)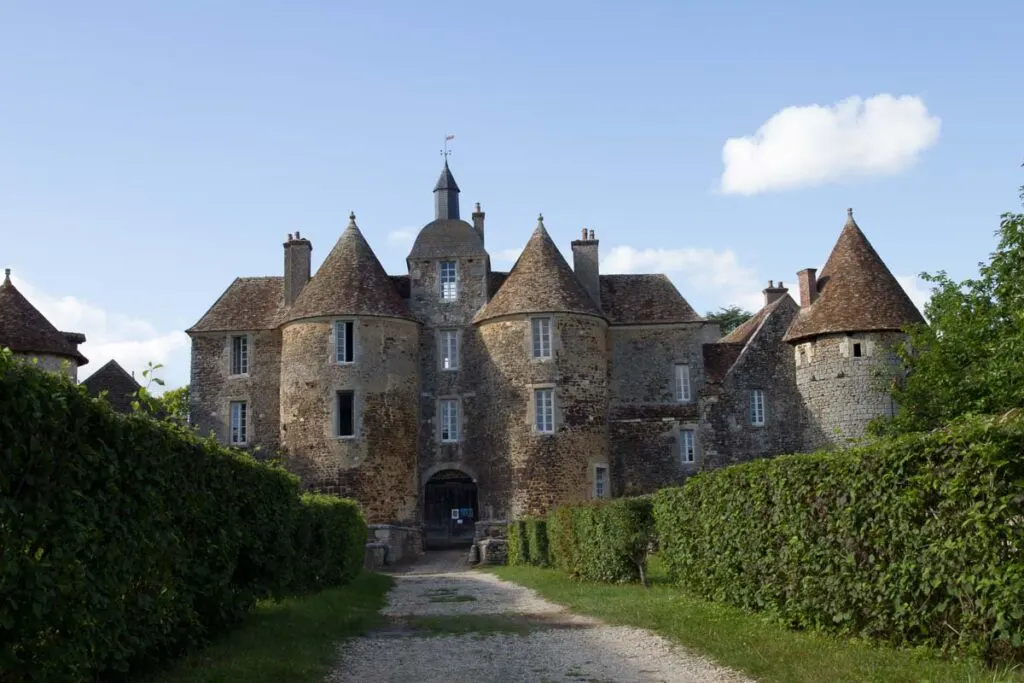 Staying in Burgundy, about 100 miles south of Paris, is another of many France castles that were transformed from defensive fortresses to placid residences.
It was built on a hill overlooking the Vrille Valley around 1270 on the foundations of an 11th-century structure.
Having survived the Hundred Year War, a conflict with the English, it became a haunt for Huguenots before the age of persecution, changing hands several times along the way.
Despite becoming a residential chateau during the Renaissance, it has retained its defensive features and its medieval charm.
The conical towers and dry moat surrounding the chateau give it a romantic look.
Chateau de Ratilly remains inhabited, except for the tower, where only pigeons live, and you need to ring the bell at the door before you can enter.
A charming pottery workshop and shop are open to visitors, where you can buy some unique handmade pottery items.
22. Château de Val (Val Castle)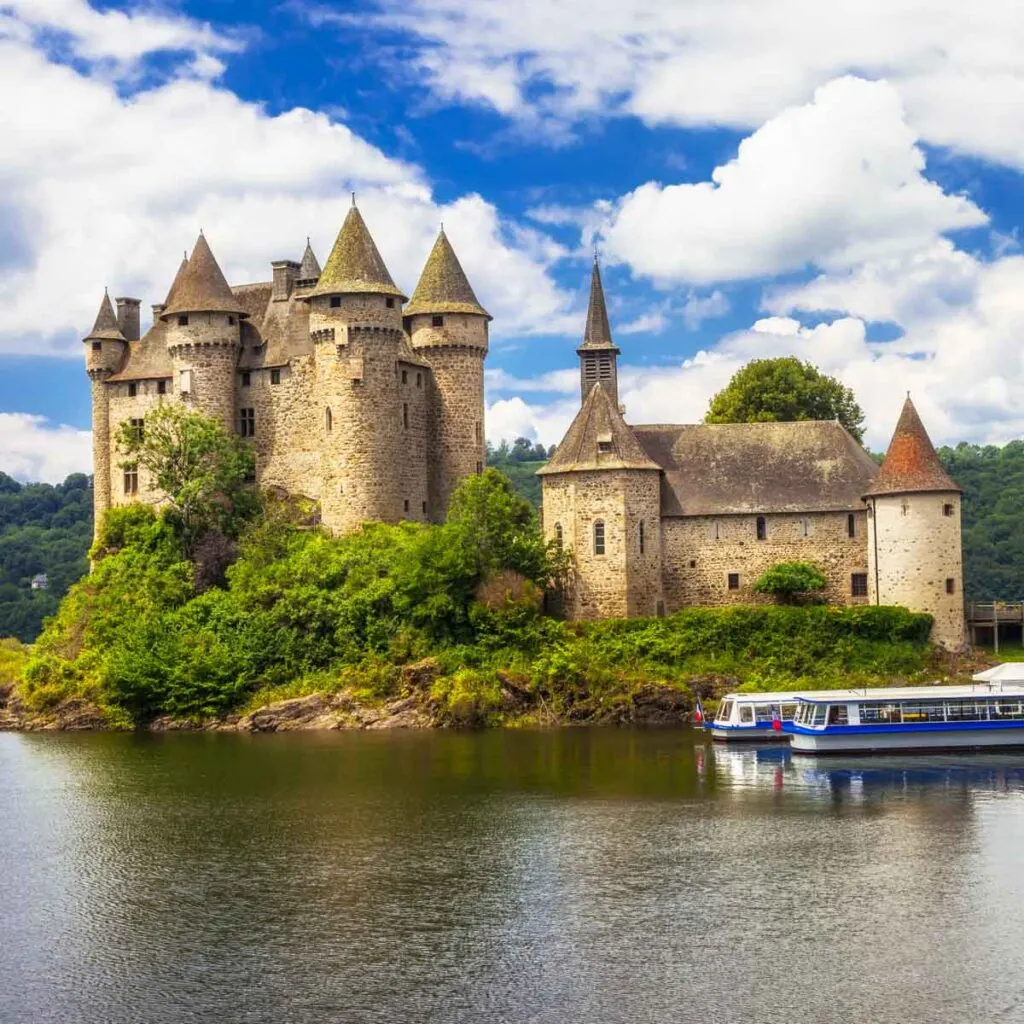 Situated in south France on the banks of the Bort-les-Orgues Dam, this beautiful 15th-century medieval castle is a real stunner.
Its high, stone conical towers overlooking the placid waters and lush greenery has Gothic and Renaissance features, placing it on our list of beautiful castles in France.
Having survived the French Revolution and the rising waters of the dam, this fortified castle has changed hands numerous times and was left abandoned until finally restored to its present state.
Apart from the stunning architecture, the interior is furnished with the period décor of its history.
Finish the tour with a swim or a boat ride around the lake for beautiful views of this castle.
Useful Tip For Visiting the Castles in France
If you intend to visit a number of castles in France, consider purchasing a Partrivia Heritage Pass, allowing you free access to 600 castles, museums, and monuments.
For more info, visit their website.
We hope you enjoyed reading about these beautiful castles in France. Be sure to share this article with your friends so they can see these incredible places, too!
Our best travel tips & resources:
Here're our all-time favorite travel tips & resources so that you can save money and plan your travel logistics hassle-free! For more travel resources, check out our
travel tips.
Saving money: Fly on offseason, winter (not Xmas or NYE), Tuesday, or Wednesday! According to experts, these are the cheapest days to fly.
Travel insurance: Before you leave for your trip, make sure you have a valid travel insurance policy because accidents happen on the road. We have been paying for Safety Wing travel insurance for a little over a year now, and we happily recommend them to our family and friends.
Accommodation: We usually stay in mid-range comfy hotels or private rooms in hostels. These are the sites we use to book accommodation: Booking.com for hotels (excellent flexible cancellation policy) and Hostelworld for hostels (low deposit and easy cancellation).
Tours:We absolutely love booking guided tours with locals to get a history lesson while sight-seeing, especially food tours and walking tours! We book all of our tours using Viator and GetYourGuide.
Transportation: We use Google Maps to figure out how to get around a place using public transport. When we book a rental car, we always use Discover Cars to find the best deal.