The fact that there are approximately 500 castles in Poland bears testimony to the country's tumultuous and violent past.
Keeping tradition with the rest of Europe, Poland has seen its fair share of wars, invasions, and internal conflict.
Some castles in Poland lie in total ruin, stark reminders of the violence of war, while others have followed the gradual transition to elegant palatial residences for the aristocracy of their times.
Today many of such castle-palace complexes give us an insight into what life was once like, and of the architectural and building skills people possessed to construct them and remain standing hundreds of years later.
We hope you enjoy reading about a few of such castles and be inspired enough to want to visit them when you're next in Poland.
21 Fairytale Castles in Poland You'll Want to See
Here are the most beautiful castles in Poland you will want to visit today!
1. Malbork Castle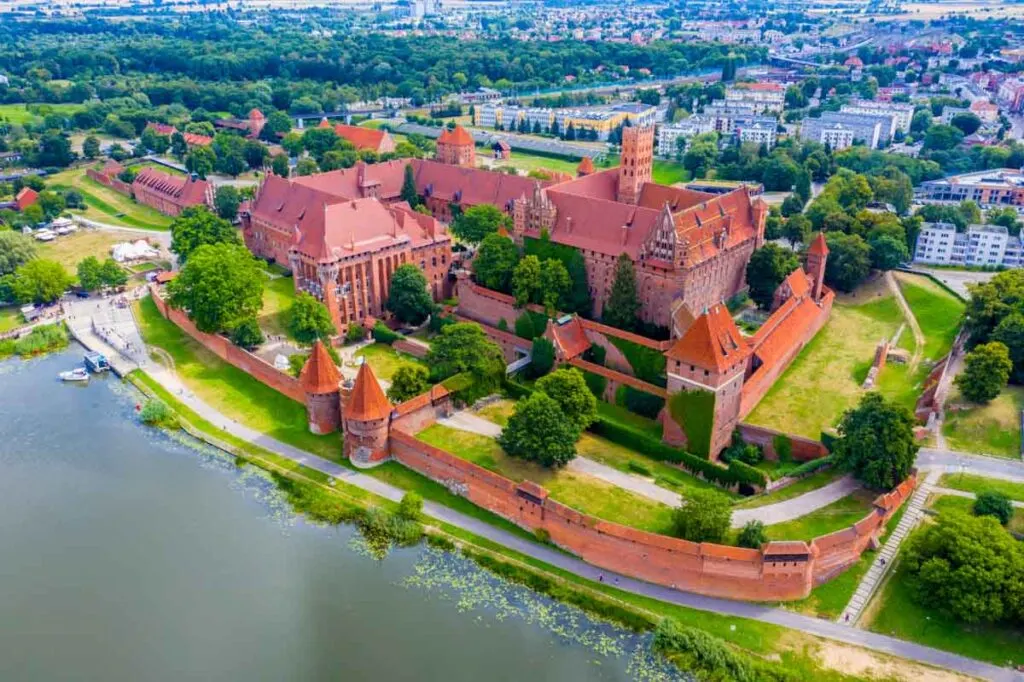 Occupying 52 acres and consisting of three castles, a palace, a monastery, vast courtyards, and hundreds of residential buildings, Malbork Castle is not only the largest castle in Poland but also in the world.
Built between 1274 and 1406 alongside the Nogat River in Malbork, its five million red bricks and Gothic architecture, with steep conical towers, give this complex its imposing but also romantic, almost fairy-tale appearance.
Built as a fort by the Teutonic Knights, a mercenary group of German monks, to protect Christians in the Middle Ages, this Gothic castle was sold several times, and served as the residence of the Polish Monarchy, until falling into German hands in 1774.
It was only after WWII that Malbork was returned to Poland.
Damaged throughout its war-ravaged history, it has been immaculately restored, making it a wonderful day-trip destination from Gdansk.
The castle and palace complex are lavishly furnished with artworks, paintings, and sculptures and hold a vast collection of medieval armor and weaponry.
Great views of this mighty fortress can be enjoyed from across the river.
2. Ksiaz Castle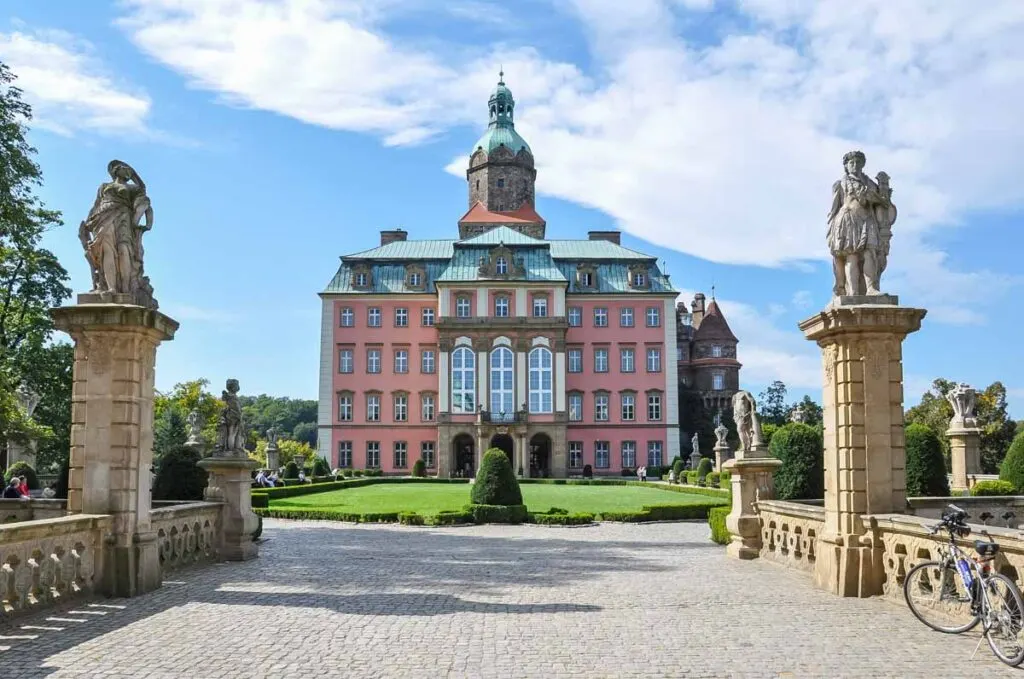 Situated in the southwest corner of Poland, a few miles from the Czechia border, Ksiaz is amongst the three biggest castles in Poland and a popular tourist site.
Perched high on a rocky outcrop amidst a dense forest and beautiful gardens, this elegant chateau-style castle was voted one of The Seven Wonders of Poland.
During the fall, this medieval castle becomes a spectacular setting.
Built in 1292 atop the site of an earlier castle, it changed hands many times until it was captured during the Hussite Wars and then heavily damaged in 1482.
It was rebuilt during the 16th century in its present luxurious Renaissance style. Its 400 rooms are lavishly furnished with numerous exquisite ceiling frescoes to leave you speechless.
Beneath the complex, an elaborate network of tunnels exist, built by the Germans during WWII, and is thought to have been for living headquarters of Germany's infamous leader.
Tours in these tunnels are a must-do, and if you dare, a night tour by lantern light through the castle's eerie corridors will make your blood run cold.
3. Kwidzyn Castle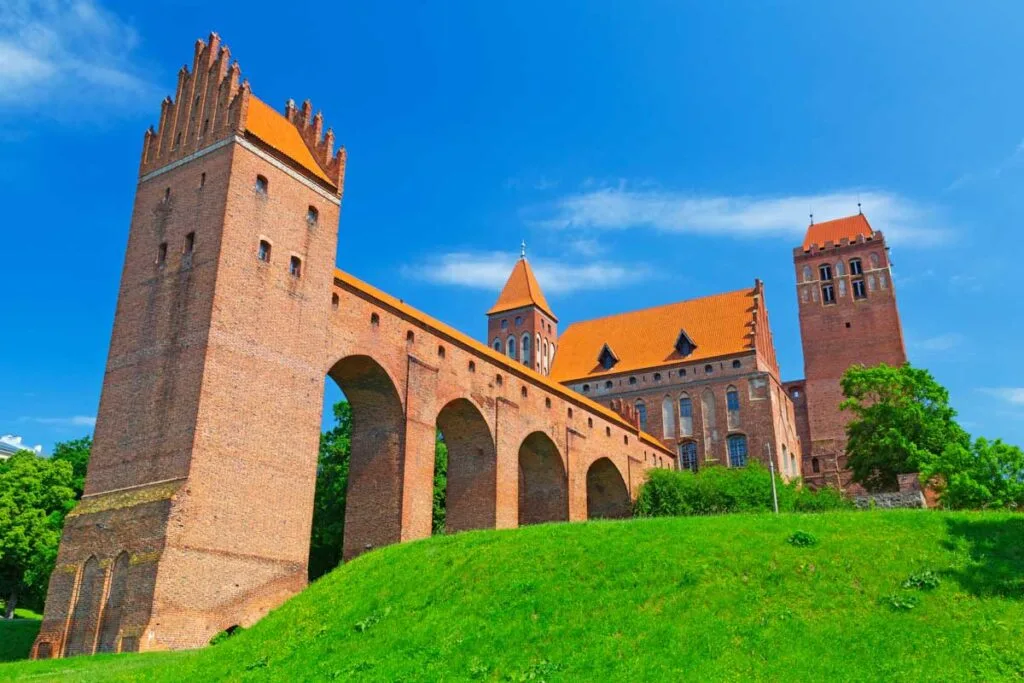 Just 20 miles south of Malbork lies a fine example of Gothic architecture amongst Polish castles steeped in war and medieval history.
Built during the early 14th century by the Teutonic Knights, it encompasses the magnificent St John the Baptist Cathedral, which is a treasure all on its own.
Having been seized, damaged, and reconstructed, today it retains its medieval character with the original tower connecting the main fortress by a long walkway.
The castle and museum showcase the region's rich history, while original wall paintings inside the cathedral are beautifully preserved.
Buried in the cathedral are the Grand Masters of the Teutonic Order, with mannequins dressed in medieval uniforms lying in coffins beneath glass panes.
Visit this castle on a sunny day to truly appreciate the stunning landscape surrounding it.
4. Gniew Castle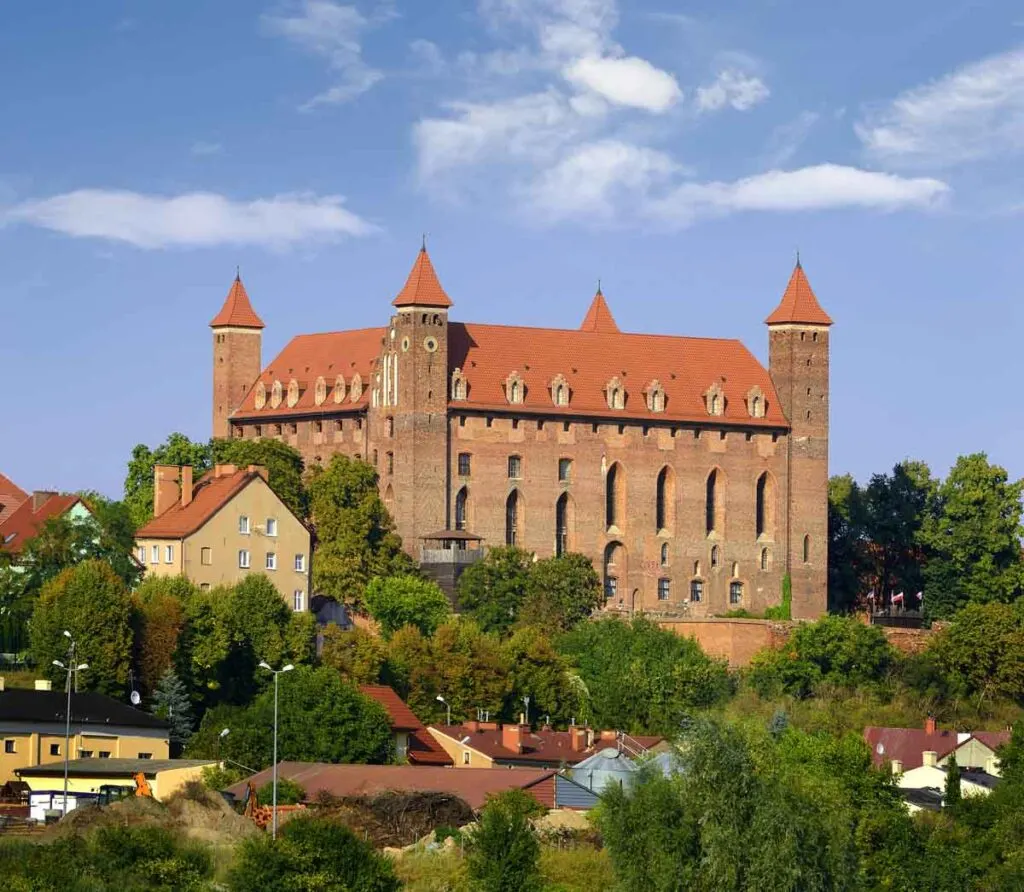 Located along the banks of the Vistula River, about 25 miles southwest of Malbork, stands another castle built by the Teutonic Knights around the end of the 13th century.
It has a most tumultuous history, having been besieged, destroyed, and burned down throughout its existence.
Numerous restorations have been undertaken over the centuries, somewhat changing its appearance, although some Gothic elements are still visible.
It remains, nevertheless, an imposing structure.
Today it's in private hands, who have turned it into a luxurious hotel, focusing on more genteel things in life, vastly removed from its violent past.
The hotel, however, holds regular knights' tournaments and various cultural events.
They also run tours through the castle's Torture Chamber, where you can view gruesome instruments of torture such as The Head Crusher, The Bed of Justice, and The Witch's Seat. If a prisoner survived all these, there was still The Guillotine!
The museum directly behind the castle is a wonderful place to visit to learn about the history of this region.
5. Wawel Royal Castle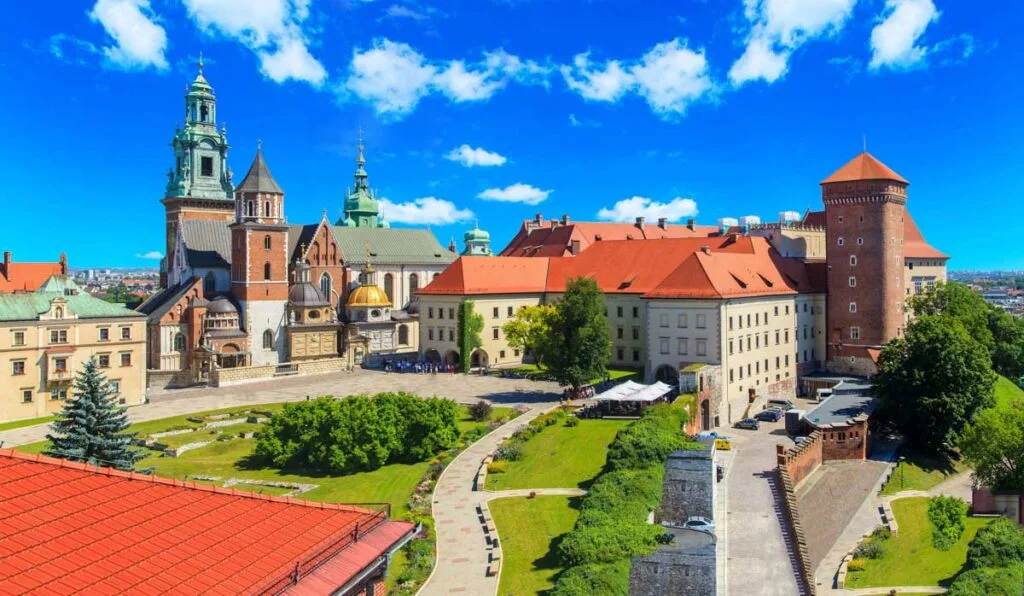 Situated in south Poland close to the Slovakian border, it is as close to a real fairy tale castle as you can get.
Perched high on the rocky Wawel Hill above the Vistula River in the heart of Krakow, this mighty fortress with its defensive gothic towers encompasses a palace, cathedral, numerous historic buildings, and even has a fearsome fire-breathing dragon!
Earliest remnants of this complex date back 1,000 years. Through the ravages of war, it has been damaged and reconstructed in various architectural styles over the centuries, serving as a military fortress and hospital before becoming the residence of Polish Royalty and the seat of central power.
There is so much to see here. The Wawel castle, palace, and cathedral hold numerous valuable artworks, sculptures, exquisite furnishings, weaponry, and religious relics to keep you fascinated throughout the day.
Fantastic views of the courtyard, river, and countryside can be enjoyed from the Bell Tower. Don't forget to go down to the crypt and dragon's lair below.
Certainly, one of the most beautiful castles in Poland that happens to be a UNESCO World Heritage Site.
Also read:
6. Goluchow Castle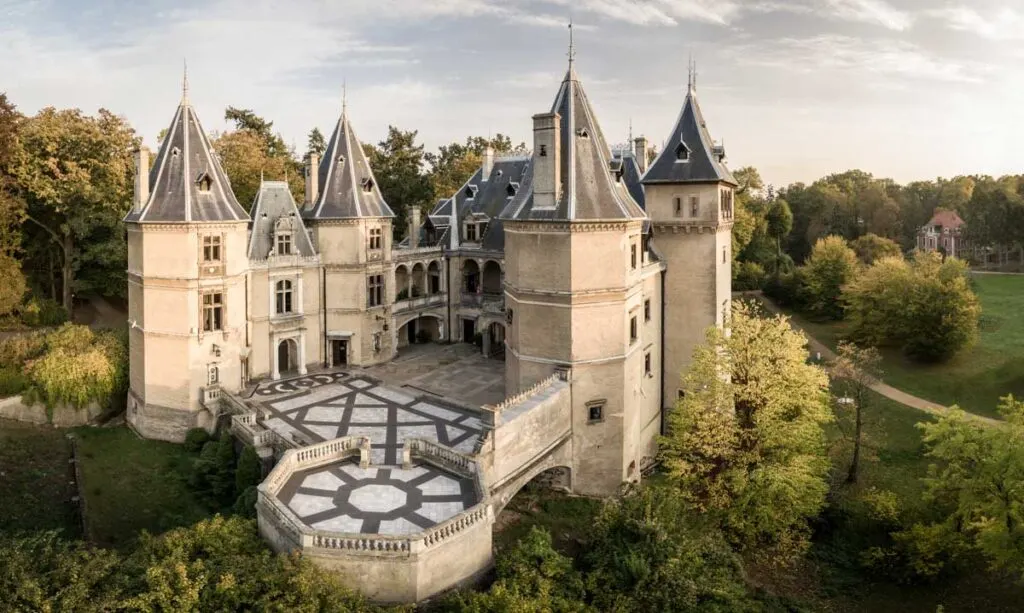 This imposing castle, rebuilt during the 1800s, lies in central Poland a few miles northwest of Kalisz.
Originally built as a defensive fortress during the 16th century, it was transformed into a stately residence and lavishly decorated and furnished by genuine French craftsmen and artists.
It was later reconstructed in the 1800s but retained its French Renaissance appearance, although certain structures, including the five towers, are reminders of its military origins.
The interiors reveal the splendor of 17th-century aristocracy, with Renaissance paintings, tapestries, and furnishings, as well as ancient antiquities from 300 BC.
Unfortunately, much was stolen by the German and Red Army during WWII and lost forever.
The castle is surrounded by a magnificent landscaped park with humungous oak trees stretching 17 feet in circumference—a wonderful place to visit to learn about Poland castles and the rich Polish history.
7. Ogrodzieniec Castle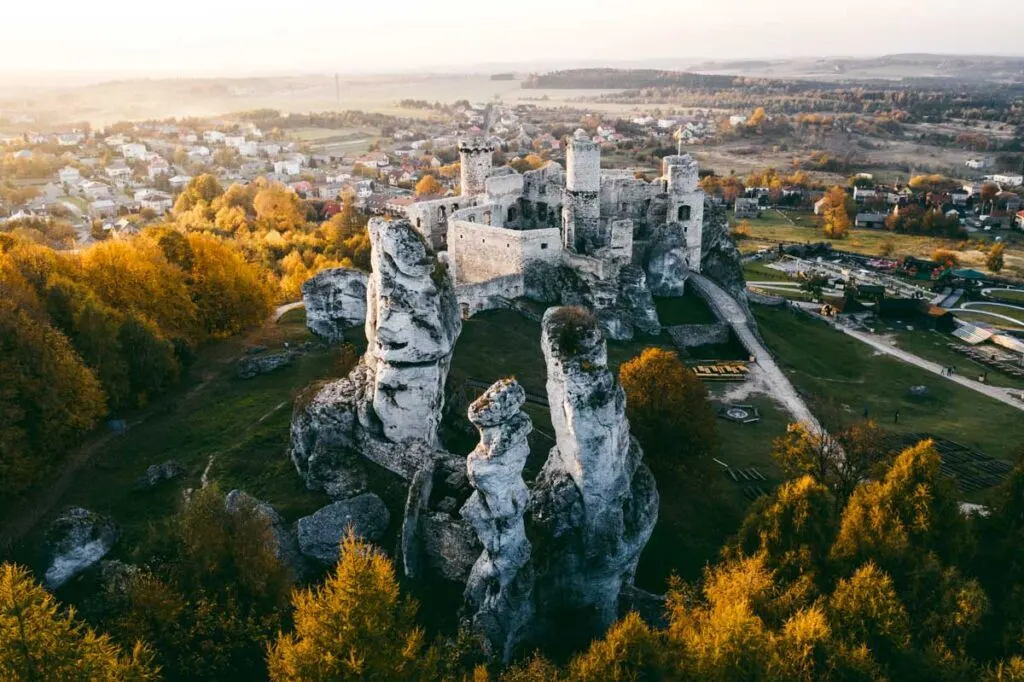 An hour's drive northwest of Krakow in south-central Poland stands Ogrodzieniec Castle, one of the most popular of all Polish castles, which also lies on the famous Trail of the Eagle's Nest.
Strategically built atop a high hill, it throws panoramic views of the surrounding countryside while its partially reconstructed ruins bear testimony to Poland's violent past.
Much of it was built in the 14th century but has been repeatedly destroyed by war and fires and rebuilt numerous times while changing many hands over the centuries.
A long uphill walk leads to the fortress, where you can explore the towers, dungeons, and other defensive and residential features.
Evening "Ghost Tours" with torches add an element of adventure, stirring the imagination. The castle is surrounded by a unique set of rock formations, which offer spectacular views of the castle.
8. Bolkow Castle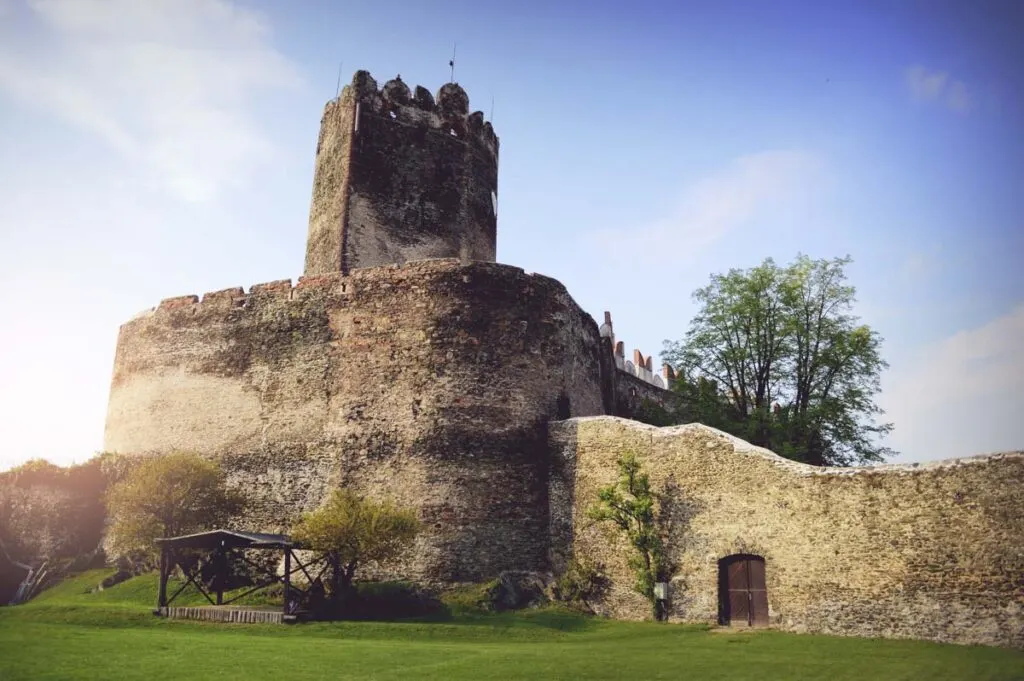 Rising high above the town of Bolkow in southwestern Poland, this mighty fortress was built during the 13th century to control a passage on a trade route.
Since then, it has been ravaged by wars but rebuilt and extended several times, changing many hands along the way.
It was occupied by the Swedes during the Thirty Year War in the 17th century, Russian troops after the Napoleonic Wars, and the Germans during WWII.
Spread over 19 acres, its main feature is the 82-foot Hunger Tower, in which prisoners were thrown in and left to die. Climbing the tower and castle walls offer sweeping views of the picturesque town and countryside spread below.
The castle also houses a small but fascinating museum and holds various Gothic festivals during the summer.
9. Czocha Castle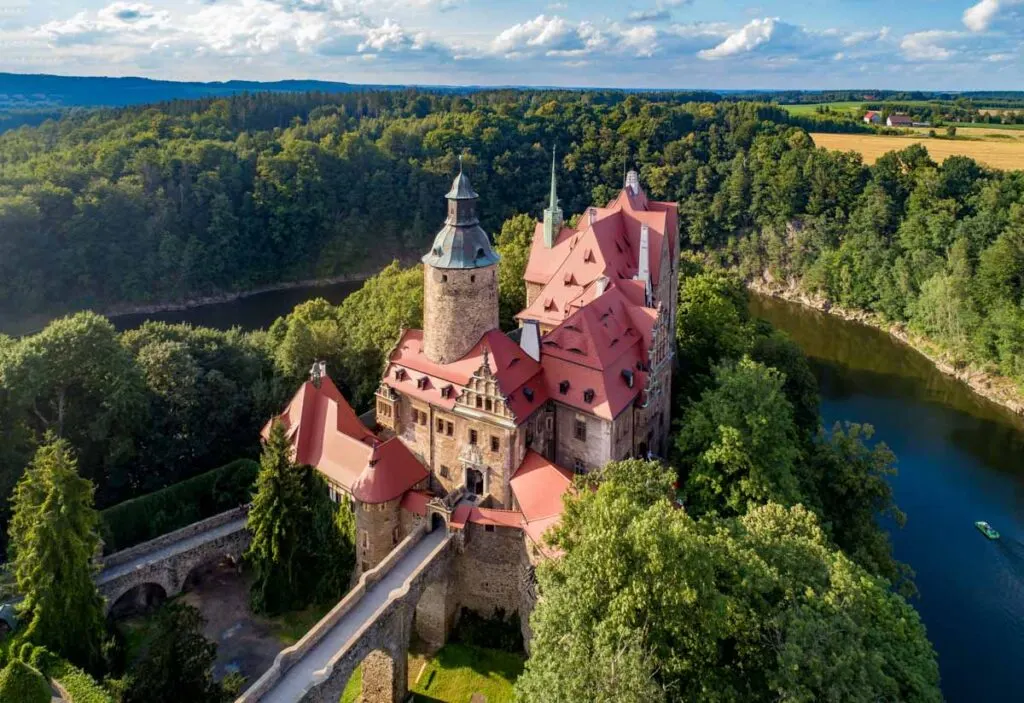 Situated in the southwest corner of Poland, almost touching the German and Czechia borders, Czocha Castle stands proudly high on a hill overlooking the small village and beautiful lake.
Built during the 13th century, and steeped in history and legend, along with its majestic architecture, high stone walls, tower, bridge, and surrounding landscape, it's one of the prettiest defensive castles in Poland.
Although this castle in Poland seems to come straight out of a Harry Potter book, it has many hidden secrets and a grisly history, which can be discovered on their daily guided tours.
The infamous fireplace, in which an unwanted baby was once bricked up, and the bedroom trapdoor that sent any "troublesome" mistress from the bed straight into the dungeons are just two such dark secrets amongst the stately apartments.
Despite its ghastly past, today it serves as a hotel offering guests the unique experience of spending a peaceful night in an authentic medieval setting with period furnishings and decor.
10. Lancut Castle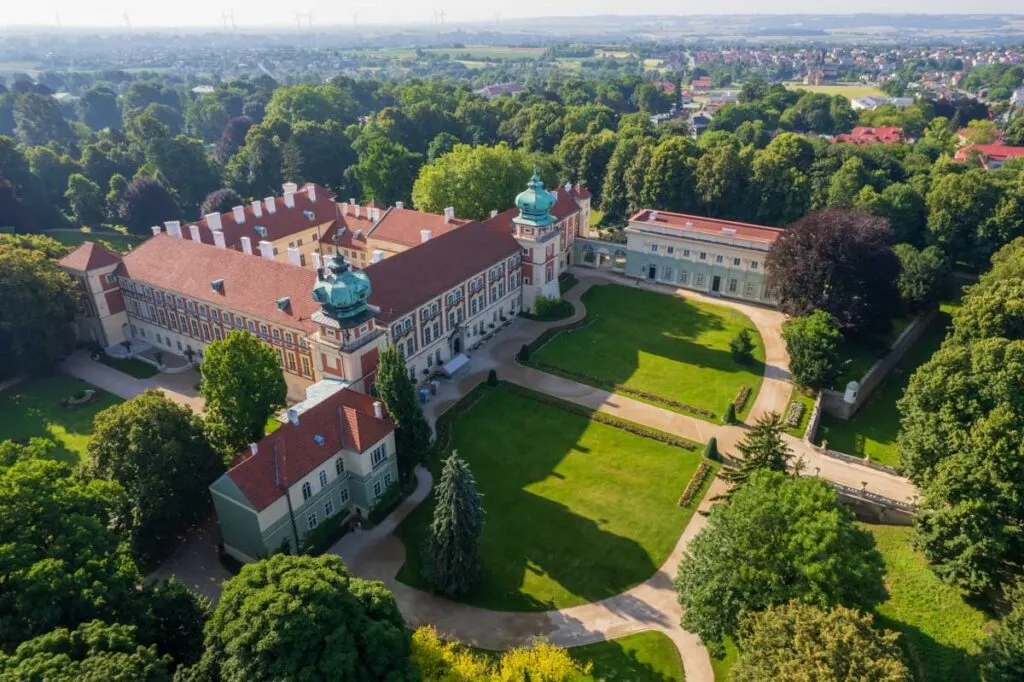 Tucked away in the southeast corner of Poland, Lancut Castle was built around 1642 on the site of an earlier wooden fortress.
In 1657 it survived an unsuccessful siege by George II Rakoczi, a Hungarian nobleman and Swedish ally, and a fire a few years later.
It was soon renovated, extended, and converted into a palatial mansion, changing owners numerous times over the centuries among the Polish aristocracy.
It underwent further renovations during the 19th century with Neo-Gothic and Baroque styles.
Unlike many castles in Europe, it avoided destruction during WWII by being used as the headquarters of the German army.
Today, it serves as a museum, with its grand halls and stately rooms exquisitely decorated and furnished with authentic artworks typical of past Polish nobility.
Highlights could be the Ballroom, Great Dining Room, and Theatre, while the gorgeous gardens with flowers, statues, fountains, orchid house, and a collection of historical carriages are all treasures in their own right.
11. Kornik Castle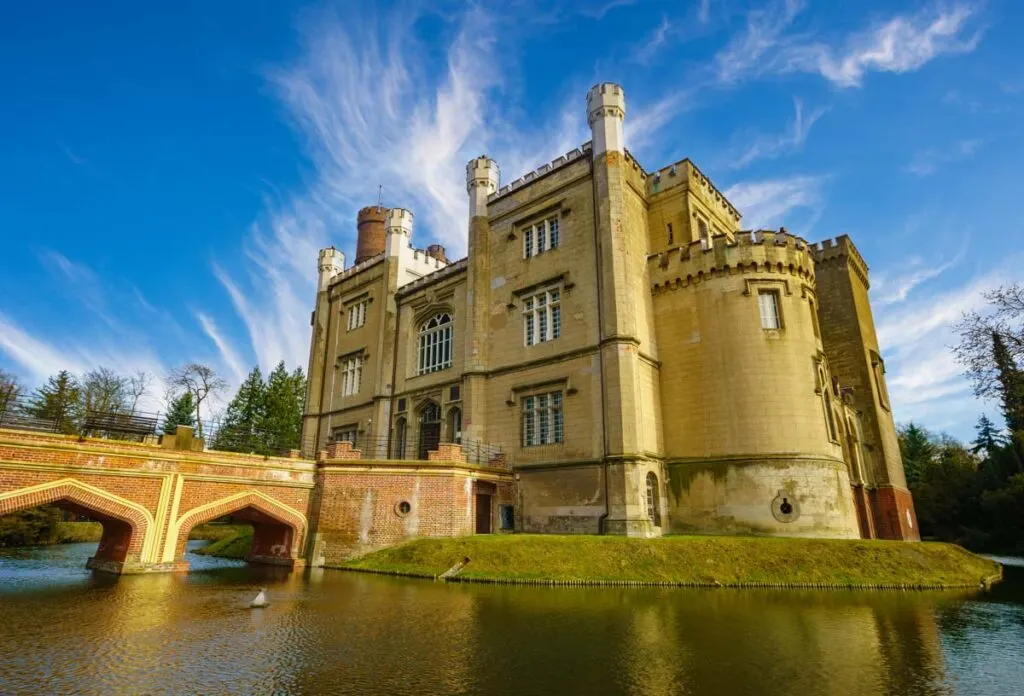 Situated in central-western Poland in the town of Kornik, this is one of the few Polish castles, which has elements of various architectural designs, although the exterior reflects a Neo-Gothic style.
It has features based on the Royal Pavilion in Brighton, England, as well as Islamic designs.
Located on the shores of the picturesque Kornik Lake, and like so many castles in Poland, the moat surrounding it gives it an enchanted fairy tale appearance.
It was constructed in the 14th century, but much of what we see today was remodeled in the 19th century.
It remained in private hands until the childless owner willed it to the state in 1924, along with its art collection.
Each room is lavishly furnished with stunning artworks, armor, and numerous rare historical artifacts, set in a way that gives the impression that people still live in the castle.
A piano played by Chopin and a hand-written romantic novel by Napoleon Bonaparte are just two such items.
The 99-acre forest park surrounding the castle is also something to behold, especially in summer and fall.
12. Lidzbark Castle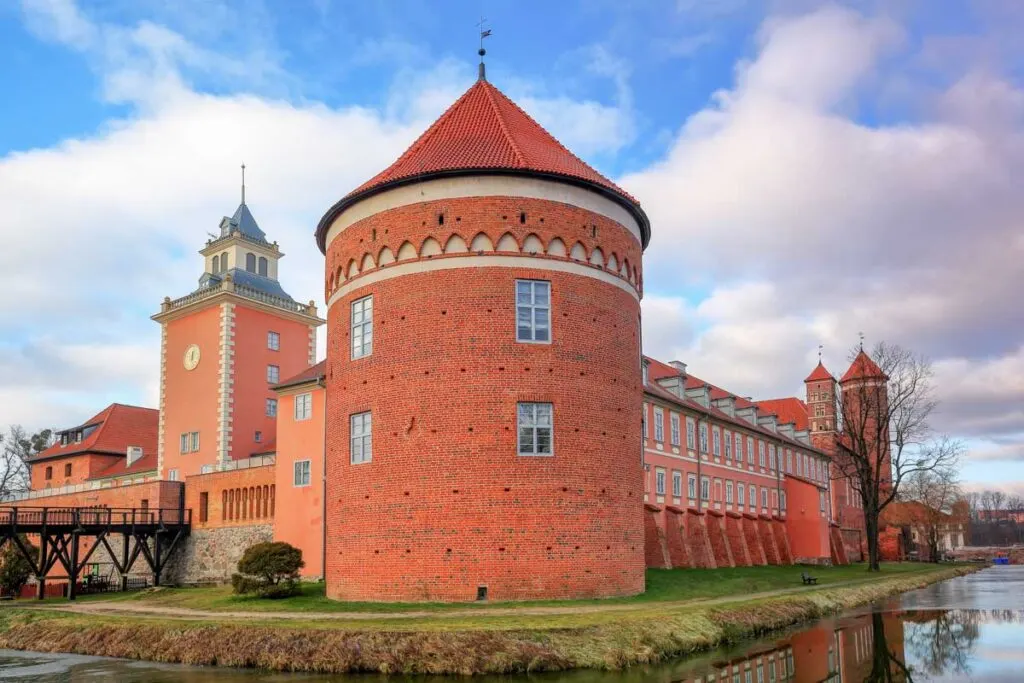 Deep in the heart of the historic town of Lidzbark in north-eastern Poland stands one of the most precious Gothic structures and treasured castles in Poland.
Built in the 14th century as the seat of the Warmian Bishops, who controlled the region, it fell briefly into the hands of the Teutonic Knights but remained the residence of the bishops until 1795.
During that period, it housed numerous prominent figures, including the astronomer Copernicus.
Having survived the wars of the 18th, 19th, and 20th centuries, today, it's the town's most famous attraction.
The interior contains numerous beautifully furnished halls and rooms, a chapel, and an impressive collection of weaponry from the 14th century to WWII. The museum also has a rich collection of medieval art and other historical relics.
13. Pieskowa Skala Castle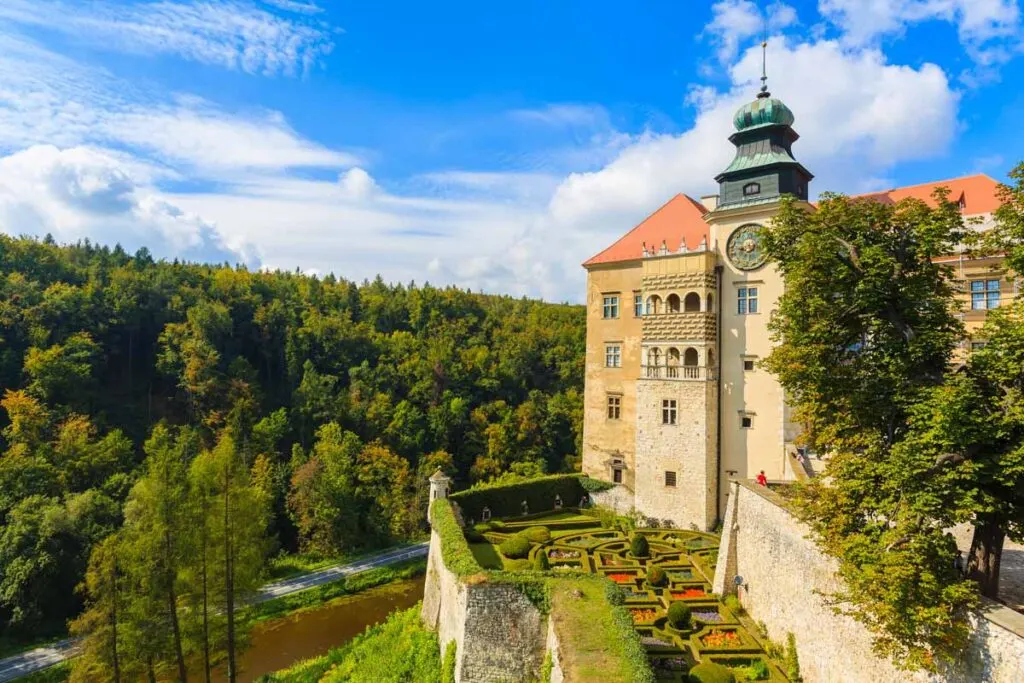 About 15 miles northwest of Krakow lies another castle along the famous Trail of the Eagle's Nest defensive system in southern Poland.
Built along a cliff face during the 14th century, it was later converted into a Renaissance-style manor during the late 16th century.
Having been damaged during the Swedish Wars in 1655 and burned down three times, it was restored during the 1800s and 1900s, acquiring some Neo-Gothic elements. After WWII, the palace complex was incorporated into the National Museum.
Various exhibitions showcase historical relics, paintings, and sculptures, while the spectacular park and ponds surrounding the castle, and the unique rock formation, named the Hercules Club, a short walk away, make it one of the most popular castles in Poland.
14. Warsaw Royal Castle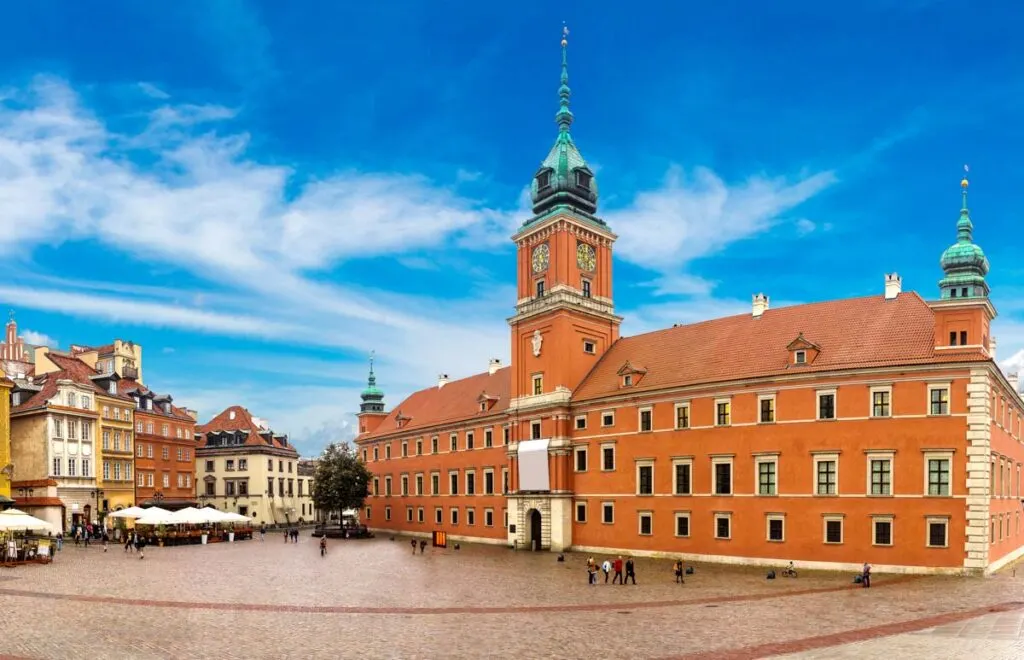 You cannot visit Poland without visiting this magnificent and historic castle in the heart of the capital.
Originally built in the 14th century as a royal residence, it has been plundered and destroyed numerous times by virtually every foreign nation.
During WWII, Germany's infamous leader ordered the Royal Castle to be blown up. Countless priceless artifacts were stolen by the German army, but brave Polish staff risked losing their lives and managed to smuggle many artworks before the castle was stripped bare.
These were returned after the palace was painstakingly rebuilt virtually from scratch in the 1970s.
Today, each room is a masterpiece to behold. Exquisitely decorated and furnished as it was, with thousands of artworks, rare paintings, and historical relics to take your breath away.
Just go and see for yourself!
15. Niedzica Castle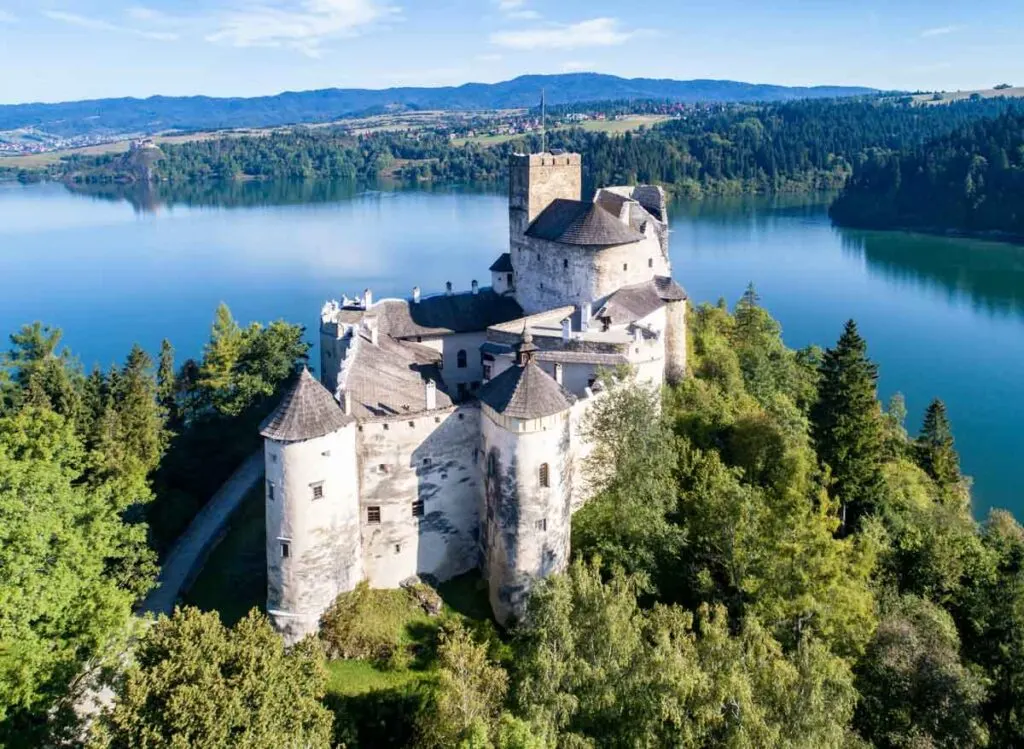 Also known as Dunajec Castle, this formidable fortress sits high on a rock overlooking Lake Csorsztyn with the dramatic Pieniny Mountains in the background, making it one of the most scenic castles in Poland.
Located in southern Poland, a stone's throw from the Slovakian border, it was built during the 1320s by Kokos, a Hungarian aristocrat.
It has been sold, passed down the line, and extended numerous times over the centuries but remained in Hungarian hands until 1945.
The final reconstruction was completed in 1963, and today this Gothic castle-museum complex retains its historic layout while exhibiting numerous relics related to its past. The views from the tall towers and walls are sublime.
Exploring this castle will reveal many fascinating tales and secrets, one of which being that a map marking the location of Incan treasures is hidden somewhere in its bowels.
16. Nowy Wisnicz Castle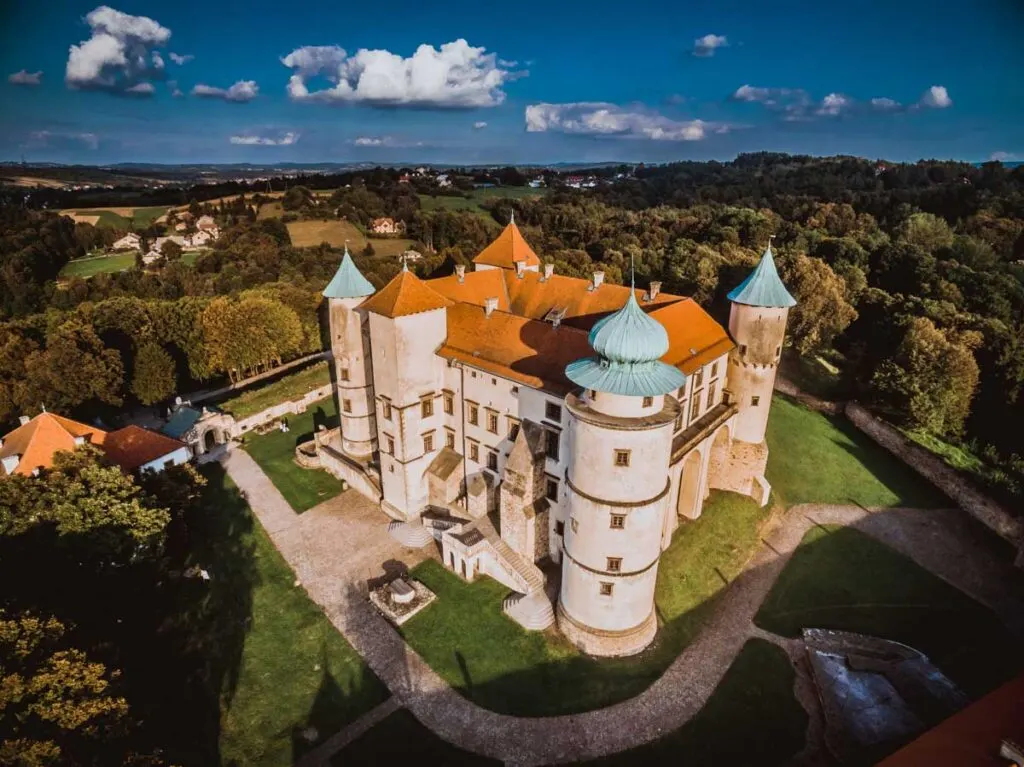 A few miles east of Krakow lies another Poland castle steeped deep in architectural beauty, history, and legend.
Built on a wooded hill outside the village of Stary Wisnicz in the 14th century as a defensive fort, its architectural style is mainly Baroque but contains certain Renaissance elements.
Having passed through several owners, it was severely damaged and looted by the Swedes in the wars known as The Deluge in the 1650s but restored after the Polish defeated the Swedes. It was gutted by a fire in 1831, only to be fully restored after 1949.
Many legends haunt this fortress, the most famous being when Turkish prisoners captured during the Battle of Chocim in 1621, fitted with homemade wings, tried to escape by "flying" off the castle. Columns mark the spot where it happened.
The three-story castle is beautifully restored with stunning ceiling frescoes, medieval furnishings, and various rare items related to its history. The dungeons and gardens hold several cannons and horrific torture instruments.
17. Reszel Castle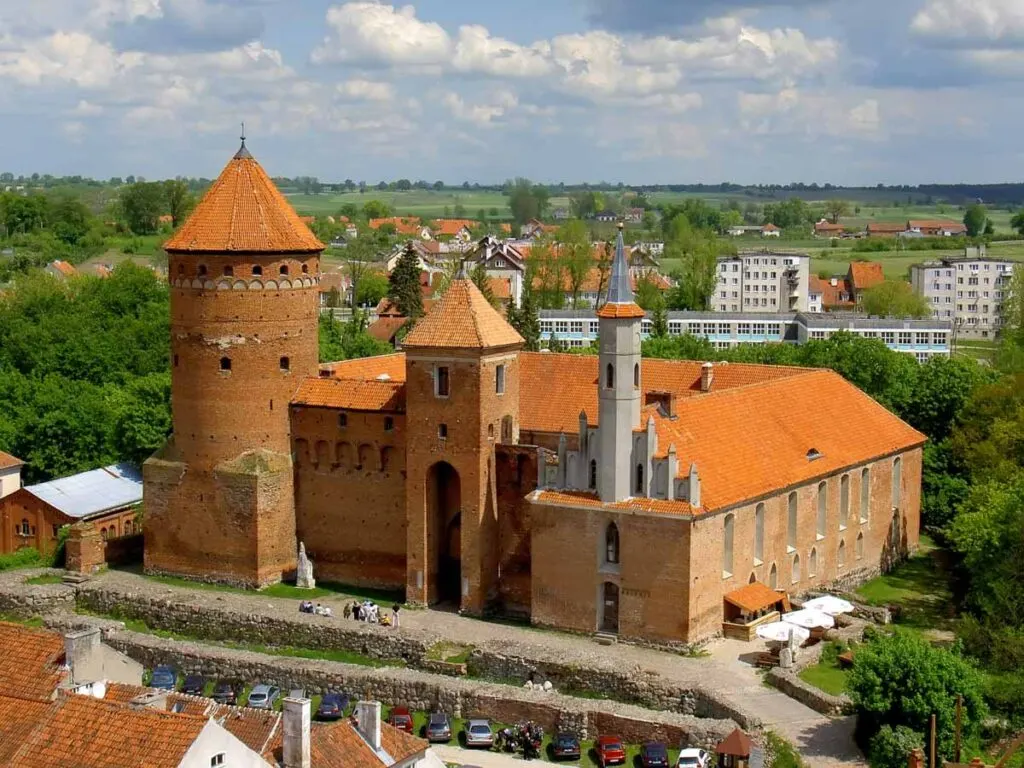 Moving to the small town of Reszel in northeast Poland, the origins of this Gothic castle date back to the 13th and 14th centuries.
Owned by the Warmian Bishops and the Teutonic Knights, it has been besieged and devastated by fire continuously throughout its existence.
It has served as a garrison, residence for the bishops, church, and prison, but after major restorations, losing its character from the medieval times.
Today it serves as a museum, art gallery, and hotel, offering a unique experience of staying overnight in beautifully furnished rooms with a medieval charm.
The castle and museum hold a treasure trove of medieval furnishings, artworks, and weaponry.
Like many Polish castles, instruments of torture in the dungeons come standard. The tall towers offer scenic views of the quaint town surrounding the castle.
18. Bedzin Castle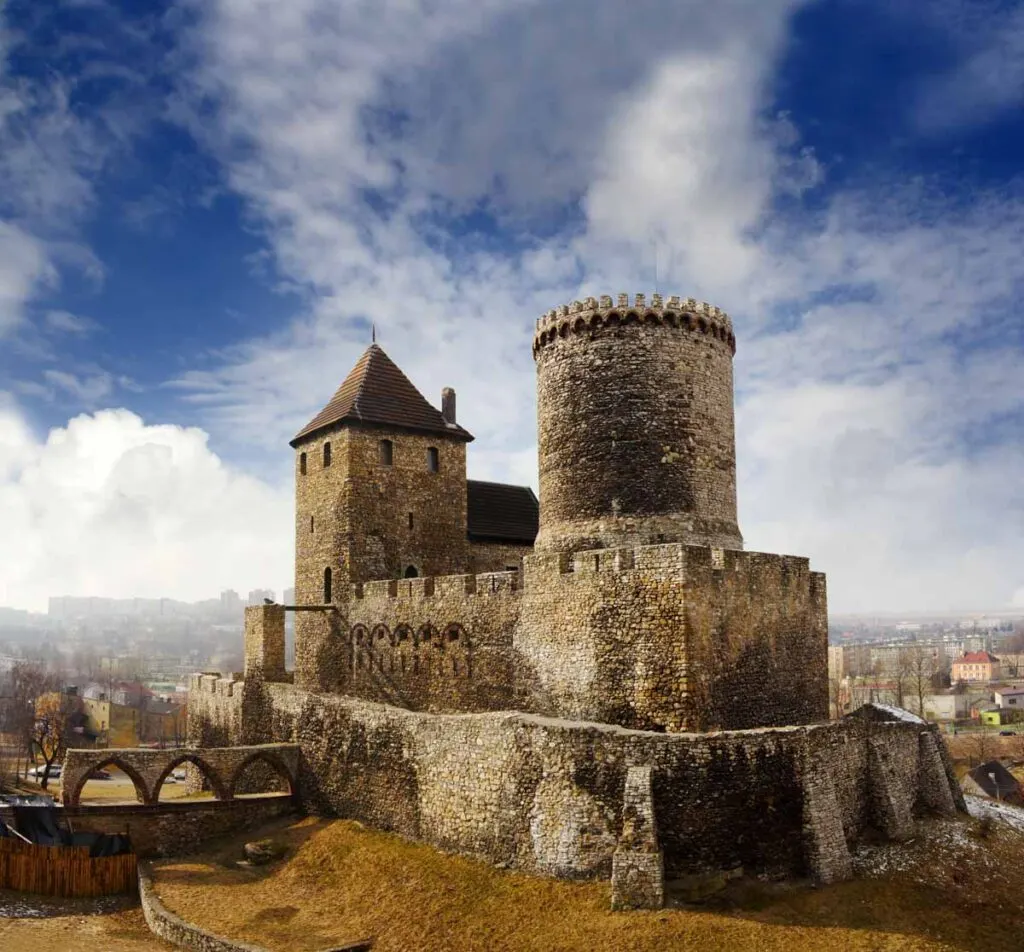 Situated in southern Poland, the city of Bedzin is tragically associated with the millions of Jews, Roma/Sinti, and Soviet political prisoners who were exterminated at Auschwitz by the German army during the Holocaust.
Bedzin Castle was built around the 14th century on the site of earlier wooden castles dating back to the 11th century. It's also one of the castles in Poland that forms part of the Trail of the Eagle's Nest.
It's a fairly small but nevertheless imposing structure with its massive outer and curtain walls and towering watch tower, which was once twice the size of what we see today.
It has seen its fair share of conflict, having withstood many battles, but was destroyed and partially restored until converted into a museum in 1956.
It holds a remarkable collection of weaponry from the middle ages to WWII and other exhibits relating to the castle's and the region's history.
19. Moszna Castle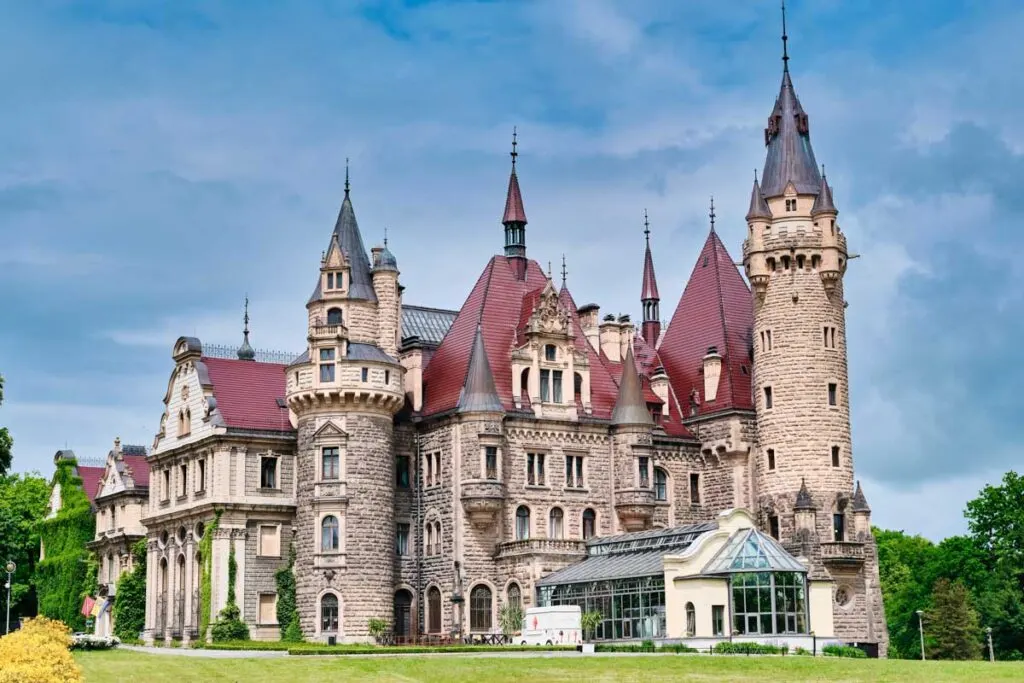 Located in the tiny village of Moszna in south-western Poland, Moszna Castle and palace complex is a most beautiful fairy tale-looking castle, and despite its turrets and tall spires giving it a medieval appearance, it was only built during the 18th century.
Some remnants recently excavated suggest an earlier structure, possibly a Knights Templar fortress.
It has undergone several reconstructions following damage from a fire and brief occupation by the Red Army during WWII.
That is reflected in its architectural style, which is a mix of Baroque, Neo-Gothic, and Neo-Renaissance.
The palace acts as a hotel and is exquisitely furnished. The gardens and park surrounding the complex are immaculately kept and ornately decorated with ponds, statues, and a singing fountain—a wonderful place for a family or romantic picnic.
20. Krzyztopor Castle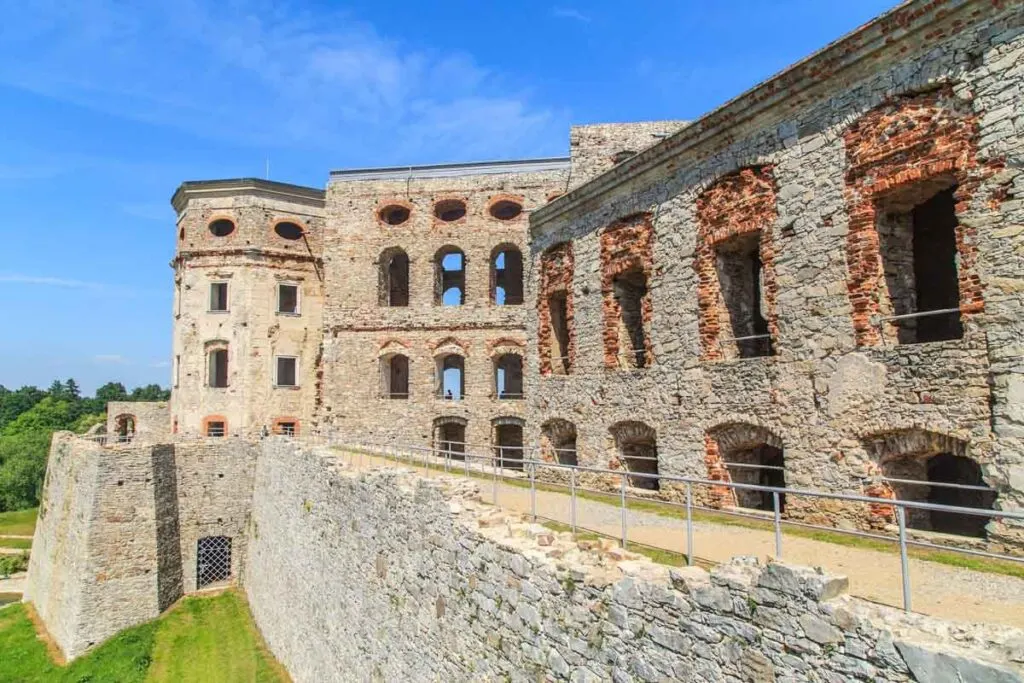 Staying in the southern section of the country, Krzyztopor Castle is perhaps the most mysterious of all castles in Poland, with very little information on its origins available.
Located in the small village of Ujazd, Iwaniska, above the gate of the castle ruins, a sign "1631" strongly suggests the castle was built around that period.
After being pillaged by the Swedes during the 1660s, several half-hearted attempts to rebuild it failed, leaving it to lie in ruins.
It was further pillaged by the Russians in 1770 and then again during WWII, and despite several attempts to reconstruct it, it still lies in ruins. It does, however, make an imposing and formidable fortress.
Excavations reveal it consisted of 52 rooms and 12 halls with a sophisticated heating, ventilation, and water system and even had an aquarium containing exotic fish.
Legend has it that treasure lies beneath the ruins, but it's guarded by the ghost of Kryzysztof, the original owner.
21. Baranow Sandomierski Castle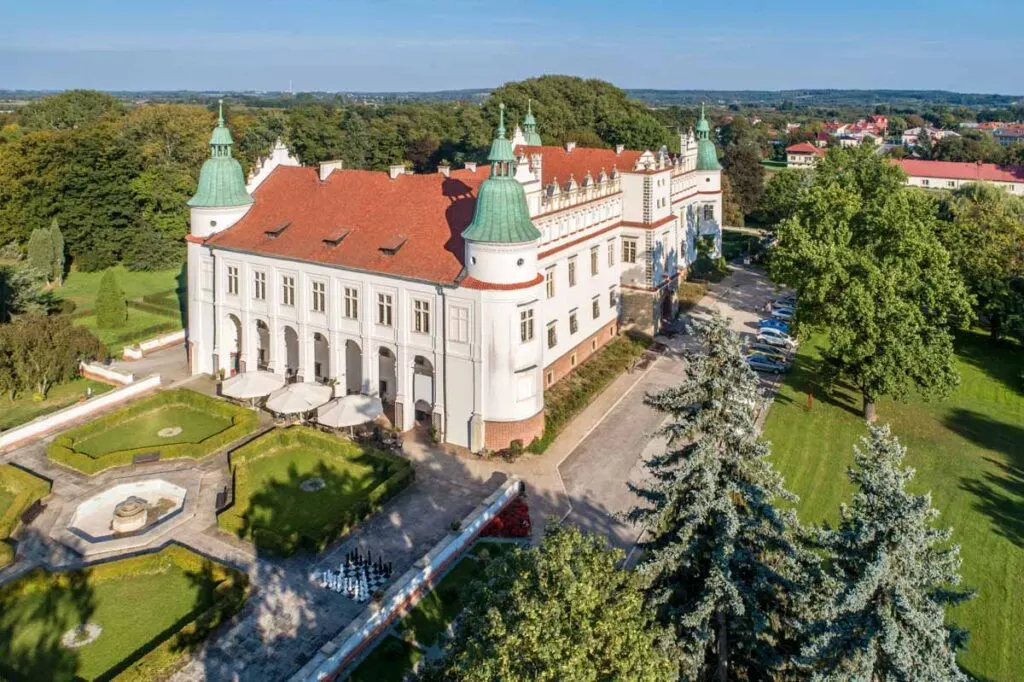 A little further southeast, on the banks of the Vistula River, Baranow Sandomierski Castle is one of the finest examples of Renaissance architecture and the opulent lifestyle of the Polish aristocracy.
Replacing an earlier structure, it was built towards the end of the 16th century by Polish nobles, changing hands among the wealthy until it was destroyed by the Swedes during the 1650s and fires of 1848 and 1898.
It was restored soon after but destroyed once again during WWII. Thankfully it was brought back to its former glory during the 1960s.
Today it serves as a museum and hotel, with each room beautifully furnished and decorated with period pieces, elaborate ceiling frescoes, and stunning architecture.
That's it for Polish castles! We hope you enjoyed learning about them. If you have any questions about the castles in Poland, feel free to ask them in the comments below. Happy travels!
Our best travel tips & resources:
Here're our all-time favorite travel tips & resources so that you can save money and plan your travel logistics hassle-free! For more travel resources, check out our
travel tips.
Saving money: Fly on offseason, winter (not Xmas or NYE), Tuesday, or Wednesday! According to experts, these are the cheapest days to fly.
Travel insurance: Before you leave for your trip, make sure you have a valid travel insurance policy because accidents happen on the road. We have been paying for Safety Wing travel insurance for a little over a year now, and we happily recommend them to our family and friends.
Accommodation: We usually stay in mid-range comfy hotels or private rooms in hostels. These are the sites we use to book accommodation: Booking.com for hotels (excellent flexible cancellation policy) and Hostelworld for hostels (low deposit and easy cancellation).
Tours:We absolutely love booking guided tours with locals to get a history lesson while sight-seeing, especially food tours and walking tours! We book all of our tours using Viator and GetYourGuide.
Transportation: We use Google Maps to figure out how to get around a place using public transport. When we book a rental car, we always use Discover Cars to find the best deal.