Among all the world's gardens, European gardens are some of the most pristine and enchanting in the world.
Much of their inspiration comes from French artists like Claude Monet, royal families like the Borromeo family, and renowned architects like Luigi Manini.
There's a world of unspeakable beauty in every one of these gardens, and they all demand sovereignty through their vibrant flora, ancient trees, and inhabiting wildlife.
Regardless of where your travels take you, if you have the chance to experience a truly magical garden in Europe, please do it.
21 European Gardens You Need to Visit
Here are some of the most beautiful gardens in Europe you need to visit on your next vacation.
1. Keukenhof Gardens, Netherlands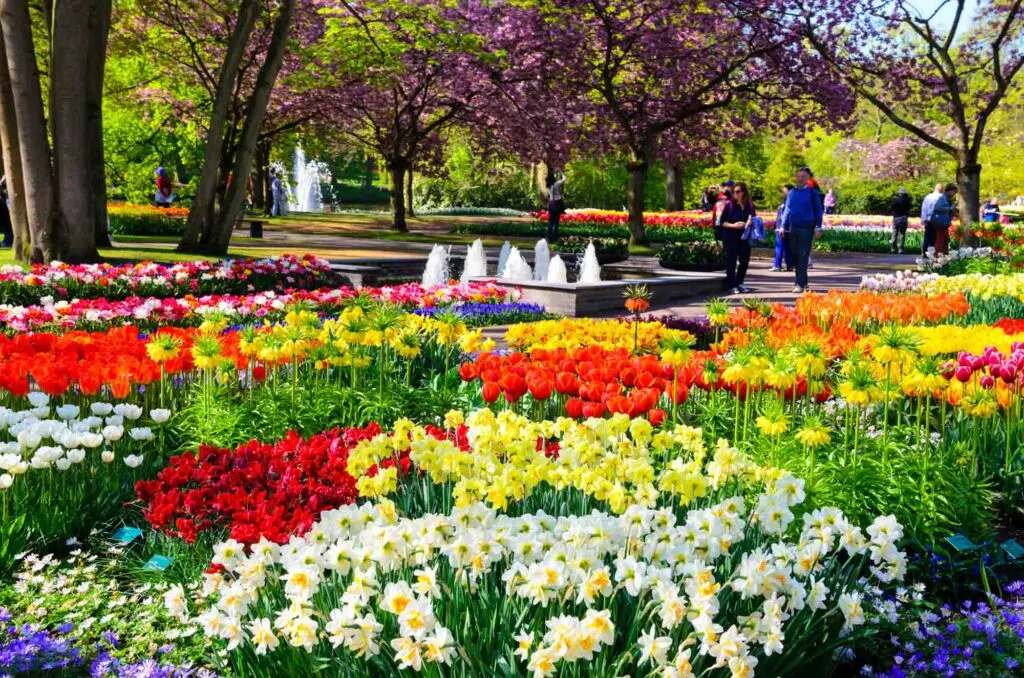 Keukenhof, or Kitchen Garden, is the largest flower garden in Europe. Its collection of 7 million flowers creates an enchanting atmosphere that makes its 79-acre landscape appear as if it came straight out of a fairy tale.
The beautiful flower garden is famous for having 800 different kinds of Dutch tulips that inspire and make your visit a magical one. There are also plenty of carnations, daffodils, lilies, hyacinths, roses, and many more for your flower-viewing pleasure!
Not only that but here you can also find theme gardens, like a Japanese garden and more.
It's southwest of Amsterdam, in Lisse, where it is surrounded by tulip fields. But be sure to plan your trip in the spring because the flowers will be long gone by the summer months.
Read next: Summer Destinations in Europe
2. Versailles Gardens, France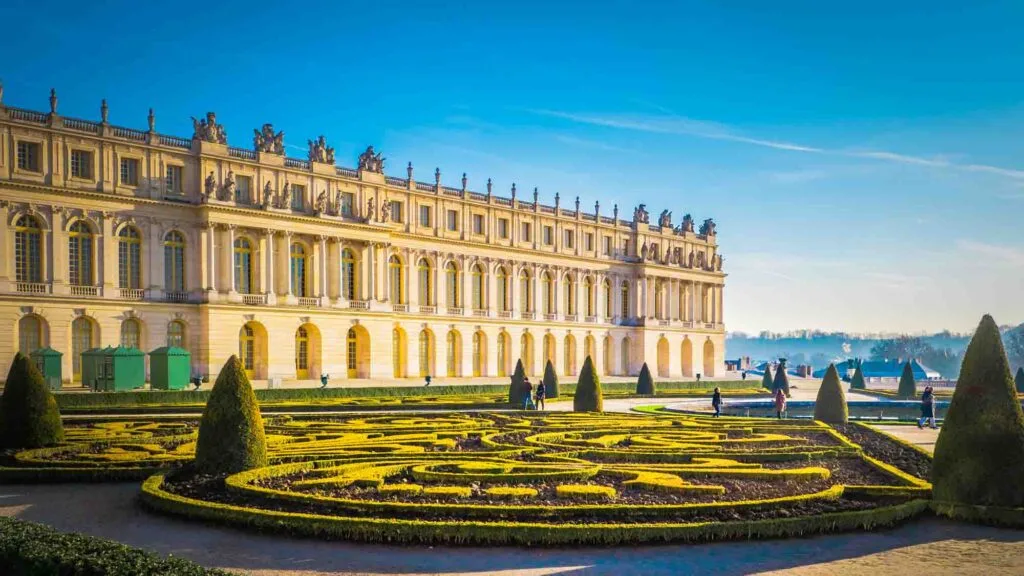 The Gardens of Versailles (Jardins du château de Versailles) is a stunning 1977-acre landmark in France of artistic flair. André Le Nôtre, trusted by King Louis XIV, designed the French gardens to match the sovereignty and majesty of the Palace of Versailles.
You'll get to see 50 different fountains, including the Apollo Fountain (Bassin d'Apollon), which shows him riding his chariot toward the light in the sky.
There are also plenty of romantic walkways with beautiful plant beds, sculptures illustrating Greco-Roman mythology, and the Orangery – a 7,4-acre landscape consisting of 1500 orange trees, palm trees, lemon trees, and much more.
Versailles is about 9 miles from Paris. It's easy to reach Versailles from Paris by train.
3. Arctic-Alpine Botanical Garden, Norway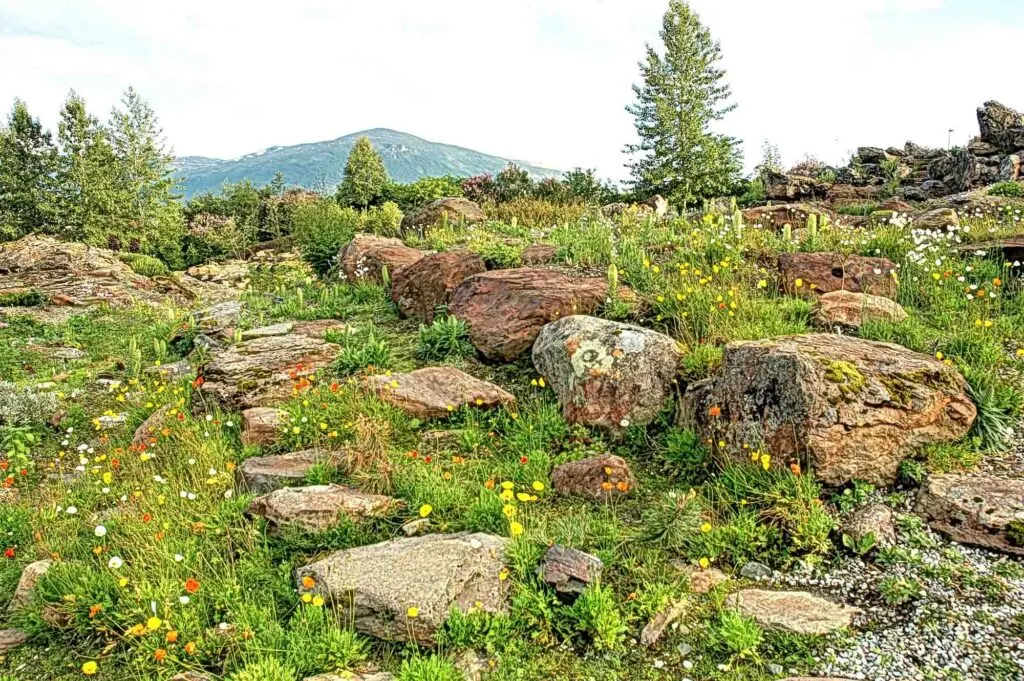 The Arctic-Alpine Botanic Gardens is a rarity among botanical gardens in Europe.
It's host to a myriad of nature's most beautifully adorned Arctic, Antarctic, and Alpine plants worldwide.
There are 25 collections altogether, and finding most elsewhere would be pretty challenging!
During May, when the snow is abundant, you'll see plenty of purple saxifrage, pasqueflowers, Siberian lilies, and yellow cushion plants.
When autumn comes around, vibrant flowers and berries bursting with life jump out in a sea of pink and white.
The garden is southeast of the University of Tromsø Campus. It's a public park, so you can visit it for free, any time of the day or night, every day of the year.
4. Luxembourg Gardens, France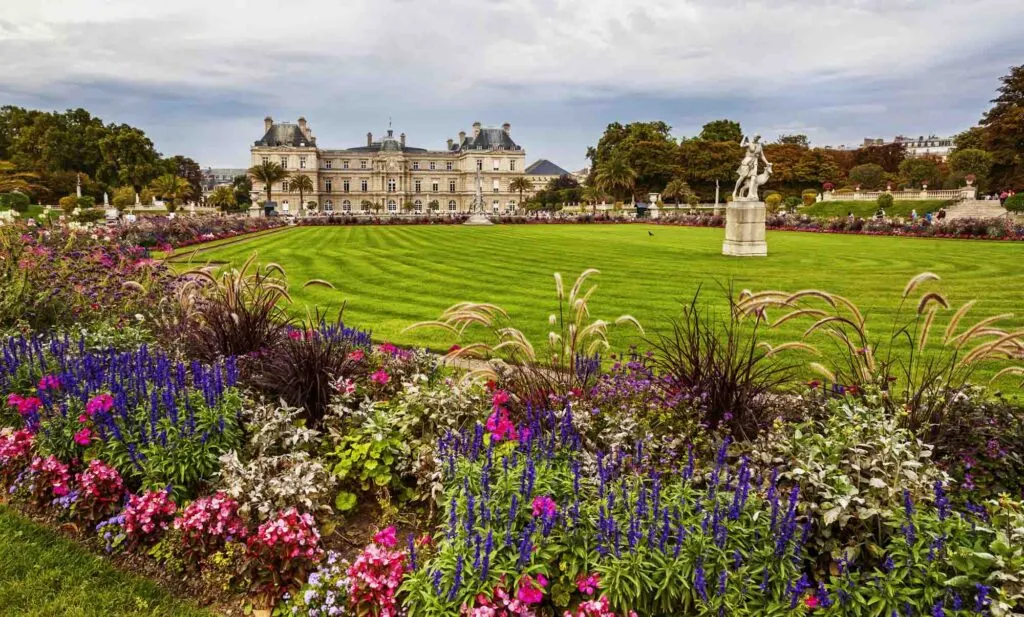 The Luxembourg Gardens is an awe-inspiring landscape among European gardens, rich with French and English influence.
Its 57-acre landscape is popular for its soothing atmosphere, water basins, and artistic statues depicting saints and former French queens.
When you venture to the southwest part of this historic garden, you'll discover apple and pear orchards and a thrilling puppet theatre (Théâtre des Marionnettes).
There's an educational apiary about beekeeping, a greenhouse with one of the most beautiful gardens in Europe, a vintage carousel, a small café with musical performances, and, of course, the majestic Luxembourg Palace, which is a museum.
These stunning gardens are located in Paris, in the 6th arrondissement.
5. Boboli Gardens, Italy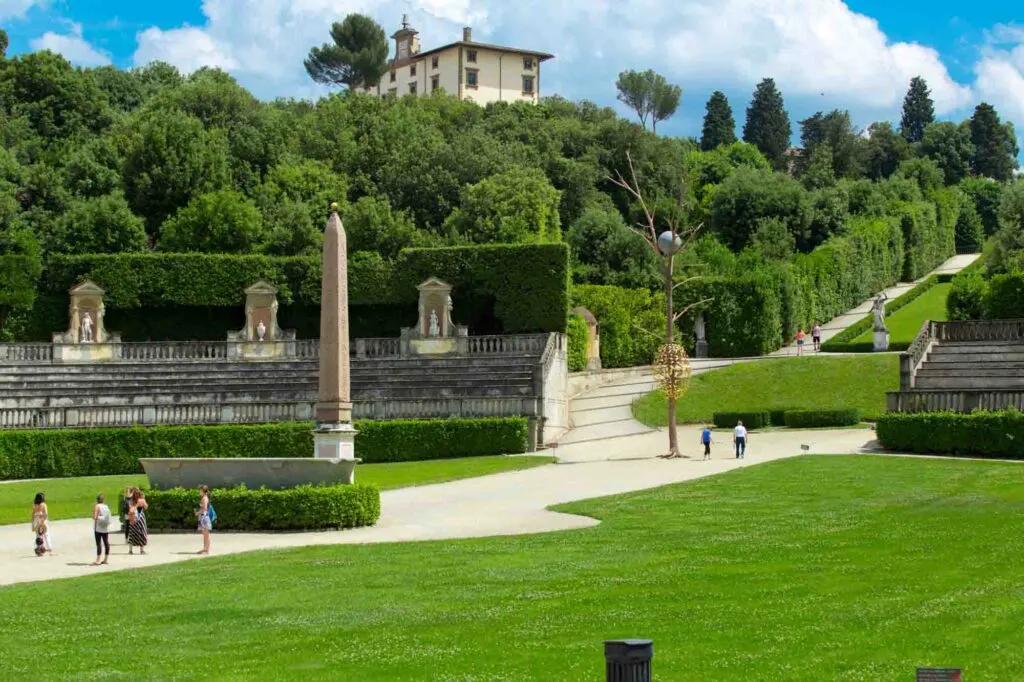 The Boboli Gardens (Giardino di Boboli) is a spectacular historical piece among European gardens. Cypress Lane (Viale dei Cipressi) is an alluring archway decorated with tree branches, leaves, and shrubs.
You'll also see various species of birds and small animals that call it home, like robins, blackbirds, and squirrels.
As you venture through the splendid gardens, you'll discover multiple statues of prominent figures like Venus, Helen & Theseus, and Adam & Eve.
The amphitheater is also host to the exquisite bronze Fountain of Neptune.
Boboli Gardens is directly behind Pitti Palace in the city of Florence.
6. Royal Botanic Gardens – Kew, England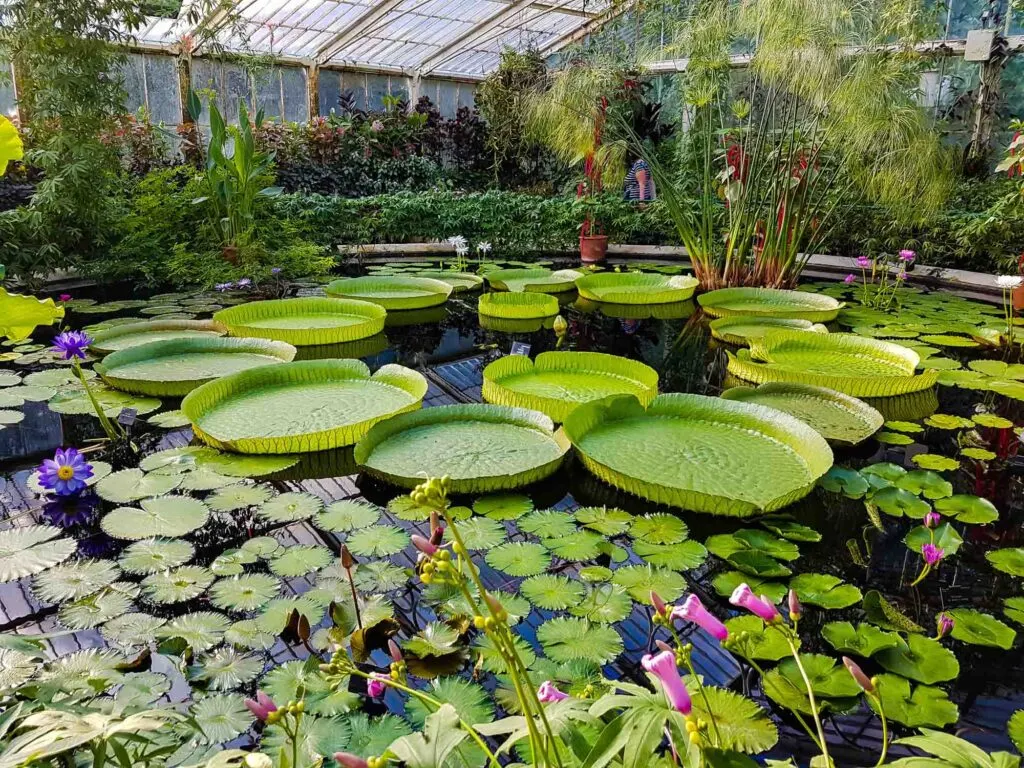 The Kew Gardens has the most diverse collection of botanical and mycological plants among all the botanical gardens in Europe and the world.
One reason it's one of the best gardens in Europe is because of its treetop walkway. It guides you on a magical 660 feet walk suspended 59 feet high.
The arboretum has an impressive 14,000 trees, of which 2,000 are ancient and non-existent anywhere else in Britain.
The Princes of Wales Conservatory is an exciting AI-controlled environment with various co-existing ecosystems.
The Kew Gardens are in Richmond. Kew Bridge train station is 10 minutes away.
7. Generalife Gardens, Spain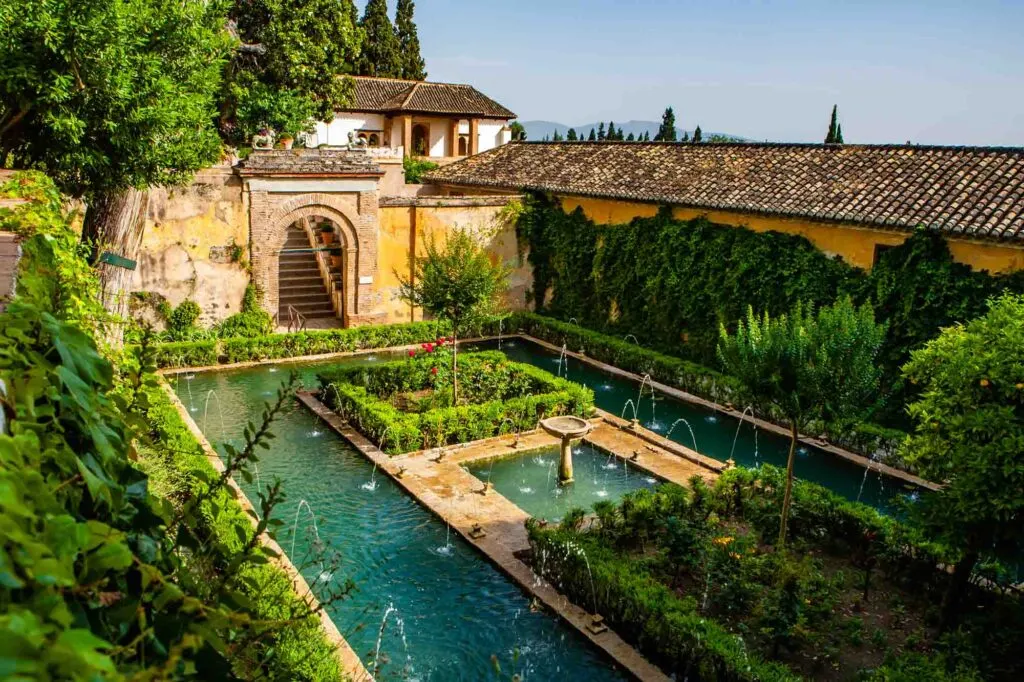 The Generalife Gardens has a unique combination of original Nasrid-period elements and modern elements.
Its breathtaking mosaic architecture decorates the walkways with black and white pebbles from the River Darro and River Genil. It radiates the simplicity that kings desired.
The Patio of the Irrigation Ditch (Patio de la Acequia) is a prominent part of Generalife. It's responsible for diving water throughout the garden's lengthways.
You can expect to see multiple tiny water jets with stone basins. The vegetal species rotates between cypresses, myrtle bushes, or orange trees.
The gardens are east of and uphill from Alhambra Palace in Granada, Spain.
8. Le Jardin Exotique d'Eze, France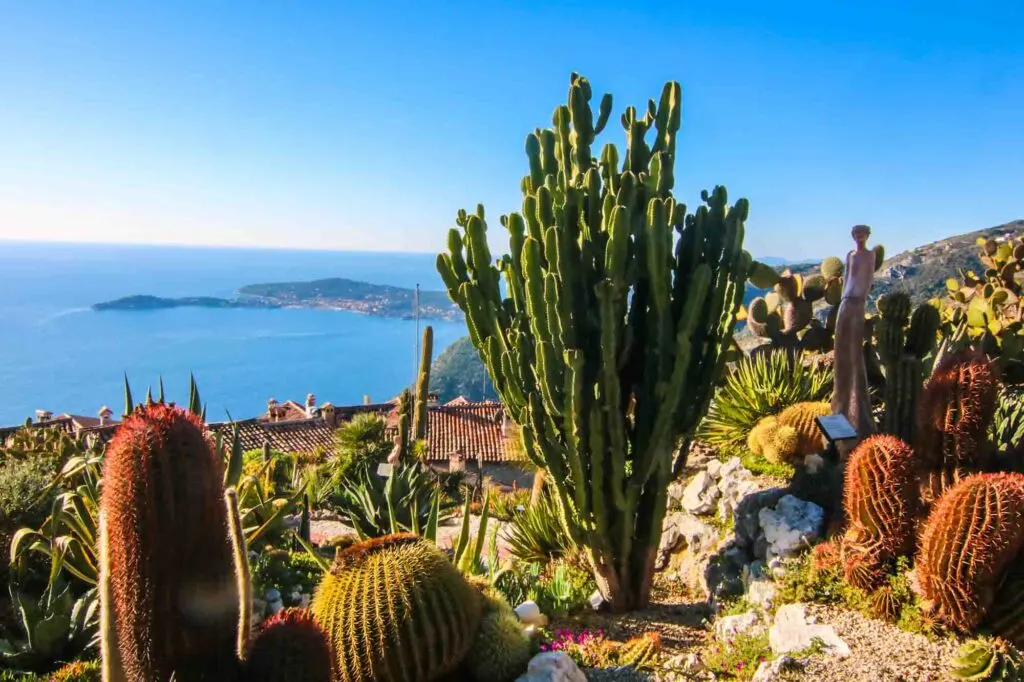 The Exotic Garden (Le Jardin Exotique d'Eze) is one of the best gardens in Europe to find xerophytes plants, which adapted to dry habitats, and succulent plants, which have thick parts and retain water.
The south side hosts desert plants, while the north side is filled with Mediterranean plants.
The northern caves provide shelter for the plants sensitive to a Mediterranean climate. You'll also find signage along the beautifully adorned walkways that explain the historical and artistic significance of the garden.
If you enjoy soaking up the sun, the deck chairs will be a delight! Art enthusiasts can also appreciate the statues that dot the garden, adding a poetic and charming vibe.
9. Vrtba Garden, Czech Republic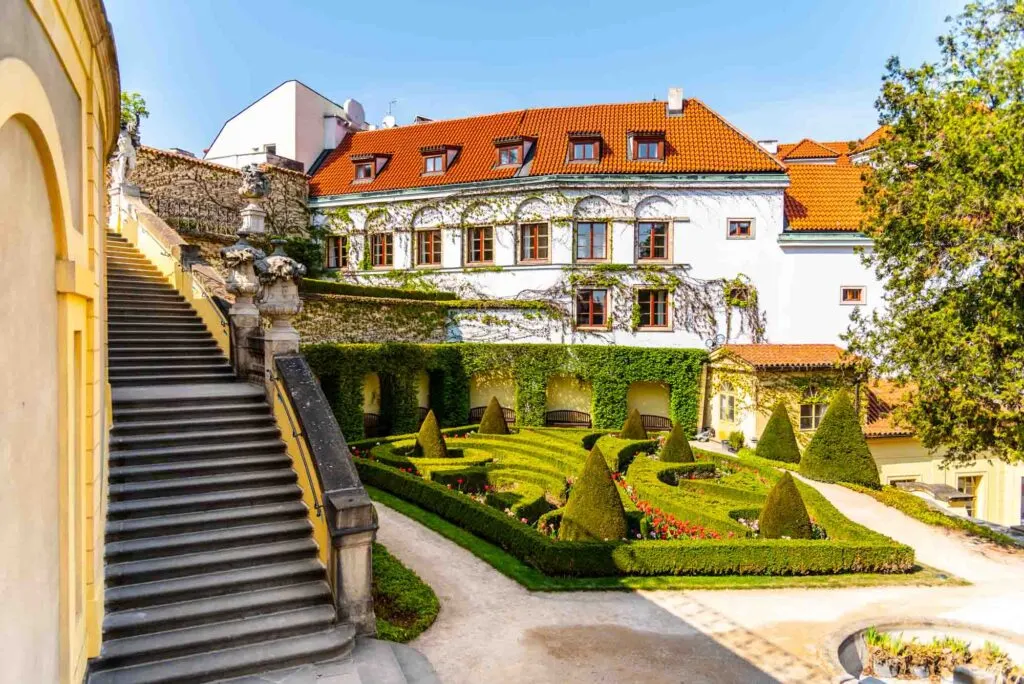 The Vrtba Garden (Vrtbovská zahrada) is a quaint and intimate garden with sculptures, terraces, elegant staircases, and vibrant flowerbeds that illuminate the presence of life.
It's among the best European gardens for couples looking for a magical and memorable location to have their wedding.
The multiple terraces also offer a breathtaking view of the St. Nicolas church and the historic Mala Strana neighborhood.
The Vrtba Garden is in Prague, in the Malá Strana neighborhood. It's accessible from the discreet gate on Karmelitská Street.
10. Claude Monet's Garden, France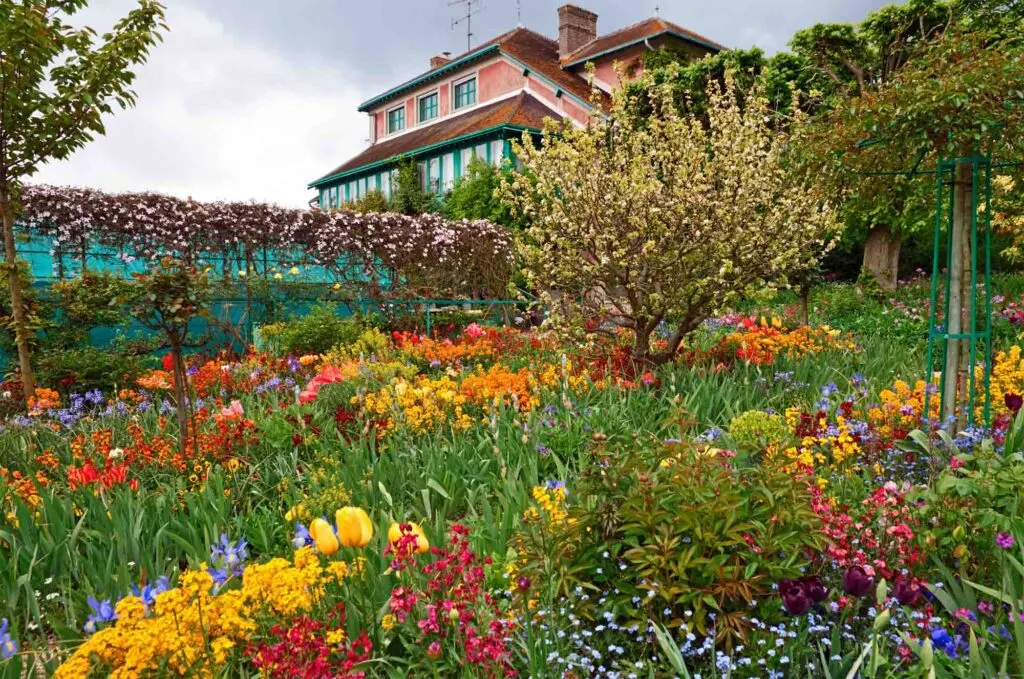 Monet's Garden gets its name from Claude Monet, the founder of Impressionist painting. It has some of the most beautiful azaleas, yellow irises, a variety of tulips, and wisteria white of all the European gardens.
As you wander around the garden in autumn, you can expect warm, satisfying orange and red colors that appear to burn their last embers before winter.
There are benches for you to sit and enjoy the sounds and smells. The romantic walkways will eventually take you to the Japanese Water Garden, where the water lilies dance on the glistening water.
Monet's Garden is in Giverny, which is an easy day trip from Paris.
11. Quinta da Regaleira Garden, Portugal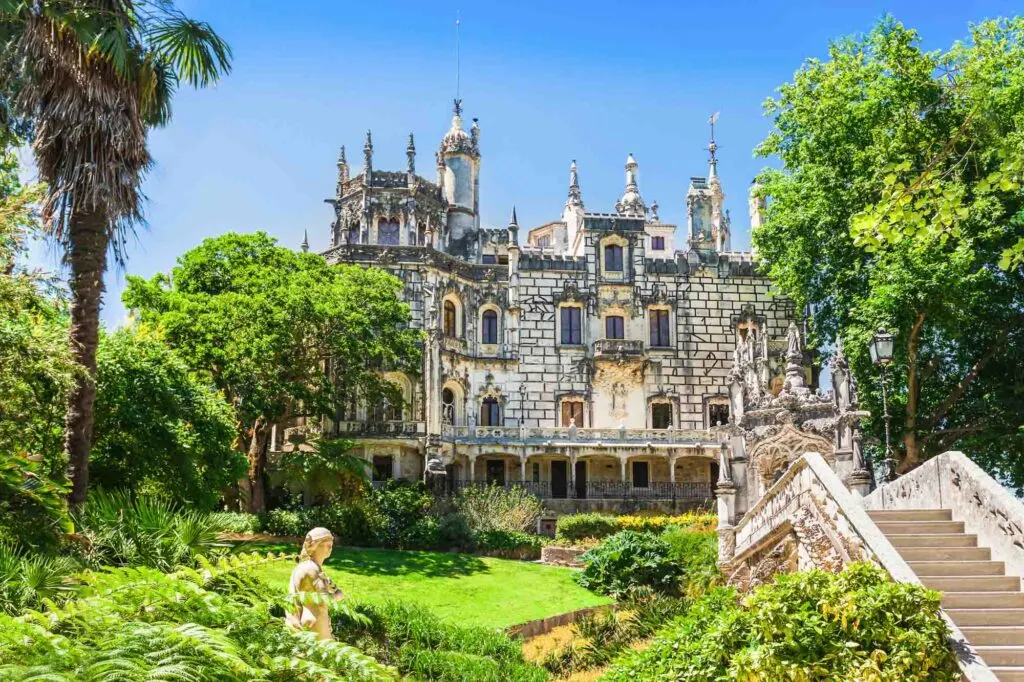 Quinta da Regaleira is a 10-acre estate garden with pristine lakes, fountains, grottoes, and wells. You'll also be able to visit a lovely little chapel and the breathtaking palace.
Locals call the palace The Palace of Monteiro the Millionaire, after the previous owner, António Augusto Carvalho Monteiro.
A relatively large part of the garden consists of a park full of dense greenery, adventurous footpaths, roads, and enigmatic tunnels.
You can access the tunnels from Waterfall Lake, Leda's Cave, and other garden points.
There are also two ancient Initiation Wells that previous residents used as water sources and for ceremonial purposes.
Quinta da Ragaleira Garden is near Sintra, Portugal.
12. Isola Bella Gardens, Italy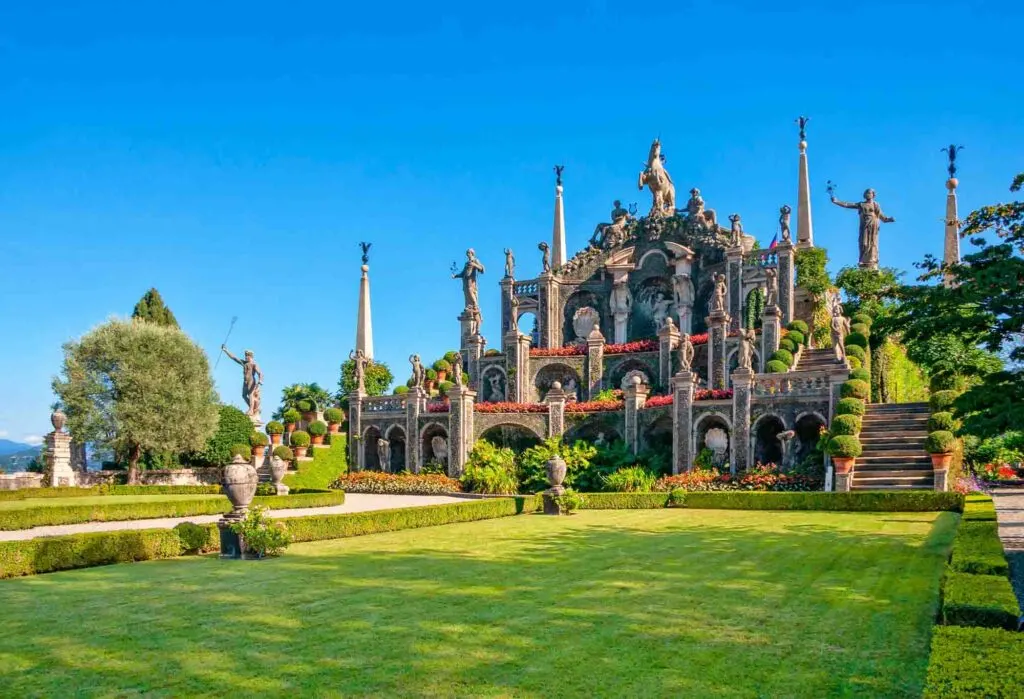 Isola Bella (beautiful island) exudes the potency and charm of the Borromeo family.
You'll encounter phenomenal displays of exotic flora, from the century-old camphor tree to giant rhubarb whose leaves can grow up to 78 inches in diameter.
Other rare species include Helesia Diptera, a plant whose flowers perfectly resemble snowflakes. In bloom, the Azaleas Isola Bella becomes the Garden of Love.
The Teatro Massimo is a magnificent attraction that combines obelisks, fountains, statues, and vegetation to create the Unicorn statue – the symbol of the Borromeo family.
Isola Bella is accessible through a regular ferry service from Intra, Laveno, and Stresa. You'll also find in Isola some of the most beautiful beaches in Europe.
13. Jardin des Tuileries, France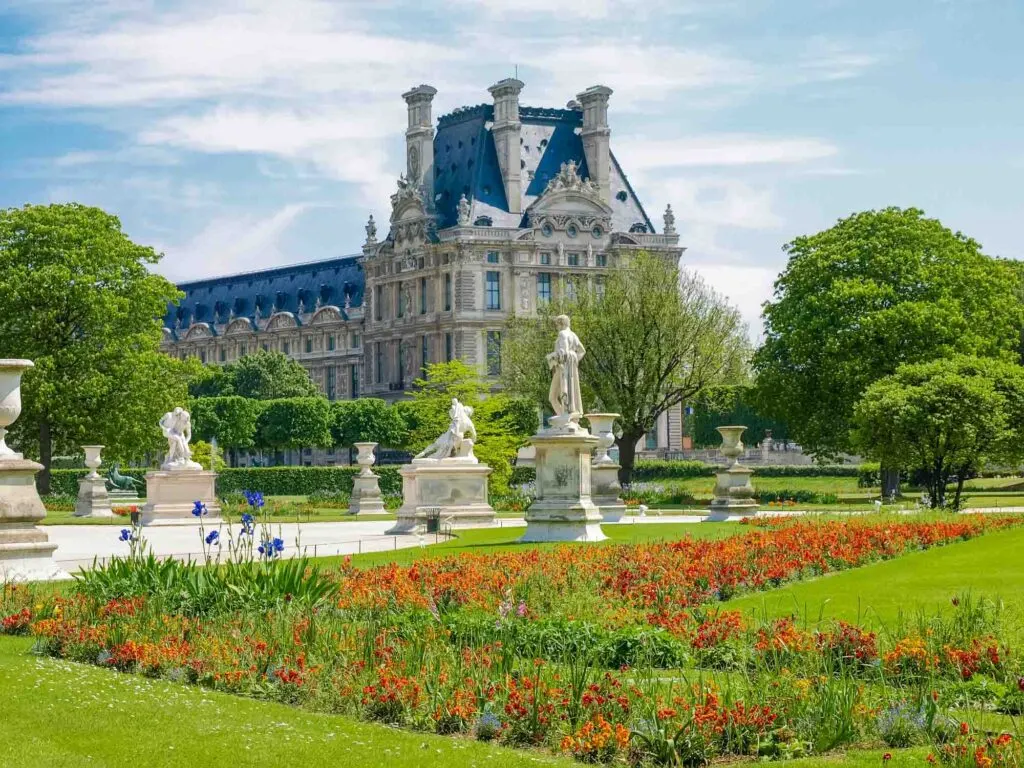 The Tuileries Garden (Jardin des Tuileries) is a natural beauty among European gardens that's ideal for strolling and exploring. You'll discover magnificent Maillol statues of Giacometti and Rodin along the path.
When you want to take a breather, you can sit and relax at one of two major ponds in the garden's center.
You'll be in for a real treat if you have a sweet tooth! The Fête des Tuileries offers thrilling fairground rides and the tastiest candyfloss on this side of France.
You can find the formal gardens in Paris. It's in the 1st arrondissement, between the Place de la Concorde and Louvre.
14. Petrin Gardens, Czech Republic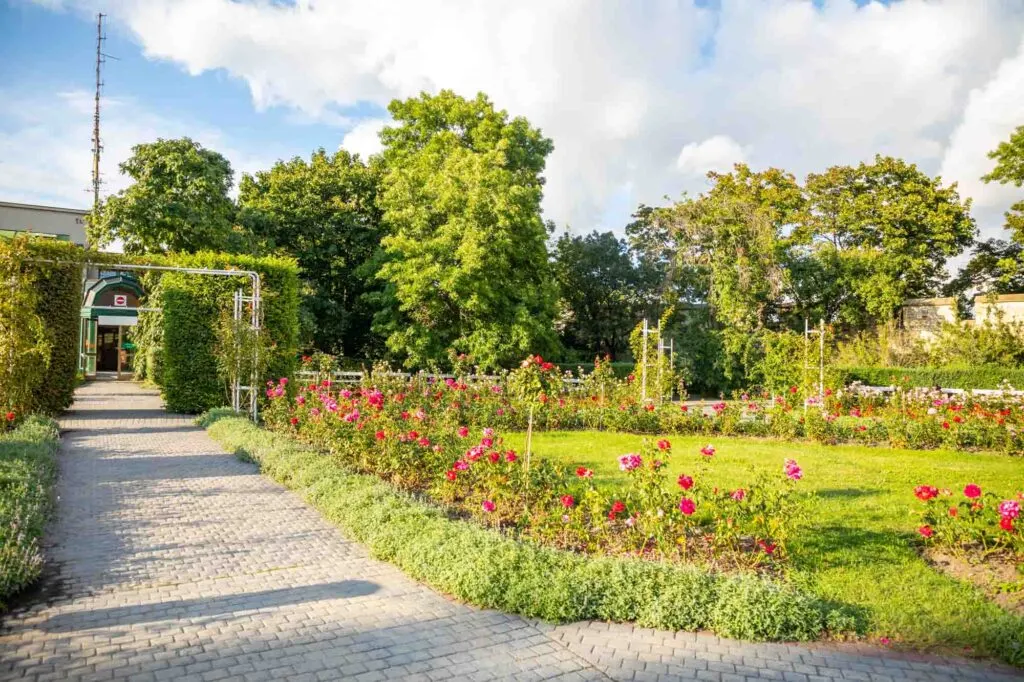 Petřín Gardens is a must-see for any garden lover because the gigantic, lush green landscape provides a wonderful source of calm for visitors and locals of Prague.
Near the Lavender Garden, the beautiful Rose Garden is full of fragrant roses of all colors, while the Nebozízek and Seminary Garden boasts over 2,100 fruit trees, making for a wonderfully picture-perfect opportunity.
You can reach the top of the hill with the funicular, a railway that started in 1891, which provides you with sweeping views.
Seriously, you'll want to take plenty of pictures as you gaze at the stunning views of the city, Cathedral of Saint Lawrence, and St Michael Church. The mirror maze is also great for letting out your silliness!
Petrin Gardens is on a hill that rises 0.20 miles above sea level in the center of Prague.
15. Real Jardin Botanico de Madrid, Spain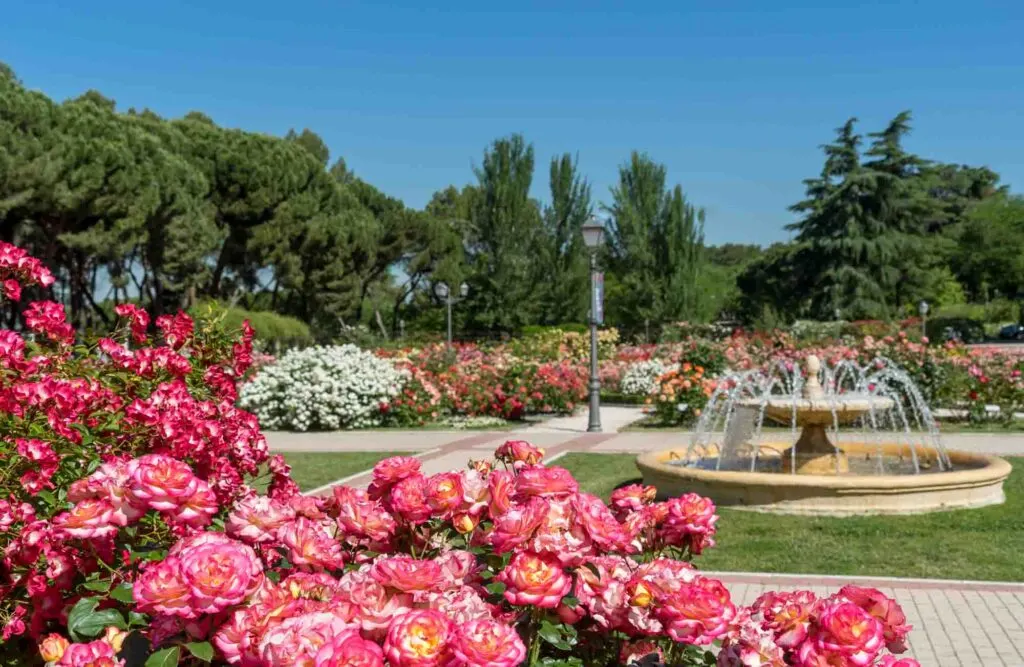 The Royal Botanical Garden of Madrid (Real Jardín Botánico de Madrid) is a 20-acre botanical garden with seven outdoor sections and five greenhouses.
It's one of the most extensive European gardens, hosting an impressive 90,000 plant species and 1,500 trees.
The garden also offers respite from the chaotic lifestyle of the city. There are educational opportunities that involve attending exhibitions about plant life.
The annual Christmas light show is especially popular, with a plethora of holiday-themed lighting and figure illustrations that make the trees come alive.
Real Jardin Botanico de Madrid is on Paseo del Prado, a boulevard that runs along the eastern edge of the city center of Madrid, Spain.
16. Villa d'Este Gardens, Italy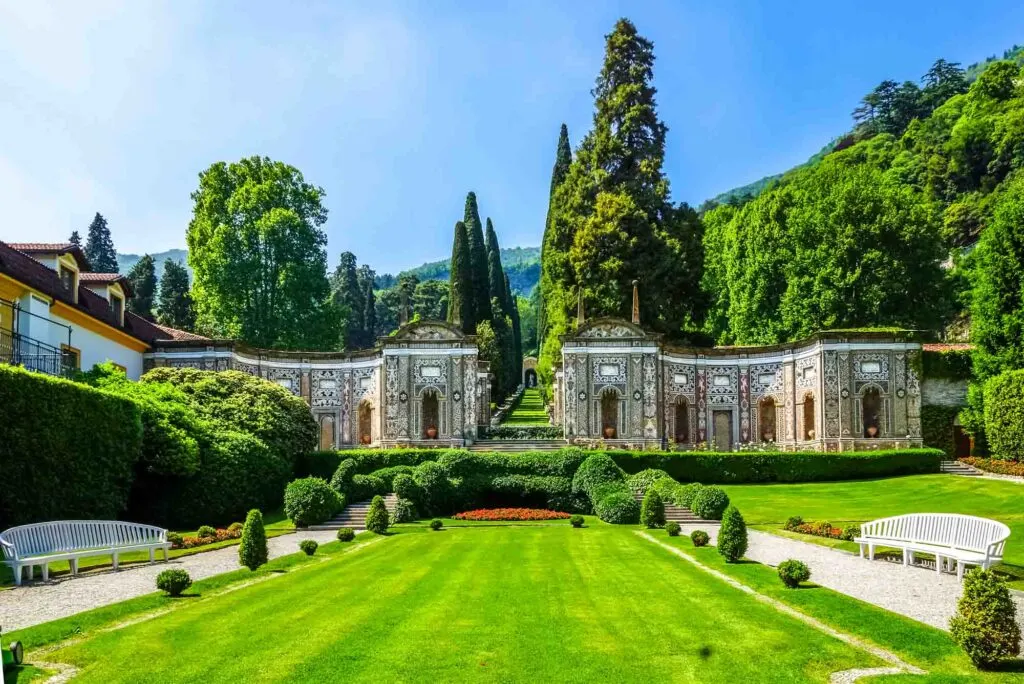 Villa d'Este Gardens is one of the most remarkable Renaissance illustrations among European gardens. It boasts pristine features, fountains, and ornamental basins, making it a sight to behold.
In addition, this Italian garden is also a UNESCO World Heritage Site and an Italian state museum.
The garden's courtyard hosts a beautiful Fountain of the Roman goddess of love, Venus. It's the only fountain in the Villa that still keeps its original appearance and decorative features.
One of the garden's most striking features is Fontana del Bicchierone (Fountain of the Great Glass). It has a big bowl in the middle of a half-circle wall that pours water down like a waterfall.
The wall has statues and arches on it, and there are hidden streams of water under the arches that spray people who pass by!
You can enter the garden from a doorway on the Piazza Trento, next to the entrance of the Church of Santa-Maria Maggiore.
17. Schynige Platte Alpine Garden, Switzerland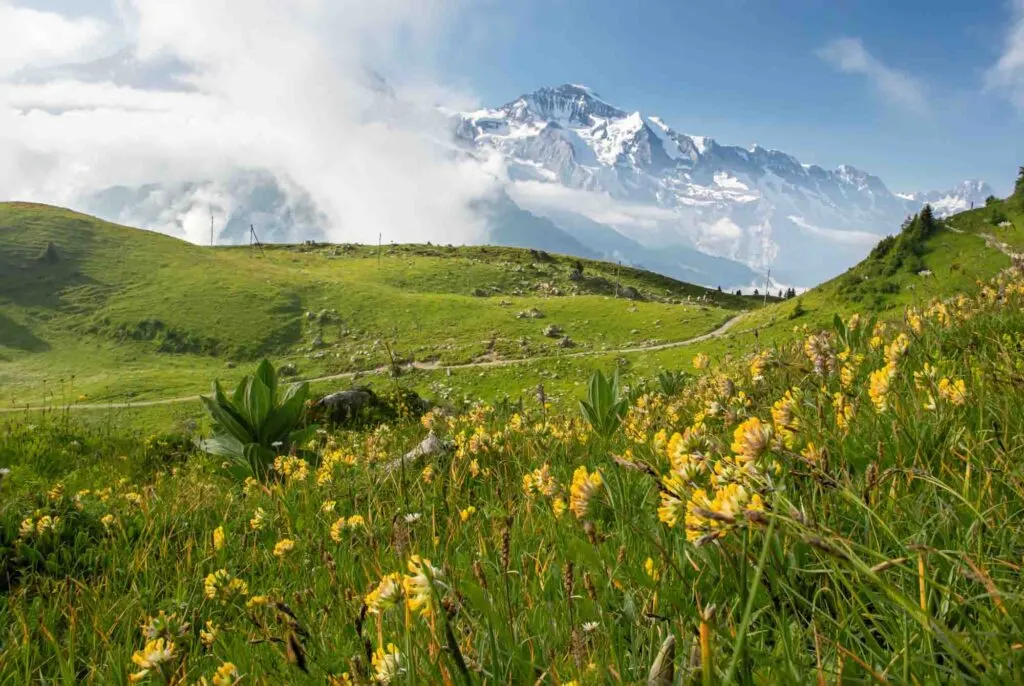 The Schynige Platte Alpine Garden (Alpengarten Schynige Platte) is a botanical garden that exists at an impressive altitude of 7,000 feet.
It combines the majestic mountainous landscapes of Jungfrau, Mönch, and Eiger to create something truly magical.
You can expect to find 800 plant species from all over the Swiss Alps and call it home. Apart from the flowery sightseeing, the garden's scientific endeavors garner equal excitement.
The gardens get many University students who attend seminars, research for their diplomas or complete their doctoral theses.
The garden is in the Bernese Oberland region of Switzerland, close to the summit of the Schynige Platte mountain.
18. Island Mainau Garden, Germany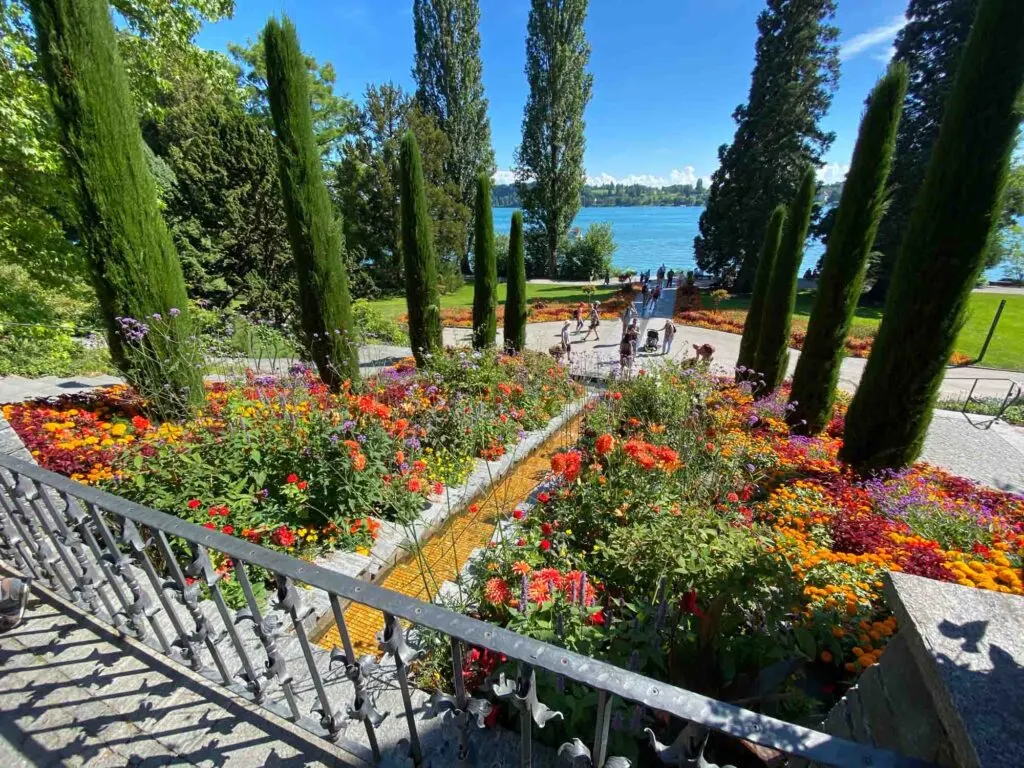 Mainau Island Garden celebrates its seasonal beauty every few months with an abundance of unique flora. It stretches 2,000 feet long from North to South and 3,440 feet wide from West to East.
Among its most exciting attractions is the butterfly house – one of a kind among European gardens. It houses around 120 different species of tropical butterflies.
The temperature is constant at 77 – 86°F and 90% humidity to ensure the butterflies can thrive.
Mainau's Herbaceous Garden is another intriguing wonder where you can see dark blue delphinium, globe thistle, and sneezeweed, among other perennials.
The garden is on the southern shore of Überlinger See, in Lake Constance (a German landmark), and close to Konstanz, Baden-Württemberg, Germany.
19. Schönbrunn Palace Gardens, Austria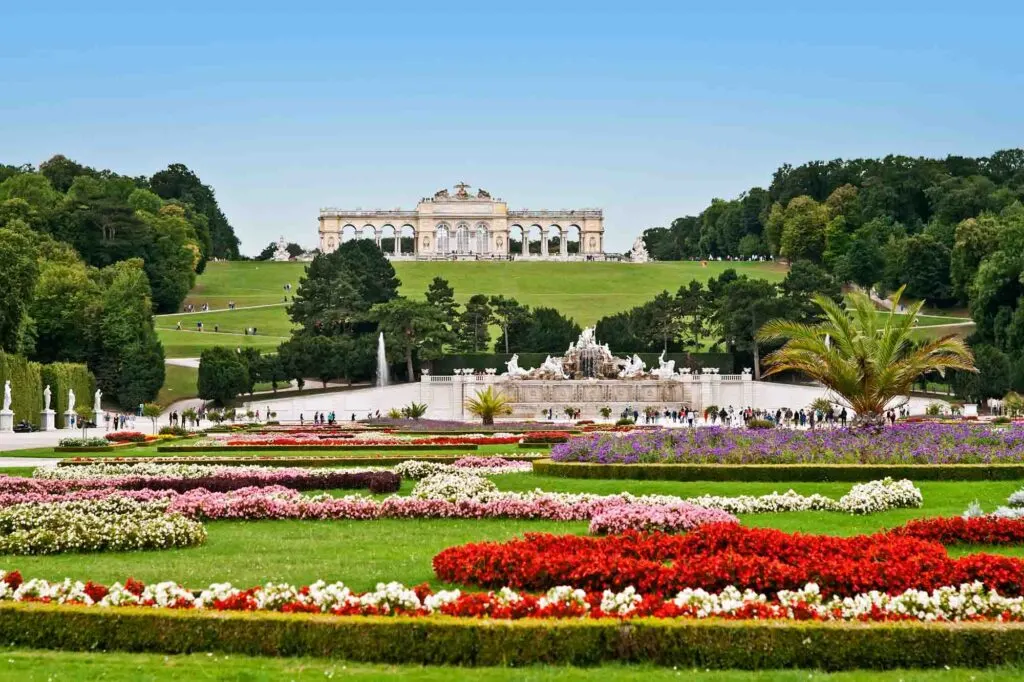 Schönbrunn Palace Gardens (Schloss Schönbrunn) is one of Europe's most iconic and well-preserved Baroque ensembles.
Near the foot of the gardens, you'll encounter the Obelisk Fountain; ancient Egyptians believed it to illustrate the path the sun's rays take to get to Earth.
Its Baroque iconography depicts attributes that projected government stability and royal steadfastness.
You'll also catch sight of the Roman Ruins of Carthage, Columbary, and a Fair Spring in the graceful form of Egeria, a mythological water nymph. The Angel Fountain is another intriguing fountain with sculptural features from 1777.
Schönbrunn Palace Gardens is in Hietzing, Vienna. It stretches 0.7 miles from east to west and 0.6 miles from north to south.
20. University Of Padua Botanical Garden, Italy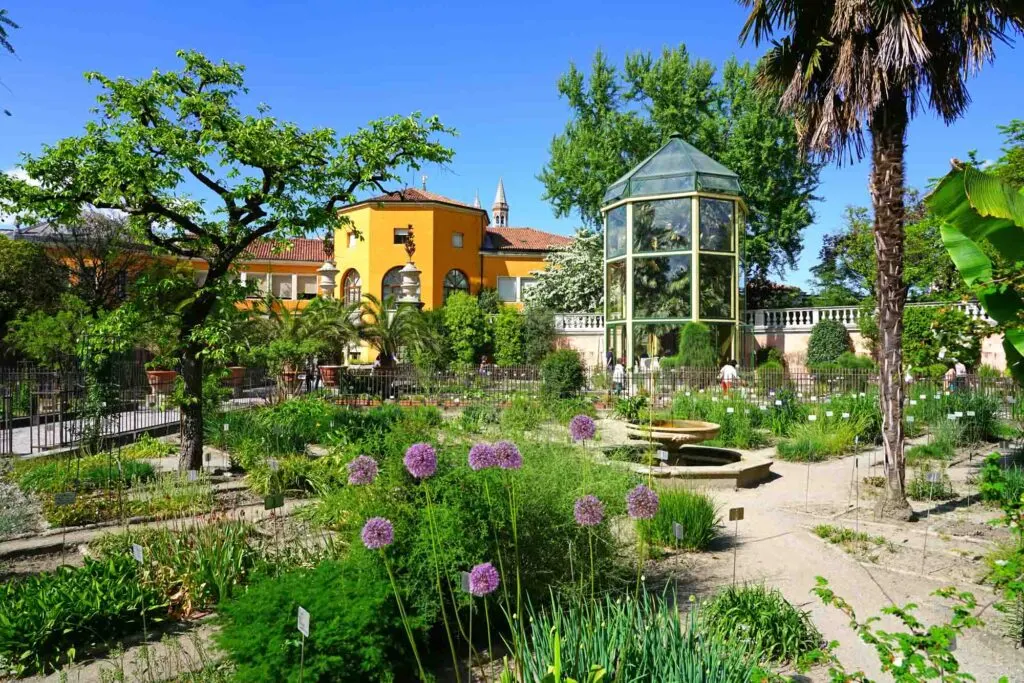 The University of Padua Botanical Garden (Orto Botanico di Padova) is a botanical garden with many ancient trees dating back centuries.
The Goethe palm dates back to 1585, and you can see it inside a greenhouse in Ortus Sphearicus.
The garden has an impressive amount of diverse fauna, each given a home in a specific area of the garden.
Insectivorous plants sustain themselves off small insects in the soil, medicine & poisonous plants, orchids, and aquatic, Mediterranean, and Alpine plants.
The garden is in Padua, in the northeastern part of Italy.
21. Royal Botanic Garden Edinburgh, Scotland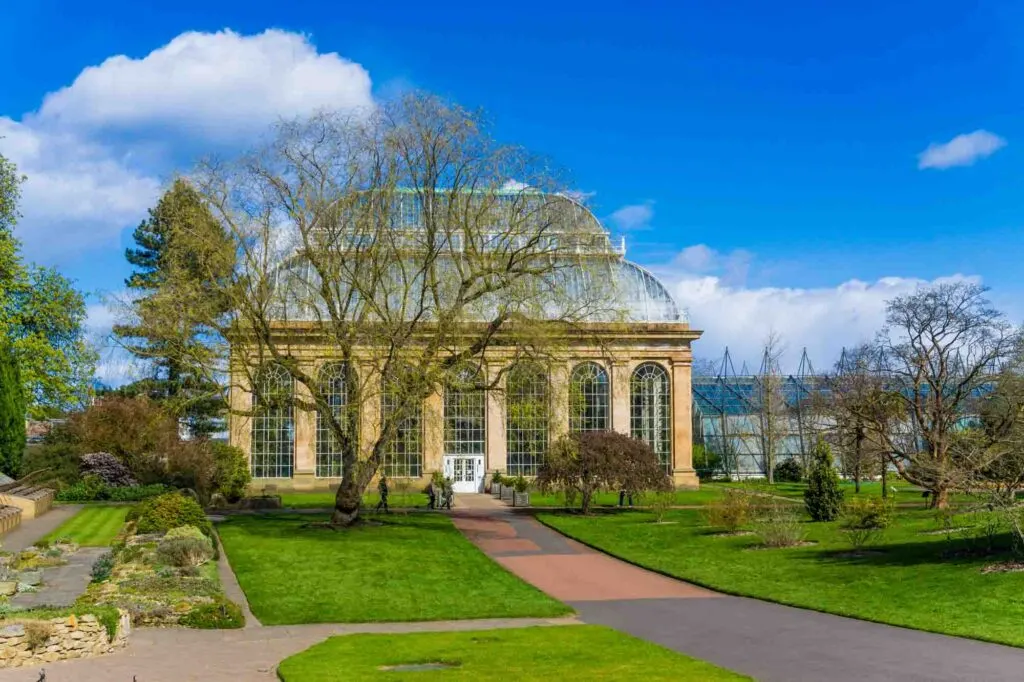 The Royal Botanic Garden Edinburgh (Gàrradh Luibh-eòlais Rìoghail Dhùn Èideann), or "RBGE" for short, is unique among European gardens.
It's very much a place of scientific discovery and conservation, with a healthy dash of tourist activity.
The beautiful garden boasts more than 13,500 species of flora worldwide, separated by sections for woodlands, Chinese hillsides, rock gardens, Alpines, and Rhododendrons – a rose from ancient Greece. It even boasts a 200-year olf palm tree!
Its herb collection is a staggering feat in itself, with a collection of around 3 million specimens equaling two-thirds of the entire planet's flora.
Final Words on European Gardens
There are plenty of European Gardens that will grab your interest and intrigue, and not let go!
The beauty of it all is that you can't go wrong with any of them. So, explore, have fun, and enjoy the gifts of nature.
What are your favorite European gardens? Feel free to share them below. We'd love to hear from you!
Our best travel tips & resources:
Here're our all-time favorite travel tips & resources so that you can save money and plan your travel logistics hassle-free! For more travel resources, check out our
travel tips.
Saving money: Fly on offseason, winter (not Xmas or NYE), Tuesday, or Wednesday! According to experts, these are the cheapest days to fly.
Travel insurance: Before you leave for your trip, make sure you have a valid travel insurance policy because accidents happen on the road. We have been paying for Safety Wing travel insurance for a little over a year now, and we happily recommend them to our family and friends.
Accommodation: We usually stay in mid-range comfy hotels or private rooms in hostels. These are the sites we use to book accommodation: Booking.com for hotels (excellent flexible cancellation policy) and Hostelworld for hostels (low deposit and easy cancellation).
Tours:We absolutely love booking guided tours with locals to get a history lesson while sight-seeing, especially food tours and walking tours! We book all of our tours using Viator and GetYourGuide.
Transportation: We use Google Maps to figure out how to get around a place using public transport. When we book a rental car, we always use Discover Cars to find the best deal.