Landmarks in Germany tend to follow a pattern: artistry and history.
Few monuments in Germany deviate from the spectacular precision, new and old. With a rough history under its belt, it's bolstering to see such importance and creativity put into displaying Germany's monuments.
Cultural awareness plays a notable part in many famous landmarks in Germany.
Most heritage sites listed here are memorials that address their part in WW2 while also showing a design mastery that appeals to tourists and professionals alike.
From medieval castles entrenched in fairytales to modern concert halls built with compelling strategy, here's a list of German landmarks that will compel you to lengthen your trip.
21 Landmarks In Germany For Your Bucket List
We've divided this article into historic, modern, and natural landmarks in Germany so you can browse with ease. Enjoy!
Historical Landmarks in Germany
1. Neuschwanstein Castle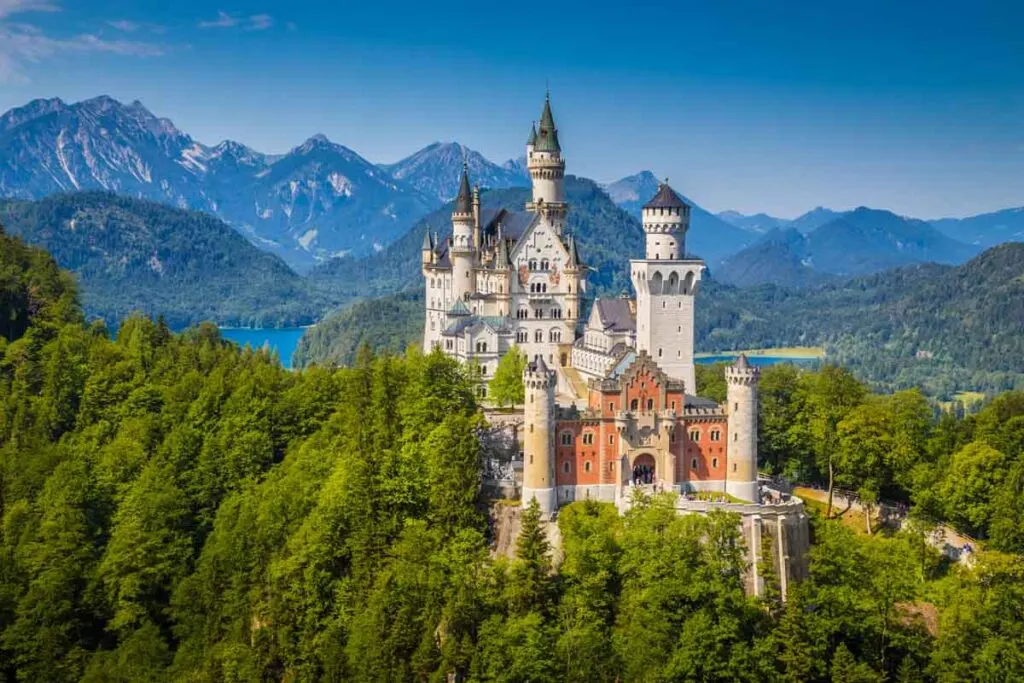 Near the village of Hohenschwangau in the Bavarian Alps is Neuschwanstein Castle.
Looking up at Neuschwanstein, one of the most beautiful castles in Germany, you would be right in for a fairytale-like moment.
After all, as one of the most famous castles in the world, Neuschwanstein inspired Walt Disney during his trip there for the classical films Cinderella and Sleeping Beauty.
Nestled atop a hill and surrounded by magnificent forestry, the castle seems looming and magical. No matter the season, the view is breathtaking.
Commissioned by King Ludwig II (1868) to fashion after his childhood home, Hohenschwangu Castle, he envisioned this castle as a replacement for losing his kingdom to Prussia two years prior.
His vision draws on old tales of kings and knights desperately attempting to hold on to the lost empire.
2. Brandenburg Gate (Brandenburger Tor)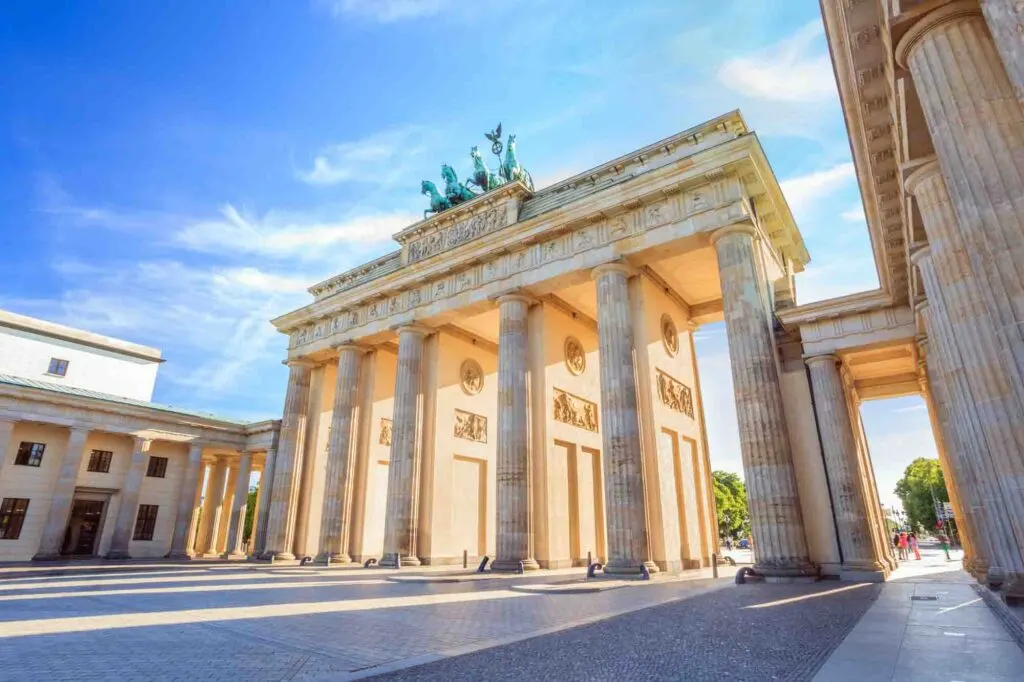 Located in Berlin's city center in the vibrant Pariser Platz and surrounded by bustling cafes and the University of Arts.
Brandenburg is a former city gate that is by far one of the most popular tourist attractions in Berlin.
German landmarks are historically and architecturally noteworthy, and this Gate is no different as it tells a tale of influence and unity.
The architect Carl Gotthard Langhans the Elder (1788) fashioned the classically inspired sandstone gate after the Athenian Acropolis.
Atop the gate is a copy of the original quadriga (four-horse drawn carriage) damaged in WW2, the reins held by Victory.
Tragically, the gate was closed off from both East and West Berliners during the Cold War and remained in isolation until reunification and the destruction of the Berlin Wall.
Today, the structure stands as a mark of unity and peace. It continues to draw in architecture and historical buffs alike.
Read next: Tour Review Sachsenhausen Camp
3. East Side Gallery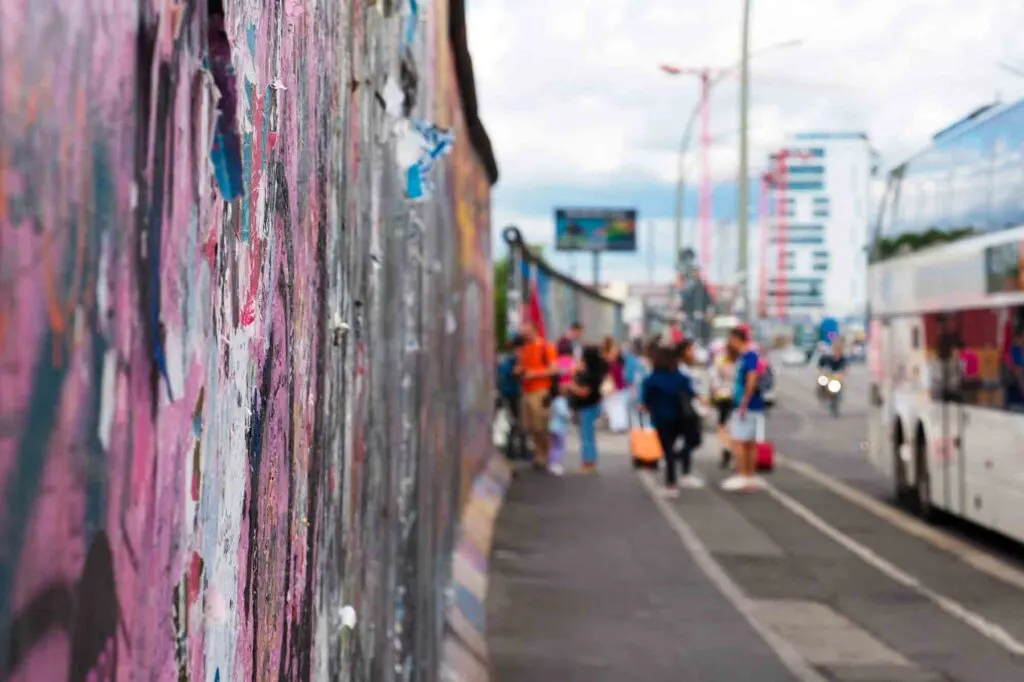 Isolating West Berlin from East Berlin, the 27-mile-long wall stood from 1961 to 1989. Following the harrowing years of separation of East Germany during the Cold War, the Berlin Wall was finally demolished, allowing people to see their loved ones in West Germany.
Still, a remaining mile-long stretch of the wall stands a public gallery covered with over 100 murals.
Born from the joint venture of 100 artists from over 21 countries, now one of the national monuments in Germany, the East Side Gallery is a product of spirit and innovation.
Wandering along the boardwalk and, of course, Checkpoint Charlie, the flocks of visitors are spectators to a memory reel of the separation and the uncertain hope of the first years of Berlin's reunification.
This personal and political showcase also holds irony. The wall separates two lifestyles: the drab commercial district of Mühlenstrasse and the Spree River's boisterous, culturally fluid banks.
4. Bastei Bridge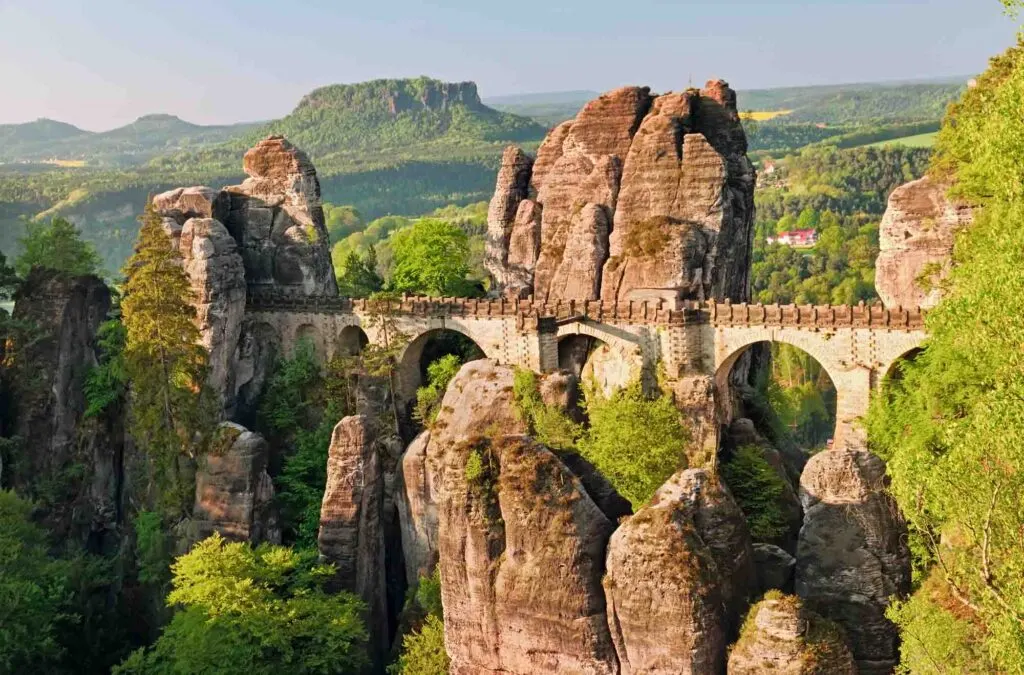 The Bastei Bridge, located in Germany's Saxony region and nestled into the heart of the Bastei National Park, has been a must-see location for tourists dating back almost 200 years.
The bridge has hosted millions of visitors from all nations since its conception in 1824.
Today, among German landmarks, the Bridge is a popular hike location and a tethered link to those who walked this path before.
The bridge is on a spectacular vertical outcrop of elbe sandstone with a towering view over the surrounding green forest, with clouds nearly close enough to touch.
It is also a gateway to the Felsenburg Neurathen Rock Fort ruins.
5. Nymphenburg Palace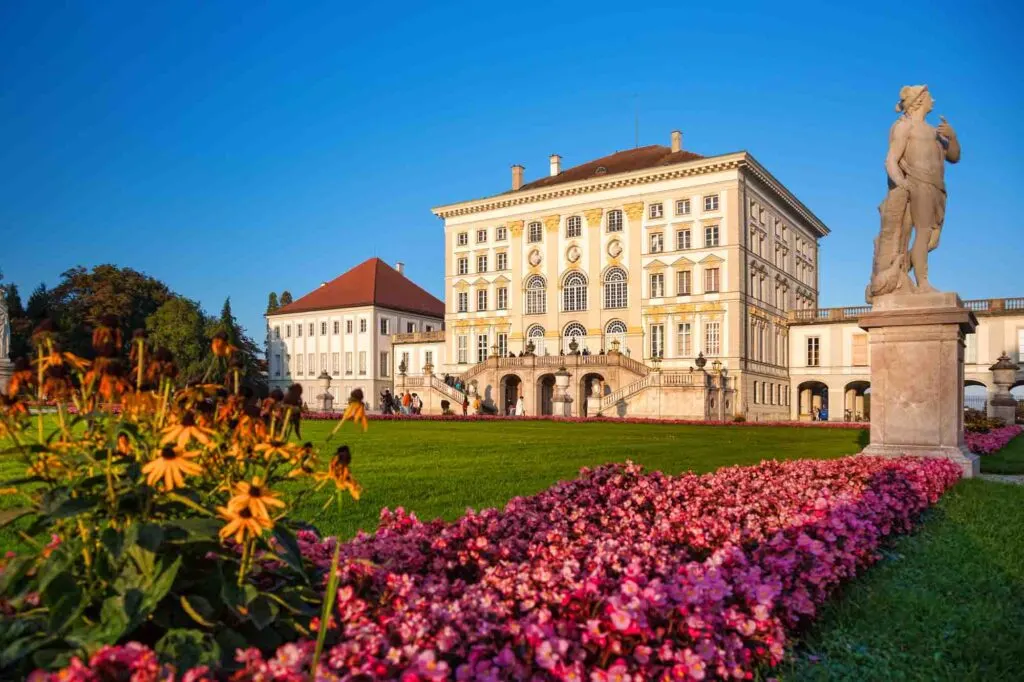 Following the birth of his heir, Ferdinand Maria commissioned Nymphenburg Palace in 1664 for his wife.
In the centuries since it, the Palace has only grown more extensive. It has elements of baroque, rococo, and classical architecture, including English-style gardens and a temple to Apollo, making it an architectural dream.
Tucked into the western corner of Munich, this sensational tourist destination will take days to explore.
Expansive gardens and parks with gondola rides and breathtaking greenery will only distract for a second as there are castles, palaces, and museums to explore. One might even ride a gondola on the Great Lake in summer.
6. Cologne Cathedral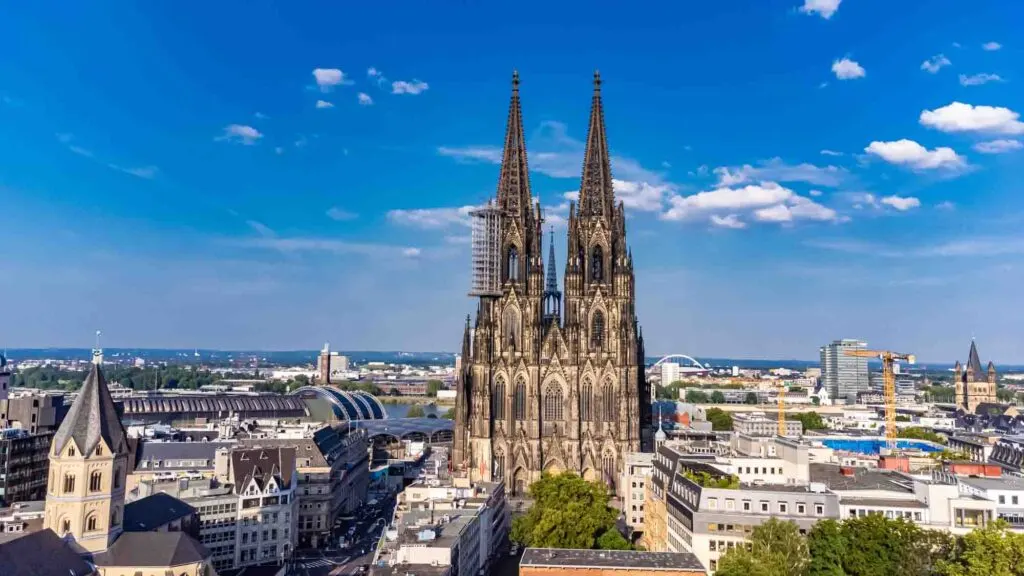 UNESCO established the Cologne Cathedral as a World Heritage Site because it is an "exceptional work of human creative genius."
The Gothic church boasts an impressive build period of over 600 years (1248-1880). It showcases human ingenuity in its meticulous design and dedication to Gothic architecture.
At the time of its completion, Cologne Cathedral was believed to be the world's tallest building (515 feet tall), a distinction it held until 1884 when the Washington Monument was finished.
Cologne Cathedral is essential for the vision of the artists who made it possible and its position as a site of faith and heritage.
Today, it is the seat of the Archbishop of Cologne. Of the iconic landmarks in Germany, Cologne Cathedral is a must-visit for Catholic pilgrims wishing to pay homage to the tombed archbishops laid to rest on its grounds.
7. Eltz Castle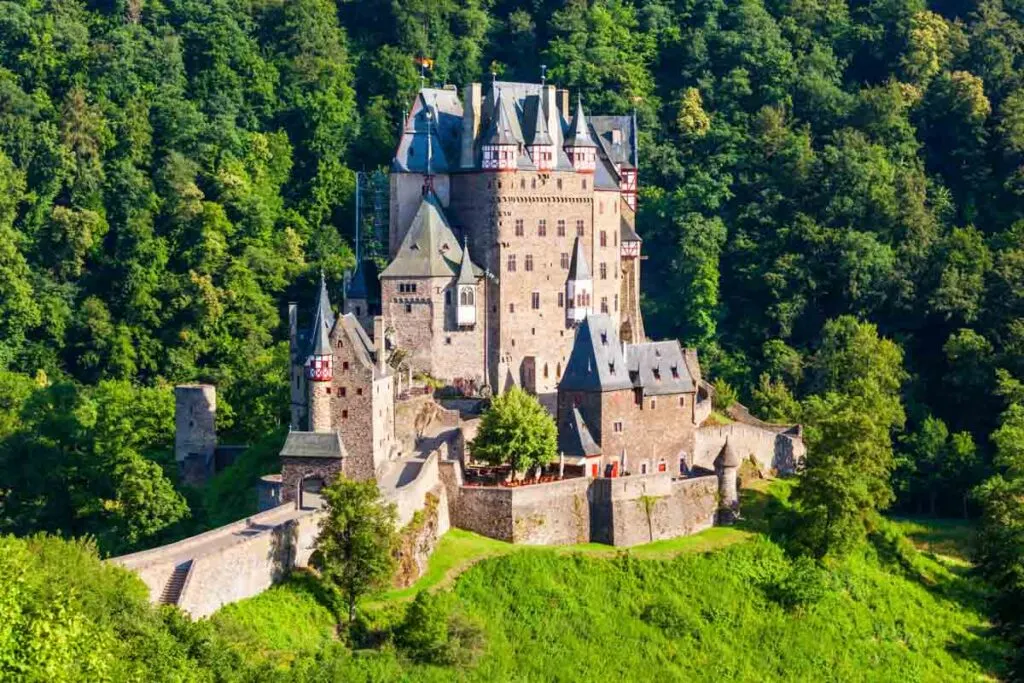 If fairytales have a picture, they will likely look like Eltz Castle. Owned by the same family for over 850 years, this German monument is a time capsule of a knight's life.
With towering spires and oriels and impressive armories, vaults, and porcelain collections, Burg Eltz plunges the visitor into medieval life.
Beyond exploring the impressive armory or being guided through the many rooms, visitors can rest and enjoy a meal at the two restaurants of this landmark from the 12th century or hike the surrounding landscape.
No matter the season, Eltz Castle is always a beautiful sight.
Read next: 10 Things to Do in Aachen
8. Frauenkirche Dresden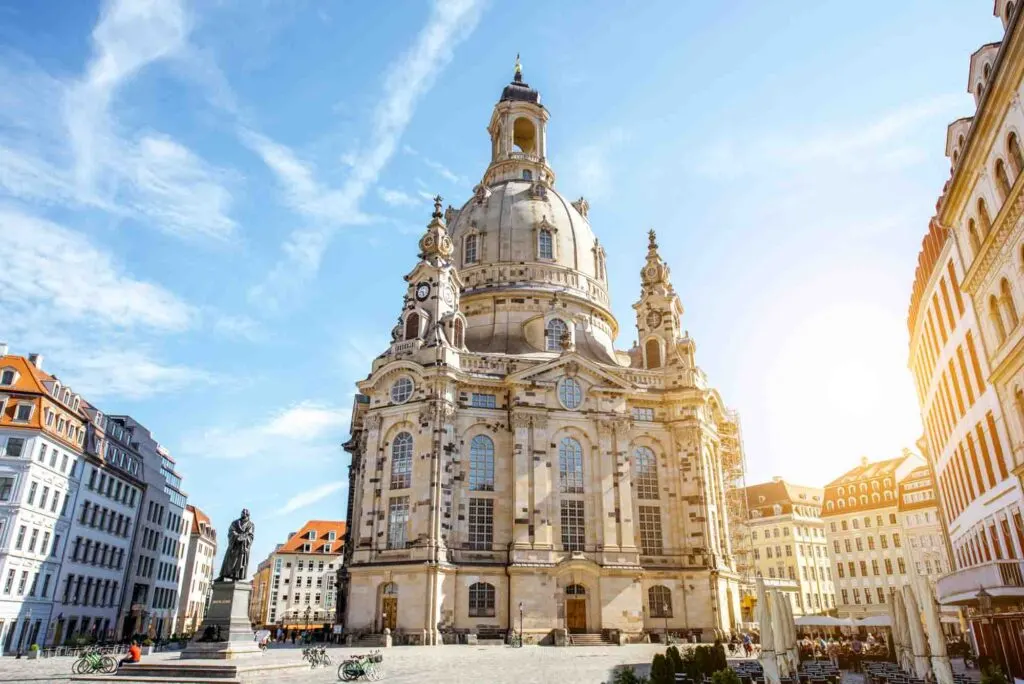 Across Europe, the name Frauenkirche (Lady of our Church) indicates a church consecrated in the name of the Virgin Mary.
Dresden's Frauenkirche is a German Baroque Lutheran Church founded in the mid-1700s.
After its destruction in WW2 and the reunification inspired a time of revitalization and rebirth, the public banded together to fund its rebuilding.
To re-erect the monumental Dresdner Frauenkirche as seen today, builders used old building plans and surviving structural fragments as far as possible.
Fantastically, the original sculpture of Martin Luther from 1885 was restored and stands at the doors to the church.
If you can climb the tower to have panoramic views of this German city.
9. Römer Frankfurt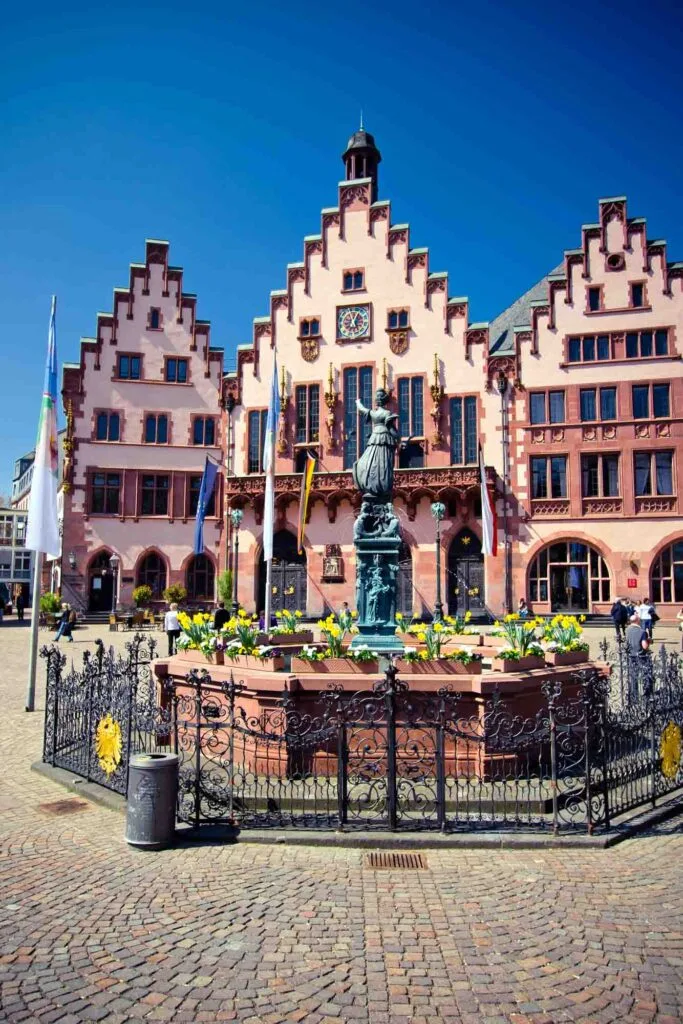 Frankfurt, Germany, was a booming trade sector in the 1300s and, as such, decided to enlarge its city hall (Römer) in 1405.
Today, Römer Frankfurt is a sprawling complex of 13 historic buildings with a three-gabled roof design and a unique façade in Frankfurt's Old Town.
The Römer contains courtyards, as seen in six different eras. The German landmark is bustling with visitors and is well known for hosting weddings.
Whether to snap a photo of the building or tour the Old Town, this is one of the landmarks in Germany one must see.
10. Berlin Cathedral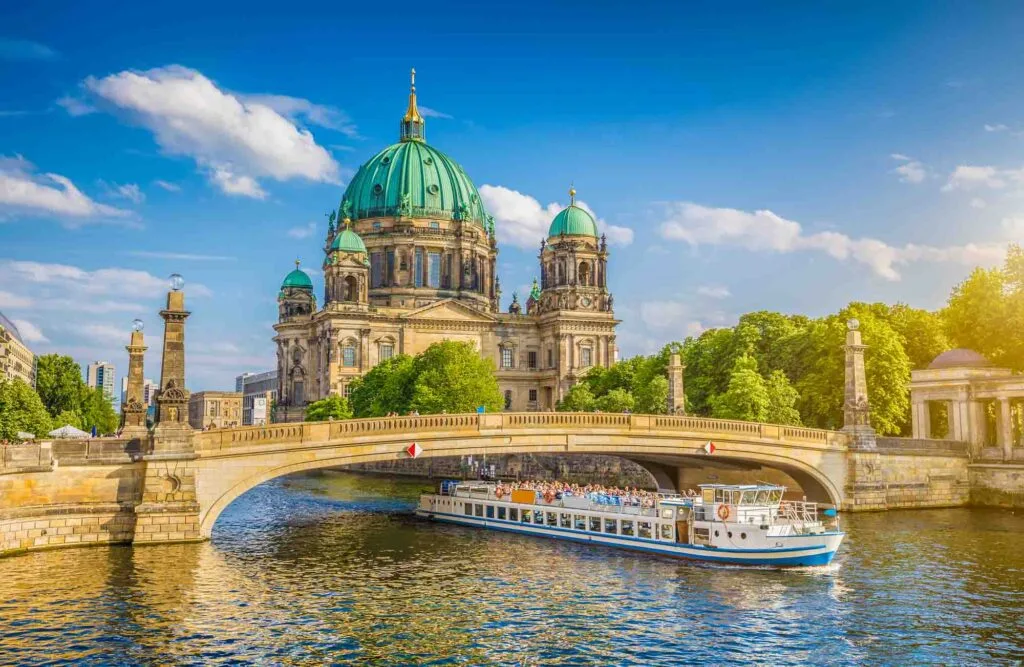 Of Germany's many historical churches, Berlin Cathedral is a must-see. It's impossible to miss this Protestant church with its large domed roof when wandering through the capital city.
As one of the most popular landmarks in Germany, the cathedral is a wonder for the eyes, constructed in the Italian High Renaissance style, with Baroque and Classical architectural additions.
The arches and roof are ornate and richly decorated with decorative mosaics, gold, and statues within the colossal central hall used for weddings and baptisms.
The cathedral is grand and a homage to the Protestant community, new and old.
11. Heidelberg Palace (Heidelberg Castle)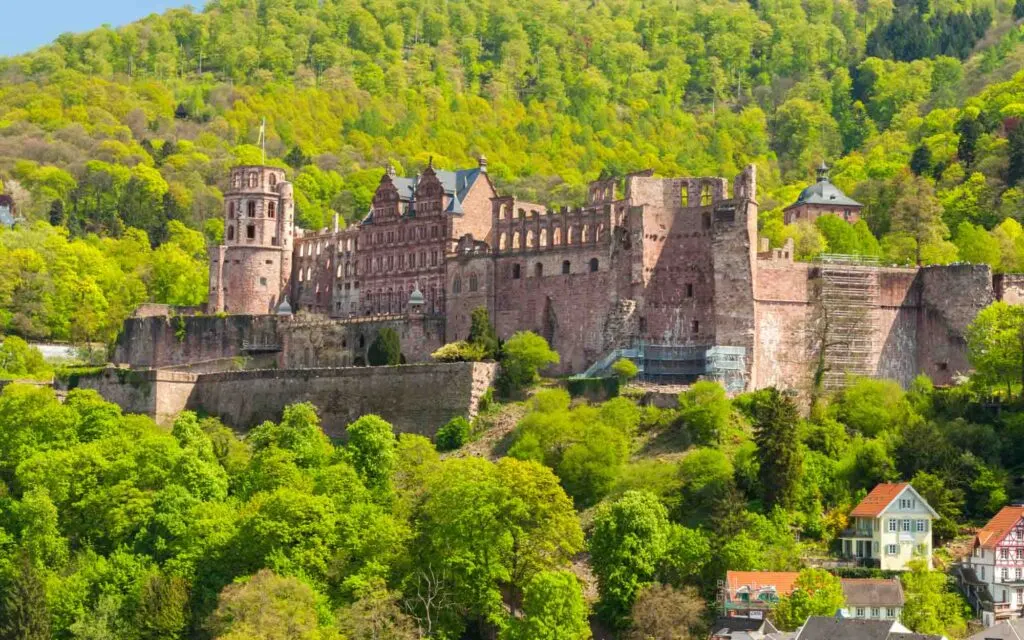 This historic German monument holds a sense of warm romance born from the deep red sandstone ruins and emerald forest covering the Konigstuhl hill.
Although it existed as far back as 1225, the palace is most famous for its grandeur during the Renaissance.
Castle grounds are surrounded by splendid gardens that have, over time, shrouded in myth; it only hints at the projected scale of the 17th century.
The palace itself is alive with meticulously carved décor and thoughtful statues of princes long past.
The extra stop in Heidelberg between the portrait gallery, Renaissance gardens, and apothecary museum is well worth it.
12. Sanssouci Palace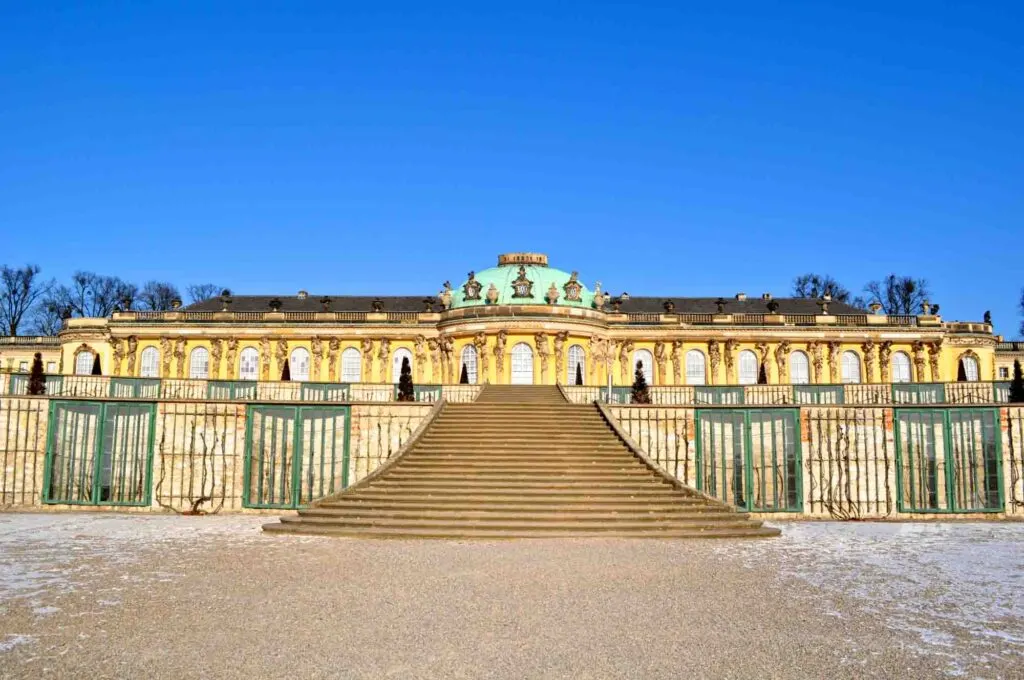 Few landmarks in Germany can boast of being an opulent home to Prussian King Frederick the Great while being listed as a UNESCO World Heritage Site.
The 18th-century Palace was a summer home featuring a terraced vineyard known as Weinberg (wine mountain).
While massive, the house is one story, boasting 12 rooms and a Pantheon-style Hall for entertaining philosophers.
Between the lavish Prussian-inspired décor, personal gallery, and abundance of statues, every way you turn, there is a tribute to the artistry Frederick adored.
The gallery, impressive gardens, and palace interior are open to the public on tour.
13. Hanover Town Hall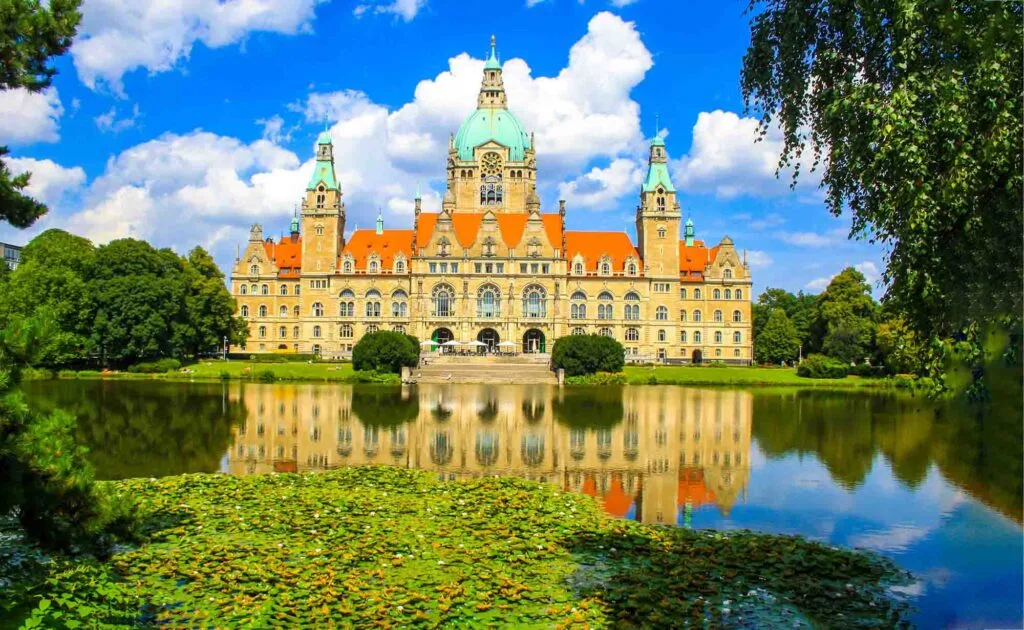 Considering all the incredible palaces in Germany, one might assume Hanover's New Town Hall is another castle on the list.
While the incredible towers and design give the feeling of a palace, the building is, in fact, a venue for official meetings and exhibitions. Even still, it is open for viewing and worth a stroll in Maschpark.
New Hanover Town Hall is over a hundred years old, and every night, spectacular light shines on its facade, reflecting it picturesquely in the nearby Maschpark Lake.
Most notably, the Town Hall has a central domed tower from which one can catch a splendid view of the surrounding city.
14. Reichstag Building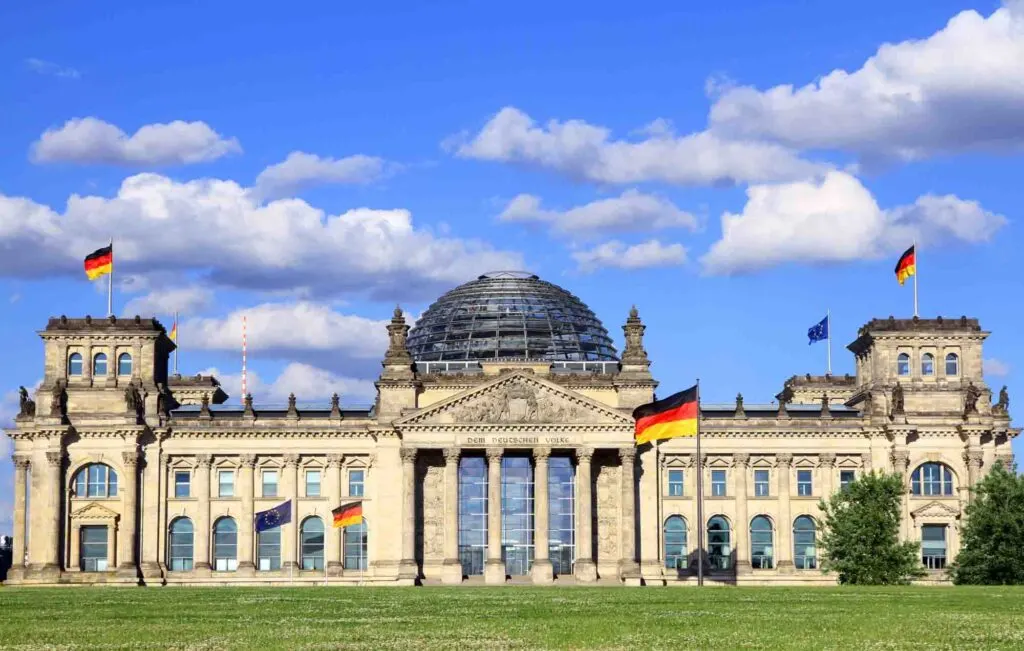 Reichstag is the German parliamentary building in Berlin. It was first built in the 19th century but fell into ruin during WW2.
The 1964 restoration removed much of the original finery. Still, it kept the graffitied and bullet-ridden walls that marked the turbulent times it had faced.
Later, this historic landmark was designed by Norman Foster to symbolize Germany's reunification.
To visit this German monument of democracy and artistry, one needs to book a ticket.
However, with this bit of foreplanning, visiting the central glass dome to witness the reflection of parliament underway below is a small price to pay.
Besides governance, the Reichstag offers stunning views of the surroundings.
15. Zwinger Palace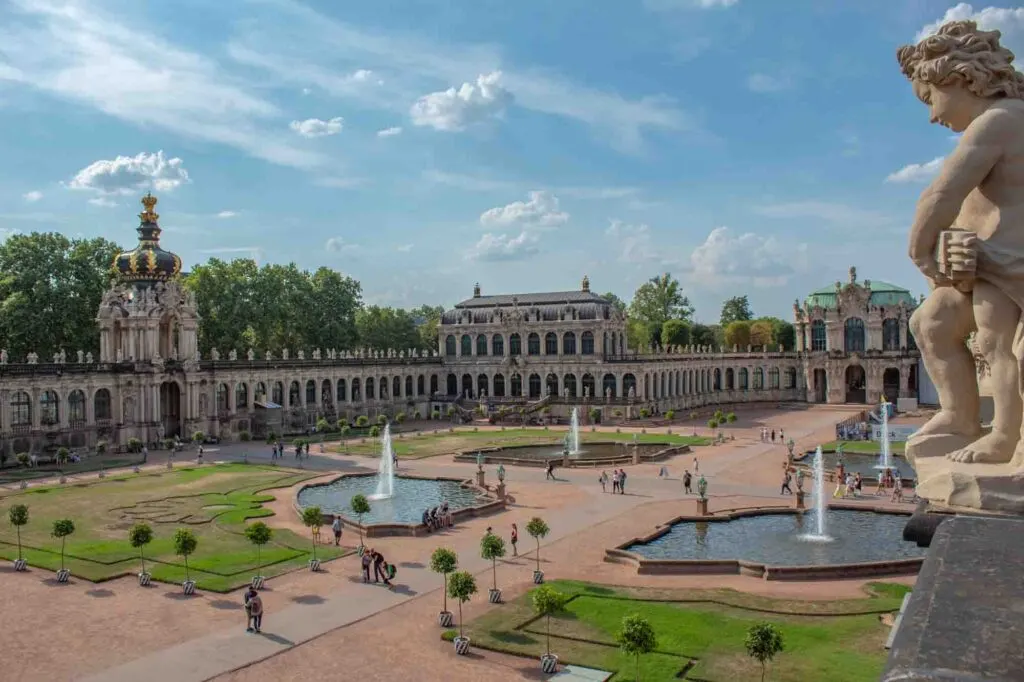 Within Dresden Saxony, the Zwinger Palace is a love letter to awe-inspiring Baroque artistry, with its sprawling courtyards framed by gilded statuary and dramatic architecture.
This landmark is a wonder of German history and influenced by the Versailles Palace.
Originally built to accommodate tournaments and court games in the early 1700s, Zwinger Palace is now a sprawling complex of museums and galleries.
Most notably unique is the presence of the Nymph Bath, Raphael's Sistine Madonna, and the extensive weaponry and clothing collection on display.
A new multimedia display immerses viewers into the days of the old.
16. Cochem Castle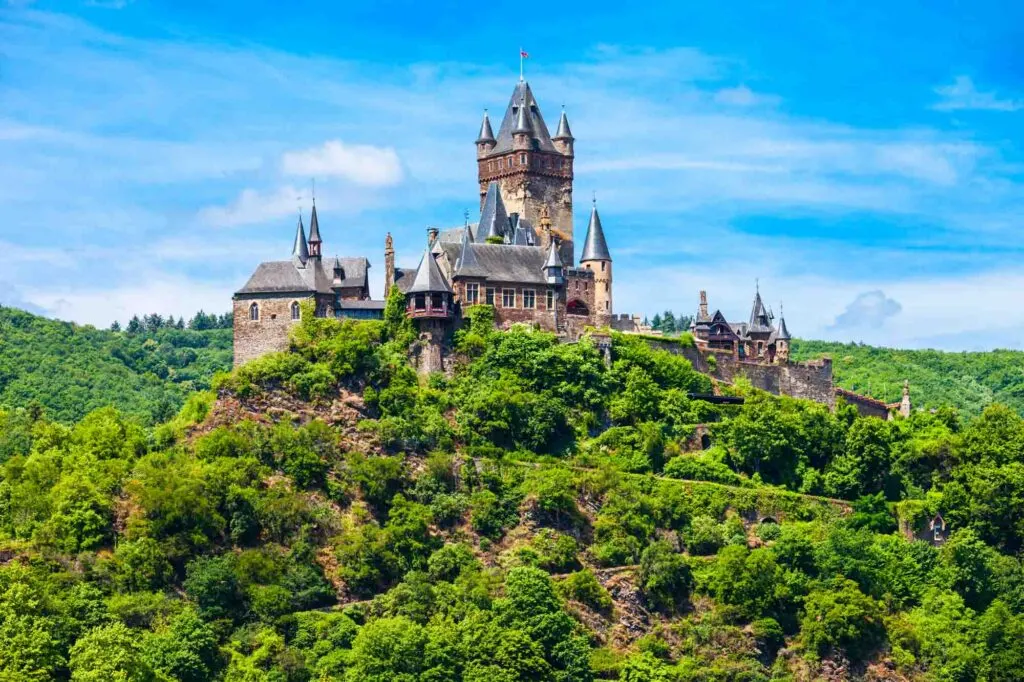 If other castles found among the landmarks in Germany are fairytale-like and reminiscent of knights, then Cochem Castle can be described as fascinating and ancient.
First established as an official castle in 1151, Cochem Castle was summarily destroyed and rebuilt a few times throughout its lifetime, changing styles and becoming an amalgamation of time and its passing interests.
Today, this popular tourist destination watches over the Mosel River and the bordering quaint town of Cochem.
Whether one visits its sunny terraces, secret passageways, knight's halls, or Witches Tower, Cochem Castle will surely not disappoint any curious travelers.
Guests can also partake in the Knight's Meal or hike the vineyards surrounding this fairytale castle.
Modern Landmarks in Germany
17. Holocaust Memorial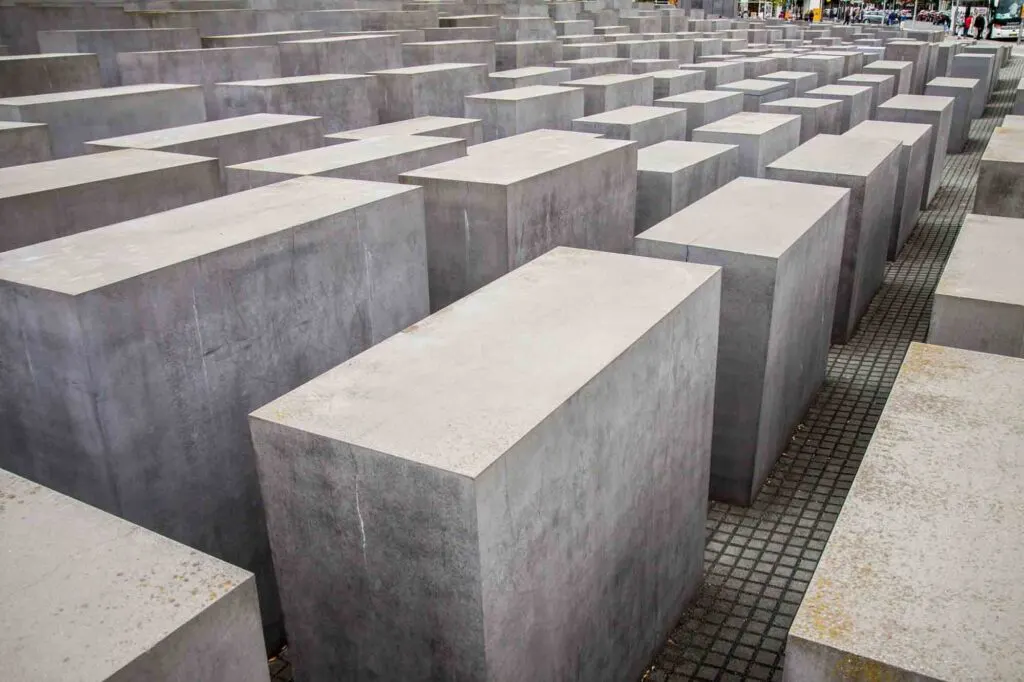 Following the tragic actions taken by the Third Reich in Germany during WW2, it stands to reason that remembrance of the lives lost is made public.
The Holocaust Memorial, or the Memorial to the Murdered Jews of Europe, was commissioned in 1999 and opened publicly in 2005.
Many landmarks in Germany deal with this challenging topic, but none are as significant as the Holocaust Memorial in Berlin.
The Memorial consists of 2,711 concrete stelae spanning over 11 miles. In addition to the stelae, the underground information center contains information on those lost, including personal effects and public information.
It's a moving place to learn about not only the Berlin of WW2 but also Europe and the lives lost during that period.
18. Elbphilharmonie
Compared to other landmarks in Germany on this list, Elbphilharmonie is a modern concert hall with a unique stylistic design of building a glass corpus atop an old warehouse.
This masterfully engineered building has a curving roof dotted with sequins and wrapped in a precision-made reflective glass façade.
The building contains an ambitious 164-foot-high Grand concert hall in the vineyard style, two additional concert halls, a hotel, private apartments, and a public plaza.
When touring landmarks in Germany, viewing Elbphilharmonie is a breathtaking experience, even if one cannot attend a live concert.
19. European Central Bank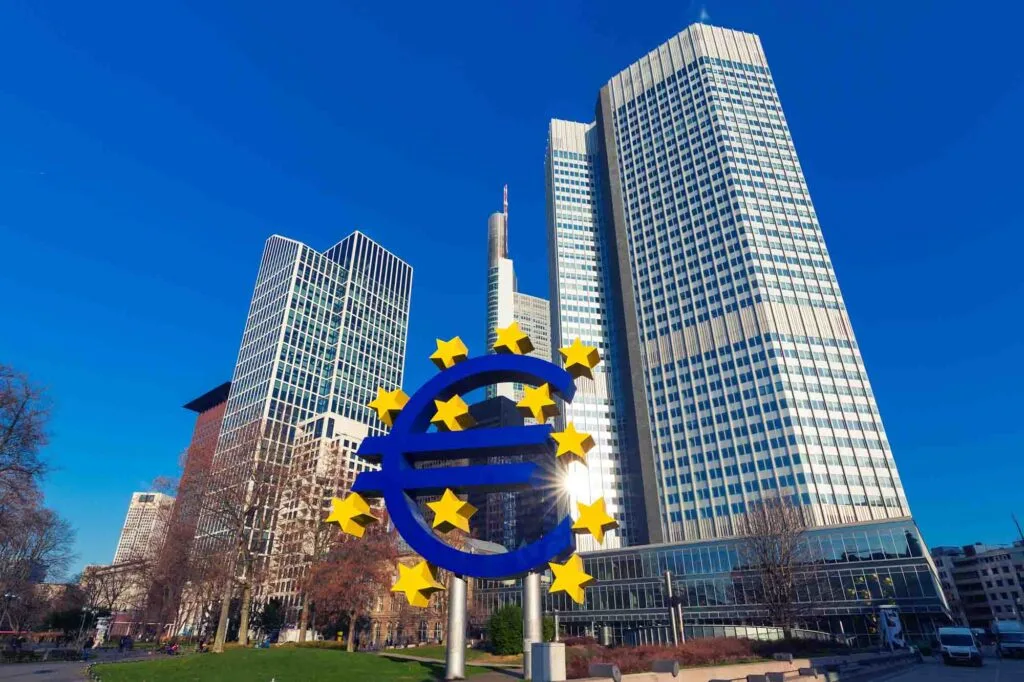 This fascinating building in Frankfurt is a business, conservation zone, and remembrance site.
Like other German landmarks and despite being a skyscraper used for banking offices, careful design went into making the European Central Bank's main building energy efficient with rainwater collection and planned green spaces.
During WW2, the German army deported Jewish people from the original building's eastern wing basement.
Today, the space is accessible via ECB's Green Belt and holds a memorial, the area mostly left to its original condition with engraved testimonials from victims who had the harrowing experience of congregating to be sent to concentration camps.
20. Mercedes Benz Museum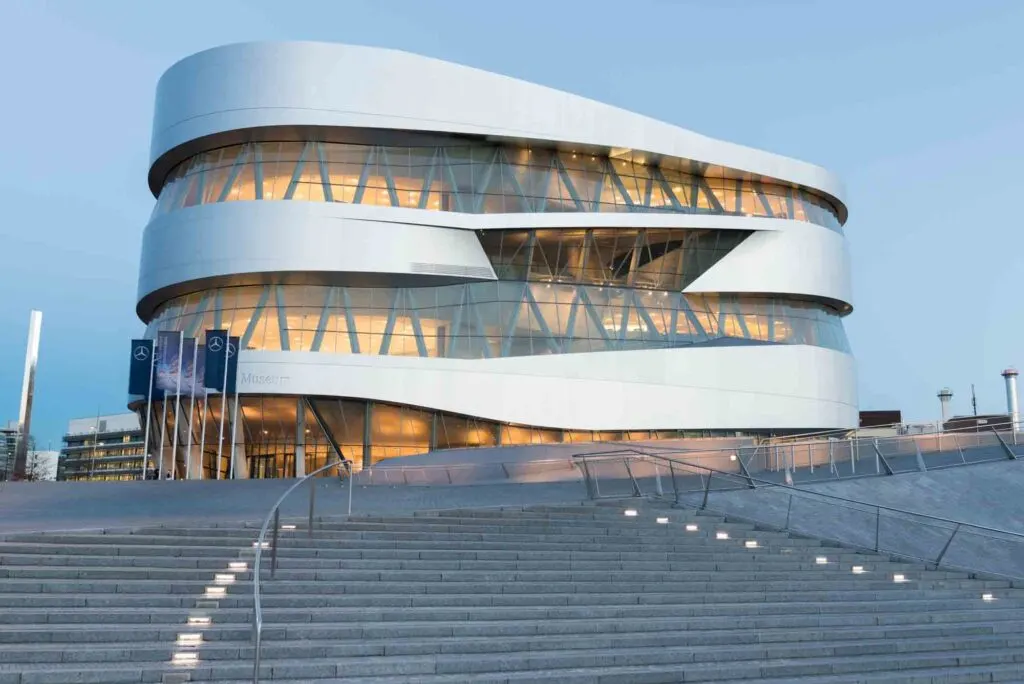 For car enthusiasts, there is no better stop on the list of landmarks in Germany than the Mercedes Benz Museum in Stuttgart.
This museum contains over 130 years of automotive history dating back to the first days of the car's inception.
The overlapping floors and triangular casements make the museum uniquely similar to a combustion engine.
The building was completed and opened for viewers in 2006 and offers two different tours, legends, and collections, containing up to 160 different vehicles for viewing.
The building is compact, and tour spaces are limited; booking a spot in advance is best.
Natural Landmarks in Germany
21. Lake Constance (Lake Konstanz)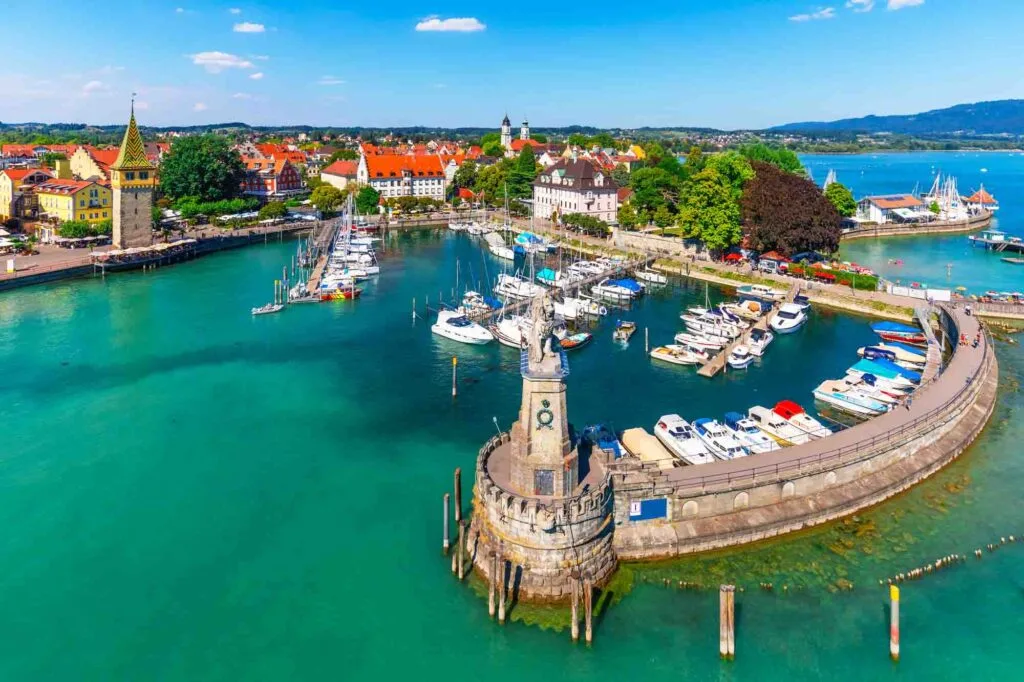 There are very few complexities to lakes. Yet, Lake Constance (Bodensee) is the third largest freshwater lake in Central Europe and, as such, lies on the borders of Germany, Austria, and Switzerland.
While the watery borders still need to be determined, this does not diminish the sheer magnificence of the site.
With an area of 218 miles, Constance is home to three explorable islands and has miles of beautiful beaches, cafes, and museums on its fringe.
The site is great for leisurely bike and boat rides and allows easy access to several UNESCO World Heritage Sites.
More German Landmarks You Must Check Out
Hohenzollern Castle
Saxon Switzerland National Park
Geierlay Suspension Bridge
Berlin TV Tower
Wartburg Castle
Berchtesgaden National Park
Like this article about German landmarks? Then be sure to share it on your social media!
Our best travel tips & resources:
Here're our all-time favorite travel tips & resources so that you can save money and plan your travel logistics hassle-free! For more travel resources, check out our
travel tips.
Saving money: Fly on offseason, winter (not Xmas or NYE), Tuesday, or Wednesday! According to experts, these are the cheapest days to fly.
Travel insurance: Before you leave for your trip, make sure you have a valid travel insurance policy because accidents happen on the road. We have been paying for Safety Wing travel insurance for a little over a year now, and we happily recommend them to our family and friends.
Accommodation: We usually stay in mid-range comfy hotels or private rooms in hostels. These are the sites we use to book accommodation: Booking.com for hotels (excellent flexible cancellation policy) and Hostelworld for hostels (low deposit and easy cancellation).
Tours:We absolutely love booking guided tours with locals to get a history lesson while sight-seeing, especially food tours and walking tours! We book all of our tours using Viator and GetYourGuide.
Transportation: We use Google Maps to figure out how to get around a place using public transport. When we book a rental car, we always use Discover Cars to find the best deal.