There is an array of famous landmarks in London awaiting discovery.
From historical buildings, breathtaking museums, and unique marketplaces to modern architecture, London is one of the most beautiful places in the world with plenty to offer and can entice everyone, regardless of their interests.
This post aims to prove that there is more to London than just the British monarchy. This European city has busy streets, but it is much more than just the hustle and bustle of life.
London has historically rich landmarks, famous buildings, museums, and monuments.
Let's dig deeper into the most well-known London landmarks, discovering some intriguing facts such as where Britain's oldest door is located, how to tell if the Queen was home, bombs planted under the Bishop's throne, and haunted towers.
21 Landmarks In London You Need To Check Out
We've divided this article into historic, modern, and natural landmarks in London so you can browse with ease. Enjoy!
Historic Landmarks in London
1. Westminster Abbey
Westminster Abbey welcomes over 1 million visitors every year, making it by far one of the most famous landmarks in London.
It is England's main religious building and offers a thousand years of British history to be explored, so it's not necessarily a hidden gem in London.
Westminster Abbey is home to Britain's oldest door, a solid oak Anglo-Saxon door dating from around 1050.
The abbey, which is obviously a major landmark in England, has over 3,500 people buried on its premises and has hosted over 17 royal weddings, including Prince William and Kate Middleton's.
The funerals of Winston Churchill, Princess Diana, and Queen Elizabeth II were hosted here, as well as many marriages.
This historic building was established by monks in 960 AD, and it was built on an island known as Thorney Island.
The mosaic on the sanctuary floor is intriguing and predicts that the world will end in 19 683 years.
Interestingly, the abbey's real name is "The Collegiate Church of Saint Peter at Westminster." Gosh, what a mouthful!
2. Buckingham Palace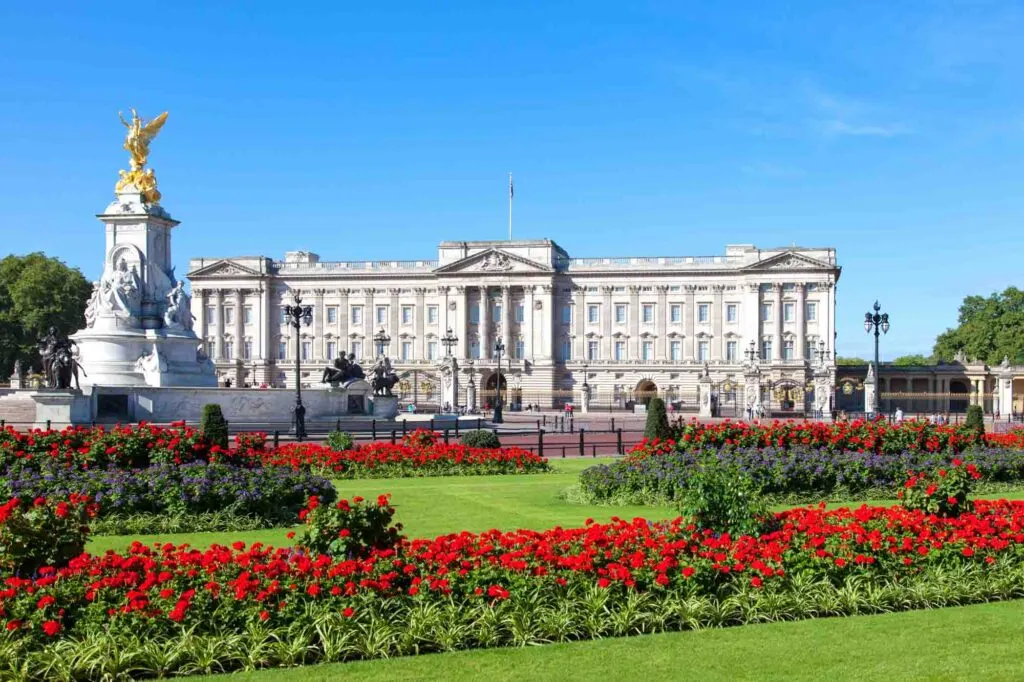 Buckingham Palace has always been the official residence of British monarchs, such as the late Queen Elizabeth II, and an absolute must-see for any royal fan.
Deemed as one of the most significant London monuments, you will discover a vibrant past and a brilliant, culturally rich heritage inside its exquisite walls.
King George IV commissioned Buckingham Palace in the late 1700s. Queen Victoria was the first English royal to take up residence in 1837.
This enormous Palace boasts a colossal 775 rooms. It includes a cinema, post office, pool, police station, clinic, and even a cash machine.
Little Edward "the boy" Jones, an avid 14-year-old royal fan, managed to worm his way into the residence multiple times between 1838 and 1841, disguising himself as a chimney sweep. He stole the Queen's underwear and sat proudly on her throne.
Knowing when the Queen was home used to be relatively simple: She was away if the Union Flag was flying over the Palace. If a royal standard flag was visible, then she was home.
3. Tower Bridge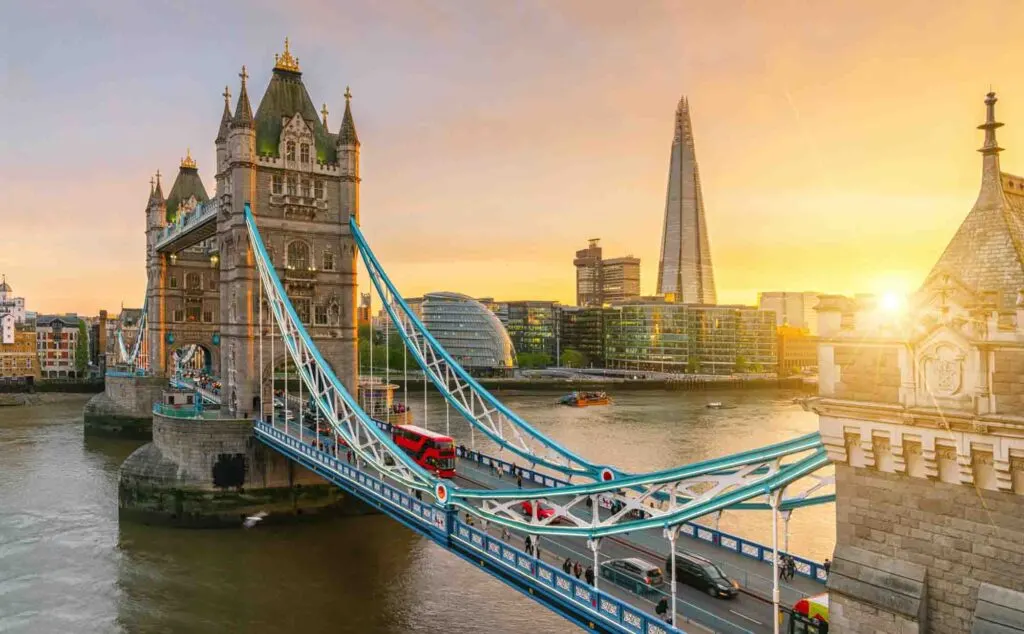 The historic Tower Bridge was assembled in the 19th century and is one of the most-visited London landmarks, with more than 40,000 daily visitors. Anyone who sees this beautiful bridge immediately knows that it's in London.
Tower Bridge is often mistaken for London Bridge (yes, the one in the traditional English nursery rhyme). Still, they are certainly not the same bridge. London Bridge is further down the river.
Prostitutes and pickpockets were once a cause of concern in the open-air, high-level walkways between the bridge's two towers, thus forcing a shutdown in 1910. Tower Bridge was reopened (with admission fees) in 1982.
In 1952, the bridge began to open, forcing a double-decker bus (Number 78) to anxiously accelerate and bravely jump a small three-foot gap. The driver, Albert Gunton, was awarded £10 for his heroic act.
4. Westminster Palace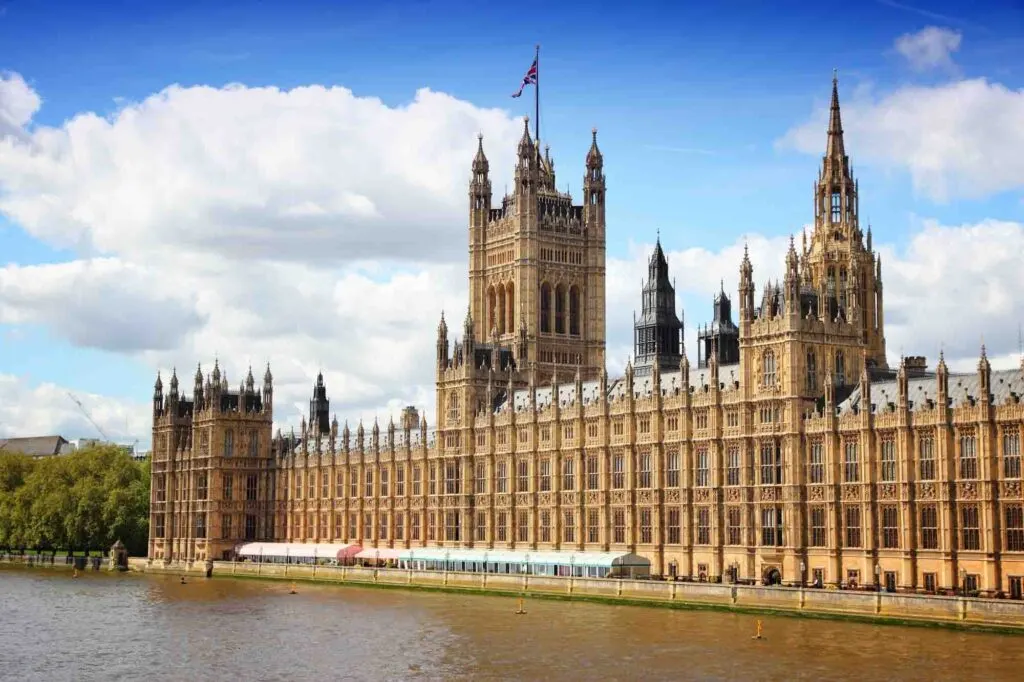 Westminster Palace, informally known as the Houses of Parliament, is the heart of British Politics, and the Palace is acknowledged as a UNESCO World Heritage Site.
Overlooking the River Thames, this historic landmark has had a palace since the 11th century.
The Palace we see today dates back to 1870, when a new palace had to be built after devastating fires in 1512 and then again in 1834. Construction of the new Palace started in 1840 and lasted for 30 years.
Westminster Palace, together with Westminster Hall and Elizabeth Tower, is also home to Big Ben and is one of the most favored historical London monuments visited today.
5. Big Ben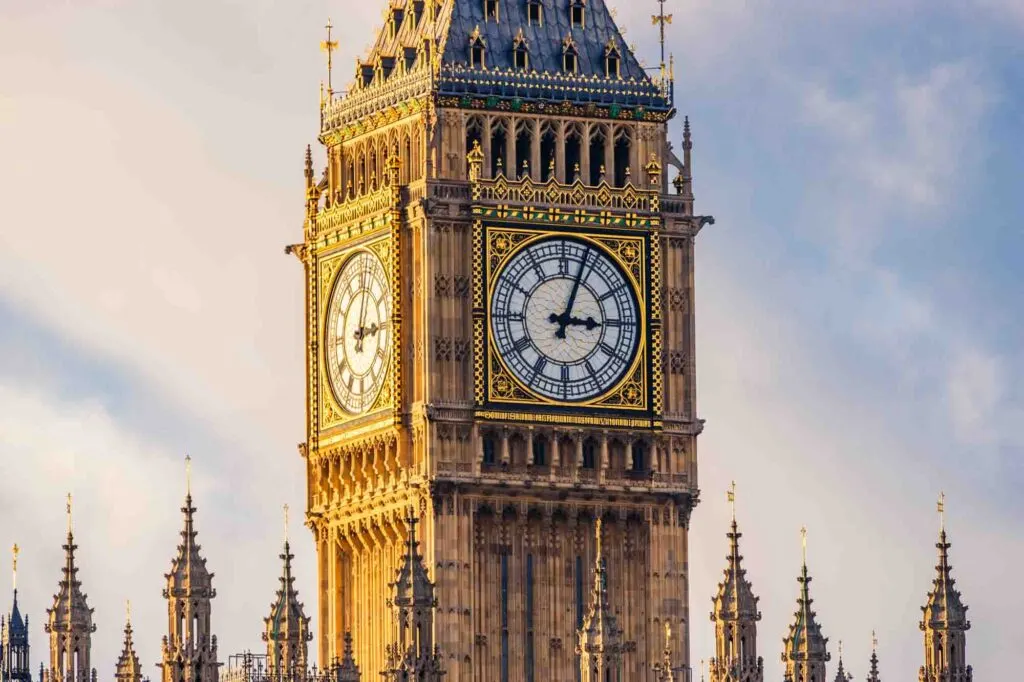 Big Ben is a historically adored landmark and is one of the most famous landmarks in London, standing tall and oh so proud at Westminster Palace.
Big Ben was built by Charles Barry and Augustus Pugin in honor of Queen Victoria, and it has been punctually ringing every 15 minutes since the mid-19th century.
This structure used to be known as "The Clock Tower." In 2012, the official name was "Elizabeth Tower," marking her Diamond Jubilee.
Big Ben is 315 ft tall, and it challenges any takers to climb the 334 steps needed to reach the top of the belfry.
The clock stopped at 10:07 pm on 27 May 2005. This was presumably due to scorching temperatures of around 90 ֯F.
Legend has it that if the clock ever had to strike 13, the lion statues at Trafalgar Square would miraculously come to life!
6. National Gallery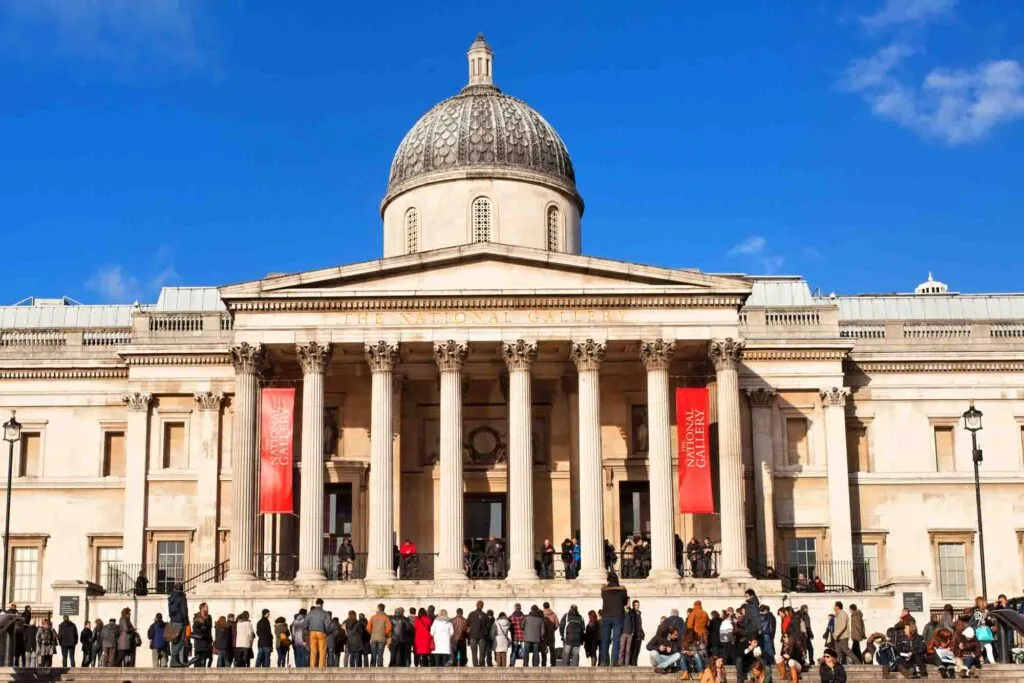 The National Gallery is undeniably one of the most famous art museums in the world, ranked 7th in popularity.
The National Gallery was established in 1824 after the British state purchased 38 paintworks from the heirs of John Julius Anger Stein.
This historical landmark attracts 4-5 million visitors annually, leaving them stunned by the incredibly majestic artworks of famous painters such as Da Vinci, Van Gogh, Michelangelo, Raphael, Monet, and so many more. That's why it's such a popular tourist attraction in London!
Situated in Trafalgar Square in Central London, the National Gallery offers a refined, extensive collection of 2300 magnificently precious and rare paintings. Be sure to look out for "Sunflowers" by Van Gogh in Room 43.
7. St Paul's Cathedral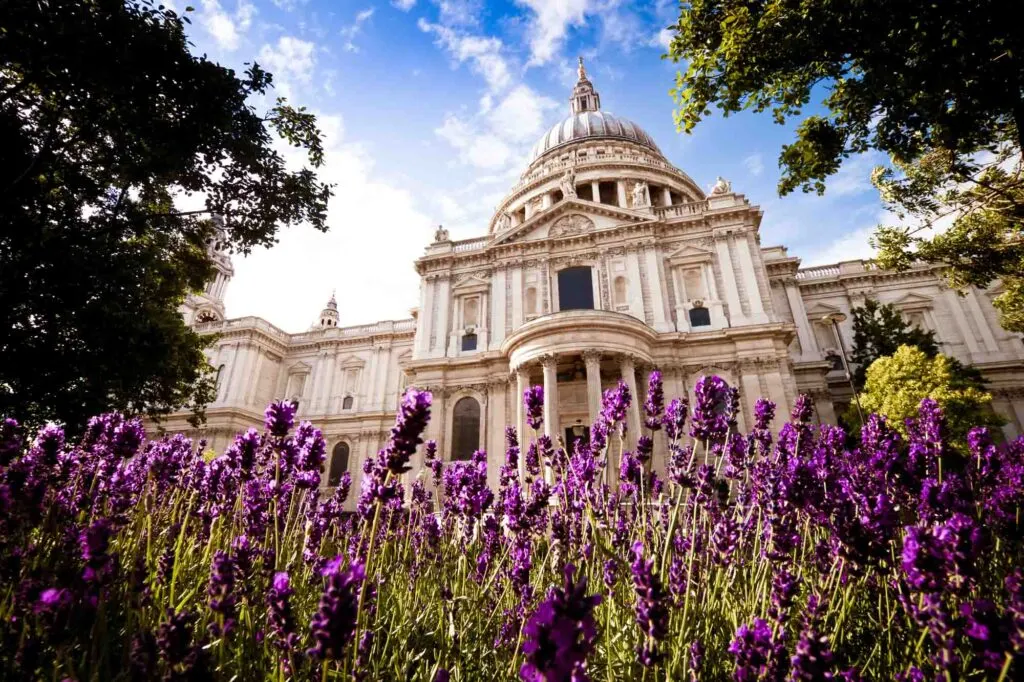 St. Paul's Cathedral boasts one of the largest domes in the world at 366 ft high.
The structure, built in the 17th century by Sir Christopher Wren, was completed after a major rebuilding program was ordered after the original cathedral was burnt down in the Great Fire of London in 1666.
It is a great honor to be afforded a funeral, memorial, or burial at St. Paul's.
Celebratory monuments for William Blake and Florence Nightingale can be found on-site, and both Winston Churchill and Margaret Thatcher have had funeral services held here.
A battery-powered bomb was planted under the Bishop's throne in 1913 by suffragettes who aimed to raise awareness for equal voting rights. Thankfully, the faulty bomb failed to go off.
8. British Museum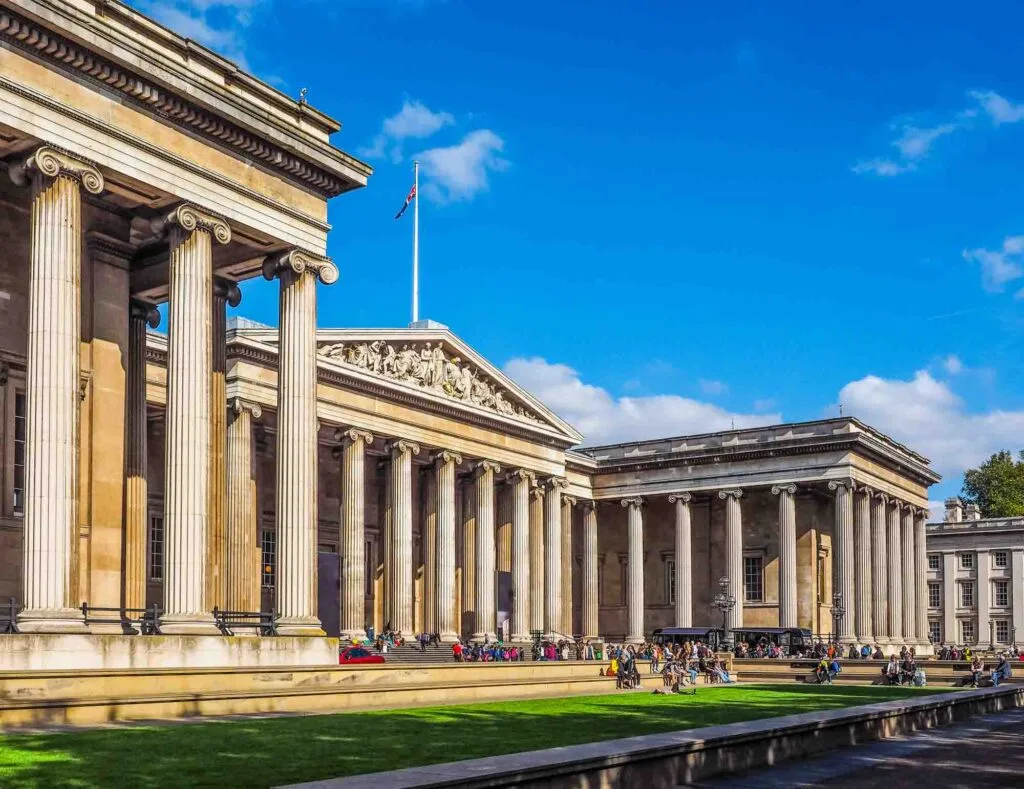 It is easy to see why the largest museum in England is one of the most famous landmarks in London.
Situated in the Bloomsbury area, The British Museum was founded by Sir Hans Sloane in the 18th century and is devoted to art, culture, and ancient human history.
It is a roof to a remarkable, wide-ranging collection of over 8 million artifacts spanning over 2 million years and from all continents.
A stone tablet, the Rosetta stone, is one of the most exciting exhibits in this public museum of Egyptian importance, paving the way to unlocking the secrets of ancient Egyptian hieroglyphics.
The museum is also home to the most impressive preserved mummy, Katebet, Chantress of Amun. This exhibit dates back to 1300BC, proof of the longstanding power of mummification.
Read next: 23 Best European Countries to Visit This Year
9. Tower of London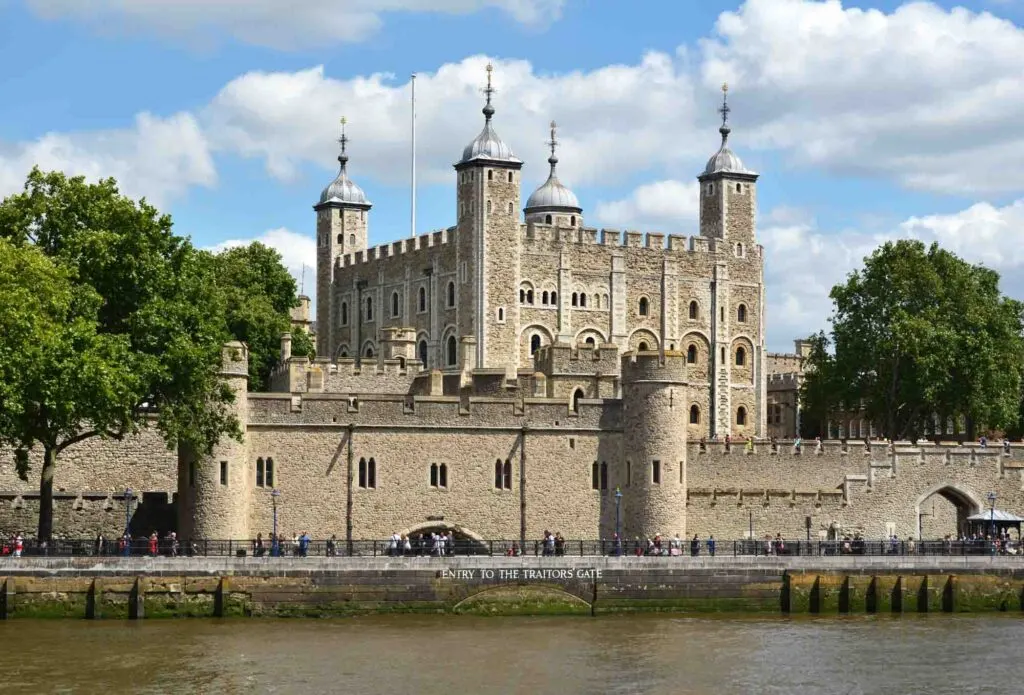 The Tower of London is undoubtedly one of the most historically famous landmarks in London. The walls of the Tower of London whisper incredible stories of history.
The Tower of London has served as an execution site, a royal residence, and a prison. The Tower is also more commonly known as the keeper of the elaborate and most valuable crown jewels since 1661.
The Tower's official name is "Her Majesty's Royal Palace And Fortress Of The Tower Of London" and was begun in 1066 by William the Conqueror.
The Tower remains an official royal residence, inhabited by roughly 150 people, including the Yeoman Warders (The Beefeaters) and their families.
Rumors of ghosts have been circling for years. The most frequently seen ghosts are reportedly the spirits of Anne Boleyn, Henry VI, and the Princes in the Tower.
The princes were sons of Edward IV who were held in the Tower in 1483, disappeared from public view and were never to be seen again.
The skeletons of two young boys were found many years later while workers were carrying out repair work on a damaged stairwell.
10. Trafalgar Square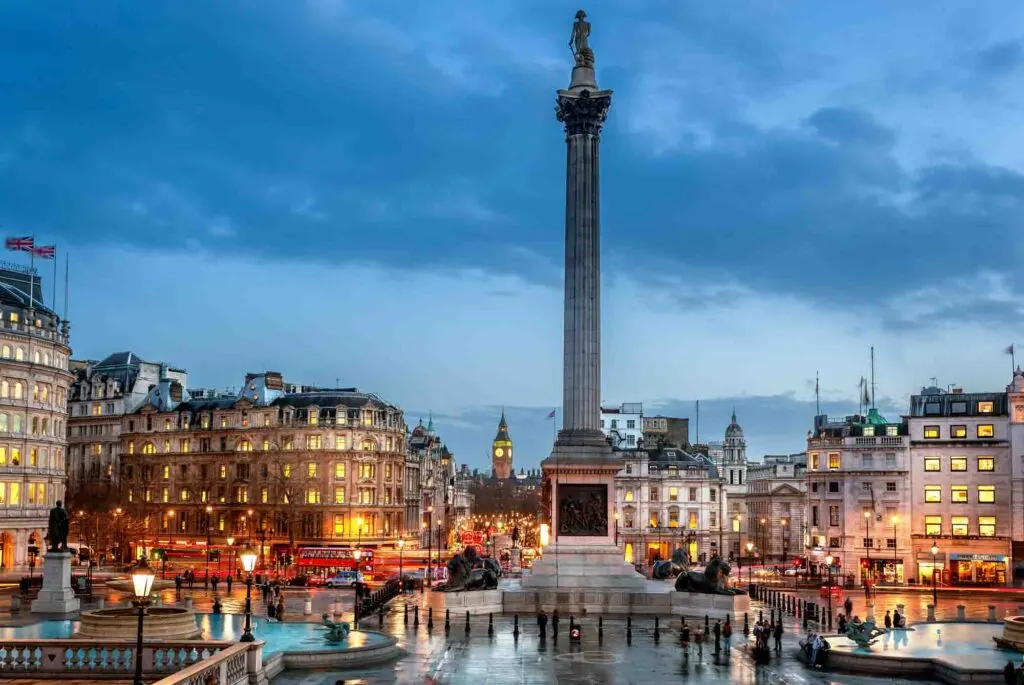 Trafalgar Square, London's most central square, is an iconic landmark that was created in 1844 after the Battle of Trafalgar.
Seventeen bus routes pass through this public square. One will find Nelson's Column as the square's centerpiece in honor of the late Admiral Nelson, who led the British to victory in the battle.
It used to be a popular activity to feed the pigeons at the square until 2003, when the Mayor banned the feeding and selling of pigeon feed to clean up the area.
Every Christmas, the square boasts the most beautiful tree, given as a gift from Norway. The Christmas lights are hung vertically, as per Norwegian tradition.
11. Piccadilly Circus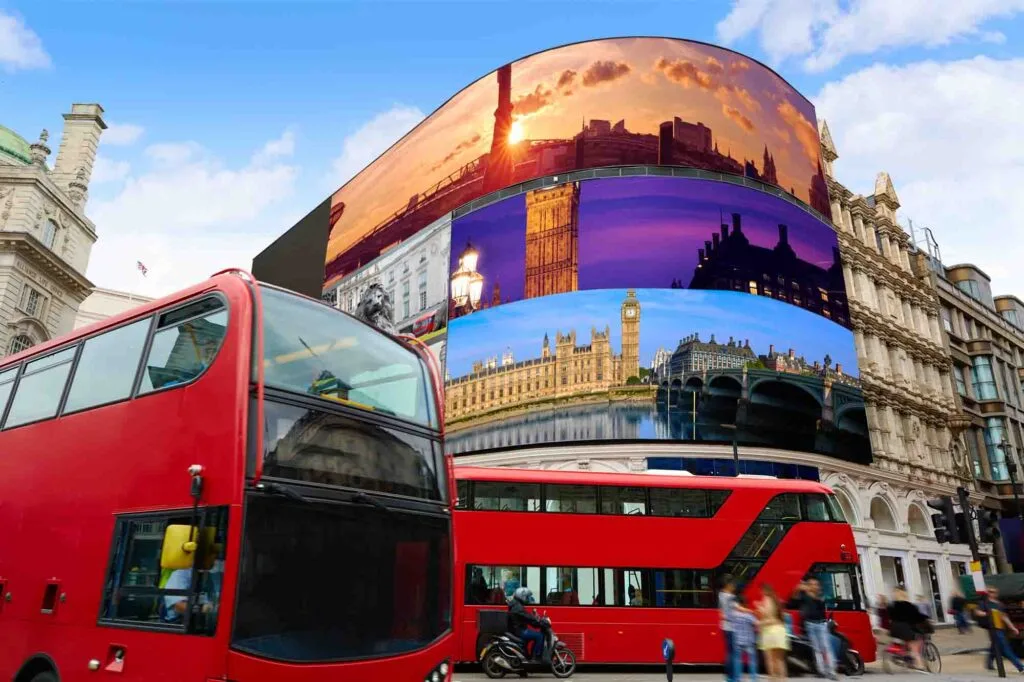 Picadilly Circus is another name on the fascinating record of the most famous landmarks in London, which some people call the British Times Square.
Picadilly is a road junction connecting Regent Street with Piccadilly. (Leicester Square is only a five-minute walk away.)
This spot is known for its busy, fast-paced vibe, jam-packed with many shops and sporting rather catchy, bright neon billboards. It has got to be the most famous road intersection worldwide!
The name "Piccadilly" comes from a tailor who grew rich and made piccadills in the area. The "Circus" part refers to a traffic roundabout. However, it is not a roundabout anymore.
Piccadilly Circus now boasts electronic billboards and the value of advertising is worth many dollars thanks to billions of passers-by being exposed to the numerous daily advertisements.
12. Natural History Museum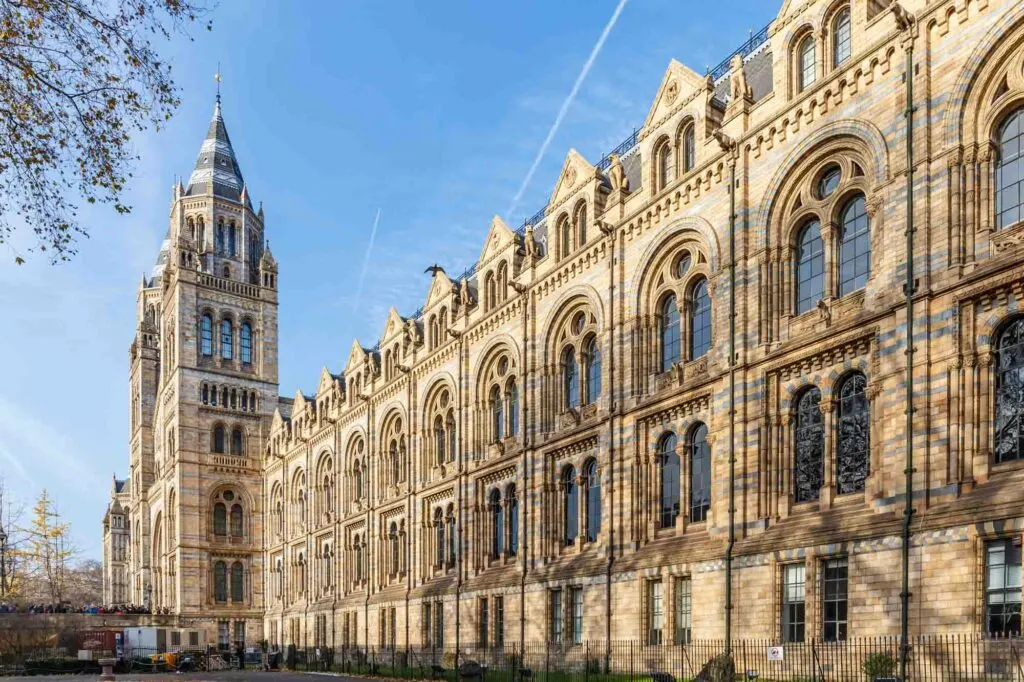 The Natural History Museum is definitely one of the most fascinating landmarks in London.
It began when Sir Hans Sloane, a medical doctor, permitted the British state to purchase his extensive collection of biological artifacts.
Today, the museum is home to over 70 million botanical items, about 500,000 rocks and minerals, around 9 million archaeological relics, and 55 million animal exhibits.
One of the most famous pieces in the Natural History Museum is a 1024-inch-long Diplodocus named Dippy.
Other things to look out for at this museum are a 339-inch-long giant squid named Archie and tiny fleas dressed in intricate outfits from Mexico.
13. Shakespeare's Globe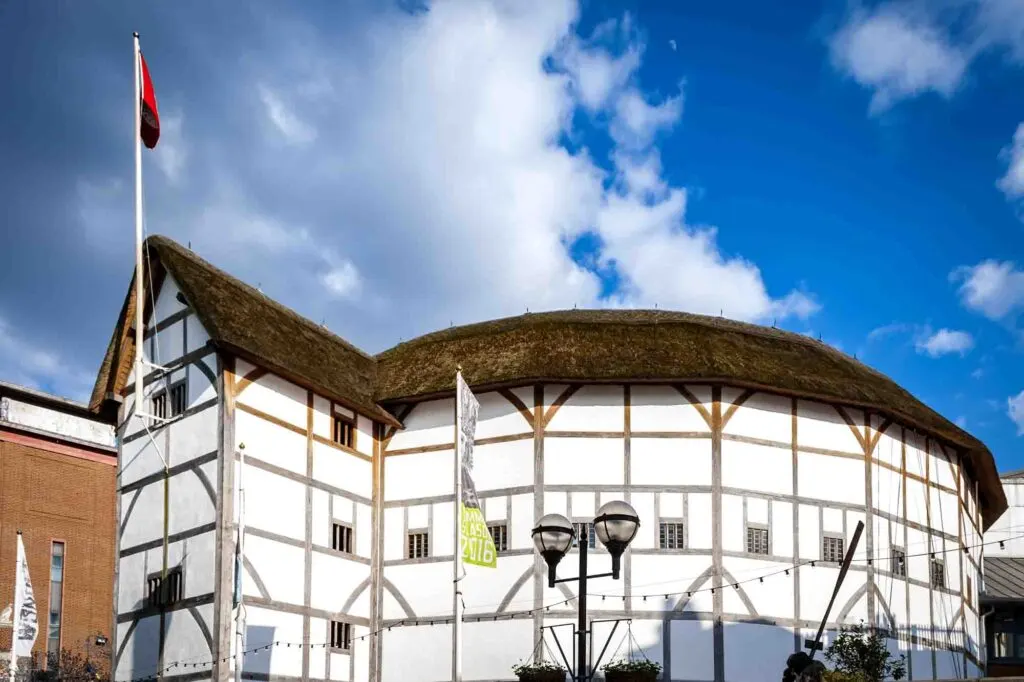 The current Globe you see in London is different from the original. It is, in fact, the third version of the Globe, yet it remains one of the most famous landmarks in London.
The first theatre was built in 1599, thrived for 14 years, and was unfortunately struck by a devastating fire in 1613. The second Globe Theatre was turned into a tenement building in 1644.
The third Globe was completed in 1997, is situated on London's bankside, and provides viewers with the same open-air playhouse and amphitheater-like seating, replicating where William Shakespeare, the world's most loved playwright, successfully delivered some of his greatest works of all time.
14. Borough Market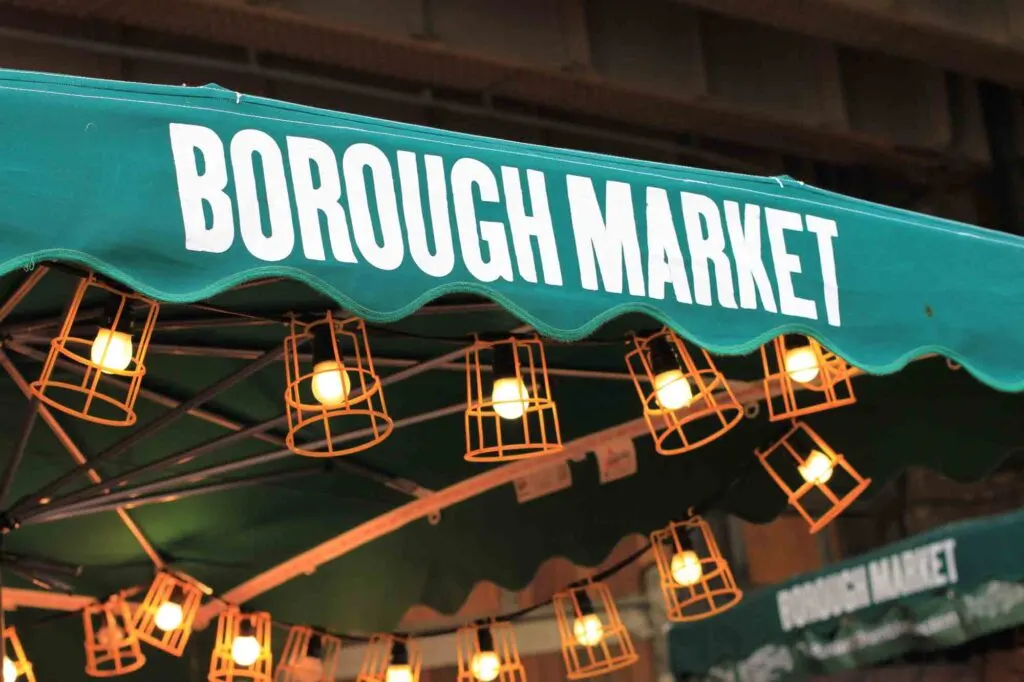 Borough Market (as seen today) has been trading since 1756 and is also labeled as one of the numerous famous landmarks in London as it is the city's oldest food market.
The site the market sits on has been a marketplace since the 12th century, and the market is located in an ancient suburb known as Southwark.
Southwark is so old that it was initially known as a Roman settlement.
Traditionally, a bell used to be rung to announce the beginning and the ending of a day's trading. This bell is no longer in use, but look out for it in Middle Road.
Market Porter, a famous pub at the market, is where the alleged "umbrella murder" took place in 1890.
One customer stabbed another in the eye with an umbrella, uttering, "Dirty dogs like you ought to have been dead years ago." Fancy yourself a beer at the Porter, then?
Modern Landmarks in London
15. London Eye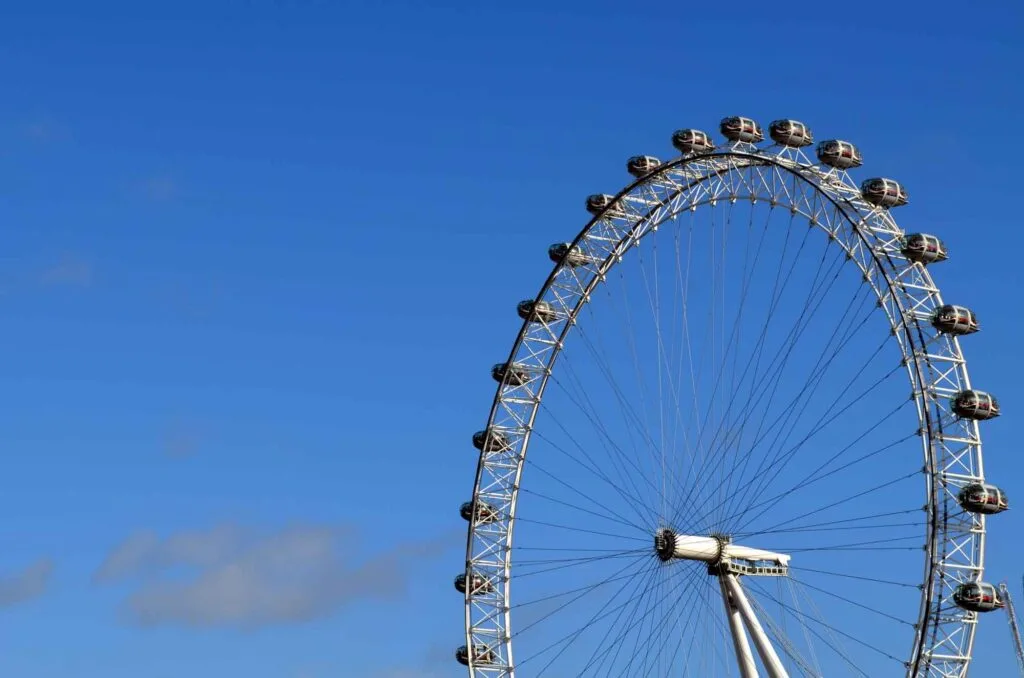 Initially called the Millennium Wheel, the London Eye opened in December 1999 and is opposite the Palace of Westminster and Westminster Abbey on the south bank.
This giant Ferris wheel, as it is more commonly thought of, appears to be one of the most impressive London landmarks, but it is correctly defined as an Observation Wheel.
The London Eye is 443 ft high and consists of 32 capsules, one for each borough in the city.
However, peculiarly enough, they are numbered from one to 33. Why? It boils down to superstition. The number 13 is considered to be unlucky, so the capsules skip from 12 to 14.
This must-do activity will provide you with the most beautiful 360-degree views of the city and over 15 miles in all directions.
16. The Shard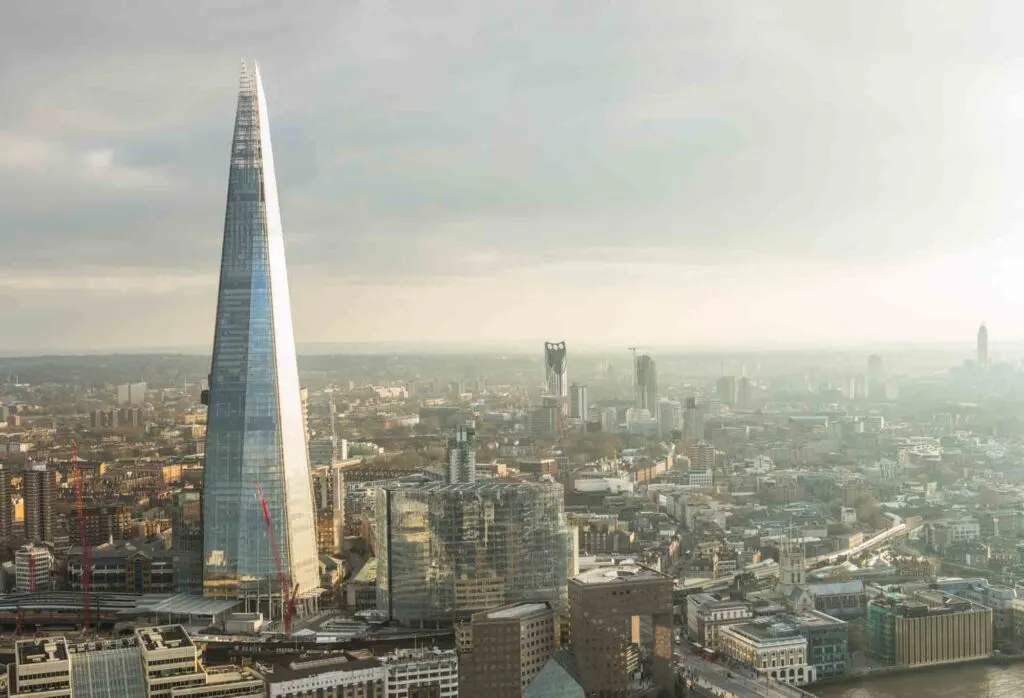 The Shard, formerly known as London Bridge Tower, is one of the tallest buildings in the UK and one of the most recognized buildings in the world.
As one of the most unconventional and famous landmarks in London, The Shard offers viewpoints of the city better than the London Eye, providing fantastic views over the city for up to 40 miles.
Designed by Renzo Piano, The Shard opened in 2013, is 1106 ft tall, boasts 95 floors, and has 11,000 glass panels, enough for eight football pitches!
It is an eco-friendly and incredibly beautiful building; each floor is 100% soundproof, and cleaning is done manually.
A fox named Romeo was discovered in 2011 on the 72nd floor of The Shard, having reached a staggering 306 flights of stairs.
Romeo, the charmer, lived off food scraps from construction workers before being rescued and released back into the wild.
17. The Gherkin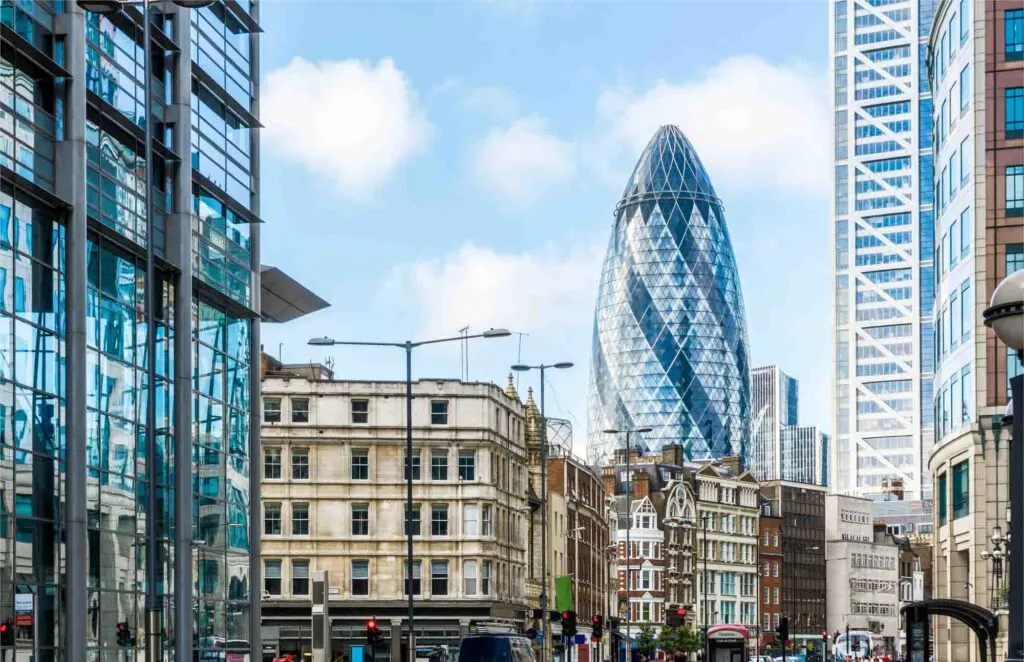 "30 St Mary Axe", more commonly known as "The Gherkin," is one of the most popular must-see London landmarks in the financial district.
It is a modern skyscraper that opened in 2004, comprises 41 stories, and is 591 ft tall. Thirty-three floors are used as office space; the remaining is used for recreational activities such as bars and restaurants.
This remarkable and unusual-looking building is a classic example of contemporary architecture, is aerodynamically designed, has won many architectural prizes, and has been featured in recent movies such as Harry Potter.
During construction, the body of a Roman woman was found. The body was placed in the Museum of London and then at the foot of The Gherkin once this iconic building process was complete.
18. Millennium Bridge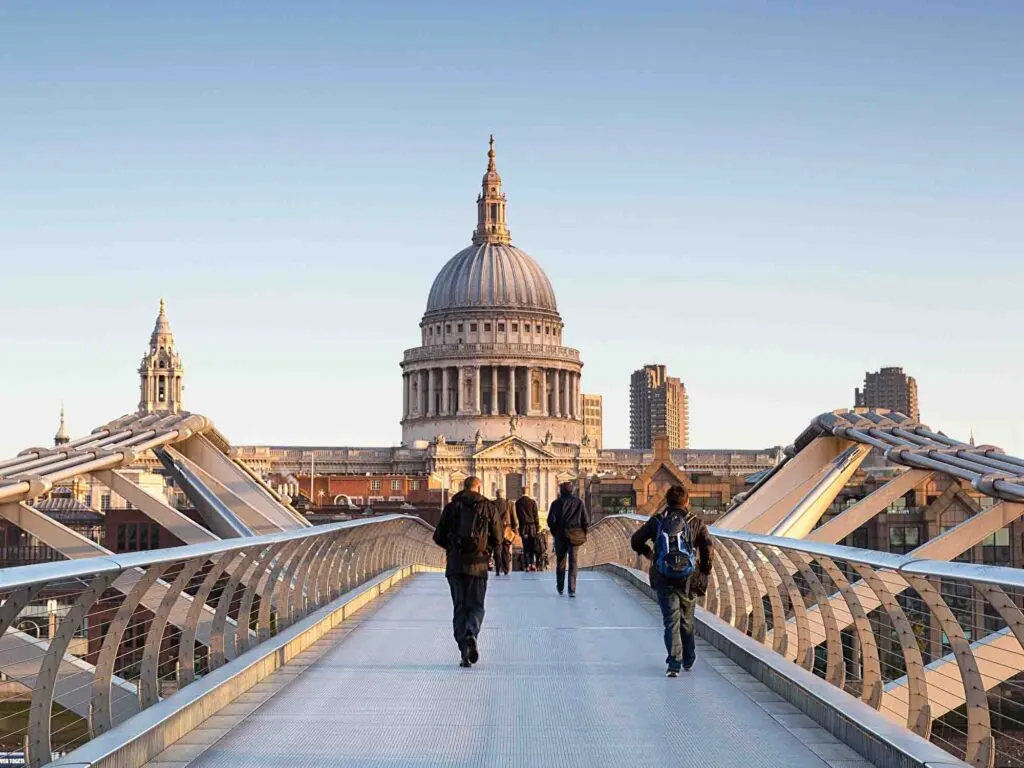 Millennium Bridge, a 1,214 ft suspension steel pedestrian bridge, opened in 2000 and offers panoramic views of iconic London sights.
It was the first new bridge constructed over the River Thames in over a decade. The official title of Millennium Bridge is the "London Millennium Footbridge."
Around 80,000 visitors crossed the bridge on its opening day, with roughly 2,000 people at a time.
The bridge began to sway, but there was no chance that it would fall. Engineers succeeded in fixing the wobble by using two different types of damper.
From that day onwards, the Millennium Bridge is often called the "Wobbly Bridge," Harry Potter fans would also instantly recognize this bridge.
Natural Landmarks in London
19. Hyde Park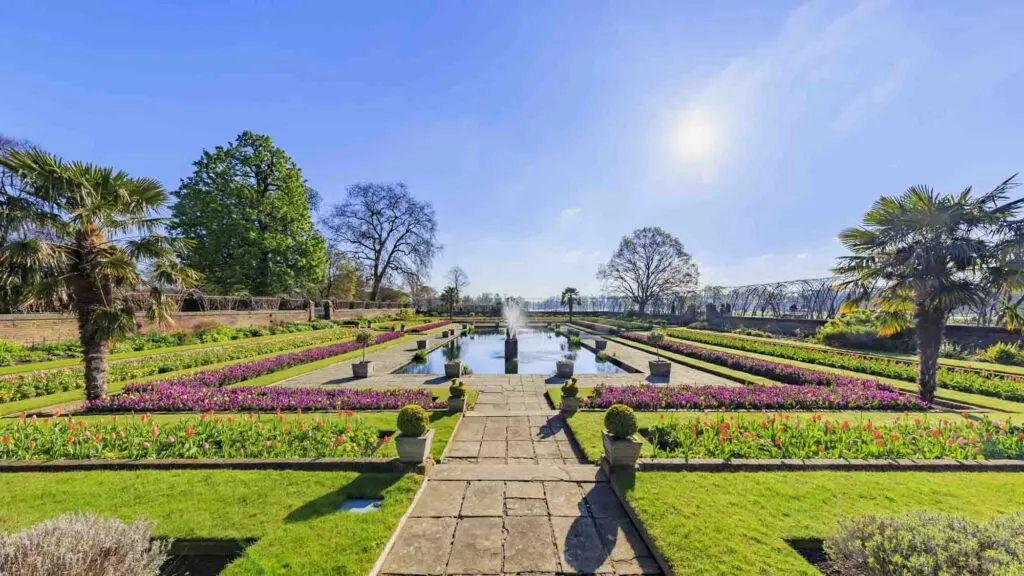 Hyde Park is one of the biggest Royal Parks in London. At 350 acres, it spoils visitors with over 4000 trees and more than 100 types of stunning roses.
Strangely enough, it was used as a pet cemetery for several years, starting in 1881, when the first dog, Cherry, was buried there. There are over 300 pet graves, although it is not open to the public.
Hyde Park used to be a hunting ground for King Henry VIII, is well known for its Speakers' Corner, and is home to The Weeping Beech, an incredible tree that looks as if it has grown upside down.
Today, performers still use the park's bandstand while visitors indulge in the performances and many restaurants.
For a picturesque Winter Christmas, head to Hyde Park to embrace the cold for an icy Wonderland full of activities.
20. Kew Gardens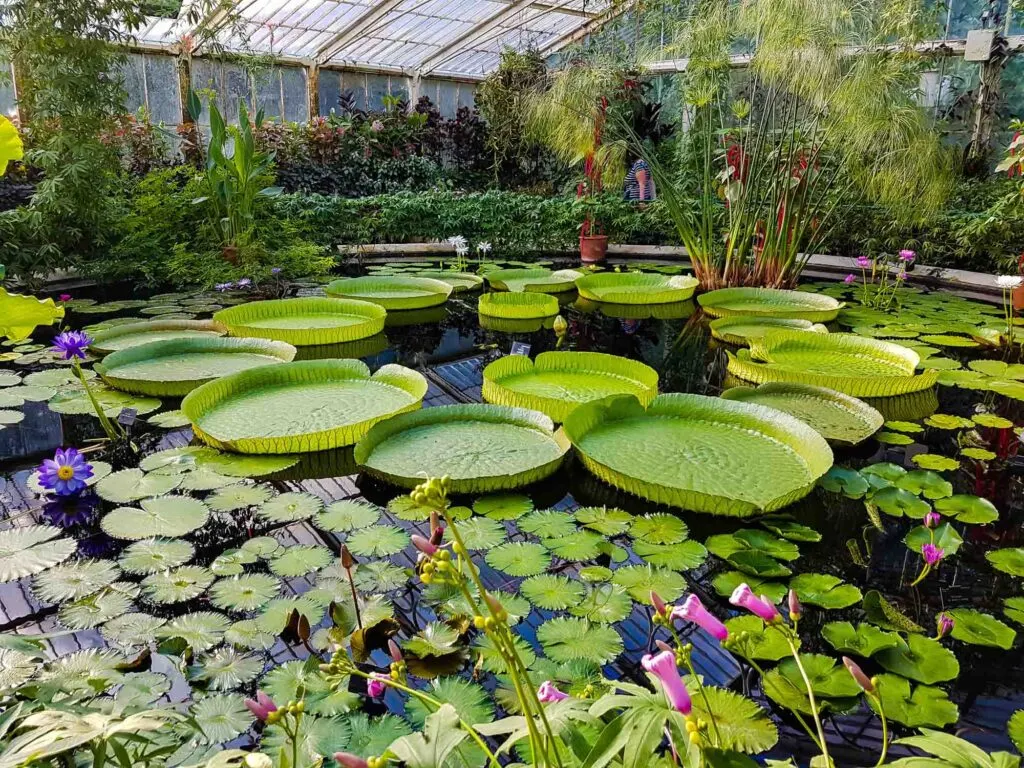 The Royal Botanic Gardens at Kew, also known as Kew Gardens, was founded in 1840 and is next to the River Thames. It comprises more than 50,000 living plants and over 7 million preserved specimens, which makes it a unique European garden.
The world's oldest pot plant can be found inside the Palm House at Kew Gardens. This Jurassic cycad came to Kew from South Africa in 1775. Kew Gardens even has a small police force to protect this World Heritage site.
In 1985, Sir David Attenborough buried a time capsule in the understructure of the Princess of Wales Conservatory.
The capsule is filled with seeds of endangered species and will be opened in 2085. How innovative and exciting!
21. River Thames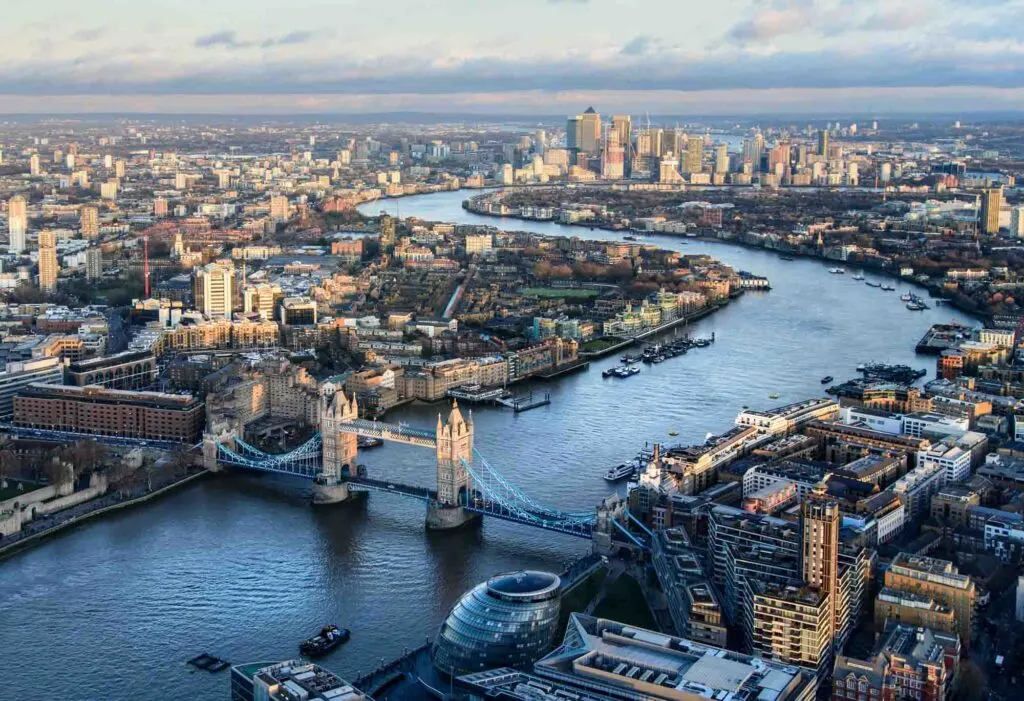 The River Thames is probably one of the most famous landmarks in London as it is a well-known river in the UK.
It ranks as the second-longest river in the country and stretches for an impressive 215 miles. The river starts in Gloucestershire and ends at the Thames Estuary, which then leads into the North Sea.
The River Thames is both non-tidal and tidal, is home to over 119 species of fish, and has over 200 bridges that cross it.
The river stank so severely in 1858 that the city's sewer system was built in 1865 because of "The Great Stink."
Today, around two-thirds of the city's drinking water comes from the River Thames, thanks to efficient water treatment and filtering systems.
More London Landmarks You'll Want to Check Out
Kensington Palace on the western end of Kensington Gardens
Covent Garden Market
Tate Modern (a popular attraction in the former Bankside Power Station)
Hampton Court Palace
Sky Garden
London Zoo
Victoria and Albert Museum
Canary Wharf
Wembley Stadium
London Transport Museum
Abbey Road Studios
The O2 Arena
Greenwich Park
Princess Diana Memorial Fountain
Imperial War Museum
Portobello Road
Royal Albert Hall
Tate Britain (incredible art gallery)
Holland Park
Summary London Landmarks
Westminster Abbey
Buckingham Palace
Tower Bridge
London Eye
Westminster Palace
Big Ben
National Gallery
The Shard
St Paul's Cathedral
British Museum
The Gherkin
Hyde Park
Kew Gardens
Tower of London
Trafalgar Square
Piccadilly Circus
National History Museum
Shakespeare's Globe
Millennium Bridge
Borough Market
River Thames
Enjoyed reading this article about London landmarks? Then share it with your friends and help us spread the word!
Our best travel tips & resources:
Here're our all-time favorite travel tips & resources so that you can save money and plan your travel logistics hassle-free! For more travel resources, check out our
travel tips.
Saving money: Fly on offseason, winter (not Xmas or NYE), Tuesday, or Wednesday! According to experts, these are the cheapest days to fly.
Travel insurance: Before you leave for your trip, make sure you have a valid travel insurance policy because accidents happen on the road. We have been paying for Safety Wing travel insurance for a little over a year now, and we happily recommend them to our family and friends.
Accommodation: We usually stay in mid-range comfy hotels or private rooms in hostels. These are the sites we use to book accommodation: Booking.com for hotels (excellent flexible cancellation policy) and Hostelworld for hostels (low deposit and easy cancellation).
Tours:We absolutely love booking guided tours with locals to get a history lesson while sight-seeing, especially food tours and walking tours! We book all of our tours using Viator and GetYourGuide.
Transportation: We use Google Maps to figure out how to get around a place using public transport. When we book a rental car, we always use Discover Cars to find the best deal.