Looking for some hidden gems in London? We have an impressive list here for you!
London is a city where thousands of people from around the world visit every day. Still, when most tourists plan their trip, they only consider the Top 10 Attractions and leave out some secret London spots.
Granted, many people don't know about these places. And that's why we bring you this list of unusual things to do in London so that you can see a different side of the city.
No reason not to.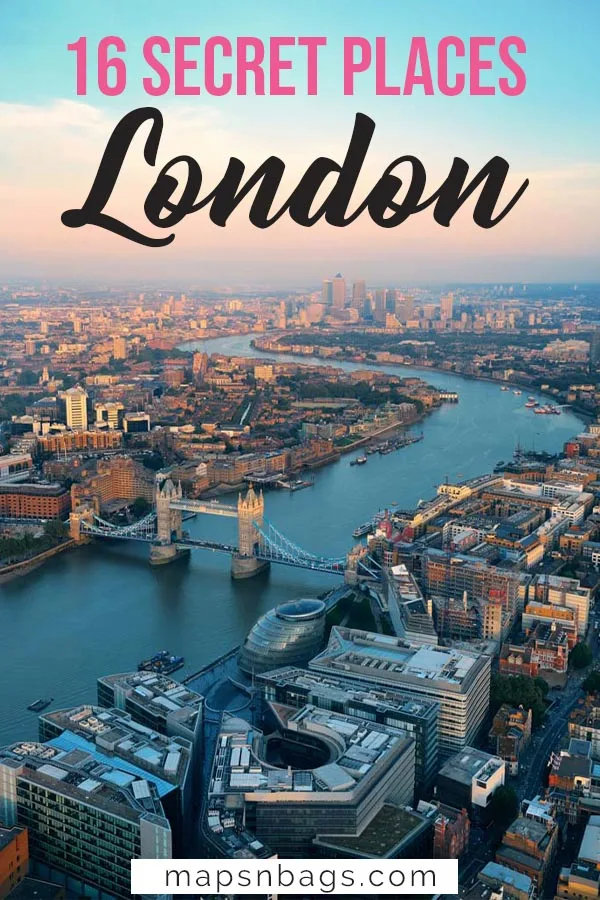 London's great thing is that there's always something different to see and do, and it's also the city's greatest strength.
Without further ado, here are 16 hidden gems of London worth visiting.
London hidden gems
As said, most London travel guides will point you toward the Eye, Big Ben, etc., because these are obvious landmarks in London. But today's article is about some great hidden gems in London. We hope you like it!
Little Venice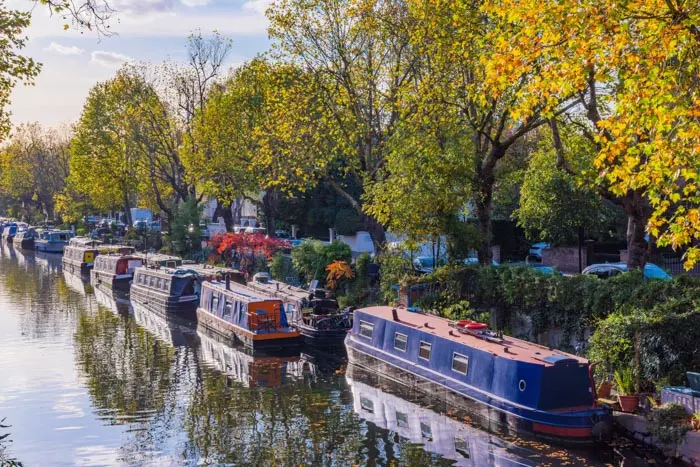 Located in West London, Little Venice is one of London's hidden gems with boathouses, waterways, boat trips, Georgian houses, and many more.
The quiet areas will offer peace and tranquillity, and the ambiance will make everyone feel a part of the community. Spend at least an hour here.
Walk through the canal, and you will spot many colorful boathouses lined up on each side. On either side, admire the rows of Georgian houses and see how locals live in council estates.
Take a boat trip and paddle with the ducks between the Grand Union and Regent's Canal. It's a great way to enjoy peace, nature, and avoid the crowds.
There are several quirky cafes connected to the Grand Union and Regent's Canal, some you'll see above the canal.
It's a great feeling sipping teas and coffees or cocktails in the evening, hearing crowds of people talking, and the lights from boathouses twinkling in the night sky.
Walk through Regent's Canal and make sure to visit Camden Lock and Camden Market for the quirky, punk, vintage, vibrant and trendy atmosphere.
The Grand Union Canal is not far from Portobello Market.
Camden Passage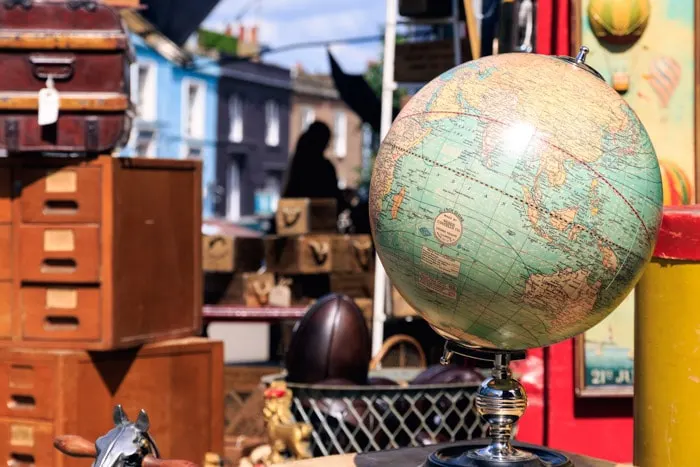 Located in the Borough of Islington and situated in the Camden area, the Camden Passage is home to several markets, including Camden Passage Outdoor Market.
Beyond that, you can find vintage books, outfits, fashion boutique stores, fashion stalls, quirky, old cafes, bars, and pubs – all in the Camden Passage. Spend at least an hour here.
The Camden Head is a great pub to grab fish and chips with a pint of lager.
Check out Annie's Vintage and Antique Shop selling fur coats to 1920s brooches. It will give you a sense of being in Aladdin's Cave, and you'll find buried treasures if you dig deep.
Also, check out a quirky café Kipferl, a Viennese coffee house. It's always busy, but it's a great setting to spend some time with family and friends.
Try out the spinach dumplings with cheese served with brown butter and salad.
Thames Path National Trail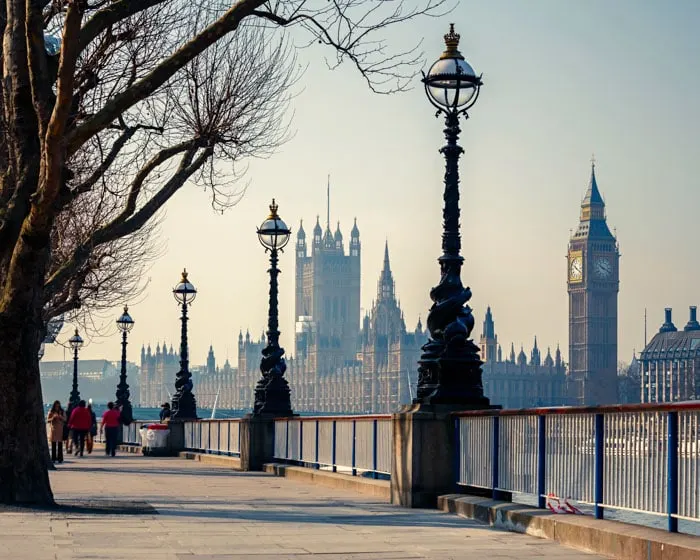 The Thames Path is a walking path along the River Thames. Initially, the Thames Path has been a significant place for imports and exports of goods.
Still, now, they've created a walking trail for people to enjoy. The Thames Path National Trail covers the 'country and rural' and the 'city and industrial' side of Greater London and Central London.
It's impossible to cover the whole trail along the River Thames because the path covers areas outside London. Still, you should definitely spend at least 1-2 hours here.
There are four rural places along this trail that are suited for a day trip from London, including Oxford, Hampton Court, Windsor, and Henley on the Thames.
Around these areas, there are beautiful English cottage houses, intimate yet vibrant pubs, and great places to sip a pint of beer by the lake and watch swans swimming.
Of course, visit the University of Oxford, Hampton Court Palace, and Windsor Castle.
The Thames Path doesn't really have many colorful flower beds and the beautiful "Garden of Eden" atmosphere, but it does offer greenery.
Hear birds chirping, dogs running in open green spaces, children splashing in muddy grounds with their boots, large woodland trees, and fallen branches.
In some parts of the trail, enjoy the fresh cool breeze while getting away from traffic and city life.
In the urban part of the trail, it wouldn't be a hidden gem anymore since it would consist of Top 10 Attractions tourists visit.
Pie and Mash shops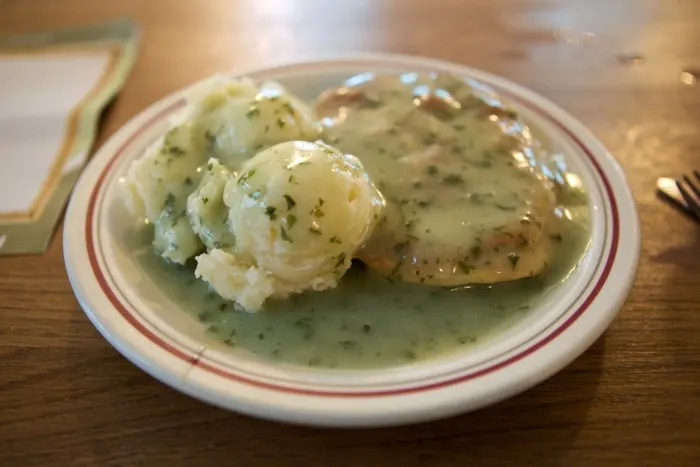 England is famous for its traditional food and dishes. So, aside from fish and chips, try the traditional pie and mash potatoes, which are poured with gravy.
Pie and mash have been traditionally a working-class food since the 19th Century.
Pie and mash potatoes are usually salty but filling at the same time. The presentation isn't extravagant, but it's the taste that matters.
You can eat it either for lunch or dinner. It's usually served in traditional British pubs or local pie and mash cafes.
Beyond that, jellied or stewed eel pie and mash are traditionally served with pie liqueur with green vegetables such as peas, salad, and broccoli. Complement it with British more significant or traditional English tea with milk.
The settings from most of the cafes consist of simple flat chairs and simple tables. Regular locals would usually eat in these types of places.
Rarely, would aristocrats eat here, but that's the beauty of experiencing the British culture; how and where regular Brits eat.
Here are 5 recommended Pie and Mash shops, from real English food outlets, to try:
Mother Mash – 26 Ganton Street, London, W1F 7QZ, England (situated in the Soho area).
Castle's Pie and Mash Eel (popular with tourists) – 229 Royal College Street, London, NW1 9LT, England (situated near Camden Town).
M Manze Tower Bridge – 87 Tower Bridge Road, London, SE1 4TW, England (follow the road from Tower Bridge and head South)
Goddards at Greenwich – 22 King William Walk, Greenwich, London, SE10 9HU, England
Fuller's Pie and Ale House – 33 Tothill Street, London, SW1H 9LA, England (situated near St. James' Park, a major royal park in London)
Neal's Yard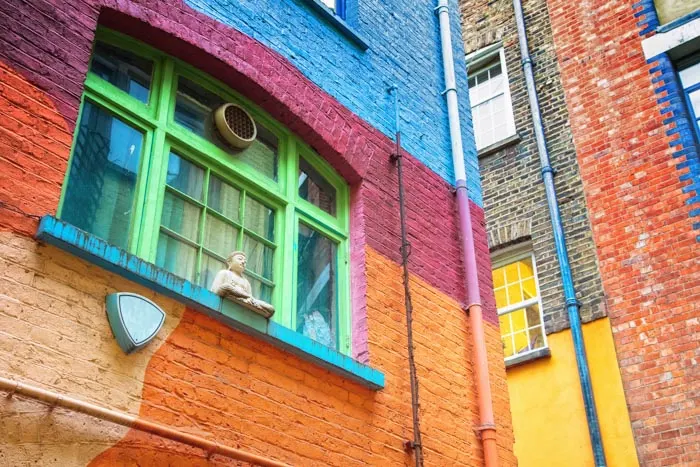 Hidden inside Covent Garden, although quite busy, this small alleyway offers colorful artistic buildings.
There are many quirky and high-end boutique stores as well as colorful graffiti around this area too. Spend at least 1-2 hours here for some bites and souvenirs.
There are a few small boutique cafes and restaurants here, and people usually sit on the benches admiring the colorful buildings and people passing by while eating their lunch.
Neal's Yard really does stand out from the crowd and, although expensive, there are many quirky, colorful products to buy for souvenir ideas.
It's without a doubt a London off the beaten path spot.
Stephen Wright's House of Dreams
If there are any unusual, colorful, and quirky art lovers out there, then, Stephen Wright's House of Dreams is the place to visit in London.
Stephen Wright has collected his colorful art collection for over 30 years.
Situated in East Dulwich, Stephen Wright's terrace house will look quite different from the rest. When booking tickets, he'll be happy to talk about his art.
The museum has many colorful mosaics, 100's of dolls' heads, sculptures, quirky paintings, and many more.
After exploring this house, spend some time taking photos of Victorian homes in the Dulwich area. Dulwich is one of the most expensive neighborhoods in London.
Wilton's Music Hall
Situated near Tower Bridge and formerly a music hall, the building hosts several performing arts shows.
One of the things about Wilton's Music Hall is the architecture. There aren't that many music halls in London that have kept their original features like Wilton's.
The untouched exterior of the music hall has that ghostly feel to it. It's as if the building had been abandoned for over 100 years.
Still, once you enter the building through the music hall, that's when the show comes to life. The theatre isn't that big, but plays such as Macbeth, make the atmosphere livelier.
Notice the cocktail bar at Wilton's Music Hall. Step back in time to the 19th Century and feel cozy in a modern setting at the same time.
The Hall has kept its original bricked walls with the untouched fireplace used as home décor.
There are several antique wooden chairs and tables with a vintage piano, making it one of the greatest London hidden gems!
Whitechapel High Street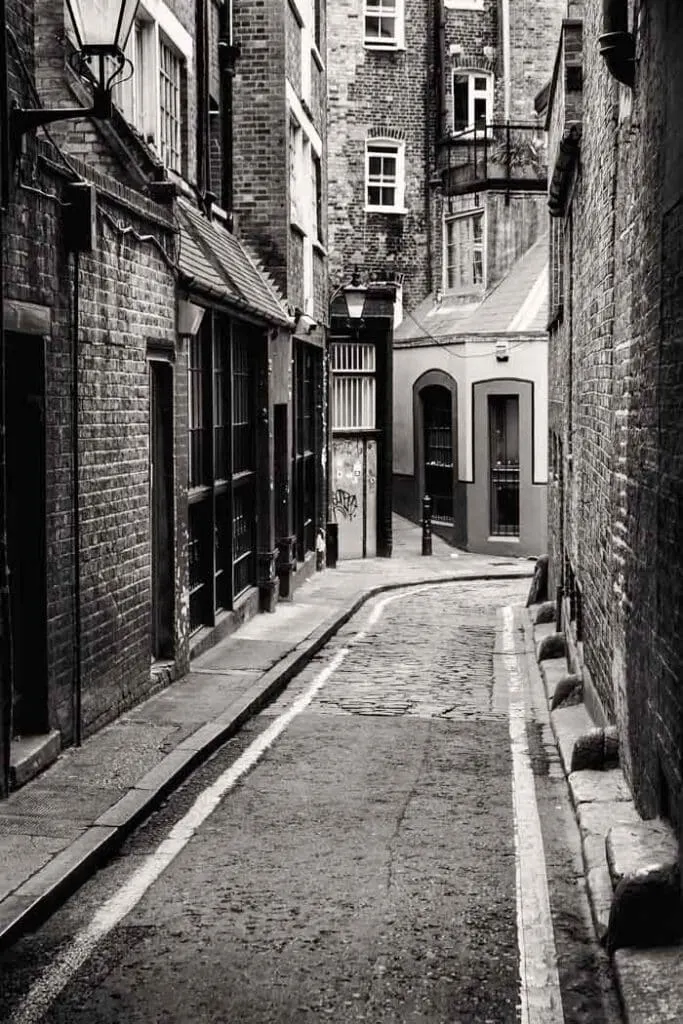 Around this area, take a walk towards Whitechapel High Street. This is the street where Jack Ripper started executing his female victims.
For those that don't know Jack the Ripper, he was the mysterious and famous British psychopath who executed several women in 1888.
Find out more about him by taking a Jack the Ripper tour before or after watching a show at Wilton's.
Places such as the Ten Bells pub, the dark alleyway, and several locations near the High Street are related to each woman's case.
It's a rather unusual thing to do in London and a tour not to be missed for dark mystery lovers.
Kyoto Garden Holland Park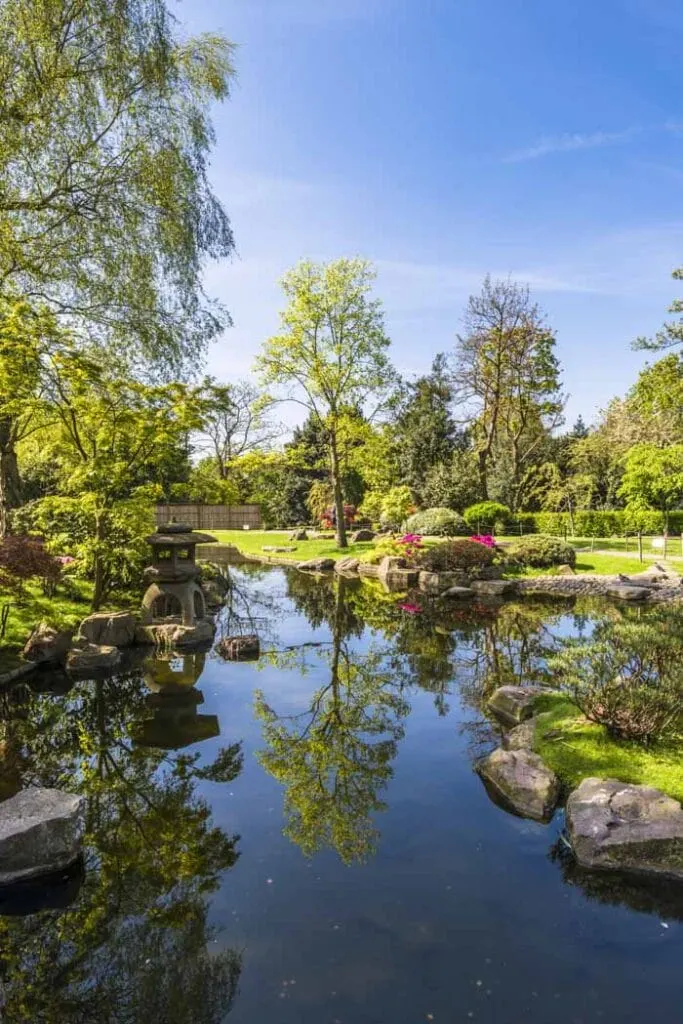 Kyoto Garden opened in 1991 from the city of Kyoto to Great Britain to honor the excellent relationship between Japan and the UK.
Since then, it has been a tourist attraction and a public place for the community to enjoy.
There are so many activities for families with young kids that could do here where they could play in the Adventure Playground. Why not visit the Ecology Centre for ideas on saving the environment?
The best thing about this park is its serenity. The Garden has always been well maintained, and people take photos in front of the waterfall all the time.
Where the water flows from the waterfall, there is a duck and a koi fish swimming in the pond and peacocks in Fukushima Garden – it's lovely.
The Dutch Garden further up is also peaceful. Compared to Fukushima and Kyoto Garden, the Dutch Garden is very spacious.
The Garden consists of a row of park benches, and it's a great area to read books and enjoy nature.
Further in, there are well-kept flowerbeds, bushes with a water fountain, and an area leading to more spacious greenery.
Sir John Soane's Museum
Sir John Soane's Museum is situated in Holborn's heart and a great hidden gem in London if you want to get away from the busy British Museum.
It's a museum full of 19th-century classical sculptures, paintings, and curiosities in the former property of Sir John Soane.
He was a famous English architect specializing in neoclassical designs, who became a professor in Architecture at the Royal Academy.
Also, Sir John Soane was involved in many works, including projects in the Office of Works.
The museum's tour highlights include:
The Picture Room: Soane collected paintings from William Hogarth, Antonio Canaletto, and Giovanni Piranesi here.
Sarcophagus of Seti I: an Egyptian pharaoh who ruled Egypt at a time of great military power.
The Model Room: It consists of a miniature version of many historical sites and buildings.
Discover where his work can still be visited:
Dennis Severs' House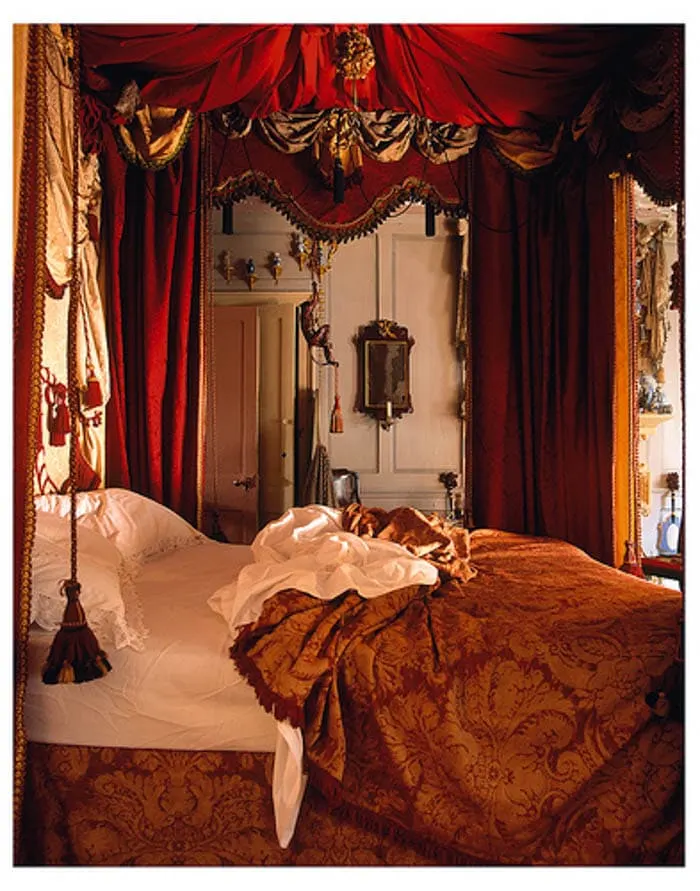 Just like any other Georgian houses around London are gorgeous, Dennis Severs House is no different.
It's located in the East End of London. Dennis Severs House is an intimate "still life drama" museum.
Like Sir John Soane's Museum, it's a great chance to get away from the crowded streets of Central London.
Dennis Sever lived in this house during the mid-1970s, and he arranged together several paintings and furniture from the 18th to the 19th-century from the original occupant Jervis Huguenot.
It's more than just exploring what a Georgian house looks like, it's also living the experience using your senses.
Jervis Huguenot lived with his family, who were a group of silk-weavers, and Dennis had an idea to recreate the family's lives back in the 18th-century.
Visitors would go through a painting as if they've stepped back into the Georgian period.
Go through 10 rooms and smell, hear Jervis and his family at work while appreciating the Georgian style décor as how Jervis left it "the warm, smoky light captured by the Old Masters; the creak of footsteps on wood; whispers and opening of doors; arresting reflections, mixtures, textures, and smells; the ticking and chiming clocks; a cat and a canary."
It's worth the experience and feels what goes on behind closed doors.
Eltham Palace
"
Eltham Palace
" (
CC BY 2.0
) by
It's No Game
Eltham Palace and Gardens are a part of an English Heritage site. Situated in South East London, Eltham Palace was built in the Tudor period between the 14th-16th centuries.
The royal family used this place for hunting and recreational purposes.
Enjoy the peaceful atmosphere with nature, wildlife, and greenery and walk through the gardens and see many historical characteristics in the 19 hectares of gardens.
Visit an array of colorful botanical shrubs, walk through London's oldest bridge, and visit the rose garden and Rock Garden where water runs down towards the moat.
Either way, Eltham Palace is a great hidden gem in London.
Chelsea Physic Garden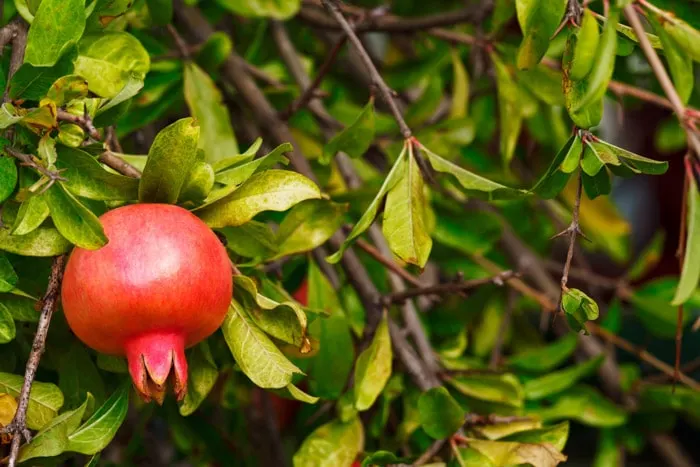 Situated near the River Thames, the Chelsea Physic Garden is a place to get away from the hustle and bustle of tourist areas.
It was built in 1673 near the River Thames, and its aim is to introduce medicinal plants and learn about general horticulture.
It was built by the river on purpose so that the warm air currents hit the Garden, which will then help plant growth. The River Thames was an advantage for importing plants and flowers from the British Isles.
The tour highlight includes discovering 5000 edible plants used for medicines.
Learn about plants that flourished throughout the medieval times and uncover some of 100's of rare British trees: the olive tree, grapefruit tree, pomegranate tree, ginkgo trees, mulberry trees, and many more.
Also, why not visit the Pond Rockery where there are a range of Mediterranean and alpine plants from around Europe?
Chelsea Physic Garden is arguably one of the most unique things to do in London.
Secret bars
London is well known for its secret bars, tucked away from city life's commotion, and this article about London's hidden gems wouldn't feel complete without affirming hidden cocktail bars around the city.
While these bars are charming, you should always keep an eye on your drink to ensure your safety in London. Actually, no matter where you are, always keep an eye on your glass!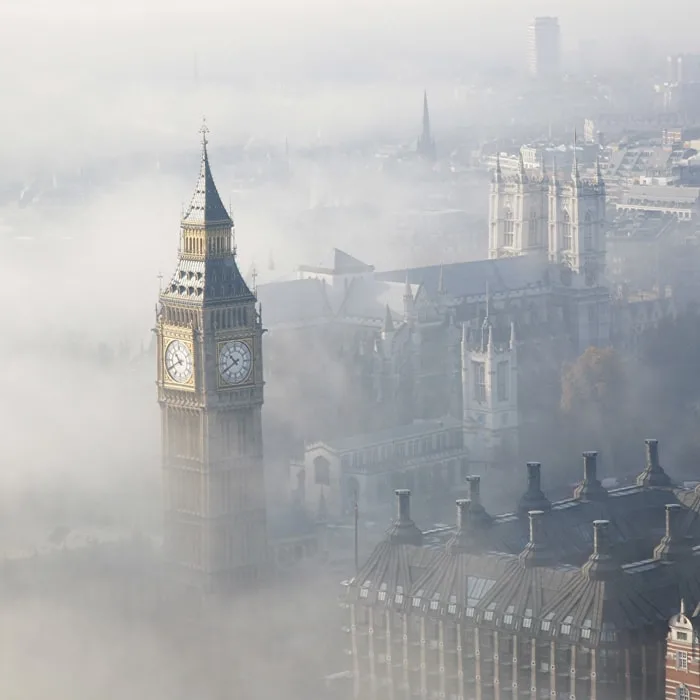 Here are four of my favorites:
The Luggage Room
The Luggage Room is a dark, cozy, luxurious, and intimate cocktail bar nestled in the upper-class neighborhood of Mayfair.
The Luggage Room aims to bring back 19th-century alcoholic drinks from British history to the present time. During the weekends, the music becomes lively by 10pm.
Although the Afternoon Tea feels the same as the others around London, the savories and sweets tasted like no other.
As people arrive at the simple black door with a silver lion knocker, they'd think it would be just like another regular club seen around London.
Well, they're mistaken because, more often than not, people miss the black door – it's one of the best hidden places in London.
Go down to the underground club, and it'll feel like stepping inside the Great Gatsby's set in the 1920s.
The marble fireplace, the leather menu etched with the club's initials, the variety of delicious cocktails made from medieval times served with peanuts are the small details worth talking about with friends and family.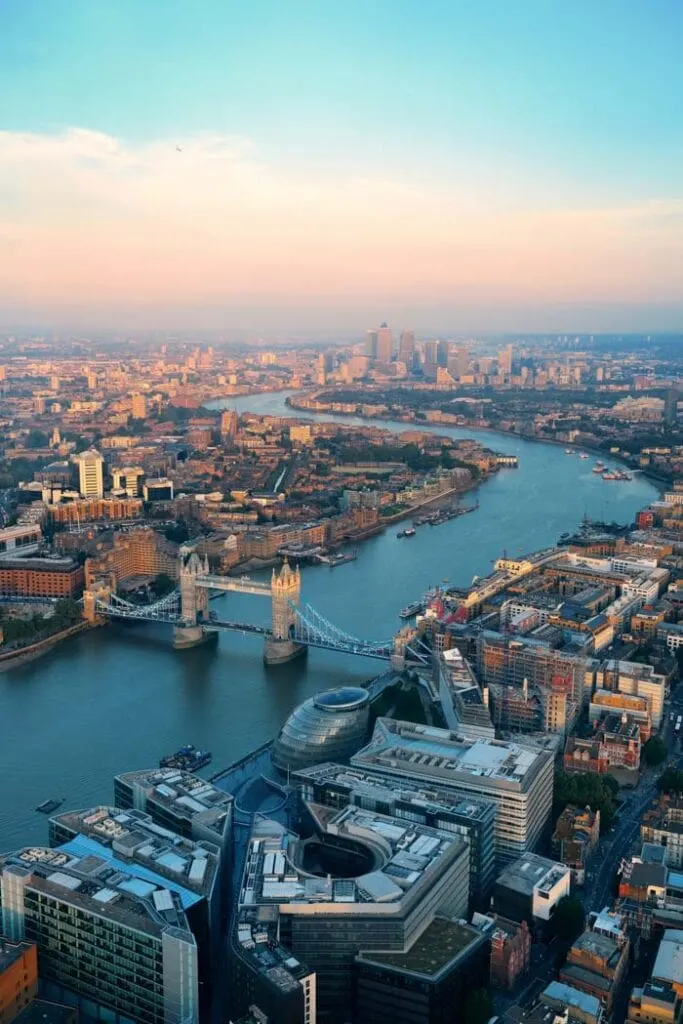 The Little Yellow Door
Another good find is the Little Yellow Door Cocktail Bar. Situated in the trendy and colorful neighborhood of Notting Hill, the Little Yellow Door is a cocktail bar with a 19th-century Victorian feel.
Its aim is to feel like stepping inside someone's flat and get that homely feeling.
For house parties, dinner parties, bottomless brunches, and Sunday roasts, then The Little Yellow Door is worth the visit.
The food here is no different from other pubs, bars, and clubs around London, though, but it's the atmosphere that stands out the most.
Brunch closes at 5pm and the music blasts RnB and Hip-Hop. Head downstairs for a boogie, and while downstairs, a DJ booth, a vinyl station, a fancy-dress box, poker, and backgammon tables all ideal for a private event.
The Little Yellow Door is great for board game activities where people can play Jenga and Mario Cart by the bar.
Evans Peel Detective Agency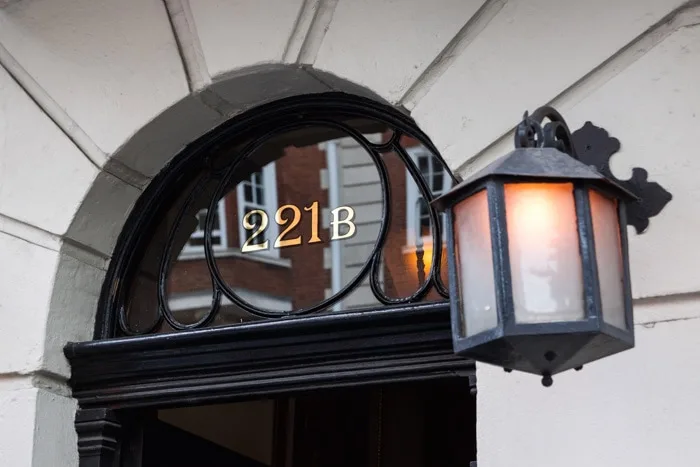 Situated in Earl's Court, Evans Peel Detective Agency is another cocktail bar like no other in London.
Like the Luggage Room, Evans Peel Detective Agency will make people feel like they've stepped into the set of the Great Gatsby.
Served by professional mixologists with a vast knowledge of classic and modern cocktails, all the bar staff are detectives.
Go down into the basement and see many detectives themed items. Go further into the bar and step back in time to the 1920s, spend time at the bar, and go back to the original era when they made traditional cocktails.
At the entrance, groups are greeted by a "Detective" and must be prepared to have a story to tell, so the "detectives" will say to them they've solved their case.
They'll invite the group in for more information. Just play along with dialogues related to the story.
The Mayor of Scaredy Cat Town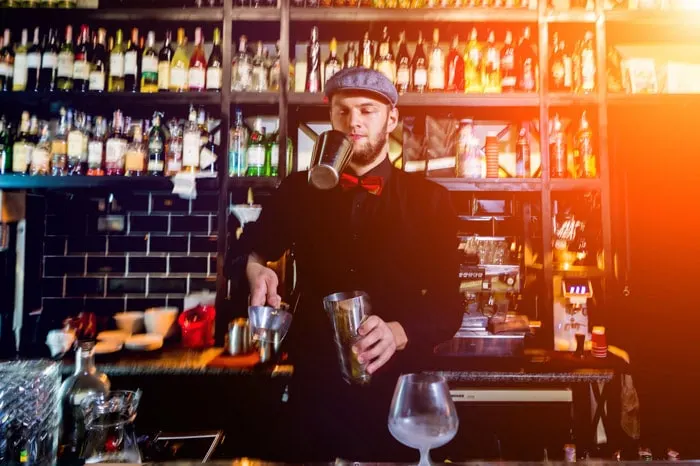 The Mayor of Scaredy Cat Town is situated in Bishopsgate, just a few minute's walk from Spitalfields Market, which sells vintage, retro, and antiques.
The Mayor of Scaredy Cat Town is another speakeasy bar like Evans Peel Detective Agency.
Enter the Breakfast Club bar, tell the waiter at the door, "I'm here to see the mayor".
He'll direct the part to a large fridge and go down to an underground pub where the atmosphere feels dark and cozy with a lively atmosphere.
The Mayor of Scaredy Cat Town is great for vintage and retro lovers. The furniture and the food and drinks here are a contrast to the bar upstairs.
The best cocktails include The Basic Kitsch for a sweet taste of vanilla, raspberry syrup, and lemon.
The prices aren't too high, it's a standard London price around the Central, but it's a recommendation.
Postman's Park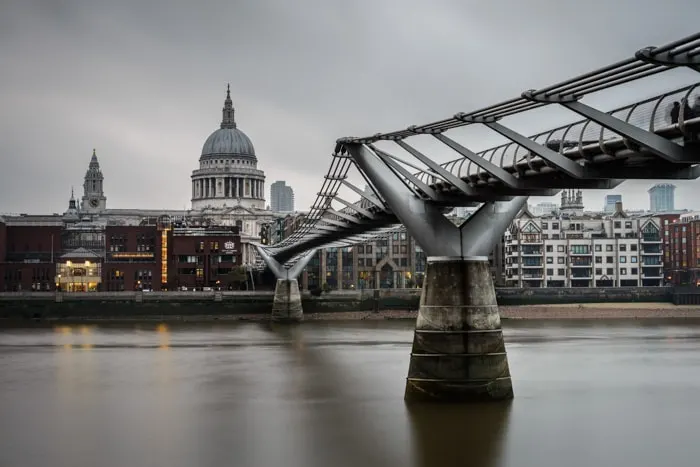 Postman's Park is situated near St. Paul's Cathedral. After spending an hour in St. Paul's Cathedral, why not have lunch and relax in Postman's Park?
Although not a big park, the park is situated by many tall Tudor houses.
The unique thing about this park is the Watts's Memorial to Heroic Self Sacrifice.
It contains many memorial plaques of people saving each other from tragedy.
The memorial opened in 1900, and the names of people that have died around London dates back from the late Victorian times to the present.
Two plaques include:
Thomas Griffin, a laborer who lost his life on 12 April 1899 on a boiler explosion in returning to search for his mate.
Alice Ayers, a daughter of a bricklayer, saved 3 children from a burning house on 24 April 1885.
At this site, you can find 48 more plaques to read.
Daunt Books
Daunt Books is an Edwardian Shop situated in Marylebone High Street.
Other Daunt Bookstores are in Chelsea, Holland Park, Cheapside, Hampstead, and Belsize Park. Each bookstore has something special about it.
The bookstore in Marylebone High Street offers a glass rooftop to give it that bright atmosphere and a large stained-glass window at the end of the store.
The top floor of the bookshop is surrounded by a dark wooden balcony. Along with the gallery, thousands of books are arranged on many shelves.
The books are different from one another, specializing in mostly travel such as guides, phrasebooks, and travel writing.
Enjoy an intimate browse as it's a contrast to the atmosphere in the Waterstones flagship store in Piccadilly Circus.
Author of Hidden Gems of London
Hi, I'm Annisa. I'm an Indonesian national living in London. I've been living here since 1991. My family and I packed our bags to pursue a better way of living. My father thought London was a prosperous city with many opportunities.
Since living here, I noticed London is rich in history and culture, and I had an idea of writing about it in a blog.
As a resident here, I've learned the ins and outs of London, and every time visitors see London, there's always something new to see and do.
It's impossible to see everything on a short vacation, so I made it my mission to write about London and give visitors tips and tricks for planning a great holiday.
For more information on London Travellers, follow me on Instagram and Pinterest.
Did you like this article about hidden gems in London? Then save it to your Pinterest travel board!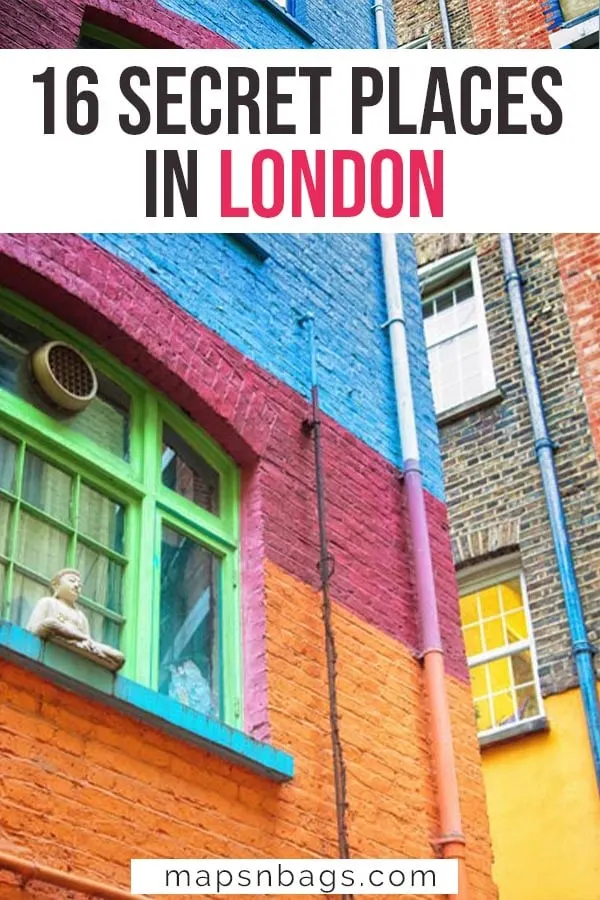 Our best travel tips & resources:
Here're our all-time favorite travel tips & resources so that you can save money and plan your travel logistics hassle-free! For more travel resources, check out our
travel tips.
Saving money: Fly on offseason, winter (not Xmas or NYE), Tuesday, or Wednesday! According to experts, these are the cheapest days to fly.
Travel insurance: Before you leave for your trip, make sure you have a valid travel insurance policy because accidents happen on the road. We have been paying for Safety Wing travel insurance for a little over a year now, and we happily recommend them to our family and friends.
Accommodation: We usually stay in mid-range comfy hotels or private rooms in hostels. These are the sites we use to book accommodation: Booking.com for hotels (excellent flexible cancellation policy) and Hostelworld for hostels (low deposit and easy cancellation).
Tours:We absolutely love booking guided tours with locals to get a history lesson while sight-seeing, especially food tours and walking tours! We book all of our tours using Viator and GetYourGuide.
Transportation: We use Google Maps to figure out how to get around a place using public transport. When we book a rental car, we always use Discover Cars to find the best deal.