Looking for date's ideas in Vancouver? You've come to the right place because we'll show you what the most romantic things to do in Vancouver with your significant other are!
Vancouver, one of the most beautiful places in Canada, is known for being an outdoor lover's paradise in the Pacific North-West. There is a perfect combination of city and nature activities to help satisfy everyone's taste.
Vancouver is not generally thought of as a "romantic" city per-se, but there are really so many things that you can do there with your partner.
Whether you want to know someone better or you and your long-time travel buddy are passing by during your Canada road trip, Vancouver has romantic things to offer for everyone.
After reading this post, you will want to add Vancouver to your couples bucket list! Don't believe us? Give it a try!
There are so many areas of Vancouver to explore.
Every corner of Vancouver offers something new from the downtown core to the mountains of the North Shore, the Sea-to-Sky coastline, or the farmland of the Fraser Valley.
Many couples don't necessarily share the same taste. Therefore, it is easy to find something that you and your partner can both enjoy the variety of activities available.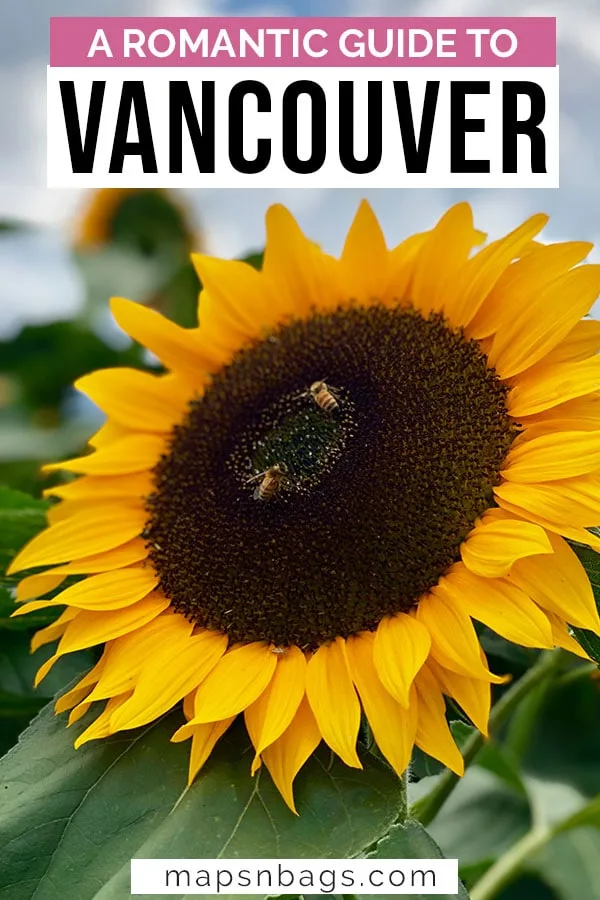 Romantic things to do in Vancouver if you love city life
Vancouver Art Gallery
Vancouver Art Gallery is the perfect spot for a date night in Vancouver. They bring in fantastic exhibits ranging from Monet, Matisse, Emily Carr, and more.
These rotate out twice a year in addition to their permanent galleries, and galleries featuring local and native artists.
On Tuesdays, admission is by donation, so it is more affordable to visit, especially if you visit Vancouver on a budget. Wander the galleries with your partner and admire all the work that VAG has to offer.
If you are looking for a similar activity in another city, then check out the Remai Modern Gallery in Saskatoon.
Not many people know how much the Canadian prairies have to offer. Still, there are plenty of ways to spend 48 hours in Saskatoon, Canada.
Gastown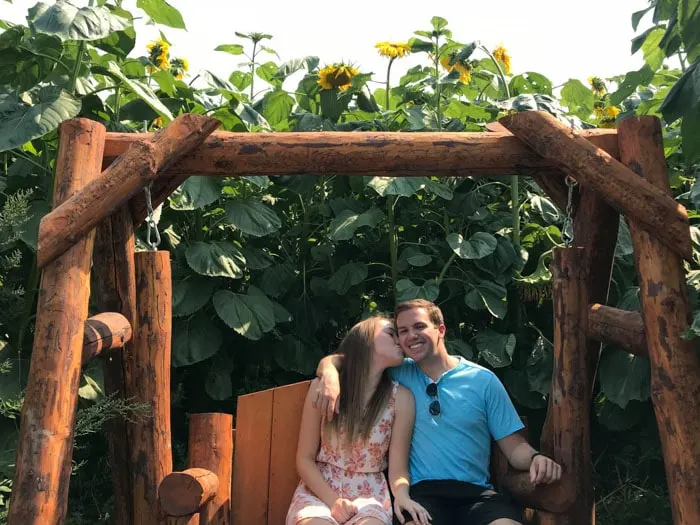 Gastown is one of the most romantic spots in Vancouver in the evening. As the street lanterns come on, the cobblestone street is full of couples.
In the summer, you can sit out on one of the patios and enjoy dinner with your partner. Afterward, there are numerous spots to stop for a drink or dessert.
If you're looking for that cute insta photo together, this is also the spot!
Canucks Game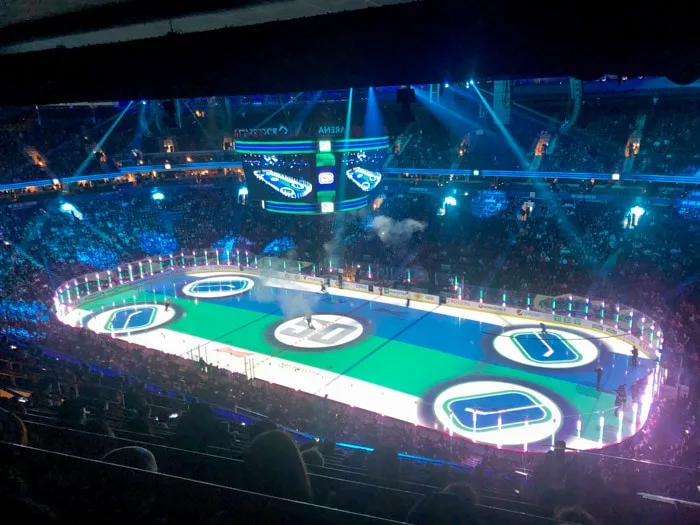 If you and your partner are a hockey or sports fan, then watching a Canucks game during hockey season is such a fun way to spend an evening in Vancouver!
Games don't usually start till 7pm, so you can still fit in so much sightseeing during the day, before heading over to Rogers Arena.
You can find last-minute tickets outside the doors or on stubhub.com.
Share some popcorn, take in the atmosphere, and maybe even make it onto the live cam. This will be an evening to remember whether you follow the NHL or not!
Skating at Robson Square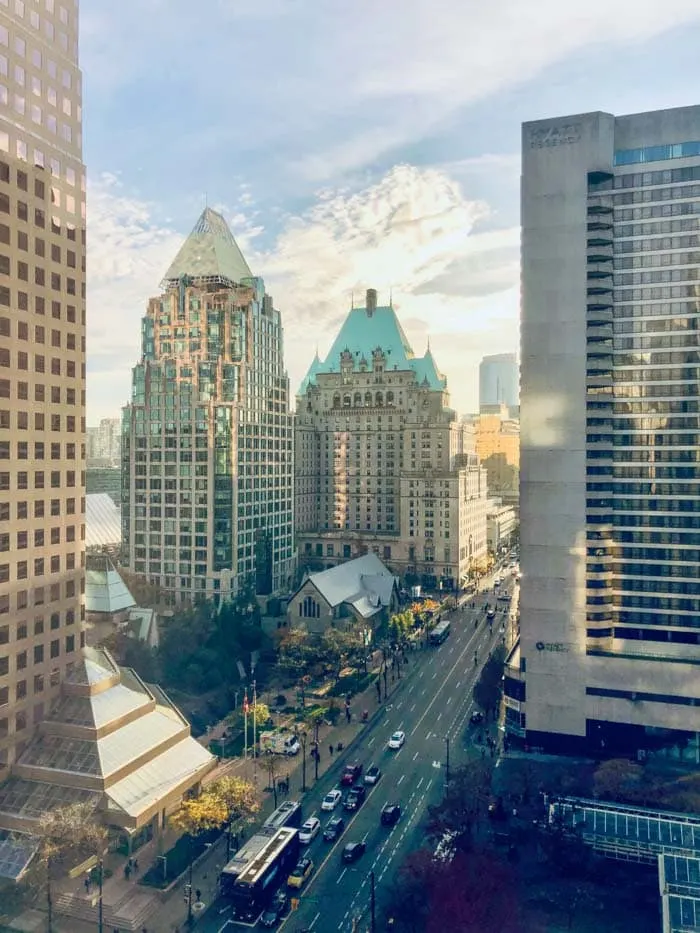 If you're visiting Vancouver between December-February, then an affordable, romantic activity is skating at Robson Square in the heart of downtown (just behind the Vancouver Art Gallery)–which is near one of the best Airbnb in Vancouver for couples.
Skating is free, so you only need to pay the $5 to rent skates if you don't have your own. It is open almost every day starting at 9am, so check the times before you visit.
The closer you are to Christmas, the busier it is, but weekdays are generally quieter after Christmas.
Vancouver Christmas Market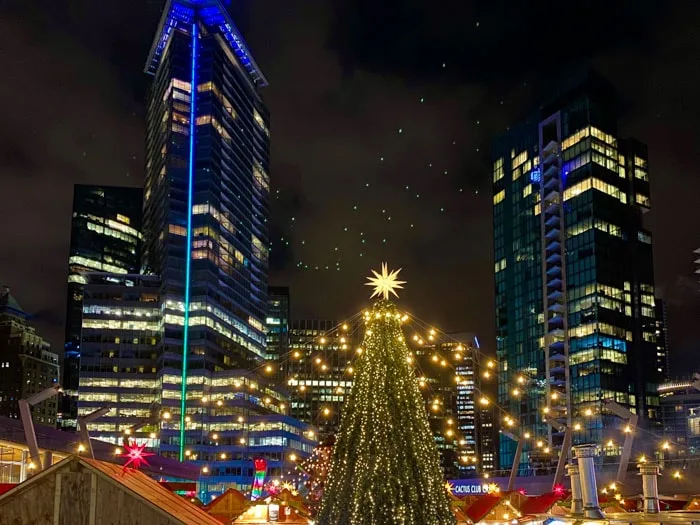 For 6 weeks, starting from the end of November until Christmas, the Vancouver Christmas Market takes over Jack Poole Plaza down by the Vancouver Convention Centre.
They even have date night packages you can purchase online that include two tickets, two Glühwein, a love lock, and more.
Take photos under the mistletoe and find some Christmas decorations that you can cherish forever together.
Romantic things to do in Vancouver if you love the outdoors
Capilano Suspension Bridge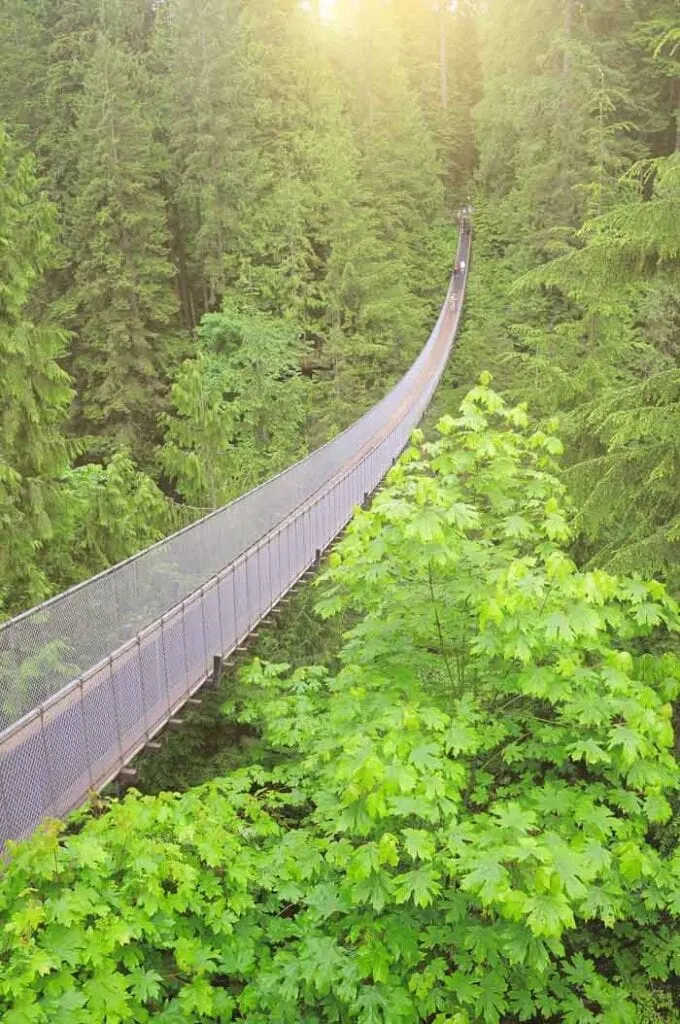 The Capilano Suspension Bridge is a must-visit place for anyone coming to Vancouver for the first time.
Have your partner close-by to hold on to you if you're scared of heights since you'll be crossing more than 200 feet above the Capilano Canyon.
This is one of the most Instagrammable places in Vancouver, and there is even a free shuttle to pick you up from downtown Vancouver.
During December and January, you can experience Canyon Lights during the evenings and walk among the treetops with thousands of twinkling Christmas lights. This is guaranteed to be an enjoyable experience.
Stanley Park Seawall
Stanley Park is a Vancouver icon. It's basically the Central Park of Vancouver and is one of the most beautiful areas of the city.
The seawall runs around the perimeter of Stanley Park. It has lanes specifically for those wanting to bike or walk/run.
You can rent bikes from nearby on Denman Street, and it is a great way to spend the afternoon together.
If you aren't wanting to bike, you can also walk, which takes about two hours to do the full 9 km if you stop for photo ops. Rain or shine, Stanley Park is a must!
Go to the Beach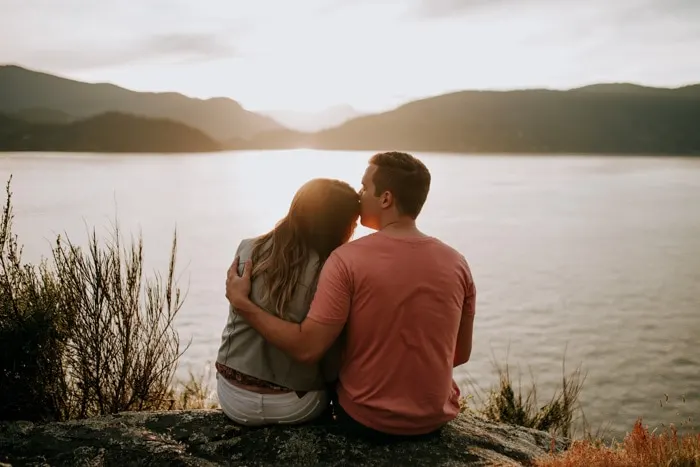 While Vancouver may not be known for its beaches, there are actually several good spots around the city for those wanting to have some beach time.
English Bay and Spanish Banks are flat and sandy and perfect for swimming or sunbathing!
In West Vancouver, you can also visit Ambleside, Dundarave, or Whytecliff, which have vast areas for kayaking or paddle-boarding.
No matter what, they also make a great spot to have some ice cream and watch the sun go down together in the summer.
Grouse Grind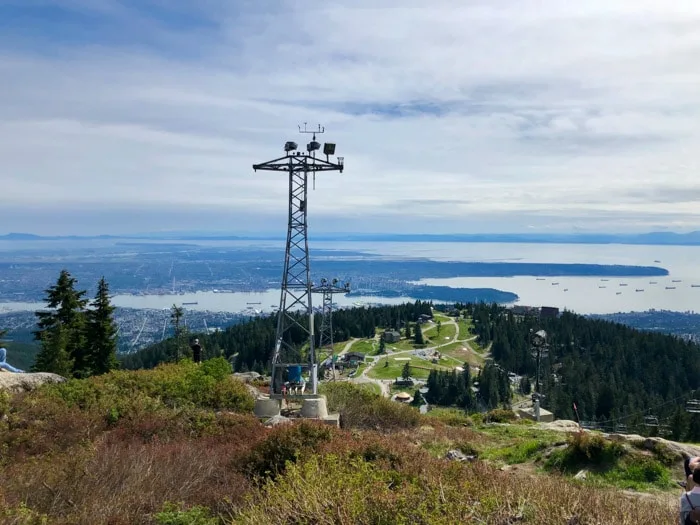 The Grouse Grind is not for the weak or for unstable relationships.
If you are going to attempt the Grind, then hopefully, your relationship is healthy. That's because, by the time you hit the ¼ mark, you may want to beat up whoever suggested you do that hike.
All jokes aside, for anyone wanting to experience the mountains, this is the perfect way to do it.
Fast people will make it in 45 minutes, but no matter how long it takes, once you make it to the top, you can treat yourself with spectacular views of the city.
But if you don't mind going a bit farther away from the city, there are some great hikes in the Vancouver area that you will both love.
For another great hike in North America, check out Ladder Canyon. Find out everything you need to know before you spend 1 week in Palm Springs.
Scandinave Spa Whistler
No trip to Vancouver is complete without a drive up the Sea-to-Sky highway to Whistler.
Whistler is a favorite weekend getaway for Vancouverites and full of perfect places to relax and spend quality time with your honey.
It doesn't matter what season you visit as Whistler is beautiful no matter the weather. Scandinave Spa is on the mountainside and is one of the most tranquil places you will ever visit.
Treat yourselves to a romantic couple's massage and relax afterward in the many pools and saunas that the spa offers.
You might also like: Best hikes in Banff
Tulip Festival/Sunflower Festival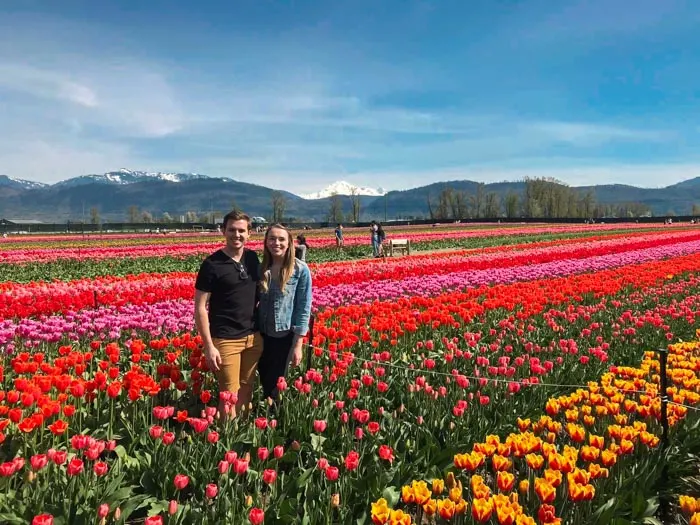 If you are in Vancouver during April (Tulip Season) or August (Sunflower Season), then it is necessary to drive out to the Tulip/Sunflower festival.
Wander rows upon rows of beautiful flowers with your date. Not only will you have beautiful photos of the occasion, but you can also explore the Fraser Valley area of Greater Vancouver and all that it offers as well.
Take home a beautiful bundle of flowers and photos that will make your friends swoon.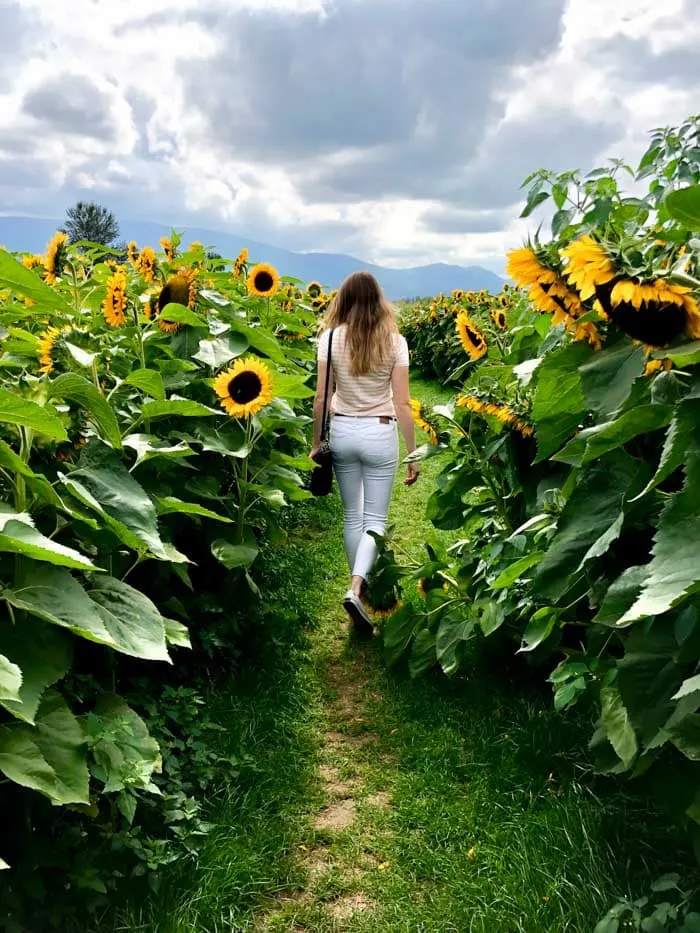 Romantic things to do in Vancouver if you love good food
Cactus Club
West coast cuisine is also a considerable part of the Vancouver culinary scene. There are so many famous restaurants that have originated in Vancouver, including Cactus Club, which is now found across Canada.
No matter what sort of date-night food you are looking for, there is something on the menu to satisfy all palettes. Coal Harbour is the central location and has the BEST views.
Other restaurants that offer similar menus and styles are Earls, JOEY, and Glowbal.
Lonsdale Quay Night Market
The night market at Lonsdale Quay takes place every Friday evening from June-September. Lonsdale Quay has a year-round indoor market, but outside by the pier, they line up food-trucks-galore.
You can try many different options and sit along the pier to watch the sunset and city lights as you eat—one of the most romantic ways to spend the evening by the water.
Eat at Vancouver's Famous Steakhouses
Vancouver is known for its steakhouses and their famous Canadian beef. Both Hy's and The Keg are upmarket and slightly pricier than the other options on this list.
Still, they offer an elegant dining experience and atmosphere that reflects that.
If you are looking to treat your partner to a higher-class dining experience or want to celebrate an occasion, this is the perfect date night spot for you.
There are atmospheric, romantic locations in every city. For another excellent steakhouse recommendation, check out El Presidio in this perfect itinerary for Mazatlán, Mexico.
Purdy's Chocolate
If you're looking for the ideal dessert, then a stop at Purdy's Chocolate is a MUST. This is a Vancouver staple, so no trip is complete without a stop here.
Whether you are with your partner or looking for the perfect gift to bring back, this is guaranteed to be a winner!
Try some individual pieces or go for a whole box. You won't be able to leave without bringing some hedgehogs with you.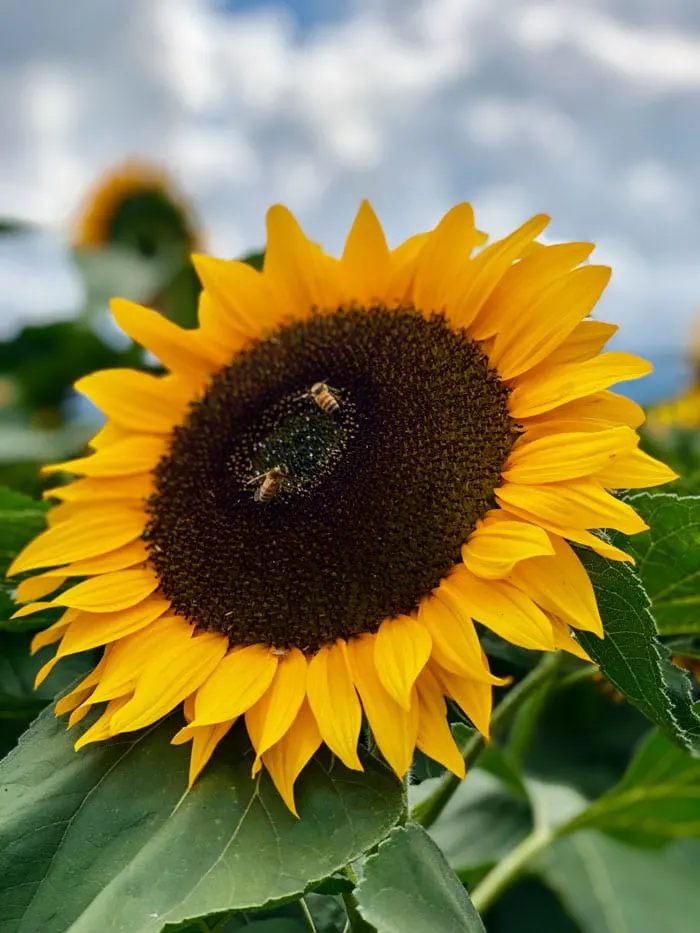 Go for Sushi
Welcome to the home of the California Roll! Vancouver has sushi restaurants on almost every street corner.
While some are better than others, they're all very consistent in that the seafood is fresh, and they will all have similar menus.
Sushi is a staple lunch for many Vancouverites and is perfect if you want to have something easy to share with your partner or even take for a picnic!
Wendel's Café Fort Langley
Fort Langley is the home to a historic Hudson's Bay Trading Post that helped build Canada into the country it is today.
This is a fun fact for history lovers, but Fort Langley today is now more commonly known as the town you see featured in multiple Hallmark Christmas and Romantic movies.
Wendel's is a bookstore and café that sits at the edge of town by the river. There is guaranteed to be a line-up since the food is SO good. No matter what you choose, you won't be disappointed.
After eating, take some time to wander through the boutiques in town and imagine yourself as one of the characters in those cheesy Hallmark movies that everyone secretly loves!
Romance in Vancouver: Romantic places in Vancouver BC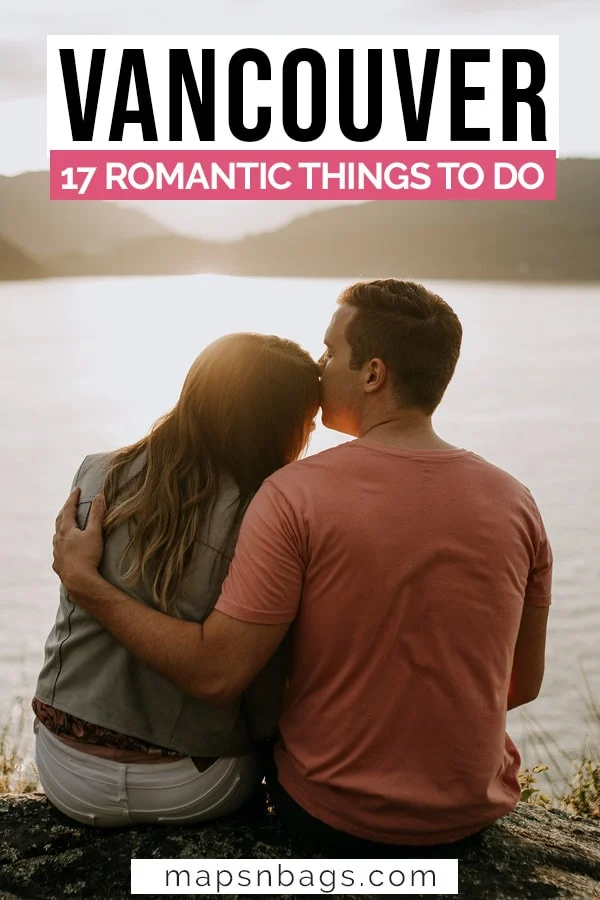 Vancouver is a city that has so much to offer. The Spring and Fall months tend to be the rainiest, so July and August are the best times to visit if you want sun and warm weather.
The city is incredibly beautiful in the snow as well, so don't count out December or January for your visit, as there is nothing better than being cuddled up with your partner while the snow is falling outside.
While it may not be known as a romantic city in the same way that Paris is, there are indeed so many great things to do with your loved one.
Whether you're celebrating your 50th anniversary together or you have only recently started dating, Vancouver will hold many special memories for you after your visit.
About the author
Kelly is a travel blogger at The Weekend Wanderluster, a blog about making the most of your vacation and experiencing hidden gems and must-sees around the world.
Did you like this post about romantic things to do in Vancouver? Then save it to your Pinterest travel board!
Our best travel tips & resources:
Here're our all-time favorite travel tips & resources so that you can save money and plan your travel logistics hassle-free! For more travel resources, check out our
travel tips.
Saving money: Fly on offseason, winter (not Xmas or NYE), Tuesday, or Wednesday! According to experts, these are the cheapest days to fly.
Travel insurance: Before you leave for your trip, make sure you have a valid travel insurance policy because accidents happen on the road. We have been paying for Safety Wing travel insurance for a little over a year now, and we happily recommend them to our family and friends.
Accommodation: We usually stay in mid-range comfy hotels or private rooms in hostels. These are the sites we use to book accommodation: Booking.com for hotels (excellent flexible cancellation policy) and Hostelworld for hostels (low deposit and easy cancellation).
Tours:We absolutely love booking guided tours with locals to get a history lesson while sight-seeing, especially food tours and walking tours! We book all of our tours using Viator and GetYourGuide.
Transportation: We use Google Maps to figure out how to get around a place using public transport. When we book a rental car, we always use Discover Cars to find the best deal.