If you are looking for the most epic road trips in Canada, you have come to the right place!
For us, Canada means breathtaking views, beautiful landscapes, and stunning nature.
It's a place that screams road trip time, don't you think?
From west to east, road trips in Canada are a must for outdoor aficionados and nature lovers.
If you have been urging to hit the road, read on!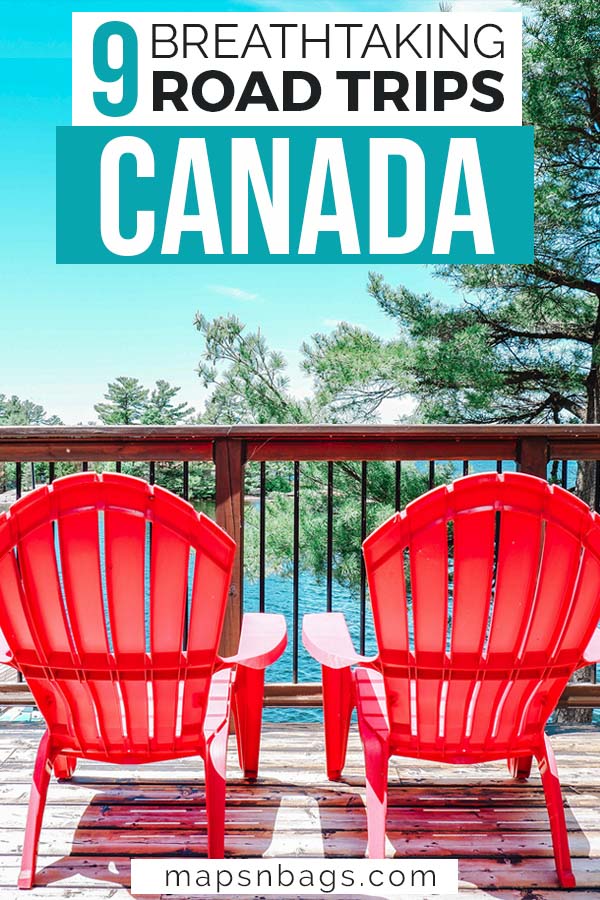 Best road trips in Canada
While there are countless Canada road trips, we asked fellow travel bloggers to name their all-time favorite road trip in Canada.
The result is a fantastic list of epic drives around the country! We hope you enjoy the read!
9 Canadian road trips you need to take
In no particular order, these are the best road trips in Canada you need to take!
Saskatchewan road trip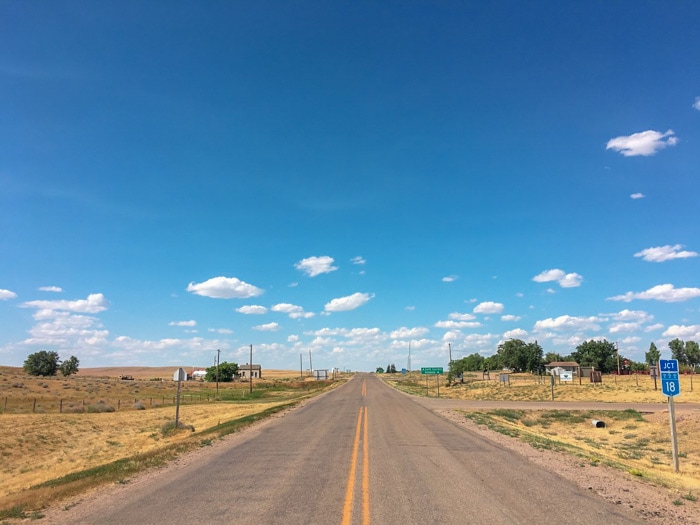 It's a shame not more people include a Saskatchewan road trip into their Canada itinerary. There may not be mountains, but Saskatchewan wows in its own way.
There are surprisingly cute little towns, two Nationals Parks and several Provincial Parks and prairies as far as the eye can see.
Add two buzzing cities to the mix, Saskatoon and Regina, and you'll come to appreciate Saskatchewan and its endless blue skies.
Start this 475-km Canada trip at the beautiful Cypress Hills Provincial Park to enjoy camping, hiking, swimming, and stargazing (there is an observatory). Spend at least one night here to admire the starry skies of Saskatchewan!
Next on the itinerary is Eastend, where one can admire a vast T-rex skeleton (one of the few ever found) at the T-Rex Discovery Center.
Continue to the French-English village Gravelbourg where the friendly residents switch effortlessly between French and English.
Have a croissant or ice-cream in one of the cute cafes and explore the heritage buildings in town.
End the trip to Regina and spend at least two days here. Explore the Wascana Center, visit a museum or two, and enjoy Regina's extensive collection of cafes and restaurants.
Don't miss the opportunity to take a free tour of the imposing Provincial Legislative Building!
Lotte from Phenomenal Globe Travel Blog
Sea to Sky Highway – a road trip from Vancouver to Whistler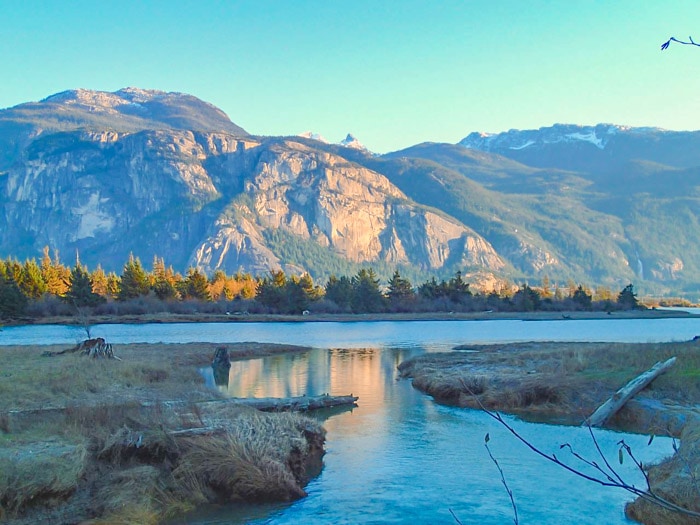 The Sea to Sky Highway is one of Canada's most scenic roads. It's only 120km long, but with so much to see along the way, you could easily spend a few days exploring the area.
Formally known as Highway 99, the Sea to Sky Highway starts at the ocean in Vancouver. It ends at the ski town of Whistler high in the Coast Mountains, twisting and turning along the way.
The town of Squamish is at the rough halfway point. Nicknamed the Adventure Capital of Canada at the rough halfway point, it is world-famous for rock climbing, mountain biking, kiteboarding, and hiking.
There are lots of scenic viewpoints throughout the drive to soak up the mountain scenery. For even better views, ride the Sea to Sky Gondola in Squamish to the top of the mountain.
Be sure to stop to see some of the region's most spectacular waterfalls: 335m-tall Shannon Falls, 70m-tall Brandywine Falls, and hidden gem, Alexander Falls.
Adventurous travelers should budget time for a hike the steep scramble to the top of the Stawamus Chief, one of the world's most massive granite monoliths, or the all-day hike to the glacial waters of Garibaldi Lake – both are great choices.
Taryn from Happiest Outdoors
Thunder Bay – Northern Ontario road trip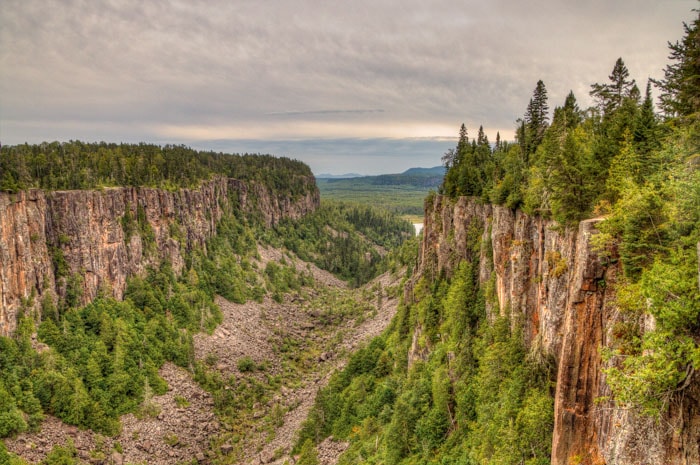 If you're looking for an incredible road trip in Canada, jump in the car and head to Thunder Bay—one of the most beautiful places in Canada.
Located almost 1400 kilometers north of Toronto, Thunder Bay is one of Ontario's best outdoor destinations.
This epic Northern Ontario road trip takes approximately 15 hours to complete, and that's if you're not stopping at any of the incredible parks, towns, and sights along the way.
However long it takes you to get there, we recommend staying at least a few days to explore Thunder Bay.
Set on the northern edge of Lake Superior, Thunder Bay has a rich history. It is home to some incredible sights that range from an amethyst mine to Ontario's very own grand canyon – Ouimet Canyon.
Thunder Bay is full of amazing things to do, whether you're a nature addict or love history or art. Not only that, but it also makes a lovely romantic getaway in Ontario for adventurous couples.
For the outdoor adventurer head to Sleeping Giant Provincial Park and hike the Top of the Giant Trail for sweeping clifftop views.
There are also a bunch of waterfalls and other hiking trails around the Thunder Bay Area. For history and art buffs, the city is full of museums, a fort, and a beautiful stretch of art installations along the lakeshore.
But before you leave, don't forget to grab some of their famous Persian donuts, making for a tasty treat on the car ride home.
Stephanie from The World As I See It
Banff – Bow Valley Parkway road trip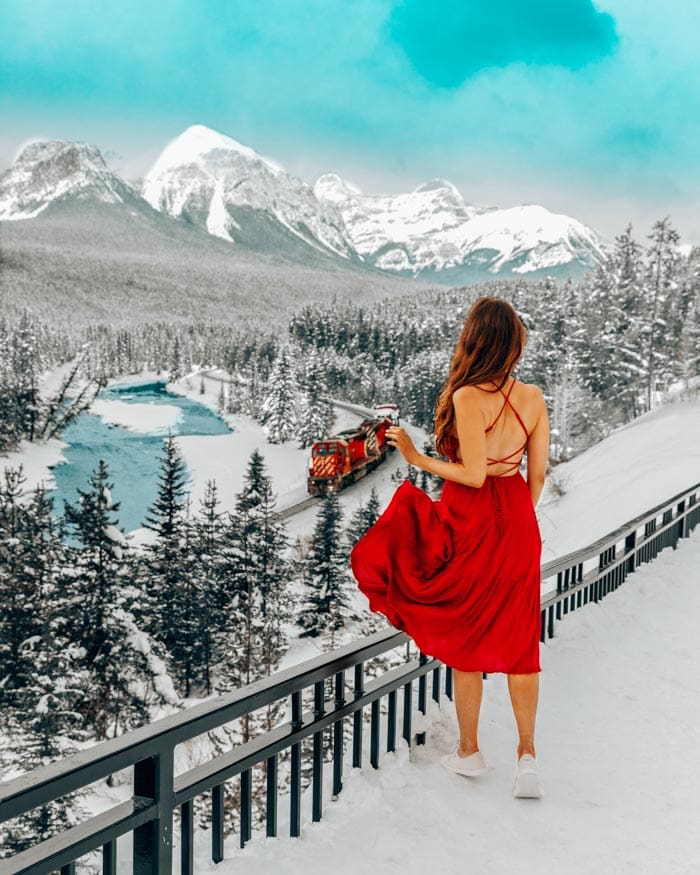 The Bow Valley Parkway is one of the most iconic roads to drive in Canada.
It is the scenic route between Banff and Lake Louise in the Rocky Mountains. It encompasses some of the most beautiful sights that Canada is known for.
You will want to add it to your Banff itinerary!
Driving the parkway is an excellent trip at any time of the year. Still, it is an unforgettable adventure and one of the best things to do in Banff National Park in winter.
The route starts in Banff, a quaint mountain resort in the heart of the Rocky Mountains. It continues north-west on the secondary Highway 1A, the famous Bow Valley Parkway.
While the overall drive only takes a couple of hours, stopping along the way is highly recommended.
That's because this area of Canada is well known for its wildlife and breathtaking natural beauty – especially in winter.
A great first stop is Johnston Canyon. This Banff hike through Johnston Canyon is relatively easy and short (3km one way for both falls).
It ends with gorgeous views of sparkling blue frozen waterfalls. The falls are also very popular among ice climbers.
Just a half-hour drive further is the iconic Morant's Curve, made famous by Nicholas Morant, a staff photographer for the Canadian Pacific Railway.
The viewpoint overlooks the train tracks of the Canadian Pacific Railway as the tracks snake along the Bow River, with majestic mountains in the background.
Stopping here to see a red freight train make its way through the valley, in contrast to the white winter wonderland, will make for an unforgettable experience.
Just a little bit further, at the end of the Bow Valley Parkways, is arguably Canada's most famous lake, Lake Louise, the perfect end to a winter road trip.
Bettina from The Next Trip
Calgary to Columbia Icefield road trip – A must-do road trip in the Canadian Rockies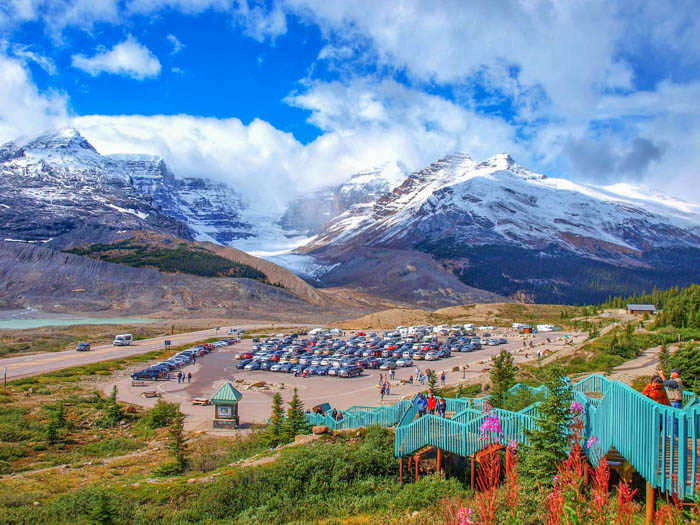 Columbia Icefield is a humongous glacial mass wrapping the plateau between Mount Columbia and Mount Athabasca.
This ice field, situated on the Canadian Rockies, spreads along the border of British Columbia and Alberta and stretches through Banff and Jasper National Parks.
At a driving distance of 310 km or 192 miles from Calgary, it will take around 3 hours 35 mins (non-stop) to reach Columbia Icefield Discovery Centre. All private vehicles can be parked at this location.
The Columbia Icefield Discovery Centre houses two different restaurants. A sophisticated buffet-style Altitude and rustic cafeteria-style Chalet offer an array of options for visitors.
It is advisable to buy tickets to the Columbia Icefields in advance. Tours operate every 15-20 minutes. Check Columbia Icefield ticket price here.
Want to travel with a guide? Check out the Columbia Icefield Day Tours from Calgary.
Some of the main attractions are the Columbia Icefields Adventure and the Columbia Icefield Skywalk.
The first is a once-in-a-lifetime glacier-walk. It will help explore the Athabasca Glacier, one of the six glacial 'toes' of the Columbia Icefield.
Usually, a vast Ice Explorer takes the tourists on to the glacier. The best time of the day is either before 11am or after 3pm.
The latter is a 1km glass-floored hanging observation deck from where you can enjoy the stunning views of the Sunwapta Valley.
Rituparna from Travel Around and Explore
Southern Manitoba road trip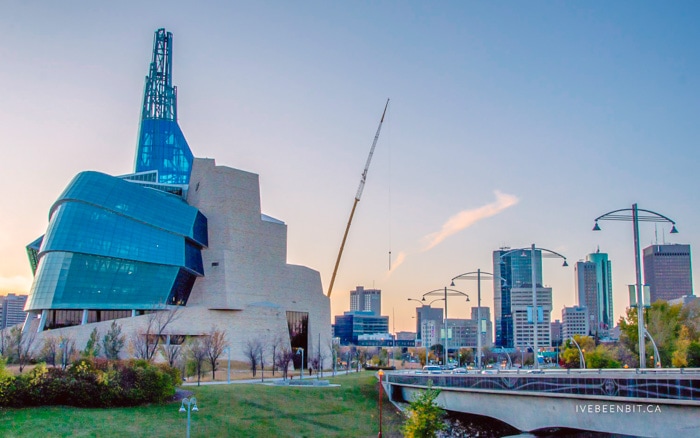 There is so much more to Manitoba than just Churchill and Winnipeg! While both are incredible destinations, the best way to explore the province is with a week-long Manitoba road trip. What is all there to see and do?
Just 30 minutes east of Winnipeg, you'll find the geographical center of Canada (and a cute photo opportunity) along the Trans Canada Highway.
Past it, you'll want to visit the waterfalls located in Whiteshell Provincial Park. Yes, there are waterfalls in the Prairies!
Afterward, head north to the town of Gimli for a taste of Iceland. Home to Islendingadagurinn, the Icelandic Festival of Manitoba, the city was settled by Icelanders in the 1870s as part of the New Iceland settlement in Manitoba.
Stop by the New Iceland Heritage Museum to learn all about this fascinating history!
Once you've explored Gimli, it's time to head west. Head to Spirits Sands Provincial Park where you'll find desert-like sands you wouldn't expect to find in Canada!
Don't forget to check out the Devil's Punch Bowl's eerily emerald waters before continuing on to Riding Mountain National Park! Stop by Lake Audy and keep your eyes peeled for a glimpse of the locals… the bison!
With all this, incredible restaurants, amazing hikes, and more, this is one Canadian road trip you'll never forget!
Lindsay from I've Been Bit! Travel Blog
Muskoka road trip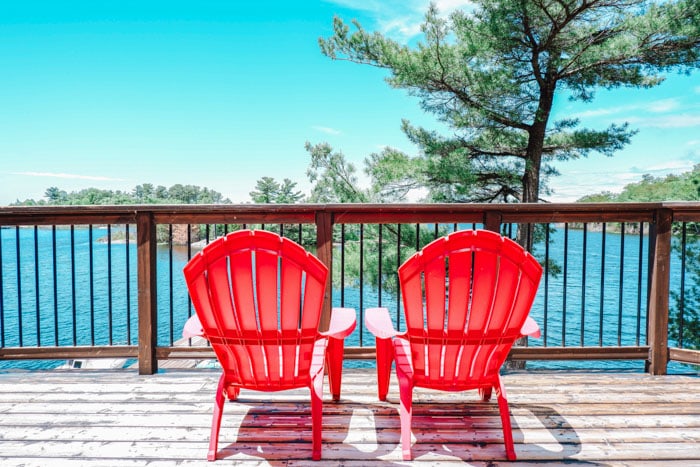 Muskoka can be found in the heart of Ontario from Georgian Bay on the west side to Lake of Bays on the East. With cute little towns spread throughout the region, Muskoka is the perfect place for a road trip.
Ever seen that photograph of Muskoka chairs on a dock? That iconic photograph embodies the feeling of relaxation that you will find here.
There are plenty of AirBnB's for rent if you wish to spend a few days enjoying what the area offers.
Start on the West end and access Georgian Bay through a town as cute as its name: Honey Harbour.
You can even take a day trip to Georgian Bay Islands National Parks. For that, take the ferry to Cedar Spring, where they have beaches, picnic shelters, and trails.
Gravenhurst is centrally located and also offers several activities. The highlight of Gravenhurst is the Muskoka Steamship.
The 'Segwun' offers cruises daily in the summertime and allows you to see the beauty of Lake Muskoka on a boat ride.
If you have kids, stop in Bracebridge at Santa's Village, a miniature theme park that is open three seasons of the year. They have roller coasters, camping, and even the jolly old man himself.
End your drive in the East by visiting Lake of Bays, which is widely considered the Hamptons of Muskoka.
While Georgian Bay is known for rocky shores and sweeping pines, Lake of Bays is much less rugged. Explore the sandy beaches and admire the majestic cottages here.
Be sure to stop for ice cream just outside of Huntsville, where you can find the original Kawartha Dairy.
This beloved ice cream, made exclusively with Canadian milk, is associated with Muskoka and just celebrated 80 years in business.
Muskoka is located only two hours from Toronto, making it the perfect weekend getaway or road trip in any season.
Lynn from Be Your Own Travel Guide
Whitehorse to Carcross road trip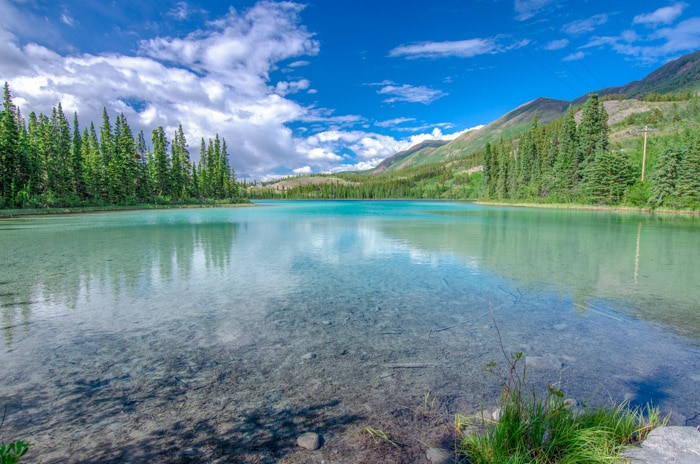 Any road trip in Yukon Territory is beautiful, but one from Whitehorse to Carcross is arguably the best.
Visitors should not let the short distance fool them; there is so much to see and do along this short stretch of road that it can take a whole day to complete. Leaving the "city" of Yukon, the scenery quickly changes.
Mountains and forests pop up all around as the great first stop reveals itself, Miles Canyon. Miles Canyon is known for its deep basalt walls surrounding teal waters.
People can enjoy walking along the trails surrounding the canyon or just admire the views from the suspension bridge. Back on the highway, the next stretch of road leads onto the Klondike Highway.
Take in the views surrounding the drive, and soon Emerald Lake will appear. It is not a large lake, but what it lacks proportions it makes up for in magnificence.
A roadside viewpoint looks down at the lake and the surrounding mountains. The lake shines emerald under bright sunlight as it is filled with calcium carbonate clay.
A small gravel road leads to the lakeshore. A road tripper will not want to miss the most unique stop on this drive: Carcross Desert.
Quaintly known as the world's smallest desert, it looks very out of place in its surroundings.
Small trees and shrubs dot the sandy landscape, and lush mountains provide a backdrop.
After these three stops, the town is the final destination of Carcross. This Carcross/Tagish First Nations town features shops and restaurants just off the river.
A road trip from Whitehorse to Carcross is rewarding to any traveler. It should be included to view some of the most beautiful Canadian landscapes!
Samantha from A Truthful Traveler
Vancouver Island road trip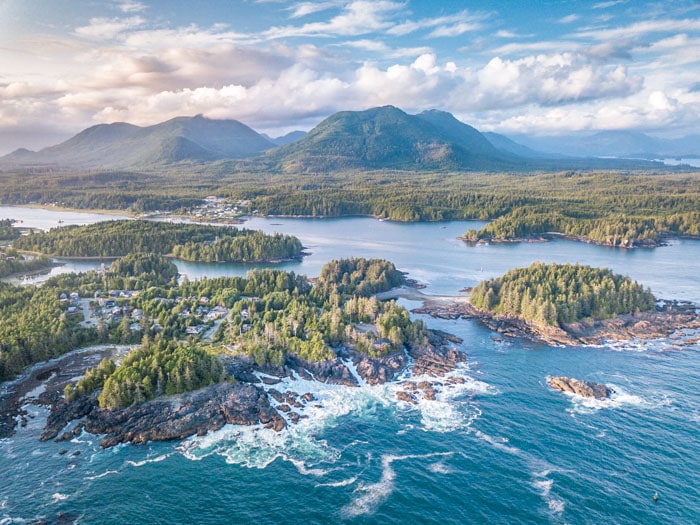 With verdant forests, impressive waterfalls, rugged mountains, and an abundance of wildlife, Vancouver Island makes for the perfect Canadian road trip.
The perfect Vancouver Island road trip itinerary will likely begin in Victoria. In Victoria, there is some fantastic whale watching during the summer months, with whales appearing right off the bay's shores.
From Victoria, head out along the Marine Circle Route, one of the most popular driving routes on Vancouver Island.
A multitude of landscapes awaits as the road winds through the rainforest to the wild west coast along this spectacular drive. A few beaches here even have waterfalls pouring directly onto them.
For keen hikers, there are many multi-day hikes or shorter day hikes in this area.
For those short on time, the Marine Circle Route can be completed as a loop, returning to Victoria. However, with more time, continue north through Nanaimo and central Vancouver Island to Ucluelet and Tofino.
This scenic drive traverses spectacular mountain passes and pristine old-growth forests to secluded beaches and one of the best hiking trails on the island, the Wild Pacific Trail.
While most people only go as far as Tofino, it is possible to drive further north to Strathcona and Port Hardy.
Venturing further north will reward you with an awe-inspiring drive following lakes, rivers, and streams, while encompassed by cascading mountain ranges.
There are also a plethora of waterfalls waiting to be explored within Strathcona Provincial Park.
Whether you have a few days or a few weeks to explore Vancouver Island, it is sure to be one of the best road trips in Canada.
Sophie from We Dream of Travel
Which of these road trips in Canada did you like the most? Share your opinion with us! We'd love to hear from you!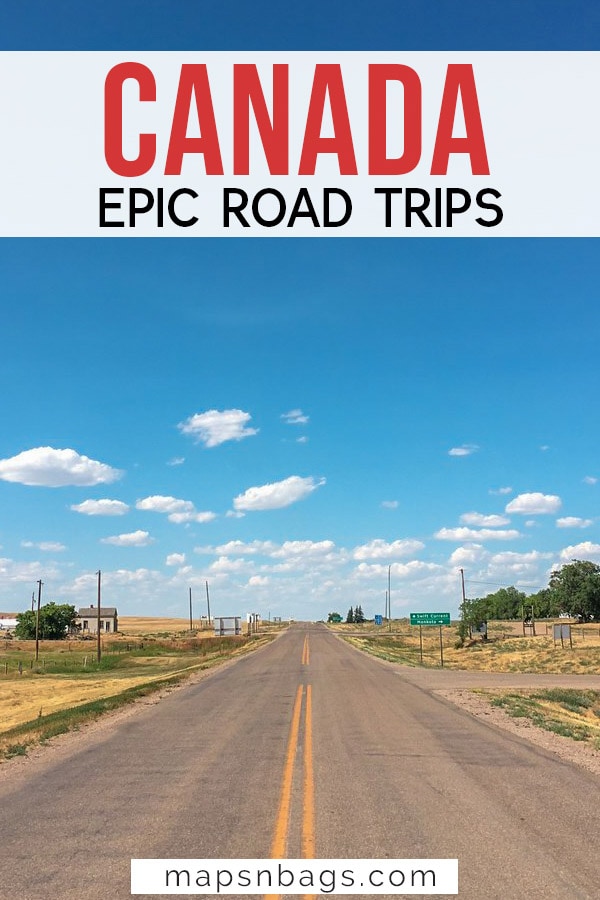 Did you like this article about Canada road trips? Then save it to your Pinterest travel board!
Our best travel tips & resources:
Here're our all-time favorite travel tips & resources so that you can save money and plan your travel logistics hassle-free! For more travel resources, check out our
travel tips.
Saving money: Fly on offseason, winter (not Xmas or NYE), Tuesday, or Wednesday! According to experts, these are the cheapest days to fly.
Travel insurance: Before you leave for your trip, make sure you have a valid travel insurance policy because accidents happen on the road. We have been paying for Safety Wing travel insurance for a little over a year now, and we happily recommend them to our family and friends.
Accommodation: We usually stay in mid-range comfy hotels or private rooms in hostels. These are the sites we use to book accommodation: Booking.com for hotels (excellent flexible cancellation policy) and Hostelworld for hostels (low deposit and easy cancellation).
Tours:We absolutely love booking guided tours with locals to get a history lesson while sight-seeing, especially food tours and walking tours! We book all of our tours using Viator and GetYourGuide.
Transportation: We use Google Maps to figure out how to get around a place using public transport. When we book a rental car, we always use Discover Cars to find the best deal.