Traveling to Banff in the winter? Then you will want to read this practical Banff itinerary while planning your trip!
Banff National Park is one of the most beautiful places in Canada, and in the colder months, it really becomes a winter wonderland.
I've made four visits to Banff in the winter, and somehow I always leave with my winter bucket list longer than when I started.
In this post, I'm going to walk you through my ideal 4-day Banff itinerary crafted from my experiences, having visited the park multiple times.
I'll also provide you with accommodation recommendations, plus some planning and packing tips.
I should call out that this Banff itinerary keeps you in the national park for all four days. It's widespread to visit the nearby parks, specifically Yoho National Park and Jasper National Park, on the same trip.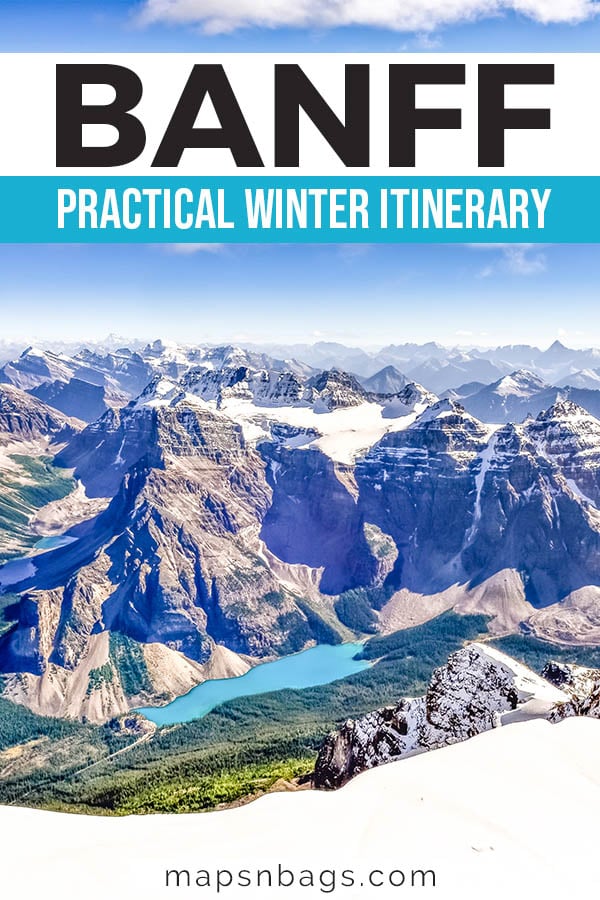 Banff itinerary: When to go
Like much of Canada, winter stretches on and on in Banff National Park. It starts getting cold in October, and by November, it's common to see snow on the ground.
The snow is usually gone by April, though sometimes we get a brief period of snow in June!
Having visited Banff in winter on four separate trips now, my favorite time is mid-January to mid-March.
The days are starting to get longer, meaning more sunshine hours.
Beyond that, I wouldn't recommend Banff over the Christmas holidays (it's so busy!)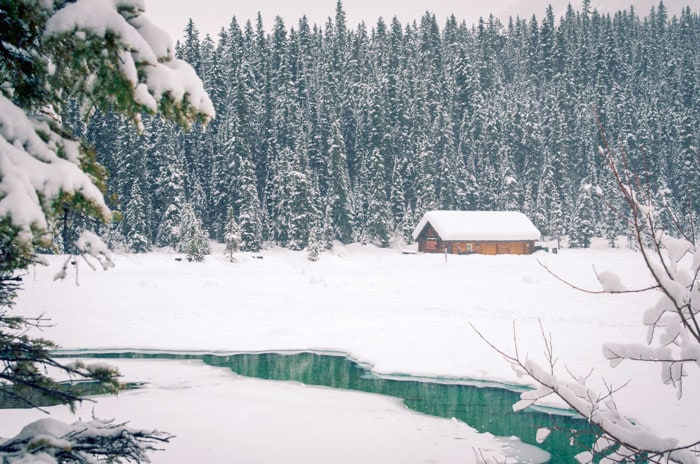 Where to stay in Banff/Lake Louise
At this point, I've stayed at over ten accommodations in Banff and Lake Louise. I definitely have some favorites (you can read a review of each here).
Hostels: In Banff, my favorite hostel in Samesun Banff. In Lake Louise, I really like Lake Louise YHA.
Mid-Tier: There are dozens and dozens of affordable hotels in Banff. I liked the Royal Canadian Lodge. I haven't stayed at the Lake Louise Inn myself, but my friends recommend it.
Luxury: If you're looking to splurge a little bit, I've stayed at both the Fairmont Banff Springs and Fairmont Chateau Lake Louise. Both hotels were absolutely stunning.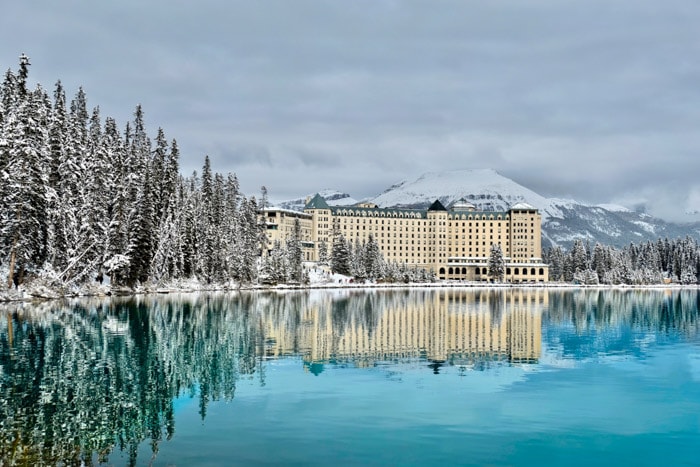 Banff itinerary: What to Bring
Remember, Banff in winter is really cold and a lot of the activities are outside. That means you want to have warm clothing so you can stay out as long as possible.
Clothing
● Thermal base layer top and bottoms (if you need a refresher on layering, check out this post)
● Fleece or wool sweater (not cotton)
● Hiking pants (ideally water-resistant)
● Winter coat or puffer jacket + shell
● Snow pants (optional)
● Gloves
● Hat
Footwear
● Wool socks
● Winter boots (others recommend hiking boots, but I did not find my hiking boots warm enough on my first two trips and now always wear proper winter boots, especially when going on a hike in Banff.)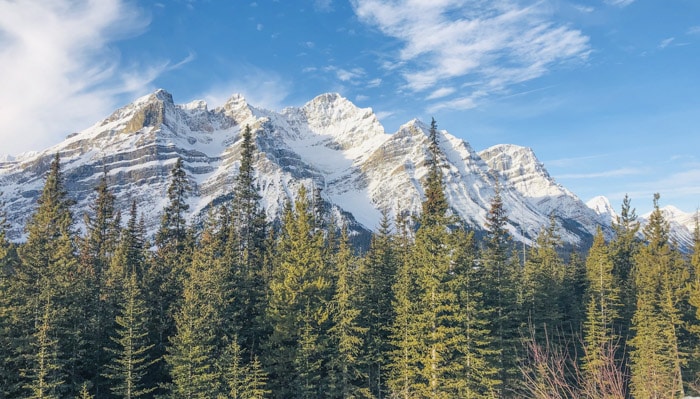 Other
● Thermos (for warm beverages)
● Hand warmers (optional)
● Camera
Planning & Packing Tips
Do you need to rent a car? Technically no, you don't have to rent a vehicle to experience Banff; however, I strongly recommend it.
There is a bus that goes from Calgary to Banff, and another goes from Banff to Lake Louise. But you won't have transport to the beautiful lakes or photo spots.
Click here to find affordable car rentals in Banff
Do you need snow tires? I strongly encourage you to get snow tires if you will be driving on the Icefields Parkway.
The road isn't well maintained in the winter and is usually covered in snow (and can be slippery).
Do you need to book accommodation in advance? Even in the less busy winter season, you should still book your accommodation in advance.
Hostels and budget accommodations fill up quickly. Same with luxury hotels.
There are so many mid-tier options that you'd likely be able to find something at the last minute, but it's easier to book ahead.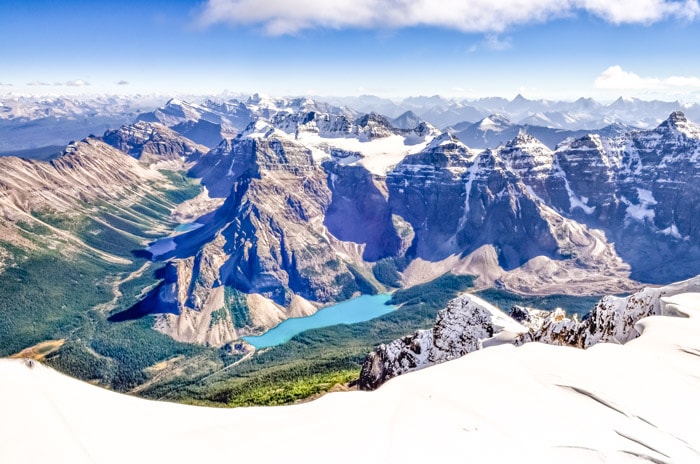 Banff Itinerary 4 Days Guide
Here is a quick overview of this Banff itinerary. As touched on earlier, this itinerary is designed for four days, four nights in Banff in winter.
On the morning of the first day, you will drive from Calgary to Banff (Calgary International Airport is the most common entry).
You will have four full days in the park, spending two nights in Banff and two nights in Lake Louise. On the fifth morning, you will drive back to Calgary.
This itinerary can easily be adapted for more or less time, however. Everything in Banff National Park is relatively close together.
You can mix & match and customize the itinerary to suit your needs and interests.
Day 1 of your Banff itinerary
Drive to Banff National Park
Pick up your rental car: There are several rental car companies at Calgary International Airport. I recommend booking online ahead of time.
Pick up groceries: Once you've picked up your car, begin the drive from Calgary to Banff National Park. Along the way, you will pass through the town of Canmore.
If you are staying in hostels where you can cook your own meals, I recommend picking up groceries in Canmore (which tends to be a bit cheaper).
Pick up your permit: Soon, you'll arrive at the entrance to Banff National Park. You'll need to pay for a permit (last I checked, it was $7.90 per person per night).
They will give you a large receipt and a piece of tape to stick to your windshield.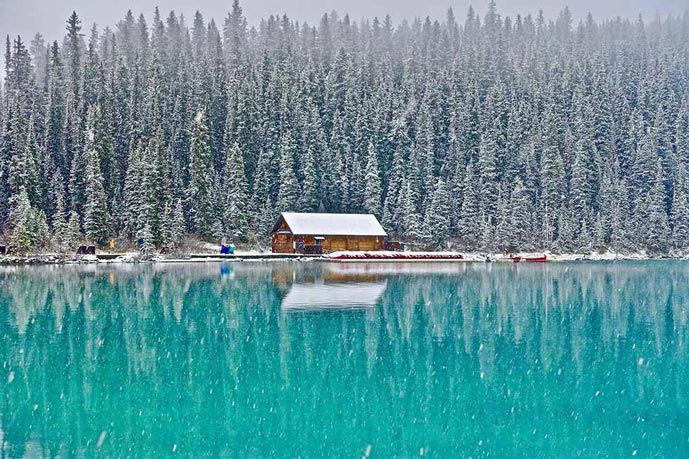 Photography Spots around Banff
There are a few beautiful spots to take photos around Banff. I think this is an excellent activity to do upon your arrival in the park.
It will introduce you to the area (and introduce you to the cold without venturing too far from the car)
Here are some places to stop for photos of mountains:
● Three Sisters in Canmore (actually before the park entrance)
● Two Jack Lake
● Lake Minnewanka
If you bring your skates, there's usually a place on Two Jack Lake to go skating. You'll likely see other skaters there and maybe even some people playing hockey.
At Lake Minnewanka, there's a closed bathhouse you can walk to over the frozen lake.
Many people make a beeline here, but there are a few places to stop on the drive along the lake before getting to the Lake Minnewanka parking lot.
Make a stop here for a beautiful photo of the mountains (without any people in the way).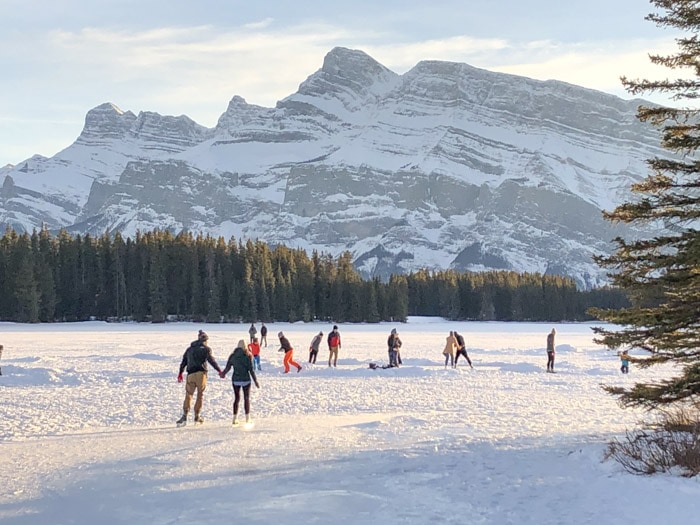 Day 2 of your trip to Banff National Park
Ice Walk in Johnston Canyon
It was until the fourth trip that I finally made it out to Johnston Canyon, and I should have done it sooner.
The trail takes you along canyon walls and by several frozen waterfalls. It's a relatively easy walk, though you'll definitely want to put ice cleats on over your winter boots because it's pretty slippery.
Guided or unguided? I personally did it with a guided group and highly recommend that option. Most people do the trail unguided, as it's a very straightforward trail and challenging to get yourself lost.
That said, I think I got way more out of the hike because I did it with a guide. The guide was able to explain the history and geology of the region, and he pointed out features along the trail I hadn't noticed.
Here are some guided tours at Johnston Canyon with stellar reviews.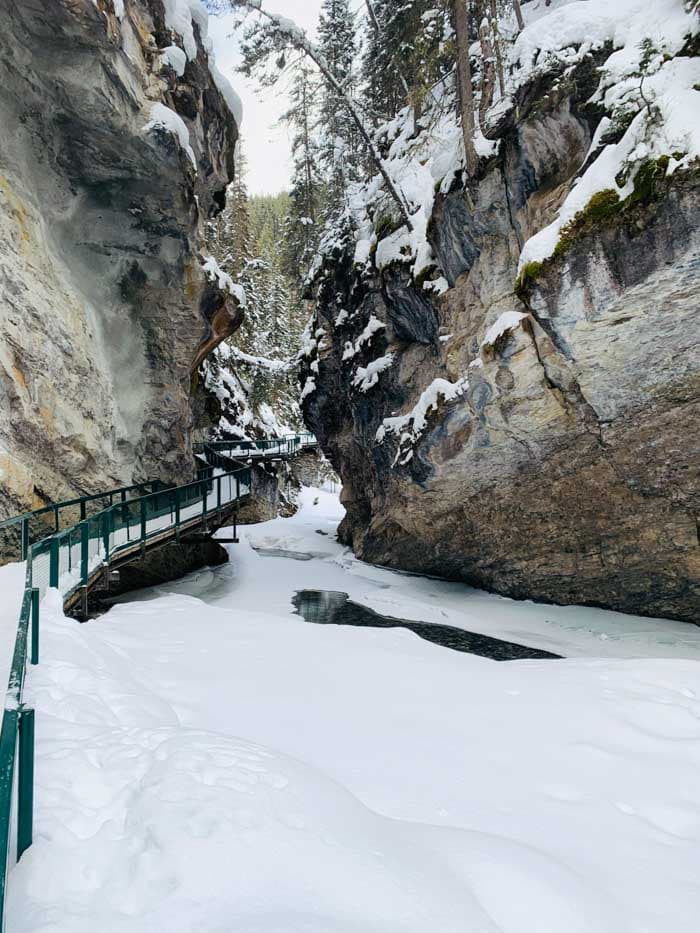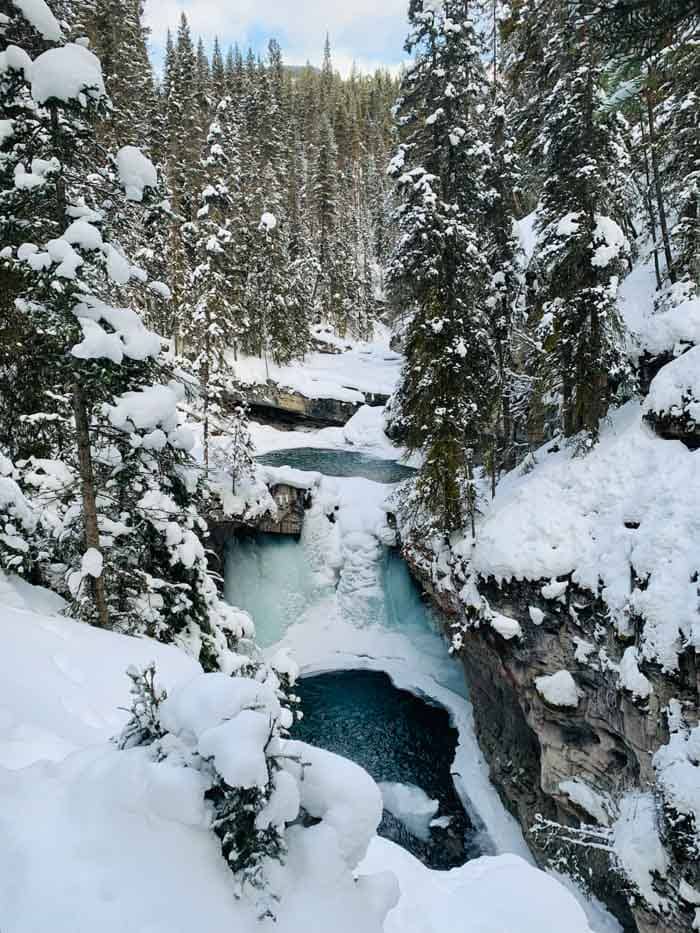 Gondola to Sulphur Mountain
The first activity in Banff National Park is a ride up on the gondola to Sulphur Mountain. Here you will get panoramic views of Banff and the surrounding mountains.
At the top of the gondola is a visitor's center with a few restaurants and a gift shop. From here, you can follow a boardwalk trail to the summit of Sulphur Mountain. It's an easy hike suitable for all levels of fitness.
The restaurants are a little pricey, but I really liked the meal we had.
The last time I went, my boyfriend and I bought the Northern Lights Lunch package, which included two gondola tickets and two lunch tickets to the buffet.
The food was excellent, the chefs were incredibly friendly (and chatty!), and the views were second-to-none.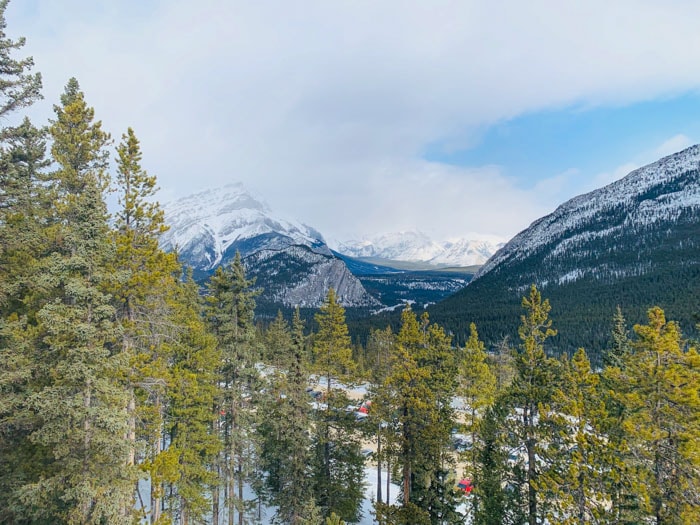 Day 3 of your 4 days in Banff
Sunrise at Vermilion Lakes
I absolutely love Vermilion Lakes in the morning!
It's incredibly close to accommodation options in Banff, so you don't need to wake up too early. And Mount Rundle is oh so photogenic.
You'll definitely see other people here, specifically photographers. Don't be shy to chat with them.
I've found everyone to be incredibly friendly (just don't walk in front of their camera). They've offered excellent recommendations for places to eat and places to go for cool photos.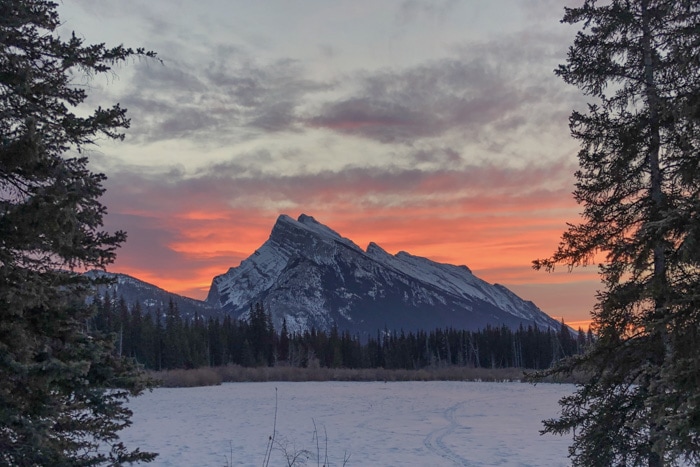 Drive to Abraham Lake
I only recommend visiting Abraham Lake if you'll be in Banff for more than three days, as it's quite a long drive.
That said, you will be driving along the Icefields Parkway, which is perhaps the most beautiful road trips in Canada.
On the drive, here are a few places to stop for photos.
Castle Junction: Leaving Banff, drive along Highway 1A (the scenic road that runs parallel to the main highway).
Before the bridge to Castle Junction, there is a place to park. From here, cross the bridge and go through the gate on the right-hand side (the fence is to keep wildlife off the road).
From here you can photograph the beautiful Castle Mountain.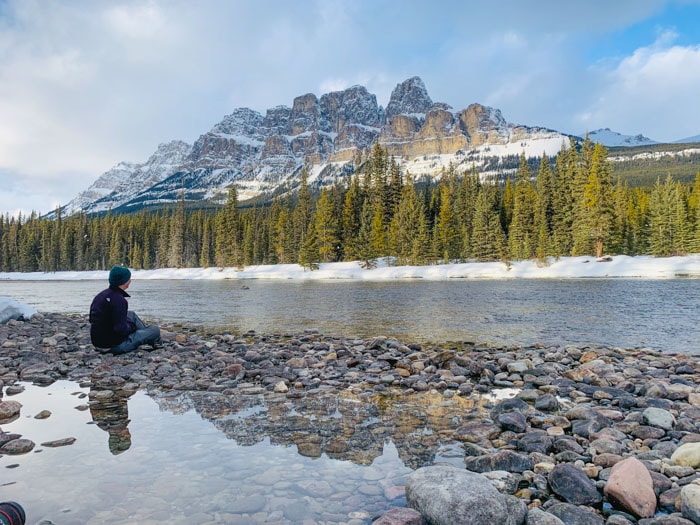 Morant's Curve: If you get lucky with the timing, you might see a train round this bend, which can make for a sweet photo. The train schedule is unpredictable, though, so more often than not, there won't be a train.
Peyto Lake: Make a stop here to photograph yourself above the Instagram-sensation that is Peyto Lake.
Abraham Lake: After the stops above, you have more driving to get to Abraham Lake. If you're wondering, "this is a lot of driving, what's so special about this lake anyways?" The answer is methane bubbles.
If you've seen those cool photos of bubbles that look like they're trapped in ice, you've probably seen pictures of Abraham Lake.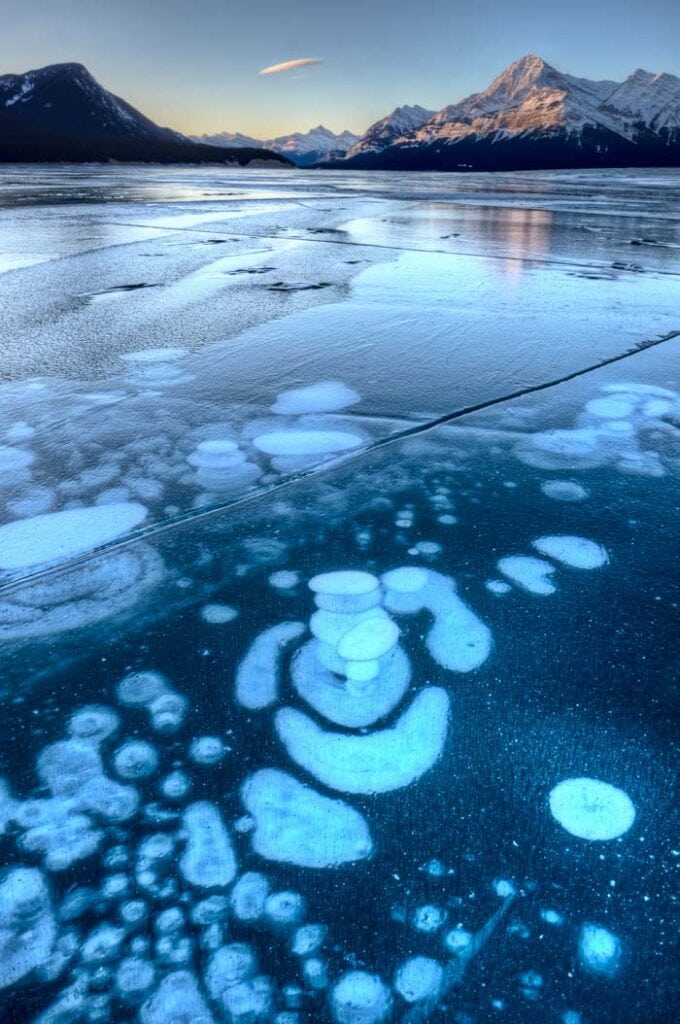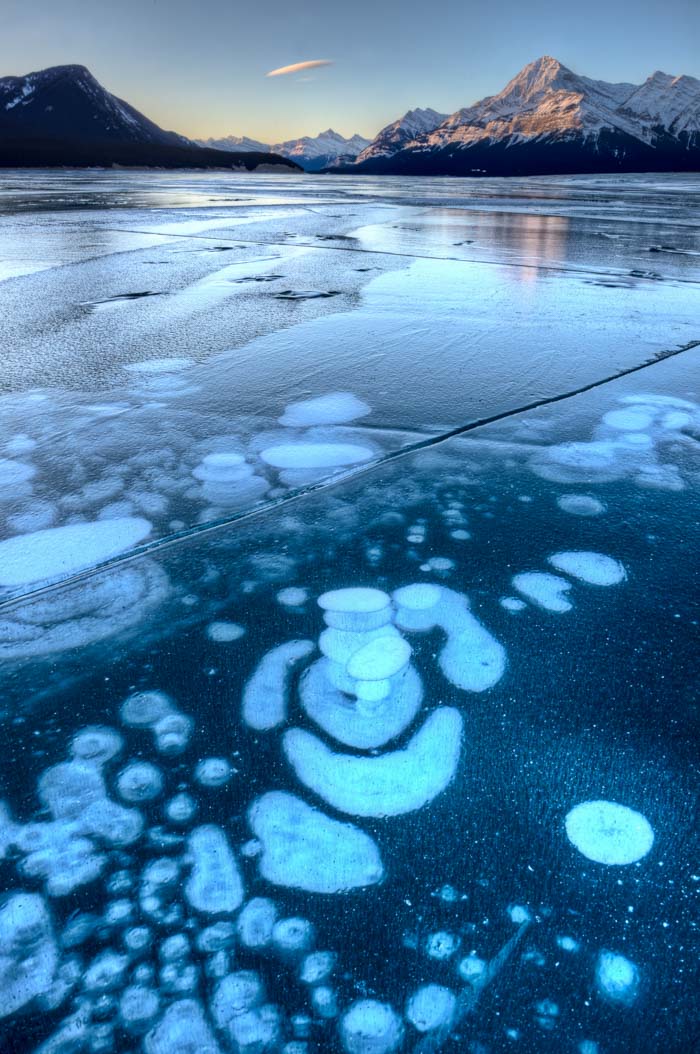 Drive to Lake Louise: After Abraham Lake, drive back the way you came until you come to the turn for Lake Louise.
If you can swing it, I do recommend staying at the Fairmont Chateau Lake Louise. On my most recent trip, we stayed here, and it was totally worth the splurge.
The restaurants are excellent, and there are guests-only lounges. It means you can enjoy exploring Lake Louise and immediately return to your warm room when you get cold.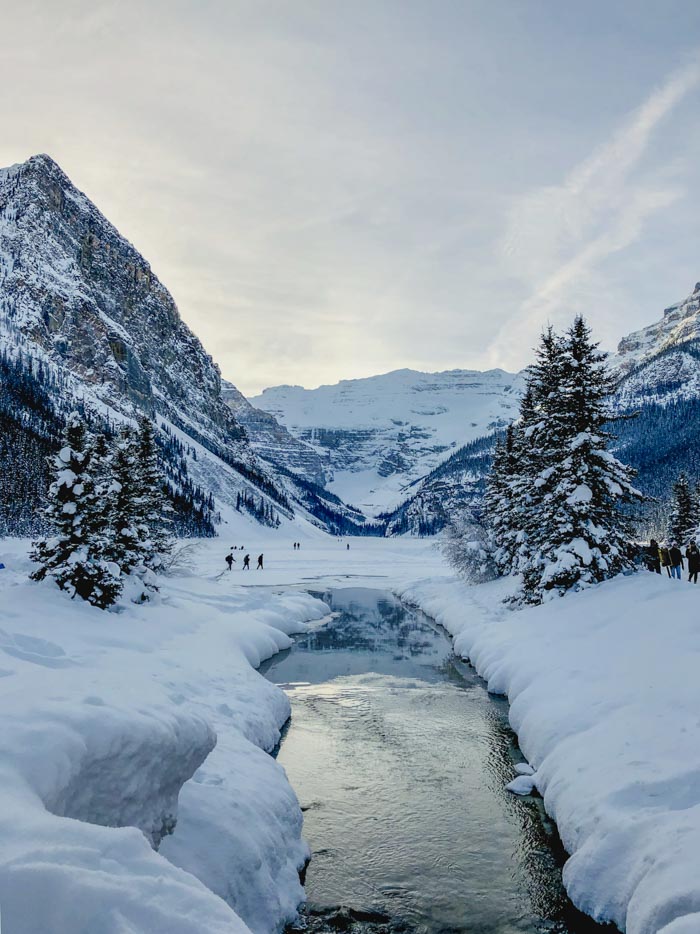 Day 4 of your Banff itinerary winter guide
Lake Louise
Spend your final full day lounging at Lake Louise. There are several things to do around the lake and at the hotel.
It'll also be helpful to spend extra time in the mountains and avoid driving too much on your last day.
I don't know about you, but after an activity-filled holiday, I like a day to unwind before returning to the real world.
Here are some activities you can do around Lake Louise:
● Get brunch in the Lakeview Lounge
● Snowshoe to Agnes Tea House
● Go skating on the lake
● Relax in the hot pool/sauna/steam room
● Check out the various art shops around the hotel
After your second night in Lake Louise, it's time to start the drive back to Calgary.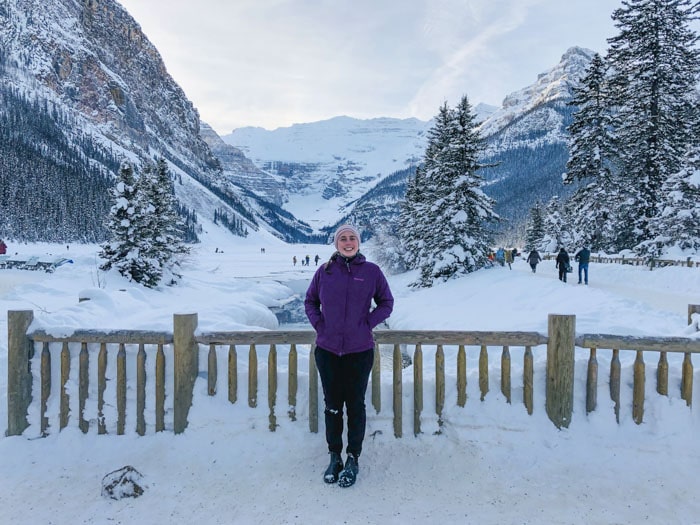 Ready for a journey to Banff in winter?
I hope you enjoy this itinerary and find it useful. If you have any questions, please feel free to reach out to me or leave a comment.
About the Author
Mikaela is the voice behind Voyageur Tripper, a blog dedicated to outdoor adventure travel.
After several seasons working as a hiking and canoeing guide throughout Canada, Mikaela now balances weekend adventuring with a full-time job and writes stories, resources, and travel guides for her blog.
For more adventures, follow Mikaela on Facebook and Instagram.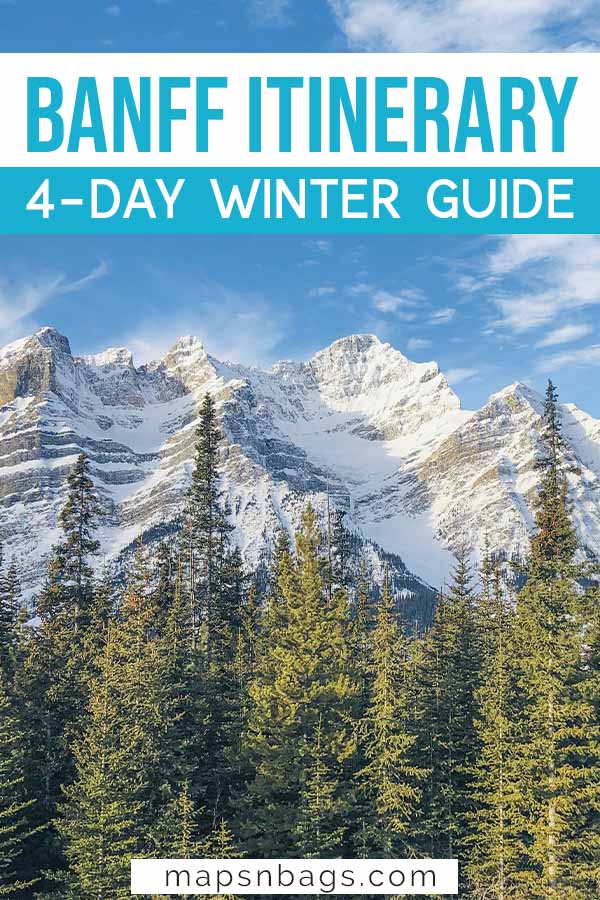 Our best travel tips & resources:
Here're our all-time favorite travel tips & resources so that you can save money and plan your travel logistics hassle-free! For more travel resources, check out our
travel tips.
Saving money: Fly on offseason, winter (not Xmas or NYE), Tuesday, or Wednesday! According to experts, these are the cheapest days to fly.
Travel insurance: Before you leave for your trip, make sure you have a valid travel insurance policy because accidents happen on the road. We have been paying for Safety Wing travel insurance for a little over a year now, and we happily recommend them to our family and friends.
Accommodation: We usually stay in mid-range comfy hotels or private rooms in hostels. These are the sites we use to book accommodation: Booking.com for hotels (excellent flexible cancellation policy) and Hostelworld for hostels (low deposit and easy cancellation).
Tours:We absolutely love booking guided tours with locals to get a history lesson while sight-seeing, especially food tours and walking tours! We book all of our tours using Viator and GetYourGuide.
Transportation: We use Google Maps to figure out how to get around a place using public transport. When we book a rental car, we always use Discover Cars to find the best deal.