Looking for inspiration? Then you'll love this massive list of the most beautiful places in Canada!
The Great White North is a vast country filled with untouched landscapes and charming cities.
It's a place that charms with ease, and no word could possibly translate the beauty of it.
Don't believe us? Then check out this list of the most beautiful places in Canada – in all provinces and territories.
Whether you want some inspiration for your Canada road trip or you're only looking for some unique travel destinations, this article is filled with jaw-dropping places to visit in Canada.
But be warned: you'll feel the urge to hit the road right away!
These are the most beautiful places in Canada!
Most beautiful places to visit in Canada
Here's a mindblowing list of the most beautiful places to visit in Canada in no particular order.
Banff National Park, Alberta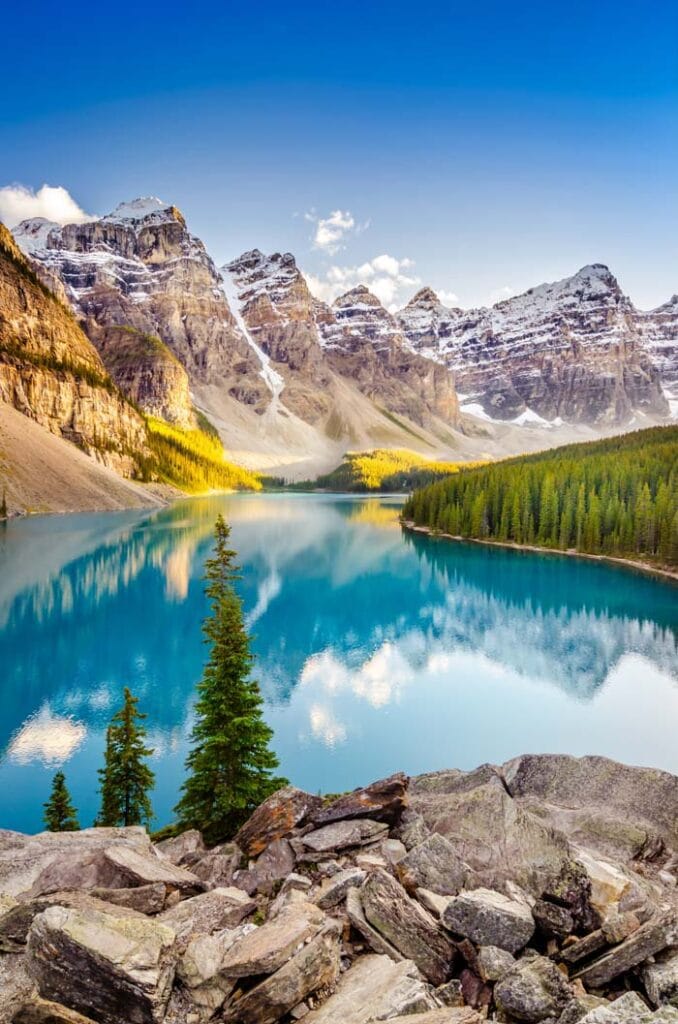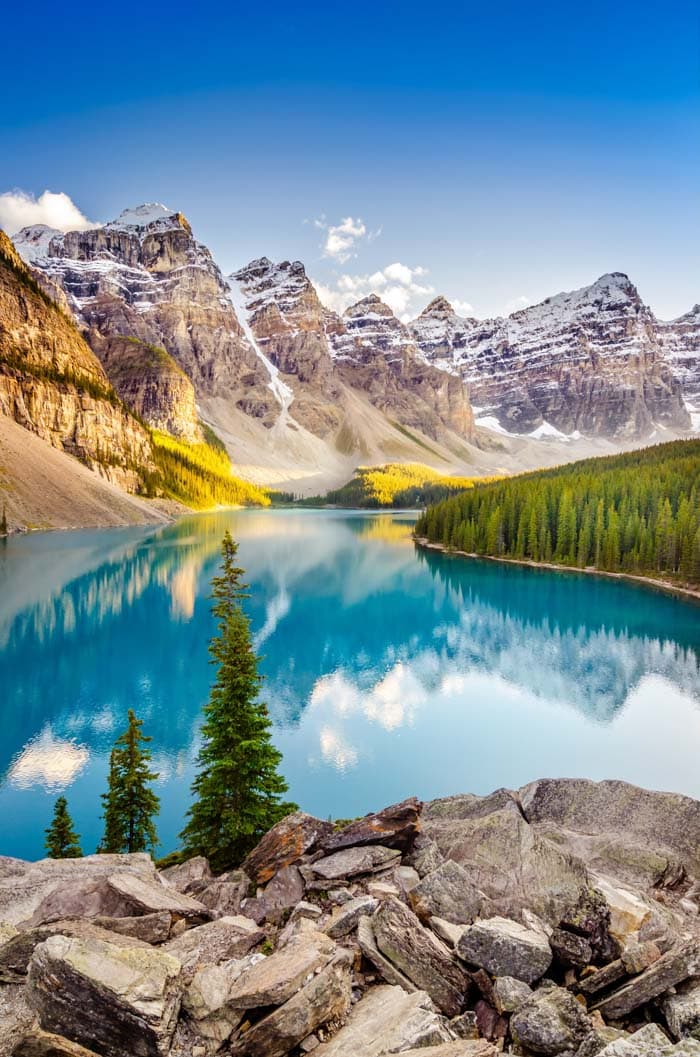 Rocky Mountain peaks, turquoise glacial lakes, a picture-perfect mountain town and village, abundant wildlife, and scenic drives – that's Banff National Park, in a nutshell, one of the most beautiful places in Canada!
Not only that, but Banff is an incredible place to hike, bike, ski, camp, and more!
If you're into venturing outdoors, know that there are hikes in Banff for all levels. They're all surrounded by some of the world's most breathtaking mountain scenery.
Whether you visit Banff in the winter or summer, one thing is for sure: you will never run out of things to do in this fantastic place!
Where to stay: Beaujolais Boutique B&B
Vancouver, British Columbia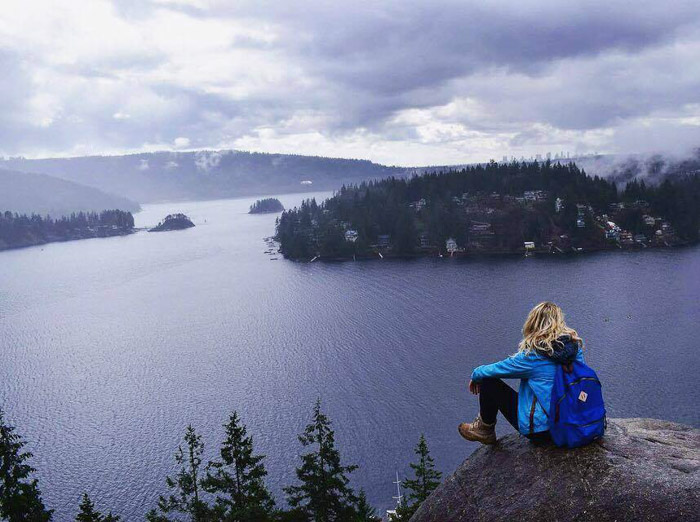 Vancouver is, without a doubt, one of the most beautiful places in Canada. It's considered one of the most livable cities in the world, and it's easy to see why.
Vancouver is located by the sea and is surrounded by mountains, making it the perfect destination for outdoor lovers of any kind.
Here, you could go whale watching one day, hiking mountains to beautiful viewpoints the next, and enjoying the tasty food of downtown, including many other romantic things to do in Vancouver.
It's a beautiful city that offers lots of fun things to do. Granville Island is one of the most popular spots in Vancouver. The island is located very central in Vancouver and has a bright industrial past.
Over time it's been revamped by artists and musicians, giving it that edgy and timeless feel. Today it's home to the best street food market in Vancouver.
If you're looking for a beautiful and easy hike, then Quarry Rock in Deep Cove is the one for you. It's one of the best hikes in Vancouver and one of the most accessible trails to get to without driving for ages out of central Vancouver.
The trail is all through the tall forest, but you will find an open rock ledge with epic views when you reach the end.
Whether you visit Vancouver for the hikes, for the beaches, for the whales, or cool downtown, this beautiful Canadian city has something for everyone.
Where to stay: Residence Inn
Greta from Greta's Travels
Old Quebec City, Quebec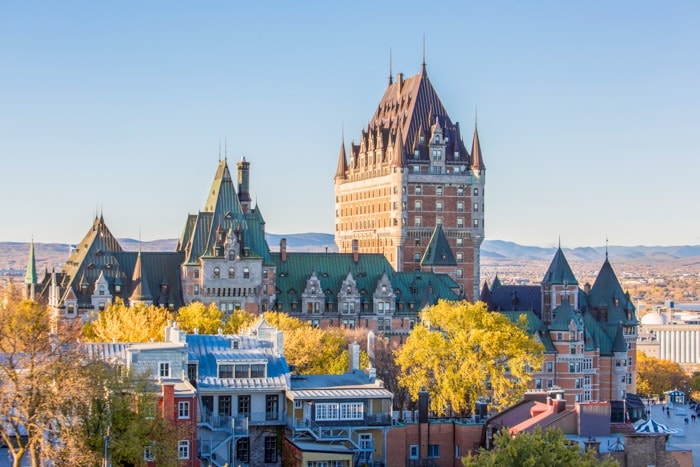 Old Quebec has a ton of French influence and is one of the most beautiful places in Canada.
You could easily mistake it for a French city with its sun-splashed plazas, open-air cafes and signs touting steak and pomme frites and petite d' joun.
But then you see the sign selling poutine, a signature dish, and you know you're in Canada.
The city's French influence is evident in the graceful architecture, the food where even a lowly baguette in a café is a special treat, and, of course, the French language.
Of course, Old Quebec is also part Anglo. There's where the city gets its unique Anglo-French feel.
There is plenty to see and do in this charming city. Start a Quebec tour in Chateau Frontenac toward the town's most exciting quarters.
This imposing structure overlooking the St. Lawrence River is over 100 years old and said to be the most photographed hotel.
Make sure to wander Rue Saint-Jean (pedestrian-only in summer) and Rue Petit Champlain, two beautiful pedestrian streets in Old Quebec that convey an air of old-world French authenticity. They are lined with restaurants, shops, and galleries.
Follow Rue Petit Champlain, and it will open to Place Royal. This is where Old Quebec was initially founded. It was the city's busy commercial center for 200 years.
Don't forget to visit the port where the Quebecois go to stroll, and people watch.
Where to stay: Le Château du Faubourg
Talek Nantes from Travels with Talek
Jasper National Park, Alberta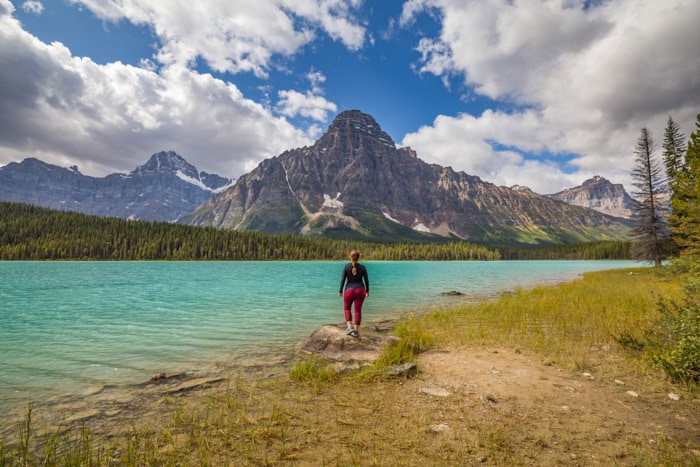 It is very commonly overlooked in favor of the more well-known Banff National Park to its south. Jasper National Park is a mecca for people that love the outdoors without the crowds.
Even in the peak of summer, numbers in Jasper are considerably lower.
Jasper National Park covers more than 11,000 square kilometers and is the largest national park in the Canadian Rockies. It is easily accessible from Edmonton in just over a 3-hour drive.
Jasper town acts as a hub for most exploration at the east entrance to the park. Many people choose to continue south through the park along the Icefields Parkway to also explore Banff National Park.
Contrary to popular belief, there are plenty of things to do in Jasper National Park. The highlights include the perfect blend of glacial fed rivers, lakes, canyons, and mountains.
Close to Jasper town is the inspiring trio of Medicine Lake, Maligne Lake, and Maligne Canyon. A cruise across Maligne Lake will also give you access to the remote Spirit Island.
Heading further south into the park, you'll find epic views over the Athabasca River that show off that sparkling blue water that the Canadian Rockies are famous for.
Eventually, the parkway reaches the Columbia Icefield, where you can get up close and personal with the massive Athabasca Glacier. There's even a skywalk that shoots out over a deep canyon that you can visit.
Regardless of how you choose to spend your time in Jasper National Park, know that there is plenty to see, and it is worth your while to deviate from Banff for a visit.
Where to stay: Mount Robson Inn
Lina Stock from Divergent Travelers
Okanagan Valley, British Columbia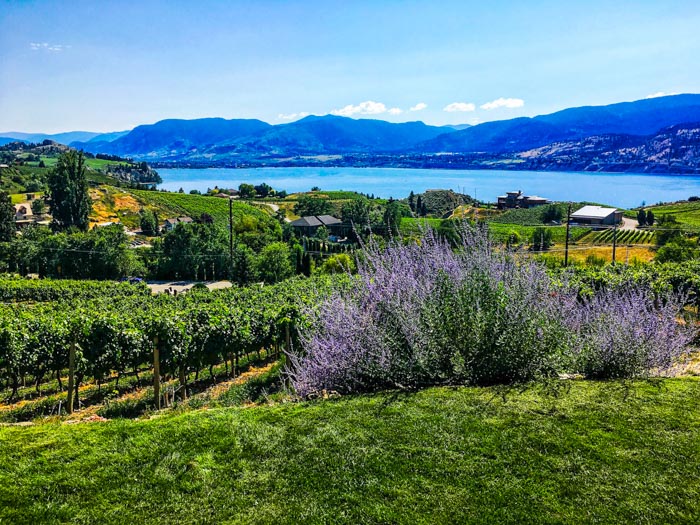 The Okanagan Valley in British Columbia is definitely one of the most beautiful places in Canada. It also has a ton of things to do.
Imagine a place with dozens of crystal clear lakes for playing in, miles of orchards full of fresh fruit, rolling hills covered in vineyards, and charming towns like Kelowna and Penticton to explore. You have an idea of what awaits in the Okanagan Valley.
In the summer months, people flock to the Okanagan for the abundance of sunny days, lovely beaches, and cooling lakes.
From spring until fall, hiking, cycling, and shopping at the many farmer's markets and roadside fruit stands are all popular pastimes.
In the winter, there's skiing and numerous other winter sports at fabulous resorts such as Big White and Silver Star.
Whatever time of year you go to the Okanagan, there is wine tasting! The Okanagan Valley is British Columbia's wine region and has over 200 wineries to choose from.
Some are small boutique wineries, and others are large commercial wineries that rival those anywhere in the world. What they all have in common is the beautiful scenery of lakes, orchards, and vineyards.
Whether you're looking for a romantic getaway, a family vacation, an adventurous nature experience, or a weekend of wine tasting, the Okanagan Valley in British Columbia will not disappoint.
Where to stay: Sparkling Hill Resort
Sarah from Discover the Pacific Northwest
Peggy's Cove, Nova Scotia
Peggy's Cove is one of the most famous and beautiful places in Canada. This iconic fishing village is located in Nova Scotia, just 40 minutes from Halifax.
It is a small area full of vibrant houses, fishing boats, and the famous Peggy's Point LightHouse.
Although the lighthouse is one of the most photographed lighthouses in the world, Peggy's Cove's entire area offers its own unique beauty and charm.
Peggy's Cove is built amongst the rocky landscape of the area, which only adds to its beauty. The unique geological landscape is truly one of a kind.
This accompanied by the idyllic fishing village vibe and surrounding coastline make it a stunning Canadian location.
When visiting Peggy's Cove, be sure to explore the lighthouse and take a few photos! Just be careful near the edge of the rocks and don't get too close to the water; if you fall in, you would be in grave danger.
The village in Peggy's Cove is as beautiful as the lighthouse but often overlooked. A walk around the colorful houses and grassy hills is a must. Plus, the village is the best place to pick up a souvenir to remember the day.
Where to stay: Breakwater Inn
Samantha Karen from Sam Sees World
Whitehorse, Yukon
When it comes to my favorite place in Canada, I'd pick the Yukon repeatedly.
The history, as well as the landscape of the northern state, is just breathtaking. Going on a great road trip through Canada's north should be on every traveler's bucket list.
If you're planning to explore the Yukon, there's no way around Whitehorse, the capital, and the biggest city of the state.
Although most visitors will come to the Yukon for the remote nature than for a city, it's still worth sticking around Whitehorse for a few nights. The city is the perfect starting point for your northern adventure.
Check out the MacBride Museum to learn more about Yukon's history, marvel at the multiple street art murals across town, visit the SS Klondike National Historic Site and get a feel for the everyday life in Canada's north.
Further, Whitehorse is also a great starting point for excursions and day trips' such as the beautiful drive to the historic town of Carcross (with a nice lunch stop at the Southern Lakes Resort).
You can also start several excursions from Whitehorse, such as Dogsledding (at Sky High Wilderness Ranch), a Viking Excursion (with Epic North), or an Aurora Hunting tour (if the sky is clear).
You could even visit the Kluane national park for an incredible flight-seeing experience!
And then it's finally time to start the real adventure' go for a great road trip – up to Dawson City, to the Arctic Ocean via the Dempster Highway or even all the way into Alaska!
Where to stay: Hidden Valley Bed and Breakfast
Patrick from German Backpacker
Pacific Rim National Park Reserve, British Columbia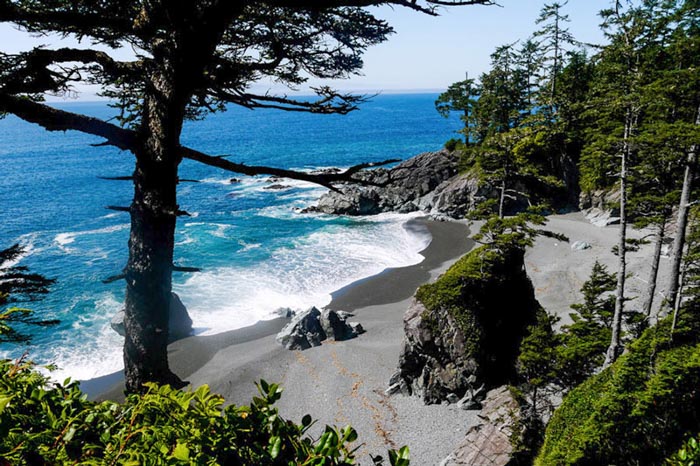 Pacific Rim National Park Reserve is a beautiful park on the rugged southwest coast of British Columbia. It has a wide range of vegetation and a variety of marine and terrestrial animals.
The park is 511 km2 (197 sq mi) in size and covers three regions; Long Beach, the Broken Group Islands, and the West Coast Trail.
Dense vegetation bordering the wild coast includes massive western red-cedar trees, western hemlock, deer fern, and sword fern.
Animal species are varied with marine species such as orcas, dolphins and humpback whales, tide pools filled with intertidal species, and terrestrial mammals such as Vancouver Island wolves and black bears.
The Broken Group Islands part of the park is an archipelago of more than a hundred tiny, rugged islands at the center of Barkley Sound and can only be reached by water. The Broken Group Islands is a popular kayaking destination.
The Port Alberni-based M.V. Frances Barkley is a large passenger ferry that offers day trips through the islands.
Long Beach is the only part of the park that can be reached by car. It is a 10-mile strip of undeveloped coastline bordering lush rainforest and distant mountains.
Longbeach is Canada's most famous surfing destination. The sandy beach of Longbeach is most often visited from the surfing town of Tofino on Vancouver Island.
The West Coast Trail unit in the south of the park is named for the challenging 75km backpacking hiking trail. It stretches through the park along the coast through the pristine rainforest between Port Renfrew and Bamfield.
Where to stay: Abigail's Hotel
Campbell and Alya from Stingy Nomads
Annapolis Valley, Nova Scotia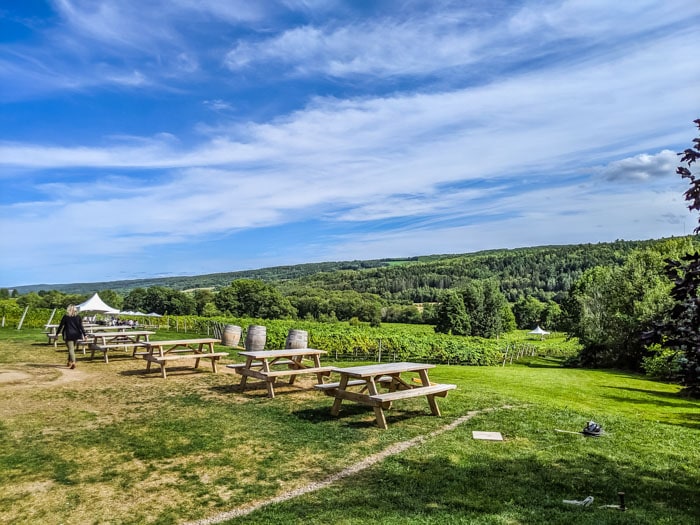 An hour from Halifax, this agricultural valley is the home to the world's friendliest wine region.
The Annapolis Valley is North America's oldest wine region, as the French Acadians first started planting vines from Bordeaux in the 1600s.
Unfortunately, when they were expelled, the English did not know how to make wine. Instead, they planted apple trees, and it became a cider region.
However, in the 1970s, winemaking was reintroduced. The region has a similar climate and soil to the Champagne region of France.
So the traditional method sparkling wine was embraced and is now winning awards across the world.
But many wine lovers come to the region to try Nova Scotia wine, Tidal Bay. An appellation wine can only be made in Nova Scotia and is currently available from 11 producers.
It's a crisp white wine meant to pair well with Nova Scotia's world-famous seafood.
The region is also home to the highest tides in the world. The luckiest visitors snag tickets to the signature Dining on the Ocean Floor, to experience a multi-course seafood dinner on the floor of the Bay of Fundy while the tide is out.
Active travelers may prefer to view the Bay of Fundy from above, hiking Cape Split. A popular day hike for locals for its spectacular views.
And cyclists love the Harvest Moon Trailway, which was original trail tracks that have been repurposed into a trail that is over 100km long.
It begins at the UNESCO World Heritage Site of Grand Pré, passing through vineyards and Acadian dikes to beautiful Annapolis Royal.
Where to stay: Annapolis Royal Inn
Ayngelina from Bacon is Magic
Tobermory, Ontario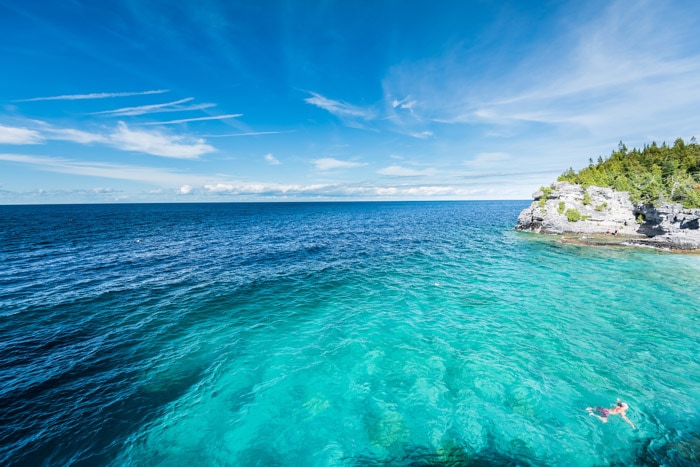 One of the most beautiful Ontario destinations is Tobermory. Set at the tip of the Bruce Peninsula, this charming small town is a nature lover's paradise.
It's home to rare orchids, epic hiking trails with sweeping views over Georgian Bay's crystal blue waters, and two national parks, Bruce Peninsula National Park and Fathom Five National Marine Park.
There is a wealth of things to do in Tobermory, especially for those who love the outdoors.
You can choose from a host of day cruise options, including one that takes you to one of Ontario's most unique places, Flowerpot Island.
The island is home to hiking trails, a lighthouse, and incredible towering sea stacks called flowerpots. There are over 20 shipwrecks in the area for divers and snorkelers, many of which are in shallow waters.
And for hikers, the Bruce Peninsula National Park is home to a ton of excellent trails, like the famous Bruce Trail.
Many of the trails through the park lead to epic, sweeping clifftop views and range from easy to severe, so there's something for everyone's ability.
The most famous attraction in Tobermory is the Grotto. Located within the Bruce Peninsula National Park, along the Georgian Bay coastline, the Grotto is a stunning limestone cave that's filled with brilliant blue Caribbean-like waters.
Whether you're looking for a weekend getaway or a beautiful place to add to your Canada bucket list, Tobermory ticks all of the right boxes.
Where to stay: Adventure the Bruce Inn
Stephanie Mayo from The World As I See It
Whistler, British Columbia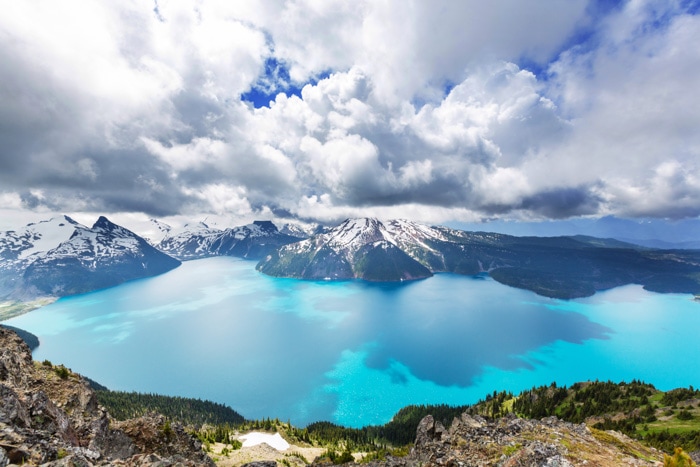 If you're looking for a little outdoor fun, then Whistler is the perfect place to visit.
Located about an hour north of Vancouver, Whistler is an adventure-lovers paradise.
In the winter, you can take your pick from winter activities such as snowboarding, skiing, and snow tubing.
Once temperatures start to warm up and all the ice and snow melts, Whistler continues to treat adventure seekers with even more summer-friendly activities such as ziplining and off-roading.
For those looking for a bit less adventure in the summer, you can visit one of the many lakes in the area such as Alpha Lake, Alta Lake, or Green Lake.
After a fun-filled day, don't forget to check out Whistler Village. Here you will find shopping and fantastic cafes to warm up after a day on the slopes.
Once the sun goes down, grab a drink by the outdoor fire pit or listen to a live band at one of the many bars and restaurants in Whistler Village.
While many chose to spend a long weekend in Whistler, it is easy to make a day trip from Vancouver.
The drive on the Sea to Sky Highway is absolutely breathtaking. With stops along the way where you can take photos overlooking the mountains and lakes.
If you find yourself visiting Vancouver and are looking for something to do outside of the city, consider planning a day trip to Whistler. You will not be disappointed.
Where to stay: Summit Lodge Boutique Hotel
Taima Ramsey from Poor In A Private Plane
Prince Edward County, Ontario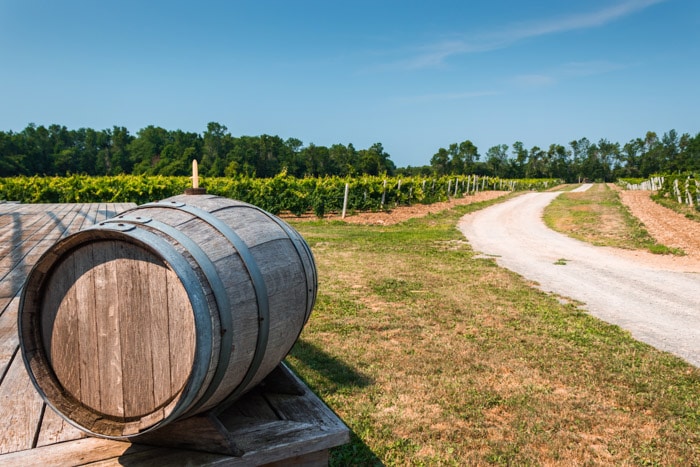 When it comes to the most beautiful places in Canada, Prince Edward County is a top contender.
Referred to only as 'the County' by locals, this increasingly popular tourist destination has become the ideal escape for city slickers, foodies, sophisticates, and outdoor enthusiasts.
Jutting from Lake Ontario's north shore in the southeastern part of the province, the region boasts more than 800km of shoreline perfect for swimming, fishing, boating, and watersports.
Inland, there are thousands of acres of farmland, 60+ wineries, breweries, and cideries, as well as countless local artists. They specialize in everything from art to jewelry, woodwork, glass, and pottery.
Prince Edward County has so many fantastic restaurants home to top-notch chefs that the area was even awarded the title 'Gastronomic Capital of Ontario' by The Globe and Mail!
Other stand-out attractions in the area include Sandbanks Provincial Park, the world's most massive bay mouth barrier dune formation, and Lake on a Mountain, the mysterious geographic wonder of the freshwater lake 62m above Lake Ontario with no apparent source.
The Picton's Crystal Palace is also a beautiful place to visit in Canada, one of the few original Crystal Palaces in the world.
For even more ideas, check out Things to Do in Prince Edward County.
Where to stay: The Inn at Huff Estates
ML Fearling from My Canadian Passport
The Hudson Bay coastline, Nunavut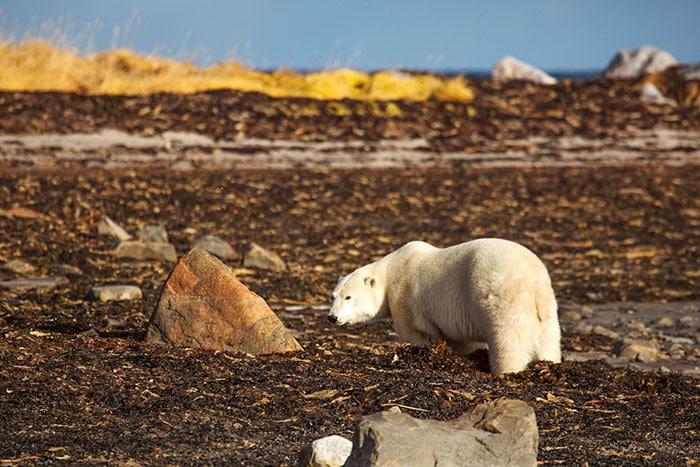 Nunavut stretches northwards into the Arctic Circle. This is the largest of Canada's three territories. Nunavut's rugged, sparsely populated landscape and remote location mean that the territory attracts relatively few travelers.
Those who visit are rewarded by beautiful wide-open spaces and opportunities to view wildlife in five national parks, including Quttinirpaaq National Park on Ellesmere Island, the most northerly of the country's parks.
Polar bears, arctic foxes, and arctic hares count among the creatures that can be spotted even in Nunavut's southern reaches, along the Hudson Bay coastline.
Lumbering polar bears gather by the Hudson Bay shoreline in October, in readiness of the sea freezing.
The world's biggest land-dwelling carnivores head out onto the ice to hunt seals. Seeing them on the tundra, in their native habitat, rewards nature lovers and keen photographers.
The water of the Hudson Bay laps the eastern shore of Nunavut during the year's warmer months.
Pods of white beluga whales swim to the shallows as if participating in some group spa experience, rolling in the grit and sand to exfoliate. They 'sing' endearingly in high-pitched tones as they do so.
Nunavut is a place of wilderness. It's a destination for seasoned adventurers. Travelers should be aware that it's essential to be appropriately equipped when exploring remote regions in Canada's beautiful north.
Where to stay: Katimavik Suites Rankin Inlet
Stuart Forster from Go Eat Do
Victoria, British Columbia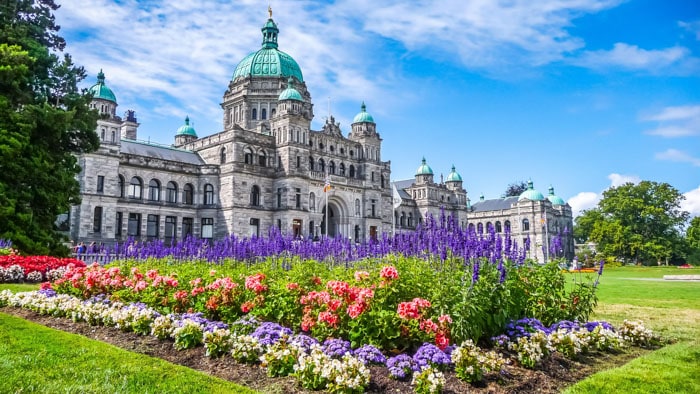 Whether you're going on a Vancouver Island road trip or visiting the province of British Columbia, Victoria is a must-visit when considering where to go in Canada.
Victoria might be the capital of British Columbia; however, don't expect the same as you might of other bigger capital cities around the world.
Victoria is on the smaller end, but charming and quaint with its Downtown area located right on the harbourfront. It is also full of great food options and a vast array of activities and attractions to visit.
When here, you should consider paying a visit to the Parliament Building (checking their website for tour times beforehand and registering your interest).
Butchart Gardens is also a top-rated attraction, along with going for a walk through Beacon Hill Park.
If you are looking to join a tour, consider signing up for a whale-watching one as sightings are common. There are many vendors offering tours in the area.
Lastly, even if you're in Victoria for just the day as it's a trendy and easy day trip to do from Vancouver, factor in some time for a sit-down brunch somewhere.
Victoria has several fantastic brunch options and is a popular thing to do among both locals and tourists.
Where to stay: Abigail's Hotel
Loredana from Destguides
Edmonton, Alberta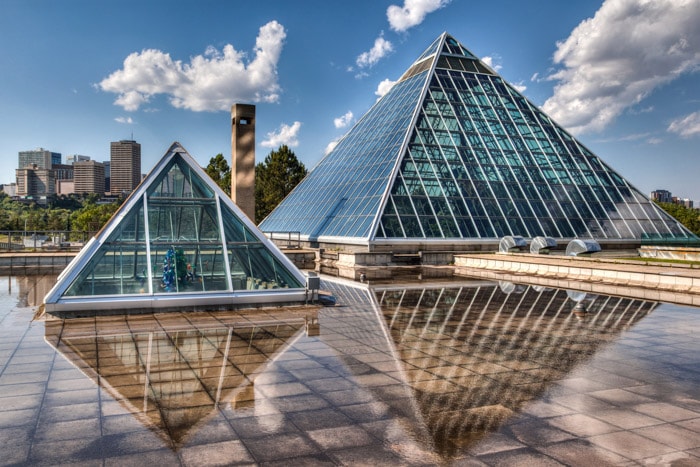 Edmonton is the capital of Alberta, but its real bragging rights come from its sprawling River Valley park system, engaging festival scene, and close proximity to a unique national park.
The banks of the North Saskatchewan River provide the perfect setting for Edmonton's scenic park system. With over 160 km of paved and natural paths, there are plenty of hiking and biking trails in Edmonton's river valley.
These trails connect 20 significant parks with picnic sites, ponds, and green spaces for outdoor recreation and relaxation. Together, these parks and their connecting trails form the largest urban park in Canada.
Another way to enjoy Edmonton is by attending one of the 50+ festivals throughout the year. There are events celebrating music, film, drama, comedy, food, multiculturalism, and even winter.
Although you could stay busy visiting Edmonton's parks, museums, trendy restaurants, and shopping malls, it's worth dedicating a day to exploring Elk Island National Park, about 35 km east of the city.
Here you can see bison, rent a kayak, and go hiking. At night the park is a great place to stargaze because it's part of the Beaver Hills Dark Sky Preserve.
Where to stay: Best Western Plus South Edmonton Inn & Suites
Rhonda Krause from Adventure Alberta
Haida Gwaii, British Columbia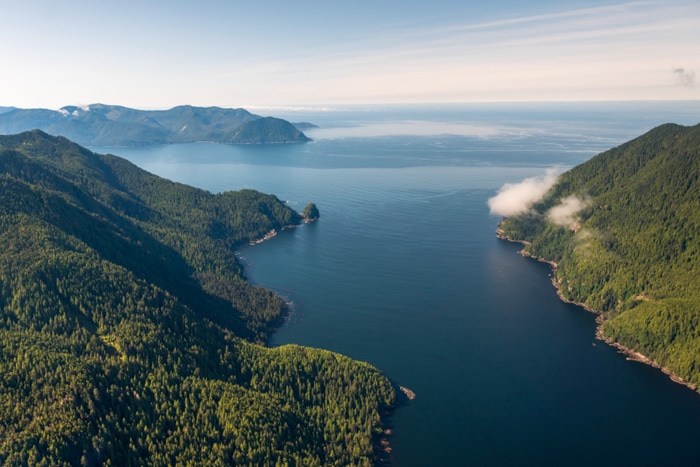 Haida Gwaii (formerly called the Queen Charlotte Islands) is an archipelago off the northern coast of British Columbia.
The northern islands have several small townships, and the southern isles form Gwaii Haanas National Park Reserve. Half of the people living on Haida Gwaii are Haida First Nations people.
A good first stop Top picks include hand-carved totem poles in the Carving House, the Canoe House, and the Haida Gwaii Museum. Another popular place to visit is the Naikoon Provincial Park.
Must-dos include seeing the 23-feet/ 7-meter high blow holes along Blow Hole Boardwalk and a 6-mile/ 10-km hike to the Pesuta Shipwreck' a wooden wreck stranded on the beach.
Another spot not to miss is Hotspring Island (Gandll K'in Gwaay.yaay), a small island with more than a dozen warm pools fed by natural springs.
The main reason to travel to Haida Gwaii is the incredibly beautiful Gwaii Haanas National Park. It can only be visited by boat, kayak, or seaplane.
A multi-day sea kayaking trip around the islands is recommended. The islands are full of black bears and Sitka deer, ospreys and bald eagles, sea lions, and humpback whales.
The highlight is Ninstints (SGang Gwaay Llnagaay), an abandoned Haida village with the remains of log cabins and dozens of wooden totem poles.
The UNESCO World Heritage-listed site contains the best-preserved totem poles in their natural environment in the world. Seeing them is a magical, mystical experience worth the effort to get there.
Where to stay: Northern Shores Lodge
James Ian from Travel Collecting
PEI National Park, Prince Edward Island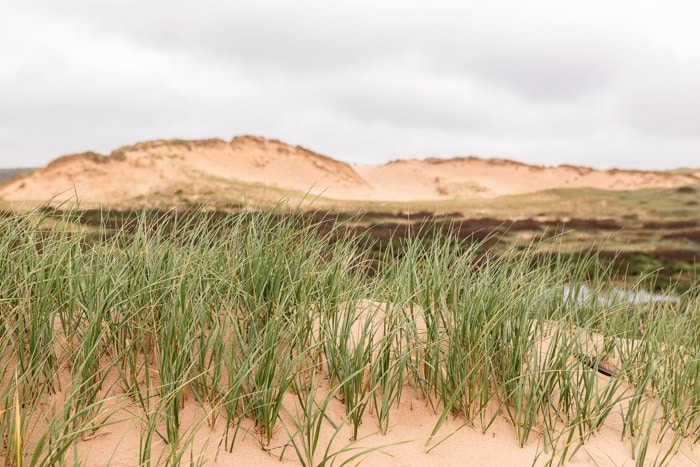 One of the most unique destinations in the Canadian Maritimes can be found on the small island province of Prince Edward Island.
PEI (Prince Edward Island) National Park is a popular spot for beach-goers, hikers, and those who just love being outdoors.
While the Maritimes are famous for seaside living and quaint fishing towns, what makes PEI National Park unique is its one-of-a-kind landscape.
Nowhere else in Canada looks similar. This alone brings in the crowds year after year.
There are two main sections of the park; Cavendish and Greenwich. On the Cavendish side, beautiful beaches abound carved out amidst red rock cliffs.
Cavendish Beach is one of the most popular on the island and is a venue for concerts and festivals. Cavendish Cliffs provide a view of the red shorelines that are unmatched anywhere else on the island.
On the Greenwich side, the landscape changes entirely. White sand beaches in Greenwich stretch for miles with massive sand dunes shifting and changing over time along the shores.
The hike to Greenwich Beach winds through the wilderness, across a floating boardwalk and down steps to the soft sand.
If you are interested in hearing more about Prince Edward Island, check out my post 'Glamping in the Treetops'.
Where to stay: Hampton Inn & Suites Charlottetown
Hillary Newman from Hillary Newman Photography
Big White, British Columbia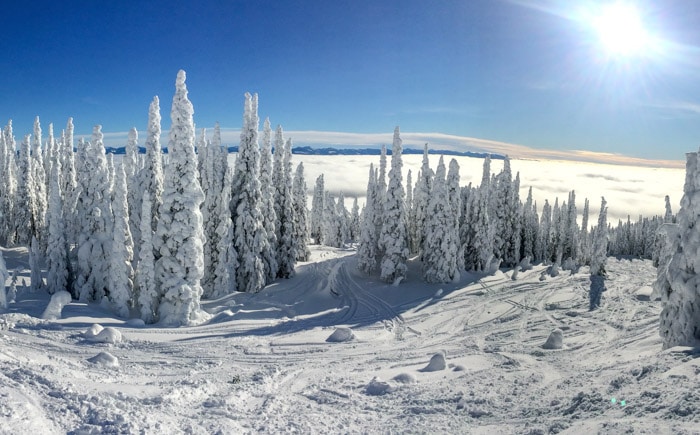 Located 45 minutes South-East of Kelowna, Big White is a destination worthy of a stop on any British Columbian road trip!
Big White Ski Resort is renowned for its Okanagan Champagne powder and world-class resort facilities during winter. Still, it is quickly building its reputation as an excellent summer destination too!
During winter, the resort comes alive! With 16 lifts covering around 2,800 hectares of skiable terrain, you'll be hard-pressed not to find a ski run that you don't enjoy.
If you're not into skiing, why not take a snowshoe or dog sled tour, exploring the beautiful surrounding scenery.
Or maybe you have a penchant for adrenaline and prefer a snowmobile tour or climb the ice tower.
Once you've wrapped up your adventure-filled day, head into the Village to feast at one of many top-quality restaurants.
A popular favorite is Globe Cafe & Tapas Bar for delicious food and tantalizing drinks!
When the snow has melted away in the summertime, Big White boasts world-class downhill mountain biking trails suitable for all levels.
There are also plenty of lift-assisted hiking trails allowing you to explore the mountain and admire the wildflowers on foot.
And, if you can time your visit right, you might get to experience one of their awesome festivals, like the Craft & Country Beer and Mountain Festival, or Ciderfest.
Needless to say, no matter which season you're visiting, there are plenty of activities to suit just about anyone! Be sure you add a stop at this slice of Alpine heaven to your Canadian road trip!
Where to stay: The Urban Retreat Hostel
Danielle from The Snowcapped Passport
Drumheller, Alberta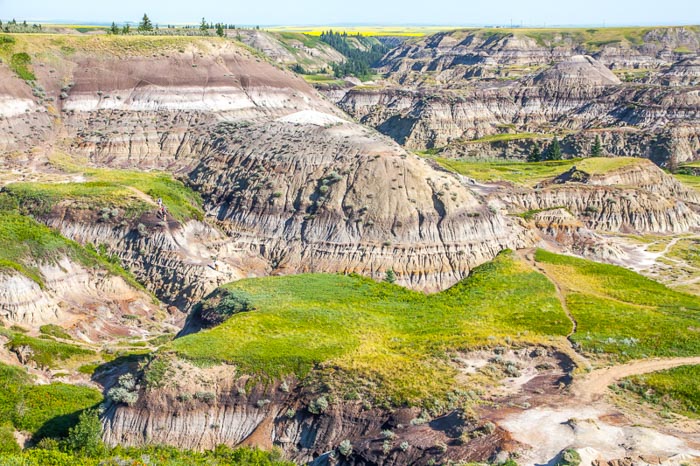 The Drumheller region of Alberta is one of the most surreal and breathtaking landscapes in all of Canada.
In a region predominated by plains, the Red Deer River carves a valley some two kilometers wide and 28 kilometers long that is so deep, it has exposed hundreds of millions of years in layers of rock.
The area, known as the badlands, is arid and otherworldly. As you approach the town, the highway will suddenly descend rapidly into the valley, and you'll feel you've arrived on another planet.
Drumheller is often referred to as the 'Dinosaur capital of the world.' The exposed depths of the earth have produced an enormous number of significant dinosaur finds.
In Drumheller town, the Royal Tyrrell Museum of Paleontology is arguably the world's best. It is located in beautiful Midland Provincial Park.
You also can miss the world's largest T-Rex downtown; it's 4.5 times more significant than a real tyrannosaur would have been!
To best appreciate the beauty of the Drumheller region, head to Horseshoe or Horsethief canyons, both of which are a short drive out of town, or the collection of hoodoos, towers of rock topped with flat tables that have been carved by the wind over centuries, at Hoodoos Trail southeast of town.
If you've got more time, make the 1.5-hour drive to Dinosaur Provincial Park, which features similar scenery and is another dinosaur fossil hotspot.
Learn more about these two places in this list of Alberta bucket list experiences!
Where to stay: Jurassic Inn
Nick Kembel from Spiritual Travels
Niagara-on-the-Lake, Ontario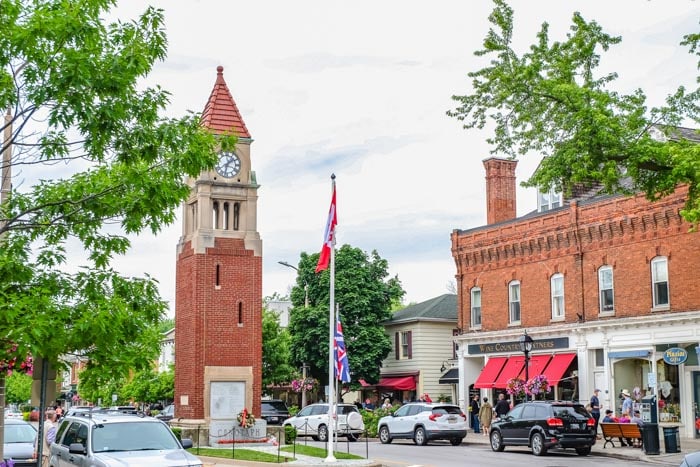 If you are looking for a quaint, small town that has beauty around every turn, head for Niagara-on-the-Lake, Ontario.
Situated at the tip of a famous Canadian wine region of the same name, Niagara-on-the-Lake is a busy town that draws visitors for its rich history, Old World charm, delicious wine, and peaceful, lakeside views.
Niagara-on-the-Lake is a unique place to visit in Canada because of the history you can learn about there.
Given the close proximity to the US border, and its location at the mouth of the Niagara River (close to Niagara Falls), the town has played a significant role in shaping the course of Canada's history through military battles.
You can learn about this history through a visit to historic Fort George or one of the many museums scattered around town.
A short walk down to Lake Ontario, will bring you to the Queen's Royal Park, where you can relax by the lake.
Be sure to snap a photo in the picturesque gazebo that sits there to greet you. Nearby, you can even climb aboard a riverboat cruise if exploring the waterways is more your style.
Of course, many people know the wineries and Niagara-on-the-Lake area is a great place to visit if you want to hop on a wine tour around the region.
The town itself is full of wine shops selling local wines while other small shops sell artisan crafts, ice cream, and much more.
Where to stay: Oban Inn
Eric from Ontario Away
Grasslands National Park, Saskatchewan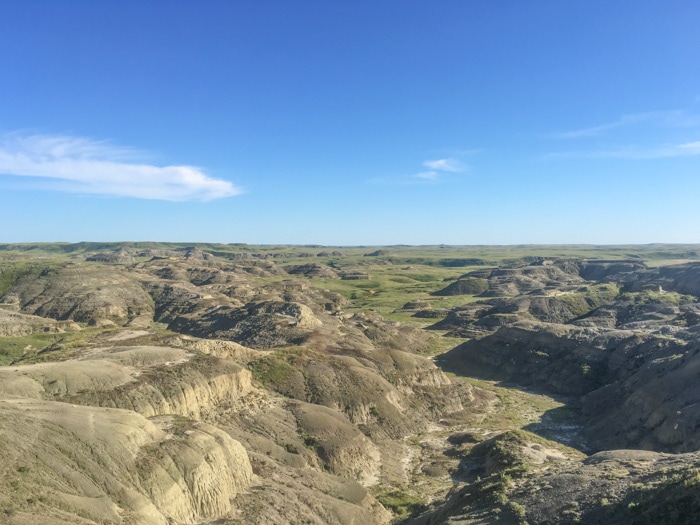 Why Grasslands remains one of the least known national parks in Canada is a mystery. Since this beautiful, wide-open expanse of land offers one of the country's most unique experiences.
As a designated Dark Sky Preserve, the park's amazing starlit nights are worth the trip alone. Still, the fun definitely doesn't stop there.
Located in southern Saskatchewan close to the American border, Grasslands comprises two completely separate sections' West Block and East Block sections.
West Block
Featuring well-equipped Frenchman Valley campground, the western portion of Grasslands is the more popular of the two for overnight stays.
Visitors can spot a wide variety of wildlife such as bison, antelope, hawks, owls, and hectic, sprawling prairie dog towns.
The 20-kilometer Ecotour Scenic Drive is a must. Hikers have several options ranging from the short Eagle Butte trail to the slightly more strenuous 70-mile Butte hike to the highest point in the park with its tremendous views.
East Block
Famous for stunning badlands scenery reminiscent of its American counterpart, Theodore Roosevelt National Park, avid hikers rave about the fascinating terrain and exhilarating views of the 12-kilometer Valley of 1,000 Devils route.
Of course, there are plenty of shorter options, and the Badlands Parkway scenic drive is possibly the most impressive 11 kilometers in the province.
Rock Creek campground offers a tranquil camping experience for those with time to stick around.
Where to stay: Canalta Hotel Shaunavon
Dean Johnston from Routinely Nomadic
Ottawa, Ontario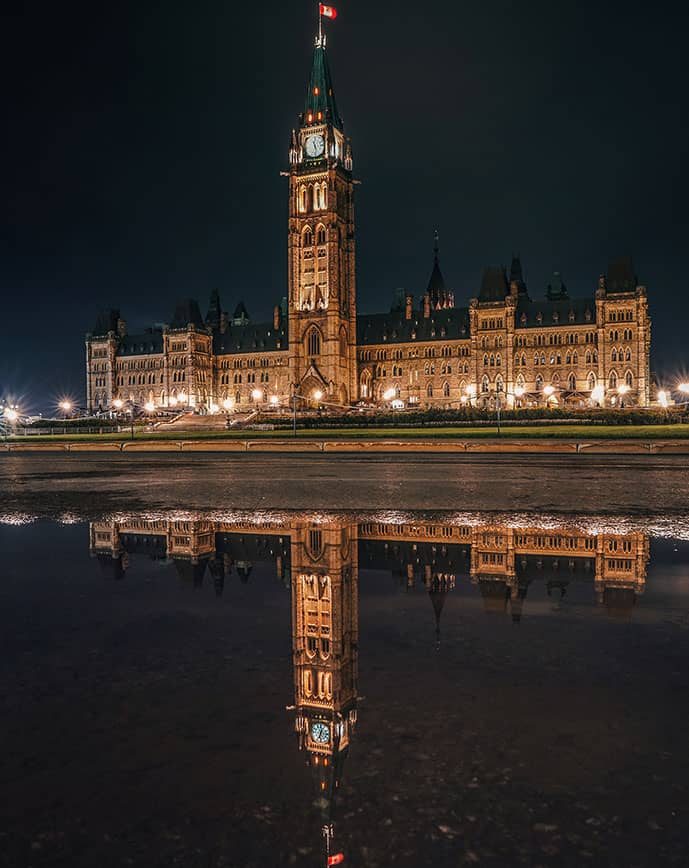 Ottawa, the capital city of Canada, is as charming as its architecture.
There is no shortage of activities and historical places to visit. Since Ottawa is the capital, it has significant political and historic buildings.
The most iconic is the Parliament Hill perched on top of a hill by the banks of the Ottawa river.
There are 3 buildings – Center, East, and West Block surrounding the vast green lawn.
Even though the Center Block is closed for major restorations, free guided tours of East and West Block are conducted both in English and French.
The Senate has shifted to Ottawa's newly renovated historic train station, one block away from Parliament Hill.
If you visit during summer, you will want to watch the Light and Sound Show in the night at Parliament Hill. The dramatic visuals and audio is loved by all and is one of the favorite things to do in Ottawa with kids.
Head out of Parliament Hill and walk over to Rideau Canal, a UNESCO World Heritage site and watch the Ottawa Locks being opened manually to let the boats pass through.
Rideau Canal flows around the city, and it is excellent to take a cruise or just stroll by the canal to feel the fresh breath of air.
National Gallery of Canada, Royal Canadian Mint, Notre Dame Cathedral are some of the other notable places to visit.
If looking for a place to shop local stuff, souvenirs, or grab a hearty meal, visit the Byward Market, a vibrant farmer's market.
The city's major attractions are close by and easily navigable on foot, making it a trendy destination.
Where to stay: The Business Inn & Suites
Neha Kulshrestha from Travelmelodies
Winnipeg, Manitoba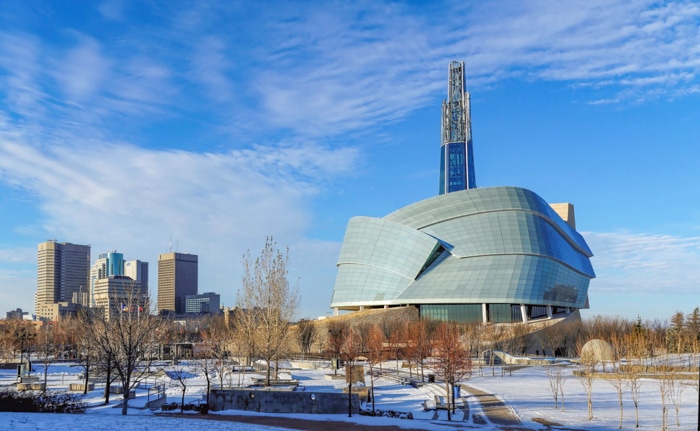 Would you like to spend a few days in Winnipeg in Canada before going on a road trip?
There is always something going on, especially in the trendy Exchange District and in The Forks, from culinary events to the Jazz Winnipeg Festival. No wonder that The Peg is increasingly attracting younger audiences.
The Exchange District, with its old warehouses from the late 19th century, is the place to be. No wonder film scenes are often shot here that actually occur in the much more expensive location in Chicago.
A visit to The Forks Market is also a must. The mall is perfect for shopping, strolling, and eating, like wild rice blend, a Manitoba staple. The selection of restaurants and takeaways is impressive.
Right next to the market halls, you can find out everything about the indigenous peoples of the province.
Here, you will find The Forks National Historic Site with a 6,000-year-old meeting place of the First Nations, right at the mouth of the Red River and the Assiniboine River.
A visit to the Canadian Museum for Human Rights is also an absolute must. Here you can immerse yourself wonderfully in the history of human rights.
The museum is one of the best sights in Manitoba and even the whole of Canada.
Winnipeg is simply a great start to the Canadian adventure before it goes out into nature.
Where to stay: Best Western Plus Pembina Inn & Suites
Clemens Sehi from Travellers Archive
Montreal, Quebec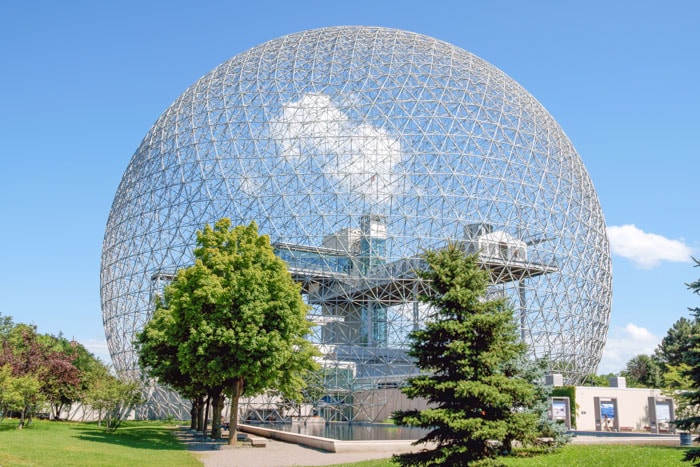 Located in the province of Quebec, Montreal is the second-largest city in Canada. Diverse as it is, the place surely has something for every traveler.
It is an exquisite melting pot of contemporary and old, where French is primarily spoken. Fascinating in whatever season, Montreal can instantly give you a busy itinerary.
Climb the Montreal Tower, an architectural gem in itself that is also the tallest inclined tower in the world.
Before you get mesmerized by the panoramic view of the city on top, savor a breathtaking two-minute glass funicular ride.
Another incredible thing to do in Montreal that no one should miss is visiting the Notre Dame Basilica. This gothic revival masterpiece can leave anyone in awe with its immensely intricate and impressive details.
After visiting the basilica, continue exploring Old Montreal and travel back in time. Go around on foot to get a feel of its classical charm and find yourself in some of the oldest cobblestone streets.
How about visiting one of the most beautiful libraries in the world? Then head over to BAnQ Vieux Montreal situated in an elegant beaux-arts-style building of the early 1900s.
As if everywhere is a piece of art in Montreal, you can also discover some of its distinct neighborhoods like Plateau Mont-Royal and Little Italy.
Even with a short amount of time in the place, Montreal will easily prove itself as a visually stunning city in Canada.
Where to stay: Hotel Le Dauphin Montreal Centre-Ville
Arrianne Guzman from Travel Habeat
Fogo Island, Newfoundland & Labrador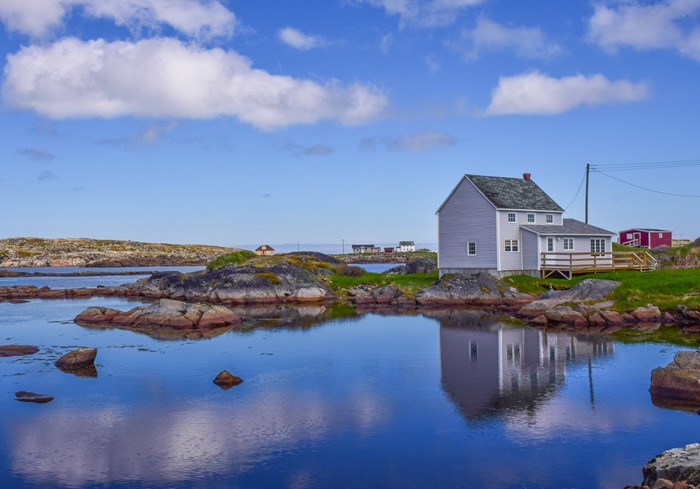 The beauty of Fogo Island, off the northeast coast of Newfoundland and Labrador, lies in its dramatic, rocky landscapes and welcoming people. Plus, you may even see an iceberg or two.
In the past, islanders relied on fishing for their livelihood. But when the fish stocks disappeared, they had to reinvent the place. Now, it's a haven for artists who open their modern studios for visitors.
There's also a rich tradition of music and storytelling that you can enjoy at a local shed party.
From mid-May to mid-June, watch for icebergs from northern glaciers to come floating down the coast.
Starting in mid to late June, there's an excellent chance to see humpback whales that migrate through these waters.
On windswept hiking trails throughout the island, you may even catch a glimpse of grazing caribou.
Be sure to wander through the quaint fishing villages, like Tilting and Joe Batt's Arm, to see the colorful homes and fishing cabins.
A must-see (or stay) for every visitor is the Fogo Island Inn in Joe Batt's Arm. It's a beautiful Nordic-style hotel perched on stilts at the edge of the Atlantic Ocean.
The hotel's popular restaurant mixes gourmet cuisine with local traditions.
You'll need a car to travel around Fogo Island. To get there, take the Fogo Island ferry, which departs from Farewell Ferry.
Where to stay: Fogo Island Inn
Cindy Baker from Travel Bliss Now
Saguenay/Lac Saint-Jean area, Quebec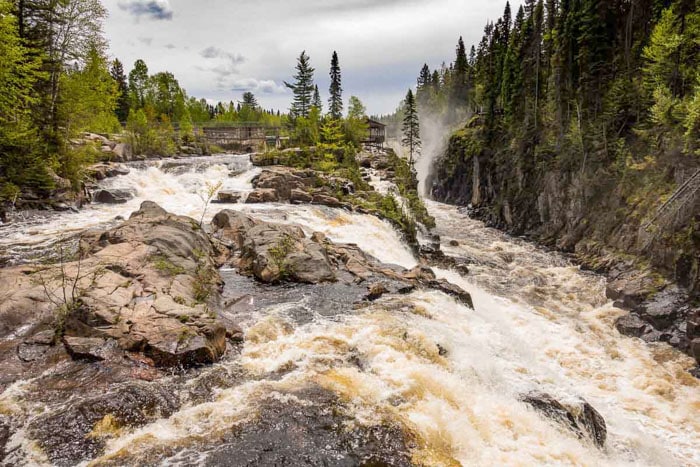 The Saguenay/Lac-Saint-Jean area of Quebec will provide an outdoorsy traveler everything one needs for a wide variety of adventures.
Hiking hills, canyons, and caves, kayaking, and canoeing, river rafting, cycling, exploring canopies via zip line, zodiac fjord tours, and bear and whale watching are all available.
And, for rock climbing without the fear of imminent death, there's the Via Ferrata.
Some highly recommended activities include cycling all or part of the Blueberry Trail, a 260-kilometer route around Lake Saint-Jean. You can break into smaller segments as you please.
There are 15 towns along the route, so there's ample time to take a break to eat and shop if that's your preference.
Two hikes are of particular interest. You can hike along the Mars River Canyon and marvel at the big red rapids. (It gets its color from the decay of the lush vegetation which lines the shores.)
There's a calm lake at the head of the river where you can take a leisurely canoe ride and admire the beaver dams, among the other scenery.
The lake area and surrounding Laurentides Wildlife Reserve will also give you a chance to see a black bear.
Another route, to a statue of the Virgin Mary overlooking the fjord, takes you on an 8-km round trip from the Saguenay Fjord visitors center and will give you spectacular views of the water below.
Finally, in nearby Charlevoix on the Saint Lawrence River near the mouth of Saguenay Fjord, catch a whale-watching cruise out into the wide river where fin whales will give you quite a show.
Where to stay: OTL Gouverneur Saguenay
Tom Bartel from Travel Past 50
Canmore & Kananaskis, Alberta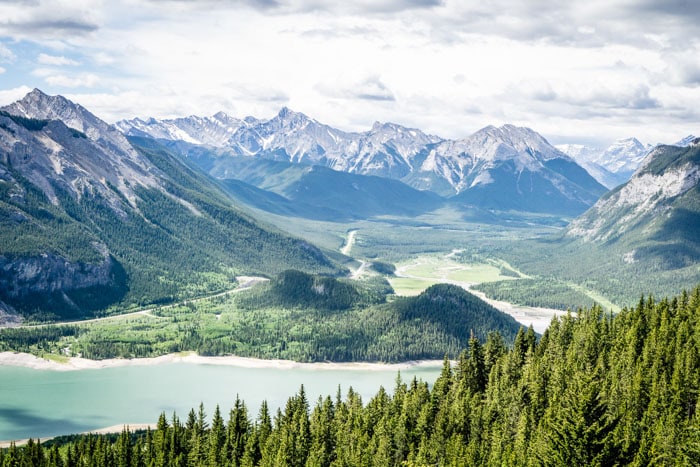 While most people plan to visit Banff National Park when they road trip through Western Canada, there's a nearby area that should not be missed.
Just outside the Banff park gates is the town of Canmore. Canmore, together with the nearby Kananaskis Country, have so much to offer.
Canmore is less busy than the town of Banff. Accommodations will be more budget-friendly in Canmore, and there are plenty of fantastic restaurants to try.
To get the best of both worlds, Canmore is just a 20-minute drive to Banff, so exploring both during the same visit is entirely doable.
While in the Canmore area, there are incredible hiking opportunities right from the town of Canmore and throughout Kananaskis.
The best part is that there are hikes for everyone, from more accessible walks for families to summit hikes for those that want a challenge. Prepared to be blown away by some of the views!
If mountain biking is more your style, you can find bike rentals and superb trails at the Canmore Nordic Center.
During the winter, plan a day at the Canmore Nordic Centre for some cross country skiing or head deeper into the mountains in Kananaskis for some snowshoeing.
Where to stay: Coast Canmore Hotel
Celine Brewer from Travel Banff Canada
Niagara Falls, Ontario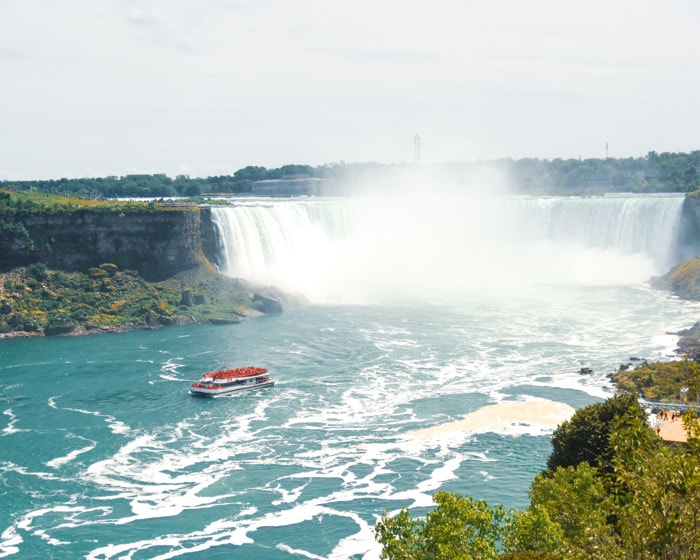 One of the most beautiful sites in all of Canada is the magnificent Niagara Falls.
While technically only the sixth tallest waterfall in Canada, the Horseshoe Falls on the Canadian side of the border is an all-encompassing torrent of water that is simply overwhelming to see in person.
This is not just a beautiful natural site, it's an important historical one as well.
Decades of folk heroes who attempted to go over the falls in contraptions like barrels and shipping containers have led the falls to be one of the most popular sites for daredevils to plan their feats around.
While visiting Niagara Falls, you can ride in a boat up to the falls as well as touring behind them, so don't be afraid to get up close and personal.
You can also zipline over the falls, walk across the bridge, and see the falls lit up in neon colors at night. During the high season, you can even time your visit to enjoy a fireworks display.
There are other things to do in town, including enjoying the kitschy village atmosphere, shopping for vintage Niagara Falls souvenirs, and crossing the border into the US to see the fall from New York state.
Where to stay: The Red Coach Inn Historic Bed and Breakfast
Stephanie Craig from History Fangirl
Fundy National Park, New Brunswick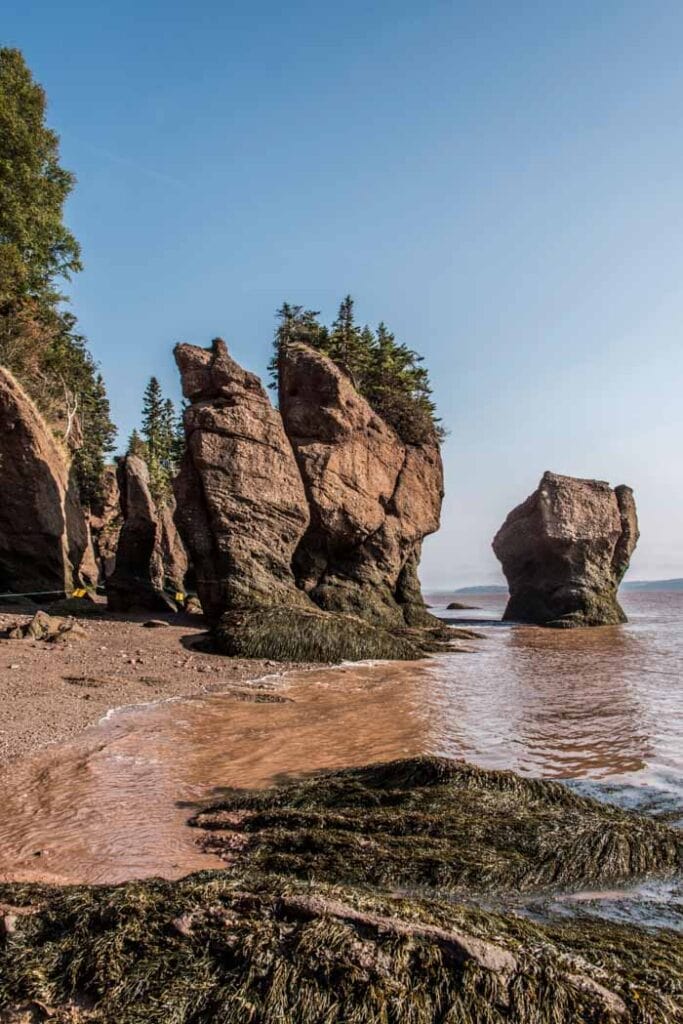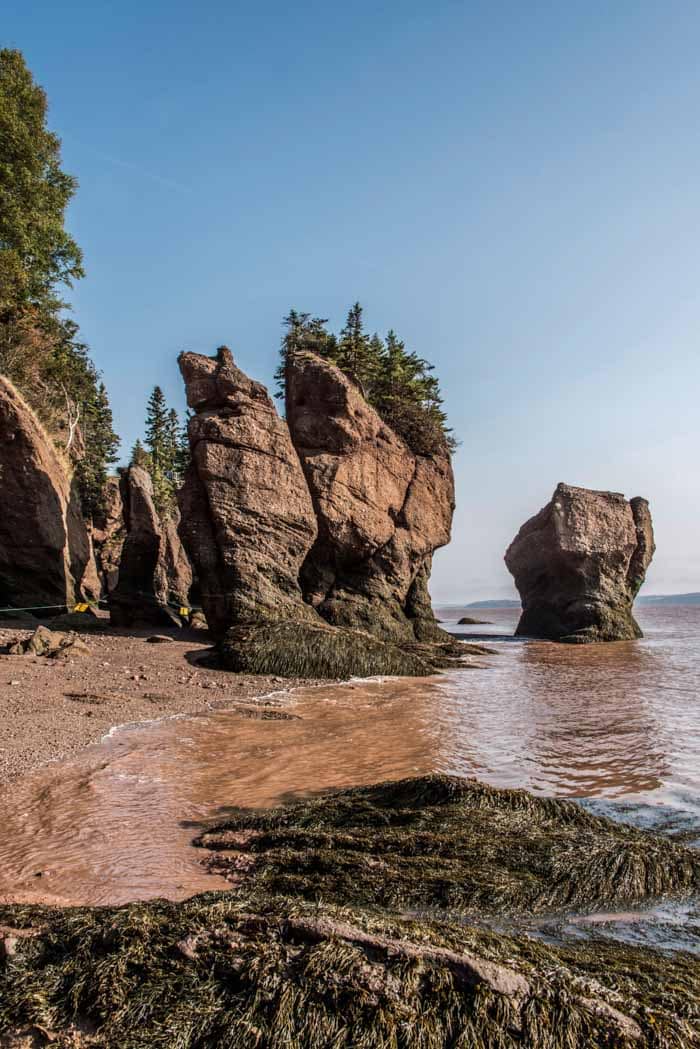 Canada is home to so many beautiful national parks. Still, you don't want to miss on the east coast of Canada is Fundy National Park in New Brunswick.
What makes Fundy National Park unique is that it's home to the world's highest tides. You must visit Hopewell Rocks where the waves rise and fall 40 feet or so, twice daily.
The best way to see this phenomenon is to visit Hopewell Rocks at low tide, where you can walk around on the ocean floor.
At high tide on the same day, you'll take an ocean kayak tour in the same place. It's incredible to see the difference!
Another great thing to do in Fundy National Park is go hiking. There are over 25 waterfalls in the park, which you can explore via the park's network of hiking trails. For an easy hike, check out Dickson Falls Trail.
If you visit during the summertime, the best place to stay is right inside the park at one of the campgrounds.
The night sky is incredible at Fundy National Park. It's the perfect place for a campfire and stargazing after a night of exploring.
Where to stay: Queen Anne Inn
Lora from Explore with Lora
Manitoulin Island, Ontario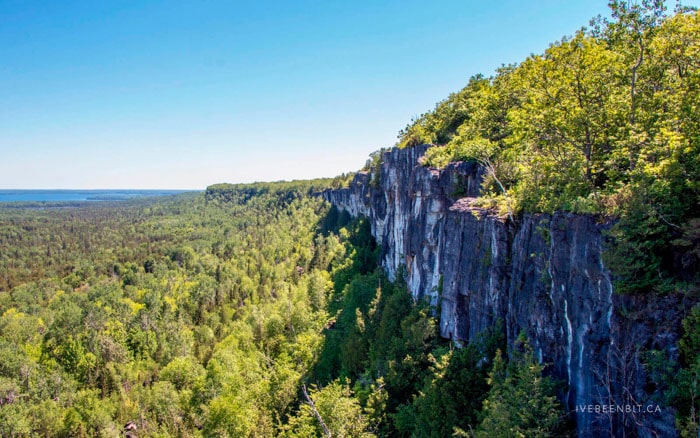 Did you know that Canada is home to the world's largest freshwater island? Head to Ontario's Manitoulin Island for a getaway you won't forget.
Located about 6 hours by car from Toronto, it's a bit of a trek, but it's worth the trek!
If you're wondering what some of the things to do on Manitoulin Island are, chances are you won't be able to fit everything into your visit.
Enjoy some natural beauty with some time on the beach at Misery Bay Provincial Park or tackle the island's most iconic trail – the Cup and Saucer.
While these breathtaking views certainly are memorable, take this experience to the next level by booking a guided tour with the Great Spirit Circle Trail.
You'll learn about history and traditions that have been passed on for millennia at their cultural workshops.
Speaking of culture, Manitoulin Island has plenty of fantastic museums and galleries, including one of the top art galleries in the province, the Perivale Gallery!
Wondering if there are any fantastic restaurants? Don't worry, there are plenty of great places to eat to fuel your adventures!
Dinner at the Old Schoolhouse Restaurant is an iconic Manitoulin Island experience that can't be missed.
In case you're wondering, yes, it was indeed an old schoolhouse back in the day! A visit to Lake Huron Fish and Chips is a must for some of the best fish and chips in the province.
Manitoulin Island is known as Manidoo Walking in the Indigenous Odawa language, meaning 'cave of the spirit'. As soon as you visit, you'll understand why it's one magical destination.
Where to stay: My Friends Inn Manitoulin
Lindsay Davies from I've Been Bit! Travel Blog
Calgary, Alberta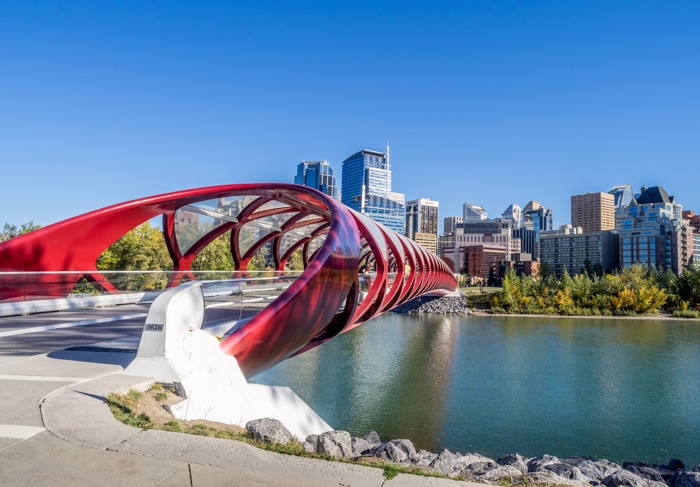 Calgary is the 4th biggest city in Canada. While it's not the capital of Alberta, its proximity to Banff and Jasper in the beautiful Canadian Rocky Mountains makes it an essential gateway for travelers visiting Canada.
While the neighboring National Parks are incredible, Calgary is a great place to visit! No matter if you are visiting Calgary in winter or in summer, there are lots of fun things to see and do.
In summer, there is the famous Calgary Stampede, where cowboys and cowgirls from all over the world come to show their skills in spectacular shows.
In winter, Calgary has a full event calendar and festivals like Glow and the BIG Winter Classic.
A mandatory stop on all Calgary trip itineraries is the Calgary Central Library, a prizewinning architectural masterpiece, and remarkable public space.
Another place to visit is the Calgary Tower. From the observatory deck, one can admire a panoramic view of Calgary's skyline.
The admission rate is $18, and the opening hours are 10 am – 6 pm (daily).
Catch a game of the Calgary Flames, the city's beloved ice hockey team, at the Saddledome. Be sure to wear something red to blend in!
Walk one of the many parks or pathways, such as the lovely Jack and Jean Leslie RiverWalk or stroll along Stephen Avenue Walk in downtown Calgary.
Where to stay: Residence Inn
Lotte from Phenomenal Globe Travel Blog
Yellowknife, Northwest Territories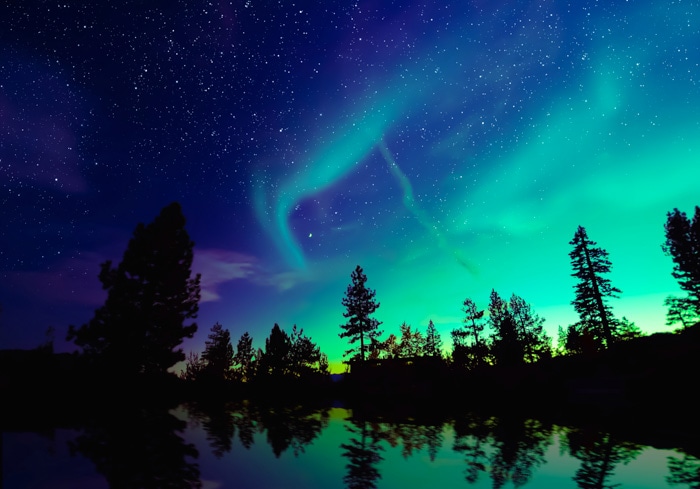 Yellowknife is a tiny town in Canada's Northwest Territories.
Located right under the Northern Lights circle, Yellowknife is only 400 km south of the Arctic Circle.
Yellowknife is an absolutely fascinating place, one of a kind in the world. There are many unique things to see in Yellowknife. Such as –
The northern lights dance above the city all year round. They're best seen in winter because of the long nights, but it gets excruciatingly cold.
They say August is a great time to see the lights when Yellowknife has some dark hours and warm weather.
The Diamond Museum is a tiny window to the large diamond-mining business in the Arctic.
It has some beautiful posters of diamond mines up in the deep north. Canadian mines apparently produce some of the finest and most ethical diamonds.
The Yellowknife museum is pretty cool. It talks about the local culture, people, and traditions.
Some of the history and current plight of the First Nations people is depressing. Still, it's also heartwarming to see some of the efforts people are putting into the issue.
Perhaps the most fantastic aspect of the region is the ice roads. Their roads are built on frozen lakes and connect the entire area from the southern world.
This massive network of roads is the lifeline of the Northwest Territories.
It's hard to fathom the extreme seasons. It's definitely a place one should at least visit once in a lifetime. Here is a 'gallery of pictures of Yellowknife in winter.'
Where to stay: Super 8 by Wyndham Yellowknife
Jyoti from Story At Every Corner
Most beautiful places in Canada
Canada is an incredible country with some of the prettiest landscapes you will ever see in your life!
We hope this massive list of the most beautiful places in Canada will inspire you to plan your next trip!
Now, after reading about all of these magical spots, tell us, what is the most beautiful place in Canada for YOU?
We would love to hear from you! Drop your answer in the comments below!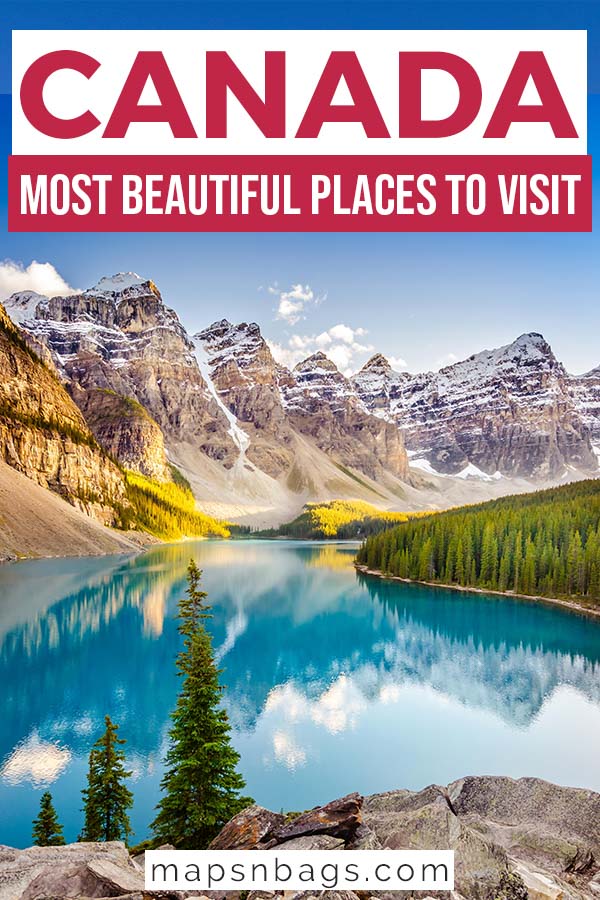 Did you like this article about the most beautiful places in Canada? Then share it with a friend who might like it too!
Our best travel tips & resources:
Here're our all-time favorite travel tips & resources so that you can save money and plan your travel logistics hassle-free! For more travel resources, check out our
travel tips.
Saving money: Fly on offseason, winter (not Xmas or NYE), Tuesday, or Wednesday! According to experts, these are the cheapest days to fly.
Travel insurance: Before you leave for your trip, make sure you have a valid travel insurance policy because accidents happen on the road. We have been paying for Safety Wing travel insurance for a little over a year now, and we happily recommend them to our family and friends.
Accommodation: We usually stay in mid-range comfy hotels or private rooms in hostels. These are the sites we use to book accommodation: Booking.com for hotels (excellent flexible cancellation policy) and Hostelworld for hostels (low deposit and easy cancellation).
Tours:We absolutely love booking guided tours with locals to get a history lesson while sight-seeing, especially food tours and walking tours! We book all of our tours using Viator and GetYourGuide.
Transportation: We use Google Maps to figure out how to get around a place using public transport. When we book a rental car, we always use Discover Cars to find the best deal.