If you're looking for famous monuments, natural wonders, and modern landmarks in England, you're in the right place!
This unique guide will explore and appropriately praise the most magnificent British landmarks, their distinguished qualities, and why they should interest you.
For the curious mind or the avid traveler, comprehensively exploring some of the most beloved UK landmarks in ways never seen before is an undoubtedly fascinating experience.
England is obviously one of the best European countries to visit, so if you're planning your trip, be sure to read this article about England's most alluring and classical landmarks till the end.
29 Famous Landmarks In England To Visit Now
Modern Landmarks in England
1. The Shard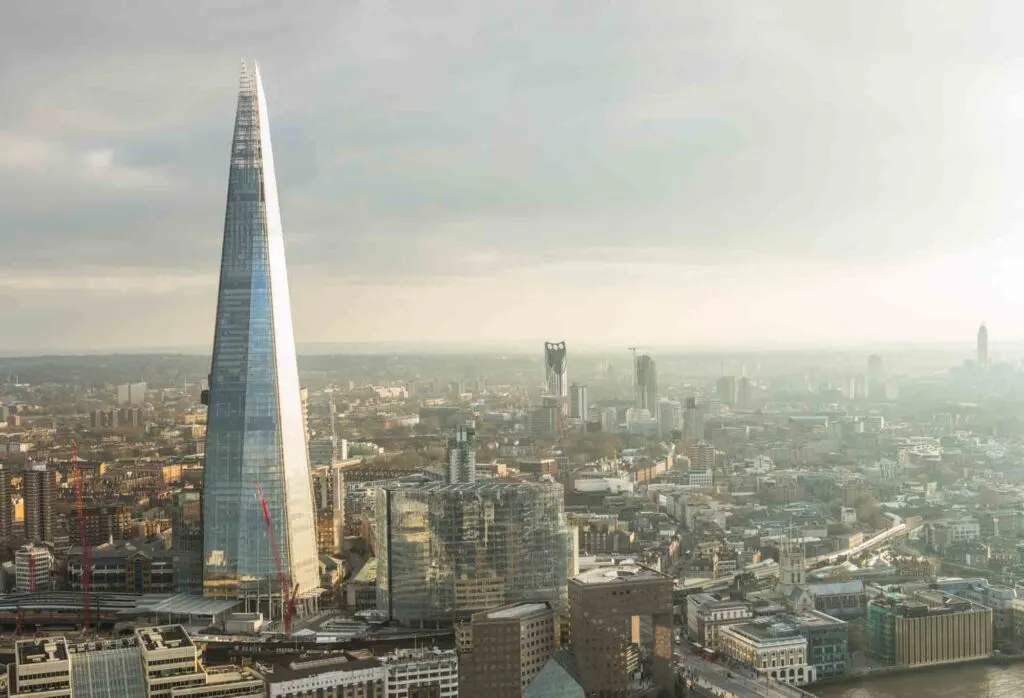 The Shard, formerly known as London Bridge Tower, is one of the tallest buildings in the UK and one of the most famous buildings in the world.
As one of the most unconventional and famous landmarks in London, The Shard offers viewpoints of the city better than the London Eye, providing fantastic views over the city for up to 40 miles.
Designed by Renzo Piano, The Shard opened in 2013, is 1106 ft tall, boasts 95 floors, and has 11,000 glass panels, enough for eight football pitches!
It is an eco-friendly and incredibly beautiful building; each floor is 100% soundproof, and cleaning is done manually.
A fox named Romeo was discovered in 2011 on the 72nd floor of The Shard, having reached a staggering 306 flights of stairs.
Romeo, the charmer, lived off food scraps from construction workers before being rescued and released back into the wild.
2. Eden Project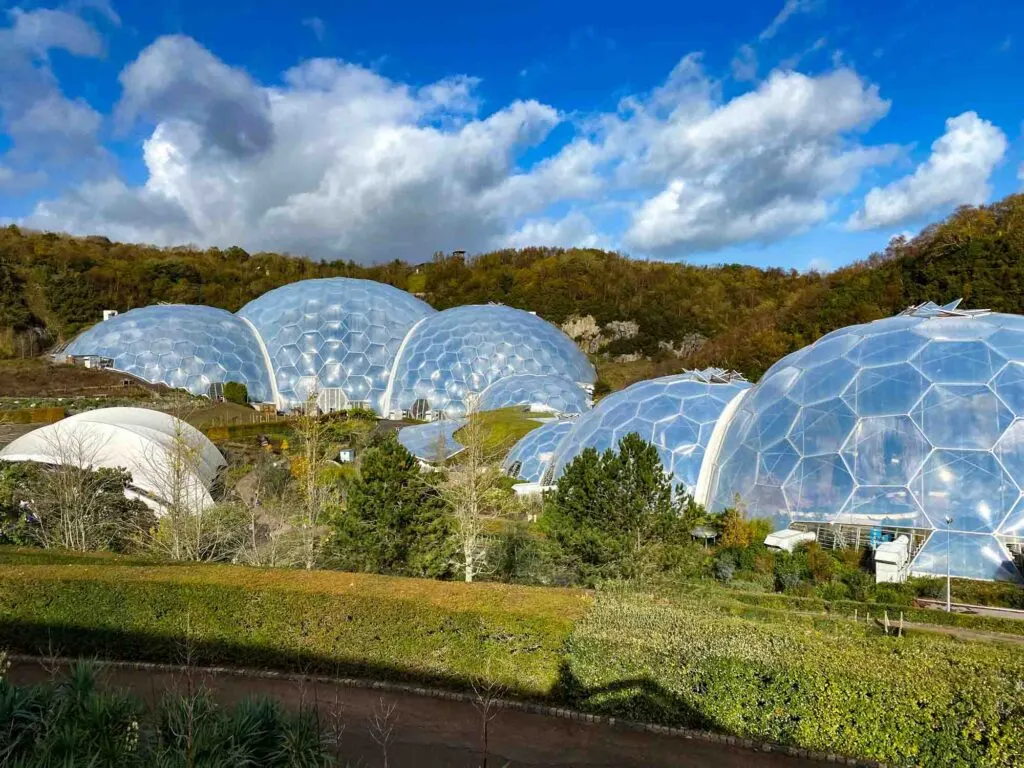 The glorious Eden Project, commonly called England's green oasis, is an ecological miracle located in the heart of Cornwell and its community.
As you journey through Eden Project's unrivaled luscious rainforests, experiencing rare Mediterranean-type weather, causing magnificent, distinguished, and rare biomes phenomenon formations, clearly demonstrating why it remains one of the most respected landmarks in England.
3. Spinnaker Tower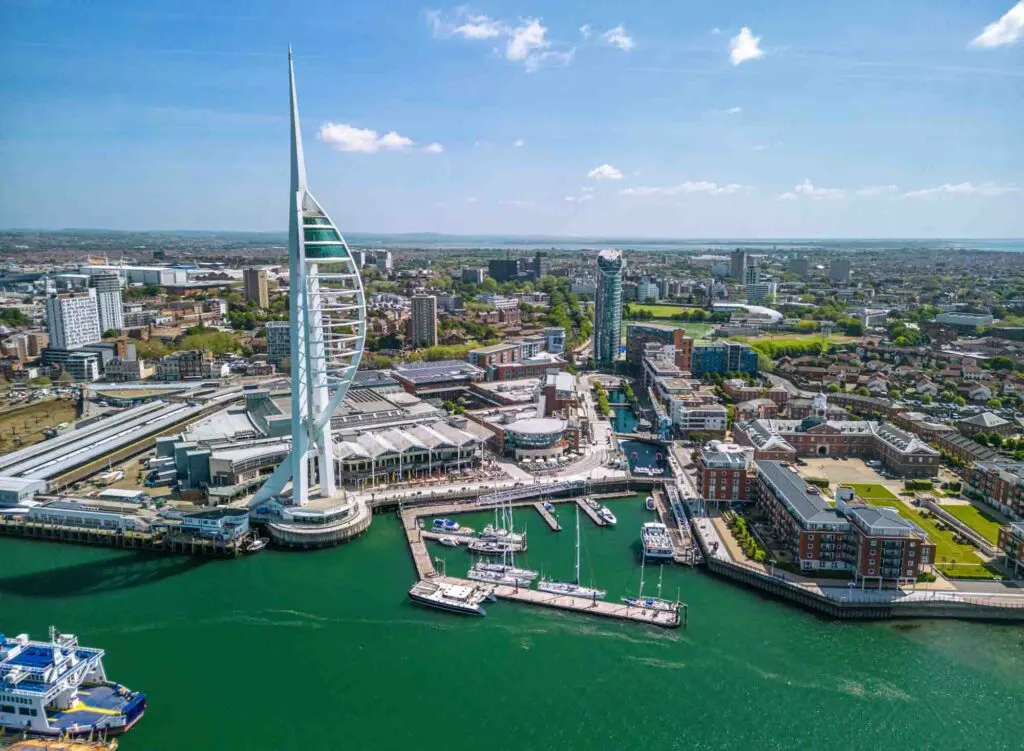 Spinnaker Tower is a lesser-known yet incredibly influential location, with thousands of English citizens acknowledging the unmistakable and beautiful views.
Fortunately, the Spinnaker Towers are rare because they offer a unique, enjoyable, and memorable experience for people with different backgrounds, interests, and world views.
Those who enjoy admiring natural scenery will remain enthralled by the striking beauty surrounding the Spinnaker Tower as far as the eye can see.
English history enthusiasts will be drawn to the marvelous Solent, commonly known as the Isle of Wight, which has culturally significant dockyards almost 600 feet below the viewing point.
Natural Landmarks in England
4. White Cliffs Of Dover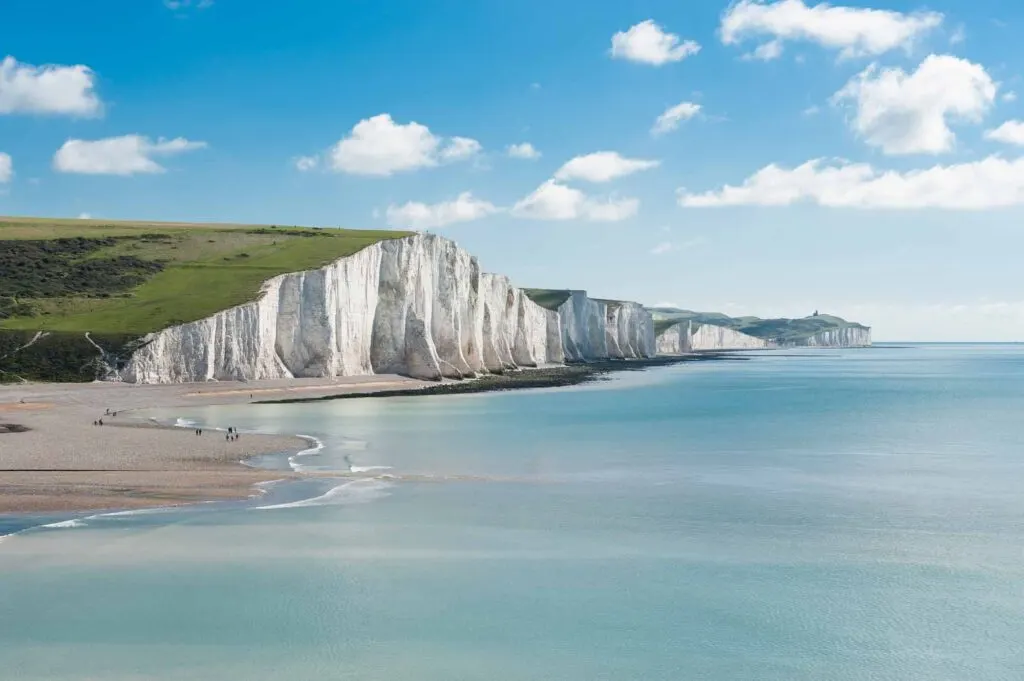 The unmistakable White Cliffs of Dover are commonly referred to as one of the most iconic, enthralling, and timeless landmarks in England.
Locally referred to as Britain's edge, the White Cliffs of Dover remain a symbolic source of enormous British pride, resilience, and ingenuity.
The chalk cliffs reflect a golden-hour glow of sunlight upon the nation, guarding it through its most difficult and prosperous times.
Visitors should take a moment to gaze upon the English Channel, as thousands of inspired onlookers have, or explore the extensive WW2 tunnel network below the internationally revered Dover Castle.
5. Cheddar Gorge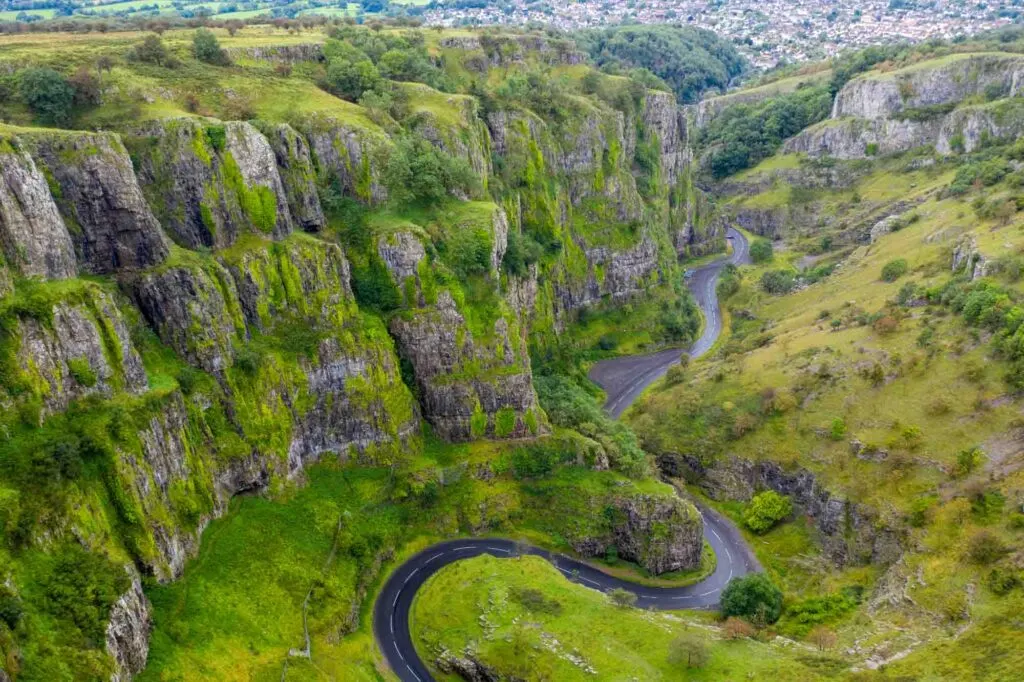 Cheddar Gorge, also called nature's spectacle, requires you to travel southwest to the enchanting location closely associated with the hands responsible for sculpting time.
With its towering cliffs, limestone exterior, and intricate cave systems, Cheddar Gorge is a must-see for any geological, historical, or outdoor enthusiast.
If you are fortunate enough to visit Goughs Cave, you will undoubtedly take a step back through time; experiencing the awe-inspiring stalactite formations will clear the cave's prehistoric habitations.
However, no matter what you do at the world-renowned Cheddar Gorge, whether hiking or savoring the locally produced cheddar cheese, your journey will be sensory, perfectly entangled with nature's timeless essence.
6. Sherwood Forest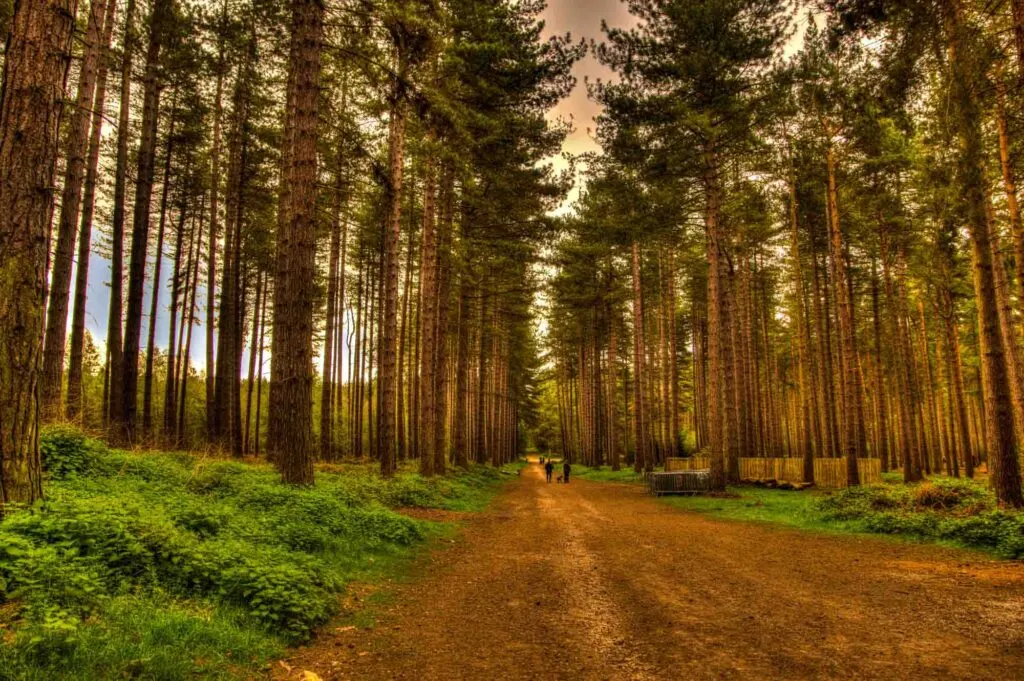 Located in the depths of Nottinghamshire, the legendary woodland known as Sherwood Forest is a must-see landmark in England for any local or tourist alike.
The Sherwood Forest is a truly ancient site, captivating storytellers and adventurers globally for generations, with its enthralling oak trees being the perfect location for the backdrop to Robin Hood and his world-renowned gang.
At the same time, the soaring oak trees are accepted as being more than 800 years old.
It has been said that Robin Hood was an outlaw among the historic and timeless trees and their branches; the memorable retreat is significantly more than a traditional tranquil retreat.
7. Jurassic Coast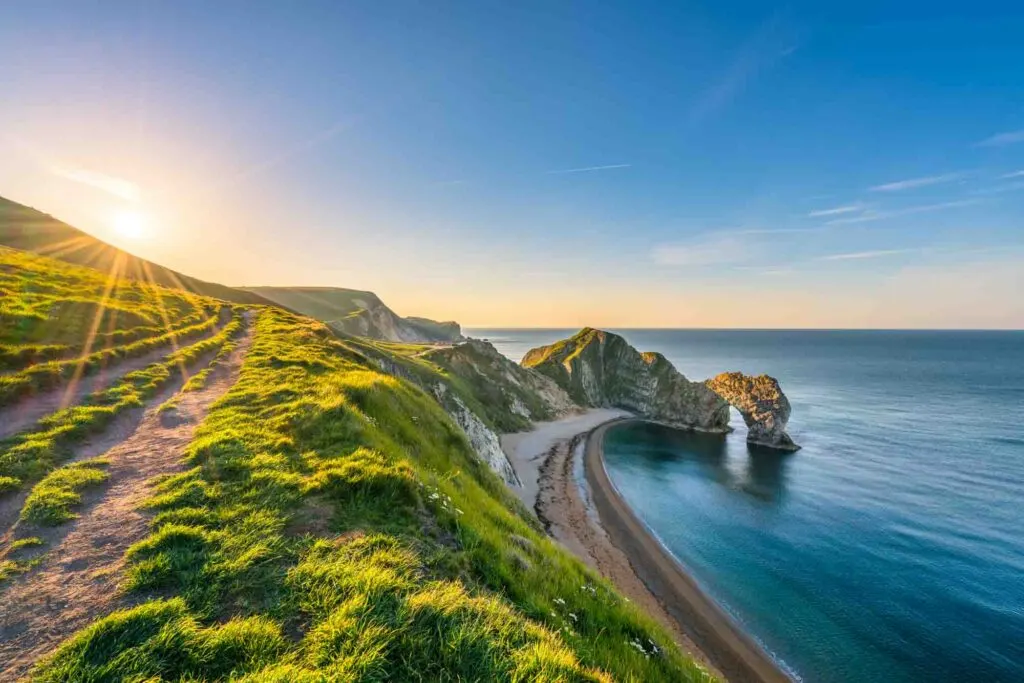 England's awe-inspiring Jurassic Coast is a geological masterpiece and recently became a UNESCO World Heritage location while seemingly growing in popularity yearly.
Jurassic Coast spans almost 100 miles throughout the pristine and mostly untouched English Channel coastline.
Take an afternoon to adventure through 200 million years of history as the decaying cliffs reveal layers of fossilized rock formations and petrified animals.
Take another morning to extensively explore quant villages touching the never-ending coastline, with Lyme Regis and Charmouth being the ideal pitstops.
8. Hyde Park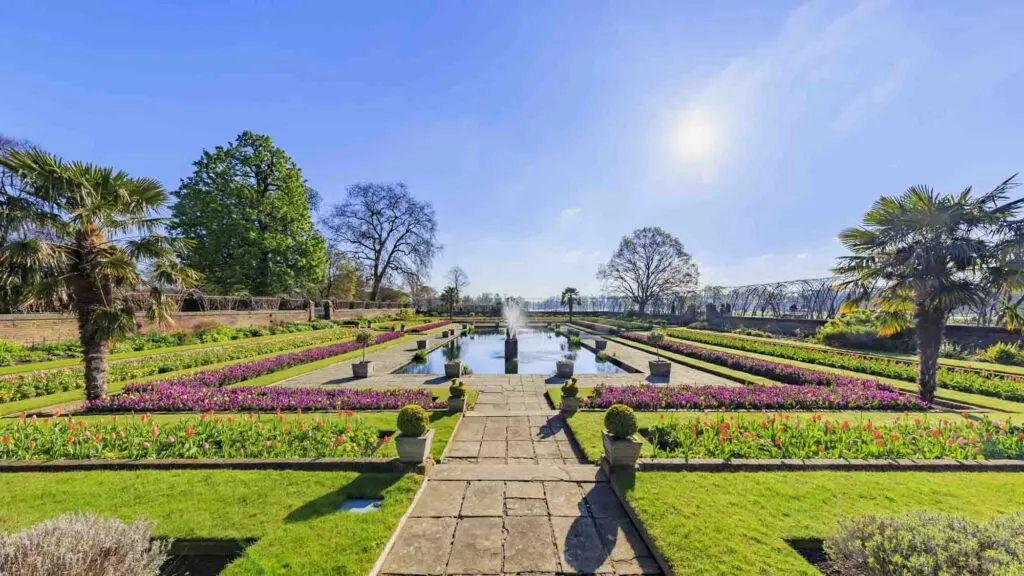 Hyde Park is one of the biggest Royal Parks in London, an incredible European city. At 350 acres, it spoils visitors with over 4000 trees and more than 100 types of stunning roses.
Strangely enough, it was used as a pet cemetery for several years, starting in 1881, when the first dog, Cherry, was buried there. There are over 300 pet graves, although it is not open to the public.
Hyde Park used to be a hunting ground for King Henry VIII, is well known for its Speakers' Corner, and is home to The Weeping Beech, an incredible tree that looks as if it has grown upside down.
Today, performers still use the park's bandstand while visitors indulge in the performances and many restaurants.
For a picturesque Winter Christmas, head to Hyde Park to embrace the cold for an icy Wonderland full of activities.
9. Lake Windermere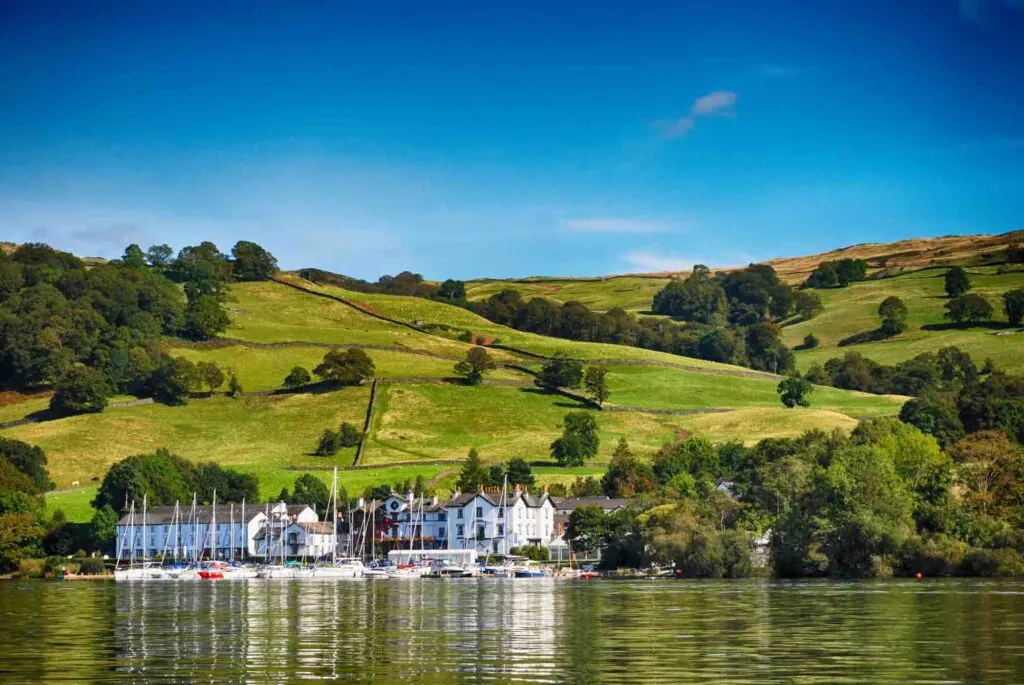 Lake Windermere is ideally located in the heart of England's globally revered Lake District, making it one of the must-see landmarks in England.
It is worth noting that this natural lake is perfectly surrounded by culturally significant villages and luscious green hills, allowing you to connect and unwind with nature in a way not possible at any of the other famed British landmarks.
The strikingly memorable town of Bowness-on-Windermere is an essential stop to experience unmatched scenic beauty and audible tranquility.
Historical Landmarks in England
10. Warwick Castle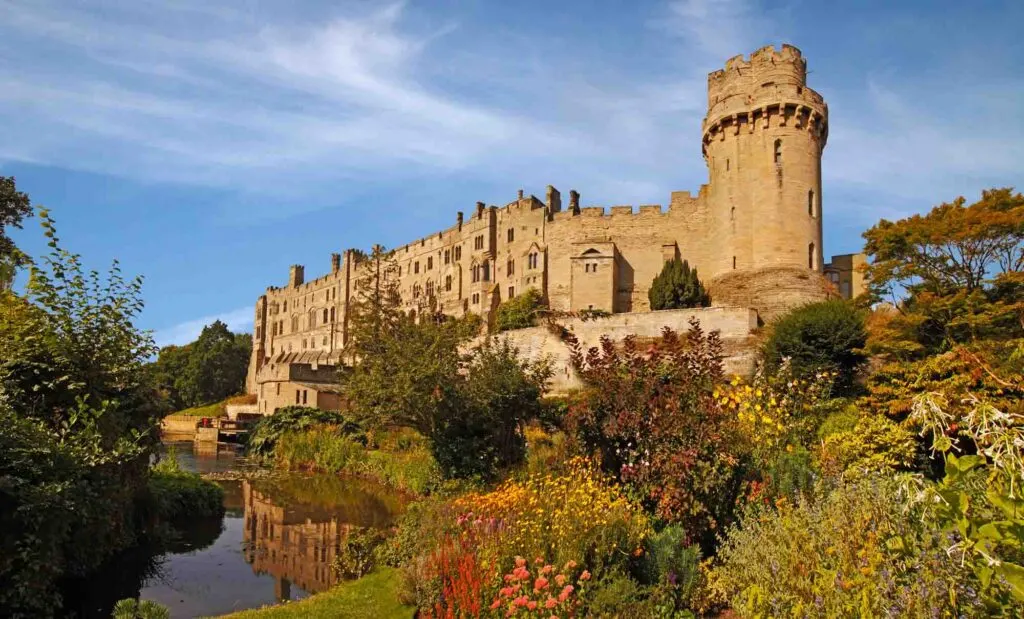 An appropriate place to begin our journey, Warwick Castle, is known as one of the most famous and beloved landmarks in England.
The idyllic masterpiece is located on the banks of the river Avon and is widely considered a magnificent medieval castle.
Built in the 11th century, the castle has incredible architectural characteristics, boasting an enormous Gatehouse and the timeless Caesars Tower.
As you step into the castle, you'll take a step back in time with its unmatched interiors, fascinating historical tales, and the everlasting presence of royalty.
Moreover, Warwick Castle will take you to a time of grandeur and chivalry, ensuring it is a vital place for historical enthusiasts or buffs.
11. Blenheim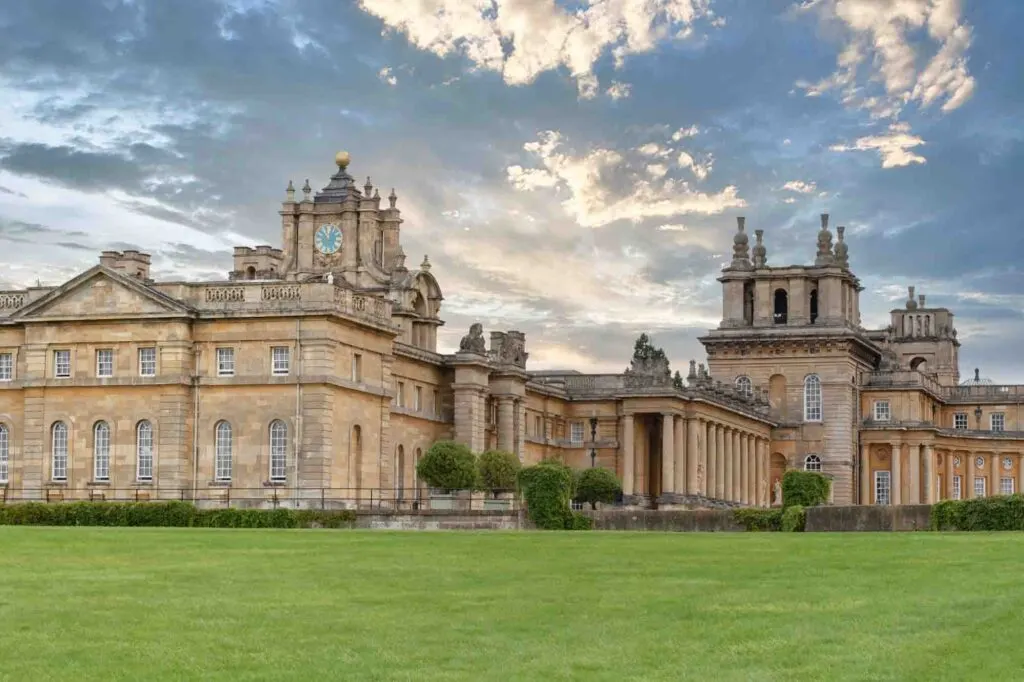 Another United Kingdom addition to the European palaces is the non-royal Blenheim in Oxfordshire, England.
Blenheim Palace Palace is the birthplace of Sir Winston Churchill, the celebrated British political leader who led the United Kingdom during World War II. Visitors can explore the room where he was born.
Blenheim is a fine example of Baroque architecture. It was engineered by the architect Sir John Vanbrugh, and it reflects one of Britain's finest examples of the Baroque style.
The palace features cultural and historical significance, and you can walk through its history in the many state rooms adorned with magnificent paintings like the Great Hall, the Long Library, and the Green Drawing Room.
Blenheim also has an impressive parkland designed by Capability Brown, featuring lakes, forests, and gorgeously designed gardens. The palace also has the breathtaking Formal Gardens and Water Terraces Garden.
Read next: Best European Gardens to Visit
12. Westminster Abbey
Westminster Abbey draws in an astonishing one million visitors annually, solidifying its status as one of the major landmarks in London.
Far from a hidden gem, it proudly stands as England's principal religious edifice, a portal to a millennium of British history waiting to be explored.
Within these hallowed walls resides Britain's oldest door, a venerable Anglo-Saxon relic hewn from solid oak, dating back to the remarkable year 1050.
The abbey, undeniably a cornerstone of England's heritage, serves as the eternal resting place for more than 3,500 souls, and its sacred precincts have borne witness to quite a few royal weddings (17 to be more exact), including the illustrious wedding of Prince William and Kate Middleton.
As history echoes through its stones, the abbey has also borne the weight of sorrow, hosting the solemn funerals of Winston Churchill, Princess Diana, and Queen Elizabeth II, as well as countless joyous unions.
Originating from the visions of monks in 960 AD, this venerable structure was crafted on the island once known as Thorney Island.
Intriguingly, an enigmatic mosaic on the sanctuary floor foretells the world's end a staggering 19,683 years hence.
13. Windsor Castle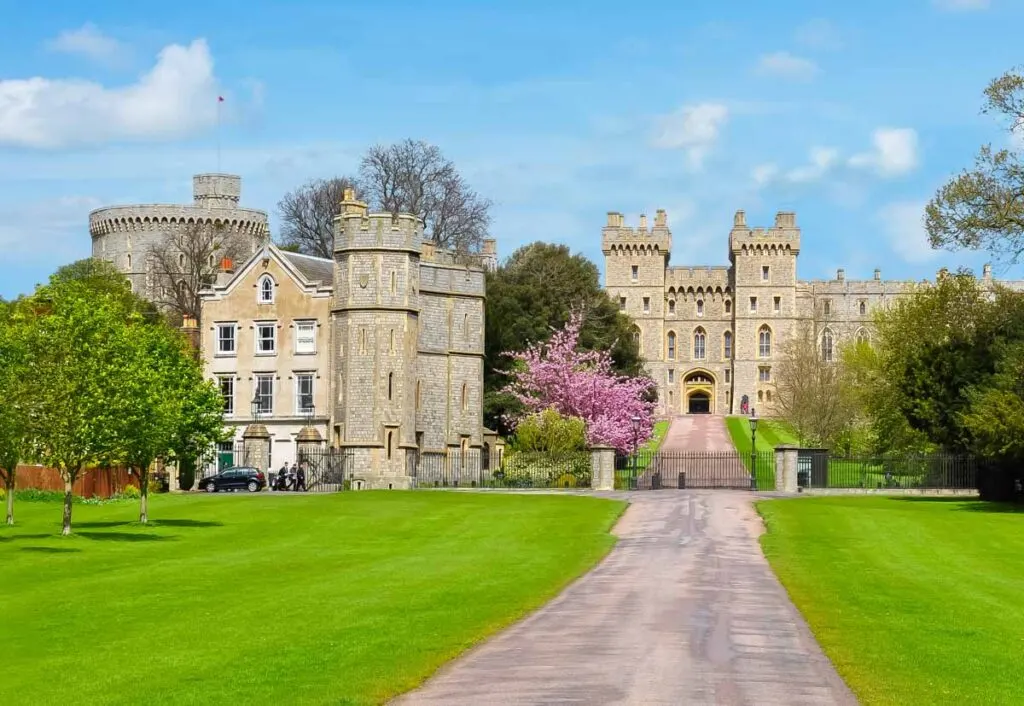 This is the largest and oldest occupied castle in the world.
Built around 1070 by William the Conqueror, it's been the home of 39 monarchs for 1,000 years, and it was, until recently, Queen Elizabeth II's favorite residence.
Ten monarchs lie buried here, including Henry VIII, Jane Seymour, and Charles I, who was executed for treason.
Consisting of 1,000 rooms and covering 13 acres within 13,000 acres of meticulously groomed grounds, Windsor Castle ranks among the most beautiful castles in the world.
You can book a self-guided tour through apartments and magnificent ceremonial rooms packed with priceless paintings by Ruben, Van Dyck, and the like, exquisite furniture, and historic royal treasures.
Not to be missed are St. Georges Chapel, Queen Mary's Doll House, the Grand Staircase, and the spectacular Waterloo Chamber. The Changing of the Guard at 11 am is also a must-see. British pomp and ceremony at its finest.
No tour of Windsor Castle is complete without having a traditional nice cup of tea and cream scone at the Undercroft Café.
14. Big Ben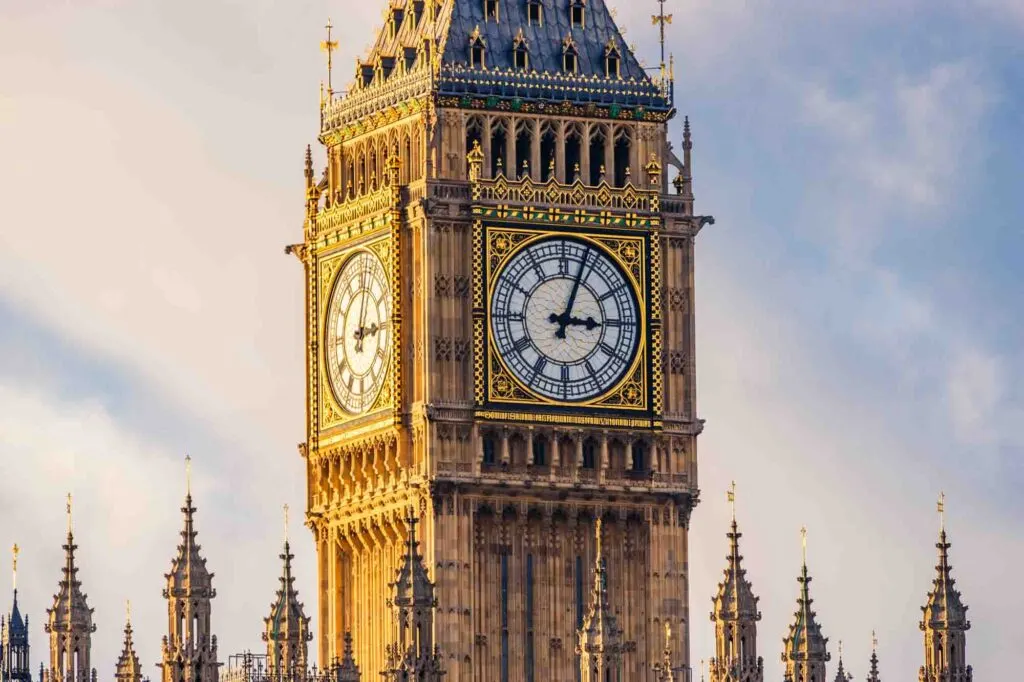 Big Ben is a historically adored landmark and is one of the most famous landmarks in London, standing tall and oh so proud at Westminster Palace.
Big Ben was built by Charles Barry and Augustus Pugin in honor of Queen Victoria, and it has been punctually ringing every 15 minutes since the mid-19th century.
This structure used to be known as "The Clock Tower." In 2012, the official name was "Elizabeth Tower," marking her Diamond Jubilee.
Big Ben is 315 ft tall, and it challenges any takers to climb the 334 steps needed to reach the top of the belfry.
The clock stopped at 10:07 pm on 27 May 2005. This was presumably due to scorching temperatures of around 90 ֯F.
Legend has it that if the clock ever had to strike 13, the lion statues at Trafalgar Square would miraculously come to life!
15. Canterbury Cathedral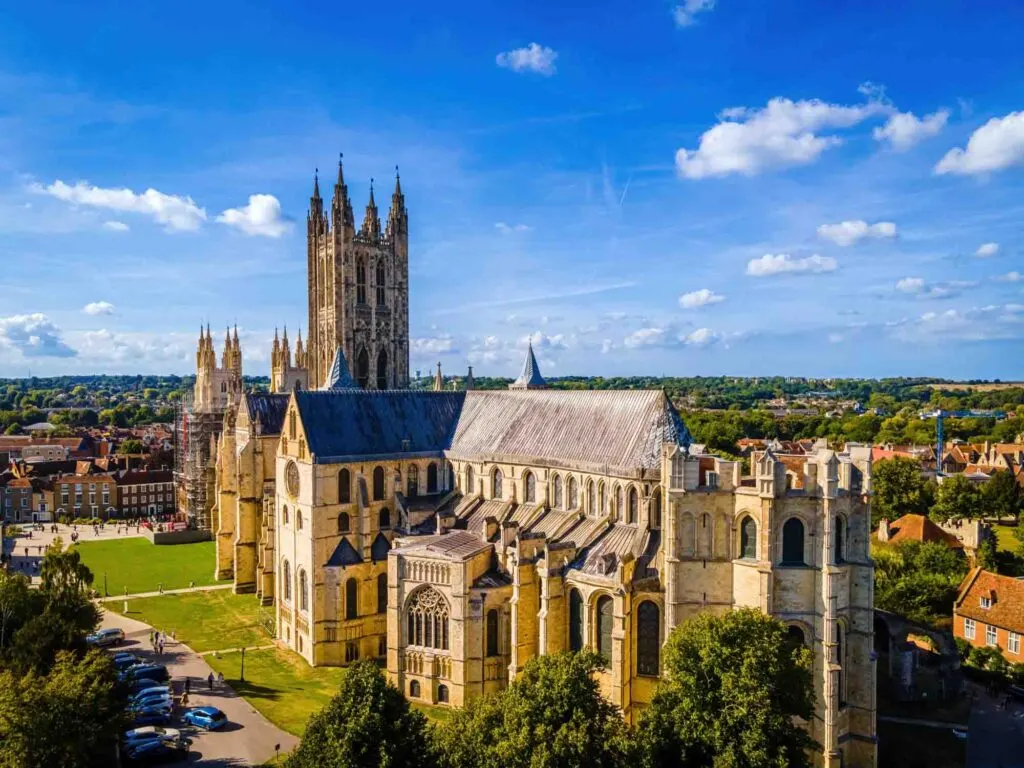 A timeless spiritual marvel, the Canterbury Cathedral is England's most famous religious site and among the most frequented UK landmarks of the previous century.
England's Canterbury Cathedral is a rare national UNESCO World Heritage location, with the timeless Gothic architecture being a standout feature.
Pilgrims, tourists, and locals have descended upon the sacred site for centuries, with modern visitors exposed to the spiritual and historically significant once they walk through the ancient yet functioning front gates.
Visiting the Canterbury Cathedral is essential for anyone interested in historically significant events and locations, as it offers an unmatched journey through the ages, with its faithful frontier offering a profound and distinct connection to England's influential past.
16. Buckingham Palace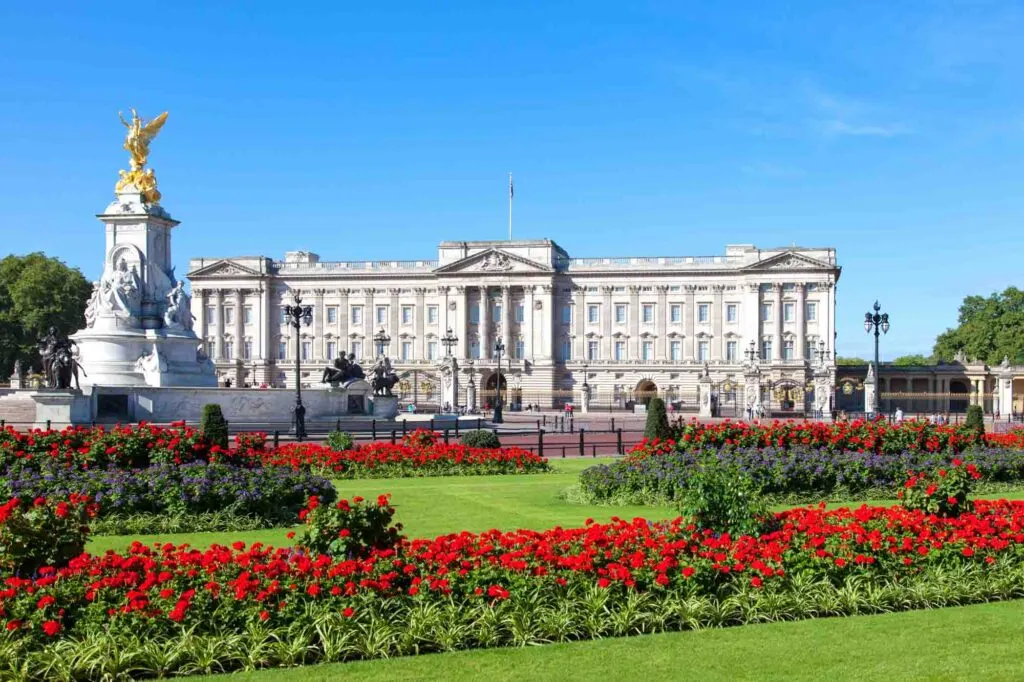 Buckingham Palace has always stood as the official residence of British monarchs, including the late Queen Elizabeth II, making it an absolute must-visit for royal family enthusiasts.
Among the most iconic landmarks in England, the royal palace unveils a rich history and a culturally opulent legacy within its resplendent walls.
Commissioned by King George IV in the 18th century, Buckingham Palace became the royal residence when Queen Victoria assumed occupancy in 1837.
This colossal palace encompasses a staggering 775 rooms, featuring a cinema, post office, pool, police station, clinic, and even a cash machine.
For those curious about the monarch's presence, a simple rule once applied: the Union Flag flying over the Palace signaled her absence, while the presence of a royal standard flag indicated her presence.
Buckingham Palace stands as a majestic testament to the British monarchy's enduring grandeur and history.
17. Alnwick Castle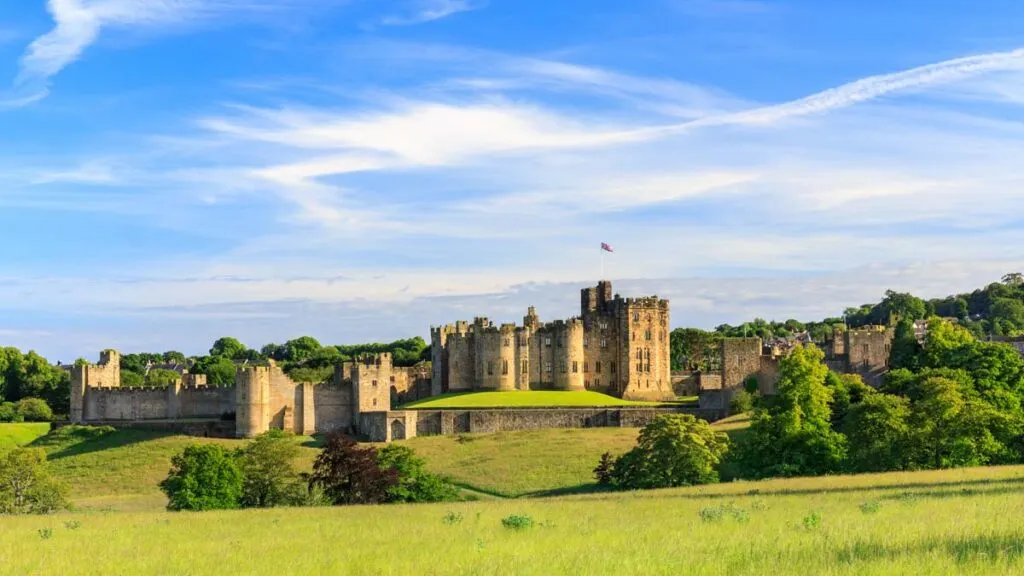 Situated in Northumberland in northeast England, Alnwick Castle is another of these beautiful medieval castles whose origins date back to the Norman Period.
Having withstood sieges and endured many attacks, it has fallen into disrepair and has been repeatedly restored over the centuries. Next to Windsor, Alnwick Castle is the second-largest inhabited castle in Britain.
It has served as a fortress, military outpost, college, and refugee center and is now a popular tourist site.
It's also one of those old castles that have been used as a setting in many films, including the Harry Potter series and Robin Hood Prince of Thieves, and numerous television series such as Downton Abbey, Count Dracula, and Blackadder.
There are plenty of things to learn, see and do, both inside and outside, for the whole family, including falcon displays, medieval music festivals, and the "broom lessons" and "dragon tournaments."
18. Hadrian's Wall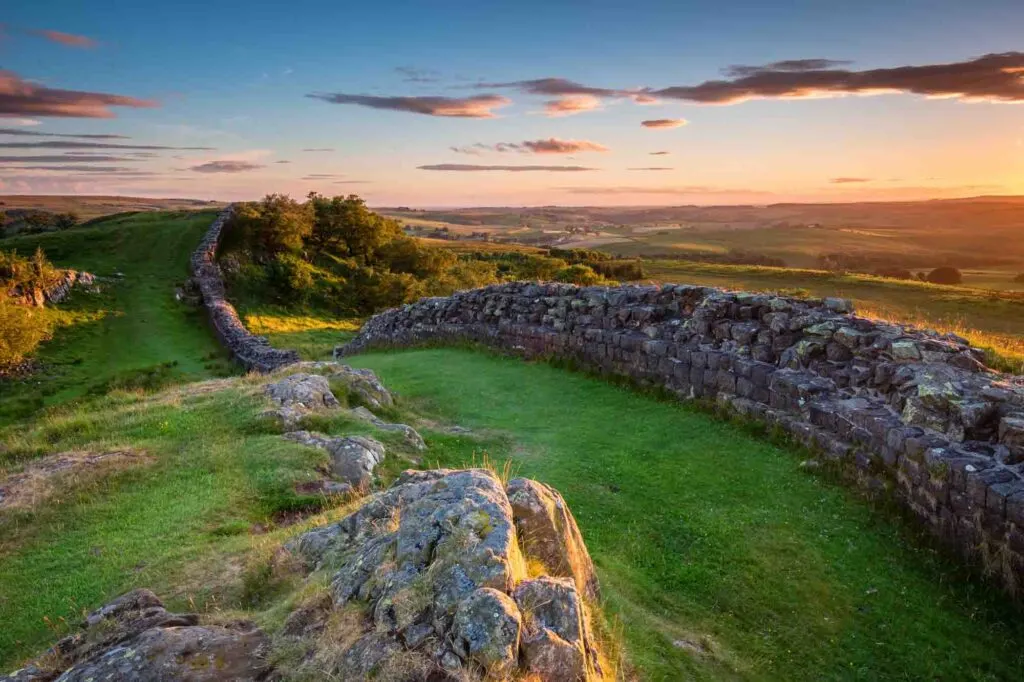 A remarkable testament to ancient Roman fortification and engineering, Hadrian's Wall offers an extraordinary insight into England's past, with its unmistakable Roman era influence.
Another preserved UNESCO World Heritage site, the internationally recognized wall, was constructed by the Roman Emperor Hadrian to signal the Empire's northern boundary.
Walking along the unmistakably historical wall will enable a glimpse into the ancient Roman way of life, allowing you to picture a thousand-strong legion army that once stood and fought on the same ground.
19. Durham Cathedral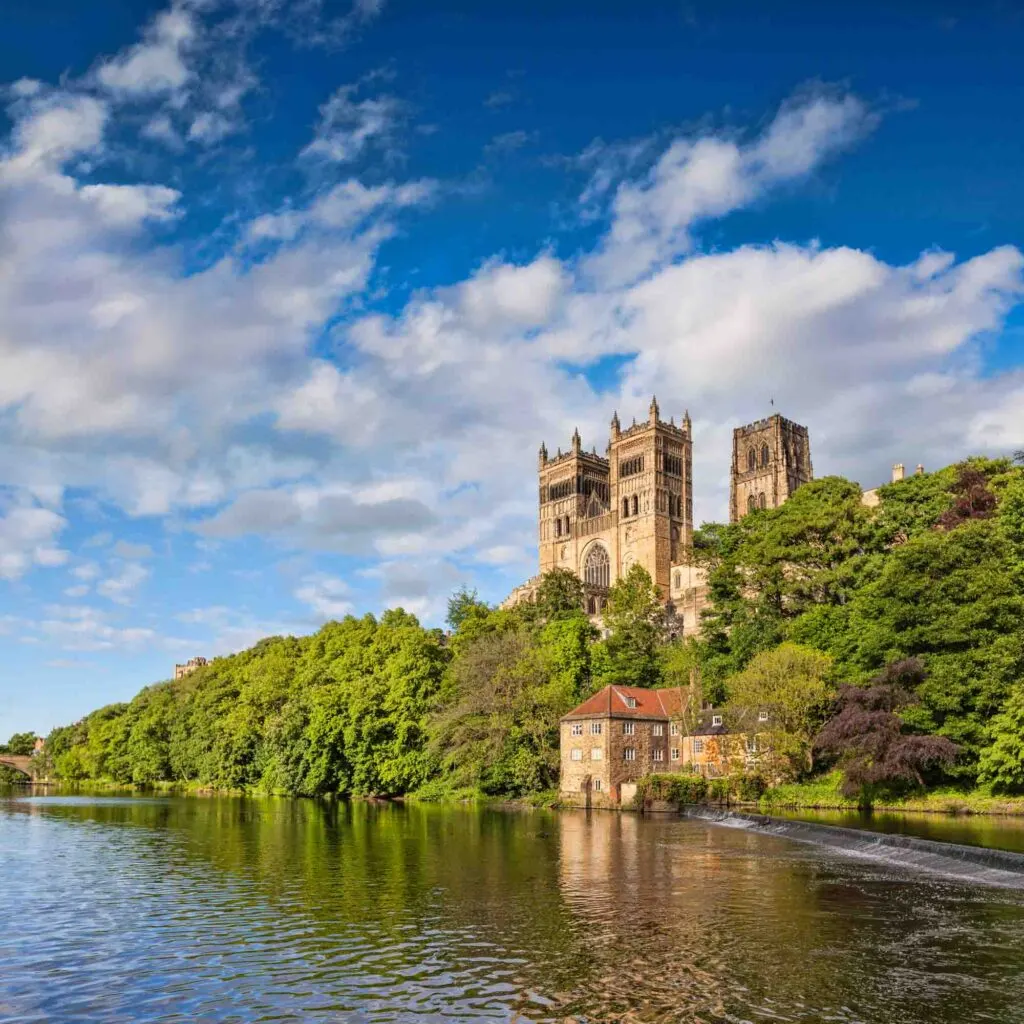 The unmistakably divine architecture and timeless construction associated with Durham Cathedral have ensured it remains among the most memorable English landmarks.
The medieval craftsmanship is on display, with its rib vaulted ceilings being a favorite among locals and tourists alike.
The striking Rose Window, combined with the outstanding Romanesque architecture, renders this British landmark an unmissable national landmark.
20. Coventry Cathedral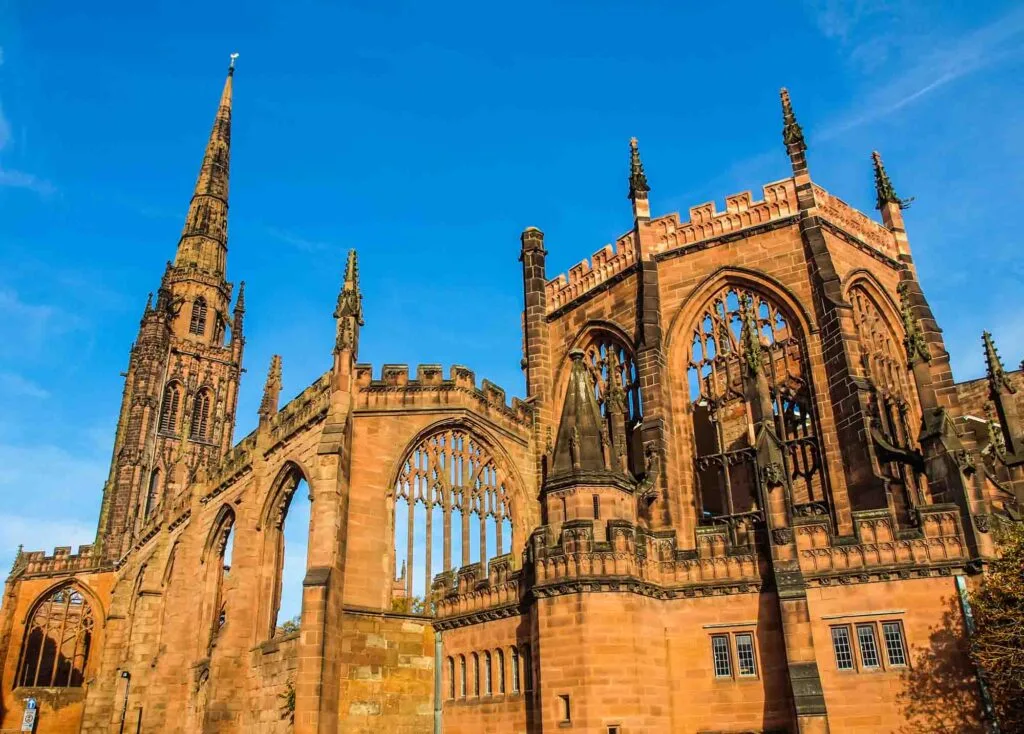 Despite not being as world-famous as some of the more magnificent cathedrals mentioned on this list, the Coventry Cathedral is considered by many to be the most influential landmark in England.
Peacefully strolling through the enormous yet perfectly manicured cathedral grounds will strike a profoundly emotional cord due to the obvious ruins, destruction, death, and suffering induced during WW2.
However, most people fail to comprehend the significance of the Coventry Cathedral, with its awe-inspiring windows, produced by John Piper, as an appropriate symbol of reconciliation, resilience, and English heritage.
Designed by globally revered architect Sir Basil Spence, Coventry Cathedral is among the best-preserved England landmarks, attracting enthralled locals and tourists from far and wide.
21. Tower Bridge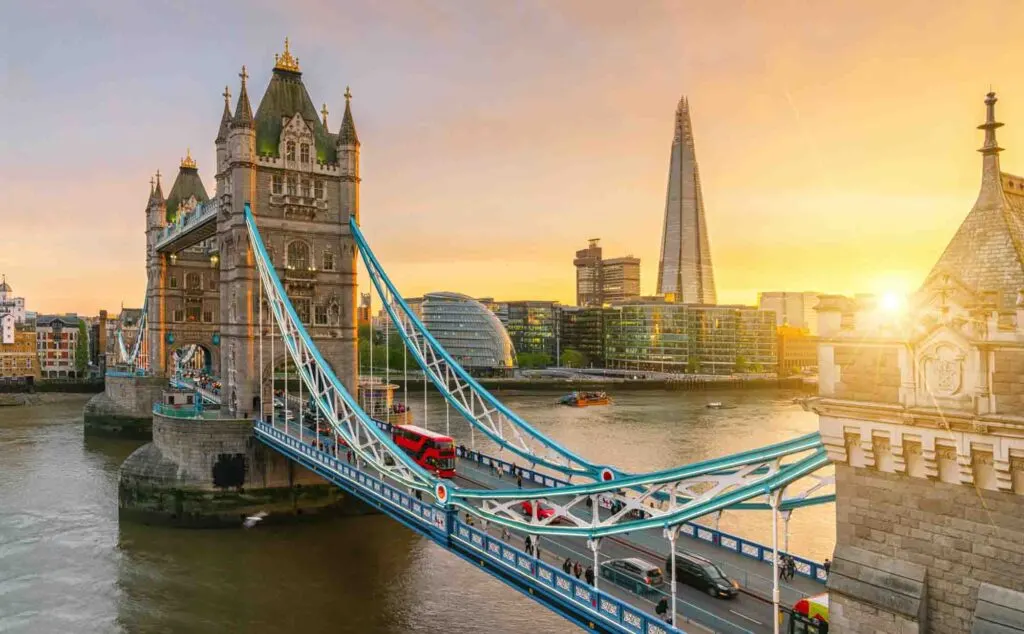 The historic Tower Bridge was assembled in the 19th century and is one of the most-visited London landmarks, with more than 40,000 daily visitors. Anyone who sees this beautiful bridge immediately knows that it's in London.
Tower Bridge is often mistaken for London Bridge (yes, the one in the traditional English nursery rhyme). Still, they are certainly not the same bridge. London Bridge is further down the river.
Prostitutes and pickpockets were once a cause of concern in the open-air, high-level walkways between the bridge's two towers, thus forcing a shutdown in 1910. Tower Bridge was reopened (with admission fees) in 1982.
In 1952, the famous bridge began to open, forcing a double-decker bus (Number 78) to anxiously accelerate and bravely jump a small three-foot gap. The driver, Albert Gunton, was awarded £10 for his heroic act.
22. Roman Baths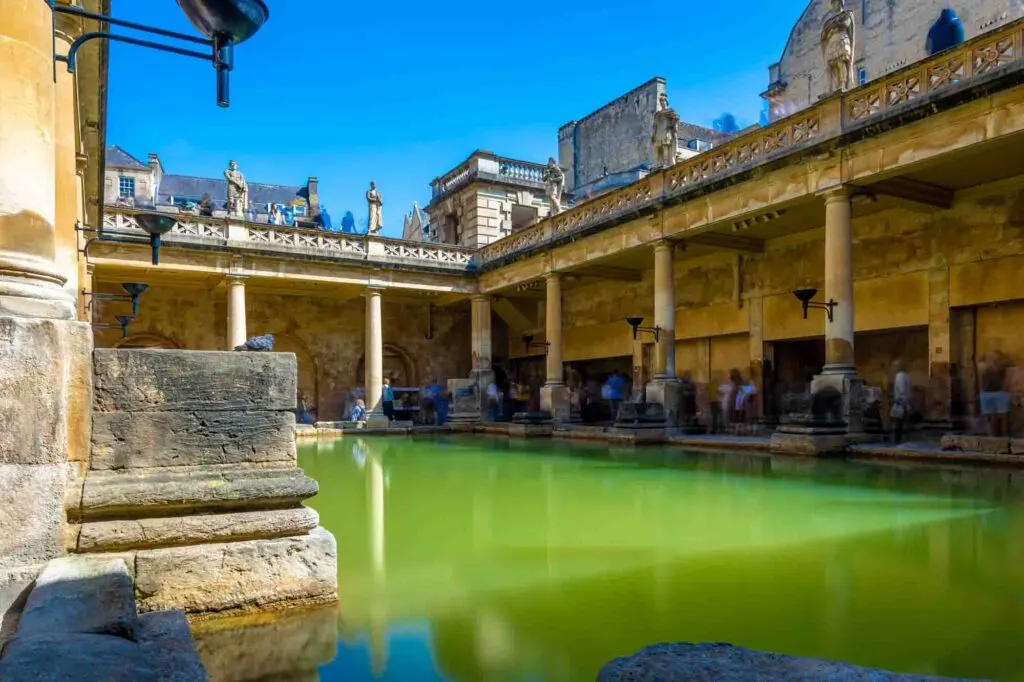 The quaint university town of Bath is home to some of the most awe-inspiring, magical, and elegant Roman engineering, craftsmanship, and ingenuity ever seen.
Despite being on the smaller side of things, the entire town is based and built around the magnificent and naturally occurring hot springs.
The Romans and their advanced construction techniques managed to construct multiple baths, pools, libraries, and gymnasium complexes, with many acknowledging that Bath offers unmatched insight into the ancient Roman way of life, especially their rituals and unrivaled luxury.
Still, there have been changes made to the bath during the 12th century.
Taking a day or more to visit the town of Bath will be one of your life's most enjoyable, thrilling, and memorable experiences, no matter your background or opinions regarding the Roman Empire and its unique way of life.
Thoroughly exploring the notable interactive and incredibly well-stocked museum before progressing to the famed yet warm Roman Bath is an unmissable experience.
Pssst: while in Bath, be sure to visit other attractions in town, such as Bath Abbey and Jane Austen Visitor Centre.
23. Glastonbury Tor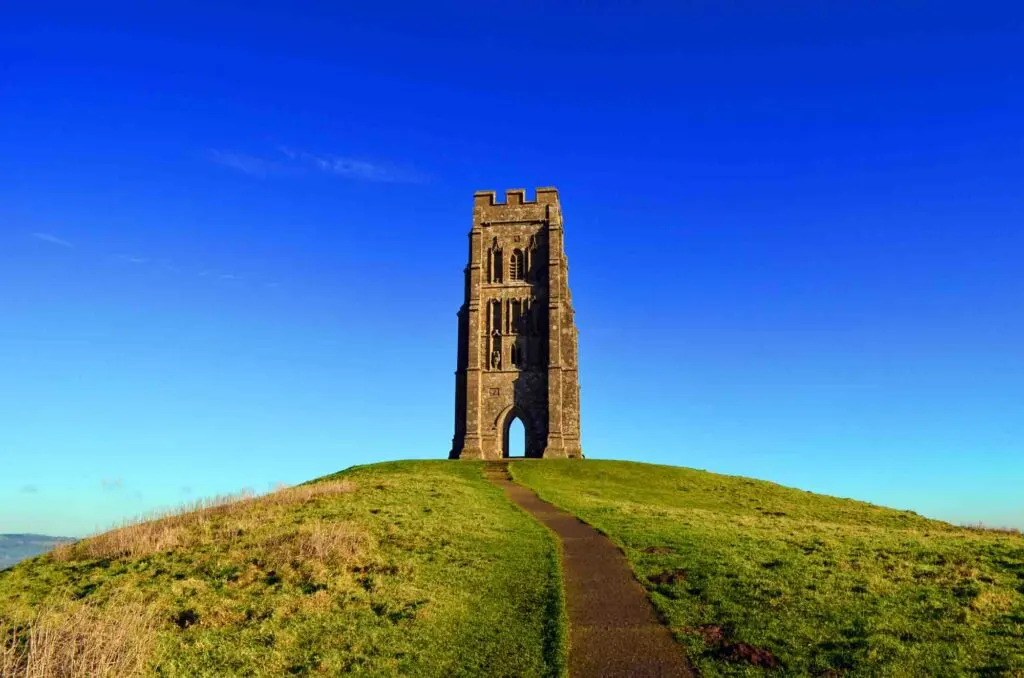 The remarkable Glastonbury Tor, a mystical majesty and mystery to most, has always been directly associated with the ancient Arthurian legend of the same name.
It is worth noting that Glastonbury Tor remains among the most pristinely preserved of England landmarks.
However, the undoubted mythical essence and history associated with Glastonbury Tor are frequently overlooked by first-time visitors, with many gasping in surprise once they are high enough above ground to fully appreciate the breathtaking, once-in-a-lifetime panoramic view.
Most would agree that one of England's most criminally underrated landmarks is a haven for profound personal spirituality, accepting each passerby as its own.
While there are countless activities and experiences for everyone at the Glastonbury Tor, the British landmark remains a favorite among authentic people searching for an ever-illusive sense of enlightenment.
24. Shakespeare's Birthplace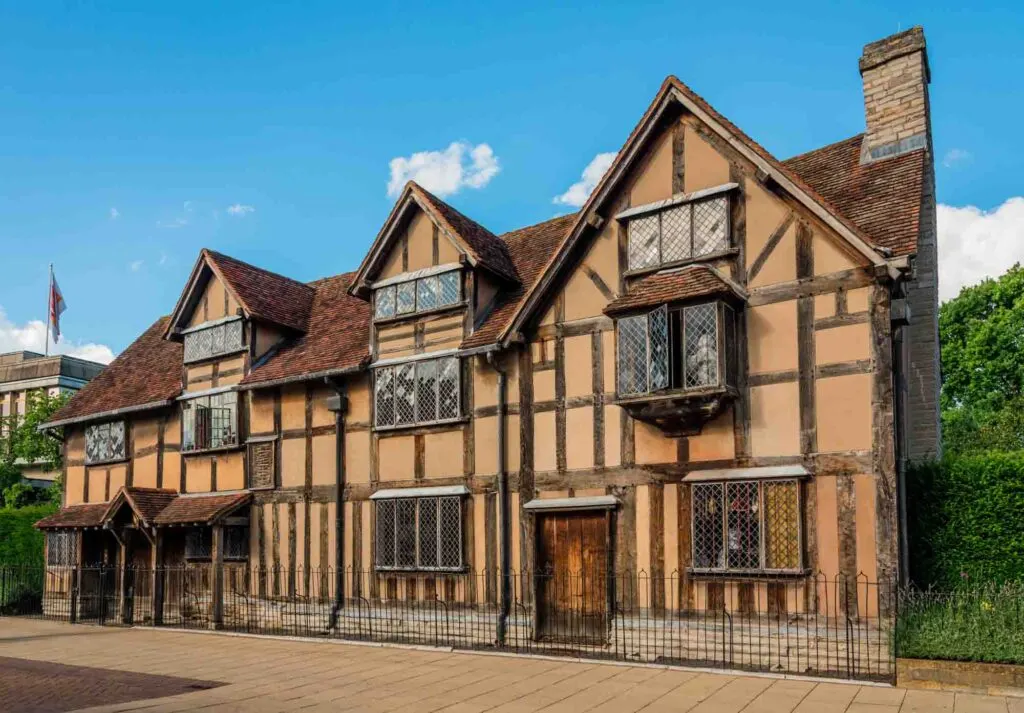 William Shakespeare was undoubtedly among the great poets, playwrights, and pioneers of the 16th century in England, with his childhood home and legacy being displayed for tourists and locals to admire.
Walking through the same halls, bedrooms, and kitchen Shakespeare did all those centuries ago is an incredible and exhilarating experience for anyone who has read and admired his work.
Conveniently based in the center of Stratford-upon-Avon, the Tudor-styled house is a fascinating must-see experience.
In addition to the main attraction, visitors can wander through the strikingly beautiful nearby gardens, leading to the timeless Anna Hathaway Cottage.
The unique combination will enable interested travelers to peek into the world of the internationally celebrated playwright and Bard's renowned romantic lifestyle.
25. Stonehenge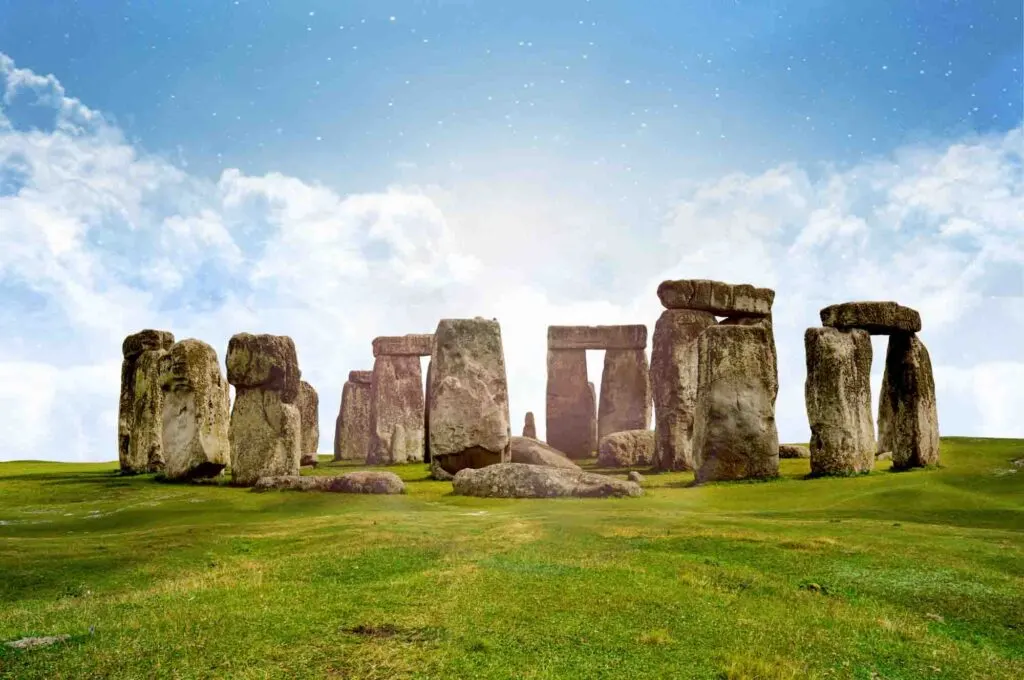 Experience the mystery of Stonehenge, an ancient prehistoric monument, a source of timeless intrigue and human fascination among the millions that have passed through this popular landmark throughout the centuries.
You can take a moment to marvel at towering stone monoliths while pondering their mysterious purpose and educating yourself about important and intense ancient rituals.
At the same time, allow Stonehenge's unmistakable and timeless allure to transport you to a distant history, where the world and the functioning societies of the time intermingled in ways still heavily debated to this day.
26. York Minster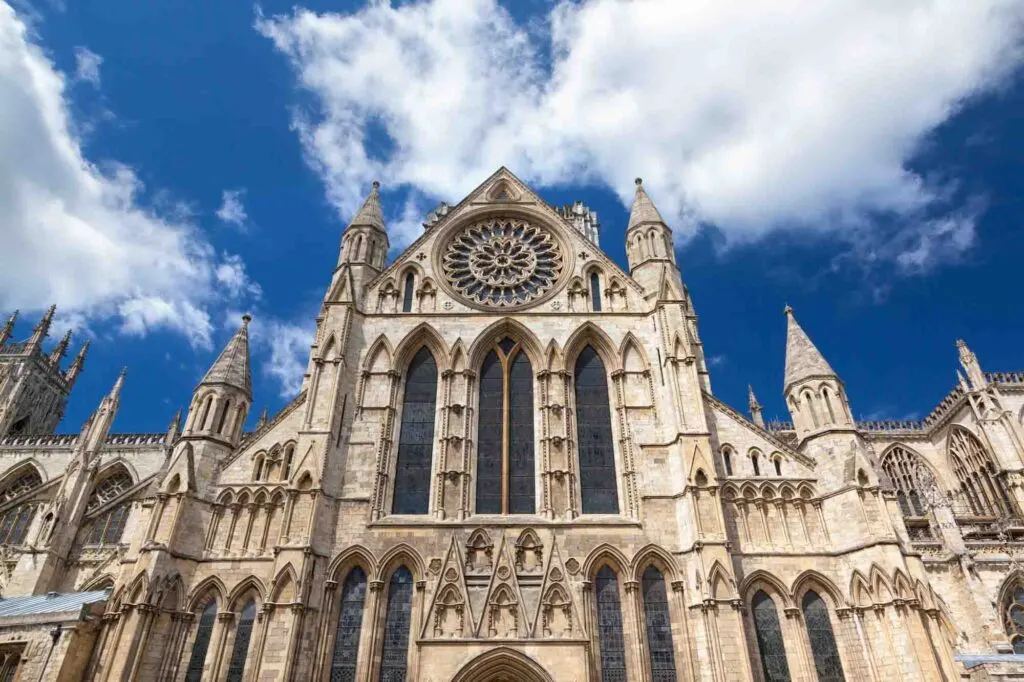 York Minster is considered by thousands a masterpiece of ancient Gothic architecture.
As the eerie structure looms large over the quiet town of York, its magnificence is a source of centuries-old pride for all locals and proud citizens.
York Minster is, by some distance, the most imposing structure of its kind in the entire northern hemisphere, with its intertwined stone engravings, incredibly unique nave, and unparalleled, timeless stained-glass windows.
We recommend you take the time to fully experience the panoramic, spectacular views of the historic city or delve into the depths of the Undercroft Museum to uncover the cathedral's long-forgotten and likely hidden treasures.
York Minster is a testament to human creativity and faith, making it a must-see destination for locals, history buffs, and tourists.
27. Gloucester Cathedral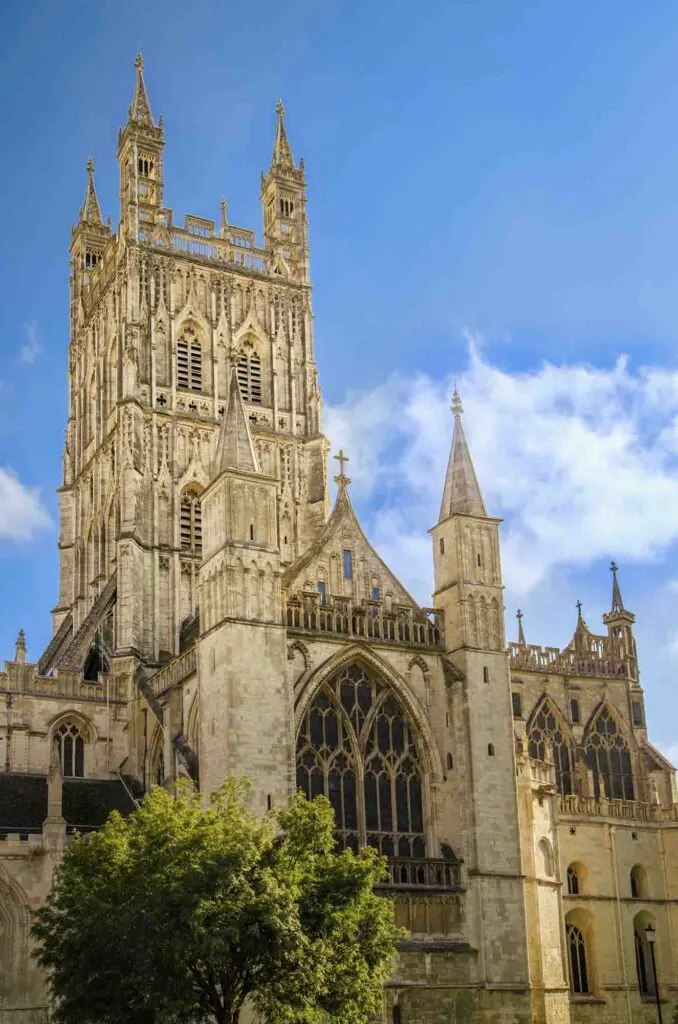 The final pitstop along our glorious journey through the greatest, most timeless, and most resilient landmarks in England is Gloucester Cathedral.
Another shining example of English pride, resilience, and architectural excellence, the Gothic cathedral is as imposing as it is old, with some estimating it to be more than 1,100 years old.
Showcasing endless examples of intricate yet ancient stained-glass windows.
For history buffs, the priceless cloister housed within the cathedral's walls remains the main attraction, gracing the big screen in some of the world's biggest movies, such as Harry Potter.
The serene cloisters, untouched tombs, and awe-inspiring gothic architecture have and will continue to inspire generations of local citizens, English population members, and global tourists.
28. Chatsworth House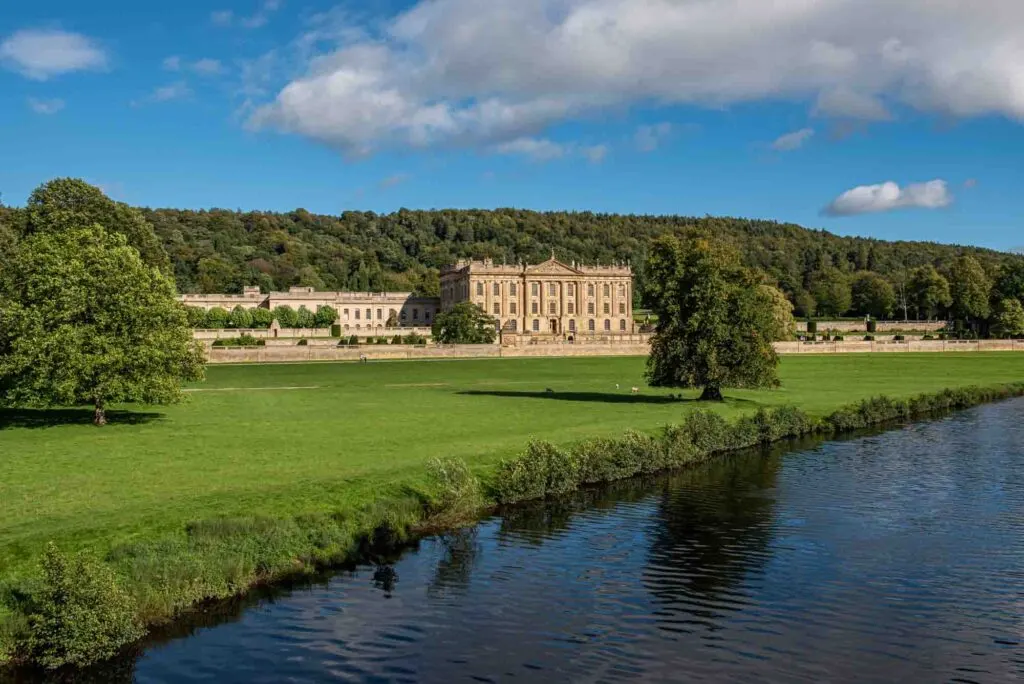 Explore Chatsworth House in the incredible Peak District, an unmistakably timeless symbol of English architectural grandeur, resilience, national pride, and determination.
Tourists and locals are known to admire Chatsworth House's opulent interiors, never-ending gardens, and ancient yet exceedingly valuable art collections.
By taking the time to visit and thoroughly experience one of the most famous landmarks in England, you will completely Immerse yourself in the archaic and sophisticated beauty of English nobility while being surrounded by a national park.
29. Brighton Palace Pier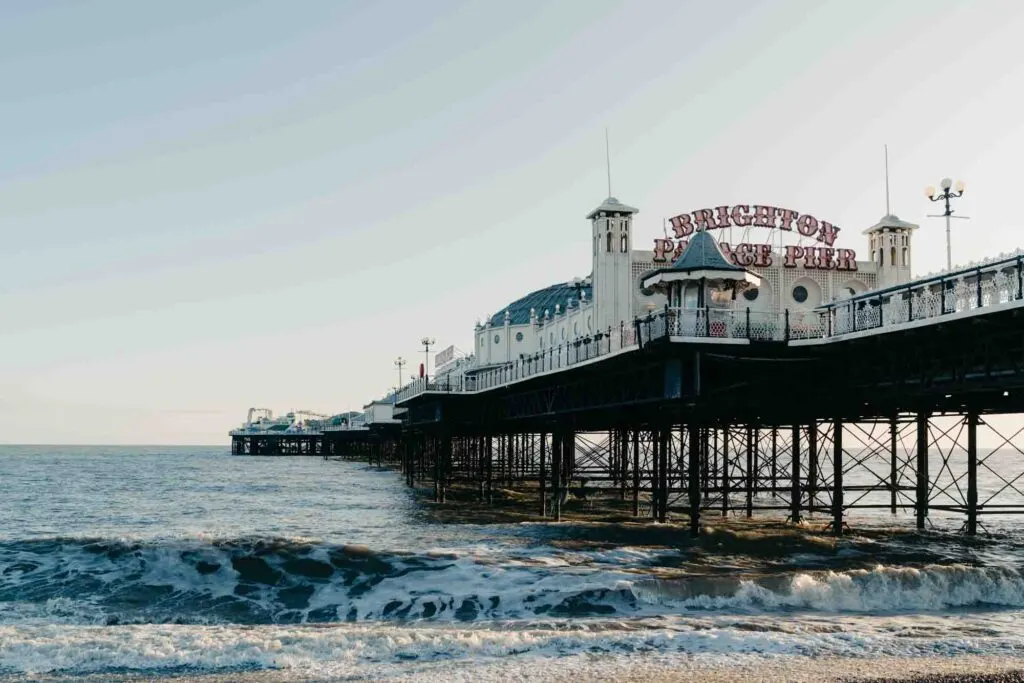 The Brighton Palace Pier is undoubtedly a seaside splendor, with its variety of popular tourist attractions for people of any age, making it one of the most frequented British landmarks.
Anyone fortunate enough to have seen it in person will agree that its explicit Victorian-era pier design radiates a form of historical nostalgia not many are accustomed to.
While the Brighton Pier's architecture, historical, and cultural significance cannot be understated, most locals utilize it to meander their way through to the end of the day with warm and tasty fish and chips in hand.
Despite the beach, sea, colorful arcade-style games, and coastal atmosphere being a major distraction for anyone younger than 15, the site's splendor, charm, and cultural significance will ensure it remains among the most beloved UK landmarks for the foreseeable future.
More English Landmarks You Want To Check Out
Winchester Cathedral
British Museum
Coventry Tyne Bridge
Salisbury Cathedral
Fountains Abbey
London Natural History Museum
Palace of Westminster
Durdle Door
London Tate Modern
Humber Bridge
Kensington Palace
Holy Island, a tidal island
Lincoln Cathedral
Bamburgh Castle
London Hampton Court Palace
Whitby Abbey
Hey you! Did you enjoy learning more about the English landmarks? Then share this article on your social media!
Our best travel tips & resources:
Here're our all-time favorite travel tips & resources so that you can save money and plan your travel logistics hassle-free! For more travel resources, check out our
travel tips.
Saving money: Fly on offseason, winter (not Xmas or NYE), Tuesday, or Wednesday! According to experts, these are the cheapest days to fly.
Travel insurance: Before you leave for your trip, make sure you have a valid travel insurance policy because accidents happen on the road. We have been paying for Safety Wing travel insurance for a little over a year now, and we happily recommend them to our family and friends.
Accommodation: We usually stay in mid-range comfy hotels or private rooms in hostels. These are the sites we use to book accommodation: Booking.com for hotels (excellent flexible cancellation policy) and Hostelworld for hostels (low deposit and easy cancellation).
Tours:We absolutely love booking guided tours with locals to get a history lesson while sight-seeing, especially food tours and walking tours! We book all of our tours using Viator and GetYourGuide.
Transportation: We use Google Maps to figure out how to get around a place using public transport. When we book a rental car, we always use Discover Cars to find the best deal.