Some of the best beaches in Europe are hidden gems that will transform your view of true beauty.
When we think of a beach, it rarely includes the places mentioned in the post because most are secluded beaches and rarely spoken of, although they are magnificent in every aspect.
Europe is packed with amazing beaches; each one transformed the lives of those who visited and left them with memories that changed their lives forever.
Many of Europe's beach destinations are unknown to the world, but they are so incredible that you might find yourself booking your vacation to one of these sun-soaked summer destinations in Europe.
23 Best Beaches In Europe For Your Next Vacation
Here are the most beautiful beaches in Europe, in our opinion, in no particular order. Enjoy!
1. Bibione Beach, Italy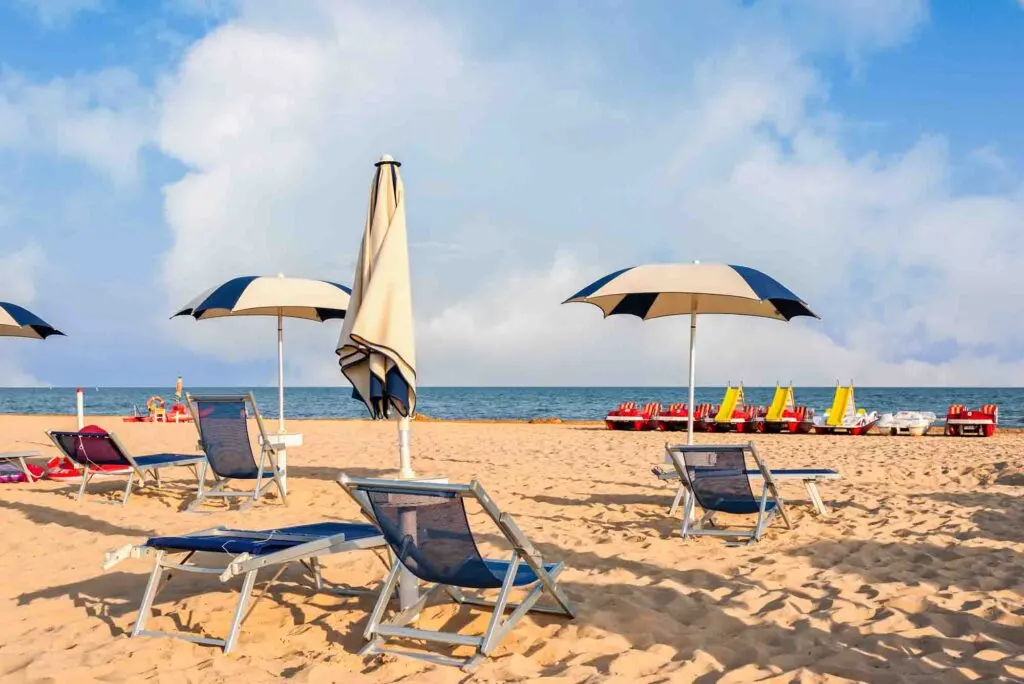 Bibione is one of Europe's best beaches, providing 1476 feet between the town and the shoreline where the whole family can relax under the sun.
Many European beach destinations are known for their unspoiled nature and comfort, and Bibione in Italy does not disappoint.
Bibione Beach has golden sand, is a Blue Flag beach, runs for 5 miles, and is divided into three areas: Bibione Pineda, Bibione Spiaggia, and Lido del Sole.
The Lido del Sole beach is an especially popular beach among visitors.
This Italian beach provides endless activities like sailing, tennis, horse riding, minigolf, beach volleyball, and jogging, and one of the most popular activities is the beach motocross and its famous race, "Rally Tuttaspiaggia."
Read next: 23 Best European Countries to Visit This Year
2. Navagio Beach, Greece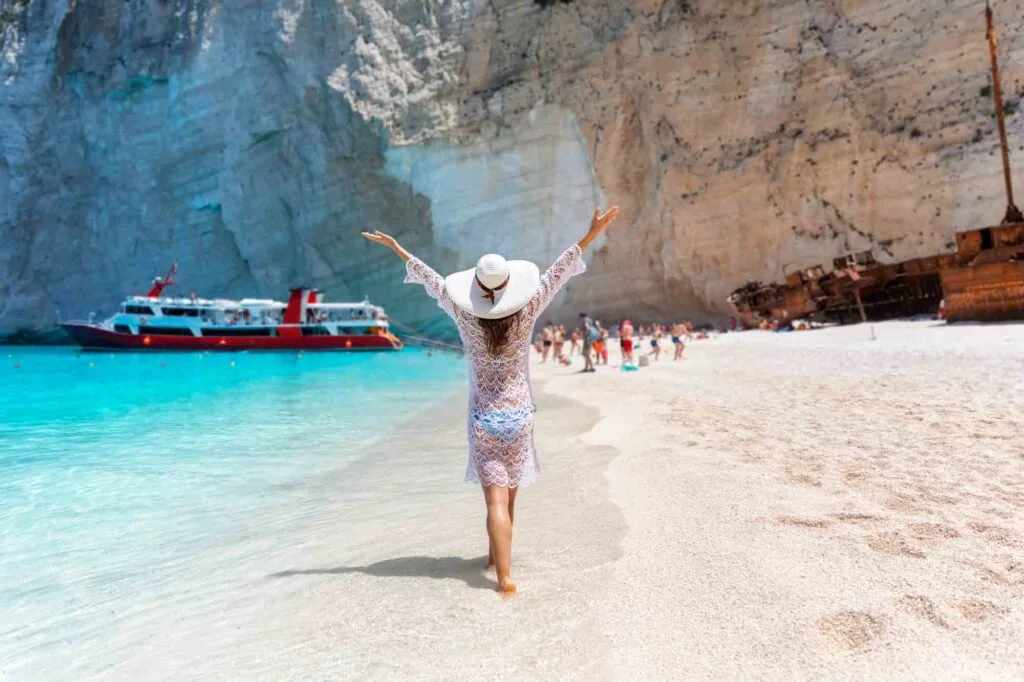 Navagio Beach, located in Zakynthos, Greece, is best known as Shipwreck Beach and is one of Europe's best beaches, let alone a unique travel destination.
Navagio Beach, often called the beach of a million postcards, is one of a few European beach destinations where an actual shipwreck is part of the beauty.
The shipwreck and high towering cliffs are amazing as they contrast the bone-white sand and sky-blue water.
Navagio Beach's beauty is a hidden gem caught between limestone cliffs that make it only accessible by boat, and luckily, traveling providers are abundant.
On top of the cliffs is the Monastery of Agios Georgios Krimnon, with a platform that gives you an unforgettable view from above, where you can view the beach in all its splendor.
Read next: Best Beach Quotes For Your Photos
3. Reynisfjara Black Sand Beach, Iceland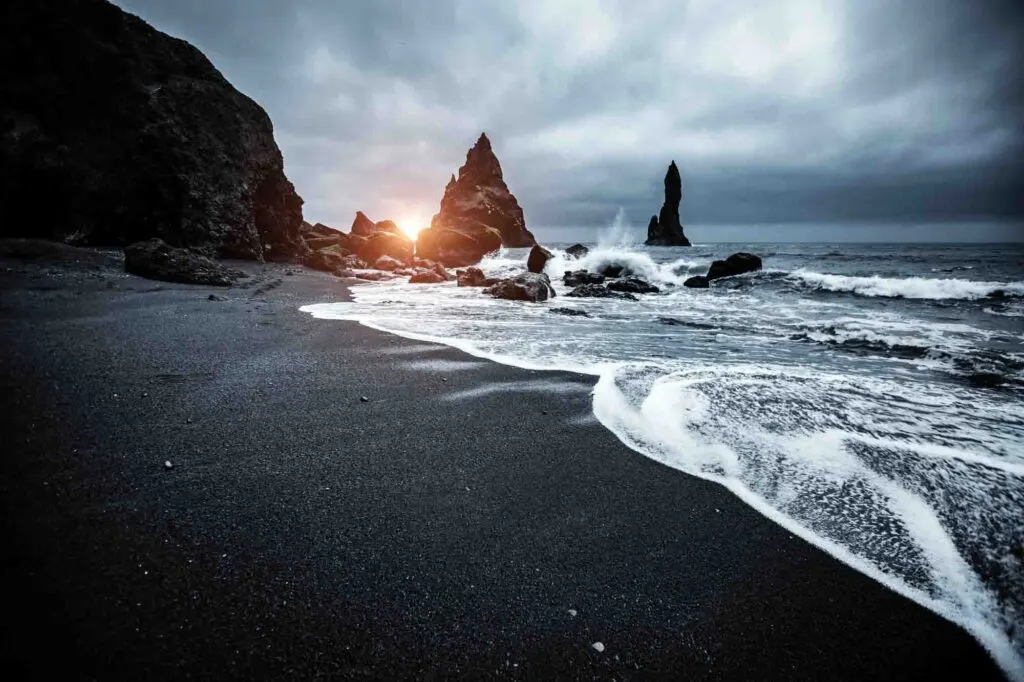 When you think of the best beaches in Europe, you picture a sunny, playful environment with white sand, clear blue water, and lots of swimming with friends and family.
Reynisfjara Black Sand Beach in Iceland is not what you'd expect from a normal beach. There is no swimming at Reynisfjara Beach, but it is a once-in-a-lifetime experience and a chance to view one of the most spectacular beaches in Europe.
Reynisfjara Beach has rough and icy water, and the beach sand is black because of eroded Basalt formations.
The rocks and other geological features combined with black sand and a chill that caries from the waves provide a haunting but awe-inspiring beauty.
Reynisfjara Black Sand Beach and its mystical beauty is considered one of the best European beaches in Iceland.
4. Isola Bella Beach, Italy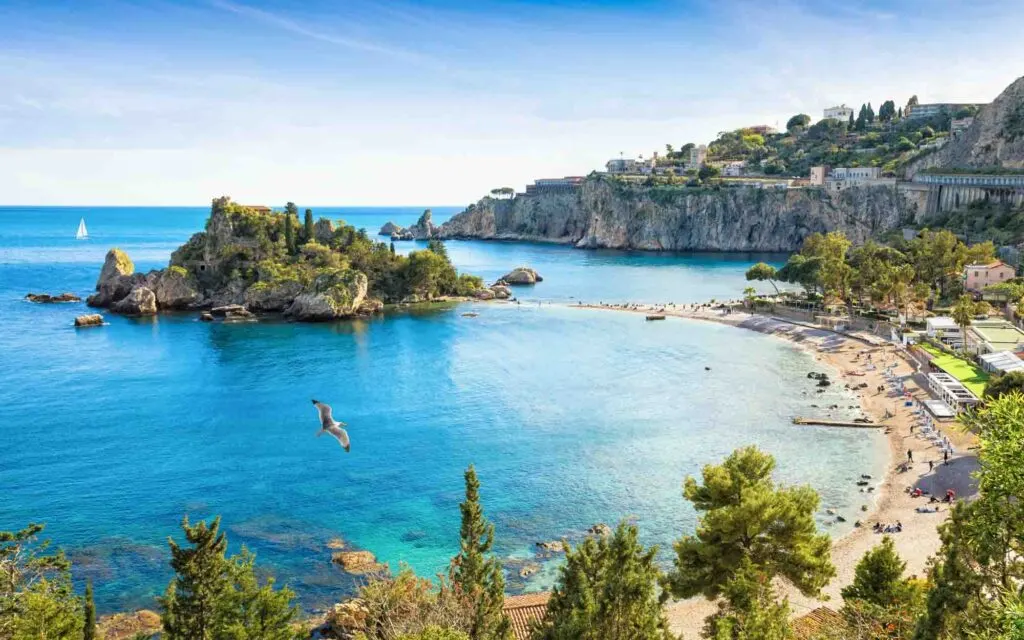 Isola Bella Beach in Italy is a small island that provides the full package to those who want to experience pine forests, beautiful mountains with clear water, and sunny skies. (One of the most beautiful gardens in Europe is on this island!)
For hikers who want to enjoy nature, some paths lead to caves on the island while viewing the fauna and flora.
Isola Bella Beach is a nature reserve and home to various amazing bird and lizard species for those who want to fill their camera with these unbelievable animals.
Many people visit Isola Bella Beach to swim, and others to snorkel in the clear blue water.
5. Elafonissi Beach, Greece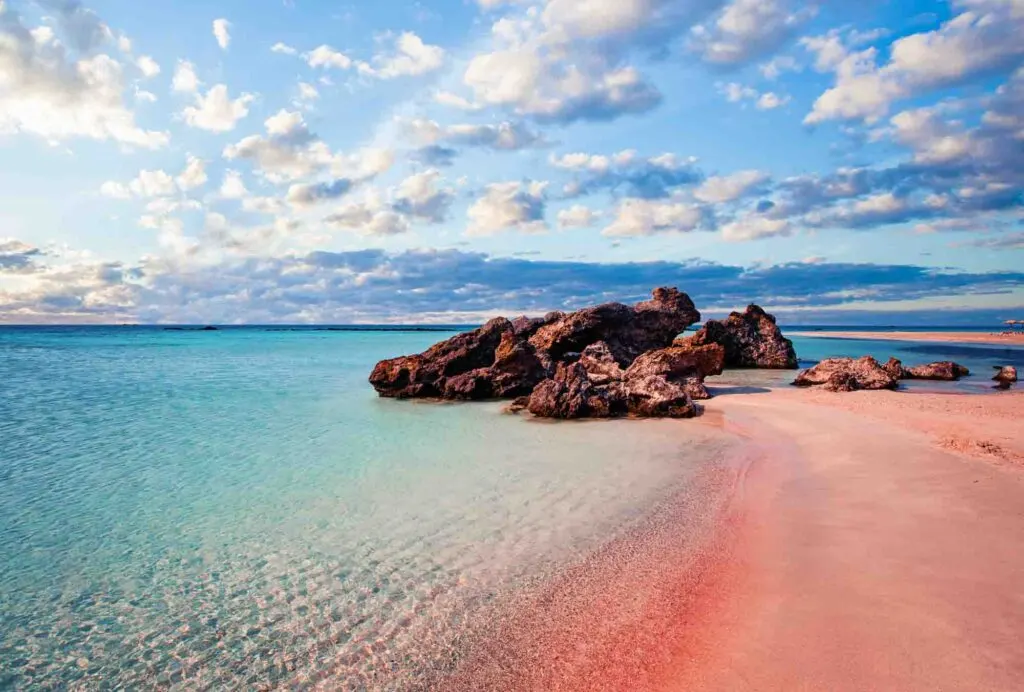 Included in the list of best beaches in Europe is Elafonissi Beach, which is located on the Greek island of Crete.
Visitors who love to live an active lifestyle and enjoy water sports like kiteboarding, surfing, and windsurfing flock to this beach of azure waters.
The scenic mountain behind the beach stands out like a timeless painting, and the rock formations and wildflowers add to its beauty.
Residents at Elafonissi Beach know that visitors quickly work up an appetite, and the restaurant is happy to oblige.
After an action-filled day and a full stomach, all you can do is enjoy the pink sand, clear water, and a beautiful sunset.
6. Praia da Marinha, Portugal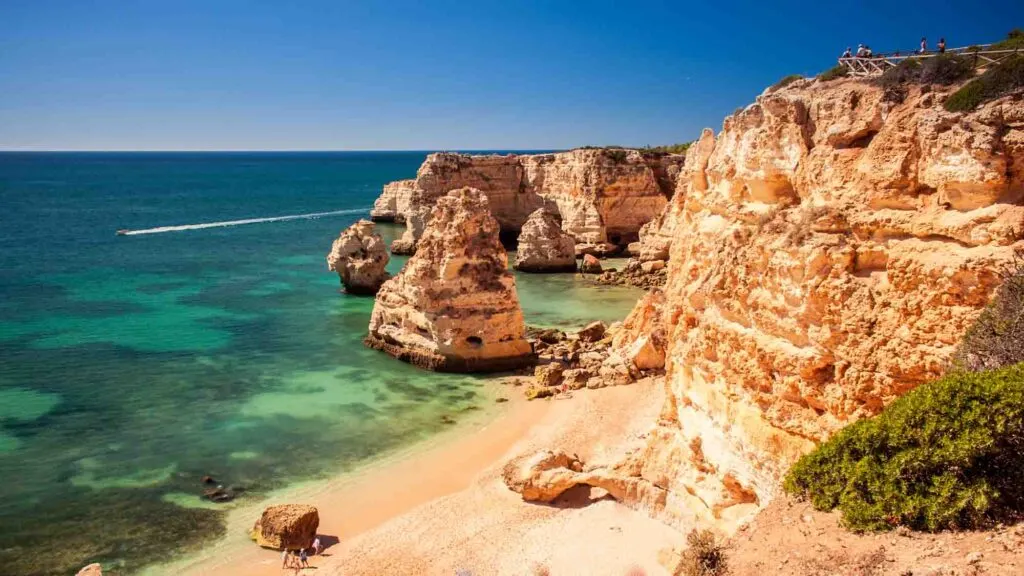 As one of the best beaches in Europe and one of the most beautiful places in the world, Praia da Marinha Beach is what you would expect if you wanted to combine beauty with relaxation and gorgeous sights.
Praia da Marinha is legendary for its massive boulders and tranquil aquamarine water, ideal for snorkeling enthusiasts.
Relaxing on the white sand while viewing the cliffs provides a peace that surpasses anything you have ever experienced.
Praia da Marinha in Portugal is unmatched in its picturesque beauty, making it exceptional and one of the top European beach destinations.
Praia da Marinha provides visitors with other activities, like a hike into the Seven Hanging Valleys, where you can absorb the tranquility and view the beach from above.
Read next: Best Lisbon Beaches That You'll Love
7. Cala Goloritzé, Italy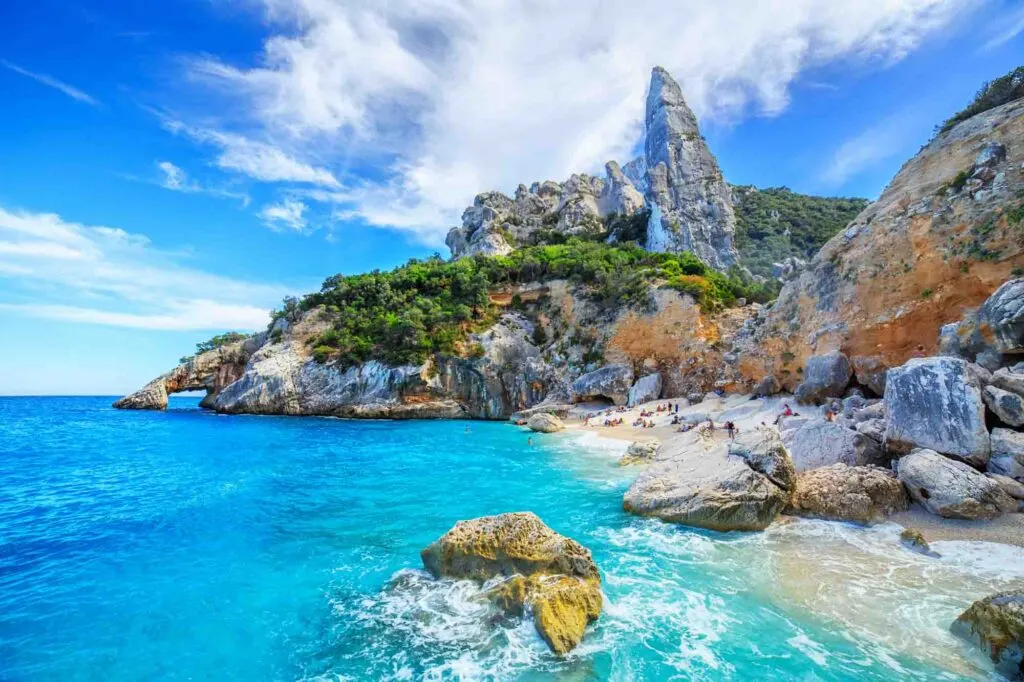 One of the best beaches in Europe and Italy, Cala Goloritzé, is so beautiful that you gasp when you see its unmatched beauty.
Immediately when you arrive at Cala Goloritzé, the limestone cliffs, silky ivory sand, and aquamarine seas reassure you that its beauty is unparalleled. This picturesque beach is so unique that in 1995, UNESCO appointed it a World Heritage Site.
Visitors mostly access Cala Goloritzé Beach by boat, but there is a hiking path that leads to the beach for those who want to experience the limestone cliffs and its wonderous nature.
Unfortunately, the path does not provide those with reduced mobility, but if you are fit and have a good pair of shoes, you should consider hiking to the beach.
8. Sarakiniko Beach, Greece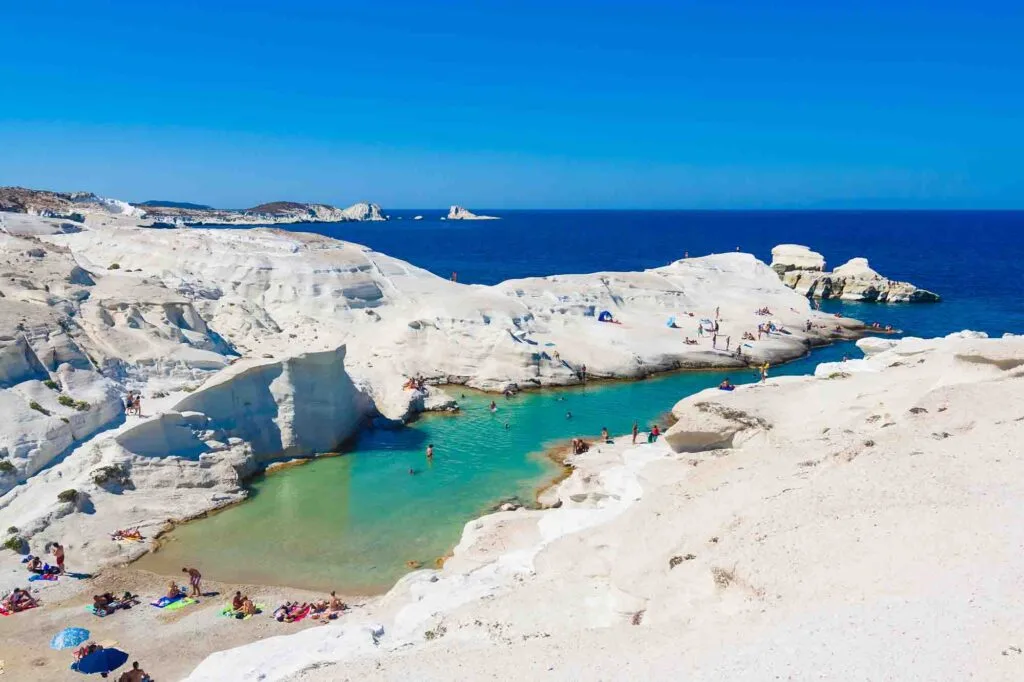 On the north coast of the Island Milo lies one of the best beach destinations in Europe called Sarakiniko Beach.
Greece boasts about Sarakiniko, the beach's unbelievable blue water and rocks stretching into the sea.
There is a mythological feeling surrounding Sarakiniko, highlighted by flat rocks meeting the clear water while low-hanging cliffs provide a sense of seclusion.
Sarakiniko Beach is filled with an assortment of eroded sandstone, volcanic rock, and pumice surrounded by bone-white sand.
This European beach destination portrays a story where the moon meets the ocean, and it is a must for anyone visiting Greece to set eyes upon its beauty.
9. Sandwood Bay, Scotland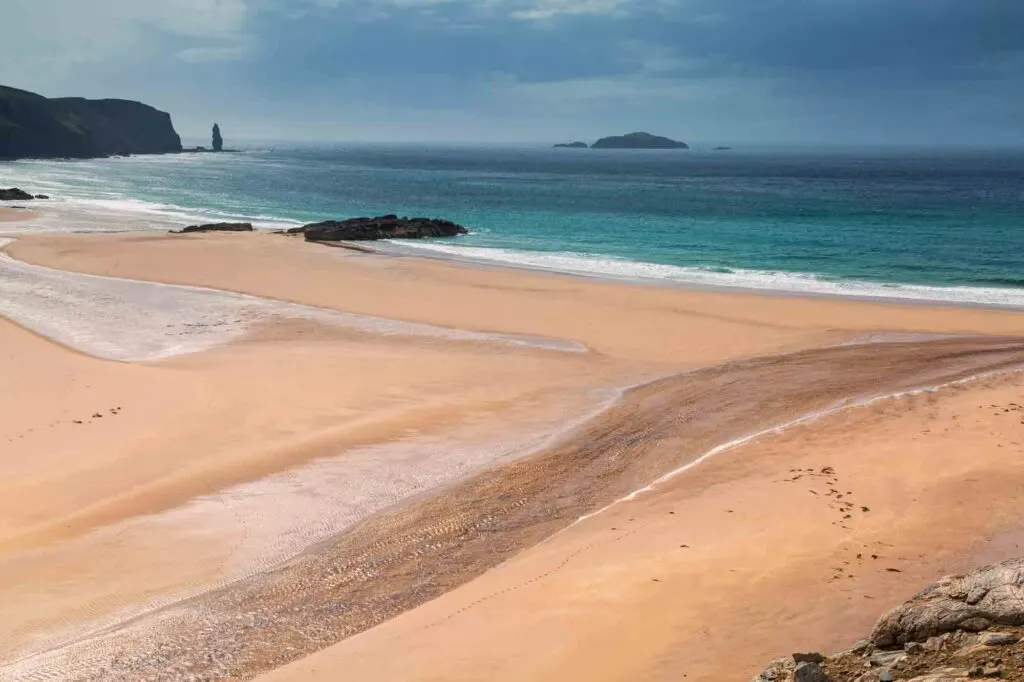 If you visit Scotland and are looking for an unspoiled beach that combines beauty with perfect sand and sky-blue water, then you should look no further than Sandwood Bay.
Known as one the best beaches in Europe, the soft pink sand provides a spectacular scene of cliffs on one side and large dunes on the other.
Visiting Sandwood Bay takes some effort because there is no road leading to it for vehicles, although a beautiful footpath about four miles long brings you straight to its amazing waters.
Sandwood Bay is a hidden gem, providing a quiet, relaxed atmosphere due to its unspoiled preservation.
10. Bolata Beach, Bulgaria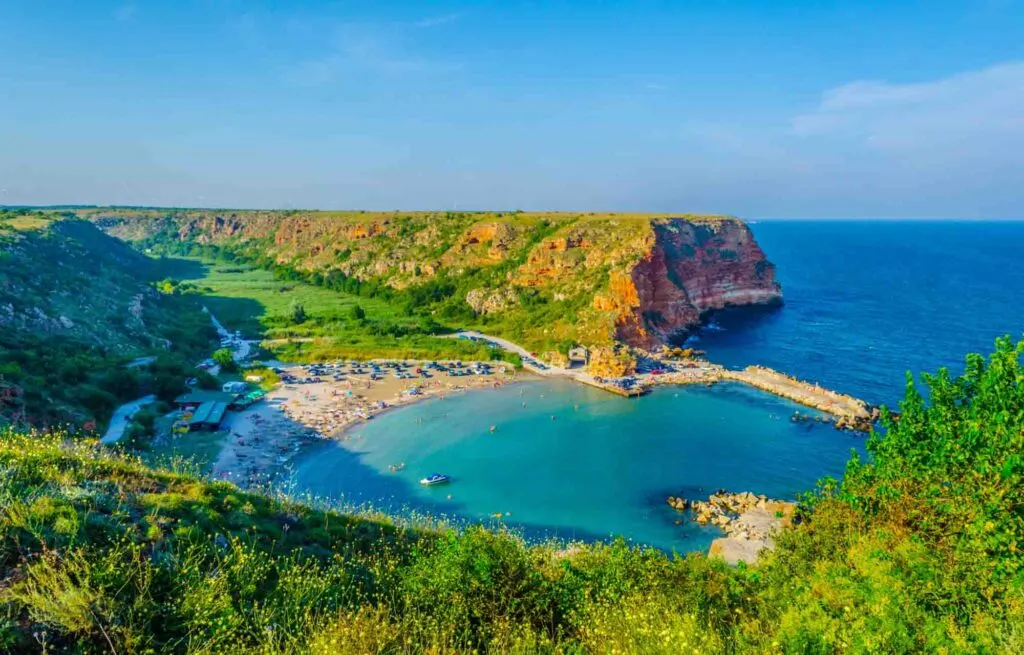 Bolata Beach is one of the best-kept secrets in Bulgaria, but thanks to many seeking out some of the best beaches in Europe, its existence is becoming popular among visitors worldwide.
Bolata Beach is part of Kaliakra Nature Reserve and combines floral and animal life with an amazing ocean view and soft white sand.
Bolata Beach is yet to become a tourist trap and is a perfect hiding place to relish a calm, relaxed environment.
The beach is surrounded by red and green ridges that attract birds who watch those enjoying the warm, clear water and the waves rolling out onto the sand.
Bolata Beach is the one destination in Bulgaria that takes you to another world where everything is perfect.
11. Zlatni Rat Beach, Croatia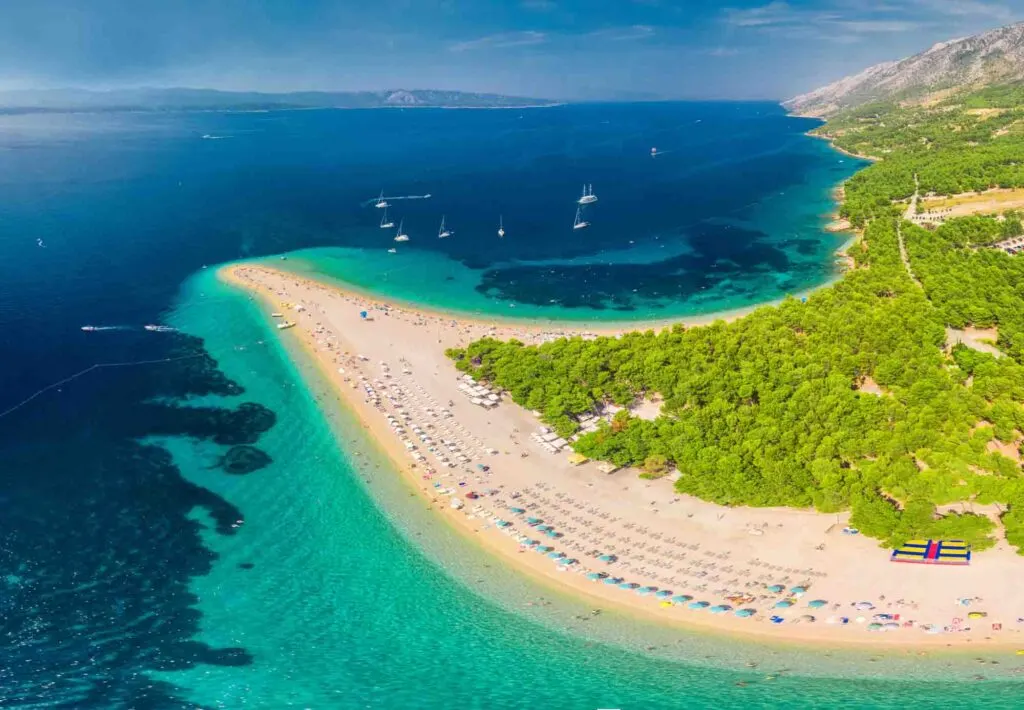 Some people want to get away from it all, and others want to experience a fun and exciting day at the beach.
One of the best European beaches is Zlatni Rat Beach, where you can enjoy a relaxing day in the off-season but also experience all the excitement and activities in the high season.
Croatian Beach has spectacular natural scenery and a fast area where everyone can bask in the sun.
During the holiday season, Zlatni Rat Beach invites visitors worldwide to partake in surfing, snorkeling, paddle boarding, and windsurfing.
The lifeguards make it ideal for the whole family to safely enjoy its clear blue waters and play in the waves while others tan.
12. Ksamil Beach, Albania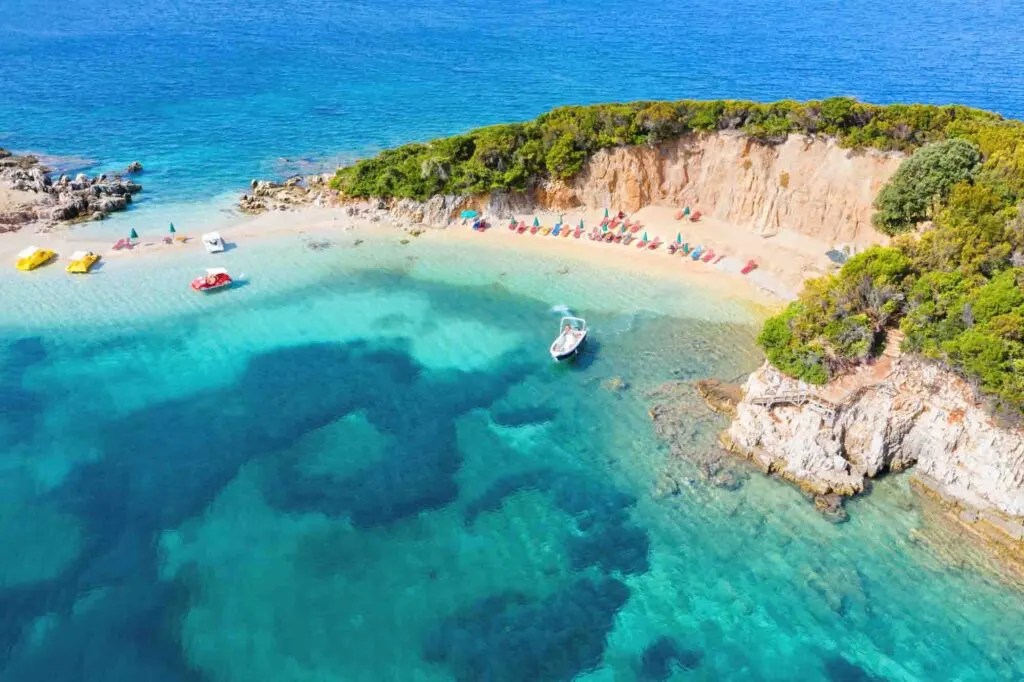 Ksamil is a new and upcoming visitor destination and one of the best beaches in Europe. This hidden beauty is often compared to Greece's Ionian Islands because it is a stone's throw away from Corfu's beach paradise.
Ksamil Beach is in southern Albania, and due to its unspoiled, secluded location, it is unknown to many and still provides that Maldives sensation.
Ksamil is an exotic European beach destination with a clear, turquoise ocean and white sand that provide tranquility and gasping beauty.
Ksamil is more than a gorgeous beach and clear water, it has rocky scenery and a spectacular mountain that shuts you from the buzz of the outside world.
13. Oludeniz Beach, Turkey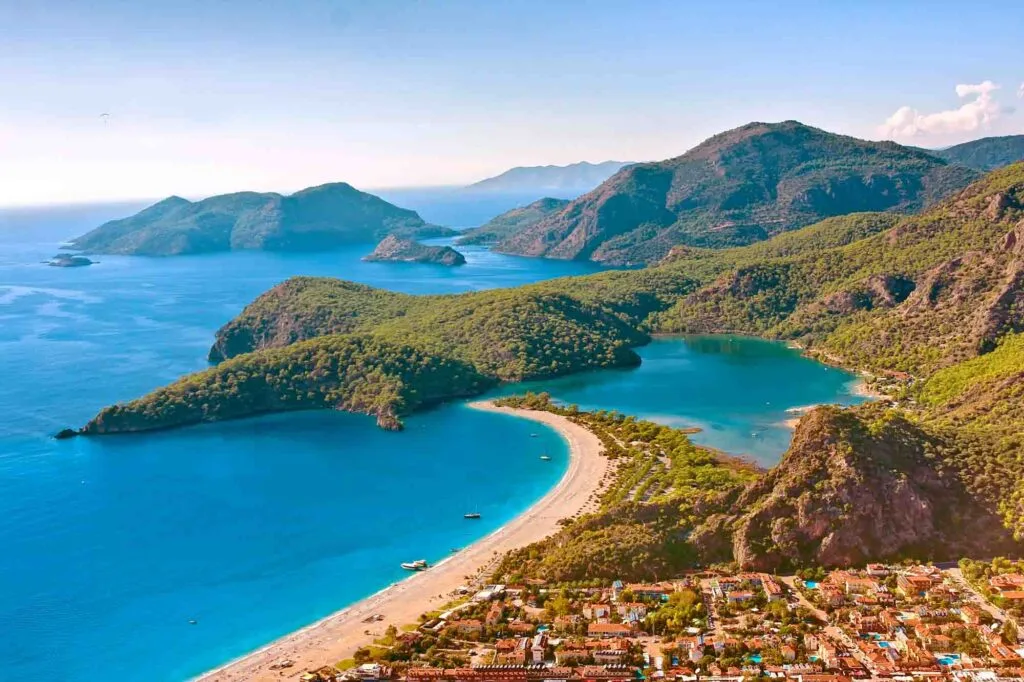 Oludeniz Beach is an amazing destination where you can indulge in the thrill and adventure of the ocean, as well as engage in other activities such as paragliding from the nearby Mount Babadag peak.
Oludeniz Beach, nicknamed the Blue Lagoon by locals, is one of the best beach destinations in Europe and Turkey.
The aquamarine water and a white pebbled beach make Oludeniz Beach a spectacular site, not to mention the surrounding mountains covered with pine trees to deliver that tropical feel.
Most of the beach is free, but Oludeniz Beach is also part of the National Park, which requires an entrance fee. The fee is worth every penny if you want the full experience.
14. Cala Macarella Beach, Spain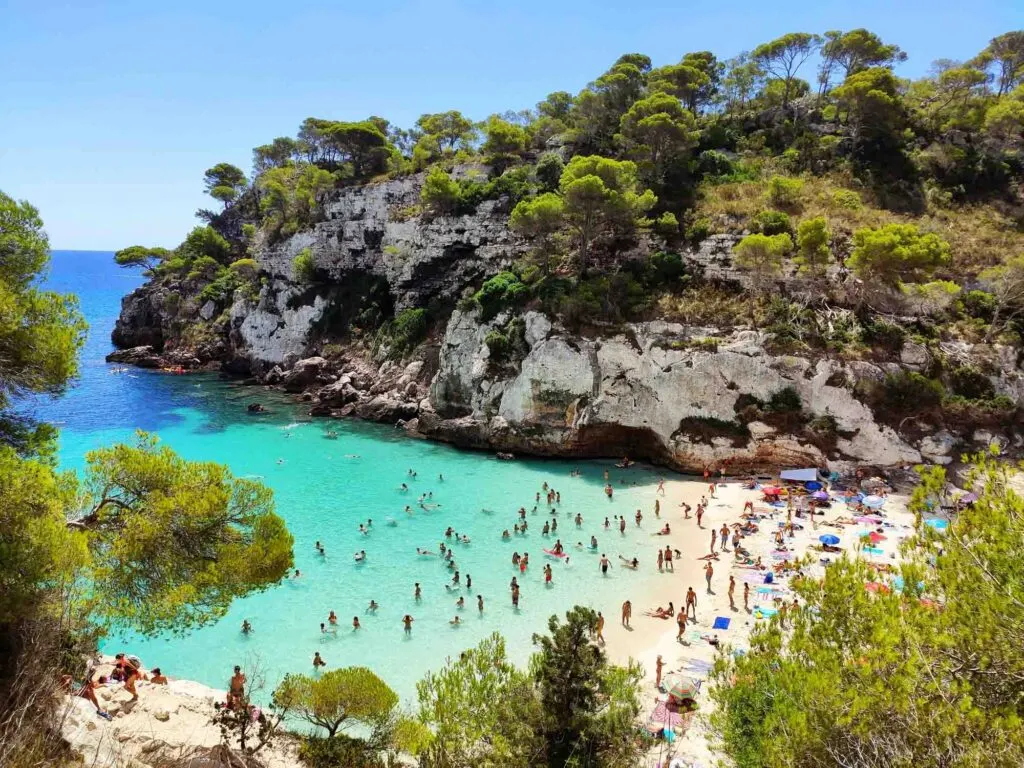 Spain is known for various spectacular sites, but not as breathtaking as Cala Macarella Beach. The horseshoe-shaped beach is surrounded by cliffs that give it a secluded and private feel.
Everything at Cala Macarella is picture perfect, including the numerous palm and holm trees and silky soft beach sand that imitate walking on clouds.
Cala Macarella Beach has a restaurant and summer lifeguards to ensure everyone experiences its beauty with a little luxury and safety.
The beach is only accessible on foot via a small path along the cliffs or by boat, and if you enjoy some privacy, it is a great destination in the off-season.
15. Plage De Notre Dame, France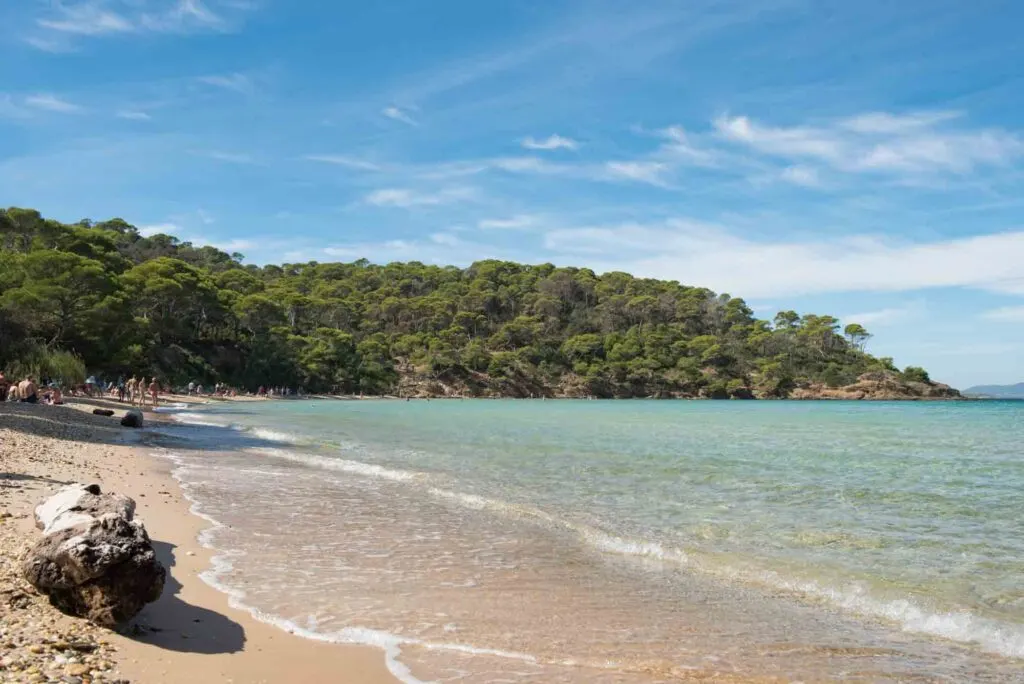 Nothing describes Plage De Notre Dame better than saying, "Wow, Wow!" Even a picture cannot do this beach justice, especially the eucalyptus and pine trees that make you feel like you are in the Caribbean.
The beach provides a stunning view of the yachts drifting in the mesmerizing turquoise waters, and the waves softly spill onto the white sand that soothes any trouble.
Plage De Notre Dame in France is only accessible by boat, and the beach has parking for those fortunate to have their own.
Plage De Notre Dame is unspoiled and protected from development by conservation, and the island is mostly a national park.
16. Rabbit Beach, Italy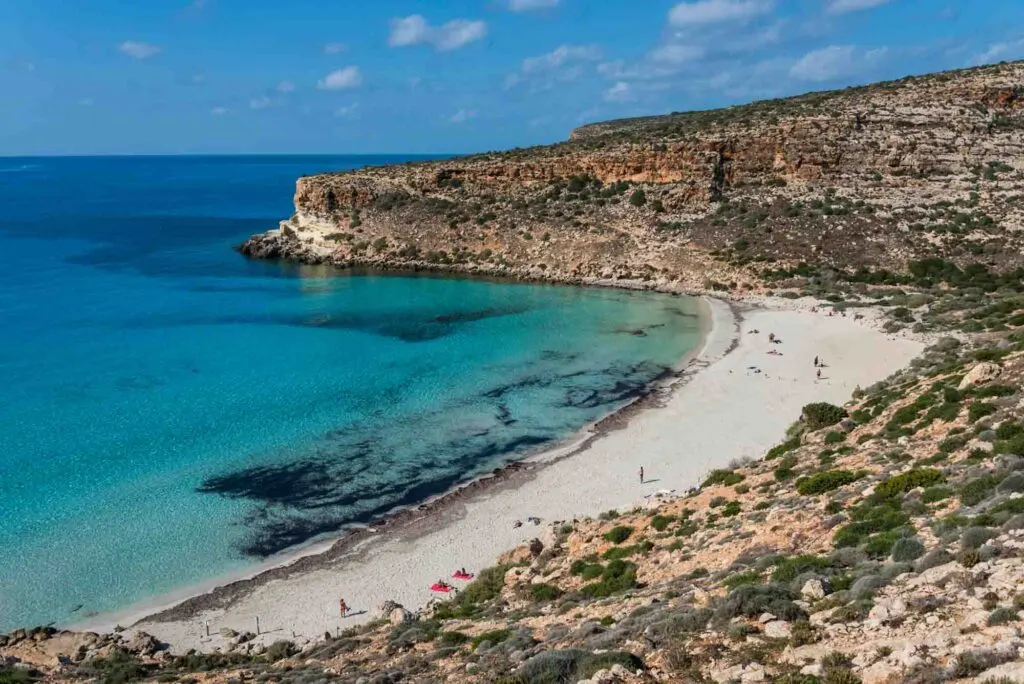 In 2013, TripAdvisor rated Rabbit Beach in Italy as the best beach in the world, which speaks volumes about this amazing destination.
In Rabbit Beach's recent history, it was home to thousands of rabbits, hence its name, but today, it is a nesting site for sea turtles.
Undoubtedly, Rabbit Beach is one of the world's most sought-after European destinations.
Rabbit Beach is not only hidden, but its remote location makes it possible to get to by boat.
The clear waters let you see the ocean floor, which wades far into the sea, making it a spectacular snorkeling and scuba diving location.
17. Sveti Stefan, Montenegro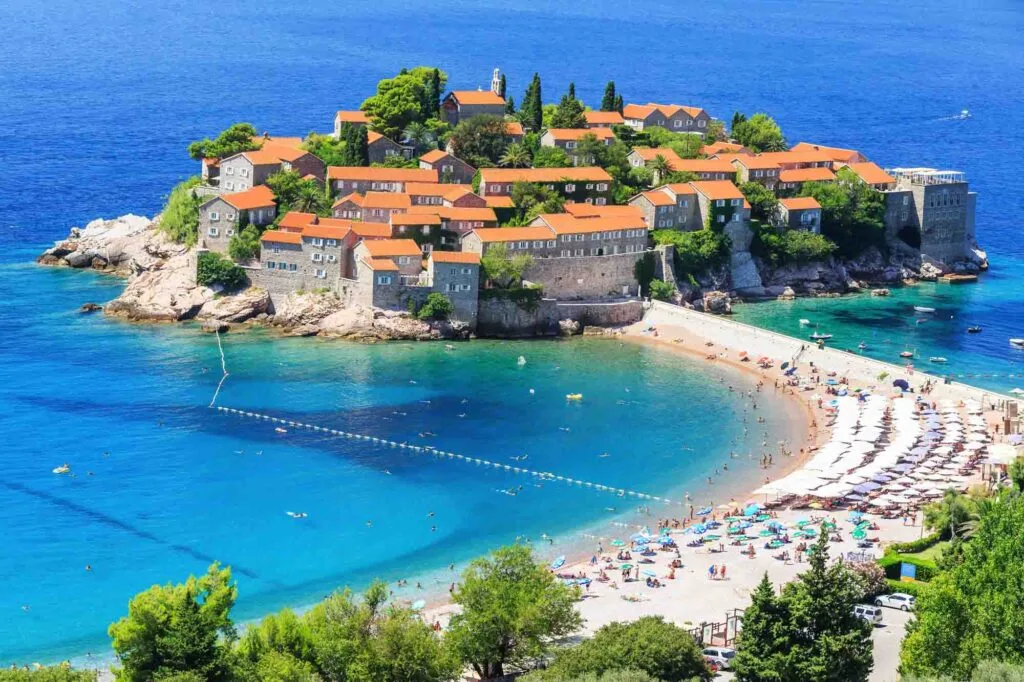 Visiting Sveti Stefan in Montenegro is like returning to a time when everything was pure, unspoiled, and beautiful.
Oleander, olive, and pine trees stretch across the pink beach sand while 15th-century villas lie frozen in shadows as if this beach was frozen in time.
The transparent water lets the ocean floor come alive while the rocks paint a picture of perfectness and tranquility.
Sveti Stefan is a popular destination for the rich and famous and, in the 60s, attracted celebrities like Sophia Loren, Elizabeth Taylor, and Kirk Douglas to its shores.
The Aman Resort at Sveti Stefan is the only way to access the beach unless you are part of a tour that allows you to enjoy its gorgeous sands and picture-perfect landscape.
18. Cape Greco, Cyprus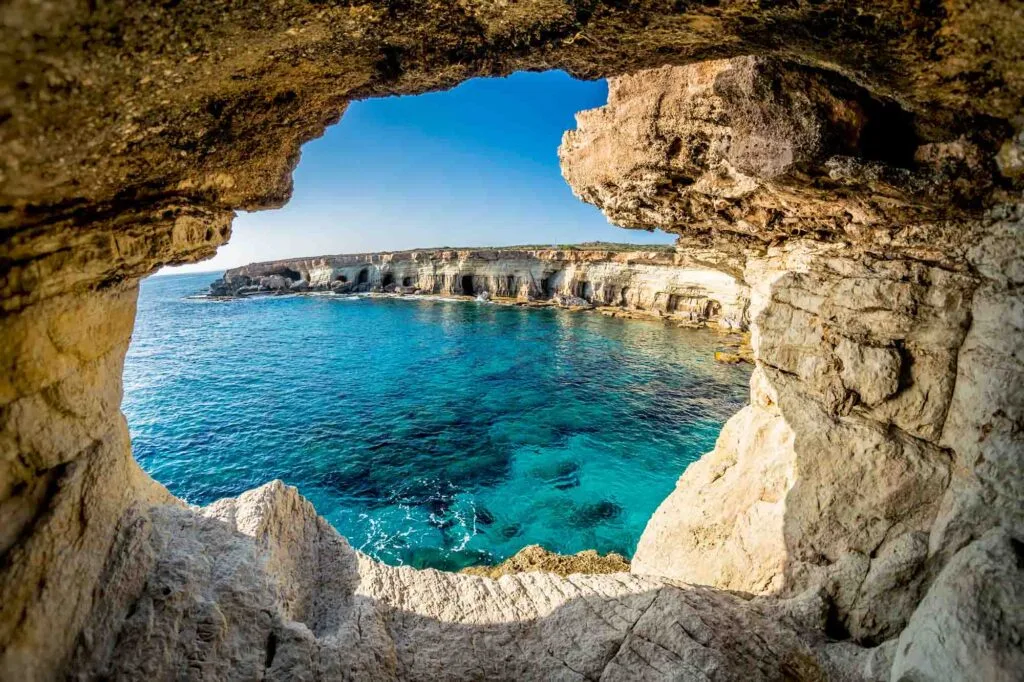 Few places cater to visitors who love the ocean and want to experience nature and all its beauty without hindrance, like Cape Greco in Cyprus.
Hikers worldwide come to Cape Greco to walk along its unspoiled nature with beautiful cliffs, fauna, and flora.
Cape Greco has caves that are accessible during low tide, and it is a sight to behold when you enter it and experience its grandeur.
Cape Greco is on the list of the world's best beaches in Europe; the weather, scenery, and clear blue water set it apart from all the other beaches.
Some enjoy jumping into the ocean from the cliffs, but mostly, it is all about swimming, relaxing, and soaking up the sun.
19. Beach Rondinara, France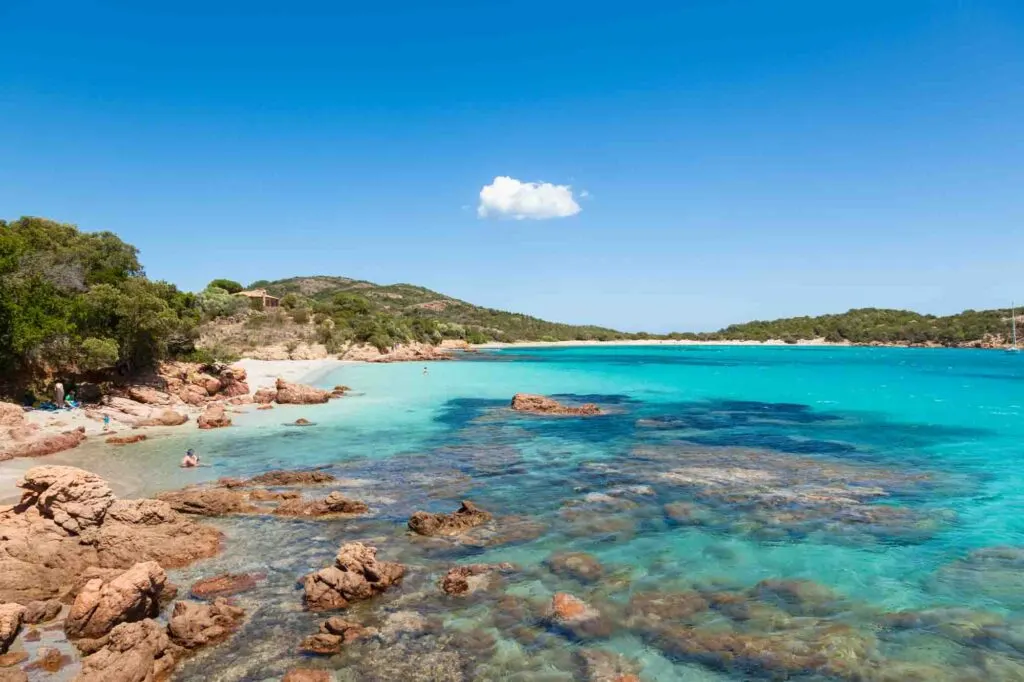 Rondinara is one of Europe's best beaches, and the two rocky cliffs surrounding it form a perfect place for mooring boats.
Beach Rondinara attracts view visitors because there are limited facilities and services, which has led to it staying unspoiled.
Families, especially those with young kids, enjoy going to Rondinara because it has shallow water for quite a distance before it gets deep.
Rondinara provides comfortable beach beds for those who prefer basking in the sun and kayaks and pedalos for the more active visitors to take out on the sea.
During the day, there is a beach bar for those who want to enjoy a meal and something to drink.
20. Kvalvika Beach, Norway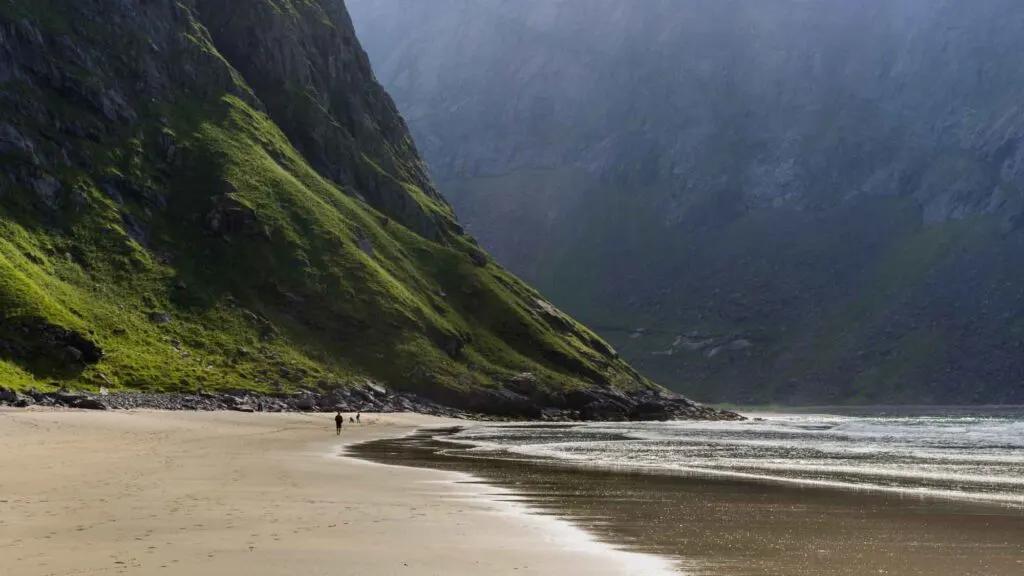 Kvalvika Beach in Norway is an isolated bay where spectacular mountains meet the sea, and rock faces fringe the shimmering sands.
The most iconic mountain is Ryten, which is 1804 feet high and provides a magnificent view of Kvalvika.
In the middle of the beach is an immense peak that splits the beach into two valleys. Getting to Kvalvika Beach requires some fitness, and the hike from the nearest car park in Fredvang is 1.8 miles.
It takes some effort to get to the beach, and this well-worn trail has plenty of ups and downs, but the view and end destination are worth it.
21. Spiaggia Di Cauco Beach, Italy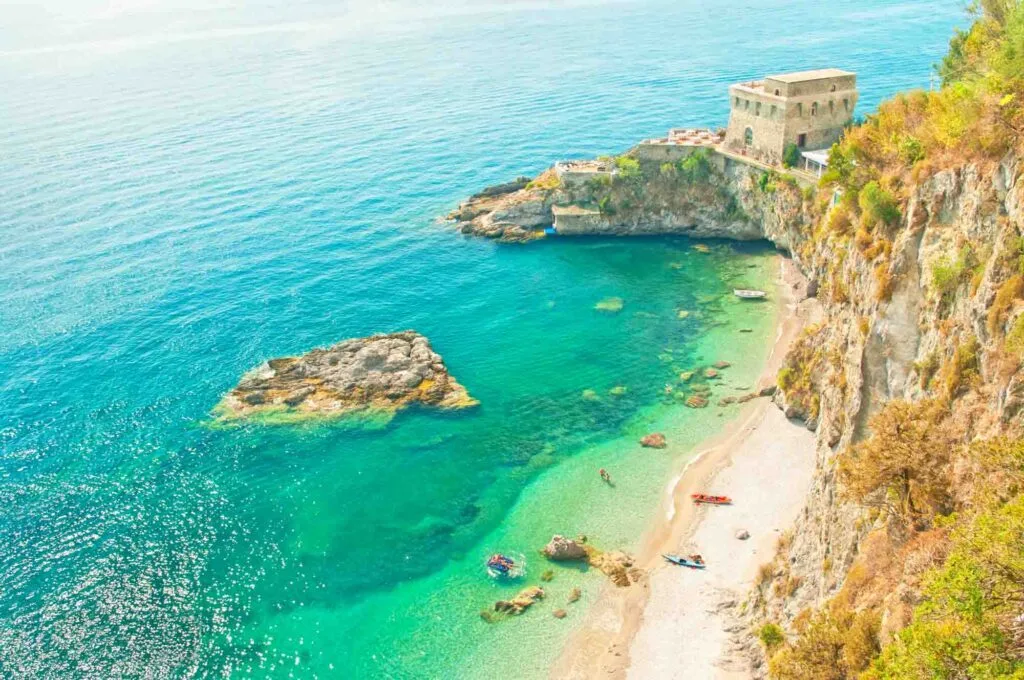 If you are a traveler or a couple that wants to get away from those busy beaches, you will enjoy Spiaggia Di Cauco Beach.
Spiaggia Di Cauco Beach is in a secluded bay that provides the beauty of cliffs, crystal blue water, and fine grey pebbles.
Spiaggia Di Cauco draws few visitors, even during the high season, making it the perfect beach to relax and enjoy this mesmerizing beauty while basking in the sun.
22. Voidokilia Beach, Greece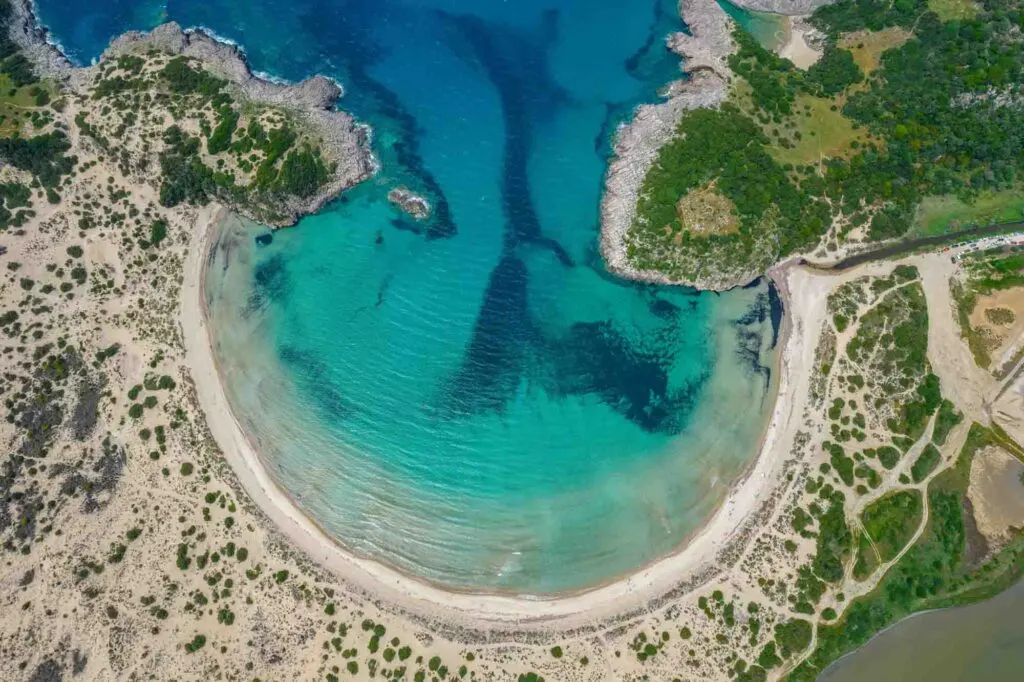 If you are tired of visiting the same beach every year and considering elsewhere, you must visit Voidokilia Beach in Greece.
Voidokilia is one of Europe's best beach destinations; its amazing sandy beach and clear water provide a unique experience.
Voidokilia is a protected Greek beach by the Natura 2000 program, which makes it unspoiled and lets you enjoy the ocean as nature intended.
Those who love a little history and are familiar with Homer's Odyssey can visit Nestor's Cave, his son Thrasymedes's tomb, and the Ancient Pylos's Castle.
23. Calanque d'En Vau Beach, France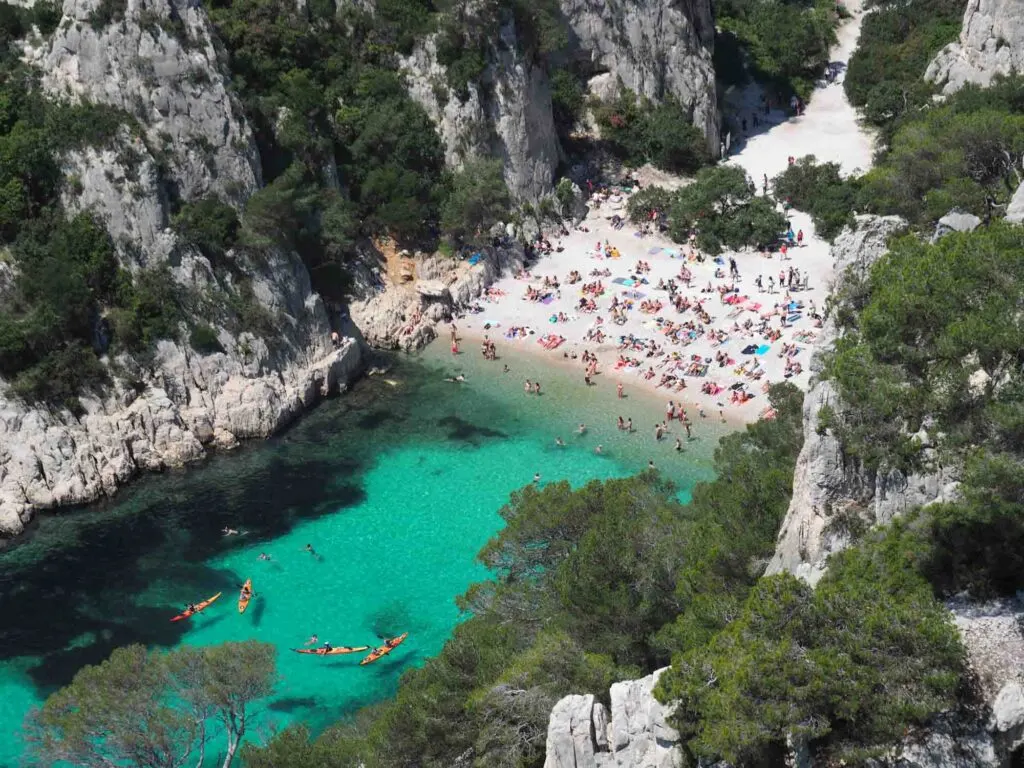 The Calanque d'En Vau Beach in France is unparalleled in beauty, especially its fjord-like inlet made by ancient rivers that disappeared thousands of years ago.
The Calanque d'En Vau Beach is filled with bone-white sand and pebbles that blend into the turquoise ocean effortlessly. Visitors love the quiet, and many go there for the snorkeling experience.
To get to Calanque d'En Vau Beach is about an hour's hike over tough terrain. The hike will take you down a steep limestone path filled with hanging palm trees, but it is worth every step once you see the unspoiled beauty.
Did you like this article about the most beautiful beaches in Europe? Then share it on your social media so your friends can see it too!
Our best travel tips & resources:
Here're our all-time favorite travel tips & resources so that you can save money and plan your travel logistics hassle-free! For more travel resources, check out our
travel tips.
Saving money: Fly on offseason, winter (not Xmas or NYE), Tuesday, or Wednesday! According to experts, these are the cheapest days to fly.
Travel insurance: Before you leave for your trip, make sure you have a valid travel insurance policy because accidents happen on the road. We have been paying for Safety Wing travel insurance for a little over a year now, and we happily recommend them to our family and friends.
Accommodation: We usually stay in mid-range comfy hotels or private rooms in hostels. These are the sites we use to book accommodation: Booking.com for hotels (excellent flexible cancellation policy) and Hostelworld for hostels (low deposit and easy cancellation).
Tours:We absolutely love booking guided tours with locals to get a history lesson while sight-seeing, especially food tours and walking tours! We book all of our tours using Viator and GetYourGuide.
Transportation: We use Google Maps to figure out how to get around a place using public transport. When we book a rental car, we always use Discover Cars to find the best deal.