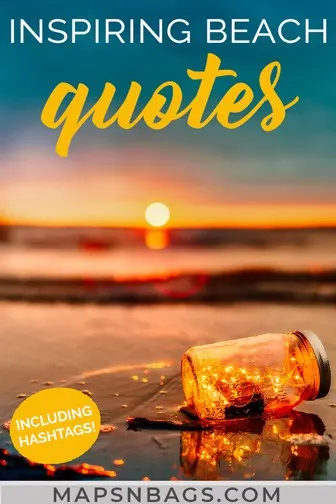 Travel quotes are encouraging, but inspirational beach quotes have that je ne sais quoi that makes them unique and special.
There are lots of beach sayings and quotes about the ocean that fuel our imagination and dreams. That spark a fire in our hearts. Maybe because we feel deeply connected with the sea.
Well, most people love beach vacations because we associate them with the ultimate vacation destination to relax and think about life.
We can totally relate to that – Frank and I simply can resist a beautiful beach with white sand, the sound of the waves crashing on the beach and that ocean breeze that purify the soul.
Beach Quotes
Okay, we know we're getting very romantic here, but these aren't quotes about love or inspirational travel quotes, but they're some great and even short beach quotes for your vacation.
For that reason, we gathered and even created some inspirational beach quotes that describe that special moment we experience while feeling the ocean breeze – just to add a little more inspiration to your day.
Also, we put together some famous beach quotes as well as ocean quotes and hashtags for your Instagram caption.
Wanna know where we're headed next? Follow us on Instagram to be up-to-date.
Looking for awesome quotes about the beach? Read on!
Beach captions wash my soul.

Ocean Quotes
"An ocean breeze puts a mind at ease." (This is Frank's favorite beach quote!)
"Advice from the Ocean: Be shore of yourself. Come out of your shell. Take time to coast. Avoid pier pressure. Sea life's beauty. Don't get so tide down on work that you miss out on life's beautiful waves."
"Because there's nothing more beautiful than the way the ocean refuses to stop kissing the shoreline, no matter how many times it's sent away." – Sarah Kay
"She loves the serene brutality of the ocean, loves the electric power she felt with each breath of wet, briny air." – Holly Black
"The ocean is more ancient than the mountains, and frightened with the memories of the dreams of time." – H.P. Lovecraft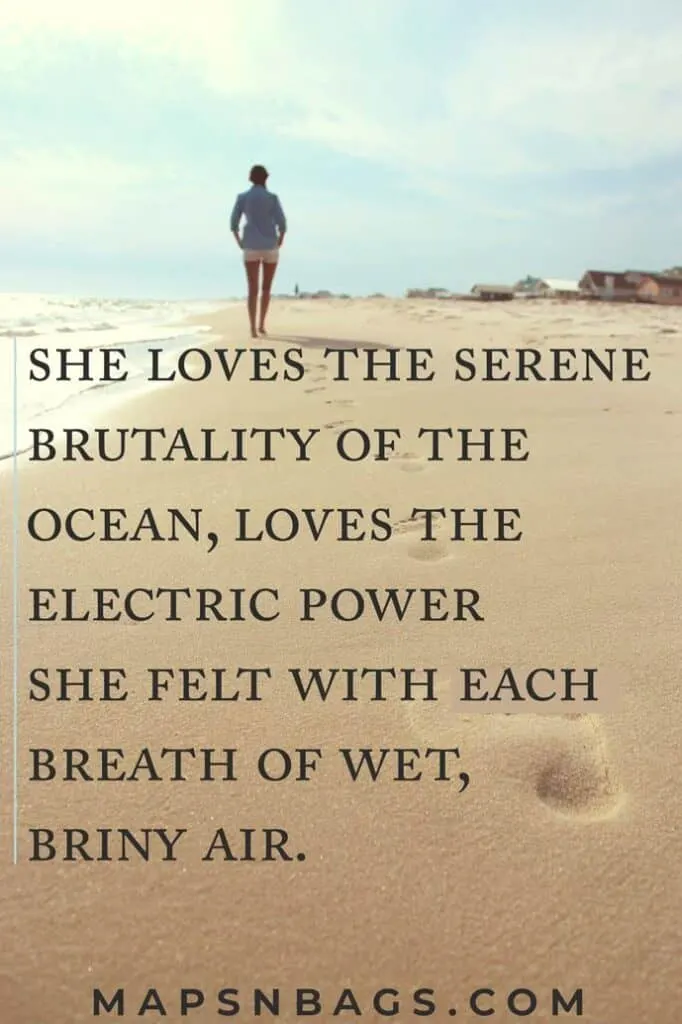 Sea Quotes
"We dream in colors borrowed from the sea."
"Meet me where the sky touches the sea." — Jennifer Donnelly
"The cure for anything is salt water: sweat, tears, or the sea." – Isak Dinesen (This is Bruna's favorite beach quote!)
"The sea does not reward those who are too anxious, too greedy, or too impatient. One should lie empty, open, choiceless as a beach – waiting for a gift from the sea." – Anne Morrow Lindbergh
"Sea you soon."
"I lost my heart to the sea."
"Seas the day!"
"The sea lives in every one of us."
"Sea more of the world, one beach at a time."
"There are a million fish in the sea, but I'm a mermaid."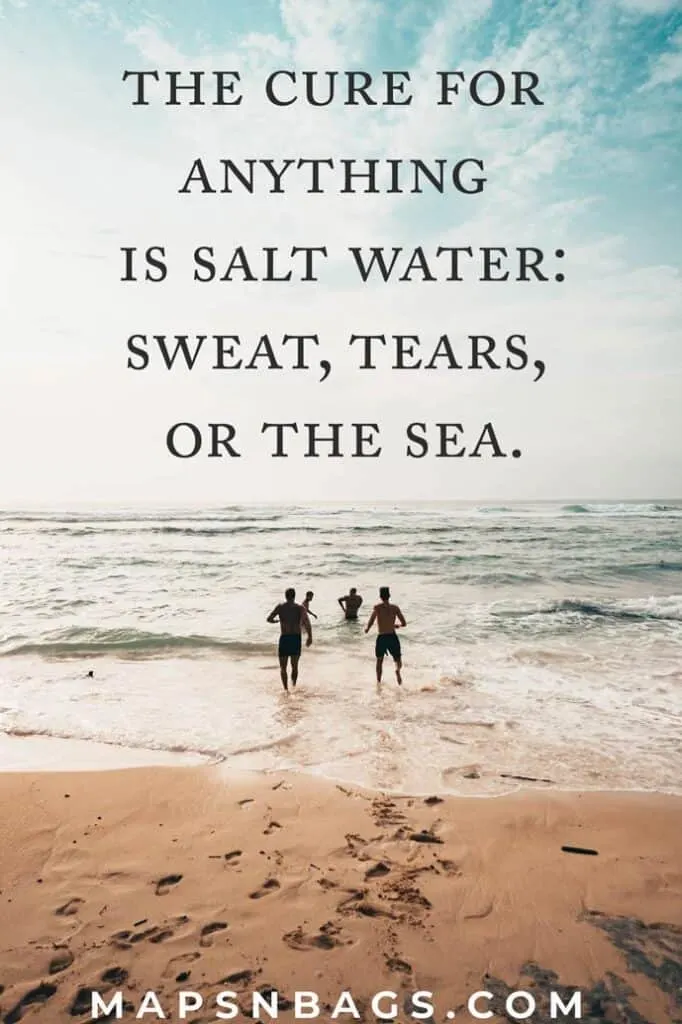 Waves Quotes
"High tides and good vibes."
"Catch you on the next wave."
"Beautiful blue waves."
"Happiness comes in waves."
"Today, I decided to make waves."
"In the waves of change, we find our direction."
"If there's a will, there's a wave."
"I could taste the salt on her lips, each kiss like a summer wave breaking on an empty beach." — Michael Faudet
"Life is a wave, which in no two consecutive moments of its existence is composed of the same particles." – John Tyndall
"You can't stop the waves, but you can learn to surf." – Jon Kabat-Zinn
"The waves of the sea help me get back to me."
"Life is a beach, enjoy the waves."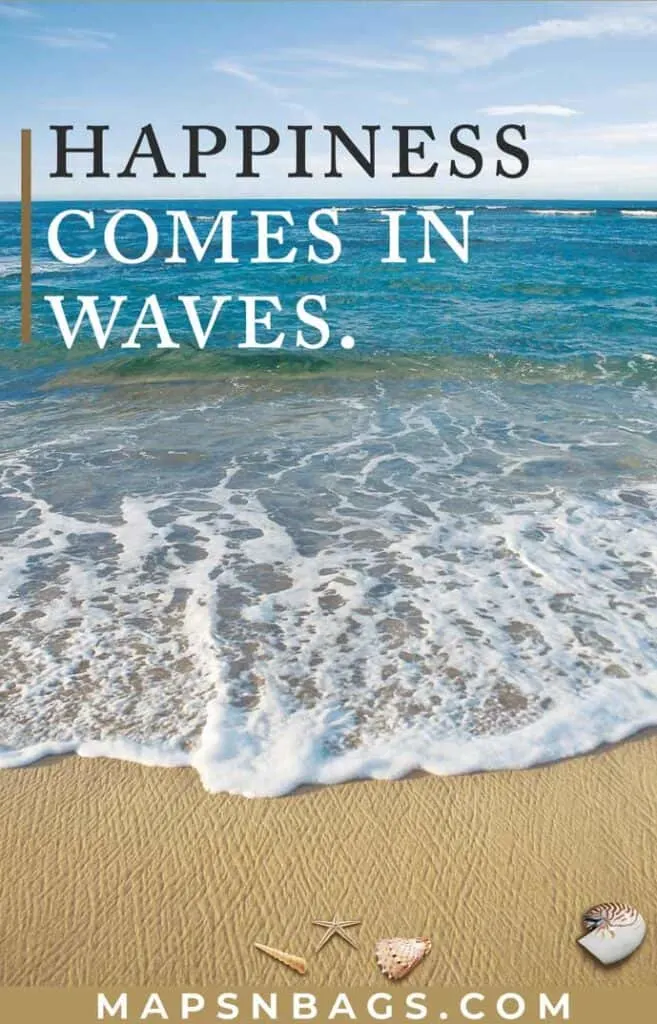 Cute Beach Quotes
"It was as if when I looked into his eyes, I was standing alone on the edge of the world…on a windswept ocean beach. There was nothing but the soft roar of the waves." — Anne Rice
"Normally, her mind was like a busy beach – all day long she would run back and forth, leaving footprints, building small mounds and castles, writing out ideas and diagrams with her fingers in the sand, but when the night tide came in, she would close her eyes and allow each wave of rhythmic breath to wash in and out over her day's accumulation, and before long the beach would be clear and empty, and she would drift off to sleep." — Gavriel Savit
"Love you to the beach and back."
"Salty but sweet."
"Leave footprints of love and kindness wherever you go."
"After a visit to the beach, it's hard to believe that we live in a material world."
"Girls just wanna have sun."
Read next: Cute captions for couples
Funny Beach Quotes
"I'm a true OCEANHOLIC!"
"Happier than a Seagull with a french fry."
"Aloha, beaches."
"Don't Worry, Get Sandy!"
"You are the pina to my colada."
"Resting beach face."
"Tropic like it's hot."
"Namast'ay at the beach."
"Party like a lobstar."
"Sea la vie!"
Pssst: You might also want to read these hilarious travel puns!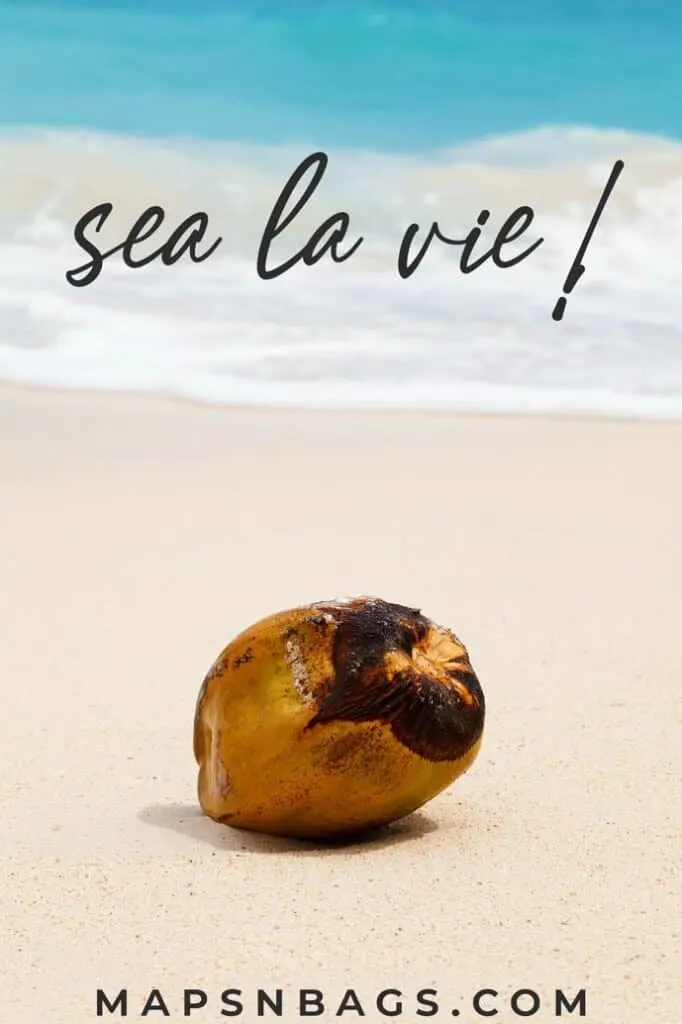 Beach Sunset Quotes
"Today was about chasing sun-rays, beach waves, & sunsets. All things beautiful that give you peace are worth chasing. Everything else isn't." – April Mae Monterrosa
"Every sunset is an opportunity to reset."
"Sunsets are proof that no matter what happens, every day can end beautifully."
"It's almost impossible to watch a sunset and not dream."
"Ride off into your sunset."
"I sell my sunsets to write a better sunrise."
"Don't forget: beautiful sunsets need cloudy skies."
"Every sunset brings the promise of a new dawn."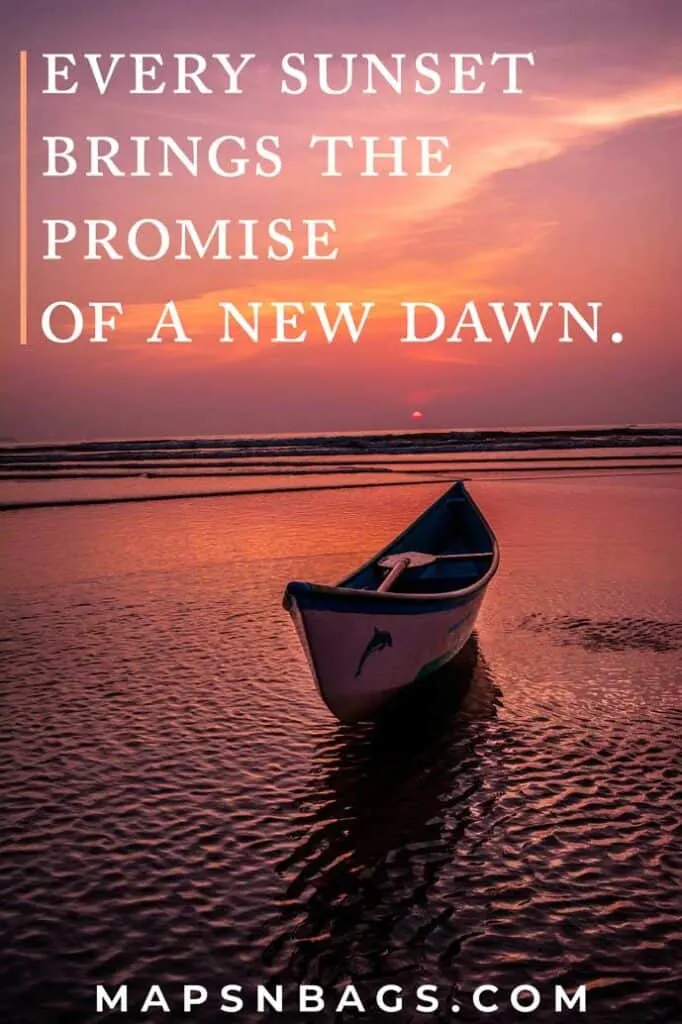 Inspiring Beach Quotes
"You must not lose faith in humanity. Humanity is like an ocean; if a few drops of the ocean are dirty, the ocean does not become dirty." – Mahatma Gandhi
"I could never stay long enough on the shore; the tang of the untainted, fresh, and free sea air was like a cool, quieting thought." – Helen Keller
"Limitless and immortal, the waters are the beginning and end of all things on earth." – Heinrich Zimmer
"Waves are the voices of tides. Tides are life." – Tamora Pierce
Sand Shore Quotes
"If everyone could just live near the ocean, I think we'd all be happier. It's hard to be down about anything knee deep in the sand." – Crystal Woods
"I believe in the ocean curing all bad moods. I believe in the waves wiping away worries. I believe in seashells bringing good luck. I believe in toes in the sand grounding my soul."
"Sky above, sand below, peace within."
"Sandy Toes. Sunkissed nose."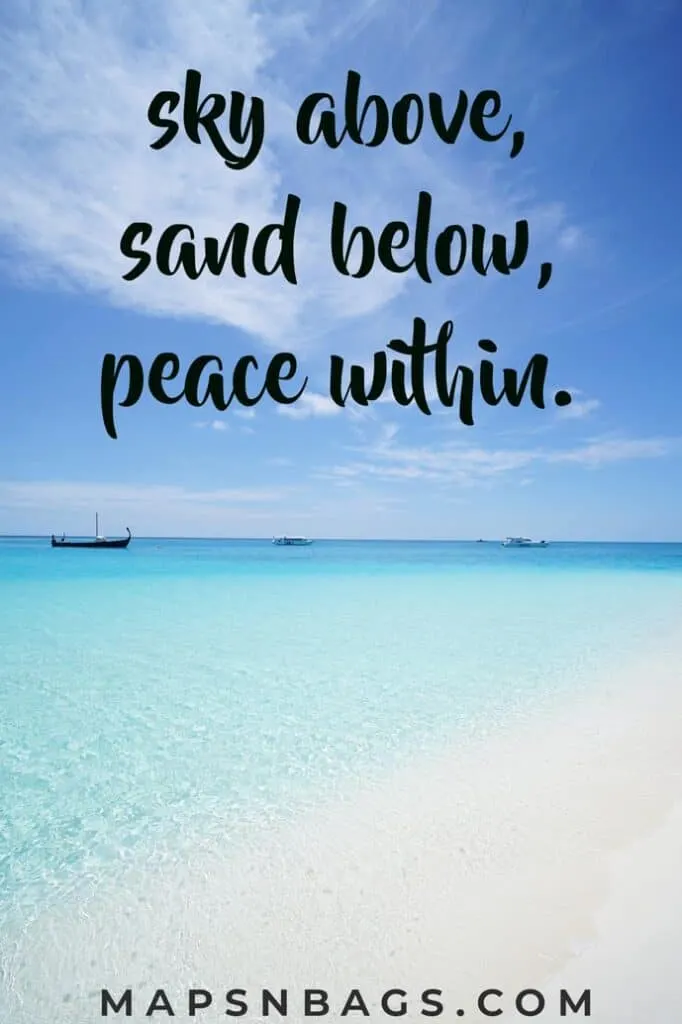 Beach and Sand Quotes
"A day at the beach is never lost time. When the warm grains of sand touch our hearts, we know we're in the right place. Close your eyes, take a deep breath, and let the beach invade your body."
"A beach is not only a sweep of sand but shells of sea creatures, the sea glass, the seaweed, the incongruous objects washed up by the ocean."
"I love the sea's sounds and the way it reflects the sky. The colors that shimmer across its surface are unbelievable. This, combined with the color of the water over white sand, surprises me every time." – John Dyer
Beach Captions for Instagram
"Dear ocean. I think about you all the time."
"Ocean air, salty hair."
"Stay wild, ocean child."
"The ocean is full of untamed magic."
"Sorry, the ocean is calling."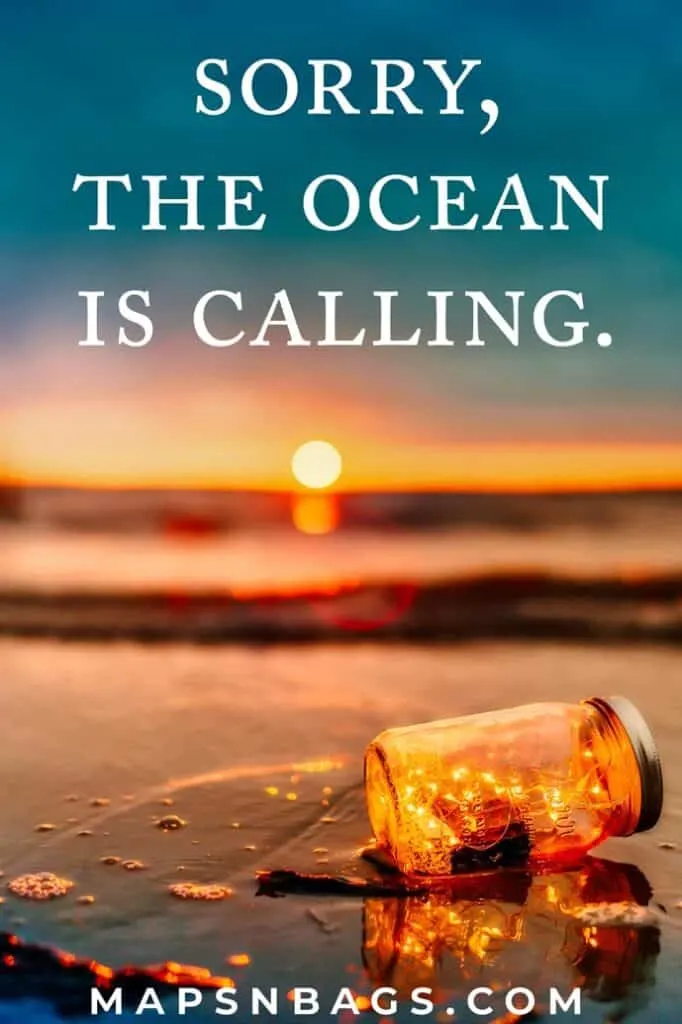 Short Beach Quotes
"I'm pretty sure my birthstone is a seashell."
"Wherever you go, bring your own sunshine."
"High tides, good vibes."
"As free as the ocean."
"Life is better in a bikini."
"I need Vitamin SEA."
"Beach, please."
Read next: Inspiring adventure quotes
Summer Captions for Instagram
"Nothing but blue skies."
"Ocean child."
"Vitamin SEA."
"Saltwater therapy."
"Chase the sun."
"Soul full of sunshine."
"Paradise Found!"
"Good times and tan lines."
"Beach days always."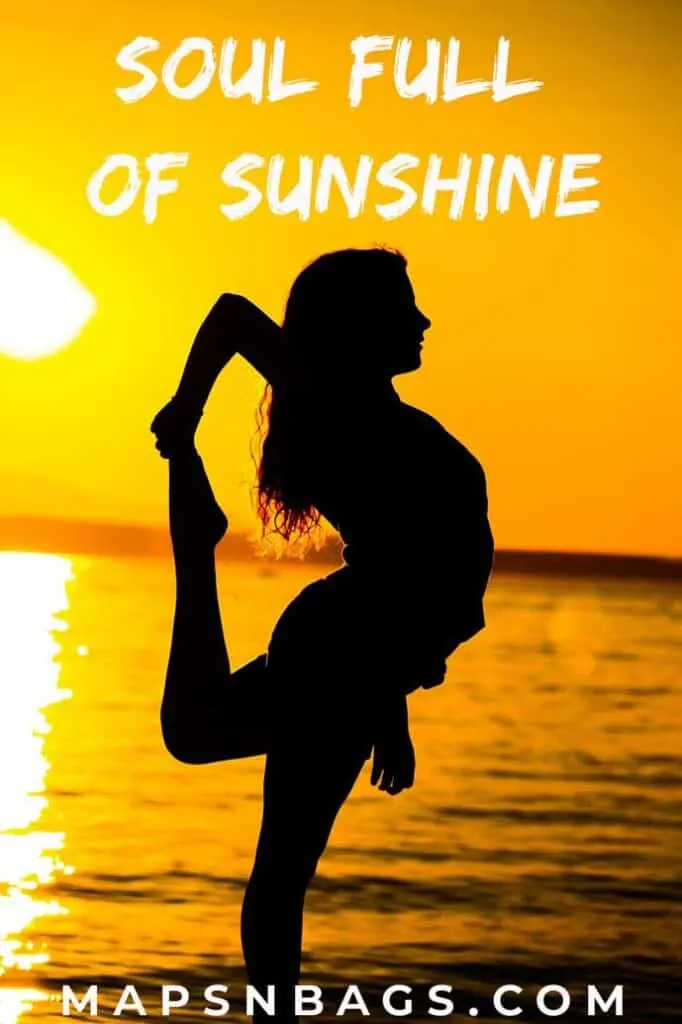 Beach Sayings
"Palm trees. Ocean breeze. Salty air. Sunkissed hair."
"B.E.A.C.H.: Best Escape Anyone Can Have"
"Feeling stressed? There's a beach for that."
"99 problems but a beach ain't one."
"I followed my heart, and it led me to the beach."
"To escape and sit quietly on the beach – that's my idea of paradise." – Emilia Wickstead
"My sense of direction leads me one way: to the beach."
"There's no place like home. Except for the beach."
"I wish that Beach Therapy was covered by my Health Insurance."
"How to have a beach body: 1. Have a body 2. Go to the beach."
Beach Life Quotes
"The ocean makes me feel really small, and it makes me put my whole life into perspective… it humbles you and makes you feel almost like you've been baptized. I feel born again when I get out of the ocean." – Beyoncé Knowles
"If you need me, call me on my shell."
"Life takes you down many paths, but my favorite ones lead to the beach."
"Give me a coffee to change the things I can, and the beach to accept the things I can't."
"Feeling stressed? There's a beach for that."
"My perfect beach town isn't a fancy resort or a glitzy planned community."
It's a place with a hometown grocery that has decent meat, seafood, and a deli; a couple of ice cream shops; and a handful of good restaurants – where the island-wide dress code is 'no shoes, no shirt, no problem." – Mary Kay Andrews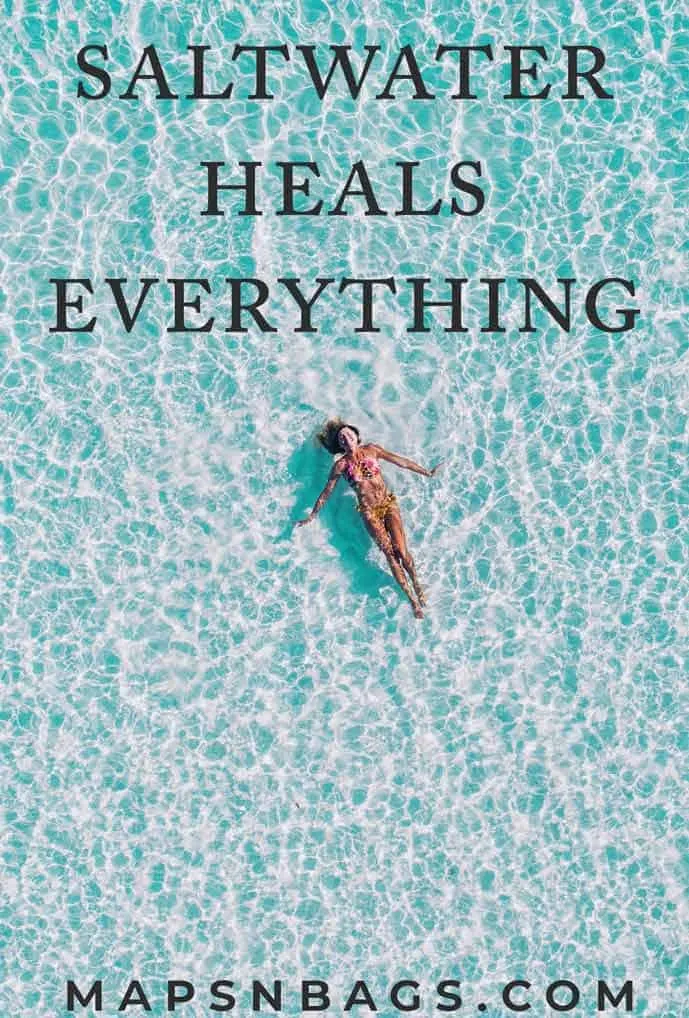 Beach Inspirational Quotes
"My life is like a stroll on the beach… as near to the edge as I can go." – Henry David Thoreau
"The beach is a great place to relieve the soul-crushing stress you build up in the traffic going to the beach."
"A walk on the beach is worth a thousand words." – Juli Rowe
"The ocean stirs the heart, inspires the imagination, and brings eternal joy to the soul." – Robert Wyland
"Sunshine is the best medicine."
"Saltwater heals everything."
"Beach. Sleep. Repeat."
"Forever BEACHY."
"Find me under the palms."
Pssst: You might also want to read these awesome sassy Instagram captions!
Beach Quotes
"Think a little less, Live a little more."
"Beach More Worry Less."
"My love for you is deeper than the ocean."
"Breathe in the ocean."
"I crave a love so deep the ocean would be jealous."
"May your joys be as deep as the ocean."
"The tans will fade, but memories will last forever."
"Nothing soothes the soul like a walk on the beach."
"The ocean soothes the soul."
"Don't Worry. Beach Happy."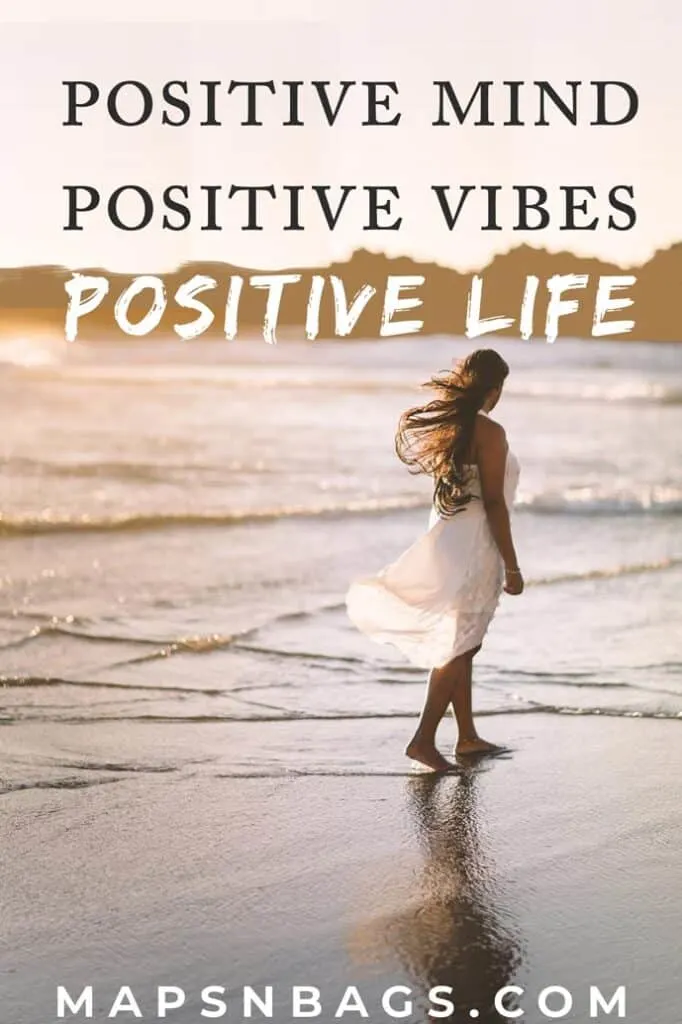 Beach Captions
"Blue skies, denim short & a salty tan."
"Life is better in flip-flops."
"A day at the beach restores the soul."
"The beach is calling, I must go."
"A pineapple a day keeps the worries away."
"Here comes the sun."
"The ocean roar is music to the soul."
"Let the currents guide your heart."
"The beach is always a good idea"
"Positive mind, positive vibes, positive life."
Inspirational Beach Quotes
"With you, life's a beach."
"Gone coastal."
"Salty hair, don't care."
"It's always summer in my heart."
"Let's get nauti."
"I'm in 75% of Earth."
Read next: Funniest travel memes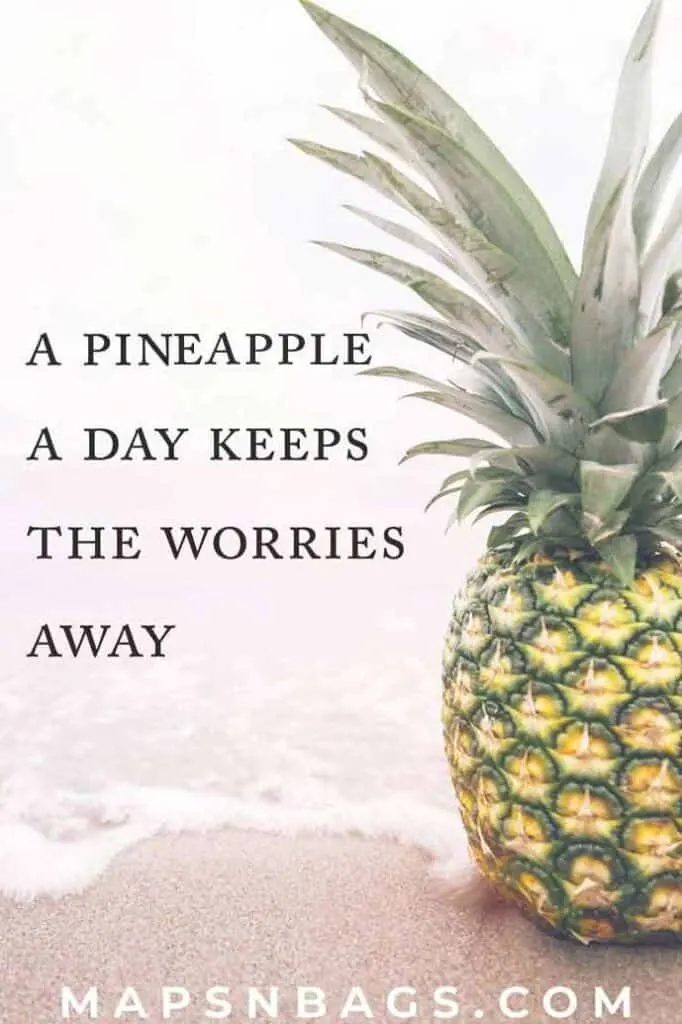 Hashtags for Your Beach Vacation (Perfect for Quotes About the Beach)
#beachlife #beachplease #vitaminsea #sunsetporn #fiftyshadesofblue #seaya #beach #beachbabes #beachday #beachlife🌴 #beachy #beachvibes #beachlover #beachtime
Ocean Quotes hashtags (Perfect for Quotes About Ocean)
#oceanlover #oceanlife #oceanvibes #oceanminded #oceaninspired #oceanholic
Hashtags for Quotes About the Sea
#seame #seascapes #bikiniseason #seaview #lifeatsea #sealover #seainspired
Sunset Quotes Hashtags
#sunsetlover #sunsetbeach #sunset_ig #sunset_lovers #sunset_today #sunsetoftheday #sunset_specialist #sunsetlovers
Summer Hashtags
#summer #summervibes #summertime #summerday #summergoals #summerishere #summerfeels #summerlove #summerholidays #summerlife #summercolors #summermemories
Wrapping up on the best beach quotes for Instagram
So we hope we inspired you with these quotes about the beach as well as with the ocean quotes. As sea lovers, this post was a no-brainer.
We love summer vibes, and we're always looking for good Facebook and Instagram captions that translate emotions into a few words.
So tell us, what's your favorite beach quote? You'll find ours at the beginning. Comment your answer below. We'd love to hear from you!
Did you like this article about the best beach quotes? Then pin it to your Pinterest board!
Our best travel tips & resources:
Here're our all-time favorite travel tips & resources so that you can save money and plan your travel logistics hassle-free! For more travel resources, check out our
travel tips.
Saving money: Fly on offseason, winter (not Xmas or NYE), Tuesday, or Wednesday! According to experts, these are the cheapest days to fly.
Travel insurance: Before you leave for your trip, make sure you have a valid travel insurance policy because accidents happen on the road. We have been paying for Safety Wing travel insurance for a little over a year now, and we happily recommend them to our family and friends.
Accommodation: We usually stay in mid-range comfy hotels or private rooms in hostels. These are the sites we use to book accommodation: Booking.com for hotels (excellent flexible cancellation policy) and Hostelworld for hostels (low deposit and easy cancellation).
Tours:We absolutely love booking guided tours with locals to get a history lesson while sight-seeing, especially food tours and walking tours! We book all of our tours using Viator and GetYourGuide.
Transportation: We use Google Maps to figure out how to get around a place using public transport. When we book a rental car, we always use Discover Cars to find the best deal.