Who doesn't love those sassy Instagram captions that let your personality shine?
I don't know about you, but I always struggle to write my captions, and it takes me way more time than I have, to be honest.
By the way, are you following Maps 'N Bags on Instagram? Follow to be up-to-date with our adventures and lots of travel tips (and fun facts too!).
Anyway, sassy girl. Get a little inspiration for your next picture with this complete list of badass and sassy quotes with a tad of savage. After all, there's nothing wrong with being a bit bold sometimes, right?
Oh, and let the long texts for Facebook, I've only selected short sassy captions for your Instagram feed.
Wanna know some kickass sassy Instagram captions? Read on!
Sassy Instagram Captions for Selfies
I know looks aren't everything, but I have them just in case.
Ironic, you have been sleeping on the one you dream about.
Glow with me or watch me glow.
People throw shade on what shines.
I love me enough for both of us.
You glow different when you're doing better.
Call me cherry cause I'm always on top.
Looking like a doll, but you can't play with me.
Prove them wrong, baby girl.
When the sun goes down, I glow up.
If you don't like me, but still watch everything I do. You're a fan.
People talk about me behind my back and I just sit here like "Darn. I got myself a fan club."
They say good things take time, that's why I'm always late.
Stay sassy, classy, and a bit bad assy.
It's okay if you don't like me. Not everyone has good taste.
Read next: Cute Instagram captions
Favorite Sassy Captions for Instagram
I'm sorry, I don't take orders. I barely take suggestions.
I'm not lazy. I'm on energy saving mode.
Chin up, princess, or the crown slips.
Life is short. Make every hair flip count.
If you can't be kind, be quiet.
In my defense, I was left unsupervised.
Doing squats so my ass matches my sass.
Sometimes I wish I were a nicer person, but then I laugh and continue my day.
They say "love is in the air." maybe that's why there's so much pollution these days.
Throw me to the wolves and I'll come back leading the pack.
Don't trust everything you see. Even salt looks like sugar.
Love me or hate me, both are in my favor… If you love me, I'll always be in your heart. If you hate me, I'll always be in your mind.
You have to be odd to be number one.
If you can't convince them, confuse them.
Choose me or lose me. I'm not a backup plan and definitely not a second option.
Pssst: You'll love these travel puns and hilarious travel memes.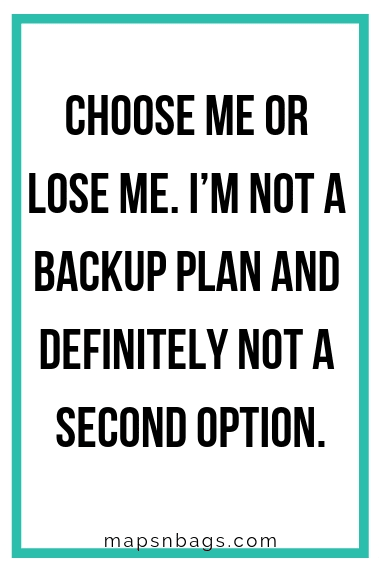 Sassy Quotes for Confident Girls
Don't raise your voice. Improve your argument.
Speak when you're angry, and you'll make the best speech you'll ever regret.
I like my coffee how I like myself: dark, bitter, and too hot for you.
"Lazy" is such an ugly word. I prefer "selective participation."
Why chase you when I'm the catch.
These are the days we live for.
I don't need an inspirational quote. I need my coffee.
Confidence level: selfie with no filter.
Girls just wanna have sun.
Be flawless. It really annoys people.
Beautiful things don't ask for attention.
People will stare. Make it worth their while.
You turned the page, I burned the book.
I know I'm a handful, but that's why you've got two hands.
Sorry if I looked interested. I'm not.
Read next: Best travel quotes to inspire you!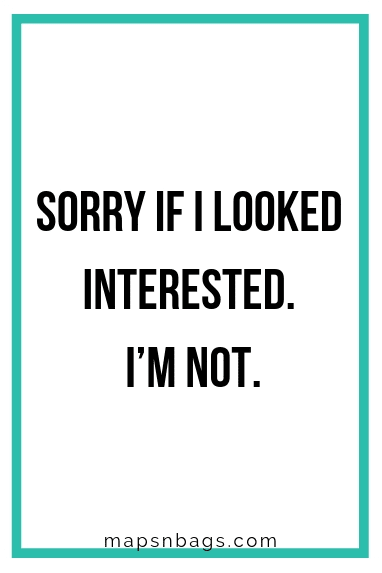 Sassy Quotes for Good Girls
Thick thighs & pretty eyes.
Kinda classy. Kinda hood.
Of course, I talk like an idiot. How else could you understand me?
Life isn't perfect, but your outfit can be.
Be yourself because an original is worth more than a copy.
Sometimes you gotta be a beauty and a beast.
Tell me not to do something and I'll do it twice and take pictures.
Oh, honey. Go buy a personality.
Honey, it's called being sarcastic.
I throw back so many drinks I'm feeling retro.
Make them stop and stare.
Throw sass like confetti.
I'm suffering an extreme case of not being Beyonce.
Stop making drama, you're not Shakespeare.
Don't be ashamed of who you are. That's your parent's job.
Throw sass like confetti.
Read next: Best beach quotes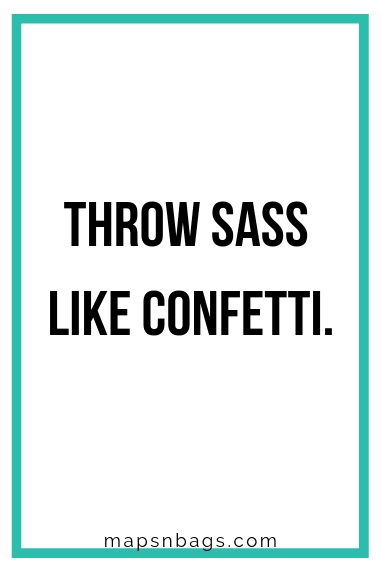 Sassy Captions for Bad Girls
I'm not mean, I'm brutally honest. It's not my fault truth hurts. Here's a band-aid.
Feels so good being bad.
It's Friday. Time to go make some stories for Monday.
There's no "we" in fries.
A sass a day keeps the basic away.
Too glam to give a damn.
Sassy since birth.
I'd tell you to go to hell, but I don't want to see you there.
Some girls are just born with glitter in their veins.
I doubt vodka is the answer, but I'll give it a shot.
Relationships are like algebra. Do you ever look at your x and wonder y?
I don't know what's tighter, our jeans or our friendship.
Please, cancel my subscription to your issues.
The most courageous act is to think for yourself. Aloud.
If you obey all the rules, you'll miss all the fun.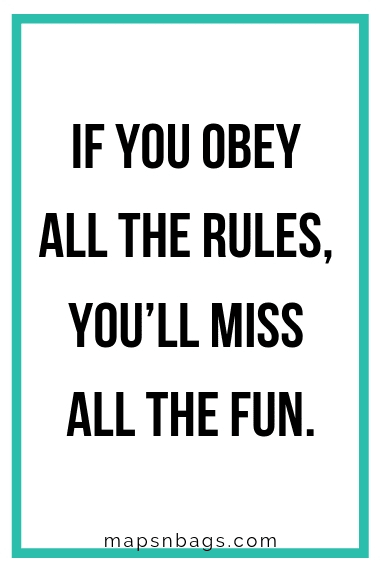 Quotes for Girls with Fan Clubs
I'm sorry, my fault. I forgot you're an idiot.
Do you believe in love at first sight, or do I have to walk by again?
What's a queen without a king? Well, historically speaking, more powerful.
If I was meant to be controlled, I'd have come with a remote.
I'm not bossy. I have leadership skills.
I want a bf. And by "bf" I mean a Benjamin Franklin as in a 100 dollar bill, boy.
If I cut you off, chances are, you handed me the scissors.
Yes, I'm single and you'll have to be amazing to change that.
I'm a nice person, just don't push the bitch button.
I'm not responsible for what my face does when you talk.
I should've been born with a warning sign.
I love when the coffee kicks in and I realize what an adorable badass I'm going to be today.
I run on caffeine, sarcasm, and inappropriate thoughts.
Whoever is trying to bring me down is already below me.
Using my haters as step stones to the top.
If I cut you off, chances are, you handed me the scissors.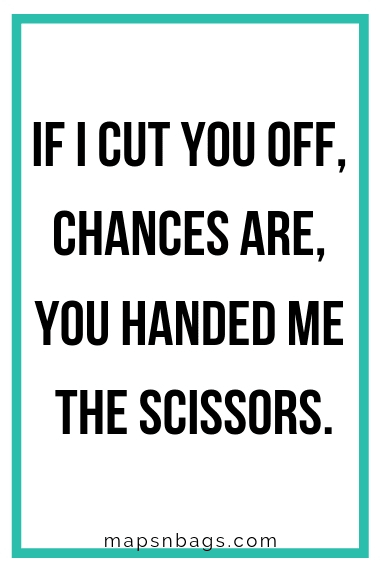 Wildly Sassy Instagram Captions
I'm flattered that I'm always a trending topic in your life.
Haters gonna hate. Potatoes gonna potate.
Sassy: lively, bold, and full of spirit; cheeky.
Nah!
Babygirl, what's ya status.
You don't like me? That's a shame. I'll need a few minutes to recover from this tragedy.
Not all girls are made of sugar, spice, and everything nice. I'm made of sarcasm, wine, and everything fine.
My lips are the gun. My smile is the trigger. My kisses are the bullet. Label me a killer.
Sorry I'm late. I didn't want to come!
I really have no excuse for my bad attitude.
I think my guardian angel drinks.
Actually, I can.
That's who I am. Nobody said you had to like it.
I hope you step on a lego.
She is either wildly naive or dangerously intelligent.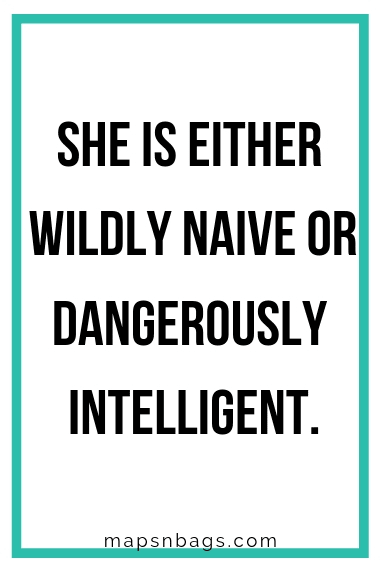 Perfect Sassy Instagram Captions
Do you know any other sassy selfie captions? Comment them below and I'll add it to the list!
Did you like this post about sassy Instagram captions? Then pin it to your Pinterest board!

Our best travel tips & resources:
Here're our all-time favorite travel tips & resources so that you can save money and plan your travel logistics hassle-free! For more travel resources, check out our
travel tips.
Saving money: Fly on offseason, winter (not Xmas or NYE), Tuesday, or Wednesday! According to experts, these are the cheapest days to fly.
Travel insurance: Before you leave for your trip, make sure you have a valid travel insurance policy because accidents happen on the road. We have been paying for Safety Wing travel insurance for a little over a year now, and we happily recommend them to our family and friends.
Accommodation: We usually stay in mid-range comfy hotels or private rooms in hostels. These are the sites we use to book accommodation: Booking.com for hotels (excellent flexible cancellation policy) and Hostelworld for hostels (low deposit and easy cancellation).
Tours:We absolutely love booking guided tours with locals to get a history lesson while sight-seeing, especially food tours and walking tours! We book all of our tours using Viator and GetYourGuide.
Transportation: We use Google Maps to figure out how to get around a place using public transport. When we book a rental car, we always use Discover Cars to find the best deal.