We all need that dose of inspiration. We all need some adventure quotes to lighten up our day.
Here in our travel blog, we have lots of inspirational quotes about travel because we believe in their power. The power of words. After all, we're writers, and words play a big role in our lives.
And as we're based in the Netherlands, a rather cold/rainy country, a tad of daily inspiration won't hurt us, right?
No, it won't.
In fact, we love reading and finding new adventure quotes about life simply because life is an adventure.
Some people say quotes about adventure are cheesy.
Actually, they say all kinds of quotes are cheesy, and that's true to a point, but if those exploration quotes help you keep dreaming, and hopefully, pursue your dream, we don't see a problem in them.
Best Adventure Quotes of All Time
We gathered 101 quotes on adventure and travel, as well as adventure sayings from movies and tv series to inspire you, to fuel your wanderlust, and to help you keep pursuing your dreams.
Hm, actually, let's not call them dreams. Let's call them a plan. Wanna know more life quotes and adventure captions? Read on!
Unique Adventure Quotes to Fuel Your Wanderlust
1. "Adventure may hurt you but monotony will kill you." – Unknown
2. "Jobs fill your pocket, but adventures fill your soul." – Jamie Lyn Beatty (This quote about life couldn't be more right. Bruna left a well-paying job in the financial sector to start her own business and travel the world. Best decision ever.)
3. "A ship in a harbor is safe, but it not what ships are built for." – John A. Shedd
4. "I always wonder why birds choose to stay in the same place when they can fly anywhere on earth, then I ask myself the same question." – Harun Yahya
5. "It's a dangerous business, Frodo, going out of your door. You step onto the road, and if you don't keep your feet, there's no knowing where you might be swept off to." – J.R.R. Tolkien
(This is Bruna's favorite adventure travel quote. She's a huge LOTR fan.)
6. "Life is not a journey to the grave with the intention of arriving safely in a pretty and well-preserved body, but rather to skid in broadside, thoroughly used up, totally worn out, and loudly proclaiming – WOW – What a Ride!" – Unknown
7. "Twenty years from now you will be more disappointed by the things you didn't do than by the ones you did do. So throw off the bowlines. Sail away from the safe harbor. Catch the trade winds in your sails. Explore. Dream. Discover." – Mark Twain
8. "The danger of adventure is worth a thousand days of ease and comfort." – Paulo Coelho
9. "Live your life by a compass, not a clock." – Stephen Covey (This life quote goes out to all my friends complaining about Mondays.)
10. "Life is either a daring adventure or nothing." – Helen Keller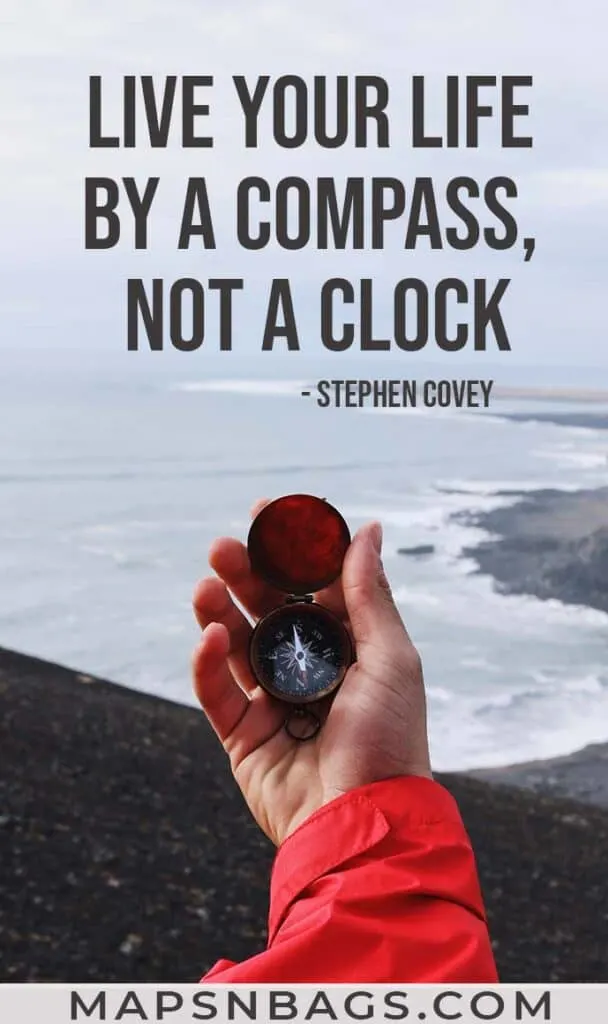 Read next: Most inspiring beach quotes
Unique Quotes About Adventure
11. "Adventure is in the eye of the beholder" – Annie Andre
12. "Take vacations. Go as many places as you can. Whenever you can. You can always make money. You can't always make memories." – Unknown (Yes! You only live once, so go live it. This is one of the best quotes on adventure.)
13. "If happiness is the goal – and it should be, then adventures should be top priority." – Richard Branson
14. "Adventure: An undertaking usually involving danger and unknown risks." – Merriam Webster
(This adventure quote sounds so risky, but for us, adventure doesn't have to include someone jumping from a mountain with a little fabric as wings to be able to fly. Adventure is relative and dependent on your daily life. Maybe your adventure is about having incredible experiences in the USA.)
15. "Adventure is a path. Real adventure, self-determined, self-motivated, often risky, forces you to have firsthand encounters with the world." – Mark Jenkins
16. "Carpe Diem. Seize the day (boys). Make your life extraordinary" – John Keating, Dead Poets Society
17. "Thanks for the adventure. Now go have a new one!" – Ellie, Up. (Bruna sobbed like a 5-year old while watching Up.)
18. "Let us step into the night and pursue that flighty temptress, adventure."

J.K. Rowling
19. "Attitude is the difference between an ordeal and an adventure." — Bob Bitchin
20. "The only question in life is whether or not you are going to answer a hearty 'YES!' to your adventure." – Joseph Campbell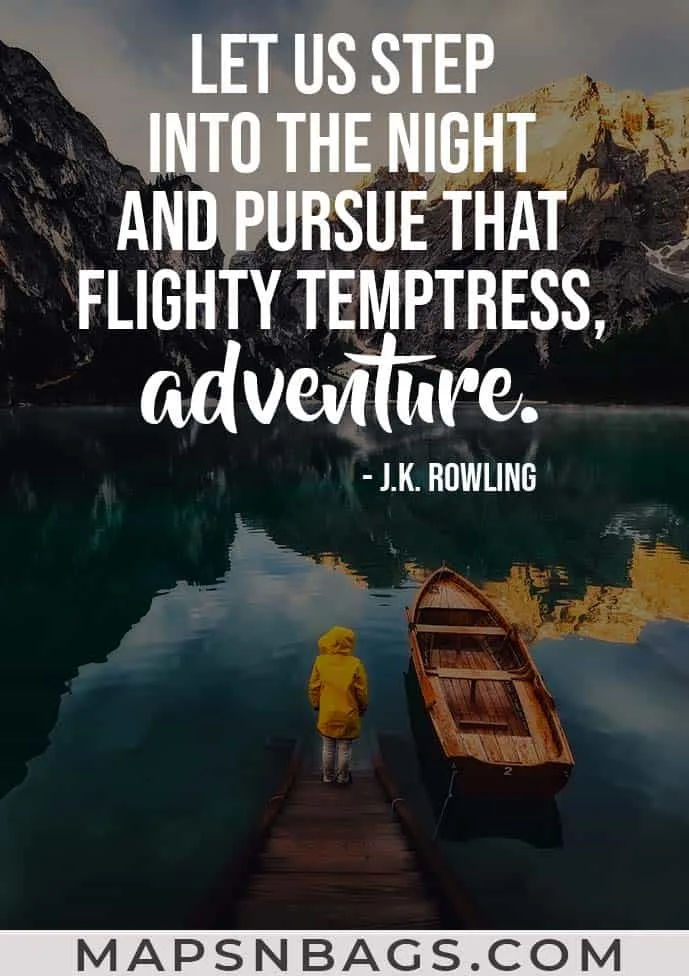 Inspirational Life Quotes
21. "Life is meant for good friends and great adventures." – Unknown
22. "You cannot discover new oceans unless you have the courage to lose sight of the shore." – Andre Gide (This quote about life is about getting out of your comfort zone to discover and learn new things.)
23. "Do not go where the path may lead, go instead where there is no path and leave a trail." – Ralph Waldo Emerson
24. "The price of anything is the amount of life you exchange for it." – Henry David Thoreau
25. "Adventure isn't hanging off a rope on the side of a mountain. Adventure is an attitude that we must apply to the day to day obstacles of life" – John Amat
(Yes! This quote about adventure is exactly what we talked about above.)
26. "The purpose of life, after all, is to live it, to taste experience to the utmost, to reach out eagerly and without fear for a newer and richer experience." – Eleanor Roosevelt
27. "Life is an adventure, it's not a package tour." – Eckhart Tolle (No doubt about it!)
28. "Fill your life with adventures, not things. Have stories to tell not stuff to show." – Unknown (Frank struggles a bit on this point as he enjoys the comfort of having his things around.)
29. "Don't die without embracing the daring adventure your life was meant to be." – Steve Pavlina (Remember you only live once, so make the most out of today.)
30. "What is life but one grand adventure?" – Unknown
31. "I went to the woods because I wished to live deliberately, to front only the essential facts of life, and see if I could not learn what it had to teach, and not, when I came to die, discover that I had not lived." – Henry David Thoreau
32. "I do not want to get to the end of my life and find that I just lived the length of it. I want to have lived the width of it as well." – Diane Ackerman
33. "Everything tells me that I am about to make a wrong decision, but making mistakes is just part of life. What does the world want of me? Does it want me to take no risks, to go back to where I came from because I didn't have the courage to say "yes" to life?" – Paulo Coelho, Eleven Minutes
(Bruna is a bookworm, and she loves Paulo Coelho's books because 1) they're inspiring and 2) he's Brazilian.)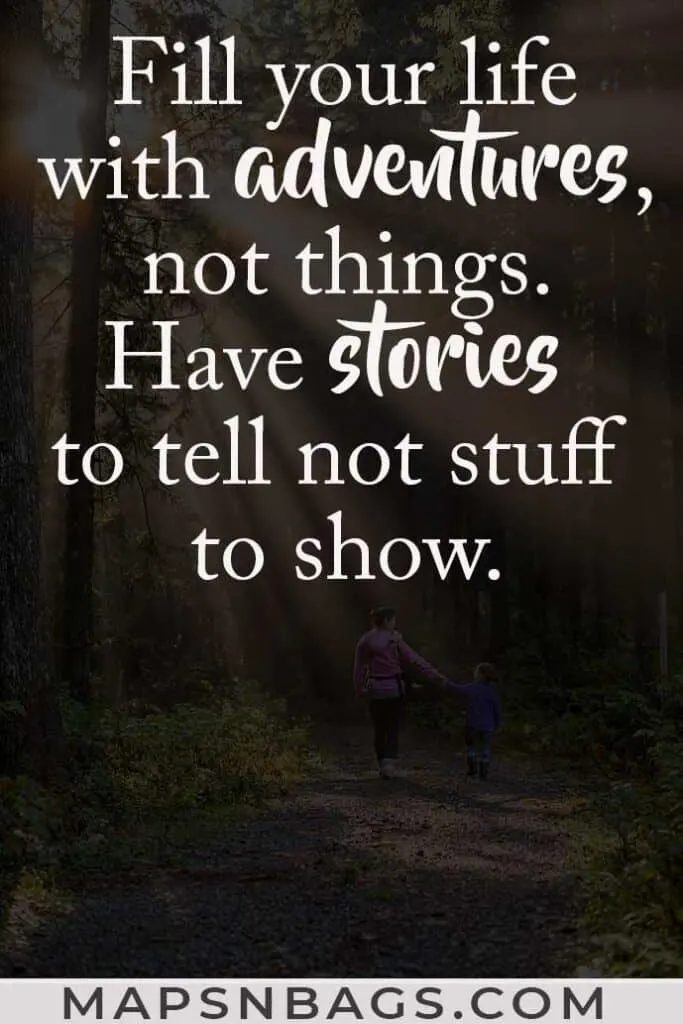 Read next: Hilarious travel memes
Inspiring Quotes About Life
34. "I am not an adventurer by choice but by fate." – Vincent van Gogh
35. "We thought we were just having fun, but it turns out we created memories." – Unknown
(A nice idea for you to keep your memories: we write them down in a little paper and put them in a jar. On new year's ever we read all of those memories together over a beer or two. It's fun!)
36. "The biggest adventure you can take is to live the life of your dreams." – Oprah Winfrey
37. "Every man can transform the world from one of monotony and drabness to one of excitement and adventure." – Irving Wallace
38. "My parents taught me honesty, truth, compassion, kindness and how to care for people. Also, they encouraged me to take risks, to boldly go. They taught me that the greatest danger in life is not taking the adventure." – Brian Blessed
39. "I don't need therapy. I need an adventure." – Unknown
40. "You only live once. It's actually your duty to live life as fully as possible." – Will Traynor, Me Before You
41. "Every man's life ends the same way. It is only the details of how he lived and how he died that distinguish one man from another." – Ernest Hemingway
42. "When life gets you down, you know what you gotta do? Just keep swimming" – Dory, Finding Nemo (True. The world keeps rotating, and so should you.)
43. Traveling is like flirting with life. It's like saying, "I would stay and love you, but I have to go; this is my station." – Lisa St Aubin de Téran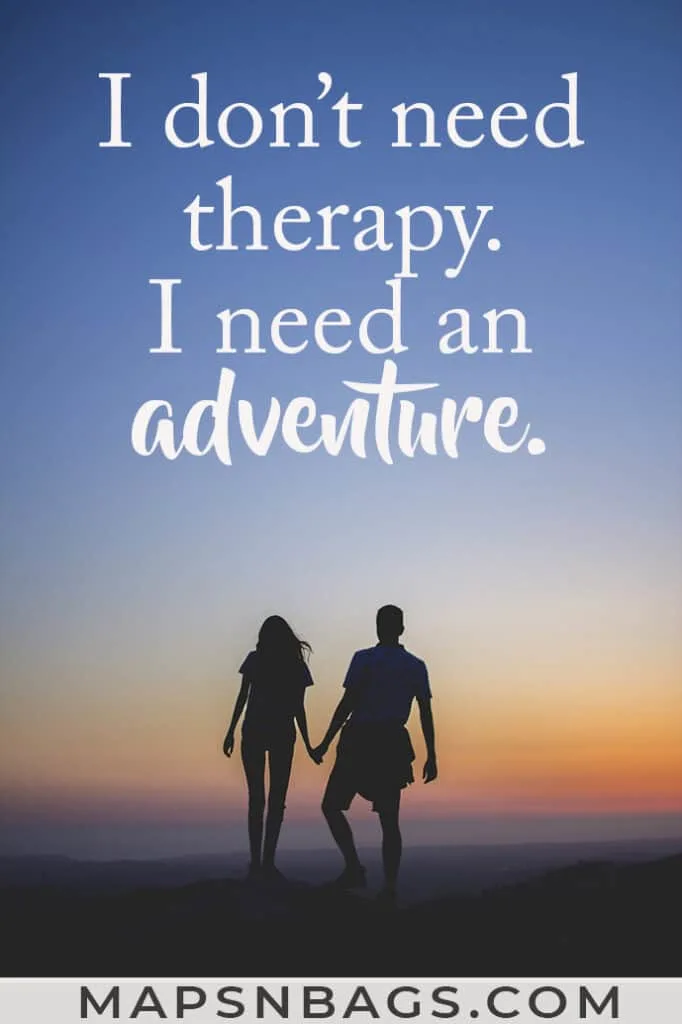 Adventure Captions for Instagram
44. "I'm going on an adventure!" – J.R.R. Tolkien (Quote from The Lord of the Rings ♥)
45. "Life begins at the end of your comfort zone." – Unknown
46. "As soon as I saw you, I knew an adventure was about to happen." – Unknown (This is one of our adventure quotes.)
47. "Life is an adventure, not an all-inclusive resort." – Unknown
48. "Don't listen to what they say. Go see." – Unknown
49. "I am just a girl chasing her dreams and having an amazing adventure along the way." – Unknown (Yes, it's me.)
50. "The best views come after the hardest climbs." – Unknown
51. "Adventure is worthwhile." – Unknown (Always!)
52. "We travel for romance, we travel for architecture, and we travel to be lost." – Ray Bradbury
53. "To live would be an awfully big adventure." – Peter Pan
54. "It's time to remember what it's like to feel alive." – Unknown
Pssst: Are you following us on Instagram yet?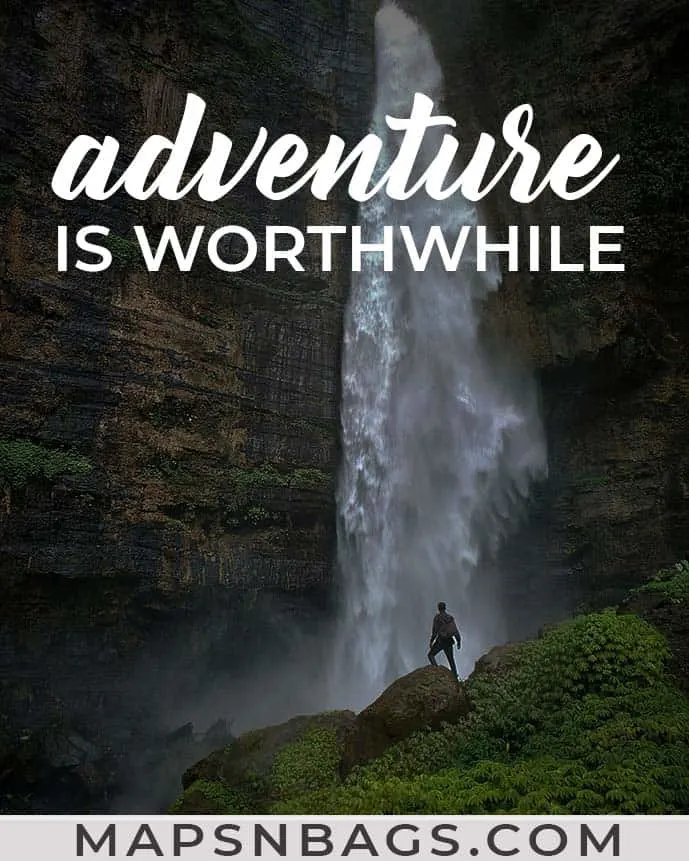 Read next: Funniest travel puns
Famous Adventure Quotes
55. "Travel isn't always pretty. It isn't always comfortable. Sometimes it hurts, it even breaks your heart. But that's OK. The journey changes you; it should change you. It leaves marks on your memory, on your consciousness, on your heart, and on your body.
You take something with you. Hopefully, you leave something good behind." – Anthony Bourdain (Bourdain hits the nail on the head here. We couldn't say it better.)
56. "Collect adventures, not things!" – Unknown
57. "Your body is not a temple, it's an amusement park. Enjoy the ride." – Anthony Bourdain (To the song of John Meyer's Your Body is a Wonderland.)
58. "If you obey all the rules, you miss all the fun." – Katharine Hepburn
59. "It is never too late to be who you might have been." – George Eliot
60. "It's time for a new adventure." – Unknown
61. "Adventure, without it, why live?" – Hortense Odlum
62. "If you think adventure is dangerous, try routine. It's suffocating." – Unknown
63. "Keep moving forward." – Walt Disney
64. "Some journeys take us far from home. Some adventures lead us to our destiny." – The Chronicles of Narnia: The Lion, the Witch, and the Wardrobe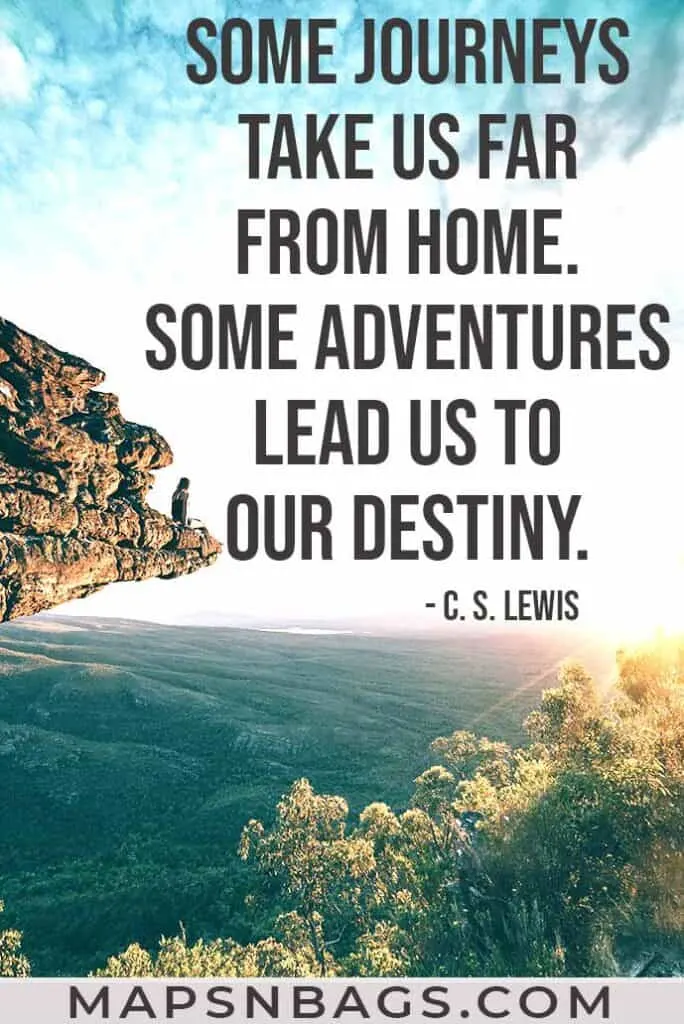 Short Quotes About Adventure
65. "It feels good to be lost in the right direction." – Unknown
66. "Oh, darling, let's be adventurers." – Unknown
67. "Travel doesn't become an adventure until you leave yourself behind." – Marty Rubin
68. "Adventure is allowing the unexpected to happen to you." – Unknown (Yes! I wish I knew the author of this quote about adventure because s/he got it so right!)
69. "Then one day, when you least expect it, the great adventure finds you." – Ewan McGregor
70. "The world is not in your books and maps, it's out there." – J.R.R. Tolkien (Don't live vicariously, go make your own memories.)
71. "You know you are truly alive when you're living among lions." – Karen Blixen
72. "Only those who will risk going too far can possibly find out how far they can go." – T.S. Eliot
73. "One way to get the most out of life is to look upon it as an adventure." – William Feather
74. "Make today an adventure." – Unknown (Go ride a bike, go hiking in a forest nearby, go spot wild animals, go help the world!)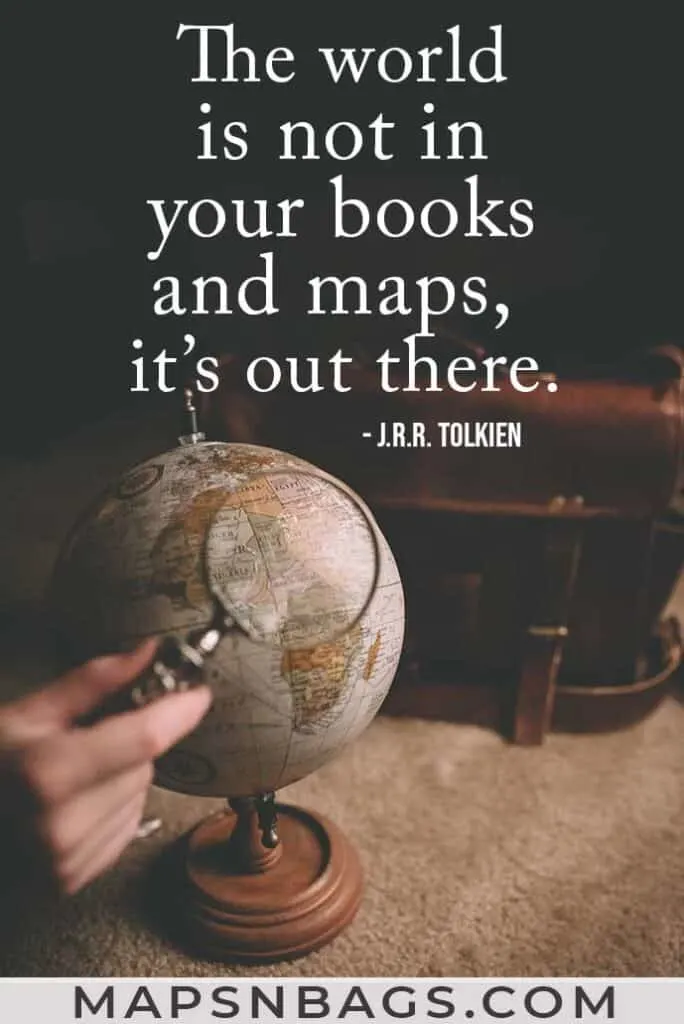 Read next: Cute Instagram captions for couples
Quotes About Exploration
75. "Not all girls are made of sugar and spice and everything nice. Some girls are made of adventure, fine beer, brains, and no fear." – Unknown
76. "Our happiest moments as tourists always seem to come when we stumble upon one thing while in pursuit of something else." – Lawrence Block
77. "Own only what you can carry with you; know language, know countries, know people. Let your memory be your travel bag." -Alexander Solzhenitsyn (Aw, this is such a beautiful saying about adventure.)
78. "The world is a book, and those who do not travel read only one page." – Saint Augustine
79. "Adventures don't come calling like unexpected cousins calling from out of town. You have to go looking for them." – Unknown
80. "I urge you; go find buildings and mountains and oceans to swallow you whole. They will save you, in a way nothing else can." – Christopher Poindexter
(Usually, we find our best selves when we're in contact with nature, so go find what makes you feel awesome.)
81. "It's a big and beautiful world. Most of us live and die in the same corner where we were born and never get to see any of it. I don't want to be most of us." – George R.R. Martin
(This great quote about exploration was said in Game of Thrones by Oberyn Martell.)
82. "I love waking up in the morning not knowing what's gonna happen or who I'm gonna meet, where I'm gonna wind up." – Jack Dawson, Titanic
83. "I wanted adventures… I wanted kicks – the kind of melodramatic thrills and chills I'd yearned for since childhood, the kind of adventure I'd found as a little boy in the pages of my Tintin comic books. I wanted to see the world – and I wanted the world to be just like the movies." – Anthony Bourdain
84. "I can choose either to be a victim of the world or an adventurer in search of treasure. It's all a question of how I view my life." – Paulo Coelho (Let's pay more attention to the half-full part of the glass.)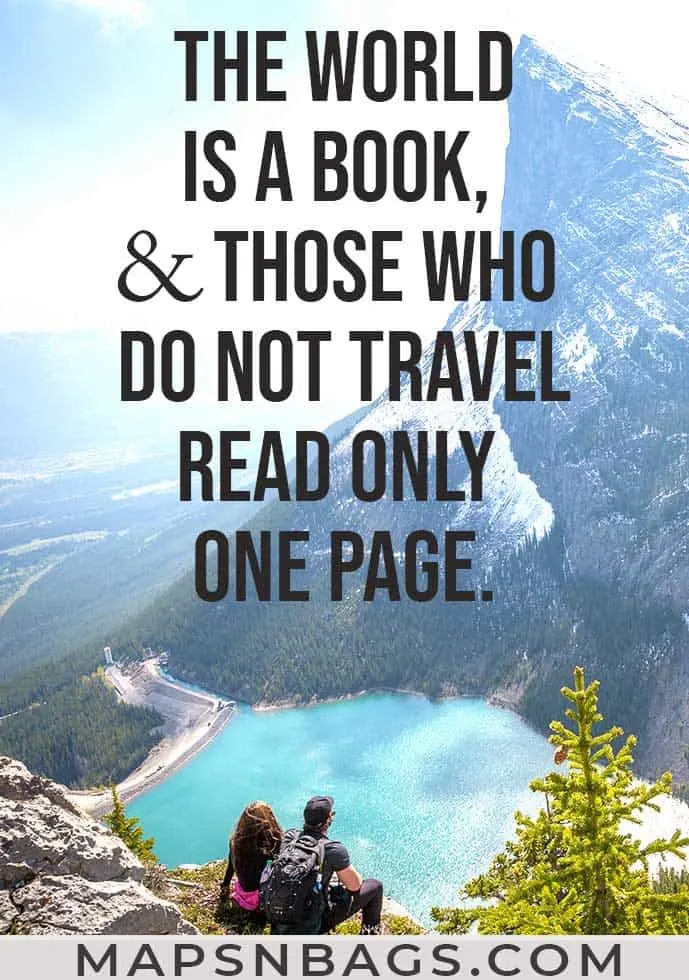 Quotes About Adventure and Exploration
85. "Life is short and the older you get, the more you feel it. Indeed, the shorter it is. People lose their capacity to walk, run, travel, think, and experience life. I realize how important it is to use the time I have." – Viggo Mortensen
86. "This wasn't a strange place; it was a new one." – Paulo Coelho (Have you read The Alchemist? Paulo Coelho sprinkles good travel quotes through the pages of this incredible book.)
87. "We live in a wonderful world that is full of beauty, charm, and adventure. There is no end to the adventures that we can have if only we seek them with our eyes open." – Jawaharlal Nehru
88. "Adventure is allowing the unexpected to happen to you. Exploration is experiencing what you have not experienced before." – Richard Aldington
89. "It's an irritating reality that many places and events defy description. Angkor Wat and Machu Picchu, for instance, seem to demand silence, like a love affair you can never talk about.
For a while after, you fumble for words, trying vainly to assemble a private narrative, an explanation, a comfortable way to frame where you've been and what's happened.
In the end, you're just happy you were there – with your eyes open – and lived to see it." – Anthony Bourdain (As writers, we resonate with this famous adventure quote so much.)
90. "Little things, big adventures!" – Unknown
91. "You must go on adventures to find out where you truly belong." – Sue Fitzmaurice
92. "If you don't get out of the box you've been raised in, you won't understand how much bigger the world is." – Angelina Jolie
93. "And then there is the most dangerous risk of all – the risk of spending your life not doing what you want on the bet you can buy yourself the freedom to do it later." – Unknown
94. "I don't want to not live because of my fear of what could happen." – Laird Hamilton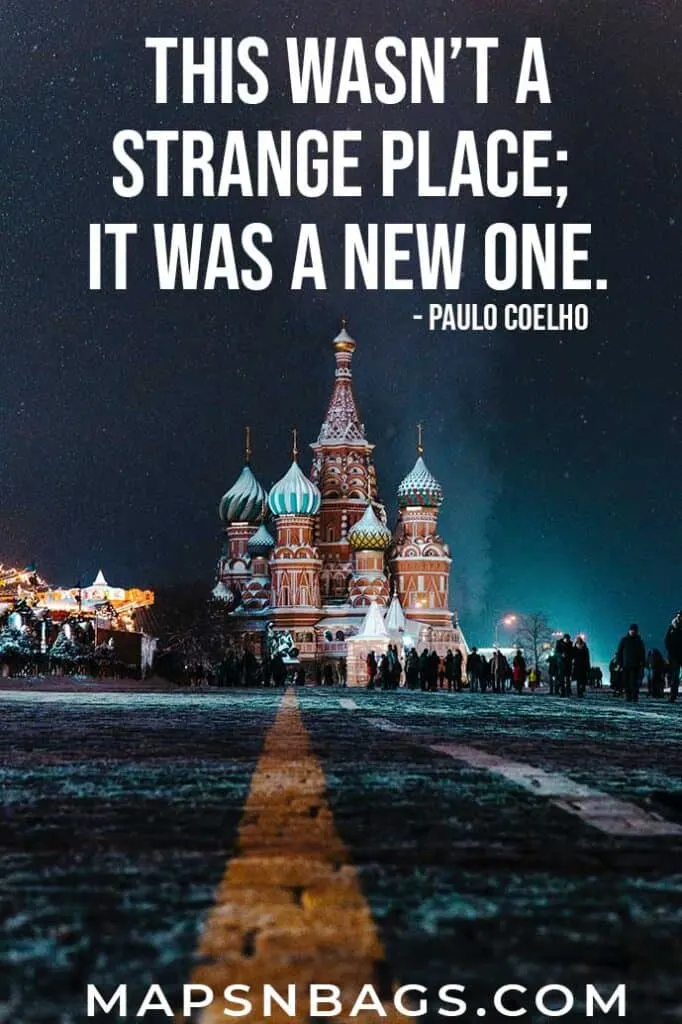 Adventure with Friends Quotes
95. "Life is meant for good friends and great adventures." – Unknown
96. "A man [or a woman] practices the art of adventure when he breaks the chain of routine and renews his life through reading new books, traveling to new places, making new friends, taking up new hobbies and adopting new viewpoints." – Wilfred Peterson
97. "Never forget that life can only be nobly inspired and rightly lived if you take it bravely and gallantly, as a splendid adventure in which you are setting out into an unknown country, to face many a danger, to meet many a joy, to find many a comrade, to win and lose many a battle." – Annie Besant
98. "As soon as I saw you, I knew an adventure was going to happen" – Winnie the Pooh (We love this one! If you also like it, you might want to check out these inspiring quotes about travel with friends!)
99. "Relationship status: in love with adventure." – Unknown
100. "He who travels fastest travels alone – but he who travels furthest travels with others." – Unknown
101. "I hope you see things that startle you. I hope you feel things you never felt before. I hope you meet people with a different point of view. I hope you live a life you're proud of.
If you find that you're not, I hope you have the strength to start all over again." – Eric Roth (We left one of the best life quotes to the end. Hope you liked it!)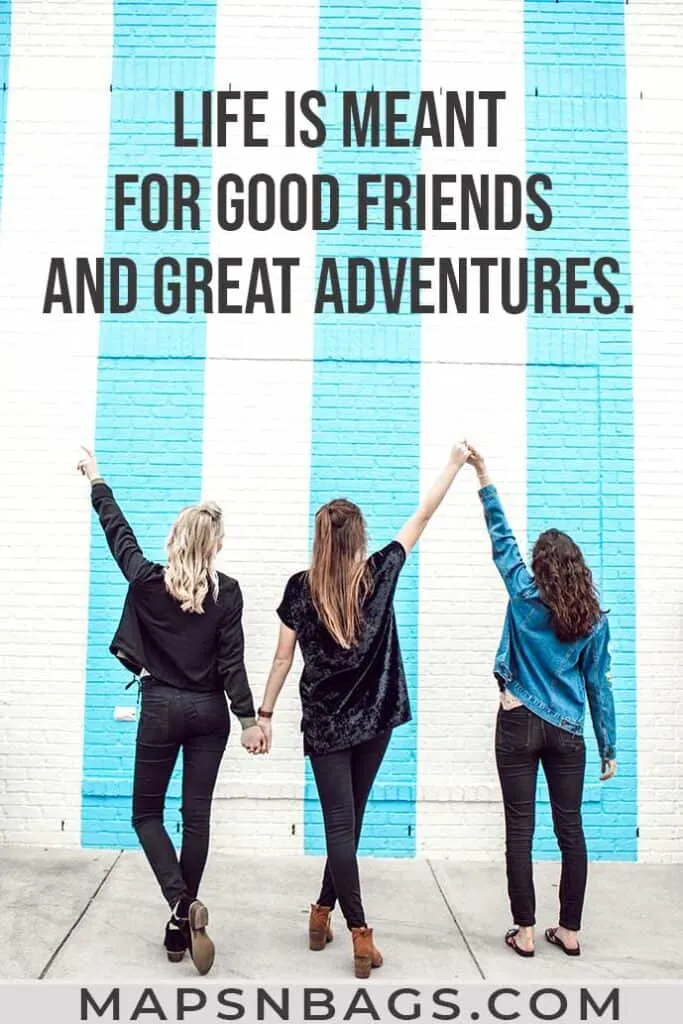 Wrapping up on Adventure Quotes
We hope you enjoyed these quotes about new adventures, sayings, and captions.
Naturally, there are many other adventurous quotes about exploration, but Bruna's OCD wouldn't allow more (or less) than 101 life adventure quotes.
Anyway, please comment below with your favorite quote, even if it's not in the list above. We'd love to hear from you!
Did you like this post about life's quotes and sayings about adventure? Then pin the images above to your Pinterest board!
Our best travel tips & resources:
Here're our all-time favorite travel tips & resources so that you can save money and plan your travel logistics hassle-free! For more travel resources, check out our
travel tips.
Saving money: Fly on offseason, winter (not Xmas or NYE), Tuesday, or Wednesday! According to experts, these are the cheapest days to fly.
Travel insurance: Before you leave for your trip, make sure you have a valid travel insurance policy because accidents happen on the road. We have been paying for Safety Wing travel insurance for a little over a year now, and we happily recommend them to our family and friends.
Accommodation: We usually stay in mid-range comfy hotels or private rooms in hostels. These are the sites we use to book accommodation: Booking.com for hotels (excellent flexible cancellation policy) and Hostelworld for hostels (low deposit and easy cancellation).
Tours:We absolutely love booking guided tours with locals to get a history lesson while sight-seeing, especially food tours and walking tours! We book all of our tours using Viator and GetYourGuide.
Transportation: We use Google Maps to figure out how to get around a place using public transport. When we book a rental car, we always use Discover Cars to find the best deal.