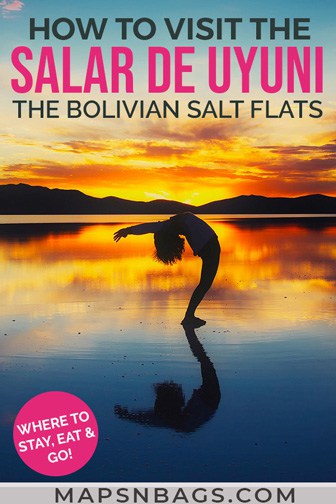 Salar de Uyuni or as many people call it the Bolivian Salt Flats, is the world's most massive mirror.
Salt Flats of Uyuni — spread over an area of 4,000 sq mi (10,500 sq km) in the southern region of the country — are a favorite destination among all tourists traveling in Bolivia, but the salt flats are especially popular among couples who look for a romantic landscape with a twist of adventure.
That's because Salar de Uyuni is one of the world's most stunning but bizarre scenery.
What is a Salt Flat
The Uyuni Salt Flats is made up of infinite salt hexagons that fit together like a crossword puzzle and are a unique place to visit in Bolivia.
These Bolivian Salt Flats hold ten billion tonnes of salt with large lithium deposits underneath. Salar de Uyuni covers such a big area that no matter how far you look, you see an endless horizon.
How Were the Bolivian Salt Flats Formed
As per an Aymara legend, the Andean mountains Kusina, Kusku, and Tunupa circumscribing the Salar were involved in a love triangle. Though Kusku was married to Tunupa, he fell in love with Kusina.
Devastated Tunupa cried incessantly, and her tears filled the planar area between the peaks. Later, the tears evaporated and left the salt behind.
However, scientific researches suggest that the Salar was formed when the scorching Andean sun evaporated the lake between the Andean peaks.
But we prefer the Bolivian legend, of course.
Salar de Uyuni is particularly popular for creating memorable pictures. Have you seen gorgeous optical illusion shots on the white snow-like ground where people are getting eaten by a Godzilla, holding their partner on a hand, or playing with reflection?
Then you have seen pictures clicked on Uyuni's salt flats.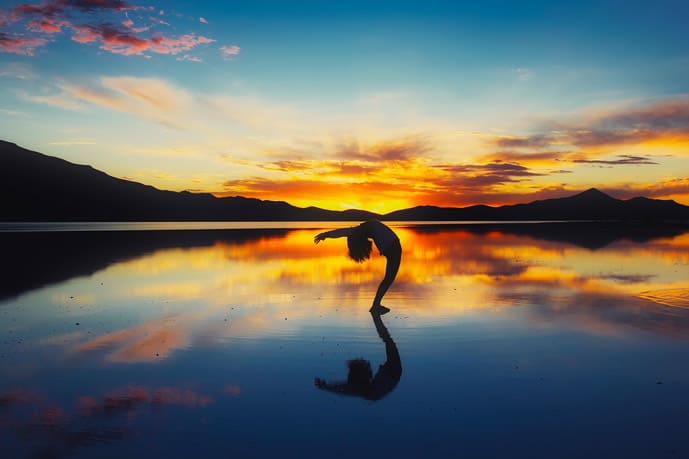 Read next: Things to do in Sao Paulo, Brazil
Uyuni is a must-visit destination for couples who are looking for a stunning getaway in one of the world's most obscure locations. If you are visiting Bolivia, you must see these white wonders of nature.
But arriving at Uyuni is an adventure in itself.
Uyuni city, which is the getaway for tourists aspiring to visit the salt flats, is located in the southwest of Bolivia. From Uyuni, the salt flats are a drive of about five hours.
Driving for five hours to get to the Bolivian salt flats isn't an adventure, but driving at the height of 2.2 mi (3,500 m), at least, is a thrilling experience in itself.
Now add some gorgeous sceneries, hot geysers, strange rock formations, colorful lagoons, and pink flamingos in the middle of the Atacama desert to this experience — that is what Uyuni Salt Flats are like.
Regarding the altitude, don't worry about it just yet. Later in this article, we will tell you how to deal with the elevation and save yourself from altitude sickness.
Where to Stay in Salar de Uyuni, the Bolivian Salt Flats
Most of the accommodations located around the Uyuni Plaza are basic and aren't very comfortable.
Here are some of our best picks from Uyuni hotels:
Casa de Sal – A unique hotel made of salt blocks. It's located near the plaza offering a clean and comfortable stay with hot shower and heating.

See it on Booking.com
Hotel Boutique Atipax – Although a bit far away from the center, the hotel is a comfortable stay. A free taxi to and from the plaza is provided.

See it on Booking.com
Hotel Jardines de Uyuni – This accommodation is another excellent option if you want to enjoy a hot pool after a long day in the salt flats.

See it on Booking.com
We feel that you don't need to spend more than a night in Uyuni because, as said, the town is basic and doesn't have much to do. But if you feel the altitude sickness, rest well and take your time before heading to the salt flats.
If you are taking a tour to the Salar de Uyuni, the tour provides you accommodation for the nights included. A few of those nights you will stay at hotels which are made out of salt, completely.
These accommodations are basic and provide shared bathrooms with a private room.
If you are looking for a more comfortable stay, you might want to book a private tour for yourself or talk to the travel agency regarding your stay preference. You might have to pay more. See the tours below.
An excellent salt hotel to stay in the Salar is the Palacio de Sal (English: Salt Palace) where everything from the building to the furniture is made with salt.
Salt Palace is a luxurious, grand stay and comes with a sauna and steam and even a saltwater bath.
If you head for a one-day tour to the Salar, you can book this hotel for the night and stay there while returning from the salt flats.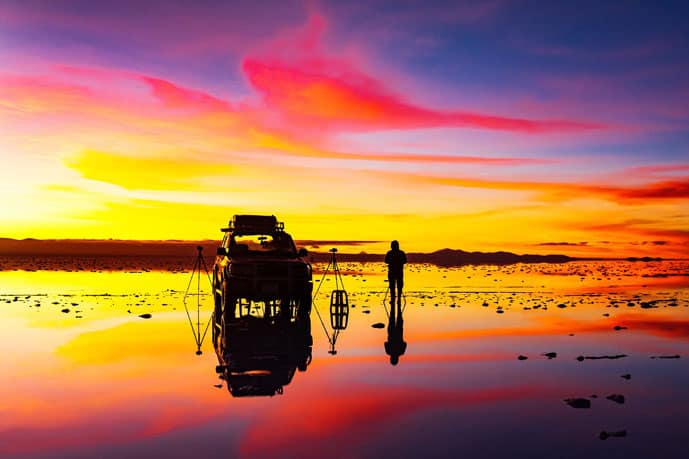 A Salar de Uyuni Tour or Self Drive
The salt reserve is so vast that navigating it by yourself could be a challenge. We would suggest that you book a one-day or three-day tour with a well-known agency in Uyuni to travel hassle-free.
A three-day tour for two people leaving from Uyuni town would cost around $500-700.
You can also opt for a one-day tour but a single day wouldn't suffice to see all the unique places Uyuni Salt Flats offer.
Read next: How to choose your Salt Flats tour!
When to Book the Salar de Uyuni Tour
Pre-booking the salt flat tour is not essential if you have an extra day or two, and you're taking the day tour only. You can book the tour when you arrive in the town of Uyuni, or below to save the hassle in communication.
If the next day's bookings are full, the travel agency will reserve your seats for the day after.
But if you want to make sure you have a confirmed reservation or you're taking a three-day tour, companies advise booking at least a month in advance due to the high demand in the hotels/hostels included in the tour.
Tours available
All tours below have an English speaking guide.
Perfect for those who don't have much time in Bolivia, but would love to see the salt flats.

See it on Get Your Guide
Perfect for those who are into photography and want a memorable shot of the Milky Way.

See it on Get Your Guide.
Perfect for those who are visiting Chile, but want to take advantage of the (fairly) short distance to Salar de Uyuni.

See it on Get Your Guide.
Perfect for those in Uyuni town who want to experience Salar de Uyuni and the region nature wonders without rushing.

See it on Get Your Guide.
Perfect for those who don't want to worry at all about planning as they take care of everything. From the airport transfer to flight tickets and meals.

See it on Get Your Guide.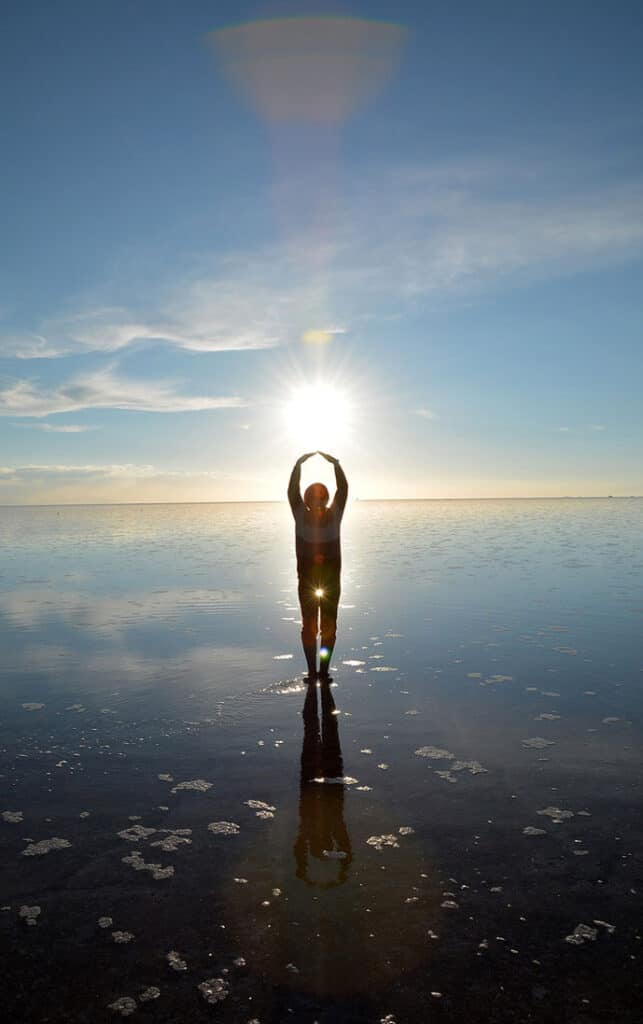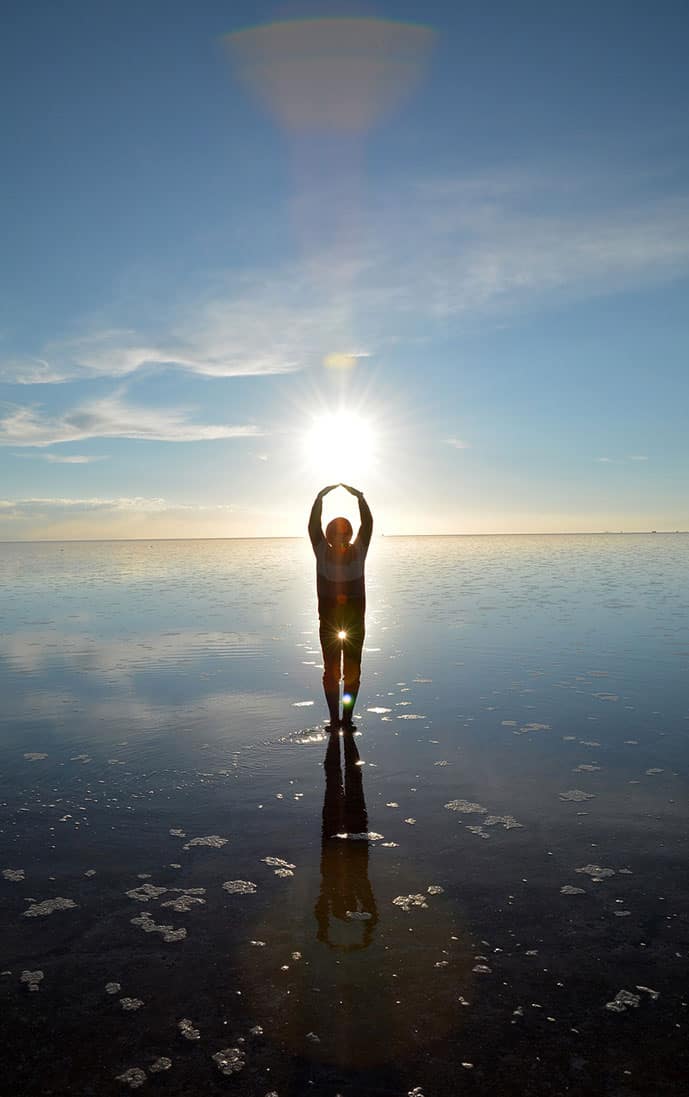 How to Get to Salar de Uyuni Salt Flats in Bolivia
First, you have to make your way to Uyuni, a city that is about a 5-hour drive from the salt flats.
Visiting Uyuni by Bus
You can arrive in Uyuni by bus from La Paz and Potosi in Bolivia. Check buses on TicketsBolivia if you are coming to Bolivia from another country.
Arriving at Uyuni by Train
Take a bus from La Paz to Oruro. The journey would be for about four hours. Then take a train from Oruro to Uyuni, which would take another seven hours.
The most recommendable option is the comfortable Expreso del Sur that runs on Tuesdays and Fridays at 2.30 pm.
Arriving at Uyuni by Flight
You can fly to Uyuni from La Paz within an hour. Taking this direct flight would be the best option to reach Uyuni.
If you are taking an international flight, first fly to La Paz. Get acclimatized for a couple of days and then fly to Uyuni to start your Salar de Uyuni trip.
The town Uyuni doesn't have much to see so you can skip it. If you have to spend a day in Uyuni because of the unavailability of next-day tours, get a hotel room, eat wood-fired pizza, and drink the exclusive quinoa beer at the central plaza of the town.
Best Time to Visit Bolivia Salt Flats
The temperature variation between day and night is huge. While in the summer the average maximum temperature is around 76F (25C), the minimum is around 45F (7C).
During winter months, the maximum is around 70F (21C), while the minimum is around 35F (2C).
Traveling to Salar de Uyuni in Bolivia between Dec-Mar (Summer)
Summer is the monsoon season in Salar de Uyuni when the salt flats turn into a natural mirror making it hard to distinguish between the land and the sky. But you will get some of the best reflection photographs this time.
Plan carefully in these months as due to excessive rains you might not be able to access all parts of the Salar. Also, the salt flats become very muddy in the rain, making it difficult to walk safely without getting stuck.
Traveling to Salar de Uyuni in Bolivia between Apr-Oct (Fall through Spring)
The dry months of the Salar de Uyuni are from April to October.
If you visit the Uyuni Salt Flats during the dry months, you will not have to worry about the rains, but you will not get much reflection photographs either.
But remember that the salt flats are gorgeous at any time of the year.
Also, Salar de Uyuni would be colder in these months so pack accordingly.
What to Pack for Salar de Uyuni
Salar de Uyuni has a unique geography with one of the most extreme climates, too.
The altitude of the Salar is 2.2 mi (3,500 m), and you might go up to an elevation of 2.8 mi (4,500 m) depending on the time you spent in the Bolivian Salt Flats. Such heights can either be too cold or too hot.
So be sure to carry these travel essentials to be safe and comfortable in Salar de Uyuni:
Comfortable warm clothing (wear layers)
Gloves, scarf, and a cap/hat to save yourself from the cold and the strong winds
Rain jacket (if visiting in the monsoon season)
Your essential toiletries as there aren't any shops in the Salar, of course
Chapstick
Flip flops in the rainy season
Sunscreen and sunglasses – The sun keeps getting stronger the more you climb higher, so make sure you carry a reliable sunscreen with a higher SPF
Swimsuit and towel
Toilet paper
Comfortable footwear – Preferably for trekking
Altitude sickness pills
Some optional things to have — Props to make your photography more fun, such as toys and miniatures
Some music to plug in the car and enjoy your drive
Most tour companies will provide you with snacks and water, but it's always good to have some more in case you need them
Some local cash (BOB)
Solar or portable charger + extra memory cards for your camera
Extra battery for your camera – If you travel during winter (Jun-Sep)
Tequila!
Read next: 3-day itinerary for Buenos Aires
What to Expect on Your Salar de Uyuni Tour in Bolivia
The tour would drive through the white Salt flats for about four days while stopping for the nights in different hotels. Each day you would be taken to various landscapes spread across the Salar.
Some of the fantastic destinations that you would see during the four-day tour are:
The Train Graveyard – Perfect Spot to Take Photos at the Bolivian Salt Flats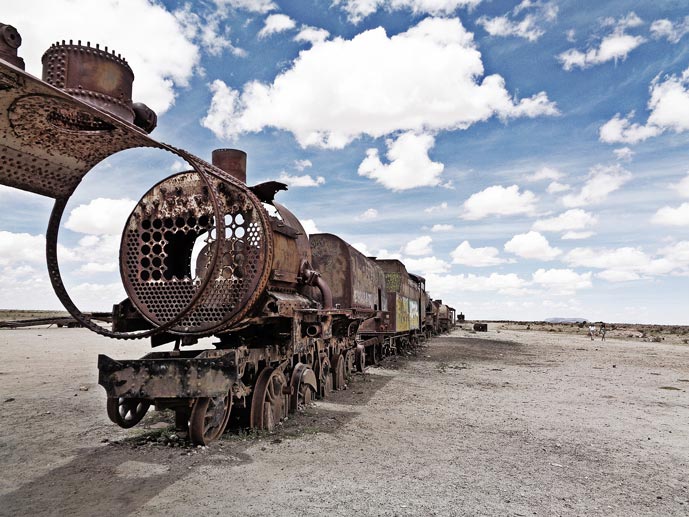 The first stop of the tour would be at the remains of the train line which ran through Bolivia in 1899 and was used by the mining companies.
Unhappy with the advent of trains, the indigenous people destroyed them and the train lines, too. Now only the rusted train engines and the coaches are left for visitors to see.
Climb on the top of the junk remains and click each other for some high memories.
Laguna Colorada or Colorful Lagoons with Flamingos (Amazing Place at the Salar de Uyuni Bolivia)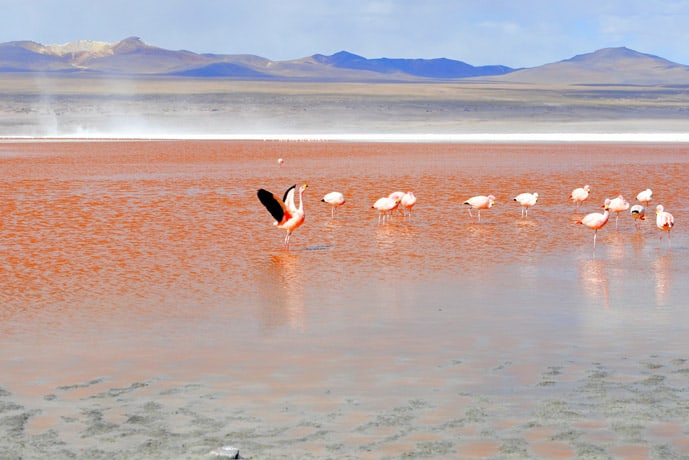 These colorful red lagoons are located in the Eduardo Avaroa Andean Fauna National Reserve and are close to the Chile border.
The lakes are red for a particular type of algae that floats at the surface of the water and gives the lake this color.
The red algae don't only make the lakes beautiful but also serve as proper nutrition for flamingoes who nest around these lakes.
White, crusty ground, red lakes, an azure sky, and pink flamingoes make Laguna Colorada one of the most picturesque places in the salt flats Bolivia.
The later parts of the tour also go to Laguna Verde and other Altiplano (high-altitude) salt lakes that also host various species of flamingoes.
The Salt Factory
The tour will drive to a salt processing factory where you can see how salt is extracted from the salt flats and the cleaning process.
How many tour companies will take you to a salt factory in the middle of a salt desert? We guess not that many.
Fish Island
Fish Island is an island covered entirely by cacti. From the top of the island, you can see the expanse of the salt flats more clearly. Take a few moments to realize what a bizarre landscape it is.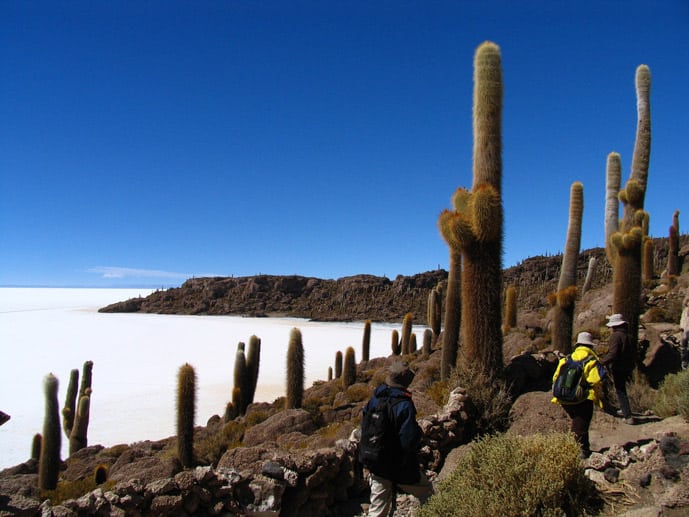 Hot Geysers Bubbling in the Salt Flats
Geysers are formed when cold water meets hot rocks under the earth, and Salar de Uyuni has many geyser fields.
Geysers should be visited early morning to see steam gush out of salt flats like the whistle of a steam engine. When the day gets warm, you cannot observe this phenomenon properly.
Carry an extra warm layer as it gets freezing in the morning in the Uyuni Salt Flats. Some of the geysers also have natural thermal pools nearby.
Make sure you only stay in these pools for a few minutes as the body temperature suddenly goes down and that can cause problems at a high altitude.
Amazing Rock Formations at the Uyuni Salt Flats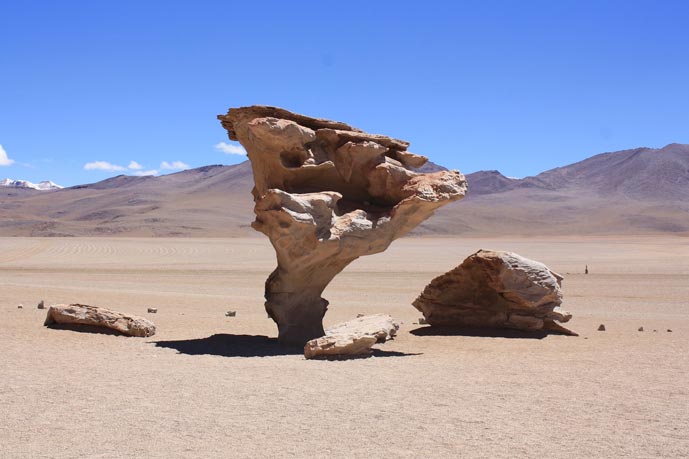 You will see fantastic rock formations, also known as Salvador Dali desert, throughout the white desert.
Some structures are just big boulders kept on top of each other while the rest are more innovative, even looking like trees sometimes.
Take your time and play around or climb these to see the Salar from a height. The best part of these rocks is that you can find them almost everywhere, and your guide will happily stop to give you some climbing time.
Read next: 10 top reasons to visit Bolivia
Natural Hot Springs – Where Romance and Adventure Meet
Imagine a bottle of wine, endless salt desert, a star-studded sky, and hot thermal pools to dip in together to end a tiring day.
Most tour companies mentioned above take tourists to the Termas de Polques, which is a great opportunity to enjoy a quick bath.
Depending on which hotel you stay, you might even agree with your tour company on visiting the springs at night.
Creative Photos at Salar de Uyuni in Bolivia
Throughout the day, the guide will stop for taking pictures many times.
Uyuni is a perfect place for photography. In the salt flats, objects nearer to the camera appear larger than the objects further away. These optical illusions give a chance to create hilarious pictures from different perspectives.
The guides carry standard props like toy dinosaurs, but you can think of something innovative and carry along to get some ingenious shots to show off to your friends later.
Get creative here. Everything is possible in Uyuni Salt Flats:
Getting eaten by a bear.
Standing on the top of a pyramid.
Drinking from a huge beer bottle.
Stand far away from each other and let your creative selves have fun. Google is your friend.
Salt flat photography is even more fun in the rainy season. During the monsoon, the water remains over the surface of these salt flats and forms a natural mirror.
With the stunning sky reflected in the endless mirror formed by the water, you wouldn't be able to tell the sky from the ground. Salar's mirror-view effect is unique.
Don't forget to get some reflection shots at sunset when the crimson sun would make for a perfect backdrop.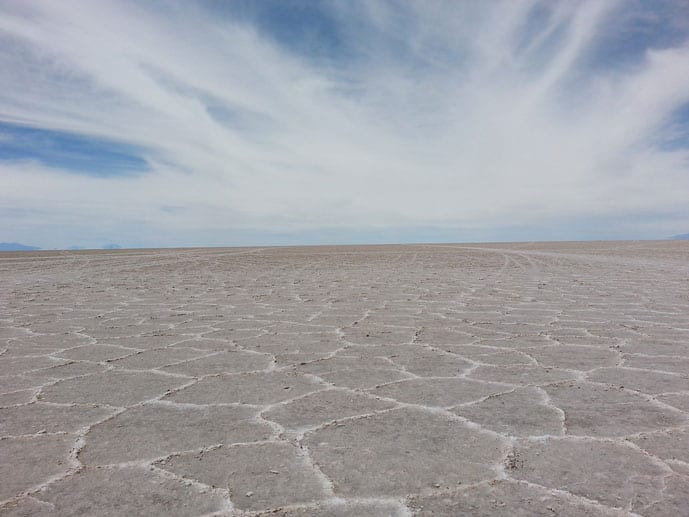 Where and What to Eat in Uyuni Town
While in Uyuni, you can eat at any of the multi-cuisine restaurants that are on Uyuni's main plaza or the central square. Wood-fired pizza is a popular choice in Uyuni with some fresh juice to keep you energized.
Hookah places are also popular in Uyuni, and if you have some free hours, you can find these hookah joints at the plaza.
If you want to try local food, head a bit away from the main square, and you will find many smaller eating joints that provide local Bolivian food.
On the tour, you will be provided with food by the travel company. They stop for breakfast, lunch, and dinner.
Dinner and breakfast are mostly at the place where you stay for the night. The meals are lavish and are mostly buffets. You can choose among the various meats of chicken, llama, or vegetables along with rice, bread, and potato chips.
If you have specific allergies or meal requirements such as vegan, make sure you speak to the guides beforehand.
How to Handle the Altitude in Salar de Uyuni
There a few things you can do to before heading to the salt flats:
Acclimatize yourself for a few days at Uyuni town.
Drink a lot of water.
Stroll around to get used to the altitude.
Sleeping well will also help the body recover.
Carry an altitude sickness pill, just in case.
If at any point in the tour you feel sick, please inform the guides and request them to take you back to Uyuni if the situation seems serious.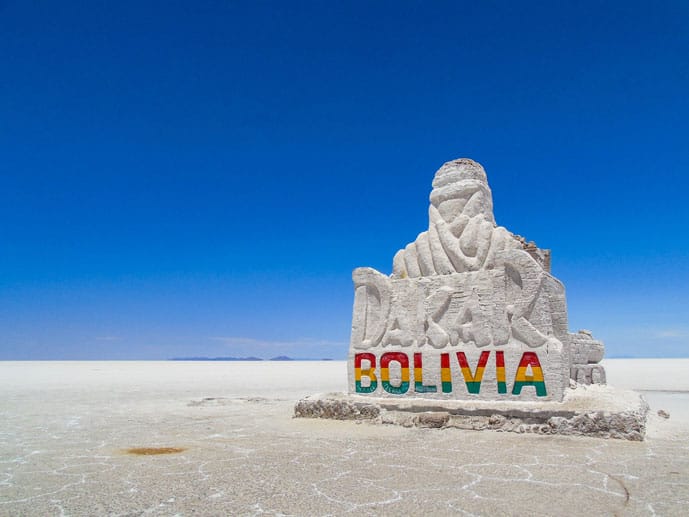 Good to Know Before Visiting the Bolivian Salt Flats
How many days in Salar de Uyuni?
Most people visit either for a day or three. Naturally, if you spend a day in the salt flats, you won't see much, mostly the Train Cemetery and the flats, of course.
While in three days, you can visit Laguna Colorada, Salvador Dali Desert, and Fish Island.
Where do the tours start?
There are tours leaving from many cities, which is perfect because they pick you up at your hotel and drop you off after the tour. Hassle-free. But, you might pay a little more for that as well.
Most tours leave from Uyuni, which are the most affordable ones because of the short distance. However, you can also find tours leaving from La Paz (flight ticket is included) or from San Pedro de Atacama in Chile (minibus).
General costs
Generally, tour companies will provide food and water, but be sure to check that out in advance as there are no shops whatsoever in the salt flats.
Above, we wrote down a list of things you shouldn't forget, but in doubt whether or not you should bring something, just ask them.
Usually, the national park entrance fee isn't included in the tours, though.
Also, bring some local cash with you (at least 100 Bolivianos) for the border tax, souvenirs, and restroom access.
Best photo moments
Sunset in Jan-Feb – Beautiful reflections on the Bolivian salt flats.
During the night in Jan-Apr – Mindblowing reflection of the Milky Way on the salt flats.
During the day May-Nov – Funny shots with toys or playing with optical illusion.
Phone Signal/WiFi
You'll hardly have phone signal at Salar de Uyuni, but that isn't necessarily a bad thing. Take this opportunity to disconnect and connect yourself to the breathtaking landscape.
Also, switch your cell to airplane mode and save some battery. Remember, if you'll barely have signal, you probably won't find many energy sockets either. (It's a good idea to bring your own charger.)
Key Takeaways from Salar de Uyuni, the Bolivian Salt Flats
The Bolivian Salt Flats aren't your usual romantic getaway, but if you're looking for striking landscapes and a romantic adventure, this place is perfect for you.
Be sure to get acclimatized before you head to the salt flats.
Consider hiring a guided tour to avoid the hassle of planning every day in this massive natural wonder.
Bring proper clothing as it can get cold.
Pack basic toiletries and don't forget the sunscreen.
Bring your camera and enjoy!
These are our best tips to experience the spectacular Salar de Uyuni around the year. Uyuni Salt Flats are a truly remarkable landscape in the middle of nowhere, and we hope that you enjoy them.
Do you have any questions regarding your trip to Salar de Uyuni? Leave us all your questions in the comment section below, and we'll help you to the best of our knowledge.
Get to know Priyanka
Priyanka Gupta is an itinerant travel blogger from India who left her investment banking career to travel the world and write.
Having traveled extensively thorough South America, solo, Priyanka is now based out of India.
She focuses on culturally immersive travel while relishing local delicacies and never missing a chance to see wildlife. Priyanka blogs full-time and claims to know the art of blogging from even the camps in the wild.
Read her best ideas and travel stories on her blog On My Canvas. You can follow Priyanka on Instagram and Twitter to get live updates on her journey.
Did you like this article about the Bolivian Salt Flats, Salar de Uyuni? Then pin it to your Pinterest board!
Our best travel tips & resources:
Here're our all-time favorite travel tips & resources so that you can save money and plan your travel logistics hassle-free! For more travel resources, check out our
travel tips.
Saving money: Fly on offseason, winter (not Xmas or NYE), Tuesday, or Wednesday! According to experts, these are the cheapest days to fly.
Travel insurance: Before you leave for your trip, make sure you have a valid travel insurance policy because accidents happen on the road. We have been paying for Safety Wing travel insurance for a little over a year now, and we happily recommend them to our family and friends.
Accommodation: We usually stay in mid-range comfy hotels or private rooms in hostels. These are the sites we use to book accommodation: Booking.com for hotels (excellent flexible cancellation policy) and Hostelworld for hostels (low deposit and easy cancellation).
Tours:We absolutely love booking guided tours with locals to get a history lesson while sight-seeing, especially food tours and walking tours! We book all of our tours using Viator and GetYourGuide.
Transportation: We use Google Maps to figure out how to get around a place using public transport. When we book a rental car, we always use Discover Cars to find the best deal.