Let's be honest: preparing a packing list for winter in Europe is so stressful! We have to pack not only more items but also bulkier ones. Oh, guys. I feel you.
Preparing for a trip overseas is often a hassle, and it's even harder to gather stuff for a faraway place where the weather is unpredictable.
Believe it or not, a couple of years ago, it was 19 degrees Celsius (66.2 F) in Amsterdam on Christmas Eve. Almost summer.
Anyway, the first question that comes to your mind when making your packing list for cold-weather trips is: how to keep my body warm while packing as light as possible and still looking good?
After all, Europeans usually dress nicely, especially during winter. It seems an impossible mission, but I assure you it's not.
In this article, I've described in detail which fabric you should look for and what you should pack for your winter vacation in Europe.
Yes, that vacation that has been on your winter bucket list forever.
I'll start explaining how you can stay warm and choose lightweight materials for your clothing.
I've also included the actual packing checklist and a bunch of other travel tips for you. Want to know what to pack for winter in Europe? Read on!
In today's post we'll talk about:
Layer up for winter
One of the most important things to do when choosing your clothing for a cold-weather trip is to think about dressing in layers.
This means you're going to pack breathable, preferably waterproof, and thin but insulating layers to keep you warm.
Well, there are three layers, and each one has its function. Base layer, mid-layer, and the outer layer. Let's go by parts so you can understand what you need in each one of them.
Same coat…
…different scarves!
Base layer
This garment is the one that's literally touching your skin. The first "level" of clothes. It needs to be tight to your body to avoid air circulating, which would cool you down.
Also, it has to wick the sweat away from your skin to keep you dry (=warm). For this layer, the best garments are made of wool and synthetic.
Synthetic fabrics such as nylon and polyester are excellent options for base layers because of their durability, quick-dry ability, they're lightweight, reasonably cheap, and wick some sweat away.
The downside is that synthetic doesn't feel so soft on the skin as wool. It doesn't allow much air to pass either, meaning it can get a bit smelly.
On the other hand, wool is also an excellent material because it regulates the body's temperature by wicking the moisture away and uses it to keep you warm.
This natural material is also very soft on the skin, breathable, antimicrobial, and unlikely synthetic fabrics, it helps to control odors.
Let me tell you a secret: we sweat (a lot) during, so having woolen socks, for example, is very handy.
It won't be as smelly as cotton socks (maybe not smelly at all), that's why it's ok to wear your woolen socks for a couple of days before washing it. A night hanging on a chair to get some air will do the trick.
Urgh! We sweat a lot during winter.
But pure Merino wool is not so durable as synthetic. That's why most companies sell a blend of Merino wool and synthetic fabrics.
It is the perfect combination of two worlds: breathable, antimicrobial, and durable.
Moreover, choose slightly thicker woolen clothing rather than the skinny ones because they'll last longer.
Note I'm not saying you should look for bulky items, but the very lightweight garments are also more fragile.
The downside of wool is that it's more expensive and, when pure, not durable.
However, if you pick a blend as mentioned above, the benefits outweigh the downsides, meaning it pays off in the long run.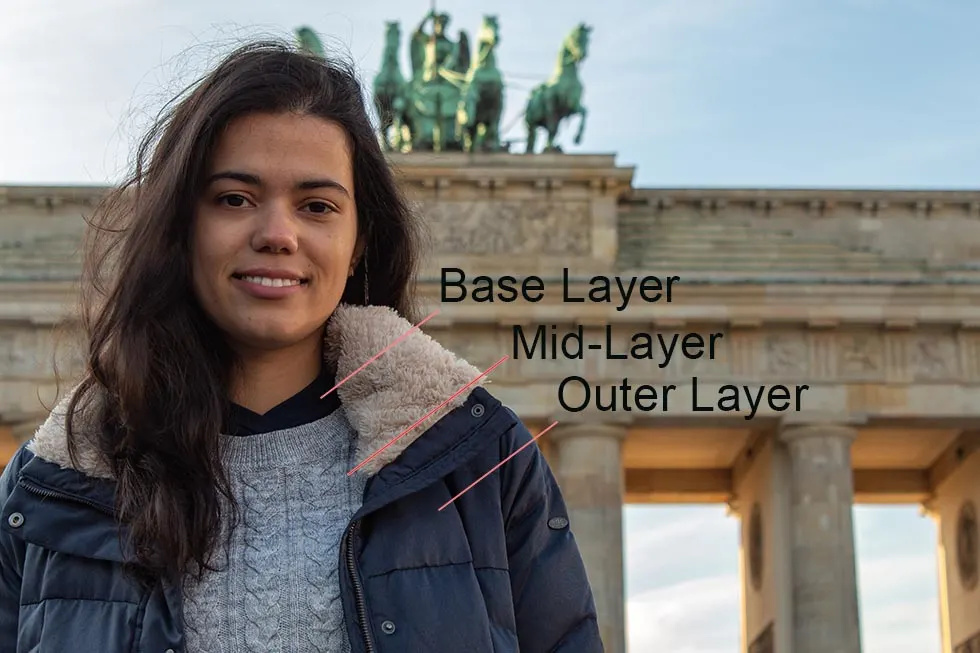 Mid-layer
The next layer should work as an insulating one. It doesn't necessarily need to be just one layer though. If you're traveling to a cold place, pick at least a couple of mid-layers.
But what's important to remember here? Your first layer of clothes should:
Be very tight, so cold air won't circulate underneath it;
Be lightweight so you can add up more layers if necessary;
Wick moisture away.
The best materials to choose from here are wool, down fill, and fleece. Well, I already explained how the yarn works above, so let's jump to down fill.
Down can retain significant amounts of warm air, and it's great when you want to pack light as it is highly compressible.
However, it can't absorb sweat away as fleece can. The latter is a sort of polyester that, as I said, does its job in drawing moisture off, but it can't retain as much warmth as down does.
Don't worry, after explaining the last layer I will describe what I'd pack for the different cold climates in Europe.
Outer layer
The outer layer will work as a shell to protect you from rain, snow, and wind. Here you have to look for materials that allow your skin to breathe, but don't let the water come in.
It's difficult to find a balance between waterproof and breathable, the more of the one you have, the less of the other you will have.
There are water-resistant, waterproof, and insulating outer layers. The first isn't as good in rainy weather, but it allows more air in than waterproof.
Waterproof works very well on windy and wet climates, but it's not breathable, meaning you can get sweaty.
Insulating outer layers are good against rain and wind, and they have an insulating layer for extreme freezing weather conditions (or just for people who are not used to a real winter).
I have a red trench coat that works perfectly against the wind, but it isn't water-resistant at all. In that case, I bring a storm umbrella with me.
Important Things to Remember When Packing for Winter Travel in Europe
First things first. Where are you going in Europe? Even though Europe is a rather small continent, winter in Portugal is pretty different than winter in Iceland.
Have a clear plan of where you're going before you choose your clothes. If you're indeed going to Portugal AND Iceland, in other words, to a winter sun & snowy destinations, then pick enough for the coldest place you're visiting.
What you'll pack for your winter travel in Europe will also depend on where you come from.
If you come from sunny California, you might need to pack slightly more to travel to Dublin during winter (3-4 layers). But if you're going to Bucharest, I suggest you pack a couple more (5-6).
The winter packing list I'm suggesting here is enough for traveling in Western Europe: Paris, London, Amsterdam, Berlin, etc. This region only.
If you're going to Eastern Europe and the Scandinavian countries, know that they have severe winters, so I'd include more mid-layers.
Southern Europe is way more relaxed, and you'll need fewer layers there. Depending on the city you can even wear flats and sneakers instead of boots.
To know that, check the average temperature in the city where you're going to as well as the rainfall average. You don't want to wear your flats in the rain, right? Urgh!
Read next: Best winter destinations in Europe
Traveling Europe in Winter
Okay, now I'll explain how you can still look good while following the tips above.
Most winter clothes are either black, gray, or dark blue. A bit boring, but black outfits can be classy too.
Anyway, I know you don't want to have the same look in all of your photos, but you're going to pack one winter coat only. No sane person will travel with a bunch of coats.
Please don't do this to yourself. The solution to this is to choose statement scarves and beanies. You can completely change your look just by diversifying it.
One infinity scarf and another normal one in vibrant colors and you're good to go. That's it. Besides, these items, changing your hairstyle can also change the whole look.
So, now let's go to what really matters: what to pack for a winter vacation in Europe.
Comprehensive Packing List for Winter in Europe
Packing list for winter in Europe – Clothing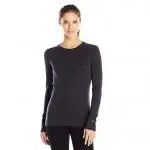 Remember the base layer? This shirt is part of it, and I can't stress enough how important it is.
Keep your torso warm, and you won't even notice it's freezing around you.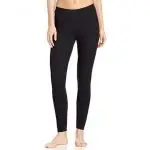 This item never leaves my packing list for winter in Europe (no matter when in the continent I'm going to).
These wool leggings are the bottom part of your base layer and also are extremely important because you'll probably be outside most of the day.
You can wear these leggings not only to back up your pants (in really freezing temperatures) but also with skirts.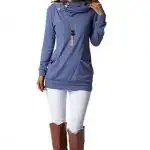 From now on, the next items are your mid-layers, except by the winter coat, of course. 2-3 long sleeve tops will be enough for a week traveling in Europe during winter.
Be sure to pack one that looks nicer to go out at night or have dinner out.

I love comfy cardigans! I wear them all year long at home (yep, almost no summer for us here in the Netherlands) and I always pick one to wear inside a cafe or so while traveling.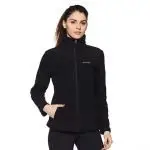 Continue layering up and include one or two fleece sweaters/ jackets in your packing list for winter.
Some people prefer sweaters, but I prefer a jacket because it's easier to take it off (and it doesn't make my hair looks messy).
Don't try to save money here because a good winter coat for Europe is an investment for years.
Also, purchase longer coats that protect your legs against the wind and think about a hoodie (it might ditch your umbrella if it doesn't rain hard).
Also, pay attention to its pockets. Even when wearing gloves it's good to have some pockets to put your hands in. Extra pockets work as an extra layer against the cold.
And most important of all, make sure it's not tight because you'll wear many layers underneath it.
8 pairs of underwear and 2 bras
Be sure to pack comfortable underwear and not so small.
Can you imagine that tiny panty bothering you so much but you can't do anything because you're wearing so many layers and you can't move it around?
I always wear those boy short panty as they are super comfy and I don't even feel them.
These are my best friends on almost every trip to cold-weather places. I love my pairs of woolen socks because they are not only comfortable but also warm and I can wear them a couple of times without worrying about my feet getting smelly. Urgh. I hate stinky feet.
You should only pack a swimsuit if you're planning to go to a thermal bath or indoor pool.
Otherwise, save the space in your backpack for something else.
Include two or three pairs of pants in your list and repeat them when needed. There is no reason to pack one pair for each day. I'd bring with me one stylish denim and a black one because they have both neutral and beautiful colors.


For those days when the wind is not trying to bring you back home, wearing tweed or a plaid skirt and a long coat is just the perfect outfit!
Besides, they somehow make me feel as a high school student. What's not to love?
Packing list for winter in Europe – Travel Accessories
Legwarmers add more charm to your look, and they maintain your calves warmer too. You can either wear them onto your skinny jeans or when wearing your skirt. Either way, it looks super charming!


It speaks by itself. A comfy, knitted hat not only keeps your head warm but also your ears. And trust me when I say it hurts when they start freezing.



A packing list for winter in Europe wouldn't be complete without gloves, don't you think? It's horrible not to feel your hands because they are too cold. Purchase gloves that can cut wind otherwise they won't do much for you.


Be sure to pack two scarves, so you have "different" outfits. Here in Europe, we go through winter with one coat only, and all we keep changing to have a new look are the scarves – or hats!
I suggest you choose a customarily sized scarf to wear in those cold days and an infinity one for freezing days. Infinity scarves work like a cowl protecting your neck and chest.
Packing list for winter in Europe – Footwear
Boots are stylish, warm, and, if you choose well, they are also very comfortable. I particularly like Timberland because it's a high-quality brand and it looks trendy. But UGGs are also known for being comfy and warm.
By the way, one pair will be enough. Travel shoes are bulky and take precious space in your backpack. Unless you're going to spend winter in warmer destinations, I recommend you only pack one pair.
Havaianas are my favorite flip flops to do anything. I wear to go to the beach, stay at home, and shower in the hotel, to name a few examples.
In your case, you'll wear it to shower. It's cleaner to shower with it, and you don't have to shower on your barefoot where someone else already showered.
Europe Winter Packing List – Bags and backpacks
It's essential to be organized while traveling. This way you spare your precious time and avoid those stressful moments when you try to find something you need, but you just can't. This toiletry bag is very spacious and has a bunch of pockets to keep your things in place. Love it.


I honestly don't travel without packing cubes anymore and neither should you. Just like I mentioned above, the organization is essential while traveling and these guys here will make your life much easier! I purchased this bundle from Amazon with 4 cubes and everything I need fits into it.


Sometimes I bring a crossbody purse, and sometimes I bring a daypack. It depends on what I'm taking with me: camera, water bother, snacks, mints, scarf, gloves, etc. If you choose to take a purse, prefer a crossbody rather than a shoulder bag because it's much safer.
Remember to let it in front of your body. After all, pickpockets in Europe act very fast.
I recommend the best backpack I've ever had: the Osprey Farpoint 40L! I carry my life in it, and this is hands down the best backpack for Europe in the winter (and in the summer, fall, spring…) if you know how to pack light.
This bag is padded in the shoulder straps, a treat to my shoulder after a long day traveling, and it's very sturdy.
The Osprey also has a large internal compartment to pack most of your things, another compartment for laptop and electronics, and a smaller pocket for documents.
Trust me; it's worth the investment because all the of the items I mentioned above fit in it! I also review this Osprey in our article about backpacks.
Packing list for Europe in winter – Toiletries
My skin dries so much during winter that it feels like sandpaper! No kidding, I'm nothing without a moisturizer in my purse.


You should always have a lip balm with you, mainly because you'll be outside a lot. I have a couple spread through my things all year long. One near my bed, in my purse, and so on.
Your lips and skin are hydrated, but what about your hair? I can't stand the frizz after taking off my hat or after the wind blowing in all directions.
That's why I always have the little bottle of L'Oreal Extraordinary Oil with me, and I have to tell you this: my husband loves the smell of it! It's not greasy at all, and it makes my hair shiny.
Packing list for winter in Europe – Miscellaneous
You're keeping your whole body hydrated, so don't forget the most important. And avoid buying new bottles every day because it's a waste of plastic. Instead, buy a refillable bottle and use it until it breaks, literally.


Washbag and clothesline
You might have noticed this packing list has one week's worth of clothes. That's because you shouldn't carry your whole wardrobe in your backpack.
Alternatively, you can either send your dirty clothes to the laundry or do it yourself. The latter is much cheaper of course, and like everything on this list, this wash bag is lightweight, so no need to worry about the space in your luggage.
We also have sun during winter; it's not that horrible, guys! That's why sunglasses will come in handy, especially if there is snow on the ground as it reflects the sun directly towards you.


As a travel blogger, I'm continually documenting what I see to share here in the blog. But even before that, I would also carry my agenda everywhere.
I use a Moleskine notebook and love it. It serves me well as a notebook and as a mouse pad. 🙂 maybe it's a good idea to start a travel journal to keep your memories fresh?
Your Travel Packing List for Europe
1 pair of thermal leggings
1 thermal long sleeves shirt
2-3 long sleeve tops (one nicer to go out at night)
1 cardigan (to wear inside a cafe)
2 fleece sweater
1 winter coat
2-3 pairs of pants
1 skirt
8 thermal underwear
2 bras (of which one is a travel bra)
3 woolen socks
1 swimsuit (if you're planning to go to a thermal bath, etc.)
Legwarmers
Beanie
Gloves/ mittens
2 scarves
1 pair of winter boots
1 pair of flip-flops (to shower)
Toiletry bag
Moisturizer
Lip balm
Menstrual cup (a travel essential for ladies!)
Condoms
Toothbrush
Hairbrush
Hair ties
Travel-sized toiletries (shampoo, cond, etc.)
Travel towel
Shaving stuff
Band-aids
Washbag and clothesline (if you're traveling for longer than a week)
Camera
Combination locks
Chargers
Travel adapter
Storm umbrella
Power bank
Water bottle
Sunglasses
Packing Cubes
1 purse/ daypack
Packing Tips for Traveling Europe in Winter
Roll clothes instead of folding them to save space, but don't fool yourself, it won't avoid wrinkles if you didn't pick the right fabrics;
Wear the bulkiest and heaviest clothes when traveling;
Be sure to carry your accessories with you while commuting to save space in your backpack, such as gloves and scarf (even if you don't need it);
Pack light-colored clothes inside out to keep them clean and stainless;
Use and abuse of dryer sheets to maintain your clothes fresh;
Reserve an empty bag for laundry;
Use cling wrap under bottle caps to avoid leaking;
Don't forget to put your liquids into a transparent bag (airlines' rules: up to 100ml/ 3.4oz) so you won't lose time at the airport checkpoint;
A lipstick can work as eyeshadow and blush;
Put bobby pins in a Tic Tac container;
Hold your hair ties in a carabiner;
Pack heavier stuff at the bottom of your backpack, otherwise, they can break/ torn other things apart.
Creating your winter vacation packing list doesn't have to difficult. Follow the tips above, use this packing list, and enjoy gluhwein (mulled wine) in a cozy European Christmas Market!
Do you have any questions or suggestions about this packing list for winter in Europe? Drop me a message in the comments. 🙂
Did you like this article? Then help me spread the word and pin it to your Pinterest board!
Our best travel tips & resources:
Here're our all-time favorite travel tips & resources so that you can save money and plan your travel logistics hassle-free! For more travel resources, check out our
travel tips.
Saving money: Fly on offseason, winter (not Xmas or NYE), Tuesday, or Wednesday! According to experts, these are the cheapest days to fly.
Travel insurance: Before you leave for your trip, make sure you have a valid travel insurance policy because accidents happen on the road. We have been paying for Safety Wing travel insurance for a little over a year now, and we happily recommend them to our family and friends.
Accommodation: We usually stay in mid-range comfy hotels or private rooms in hostels. These are the sites we use to book accommodation: Booking.com for hotels (excellent flexible cancellation policy) and Hostelworld for hostels (low deposit and easy cancellation).
Tours:We absolutely love booking guided tours with locals to get a history lesson while sight-seeing, especially food tours and walking tours! We book all of our tours using Viator and GetYourGuide.
Transportation: We use Google Maps to figure out how to get around a place using public transport. When we book a rental car, we always use Discover Cars to find the best deal.