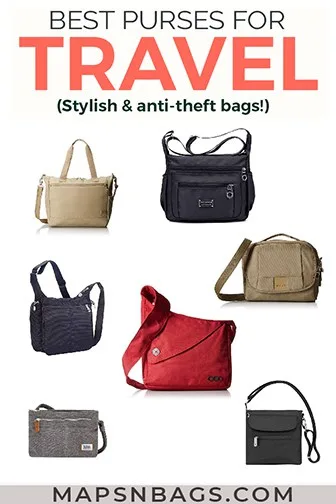 Looking for the best travel purse for your next vacation? Look no further! We have a pretty good selection of purses for travel here.
Going on vacation is nice, but it also requires some preparation. And while there are lots of travel essentials for women, a good purse for travel is a must.
That's because scams and pickpockets are a global reality and you don't really know the city where you're well.
Meaning, you become an easy target. But let's not let that happen, deal?
Best purse for travel
There are a few features that make a bag perfect for travel. They need some anti-theft features as well as lightweight construction. But we'll get to that later in this post.
We'll also talk about what else you should look for in this accessory, what types are there, and give you some travel tips.
But for now, let's talk about the best handbags for travel.
Comparison of the best purses for travel
Travel Purse
Description
More Reviews
Best travel purse for sightseeing w/ camera:
– shoulder bag
– RFID blocking & good internal capacity
See on Amazon
Best anti-theft handbag for travel:
– messenger bag
– RFID blocking & expansion pockets
See on Amazon
Best purse for European travel:
– shoulder bag
– luggage handle sleeve
See on Amazon
Best sturdy travel purse:
– shoulder bag
– RFID blocking & great organization feat.
See on Amazon
Best small travel purse:
– shoulder bag
– RFID blocking & slash-resistant
See on Amazon
Best travel purse for families:
– tote bag
– RFID blocking material
See on Amazon
Best stylish purse for travel:
– convertible bag
– great internal capacity
See on Amazon
Best budget travel purse:
– convertible bag
– water-resistant material
See on Amazon
Best stylish everyday purse:
– crossbody bag
– RFID blocking & pretty canvas fabric
See on Amazon
Best everyday purse:
– messenger bag
– anti-theft features
See on Amazon
10 Best travel purses reviewed
Find our list of the best travel handbags reviewed below.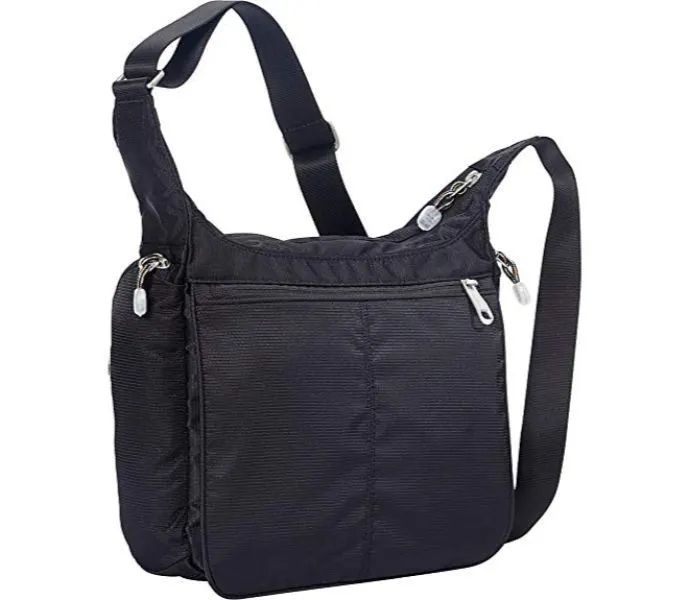 Using their evergreen design, eBags has brought out the Piazza Daybag 2.0, a smarter, stronger version of the Piazza Daybag. This crossbody bag is the ideal travel accessory for those constantly on the go.
The size allows for essential documents and valuables to be carried close, without the bag getting in the way.
The bag has multiple organization pockets, so you won't find it hard to reach items when needed, another feature that makes this a good travel purse.
The back flap is great for travel brochures and printed itineraries, and the magnet closure means easy opening and closing of the flap.
The easy-to-reach phone pocket makes quickly snapping photos a breeze. Although, larger cell phones do tend to stick out of the pocket.
In the front is an RFID-blocking pocket for your bank cards, passports, and other important items. While the larger section of the flap has a key leash.
There are also two collapsible side pockets for water bottles, and the main compartment will fit anything else.
This anti-theft purse has an adequate capacity for multiple essential items, such as cameras, phones, maps, etc. Yet, it stays lightweight enough to carry with you at all times.
Whether you're on a walking tour of Sao Paulo or roaming the Irish countryside, this bag will do its job.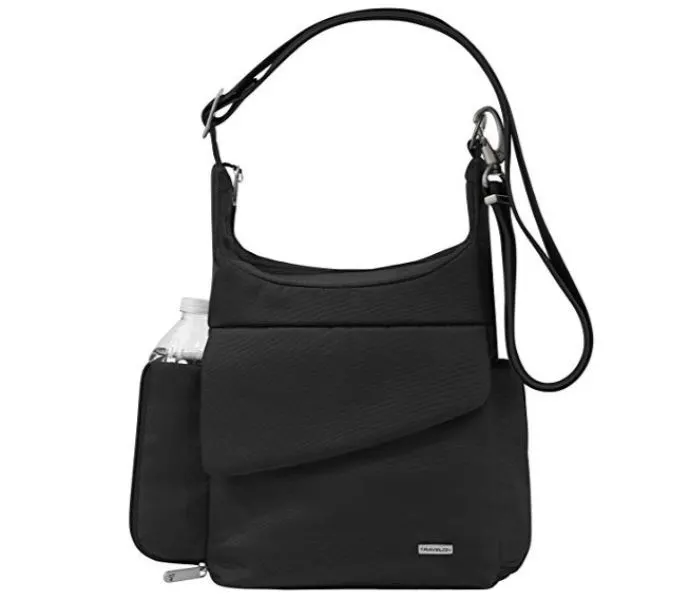 For a stylish travel bag that keeps your valuables safe, look no further than the Travelon Anti-theft Classic Messenger. This messenger bag is not very large but will hold essentials for a day out.
You'll be able to fit your important documents, a phone, and a tablet or book.
Finding what you need while on the go is made easy, thanks to the many small pockets in the main compartment.
There is also a pocket on each side for a water bottle or umbrella, making this handbag ideal for visiting destinations like India, where the weather can be temperamental.
Designed with a slash-resistant body and straps, as well as RFID-blocking card pockets, this bag is perfect to take with on any trip.
The lockable zippers lower the risks of pickpocketing, and the adjustable strap means you can always have your purse close by. The bag is conveniently water-resistant and easily cleanable.
The outer fabric of the purse is water-resistant and prevents the bag from looking dirty quickly. You can get this messenger anti-theft travel purse in a variety of colors, with different patterned lining as well.
Take this anti-theft bag with you always, and forever feel safe and secure.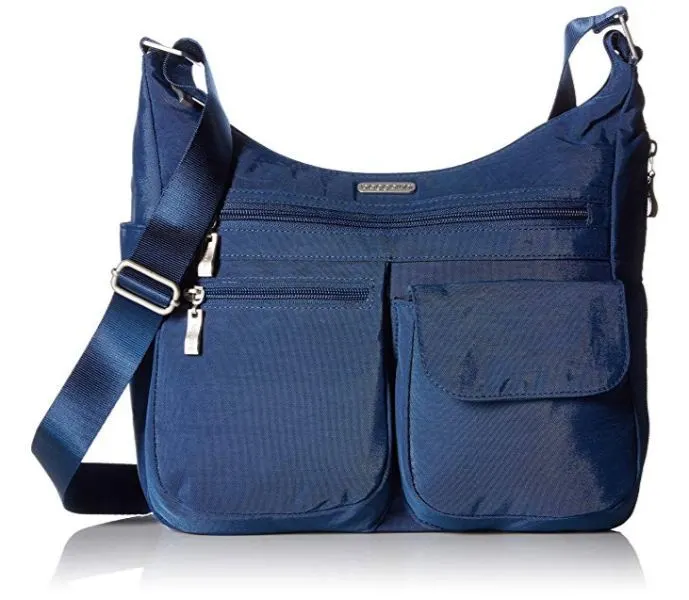 Many friends ask me "Are Baggallini bags good?" and the answer is yes, absolutely!
They're made of an extremely durable water-resistant material designed to last.
To give you a little context, Baggallini was created by two stewardesses as they were looking for the ideal bag to take with them on their many travels.
This is why it's the best purse for travel and has space for all the travel essentials you can think of.
With a total of 7 outer pockets, many credit card slots inside, an RFID-blocking purse on a leash, and an extra zipped pocket inside, this bag is an organized traveler's dream.
There is also a back sleeve that allows the bag to slip over the handle of your wheeled luggage, keeping your bags safe together.
The body is made from lightweight, water-resistant materials and is durable enough to last you years. The strap is adjustable and is wide enough that it distributes the weight of the bag evenly across the body for extra comfort.
This secure travel purse is simple yet stylish, and there are dozens of colors to choose from. From plain, darker, more neutral shades to brighter reds and blues, and even leopard print.
If you're doing a tour of Europe, or just enjoy traveling often, this cross body bag is exactly what you need.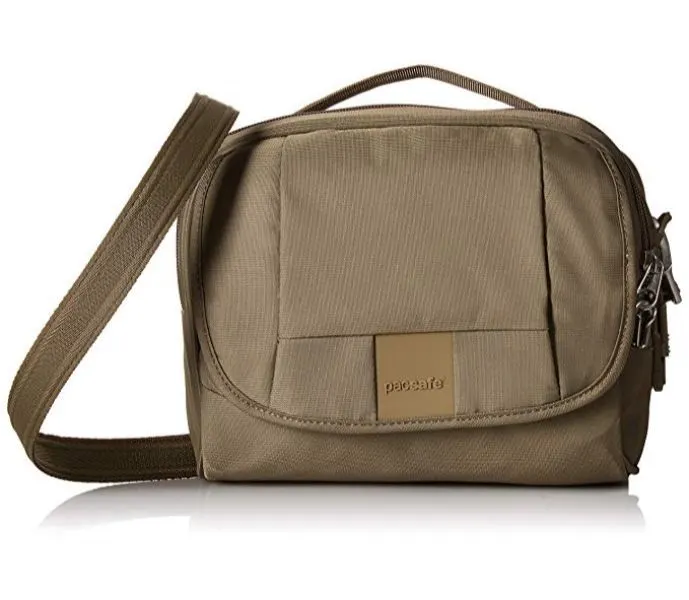 If you're heading to a popular tourist destination, like Paris, and plan on spending most of your time walking through the city, the Pacsafe Metrosafe shoulder bag is ideal.
Although it may look quite small in the picture, it's actually considerably spacious inside.
The compact size of the Metrosafe is perfect for crowded streets and queues, and the LockAbout safety clip keeps your valuables safe and secure.
The bag has an RFID-blocking pocket, as well as an easy-access front flap and a roomy main compartment. There is also a padded sleeve to fit a 7" tablet, ensuring it does not scratch.
The strap is adjustable, so the bag can be worn as a crossbody if preferred, and it fits comfortably on all body shapes and sizes. There is also a carry handle at the top of the bag.
The lockable zips are quite hard to get into, making them a surefire preventative measure against thieves.
The bag comes in black, navy, or khaki, and suits both men and women. There is a lack of easy-access pockets on the bag, so we advise allowing for extra time to retrieve passports and important items from the bag.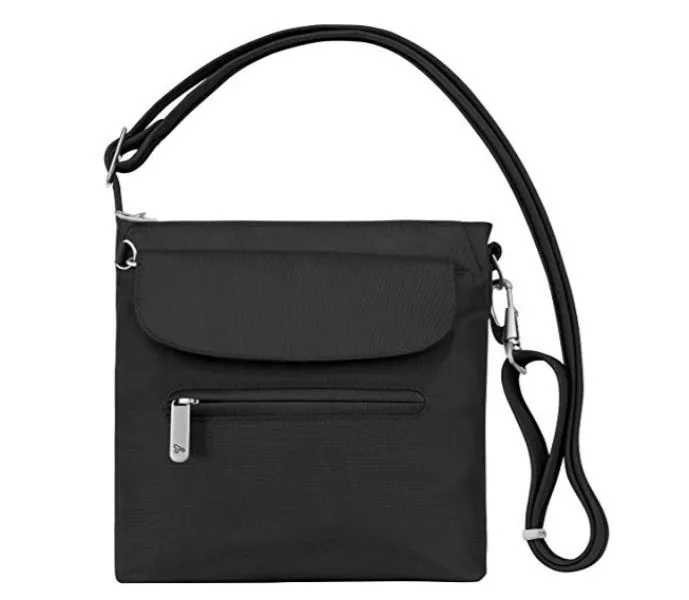 Travelon uses its renowned safety designs to bring a smaller shoulder bag, ideal for city shopping trips, or day tours through busy destinations.
The Anti-theft Classic Mini handbag is the only companion you'll need while visiting big cities like New York or Paris.
Deter theft with this slash-proof bag and strap, and keep valuables secured inside with its patented locking zippers. It also features front and rear pockets with interior RFID-blocking passport and credit card slots.
Bonus features include an attached key clasp with a removable LED light, making it easier to find your keys in the dark.
This is a small travel purse, which limits the capacity. It's also quite slim, so it's not suggested that you overstuff it with bulky items.
These travel purses are available in beautiful colors, both plain and with prints. So you can really pick the one that reflects your personality the closest.
There's a lot of versatility in this handbag, making it one of the best travel bags for women.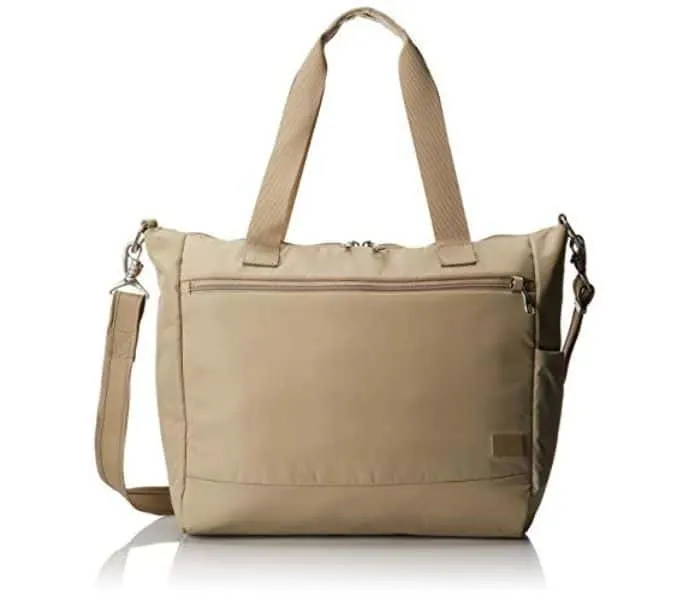 Both men and women can feel secure, stylish, and all set to explore with this incredibly handsome tote bag from Pacsafe.
The Citysafe travel tote is the perfect companion on longer trips, able to hold all your travel essentials, and much more. Could this be the best travel purse ever?
While Pacsafe has a range of anti-theft purses for travelers, this one is particularly brilliant for bloggers, nomads, and anyone traveling for work.
This is mostly due to the padded sleeve, which fits a 13" laptop, while still keeping the bag lightweight.
The eXomesh Slashguard inside the fabric prevents thieves from slicing open the bag, and stainless-steel wire provides the same safety for the strap.
There's also a Turn & Lock security hook, which lets you secure the bag to a table leg or chair leg, disabling any grab 'n go thefts.
The zipper pullers are also designed to be able to fasten to security hooks to keep unwanted fingers out.
This travel bag comes in a neutral beige color, so it won't ever seem out of place or draw too much attention. Take this tote with you on a business trip to Tokyo and feel safe knowing your laptop and smaller valuables are safe.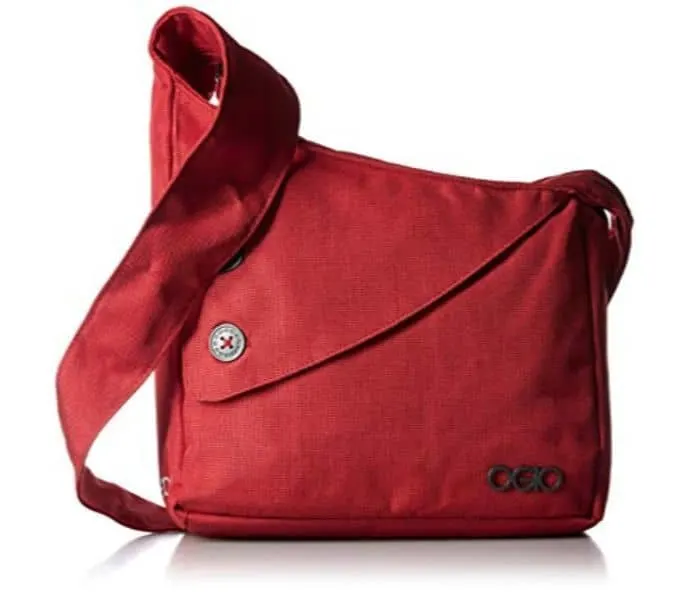 This women's travel purse offers organization, safety, and fashionable flair. The Brooklyn Tablet Purse is the ultimate handbag to take with you on long airplane trips.
The main compartment comprises of three pockets, allowing you to keep things organized and easily accessible.
The front of the bag contains a zippered pocket, hidden by a buttoned flap, so you can hide money and other small items. One of the bag's most beneficial features is the padded sleeve, which keeps your tablet or e-reader safe and cozy.
There is also extra padding in the base of the bag to protect electronics and delicate objects.
The bag has a much wider strap than others, although it's not adjustable. While the purse is predominantly a shoulder bag, it can be used as a crossbody. Which then makes the strap much shorter and keeps the bag closer to your body.
The outer materials of the bag are slash-resistant and stain-resistant, and the interior liner is incredibly durable. Choose from various tasteful colors and prints.
This functional and lightweight travel purse will provide peace of mind for exciting trips like shopping in London. It may even be the best purse for international travel.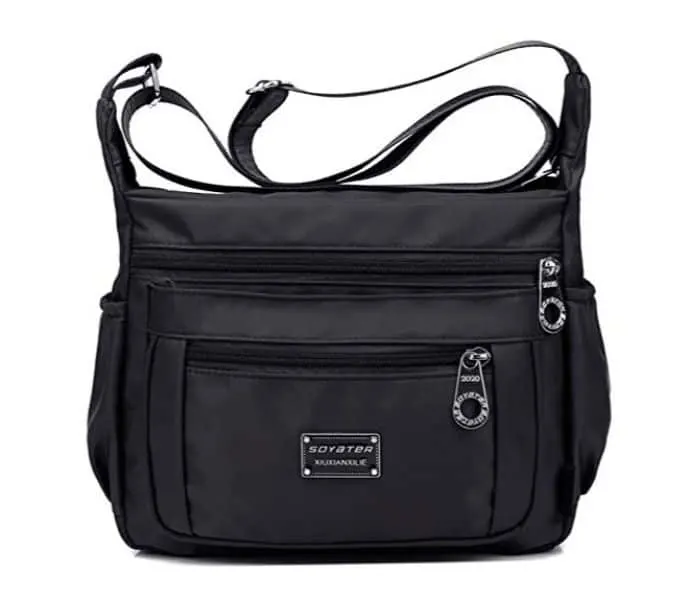 The Soyater crossbody/shoulder handbag comes in six vibrant colors and provides a stylish convenience to ladies on the go.
The nine pockets spread inside and out are ideal for traveling, especially when needing to access passports, phones, and other essentials quickly.
Pack in your cell phone, tablet, travel documents, and other smaller items without the bag feeling stuffed or overloaded.
There are also two side pockets to hold water bottles for those who enjoy lots of walking and exploring. It also stays really lightweight, so it won't become a burden to carry around with you.
The bag is water-resistant, so your valuables are safe from rain and accidental spills, and the nylon outer makes it durable and long-lasting.
The zippers on the bag are hardy and large, making for easy opening and access to your belongings. When worn as a crossbody bag, the design makes it even harder for thieves to reach in and help themselves to your valuables.
While this bag doesn't come with as many anti-theft features as the other bags, its design still puts it on the list of best purses for travel. Its water-repellent features make it ideal for something like a Greek Island cruise.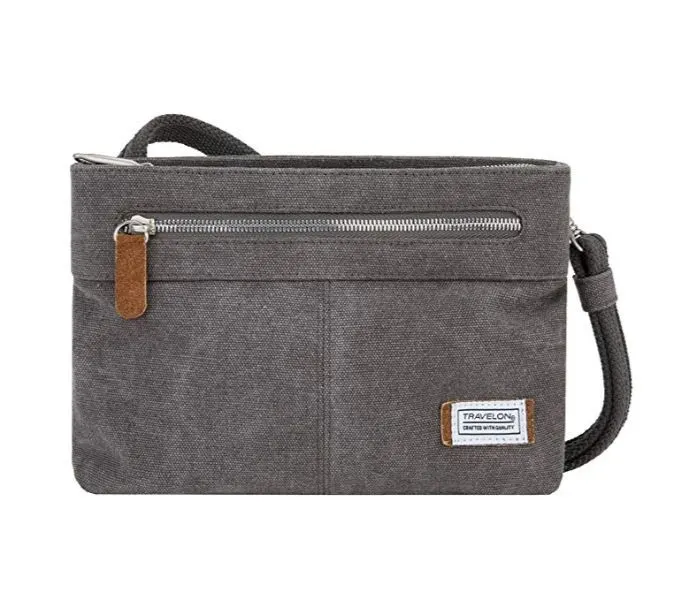 Some ladies aren't fond of large travel handbags, but rather want a small purse to fit just essentials. This is when Travelon's Heritage crossbody comes into play.
Available in three darker shades, this canvas bag makes a simple, neutral addition to any outfit and/or occasion.
The bag has a lockable zippered main compartment, inside which you'll find an RFID-blocking zipped pocket and two wall pockets to hold your phone, sunglasses, lipstick, etc.
There is also a zipped pocket on the front of the back and a snap closure for more security.
The strap is slash-resistant and adjustable, allowing the bag to fit comfortably across many different body types. You can also attach the strap to a table leg while out at a restaurant.
There is an added keychain with an attached LED light, which is remarkably helpful at night.
This is not the type of bag for the woman who prefers to take everything plus the kitchen sink with her.
But it works quite well for times when you just need to have the basics on you, such as on a trip out to the pyramids in Egypt.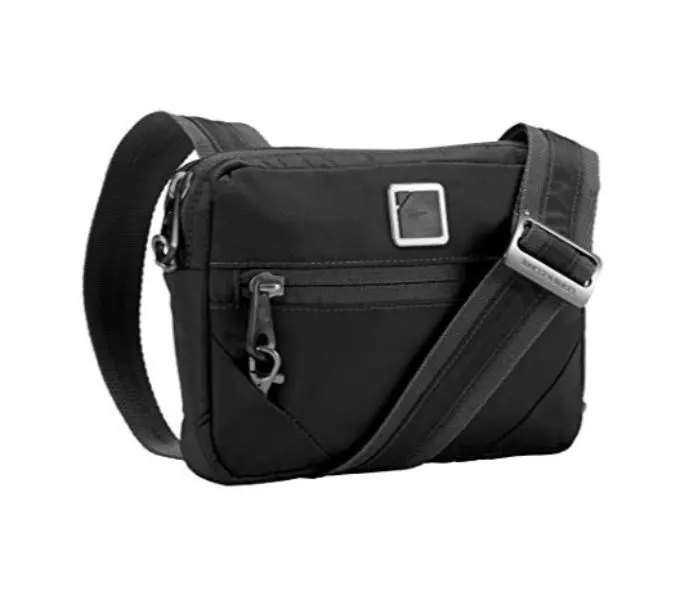 Lewis N Clark knows how to make some of the best travel purses, and they've done exactly that with their messenger bag.
This bag is small in size but large in capacity, and it offers numerous safety features for the savvy traveler.
Most important is the bag's RFID-protected pockets for credit cards and passport. These allow you to travel with peace of mind, knowing your identity and bank account are safe.
The bag's main compartment has a locking swivel hardware zip, preventing anyone from getting into it without noticing, and locking in your phones, cameras, and other valuables.
The adjustable shoulder strap has anti-slash properties as well as a locking swivel feature to secure it to chairs, tables, and other solid fixtures.
The fabric is durable and won't show dirt easily, so it's an excellent option for exploring more remote areas – like the temples in Thailand.
One of the best things about the bag is that it's lightweight, even when packed to its max capacity. It also fits close to the body, allowing you to keep a firm hand on your belongings.
The messenger bag is only available in onyx and slate colors and is a fantastic addition to your travels.
What to look for in a purse for travel
First things first. These bags are called travel purse for a reason. They have essential functions so that they're useful while traveling.
And to take full advantage of these features, look for:
A lightweight travel purse: you don't want to carry something heavy around.
An anti-theft purse for travel: this includes an RFID lining, slash-proof fabric, and zipper with lockers. These essential features will protect you from pickpockets.
A stylish travel purse: because a practical purse for travel doesn't have to be ugly.
In a nutshell, that cute travel purse might not be the right one for you. Look for a bag for travel that is lightweight, has a nice size for your needs, and a few anti-theft features to keep pickpockets away.
Remember, it has to be practical and useful. But that's not all. It also has to be stylish, right?
I mean, you can't possibly buy a purse for travel that looks straight out of a 1960 movie.
Types of travel purses
There are a few types of travel handbags for ladies, and the best purse for international travel will depend on your preferences as well as what you find more comfortable.
Also, the type of purse for travel that works the best for you will depend on what you want to carry in it. Some of them have more capacity than others or two straps, which makes it more comfortable to carry heavy stuff.
These are the main types of purses for travel:
Crossbody bag for travel
Shoulder bag
Daypack
Tote bag
Handbag
Messenger
For me, I prefer to carry two types of travel purses purely because I have to take my camera to photograph attractions, etc. for my blogs.
So in this case, I prefer to have a large purse with lots of pockets and enough space to keep my camera when I'm not shooting.
But, I also pack a compact travel purse for the basic little things, to go out for dinner or for when I'm done taking pictures.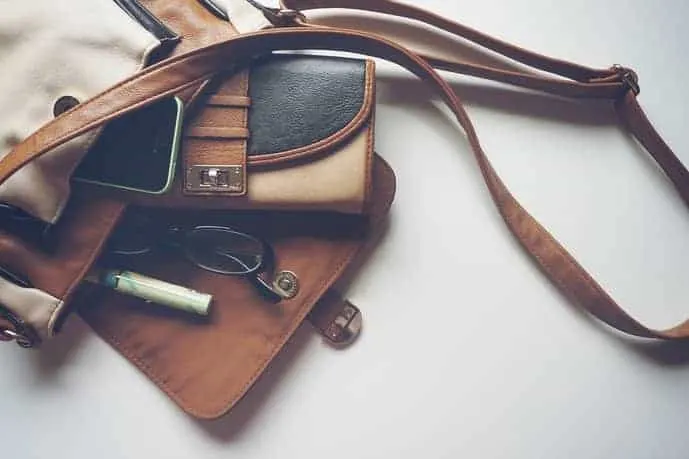 Travel purses brands
While there are many brands out there offering excellent purses for travel, I know a few reputable ones that certainly will live out to your expectations.
Travelon
Baggallini
Pacsafe
Ogio
eBags
As said, these are excellent brands and you probably know a few, if not all of them.
But my favorite one is Travelon because of its excellent anti-theft features. For me, this is the best purse for international travel.
Or better put, this is the best travel purse for Europe. Have you seen the hordes of pickpockets here? It's no joke.
How to use a travel purse or an anti-theft travel bag
Well, having the best travel handbag won't keep pickpockets away alone.
Many people buy the perfect purse for traveling and when they turn out to be pickpocketed, they blame the bag.
That ain't right. You also have to take a few precautions to ensure your belongings stay safe. Here are my best tips:
Avoid carrying all of your valuables in the purse. Instead, make copies of your documents to be on the safe side.
Always have your bag in front of your body rather than on the side or slipping to your back.
Don't hang your purse on the chair while in a restaurant or cafe.
Pay extra attention to your belongings in public transportation.
Always have an additional anti-theft item with you to carry to hide away most of your cash. Remember never leave all your eggs in one basket.
Be sure to read up on common travel scams that happen on the destination you're going to.
Alternatives (or anti-theft additionals) to travel purses
While these travel bags for women are useful, they're not enough, unfortunately.
You can buy the best travel purse ever, but you'll still miss other essential items while on vacation.
For instance, a money belt is ideal to carry your passport and money. (Remember to wear underneath your clothes.)
However, instead of a money belt, I prefer wearing a travel bra with pockets.
It's much more comfortable and it's a 2-in1 item. I love that. With my favorite travel bra, you can carry credit cards and money without getting sweaty.
Also, no one would ever suspect you're storing your cash in your bra! How brilliant is that?
And this bra for travel is also helpful while in a concert or festival where you don't want to take a purse. Can't recommend it enough.
Where can you buy travel purses
You can buy your favorite travel purse from the ones described above in many department or travel stores.
Personally, I like to buy my travel necessities at Amazon because there I can read other people's opinions and reviews about the product I want to buy.
Dunno, I simply like to read other's people experience.
Also, because it's easier to shop online (obviously) and they usually have pretty good deals, too.
And that goes for everything – backpacks, female essentials, and everything you can find on Amazon.
Final words on the best travel purse
You started reading this post with lots of questions, "What is the best travel purse for Europe?", "What's the best anti-theft purse?".
But we hope we answered them all for you.
These are the best travel purses, in my opinion, but if I were to choose only one, I would choose the Travelon Classic Anti-Theft Messenger.
The anti-theft features are excellent and while it isn't a large travel purse, this bag is small enough to be lightweight but big enough to carry my basic items. I love it!
For me, this Travelon is hands-down the best purse for traveling in Europe.
Did you like this post about the best purses for travel? Then share it with a friend who might like it!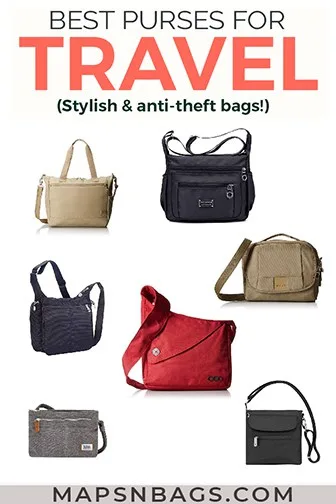 Our best travel tips & resources:
Here're our all-time favorite travel tips & resources so that you can save money and plan your travel logistics hassle-free! For more travel resources, check out our
travel tips.
Saving money: Fly on offseason, winter (not Xmas or NYE), Tuesday, or Wednesday! According to experts, these are the cheapest days to fly.
Travel insurance: Before you leave for your trip, make sure you have a valid travel insurance policy because accidents happen on the road. We have been paying for Safety Wing travel insurance for a little over a year now, and we happily recommend them to our family and friends.
Accommodation: We usually stay in mid-range comfy hotels or private rooms in hostels. These are the sites we use to book accommodation: Booking.com for hotels (excellent flexible cancellation policy) and Hostelworld for hostels (low deposit and easy cancellation).
Tours:We absolutely love booking guided tours with locals to get a history lesson while sight-seeing, especially food tours and walking tours! We book all of our tours using Viator and GetYourGuide.
Transportation: We use Google Maps to figure out how to get around a place using public transport. When we book a rental car, we always use Discover Cars to find the best deal.