Budapest is very famous for its ruin pubs, fascinating parliament architecture, and, of course, its thermal baths!
These places are a legacy of the Turkish culture, from when they had control over the city and were influenced – even if just a little bit – by the following people who took control over Budapest.
Today they are a traditional place in the Hungarian capital and definitely a must-see, especially if you have at least 3 days in Budapest.
There are several thermal baths in the city, and it might be a little overwhelming to choose, but I'm here to help you decide, don't worry!
Or at least, I'm here to give you all the information you need to do so.
Good to know
– When you're indoors, try not to speak loudly, as those places have echo and people go there to relax.
– If you have long hair, use a hair tie. It's not nice to swim in a pool with other people's hair.
– Bring a bottle of water because you'll be thirsty from sitting in the thermal baths. You can refill it in the water fountains there.
– When you arrive there, change clothes and rinse your body before going to any pool.
What to Pack for a Thermal Bath?
Well, let's start with the basics: swimsuit, flip-flops, and money.
You can even rent a swimsuit there, but I have no idea how it works…I think that's pretty disgusting for women, actually, but that's totally up to you!
Take money for the entrance fee and to eat something if you get hungry. There is always a cafe in the thermal baths, but you can take your own food/ drinks and make a picnic if you want.
You can take your towel or rent one, but there is a big deposit for it, and a lot of people forget their towels, so there are usually long queues.
Swimming caps are mandatory in the swimming pools but not in the thermal baths. Also, don't forget a bathrobe if you're planning to go in the winter.
The distance to the outdoor pools isn't that big, but it can get really cold. They have both bathrobes and swimming caps to rent if you find it more convenient.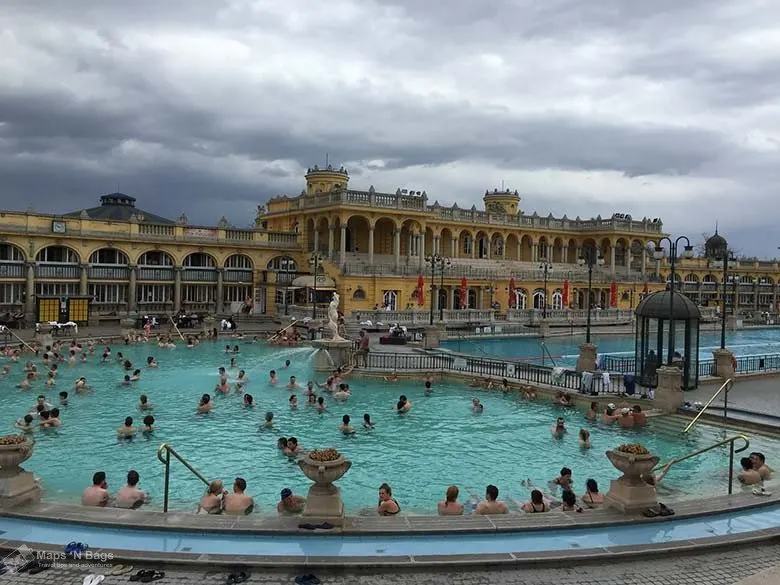 You can store your money/ belongings in the cabins or lockers, but if you want to keep them around, take a waterproof purse with you.
Ps.: The cabins are small cubicles where you can not only store your things but also change clothes privately. The lockers are just store boxes.
Besides the things above, you should consider taking with you: shower gel, shampoo/ conditioner, hairbrush, hair band, and body lotion. The latter is really important because your skin gets dry from the warm water.
Budapest Thermal Baths
Okay, let's get to what really matters, the actual places! I've listed the 5 main baths of Budapest.
They are usually open every day, and there are two types of bathhouses, or better saying, two styles: Roman and Turkish.
The difference here is basically the design: The Roman ones are more colorful with tiles, statues, etc, while the Turkish ones are more discrete.
The tickets price differs a lot for each bathhouse, so I'll leave a link below to each website.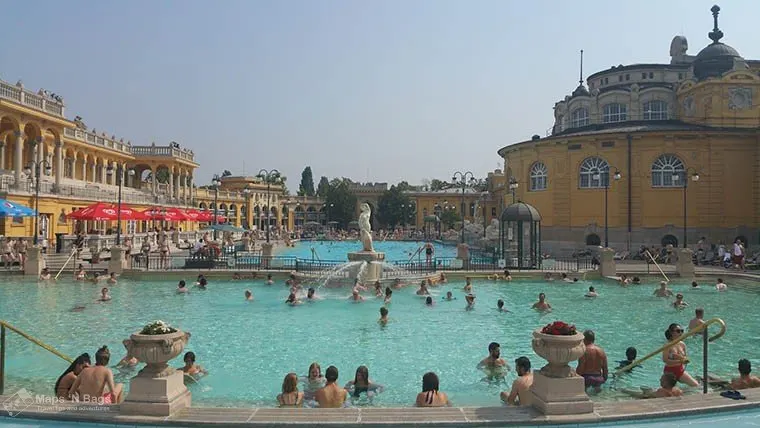 Szechenyi Bath
The Szechenyi Baths is the most famous bathhouse in Budapest and also the biggest (and the most expensive), it has 3 outdoor and 15 indoor pools.
It's really a wellness center because they offer a Jacuzzi, massage, spa detoxification, cellulite treatment, etc. Szechenyi has a clear roman style.
Many statues and beautiful yellow walls contrast with the blue pools. This bathhouse lies in the City Park, the only one on the Pest side.
They also have summer pool parties every Saturday during summer (it's pricey, though).
Outdoor Pools: Monday to Sunday 6 am to 10 pm.
Indoor Pools, rentals, etc: Monday to Sunday 6 am to 7 pm.
Massage: Monday to Sunday 10 am to 6 pm.
Summer Parties: Saturday 10 pm to 3 am.
Gellért Bath
This famous Art Nouveau thermal bath is quite big, it has 12 pools in total, 2 effervescent ones, 3 outdoor (including a wave pool, which opens from May to October), and 8 indoor.
They also offer many services, such as dry and steam saunas, mud treatment, massages, etc. It is located close to the Liberty Bridge, right below the Gellért Hill, on the Buda side.
Swimming pools: Monday to Sunday, 6 am to 8 pm. Massage: Monday to Sunday, 9 am to 6 pm.
Lukacs Spa
Lukacs spa has also excellent pools and interesting wellness services, like a sauna, steam bath, mud treatment, massage, etc.
They have nice pool parties almost every Saturday night with cool led lights. It is located close to the Margaret Bridge, on the Buda side.
Thermal Baths: Monday to Sunday, 6 am to 8 pm.
Király Bath
This is the oldest (and cheapest) thermal bath in Budapest, it was built by the Turks in the 16th century. It hasn't been restored for quite a while, which really gives a historical feeling to the place.
There is an octagonal pool that gets its light from the holes in the dome above, covered in glass. Really magical! They also have 3 more pools, a Jacuzzi, sauna, steam baths, etc, but it isn't big like the others.
It is located close to the Margaret Bridge, on the Buda side, but opposite to Lukacs Spa.
Thermal Baths: Monday to Sunday, 9 am to 9 pm.
Rudas Bath
This is another Turkish bath in Budapest that dates to the 16th century. Rudas Bath is the only bath that offers only women's or men's days.
It has a Turkish design with a medieval look and a whole new experience. They also have an octagonal pool covered by a dome and the hottest pool in Budapest: 42 C/ 107,6 F.
They have many steam pools, one rooftop pool, and an immersion pool. It is located close to the Elisabeth Bridge, right below the Gellért Hill, on the Buda side.
Swimming pools: Monday to Sunday, 6 am to 10 pm.
Wellness and sauna: Monday to Sunday, 8 am to 10 pm.
Vapor Baths: opens daily from 6 am to 8 pm, but on Monday, Wednesday, Thursday, and Friday only men are welcome.
On Tuesday, only women are welcome. From Friday at 10 pm until Sunday at 8 pm, both groups are welcome. Night-bath: Friday and Saturday, 10 pm to 4 am.
I hope you enjoy one of them when you go there. Come back here to tell me how your experience was!
Did you like this post? Do you want to visit a thermal bath in Budapest, but you're not going yet? Pin this post so you can find it easily later!
Our best travel tips & resources:
Here're our all-time favorite travel tips & resources so that you can save money and plan your travel logistics hassle-free! For more travel resources, check out our
travel tips.
Saving money: Fly on offseason, winter (not Xmas or NYE), Tuesday, or Wednesday! According to experts, these are the cheapest days to fly.
Travel insurance: Before you leave for your trip, make sure you have a valid travel insurance policy because accidents happen on the road. We have been paying for Safety Wing travel insurance for a little over a year now, and we happily recommend them to our family and friends.
Accommodation: We usually stay in mid-range comfy hotels or private rooms in hostels. These are the sites we use to book accommodation: Booking.com for hotels (excellent flexible cancellation policy) and Hostelworld for hostels (low deposit and easy cancellation).
Tours:We absolutely love booking guided tours with locals to get a history lesson while sight-seeing, especially food tours and walking tours! We book all of our tours using Viator and GetYourGuide.
Transportation: We use Google Maps to figure out how to get around a place using public transport. When we book a rental car, we always use Discover Cars to find the best deal.