The ruin pubs started opening in the beginning of 2000, since then the seventh district (or Jewish quarter) is home to hundreds of them!
Until Budapest, I had never been to a ruin pub before, but I'm glad I went to at least one. We had a great time there enjoying good food and cold local beer. So, read further to know what you can expect from a ruin pub and how it started. Enjoy!
Jewish Quarter
The ruin pubs idea started with people who wanted a cheap place to drink. So, why not create this place in an abandoned building, right? What could possibly be cheaper than that? Besides our own home sweet home, I don't know the answer to this question.
This neighborhood was actually like the ghettos you have heard about in your history classes or movies: Jews were relocated to these places to live in sub-human conditions. They would live there until the Nazis would decide to send them to a concentration camp. Not a lot of people seem to know Budapest also had a ghetto and that surprises me a lot.
Around 19% of all Jews who died in the Second World War were Hungarians. That's a huge number given the fact that more than 6 million Jews were murdered in ww2!
As you can imagine, when the war was over, the survivors would leave the ghettos due to its horrible memories. Those houses and buildings didn't have without investments from the government in the following years after the ww2, so they remained abandoned for many years.
That's the reason why the ruins exist right in the heart of Budapest. The ghetto lies, of course, in the Jewish Quarter neighborhood.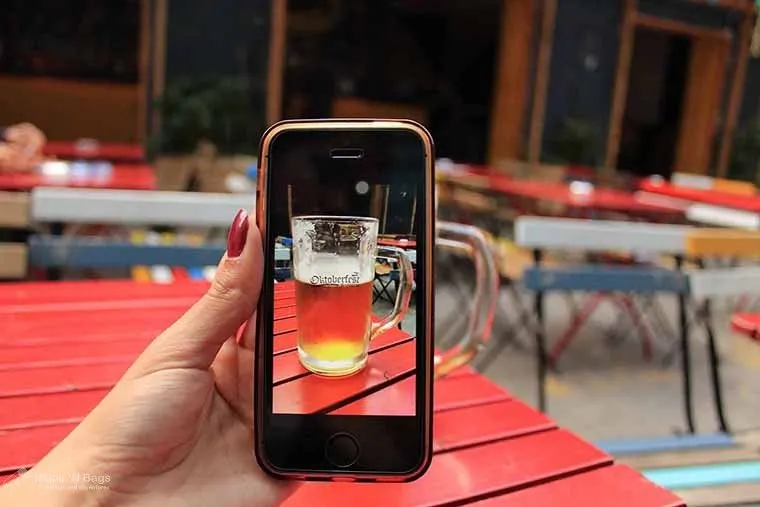 The Best Ruin Pubs
Back to the present, like I said above, it all started with the idea of having cheap beer, but it ended up being a huge business. The ruin is only in the concept (and building) because they live and give Budapest a special shine. The pubs have an underground design, simple decoration, hipster crowd, good food and yes, you can also find cheap beer as well. Go for the local beer then!
The ruin pubs are one of the main attractions of Budapest and they attract hundreds of tourists (and locals) every day. Many of them have this party atmosphere, but if you're not really into it, there are plenty of pubs where you can just sit relaxed and have beers with your friends.
Also, don't miss this Budapest guide with many tips of places to go!
Kuplung
Address: Király u. 46
This ruin pub is really nice! Especially the food (foodie here!). It has an underground decoration, graffiti on the walls inclusive in the toilet, jellyfish lanterns, and cold beer, of course!
The funny part is that we weren't looking for this pub but we happened to walk just in. I'm glad we did it because I was hungry!
I had an appetizing chicken wings buffalo with potatoes dish (HUF 1790, around USD 6,90) and wow! Again, wow! That was delicious! It opens from Monday to Saturday, from 3 pm to 5 am, Sunday from 3 pm to 1 am.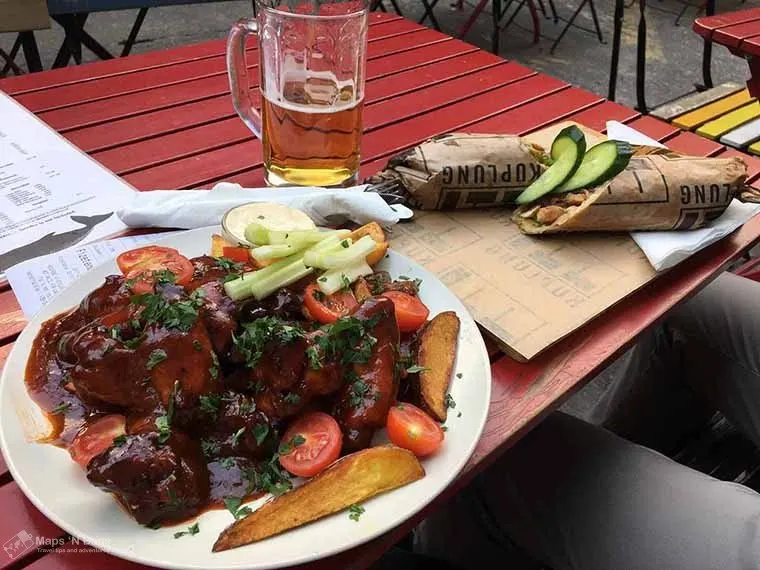 Ellátó Kert
Address: Kazinczy u. 48
The Ellato Kert is an open-air, hidden and charming Mexican pub and it is one of the tourists' favorite pubs in the city.
It has a relaxed atmosphere, good food, and cheap drinks. My friend who went there said, "You'll want to stay here for hours". Since I love Mexican food (I love food in general), I'll definitely check this place out next time I'm in Budapest.
It opens from Monday to Saturday, from 5 pm to 4 am, Sunday from 5 pm to 12 pm.
Szimpla Kert
Address: Kazinczy u. 14
This was the very first ruin pub of Budapest. Szimpla has a lovely decoration, very interesting vibe, live music, many bars in the "building" and an open-air area.
By the way, the name of the pub "szimpla" means simple in Hungarian.
It opens from Monday to Thursday, from 12 pm to 4 am, Friday from 10 am to 4 am, Saturday from 12 pm to 12 am and Sunday from 9 am to 5 am.
Corvinteto (Club & Roof terrace)
Address: BlahaLujzatér 1-2
This pub is on a rooftop terrace with a very nice view. Do you want a good tip? Go there to watch the sunrise while you drink some beer and watch the city from above.
If you love techno music, this is the place for you. Corvinteto has two dance floors so you can dance until dawn.
It opens from Wednesday to Saturday, from 9 pm to 6 am.
Ps: A beautiful place. No, not beautiful. A stunning place to watch the sunrise is the Fisherman's Bastion! It looks like a fairy-tale in the morning light and you can take cool pictures as nobody else is there. I did it! The photos are in the post below.
Fogasház
Address: Akácfa u. 49-51
The Fogashaz pub is another pub for those who want to dance and have fun the whole night.
It has many themed rooms with different DJs and it opens daily from 4 pm to 6 am.
I'm sure you will enjoy at least one of them! Don't forget to come back here and tell me which one you chose and how it was! I'm curious about the pubs I didn't visit. Want some suggestions to visit next time!
So, Budapest has a lot to offer, don't you think? If you want to know more about the city, check out my post above about the Best Things to do in Budapest. There are so many things that I had to divide this guide into 2 parts, but it is worth the read and time! The city is just amazing! Plus, I've added some cool photos along the post.
Did you like this post? Do you want to visit a ruin pub in Budapest, but you're not going yet? Pin this post so you can find it easily later!


This post contains affiliate marketing link(s). Want to know why and what that is? Please, read my disclosure page.
Our best travel tips & resources:
Here're our all-time favorite travel tips & resources so that you can save money and plan your travel logistics hassle-free! For more travel resources, check out our
travel tips.
Saving money: Fly on offseason, winter (not Xmas or NYE), Tuesday, or Wednesday! According to experts, these are the cheapest days to fly.
Travel insurance: Before you leave for your trip, make sure you have a valid travel insurance policy because accidents happen on the road. We have been paying for Safety Wing travel insurance for a little over a year now, and we happily recommend them to our family and friends.
Accommodation: We usually stay in mid-range comfy hotels or private rooms in hostels. These are the sites we use to book accommodation: Booking.com for hotels (excellent flexible cancellation policy) and Hostelworld for hostels (low deposit and easy cancellation).
Tours:We absolutely love booking guided tours with locals to get a history lesson while sight-seeing, especially food tours and walking tours! We book all of our tours using Viator and GetYourGuide.
Transportation: We use Google Maps to figure out how to get around a place using public transport. When we book a rental car, we always use Discover Cars to find the best deal.