Budapest is a big city, and one of the best ways to get around it is by using public transport. The stations are pretty organized – if you ask me -the subway and trams come very often.
Walking between the attractions is, of course, an option (and sometimes the only one), but you should definitely consider using public transport in Budapest, because like I said, the city is big!
We walked from the Great Market Hall to the Fisherman's Bastion, going through the Gellért Hill and Buda Castle…I have only one thing to say: my legs were dying! It's a long walk! I wish we had taken a tram from the base of the hill to the Chain Bridge and just walked up to the Buda hill from that point. If you want to know more about public transport in Budapest just continue reading this post.
Subway
This is, of course, the fastest way to travel in Budapest. This subway is the oldest not only in Hungary but also in mainland Europe! It was opened in 1896. The four lines are very efficient, and they connect most of the attractions in the city.
The subway runs between 4:30 am and 11:30 pm and quite often (every 2-5 minutes). Keep your card in a pocket with easy access (not so easy, otherwise you can lose it :)), so you can show it to the ticket inspectors if they request it.
The BKK's website (public transport company in Budapest) has a lot of useful maps! Check it out and thank me later!
A good and cheap option to enjoy the Danube view is taking the tram number 2 that rides along the river.
Tram
The trams in Budapest are cute because they have this vintage look (check the photo below). They run between 4:30 am and 10:45 pm and again, pretty often. Though it can take a little longer at night. You can check the exact timetables at the tram stations. The most valuable lines for tourists are:
Line 2: As I said before, you can get this tram to have a nice view of the Danube and the Buda side. It runs between the bridges Petőfi and Margaret.
Lines 4 and 6: They basically do the same route. They run respectively between ÚjbudaKözpont and SzéllKálmántér, and MóriczZsigmondkörtér and SzéllKálmántér, through the "ring", a long avenue just around the city center. They run close to the House of Terror and to the Holocaust Memorial Center, for example.
Line 19: This line runs along the Danube river, but on the Buda side, from Margaret Bridge until Liberty Bridge and then to the District XI.
Line 49: It connects the DeákFerenctér and the Gellért Hill (Liberty Bridge entrance).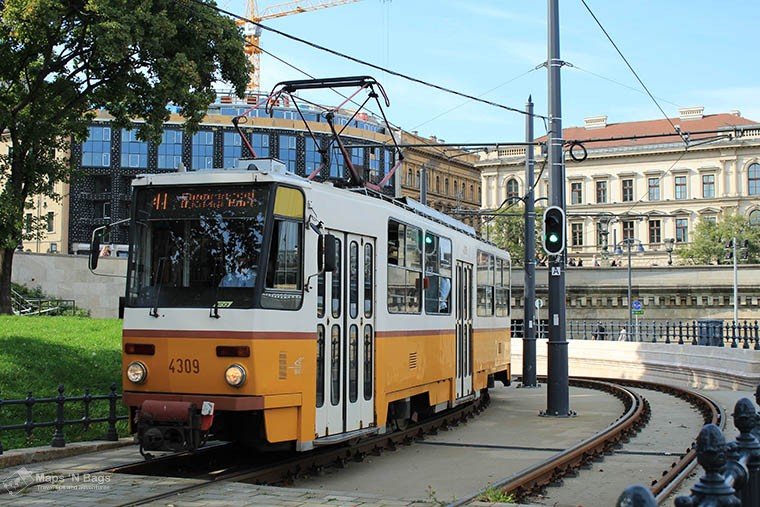 Bus
There are more than 200 bus lines in the city, including some express ones (they have an E following the number). Most locals use the bus, so during in the rush hour, it might be crowded. Buses are the only public transport available to get around the Buda Hill.
Boat
Budapest has three public scheduled boat lines, but I'll write about the most relevant ones. They run between 7 am and 7 pm, every half hour.
D-11 (weekdays, the whole year) – It operates in the morning (7am-9am) and in the afternoon (4pm-6pm), between Haller Utca – Újpest, Árpádút.
D-12 (daily, between May and October) – It operates between Haller Utca and Rómaifürdő.
Extra's
Funicular
The funicular takes you from near the Chain Bridge up to the Buda Castle, but I don't really think it is necessary, but if you insist on it, here it goes: one-way ticket costs HUF 1200 (USD 4,60), while the return ticket costs HUF 1800 (USD 6,90). Children between 3-14 pay HUF 700 (USD 2,70) one way, and HUF 1100 (USD 4,25) return ticket. They run every 10 minutes, from 7:30 am to 10 pm.
Taxi
Taxis are sometimes the easiest way, especially if you're traveling at night when public transport is limited. But keep in mind that it is cheaper to call ahead or order them online/ via the app. Do not get any taxis without a company on the side. They're not licensed. Always ask them to turn the meter on as soon as you get into the taxi.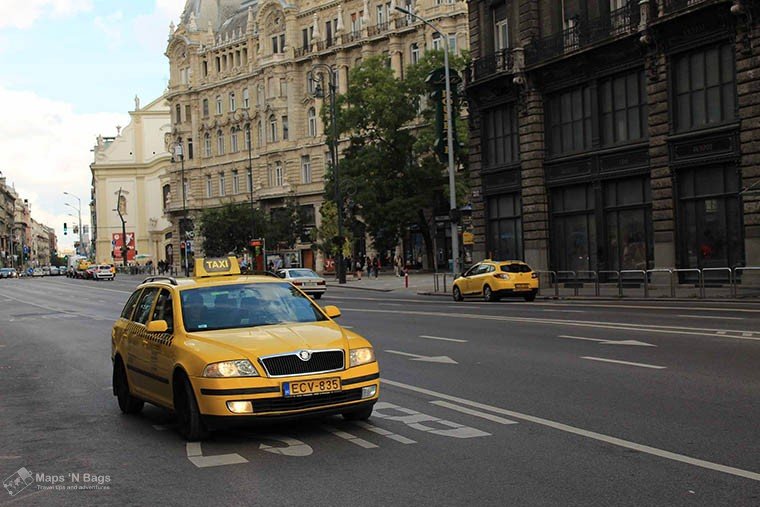 Bike
There is a very interesting bike-sharing service in Budapest, the MOB! More than 1.480 bikes can be rented in 124 docking stations throughout the city.
There are three different kinds of passes available (24hs, 72hs and 7 days), you have to buy them using a credit card, and you also have to pay a deposit of HUF 25.000, around USD 96 (it is given back to you when your ticket validity is over).
We tried to use it, but we don't have a credit card and there was no other way to buy it. 🙁 For more information, access the MOB website.
Travel cards
If you're going to use public transport in Budapest, it might be good to buy a travel card to save some money. You can buy the tickets at the subway stations, either from the machines or with the attendants. There are three available options depending on the length of your stay:
24h (HUF 4550 or USD 17,50)
72h (HUF 4150 or USD 16,00)
7-day travel card (HUF 4950 or USD 19,00)
If you don't want to buy a travel card, a single ticket (without transfer) costs HUF 350, around USD 1,35 (or HUF 450 if you buy it from the bus/ tram driver). Don't forget: single tickets must be validated!
The single ticket for the boat: HUF 750, USD 2,90 (or HUF 550 for kids under 15).
If you're planning to visit a few museums or attractions in the city, I highly recommend that you buy the ticket in the link below because you can get a discount or even free access to many places. This was a suggestion from our host at the Airbnb where we stayed.
How to get to Budapest Airport?
The budget option to get to the airport, considering you bought one of the travel cards above, is to go to Kőbánya-Kispest station line 3 blue and take the bus 200E (ticket HUF 300) during daytime or the bus 900 at night. It's really easy to find the bus and get there!
We took the subway and the bus 200E to the airport, the trip took 50 minutes in total.
Another option, a little more expensive, is a direct transfer between the airport and the Deák Ferenc Square, the bus 100E (HUF 900).
So, do you have some tips to share with other backpackers? Drop it in the comments! *The prices mentioned here might have changed depending on when you read this.
Did you like this post? Do you want to visit Budapest, but you're not going yet? Pin this post so you can find it easily later!
Our best travel tips & resources:
Here're our all-time favorite travel tips & resources so that you can save money and plan your travel logistics hassle-free! For more travel resources, check out our
travel tips.
Saving money: Fly on offseason, winter (not Xmas or NYE), Tuesday, or Wednesday! According to experts, these are the cheapest days to fly.
Travel insurance: Before you leave for your trip, make sure you have a valid travel insurance policy because accidents happen on the road. We have been paying for Safety Wing travel insurance for a little over a year now, and we happily recommend them to our family and friends.
Accommodation: We usually stay in mid-range comfy hotels or private rooms in hostels. These are the sites we use to book accommodation: Booking.com for hotels (excellent flexible cancellation policy) and Hostelworld for hostels (low deposit and easy cancellation).
Tours:We absolutely love booking guided tours with locals to get a history lesson while sight-seeing, especially food tours and walking tours! We book all of our tours using Viator and GetYourGuide.
Transportation: We use Google Maps to figure out how to get around a place using public transport. When we book a rental car, we always use Discover Cars to find the best deal.