*You can hover over any picture in this post to pin it easily! 
Amsterdam is not only famous for its crooked houses and cute canals, but also for its high tolerance to taboos of many other cultures. Homosexuality is seen as it should be (normal), soft drugs are tolerated in coffee shops, abortion is legalized and prostitution is also legalized.
The city has an open-minded mentality that confuses the travelers that stop by Amsterdam. Many people ask me, "Can I just smoke weed on the streets?", "Is it safe to wander around the Red Light District?", etc.
It can be confusing and if you don't live in the Netherlands is difficult to know what the limits are. But I've created this post to help you answer the questions above and many others. Check it out!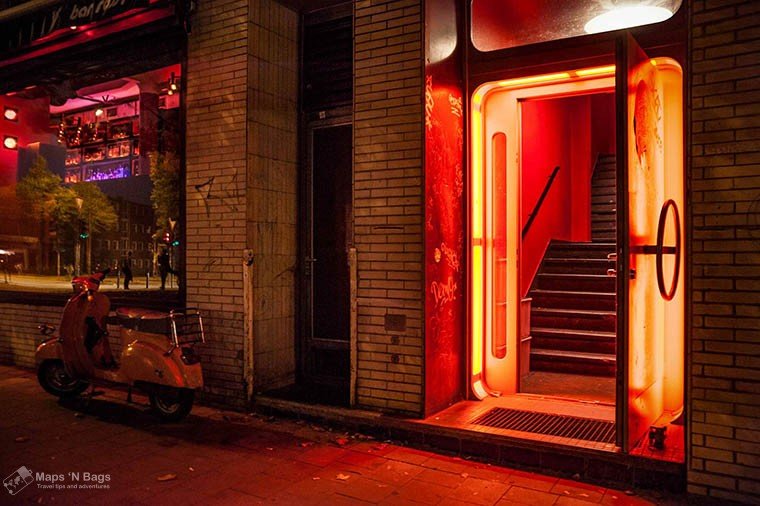 Red Light District
The Red Light District, by the way, is a very interesting place and you should definitely go there. Why? Because it has not only a beautiful old-Amsterdamer architecture and charming canals, but it also has many peculiar sex-shops, sex-related establishments, coffee shops, cafes, etc. Don't think for a minute that this place is unsafe or that only junkies/ weirdos hang around.
Of course, you should always watch out for pickpockets, but I've never felt unsafe there and I've actually seen many families just walking around. Also: Considering the number of tourists that walk by, it is impressive how clean the whole place is.
Never, ever, take pictures of the girls! This is not allowed! They have 24/7 protection which is always nearby. And they can get really mad at you if you try to point your camera on their direction. Besides the fact that this is very disrespectful. So, if you're going to take photos, make sure you're pointing far away from the girls.
Interesting fact: The red light indicates a woman, the blue light indicates a transgender.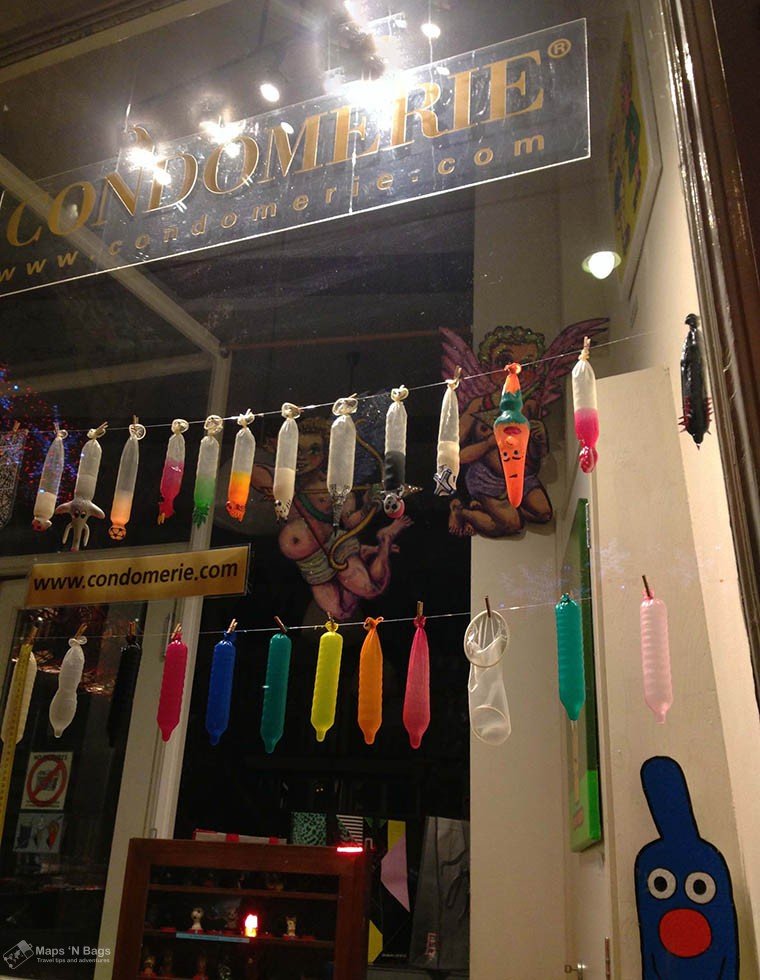 Coffee Shops
Coffee shops aren't the places where you drink coffee, those are cafes. In a coffee shop, people buy and use soft drugs, like marijuana, hashish or a mix of both. There are more than 200 coffee shops throughout Amsterdam, in the Red-Light District, in the Leidse Square, everywhere!
The most famous one is the Bull Dog, but it's also the most expensive one. Walk further away from the city center and you'll find cheaper coffee shops. Don't forget: Dutch weed is quite strong, so go easy if you smoke it. If you have no idea which one from the menu you should choose, ask the coffee shop for some help. No need to be shy, you won't the first or the last one to ask it.
If it's the first time you're smoking weed, take it easy! Also, don't take valuables with you to the coffee shop because you'll be a bit fuzzy and pickpockets can take advantage of you on the streets.
Also, it's not allowed to smoke weed on the streets. If you see someone doing it, it's either a tourist or those guys who want to be a "bad boy". Save yourself the trouble and smoke it in a coffee shop. There are some really nice ones in the Red Light District, though.
Tips:
– If you eat a space cake wait a couple of hours to show the effects, don't eat another right away.
– Coffee shops aren't allowed to sell alcohol for a reason, so if you do smoke, don't drink anything as it can be dangerous for you.
– Don't ride a bike under the influence of anything, you can be fined (this is a minor offense), and get yourself hurt or someone else.
– And last, but not least, watch out for the canals! A lot of people fall in there every year while under the influence of drugs or alcohol and some can't manage to get out.
Gay Amsterdam
The Netherlands was the first country to legalize the same-sex marriage in 2001, and after that many countries have followed their lead. 🙂
Amsterdam hosts one of the world's biggest celebrations of the LGBTI community in its streets and canals, the Gay Parade! It's very nice, colorful and funny! If you are in the doubt of whether or not you should go, just go! You'll find a lot of fun there! The Gay Parade finds place in the end of July.
If you're not in the city during the Gay Parade, head to the Reguliersdwarsstraat. This street is one of the most important LGBTI areas. A few bars and clubs to check out are Soho, Taboo, NYX, and Reality.
Another very interesting area is around the Zeedijk street. This region also has nice bars and cafes to go, and in this street lies the first LGB bar in the Netherlands, the Cafe 't Mandje, which was first opened in 1927!
Amsterdam is home to the first World War II monument to gays and lesbians who lost their lives during the war, the Homomonument. You can find the monument right behind the Westerkerk, next to the Anne Frank House.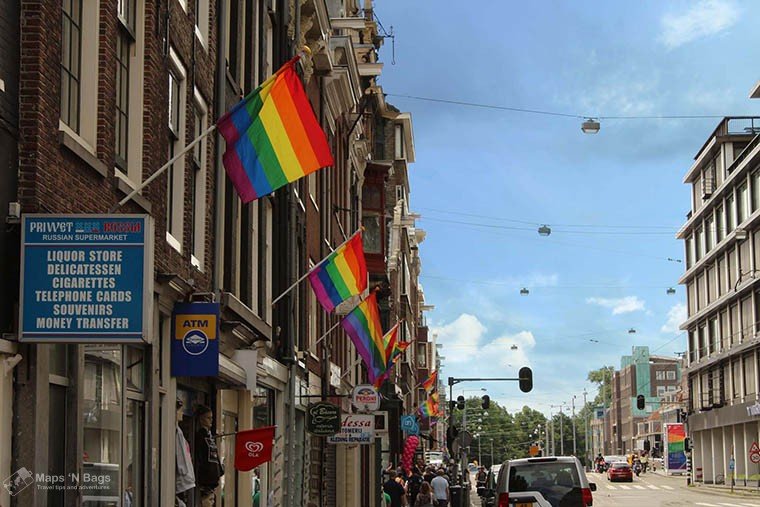 Abortion
I'm not really going to talk about abortion, because if you're a tourist that doesn't matter at all and I don't want to get into religious discussions with anyone. Just know that many things are legalized in the Netherlands (or tolerated) and very well managed. The country is not a big circus.
Well, Amsterdam is definitely an interesting city, don't you think? No need to be scared of anything, just take care of yourself and don't do anything crazy. I'm sure you'll have a nice experience in the charming Amsterdam.
So, I'm curious! What do you think about this open-minded city? If you have ever been there, how did you experience this side of Amsterdam?
Did you like this post? Do you want to visit Amsterdam, but you're not going yet? Pin this post so you can find it easily later!


This post contains affiliate marketing link(s). Want to know why and what that is? Please, read my disclosure page.