Amsterdam is not only famous for its crooked houses and charming canals, but also for its high tolerance to taboos of many other cultures.
Homosexuality is seen as it should be (normal), soft drugs are tolerated in coffee shops, abortion is legalized, and prostitution is also legalized.
The city has a liberal mentality that confuses the travelers that stop by Amsterdam. Many people ask me, "Can I just smoke weed on the streets?", "Is it safe to wander around the Red Light District?", and other questions like that.
This is not one of the best neighborhoods to stay in Amsterdam, but it's perfectly safe to check out.
It can be confusing and if you don't live in the Netherlands is difficult to know what the limits are. That's why I've created this post to help you answer the questions above and many others.
---
Hey, looking for more tips for your next trip to the Netherlands? Check out some of our other posts below, or click here to find all of our Netherlands posts.
---
Red Light District
The most famous (and infamous) Red Light District lies in the heart of Amsterdam.
This is the oldest area in the city, which you can see in the old-Amsterdamer architecture: the charming canals and crooked houses you only see in this city.
If you want to learn more about this neighborhood, there are plenty of well-reviewed tours that can show you around.
I remember having an entirely different image of this place until I went there.
Red lights all along the streets, weirdos or dangerous people walking around, unsafe for women, dirty, etc. etc. etc. Yes, I had no good image of it, as I imagine you also don't have it.
Well, it was nothing like that.
When I arrived in Amsterdam to be an au pair that was the first place I went to because I was extremely curious to see if that was all true. A little contradictory, I know.
But that was THE Red Light District of Amsterdam, where weed is tolerated, and prostitution is legalized. I had to go there.
Don't judge a person until you have walked a mile in their shoes.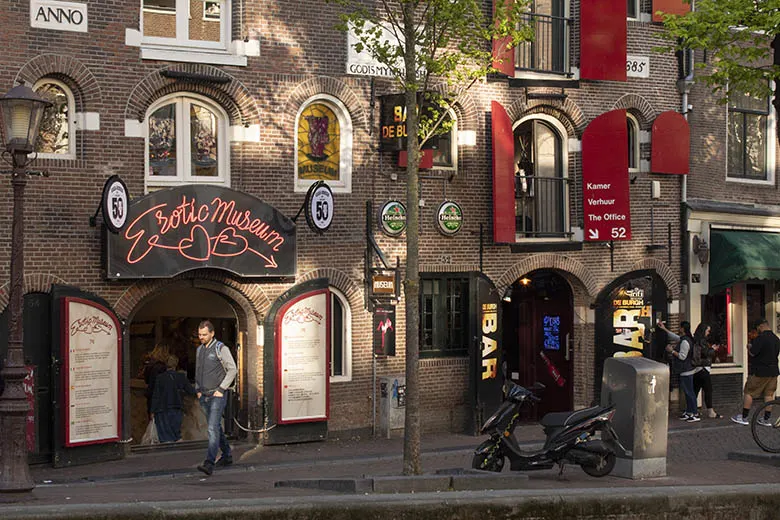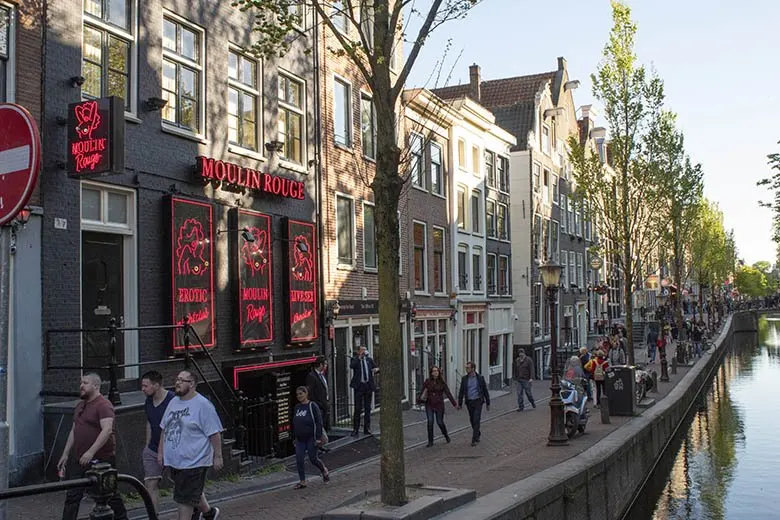 Read next: 13 things you shouldn't do in Amsterdam
A friend went with me, and after a few minutes of walking along the infamous red windows I asked her "Is this it?". The Red Light is a very pleasant place to stroll around.
The canals are sweet and so are the houses, as I mentioned above. There are many cafes where you can drink something by the water's edge, and on a sunny day, that's the perfect thing to do in Amsterdam. Honestly.
What Can You Find There
The oldest building in the city, the Old Church (the name is very appropriate, right?) dates to the 14h-century. The interior is simple, but gorgeous, in my opinion.
Its walls are white, the roof is made of wood, and its floor is filled with gravestones. It sounds creepy, but the church was built on a cemetery and the remains where never removed from this site.
There are ladies behind the windows all day long spread throughout this area. In the evening you can see the red light of the windows much better.
The first time you walk in the red light will be a bit weird as you don't know if you shouldn't make eye-contact no matter what, or whatever. After all, the ladies are naked, moving sensually towards single men and inviting them in.
Well, what can I say? Business as usual. Walk around and get used to it. After a while, it will become more "normal" to you. Just don't stop in front of a window and stare at them because this is awkward.
And yes, you can look at them.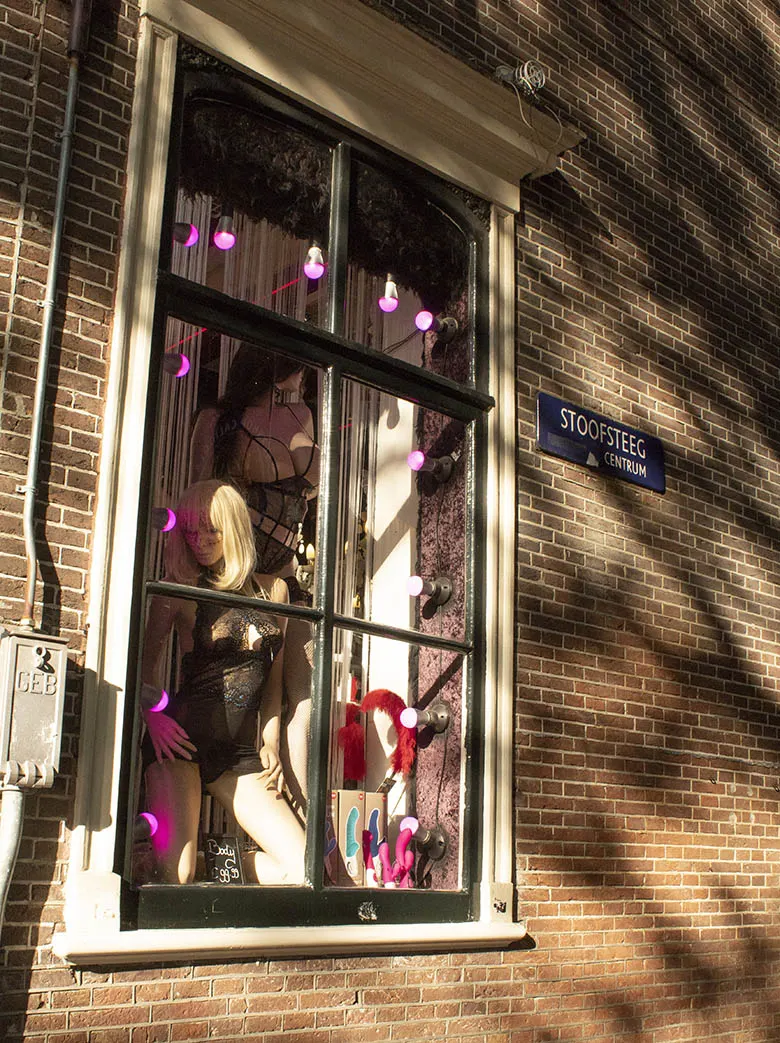 Places to visit in the Red Light District in Amsterdam
The Red Light has a church and sweet spots, that's true. But it also has some (or plenty of) peculiar sex-shops, sex-related establishments, coffee shops, etc.
Well, it all depends on what you want to see, but none of those attractions seem dangerous. I didn't go to the live sex shows, for example, but if you're up to it, why not? I'm not judging! To each his own.
Do you want to understand the prostitution world better? Have a different perspective on it? Stop by the Prostitution Information Center.
PIC is an independent foundation that not only stands up for the sex workers' rights but also provides information from their perspective to tourists and students.
There you can take a lecture (email for more info [email protected]) or go on a guided tour around the Red Light (Wed, Fri, Sat at 5 pm – €17.50 – No reservation is required).
Their tour is by far the most respectful and informative you could take here! It makes you remember there are always two sides to every story. A must-do!
Fun fact 1: At the church square, you can find a bronze "art" piece of a hand caressing a breast among the cobblestones.
No one knows who placed the article there, but well, it's something interesting to see. Next to the church, there is also a statue named Belle for all sex workers across the world.
Fun fact 2: The red light indicates a woman, the blue light indicates a transgender.
Amsterdam is full of interesting/ quirky places, and the Cannabis College is one of them. They offer free advice on the recreational and medicinal use of cannabis.
You can also visit their garden under a small fee (€3). But if you want to learn in-depth about marihuana, a few doors away is the Hash, Marihuana & Hemp Museum. The latter is much bigger and detailed. After all, it's a museum.
Both are intriguing places to visit, especially if you don't know much about cannabis and its history.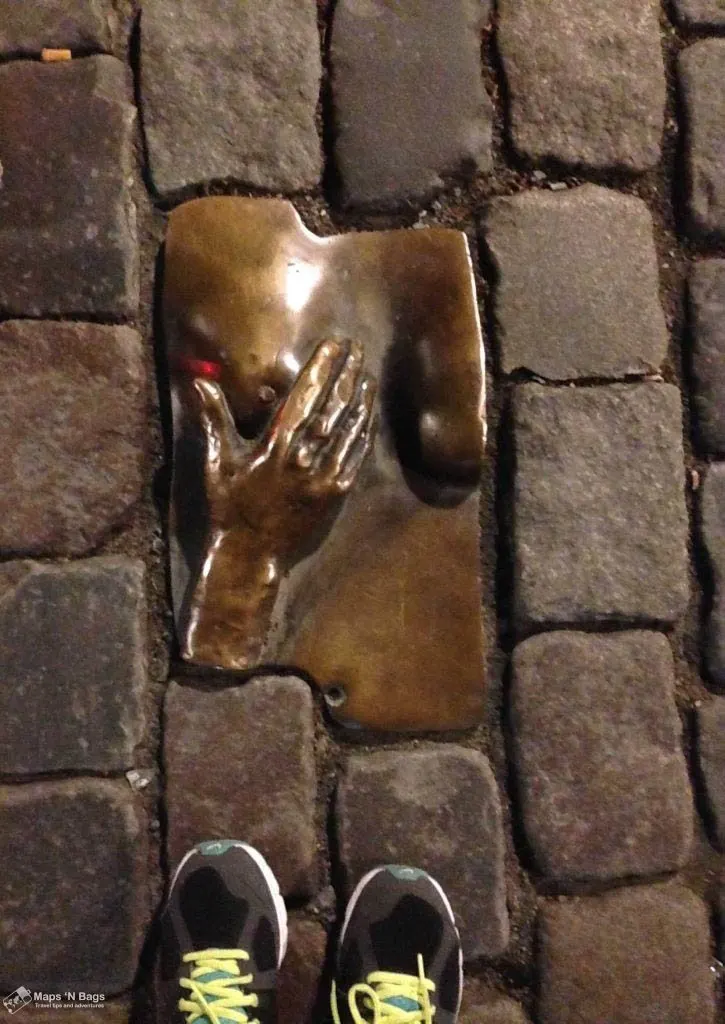 Places to avoid in the Red Light District
I have heard that the Bananenbar is way too expensive, the drinks are a bit diluted, and the girls keep pushing you to spend more money. Better avoid it then.
Another frequent stop for tourists is the Erotic Museum, which is a store if you ask me.
In case you want to see a funny museum about the development of naturalism and sexuality go to the Sex Museum at the Damrak. Don't expect a real museum though.
This is a fun way to spend some time. The entrance fee to the Sex Museum is 4 euros.
What Not to Do in the Red Light District
Never, ever, take pictures of the sex workers! This is not allowed! They have 24/7 protection which is always nearby, and they can get pretty mad at you if you try to point your camera in their direction.
If one of the girls thinks you're trying to take pictures of her, you'll see a massive man next to you in no time, and maybe you'll also see your camera flying away.
So that's the most significant and only rule here, do not take photos of the girls! All the pictures I took there, as you can see, include only stores or museums, no red window.
And those stores were nowhere near them. For that reason, I've never had a problem.
Besides the fact that this is very disrespectful. So, if you want to take some photos in the Red Light District, be sure to point your camera far away from the girls.
Safety Tips
Pickpockets are a worldwide problem, and this is no different in the red light. Shady people keep walking around just waiting for tourists to look away from their bags or pockets.
Apart from this annoying problem, I've never felt unsafe there, and I've seen many families just walking around.
Yes, I've seen many children (~12yo+) with their families just passing by, so don't fear this area. Also: Considering the number of tourists that walk by, it is impressive how clean the whole place is.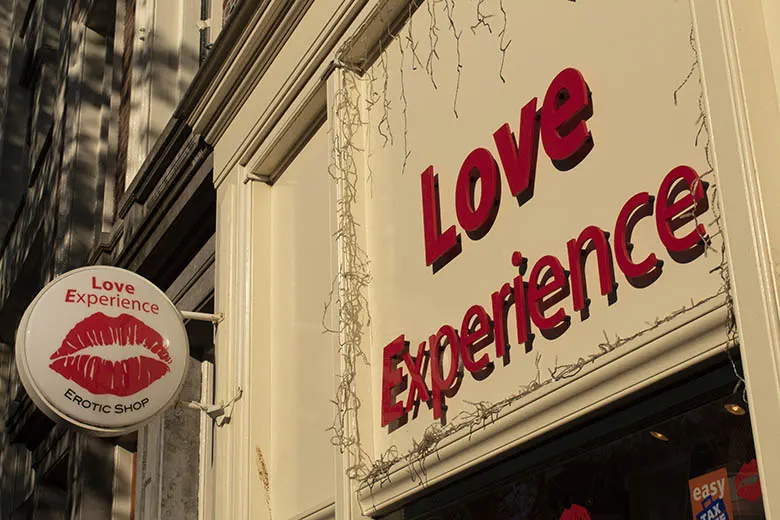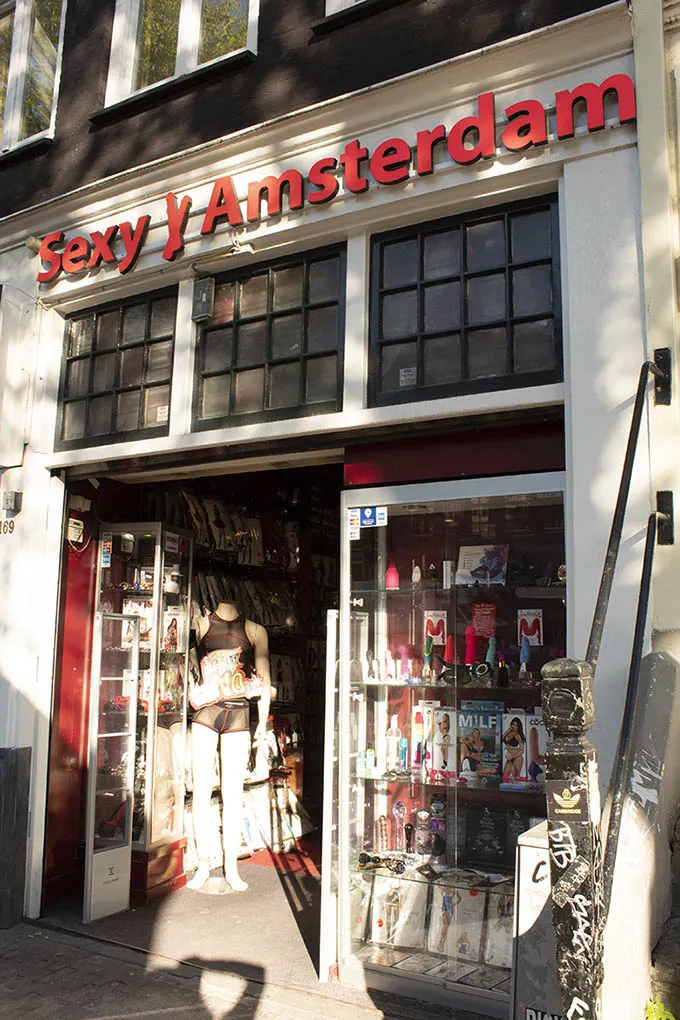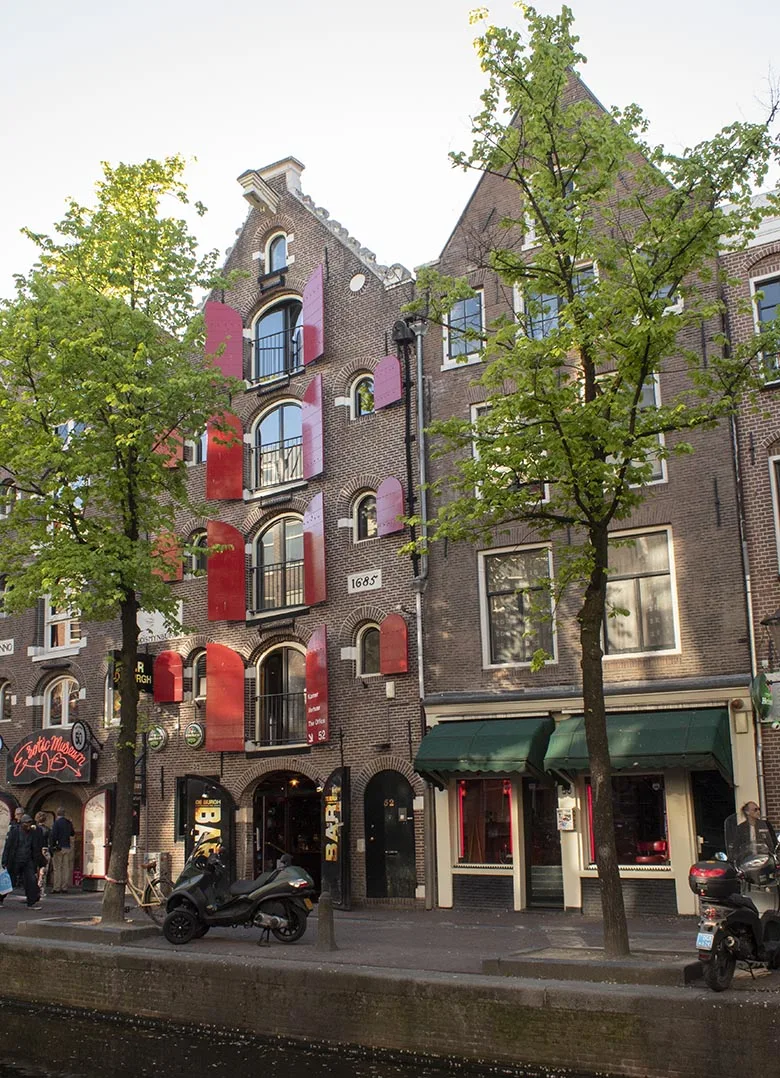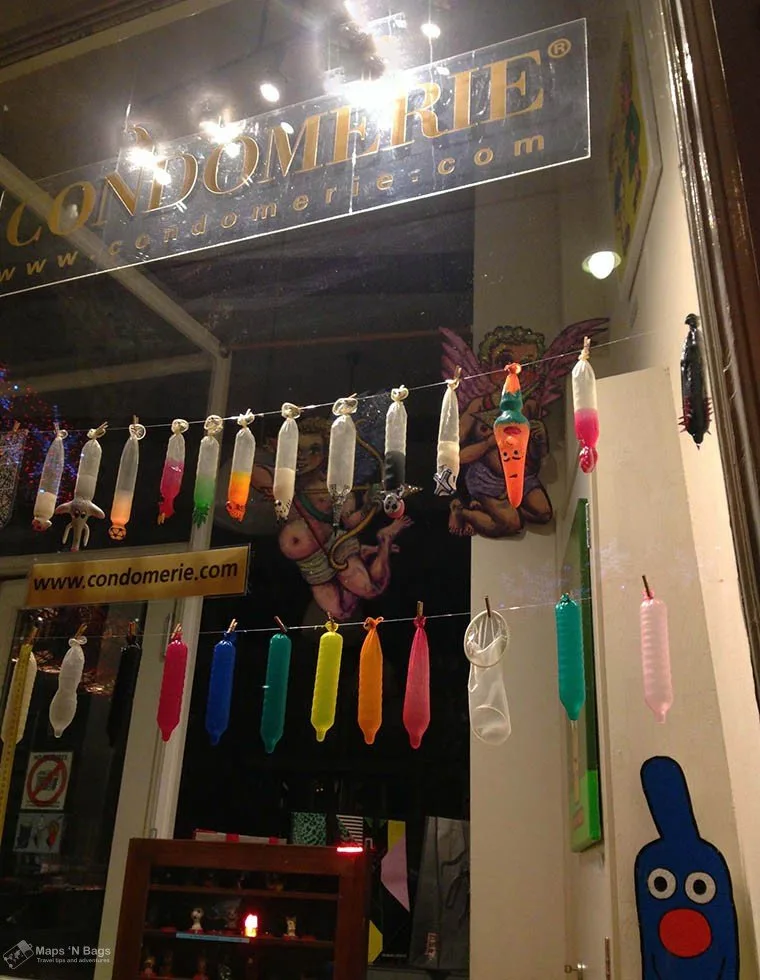 Read next: Best photo spots in Amsterdam
Coffee Shops
Through this blog, whenever I say "coffee shop," I'm talking about the weed type. Not the Starbucks type. That's right, a coffee shop in the Netherlands is the place where you smoke weed.
If you want to drink a coffee, remember to ask directions for a cafe instead.
No secrets, just walk in, check the menu, and order what you want to smoke. Not sure what to order? Ask for the help of the staff, and they will help you out.
No need to be shy, you won't be the first or the last one to ask for it. Alternatively, you can go on a walking tour of some coffee shops and be in a group. Maybe you'll feel better this way.
There are more than 200 coffee shops throughout Amsterdam, in the Red-Light District, in Leidse Square, everywhere!
The most famous one is the Bulldog, located in the Red Light, in the Singel canal, and in the Leidse Square.
Last time I checked 4 pre-rolled joints cost 12 euros. They even have a cool hostel in the Red Light if you're looking for accommodation.
Can you smoke tobacco in Amsterdam coffee shops?
It's ok to smoke a mix of tobacco and marihuana in some coffee shops, although a cigarette is not allowed.
Don't forget: Dutch weed is quite strong, so go easy if you smoke it.
Also, don't take valuables with you to the coffee shop because you'll be a bit fuzzy and pickpockets can take advantage of you on the streets.
Also, it's not allowed to smoke weed on the streets. If you see someone doing it, it's either a tourist who has no idea of what he is doing or those guys who want to be a "bad boy."
Save yourself the trouble and smoke it in a coffee shop. There are some nice ones in the Red Light District, though.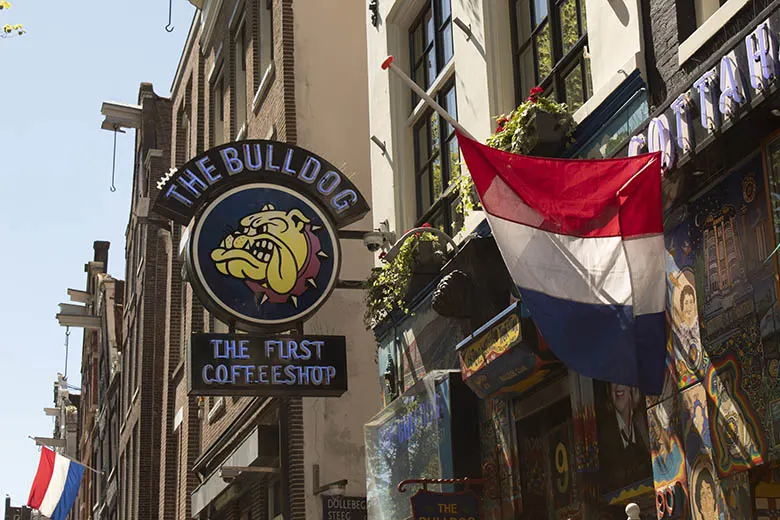 Coffee Shop Tips:
If you eat a space cake wait a couple of hours to show the effects, don't eat another right away;
Coffee shops aren't allowed to sell alcohol for a reason, so if you do smoke weed, don't drink alcohol as it can be dangerous for you;
Don't ride a bike under the influence of anything; you can be fined (this is a minor offense), and get yourself hurt (or someone else);
You're allowed to possess up to 5g of weed. But PLEASE, don't forget to throw it away before heading to the airport…
And last, but not least, watch out for the canals! A lot of people fall in there every year while under the influence of drugs or alcohol and some can't manage to get out.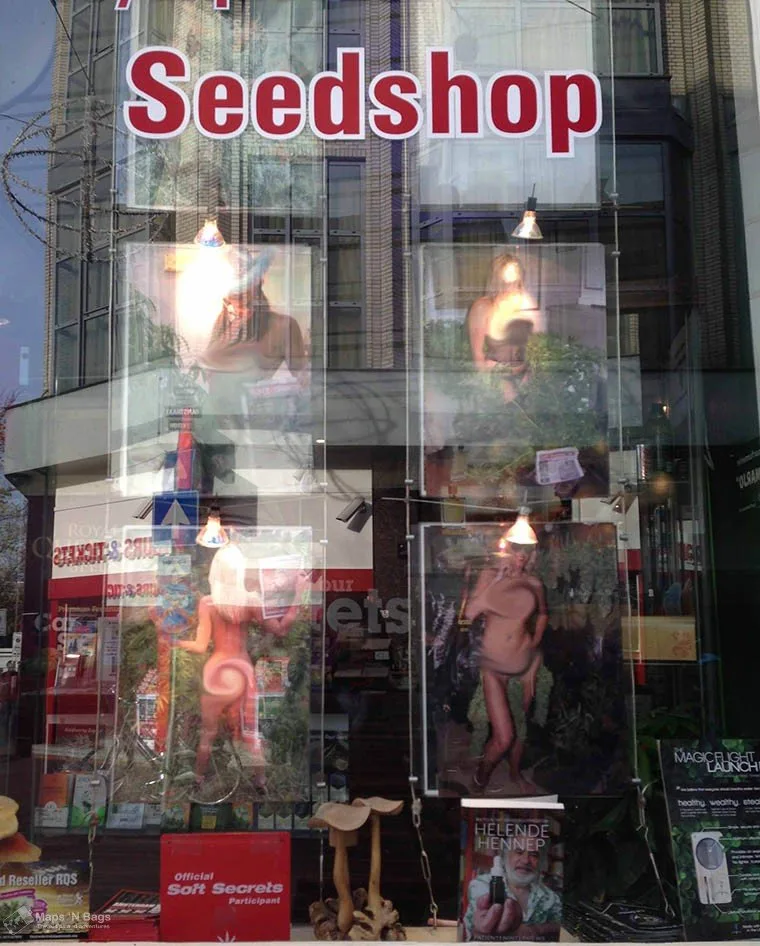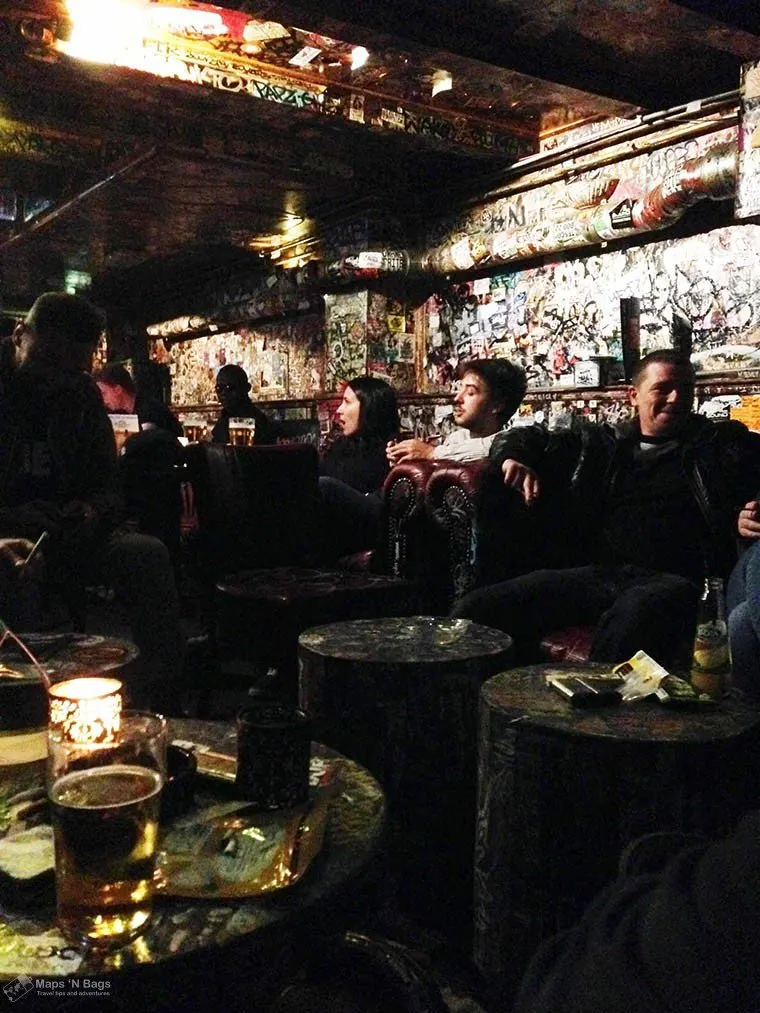 Well, Amsterdam is an exciting city for sure. So, no need to be scared of anything, just take care of yourself and don't do anything crazy. I'm sure you'll have a pleasant experience in charming Amsterdam.
So, I'm curious! What do you think about this liberal city? If you have ever been there, how did you experience this side of Amsterdam? Share your answers in the comments!
---
Hey, looking for more tips for your next trip to the Netherlands? Check out some of our other posts below, or click here to find all of our Netherlands posts.
---
Did you like this post? Pin it to your Pinterest Travel board!
Our best travel tips & resources:
Here're our all-time favorite travel tips & resources so that you can save money and plan your travel logistics hassle-free! For more travel resources, check out our
travel tips.
Saving money: Fly on offseason, winter (not Xmas or NYE), Tuesday, or Wednesday! According to experts, these are the cheapest days to fly.
Travel insurance: Before you leave for your trip, make sure you have a valid travel insurance policy because accidents happen on the road. We have been paying for Safety Wing travel insurance for a little over a year now, and we happily recommend them to our family and friends.
Accommodation: We usually stay in mid-range comfy hotels or private rooms in hostels. These are the sites we use to book accommodation: Booking.com for hotels (excellent flexible cancellation policy) and Hostelworld for hostels (low deposit and easy cancellation).
Tours:We absolutely love booking guided tours with locals to get a history lesson while sight-seeing, especially food tours and walking tours! We book all of our tours using Viator and GetYourGuide.
Transportation: We use Google Maps to figure out how to get around a place using public transport. When we book a rental car, we always use Discover Cars to find the best deal.