Amsterdam is a charming city full of sweet canals, crooked houses, and open-minded attractions. But this is not the only gem of the Netherlands. Oh, no! There are many pleasant cities throughout the country that are perfect for day trips from Amsterdam.
Luckily, the Netherlands is a small country and has a high-quality public transportation system, even though it is a pretty expensive one. So you can easily reach most part of the country by train, for example.
If you're looking for other cities to visit in the Netherlands, take a look at this list I've put together, so you can get inspired for your next vacation.
---
Hey, looking for more tips for your next trip in the Netherlands? Check out some of our other posts below, or click here to find all of our Netherlands posts.
---
Day trips from Amsterdam
Marken, Volendam and Zaanse Schans
Cover the major aspects of the Dutch culture in one day! Fishing villages just outside Amsterdam, Volendam, and Marken really give a feeling you're in the countryside. Full of colorful Dutch houses, these small towns are divided by a lake, which you can easily cross by boat. The main street of Volendam is, of course, very touristic. However, this is the place where you can see the Dutch culture at its best: Cheese stores, stalls selling fish, women wearing those Dutch traditional costumes.
Marken is an island located 30 minutes by boat from Volendam. It has adorable canals and typical Dutch houses, like the ones below.
Back on the mainland, Zaanse Schans has very well-preserved and functioning windmills to entertain you. From solo travelers to family travelers.
These cities are perfect day trips from Amsterdam and because they are very close to the capital, it's the most common route for tourists. Also, they are too small to reserve one day for each, that is why I advise you to visit them all in one day. You can visit those cities using public transport, by bus and/ or train. Alternatively, to learn more about the Dutch culture and avoid a logistic hassle, you can purchase this tour package for Marken, Volendam and Zaanse Schans. I don't think this tour is expensive for what it has to offer: local guide, entrance fee, transfers between the cities, and a canal cruise in Amsterdam. It's definitely worth the money.
Main Attractions in Marken:
The Clog Experience will show you how clogs are made. It might sound weird, but this is a very entertaining way to see some Dutch culture;
In the tiny Original House of Marken you can see how fishing families lived years ago;
The Marker Museum shows the history of the village.
Getting there: This is a 40 minutes bus ride from Amsterdam.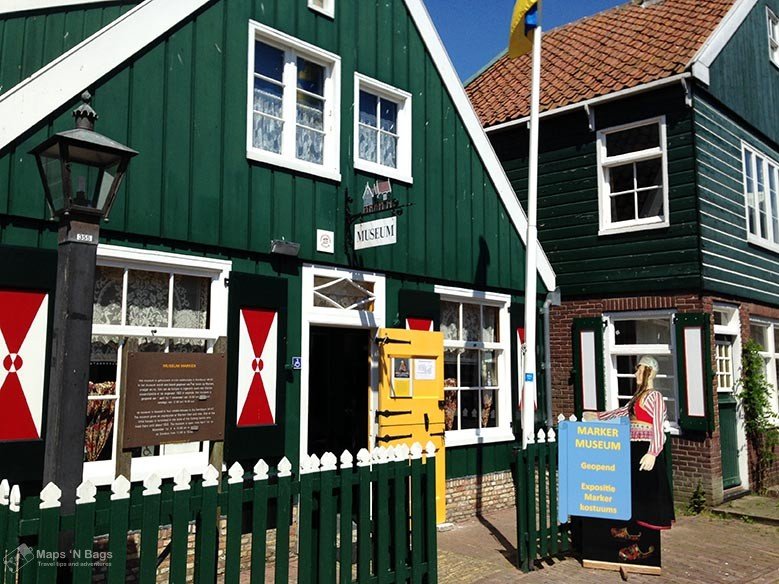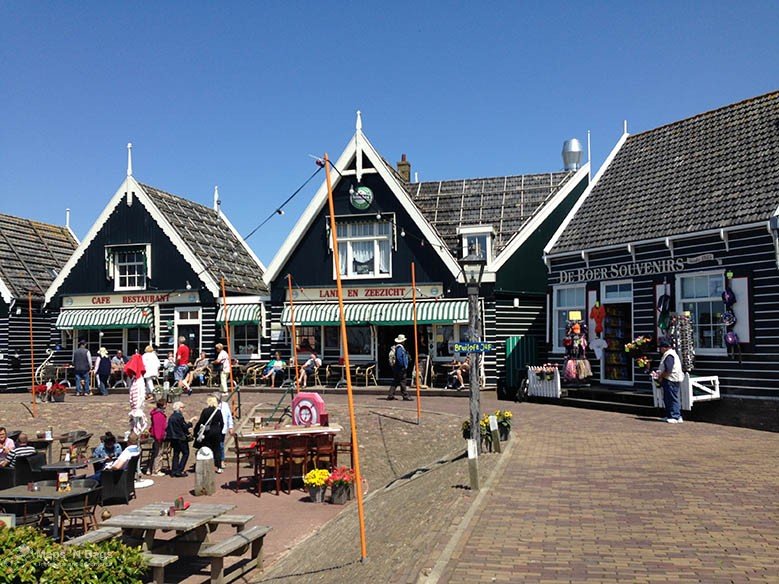 Main Attractions in Volendam:
Stroll along the marina and drink a beer. It's a lovely view!
Visit the Cheese Factory Volendam to see how the experts make the Dutch cheese and, of course, to have a taste of it with some delicious wine;
Take a photo like in the old Dutch times at Foto de Boer. That's certainly a great way to keep your travel memories;
Visit Volendam's Museum to learn more about this village's history.
Getting there: This is a 25 minutes bus ride from Amsterdam.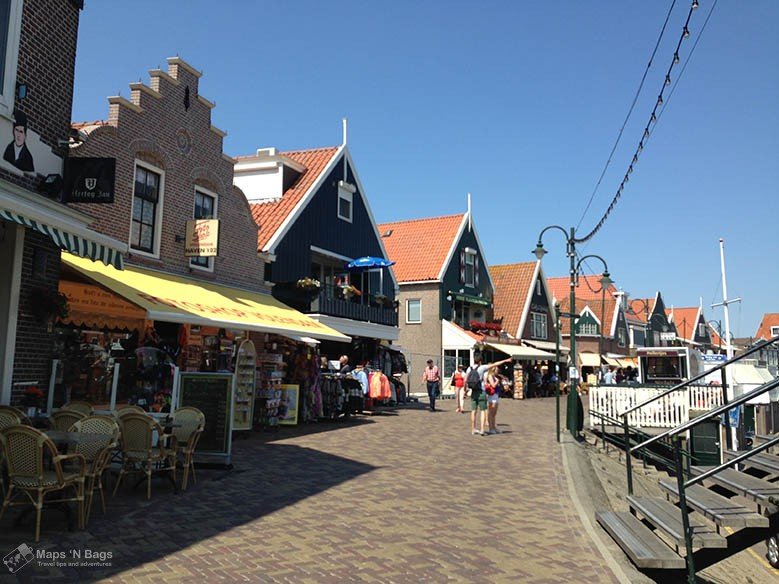 Main Attractions in Zaanse Schans:
Visit a working windmill! The Molen De Kat is an operating windmill where you can see how paint was made in the old days;
Make your own hot chocolate at Zaanse Gedaan Cocoa Lab;
Free entrance to the see how wooden shoes are designed at Kooijman Klompenmakerij;
Have a fun historical tour in the Zaans Museum (the city's museum) & Verkade Experience (a mini chocolate factory inside the Zaans Museum).
Getting there: This is a 35 minutes train ride from Amsterdam.
Haarlem
With a medieval architecture, cobbled streets and even a windmill, Haarlem is one of the Netherlands' gems! This city is easily reached by train and you can spend a pleasant day in its attractions or drink a beer in the Grote Markt. Just don't forget to pay a visit to the historic cathedral located on this square. Haarlem has several museums and churches that can teach you a lot more about the Dutch culture.
Main Attractions in Haarlem:
Visit the Corrie Ten Boom House, the house of the family who helped to hide the Dutch Resistance and Jews during the Second World War;
Frans Hals Museum is an interesting museum showing works of art of the Dutch Golden Age;
Drink a beer in De Jopenkerk. This is an old church transformed into a brewery and restaurant!
Take a tour or drink a coffee in the windmill De Adriaan.
Getting there: This is a 20 minutes train ride from Amsterdam.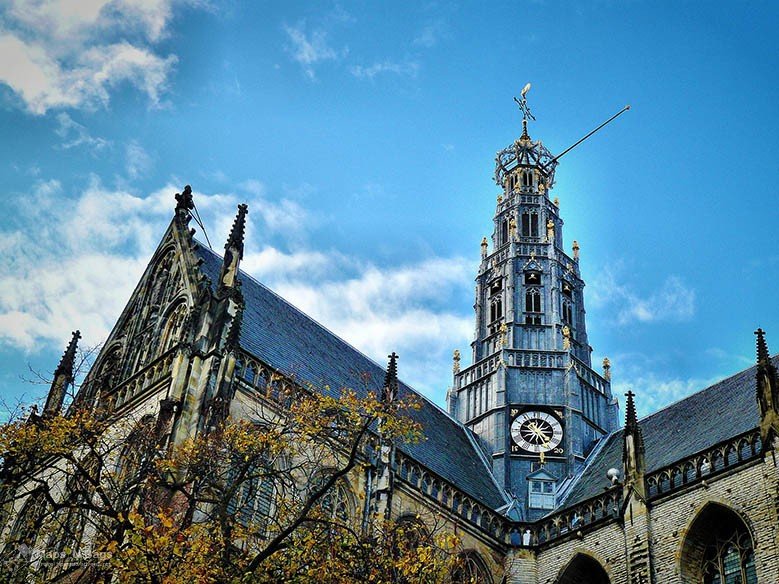 Rotterdam
Rotterdam was (almost) completely destroyed during the Second World War; however, the city was reconstructed and today it has a distinguished and quirky architecture.
The most modern city in the Netherlands houses the biggest harbor in Europe; this is the country's major economic and logistic center. If you want to visit this city, read further a whole post dedicated to Rotterdam. I love the big city vibe and hipster feeling of Rotterdam, which makes it one of the best day trips from Amsterdam, in my opinion.
Main Attractions:
Grab a snack at the futuristic and colorful Markthal;
Take some beautiful photos of the Erasmus Bridge;
Check out old & new boats and ships at the Veerhaven;
Take a look at the most peculiar houses in Rotterdam, the Cube houses!
Getting there: This is a 1h20 train ride from Amsterdam using the conventional train, or a 45 minutes ride using the fast train.
Utrecht
Utrecht is a cute and medieval town in the heart of the Netherlands. It has pleasant canals to walk along, or even better, to make a boat tour on! This romantic city has a lot to offer, like Amsterdam, but it isn't so crowded. If you're planning to visit the city, take a look at Sabine's post for more travel tips about Utrecht.
Main Attractions:
Go up in the 14th-century bell tower, Domtoren, and have a privileged view of Utrecht;
Visit the colorful Sint Willibrordkerk;
Stroll along the canals;
Appreciate the beauty of the Pandhof garden of the St. Martin's Church.
Getting there: This is a 30 minutes train ride from Amsterdam.
Gouda
You know the Gouda cheese, right? This is the city where it comes from. However, that is not all that Gouda has to offer. The city has a gorgeous historical center, delicious freshly made stroopwafels, and a beautiful 15th-century city hall.
Main Attractions:
Wait for the sweet carillon on the side of the City Hall building to play every two minutes after the hour and half hour;
Visit the gorgeous Church of St. John, the longest church in the country;
Check out the Gouda Cheese Museum in the old (cheese) weighing house;
Eat freshly made stroopwafels and cheese in the local market.
Getting there: This is a 50 minutes train ride from Amsterdam.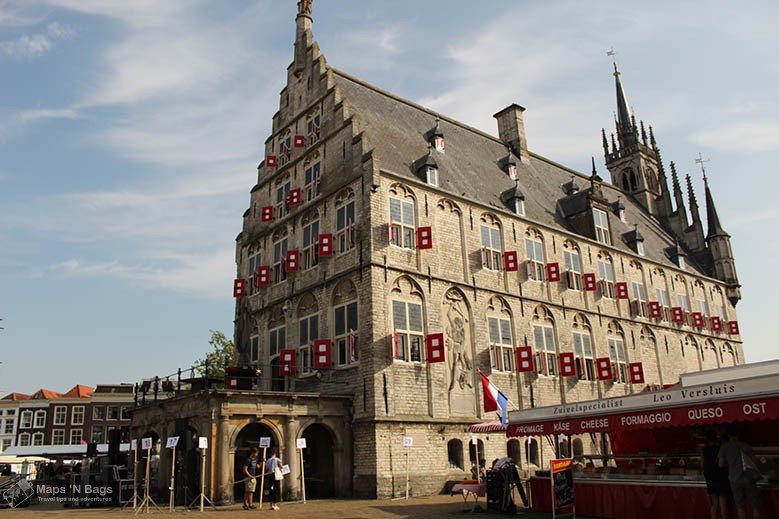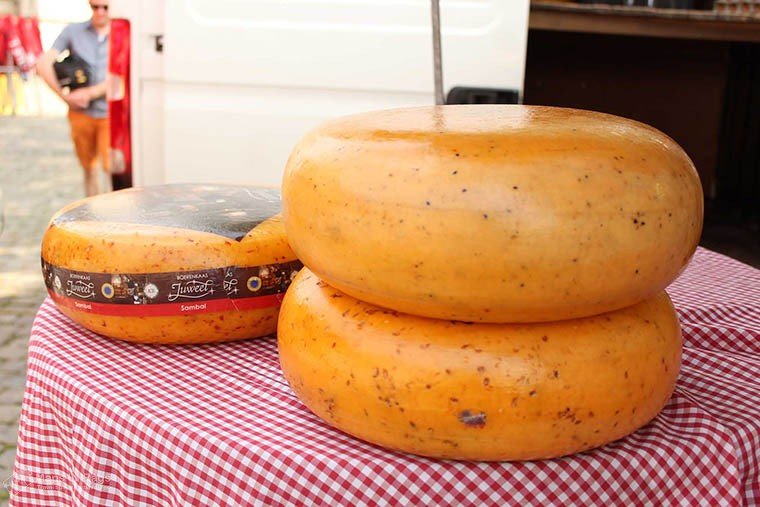 Giethoorn
Giethoorn is the famous Venice of the North, rightly so, because this is a sweet village where you can basically only explore its center by boat. As you cruise the canals, you will see plenty of cute cottages straight out of a fairytale book. Seriously! You can get around it by boat or bike, what makes it very special and romantic. Read the post I wrote about the best things to do in Giethoorn and how to get there from Amsterdam!
Main Attractions:
The very first thing you have to do in a place like this is a boat tour, please;
Visit the Museum Giethoorn 't Oude Maat Uus for an authentic experience of the local life;
Check out the semi-precious stones, crystals, and fossils in De Oude Aarde Museum;
Stroll along the canals and cute bridges.
Getting there: This is a 2h10 minute train and bus ride from Amsterdam. Alternatively, you can purchase the transfers from Amsterdam, plus a guided boat tour in Giethoorn.
The Hague (Den Haag)
The third largest city in the Netherlands, just behind Amsterdam and Rotterdam, houses the Dutch government and Royal family. The city also has a huge international community given the big number of embassies that are located in this political capital. But don't think for a minute that The Hague is boring! Definitely no! The city has a lot of culture and even a beach to share with its tourists.
I've listed its main attractions below, but if you are interested in visiting this city, read further this post with 10 amazing things to do in The Hague.
Main Attractions:
Visit Madurodam, the miniature park of the Netherlands. Very, veeery interesting!
Admire the works of art of the Dutch Golden Age, such as Vermeer's Girl with a Pearl Earring;
Visit the Dutch Parliament, the Binnenhof;
Check out the enigmatic Escher Museum;
Getting there: This is a 55 minutes train ride from Amsterdam.
Keukenhof
Tulips are a well-known symbol of the Netherlands, like windmills, cheese, and wooden clogs. The world's largest flower garden, Keukenhof, has a few flowers for your appreciation. Yes, a few. Around 7 million flowers bulbs to be more exact! So, don't miss the opportunity to see this gorgeous park and plan your trip in advance. In other words, buy your tickets in advance to the Keukenhof Gardens and avoid unnecessary hassle.
I've written a post with all you need to know before visiting the Keukenhof Gardens! Check it out!
Ps: Keukenhof is only open for 2 months a year.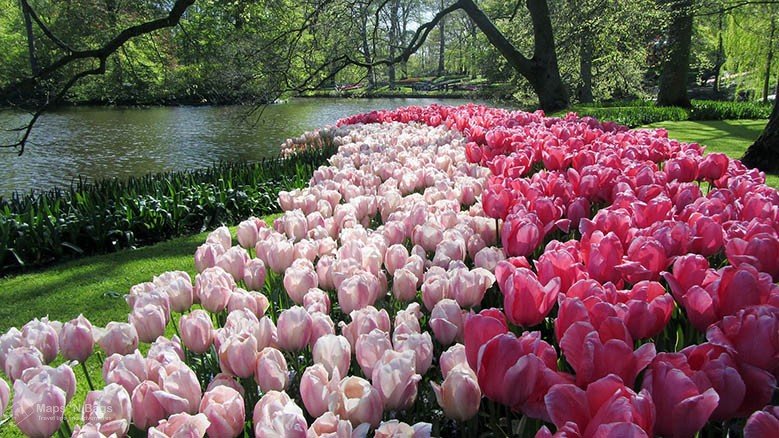 Maastricht
Last, but definitely not least! Maastricht is a gorgeous medieval city in the south of the country that claims to be the oldest. Well, they have the oldest standing gate and churches, so it's gotta be true, right? The city center is full of cozy cafes and good stores, making it a perfect day trip to enjoy one of the most beautiful cities in the Netherlands.
For a more detailed explanation about the city, read this complete guide for a weekend in Maastricht.
Main Attractions:
Visit the oldest gate in the Netherlands, the Gate to Hell;
Take a look at the Gothic church Sint-Janskerk. It has a quirky red tower;
Visit a bookstore inside a former church, the Selexys Dominicanen;
Drink some mulled wine in the best Christmas Market in the country.
Getting there: This is a 2h30 minute train ride from Amsterdam.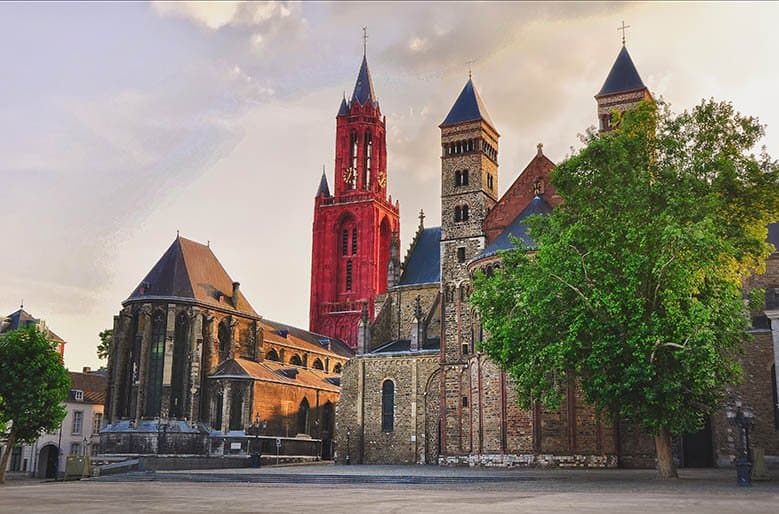 Efteling Theme Park
If you like theme parks, this stop is a must! It takes around 1 hour to go from Amsterdam to Efteling, so no excuses to skip it, right? The Efteling is a fairytale themed park, but not like Disneyland, something more like the Grimm brothers, for example. It's full of those classic and medieval sceneries, so let the child inside be free there.
There are of course other very interesting and pleasant places to visit on a day trip from Amsterdam. However, these ones I mentioned above are the best cities to start with. Trust me when I say you won't be bored in those places.
And I promise I'll add more day trips options to this list!
---
Hey, looking for more tips for your next trip in the Netherlands? Check out some of our other posts below, or click here to find all of our Netherlands posts.
---
Which cities in the Netherlands have you visited so far? Or which ones are you planning to visit? Let me know in the comments!
Did you like the post? Pin it so you can find it easily later!


Disclaimer: Please note that some of the links above are affiliate links. If you make a purchase I'll receive a small commission for it, at no extra cost to you. If you have any questions about the companies or my status as an affiliate, please don't hesitate to contact me via e-mail. Thank you for using our links!