Traveling to the Netherlands and looking for the best day trips from Amsterdam? You're in luck! We have lots of local tips for you!
Amsterdam is a charming city full of sweet canals, crooked houses, and open-minded attractions. But the city is not the only gem in the Netherlands.
There are plenty of underrated cities and towns that most tourists don't visit while in the country. But don't worry, we've put together a list with perfect day trips from Amsterdam.
I, Bruna, used to live in the Dutch capital and, back then, I would go on a different day trip from Amsterdam nearly every weekend.
After living in the Netherlands for 5 years, I still get amazed at the architecture and history of this amazing place.
There is so much to see and to experience in the country!
If you're looking for other cities to visit in the Netherlands as well as day trips to other countries, you will love this list with easy trips from Amsterdam!
Tips before you go on a day trip from Amsterdam
Even though the public transportation system in the Netherlands is pretty expensive, it works perfectly and punctually. So, you can easily reach most of the places we will mention below by train or bus.
So, we suggest you download two essential apps to get around the Netherlands. The first is 9292, this is the official app for public transport.
Here you can see the timetables and stops. We prefer to use this app when we need to take the tram or bus. For the train, we prefer to use the NS app.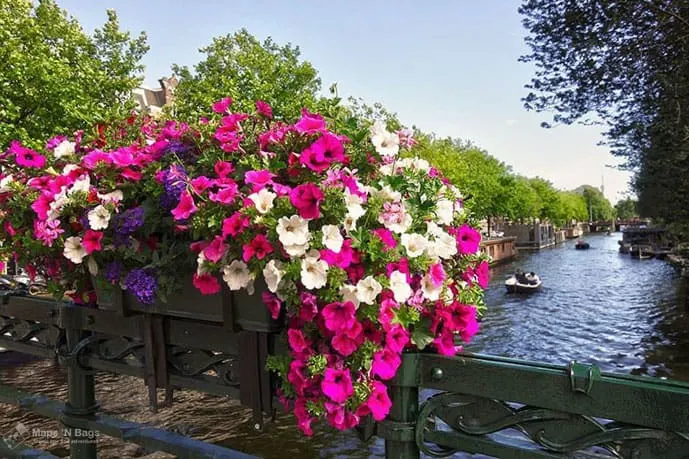 This is the official app of the train company in the country. It's just easier to access their info there.
However, if you're going on a day trip from Amsterdam to other countries, you'll have to check timetables at this website.
If you are also looking for information about the city itself, for instance, what to do in Amsterdam, read our guides to a one-day Amsterdam itinerary, a 2-day itinerary, or a 3-day itinerary.
Where to stay in Amsterdam? Remember that Amsterdam is a pricey city. So, to snag great deals on accommodation and choose the best area to stay in, you will want to read this guide on where to stay in Amsterdam.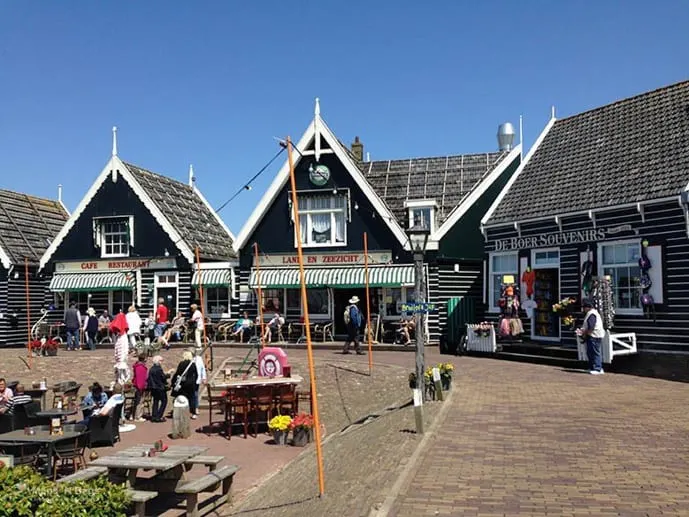 Day trips from Amsterdam
1. Marken, Volendam, and Zaanse Schans
Here you can cover the major aspects of the Dutch culture in one day!
Fishing villages just outside Amsterdam, Volendam and Marken really have a countryside vibe as they are full of colorful Dutch houses.
These small towns are divided by a lake, which you can easily cross by boat.
Although the main street of Volendam is very touristic, this is the place where you can see the Dutch culture at its best: Cheese stores, stalls selling fish, and women wearing those traditional Dutch costumes.
On the other hand, Marken is an island located 30 minutes by boat from Volendam. It has adorable canals and typical Dutch houses, like the ones below.
Back on the mainland, Zaanse Schans has very well-preserved and functioning windmills to entertain you.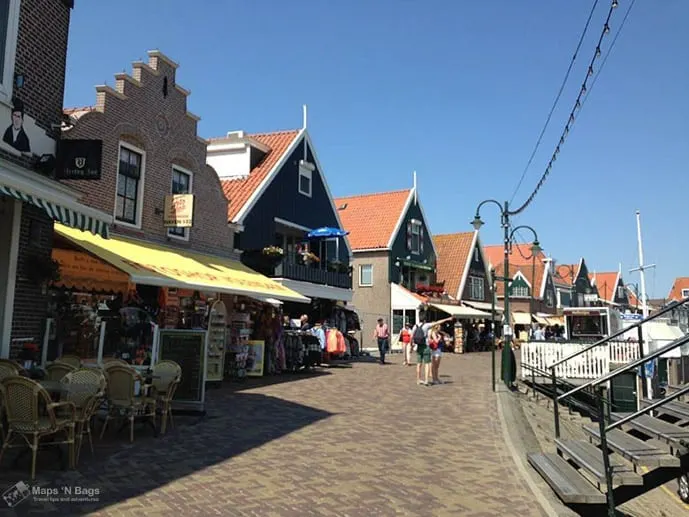 From solo travelers to family travelers, Zaanse Schans literally looks like a postcard. It's so cute.
For these reasons, these three towns are perfect day trips from Amsterdam and because they are very close to the capital, it's the most common route for tourists.
Also, they are too small to reserve one full day for each, that is why we advise you to visit them all in one day.
You can visit them using public transport, by bus and train. For that refer to the beginning of this post where we give some public transport tips.
Alternatively, you can learn more about Dutch culture and avoid a logistic hassle by purchasing this package of a day tour from Amsterdam to Marken, Volendam, and Zaanse Schans.
We don't think this tour is expensive for what it has to offer: local guide, entrance fee, transfers between the cities, and a canal cruise in Amsterdam. It's definitely worth the money!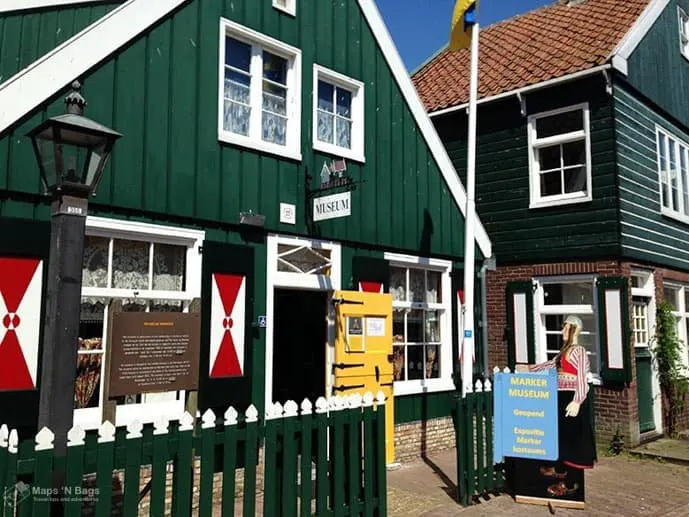 Main Attractions in Marken:
The Clog Experience will show you how clogs are made. It might sound weird, but this is a very entertaining way to see some Dutch culture;
In the tiny Original House of Marken you can see how fishing families lived years ago;
The lighthouse, Paard van Marken;
The Marker Museum shows the history of the village.
Getting there: This is a 40 minutes bus ride from Amsterdam.
Main Attractions in Volendam:
Stroll along the marina and drink a beer. It's a lovely view!
Visit the Cheese Factory Volendam to see how the experts make the Dutch cheese and, of course, to have a taste of it with some delicious wine;
Take a photo like in the old Dutch times at Foto de Boer. That's certainly a great way to keep your travel memories;
Visit Volendam's Museum to learn more about this village's history.
Getting there: This is a 25 minutes bus ride from Amsterdam.
Main Attractions in Zaanse Schans:
Visit a working windmill! The Molen De Kat is an operating windmill where you can see how paint was made in the old days;
Make your own hot chocolate at Zaanse Gedaan Cocoa Lab;
Free entrance to see how wooden shoes are designed at Kooijman Klompenmakerij;
Have a fun historical tour in the Zaans Museum (the city's museum) & Verkade Experience (a mini chocolate factory inside the Zaans Museum).
Getting there: This is a 35 minutes train ride from Amsterdam.
2. Rotterdam, one of the best Amsterdam day trips
Rotterdam was (almost) completely destroyed during the Second World War. However, the city was reconstructed and today it has a distinguished and quirky architecture.
The city with the largest amount of skyscrapers in the Netherlands houses the biggest harbor in Europe. which is the country's major economic and logistic center.
If you want to visit Rotterdam, you can simply take the train from Amsterdam City center.
We love the big city vibe and hipster feeling of Rotterdam. This welcoming atmosphere makes it one of the best day trips from Amsterdam, in our opinion.
It's also quite interesting to see how different Amsterdam and Rotterdam are. Definitely worth a visit!
Main Attractions:
Grab a snack at the futuristic and colorful Markthal;
Take some beautiful photos of the Erasmus Bridge;
Go 185m up in the Euromast Tower to have perfect 360-degree views of Rotterdam;
Take a look at the most peculiar houses in Rotterdam, the Cube houses!
Getting there: This is a 1h20 train ride from Amsterdam using the conventional train, or a 45 minutes ride using the fast train.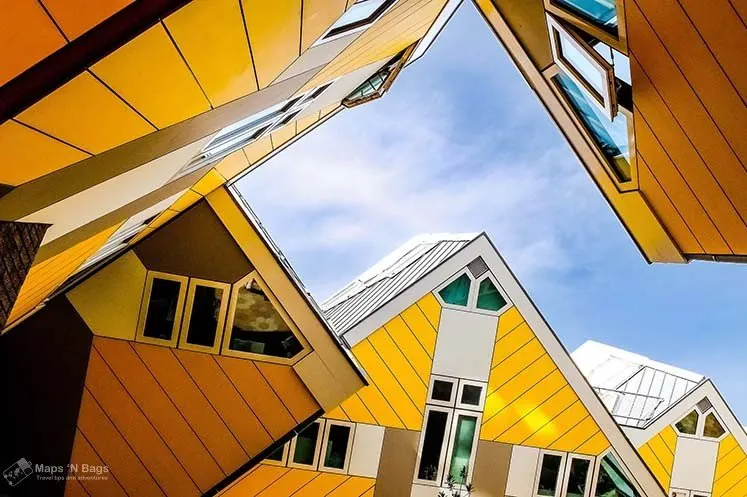 Read next: 20 Best Photo Spots In Amsterdam + Exact Location
3. Haarlem
Nearly 100 years older than Amsterdam, Haarlem is a historic city in Holland. With medieval architecture, cobbled streets, and even a windmill, Haarlem is one of the Netherlands' gems!
You can easily reach it by train from Amsterdam and you can spend a perfect day visiting its main attractions or just having a beer in the Grote Markt.
Don't forget to pay a visit to the historic cathedral located on this square. It's stunning!
This day trip to Haarlem is perfect if you don't want to travel far to visit a small and sweet Dutch city.
Moreover, Haarlem has several museums and churches where you can learn a lot about Dutch culture. You will certainly enjoy this city. It's delightful!
Fun fact: The world's oldest still existing newspaper comes from Haarlem, the Oprechte Naerlemse Courant (1656). It also inspired the creation of Nieuw Haarlem, today known as the Harlem Times.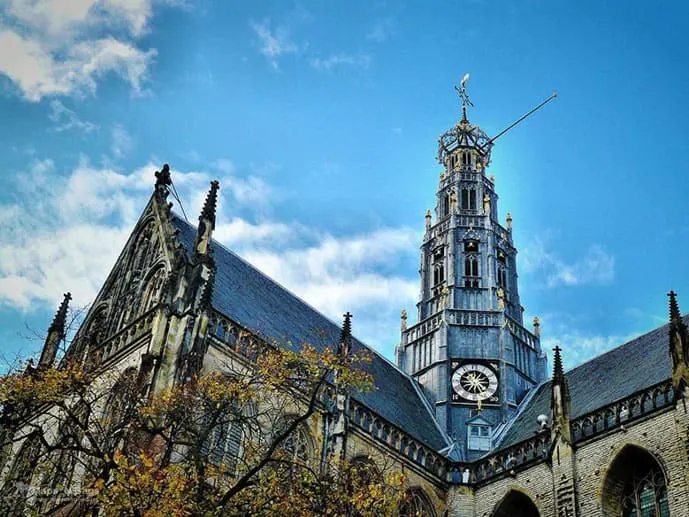 Main Attractions in Haarlem:
Visit the Corrie Ten Boom House, the house of the family who helped to hide the Dutch Resistance and Jews during the Second World War;
Frans Hals Museum is an interesting museum showing works of art of the Dutch Golden Age;
Drink a beer in De Jopenkerk. This is an old church transformed into a brewery and restaurant;
Take a tour or drink a coffee in the windmill De Adriaan.
Getting there: This is a 20 minutes train ride from Amsterdam.
Hey, looking for more tips for your next trip to the Netherlands? Check out some of our other posts below, or click here to find all of our Netherlands posts.
4. Utrecht
Utrecht is a medieval and romantic town in the heart of the Netherlands. It looks a lot like Amsterdam, but it has its own character, and it's much smaller, which also means it is less crowded.
You can stroll along the many pleasant canals in the city, including walking at the water's level, which is not possible in Amsterdam.
Beyond that, Utrecht has the main train station in the country, so from here, you can get connections to almost everywhere in the country (and also to some cities in Germany, like Berlin).
Fun fact: The Dom Bell Tower usually pays tribute to musicians who passed away, such as Avicii and Chester Bennington (Linkin Park), by playing their songs on the bells.
Main Attractions:
Go up in the 14th-century bell tower, Domtoren, and have a privileged view of Utrecht;
Visit the colorful Sint Willibrordkerk;
Stroll along the canals;
Appreciate the beauty of the Pandhof garden of the St. Martin's Church.
Getting there: This is a 30 minutes train ride from Amsterdam.
5. Eindhoven
Known as the city of light, at least in the Netherlands, Eindhoven is one of the largest cities in the country.
We said "city of light" because Philips Electronics was founded here and for that reason, the city is the technology and design hub in the country and, fortunately, it's off the tourist's track.
Eindhoven is a quite modern city when compared to Dutch standards, but not so much like Rotterdam.
There are some skyscrapers in town and a few quirky constructions, but its real charm lies in the lively city center. The city has great stores and good eateries spread throughout this area.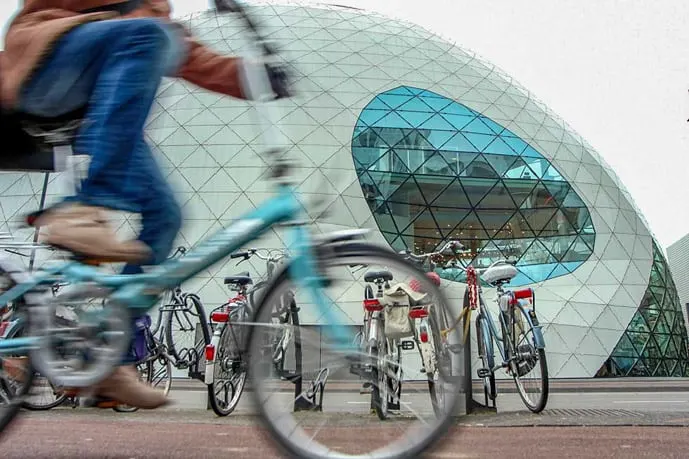 Main Attractions:
Visit a distillery and taste some artisanal gins at Bottle Distillery;
Check out the awesome collection of the main cars and trucks manufactured by DAF at their museum;
Learn more about the work of the famous Dutch painter Van Gogh at the village where he used to live, Village Neunen;
Pay Sint-Catharinakerk a visit and check out their gorgeous stained glass windows.
Getting there: This is a 1h30 minutes train ride from Amsterdam.
6. Maastricht, the perfect day trip from Amsterdam in the winter
Maastricht is a gorgeous medieval city in the south of the country that claims to be the oldest town in the Netherlands.
Well, they have the oldest standing gate and churches, so it's gotta be true, right?
Anyway, the city center is full of cozy cafes and good stores, making it a perfect day trip to enjoy one of the most beautiful cities in the Netherlands.
Maastricht is our favorite city on this list because we totally love the local architecture and medieval look.
Ok, we might be biased because we used to live here…still, it is beautiful!
For a more detailed explanation about the city, read this complete guide for a weekend in Maastricht.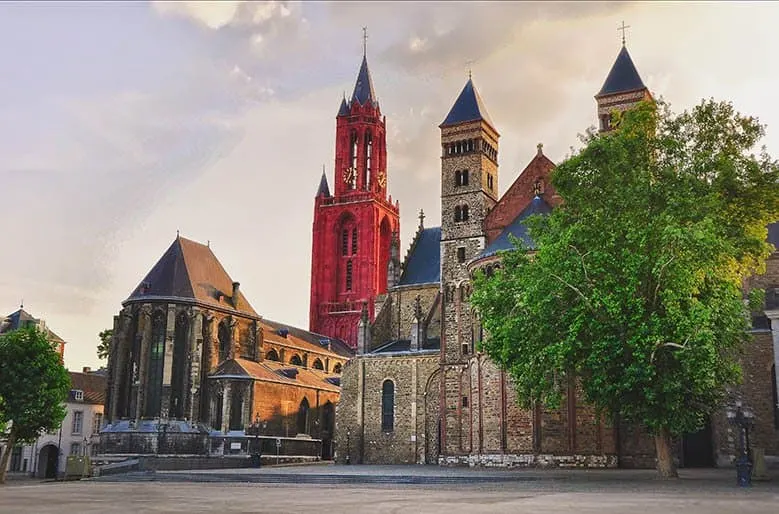 Main Attractions:
Visit the oldest gate in the Netherlands, the Gate to Hell;
Take a look at the Gothic church Sint-Janskerk. It has a quirky red tower;
Visit a bookstore inside a former church, the Selexyz Dominicanen;
Drink some mulled wine in the best Christmas Market in the country.
Getting there: This is a 2h30 minute train ride from Amsterdam.
7. Gouda
You know the Gouda cheese, right? This is the city where it comes from. However, that is not all that Gouda has to offer.
The city has an array of historic gardens and constructions, such as the 15th-century city hall and the weigh house. Gouda is also famous for being having some delicious freshly made stroopwafels.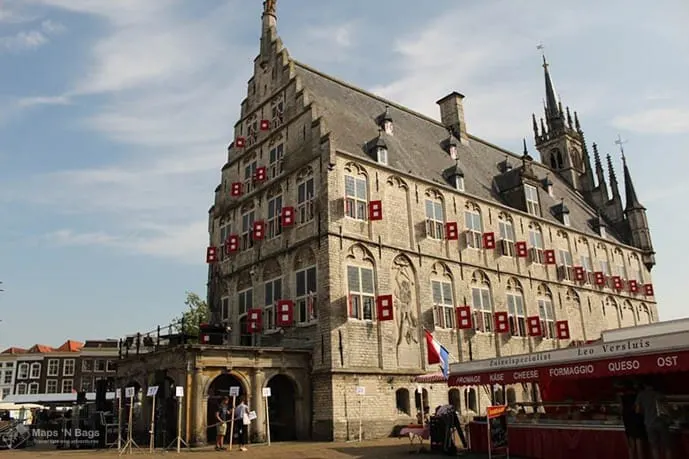 Main Attractions:
Wait for the sweet carillon on the side of the City Hall building to play every two minutes after the hour and half-hour;
Visit the gorgeous Church of St. John, the longest church in the country;
Check out the Gouda Cheese Museum in the old (cheese) weighing house;
Eat freshly made stroopwafels and cheese in the local market.
Getting there: This is a 50 minutes train ride from Amsterdam.
8. The Hague
The third-largest city in the Netherlands, the Hague, houses the Dutch government and Royal family.
The city also has a huge international community given the number of embassies that are located in this political capital. But don't think for a minute that the Hague is boring. Definitely no!
The Hague has a lot of cultural venues and you can even find a relaxing beach there.
Beyond that, the museums in the Hague are often overlooked because most tourists spend all their time (and money) in Amsterdam's museums.
Here's an insider tip: don't do this! Let the Hague surprise you.
We've listed its main attractions below, but if you are interested in more activities, read this article with amazing things to do in the Hague.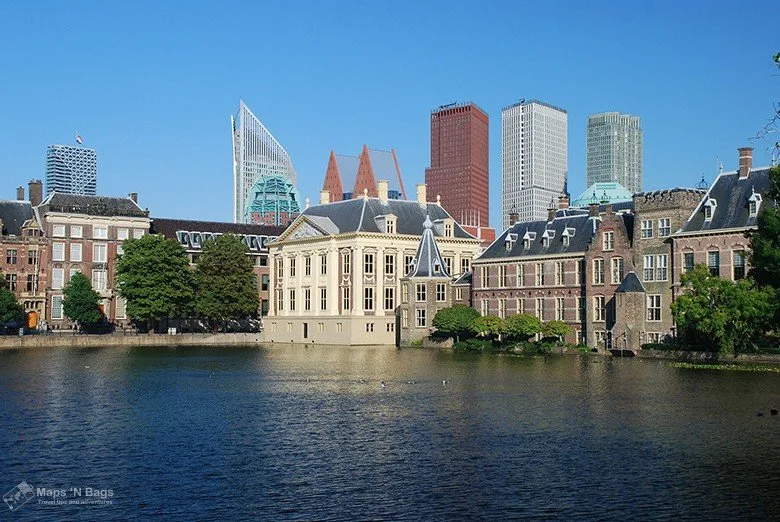 Main Attractions:
Visit Madurodam, the miniature park of the Netherlands and spot famous locations (also fun for adults);
Admire the works of art of the Dutch Golden Age, such as Vermeer's Girl with a Pearl Earring;
Visit the Dutch Parliament, the Binnenhof;
Check out the enigmatic Escher Museum.
Getting there: This is a 55 minutes train ride from Amsterdam.
Read next: 10 Best Street Markets of Amsterdam
9. Amersfoort
You'll find a lovely tiny town just a little further than Utrecht.
This town, Amersfoort, is full of interesting sights and it has a delightful atmosphere in the inner center, where you can see uneven cobblestone streets and the typical brick houses.
Moreover, this is the town where Mondriaan was born. Mondriaan was a Dutch artist who had a peculiar art style, De Stijl art movement.
You can visit his house, which has a permanent collection as well as some replicas of his work.
Main Attractions:
Spot the Wallhouses. These houses were built using the bricks of the original city's wall;
Visit the Monnikendam, the city's old gate. There is a restaurant in the gate, but you can also picnic on the grass around it;
The majestic 15th-century Koppelpoort (gate) is still standing and offers excellent shot opportunities. This was the city's entrance point back at that time;
Climb the tower of the 16th-century Onze Lieve Vrouwetoren and have a privileged view of Amersfoort.
Getting there: This is a 35 minutes train ride from Amsterdam.
10. Den Bosch
Superb food and a pleasant city center, Den Bosch is an old city full of historical sites.
The city's cathedral, for example, is imposing and has a richly decorated interior—one of the most beautiful churches we've seen in the Netherlands.
Also, while in Den Bosch, be sure to eat the local treat and utterly mouthwatering Bossche Bol, A ball-shaped pastry filled with whipped cream and covered with dark chocolate icing.
Fun fact: Hieronymus Bosch was born here. It's said that he witnessed a disastrous fire in the city which inspired him to make one of his most famous paintings "The temptation of St. Anthony."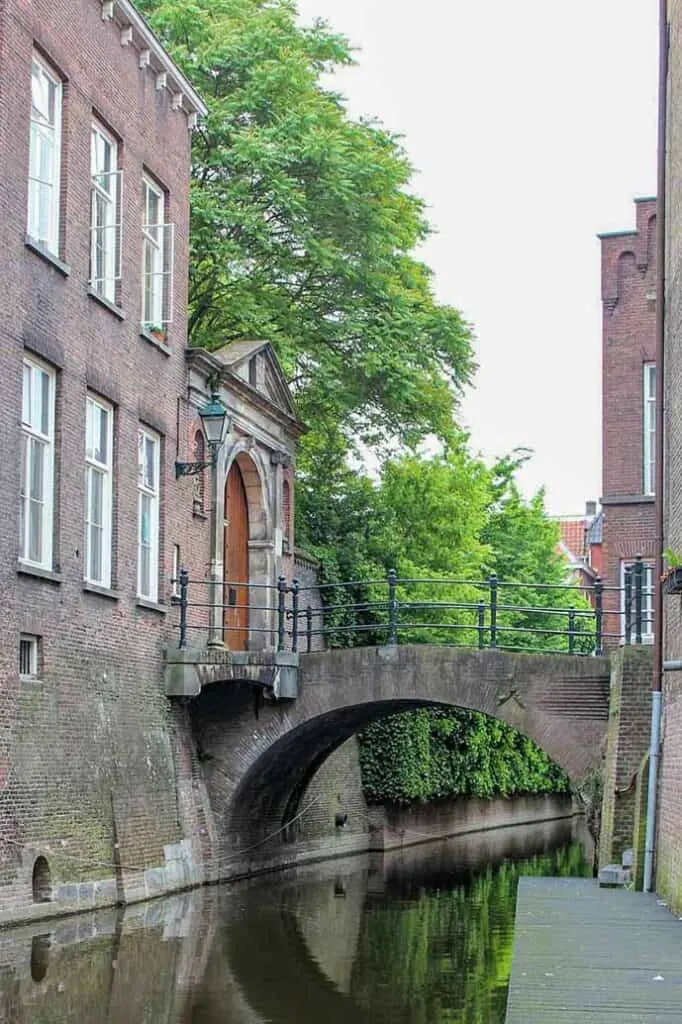 Main Attractions:
Pay the gothic Saint John's Cathedral a visit and climb the tower for a fantastic view of Den Bosch. Also, try to spot the statue of an angel with a mobile phone, which was made after the last restoration.
Cruise down the Binnendieze river around the city as you see more of the local architecture;
Visit the local museums: Het Noordbrabants Museum (mostly regional art) and the Stedelijk Museum (modern art);
Get to know and see more of Hieronymus Bosch's art at the Bosch Art Center. His original "The Garden Of Earthly Delights" isn't here, but a full-sized replica will be enough to experience his art.
Getting there: This is a 50 minutes train ride from Amsterdam.
11. Giethoorn
Giethoorn is the famous Venice of the North, and rightly so because this is a sweet village where you can basically only discover its center by boat.
As you cruise the canals, you will see plenty of cute cottages straight out of a fairytale book. Seriously!
You can get around it by boat or bike, which makes it very special and romantic. Coming to the Netherlands in December?
No problem, Giethoorn is still one of the best day trips from Amsterdam in winter. Mainly because it's much less crowded.
Read the post we wrote about the best things to do in Giethoorn and how to get there from Amsterdam!
Main Attractions:
The very first thing you have to do in a place like this is a boat tour, please;
Visit the Museum Giethoorn 't Oude Maat Uus for an authentic experience of the local life;
Check out the semi-precious stones, crystals, and fossils in De Oude Aarde Museum;
Stroll along the canals and cute bridges.
Getting there: This is a 2h10 minute train and bus ride from Amsterdam. Alternatively, you can purchase the transfers from Amsterdam, plus a guided boat tour in Giethoorn.
12. Keukenhof Gardens
The world's second-largest flower garden, Keukenhof, has a few flowers on its premises. Yes, a few.
Around 7 million flower bulbs to be more exact! So, don't miss the opportunity to see this vibrant and perfumed park which is a romantic day trip from Amsterdam in the spring.
Also, plan your trip ahead of time. In other words, buy your tickets in advance to Keukenhof Park and avoid unnecessary hassle.
We've written a post with all you need to know before visiting the Keukenhof Gardens. Check it out!
Pssst: Keukenhof is only open for 2 months a year.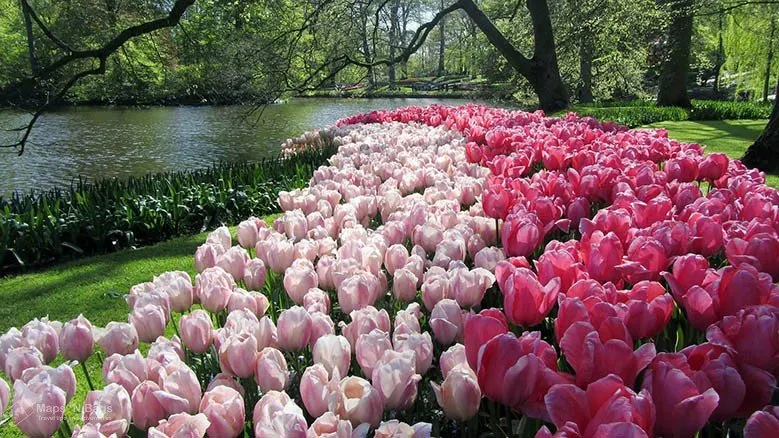 More Amsterdam Day Trips
13. Kinderdijk
Don't miss this UNESCO World Heritage site in the Netherlands.
There are impressive 19 windmills in the area and we can assure you will learn a lot about Dutch hydraulics engineering and everything they have accomplished with it. Very interesting!
14. Delft
You might have heard of the earthenware made in Delft, the Delft Blue. This sort of porcelain had and have a significant influence on the city and the Netherlands.
Do you know those typical Dutch souvenirs that look like porcelain, such as clogs and tiny windmills? That's a replica of this traditional pottery.
There is still one factory where you can have a Delft Blue Experience, the Royal Dutch.
15. Alkmaar
Alkmaar is mostly known for its cheese market, one of the best ones.
From March through September, you can experience a real Dutch Cheese Market with people wearing those traditional Dutch costumes.
Arrive early because they make some exciting presentations to visitors.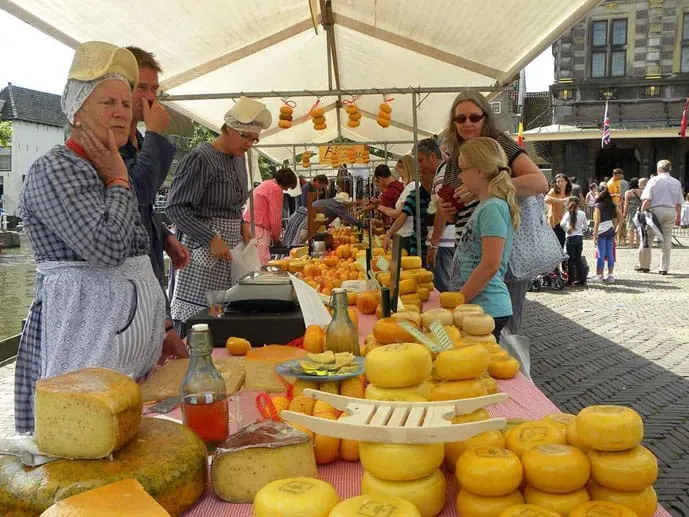 Read next: 3 Days In Amsterdam Itinerary For First-Timers
16. Leiden
Best known as a student city, Leiden has not only the country's oldest university but also Europe's oldest botanical garden, which was founded by the University of Leiden.
A relaxing place to walk around for sure. Afterward, stroll along their cute canals or pay one of their cozy cafes a visit. The National Museum of Ethnology is a must if you're a history-lover.
17. Muiden Castle – Muiderslot
Over 700 years of Dutch History in one place, or better saying, in one castle. Muiden Castle is only 15km away from Amsterdam, which you can easily reach by bus.
This castle offered protection to the city on the Eastern front, and today, it's a museum showcasing how the castle used to be when it was in use. Muiderslot is part of the New Waterline, a defense line of Amsterdam.
18. Tulip Fields in Holland
Lisse, Leiden, and Den Helder are famous for having vibrant tulip fields.
Around many fields, there are paths where you can ride a bike while you discover the area. Just remember to respect the locals and not to step on/pick flowers.
Pssst: We know this isn't in Holland, but it's still a perfect day trip from Amsterdam if you want to see tulips. Noordoostpolder is in the Dutch countryside, and this is the largest tulip area in the Netherlands.
They even have a Tulip Festival from the end of April until the beginning of May. During the festival, you can follow a route to see the most vibrant tulips throughout the town.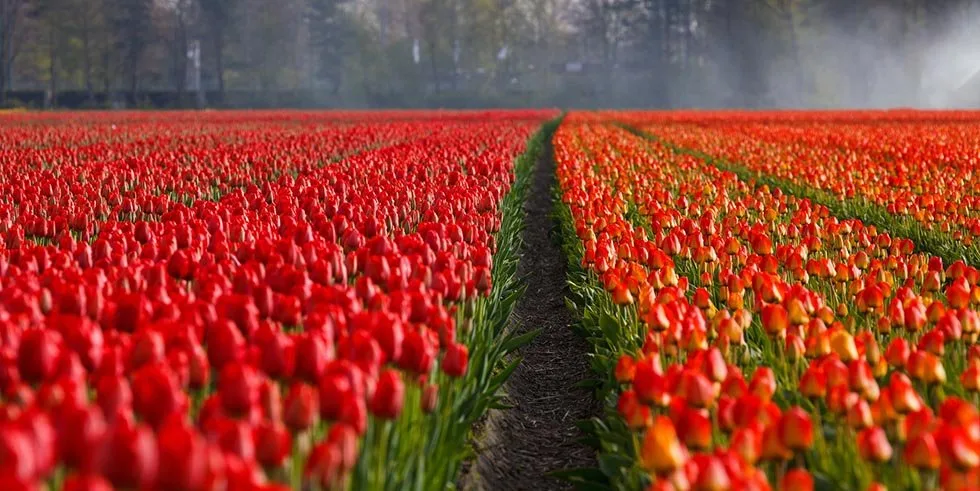 19. Efteling Theme Park
If you like theme parks, this stop is a must! One hour away from the Dutch capital, the Efteling is a fairytale-themed park, but not like Disneyland, something more like the Grimm brothers, for example.
It's full of those classic and medieval sceneries, so let the child inside be free there.
20. Zandvoort Aan Zee
Only half an hour away from Amsterdam, Zandvoort aan Zee is a relaxing beach to enjoy a good weather day. Don't expect turquoise water though: the North Sea borders the Netherlands.
Even if you don't want to swim, this is a pleasant day trip from Amsterdam as you can just chill in the cafes.
Day Trips From Amsterdam To Other Countries
21. Antwerp
Right after the Dutch border, Antwerp is an extremely cozy city in Belgium. Easily reached by train, you can go on a day trip here and explore its compact city center.
Including the impressive Cathedral of Our Lady and the Museum aan de Stroom. Both have striking architecture even though the first is a 14th-century church and the latter a modern (and quirky) building.
Be sure to go to the top of this museum to have a 360-degree view over Antwerp (the panorama is free).
22. Bruges
On the west coast of Belgium, there is a little open-air museum, or better saying, Bruges. I'm saying the truth. Its historic center is even a UNESCO World Heritage site. The market square is an attraction by itself.
The colorful medieval houses are squeezed next to each other here. The easiest way to go from Amsterdam to Bruges is by train if you ask us. It takes around 3h, but it's worth it. Bruges is unique!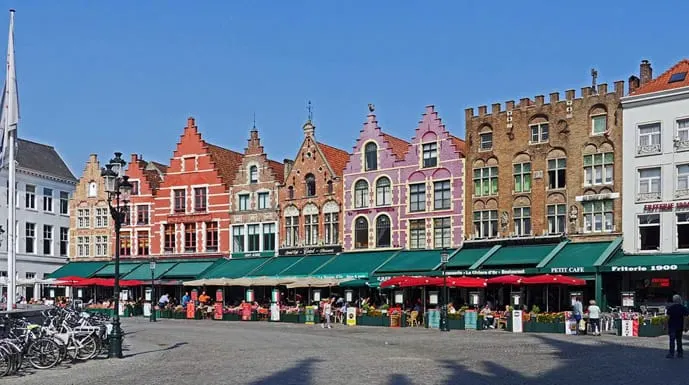 23. Brussels
A little further than Antwerp, the Belgian capital is also easily reached by train or bus, such as Flixbus. While there, be sure to eat some traditional Belgian waffles and drink the local beer (which is our favorite).
We love Duvel, La Chouffe, and Mort Subite Kriek.
Besides drinking and eating, spend some time exploring the city too. Don't miss the Grand Palace and Mini-Europe, but be sure to see how tiny Manneken Pis is.
24. Ghent
Between Bruges and Antwerp, Ghent is a medieval city in Belgium full of exquisite architecture. Among the main attractions, the Gravensteen Castle is the oldest one, dating back to the 10th-century.
Take your time and chill at the Graslei if the weather allows. The houses on the other side of the Leie River take you back in time. To get to Ghent, you can better go by bus (Flixbus). It's much cheaper than going by train.
25. Paris
The Amsterdam to Paris day trip is one of the best day trips from Amsterdam to other countries. Why? Because you take the fast train and in 3h you're there. Be sure to book in advance so you pay only €35 one-way.
Read next: How to Spend 4 Days in Paris Itinerary for First-Timers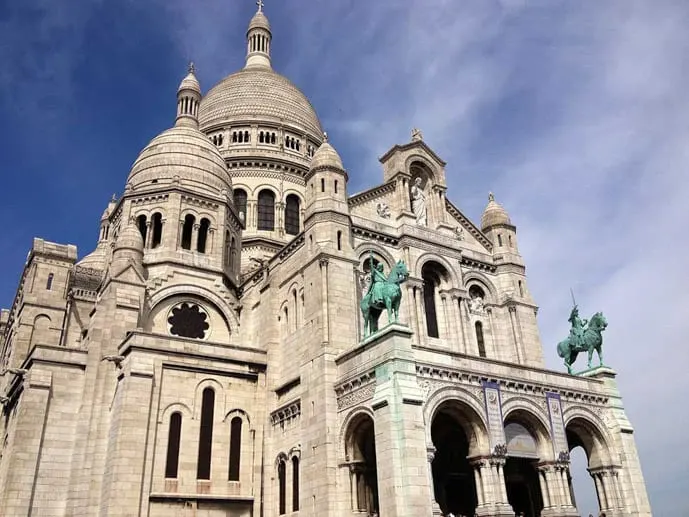 26. London
Yes, you can visit London on a day trip from Amsterdam.
For that, simply take the train from Amsterdam Central to St. Pancreas International. The trip takes about 4 hours when traveling on a direct train. Do plan ahead to snag a good deal!
So, if you want to experience the British capital for a little while, just hop on a train.
Amsterdam Trips
There are of course other very interesting and pleasant places to visit on a day trip from Amsterdam.
However, these ones we mentioned above are the best cities to start with. Trust us when we say you will love those places.
Pssst: If you're looking for Utrecht tips, check out Sabine's post.
Did you like the post about the best Amsterdam day trips? Pin it so you can find it easily later!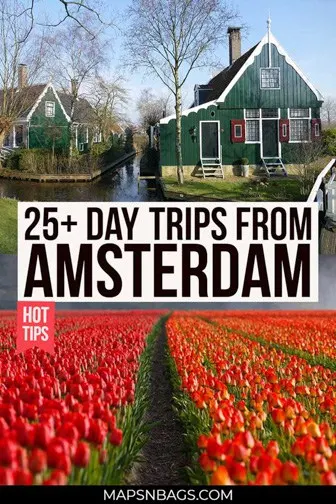 Our best travel tips & resources:
Here're our all-time favorite travel tips & resources so that you can save money and plan your travel logistics hassle-free! For more travel resources, check out our
travel tips.
Saving money: Fly on offseason, winter (not Xmas or NYE), Tuesday, or Wednesday! According to experts, these are the cheapest days to fly.
Travel insurance: Before you leave for your trip, make sure you have a valid travel insurance policy because accidents happen on the road. We have been paying for Safety Wing travel insurance for a little over a year now, and we happily recommend them to our family and friends.
Accommodation: We usually stay in mid-range comfy hotels or private rooms in hostels. These are the sites we use to book accommodation: Booking.com for hotels (excellent flexible cancellation policy) and Hostelworld for hostels (low deposit and easy cancellation).
Tours:We absolutely love booking guided tours with locals to get a history lesson while sight-seeing, especially food tours and walking tours! We book all of our tours using Viator and GetYourGuide.
Transportation: We use Google Maps to figure out how to get around a place using public transport. When we book a rental car, we always use Discover Cars to find the best deal.