Planning a romantic weekend in Amsterdam? You'll want to read this list jam-packed with excellent ideas of romantic things to do in Amsterdam.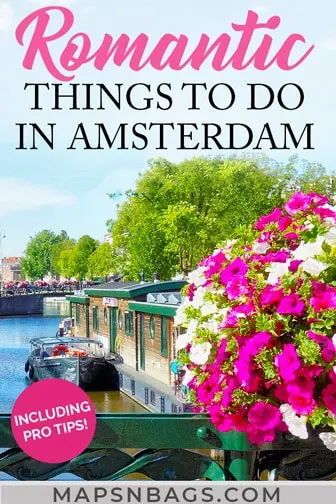 Netherlands' capital is one of the most diverse cities in the world. The amount of different experiences and people the city attracts is astonishing.
Despite its X-rated image, Amsterdam is actually one of the most romantic cities in Europe.
Therefore, there are a ton of couple things to do in Amsterdam that will make anyone's next couples' trip one to remember.
Looking for some couples bucket list ideas? Here're some romantic things to do as a couple in Amsterdam!
Amsterdam for Couples: Romantic Weekend in Amsterdam
The cobblestone streets, the peaceful canals, and the flowers in abundance make the city the perfect spot for romance. And trust us when we say there are tons of romantic places in Amsterdam.
It doesn't matter if it's your first date, your first anniversary, or your 30th anniversary, there is sure to be more than one romantic endeavor that will please both parties.
That's why we decided to come up with a couple's guide to Amsterdam to show you how to experience this city that has a lot of personalities at the same time: hipster, traditional, liberal, conservative, romantic, and party hard.
But in this article, we'll cover only the amorous side of the city, such as romantic bars in Amsterdam, romantic hotels in Amsterdam, romantic things to do in Amsterdam, and well, romantic Amsterdam.
That's it. Let this article inspire your next trip to the Netherlands, and you mold your Amsterdam itinerary.
What can couples do in Amsterdam?

Fall in love. Again.
Read next: One day in Amsterdam itinerary
Most Romantic Things to Do in Amsterdam
Many people are under the impression that romantic is synonymous with expensive and grand gestures, but this is not the case.
There are some romantic things to do in Amsterdam that are on the pricier side, but there are also some free ones.
With the right partner, grand gestures are not needed to express love. Sometimes, the simplest things mean the most. In fact, they often do say the most.
Get ready to show some love on a romantic getaway to Amsterdam.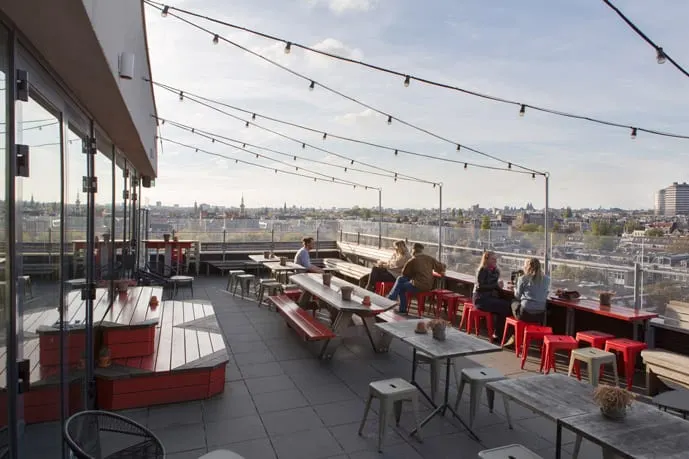 Stay in One of the Many Romantic Hotels in Amsterdam
Amsterdam is full of beautiful hotels with views of the canals and picturesque buildings.
We wrote a complete guide on where to stay in Amsterdam, but we'll also name a few romantic options below.
Volkshotel – well-priced and hipster hotel in Amsterdam with an excellent rooftop bar.

Click here to check the latest prices at Booking.com
The Dylan – high-end hotel in the center of Amsterdam with amenities you might want. The traditional building has a ridiculously romantic view of the canals.

Click here for the latest accommodation deals for The Dylan Hotel
Faralda Crane – ultimate splurge hotel (perfect for a honeymoon in Amsterdam!) in a quirky and exclusive setting: a crane!

Click here to check the latest prices and reviews at Booking.com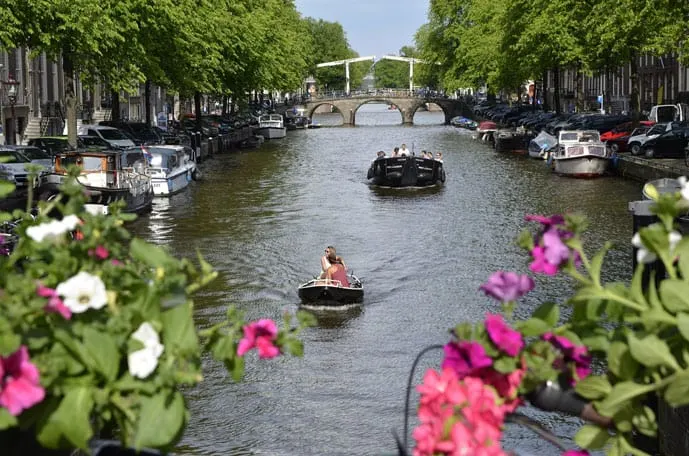 Snuggle up on a Nighttime Canal Cruise
There is nothing more romantic than snuggling up with the love of your life while cruising the Amsterdam canals after sunset.
Once the sun sets, the city gets this unique atmosphere as if Amsterdam at night was a different city from what you saw during the day.
The lamps lining the canals turn on, the houses give off a warm glow, and the noise of the day time hours quiets down. Although there are plenty of things to do in Amsterdam at night, a canal cruise is an optimal option for lovers.
There is a plethora of canal cruise companies in Amsterdam that run until midnight. Some of which offer drinks and cocktails on the boat while others offer wine and Dutch cheese.
The tours go around the belt of Amsterdam, an area of canals that surround the city center and are a UNESCO Heritage Site.
Anyway, as the boat sails through the city, the lights twinkle off the water and the unique houses rush past. This offers the perfect opportunity to get close and enjoy the intimacy of the city at night.
The whole experience would have anyone swooning for both their lover and the city.

Click here to check more Amsterdam canal cruises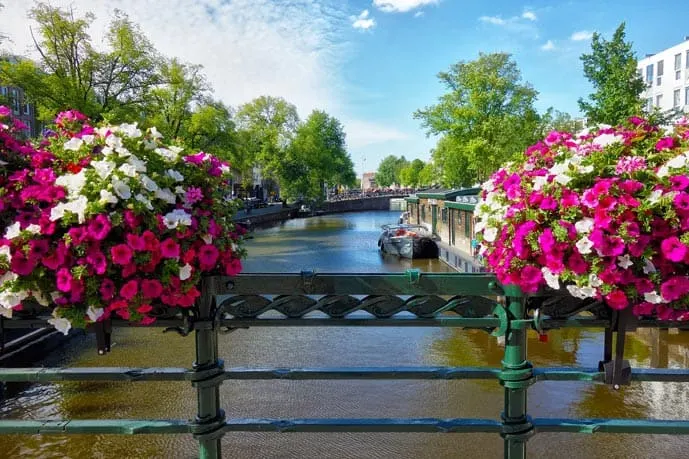 Embark on a Day Trip
Going on a day trip from Amsterdam is a great way to see more of the Netherlands and make new memories with a partner.
Due to the country's small size, day trips are very feasible and are highly encouraged as the neighboring cities are also very romantic.
The city of Haarlem is only 20 minutes from Amsterdam and is quite the romantic afternoon getaway. The town looks like a mini Amsterdam, but the best part is the lack of crowds.
There are significantly fewer people in Haarlem than in Amsterdam, which makes exploring and doing things together much more intimate.
Heading here for an afternoon to get lunch at a small café and roaming the streets hand in hand is sure to make all lovers feel on top of the world.
Other romantic cities in the Netherlands worth visiting are Giethoorn, the village with "no roads," and Maastricht, the oldest city in the country jam-packed with medieval constructions.
Pssst: Are you traveling to Amsterdam during the spring? Then visit the Keukenhof. There's no place in the Netherlands more romantic than this park!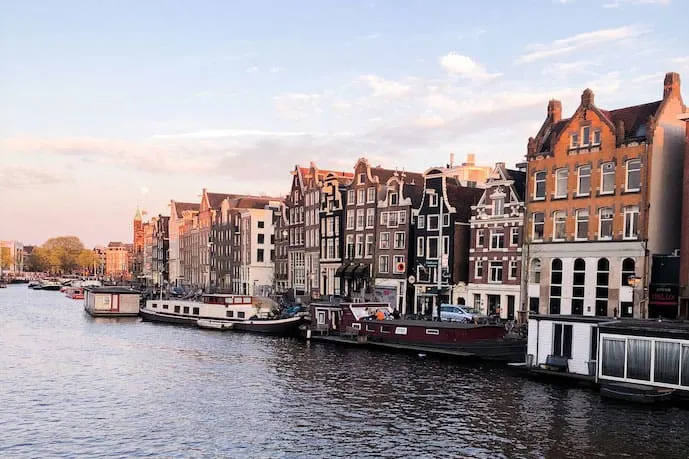 Get a Romantic Photo Shoot
What could possibly be a better souvenir of your romantic weekend in Amsterdam than couple photos?
Instead of blurry selfies and awkward faces, imagine those candid and flawless pictures of you two.
Well, if you ever considered taking couple pictures, this is your chance as Amsterdam's architecture makes up for perfect backdrop.
There are only a few cities in Europe that look that romantic, and Amsterdam is one of them.
Further out, the canals, the bikes, and the flowers make for a very romantic scene that your local photographer will make sure to capture.

Click here to read more reviews about the romantic photoshoot.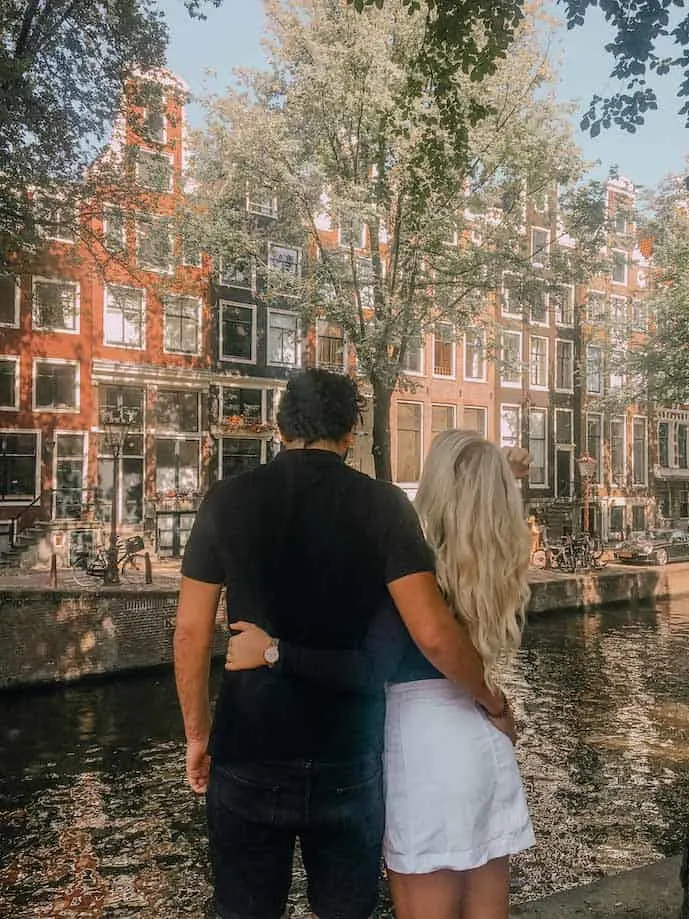 Walk Around the Stunning Canals
The canals in Amsterdam are absolutely magical. There are so many twists and turns, little alleys, and cute bridges over the rivers that make it both fun and mesmerizing.
To give you a better idea, Amsterdam has an astounding 1281 canals! With this many, it's easy to find many canals that are void of other people, and walking along the canals alone is the best way to feel the local atmosphere.
Of course, exploring a city without crowds is perfect, but it's also much easier to find the perfect photo spots in Amsterdam without hordes of people.
While in the center, head to the Reguliersgracht to see the famous "Seven Bridges," and to admire the boats passing through them.
This is also an excellent place for a photo, ask someone to snap a cute photo here for a memory that will last forever.
In Jordaan, the upscale part of Amsterdam West, you'll find the most scenic canals and cute shops in the city.
Admiring the beauty of the local architecture with your partner is one of the most romantic things to do in Amsterdam, especially in the spring when the streets are decorated with tulips.
This is an excellent time for conversation and appreciating the moment.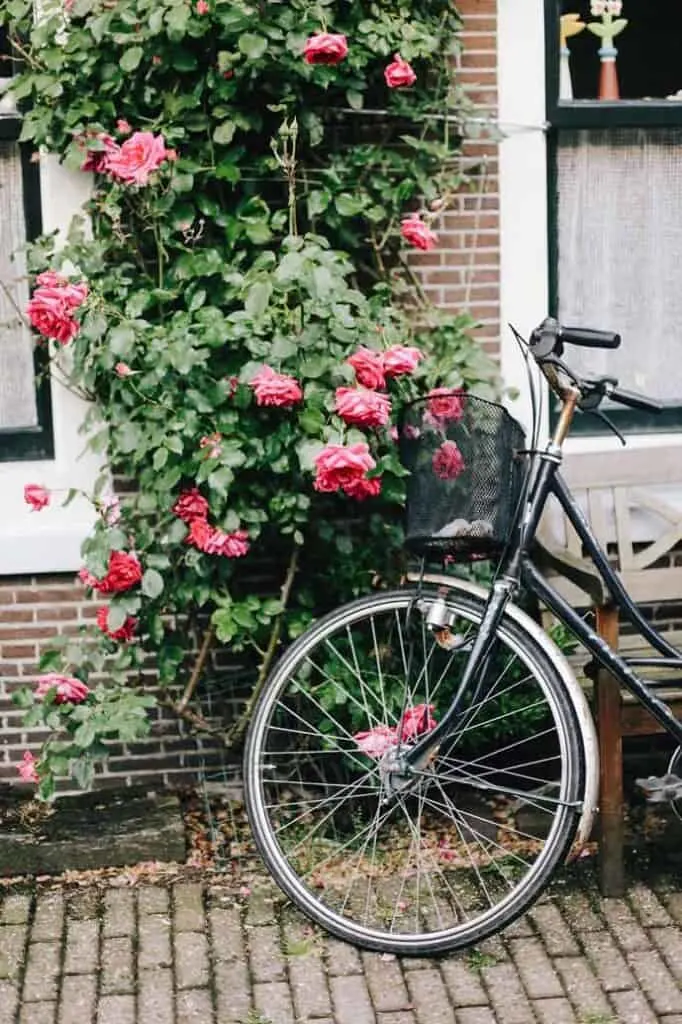 Rent a Bike
Riding a bike in the park or in the suburbs of Amsterdam will end up with you visiting exciting venues along the way.
And to what getting around the city is concerned, unless you're an experienced cyclist, avoid cycling in the city center as it's chaotic.
Trams, buses, cars, bikes, and tourists everywhere. Not to mention the tram rail that can be a tad tricky.
You and your other half are better off in a calmer area of the city, such as the Amstel River passing through the Vondelpark, Jordaan, and the Westerpark.
Rent a Scooter
Alternatively, you can rent a scooter as it offers a closeness that bikes cannot compete with.
The proximity is not only physical but also mental, as communicating and sharing an experience of doing something so crazy together will really bond a couple.
Scooters are available for rent from various shops in the city. Renting one for the day and cruising around the beautiful town of Amsterdam will get hearts beating and adrenaline pumping as a team.
This offers the opportunity to do an activity together that is both exciting and intimate.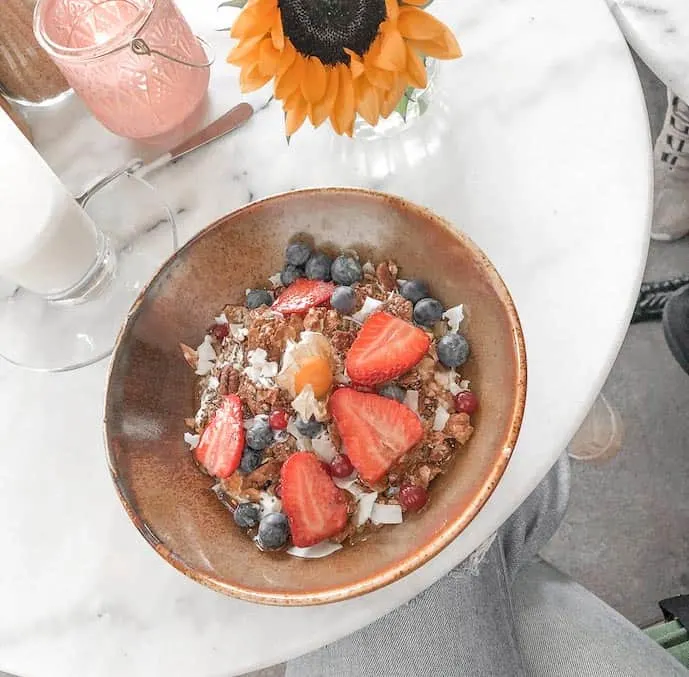 Go on a Mind-Blowing Brunch Date
Going out for brunch in Amsterdam is a must. Brunch is mega-popular among the Dutch, and the options are endless.
Therefore, going on a cute, romantic brunch date will surely start any day off right. This offers an opportunity to awe a partner as soon as the day begins.
Try the best coffee and coconut pancakes at Coffee and Coconuts or do something even grander.
Hop on G's Really Nice Place brunch boat to set sail around the canals while you eat. G's offers some excellent Dutch foods and tasty cocktails to enjoy on the journey around the city.
Go for Romantic Drinks
Having a few excellent drinks while overlooking the city is one of the best things to do on a date in Amsterdam. The combination of a glass (or 4) of wine, a buzzing atmosphere, and a lover will result in a very romantic evening.
Amsterdam has a young spirit; therefore, there are a ton of bars to choose from that are always buzzing with people. Most bars also have cool mood lighting at night and an in-house DJ to create a romantic atmosphere.
Although there are a lot of romantic bars in Amsterdam to choose from, there are a few distinct ones that are most suitable for a romantic night. These are:
SkyLounge
A'DAM tower
W Lounge
The cocktails prices at these bars are quite high, but a glass of wine or beer is quite reasonable.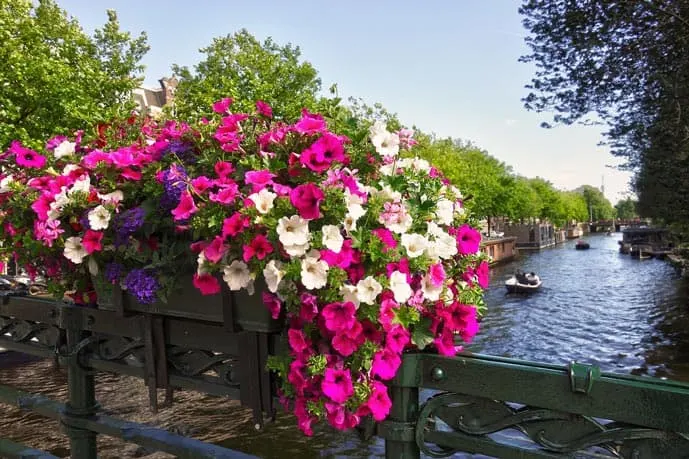 Have a Picnic by the Canal
The mere presence of a canal induces romance. That's why, weather allowing, you should go for a picnic during your romantic weekend in Amsterdam.
It's nice to plan it out beforehand as there are a few areas on the canals that have stairs down closer to the water and benches. If you see one of these areas, write down the address and head here for a picnic.
Stop at a grocery store beforehand (Albert Heij, Lidl, Marqt) and pick up some Dutch cheese, Dutch stroopwafels, and anything else you desire.
Just remember to keep a plastic bag so you can throw away your waste and avoid it falling in the canals. Note that drinking on the streets is not really encouraged and it might get you a fine.
Further out, planning a picnic on the canal as a surprise is optimal. This romantic gesture is a little cost but shows a lot of thought and initiative!
Indulge in a Piece of Pie With Hot Chocolate
One of the most romantic things to do in Amsterdam in winter is to grab a delicious slice of pie with a mug of creamy hot chocolate to warm you up.
Better yet if you're stopping by the best cafés in the city, right? De Drie Graefjes are said to top this list, and Bruna confirmed it – their pies are to die for! (Try the lemon meringue pie. You're welcome.)
In case you want to try some Dutch desserts, go to the Winkel 43 for their traditional Dutch Apple Pie.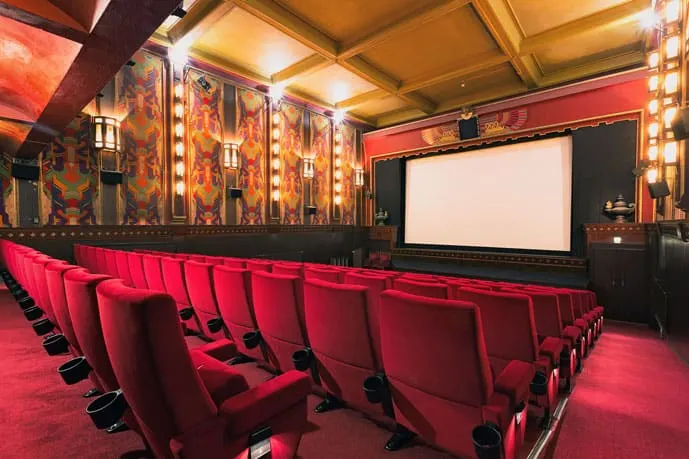 Catch a Movie
Going to see a movie gives the perfect excuse to get close to your lover. Also, seeing a film in Amsterdam is different than seeing a movie anywhere else because the theatres here aren't like regular theatres. Which is perfect because they offer a unique viewing experience.
Namely, theatres in Amsterdam range from boutique cinemas to retro cinemas to hidden local cinemas. Some show Dutch films, some Hollywood blockbusters, and other independent films.
Plan to see a movie that fits both parties' interests, sit back, relax, and enjoy each other's company.
A few great cinemas are:
Pathè Tuschinski: This is right in the city center and looks like a fancy opera hall. This cinema hosts Hollywood and Dutch films and has the most comprehensive section from all the others.
Film Hallen: A local favorite that hosts small theatre rooms with few seats and all movies have Dutch subtitles.
The Movies: The oldest cinema in Amsterdam that focuses on alternative films.
Go Wine Tasting
All great romances involve sharing intimate conversations over a few glasses of wine, and heading to a wine tasting bar is the best way to achieve this.
Although Amsterdam is not as known for its wine as other countries, it still has some excellent European options that will more than satisfy.
The hip and relaxed wine bar called Vyne is a top option for this couple's guide to Amsterdam.
If you buy a bottle, there are over 30 wine options to choose from! It's also fun to try some authentic Dutch snacks while at Vyne such as Bitterballen.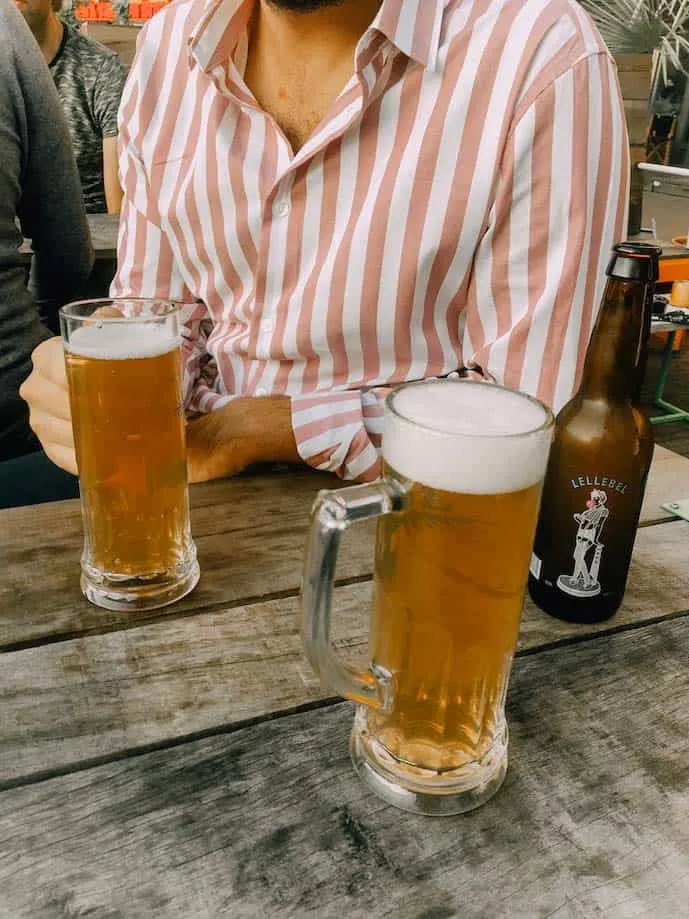 Discover the Local Breweries
Amsterdam is jam-packed with craft beer tasting rooms and breweries. Note I'm not talking about Heineken, which is highly touristy and not full-bodied like other beers.
For beer lovers, here goes the best venues in Amsterdam for couples: Brouwerij' t IJ, 't Aepjen, De Prael, and Arendsnest.
Some of these bars are smaller than others, but they all offer a pleasant environment and knowledgeable bartenders.
Oh, and when you get tipsy, watch out for the canals as there are almost no stairs to get out of them. You won't want to pour cold water on your romantic night. (ba dum tss…)
Roam the Streets at Night
Walking the streets of Amsterdam at night is magical. The majority of tourists have packed it in for the night, the houses are lit, the bar lights are on, and the city feels like it is coming alive.
Nighttime in Amsterdam is arguably better than the day time, and it's 100% more romantic than the day time.
Walking the streets at night, similar to the boat cruise, offers an exceptional view of the city in its prime hours.
The warm feeling of walking the streets after hours with a partner makes you realize that the city is a stupidly romantic scenery, a lovely place to be. This is Amsterdam for couples.
Also, this is a great time to explore and even sneak in a little kiss while no-one is watching.
Take a Walk Through Vondelpark
Vondelpark is the largest and most popular park in Amsterdam's city center. It is full of towering trees, lush green grass, and plenty of walking paths.
The stunning park is one of the main attractions of Amsterdam for couples within the city due to its stunning beauty.
Many couples enjoy walking hand-in-hand through the park, exploring all the hidden sites within it. Vondelpark has several cafes inside, benches along the canals, and even a little rose garden.
Strolling around this stunning park with a significant other is sure to induce some romantic vibes.
Vondelpark is also a trendy picnic spot. Couples galore bring blankets and food from the grocery store to enjoy on the grass.
There are always a ton of couples doing this as the park is full of beautiful spots to sit, where couples can eat and talk, and people watch.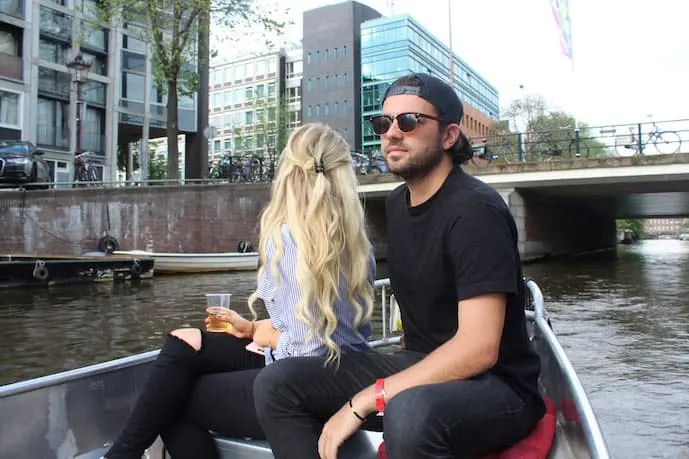 Private Canal Cruise
Cruising the canals of Amsterdam, and piloting the boat completely alone is both exciting and intimate. There are plenty of boat rental companies in Amsterdam that offer rentals for two people, many of which cost only 50 euros.
With this, the two lovers can pilot a boat through the canals of Amsterdam entirely alone.
This is the perfect opportunity to enjoy some alone time and private conversation with a significant other.
The best time to rent a boat for a romantic two-person cruise is at the beginning of the evening. At this time the canals are quieting down and not as loud as during the afternoon.
It is also a good idea to bring some snacks and drinks on the boat to enjoy along the route.
Go for a Romantic Dinner
There are plenty of romantic restaurants in Amsterdam. Some are more expensive and some more affordable, but of course, you get the experience you pay for.
Now and then love is worth the splurge, and here go great options:
Dinner Cruise: An affordable and romantic 4-course meal + drinks through the canals of Amsterdam.
De Kas: Located in Amsterdam Oost inside a softly lit glass building. The menu is continually changing, and the atmosphere oozes romance.
Spectrum (former Librije's Zusje): One of Amsterdam's Michelin star restaurants with an eccentric yet delicious cuisine.
La Oliva: A Spanish based restaurant that serves food perfect for sharing.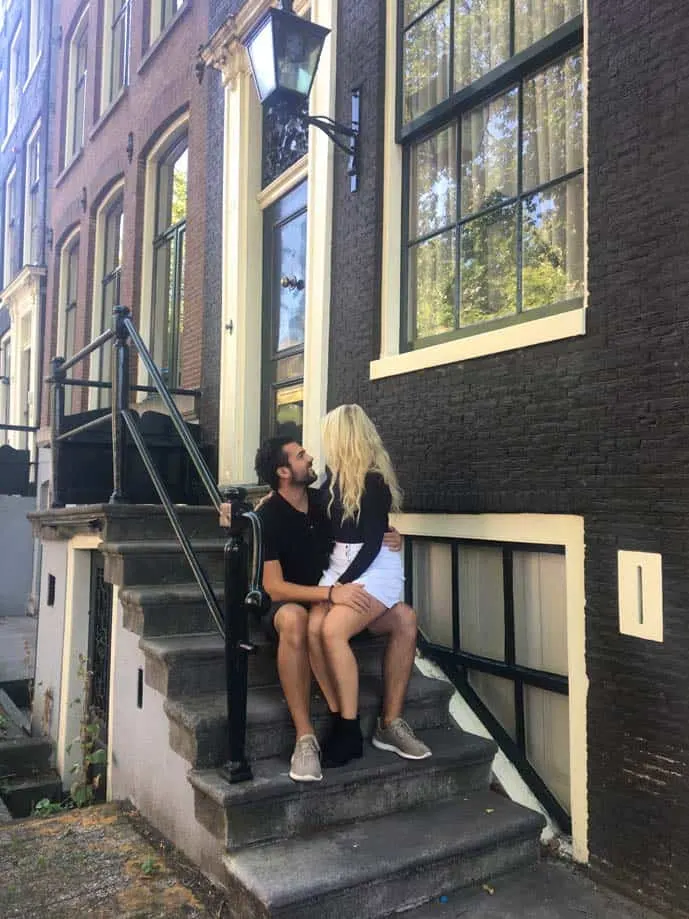 Get to know Samantha
Samantha Karen is a millennial traveler on a mission to document her experiences and inspire others. She is the founder, writer, and soul of the travel blog Sam Sees World.
Follow her on Instagram and Pinterest.
Did you like this article about things for couples to do in Amsterdam? Then pin it to your Pinterest board!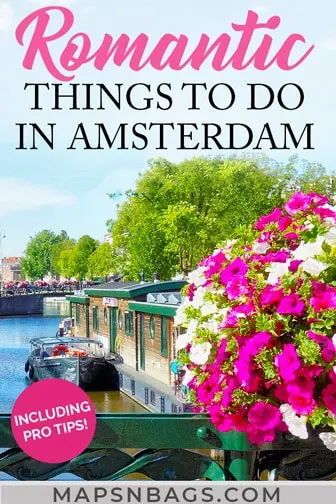 Our best travel tips & resources:
Here're our all-time favorite travel tips & resources so that you can save money and plan your travel logistics hassle-free! For more travel resources, check out our
travel tips.
Saving money: Fly on offseason, winter (not Xmas or NYE), Tuesday, or Wednesday! According to experts, these are the cheapest days to fly.
Travel insurance: Before you leave for your trip, make sure you have a valid travel insurance policy because accidents happen on the road. We have been paying for Safety Wing travel insurance for a little over a year now, and we happily recommend them to our family and friends.
Accommodation: We usually stay in mid-range comfy hotels or private rooms in hostels. These are the sites we use to book accommodation: Booking.com for hotels (excellent flexible cancellation policy) and Hostelworld for hostels (low deposit and easy cancellation).
Tours:We absolutely love booking guided tours with locals to get a history lesson while sight-seeing, especially food tours and walking tours! We book all of our tours using Viator and GetYourGuide.
Transportation: We use Google Maps to figure out how to get around a place using public transport. When we book a rental car, we always use Discover Cars to find the best deal.