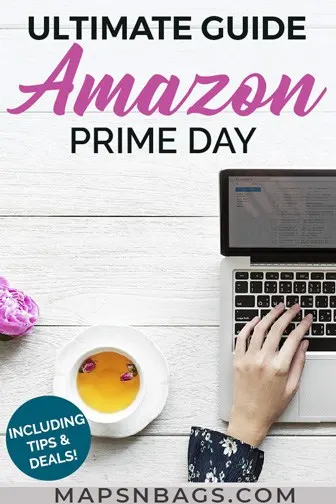 It's THAT time of the year! Amazon Prime Day is back. Yay!
Many people we know wait until Black Friday, Cyber Monday, or even Amazon Prime Day to find deals on their wish list items.
We do that sometimes when the regular subscription is a tad more expensive than we would like it to be, and we often find sweet discounts.
On the other hand, it's easy to get overwhelmed by all the excellent sales you see online or by all the emails you receive. We get them too.
Therefore, this guide on Amazon Prime Day will help you with the basics you need to know to sign up for a free Amazon Prime trial, get that product or service you've been longing for, and bonus tip, don't pay a liver for that.
Amazon Prime Day 2019
It's true. On Amazon Prime Day, you can score heaps of deals and sales – not only on Amazon -, and finally buy that instant pressure cooker you wanted or a discounted Amazon echo dot (or a fire stick, who knows).
Yes, during this sales festival you can browse deals in all categories, and we'll tell you how below.
Also, we'll talk about what is Prime Day, when it happens, how it works, some tips and tricks to keep you sane, and a selection of the best free trials we found at Amazon's website.
Ready to learn the best tips on Amazon Prime Day? Read on!
What is Prime Day on Amazon?
Amazon Prime Day is a famous shopping day, like Black Friday and Cyber Monday. However, Prime Day is only available at Amazon and for Prime subscribers.
Prime members should check out Amazon's website on the date of the sales and keep updating the page because they'll launch promotions, deals, and rockets for a whole 48 hours.
Yes, 48 hours. It used to be 24 hours only, but because Amazon Prime Day 2018 was the biggest sales day in history, according to Amazon, they decided to extend it a tad more.
Pro tip: Lucky you, we have a 30-day free trial ready so that you can take advantage of the Prime Day. Click here to sign up for your free trial Amazon Prime.
When is Amazon Prime Day 2019?
Excellent question! Amazon Prime Day 2019 will happen on July 15 through July 16, starting at midnight PT.
As said, the sales will roll out for 48 hours, giving you plenty of time to find a deal for something you need.
Naturally, you may not find everything you would have wished for on the Prime Day promotions, but you can stock up on dog's food, holiday gifts, and upcoming birthdays' gifts, for example.
Further out, some of the best deals for travelers are their subscriptions, such as unlimited music and streaming, audible romance books, and more!
The sky is the limit on this day. Seriously.
How Does Amazon Prime Day Work?
It's pretty simple. First off, sign up for Amazon Prime. You can do that by starting a free 30-day trial.
Next, download the Amazon App so that you don't sit in front of the computer the whole day. (We prefer to read the description in our laptop though.)
In the app, search for items you would like to get an alert if they go on sale on Prime Day, and click "watch."
Finally, get your wish list and start shopping on July 15-16.
How to Get the Best Deals on Amazon Prime Day?
We all love shopping. Spending money on things we *think* we need often gives us satisfaction. That's human.
However, you shouldn't get into financial problems because of it. That's why we wrote a few tips and tricks so that you can get the most out of Amazon Prime.
Amazon Prime Day Tips & Tricks
Write down what you need. Doing this will give you focus and avoid unnecessary expenses. E.g., mom's holiday gift, Emma's birthday gift, and so on.
Sign up for Amazon Prime, of course. Remember that all these deals are only available for Prime members, so snag your free trial today.
Compare prices with the stores as they go on sale around Amazon Prime Day. Naturally, other stores will also roll out a couple of deals to compete with Amazon, which is perfect for us, mere mortals.
Update all your account info. Be sure your payment method is set-up in your Amazon Prime account, as well as your name and shipping address.
What is Amazon Prime Membership?
Amazon Prime is, as the name suggests, a paid service from Amazon that offers speedy shipping on lots and lots of items. Millions, to be honest. But there are more benefits of being a member, and we'll briefly lay it out below.
Fast shipping: From unlimited two-day shipping to same-day and 2-hour delivery in some areas.
Exclusive deals: You get early access to discounts and deals on Amazon's website to make sure you won't miss a thing.
Groceries' deals: You get exclusive deals at Whole Foods Market as well as 5% back with the Amazon Prime Rewards Visa Card.
Video streaming: With Amazon Prime, you get access to unlimited award-winning movies and TV shows to watch under the blankets.
Free games and loot: Are you a gamer? Or do you have children that like Twitch? Then this deal is for them. With Amazon Prime, you (or your child) get free games, in-game loot, and a monthly channel subscription on Twitch.
The Amazon Prime membership costs $12.99/month after your free 30-day trial, and you can cancel it at any time.
Are you a student? In that case, you don't get a 30-day trial, but a 6-month trial. FREE. After your trial, Prime Student costs $6.49/month.
Take advantage of this today and sign up for your free 30-day (6-month) trial.
Best Free Trials for Travelers
Amazon has plenty of services for different needs. They offer memberships to listen to audiobooks or save up to 40% in fresh groceries (and receive them at home) or even to read over 1 million ebooks (whether you have a Kindle or not).
The list is long. Amazon has lots and lots of deals, but for the sake of showing you the best services available at their platform, we'll talk about four of them below.
30-Day Amazon Audible Free Trial & Get Two Free Audiobooks
Whether you're commuting, jogging, or waiting – at the airport, at your dentist, you name it -, you can use that time to read, or in this case, to listen to a book.
The best part is, as soon as you sign up, you get two free audiobooks to start listening to. Need I say more?

Click here to start your free 30-day trial.
30-Day Unlimited Amazon Music Prime Free Trial
We all love music. Why? Because music makes the people come together. Did you read that with Madonna's voice?
Either way, this statement is accurate, and with Amazon Music Prime, you get access to tons of songs – from Madonna to Ariana Grande.
All of that without ads and with unlimited skips. What's not to love?

Click here to start your free 30-day trial.
30-Day Unlimited Amazon Video Prime Free Trial
If you hate waiting in airports or get quickly bored on a bus trip or flight as much as we do, you'll love having some movies or Tv shows on your smartphone/tablet.
With Amazon Video, you can download videos and watch them on the road as well as view IMDB data about those videos.
Note that only Amazon streams HBO and Showtime Originals.

Click here to start your free 30-day trial.
30-Day Amazon Family Prime Free Trial
Last but not least, you can snag an Amazon Family Prime to receive parenting tips, exclusive deals for your family, up to 20% off diapers, baby food, and more.
They even offer a 15% discount on your baby registry and a welcome box. If you're not about to have a baby yourself, send this to a friend who can benefit from this trial.

Click here to start your free 30-day trial.
Wrapping up on Amazon Prime Day
We hope you can find the best deals to stock up before holidays and avoid the stratospheric prices of that season.
Plan your birthdays and holidays in advance and snag some products with that discount you were waiting for.
All up, even if you find all sales boring and useless (we strongly believe that won't happen), you can cancel your free trial before it ends. So why not try it?
Let us know in the comments below if you have any questions. We'd love to hear from you!
Did you like this article about Amazon Prime Day? Then pin it to your Pinterest board.

Our best travel tips & resources:
Here're our all-time favorite travel tips & resources so that you can save money and plan your travel logistics hassle-free! For more travel resources, check out our
travel tips.
Saving money: Fly on offseason, winter (not Xmas or NYE), Tuesday, or Wednesday! According to experts, these are the cheapest days to fly.
Travel insurance: Before you leave for your trip, make sure you have a valid travel insurance policy because accidents happen on the road. We have been paying for Safety Wing travel insurance for a little over a year now, and we happily recommend them to our family and friends.
Accommodation: We usually stay in mid-range comfy hotels or private rooms in hostels. These are the sites we use to book accommodation: Booking.com for hotels (excellent flexible cancellation policy) and Hostelworld for hostels (low deposit and easy cancellation).
Tours:We absolutely love booking guided tours with locals to get a history lesson while sight-seeing, especially food tours and walking tours! We book all of our tours using Viator and GetYourGuide.
Transportation: We use Google Maps to figure out how to get around a place using public transport. When we book a rental car, we always use Discover Cars to find the best deal.