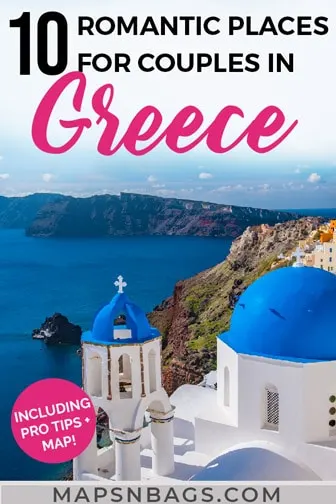 Looking for the best Greek islands for couples? Check out these ridiculously romantic options for a perfect honeymoon in Greece.
When it comes to romantic getaways, there's no other country more inspiring than Greece.
A place blessed with awe-inspiring nature, unique whitewashed villages, and the most incredible sunsets in the world.
For that reason, we decided to bring a perfect guide on the best Greek islands with what to do and where to stay.
Whether you are thinking about a honeymoon in Greece, or simply want to spice things up with your partner, here are some of the best Greek islands for couples.
General Tips for a Romantic Holiday in Greece
Let's first begin with a few essential tips that will help you make that romantic holiday a breeze:
Gather all your information first
Traveling to the Greek islands is not complicated, but it requires a little bit of organization. Many of the islands lack an airport so you will need to rely on ferry services. Make a list of all the details that you need to cover, including:
What port will you be departing from?
Chances are that you'll start your romantic holiday in Athens, which is home to three different ports – Piraeus, Lavrio, and Rafina. Make sure you know where you depart from.
How do you reach the port?
Once you know which is your port of departure, make sure you find the most efficient way to get there on time.
Traffic in Athens tends to be chaotic, so plan to reach the port with time to spare.
To plan your trip, you can use our Google My Maps tutorial and have all the itinerary on your phone.
Are you arriving on the island with a direct flight?
Popular islands such as Santorini, Mykonos, and Crete, usually have incoming international flights during the high season. In that case, check the best way to get to your hotel in advance.
Taxis are usually convenient, but on some more exclusive islands, they have astronomical fees, check online if your hotel offers a transfer service or which are the best public transport alternatives.
Pack light for your romantic getaway in Greece
Nothing can make you more tired or put you in a worse mood than lugging around heavy suitcases! And this is especially true for Greece, which is the third most mountainous country in Europe.
In Greece, the landscape is made of hills and lots of steep alleys or stairs. The lighter you pack, the easier it will be to move around.
Chances are you will be traveling during summer in Europe, when the weather is sunny and dry, so you won't need much. If you don't know what to pack, check this smart guide about how to pack light.
Moreover, if you are going to be changing means of transport to catch your ferry, nothing could turn out more handy than a good backpack.
Don't leave anything to luck
Most Greek islands are quite safe places as far as pick-pocketing is concerned, however, if you are traveling with expensive camera equipment, proper travel insurance will bring some needed peace of mind.
If you really want to experience Greece, you will probably be hiking, sailing or doing some other soft adventure activity. Head to this page to find the best travel insurance option for your romantic escape.
Now we're ready to go, let's see which are the 10 best Greek islands for couples and let's get that romantic holiday started!
Map of Greek Islands for Couples
To give you a clear picture of where those Greek islands are, we made the interactive map below. Click here to access it.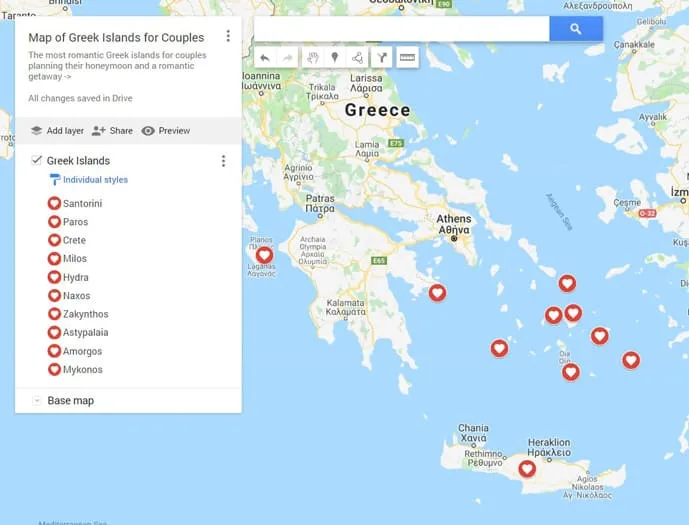 10 Best Greek Islands for Couples
Below you'll find the best Greek islands for couples. These places are among the most romantic getaways in Greece and in the world.
Whether you're planning a Greece honeymoon or simply a romantic holiday in Greece, we're sure you'll love these ideas. Just like we did.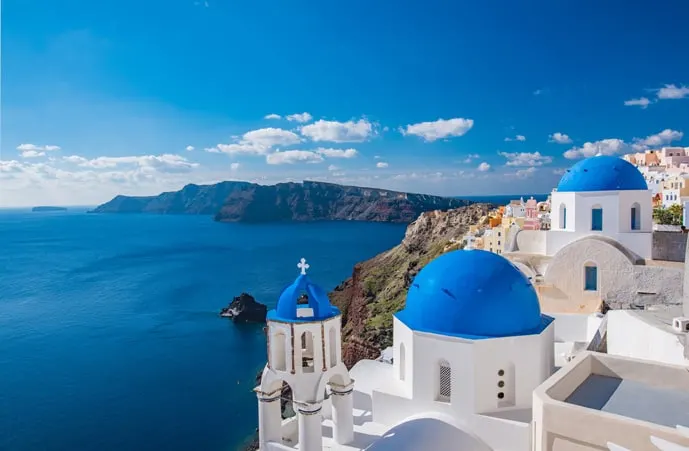 1. Santorini is the best Greek island for honeymoon
Undoubtedly the most famous island in Greece, Santorini is home to a unique romantic flair. Chosen by honeymooners all over the world, it has also turned into a favorite destination to celebrate weddings.
What to do in Santorini
On the island, don't miss a visit to Oia, the northernmost village on the island. There you'll find those iconic postcard views, such as blue-domed churches and windmills.
For more thrill, rent a car and drive towards the south, head to Perissa for water sports and check its famous black sand beach.
Always in the south, in the little town of Akrotiri, you can hike to discover the spectacular scenario of the Red Beach or, if you love history, pay a visit to the archaeological site.
Santorini is also home to an exciting network of wineries which are marked all over the island with a red sign. The volcanic soil of the island works wonders on varieties such as the local Assyrtiko.
Couples can enjoy some local wine and views while also tasting delicious Greek bites. There are wineries perched on the caldera offering fantastic gastronomic experiences for a perfect Greece honeymoon.
Where to stay in Santorini
The island is home to an impressive clifftop with whitewashed volcanic caves facing one of the most spectacular sunsets in the Mediterranean.
Most of these have been transformed into the most exclusive and romantic hotels in Greece, which unfortunately translates into higher prices too.
Pro tip: If you avoid staying in Oia or the center of Fira, there's a way to make your stay more affordable. Choose a romantic hotel in Imerovigli, this way, you'll still be getting the views minus the excessive price tag.

Click here to check the best accommodation in Imerovigli.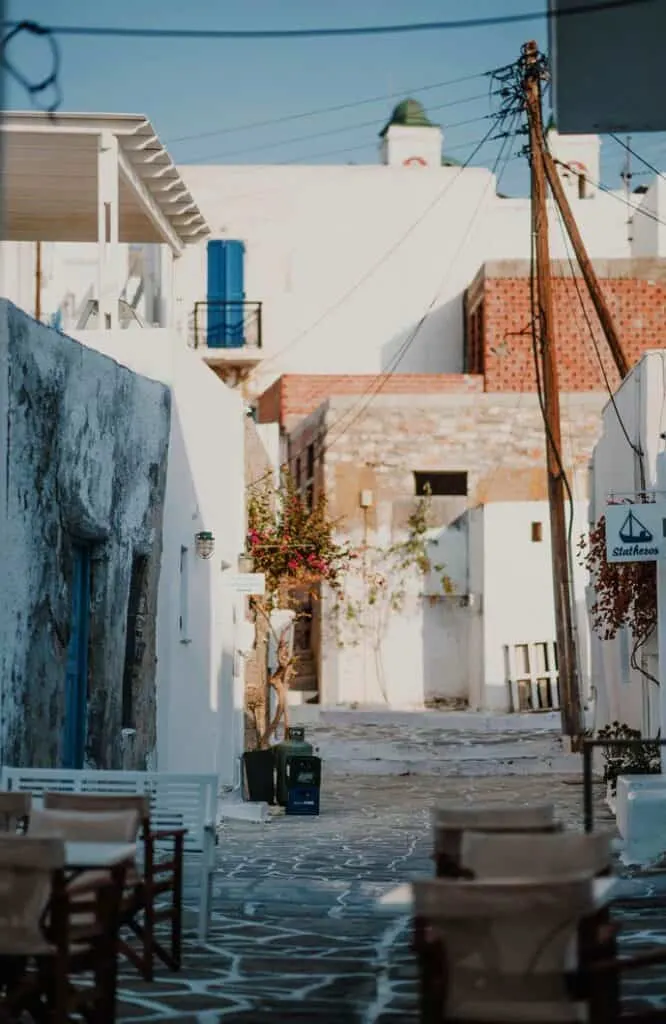 2. Paros is an excellent romantic getaway in Greece
Less expensive but also quite popular among the Greeks, Paros is a typical Cycladic island made of quaint alleys and fishing villages, it's a perfect example of Greece's classic beauty.
What to do in Paros
Couples will have lots of options for a great time in Paros. The island is home to some stunning beaches, not only recommended for sports such as windsurfing but also to explore and enjoy.
For some moon-style views head to the Kolymbithres, a beach made of stones sculpted by the sea into one-of-a-kind smooth shapes.
In Paros, there's nothing like getting lost up in the mountains, exploring isolated villages such as Lefkes, which not only offers excellent views but restaurants are offering classic dishes of Parian gastronomy, such as local cheeses and snails.
Pro tip: Nothing beats a walk around the village of Naoussa, with its traditional views and one of the most romantic spots in Greece.
Visit after a day at the beach and combine with dinner at Mediterraneo, a fish restaurant well known for the quality menu featuring fresh fish and delicious salads.
Where to stay in Paros
When it comes to choosing accommodation in Paros, your options range from affordable villas and apartments to more exclusive beach hotels.
In tone with the more relaxed style of life on the island, staying in a private house is the way to go. Besides, it could be a perfect test for those couples that are willing to start a new life under the same roof but are still uncertain about it.

Click here to check the best accommodation in Naoussa, Paros.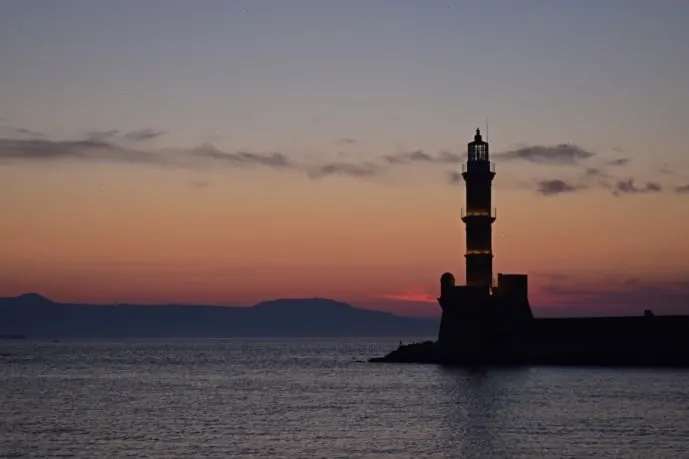 3. Crete is a perfect romantic escape
Crete is among the top Greek islands for a romantic getaway. It's also the biggest island in Greece, which means there are endless opportunities to have fun with your other half.
What to do in Crete
It's not a secret that the beaches in Crete are among the most spectacular beaches in the world, and they are all worth seeing. The best-known one is probably Elafonisi, famous for its pink sand and pristine turquoise waters.
Other great beaches in Crete include the Matala, with a distinct hippie vibe, and the tropical landscape of Balos lagoon.
But Crete has more to offer than beach life, the island has a fascinating history which reflects in charming old towns and isolated mountain villages.
No romantic trip to Crete can lack a visit to Chania's Old Town. Chania is the second city of Crete in importance, its Venetian harbor and beautiful architecture will leave an ever-lasting impression on any traveler.
Crete is also the cradle of the Cretan diet, a better and healthier version of the Mediterranean diet, based on fresh, seasonal ingredients, excellent extra virgin olive oil, and abundant greens. Food tends to be first-class everywhere you go.
Pro tip: Some of the restaurants in the Venetian port combine beautiful views of the old lighthouse with cutting-edge dishes that include the most traditional Cretan ingredients.
Where to stay in Crete
Planning a stay in Chania is not easy, there are endless antique mansions that have been transformed into elegant boutique hotels, many of them with super affordable prices and lovely views of the city, the port, and the mountains.

Click here to check the latest accommodation prices in Chania, Crete.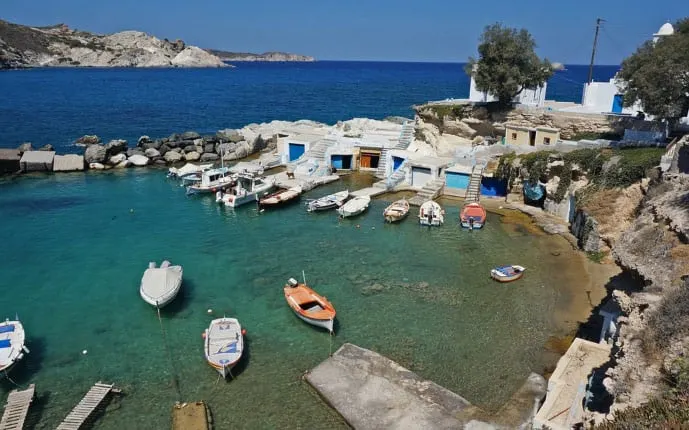 4. Milos is ideal for a romantic holiday in Greece
Milos is another volcanic island in the south of the Cyclades that boasts some of the most alluring landscapes in Greece.
Its coastline has impressive romantic beaches that make it an excellent place for a honeymoon and turns out, Milos is one of the lesser-known islands to visit in Greece.
What to do in Milos
Start your trip exploring the capital, Plaka, a picture-perfect corner rising on a hill with remarkable sea views. The village is home to picturesque Cycladic churches and romantic alleys with blossoming bougainvillea.
Another favorite spot in Milos is the worldwide famous beach of Sarakiniko, with its unique green waters that contrast with the white rocks, caves, and the unusual volcanic formations. The beach is located towards the north of the island.
Maybe, however, the best-known view of Milos is the old town of Mandrakia, with its pretty fishing port, ideal for a cocktail by the sea.
After a visit to Mandrakia, don't miss Klima, a village which functioned as Milos' first port in the past. In the area, you can also discover some curious ruins of temples dating from the Hellenistic period.
Where to stay in Milos
There are plenty of affordable accommodation options all over the island. We recommend you to choose a relaxed atmosphere, with great romantic views. In fact, what could be more romantic than spending the night in a traditional Cycladic windmill?

Click here to check to the latest prices and reviews of a stay in this Cycladic windmill.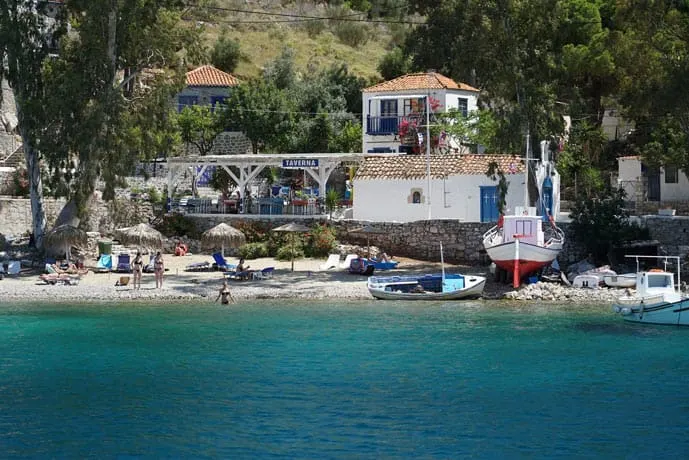 5. Hydra is a top spot for a honeymoon in Greece
Hydra is a tiny island in the Saronic Gulf, just a few minutes from the capital of Greece, Athens.
Its characteristic feature is that cars are forbidden, which turns Hydra into one of the best places for a calm, romantic holiday in Greece.
What to do in Hydra
If you have decided to plan a romantic escape in a cosmopolitan city such as Athens, that doesn't mean you'll have to skip the island vibe!
Hydra is a small island that can be easily reached from the port of Athens in about 45 minutes, and there are several daily ferry connections.
Hydra is one of those places that you can visit in just one day, or that you can explore at a slow pace and for weeks. It all depends on your holiday style.
Truth is that you will have to walk, hike, or take a taxi boat to move a bit further and see some more of the island. In short, there are lots of fun things to do in Hydra.
Beyond that, the best beaches of Hydra are pebbled with lush green vegetation and clear waters. The most popular ones are Vlychos, Kaminia, and Bisti. But you can also visit the tiny settlements up in the hills.
Where to stay in Hydra
Being such a small island, Hydra has a minimum offer as far as lodging is concerned. Therefore it's a good idea to always book in advance. This has also turned Hydra into a rather exclusive island, so prices tend to be on the high side.

Click here to check the latest guest house prices in Hydra.
Pro tip: Guesthouses are a good compromise between price, location, and comfort, and are definitely the way to go for an intimate holiday.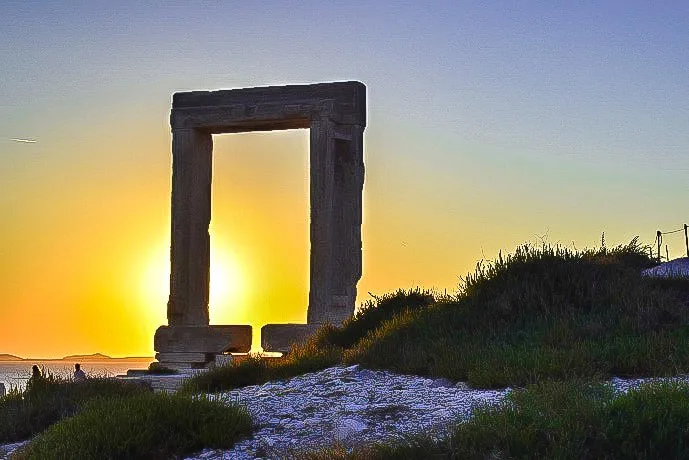 6. Naxos is one of the best Greek islands for couples
Naxos is one of the biggest Cycladic islands and an excellent choice for a romantic getaway in Greece, even off the season. Naxos has a life of its own all year long and is home to some characteristic traditional mountain villages.
What to do in Naxos
The first suggestion we can offer you is to rent a car as the island is huge and you must go around a lot to see some of its best landmarks.
Another must are Naxos' incredible beaches, some of the best are Agios Prokopios, Maragas, and Plaka. The latter has a special section for naturists, but the general atmosphere is super discreet.
White sand combines with incredibly blue waters and a seaside promenade lined with cool bars to hang out at sunset.
The idyllic mountain villages of Halki and Apeiranthos are also worth a visit. The first one is home to the famous Kitron factory. Kitron is the traditional Naxian liqueur that restaurants usually serve after dinner.
Apeiranthos is another fantastic settlement, better-known for the quantity of white marble used for its construction. They are both less than an hour away from each other, so it's possible to schedule the two settlements for the same afternoon.
Finally, the capital of Naxos, Chora, is one of the most charming cities in the Cyclades. Be sure to get lost in the alleys of this ancient Venetian town.
Pro tip: End your exploration with the perfect sunset experience – get yourselves a couple of cocktails to go, reach the magnificent Portara, and sit by the sea to wait for the sun to go down on the horizon.
Where to stay in Naxos
For a romantic stay, maybe the best idea is to leave the capital for quick lunches or night walks and book a room close to the beach. A apart-hotel can be the perfect solution for couples visiting the island.

Click here to check the latest accommodation prices and reviews in Naxos.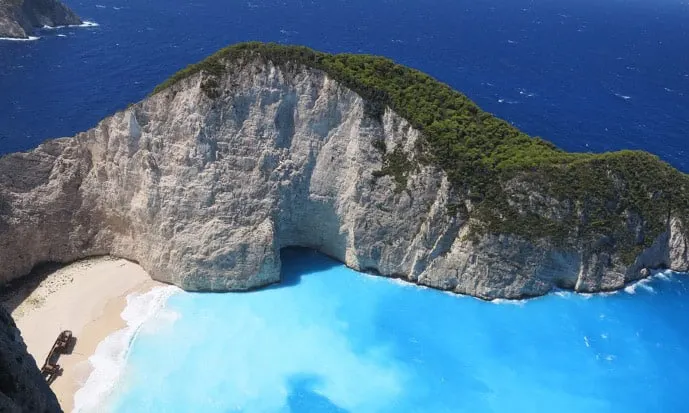 7. Zakynthos is an idyllic place for a Greece honeymoon
Zakynthos is one of those islands that are getting more popular as time goes by. This thanks to the out-of-this-world landscape of the most incredible beaches in Greece.
What to do in Zakynthos
It would be plain crazy to suggest you a visit to Zakynthos and not include Navagio Beach as one of the things to do. The dramatic limestone cliffs and the surrounding scenario make it one of the most visited beaches on the island.
There, you can either visit the beach or just take a bus to up the cliff for the classic postcard view. (Mind you, it will be crowded!)
However, don't limit your stay in Zakynthos just to this beach. On the island, there are plenty of other things to see.
If you are in the mood for something more inspiring, head to the port of Skinari in the north. From here you can take a boat to visit the Blue Caves. The caves have unique shades of blue due to the sun reflecting on the white rock formations.
Towards the south of Zakynthos, there is an islet known as Tortuga island. The island is uninhabited, so the option is to board one of the turtle-spotting boats and spend some time there.
A romantic picnic in Tortuga is a perfect idea, just remember to take everything you need because there are no shops or restaurants.
Where to stay in Zakynthos
Choosing a budget studio could be the perfect way to visit the island and still have enough money to experience many other activities. The area of Laganas is one of the best places to stay in.

Click here to check the latest hotel prices and reviews in Zakynthos.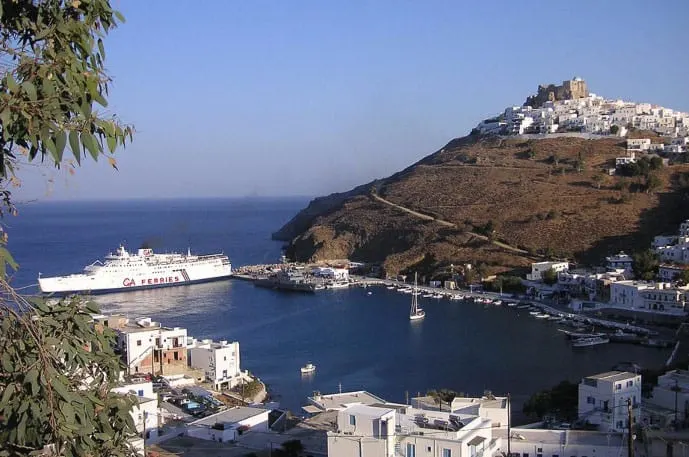 8. Astypalaia is one of the top Greek islands
One of the smallest islands in the Dodecanese is Astypalaia, with less than 2,000 permanent residents.
The place is great for couples looking to disconnect from the rest of the world and to spend some quality time together.
What to do in Astypalaia
The captivating butterfly-shaped island of Astypalaia is close to the Cyclades as far as its culture and architecture are concerned.
There are white-washed villages and some of the prettiest typical alleys of the Aegean.
Astypalaia is, in fact, an excellent place for sightseeing and for bringing the best out of the photographer inside you!
The main village, or Chora, is located up on a hill and can be reached through a set of stairs while the main road is lined up with eight characteristic windmills with orange-red roofs.
Crowning the mountain, there is a beautiful castle with views of the sea, which is an excellent place for a romantic selfie.
For a more intimate experience, choose the beaches of Vatses and Kaminakia, a bit off-the-beaten-track, but ideal for a relaxing swim with your partner.
Where to stay in Astypalaia
The capital of Astypalaia is arguably the best place to stay on the island. It's a great idea to choose a traditional house and spend a few days to experience the lifestyle of the locals.

Click here to check the best accommodation in Astypalaia.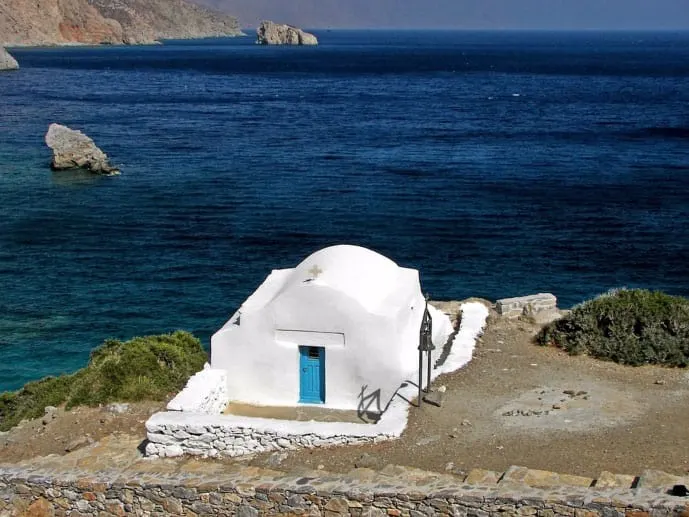 9. Amorgos is a top spot for a honeymoon in Greece
The island of Amorgos is a beautiful place for a honeymoon in Greece. There you will avoid the crowds of Santorini and be able to submerge in the beautiful nature.
Amorgos is not only known for its impressive landscapes but also for having been featured in the award-winning film The Big Blue.
What to do in Amorgos
Amorgos has one of the most transparent seas in the world, so it's a fantastic destination to discover its submarine landscape and engage in aquatic sports such as diving or snorkeling.
There are trusted diving centers all over the island that will take you to explore the many shipwrecks and natural reefs that populate the island's seabed.
The island of Amorgos is also an excellent place for walks and hikes, the famous Old Strata is a scenic walk road beginning in the historic village of Chora, and passes next to one of the most famous monasteries in Greece, Hozoviotissa Monastery, built on the side of the mountain.
You can either take a rest or continue the walk to reach other monasteries, some medieval ruins, and ancient settlements. The whole trail can last up to 5 hours.
Lately, the island has become famous for another activity, exploring the skies. Its clean, non-polluted atmosphere will let you observe the constellations, either joining an organized tour or merely exploring the Greek skies with your partner.
Now you understand why Amorgos is one of the best Greek islands for a honeymoon.
Where to stay in Amorgos
While on Amorgos, you certainly want to choose a place with a view of the blue sea. Go for a hotel close to the spectacular port of Katapola for the best landscapes.

Click here to check the best hotel in Amorgos.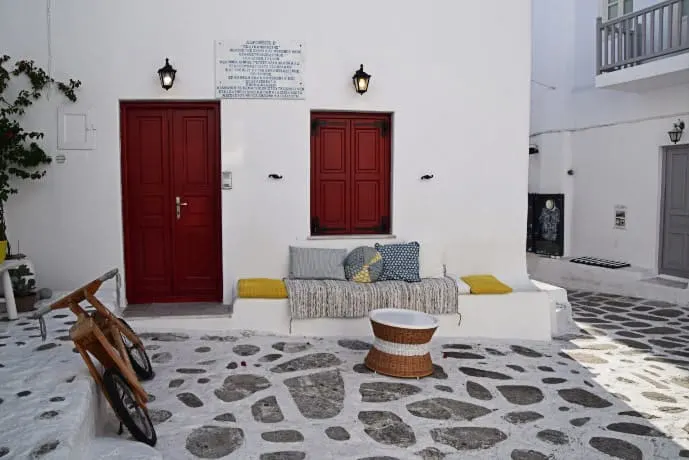 10. Mykonos is one of the best Greek islands for couples
Despite being an island known for its wild nightlife, discos, and over-the-limit atmosphere, Mykonos is one of the most romantic Greek islands, and there is also a fairy-tale side of it that cannot be ignored.
What to do in Mykonos
Mykonos is one of the most exclusive retreats in the Mediterranean, famous for its typical Cycladic architecture made of white churches, windmills by the sea, and romantic alleys with colorful flowers.
Mykonos is, indeed, a picture-perfect scenario for a romantic holiday if you know where to go, and where to stay.
For a relaxed holiday by the sea in Mykonos, you will want to avoid the most crowded beaches, such as Paradise and Super Paradise, and concentrate on less explored areas such as Agios Ioannis or Cavo Psarou.
If your budget allows, splurge on a day cruise to the nearby island of Rhenia for utmost privacy and unique dives.
The capital is known as Mykonos town, and even though it's one of those places in Greece that you must see, not everything is about clubbing.
Not many know that Mykonos also has fascinating museums, many art galleries, and exhibitions, as well as pretty traditional villages.
The nearby island of Delos is the most important archaeological island in Greece, and definitely worth a visit.
Where to stay in Mykonos
Lodging in Mykonos tends to be on the expensive side thanks to the fame of the island. However, if you search and book well in advance, it'll be easier to find some excellent rates.

Click here for more information and to check the latest accommodation prices in Mykonos.
Pro tip: Choosing a house that is not directly next to the sea can be the best way to find excellent, convenient, and romantic accommodation in Mykonos.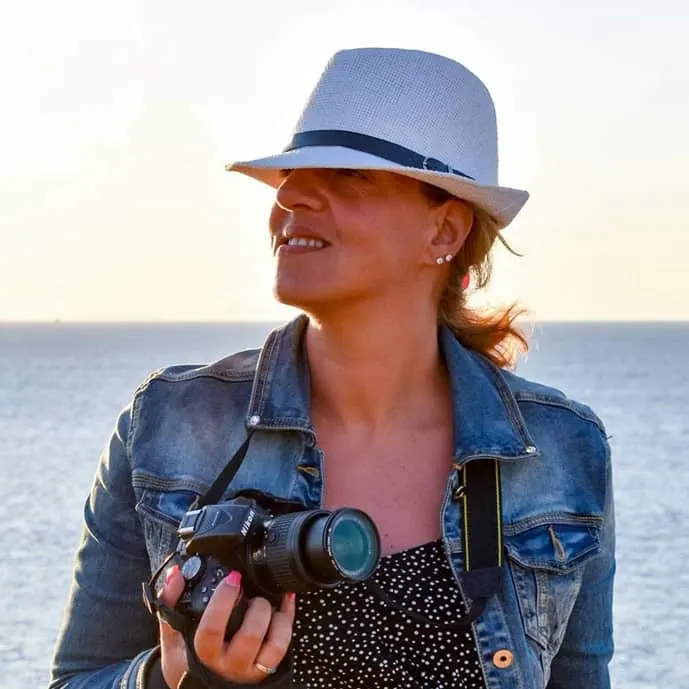 Get to know Gabriela
Gabi Ancarola is a travel writer and specialized in Greek destinations, she collaborates as a journalist with Greek Reporter and has written a travel guide about the Cycladic islands.
She currently lives in Crete, where she gives gastronomic tours and writes The Tiny Book, a blog about Greece.
You can follow Gabi on Facebook, Instagram, or Twitter.
Did you like this post about the best Greek islands for couples? Then pin it to your Pinterest board!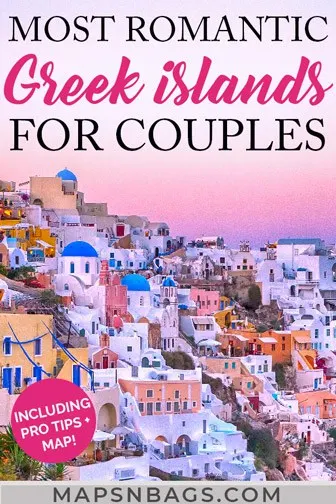 Our best travel tips & resources:
Here're our all-time favorite travel tips & resources so that you can save money and plan your travel logistics hassle-free! For more travel resources, check out our
travel tips.
Saving money: Fly on offseason, winter (not Xmas or NYE), Tuesday, or Wednesday! According to experts, these are the cheapest days to fly.
Travel insurance: Before you leave for your trip, make sure you have a valid travel insurance policy because accidents happen on the road. We have been paying for Safety Wing travel insurance for a little over a year now, and we happily recommend them to our family and friends.
Accommodation: We usually stay in mid-range comfy hotels or private rooms in hostels. These are the sites we use to book accommodation: Booking.com for hotels (excellent flexible cancellation policy) and Hostelworld for hostels (low deposit and easy cancellation).
Tours:We absolutely love booking guided tours with locals to get a history lesson while sight-seeing, especially food tours and walking tours! We book all of our tours using Viator and GetYourGuide.
Transportation: We use Google Maps to figure out how to get around a place using public transport. When we book a rental car, we always use Discover Cars to find the best deal.