Spending one day in Amsterdam and looking for an easy to follow itinerary? Look no further! We have a complete guide for you.
We won't lie to you. Seeing Amsterdam in a day isn't enough. Although the city is compact, there are lots of fun things to do here.
I Bruna have lived in Amsterdam before, and now we live nearby the city because we couldn't get too far away from it – we love the local vibes.
That's why I can assure you can easily spend two days in the city. In fact, you can spend three days in Amsterdam without even noticing how fast it flew by.
One day in Amsterdam
As said, 24 hours in Amsterdam is not enough. However, you can still have a pleasant day discovering interesting, historical, and fun places in the city.
That's why we prepared this complete guide with the best things to do in Amsterdam in one day.
In this article, we talk about where to stay in Amsterdam, give you a map with all locations mentioned, instructions for a free self-guided tour, as well as more tips at the bottom of the page.
Wondering what to do in Amsterdam for a day? Read on!
Where to stay in Amsterdam
Finding accommodation in Amsterdam can be overwhelming if you don't know the neighborhoods. In some places, walking bachelor parties or drunk tourists are the main crowds.
That's why we wrote about the best neighborhoods and attractions in this guide on where to stay in Amsterdam.
But if you want a quick answer, here's the best hotel to stay in the city:
Atlas Hotel Vondelpark: This quaint lodging is in a calmer part of the town, but still close enough to the main attractions, such as the Rijksmuseum, Van Gogh Museum, and Vondelpark.
The building is a characteristic construction, and rooms, although on the smaller side, are comfortable and clean.

Oh, and it's reasonably priced for Amsterdam!

Check price and read reviews, check: Booking.com | HotelsCombined
Map of Amsterdam in a day
Click here to open this interactive map on your mobile. We have added the locations of all the establishments and attractions mentioned in this article.
To create your own maps, check out our Google My Maps guide.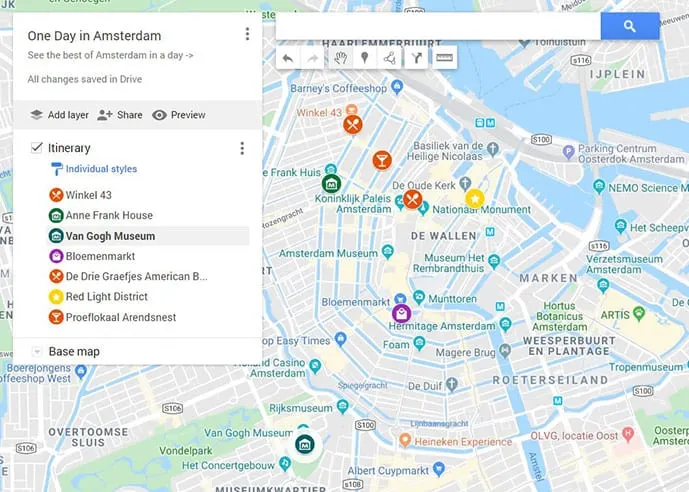 Tips for your one day in Amsterdam
Don't spend time in lines. Decide upon your itinerary and buy skip-the-line-tickets in advance.
Wear comfy walking shoes. Amsterdam City center is full of cobblestone streets and they can be quite unregular at times. You can copy Bruna's packing list if you want.
Don't walk on the bike lanes. The same way you wouldn't walk on the streets because there are cars, don't walk on the bike lanes. It can be dangerous.
Amsterdam is a relatively compact city, but to make the most of your day, I recommend you use public transport between attractions. It saves you time and legs. Here's the public transport card.
Bring an anti-theft purse with you. Amsterdam has loads of pickpockets, and you'll want to protect yourself from them. These are the best travel purses.
Amsterdam in one day
Here's our guide on how to see the best of Amsterdam in a day.
Have Dutch apple pie with a good ol cup of coffee
Start off your day in Amsterdam by ordering a piece of traditional Dutch apple pie at Winkel 43.
It's a popular venue in the city, and it was chosen many times as the best place to have this delicacy.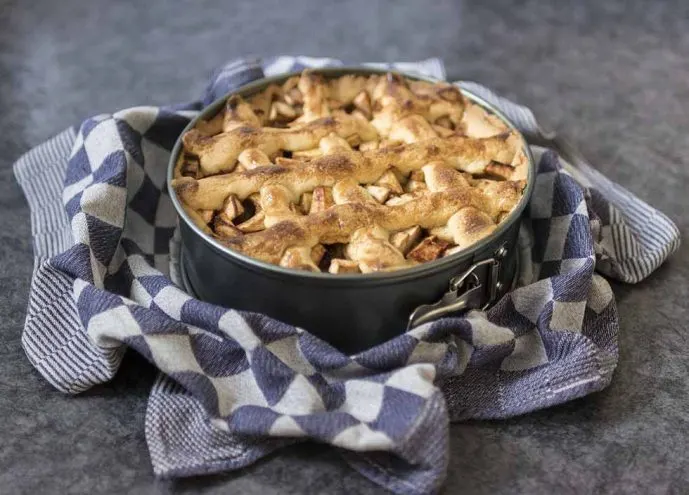 Since you'll arrive relatively early, we don't believe the Winkel 43 will be crowded. Although be warned, it gets jam-packed during the day.
Order a piece of apple pie and have it with a cup of freshly made coffee.
There's no better way to begin a day in Amsterdam than sipping coffee while having a local pie.
Be humbled at the Anne Frank House
After filling up with some Dutch treats, head over to the Anne Frank House.
Right there in the center of Amsterdam, a little girl, her family, and friends hid from the nazi soldiers for two long years.
While the furniture isn't original, the house still gives you a claustrophobic feeling. Also, you get a pretty good idea of how it must have been living in the Secret Annex with seven other people.
So go there and learn about their lives, but remember not to take any pictures inside as it's not allowed.
And since this is the second-most visited museum in the Netherlands, be sure to buy your ticket in advance.
You can buy your ticket up to 2 months in advance on the museum's website, and we highly recommend you do so because the lines here are absurdly massive.
Marvel at Van Gogh's originals
One of the most famous Dutch painters, Van Gogh, is remembered in the country's capital.
Together with three other museums, Van Gogh is located at the Museum Square.
These museums are also excellent, but since you only have one day in Amsterdam, it's wise to choose one of them.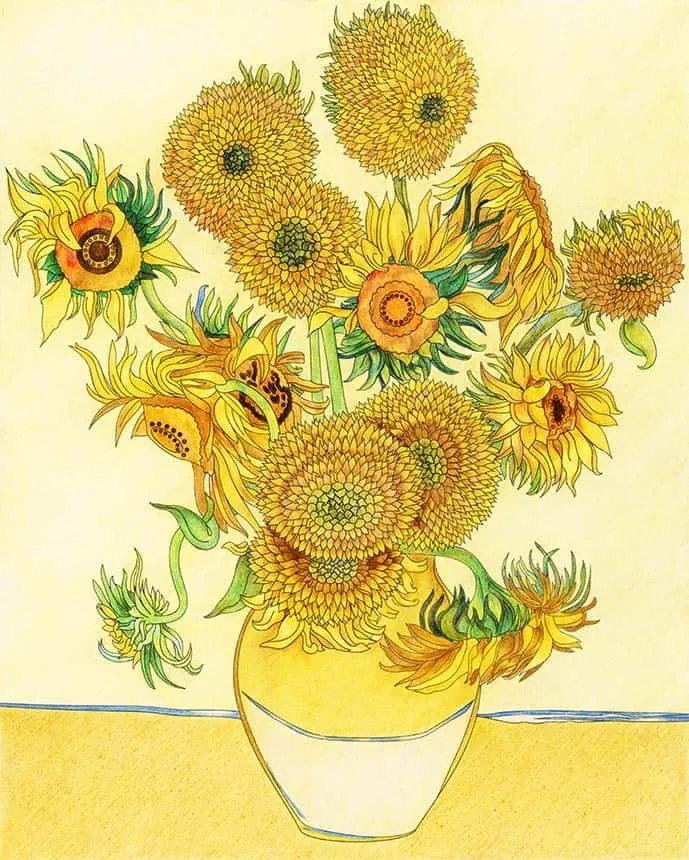 It's up to you which one you'll visit, but personally, we prefer this one.
Van Gogh Museum holds many of the artist's masterpieces, including The Bedroom, Sunflowers, and Almond Blossom.
The latter is my favorite! (It's Bruna over here, by the way!) I even bought some themed wall-art decor of this painting.
Also, this museum is the most visited one in the Netherlands, so it's smart to purchase your skip-the-line tickets in advance.
Don't miss out! Buy your tickets to Van Gogh + Canal Cruise here!
Buy a souvenir at the floating flower market
Now, before we go to the heart of the city, let's make a stop in the flower market, a must-visit in Amsterdam.
The Bloemenmarket is the Netherlands' only floating market, and it's also an excellent place to buy a souvenir.
You'll find real tulips here, seeds, as well as wooden tulips to gift a beloved one. But note that if you're visiting Amsterdam during winter, they might be selling Christmas trees instead of tulips.
Indulge in more pies
For anyone visiting Amsterdam, a stop by De Drie Graefjes is a must.
We simply adore their pies and can't stop recommending this cafe because of these delicacies.
Once you see their menu, you'll understand why we come here often to indulge in pies and cakes.
If we may suggest a flavor, lemon meringue pie is to die for! If you have it, please come back here to let us know what you think about it.
Oh, and if it's cold outside, you'll want to order hot chocolate too.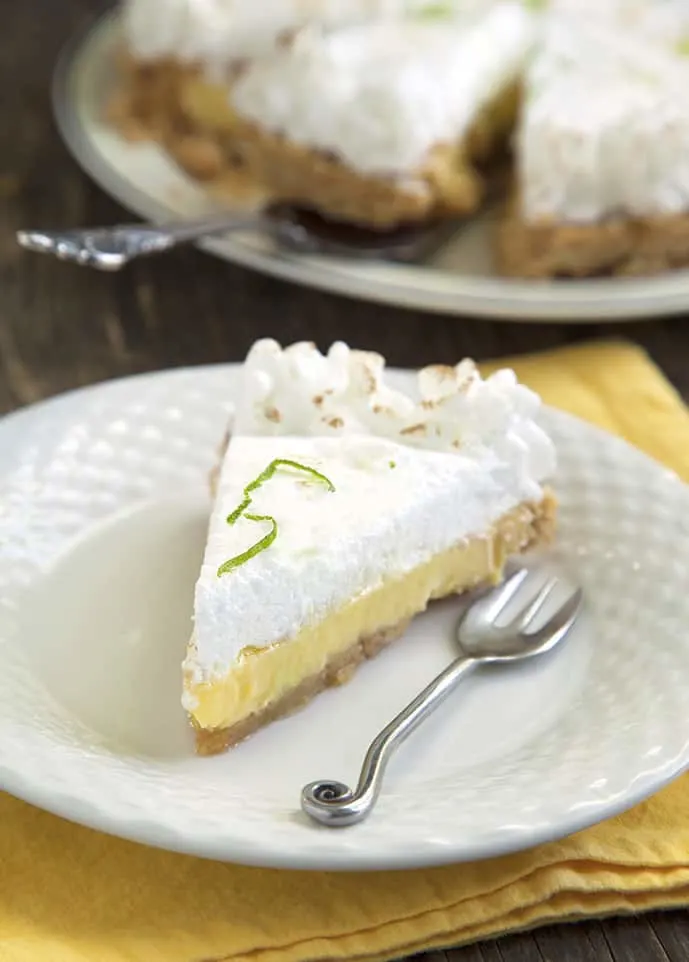 Stroll around the Red Light District
Take a stroll around Amsterdam's oldest neighborhood.
Although infamous, the Red Light District is a beautiful area in the city because of its old architecture and sweet gingerbread houses.
On a sunny day, the cafes with tables by the canal bank offer pleasant moments outside. We won't lie to you, though. The area is almost always crowded, which doesn't come as a surprise, right?
Naturally, people want to see the girls behind the red-lighted windows, because hey, that's not something you see every day.
While it's perfectly safe to walk around the canals and streets in the Red Light District, we will give two advice:
Under no circumstances, take photos of the girls. That's not only rude, but it might get you into trouble with their bodyguards. They're always watching.
Watch out for pickpockets. Because the area is highly touristy, pickpockets are alert to steal from visitors at the first opportunity. Keep your purse on the front of your body. Better yet if it's an anti-theft one.
Go on a magical canal cruise
What could possibly be more romantic than a canal cruise in the charming old center of Amsterdam?
The 16th-century canals surrounding the center of Amsterdam form a ring, hence its name, "Canal Ring Area." Creative, huh.
Because of their geographical and historical significance, the canals are a UNESCO World Heritage Site.
Many houses important to the local history were built along these canals, and you can experience all of that in a canal cruise.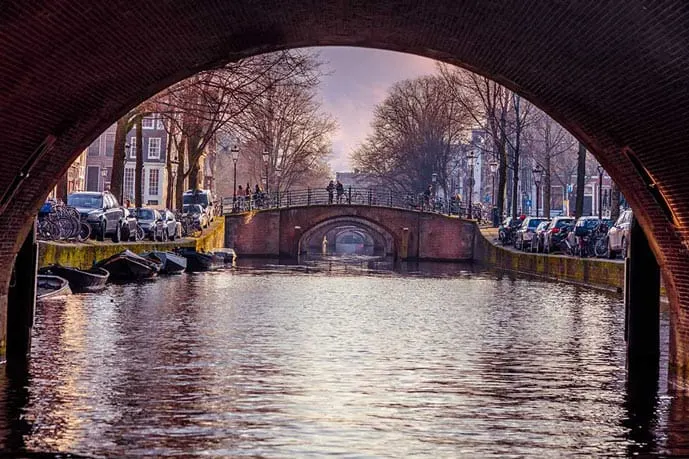 If this isn't in your Amsterdam bucket list, add it now. Taking a canal cruise in Amsterdam, especially on a sunny day, is delightful and gives you a different perspective of the city.
As said, you can go on a day tour, which is exceptionally lovely on a sunny day, but you could instead go on an evening cruise.
Either way, it's a lovely experience you must have during a day in Amsterdam.
Don't miss out! Book your canal cruise here!
Sip Dutch beers in style
There is no better way to finish your one day in Amsterdam than sipping the best Dutch beers.
The Arendsnest is one of our favorite bars in Amsterdam because of its excellent assortment of local craft beer.
Note that this beer cafe only serves Dutch beer and spirits, so no matter what you order, you will have a local drink.
Our favorite beers are La Trappe Isid' or and Gerardus Dubbel, but if you're not sure about what to order, don't worry.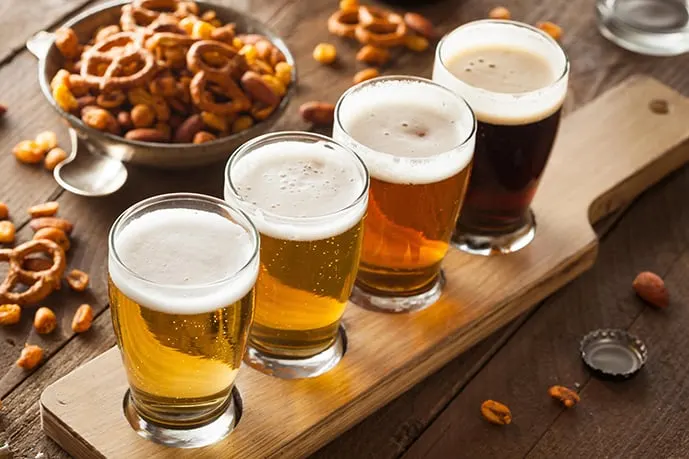 The owner or waiters can certainly help you with that. They were the ones who recommended La Trappe Isid' or to us, and we absolutely love it now!
Weather-permitting, sit outside along the canal. There nothing, we repeat, nothing more pleasant than sip some beers along the canals of Amsterdam on a clear day.
Tip from a local: Watch out for bikes and canals after drinking a few beers.
Best time to go to Amsterdam
Although Amsterdam is a lovely city all year long, some seasons are more pleasant for sightseeing than others.
Let's begin by the elephant in the room. Summer.
Honestly, summer is the worst time to visit Amsterdam. Hotel prices go up, streets/restaurants/museums are jam-packed with tourists, and there is a chance of a heatwave as we have had for the last years.
As a city surrounded by water, a heatwave is really unbearable in a humid environment.
The fall tends to be windy and rainy; however, mid-September to October is a great month to spend a day in Amsterdam. That's because the crowds have already left the city, and the weather isn't terrible yet.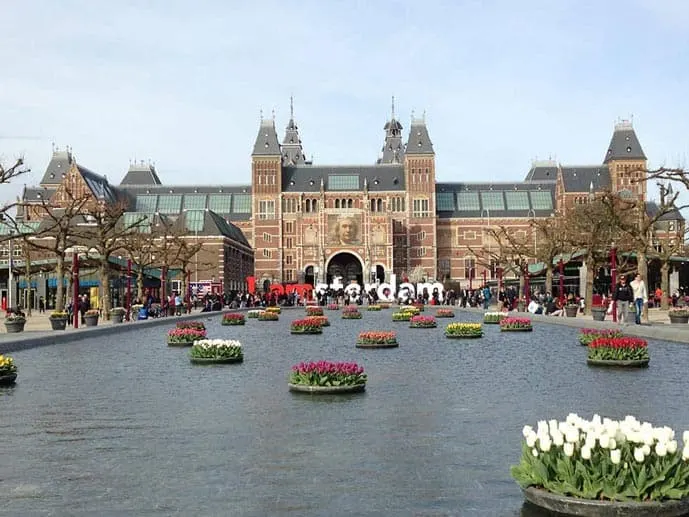 For instance, if you want to drink mulled wine in a Christmas market or follow the light displays at the Winter Lights Festival, you should visit Amsterdam in December. It's beautiful!
That's the busiest month of the winter. January and February are relatively calmer months, but because it's chilly outside, you might enjoy indulging in great food, sipping wine and beer, and museum hopping during this time.
But the very best time to visit Amsterdam for one day would be mid to late spring.
April and May, although cold these months, have surprisingly pleasant sunny days, and the city is full of tulips on the bridges and sidewalks.
As this is the tulips season, the Keukenhof and the tulip fields in Lisse might be full of tourists, though.
Where to go after your one day in Amsterdam
Since the Netherlands is a teeny tiny country and public transportation is excellent in the region, you can quickly go on several day trips from Amsterdam.
These are some of our favorite places:
Giethoorn – a sweet village with nearly no roads, only canals. The cottage houses make it look straight out of a fairytale book.

Click here to book a day tour.
Alternatively, you can combine Giethoorn with Zaanse Schans (windmills) and Volendam (fisherman's village).
Maastricht – a medieval town in the south of the Netherlands. It has excellent beer cafes and historical sites, including a beautiful bookstore in a former church.
Aachen – a medieval town in Germany with great Christmas markets and a ridiculously pleasant city center. Currywurst is delicious there!
Paris – a direct train takes you from Amsterdam city center to Paris, where you can enjoy a few days in this romantic city. Well, we could give you many reasons to visit Paris. Still, we believe being a train away from Amsterdam makes it an excellent idea.
What to pack for a day in Amsterdam
The weather in Amsterdam is unpredictable. For that reason, you will want to pack a few essential things to avoid unpleasant surprises.
Unless it's freezing or hot outside, thick tights and a skirt are often part of my outfit. I have a model similar to this one, and it looks so cute. I never get tired of it.
For the top, I always layer up – a top, a sweater, and an outer layer are essential items in my Amsterdam wardrobe. If I feel warm, I just put my sweater in my purse.
Oh, and a scarf is a must-have item for your day in Amsterdam, no matter the season. It can get quite windy in the city, so a scarf, and depending on the season a beanie, come in handy.
Last, but not least, a high-quality backpack is essential not only for Amsterdam but for anywhere you go.
That's because they are more comfortable, last longer, and in the end, save you money too.
We wrote full comparisons of the best travel backpacks and on the best backpacks with wheels if you prefer.
Final words on one day in Amsterdam
There are so many things to do in Amsterdam in a day, you certainly won't be bored here.
While we would recommend you spent more than 24 hours in Amsterdam, we know sometimes that's not possible.
Anyway, we hope you enjoy visiting Amsterdam in one day!
If you want to learn more about the country, check out other articles about the Netherlands, including this flag of the Netherlands.
Did you like this article about 1 day in Amsterdam? Then save it to Pinterest or share it with a friend who might like it too.
Our best travel tips & resources:
Here're our all-time favorite travel tips & resources so that you can save money and plan your travel logistics hassle-free! For more travel resources, check out our
travel tips.
Saving money: Fly on offseason, winter (not Xmas or NYE), Tuesday, or Wednesday! According to experts, these are the cheapest days to fly.
Travel insurance: Before you leave for your trip, make sure you have a valid travel insurance policy because accidents happen on the road. We have been paying for Safety Wing travel insurance for a little over a year now, and we happily recommend them to our family and friends.
Accommodation: We usually stay in mid-range comfy hotels or private rooms in hostels. These are the sites we use to book accommodation: Booking.com for hotels (excellent flexible cancellation policy) and Hostelworld for hostels (low deposit and easy cancellation).
Tours:We absolutely love booking guided tours with locals to get a history lesson while sight-seeing, especially food tours and walking tours! We book all of our tours using Viator and GetYourGuide.
Transportation: We use Google Maps to figure out how to get around a place using public transport. When we book a rental car, we always use Discover Cars to find the best deal.