Are you looking for a complete list of travel essentials for women?
I get why. It isn't easy to be a woman. I mean, it's wonderful to be one, but it isn't easy.
For years, I struggled to find travel accessories for women that would fulfill my needs. Some products on Amazon were useless; others were must-haves. (Yay!)
Although I must be honest, I love spending some time (and money) browsing Amazon. Who doesn't?
Anyway, only in the last couple of years, I came up with my comprehensive list of international travel essentials because you know, I became a professional traveler. (Is that even a thing?)
Best Travel Accessories for Women
But seriously, when you often travel, you realize and learn a few things that could make your life much easier. From creating your traveling checklist to packing and after your trip.
That's why I decided it was about time to share my list of essential items for travelers and help others even if just a bit.
So below you'll find 20+ essential travel products that you need for your next trip to Europe and beyond. But that's not all.
In the end, you'll find a complete female packing checklist for vacation. Let it inspire your packing list or feel free to copy all my travel necessities.
Are you looking for a complete list of travel essentials for women? Read on!
20+ Travel Essentials for Women
The items I describe below are those travel essentials for women that help a ton while traveling.
Honestly, these are must-have items you shouldn't travel without. I'm sharing my favorite brands with you that I use and am satisfied with.
Further out, below these traveling essentials, I've written a female packing list for you with everything I pack. Enjoy!
Carry on backpack/suitcase
First things first, without a backpack or suitcase, you're staying at home. No vacation for you. Naturally, that's not happening because you're getting this solved today.
Together with travel insurance (and a camera, of course), a carry on is a must-have travel gear essentials.
Note that I don't mean any luggage, but a carry on. That's because we women have smaller bodies, so traveling with a lot of suitcases, or with a big one for that matter, would be a significant hassle.
To each his own. I prefer my Osprey Farpoint because it gives me the capacity I need without compromising comfort and flexibility.
On the other hand, my best friend likes better hardshell suitcases. Whatever you prefer, stick to high-quality brands to avoid throwing your money and comfort away after a few trips.
Pro tip: Osprey has an almighty guarantee. Meaning they will repair any damage or defect for any reason free of charge.

Read more reviews and features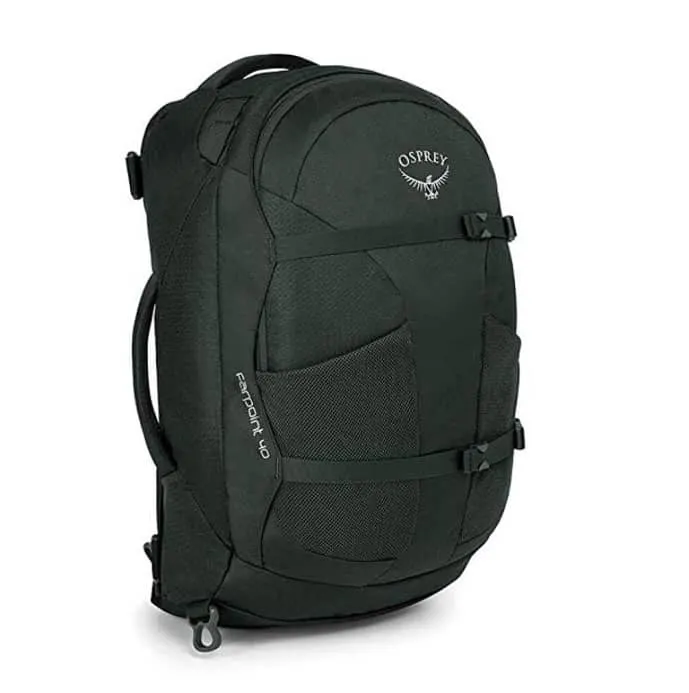 Read next: Best backpacks with wheels
Daypack/bag
If there's one travel essential for women we can't walk out the door without, it is a handy bag. And since you're going on vacation, you don't need your fancy-looking or fashionable purse. A basic, black one is more than enough.
But there's a catch here: You'll walk through places where pickpockets are present and alert — just waiting for their next prey. Meaning you don't need any bag, but an anti-theft one.
That's why this Travelon crossbody bag is an essential item for your trips. It has locking compartments, RFID blocking slots, and slash-resistant body construction and shoulder strap. Whew.
Furthermore, you might want to buy a lightweight crossbody bag that zips like this one. Trust me on this, Paris is a romantic and dreamy city, but pickpockets there are professionals as they're all over Europe.
As an extra precaution, keep your bag in front of your body while exploring any city.
Pro tip: always keep your lightweight bag on your shoulder and rest it on your lap rather than hanging it from the chair.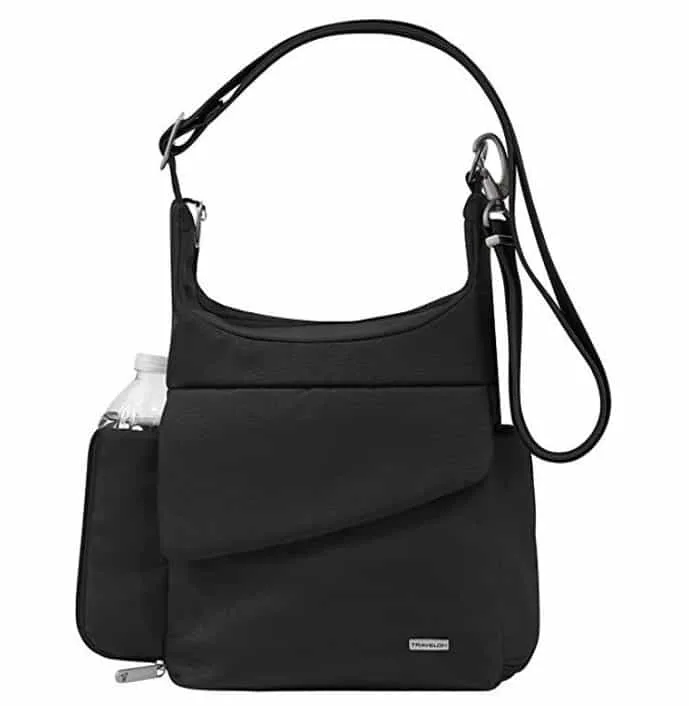 Packing cubes
Whenever my husband asks me what one of the best purchases I've made for my travels was, I say my packing cubes. It must be my OCD, but I love having my things organized at all times. And that's what the packing cubes do for me.
The smallest pouch is for underwear and bras. The second one is for tops and blouses. While the rest of the clothes, I divide between the other two packs.
The good thing is the Shacke Pak comes with a laundry bag, so you don't need to mix clean and dirty clothes. Brilliant.
I don't know you, but when I would come back home from a trip, my backpack would be jam-packed with my whole closet. At least, that's what it looked like. But since I got these packs, my backpack looks almost the same as when I left.
For this reason, packing cubes are one of my most useful essentials when traveling.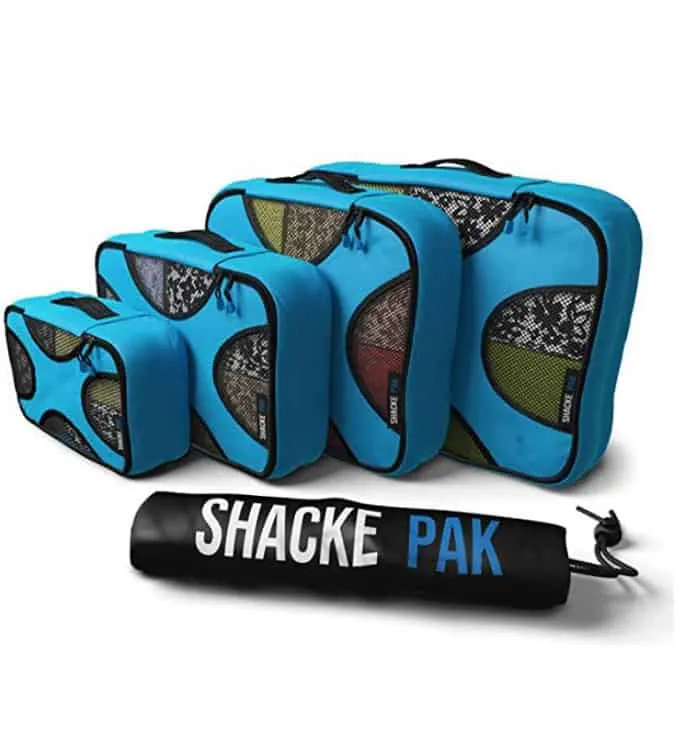 Transparent Toiletry bag for liquids
A transparent toiletry bag is essential for traveling not only with fluids but also with makeup and other small toiletries you might have.
And one of this bag's benefits is that it's TSA approved. Meaning you can take it in you carry on.
Although you may not have this feeling from the photo, know that it holds a good amount of items.
Further out, it's a thick material that will last longer. Perfect for the environment and your pocket. A win-win situation for you and the world.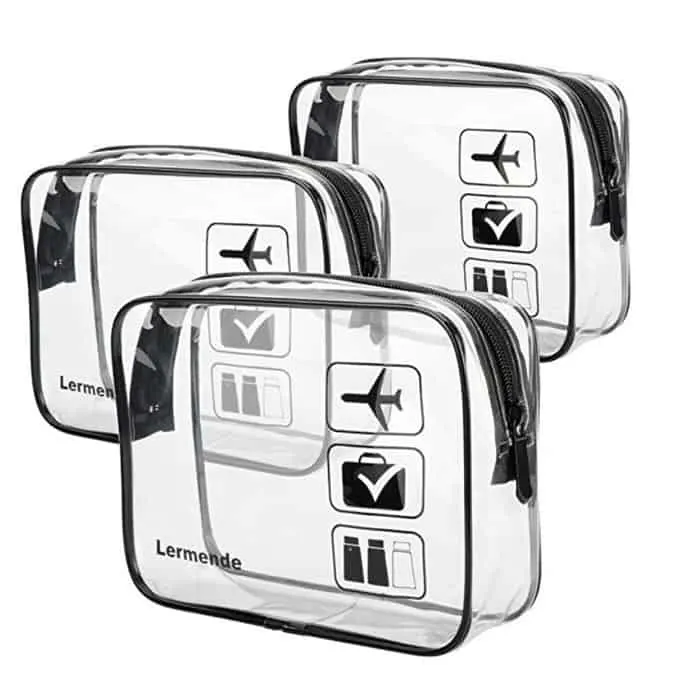 Mirrorless Camera
We love beautiful, inspiring photographs. I can't avoid taking some shots of famous attractions from different angles. It makes the old known places look new.
As you can imagine, an entry-level camera was a no-brainer when I started traveling the world.
But since I value traveling light, a DSLR wasn't going to cut it. That's why we leaned towards mirrorless cameras that take much less space and weigh much less as well.
This Canon EOS (I haven't tried other brands yet) has excellent image quality and comes with a free lens kit (15-45mm).
Its compact body is ideal for women's hands. Also, know that this camera is compatible with great lenses too, in case you're looking for a camera to use in the long run when you improve your photography.
In conclusion, you can use this Canon for years to come, even after getting on the next photography level.

Click here to check more reviews and features of this mirrorless Canon.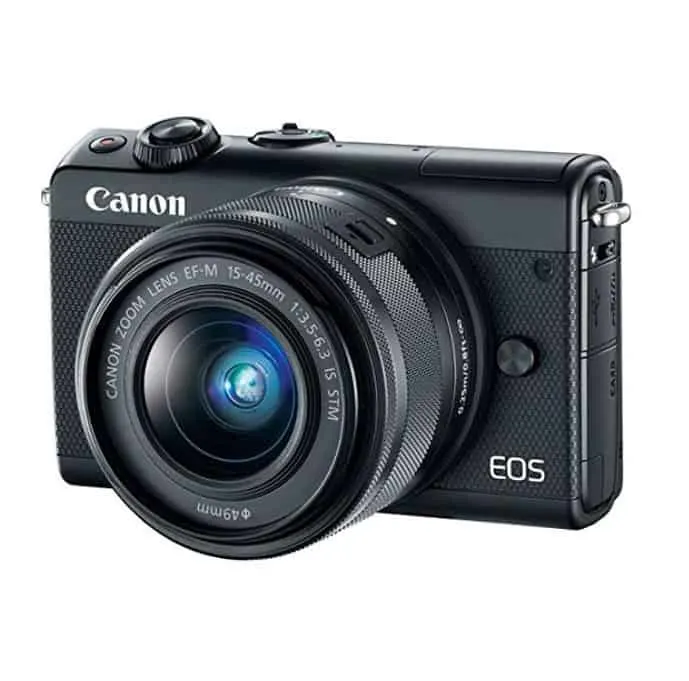 Travel jewelry case
Necklace knots are incredibly difficult to untangle and unfortunately, the longer and thinner the chain, the more challenging the knot.
But ever since Frank gave me a travel jewelry case, I have never had this problem again.
Seriously, I can't last time I untangled a necklace or even lost an earring for that matter.
Naturally, there are different style and types of jewelry cases, one for each need, and I compare more travel jewelry cases in this article.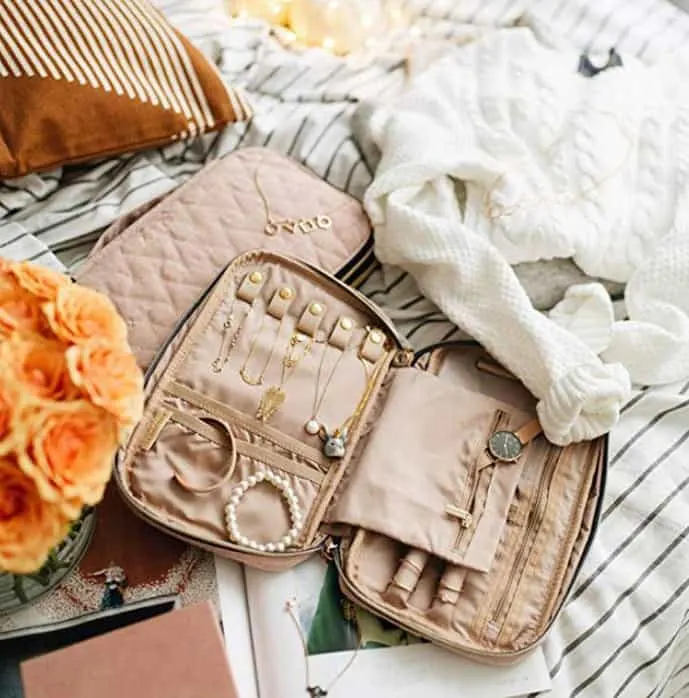 Travel insurance
Peace of mind.
That's what travel insurance gives you in the first place. You only realize you needed travel insurance when something goes wrong. Also, we often don't understand how lucky we are in many situations.
Try to imagine how many flights were canceled today or how many accidents happened to women traveling abroad like you and me.
On all of these occasions, your life would be much more difficult without insurance. I learned it the hard way.
Take control of your life and avoid the hassle. For a few dollars a day, you're covered for a bunch of situations. We use and are satisfied with Safety Wing.

Click here to quote travel insurance for your trip.
Safety alarm keychain
Being a woman isn't easy. It's wonderful, but it isn't easy. Catcalling, dark streets, weirdos, you name it.
Besides having travel insurance, which will help in case something happens, having an alarm might help prevent that.
Since attention is an attacker's worst enemy, you can walk more relaxed with this personal alarm that emits a siren of 130 dB, giving you precious seconds to run in any situation.
You can attach it to your bag or purse strap and pull the cord whenever needed. Undoubtedly, this alarm is one of the most useful traveling accessories for women.
Oh, and the alarm has an LED attached for many situations you might come across when it's dark outside. For example, when you're walking your dog or for when you're unlocking your door.
Pssst: Grab your FREE Amazon Prime trial here!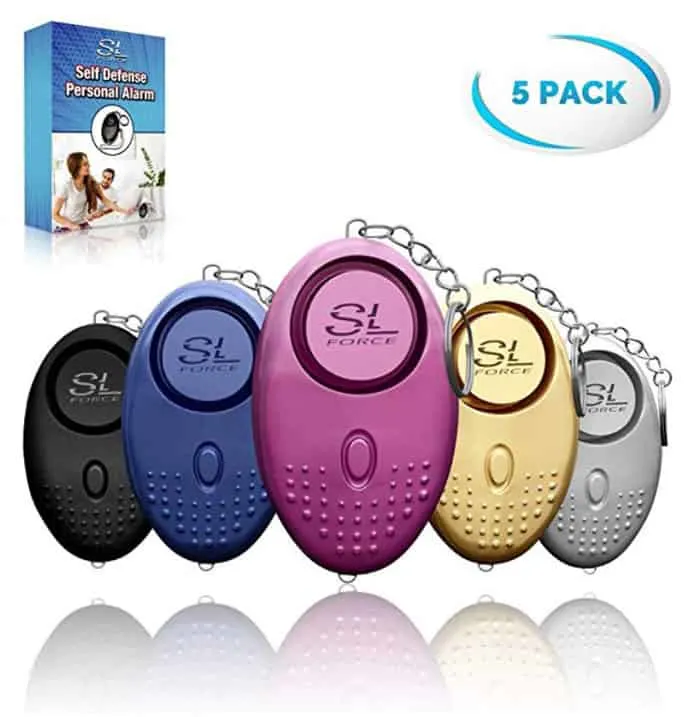 Mini travel wallet with RFID
With heaps of card slots and pockets for bills and coins, this fashionable travel wallet is durable as the material is PU leather, a vegan leather.
My everyday wallet is bigger and has more compartments than this compact travel wallet, which is perfectly sized for those who prefer to pack light like me.
You might even want to use it as your every wallet.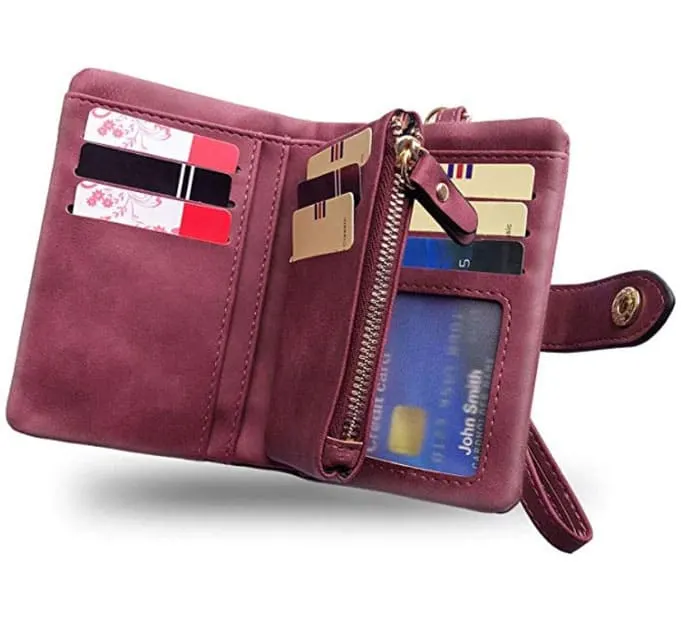 Travel bra
Travel bras are essential travel items for women. These accessories are excellent against pickpockets and gravity.
As gravity is concerned, you already knew about this point because they work the same way as your conventional bra.
However, travel bras have little pouches, pockets, and compartments where you can store your valuables. The Travel Bra, in the photo, has an award-winning design and lightweight construction.
Perfect for traveling overseas, especially in Europe where pickpockets are like rats.
Click here to read our travel bras comparison.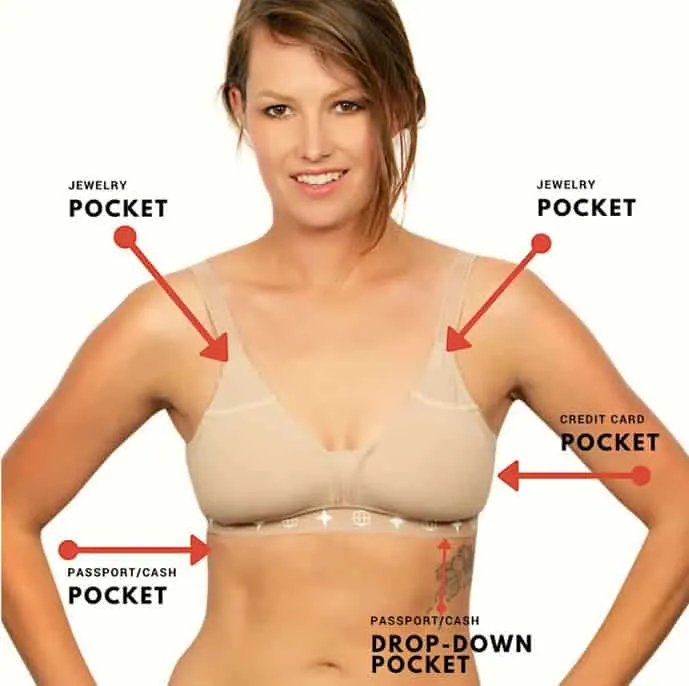 Comfy shoes to walk
Comfy shoes are a no-brainer. You can't explore a new city with something hurting your feet. That's a big no.
But you don't need to give up on style to have comfortable shoes. Here in Europe, it's common to wear sneakers all year long, unless it's raining cats and dogs or freezing, of course.
In everyday situations, besides in the summer of course, because that's when I'm wearing my cute espadrille, I wear basic sneakers with everything – skirts, dresses, jeans, you name it.
TOMS has fashionable and ridiculously comfy espadrille and flats in tons of different colors. As for sneakers, the Sperry ones match with lots of stylish outfits.
Last but not least, I always pack a pair of flip flops (Havaianas are my all-time favorite) to rest my feet and to shower in the hotel.
Pro tip: Always break in your shoes before going on vacation! Can't stress this enough. If you try to break them in on your trip, you'll slice not only your heels but your soul too. God that hurts!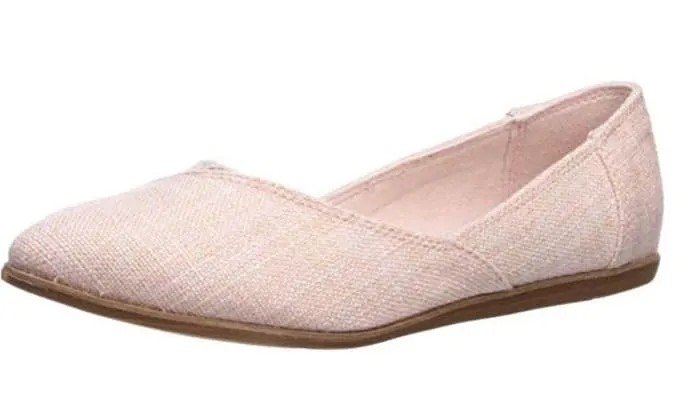 Adapter and portable charger
You've just arrived at your hotel, heading to the power plug to connect your phone, and you realize the charger plug isn't the same. Oh, man.
I've been there. That's why I recommend you buy a universal adapter to charge your smartphone and laptop on any trip. This small device saves a lot of hassle.
Similarly, a portable charger is another life-saver. I can't count on one hand how many times my phone ran out of battery while I was sightseeing.
The good thing is this charger is as big as a lip balm. Ok, your lipstick then.
Jokes apart, the compactness of this accessory is out of this world. It will take the least possible space in your bag and will save you when you need the most.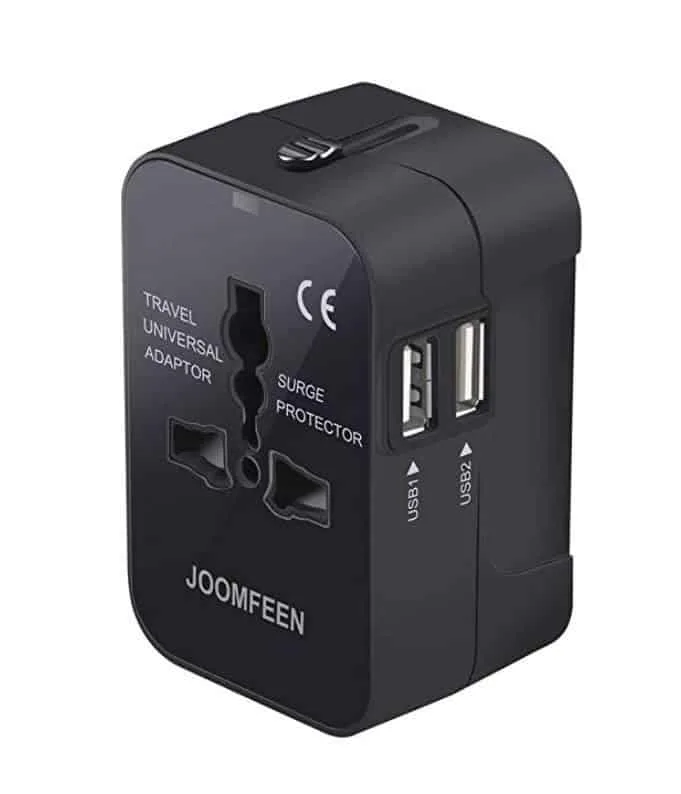 Waterproof case for beach or rainy destinations
Traveling to the beach or rainy destinations, such as Dublin, doesn't have to ruin your smartphone. Imagine your device full of scratches after sunbathing an afternoon? The culprit is sand around you.
Or even worse, imagine it getting wet in the rainy weather from Ireland? Ok, I'll stop sounding so negative. You got the gist.
That's why I once bought a waterproof case, and haven't had any problems ever since.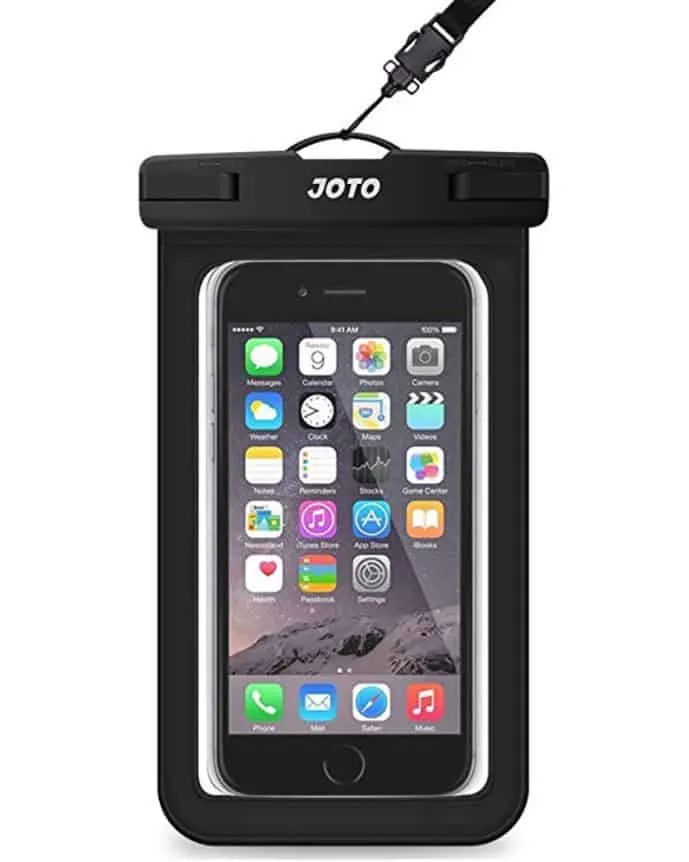 Pashmina scarf
I have one scarf in each color, and every time I travel, I pack a stylish one that matches all outfits I chose for that trip. I usually choose a basic (red/blue) or neutral color (black w/ flowers).
That's because a scarf completely changes my look, sometimes it protects me in a chilly night, sometimes it's a cover to enter religious buildings.
Either way, this accessory makes a statement, and it's multifunctional. It's one of my favorite travel essentials for women.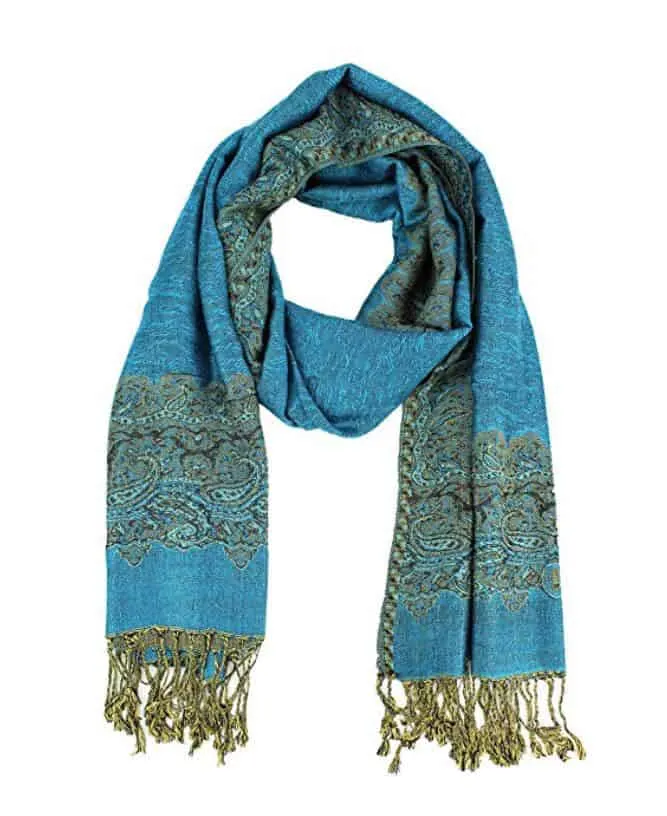 Basic black dress
Every woman has a basic black dress in her closet, and that's because this piece of clothing goes with everything in every situation. From sightseeing with sneakers to going for dinner with flats, you name it.
As the name says, the dress is basic, and lucky us, it's fashionable without being flashy.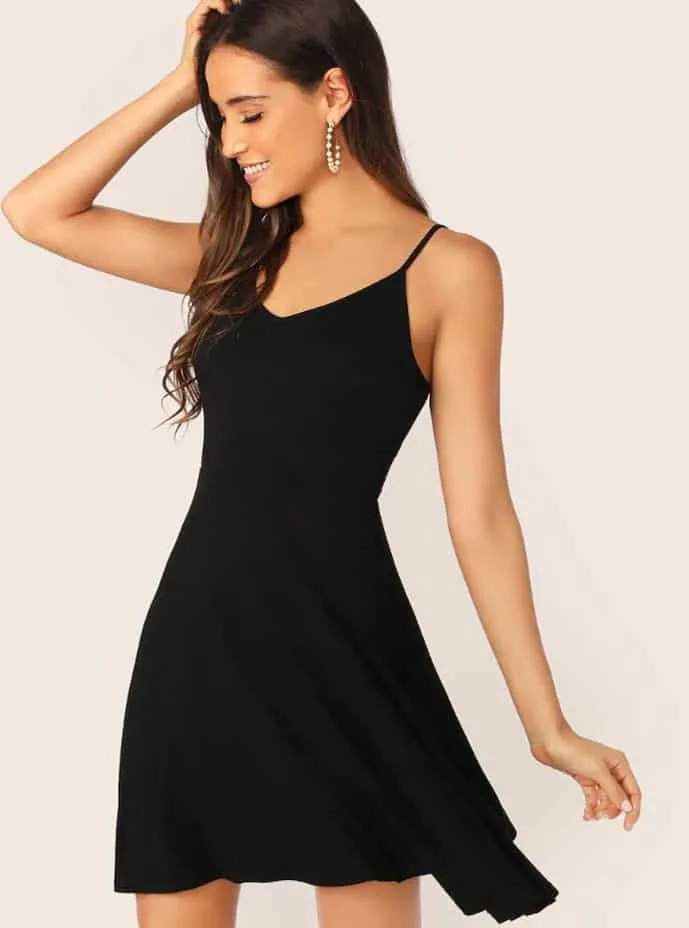 Hair ties/bobby pins
Bad hair day? No, you don't have time for that on vacation. I mean, how will you look beautiful on the photos if your hair isn't coping that day? It happens. And it happens all the time – at least with me.
So be sure to pack a few hair ties too. They won't take any space in your luggage anyway.
Reusable water bottle with filter
Ditch those plastic bottles and stop spending money on something you can refill in any tap. Yes, in any tap. Even if the local tap water isn't drinkable, you can fill up this bottle with impure water because it has an internal filter. How useful is that?
Furthermore, you can take this bottle either on a hiking trip or on a backpacking trip. There are lots of possibilities for it.
Cheaper Sunglasses
Going on vacation? Take generic, cheaper sunglasses with you. I mean it. Taking your expensive sunglasses from Ray-Ban, for example, might end up bad – you can scratch it, lose it, or break it.
Instead, purchase some cheaper, but yet fashionable pair for those occasions. Problem solved.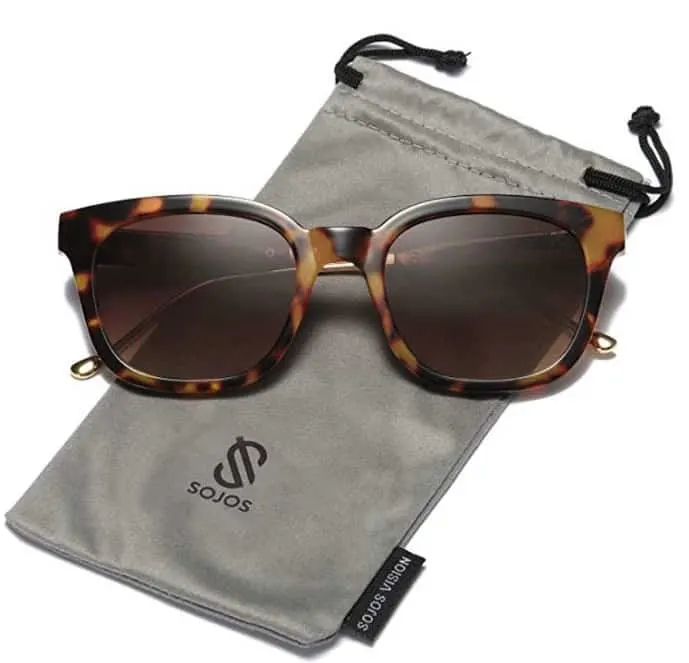 Travel towel
A lightweight travel towel is an essential item for any traveler staying in Airbnbs as in most cases the towels aren't washed in high temperatures.
Besides, travel towels are compact and dry fast, which makes it easy to pack light.
Travel razors
By now, you must have noticed that I'm a "packing light" enthusiast. I like to travel with a carry on only because I'm 5'4" and 115 pounds, hence why I can't carry my whole closet on my back.
So what I do is buy miniature or travel version of must-have items, such as razors, cosmetics bottles, everything.
This way, I can fit more in my toiletry bag without compromising my backpack's capacity.
Menstrual cup
All my girlfriends who use menstrual cups swear by it, and so do I.
Among its many benefits, the cup is an excellent alternative for carrying a whole box of tampons, and as a result, it creates much less waste.
I've saved five years worth of disposable pads/tampons so far, and I don't plan on stopping anytime soon.
So read up on the recommended size for your cervix height and volume flow, and thank me later.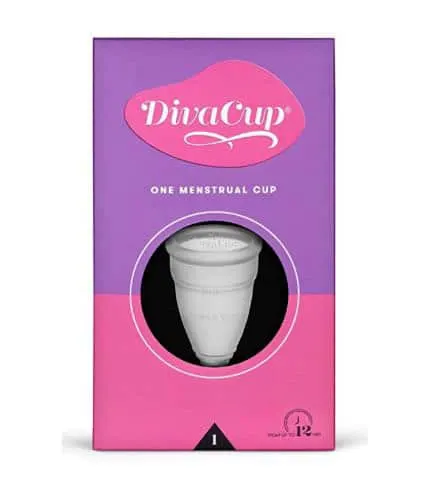 Washing bag and travel soap
Whenever our readers ask us what our best travel tips are, we say "Pack one week worth of clothes even if you're traveling for a longer period. If you need more clothes, wash them."
Less is more, guys.
One could argue the sink method works fine, but since it doesn't have much friction, it won't wash your clothes as well as it should.
That's why we opt for a lightweight washing bag and travel soap – one of our favorite travel gadgets – because it does its job well. Love it!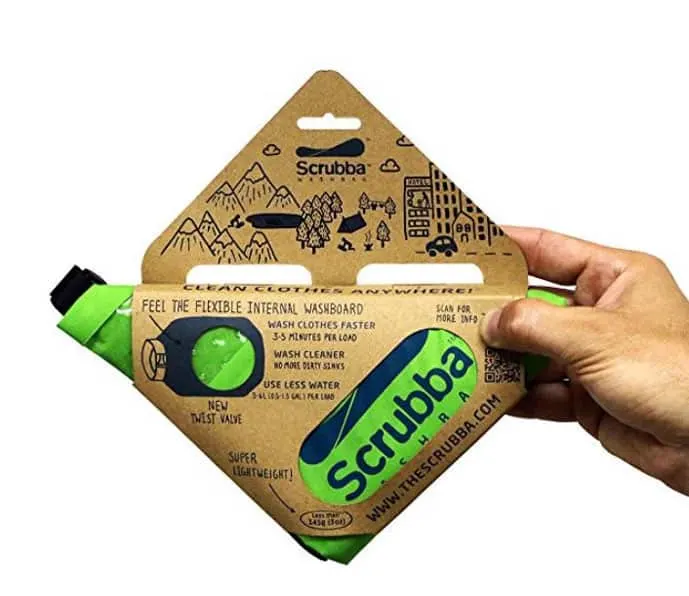 Female packing list
You'll find below all the items I pack for my trips. Use this travel packing list for women as a reference or copy every item, that's up to you.
Oh, and if you prefer to have an offline checklist, you can download it by quickly signing up for our newsletter.
Clothing
3-4 tank tops/short sleeve tops
1-2 skirts or shorts
1 pair of pants
1 pair of harem pants
1 lightweight vest
1 lightweight parka (winter)
1 rain jacket/poncho (rainy destinations)
2-3 bras (1 strapless & the travel bra)
7-8 pairs of underwear
2-3 pairs of socks
1 swimsuit (for the beach or spa)
1 long sleeve pajama
Accessories
1 pair of comfy sneakers
1 pair of foldable flats
Flip flops
Cap/hat
Scarf
Toiletry bag
Travel jewelry case
Toiletries
Toothbrush + toothpaste + floss
Shampoo + conditioner in a reusable travel bottle
Body wash in a reusable travel bottle
Deodorant
Hand sanitizer
Baby wipes
Moisturizer
Sunscreen
Chapstick
Hairbrush/comb
Hair ties/bobby pins
Contact lenses/solution
Nail clippers
Travel razors
Miscellaneous
Washing bag
Travel soap
Travel towel
Money belt
Waterproof case phone (beach or rainy destinations)
Gum/mints
Protein bars
Repellent with picaridin (for tropical destinations)
Band-aids
Prescriptions
Condoms
Travel journal
Pen
Activated charcoal (for jet-lag and bloating feeling)
Electronics
Cellphone
Laptop/tablet
Chargers (cellphone, camera, laptop, tablet)
Headphones
Universal adapter/converter
Practicalities
Visa (plus copy)
Vaccinations certificate
Bank notice
WiFi hotspot (Coupon code: MAPSNBAGS)
Finance and documents
Passport (plus copies)
Cash (in local currency)
Credit/Debit card
Accommodation address
Plane + transport tickets
Insurance and policy number
Emergency contact info
Local emergency number
Give a copy of your itinerary to family/partner/friend
Wrapping up on travel essentials for women
Those items are the best travel essentials for women when traveling abroad or in their own country.
So be sure to include these items in your girls packing list as they're essentials for traveling kits.
Did you like this article about travel essentials for women? Then pin it to your Pinterest packing list for women board.
You might also like:
Our best travel tips & resources:
Here're our all-time favorite travel tips & resources so that you can save money and plan your travel logistics hassle-free! For more travel resources, check out our
travel tips.
Saving money: Fly on offseason, winter (not Xmas or NYE), Tuesday, or Wednesday! According to experts, these are the cheapest days to fly.
Travel insurance: Before you leave for your trip, make sure you have a valid travel insurance policy because accidents happen on the road. We have been paying for Safety Wing travel insurance for a little over a year now, and we happily recommend them to our family and friends.
Accommodation: We usually stay in mid-range comfy hotels or private rooms in hostels. These are the sites we use to book accommodation: Booking.com for hotels (excellent flexible cancellation policy) and Hostelworld for hostels (low deposit and easy cancellation).
Tours:We absolutely love booking guided tours with locals to get a history lesson while sight-seeing, especially food tours and walking tours! We book all of our tours using Viator and GetYourGuide.
Transportation: We use Google Maps to figure out how to get around a place using public transport. When we book a rental car, we always use Discover Cars to find the best deal.