How to choose the best travel backpack with wheels?
That's not an easy task, but it doesn't have to be difficult either.
Wheeled backpacks come in handy because of their versatility and multiple purposes while traveling.
You might want to carry your backpack while walking on the cobblestone streets of Bruges but would prefer to roll it while walking around Seattle.
That's how we roll.
Although not all rolling backpacks in this article have shoulder straps, they all have essential features that make them useful when either traveling abroad or in your country.
Best Travel Backpack with Wheels
Naturally, the best wheeled backpack for us might be different than the best one for you.
Consider what you need in a backpack with wheels – laptop compartment, photography compartment, organization features, carry on pack, big enough for longer trips or just a lightweight backpack with wheels.
In today's post we'll talk about:
The best travel backpacks with wheels in a nutshell
Comparison Table of the Best Wheeled Backpacks for Travel
Why should you buy rolling backpack luggage?
Fresh as a daisy – One of the main reasons why you should choose wheeled backpacks is that you can walk longer distances before getting sweaty and exhausted.
As a petite woman – I'm 5'4 -, carrying a heavy backpack the whole trip isn't something I can endure. When I was younger, I had some spine problems, which made me realize rolling backpacks for travel are a godsend.
Versatile – Wheeled backpack luggage is also versatile and adjusts to the situation where you are. If you're walking the busy cobblestone streets of Amsterdam, you might carry it on your back.
On the other hand, you might want to roll it on the modern streets of Dallas.
Avoid injuries – After traveling between countries for days in a row, your body gets exhausted even if you're taking it slow. To avoid injuries by overloading your back you need a backpack with wheels.
Save some money – One of the reasons you'd call a taxi to get from your hotel to a nearby place would be your heavy backpack. But that's not a problem here.
With a travel backpack on wheels, you can simply roll it, save some money, and see a little more of this new city you are in.
However…
Bruna used to be bullied in college for whatever reason some people would want just to try to ruin her day. And talking about her rolling backpack was one of them. Haters.
Sarcastic questions of the kind "Are wheeled backpacks for adults?" or "Are we back to kindergarten?" would make part of their creative range of jokes.
Fast forward 3-4 years, who had a rolling laptop backpack? One of those friendly classmates. 🙂
Anyway, without further ado, here are 10 of the best wheeled backpacks for travel, with each of their top features and functionalities.
10 Best Travel Backpacks with Wheels
Best Lightweight Backpack with Wheels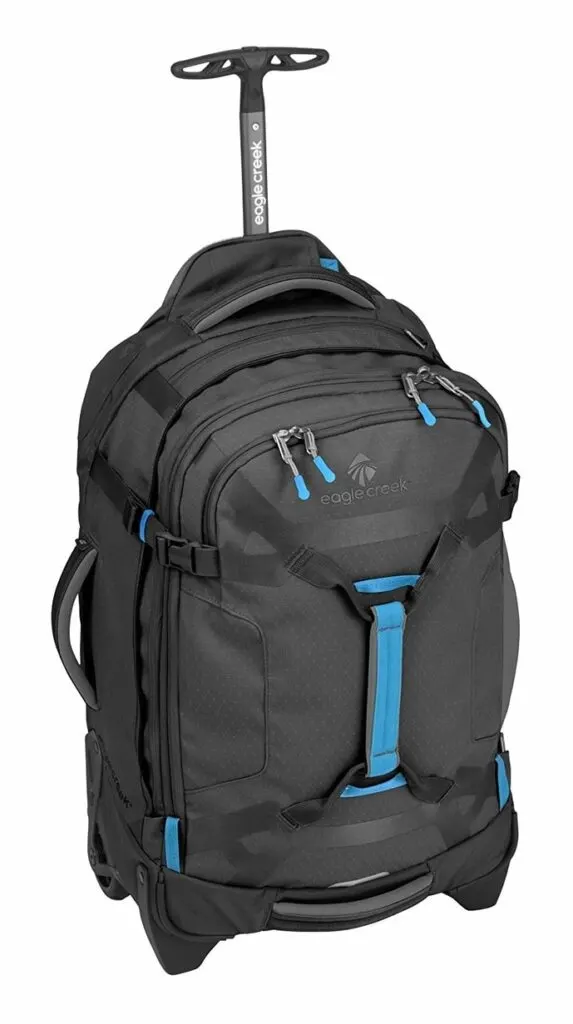 This 22-inch carry-on luggage bag from Eagle Creek is the ideal size for a week's worth of clothing, saving you from checking in luggage on a relatively short trip. It also complies with most airline requirements.
The bag consists of one large compartment, with no separations, so we suggest including packing cubes to help keep you organized.
The seamless Exo-Skeleton and reinforced corners provide strength and sturdiness. The solid extending telescope handle is another strong feature.
It has durable zippers, and oversized treaded wheels, making it great for all conditions – from cobblestone streets in Italy to the busy sidewalks in New York City.
The padded front and side handles make it easy to grab the bag out of the overhead bin, as well as to carry by hand if need be. The outer is made from ripstop and ballistic fabrics, creating a water-repellant, tear-resistant bag.
Designed for the adventurous traveler, the Load Warrior is the perfect companion for any overseas trip.
It's also covered by Eagle Creek's lifetime warranty guarantee, which promises to replace or repair the bag after damage from any cause.
Perfect for: Travelers who are looking for a sturdy carry on wheeled backpack. Also, perfect for those who use packing cubes and don't have a problem packing light.
Pros:
Durability
Carry on size
Expands to nearly double its size
Sturdy
Lifetime warranty guarantee
Cons:
Soft case
Single-tube handle
Best Backpack with Wheels for Long Trips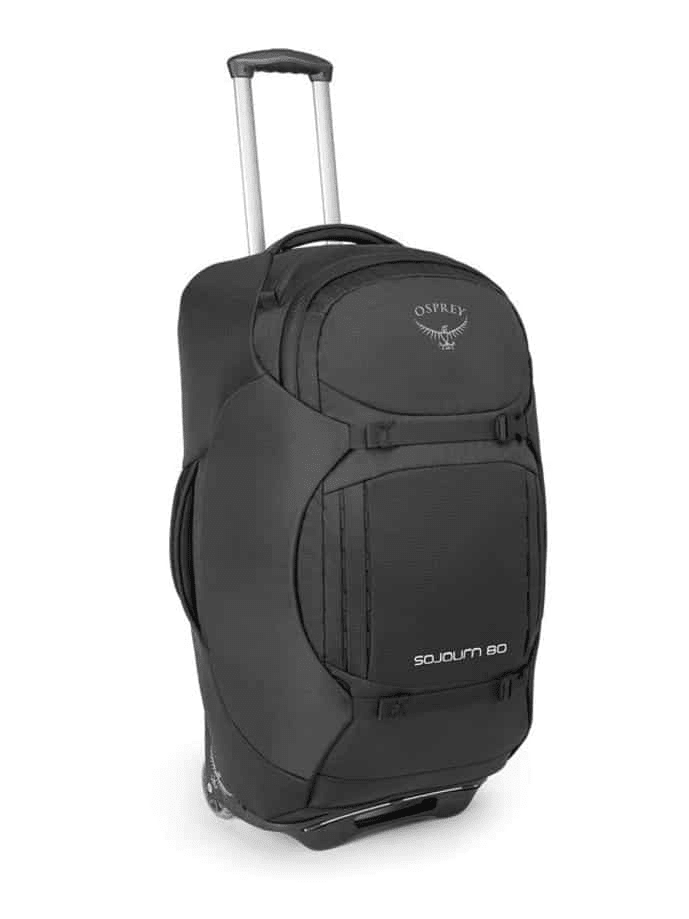 Osprey is well-known for its top-quality travel luggage. All of their bags are made to last a lifetime and fit in with every traveler's needs.
As an added bonus, Osprey is so confident in their products that they offer a lifetime promise to repair any damages on their bags. If they can't be fixed, they'll be replaced.
The 28" Sojourn is an excellent example of this quality. Starting with the HighRoad Chassis wheels which coast smoothly over any surface, and carrying on into the durable grab handles and Dual StraightJacket compression straps.
This backpack with wheels uses technical suspension in the back panel for comfort carrying – even on long hikes and treks through the Andes Mountains. This, combined with the deployable harness and hip belt, make the Sojourn one of the best backpacks for Europe.
The dual-tube handle is sturdy enough to pull a full pack and slides away neatly when not in use. Inside the bag, there is a large compartment with an 80l capacity and many useful smaller pockets for organization.
There is also a handy top pocket for easy access to passports, cash, and other essential travel documents.
Perfect for: Travelers who need a sturdy and massive travel backpack with wheels. Travelers who are carrying a lot of clothes and gear, but not necessarily a laptop for an international trip.
Pros:
HighRoad chassis wheels
Durable handles
Dual-tube handle
Hip-belt
Almighty guarantee
Cons:
Weighs 8.97 lbs
Not carry on
Single big compartment
No dedicated laptop compartment
Best Carry-on Backpack with Wheels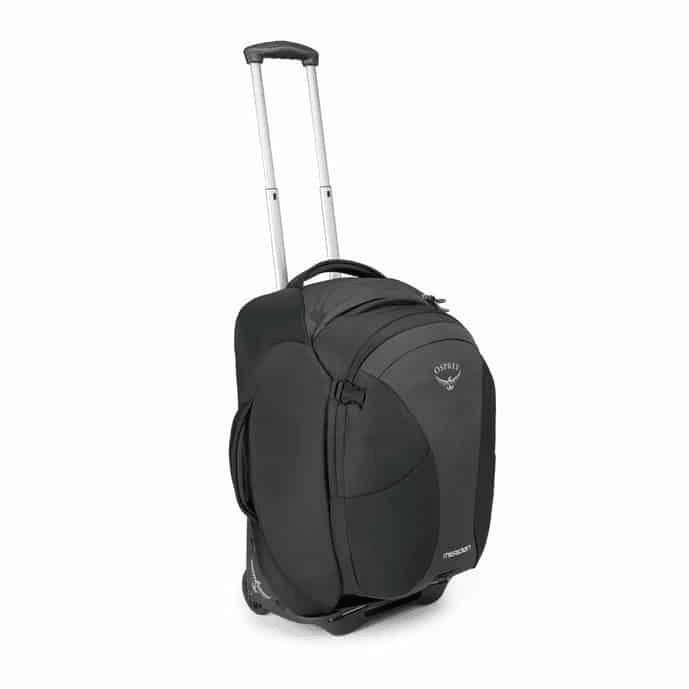 Featuring the durability and quality that Osprey promises, the Meridian is possibly the best backpack with wheels for travel.
Available in metal grey, rainforest green, or lagoon blue, this wheeled backpack also comes with Osprey's lifetime repair guarantee.
One of Meridian's best features is the removable day pack, which allows you to leave your larger bag at the hotel or hostel and simply move around with the necessities.
The day pack includes a 15" padded laptop sleeve, ideal for digital nomads traveling the world.
The main luggage comes with internal compression straps, giving you even more space to work with.
There are also internal zippered pockets to keep smaller items in place. This Osprey wheeled backpack is great for longer trips and holidays.
The dual-tube extended handle provides extra control as you pull the bag along, while the HighRoad Chassis wheels are designed to ride on any terrain.
The bag's easy grab handles make for easy access from overhead bins, and the deployable shoulder harness transforms the rolling luggage into an easy-to-carry backpack within seconds.
Perfect for: Travelers who want a small daypack to put essential items, and travelers going on an international trip who want a durable and versatile travel backpack with wheels.
Pros:
Carry on dimensions for most airlines
Removable daypack
Durable handles
Robust material
Dual-tube handle
Almighty guarantee
Cons:
Weighs 8.37 lbs
Small daypack
No hip-belt
Either bags' contents are not accessible when attached to each other
Best One Compartment Wheeled Luggage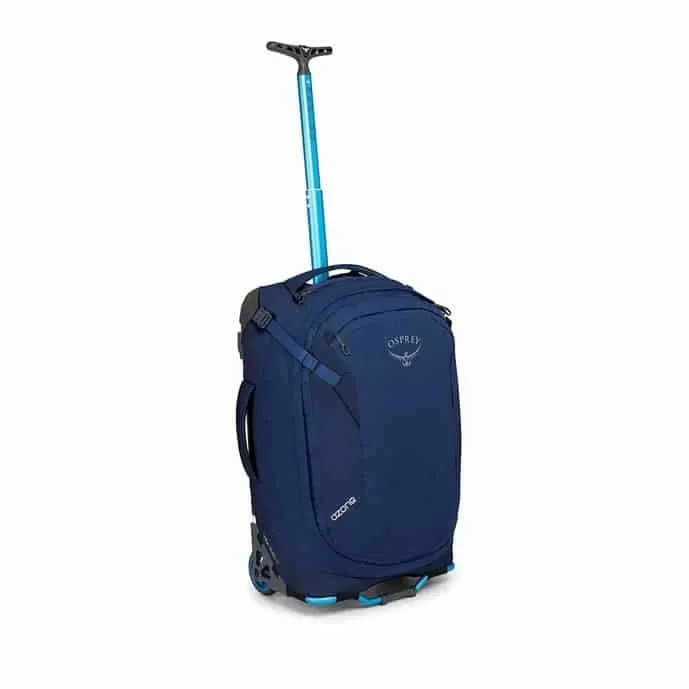 Another top choice from Osprey, the Ozone wheeled carry-on does not transform into a backpack but is still a versatile and functional rolling carry-on.
Its lightweight, yet durable, nylon materials make it very much like a backpack with wheels.
This travel suitcase features HighRoad Chassis wheels and an adjustable telescope handle that provides effortless transporting over most surfaces. So no worries if you're headed for some time in the wilderness of Australia.
The bag also has padded top and side handles, which enable it to be carried around without any hassle.
The 21.5" case offers 42l capacity and comes with upper compression straps that keep the inside contents secure. There are also compression straps inside the main compartment to help increase the capacity when packing light.
The added tuckaway tow strap also allows you to attach a smaller bag to the Ozone wheeled luggage.
As a carry on bag, the Ozone has a back panel with space for a book or magazine, as well as a small mesh pocket for your ID. There is also a top liquids' pocket for easy access to small items.
Of course, the Ozone wheeled luggage benefits from the same guarantee as the previous Osprey bags mentioned.
Perfect for: Travelers who need a sturdy and lightweight travel backpack with wheels. Travelers who are not packing light for an international trip and need an efficient wheeled backpack.
Pros:
Carry on dimensions for most airlines
Durable
Lightweight backpack
Highroad chassis
Cons:
Single-tube handle
No shoulder straps
Read next: Best anti-theft purses for travel
Best Travel Backpack with Wheels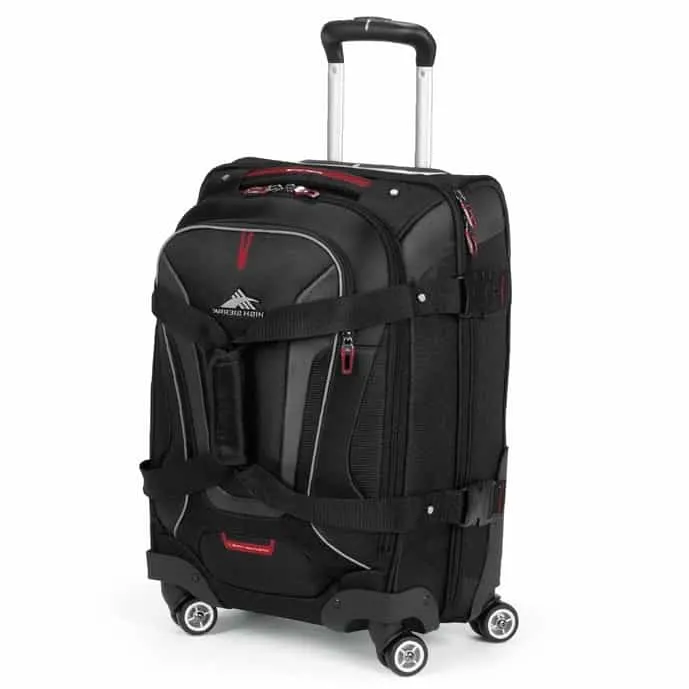 The 22" AT7 Spinner bag from High Sierra is possibly the ultimate rolling travel backpack. This bag is a 3-in-1 in the sense that it can be used as a backpack, an up-right suitcase, or a duffel bag.
Take it with you on a business trip to Hong Kong, a family reunion in the Caribbean, or even your honeymoon in Mexico.
The bag has a main lower compartment that opens in a book-style and has hold-down straps, as well as an upper compartment separated by a removable zippered panel.
This allows you to remove the panel and have one large compartment, or to keep it and enjoy two separate spaces.
This backpack suitcase has been designed with a built-in foam structure which helps keep the bag's form while maintaining its lightweight feel.
The padded shoulder straps can be tucked away into the back of the bag completely, and the adjustable telescope handle easily packs away as well.
The outside of the bag features compression straps and two sturdy handles to carry the bag with.
The outer materials are durable and water-resistant, and the four spinner wheels allow smooth gliding even when the suitcase is fully packed. This roller travel luggage is the ultimate essential for a trip overseas.
Perfect for: Travelers who need a carry on backpack with wheels for different purposes. Travelers who need a versatile and functional affordable wheeled backpack.
Pros:
Affordable
Durable
Great internal capacity
Spinner wheels
Double-tube handle
Cons:
Weighs 8.3 lbs
Zippers are not lockable
Not as high-quality as Osprey, but also not so expensive (pros!)
Best Wheeled Laptop Backpack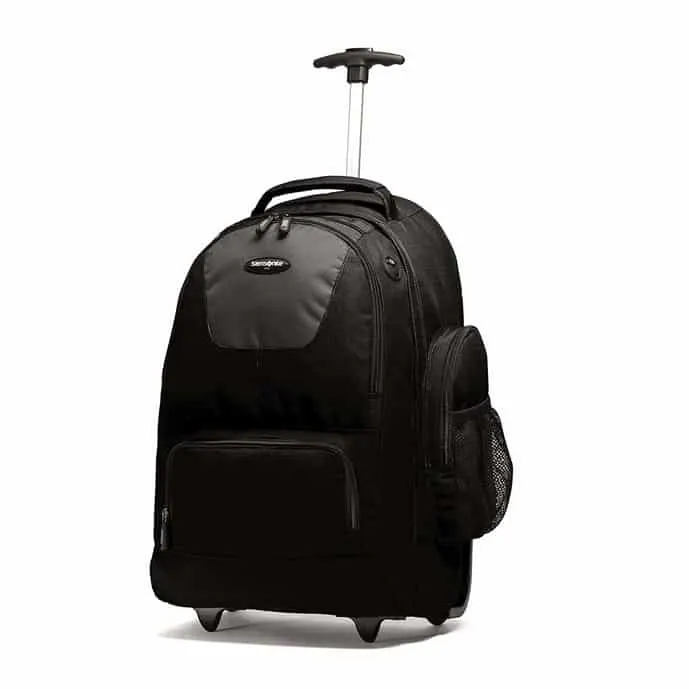 If you're looking for an affordable backpack for everyday use, as well as to take with you on short trips, the Samsonite is the right choice.
It's big enough to fit a few days' worths of clothing while still being small enough to take as a carry-on.
This backpack on wheels will fit your 17" laptop along with at least a weekend's worth of clothing, although it's best not to overstuff the bag too much. While you're not traveling the world, this bag can accommodate books and accessories for school or work.
The headphone's entry pocket feature is excellent for long airport layovers in Dubai, and the bag is light enough to be a comfortable carry-on.
The bottom of the bag can seem a little close to the ground when pulling it, so as wheeled travel luggage, it shouldn't be too full or too heavy.
This backpack is not designed to withstand extremely heavy labor, so it's best for those who are easy on their bags, and who don't need to overstuff the bag.
Available in three colors, the black/charcoal option is excellent for travel since it doesn't get dirty too quickly, and it's a simple, smart bag.
Perfect for: Business travelers and students who need a lightweight backpack with wheels for travel for a few days and need their laptop as well as a few changes of clothes.
Pros:
Affordable
17" laptop compartment
Lots of pockets for organization
Carry on size
Cons:
No hip-belt
Single-tube handle
Best Budget Backpack on Wheels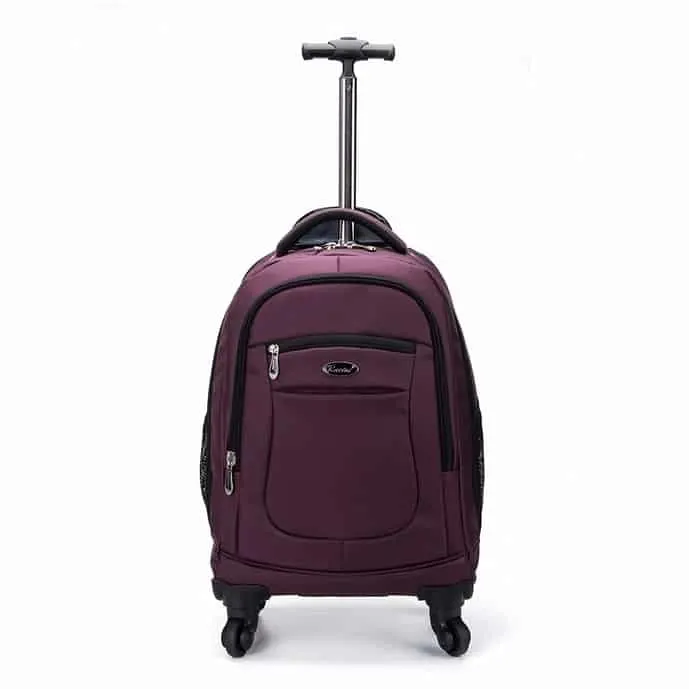 From work trips to vacations, the Racini Freewheel backpack is a handy, essential piece of luggage. Easily transformed from a lightweight backpack to a roller carry-on bag, this 4-wheeled bag is both functional and stylish.
There is a 17.7" main compartment, which has a 44lb capacity, as well as a separate padded 15" laptop sleeve. Laptops larger than 15" can be stored in the main compartment while still being able to fit clothes and accessories.
There are also several built-in pockets around the sides and in front of the bag to hold smaller items like water bottles, keys, and even your travel documents.
The backpack is waterproof, durable, and sturdy. It will stand up straight, also when full, although it is advised to keep bulkier items at the bottom.
This wheeled backpack comes with anti-theft zippers, an 18" adjustable telescope handle, and smooth, durable wheels. While the outer materials are water- and tear-resistant.
Moreover, the bag comes in black, navy, purple, or violet, and it would be the best pull-along luggage for a city break in Paris, full of sightseeing and shopping!
Perfect for: Business travelers and students who need a stylish and water-resistant wheeled backpack with lots of organization and decent capacity to pack clothes for business trips, for example.
Pros:
Spinner wheels
Wheels are detachable
15" laptop compartment
Wheel cover
Carry on for most airlines
Cons:
Single-tube handle
It might not fit under airplane seat depending on how much you pack
Best Camera Backpack with Wheels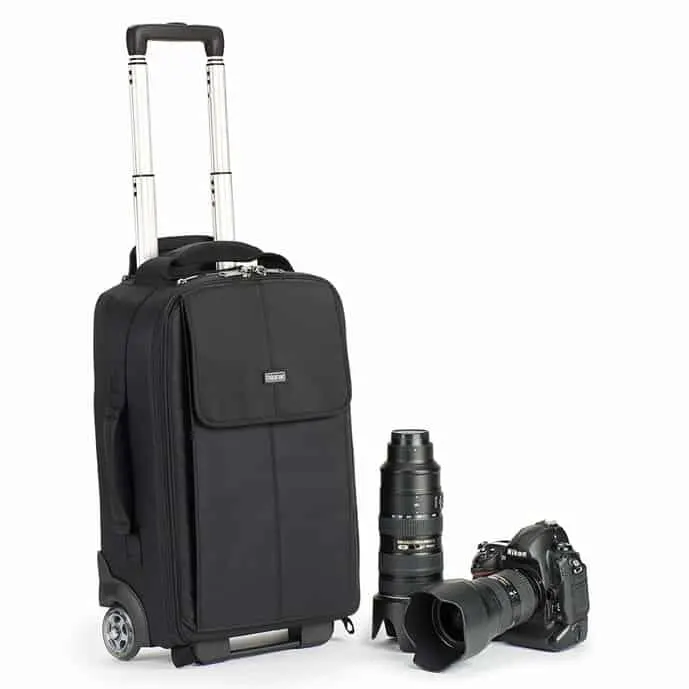 Travelers looking for the best photo spots around the world will be quite happy to meet this nifty roller carry-on camera backpack.
Traveling photographers are able to pack up all their most important gear and take it with them in this roller carry-on.
The Airport Advantage from Think Tank not only holds a camera along with all the necessary equipment but also comes with a padded laptop pocket for convenience.
The bag is fully compliant with airline requirements and fits snugly into most overhead bins.
There is ample padding inside the main compartment, along with several movable separators, for all those tiny yet essential pieces of camera equipment.
The entire bag is designed to be lightweight, compact, and protective of your gear. Since this is a 2-wheel bag, it can sometimes tip forward with a laptop in the front pouch, so holding it upright is recommended.
The bag is very smart in appearance, which is great for professional photographers, and comes with top and side carry handles.
With a sturdy handle and smooth wheels, this bag offers efficient and hassle-free transportation for your camera.
Perfect for: Photographers who need a discreet wheeled backpack to carry and protect their gears.
Pros:
Double-tube handle
Discreet design
Carry on size for most airlines
Lightweight backpack with wheels
15" Laptop compartment
Cons:
Soft shell
It might tip forward when the laptop is packed
Best Wheeled Luggage with Lots of Pockets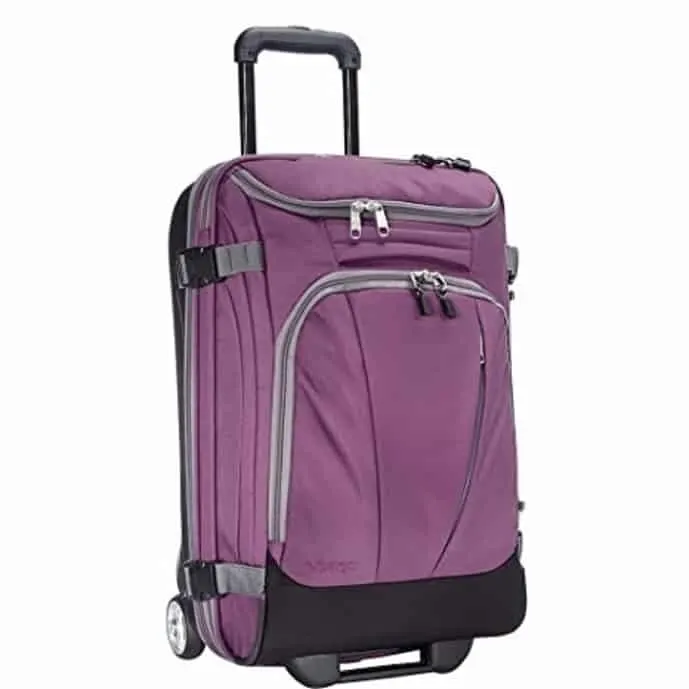 While not quite a backpack, this Mother Lode Mini duffel bag is the ideal carry on luggage. It looks quite large, and it fits a lot more than you'd expect. Yet this 21" wheeled bag is still light enough to fit in an overhead bin.
One of the best features on this bag is the front zipped panel which opens up for easy access to the main compartment. This allows you to reach a light jacket or sunglasses, on the go without having to dig in the bag.
There is also a shallow pocket in the front of the bag that can fit your travel documents and a book for the plane.
Inside the main compartment, you'll find custom drawers for easy organization, and separate mesh zip pockets for toiletries, etc. The telescope pull handle is sturdy and adjustable, with a comfy grip.
This bag is perfect for anyone who is constantly on the go, especially travel enthusiasts like us!
This wheeled travel luggage is available in three colors, namely: sinful red, tropical turquoise, and eggplant. A lifetime warranty on their materials and workmanship makes this a strong contender for the best wheeled backpack available.
Perfect for: Travelers who need a sturdy backpack with wheels and like to have multiple pockets for organization.
Pros:
Durable and sturdy
Carry on size for most airlines
Double-tube handle
Great capacity
Cons:
Best Small Backpack with Wheels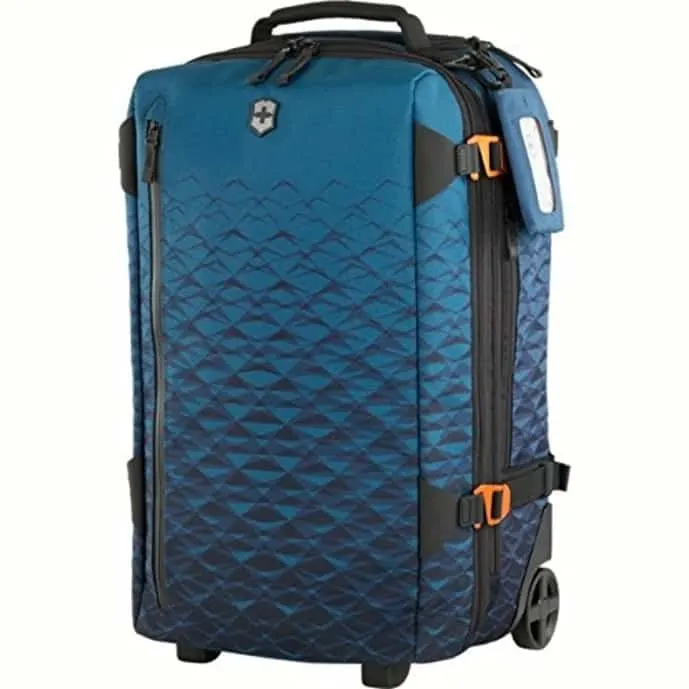 Lightweight and functional, this 2-in-1 is one of the best wheeled backpacks around. The bag transforms between a wheeled duffel and a backpack easily and trouble-free, making it ideal for taking along on cruise trips.
With an open middle compartment and a padded front pocket to fit laptops up to 15.6", this bag is ideal for the working traveler.
The zippered expansion feature combined with the adjustable side compression straps allows for up to 4l of space.
When used as a wheeled bag, the smooth wheels allow for effortless pulling and the backpack straps stay securely zipped away into the back of the bag.
The adjustable monopole handle has a one-touch system and an ergonomic comfort grip. To transform the bag into a lightweight travel backpack, you simply unzip the straps compartment and pull them out.
The padded zip-away panel then converts into a wheel cover to keep your back comfortable while wearing the backpack.
The bag features many handles on its sides, which aids in carrying and pulling it out of overhead bins. Available in black or dark teal, this is a top-quality bag, made with durable materials and crafted carefully for years of use.
Perfect for: Business travelers and students who are going on a national or international trip and need a laptop. Travelers who want a comfortable and spacious carry-on.
Pros:
Fashionable
Wheel cover
15" Laptop compartment
Carry on size
Lightweight wheeled backpack
Cons:
Frontal laptop compartment doesn't offer much protection
Single-tube handle
Which is the best backpack with wheels for you?
We hope you have enough information now to choose the best backpack with wheels for you.
While we talked about many excellent brands, our forever-favorite is Osprey.
They make top-quality products and we have never had a problem with any of them.
From daypacks to backpacks with wheels and more. They only make the best ones on the market, in our opinion.
Anyway, we're sure many of our most recommended bags will be able to keep up with you on your adventures. Enjoy the versatility of these great rolling backpacks!
You might also like:
Did you like this article about the best travel backpacks with wheels? Then save it to your Pinterest board.
Our best travel tips & resources:
Here're our all-time favorite travel tips & resources so that you can save money and plan your travel logistics hassle-free! For more travel resources, check out our
travel tips.
Saving money: Fly on offseason, winter (not Xmas or NYE), Tuesday, or Wednesday! According to experts, these are the cheapest days to fly.
Travel insurance: Before you leave for your trip, make sure you have a valid travel insurance policy because accidents happen on the road. We have been paying for Safety Wing travel insurance for a little over a year now, and we happily recommend them to our family and friends.
Accommodation: We usually stay in mid-range comfy hotels or private rooms in hostels. These are the sites we use to book accommodation: Booking.com for hotels (excellent flexible cancellation policy) and Hostelworld for hostels (low deposit and easy cancellation).
Tours:We absolutely love booking guided tours with locals to get a history lesson while sight-seeing, especially food tours and walking tours! We book all of our tours using Viator and GetYourGuide.
Transportation: We use Google Maps to figure out how to get around a place using public transport. When we book a rental car, we always use Discover Cars to find the best deal.