Planning a Switzerland honeymoon, but not sure where to go?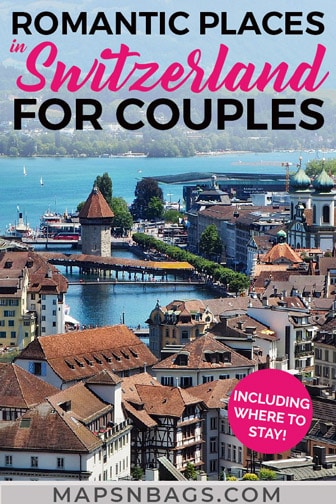 Consider one of these beautiful and romantic honeymoon places for your vacation.
This stunning country is full of enchanting lakes, breathtaking mountain peaks, and some of the best chocolatiers in the world.
So it's not difficult to believe that any honeymoon in Switzerland is magical and unique.
Imagine being on top of Uetliberg with your significant other, sharing premium truffles, and admiring the sun setting over Lake Zurich. And that is one of the less romantic things we have in mind.
Regardless of what precisely your idea of romance entails, here are the best Switzerland honeymoon destinations you could think of, perfect for any couples bucket list.
1. Switzerland honeymoon: Lucerne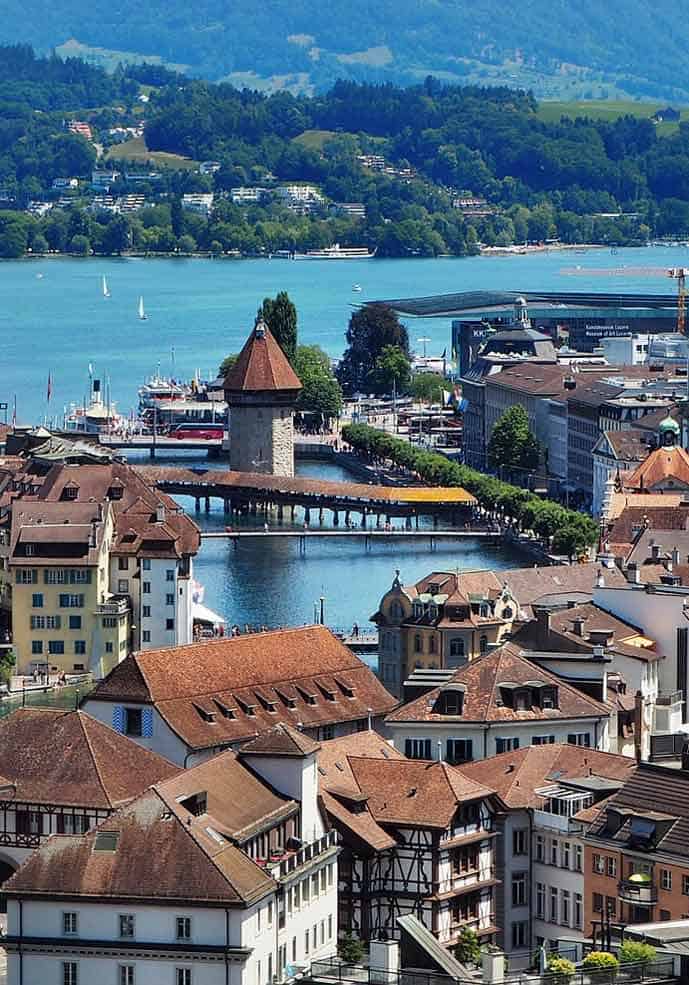 Lucerne is a Swiss city on a lake because that's what romance is all about.
The beautiful town is one of the best honeymoon destinations in Switzerland because of its colorful old town, medieval architecture, and Schwanenplatz – city square on the shore of the lake that is always full of swans.
Even though Lucerne might not be as lavish as Zurich, it is just as romantic.
Obviously, you must go and explore the medieval city walls, the iconic covered bridges, go on a cruise, and the famous Lion Monument.
If you need a little more romance, go for a boat ride on Lake Lucerne. You can choose from several kinds of trips, and most journeys will include dinner and drinks.
Or visit Mount Rigi or Mount Pilatus – both are very close to the city and offer amazing views of the city below.
Where to Stay in Lucerne for your honeymoon in Switzerland
But if you stay in the Montana Hotel in Lucerne, we doubt you will need any more romance in your explorations of the city.
The hotel sits upon a hill and offers captivating views of the lake and the mountains.
That's especially true for their lounge bar – with comfy chairs, delicious Swiss wine, and scenic views, it will be pretty challenging actually to go outside.
2. Switzerland honeymoon: Zermatt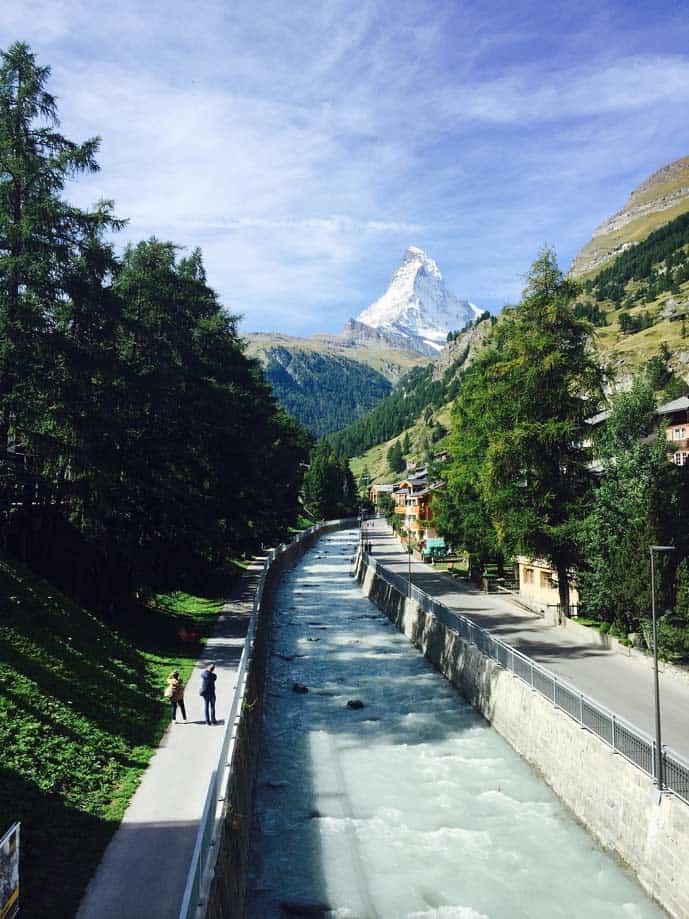 Zermatt is a different kind of honeymoon, for another type of couple. If you prefer the peace and quiet of Switzerland's mountains to its noisy urban centers, this is one of the best honeymoon destinations for you.
The charming resort town lies at the foot of the Matterhorn – Switzerland's most iconic, pyramid-shaped peak, making it an ideal place for honeymoon in Switzerland.
If you're looking for an active honeymoon, you will love Zermatt. The town is incredibly beautiful, and a walk around the streets is a fantastic way to start off your Switzerland honeymoon.
Zermatt is also a magical place to visit in Switzerland in winter.
You can also go golfing, skiing, snowboarding, or hiking in the region with plenty of options of track or slope you want to hit.
And you can also do something more romantic, like fly above the town and admire it from a distance, or go on a gondola ride.
Where to Stay in Zermatt for your honeymoon in Switzerland
Zermatt is a resort town, so there are plenty of hotels at your disposal. But our favorite is the Hotel Bellerive, in the heart of this town.
It features a sauna, a spa, comfy beds, and remarkable views of the peaks around you.
The south-facing rooms actually have a view of the Matterhorn – book one of those for the most romantic experience.
Read next: 10 Best Greek islands for couples
3. Switzerland honeymoon: Geneva
What's more romantic than enjoying dinner with sunset views of a gorgeous lake?
That's one reason why you should go to Geneva for your honeymoon – the beautiful Swiss city offers magical views wherever you look.
It's also only 4 hours away from the most romantic city in the world (3 if you take the fastest train), so a day-trip to Paris is always an option.
But you can still enjoy a romantic trip to famous places in Switzerland if you prefer to stay in the country.
The Swiss city is famous for its romantic restaurants on the banks of Lake Geneva, charming alleys in the cobblestone old town and amazing scenic views from the nearby Saleve Mountain.
And of course, there's also Geneva's Le Jardin Anglais – a beautiful garden in the city center, famous for its flower clocks.
Pssst: You might want to go on this 1-hour Lake Geneva cruise! Incredible views guaranteed!
Where to Stay in Geneva for your honeymoon in Switzerland
If you want to stay in a romantic hotel, there's no better place than the Hotel d'Angleterre.
With panoramic views of both the lake and Mont Blanc, this hotel in the heart of Geneva is the perfect place in the city for couples.
And the restaurant in the hotel serves premium gourmet food, with a side of Lake Geneva view – what's not to love?
4. Switzerland honeymoon: Zurich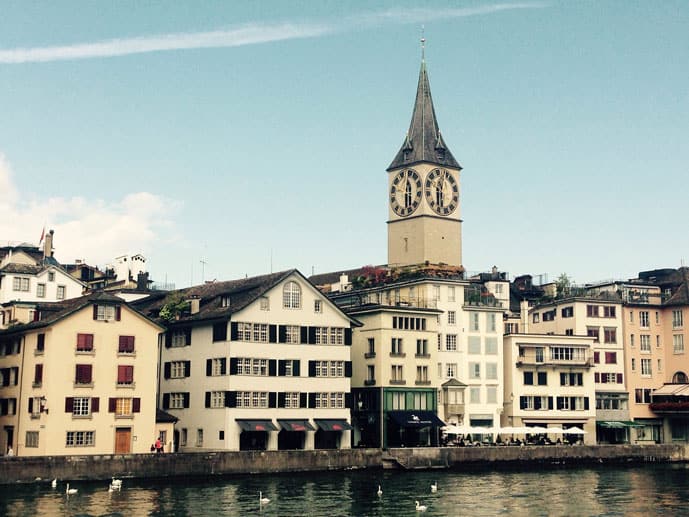 The capital of this stunning country is definitely a romantic destination. With awe-inspiring views of Lake Zurich on one side and jaw-dropping views of Uetliberg on the other, your entire honeymoon will feel like a dream.
And of course, there are also the charming city streets, swarming with chocolate shops that are inviting you in.
If you decide to go to Zurich for your Swiss honeymoon, there are loads of romantic things you can do.
Go for a candlelit dinner while cruising the Lammat River, have champagne in Zurich's highest restaurant (Clouds), ride the fondue tram in the winter, go on a ferry tour, or have a picnic on the lakeshore.
And these are just the highlights – being romantic in Zurich is as simple as strolling along the lake, hand in hand.
Where to Stay in Zurich for your honeymoon in Switzerland
We're sure you would also like to stay somewhere romantic. This is why we recommend Hotel Uto Klum – yes it is outside the city, but it is only 20 minutes away from the city center by train.
And since the hotel is located on Uetliberg mountain, you will be away from all the city noise, but waking up to panoramic views of Zurich every morning. How's that for romance?
5. Switzerland honeymoon: Grindelwald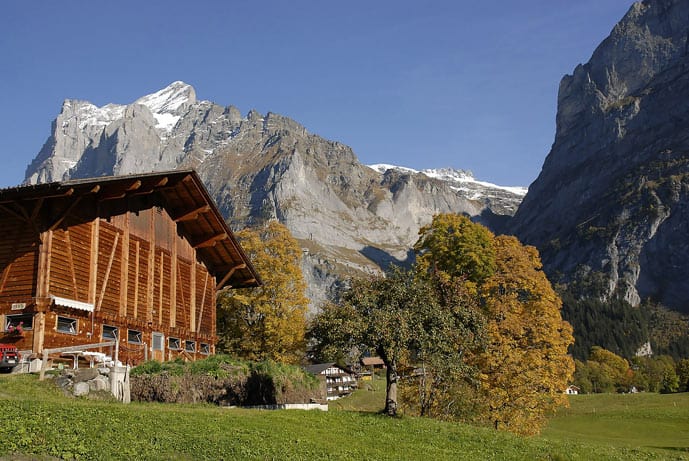 Perhaps your idea of a romantic honeymoon is being away from people, surrounded by untouched nature? Then head to Grindelwald, a delightful village in Switzerland's Bernese Alps.
This hidden Swiss gem is perfect for honeymooners because of its idyllic and romantic scenery, gorgeous mountain peaks and waterfalls, excellent hiking trails, as well as its proximity to Bern and Lucerne.
One of the most romantic things you can do here is going to Top of Europe on Jungfraujoch – the highest railway on the continent, with breathtaking views from the observatory.
But, if you want something more exciting to do on your Europe honeymoon, you'll be glad to know that Grindelwald is famous for paragliding, tobogganing, hiking, mountain biking, skiing, and kayaking.
And if you get bored of oohing and aahing at the enchanting views, you can always ride the train into one of the neighboring cities – the ride will only take about 2 hours.
Where to Stay in Grindelwald for your honeymoon in Switzerland
We recommend you stay in Hotel Belvedere – the most romantic hotel in the heart of this charming village.
With indoor and outdoor hot tubs, a steam bath, a sauna, and breathtaking views, your honeymoon in Switzerland will be picture perfect. Plus, it is just minutes away from the central train station.
6. Switzerland honeymoon: St. Moritz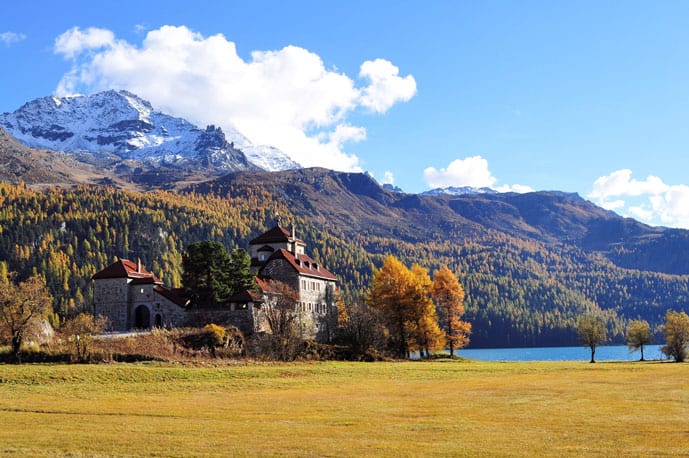 If you can't imagine a honeymoon in Switzerland without luxury and extravagance, then head to St. Moritz.
The resort town lies on St. Moritz Lake in the Engadin valley and is surrounded by gorgeous mountain peaks. And nothing screams luxury like Louis Vuitton, Gucci, Valentino and Bvlgari boutiques in the middle of this tiny town.
Shopping together is only one of the romantic things you can do on your honeymoon in this lovely town. You can party well into the night if you like, in one of St. Moritz's many nightclubs.
Or you can be a bit more sophisticated and visit the fantastic museums and art galleries.
And for a delicious dinner with a fantastic view, head to Restaurant Engiadina on the banks of St. Moritz Lake.
Where to Stay in St. Moritz for your honeymoon in Switzerland
For the ultimate luxurious honeymoon, you will want to stay in the Carlton Hotel.
It's within walking distance of all the main attractions, the rooms have fantastic views of the mountains around you, and they actually offer a romantic package.
7. Switzerland honeymoon: Lausanne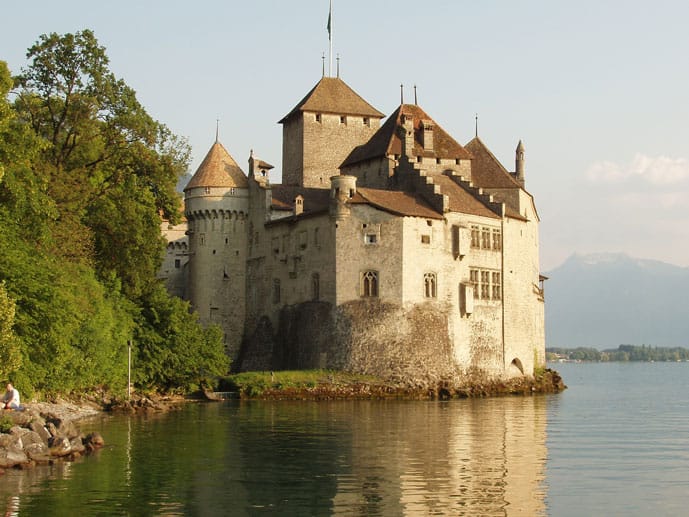 Lausanne is a city on Lake Geneva, reasonably close to Geneva city. And the capital city of the French-speaking Vaud canton is another excellent option for a romantic honeymoon in Switzerland.
It's famous for being the home of the International Olympic Committee headquarters, but also for the medieval Gothic architecture, the 19th-century palace, and the Olympic Museum.
A trip to that Olympic museum is an excellent honeymoon activity – it features a permanent exhibition of Olympic athletes and architects, as well as magical views of the lake in the background.
Also, you have to explore the medieval city streets lined with shops, and visit all the different chocolatiers – what's more romantic than pralines, truffles, and chocolate-covered strawberries?
In case all the chocolate doesn't make you feel full, go for a romantic dinner at Anne-Sophie Pic.
The restaurant is owned by the famous three-star Michelin chef, and it will be an unforgettable, exceptional dining experience.
Where to Stay in Lausanne for your honeymoon in Switzerland
For a genuinely perfect honeymoon in Lausanne, stay in Château d'Ouchy – a renovated medieval castle on the shore of Lake Geneva.
The 12th-century chateau features scenic views of the lake, an outdoor pool and a pretty fancy Mediterranean restaurant with a waterfront terrace. And it is just 10 minutes away from the Olympic Museum.
Read next: Romantic Amsterdam guide
8. Switzerland honeymoon: Montreux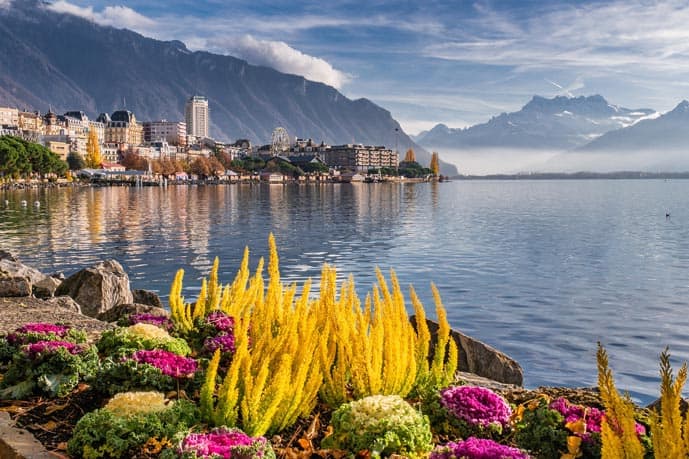 As Freddie Mercury used to say, if you want to have peace of mind, then you come to Montreux.
The famous rockstar loved this gorgeous town on Lake Geneva so much that he owned an apartment here, and there is even a statue erected in his honor.
But that's not the only reason why you should spend your honeymoon in Montreux. This Swiss town is close to some of the best vineyards in the country, and wine tastings are the perfect way to spend your honeymoon.
But first thing's first; go check out the statue of the Queen's frontman, and the facade of his apartment.
You should also take a trip to Veytaux and visit the Chillon Castle, which offers views of the entire Lake Geneva. For the most romantic experience, go on a cruise from Montreux to the castle.
And then head to the vineyards; the closest ones are in Villeneuve, but you can also try some local wines in La Cave Vevey Montreux winery.
Where to Stay in Montreux for your honeymoon in Switzerland
Looking for a romantic hotel in Montreux? You don't need to look further than Fairmont Le Montreux Palace – a magical place on the shore of Lake Geneva.
With a vast indoor pool, a smaller outdoor pool, couple's massages, a sauna, and amazing views of the lake and the Alps, you will undoubtedly enjoy every second of your honeymoon.
9. Switzerland honeymoon: Locarno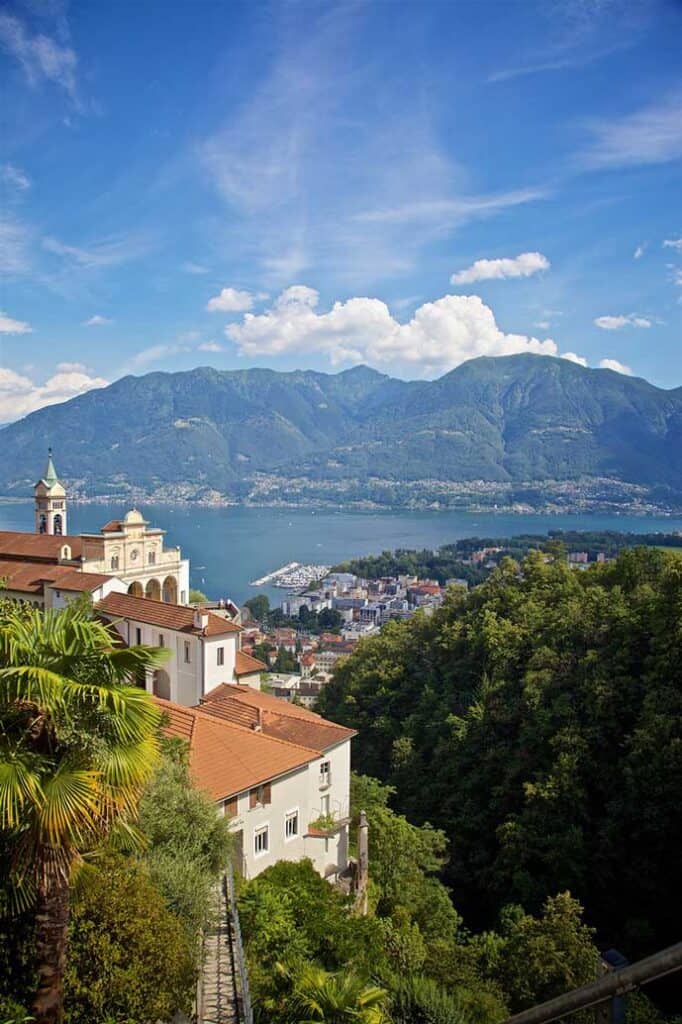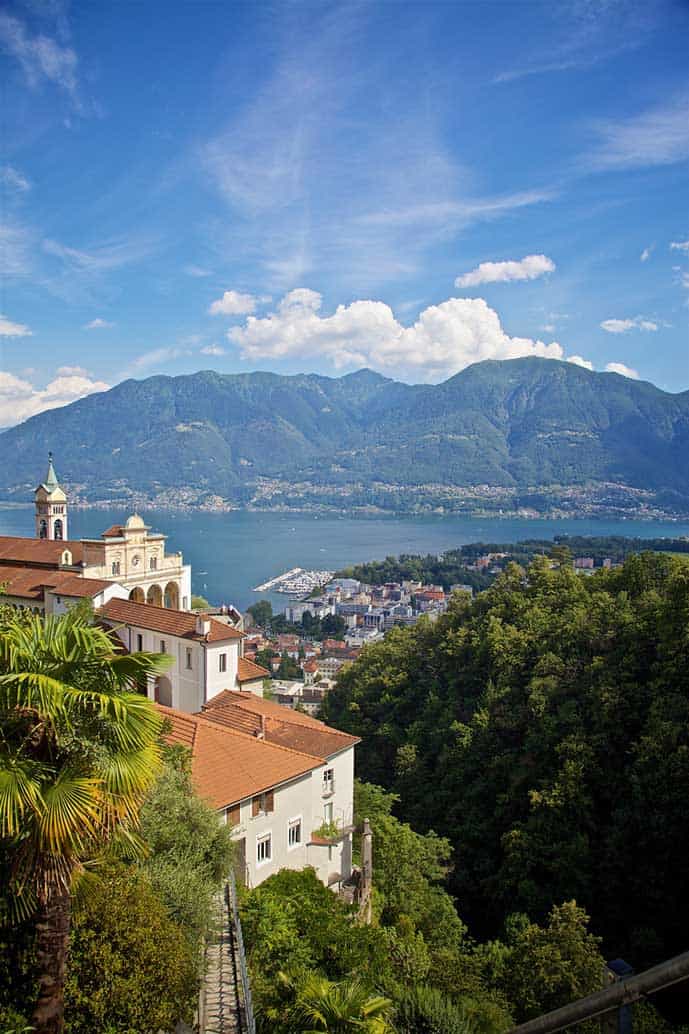 Far away from the French-speaking region of the country lies the Italian-speaking area.
The highlight of this part of the country is Lake Maggiore; a massive lake that stretches across the Swiss-Italian border and that belongs to both countries.
And Locarno is the perfect town to stay in if you want to have a fantastic honeymoon in this part of Switzerland.
One of the best places in the town is Camellia Park. It offers unbelievable views of Lake Maggiore and the Alps, with a myriad of different species of flowers within the park.
For a delicious dinner, head to Ristorante Sensi, an Italian restaurant with exquisite views of Lake Maggiore.
Where to Stay in Locarno for your honeymoon in Switzerland
We imagine you would love to have a scenic view of the lake, and that is what the H4 Hotel Arcadia in Locarno offers.
The romantic hotel is located in a significant part of town – overlooking the lake, but still very close to the old town and Piazza Grande. And it is incredibly affordable – at least by Swiss standards.
Get to know the author
This is a guest post written by Anna Timbrook.
Anna was born to travel the world having studied languages all her life.
Although she has traveled the world, she now calls Switzerland home and spends her time writing about her experiences on Expert World Travel.
Follow her on Twitter, Pinterest, and Instagram.
Did you like this article about romantic Switzerland honeymoon destinations? Then save it to your Pinterest board!
Our best travel tips & resources:
Here're our all-time favorite travel tips & resources so that you can save money and plan your travel logistics hassle-free! For more travel resources, check out our
travel tips.
Saving money: Fly on offseason, winter (not Xmas or NYE), Tuesday, or Wednesday! According to experts, these are the cheapest days to fly.
Travel insurance: Before you leave for your trip, make sure you have a valid travel insurance policy because accidents happen on the road. We have been paying for Safety Wing travel insurance for a little over a year now, and we happily recommend them to our family and friends.
Accommodation: We usually stay in mid-range comfy hotels or private rooms in hostels. These are the sites we use to book accommodation: Booking.com for hotels (excellent flexible cancellation policy) and Hostelworld for hostels (low deposit and easy cancellation).
Tours:We absolutely love booking guided tours with locals to get a history lesson while sight-seeing, especially food tours and walking tours! We book all of our tours using Viator and GetYourGuide.
Transportation: We use Google Maps to figure out how to get around a place using public transport. When we book a rental car, we always use Discover Cars to find the best deal.