Traveling to Switzerland in winter? Then you will want to read more about these magical places you can visit.
Switzerland is one of the top winter destinations in Europe.
When the ground is white, and the air is crisp, the country turns into one of the fascinating nature's masterpieces.
You'll feel blessed with jaw-dropping scenery that turns into something magic in the winter.
It is no wonder there are plenty of exciting things to do in Switzerland in winter. The vacationing charm begins in the alpine world with the jingles of cowbells and church bells.
Whether you enjoy winter sports or you want to relax in Switzerland in winter, you will be bowled over by the charm and excellent environment that the country offers.
Besides, Swiss transport is well advanced, and you can reach plenty of beautiful places easily without any delay. Most of the top destinations are easily accessible through ferries, trains, and cable cars.
It does not matter whether you are visiting Switzerland in December or February, the country offers some of the most exciting tourist spots in the world.
What to do in Switzerland in the winter
There are so many activities you can do in Switzerland in winter, starting from winter sports, snow activities, relaxing getaways, or just enjoying yourself in the picturesque mountains.
Many of these destinations are easily accessible through various means of transport; therefore, you will not face any transportation challenges, but you might want to add an extra layer to your winter packing list.
If you are planning to visit Switzerland in the winter, here are the top places that you should visit during this beautiful season:
---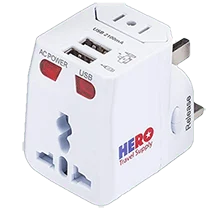 One of the most essential travel items you can buy is a universal travel adapter that works anywhere! It's a small investment for great benefits! The adapter we feature is lightweight, compact, and reliable – Always bring it with you!
---
1. The Jungfrau region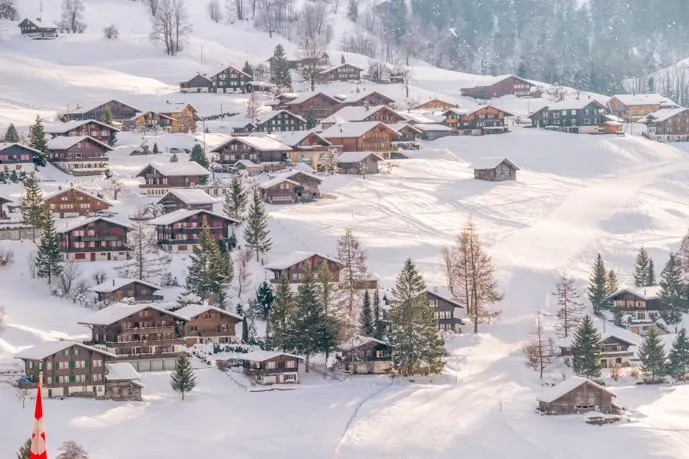 The Jungfrau region is a popular destination in Switzerland, let alone Europe.
That's because of the exceptional features it presents.
The massif is composed of 3 famous massifs: the Eiger, the Mönch, and the Jungfrau. These are the renowned ski destinations in Europe, and they form part of the most significant winter sporting events in Switzerland.
Besides, it attracts many people across the world. Even if you are not into winter sports, there is definitely something that you can enjoy during your visit to the region.
Also, there are exciting mountains and views of the breathtaking alpine world. This region is usually characterized by postcard-like towns and other spending natural attractions that you can never miss.
2. Zermatt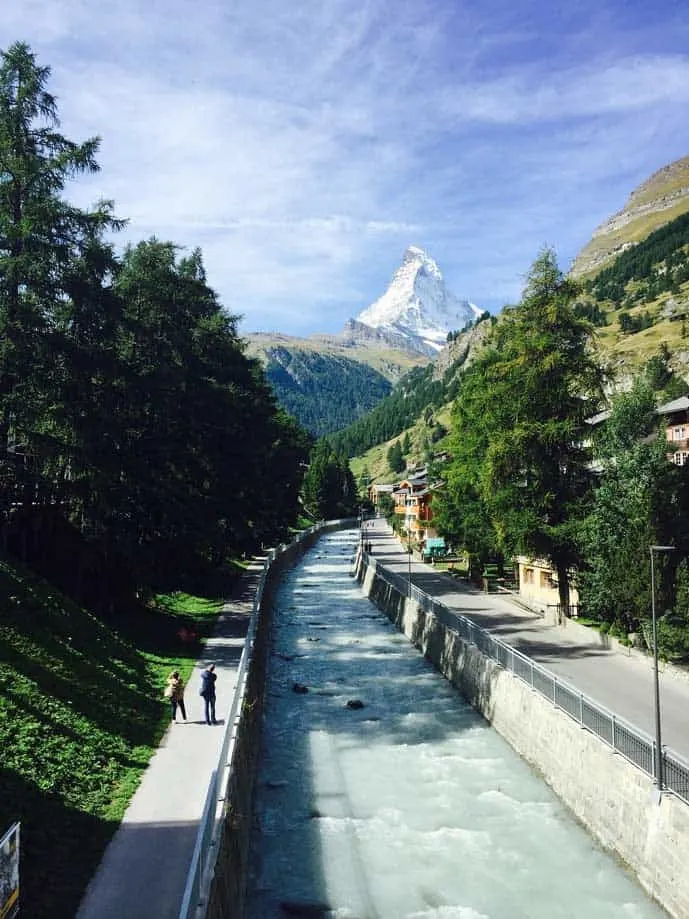 There is a tiny, romantic place in Switzerland called Zermatt, and it lies in the southern part of the country in Canton Valais.
The beautiful mountain resort is just below the iconic Matterhorn peak, and it provides visitors with exceptional scenery and many other fun things to do in the area.
Unsurprisingly, Zermatt is a popular place for hiking, climbing, and skiing. It maintains a site filled with hotels, boutique shops, and restaurants where you can have some food or place to sleep while visiting the region.
Also, you can choose to visit the public outdoor rinks for curling and ice-skating activities. The town is a perfect location for your winter visit.
3. St. Moritz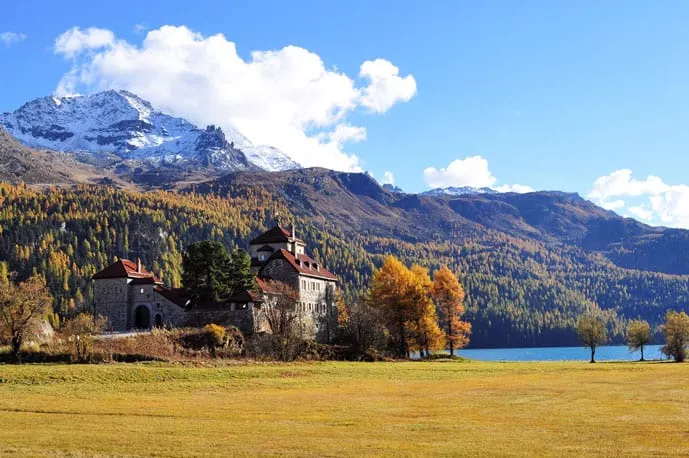 St. Moritz is a luxury alpine resort town in Switzerland that is popular for hosting the Winter Olympics twice. The Cresta Run, which is a world championship bobsled run, is carried out here too.
There are plenty of fun activities that you can enjoy when you visit St. Moritz in winter, such as polo, cricket, and horse racing on ice.
The area has become famous because of the mineral springs and thick ice, which were discovered 3,000 years ago.
While St. Moritz is now accessible because of the alpine lifestyle and top-notch restaurants, the area has a vibrant history that dates numerous years back.
4. St. Gallen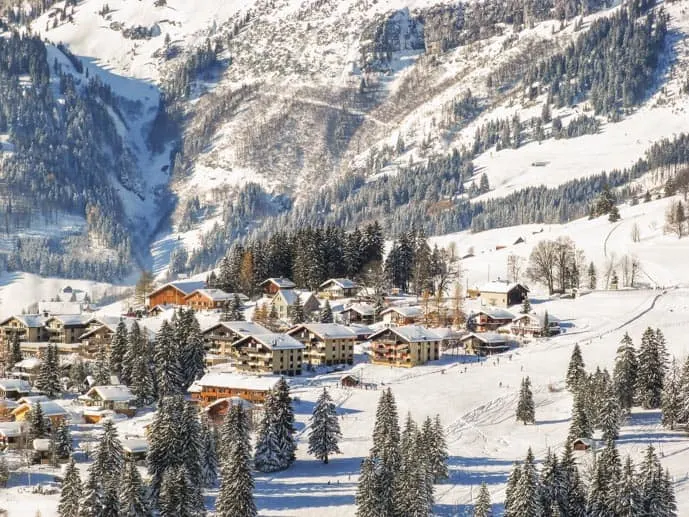 If there is one denomination that could suit this exceptional town, it will be a winter wonderland.
In case you have been dreaming of a white Christmas in Europe, then imagine no more.
St. Gallen is home to the tallest Christmas tree in the European continent. The tree is usually illuminated with more than five thousand lights, and you can have several opportunities to take pictures as well as view the exquisite valleys in the surrounding region.
Yes, you will want to make time to visit St. Gallen; it is usually covered with heavy snow in the winter, and with no cars roaming around, you will enjoy a sled ride, among other fun activities that you can do in this location.
Also, the old town offers views of houses that have existed for centuries of years.
5. Arosa, a fantastic place in Switzerland in winter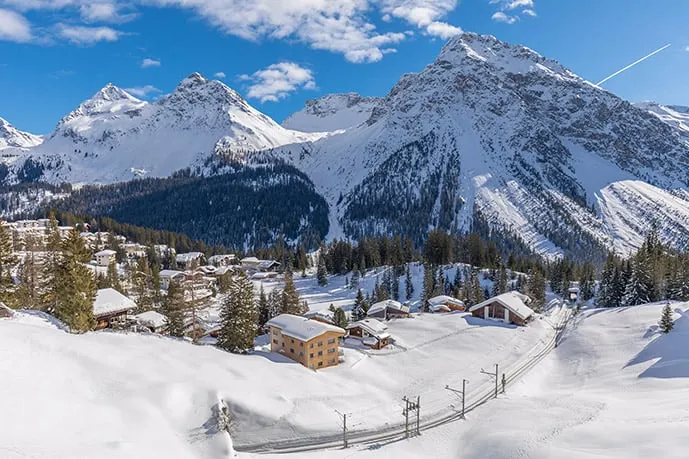 Arosa is a somewhat underrated place in Switzerland. Here, you will find plenty of fascinating places you can visit in the area.
As a typical Swiss town, Arosa has impressive mountain peaks and snowy landscapes. Take your time to enjoy the view during the winter months and take lots of pictures as well.
This place has sick mountain peaks and snowing areas that attract hiking enthusiasts. Some of the fun activities you can participate in are ice stick throwing, ice skating, and curling, among others.
Oh, and you can always build a snowman, right?
6. Interlaken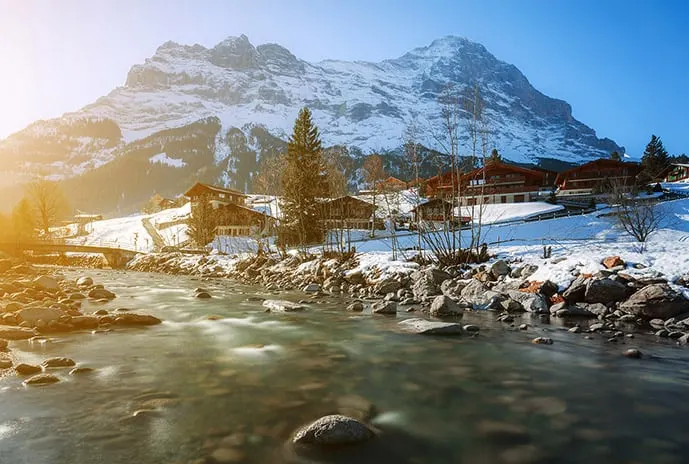 Interlaken is a tiny village located between two lakes in the middle of the Swiss Alps.
The village is a vibrant region, especially during the winter months because it offers plenty of fun activities you can enjoy overlooking the three major surrounding mountains–the Jungfrau, Eiger, and Mönch.
As you can imagine, the views this area offers are jaw-dropping.
Not only that but also the many exciting activities you can engage in, such as an outside hot tub, skydiving, paragliding, among other adrenaline-filled activities, make Interlaken a must-visit in Switzerland in the winter.
7. Lucerne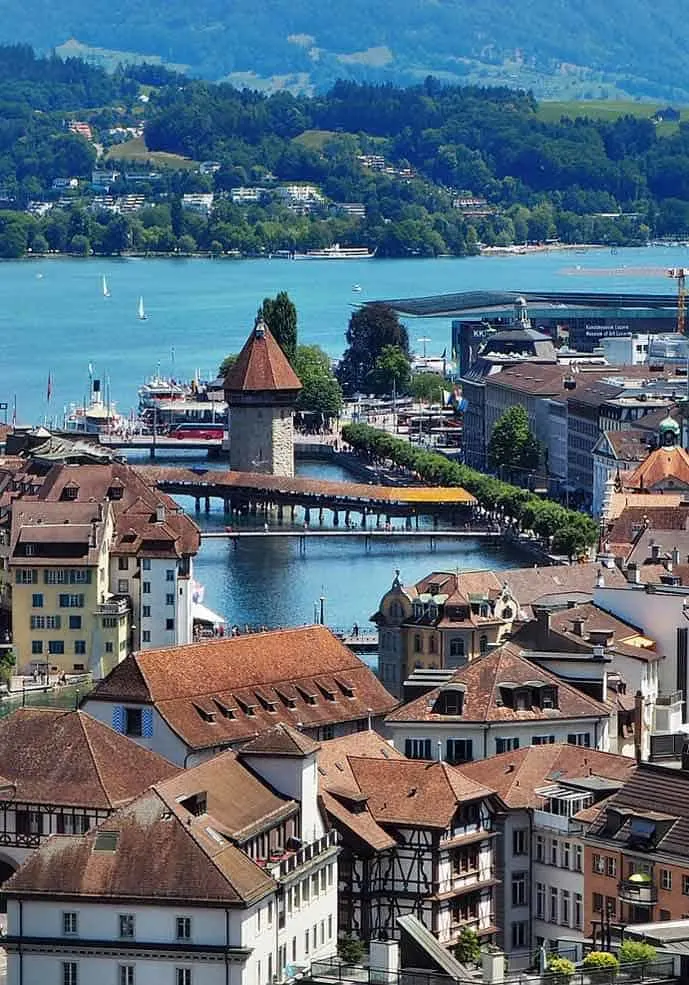 The city of Lucerne is considered one of the most exceptional locations in Switzerland.
Lucerne is also one of the most visited destinations in the country. During the winter months, the town offers the best scenery–a cozy town beautifully sprinkled in snow during Christmas in Switzerland.
Christmas lights in the city are lit from early December to January, making it exceptional because it brightens the sky and creates an aura around the Lucerne. It feels almost like magic!
Also, lake Lucerne offers a panoramic view of the lights and the outstanding Alps Mountains.
You will want to add Lucerne to your winter bucket list today!
8. Davos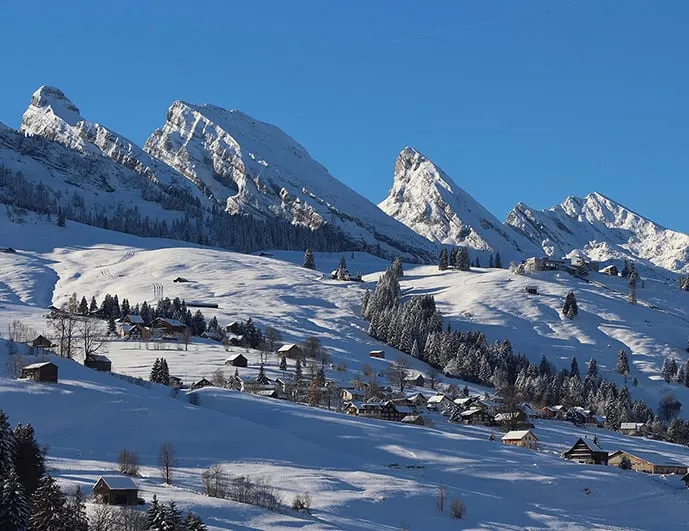 Davos is an excellent location filled with incredible things to do in the winter, and one of the most famous places in Switzerland for hosting the world economic forum.
However, the town is not limited to economics alone. Winter in Switzerland is a period when visitors can enjoy a lot of activities and fun things to do.
For instance, you could enjoy the glacier express, cross country ski areas, high-end accommodations, and exceptional nightlife. Either way, you can't afford to miss this destination.
Author bio: Antonio is a passionate traveler who loves to explore off-the-beaten-path places and live with local communities. You can follow his inspirational journey through Asia on https://vietnamchronicles.com/.
Did you like this article about things to do in Switzerland in winter? Then save it to your Pinterest or share it with a friend who might like it too.
Our best travel tips & resources:
Here're our all-time favorite travel tips & resources so that you can save money and plan your travel logistics hassle-free! For more travel resources, check out our
travel tips.
Saving money: Fly on offseason, winter (not Xmas or NYE), Tuesday, or Wednesday! According to experts, these are the cheapest days to fly.
Travel insurance: Before you leave for your trip, make sure you have a valid travel insurance policy because accidents happen on the road. We have been paying for Safety Wing travel insurance for a little over a year now, and we happily recommend them to our family and friends.
Accommodation: We usually stay in mid-range comfy hotels or private rooms in hostels. These are the sites we use to book accommodation: Booking.com for hotels (excellent flexible cancellation policy) and Hostelworld for hostels (low deposit and easy cancellation).
Tours:We absolutely love booking guided tours with locals to get a history lesson while sight-seeing, especially food tours and walking tours! We book all of our tours using Viator and GetYourGuide.
Transportation: We use Google Maps to figure out how to get around a place using public transport. When we book a rental car, we always use Discover Cars to find the best deal.