Let's be honest with each other: Who doesn't love a mug of mulled wine, the cinnamon smell, and the sparkling lights in the Christmas markets?
If you're wondering whether or not you should spend winter in Europe, or better saying, spend Christmas in Europe, know that the whole continent has a special appeal during this time of the year.
The days get darker earlier and it's freezing outside, but the decoration makes for a perfect view in those typical Old Town Squares where you can find a cute church and everything.
That's why we decided to name the best places to spend Christmas in Europe and have an amazing holiday season.
Here we have the best ideas for your winter bucket list.
Want to know where to spend Christmas day in Europe? Well, then read this article to get inspired by these Christmas destinations.
Christmas in Europe
I've divided this article into sections because some countries have several markets worth visiting.
Best European Christmas markets spread across the continent
1. Christmas Market in Sibiu, Romania
We all know that Christmas is approaching when we see that the local administration starts to build up wooden houses for the upcoming fair.
One of the things that are great about the Xmas market in Sibiu town, Romania, is that it takes place in the main medieval square of the city and it's incredible beautifully lit at night.
You can go up the Council's Tower (seven floors) and from there have a general view of the square and the Christmas fair.
Special foods you can taste are among the most famous Romanian dishes – sarmale (cabbage rolls stuffed with pork meat and rice), sausages, fried potatoes, but also goulash and gingerbread.
Hot wine is the most popular drink you will find at the Xmas fair in Sibiu along with local beers and tea.
The Christmas Fair in Sibiu is usually set up a few days before the 1st of December (which is a national holiday in Romania, so it's a good start for the winter celebrations).
The stalls feature seasonal food and local products from the region, as well as books, Christmas decorations, and CDs with music.
Of course, if you didn't do it when you were a kid, you can still have a photo sitting on Santa's knees and telling him your wishes. It's never too late!
Iuliana at Authentic Travels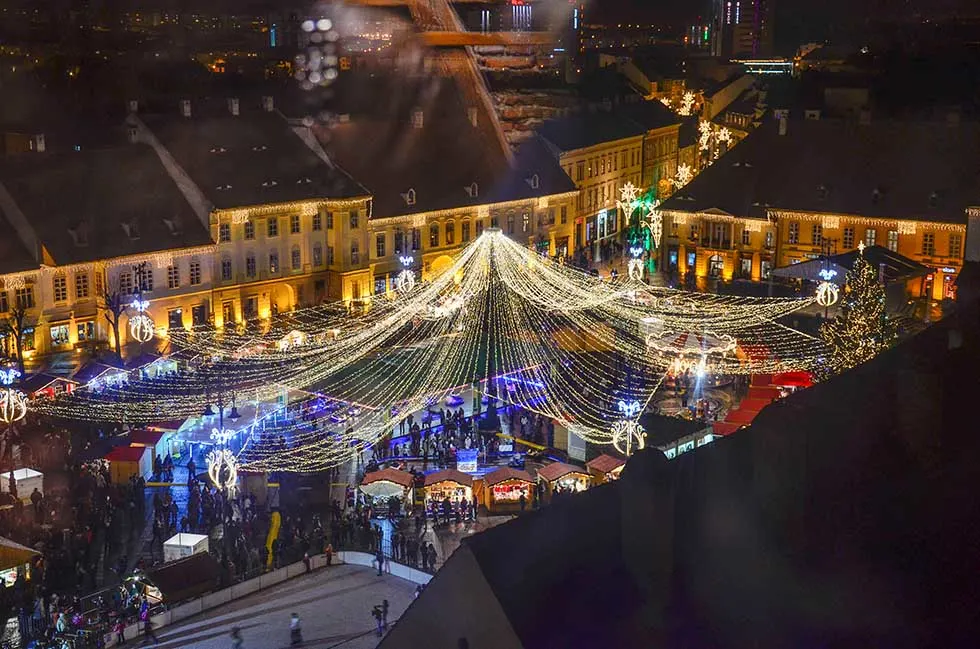 2. Christmas Market in Wroclaw, Poland
Wrocław, formerly known as Breslau, is the ideal city in Poland for a Christmas market. At one point in the 19th century, Breslau was the 6th largest city in the German Empire.
Because of this past German influence, Wrocław has all the ingredients for a fantastic Christmas market.
Wrocław Christmas Market happens from late November until the end of December at the Wrocław Market Square and it has everything you might find in Germany (e.g., glühwein, grilled sausages, sweets, and local crafts to buy) with a few bonuses.
Look for indulgent homemade chimney cakes; merely follow your nose toward the fresh-baked smell.
Rolling dough around a central cone makes the chimney cakes, which are coated in chocolate or nuts after baking and then served fresh out of the oven. Such a treat!
The spirit of the Wrocław Christmas Market extends to nearby restaurants and pubs. For a different take on glühwein, try a hot beer with plums.
The other thing that makes Wrocław special, especially at Christmas time, is the opportunity to go dwarf-hunting.
Tiny statues in stocking caps that feel a bit like Santa's elves are scattered all over town. When you get tired of the market, go for a photo walk and seek out these beautiful statues.
Jennifer at Sidewalk Safari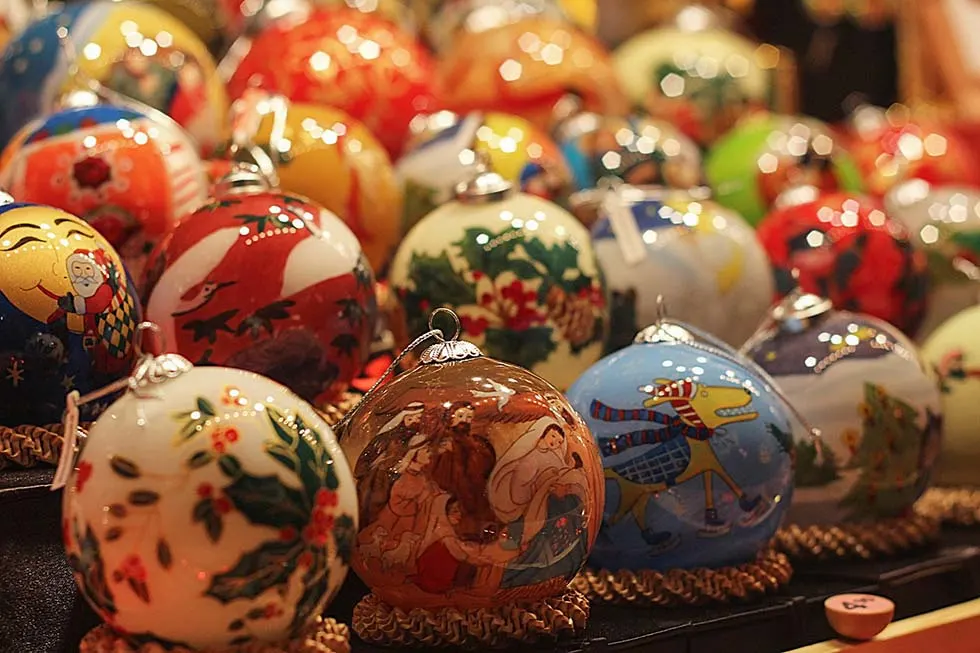 Read next: Best winter destinations in Europe
3. Christmas Market in Bratislava, Slovakia
The Old Town Christmas Market in Bratislava is the biggest holiday market in Slovakia.
From late November to just before Christmas, several squares in Old Town – principal action, as well as the Christmas tree, is on the Main Square – filled with some 100 booths and kiosks selling (or even making) traditional holiday wares and, more importantly, food and drink.
Slovak specialties like sauerkraut soup, Gypsy roast AKA Slovak burger, sausages, pagáče, wafers, and decorated gingerbread fill the air with delicious aromas; punch, grog, mead, and mulled wine warm hands and hearts.
There's nothing like eating a steaming, duck-greased lokša (crepe) with a cup of mulled wine.
There are live popular and folklore music performances every evening. The Christmas Market is probably the only place in the city where carols, sung by a chorus, become tolerable, even charming.
St. Nicholas visits the children on his day in early December as well.
One of the squares hosts a competition of decorated Christmas trees, while a side street gets a mistletoe canopy where couples stroll and kiss to seal their love.
If you visit in December, the Christmas Market is one of the best things to do in Bratislava.
Peter at I Heart Slovakia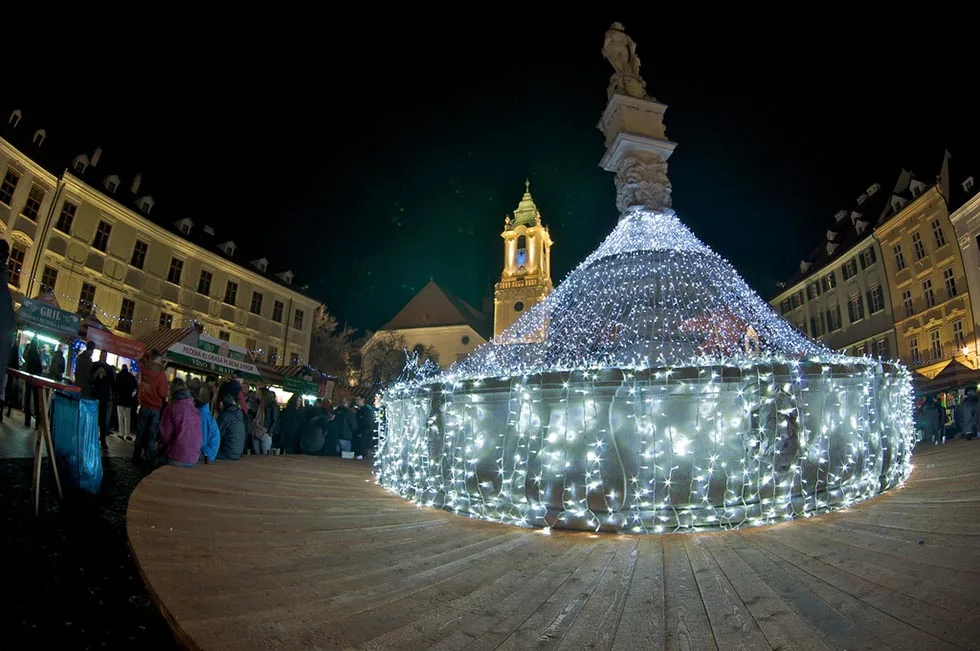 Read next: Switzerland in winter
4. Christmas Market in Tallinn, Estonia
When you think about the best Christmas market destinations across Europe, you could be forgiven for not thinking about the Estonian capital of Tallinn.
However, after visiting this beautiful Baltic city for the first time, you will quickly realize why this is one of the best spots to experience a local, traditional Christmas market.
Tallinn's Old Town plays an integral role in being at the heart of the festivities.
You may be fortunate to visit Tallinn when the snow is gently falling, creating the picture-perfect Winter Wonderland as you wander around the market stalls, contemplating which Estonian traditions you will try first.
Grab a glass of Glögg, the Estonian equivalent of mulled wine but with a unique twist that makes this one of the best Christmas drinks across Europe.
The Town Hall Square is the perfect environment to mingle with locals and visitors alike as you are serenaded by traditional Christmas music and have the opportunity to pick up a souvenir or two, crafted by locals showcasing their flair and creativity.
The iconic Tallinn Christmas tree has been the focal point of the festive season since 1441, so it's no surprise that Estonia's claim to fame is that this was the first tree to be displayed in Europe.
Visitors to Tallinn can enjoy the Christmas markets from the end of November (around November 24) to the first week of January.
Chris and Heather at A Brit and a Southerner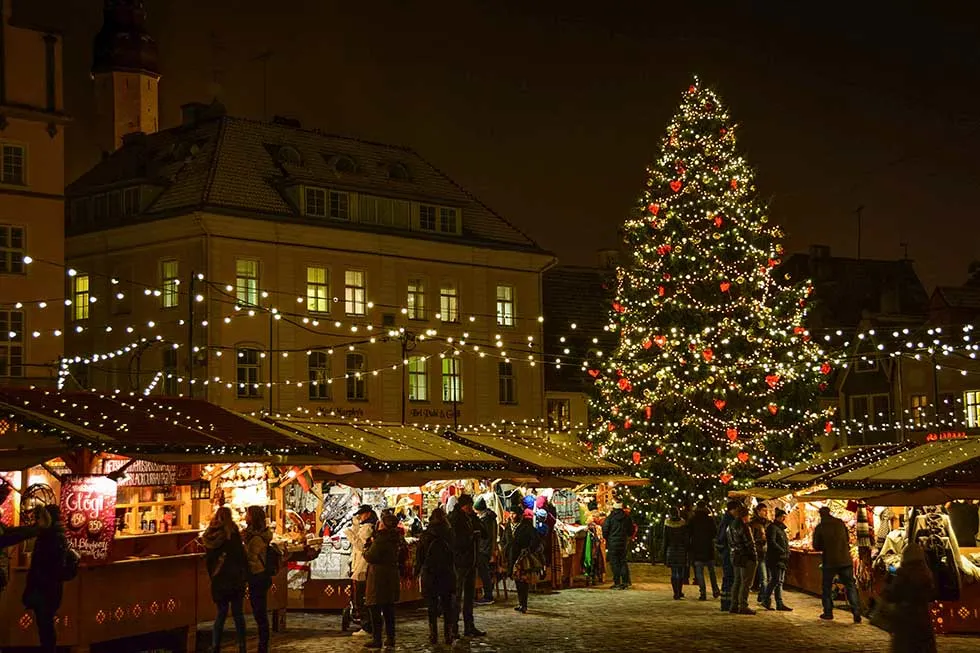 5. Christmas Market in Copenhagen, Denmark
If you visit Copenhagen in late November/December, then you're in for a real treat as the city has some of the best Christmas markets in Europe.
No doubt my favorite is the Tivoli Christmas market, which usually occurs from the last week of November to the 31st of December at the world-famous Tivoli Gardens.
Opening in 1843, Tivoli Gardens is one of the oldest theme parks in the world, and it's one of the most magical places I've visited. It's even said to have inspired Walt Disney's image of Disney World!
During the winter months, the park is lit by almost half a million fairy lights that glitter and sparkle along every path and corner of the grounds, creating such a beautiful landscape that is hard to do justice in photos!
In between the lights and world-class amusement rides, you'll find adorable stalls selling anything from famous Scandinavian Wool to fudge and Christmas decorations.
The tickets to Tivoli are a bit expensive (price 100DKK/ €13) in the winter (especially since most Christmas markets are free). Whatsmore, you have to pay extra on top of this if you want to go to the parks many rides.
This said the beauty and atmosphere of Tivoli at Christmas is more than worth this extra price, as its somewhere that would no doubt get even the grumpiest Scrooge into the Christmas Spirit!
Rachel at Earth's Magical Places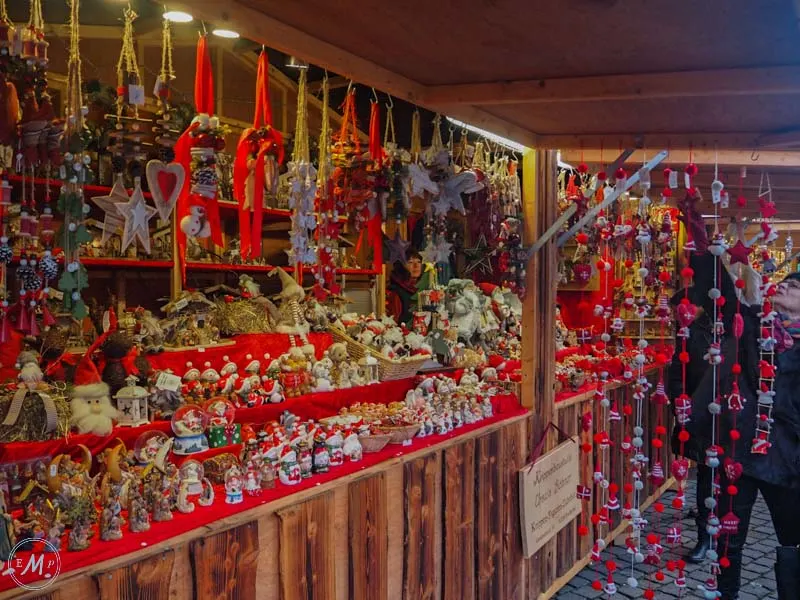 6. Christmas Market in Verona, Italy
Verona which is the backdrop to the story of Romeo and Juliet will be transformed and dressed in lights, sounds and colors of Christmas for a beautiful Christmas market.
The Christmas market in Verona is held at Piazza dei Signori, a UNESCO World Heritage Site which always has a meeting point for culture and traditions.
The entrance to the city will be illuminated by hundreds of lights, going through all the streets of the historic center, and arriving in the beautiful Piazza Bra, along with Roman Arena and decorated with an impressive Christmas tree on the square.
Read next: 14 Romantic things to do in Tuscany
Piazza dei Signori, the beautiful square features some high arches and the monument of Dante, as well as all the significant buildings of the former city council, such as the courts and the seat of power of the ruling family of the time, the Scaligers.
The Italian stallholders at the Christmas Market will have mouth-watering displays of local food and drinks plus of course the usual array of locally manufactured seasonal gift items.
We loved stopping at the different stalls tasting the freshly baked potato pizzas, truffle-laced bites, homemade chocolates and mulled wine.
Priya at Outside Suburbia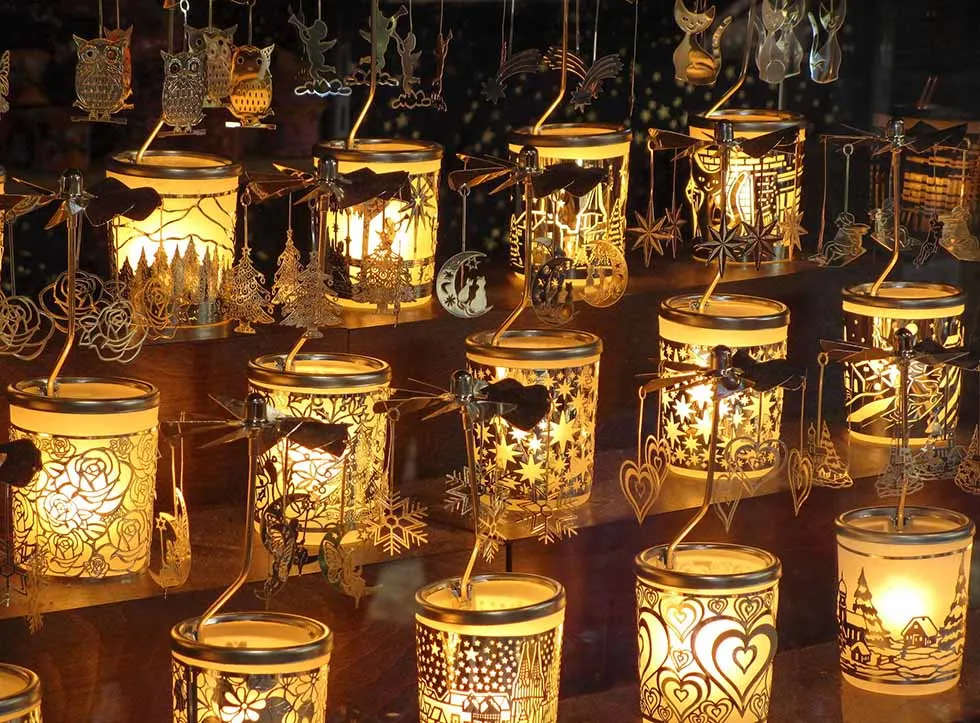 7. Christmas Market in Barcelona, Spain
Barcelona's Fira de Santa Llúcia Christmas market is open from the end of November until December 23. This may not be the biggest market in Europe, but its setting in the Gothic Quarter is magical.
Towering over the market is one of the city's most popular sites, the Gothic Cathedral. At night, the combined lights from the market and the cathedral make for an ideal holiday setting for couples to enjoy.
One of the unique and entertaining purchases to be made at Fira de Santa Llúcia, or any Catalonian Christmas market, is a caganer or a figure of a person pooping.
What can I say? You have to embrace the cultural differences when celebrating Christmas abroad as an expat, right?
Anyway, this small figure is added to a nativity scene, not out of disrespect, but as a symbol of fertilization.
The most traditional type of figure is a man with a red cap, but most caganers' stands now offer a wide range of options including cartoon characters and current political figures.
Unlike other European markets, those in Barcelona are less likely to offer food and mulled wine.
But they also boast more temperate weather making it comfortable to explore the stalls selling holiday decorations and crafts.
For Fira de Santa Llúcia, there are dozens of bars and markets surrounding the market so visitors can shop and then get a great meal nearby.
Wendy at Empty Nesters Hit the Road
8. Christmas Market in Bruges, Belgium
A couple of years ago, I surprised my boyfriend with a trip to Bruges Christmas markets. We'd always wanted to go abroad to see Belgium Christmas markets.
Each December, the medieval city of Bruges transforms into a winter wonderland filled with many wooden chalets selling traditional gifts and an ice rink in the middle.
While sauntering through the markets we were filled with the intoxicating scent of waffles and chocolate (Belgium is well-known for their chocolate after all!).
The waffles tasted divine; they're nothing like the ones I've had in England! There were a couple of Christmas markets in Bruges, but the main one was Grote Markt (the one with an ice rink) which is overlooked by gingerbread-like houses.
Near the market was a canal which was a lovely place to go for a walk after exploring the markets. At that time of year, the canal was covered in glistening fairy lights.
From Grote Markt, we walked to a smaller market nearby in Simon Stevinplein, and there were many adorable chocolate shops to stop in en route.
The Christmas markets in Bruges usually run from late November to January and can easily be reached by the Eurostar from London.
Tasha at Tasha Oyster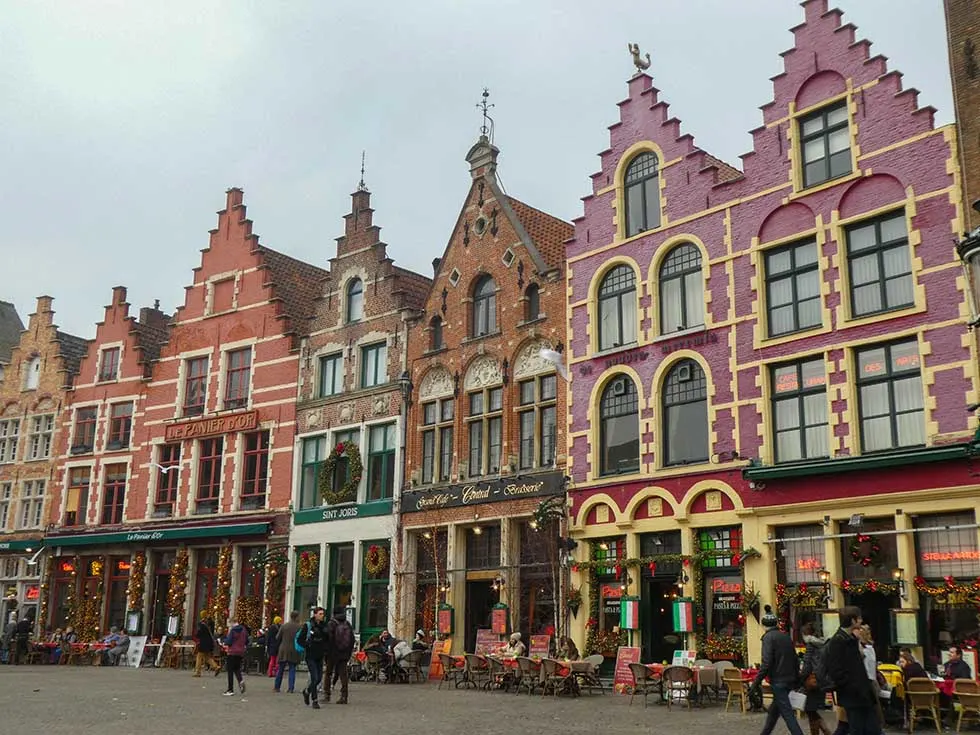 Best English Christmas markets
9. Christmas Market in London
As every year, Hyde Park is again home to Winter Wonderland in London. It is the biggest and most famous Christmas market in the city, which attracts locals and tourists alike.
From late-November until early-January visitors can enjoy all that Winter Wonderland has to offer.
Thrill-seekers will be pleased to know there is a new roller coaster pass for this year, which will make it easier than ever to use all of the nine roller coasters in the park.
There are plenty of other rides as well like Merry-go-round, haunted house, mirror maze, Ferris Wheel, and bumper cars.
You can also purchase tickets to watch a circus performance, or if you want a good laugh head to the stand-up comedy show.
Ice skating around a Victorian bandstand can be a unique experience with your loved one. Winter Wonderland is enormous, and all the walking will probably make you hungry.
My favorite food stall is the Hungarian stand, which sells delicious deep-fried bread seasoned with garlic and for dessert, I like to have the Hungarian chimney cake with cinnamon.
Visiting Winter Wonderland is free of charge, but you will have to pay for the rides and attractions. Visit during a weekday to avoid long queues.
Eniko at Travel Hacker Girl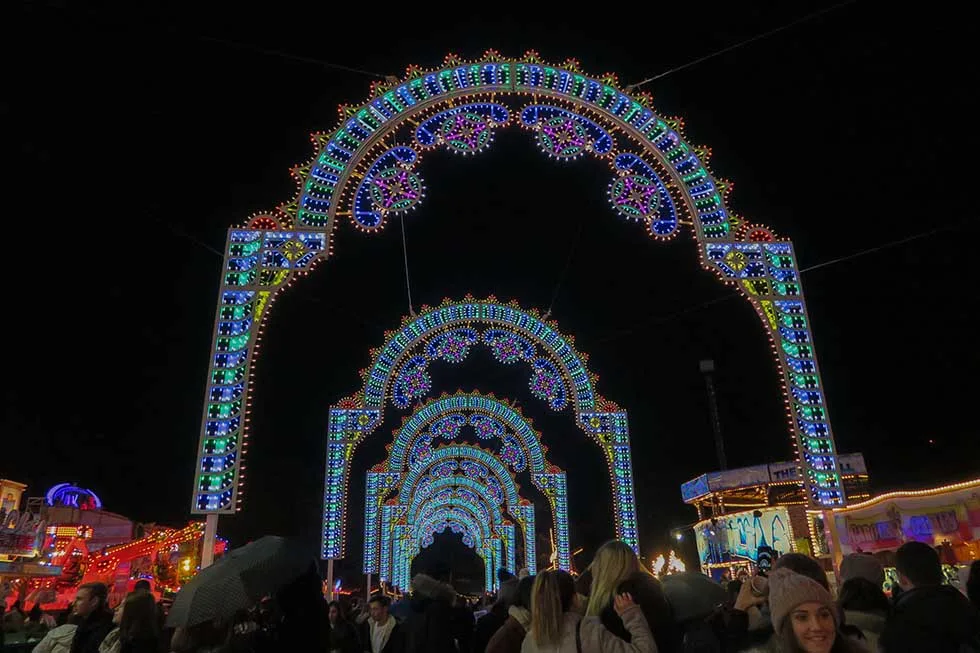 10. Christmas Market in Birmingham
Every year the heart of Birmingham comes alive with the Christmas market. And not just any market, but a traditional Frankfurt market, which has been a feature of Birmingham's festive season for decades.
This is the largest authentic German market outside of Germany, featuring more than 180 stalls. Here you'll find traditional crafts and gifts, toys, and decorations.
You won't struggle to find the market at the very center of Birmingham's streets, between New Street Station and the Library of Birmingham
Don't forget that the market is also full of traditional food and drink. As you near the bustling streets, there's a glorious scent in the air: cinnamon, hot chocolate, bratwursts, schnitzels, and the heady aroma of gluhwein.
And then there's the buzz of excited people because the opening of the Christmas market marks the beginning of Birmingham's festivities.
It's the place to meet friends, share the pleasures of the Christmas time with your family, linger over food, and stuff those Christmas stockings. It's also unique, in that you can enjoy the best of two countries and cultures in one pleasant trip.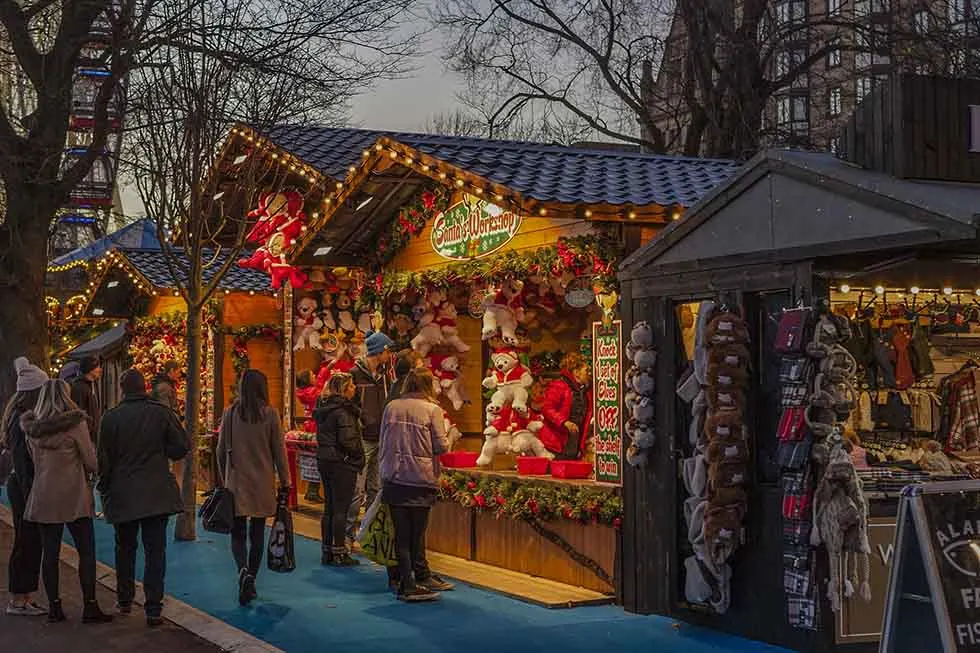 Read next: Winter packing list
Best French Christmas markets
11. Christmas Market in Colmar
This is one of the most spectacular Christmas markets you will encounter in France. I fell in love with its charm! It is home to not one, but five different Christmas markets that are spread out all over the town.
They are all within walking distance to each other, so it is just a matter of how tired you get from all your Christmas shopping!
Of course, if it is that big, you know that crowds of people will be coming here to enjoy the Christmas markets as well, so don't say I didn't warn you!
I do have to admit that at one point, I found the crowds simply too much, so be sure and time your trip just right!
I found that early in the morning when they first open, or weekdays was much better than the weekend and midday. So go at a good time and pace yourself.
As at times, I found myself wanting to go off on a side street with hardly any people on it just to take a break and a photograph! Because many streets are packed, and some pictures don't come out that well.
The best French Christmas market, Colmar market, opens from late-November until late-December.
Pssst: You might want to go on a day trip to Strasbourg, they also have a wonderful Christmas Market!
Cacinda at Points and Travel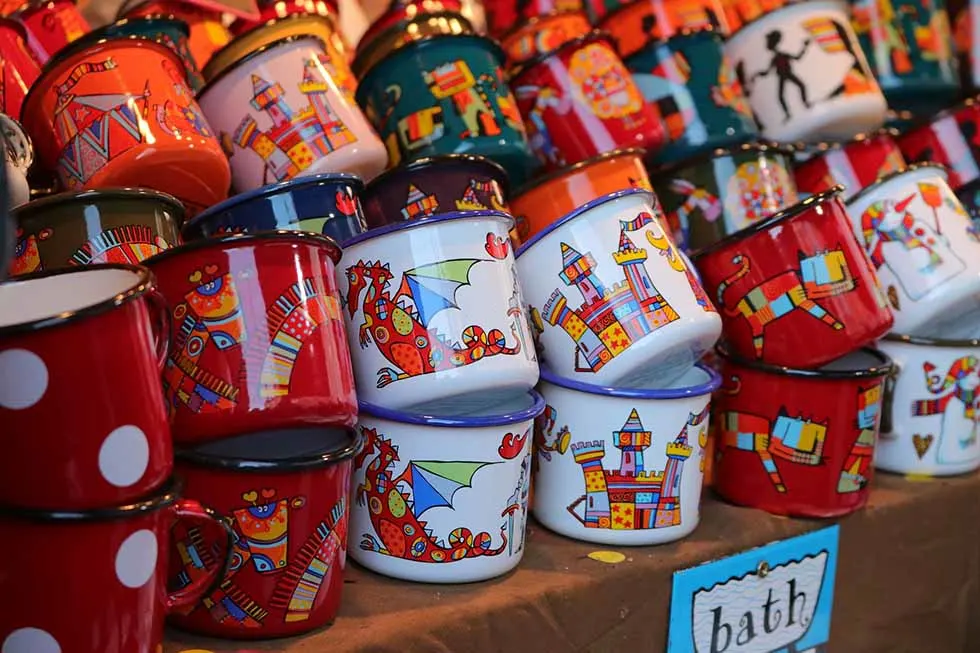 12. Christmas Market in Lyon
Lyon is famous for being the gastronomic capital of France. It the country's 3rd largest city, located right in the middle, on the doorstep to the Alps.
We love visiting Lyon to spend time with Sebastien's family, and to visit the many Christmas markets.
Due to its acclaimed reputation as the gastronomic heart of France, you know that Lyon is going to have the best Christmas markets.
The main one takes place at "Place Carnot" in the city center, from 24th November to 24th December each year from 10.30 am to 8 pm on weekdays and 10 pm on Saturdays (and until 4 pm on Christmas Eve).
The smells are enough to captivate you. We love guzzling down a cup of mulled wine, whilst tucking into the many cured/salted meats.
Other culinary prizes to watch out for are cheeses from the region, praline cakes, gingerbread cookies, and macarons. Praline, in particular, is very popular here, and this is one of the reasons why you should visit Lyon.
The main highlight, of course, is the "Fête des Lumières," a four day festival around 8th December. Lyon is infamous for this festival and is one of the country's top festivals to go to.
It's a celebration, and "thank you" to the Virgin Mary who spared the city from a major plague in 1643.
The tradition is that during this four day period, the Lyonnais put candles outside their windows every evening to give thanks to Mary ("Merci Marie" they call it) creating an extraordinary atmosphere across the city.
Also, the major sites have impressive light shows taking place during the festival. So you can imagine how the Christmas atmosphere is an incredible and unique spectacle!
Stefan at Nomadic Boys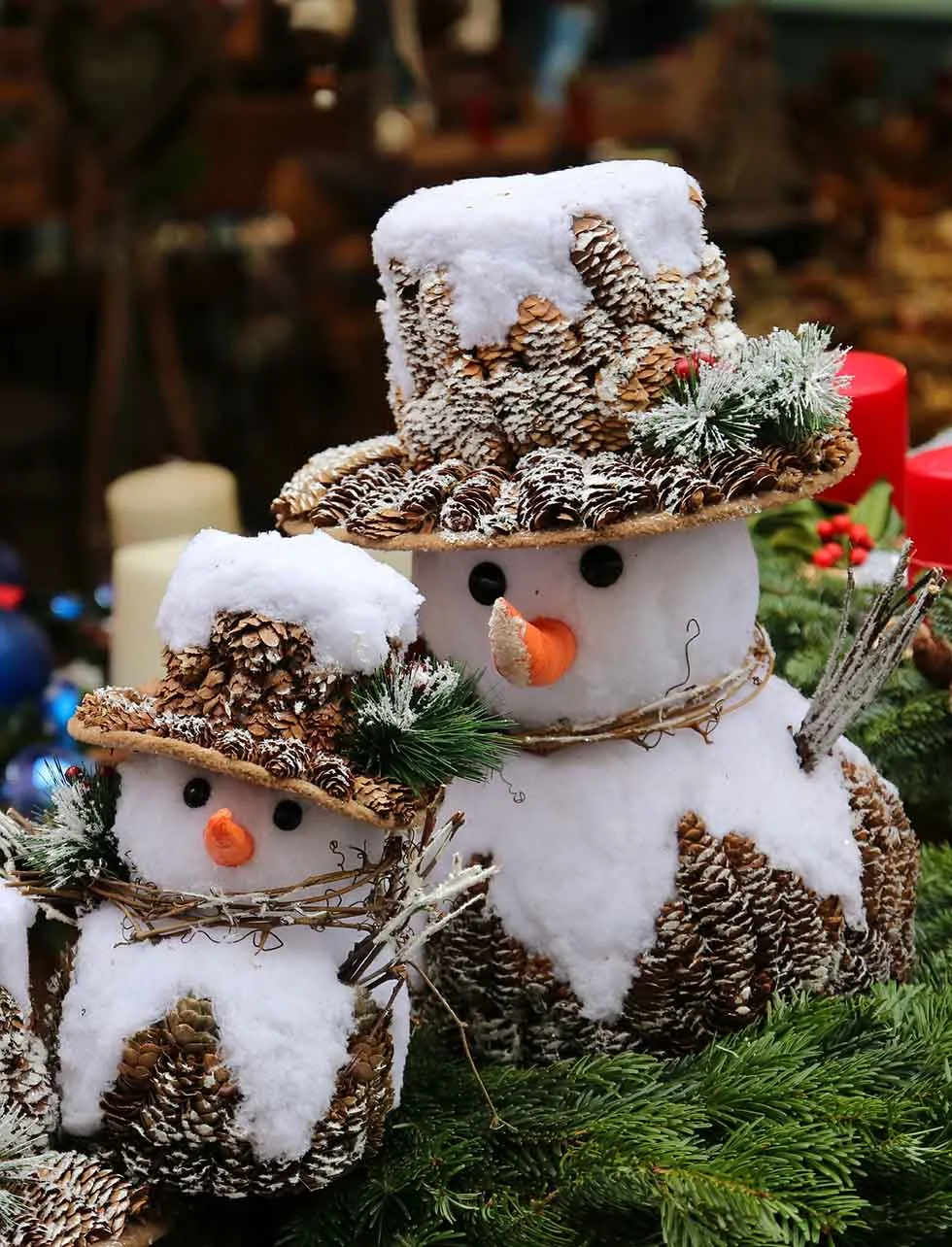 Best Austria Christmas markets
13. Christmas Market in Vienna
Christmas Markets are incredibly popular in Europe, and they have a long history. They pop in most cities, sometimes as early as mid-November, and last until Christmas Day, and sometimes all the way to New Year's.
Vienna is known to be one of the best cities to visit if you want to experience the magic of Christmas. In spite of the cold weather, tourists flock here every winter.
I was one of them in 2013 as I wanted to experience these Markets (yeah, working in the tourism industry got the better of me).
The most popular Christmas Market in Vienna takes place in front of the Town Hall. As a young couple, you want to avoid this one (as it has a ton of activities for children).
Sure, take a look, take photos, but spend most of the time elsewhere. It opens in late-November and closes in late-December.
The market at Schonbrunn is a lot better and way more spaced out, so you don't feel cramped. Try the mulled cider, mulled wine, and punch…especially to keep you warm.
There is a lot of food, available, too. Plus, you can buy all kinds of Santa Claus' and Christmas ornaments.
There are nine more Christmas Markets to check out in Vienna this year.
Cris at Looknwalk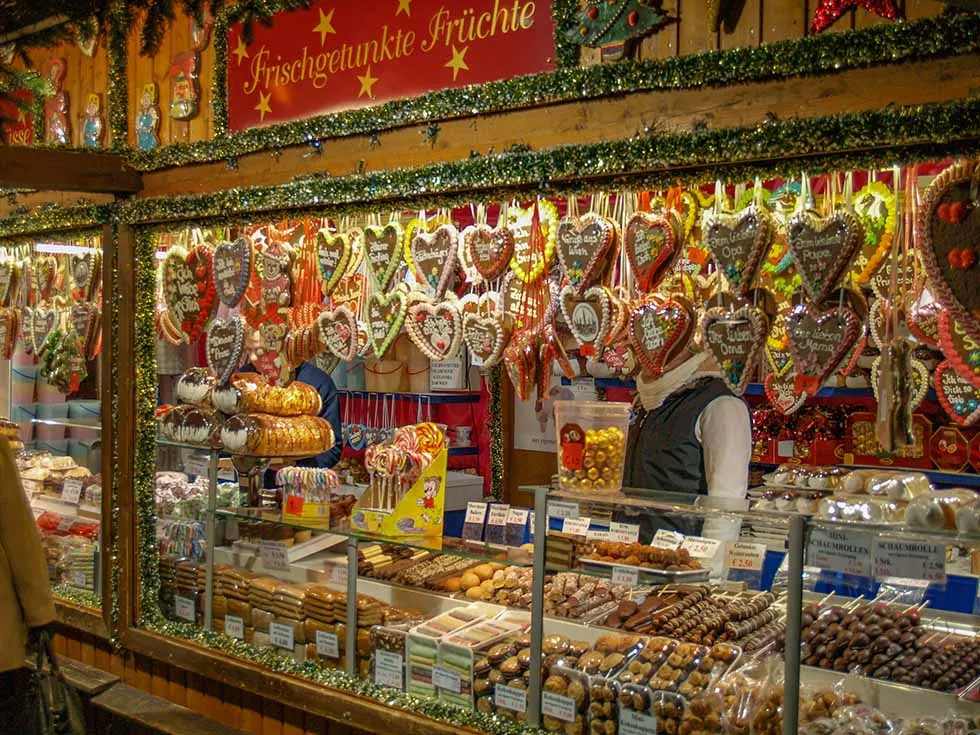 14. Christmas Markets in Innsbruck
Innsbruck, Austria is home to some of the loveliest Christmas markets in Europe. The snow-capped mountains that surround the city are a beautiful backdrop to your day and are sure to get you in the holiday spirit.
Then in the evening, just imagine a romantic evening wandering through an old city drinking warm Glühwein (mulled wine) or cider, eating warm, delicious pastries, while thousands of twinkly lights shimmer overhead.
To complete your whimsical Christmas experience, spend the night at the nearby Hotel Schwarzer Adler with it's cozy, rustic Austrian decor. It's walking distance to three Christmas Markets.
The Old Town Christmas Market located below the Golden Roof is situated around a huge Christmas tree.
Then just a little way away is the Maria-Theresien Straße Christmas market with a giant Christmas tree made out of Swarovski Crystals.
Lastly, the Marktplatz alongside the nearby river features a collection of little wooden stalls dripping with glittering Christmas ornaments.
If you're adventurous, take the nearby Nordkettenbahn (ski-lift) up to the top of the nearby mountain and view the city from the air with a stop at the Hungerberg Christmas Markets halfway up. Be sure to save your mugs for souvenirs.
Lindsay at Excursion Everywhere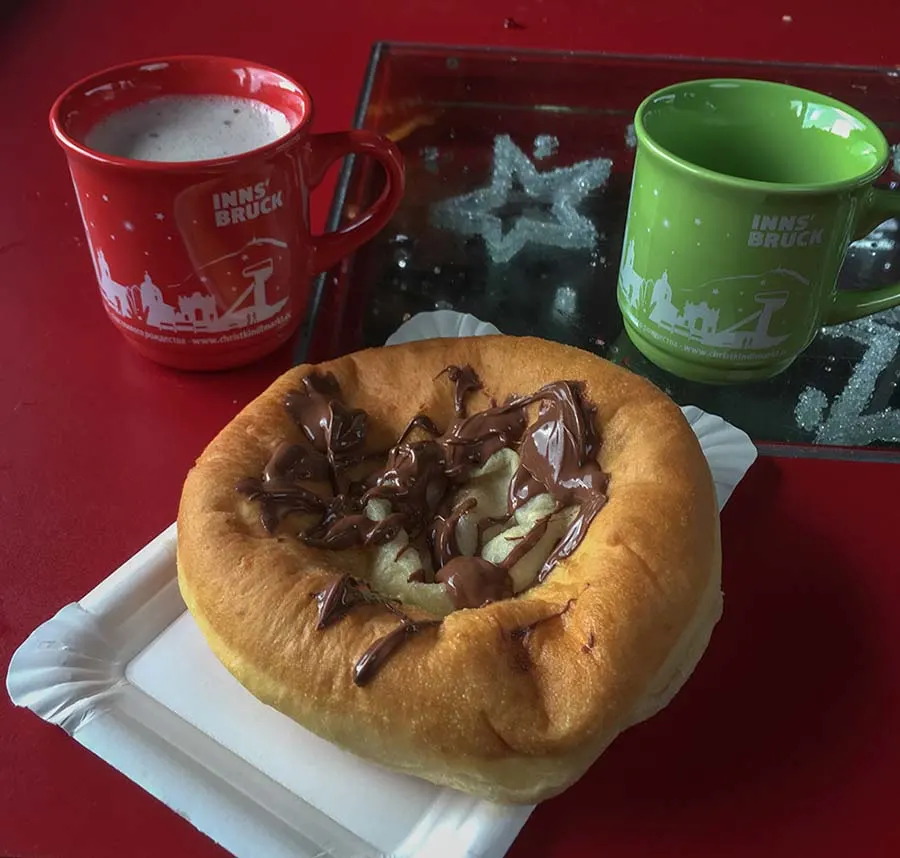 Best German Christmas markets
15. Christmas Market in Munich
Out of all the Christmas markets in Munich, the Middle Ages Market was by far my favorite.
As you step into the market, it feels like you are leaving the modern city of Munich back into the medieval times with wooden stands serving warm mulled wine and piping hot stews.
You are also surrounded by medieval characters dressed in classic apparel from head to toe, which adds to the ambiance of the market.
Most importantly though, the food at the old market compared to the other markets in Munich was by far the best (it takes place at the Wittelsbacher Platz from end November to just before Chrismas day).
They had traditional medieval food made of meat you might not eat everyday life. The warm stews and hearty meals are the types of food to warm you up from the inside out on a cold day.
Also, the mulled wine here is not served in your usual Christmas mug or plastic cup.
You get to have an authentic experience by drinking it out of a massive, ceramic mug, which gets lit on fire right before you drink it. The takeaway: Munich is the best Christmas destination.
Sarah at Lust 'Till Dawn
16. Christmas Market in Cologne
Going to Christmas Markets is our favorite thing to do in Europe in winter, and our number one Christmas Market destination is Cologne, Germany.
Cologne has not one, not two, but seven major Christmas Markets throughout the city.
We have visited and loved them all, but if we had to pick one to most definitely hit, that would be the Christmas Market at the Alter Markt.
It's located in Cologne's Old Town, just minutes from the gorgeous Cologne Dom, and is the biggest Christmas Market in Cologne.
This Christmas Market is also known as Heinzels Wintermärchen, in reference to Heinzelmännchen which are fairy tale house-elves.
As such, adorable carved wooden elves stand throughout the market, keeping watch over the festivities.
There are also alpine huts where you can tuck in and enjoy delicious Christmas Market fare (of which there is a diverse offering) and of course Glühwein. But the real highlight is the skating rink.
Ice skating in the middle of a Christmas Market, surrounded by beautiful Old Town buildings and people heartily enjoying the season, can't be beaten.
This year, the Christmas Market at the Alter Markt in Cologne is open from late-November to late-December. You can read more about all the Christmas Markets in Cologne here.
Sarah and Justin at Travel Breath Repeat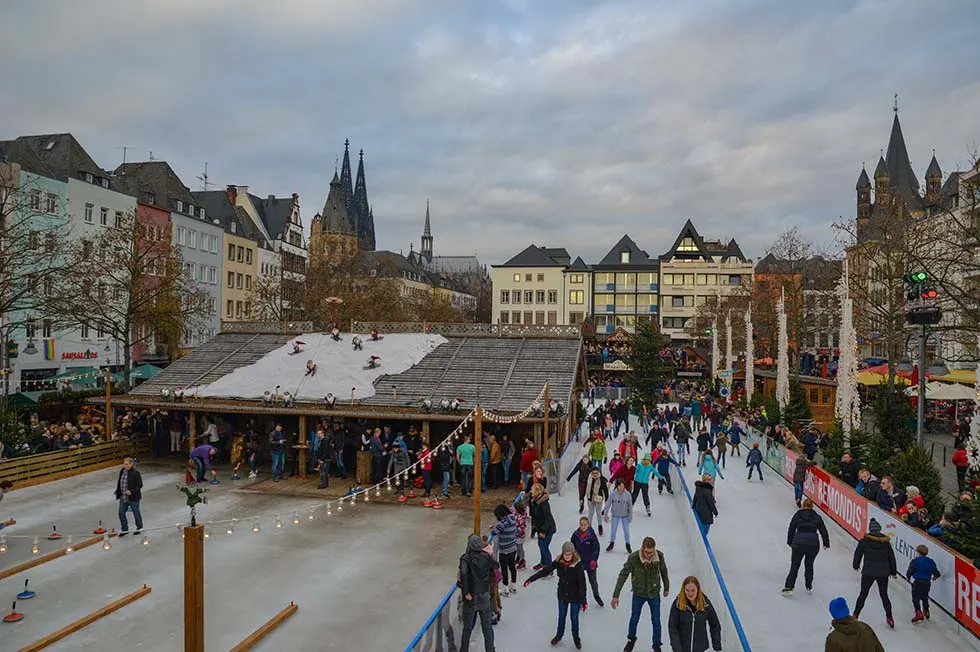 17. Christmas Market in Erfurt
Erfurt is a hidden gem for those looking to travel to Germany for Christmas markets. If you've never heard of it, Erfurt has a population of around 200,000 people and is the capital of the Thuringia region of Germany.
The city's largest market is in Domplatz Square, right next to the Erfurt Cathedral. You can find smaller markets all over the city as well, including the "medieval market" located just behind Erfurt Cathedral.
While you're there, you must try the mulled wine in an Erfurter Puffbohne mug to really feel the Christmas season.
Look for a little bean man, he is the mascot of the city, the Erfurter Puffbohne.
Haley at Ready Set Jet Set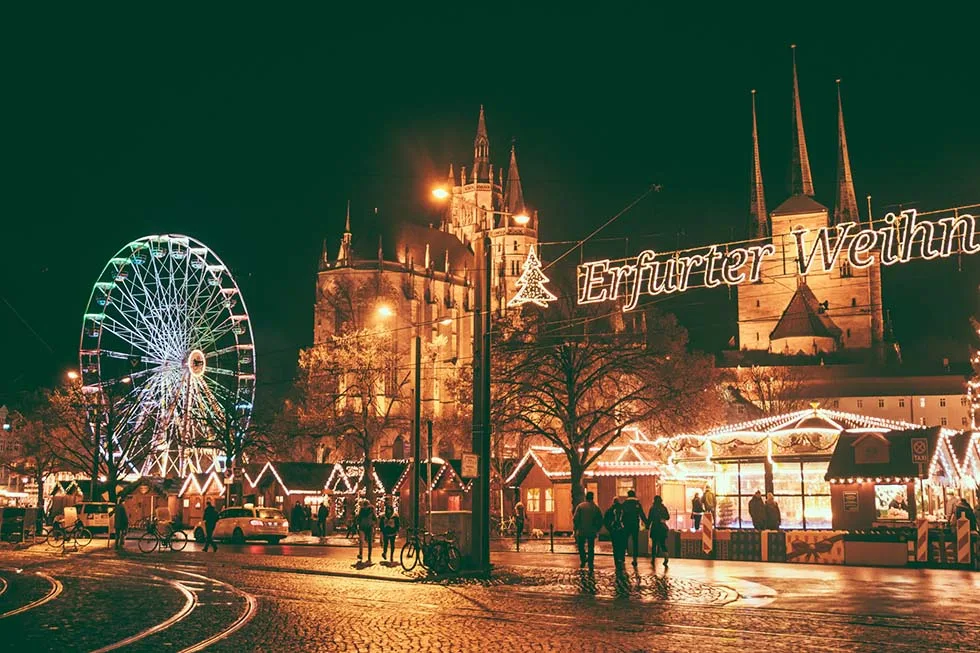 18. Christmas Market in Ravennaschlucht
Our friends live in Freiburg and are forever sending us pictures of the excellent places they visit in their area. One image that stood out for us was the Ravennaschlucht Christmas market they went to.
It always looked like so much fun, and it had an atmosphere that we had not seen before from many of the Christmas markets that we had researched.
The Ravennaschlucht Christmas market is held out in the forest underneath a 40-meter arched railway bridge.
During the night the arches are lit by different colored lights, and it has a significant effect.
It is even more amazing when a train is traveling over the top of it!
The stalls are all set around the bottom of the bridge with fires where you can warm yourself with a fantastic cup of Gluhwein or a sausage cooked from one of the vendors.
Being out in the forest can get freezing so you will need to dress well and stop by the fire occasionally. I had to stop myself from buying all of the beautiful handmade Christmas decorations there too.
A tip for this market is that you have to book online parking months in advance if you want to drive yourself. You do have to pay an entry of around 3 Euros per person to gain entry into the market.
There are toilets, and you get a pass out to be able to go to them but have some extra tissues with you in the case as it gets jam-packed with people. We found they had nearly run out when we needed to use them.
In the forest they also have a story told in pictures.
The narrative is in German, so we found it hard to understand but we loved wandering up the path to see the story. It makes the market just that little bit more unique!
Bec at Wyld Family Travel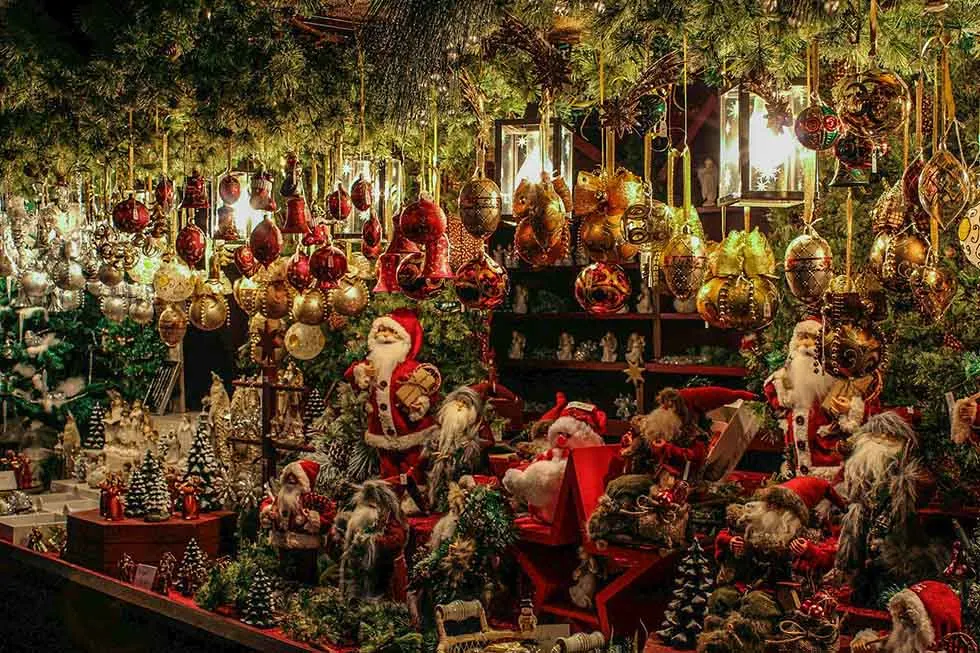 19. Christmas Market in Nuremberg
Christmas Markets abound in Germany; you'll find at least one in nearly every city. But the Nuremberg (Nürnberg) Christkindl Markt is one of the best! And one of the oldest in Germany, having started in the mid 16th century.
If you happen to be in Nuremberg on the Friday before the first Advent, you can attend the opening ceremony and perhaps catch a glimpse of the current Christkind in her golden robes and blonde curls.
There are 180+ stands at the Nuremberg Christmas Market, so be sure to allow enough time to wander around and take it all in.
And definitely do as the Germans do: eat a Bratwurst (you get three small sausages on a roll in Nuremberg), drink at least one mug of piping hot Glühwein (mulled wine), and enjoy a massive Lebkuchen (gingerbread) dipped in chocolate or savor a packet of warm Gebrannte Mandeln (cinnamon sugar almonds)!
You'll pay a Pfand (deposit) on your Glühwein mug, and if you forgo getting your deposit back, you can keep the cup as a souvenir.
A few tips…visit the market both during the day and at night:
Wear warm layers and comfortable shoes because it can get freezing, and you'll spend hours outside.
If at all possible, avoid the weekend when it's the most crowded (I was there once on a Saturday, and I could hardly walk or see anything because it was so full of visitors).
Cate at International Desserts Blog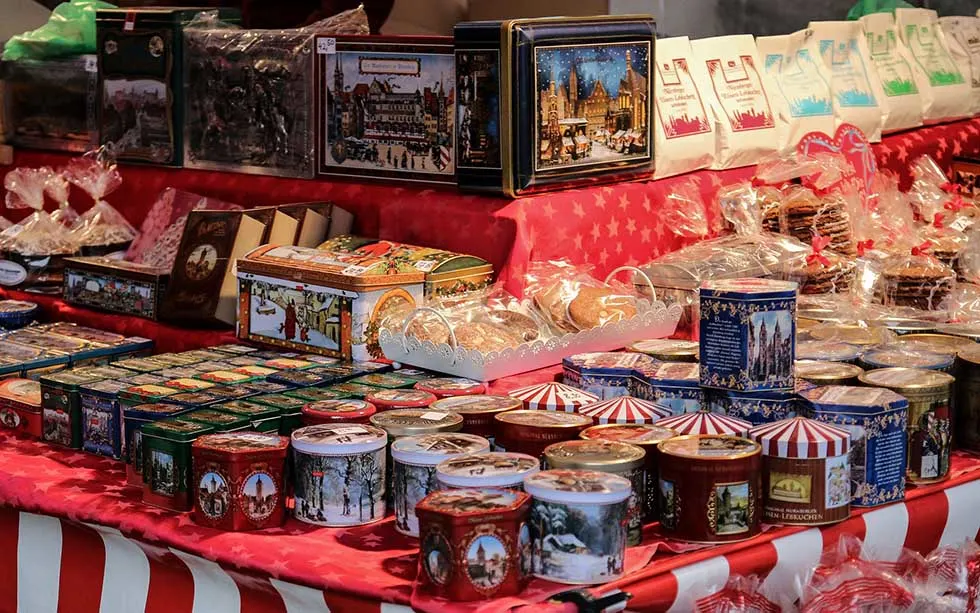 20. Christmas Market in Dresden
Dresden Christmas Market, also known as Striezelmarkt is one of the oldest Christmas markets in Europe. It's also perhaps one of the most famous Christmas markets in Germany.
The market has been held since at least 1434, which was the first time it was mentioned, under Friedrich II.
In 2014, the market celebrated its 580th anniversary. Since 2014 it has grown exceptionally, and now you can find up to 250 stalls. The annual market lasts through the advent season until Christmas Eve.
It's a traditional market where you will find old toymakers, sausages, glühwein, candy, handicrafts and lots of other stalls. For the kids, there are also some carousels and playgrounds.
The vibe and atmosphere are exactly what you can expect from a charming Christmas market in Germany. Not only tourists come here, but also many locals, ranging from a wide range of ages.
People come here to enjoy themselves and celebrate the festive season that awaits around the corner. The Striezelmarkt in Dresden is one of the coziest Christmas markets I've visited, and I will recommend a visit here.
Alex at Swedish Nomad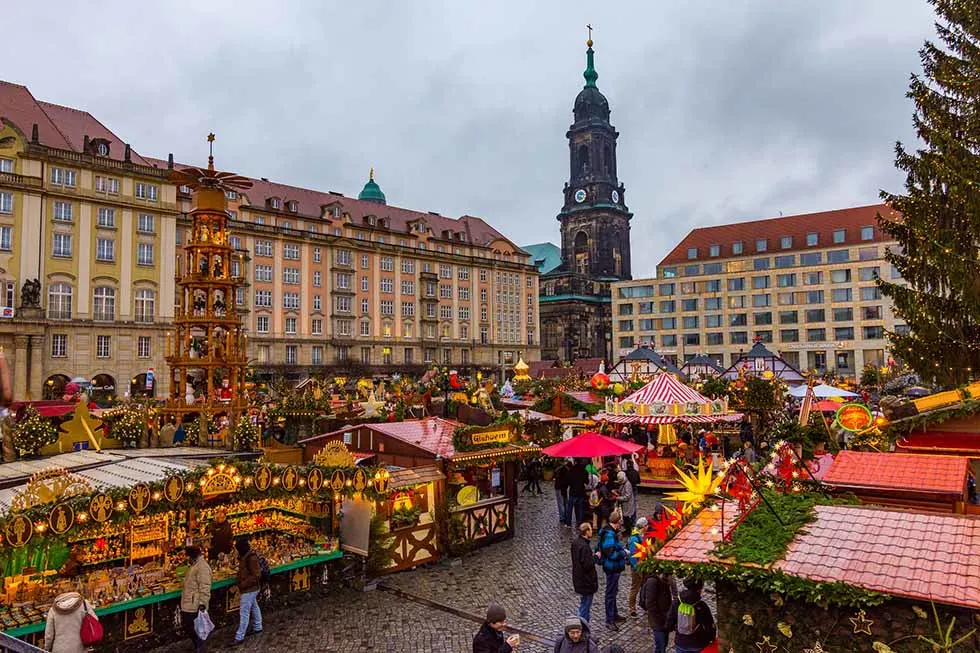 Final words on Christmas in Europe
Spending Christmas in Europe is a magical experience!
Those narrow cobblestone streets filled with bright lights and mulled wine smell are sure to make you feel very welcome.
If you want to celebrate Christmas in Europe this year, be sure to book your flight tickets asap. Happy travels!
Did you like this article about Christmas in Europe? Then pin it to your Pinterest travel board!
Our best travel tips & resources:
Here're our all-time favorite travel tips & resources so that you can save money and plan your travel logistics hassle-free! For more travel resources, check out our
travel tips.
Saving money: Fly on offseason, winter (not Xmas or NYE), Tuesday, or Wednesday! According to experts, these are the cheapest days to fly.
Travel insurance: Before you leave for your trip, make sure you have a valid travel insurance policy because accidents happen on the road. We have been paying for Safety Wing travel insurance for a little over a year now, and we happily recommend them to our family and friends.
Accommodation: We usually stay in mid-range comfy hotels or private rooms in hostels. These are the sites we use to book accommodation: Booking.com for hotels (excellent flexible cancellation policy) and Hostelworld for hostels (low deposit and easy cancellation).
Tours:We absolutely love booking guided tours with locals to get a history lesson while sight-seeing, especially food tours and walking tours! We book all of our tours using Viator and GetYourGuide.
Transportation: We use Google Maps to figure out how to get around a place using public transport. When we book a rental car, we always use Discover Cars to find the best deal.