Pssst, FYI – this post contains affiliate links and we earn from qualifying purchases. For the full scoop on what this means, feel free to check out our disclosure.
Spending 2 days in Paris? Look no further! We're sure this Paris itinerary will help you plan the perfect trip to the city of love.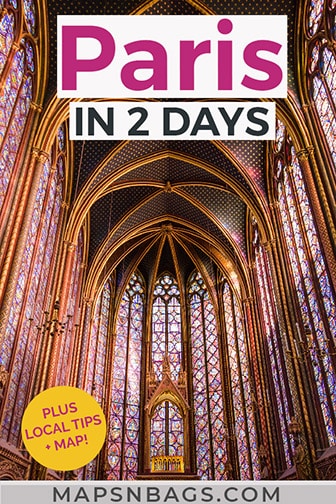 Oh, Paris. This city is always a good idea, no doubt about it. In the winter, the town turns gray with the weather, but thankfully the Christmas lights cheer us up.
In the spring, flowers start blooming and coloring the streets with pink hues. The summer comes with tourists from all over the world, filling all corners of the city.
And the fall, the fall brings the colder, rainier weather colored with orange hues so the cycle can start over.
2 days in Paris itinerary
We stayed 4 days in Paris, but because we received lots of questions from readers who would spend only 48 hours in Paris, we felt like we needed to write this article.
We mean, the city is massive, and it's clearly challenging to decide what to do in Paris in two days when there's so much to see.
The city has excellent museums, beautiful architecture, delicious wine, and food. What's not to love?
Oh, and we're not exaggerating.
Well, if you're going to spend 2 nights in Paris, this guide is everything you need to have an excellent time in Paris, the French capital.
Paris 2-day itinerary – our guide
Besides the 2-day Paris itinerary, we'll talk about our favorite hotels (with the best location!), our take on the Paris Pass, and how to get around the city, just so you can plan your trip better.
But we also talk about things you can do on a rainy day, things you should watch out for, the best tours in the city, a map (with all the locations we mention), and heaps of tips to visit Paris in 2 days.
Oh, we almost forgot to mention that we created a handy printable travel planner, that you can use to plan your perfect Paris itinerary,
In other words, literally, everything you need to get the most out of your trip to Paris is in this article.
What to do in 2 days in Paris
This itinerary considers that you have two days in Paris to visit the main attractions and get a feeling of the place.
But, if by any chance, you have more days, you could consider going on a day trip or only spending more days in the city. For that, take a look at our 4 days in Paris itinerary.
Wanna know what places to visit in Paris in 2 days? Read on!
Where to stay in Paris
While considering what arrondissement to stay, choose the one with the easiest access to most attractions in Paris that you plan to visit.
In our opinion, from the 3rd arrondissement (Le Marais) until the 6th one (Saint German des Pres) is the area where you should find the best hotels with great value for money and in the best location.
We all know accommodation in Paris can be quite expensive, but the Hotel Des Mines is an affordable and excellent option to stay in the 5th arrondissement.
It's within walking distance to the Luxembourg Gardens, to a supermarket, ATM, and the metro station, the area couldn't be better at their price. Honestly, it's not costly for Paris.
Moreover, rooms have free WiFi, hairdryer, TV, and are soundproofed. Oh, and they also have spacious family rooms. There's an RER station nearby, which is ideal for reaching other cities or going on a day trip, let's say, to Versailles.

See it on Booking.com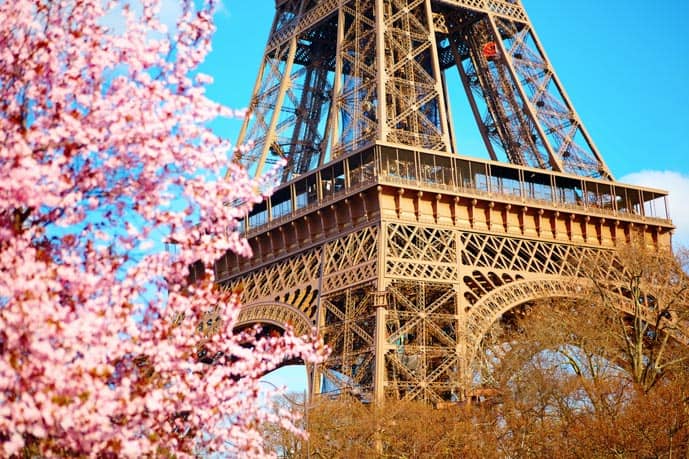 If you want a little more comfort than the later, check out the Grand Hotel des Balcons in the 6th arrondissement.
The location of this hotel is also ideal: it's very close to the Luxembourg Gardens and within walking distance to the metro.
More importantly, this hotel is surrounded by restaurants as well as some good bookstores too.
All rooms include basic amenities, such as a hairdryer, TV, and wardrobe. Free Wifi included. Moreover, this area is very safe for female travelers.

See it on Booking.com
Two days in Paris Summary
Day 1: Eiffel Tower, Church of Saint-Sulpice, Luxembourg Gardens, Catacombs of Paris, Pantheon, Notre-Dame Catedral, Sainte-Chapelle, Burlesque show.
Day 2: Louvre Museum, Musee d'Orsay, Orangerie Museum, Place de la Concorde, Champs-Elysees, French Crepe, Arc de Triomphe, Montmartre, Sacre-Coeur, Seine River Cruise.
2 days in Paris Itinerary – Day 1
As we said, this 2-day Paris itinerary is only for reference. Feel free to change the activities as it suits you.
Eiffel Tower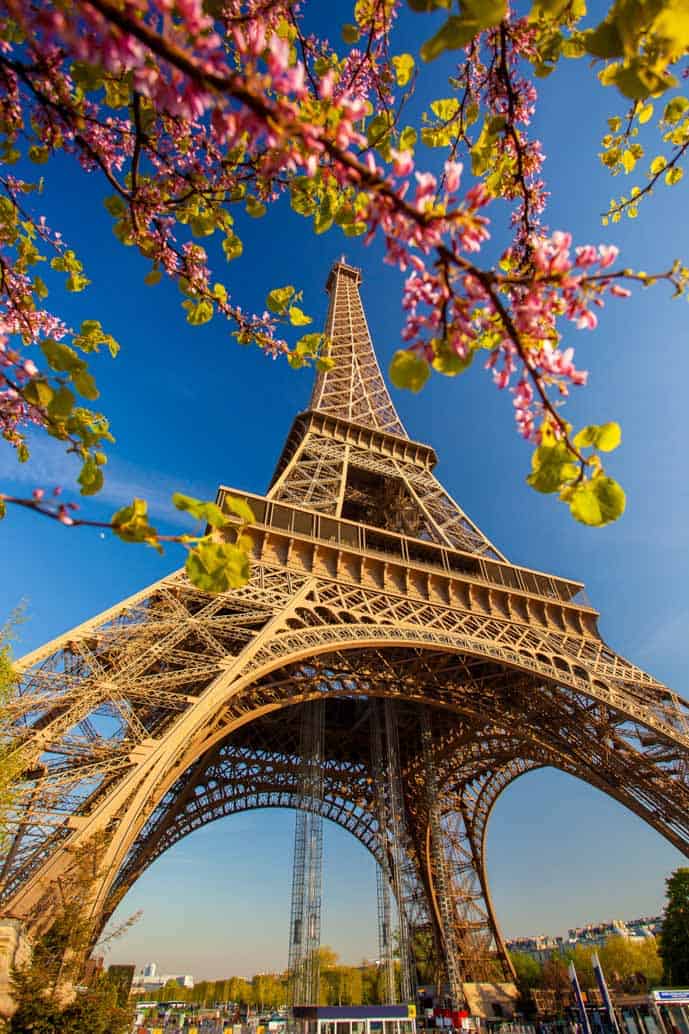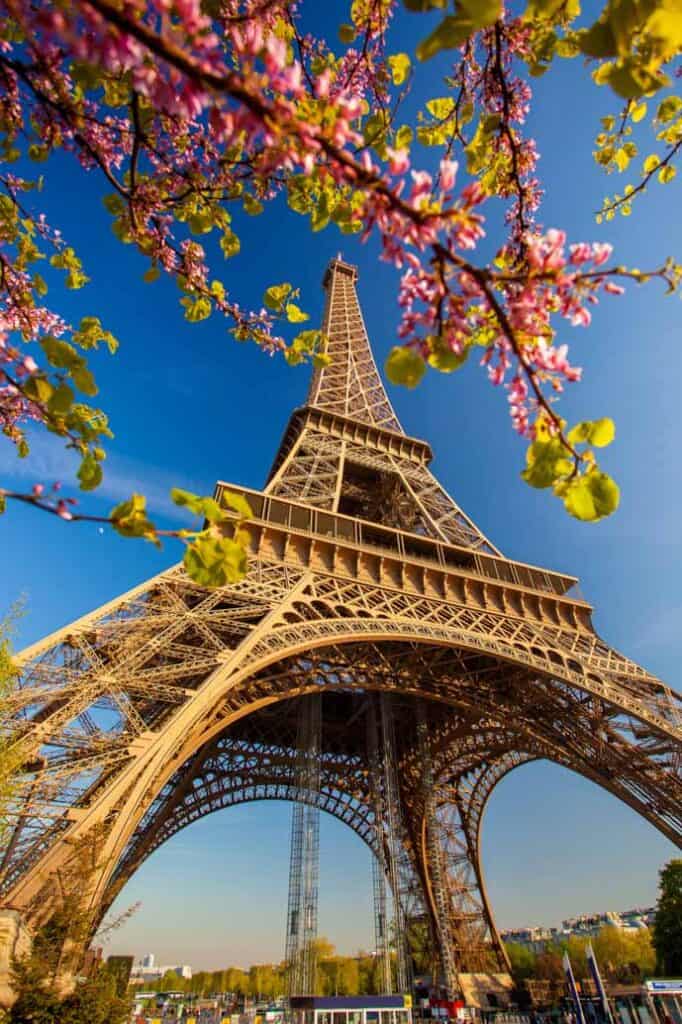 Well, first things first. You only have 2 days in Paris, so it would be a shame if you didn't visit the world's most famous tower.
The Eiffel Tower is, without a doubt, a must-see in Paris. Not only because the tower is famous but because it's magical.
Climbing THE Eiffel Tower is priceless. This major Paris tourist attraction receives nothing less than 6 MILLION visitors a year. Not bad, huh?
That's why you will want to start your Paris itinerary here, preferably in the morning to avoid (even more) crowds.
The 1063-ft (324-m) tall tower has three floors that you can reach by stairs and elevator, except the last one that you must take the elevator to achieve it.
The first floor has a glass floor, and you can reach it by stairs or elevator.
The second floor has a pricey 5-star Michelin restaurant.
The summit offers one of the most breathtaking views of the city. Try to spot some other tourist attractions in Paris.
Fun fact: Did you know the Eiffel Tower is by far the world's most-visited paid monument?
Admission: The ticket price to ascend varies upon how you go up in the tower:

Staircase to the 2nd floor plus the elevator to reach the third-floor costs around €19
Lift to the summit costs €25
Don't miss out! Book your skip-the-line tickets with a guide.
It's important to note that you can stop at intermediate floors. Regardless of the ticket you buy.
Opening hours:

End Jun-beginning Sep: 9 AM-12.45 AM.
Rest of the year: 9.30 AM-11.45 PM (by elevator) and 9.30 AM-6.30 PM (stairs).
Pro tip: After you have ascended the Eiffel Tower, stroll around the Trocadero Gardens and Champ de Mars to take some good shots of the tower.
The view of it from across the river is astonishing.
Church of Saint-Sulpice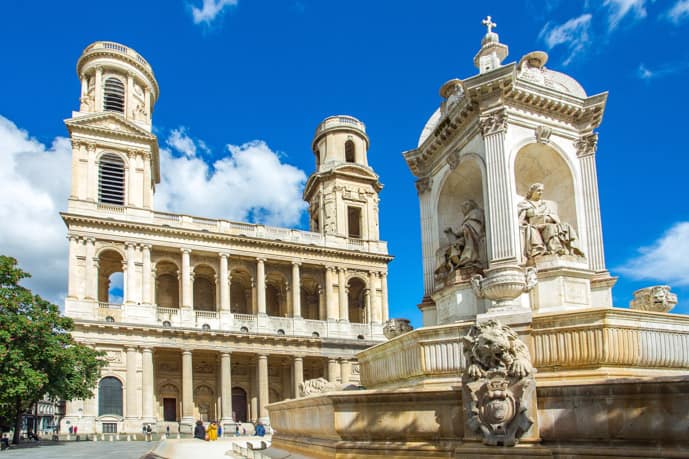 We like Dan Brown books, so visiting this church was a no-brainer for us.
If you have watched or read the novel The Da Vinci Code, you have learned about this place.
In this story, they show the Eglise St-Sulpice, or in English, Church of Saint-Sulpice, among other sites and art pieces in Paris.
While this church plays a significant role in the novel, it's also important to note that the author changed the meaning of many elements in the church to adapt it to the story.
However, the Church of Saint-Sulpice has nothing to do with paganism, nor the Priory of Sion. Still, it is nevertheless a beautiful place to visit in Paris.
The interior is beautiful, and it has a somber atmosphere. We liked it.
Admission: Free entrance.
Opening hours: Every day 7.30 AM-7.30 PM
Pssst: Looking for godsend macarons? The Pierre Hermes store has these delicious French treats, and it is near the Church of Saint-Sulpice.
Luxembourg Gardens
Not far from Eglise St-Sulpice, you'll find Paris' most visited park, the 17th-century Luxembourg Gardens.
These gardens are divided by a pond, and on each side of the park, you'll find French gardens and English gardens.
Weather-permitting, wander through the park, sit on the grass, and do some people watching.
Maybe you could even have your lunch here in the park. The atmosphere is very pleasant.
Oh, and while wandering through the Luxembourg Gardens, you'll probably come across greenhouses with lots of stunning orchids and a rose garden, a farm with an array of rare apple and pear trees, and the pretty Medici Fountain.
There's a lot to see here. The garden is well taken care of, and this is a pleasant place to relax a bit.
Admission: Free entrance.
Opening hours: Every day 7.30 AM-9.30 PM in the summer and 8.15 AM-4.30 PM in the winter.
Catacombs of Paris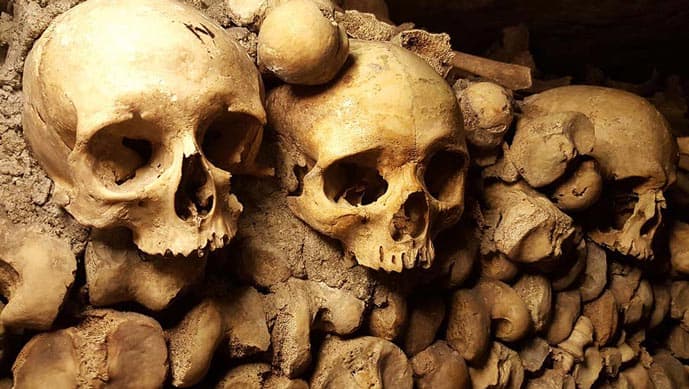 Paris's most massive ossuary has the bones of over 6 million people.
In the late 18th-century, these people were brought here from many cemeteries across the city.
Due to severe sanitary risks to the Parisians, the government decided to move the bones of millions of people to the Catacombs throughout two years.
While this attraction in Paris sounds creepy, to say the least, it's interesting to learn about its story because it's an essential part of the city's history.
The tour takes approximately 45 minutes, and only 200 people can visit it at the same time. So plan ahead and book your tickets to avoid waiting time at the entrance.
You'll want to bring a vest even if you're traveling to Paris during the summer as the temperature drops to 57 degrees F/14 degrees C in the catacombs.
Pantheon of Paris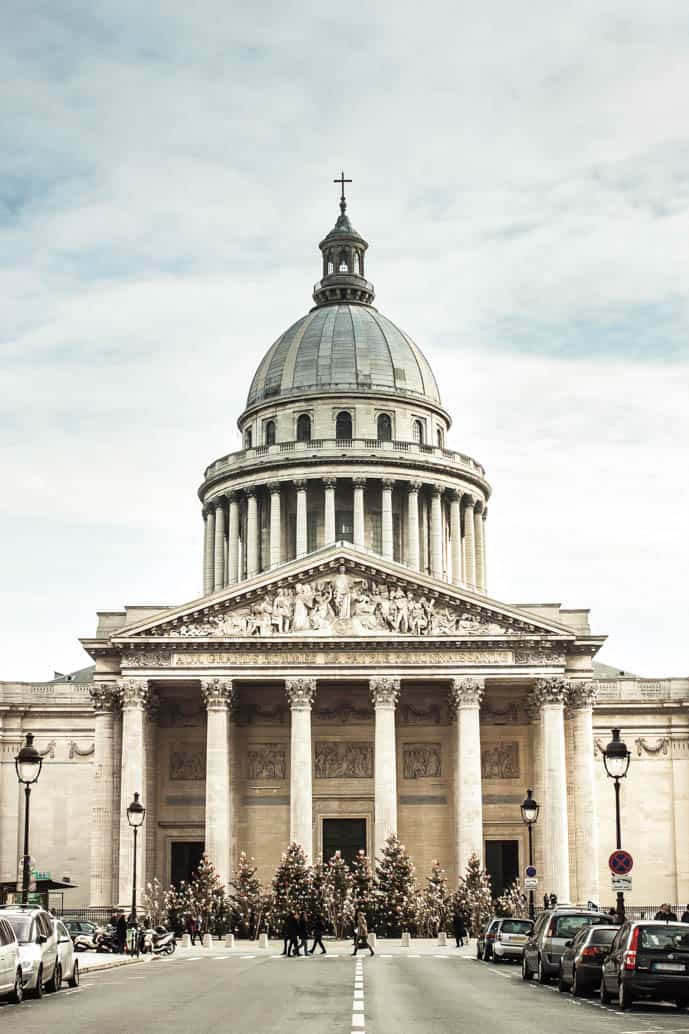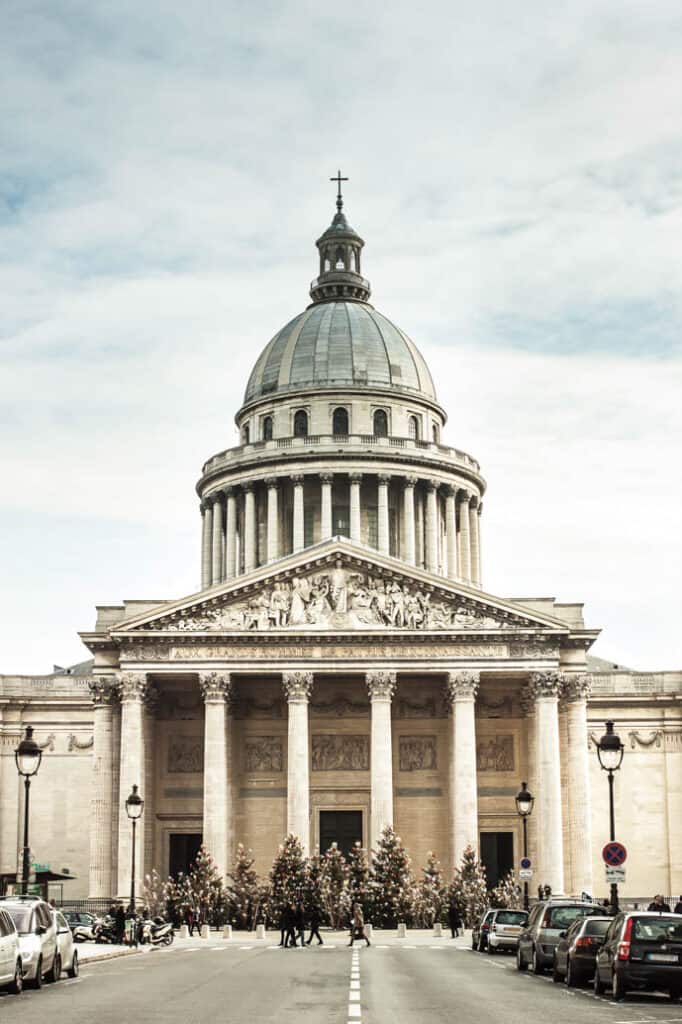 The Pantheon of Paris is an impressive building that got us jaw-dropped once we got in.
The imposing columns inside make you feel as if you were an ant. Seriously.
Besides having beautiful architecture, the Pantheon is also the burial place of renowned French nationals, such as Voltaire, Alexandre Dumas, and Victor Hugo.
In the crypt, you can find an exhibition about their lives and work.
Notre-Dame of Paris
Note: Following the fire of April 15, 2019, the Notre-Dame Cathedral is closed for visitation. Although, you can still photograph the outside of the church.
After La Sagrada Familia in Barcelona, the Notre-Dame Cathedral is the most beautiful religious site we have visited so far.
We both watched the Hunchback of Notre-Dame when we were kids, and we have to say that we had goosebumps once we walked in.
The mysterious atmosphere inside, the chandeliers barely shining any light on the halls, and the stained glass windows make the Notre-Dame a unique experience.
Don't forget to get your leaflet at the entrance to learn more about the church architecture, including the meaning of the facade, gargoyles, as well as the statues.
Pro tip: Climb the bell tower to have a perfect view over Paris. The entrance to the tower is outside the cathedral on the left side when you face the building.
Admission: Free entrance to the church.
Opening hours: Every day 7.45 AM-6.45 PM (7.15 PM on weekends).
Sainte-Chapelle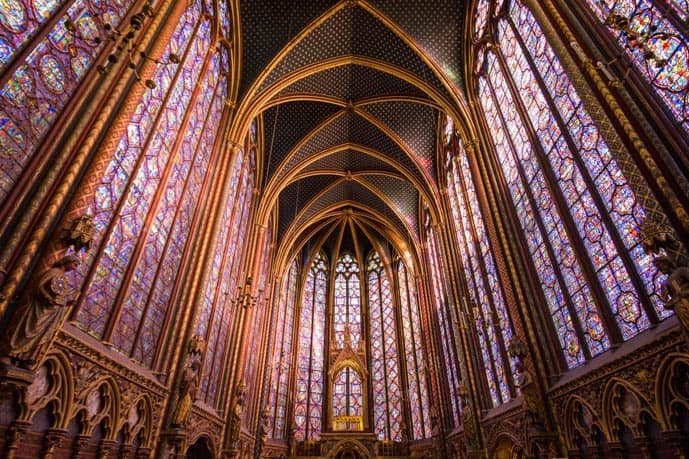 Unfortunately, you'll have to skip a lot of attractions since you're spending only 2 days in Paris. But the Sainte-Chapelle isn't one of them.
This royal chapel has the world's most extensive (and remarkable) stained glass windows collection.
Well, these windows are not just impressive, they're actually telling a story. And you can learn about that story by scanning them with the camera of your phone.
For that, download the free app Sainte-Chapelle stained glass (available for Android and iPhone).
You'll want to have a good camera with you because the windows are really worth your time. It doesn't matter if you have 2 days in Paris, or 4, or 10. The Sainte-Chapelle is a must-visit in Paris.
Admission: €10 for a ticket. If you buy the tickets to the Sainte-Chapelle and Conciergerie together, you pay €16 for both. Free entrance with Paris Pass.
Opening hours:

Oct-Mar: Every day 9 AM-5 PM
Apr-Sep: Every day 9 AM-7 PM
Finish your first day your Paris itinerary watching a burlesque show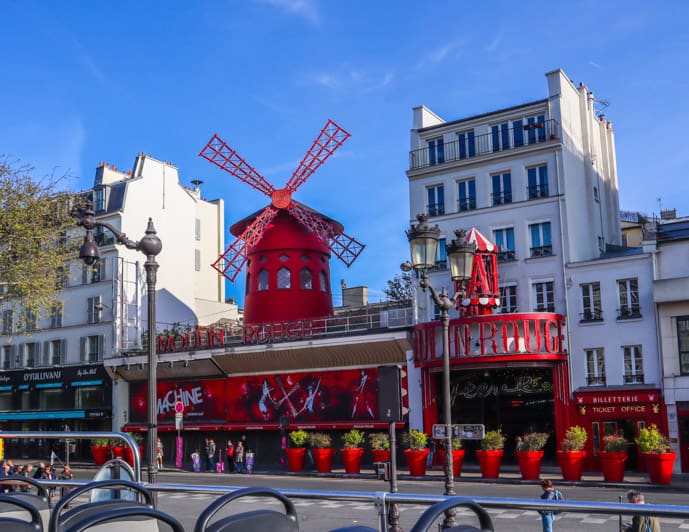 Finish the first day of your Paris itinerary with a burlesque show.
These performances are an intrinsic part of Parisian history and culture.
And for years, burlesque was forbidden in several countries around the world, except in France, which was pretty chilled out about it.
Just so you can understand it better. Burlesque has nothing to do with striptease or obscene performances. Some cabarets do have nudity, but they are very professional, though.
Burlesque is a classy and artistry act, which is connected to literature, music, and the empowering of women.
And the best places to watch a real French cabaret show are at Le Lido and at Moulin Rouge.
Usually, Le Lido is a tad more affordable than Moulin Rouge. Mostly because of the popularity of the latter.
Either way, it's a fantastic experience that you won't forget. This is one of the most unique things to do in Paris in 2 days.
Don't miss out! Book tickets for Le Lido or book tickets for Moulin Rouge.
2 days in Paris Itinerary – Day 2
Today you'll learn about incredible places to visit in Paris in 2 days. Most of the places we'll mention are museums that tell the city's or country's history.
Louvre Museum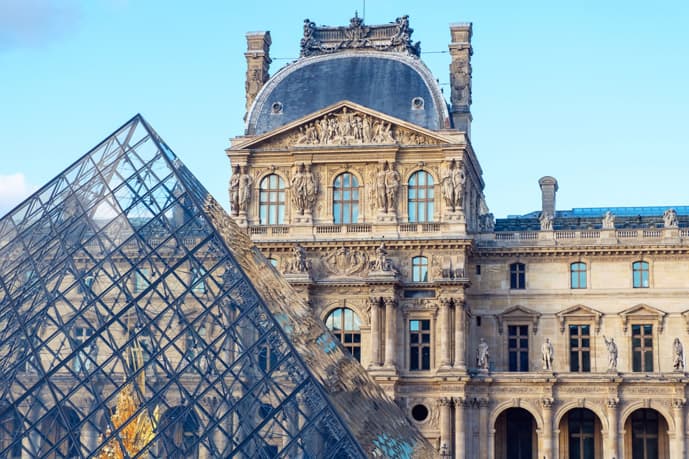 The Louvre is one of Bruna's favorite museums and also one of the prettiest museums in the whole world.
But we're not the only ones who think that. In fact, the Louvre is the most visited museum in Paris.
For that reason, you'll want to get there as soon as it opens to avoid (even more) crowds.
The Louvre not only has Western World exhibitions but also from the Islamic and Ancient World as well as the medieval period to the 19th-century.
Moreover, some of the highlights of the museum are Da Vinci's Monalisa, Caravaggio's Death of the Virgin, Antioch's Venus de Milo, Pythokritos' Winged Victory, and the Law Code of Hammurabi.
And while visiting Monalisa, be prepared to see a small painting surrounded by a lot of tourists and lots of security.
Pro tip: If you really want to avoid the crowds at the Louvre, consider visiting it in the evening. The Louvre closes at 9 PM twice a week.
Admission: €17 for tickets. Don't miss out! Buy skip-the-line tickets. Free entrance with Paris Pass.
Opening hours: Closed on Tuesdays. Wednesday and Friday 9 AM-9.45 PM. Thursday, Saturday, Sunday, and Monday 9 AM-6 PM.
Musee d'Orsay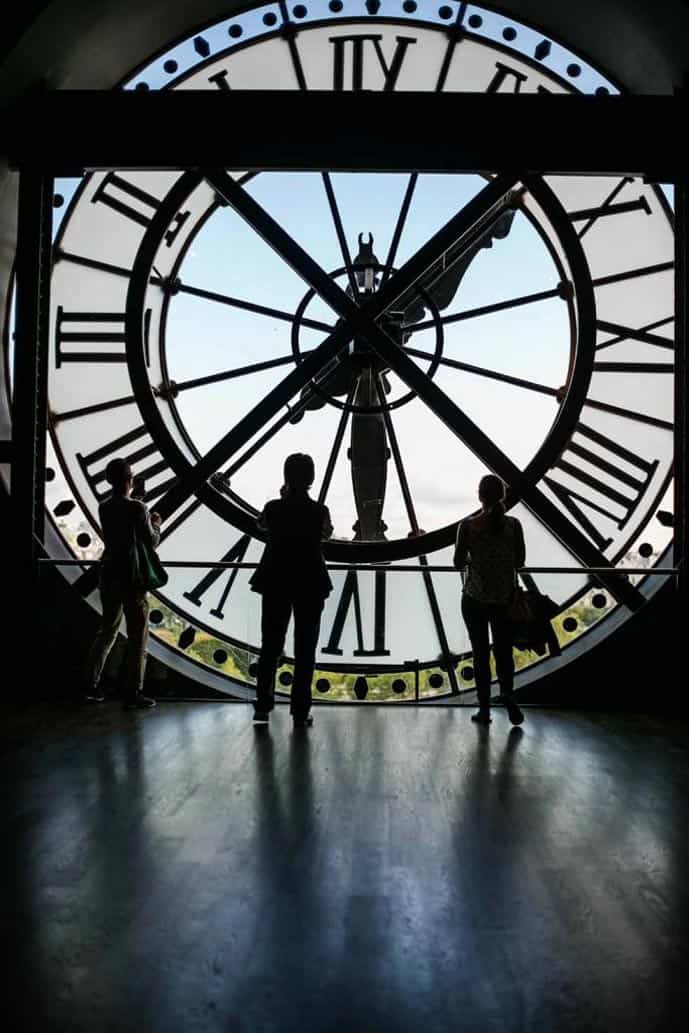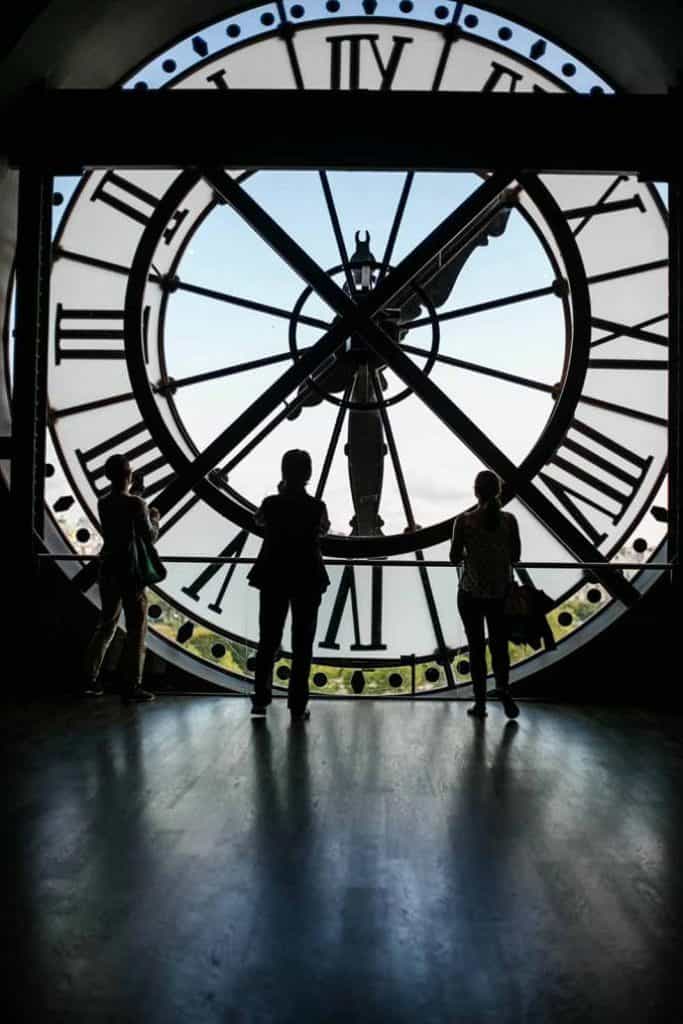 Based in a former railway station, the Musee d'Orsay reminds us of a fancy train station with impressive decoration.
But an impressive decoration does not live up to the museum's restaurant, which is almost an art piece by itself.
Well, the Musee d'Orsay has the world's most extensive exhibition of impressionist and post-impressionist art. Also, most of its collection are French pieces from the second half of the 19th-century to the beginning of WWI.
It should be in your itinerary while visiting Paris in two days.
Admission: €14 for the ticket. If you buy the tickets to the Musee lÓrangerie and Musee d'Orsay together, you pay €22 for both. Don't miss out! Book the skip-the-lines tickets. Free entrance on the first Sunday of the month. Free admission with Paris Pass.
Opening hours: Closed on Mondays. Thursday 9.30 AM-9.45 PM. Other days 9.30 AM-6 PM.
Orangerie Museum
Musee De l'Orangerie has impressive artworks of the impressionism and post-impressionism movement.
And the biggest highlight of the permanent collection is Monet's "Water Lilies." This art is a collection of eight panels spread across 299 ft (91m) and divided into two rooms.
Musee l'Orangerie has stunning paintings, and it's worth the visit for sure.
If you're wondering what to do in Paris in 2 days, know that you'll want to see first hand some prominent painter's work, such as Renoir, Rousseau, and Modigliani. Paris is filled with them.
Fun fact: The first building on this site was designed as a winter shelter for orange trees of the Tuileries Palace.
Admission: €9 for the ticket. If you buy the tickets to the Musee lÓrangerie and Musee d'Orsay together, you pay €22 for both. Book your skip-the-line tickets. Free entrance on the first Sunday of the month. Free admission with Paris Pass.
Opening hours: Closed on Tuesdays. Wednesday-Monday 9 AM-6 PM.
Place de la Concorde
Louis XVI and Marie Antoinette were beheaded in a public execution at this square right before the end of the French Revolution.
Despite this tragic moment of France's history, Place de la Concorde is quite beautiful.
Take a few photographs of the square with its two fountains and an Egyptian obelisk before heading to the Champs-Élysées.
Champs-Élysées and French Crepes
Champs-Élysées begins at Place de la Concorde and ends at the Arc de Triomphe.
Wander through this worldwide famous avenue while spotting high-end and popular brands. This is a 1.2 mi (2 km) walk.
Maybe it's a good time for shopping? Or eating?
Turn right nearly halfway to the Arc de Triomphe, walk a few blocks, and you will find some mouthwatering crepes at Framboise.
Despite the location, they serve sweet and savory crepes at reasonable prices.
Opening hours:

Monday-Friday 11.45 AM-2.30 PM and 7 PM-10 PM
Weekends 12 PM-2.30 PM and 7 PM-10 PM
Back to the Champs-Élysées, this avenue is a place worth seeing in your first time in Paris because the shining lights are inspiring.
After all, Paris is the city of love, but also of light.
That is so true that the Elisabeta Boulevard in Bucharest was inspired by Champs-Élysées.
In fact, plenty of buildings in the Romanian capital were designed in French architecture. Did you know Bucharest has a triumphal arch very similar to the French one?
Fun fact: Champs-Élysées means Elysian Fields in French. And the Elysian Fields were the paradise for dead heroes in Greek mythology.
Arc de Triomphe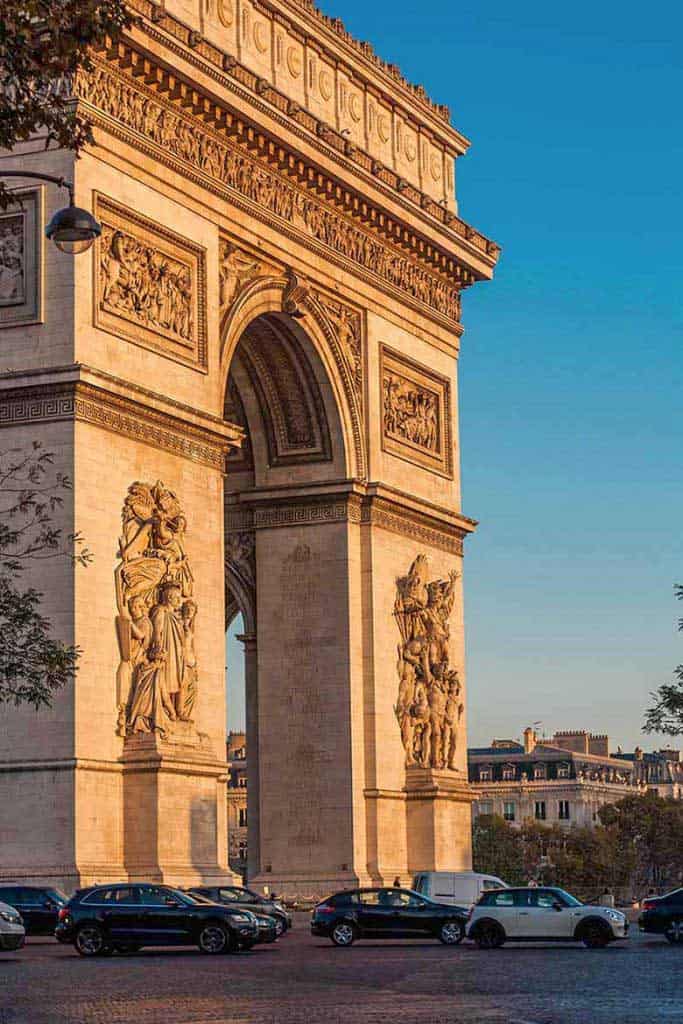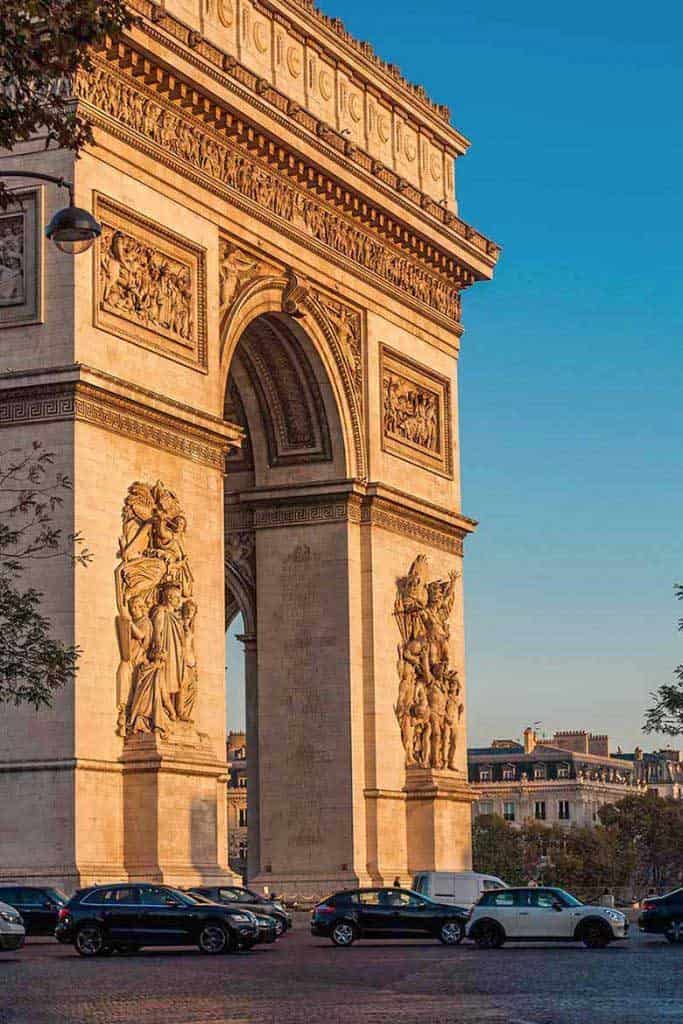 After indulging in some French crepes, head over to the Arc de Triomphe.
This 164ft (50m) tall monument honors the fighters of the French Revolution as well as the Napoleonic Wars.
Inscribed on the walls, you'll see the name of the battles they won and the General's names too.
Underneath the arch, you'll see the Tomb of the Unknown Soldiers of WWI. The tomb has an eternal flame on it.
To reach the attic of the arch, take the elevator. There you'll find a small exposition. When you're ready to experience the city from above, take the stairs to have a breathtaking view of Paris. h
From here, you can spot many tourist attractions spread throughout the city, such as the Louvre, Sacré-Cœur, and the Eiffel Tower, of course.
You'll want to bring your camera with you because it's definitely worth the shots. Mostly because the Arc de Triomphe is located on a roundabout that connects twelve avenues.
And because of that, you can take interesting photos of the roads below.
Fun fact: After seeing the eternal flame underneath the arch, Jacqueline Kennedy requested an eternal flame for John F. Kennedy's grave.
Explore Montmartre, the 18th arrondissement
If Paris had a romantic heart, it would be Montmartre.
If you're traveling for 2 days in Paris, you must spend some time wandering through the cobblestone streets of the neighborhood.
The area has excellent and also cozy cafes where you will want to have some coffee and do some people watching.
With a few windmills here and there, an artistic atmosphere, and even a vineyard, Montmartre is a lively neighborhood you won't want to miss.
Basilica of Sacré-Cœur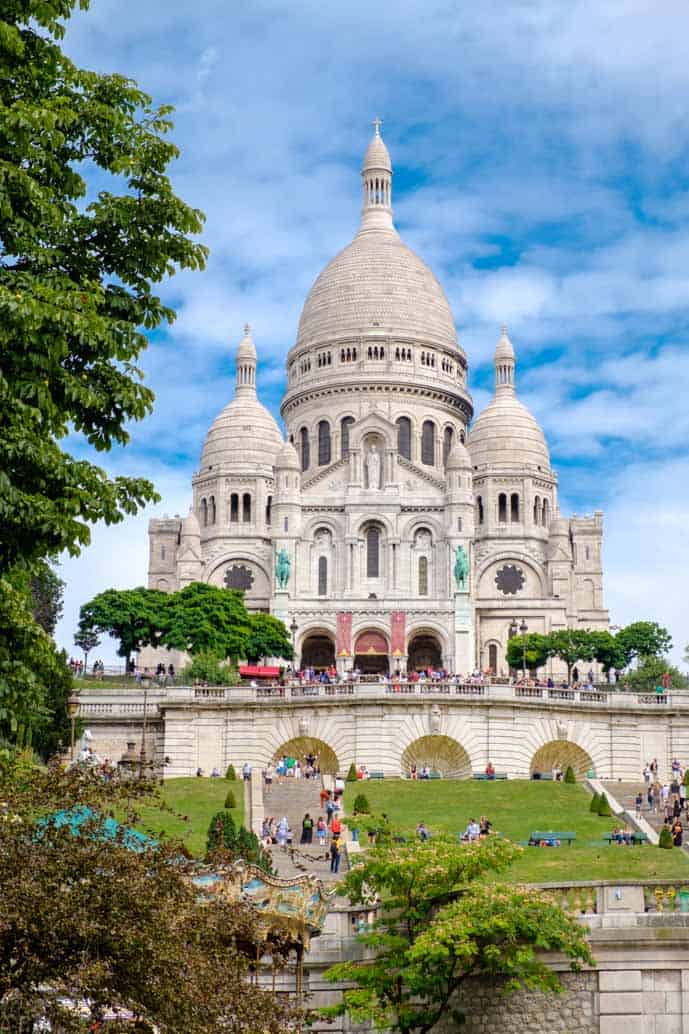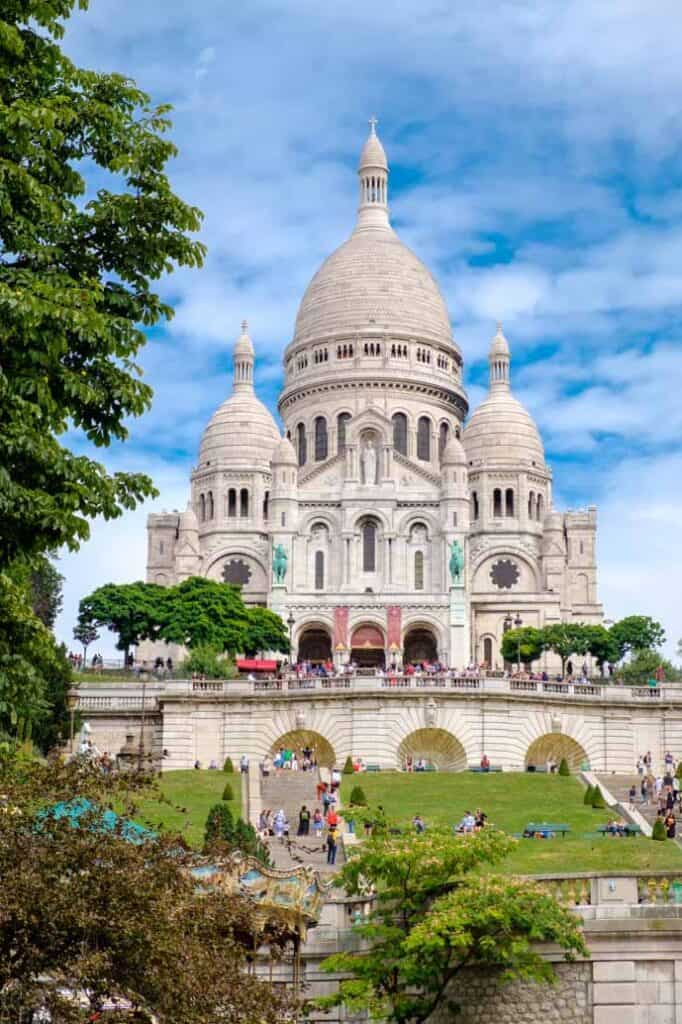 The imposing white basilica watches over the city from the summit of Montmartre. (This is a must-see in Paris in 2 days!)
Its Romano-Byzantine style contrasts with the other religious buildings and churches in town.
One of the most interesting things about the Sacré-Cœur is that the stone used on the exterior exudes calcite on contact with rain, making it white.
That's actually good because many churches around Europe are turning black due to pollution. Still, this pretty white church remains neat and clean.
Anyway, a visit to the Sacré-Cœur is a must, and maybe you're lucky enough to witness the choir of nuns. It's beautiful!
But remember that no photographs or movies are allowed to be taken inside the church.
Oh, and the belltower isn't open to visitors. However, you can climb the 300 steps to the dome under a small fee.
Admission: Free of charge
Opening hours: Every day 6 AM-10.30 PM
Pro tip: Be sure to download the free app Tupuy for an audio-guided tour in the Sacré-Cœur: Android or iOS.
Pssst: You can picnic on the grassy hill in front of the Sacré-Cœur. But before that, be sure to stop by Boulangerie Raphaëlle to grab some delicious croissants or sandwiches.
Cruise the Seine River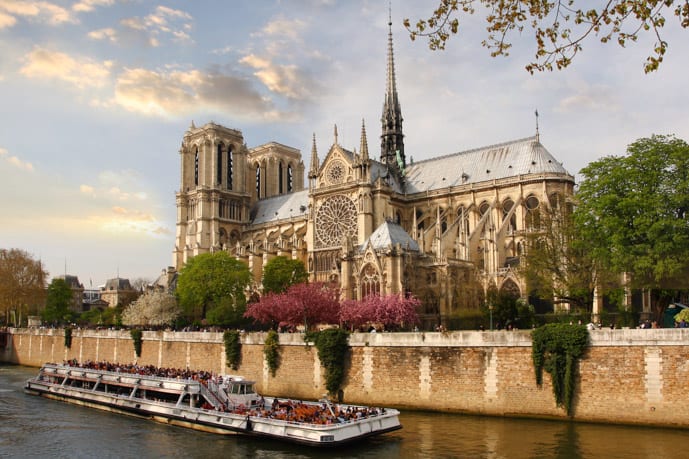 Let your Paris itinerary come to an end with a pleasant cruise in the Seine River.
If you think Paris is exceptionally charming during the day, imagine it when it's dark, and the lights shine a magical appeal over the city.
In fact, the city's beauty is one of the main reasons to visit Paris.
Anyway, you can either take a 1-hour cruise on the Seine River or a cruise plus dinner.
At Bateaux Parisiens, they serve a decent 3-course meal.
If you choose for the 8 PM dinner, which lasts longer, there will be live music too.
*A simple River Cruise is included in the Paris Pass.
Travel tips for visiting Paris
Wrap up if you're going on the top floor of the Eiffel Tower, Arc de Triomphe, or any high building as it is windy and cold.
Be sure to wear comfortable shoes as you will walk a lot.
Remember to have snacks and water in your purse.
Order preferably the menu of the day in restaurants as it *usually* is cheaper.
Bring your student ID to get a discount on some attractions.
Beware of your surroundings as Paris is jam-packed not only with tourists but also with pickpockets. For instance, you could wear a travel bra or an anti-theft purse.
Consider purchasing a Paris Pass to have free access to 60 museums and galleries, and some other discounts/ tours. We'll explain more about it below.
If you don't need the Paris Museum Pass, be sure to buy your digital skip-the-line- ticket. We'll indicate those tickets below.
Some museums have discounts for those who are between 18-25 years old, independent of their country of residence or nationality. Always check that.
Should you buy the Paris Pass?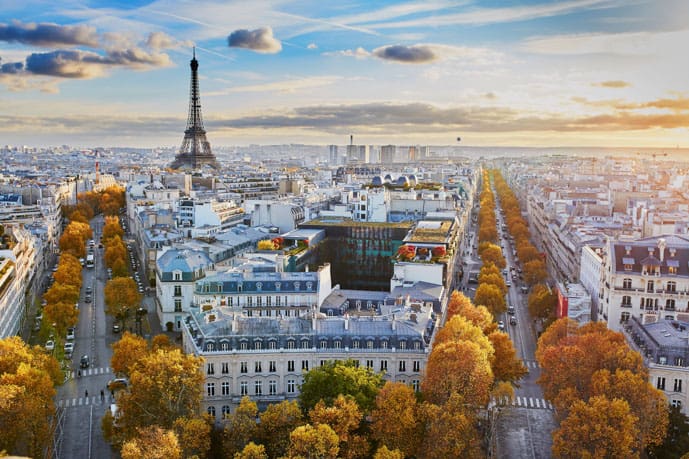 If you're staying 2 days in Paris, we hardly believe it will be worth it. Why?
Because you have such a short time in the city and even though the Museum Pass is great for first-timers, you won't spend two whole days inside museums.
You also want to wander through Paris and see people, drink coffee, etc.
The skip-the-line feature and the public transport card are handy for sure. Still, you can also buy separate tickets for the attractions, as we mentioned above (also skip-the-line).
That's our humble opinion, of course. To help you plan your itinerary (and see if the Paris Pass will be useful to you), Frank and I have created a travel planner where you can put all this info on paper; you just have to fill it in.

Click here to have access to our free VIP library.
Be sure to include the ticket prices in this file. Then, check which one of those attractions are free when using the pass, and compare these two lists.
The takeaway: The Paris Passes (travel card + museum pass = Paris Pass) are worth it if this is your first time in the city, and you want to visit lots of places, but don't want to wait in line.
(The skip-the-line feature is a life-saver, especially if you're during the weekend in Paris or high season.)

Read more reviews about the Paris Pass.
How to get around Paris
Metro is hands down the best way to get around Paris.
Don't underestimate the size of this massive city, especially if you're spending 2 days in Paris. You'll walk a lot, even taking the metro. Trust us on this.
After the first use of your metro ticket, this one will be valid for 1:30 hours, which means you can transfer from one metro line to another for free in that period. (Without exiting the station.)
The Week-Ticket costs about €40. If you purchase the Paris Pass, besides having free entry and fast track to most attractions mentioned above, you also get an unlimited travel card for metro, trains, and buses in areas 1 and 3 (most attractions are in area 1).

Read more reviews about the Paris Pass.
Things to do in Paris on a rainy day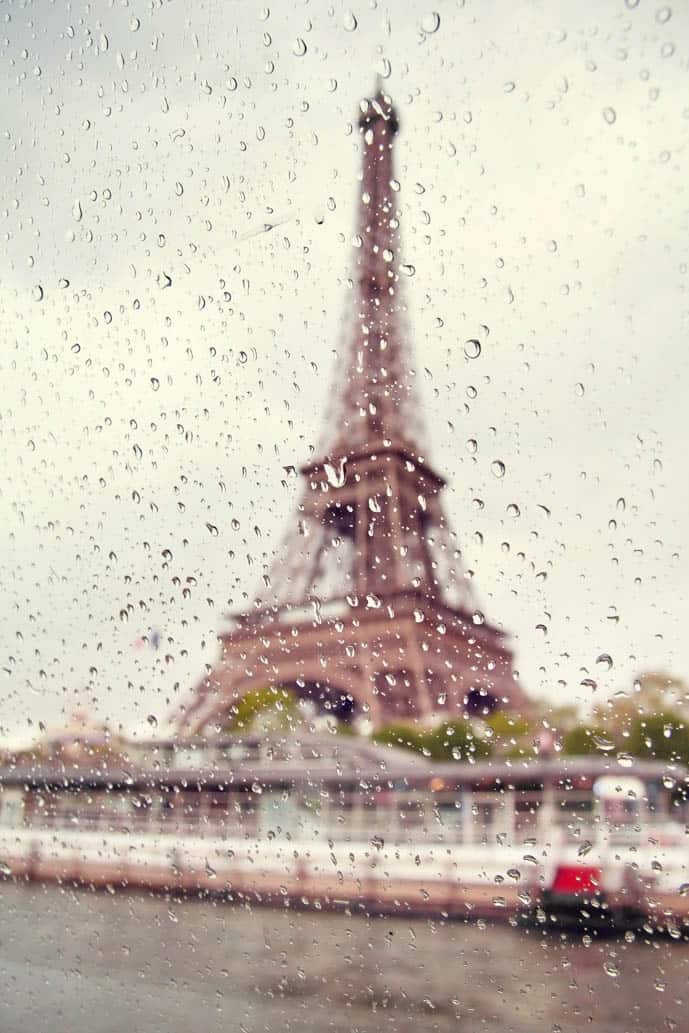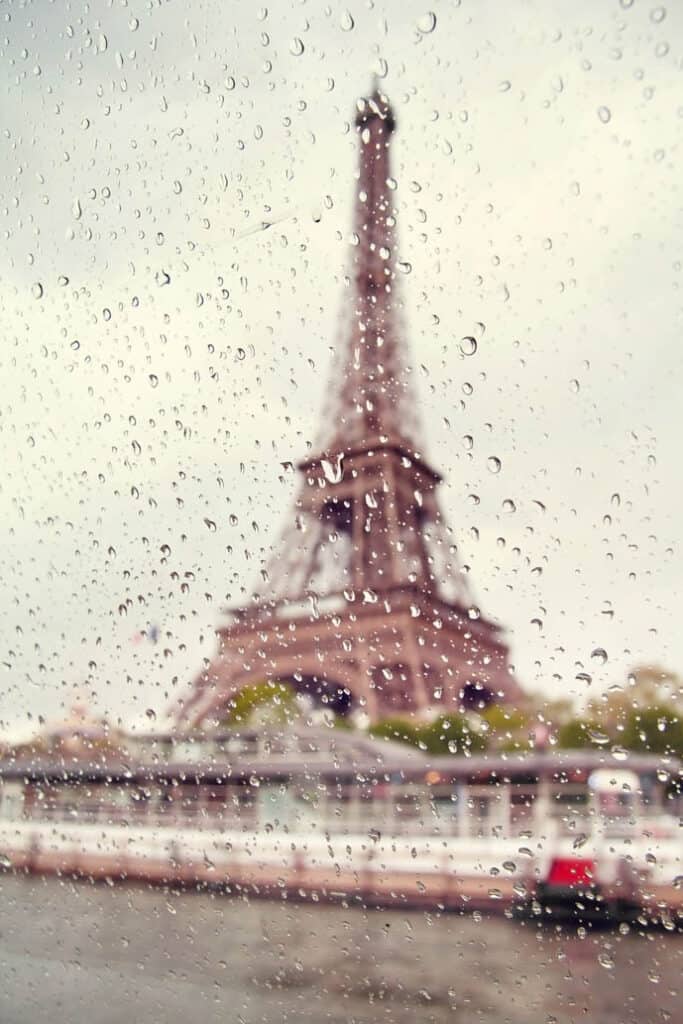 Oh, rainy days. They're terrible when we are on vacation, but there is still a way to enjoy them if that's the case for you.
Become a history buffer, if you're not already one, and spend your day in the city's museums.
Enjoy a good cup of coffee (or tea) in the bohemian cafes throughout the city and watch the rainfall outside.
Explore the secret covered passages of Paris.
Tasting at Les Caves du Louvre and learn about French wine in a historical cellar (included in the Paris Pass).
WiFi for your Paris itinerary
In the internet era, no one wants to spend a day without WiFi. Even worse if that means spending four days without it.
But luckily, Paris has a good network of public WiFi (and cafes, restaurants, bars also have WiFi) so you will have plenty of connection spots there.
Things to watch out in Paris
Such a jam-packed city, Paris is also jam-packed with pickpockets. No reason to fear, though. Just be careful in the streets as you would typically be in any town, and you should be fine.
Remember to keep your belongings in sight at all times and close to your body. For instance (if you're a woman), you could wear a travel bra or an anti-theft purse.
The United States Embassy has valuable advice on avoiding being scammed in Paris.
Other scams that are also common in Paris are the petition scam, the bracelet or golden ring scam, and so on. Read up on it, Google is your friend.
Some Paris tours worth seeing
Paris itinerary map
Click here to find the interactive map below. If you want to create your own maps, check out our Google My Maps guide.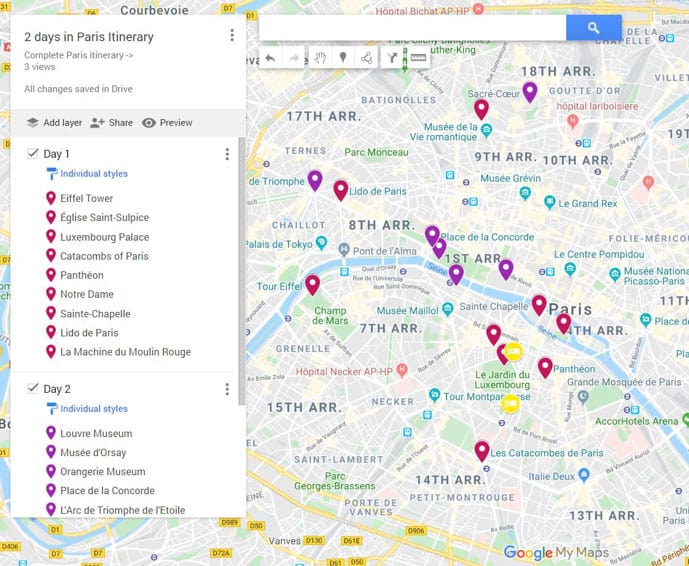 Day trips from Paris
There are many places around the city to go on a day trip or even some locations in nearby countries that you can quickly get by train. And in this post, we talk about only the best day trips from Paris.
But we'll talk about the most popular one near the city.
Versailles
After 2 days in Paris, you could go to the Palace of Versailles, where the French royalty used to live.
Some people spend 2 days in Paris and the 3th in Versailles, which is also a good option if you aren't staying for 4 days in the region.
To get to Versailles, buy a return ticket for the train. It costs around €7.

Don't miss out! Book the skip-the-line ticket to Versailles.
Paris travel resources
Paris is a romantic city filled with incredible tourist attractions. Still, if you know what to see, those 2 days in Paris will be very well used.
If you're traveling to Paris during winter, be sure to copy Bruna's packing list for the season.
For some inspiration (and Instagram captions), take a look at the best Paris quotes here.
Paris is an incredible city, but France has other places worth visiting on a day trip.
Well, we hope this complete article will help you plan the perfect 2 days in Paris itinerary.
But if you have any questions regarding this Paris itinerary, feel free to drop your questions at the comments below.
We'll do our best to answer you!
Did you like this 2 days in Paris itinerary? Then save it to your Pinterest travel board or share it with a friend who might like it too.