Looking for a complete 2 days in Amsterdam itinerary? Look no further! We have the ultimate guide for you.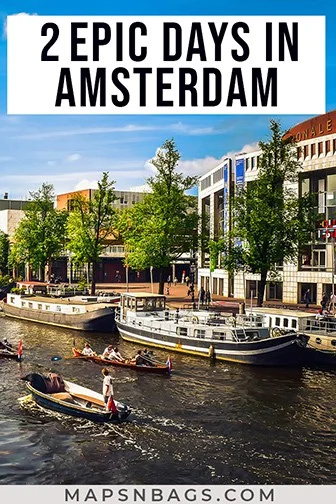 Oh, Amsterdam. It's difficult not to fall in love with this charming city.
The romantic canals, gingerbread houses, and chilled out local culture make this our favorite city in the Netherlands.
Granted, I Bruna lived in Amsterdam in the past, and now, my partner and I live nearby – we couldn't get too far from it!
And because we talk so much about it here on the blog, we have had many of our readers ask us for a 2 days in Amsterdam itinerary, and after a long wait (sorry, folks!), we finally made what we believe to be the best one online.
These tips are field-tested and down-to-earth advice from us, locals.
We'll talk about everything you need to know to visit Amsterdam in 2 days, including where to stay, where to go, where to go after your 2 days in Amsterdam, how to get around, and a map with all the locations we mention.
How does that sound? Amazing, right?!
So let's get to it. Wondering what to do in Amsterdam in 2 days? Read on!
In today's post we'll talk about:
Is 2 days in Amsterdam enough?
If you only have 2 days in Amsterdam, you'll quickly see most of the main attractions of the city.
Naturally, two days aren't enough to enjoy the local vibe and stroll around off-the-beaten-path areas.
But don't worry, you'll still experience unique places in the city. If you can squeeze a little more time in your plans, check out our guide for 3 days in Amsterdam.
Where to stay in Amsterdam
Finding accommodation in Amsterdam can be overwhelming if you don't know the neighborhoods. In some places, walking bachelor parties or drunk tourists are the main crowds.
For that reason, we wrote about the best neighborhoods and nearby attractions in this guide on where to stay in Amsterdam.
But if you want a quick answer, here's the best hotel to stay in the city:
Atlas Hotel Vondelpark: This quaint lodging is in a calmer part of the town, but still close enough to the main attractions, such as the Rijksmuseum, Van Gogh Museum, and Vondelpark. The building is a characteristic construction, and rooms, although on the smaller side, are comfortable and clean. Oh, and it's reasonably priced for Amsterdam!

Check price and read reviews, check: Booking.com | HotelsCombined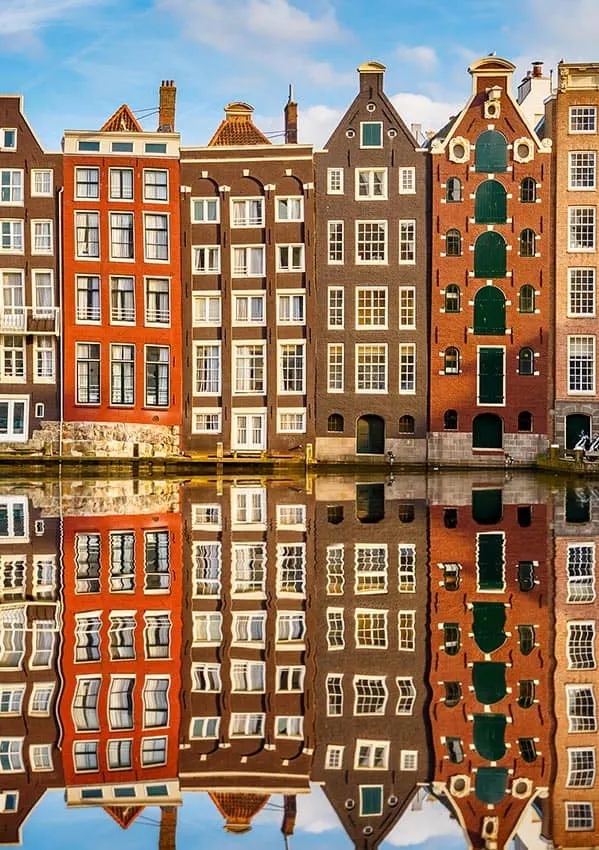 Tips for enjoying your 2 days in Amsterdam
Consider buying the skip-the-line tickets to the museums you'll visit. Since you won't have much time in the city, it is smart to avoid lines.
Alternatively, consider a 2-in-1 ticket for Van Gogh Museum + Canal cruise.
Watch out for the bikes when crossing the street. Also, locals might be rude to you if you walk on the bike lane, so avoid that.
To get around the city, you might consider purchasing a public transport ticket for the length of your stay.
Two days in Amsterdam summary
Day 1: Winkel 43, Anne Frank, 9 Straatjes, Begijnhof, floating flower market, Dam Square, De Drie Graefjes, Oude Kerk, Red Light District, Mata Hari, Brouwerij De Prael
Day 2: Rijksmuseum, Blushing Cafe, House of Bols, Van Gogh Museum, Vondelpark, canal cruise, Proeflokaal Arendsnest
Map of Amsterdam 2-day itinerary
Click here to open this 2-day Amsterdam itinerary on your phone. If you would like to create your own interactive map, check out our guide about Google My Maps.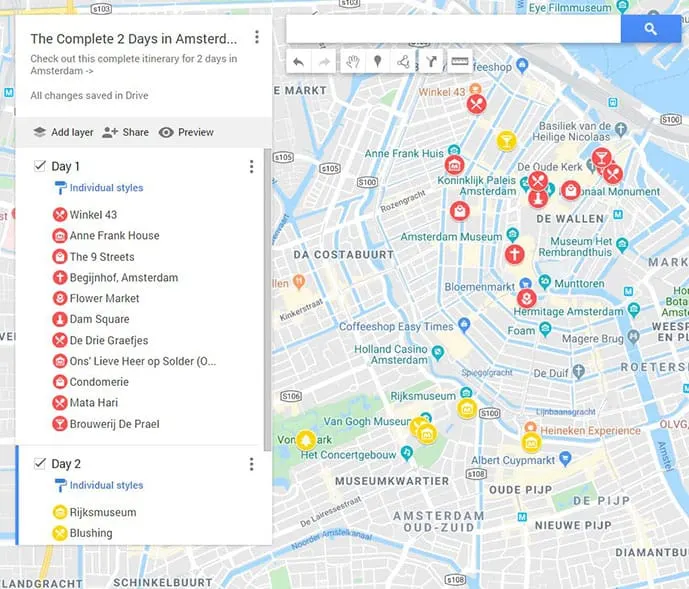 2 days in Amsterdam itinerary – Day 1
On your first day in Amsterdam, you'll explore the city center and the Jordaan neighborhood.
It includes some walking, so be sure to wear comfortable walking shoes.
Have the best apple pie of Amsterdam at Winkel 43
Winkel 43 is a famous cafe in Jordaan neighborhood, known for having the best Dutch apple pie in the city.
So stop by in the morning and munch a piece of this delicacy with a cup of coffee.
During the day, this venue gets jam-packed with locals and tourists, but if you go early in the morning, you might avoid the crowds.
Learn about Anne Frank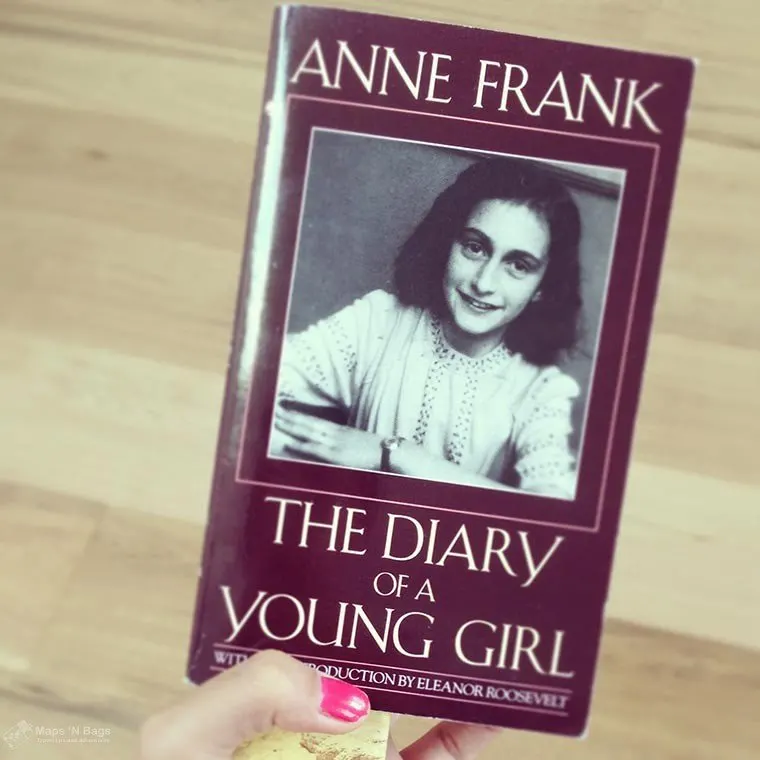 The Anne Frank House is a heartbreaking but necessary place to visit in Amsterdam.
We believe every person should visit it at least once to understand the consequences of following blind orders against innocent people.
While millions of people died during WW2, the story of this little girl, her family, and friends who went into hiding to avoid death is a small representation of such pain.
And we know it doesn't come as a surprise that the Anne Frank House is one of the most visited museums in the city.
For that reason, if you want to visit her hiding place during your 2 days in Amsterdam, you'll want to buy your tickets way in advance on the museum's website.
Note that they only sell online tickets, so don't miss out.
Stroll around the 9 Straatjes
The 9 Straatjes (English: 9 little streets) are as the name suggests, nine streets running in parallel that forms a cozy shopping neighborhood near the Anne Frank House.
This picturesque area features loads of vintage shops, quirky designer boutiques, and several cozy cafes.
Even if you're not looking to buy something, stroll around this district and who knows you'll find your friends' souvenirs here.
The assortment of small independent shops makes it an excellent stop for shopping.
For reference, the 9 Straatjes are between Singel and Prinsengracht, Leidsegracht and Raadhuisstraat.
Visit a beguinage, the Begijnhof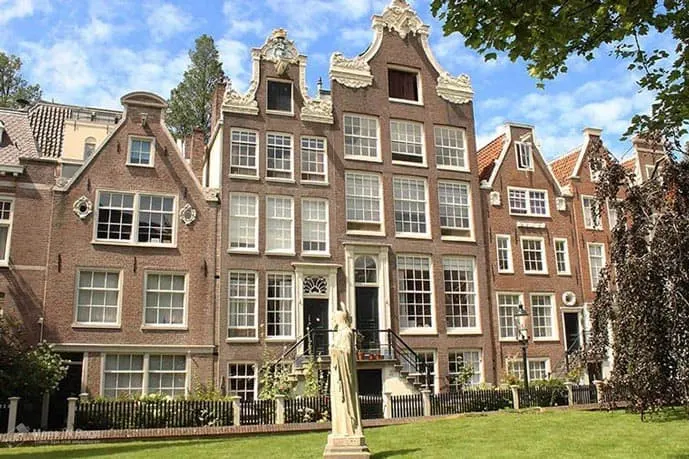 It sounds crazy that a city as bustling as Amsterdam might have a calm and quiet beguinage right in its center.
The Begijnhof is a quaint little square surrounded by gingerbread houses where religious women live. There are also two churches on-site.
Although many tourists visit the area, this square remains quiet.
Stroll around, visit the churches, and learn a little about their story in this calm little corner of Amsterdam.
Shop some tulips in a floating market
The Netherlands is all about bikes, wooden clogs, windmills, and tulips. That's why you can find miniatures of these symbols all over the city.
And at the floating flower market near the Kalverstraat, you can buy not only seeds to take back home and fill your yard with Dutch tulips but also wooden tulips.
Obviously, a real flower is much more beautiful, but a wooden one is a nice souvenir from Amsterdam, don't you agree?
Stroll around the Netherlands' most famous square, the Dam
Home to the Royal Palace, the Nieuwe Kerk Church, and National Monument, Dam Square is the Netherlands' most famous square. Most significant events in the city take place here.
Also, Madame Tussaud Museum, with its massive lines, is right around the corner.
As for the palace, it's possible to visit it for a small fee. While the church often hosts art exhibitions. It's pretty inside.
Stroll around to get an idea of the trendy city center.
Indulge at De Drie Graefjes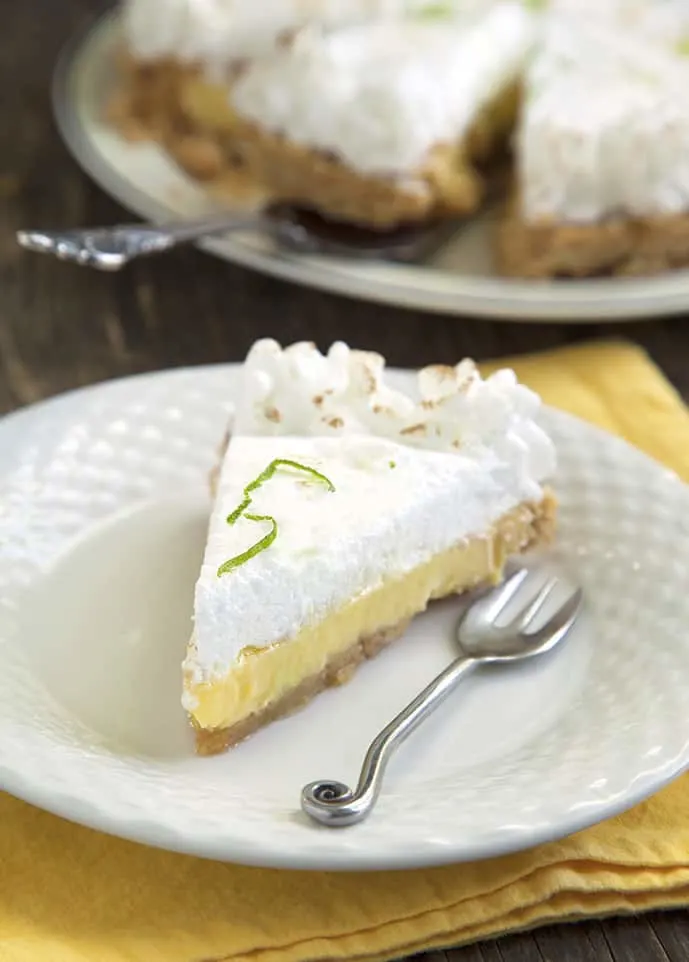 It's humanly impossible for us to talk about Amsterdam and don't recommend this cozy cafe.
De Drie Graefjes is 30 seconds walking distance from the Dam, and they serve delicious pies.
I Bruna am completely in love with the lemon meringue pie, while my husband prefers the red velvet cake.
Either way, stop by and indulge in some delicious baked goods. Oh, and if it's chilly outside, you will want to order a hot chocolate too.
Visit a 17th-century church hidden inside a house, the Ons' Lieve Heer op Solder
The Ons' Lieve Heer op Solder (English: Our Lord in the Attic) is a Catholic church that dates from 1663, a time when it was prohibited to celebrate mass in the country. Still, the authorities turned a blind eye on it.
As a consequence, freedom of religion is one of the main themes of this peculiar museum.
For this and other reasons, Our Lord in the Attic is far more than a museum – it is a special place to contemplate and to experience life in the 17th-century.
Fun fact: This museum is the 2nd oldest in town, only after the Rijksmuseum.
Stroll around the Red Light District
The previous museum is at the entrance of the Red Light District. So after visiting it, stroll around this infamous neighborhood of Amsterdam.
While the area has plenty of weird venues, shops, and red windows, it's the city's oldest neighborhood and an essential part of the local history.
So go for a stroll and stop by any quirky shop that piques your interest. The Condomerie might be one of them. This condoms shop has products of all colors, sizes, and forms.
Anyway, wander through the narrow and crowded streets of the Red Light but don't photograph the prostitutes under any circumstances.
That's not only disrespectful, but you might also have your phone go take a swim in the canal. Don't do that.
Moreover, watch out for pickpockets in this area.
Fill up with Mediterranean food with Dutch influences at Mata Hari
Still in the Red Light, but away from all the noise, you'll find Mata Hari, a pleasant restaurant at the waterfront.
Most dishes are Mediterranean but have a Dutch touch. Their smoked pumpkin with goat cheese is divine. We also like their fried polenta a lot.
Even if you only want some fries, you can't go wrong at Mata Hari.
Sip craft beer at Brouwerij De Prael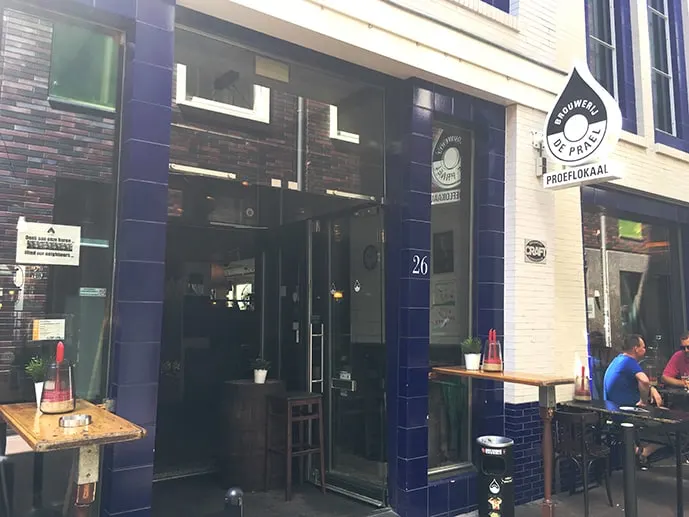 Dutch beer is tasty, so visiting this brewery is a no-brainer for us. De Prael has excellent options in a friendly and inviting atmosphere.
While the service might be a bit slow at times, know that this brewery is the workplace for people with a long-term psychiatric disability.
The idea came out of a small-scale artisanal beer brewery, where high-quality is a must.
And to become financially independent, they opted to hire people with disabilities to achieve commercial and social goals.
The atmosphere is very friendly, and the industrial decoration makes it a great place to finish your first day in Amsterdam.
2 days in Amsterdam itinerary – Day 2
On your second day in the city, you'll visit some major museums as well as have some laid-back experiences – the perfect way to finish your two days in Amsterdam.
Spend a morning at the Rijksmuseum
Start your day discovering the striking Rijksmuseum.
We recommend you come here in the morning because there might be fewer visitors. Over 1 million people visit the Rijksmuseum every year, so don't expect to have the whole museum for yourself.
The Rijksmuseum, the National Museum, has a massive collection (about 1 million objects) of Dutch art and history from the Middle Ages to the present day and a small exhibition of Asian art.
Expect to spend around 4 hours here, but if you decide to leave before seeing all rooms, know that Rembrandt's The Nightwatch is one of the museum's highlights.
More importantly, it's smart to buy your skip-the-line ticket and avoid waiting in line since you only have 2 days in Amsterdam. You have a short precious time in the city.
Don't miss out. Book your skip-the-line ticket.
Have a delicious cup of coffee at Blushing Cafe
Near the Museum Square, you'll find this inviting cafe. Stop by for a cup of coffee, of which they have plenty of options on their menu.
Blushing is also an excellent cafe for vegans and vegetarians as they serve tasty brunch dishes for all crowds.
The veggie burger is especially delicious, and that is coming from us who are not even vegetarians.
Oh, and they also serve plenty of gluten-free cakes and salads too.
Experience a self-guided Heineken tour
At the Heineken Experience, you'll have an interactive beer experience where you learn about the most famous Dutch beer's history, flavor, and ingredients.
The whole place is exciting, and you obviously get a drink at the bar at the end.
However, if you buy this ticket here, you not only get a fast track + two beers at the Heineken Experience, but you also get a canal cruise ticket with audio-guide.
Don't miss out. Book your skip-the-line ticket.
We believe it's good value for money, especially because a canal cruise is one of the most magical things to do in Amsterdam. Still, we'll talk more about it later.
Marvel at Van Gogh's originals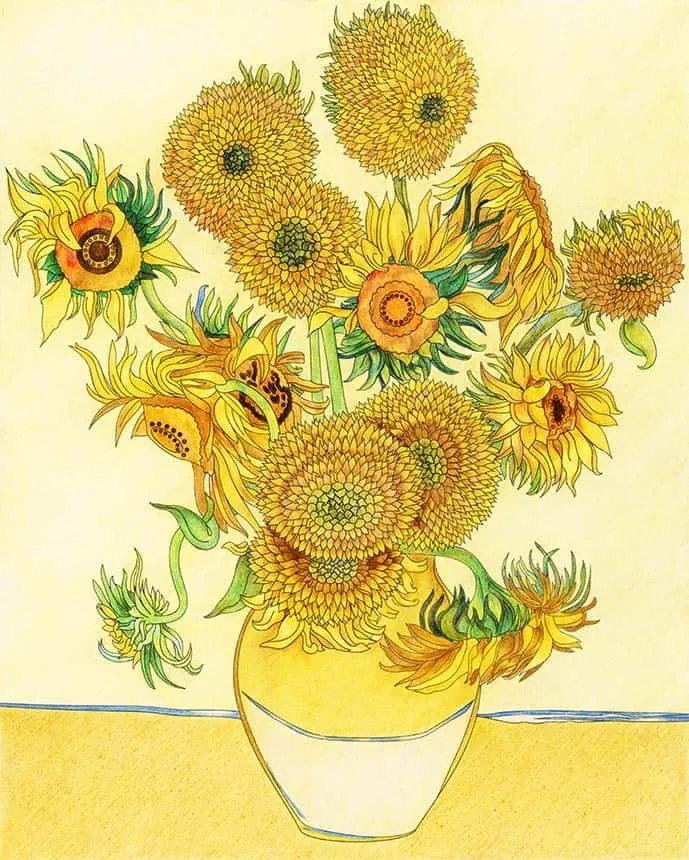 Van Gogh is by far our favorite museum in Amsterdam.
Although crowded—and when we say crowded, we mean the most visited museum in town—, Van Gogh is a pleasant place to marvel at some of the artist's most famous paintings.
Almond Blossom is one of them – this is a must-see in Amsterdam in 2 days.
So reserve between 1-2 hours to see the whole exhibition, but keep in mind you can't photograph inside the museum.
Also, because there are often long lines, we recommend you buy your skip-the-line tickets in advance.
When I Bruna still lived in Amsterdam, I spent over an hour in the line because, apparently, the whole world was waiting in line in front of me. Ok, I'm exaggerating, but I waited a really long time in the cold.
Don't miss out. Book your skip-the-line ticket.
Stroll around the Vondelpark
Whenever we travel somewhere, we like to get a sense of the place by doing three things: eating local, drinking local, and strolling around parks.
It's like you feel the local vibes, the real vibes of that city, in the parks because you see people living their normal lives – walking their dogs, jogging, picnicking, etc.
So go for a stroll yourself, and weather-permitting, have a picnic at the Vondelpark, one of the best parks in Amsterdam.
We have done it many times, and we can assure you it's delightful.
Go on a magical canal cruise
Going on a canal cruise is a must for your 2 days in Amsterdam.
The city is famous for its charming canals, and when you see the gingerbread houses of Amsterdam from the boat, the whole place gets a new appeal.
Needless to say that this is one of the most romantic things to do in Amsterdam in 2 days.
The captain cruise through the Canal Ring area, a UNESCO World Heritage Site that surrounds the city center.
In this route, you'll see many of the historic houses in the city. Honestly, this is a must-do in Amsterdam.
Don't miss out. Book your ticket.
Sip Dutch craft beer at Proeflokaal Arendsnest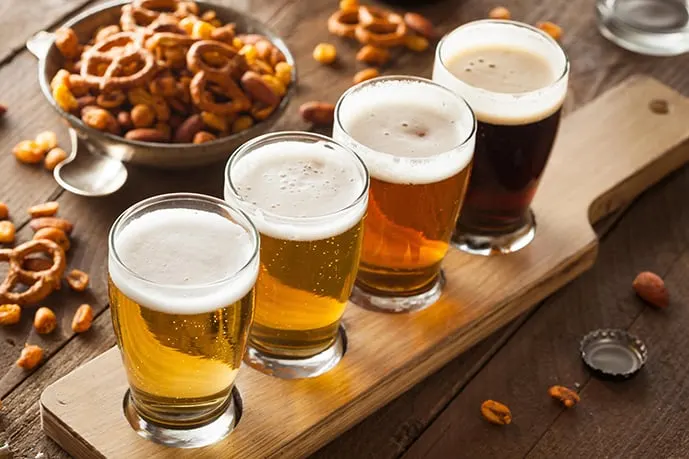 Nothing better than finishing your Amsterdam itinerary in style.
This beer cafe (our favorite) only serves Dutch gin, spirits, and beer – all tasty. It's a small venue, but still very pleasant and with great beer options.
If you don't know what to order, the waiters can give you advice on which beer you should drink based on your preferences. Still, our personal choices are La Trappe Isid'or and Gerardus Blond.
Pro tip: Weather-permitting, sit outside along the canal.
Recommended tours
If you want to have a deeper understanding of Amsterdam and its surroundings, we recommend taking one of these tours we selected below:
Where to go after your 2 days in Amsterdam
The Netherlands is a teeny tiny country, and it's very easy to reach nearby cities and go on several day trips from Amsterdam.
Here are some of the places/towns we like the most: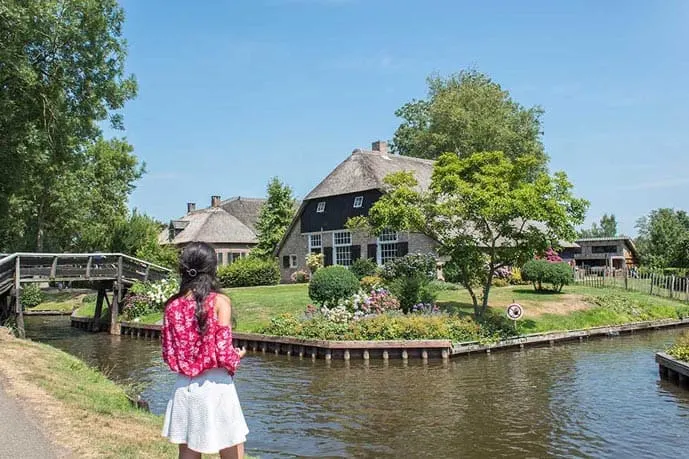 48 hours in Amsterdam – Getting to the city
Schiphol Airport is only 15-20 minutes away by train from the city center.
You will want to download the NS app so that you know the timetables and platform of your train.
The app also shows you the fare of that route.
To use the train in Amsterdam, you need a ticket called ov-card that you can buy in the yellow machines at the entrance of the train station (in the airport).
Remember to check-in and out when taking the train. The readers are scattered around the station or platforms.
To check-in and out, hold your ov-card against the card reader to the right of the gate or at the platforms. This will both open the gate for you and check you in for your journey. You will hear one beep when you check-in.
At the end of your journey, simply check out using the same procedure. You will then hear two beeps indicating that you have checked out.
Don't throw your ticket away before the end of your journey, or you might be fined in €50.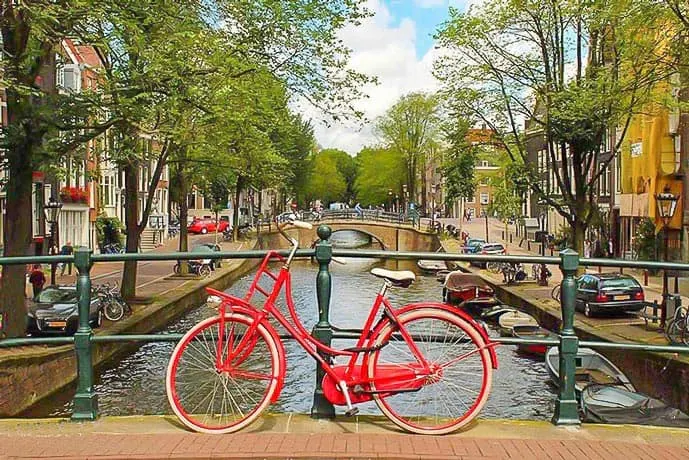 Getting around Amsterdam in two days
The city is compact, and we arranged your 2-day Amsterdam itinerary in a way that you can walk to most, if not all, places on both days.
However, if you have any physical disabilities, feet are hurt, the weather is terrible, or you are just a bit lazy, you can easily take the tram to your destination.
We use the 9292 app to know which tram we should take and where. It's pretty straightforward.
The app has a little map showing your location and the nearest public transport stop. Oh, it also tells you the fare for that route.
To use public transport in Amsterdam, you need an ov-card to check-in and out on every bus/tram/train.
You can buy this ov-card in the yellow machines at the Central Station or with the driver, but that's usually a tad more expensive.
Alternatively, you can purchase online a public transport ticket for the length of your stay.
Best time to visit Amsterdam
Oh, that's a difficult topic for us.
We love Amsterdam in all seasons because each one of them has its charm. I Bruna used to live in Amsterdam, and I was always amazed at how beautiful the city is.
However, living is different than visiting. What is essential for locals might not be so relevant for tourists.
For instance, the tourist season is mid-April to mid-October, having its busiest months in July and August.
During that period, streets, tourist attractions, and everywhere you go is filled with tourists.
Prices are also higher, of course. While the temperature is mild in the country, in the last few years, summers have been scorching, so not ideal for sightseeing.
While fall is charming with its orange hues, it rains a lot, and it gets quite windy too.
The winter comes with those smells and tastes that only comes with the holiday season. Still, the city gets a bit crowded around Christmas time because people go out shopping, eating out with their families, etc.
The other winter months are calmer, though.
If we were to pinpoint a month, it would be April. The first real month of spring has a good balance between crowds and good weather.
It's still cold, but the blue sky greets us more often, and there are flowers everywhere.
Weekend in Amsterdam – travel resources
There are loads of things to do in Amsterdam in 2 days, and in this itinerary, we showed you the best places to go.
But to continue planning your trip, read up our guides about the best hotels in Amsterdam and the best photo hotspots in the city.
Also, the town is all about freedom, but that doesn't mean there are no rules. Our Amsterdam travel tips guide is filled with local insights on how you can avoid trouble during your 2 nights in Amsterdam.
Anyway, we hope you enjoyed this itinerary. Happy travels!
Did you like this article about the best places to visit in Amsterdam in 2 days? Then save it to Pinterest and share it with a friend who might like it too!
Our best travel tips & resources:
Here're our all-time favorite travel tips & resources so that you can save money and plan your travel logistics hassle-free! For more travel resources, check out our
travel tips.
Saving money: Fly on offseason, winter (not Xmas or NYE), Tuesday, or Wednesday! According to experts, these are the cheapest days to fly.
Travel insurance: Before you leave for your trip, make sure you have a valid travel insurance policy because accidents happen on the road. We have been paying for Safety Wing travel insurance for a little over a year now, and we happily recommend them to our family and friends.
Accommodation: We usually stay in mid-range comfy hotels or private rooms in hostels. These are the sites we use to book accommodation: Booking.com for hotels (excellent flexible cancellation policy) and Hostelworld for hostels (low deposit and easy cancellation).
Tours:We absolutely love booking guided tours with locals to get a history lesson while sight-seeing, especially food tours and walking tours! We book all of our tours using Viator and GetYourGuide.
Transportation: We use Google Maps to figure out how to get around a place using public transport. When we book a rental car, we always use Discover Cars to find the best deal.